Hello weekend people, are you up to anything nice today?  I am off to help my husband run his first ever craft stall at a Christmas market, so we're both quite excited!  Whatever you're up to, I hope you'll find some time to sit and read today's lovely wedding.  It took place in beautiful Devon but the light, colours and scenery make me think of classic French style (although perhaps I'm being influenced by our bride and groom, who live and work in Paris).
Paul and Vicky, coffee business and salon owners respectively, married at the very beautiful Pynes House, Exeter on the 13th Of June 2015 in an elegant celebration of their love.
Photography by Miss Gen
Miss Gen is a member of our Little Book For Brides®
The three bridesmaids looked très chic in knee length black dresses, which were made especially for them.  I love to see bridesmaids in black – it just exudes glamour and sophistication.  They completed their look with vintage diamante hair clips.
"Our wedding was inspired by travel as we are both world travellers and had guests in attendance from 11 different countries. We chose our venue because it suited the aesthetic of our wedding best- we wanted a vintage style."
The couple chose the ever popular (and member of our Little Book For Brides directory) Genevieve of Miss Gen Photography to capture their wedding day story.
"Miss Gen was amazing.  She was there at every turn and I don't think she sat down once- that camera was snapping and flashing all the time.  I think we can all see by the results that she is great at what she does and we chose her because she had a unique style."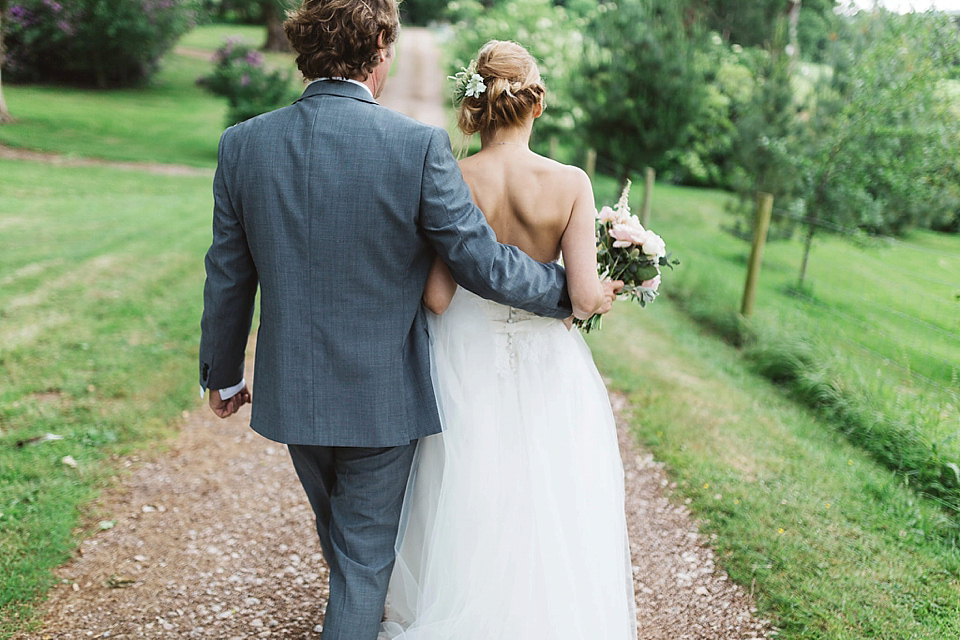 Vicky and Paul's engagement story is like something from a fairy tale…
"Paul proposed on my birthday in November 2014; it was an amazing day.  We had rented a little chapel in Cornwall for the week and the morning of my birthday a Rolls Royce arrived to collect us to take us to a secret location- a beautiful stately home in Devon.  Paul had arranged for our Yorkshire Terrier Millie to come with us and when we arrived at the stately home we were met by the owners with champagne and Millie was also greeted as if she was royalty.  I realised at that point that he had hired the entire place for the afternoon so we had full run of the house.
We sat and had champagne by the fire and looked at the carefully planned menu that was designed just for me- it even had my name on it.  We were then escorted to our private dining area at the top of a grand staircase with candelabras and frescos, which was incredible!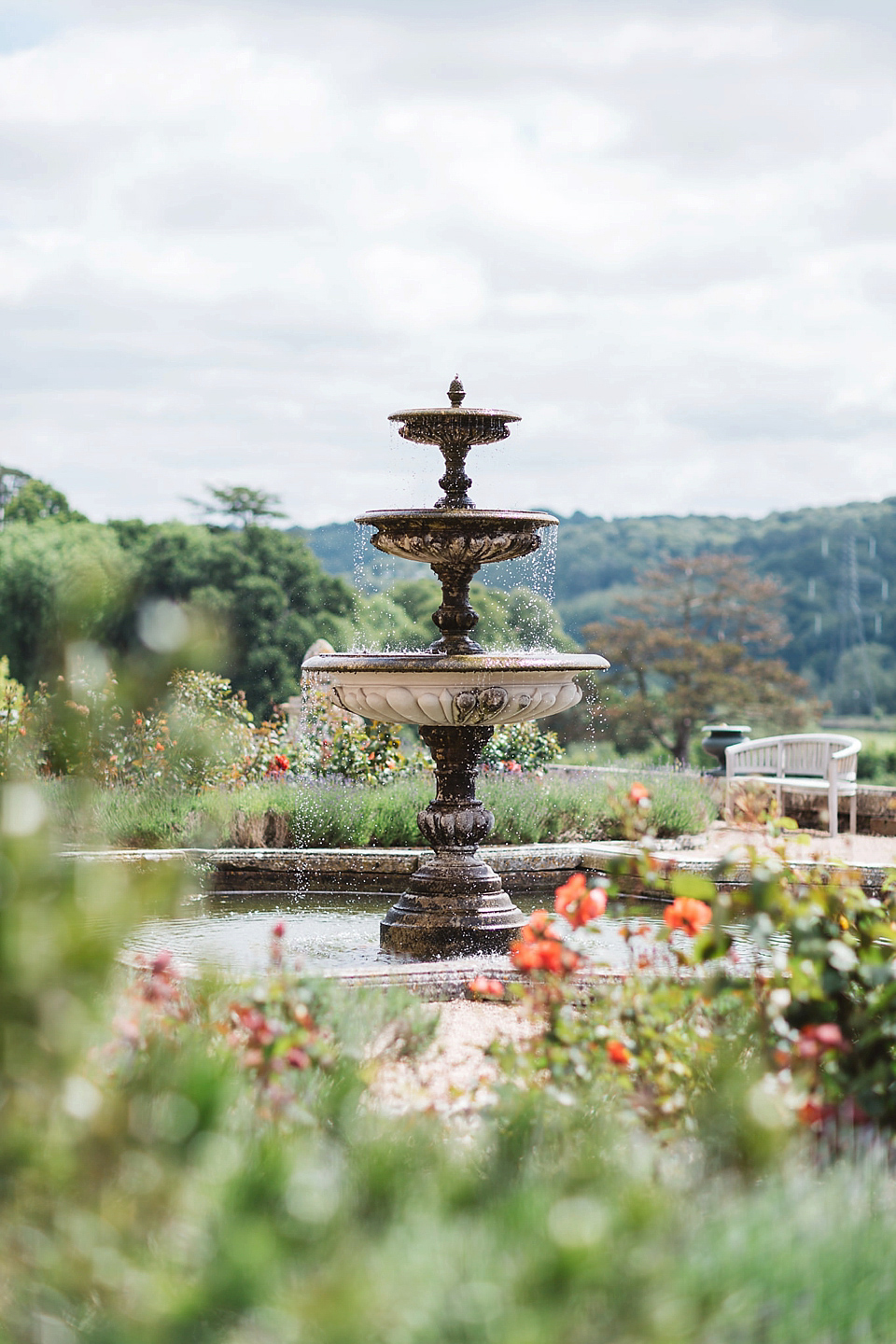 "After this we were off to the Eden Project as Paul had hired out the whole place for the evening.  We were escorted in for more champagne and there was a small 2 piece band playing just for us.  We had full run of the place to wander around the gardens together and I was sure that maybe the time was now, but no, there was still more to come in this incredible day."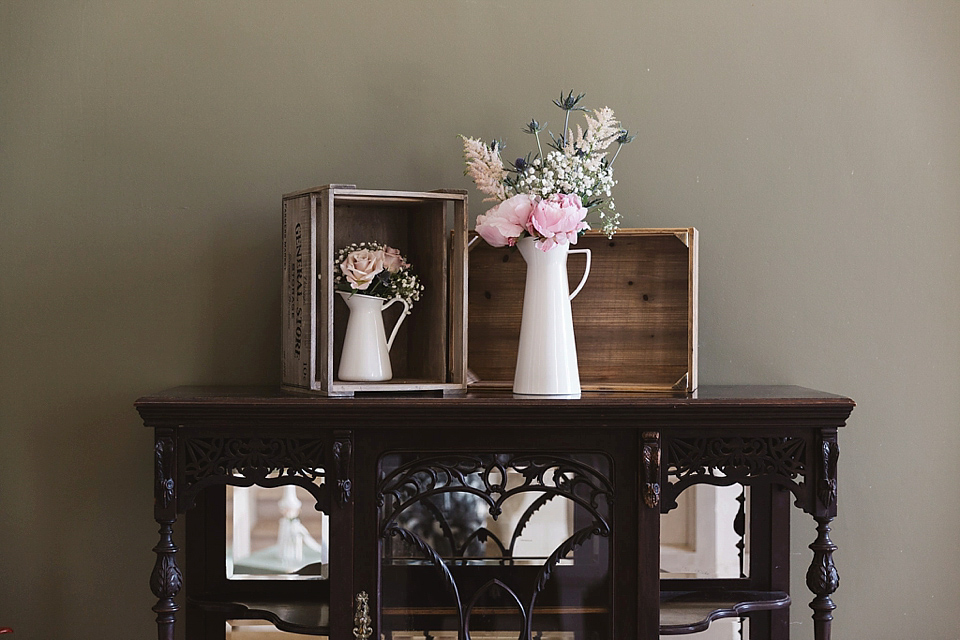 "We watched the stars come out over the domes and it was truly magical, and then got back in the Rolls and off to yet another secret destination.  After a long drive we ended up back at our chapel where we were met at the door by Tracy, our soon to be wedding planner, and a private chef.  The chapel had been fully dressed with flowers and candles everywhere and a dining table had been set.
After everyone had left Paul go down on both knees and asked me to spend my life with him.  I of course said yes…."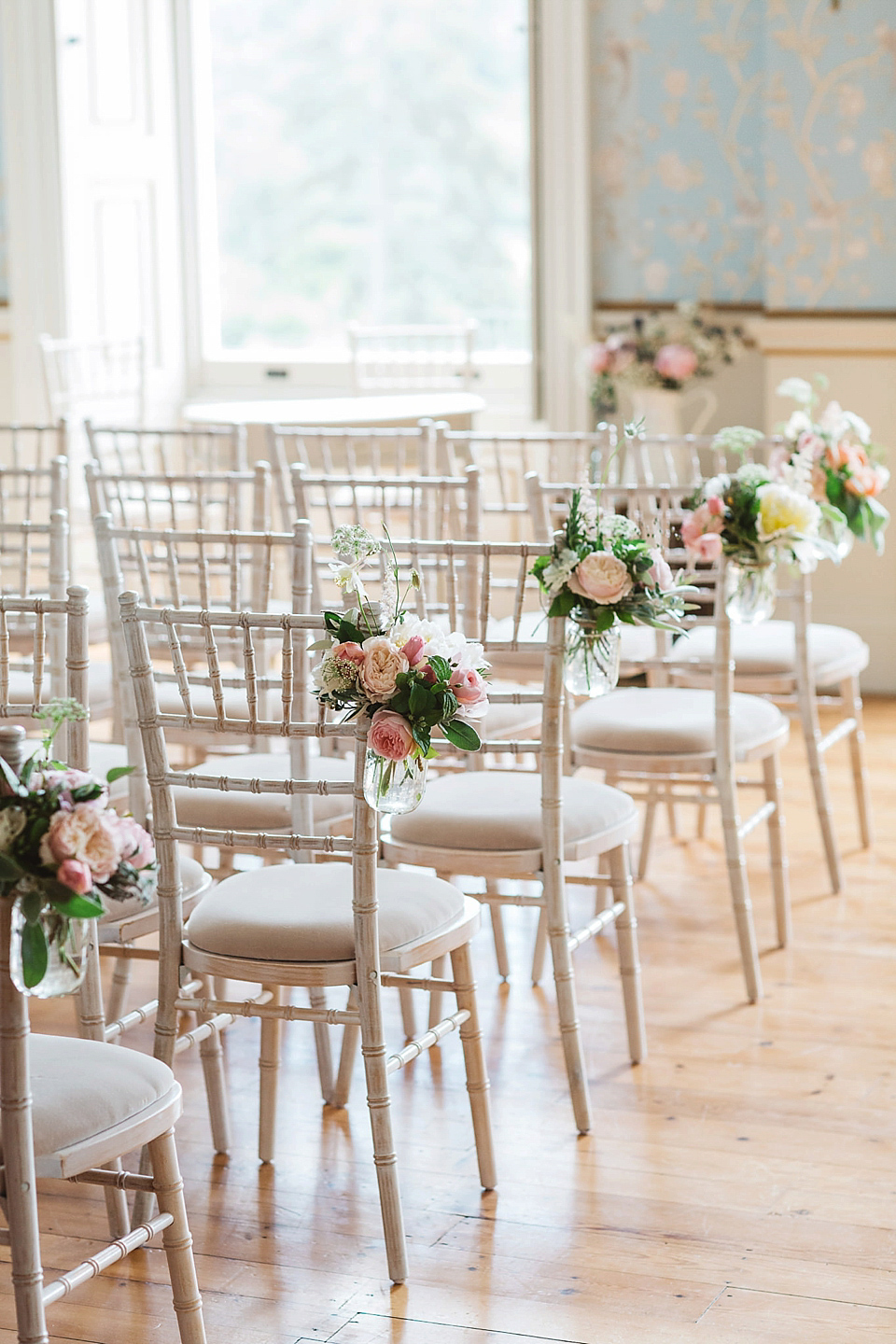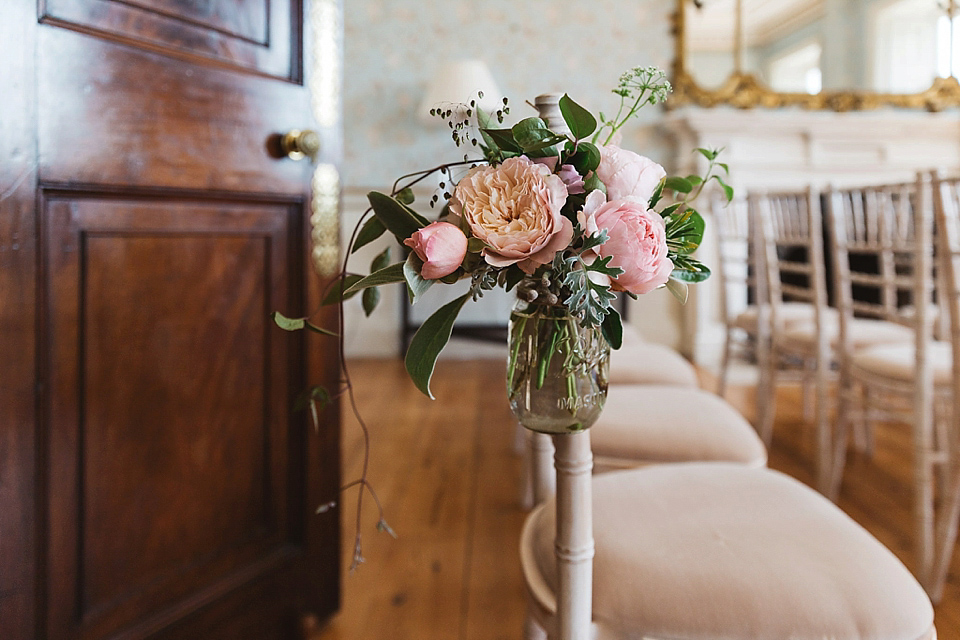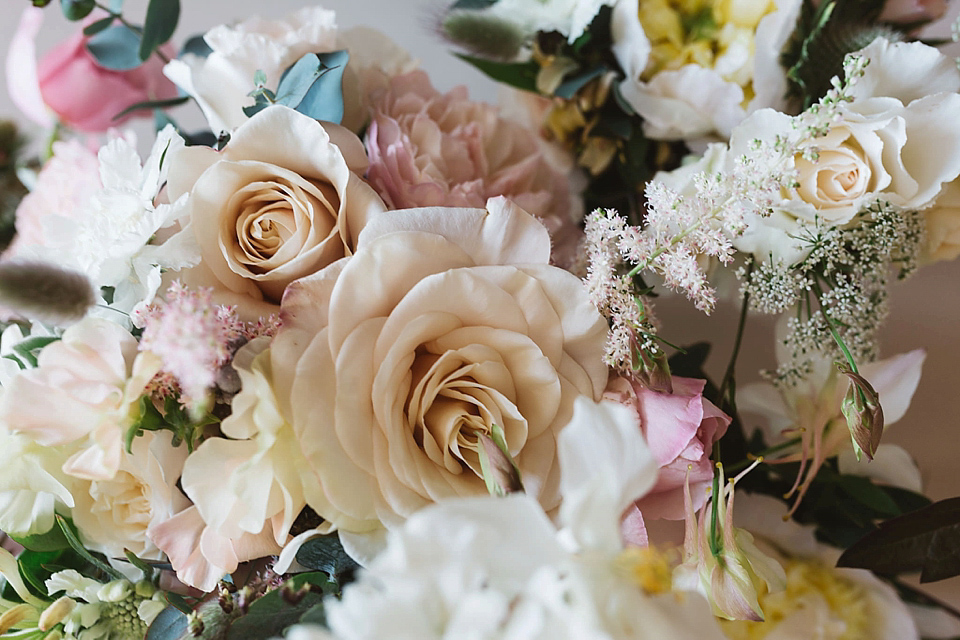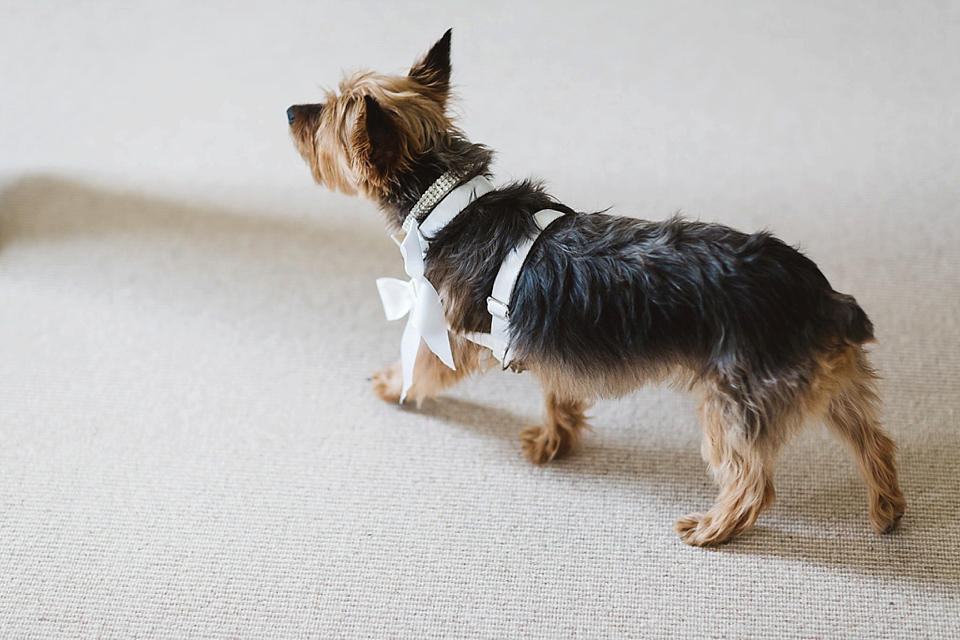 Unfortunately, Vicky's first wedding dress purchase was not a positive experience, but it was all turned around by London based seamstress Viola Armtzen and in the end, Vicky positively glowed in her most beautiful, bespoke dress.  The light puff of a skirt with the delicate lace covered bodice is just divine.
She kept her accessories simple with fresh flowers in her hair, an Edwardian diamond necklace, which was a gift from Paul and shoes from Badgerly Mishka, all finished off with a spritz of French perfume Femininite De Bois by Serge Luton Paris.  (In the afternoon she also donned a leather jacket for outdoor photographs, which looks fantastic!)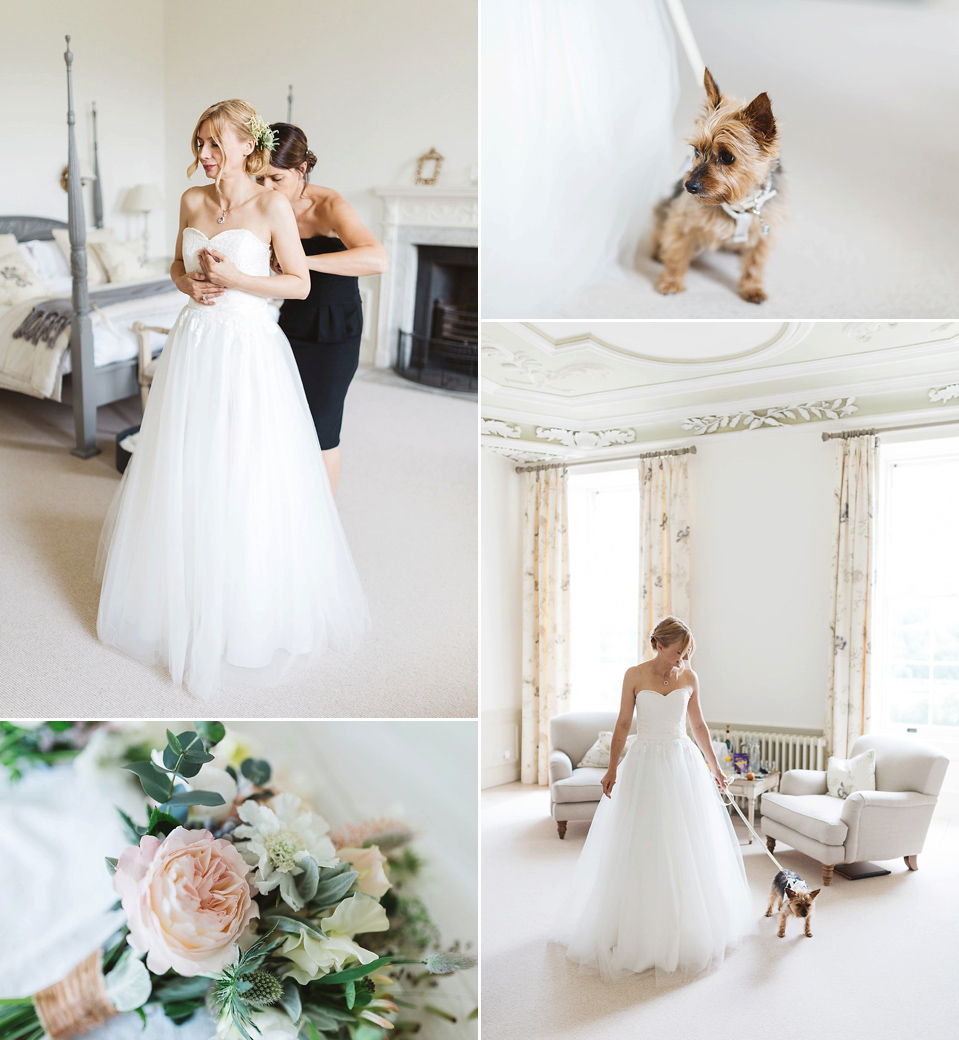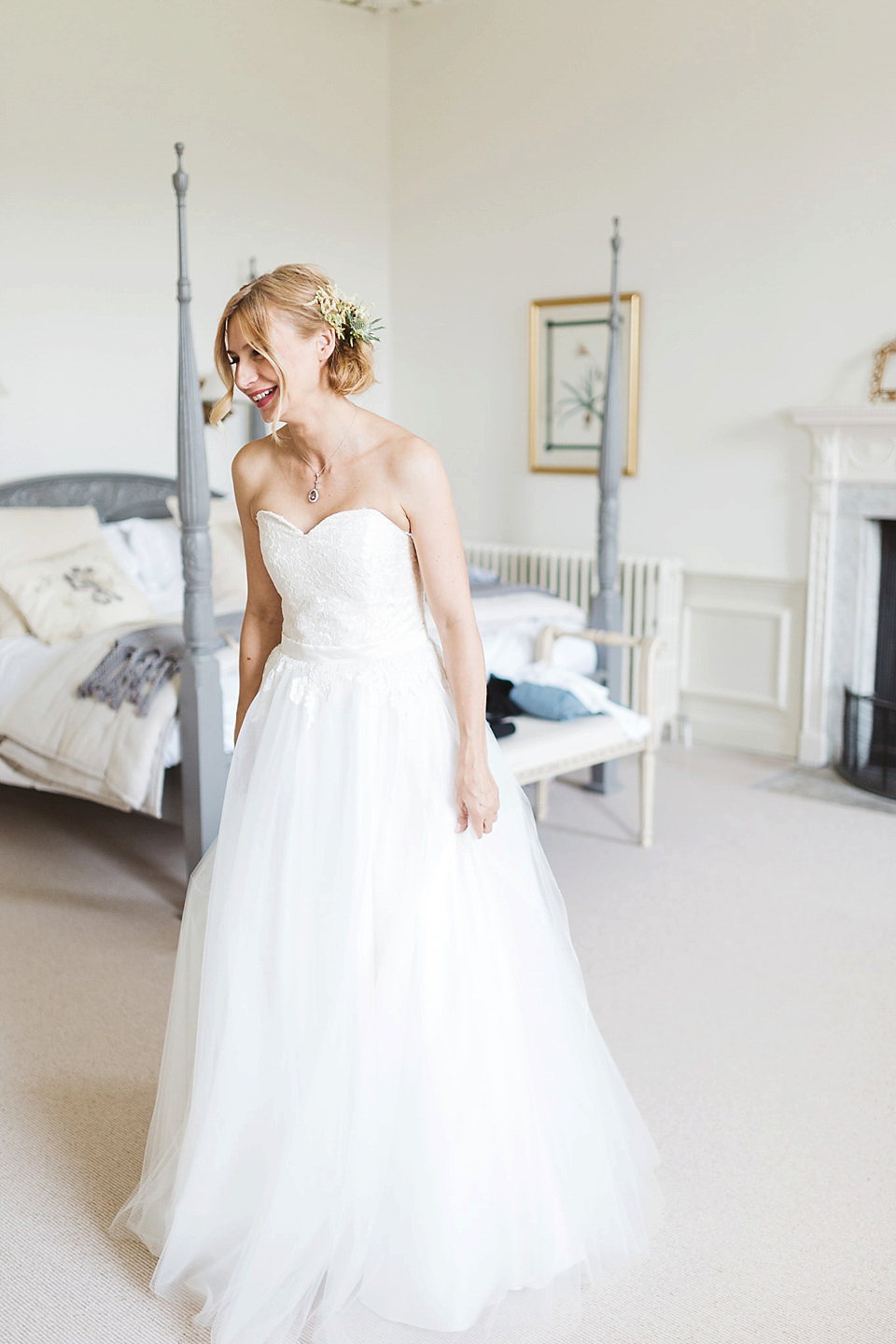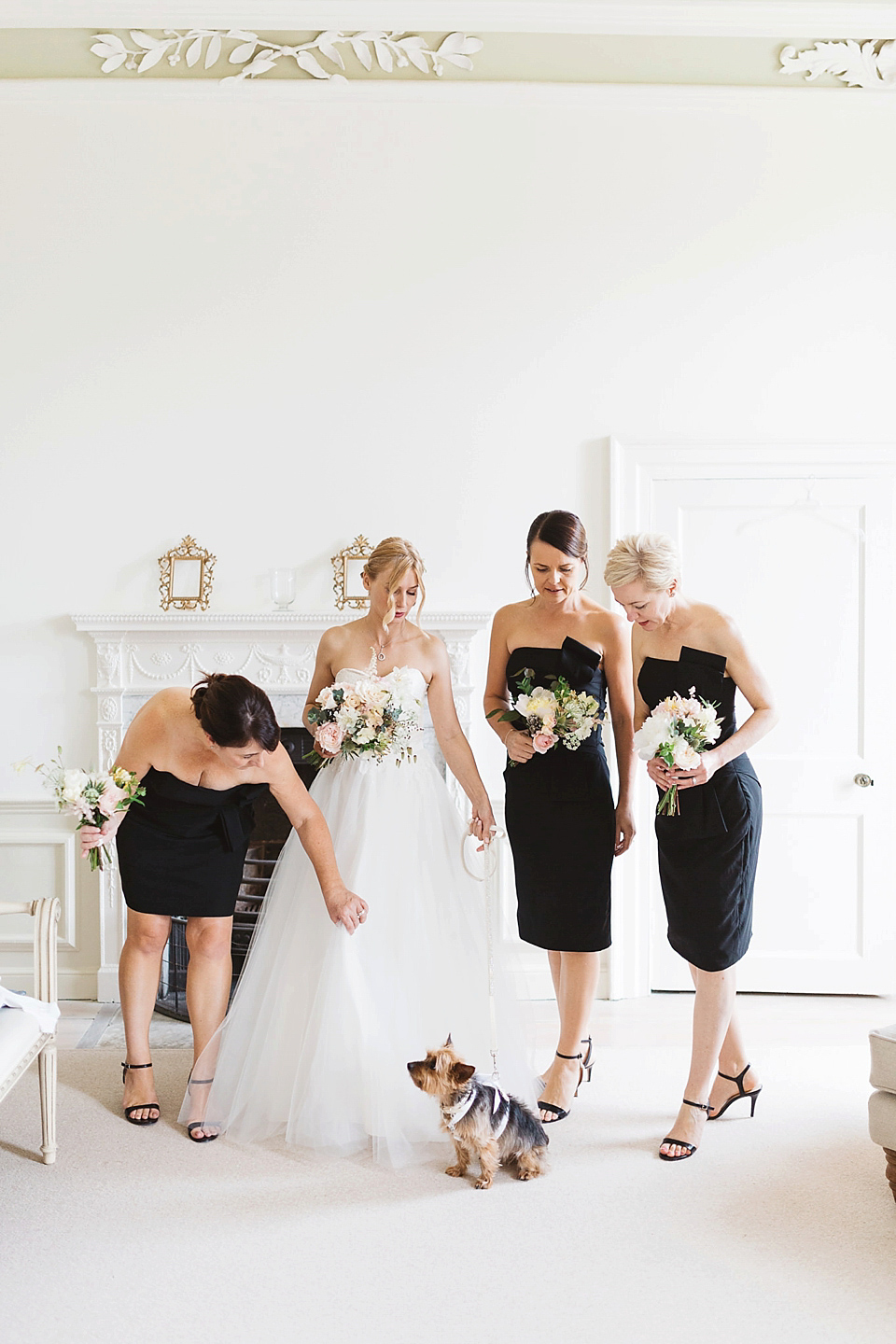 Sadly, Vicky's parents were not able to fly from Australia for the wedding, but her sister stepped up and proudly walked our bride down the aisle instead, to the cheery notes of 'I Was Made For Loving You' by Maria Mena.
The couple chose simple vows and a short ceremony, but it was no less heartfelt for this.  I just love the photo of the couple sharing a kiss at the top of the aisle while holding the lead of their Yorkshire terrier.
The floral arrangements were the work of florist Laura Hingston – aren't they gorgeous?  The soft shades and swathes of roses are so romantic, and the mix of textures is especially fabulous.  I particularly love the arrangements in jars along the chairs in the ceremony room and the fact that floral arrangements are everywhere!  You can never have an excess of flowers in my opinion.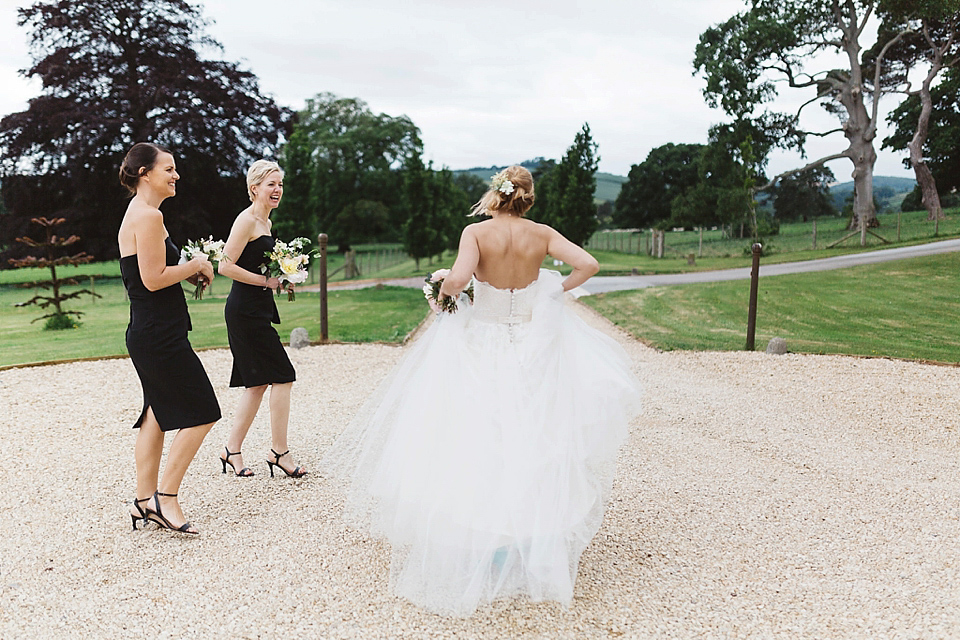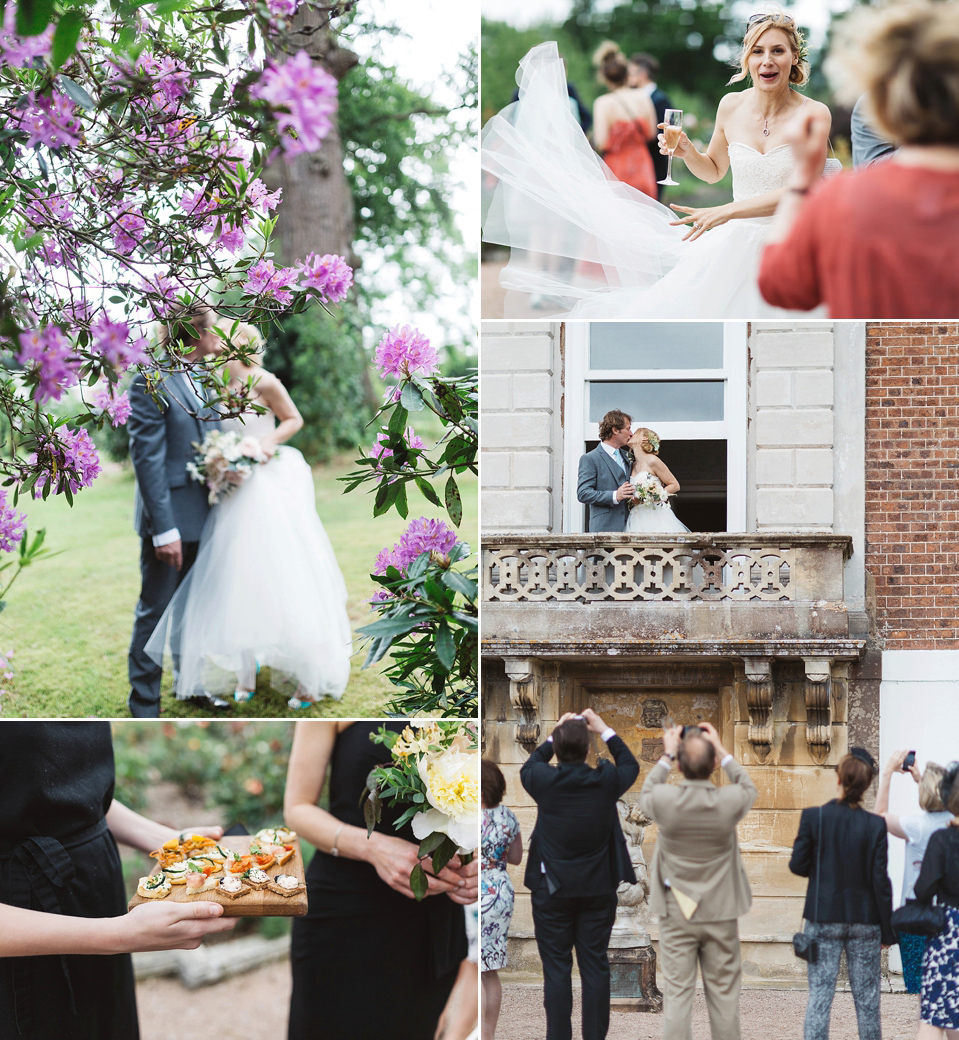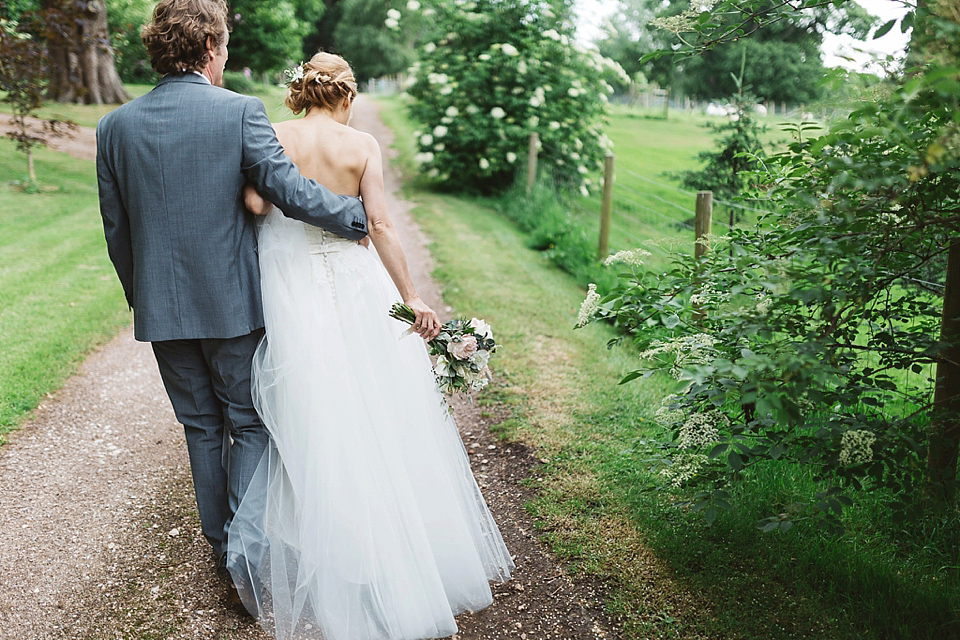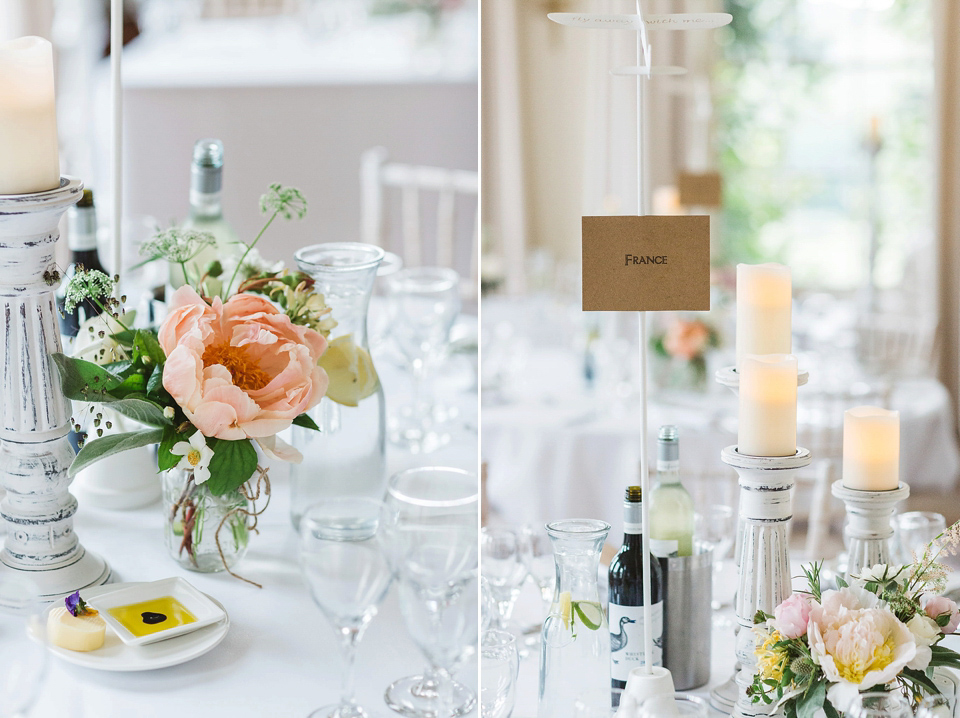 "For decor we used vintage suit cases from Paris, shabby chic candle holders, apple crates and vintage boxes and for our table settings we had vintage aeroplanes with the countries from around the world that were at the wedding."
"I made the wedding favours to go with the vintage travel theme.  We had three layers- the bottom was home-made chocolate bars wrapped in atlas paper, the second layer was a cream vintage suit case with our own brand of home-made tea and the top layer was a brown parcel box with vintage sweets."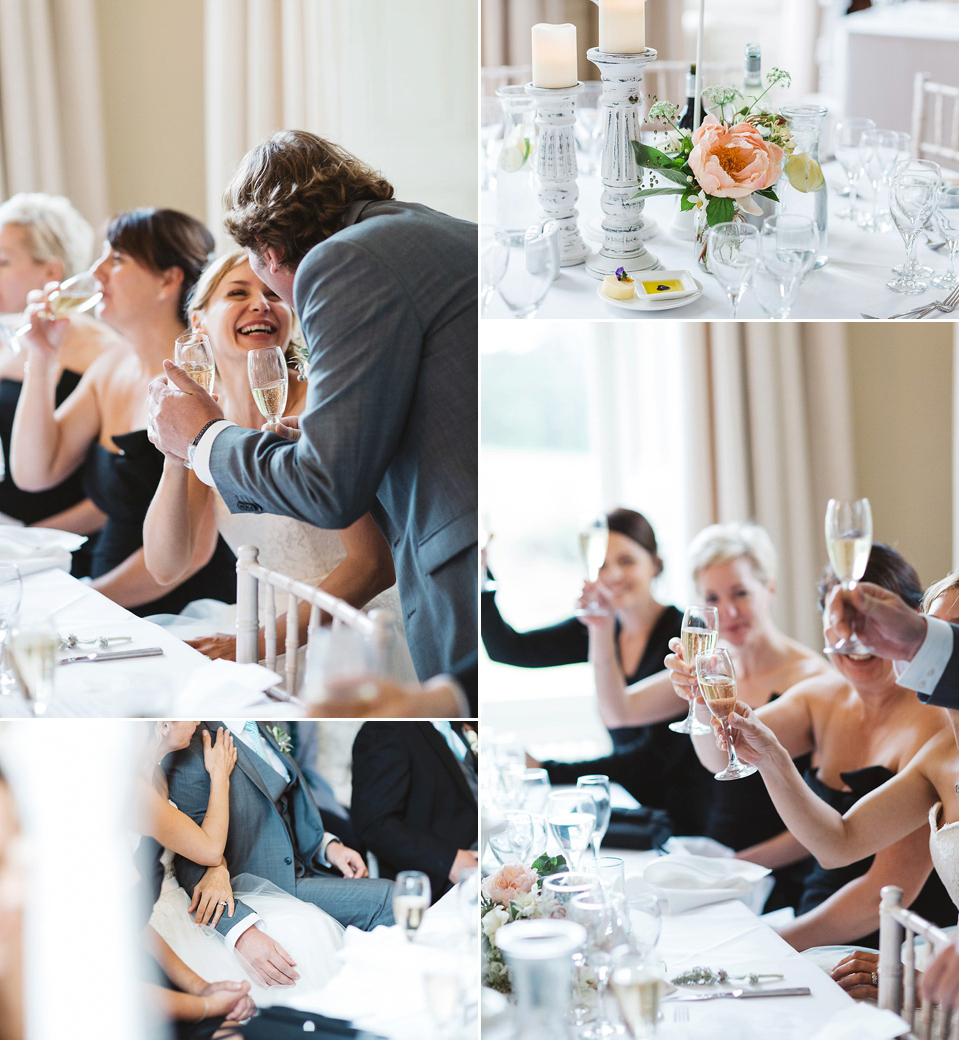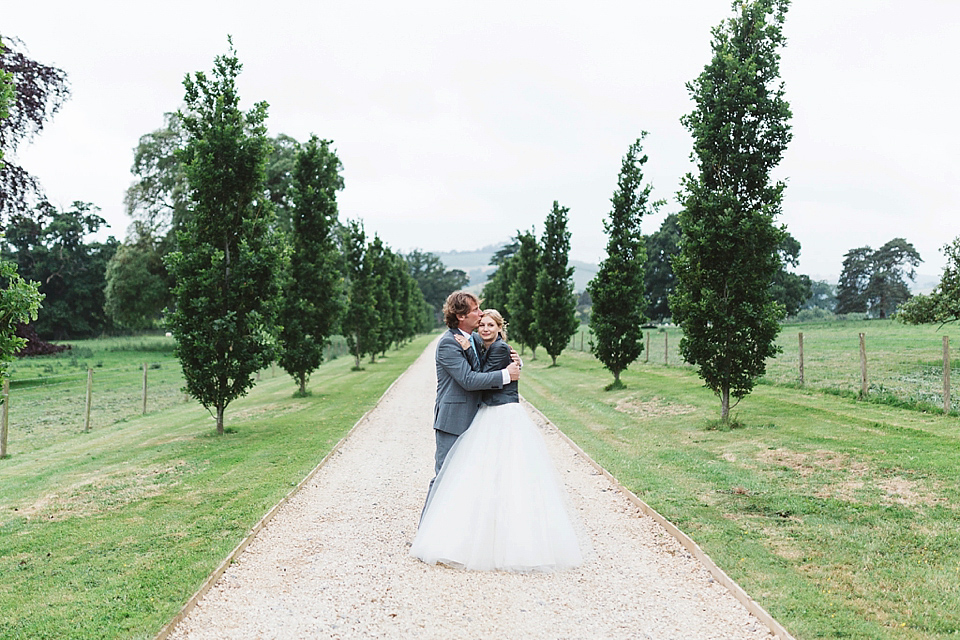 "I loved my morning with my sister and two best friends, one of which had flown over from Australia for the weekend to be by my side- it was a very valued time.  Another favourite moment was when I saw my husband waiting for me at the end of the aisle- I was filled with emotion.  I also loved the time that Paul and I had alone with Miss Gen."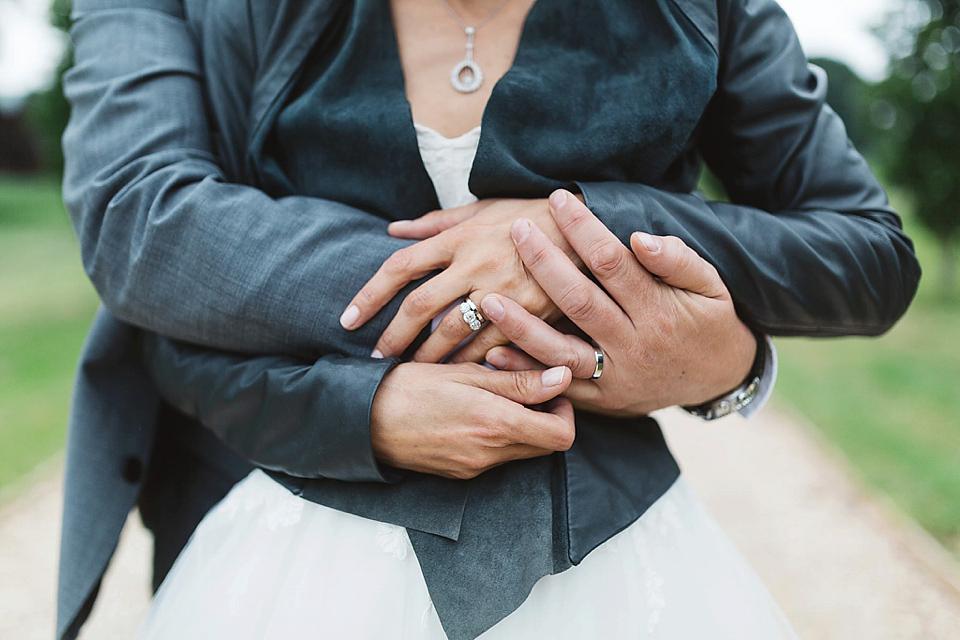 Words of Wedded Wisdom
"Make sure you find your dress in a country that you actually live in and have plenty of fittings so that it is right on the day.
Relax and enjoy the day and try not to let it become a circus about others- it is your day to share.
A wedding is just one day… a marriage is about the rest of your lives together."
Thank you for that excellent advice Vicky. Thank you so much to our couple for sharing their special day with our readers today, and thanks also of course to Miss Gen, for her stunning photography.  (For more of her work, see here).
Anyone else with an amazing engagement story?  Tell us it in the comments below, we love to hear them!
Happy weekend,
Shona x
Photographer – Miss Gen
Wedding Planner – Tracy from Blue Fizz
Venue – Pynes House, Exeter
Wedding dress – Viola Armtzen
Hair accessories – Fresh flowers
Shoes – Badgerly Mishka
Accessories – Edwardian diamond necklace from Paul
Perfume – Femininite De Bois by Serge Luton Paris
Bridesmaids' dresses – Made to measure, seamstress not named
Accessories- Vintage Diamanté clips
Florist – Laura Hingston Flowers
Cake – Kate Burke Cakes
Catering – Posh Nosh Catering
Stationery – Organised by Blue Fizz
Hair stylist – Dean Brown from Stylepixie Salon, Paris (Vicky's own salon)
Entertainment – Call Me Blondie