I should warn you now that this isn't a feature to be devoured if you're feeling peckish because I can promise you that your tummy will be rumbling so loudly, your neighbours will hear! Instead, I suggest grabbing a hot drink, perhaps a couple of cheeky biscuits and sitting down to enjoy an article that's all about creating a wedding feast to remember.
With exquisite food ideas from fabulous caterers Kalm Kitchen (including some delectable and exclusive images), styling advice from more of the experts you'll find on Little Book for Brides plus details of a new-for-2016 service from our partner Pocketful of Dreams, this feature is a real feast for the senses.
Photography by VLA Photography for Kalm Kitchen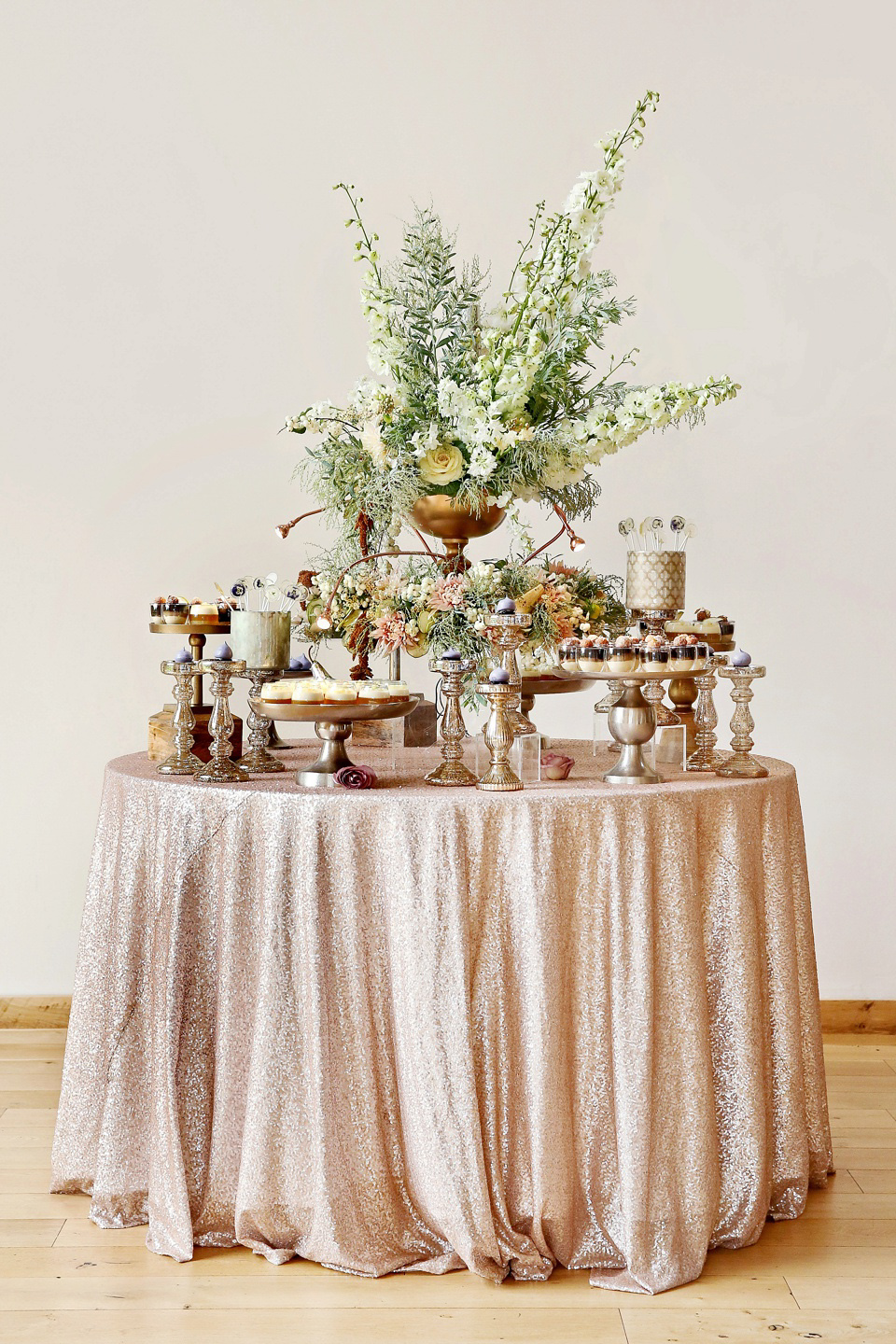 Beautiful blooms by Jay Archer Floral Design
For many couples (and indeed their guests!) the food and drink that's served on the big day is a real highlight. Feasting with those you love is creates a very special atmosphere and brings everyone together as they enjoy each other's company. It's a very special occasion that deserves an equally special menu and, over the years, wedding food has become more creative and increasingly exciting.
Couples now demand restaurant quality dining so choosing the right catering partner is more important than ever:
"Seek out a catering partner who can provide not just exceptional quality produce and a flawless service but one who really thinks about the guest experience and their role within that," says wedding expert Michelle from Pocketful of Dreams. "They should care about the details you're planning and offer constructive suggestions about how to make the food (and drink) feel cohesive to everything else."
"Find out what the caterers' ethos and specialities are – it could be farm-to-table organic produce or perhaps they lean more towards gourmet presentation. Many will combine a range of influences to provide something more innovative and inspiring."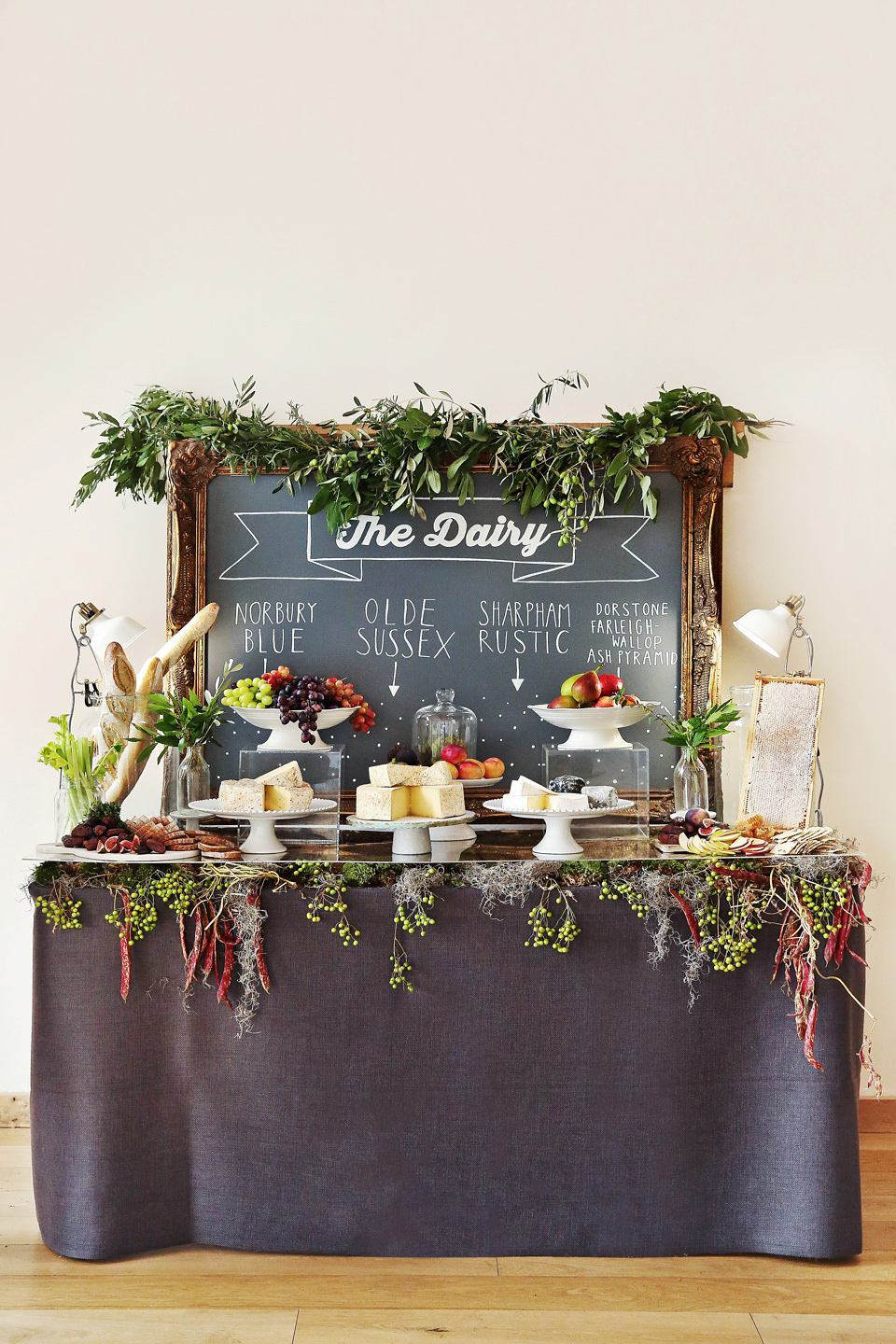 And the word 'inspiring' leads us perfectly onto some amazing and creative wedding breakfast and canapé ideas from the outstanding Kalm Kitchen. Annabel and I are both huge fans of this brilliant company so it's a privilege to share with you Director Jen Middlehurst's superb suggestions for 2016:
"Firstly, how about a juice and smoothie bar with a twist? Having a beautiful juice bar at any event is a talking point and by adding a spirit of your choice, you can make it even more of a treat for the adults! Our interactive stall comes complete with juice masters who create the drink of your choice and this is perfect for a summer wedding reception."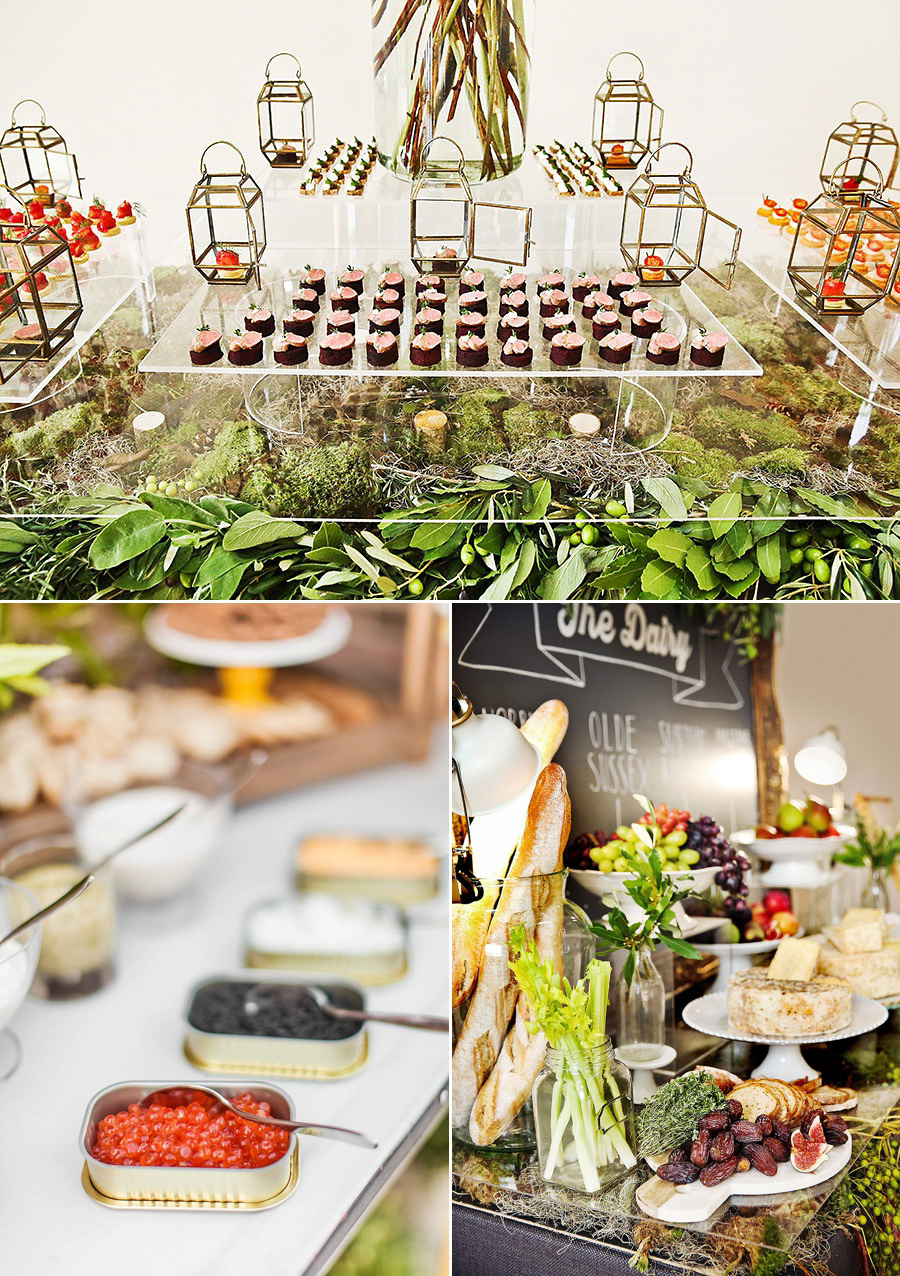 "Equally as perfect for those long summer days is our summer dessert tree and I'm thrilled to share this first on Love My Dress. The tree is bedecked with a selection of beautiful summer puds, allowing you to choose and graze in a pretty garden setting. Alternatively, we can bring aged olive trees inside your venue for your guests to enjoy."
"We adore creating brilliant canapés at Kalm Kitchen and another new idea we're sharing exclusively on Love My Dress is our static canapé grazing station. This is perfect for a drinks reception and of course we'll fill the display with the most tempting treats for your guests. Alternatively, a smoked salmon canapé car with our chef building beautiful canapés for you and your guests throughout your drinks reception would be an excellent focal point. Guests can choose which bases and toppings they would like so each and every canapé is unique."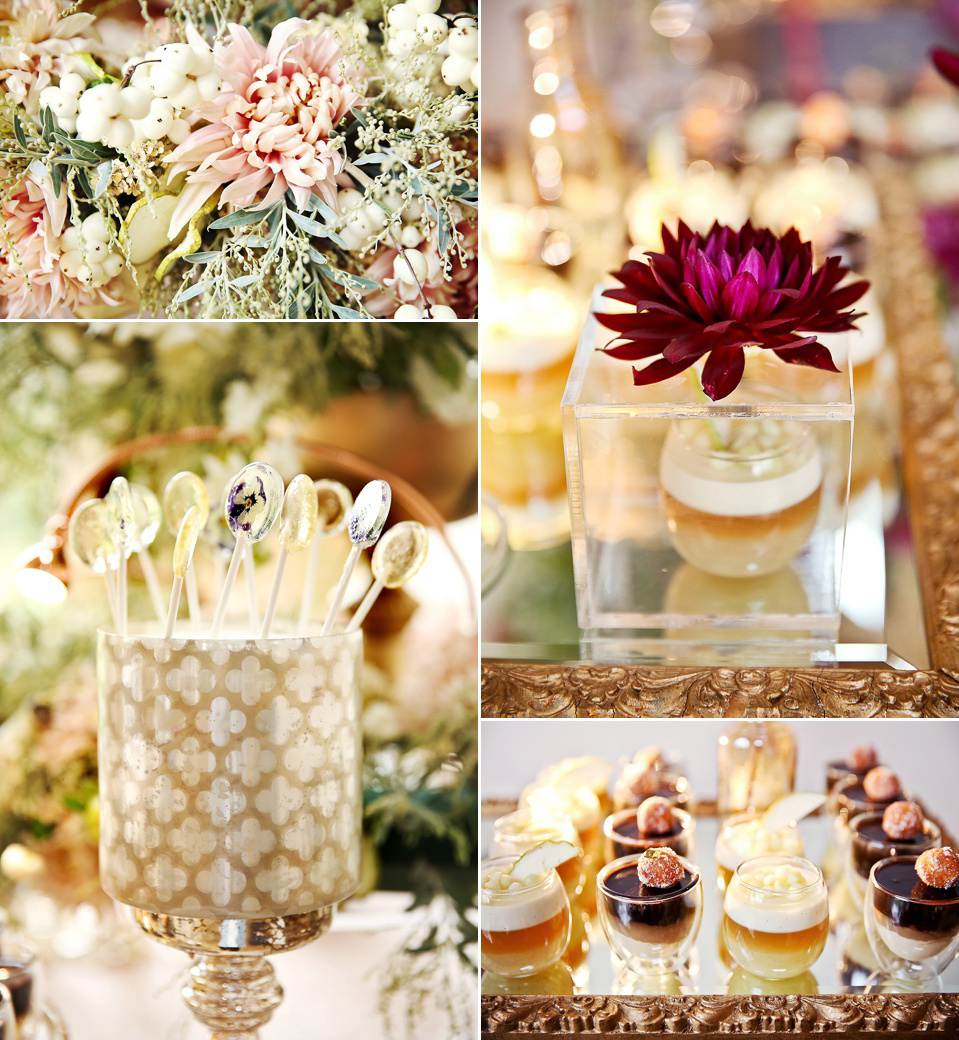 "Our patisserie bars are absolute showstoppers and these exclusive images show them in all their glory. They can be styled to suit your theme and no guest could resist the temptation of sweet delights and exquisite styling. Macarons, meringues and individual desserts are all there to enjoy."
"Finally, and if you'd prefer a savoury finale to your feast, The Dairy is our delicious grazing cheese table. Overflowing with fine cheeses, breads, fruit and fresh honeycomb, it's enough to make you want to give up sweet desserts. Well, almost!"
Thank you to Kalm Kitchen for that mouthwatering menu and for showing just how creative wedding catering has become. Of course, to really bring your wedding breakfast to life and to make it unforgettable, you can decorate and style your tables and dining area to your heart's content. But, where should you start and what works? Our Little Book for Brides experts have all the advice and ideas that you need…
"It's easy to get overwhelmed with all the inspiration about that so try to edit it down," suggest Michelle from Pocketful of Dreams. "Start with a moodboard as this will help you refine your ideas and visually communicate what you want to achieve as well as keeping you on track. Then think about ways to make your wedding feel special and faithful to your own style."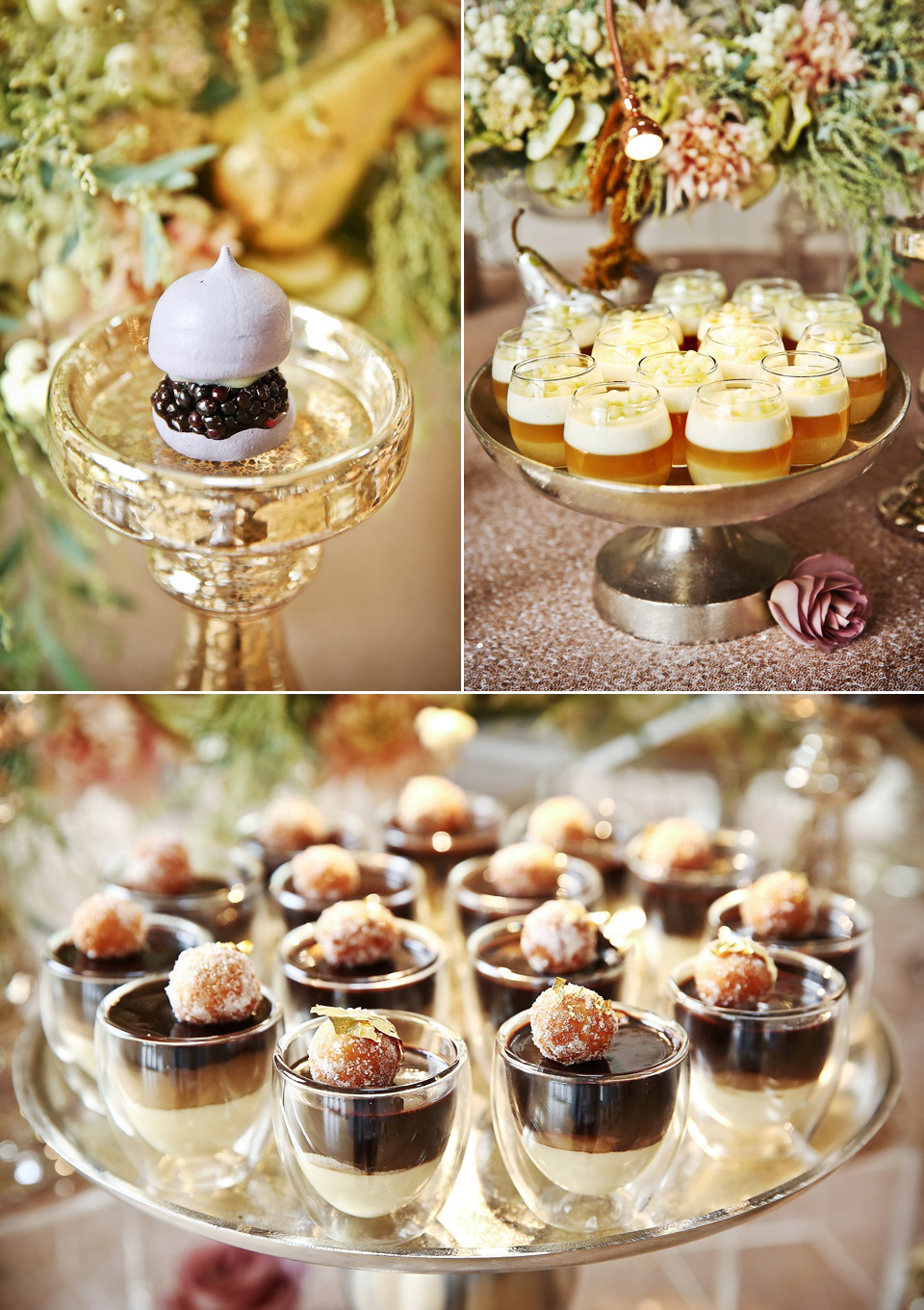 Kayla from Wildflower Wedding agrees:
"Every venue will look unique with the right touches. When talking through ideas with our clients, we like to understand what their home décor is and then we try to incorporate this into their day with the right colour scheme, props and favours."
Now all of that might seem like an awful lot to work on but Alyssa from Peach Blossom is here with a little reassurance:
"If you have a large venue or area to decorate, don't feel as if you have to decorate the entire room. Focusing your attention on just one or two spots can be enough to make an impact. For example, if you dress a table for cards and gifts or you decorate the cake table, this creates a beautiful focal point for your guests. If you're also not sure where to begin when it comes to decoration, ask your venue for images of previous weddings to get some ideas of what couples have done in the past."
Photography by Eddie Judd
Another alternative is to work with a stylist who can bring all of your ideas together for you and create a look that's all about you:
"As a stylist, it's my job to work with couples to create the décor that reflects their personalities, wow guests and looks gorgeous in the photographs," explains Kirsten from The Little Wedding Helper. "Whatever you decide however, communication is key so let your suppliers know what you've decided to do – venues, caterers, florists, stylists. Sometimes couples spend money on candles that aren't lit because they'd wilt or burn fabulous floral centrepieces or because the venue has a no candle policy.
Even things as simple as letting staff know what's been outsourced and what you'd like provided will save valuable time so it's really important to let each supplier involved in the breakfast aware of any decisions you've made."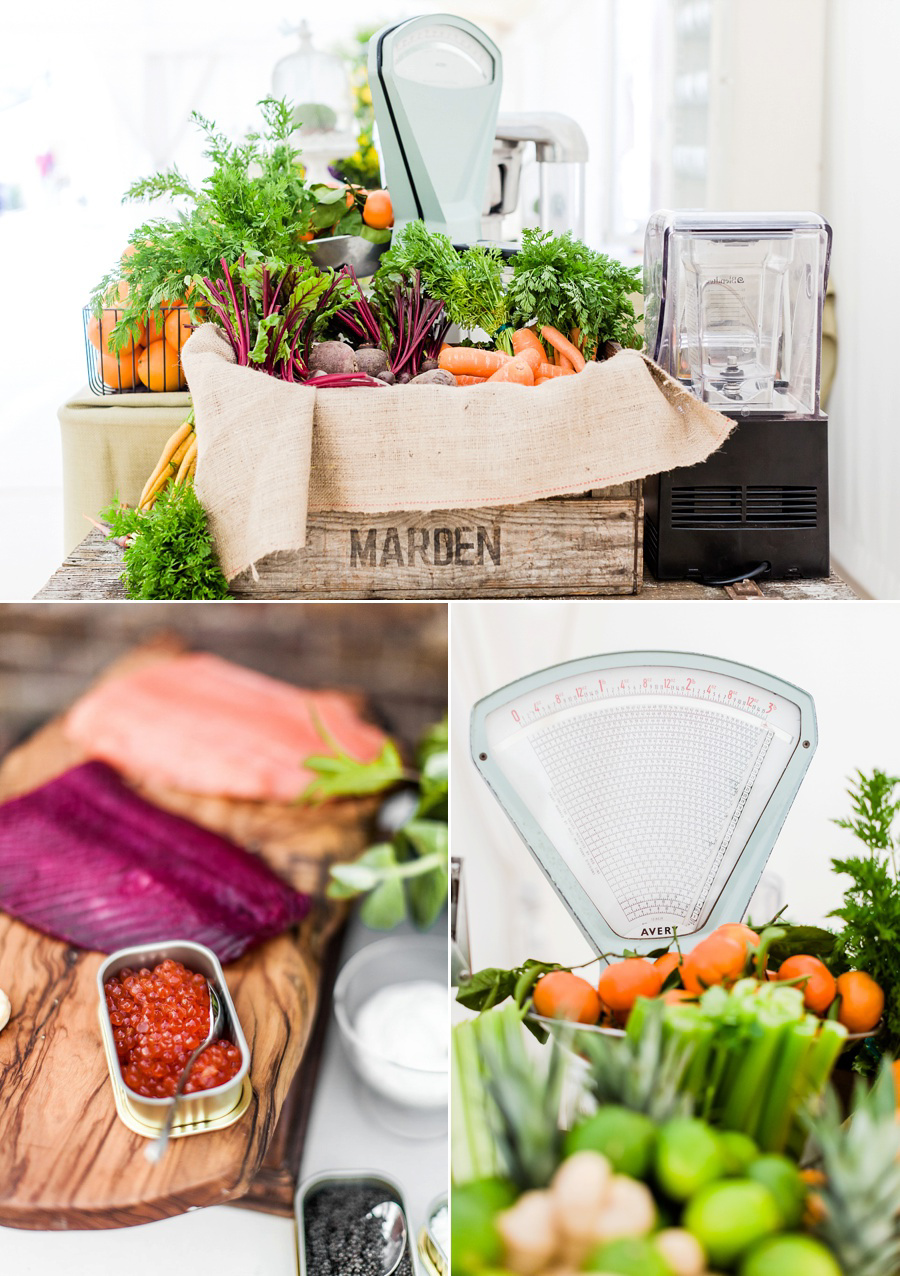 So, what is available? What areas can you style and what do our experts think works really well? Let's start with the tables themselves…
"For a true statement tablescape design, it has to be long banqueting tables with tall oversized floral arrangements positioned at various points all the way down the table with lots of candlelight," says Maria-Antonia from Duchess & Butler. "We love uniformity along the length of the table to create a real wow factory. If there's sufficient space, using a combination of long and round tables can really create an interesting visual arrangement in a reception room. If you've opted for round tables only, think about mixing up the sizes of the rounds if this will improve the layout and flow in the space."
Chairs are another area to consider as it's surprising how much of an impact these seemingly simple pieces of furniture can make:
"Chairs might not be your most important consideration when it comes to your wedding reception but they're really important," says Krissy for Sweetpea & Blossom. "The wrong chairs can ruin a reception whereas the right ones can transform a whole venue. Chair covers and sashes can seem very old fashioned and aren't right for all weddings but chairs themselves complement a stylish wedding reception."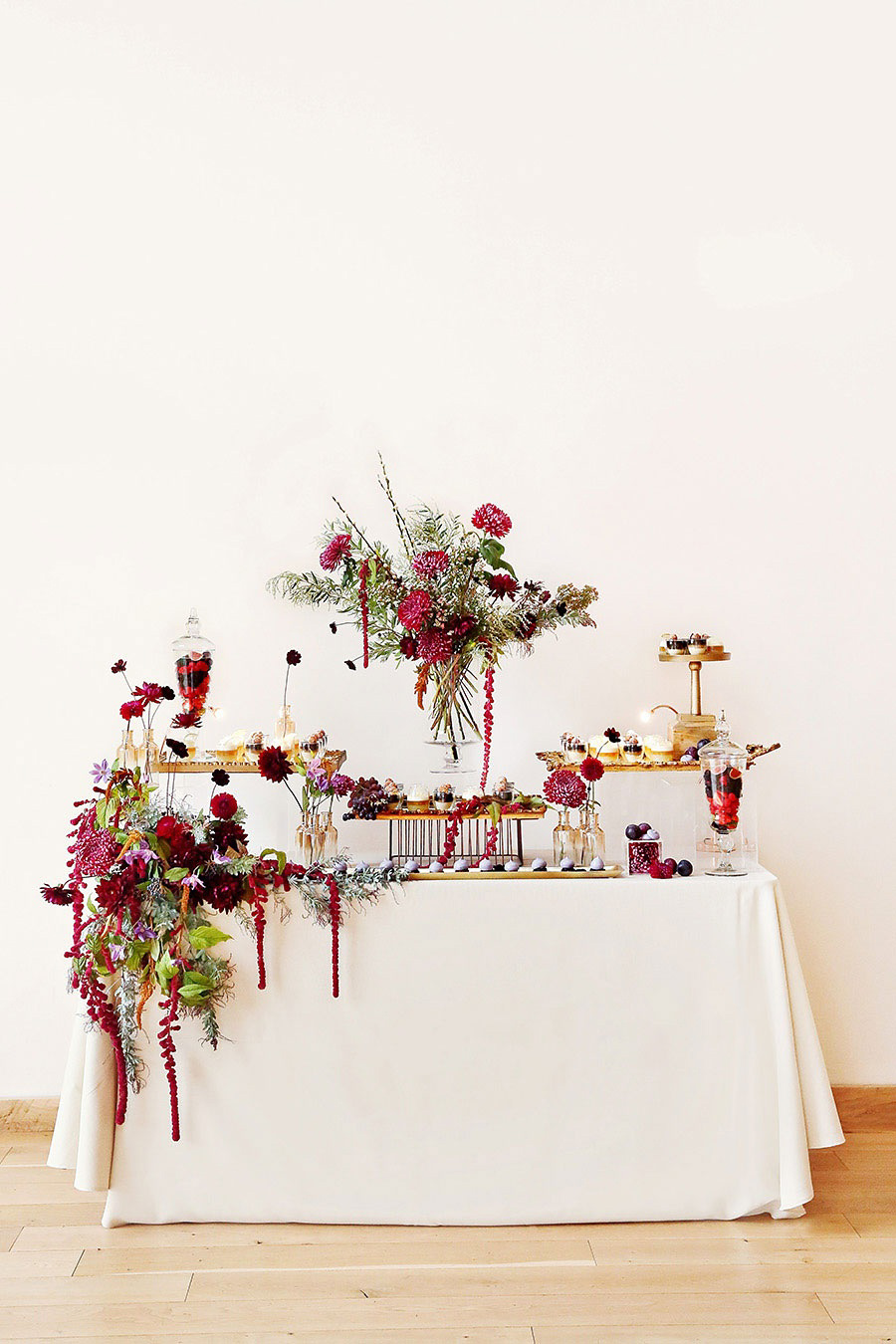 "Furniture is the baseline of your design," explains Michelle from Pocketful of Dreams. "It plays a huge part in creating the overall look so don't rule out bringing in furniture and don't just go with the standard options. Warm wooden chairs mixed with rich tonal linens will create a really luxurious and intimate atmosphere while Lucite chairs and crisp grey linens lean more towards a minimalistic look."
"When it comes to designing the table top, we love layers! Layer texture by using different fabrics for the tablecloth to the napkin but use the same colour palette for a subtle, elegant touch," suggest Maria-Antonia from Duchess & Butler. "Design your reception table so that one or two items from your dining table 'pop out' visually at your guests when they first enter the space – this may be the charger plates, perhaps coloured glass or the flower arrangements. Introducing colour in this way will still make for a pretty presentation without going over the top. If everything has a leading role, the whole table setting could feel very confused."
So, what elements can you personalise? Let's take a look at some of your options:
"Name cards are a fabulous way of creating a stylish wedding breakfast table," says Zoe from Pea Green Boat. "The choice is huge but whether you choose simple tented cards, rectangular cards sitting in little branch name card holders, colourful luggage tags tucked into napkins or decorative plaque name cards pegged to wine glasses, do think about how the names are written. We think hand-writing is the nicest and all the lovelier if someone special has done it."
"Table numbers are also a great way of injecting a touch of style," continue Pea Green Boat's Zoe. "Choose from simple MDF numbers that can be decorate to match your scheme or create your own with our giant gold number stickers and sit them in branch name card holders – simple effective and rather stunning. Another idea is to use our small gold or silver letter balloons as table numbers – fabulous and different!"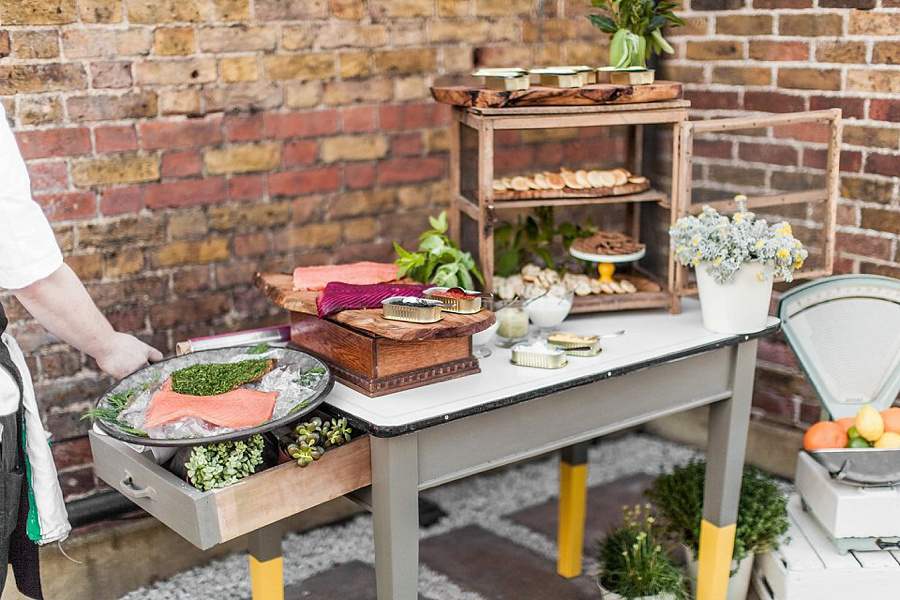 "Table runners are another great way to add personality and one of the questions I get asked the most by brides is 'how wide should a table runner be?'" says Katy from The Bride's Table. "We usually recommend a 40cm wide runner for standard circular hotel tables. This allows room for flowers and it will comfortably fit a place setting. For narrower trestle tables or the top table, a 30cm width works best."
"It's really important to think about lighting," says Maria-Antonia from Duchess & Butler. "Think about the lighting at the time of day you are hosting your wedding reception. Colours look very different in the daylight and at night. If you're having a winter wedding with a wedding breakfast at 4pm, it may well be dark then."
As masters of atmospheric lighting, the team from Vowed & Amazed know all there is to know about transforming venues through light:
"Lighting is often overlooked but with a little bit of thought, it can transform a room and sent it from ordinary to glorious," says Vowed & Amazed's Caroline. "The advantage of our light up pieces is that they create the most beautiful glow to bathe your guests in while they dine and dance the night away with the added bonus of looking fabulous as décor too so you get a big tick in the décor box and your lighting is sorted. Never underestimate the power of a well lit room to create a party atmosphere."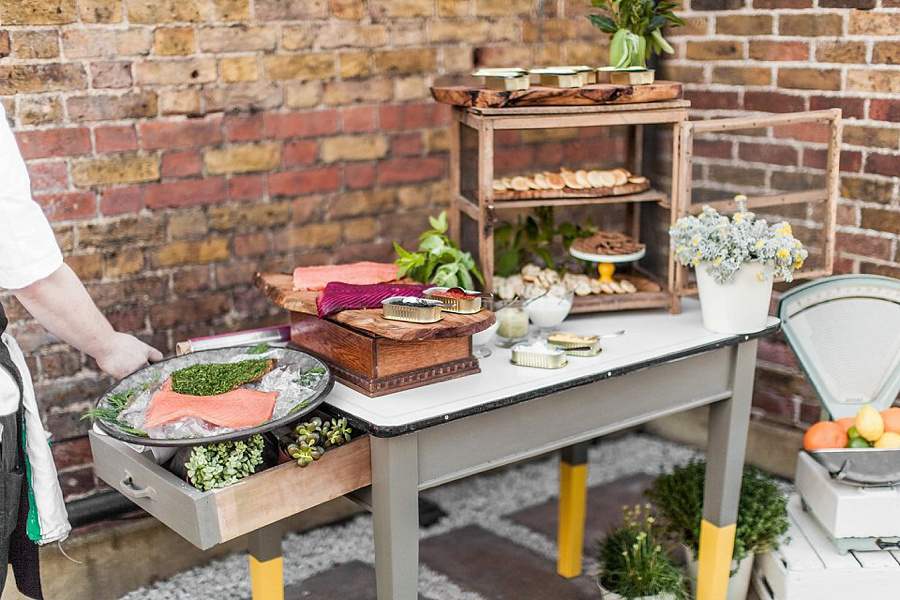 "I think being unique and letting your own personalities shine though really leaves a lasting impression," says Harriet from Fairly Vintage. "It's lovely when you sit down at the table and see something on there that makes you say 'ahhh… that's SO them!' Don't be afraid to push the boat out. Put things in your centerpieces that make the day about you, whether it's photos or memories or just let your own chic style take over."
Maria-Antonia from Duchess & Butler agrees:
"Our top tip is to make the wedding personal and to be confident to adapt any of the traditional elements that you don't think work for you. Guests love attending weddings that are individual and will be pleasantly surprised by anything unusual."
There are also two things that guests of all ages will appreciate on your wedding day and those are places to escape to:
"We've noticed bride and grooms have been really keen to create a fun, cool space for the kids joining them on the day," says Lucy from Lulu Bell Tents. "We've set-up and styled our bell tents for kids to chill out in and we've created a cosy, bright, fun play area with lots of games for the little ones which was the perfect place to keep them entertained, safe and happy throughout the day. If you're planning on having kids to your day, having a separate area for them to play with friends once they've finished eating is great, especially before they start getting fidgety!"
And it's not just the younger guests that need their own space:
"Don't overlook a stylish chill-out zone," says Krissy from Sweetpea & Blossom. "There are moments during the reception when the bridal couple like to spend a few moments alone together and gather their thoughts and you often hear about wedding receptions where the bride and groom have nowhere to escape to. We love creating very elegant and stylish chill-out zones for weddings so the couple can be together for a little while before joining their guests and then this area can be opened to everyone after dinner. Filled with scented candles, comfy sofas and soft floral, everyone will love it, especially when they have sore feet!"
Whilst we all know we need to provide food and drink to our guests, the question of whether to give wedding favours can be pretty divisive. Originally meant as a small but significant gift, wedding favours can be loved and loathed in equal measure.
"Favours are a little like Marmite," says Michelle from Pocketful of Dreams. "Some people love them and some pay no attention at all. I do think the whole premise behind wedding favours has been lost over the years and now they tend to be 'the thing' that couples either agonise over or forgo altogether. I guess you need to think about why you want to give favours in the first place and how your guests will feel when they receive them."
"You don't have to have wedding favours but they are a nice finishing touch and, if they coordinate with the table décor then they will add to the overall look and style of the wedding," says Ann Marie from Paper Tree. "Choose something that makes a nice keepsake of the occasion that guests will want to keep or simply fill a box with a couple of chocolate truffles for guests to enjoy right there. Favours can also double as place names by incorporating a name tag."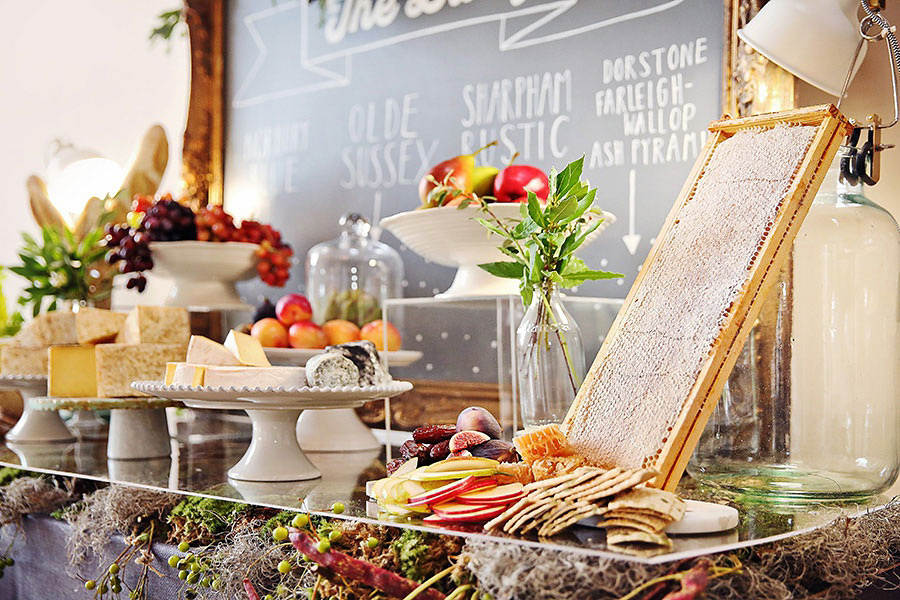 Of course, you don't need to put favours on tables or opt for the traditional gifts:
"At our own wedding, we arranged for our wedding favours to be placed in guest's rooms the day before," says Lucy from Lulu Bell Tents. "It was really fun to organise and everyone loved the personalised gift when they arrived – it turned out to be more of a surprise to have them beforehand than at the wedding breakfast."
"One of our couples, instead of favours, set up a temporary tattoo parlour that went down a storm," says Michelle from Pocketful of Dreams. "Another couple really wanted to spoil their guests, many of whom had travelled from afar for their wedding in Cornwall, so we created bon voyage kits with essential road trip elements like M&Ms, locally produced apple juice and a CD of their favourite songs. I still have that CD in my car now four years later and I'm pretty sure all their guests will have it too."
Finally, don't forget the practicalities of bringing everything together, both before the wedding and on the big day itself:
"Keep a photographic record of each setting when you've finalised it," suggests Maria-Antonia from Duchess & Butler. "Not only will you have something to refer back to at a later stage but you can also share it with the suppliers who are helping to create the tablescape on the day such as caterers and your florist."
"If you're DIY-ing anything at all, set aside the amount of time you think you need and then double it," says Alyssa from Peach Blossom. "These things really take so much longer than you expect them to. Ideally, try to get everything finished several weeks before your big day and rope in help where you can!"
"Also, when you're choosing your decorations, make sure you take into account how much time or help you'll have ahead of the wedding," continues Alyssa. "If you can't get into the reception room the night before, you might need to keep your ideas simple and ensure that everything is easy to do."
"If you're hiring items, the sooner you can arrange this the better," says Michelle from Pocketful of Dreams. "Stylish table décor is hard to come by and really unique elements even harder so if you have your eye on something specific, reserve it. Often, we have to search and source our own items meaning we've ended up with a treasure trove of tableware and props to draw upon."
We're currently in the process of developing a new and entirely unique hire service that we're very excited about, launching in Spring 2016 featuring bespoke artisan pieces from independent makers and emerging brands to offer a truly special collection of stylish objects to hire so watch this space! (Michelle, Pocketful of Dreams)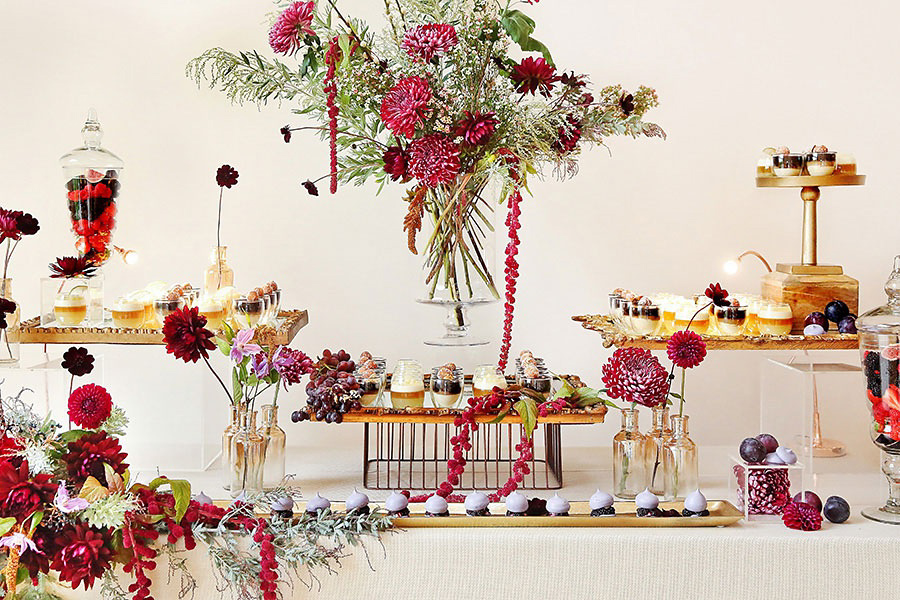 Thank you so much to all those brilliant professionals who have contributed to this feature. You'll find them all, and many more hard-working and splendid wedding suppliers, in our carefully curated bridal resource so do take a look soon.
Love Tamryn x
Photography – VLA Photography
Food Styling – Kalm Kitchen
Florist – Jay Archer Floral Design
Sequin Table Cloths sourced via Pudding Bridge