The weather is drawing in and winter really feels like its approaching now- what we need is something to lift our spirits on this grey November morning and I have just the perfect thing. Mr and Mrs Knott, tied the, er, knot (sorry, I couldn't resist!) on the 8th August 2015 in a lovely church ceremony at Saint Margaret's church in Syleham, Suffolk followed by a marquee reception at Julian's parent's house in the same village.
This is a wedding full of happiness, games and fun and it can't fail to make you smile. Julian, who works for an International Organisation, and Nadia, a full time Mum (who used to be an event planner) created the most wonderfully classic summer wedding with a family friendly feel and really made their younger guests a big part of their day. I hope you love reading this feature as much as I enjoyed preparing it.
"We wanted our wedding to be a rustic, English country wedding.  For us it was going to be the party of our life surrounded with friends and family- nothing lavish, just very bohemian, easy going where everyone would just have a great time and be comfortable."
Photography by Kerry Diamond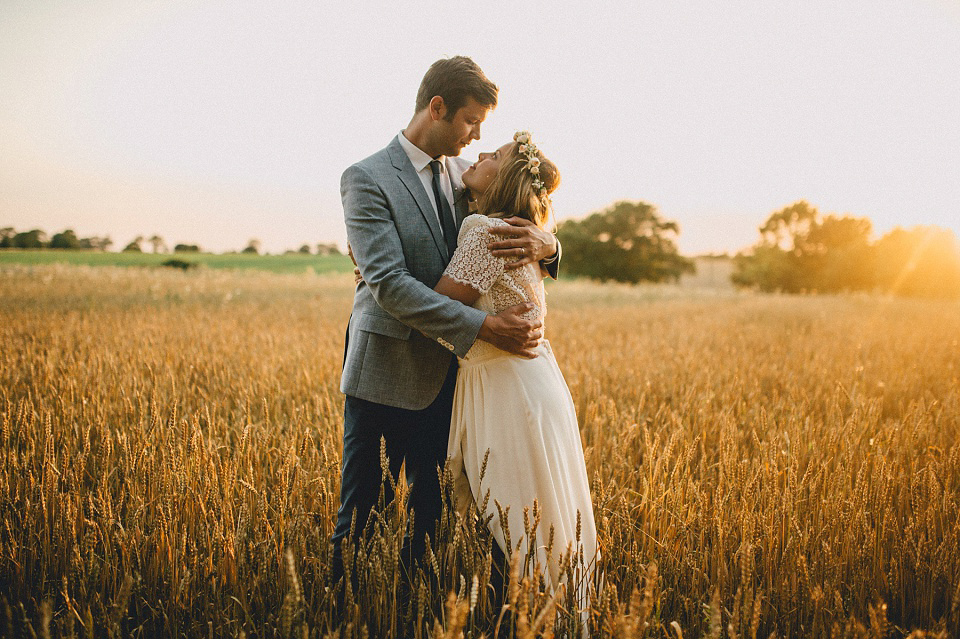 "We chose to get married at Julian's parent's home because the grounds are just so beautiful and it made it so much more personal. We used their two front paddocks, the barn and the attached walled garden and people scattered everywhere, including around their house, in the back gardens and the pond. It is simply one of the most beautiful, serene places in the world."
Isn't Nadia's dress just divine? I love the soft, yet tailored shape, particularly the deep v-back, and the lace on the bodice is an absolute dream. The gown was bespoke made for Nadia at the Laure de Sagazan atelier in Paris. It is the epitome of effortless elegance.
"I just love her style; the simple, bohemian look, the amazingly beautiful and detailed work, the lace (OMG the lace). When I walked into the atelier I wanted to buy all the dresses but this one was a definite wow."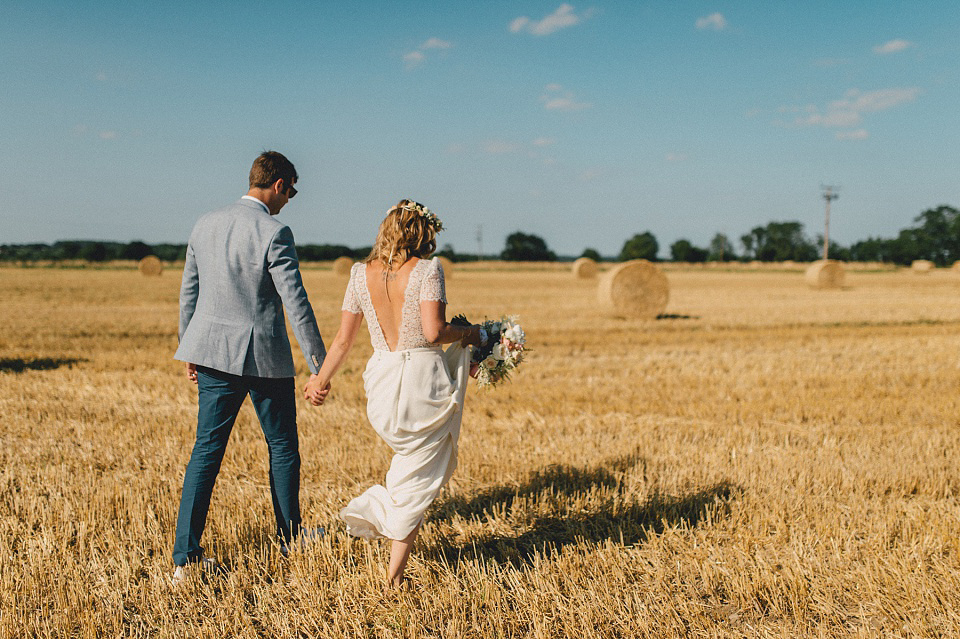 On her feet, our bride wore Jimmy Choos, while for jewellery she chose bangles from Box Bazar and a bracelet from Satellite. Everything was finished off with a squirt of Coco Mademoiselle by Chanel, her usual perfume.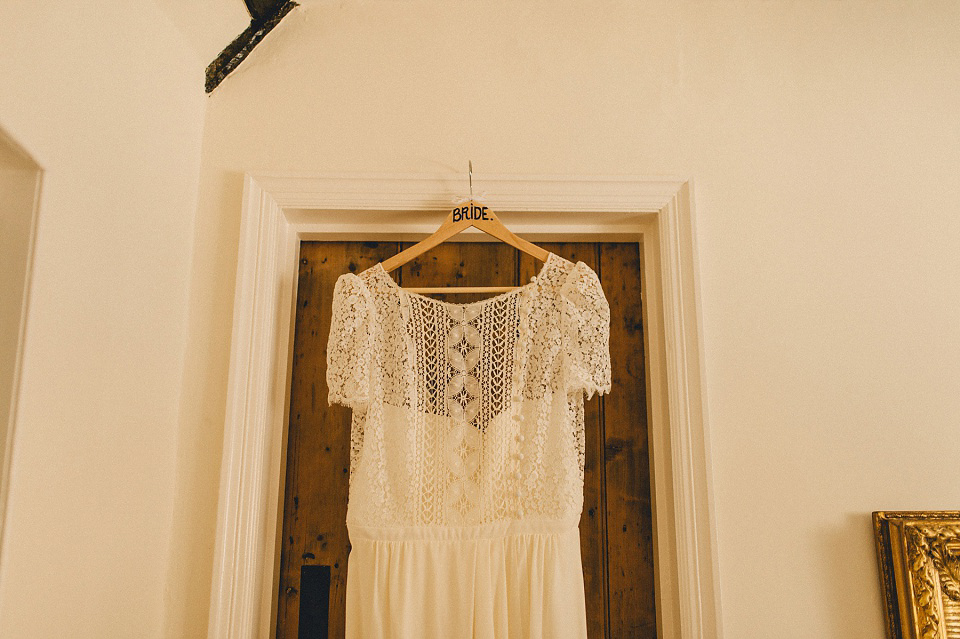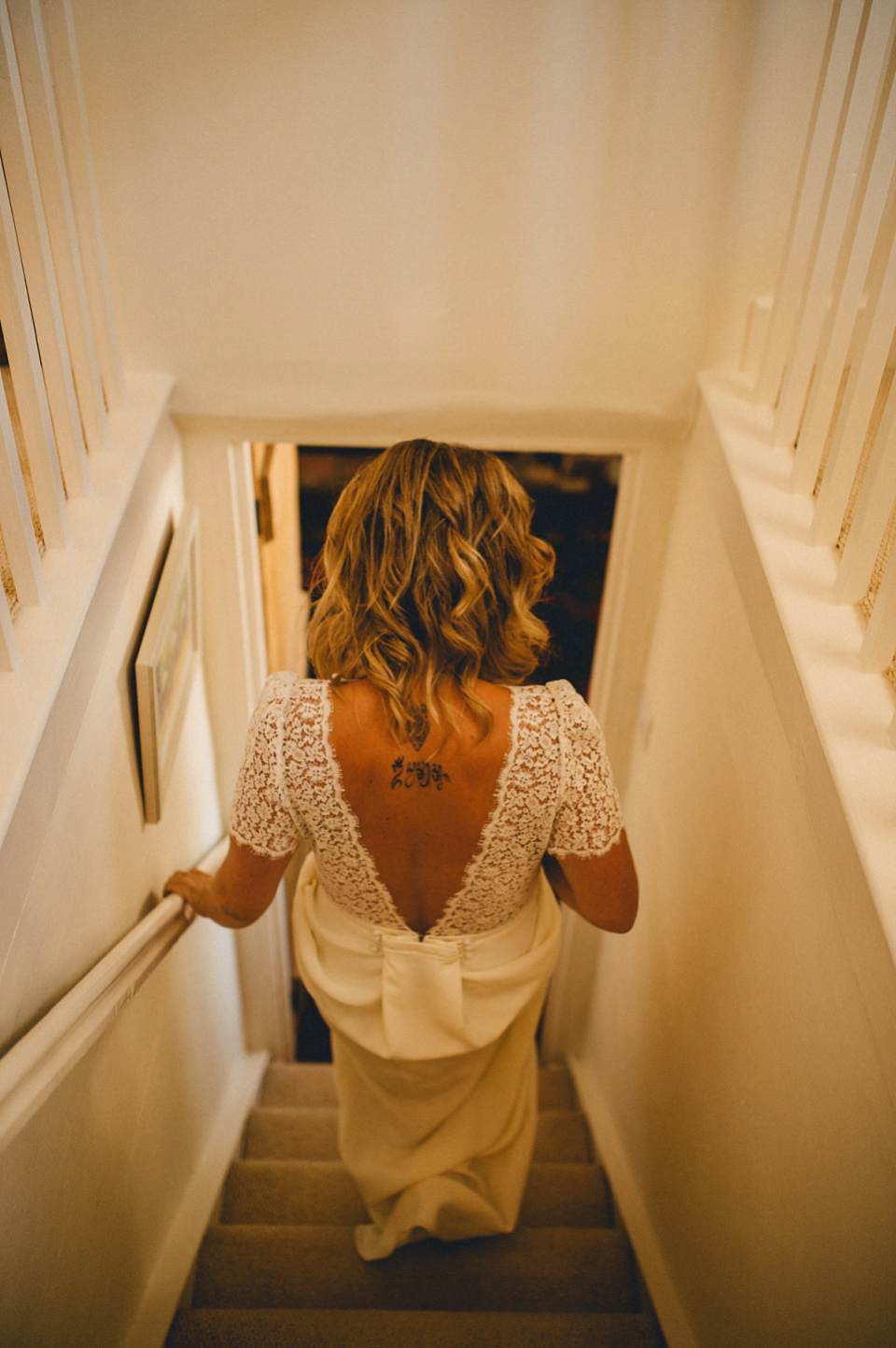 To compliment her bohemian style dress, Nadia chose to wear the most gorgeous floral crown, made by the florist Claire, and incorporating many of the flowers in her bouquet. I just love it- its so pretty and must have smelt incredible.
The gorgeous floral displays were the work of The traditional Vintage Flower Company.
"I basically saw their work and fell in love. The beauty, the simplicity, the rustic feel – everything was spot on! I then spoke with Clare, the creative director, about the venue, which was basically outdoors, a big marquee and the barn, along with the colours I liked (peach, pink, white, green) and she came up with the most wonderful arrangements. I trusted her fully and I even got the surprise as I hadn't seen anything beforehand. In fact we met on the morning of the wedding and I only discovered the arrangements when I got to the venue- I was completely blown away."
"Julian and I met in Paris in early March 2012, where we both worked for an International organisation. Julian had just moved over from London and a mutual friend and colleague introduced us more or less the week of his arrival. It didn't take much more than a month for us to be together. After a year, Julian moved in with me before we then moved out of my flat and into our own love nest. A year later, on 22 April 2014, Olivia was born! She is now 16 months. 
In November 2014 we went to his parents' in Suffolk for the weekend and on my birthday Julian proposed on a beach on the north Suffolk coast. It was raining heavily and there were gale force winds so I couldn't hear a thing of what he was shouting out to me but then I saw a little white box and just screamed YES in the hope that I hadn't got it wrong."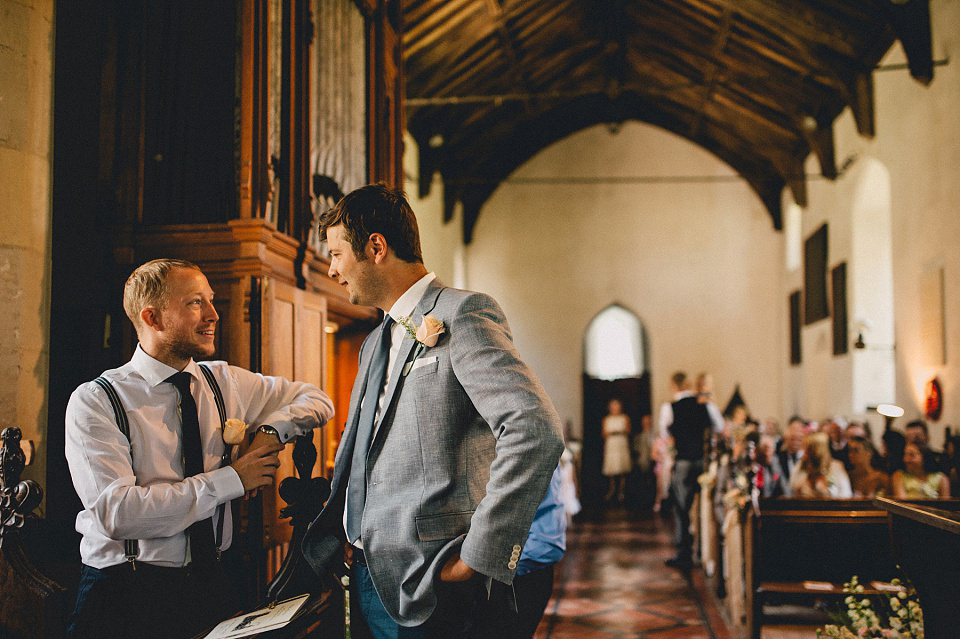 "My bridesmaids all picked their dresses as I didn't want to impose anything and just wanted them all to feel beautiful in what they chose to wear. Their only guideline was a palette of colours (pastels ranking from nude to mint green). I also really liked the mismatched look which fit in with my boho theme."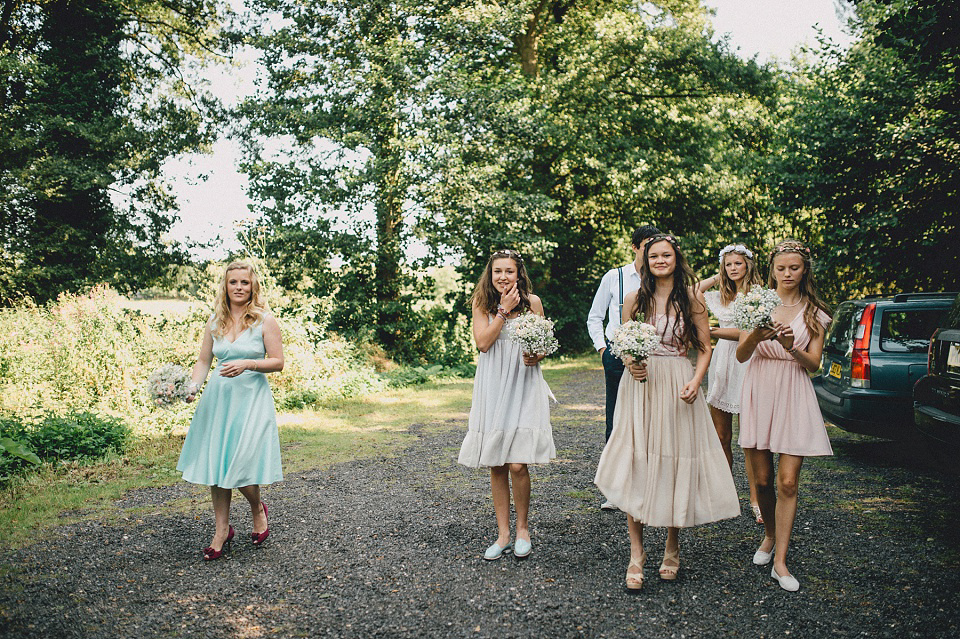 The couple's sixteen month old daughter Olivia made the sweetest possible flowergirl, in an ivory dress from Tea Princess Australia. How cute?
Nadia was driven to the church in her great Uncle Jim's Jaguar and then walked down the aisle by her Uncle Garry to 'Crazy Love' by Van Morrison.
"My husband's best man, Will, sang and one of his groomsmen, Tom, played the guitar. It was absolutely amazing and added brilliantly to an already moving moment.
I have never really had any contact with my father so growing up my Grandad (my mum's dad) took up that role but he passed away when I was ten so my uncle took over. It was the most natural and obvious choice."
During the ceremony,  Julian's mum, Jane, read a selection from the Book of proverbs, and Nadia's Mum Lyn, read a poem 'Love' by Roy Craft.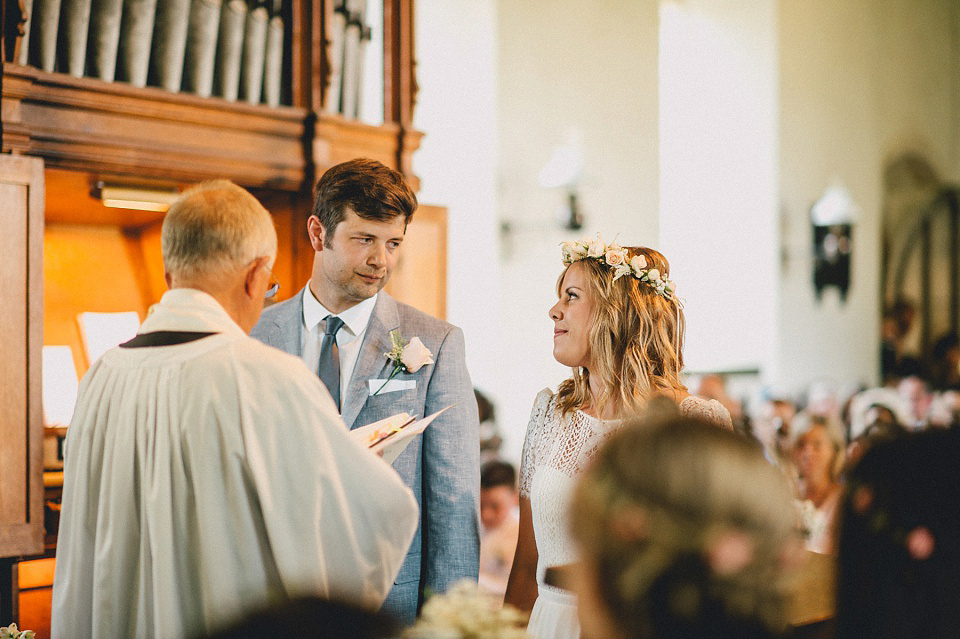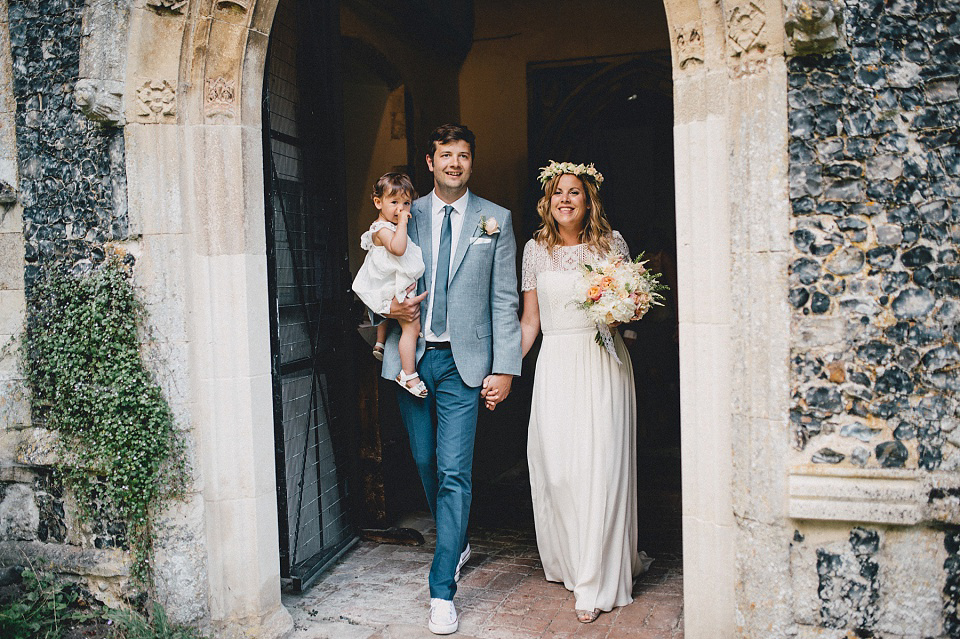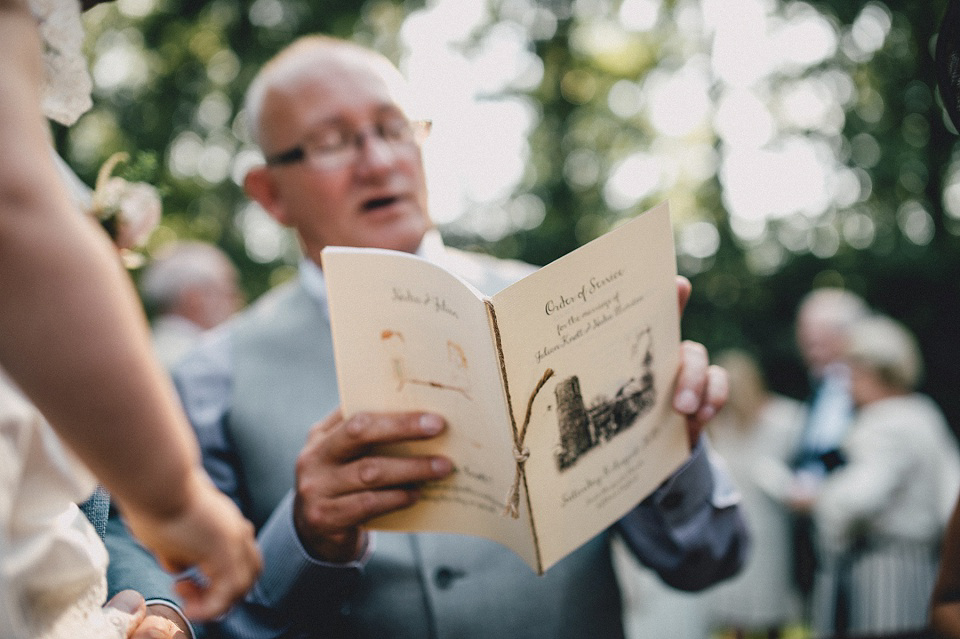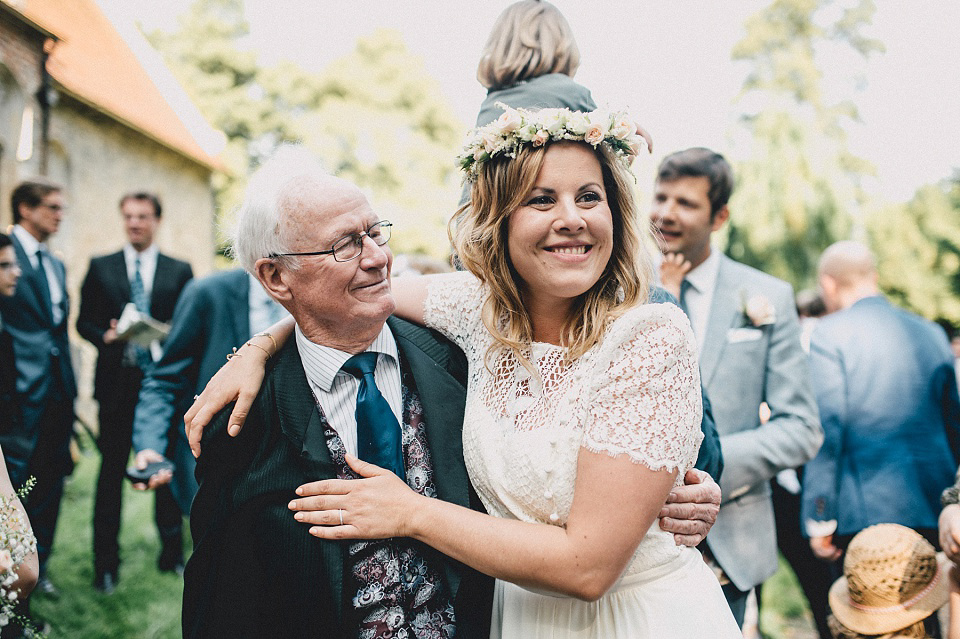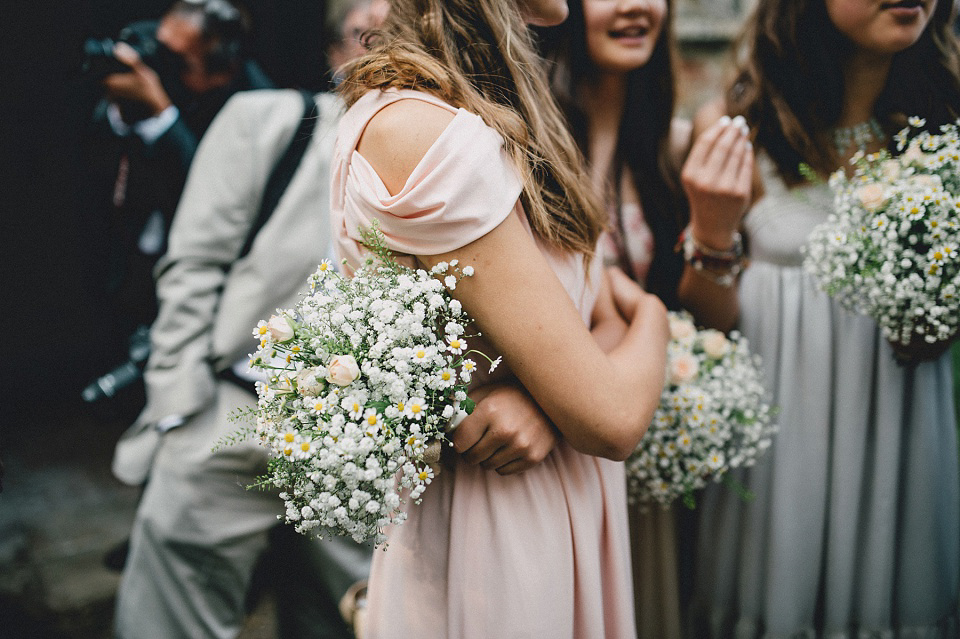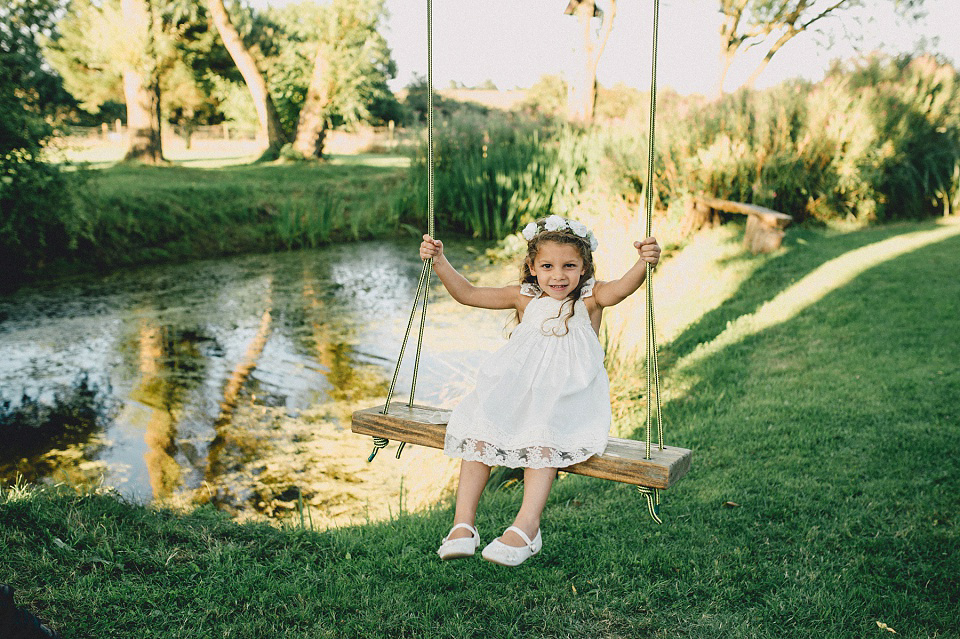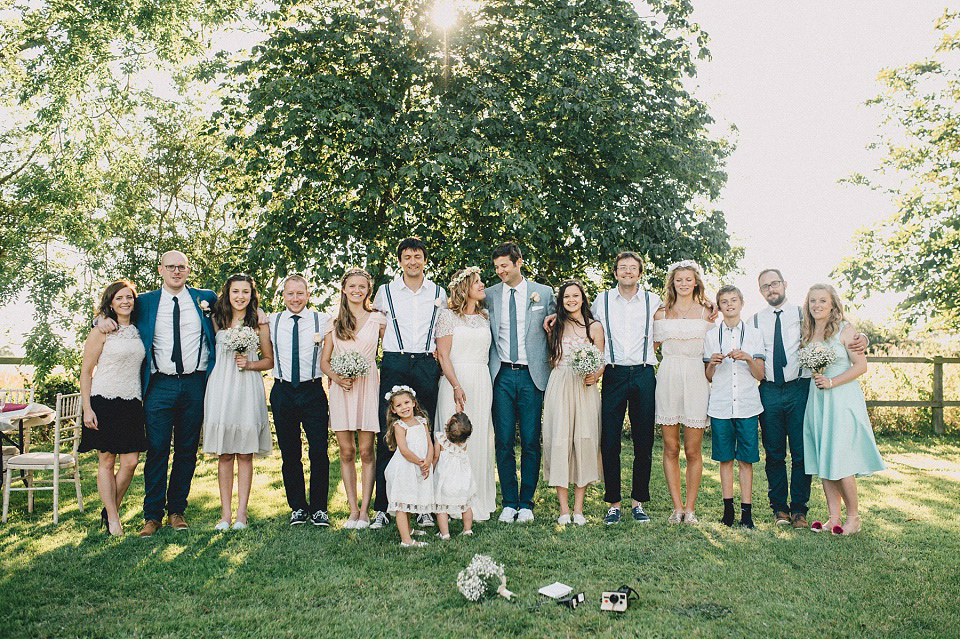 Photographer Kerry Diamond captured every moment of the day in glorious Technicolor and took some utterly stunning shots- the one of the happy couple kissing in the hayfield in the evening light is divine, and I also adore the one of the little flower girl peeping down the aisle during the ceremony.
Kerry really has an eye for all those little details you might otherwise miss.
"I visited Kerry's website and as I was looking through all these strangers' wedding photos I started to well up, feeling their emotion through Kerry's lense; that was it, she was the one! If she could move me with strangers what would it be seeing my friends and family?"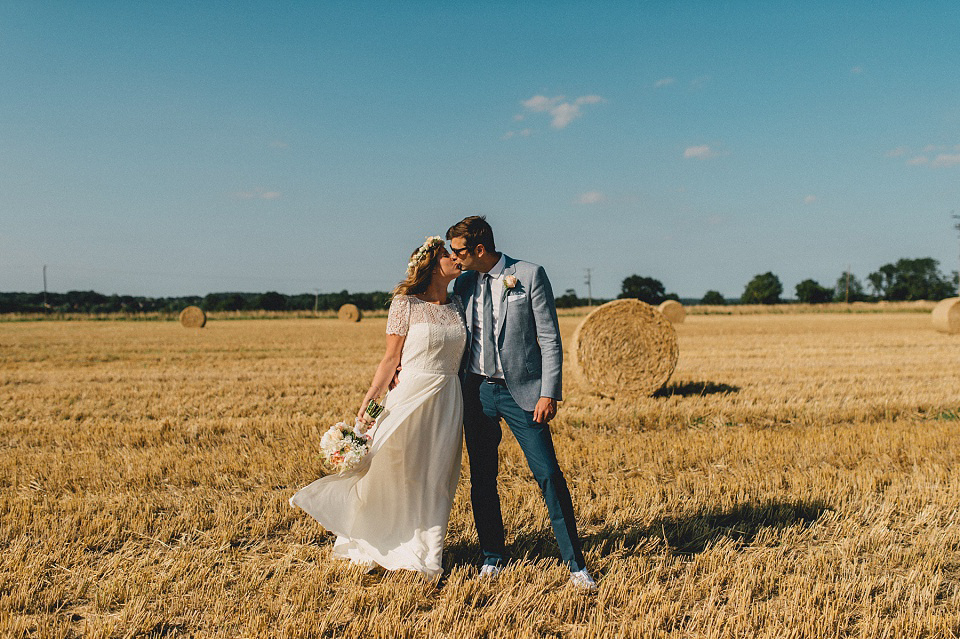 "She is truly the most wonderful person in the world and one hell of a photographer! Julian and I are camera shy and usually really bad in front of them, but Kerry was great at putting us at ease. We had a blast; she's part of the family now."
"The venue and the church didn't really need much decoration considering how pretty everything was but the marquee company, the Great Event Company (truly great too, brilliant to work with) installed a traditional pole and rope marquee with window walls to enable our guests to enjoy the surrounding view. They also popped it up with coloured lighting, bunting, fairy lights and sky lights.
The florist also brought props such as ladders, milk churns, bunting, blackboards and we also put lots of fairy lights and bunting in the barn. We had a selection of outdoor games for the kids (there were over 20 of them under the age of 10) and our nieces made us Mr and Mrs signs for our chairs."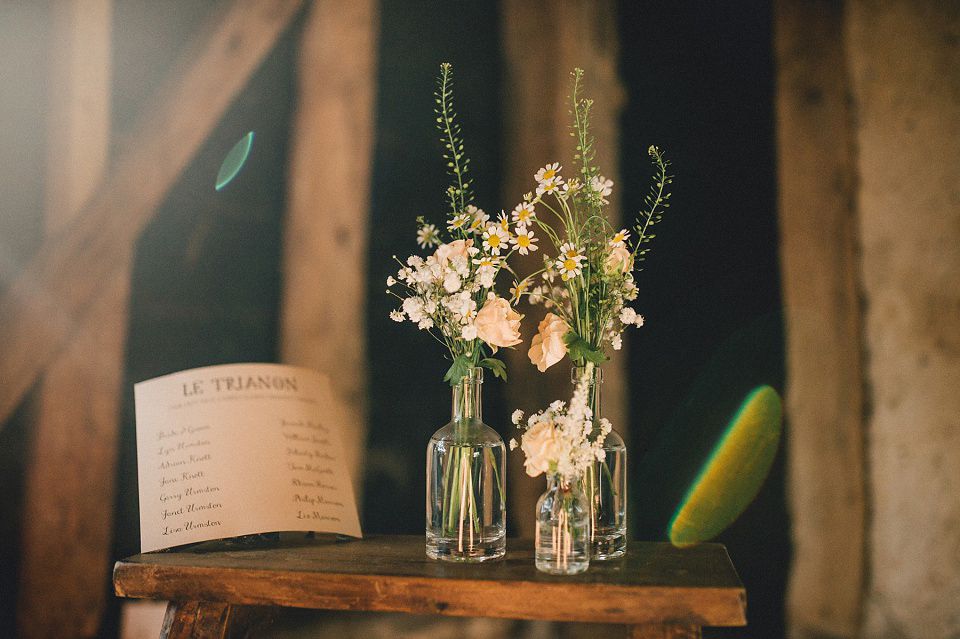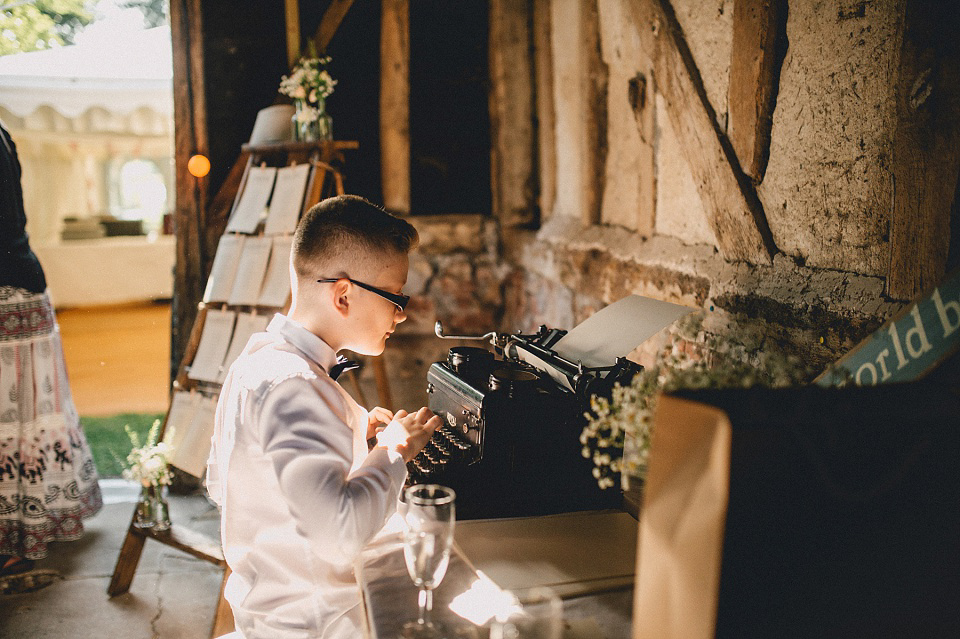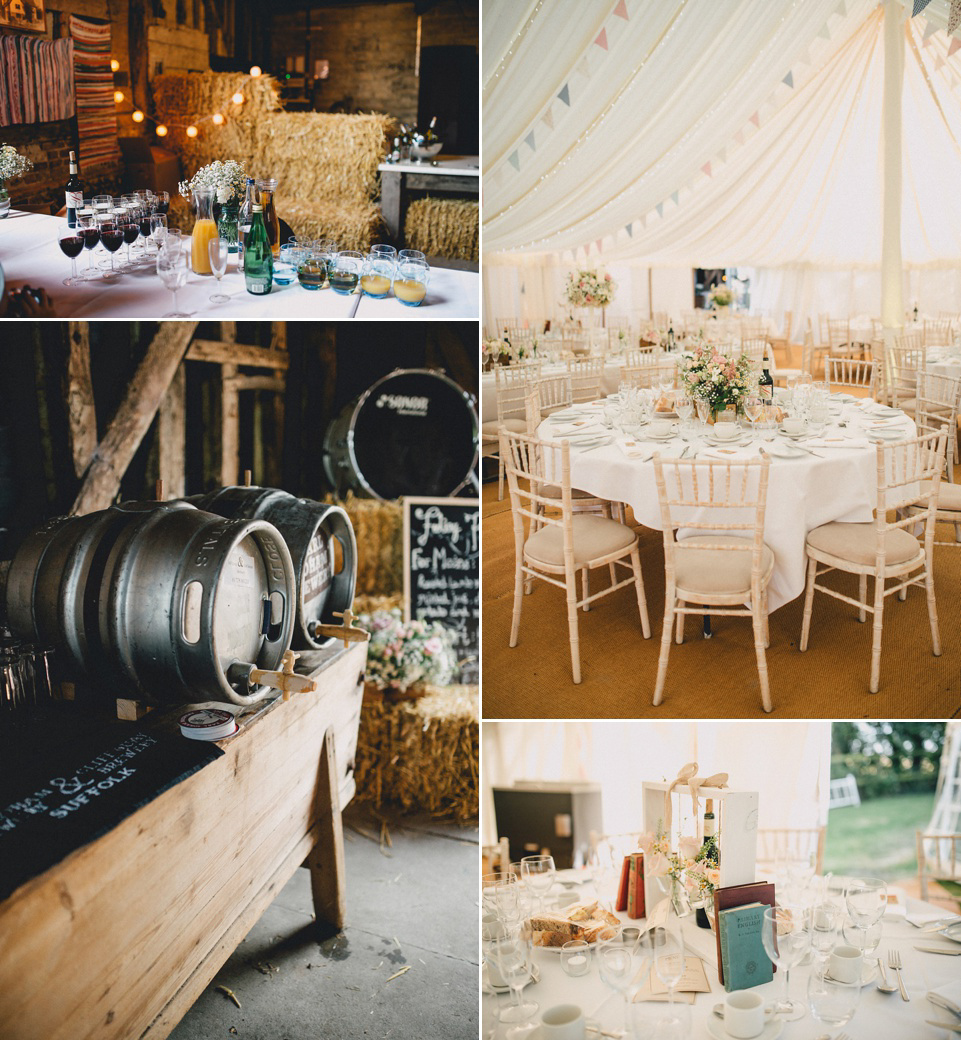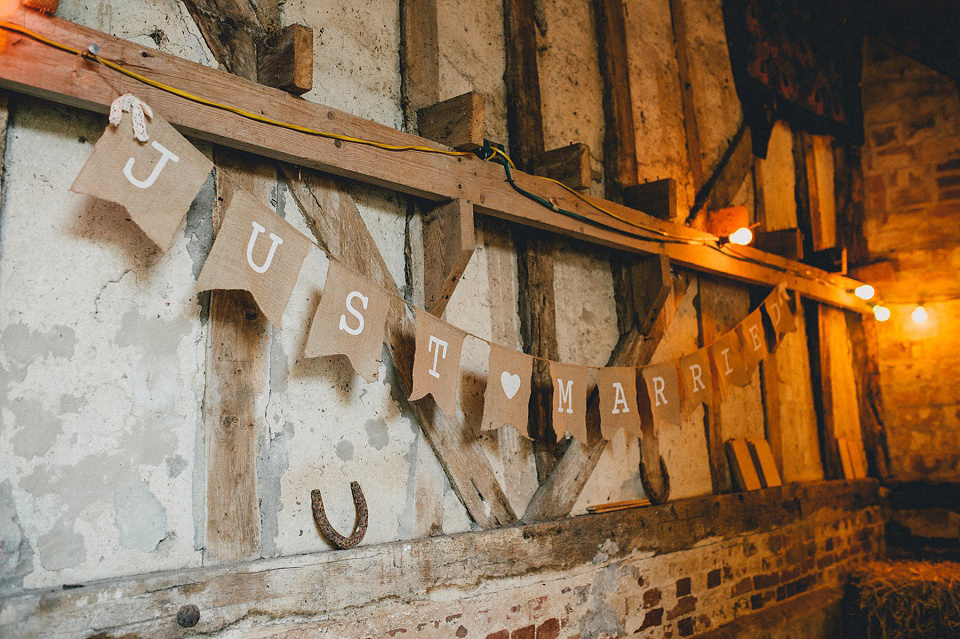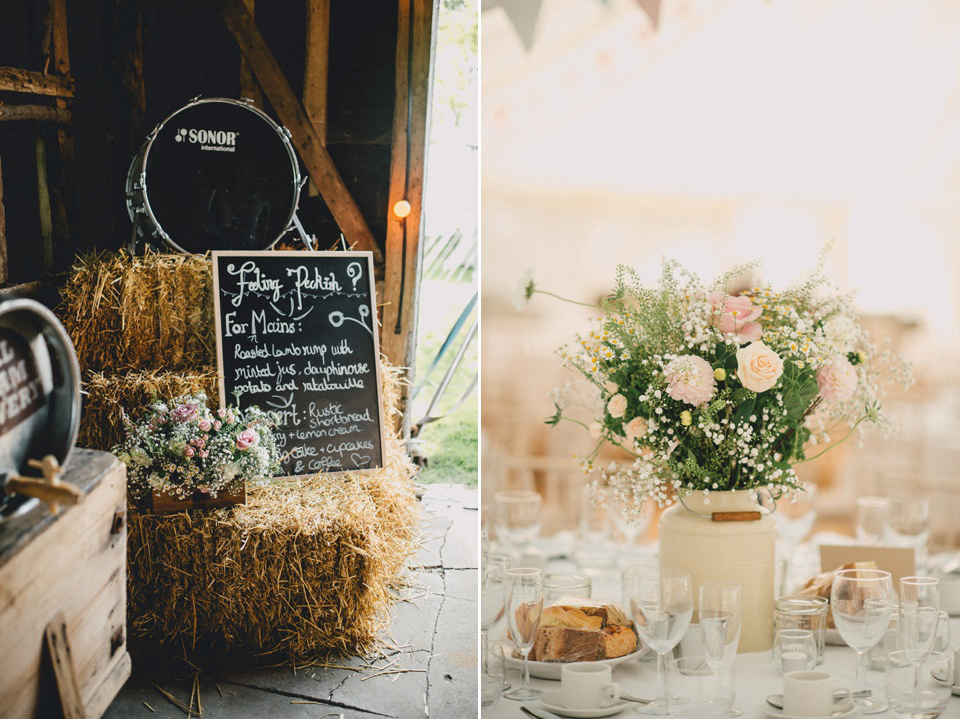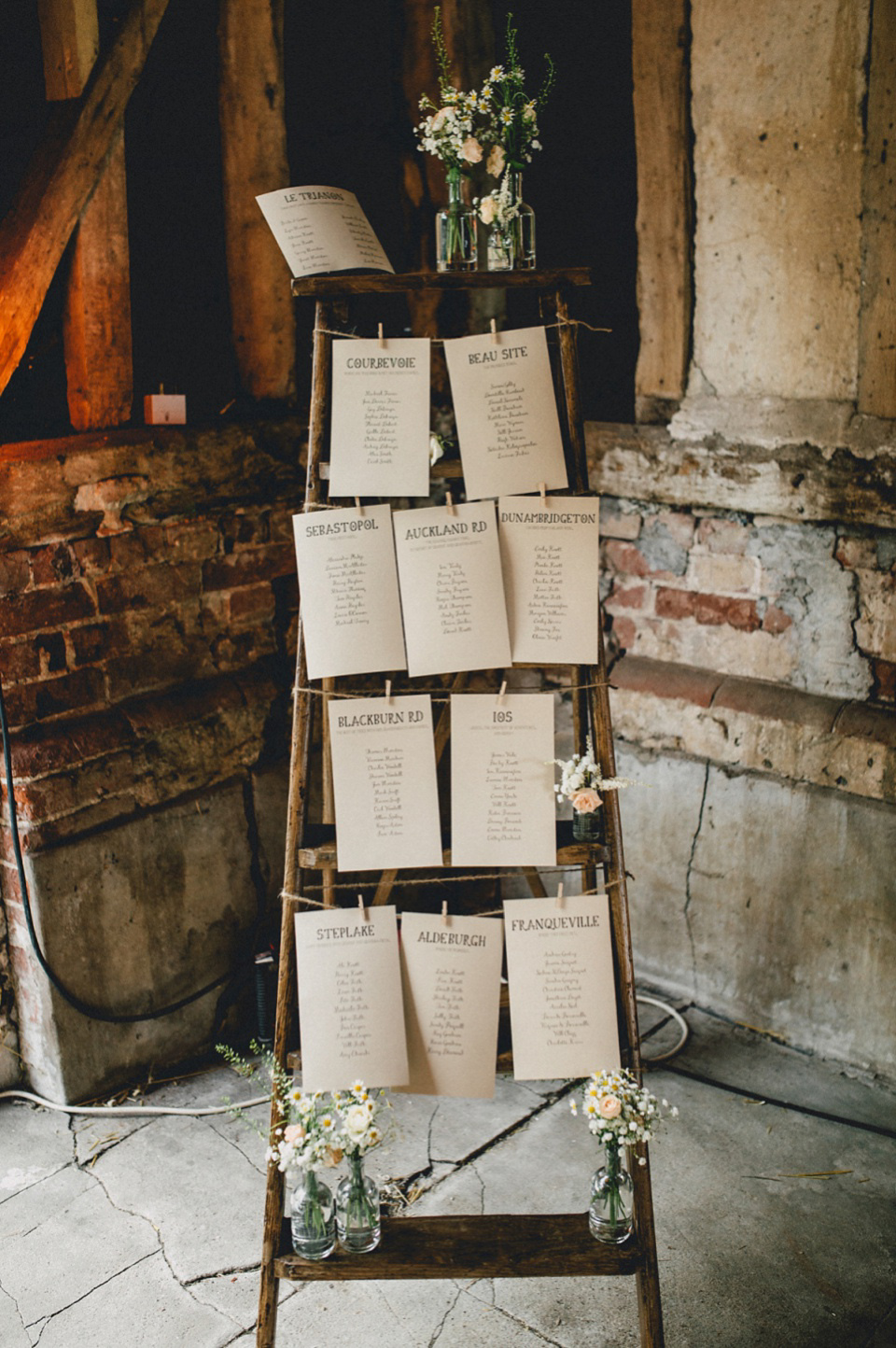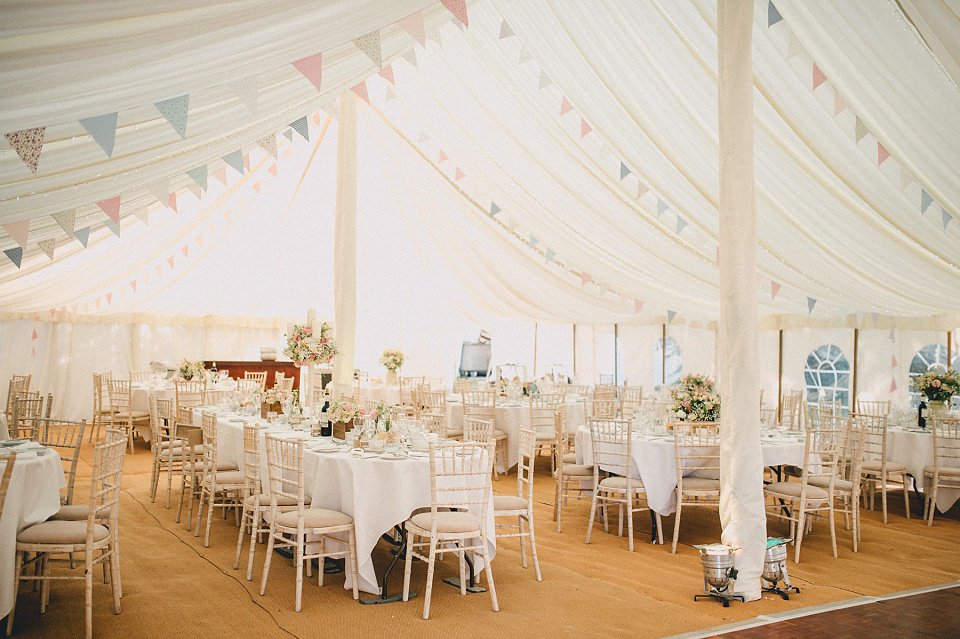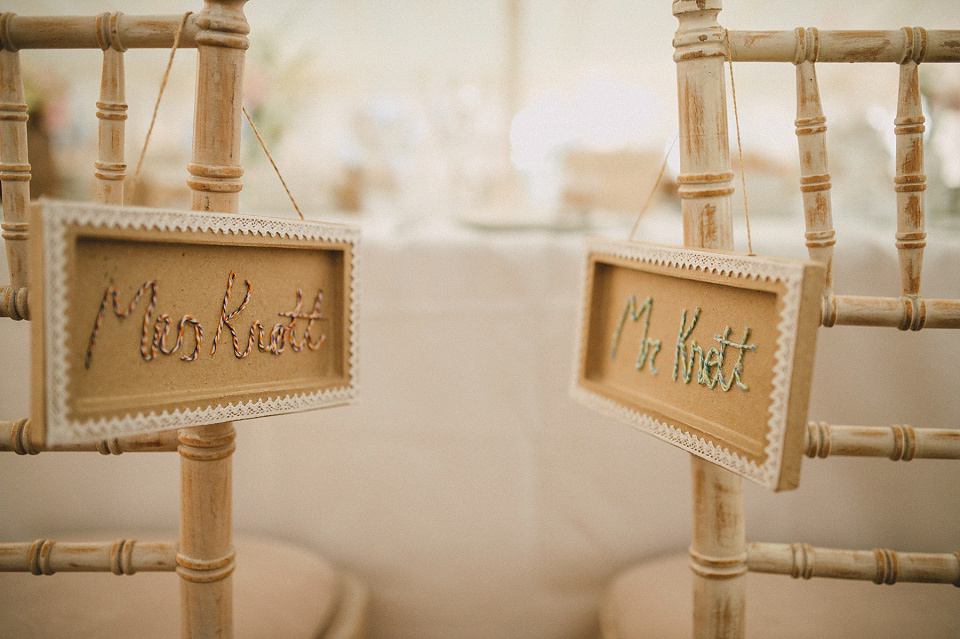 "Initially we weren't even sure we wanted a wedding cake, but then we saw what Debbie and her family at Sassa's Bespoke Cakes can do and we wanted one from that moment. Among these truly fabulous cakes was a cupcake tower with a VW topcake- cute, pretty, in keeping with our simple, boho theme and quirky too! We then added the bride and groom ducks for fun."
The bride and groom and their guest danced into the night to music provided by DJ Brett from Matt Maurice Event Music and lit up the dance floor (literally).
"We chose 'Rock with you' by Michael Jackson for our first dance- a. groovy, funky tune that we could fool around to and get our guests ready to party! As we started our first dance everyone got given a sparkler too."
"There were so many parts of our special day that we loved, but for me the best part was arriving at the church and finally seeing my husband-to-be stood there waiting for me surrounded by all our friends and family and actually feeling the importance of the day. We also loved getting to the venue and seeing everyone have a good time in the setting that we had envisioned- it was like a dream coming to life.
We would not change a single thing; it was the best day ever."
Words of Wedded Wisdom
"I would really recommend trusting your suppliers and letting them do all the heavy lifting. They are professionals and their sole mission is to make your day special so once you've selected them and briefed them on what you like and/or do not like, relax and let them do their job. They know exactly what they are doing. I also went away the day before the wedding so as to relax away from it all and that was best thing to cool your nerves. I am a control freak but by doing all that, I was able to enjoy every second of the day.
If you opt for the DIY wedding be careful not to bite more than you can chew. Most of the time it is not cheaper and just a lot more stressful, especially if you have a large number of guests! But if you do go for a few DIY items, make sure you don't leave them to the last minute because time disappears a lot faster just before the big day."
Wise words indeed, thank you Nadia.
Huge congratulations to our couple and many thanks to them and photographer Kerry for sharing the images of this gorgeous wedding with us today.   Are any of our readers planning an outdoors wedding of your own? For more of Kerry's work, come and have a look here, and take a wander through our archive of garden weddings, for further al fresco inspiration.
Much love,
Shona x
Photographer – Kerry Diamond
Venue – Saint Margaret's church in Syleham, Suffolk followed by Julian's parent's house
Wedding dress – Laure de Sagazan
Shoes – Jimmy Choo
Accessories – Bracelet from Satellite, bangles from Box Bazar
Bridesmaid Dresses – Each bridesmaid chose their own dress
Accessories –Flower crowns from Claire's Accessories
Perfume – Coco Mademoiselle by Chanel
Flowergirl dress – Ivory French Vanilla dress from Tea princess Australia
Pageboys – Chose their own outfits
Groom – Hugo Boss Suit, worn with Converse All Stars
Makeup artist and hair stylist – Sarah Larvin
Florist – The traditional Vintage Flower Company
Cake- Sassa's Bespoke Cakes & Cupcakes
Caterers – Bespoke Caterers
Rings – Catan, Paris
Entertainment – Matt Maurice Event Music
Stationery – Invitations from Minted, all other stationery home made
Marquee – Great Event Company
_________________
Find all the best wedding suppliers in our beautiful new wedding directory, Little Book For Brides®