Hiya lovelies! I hope you're all staying warm. Although this may sound completely bizarre for a native Australian to say, I much prefer the winter to the summer. There's nothing more I love than to wrap up in layers, curl up in front of a log fire with my love, and dance in that first sprinkling of snow, compared to coping with stinking hot, sticky days where you can't move or you break a sweat! And I so miss the cosy country pubs entrenched in history. So today's wedding is a real treat, as it reminds me of my UK pub adventures – and just wait until you see the quirky decor in this delightful tale, with amazing images by Love My Dress regular, Jacqui McSweeney.
Meet Executive Assistant Amy and Scientist Martin, who married at The Bell pub in Ticehurst, East Sussex on 25th July 2015. The bride's love of vintage kitsch and paying homage to the groom's background were their main sources of inspiration.
"I am obsessed with collecting true vintage knick-knacks, in particular anything kitsch (and a bit tacky), so our home is filled with all sorts of curiosities which Martin has grown to love too! We thought it would be fun to carry this through to our wedding day but we didn't want to get too pigeon-holed into one particular era or be over styled – just a collection of all the things we loved. Martin's mum is Peruvian so we wanted to incorporate some Peruvian traditions into the day too."
Photography by Jacqui McSweeney
Jacqui McSweeney is listed in our wedding directory, Little Book For Brides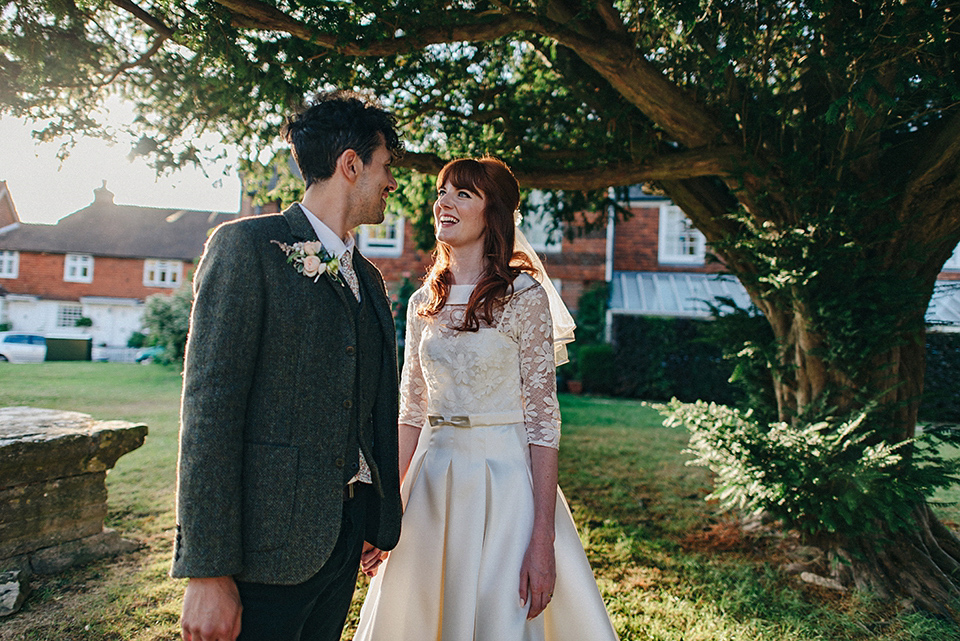 Amy's divine dress was a reproduction of a vintage 1960's dress (called the 'B52') from the fabulous Fur Coat No Knickers in London Bridge.
"I knew I wanted a vintage dress but I was overwhelmed by the choice of styles from the 1950's, 1960's and 1970's. However, I had seen a photo of Laura Jackson in Betty Magazine wearing a cute 1960's dress with a jacket, so was hoping I might find something similar."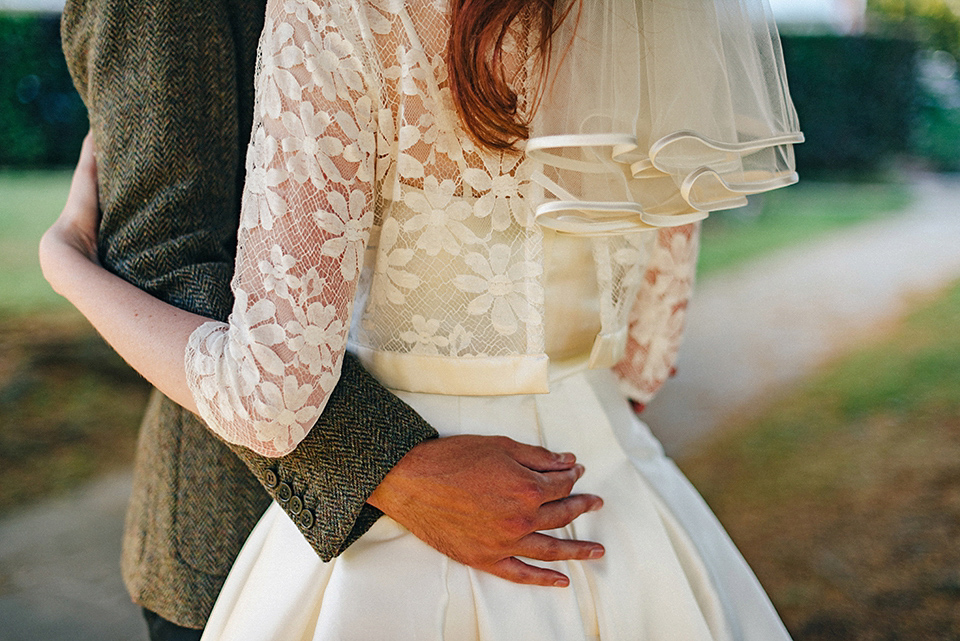 "As we didn't have long to plan our wedding, it was tricky to find a true vintage dress in the style and size I wanted. Luckily I went looking for one at Fur Coat No Knickers and my dress was one of the first dresses I tried on! I was instantly drawn to its little jacket and bow combined with the lovely daisy lace, which I hadn't seen before.
My veil and silk hair flowers were also from Fur Coat No Knickers."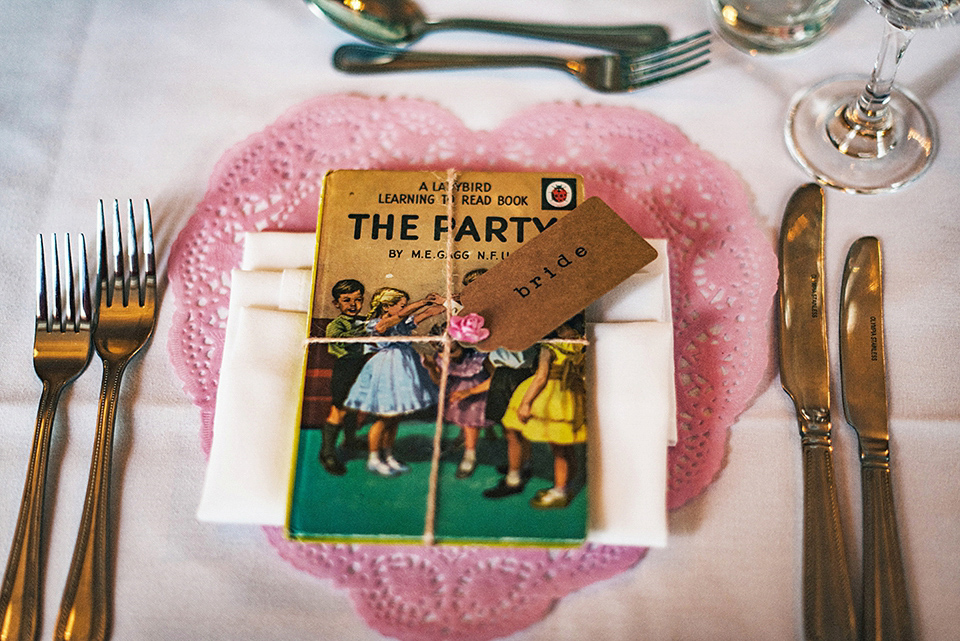 Jacqui McSweeney Photography captured these utterly delightful photos of the couple and their guests and the relaxed party vibe completely comes across. Also the amazing Lipstick and Curls styled Amy's beautiful hair and makeup. We're delighted that Lipstick and Curls are a member of our wedding directory, Little Book For Brides.
"We were both quite nervous about having our wedding pictures taken but Jacqui was so lovely and relaxed; she made us feel totally at ease straight away and we even enjoyed having our photos taken in the end. She knew exactly how to get the right shots from the venue, which some photographers may have found restrictive and we are so happy with all of our photos."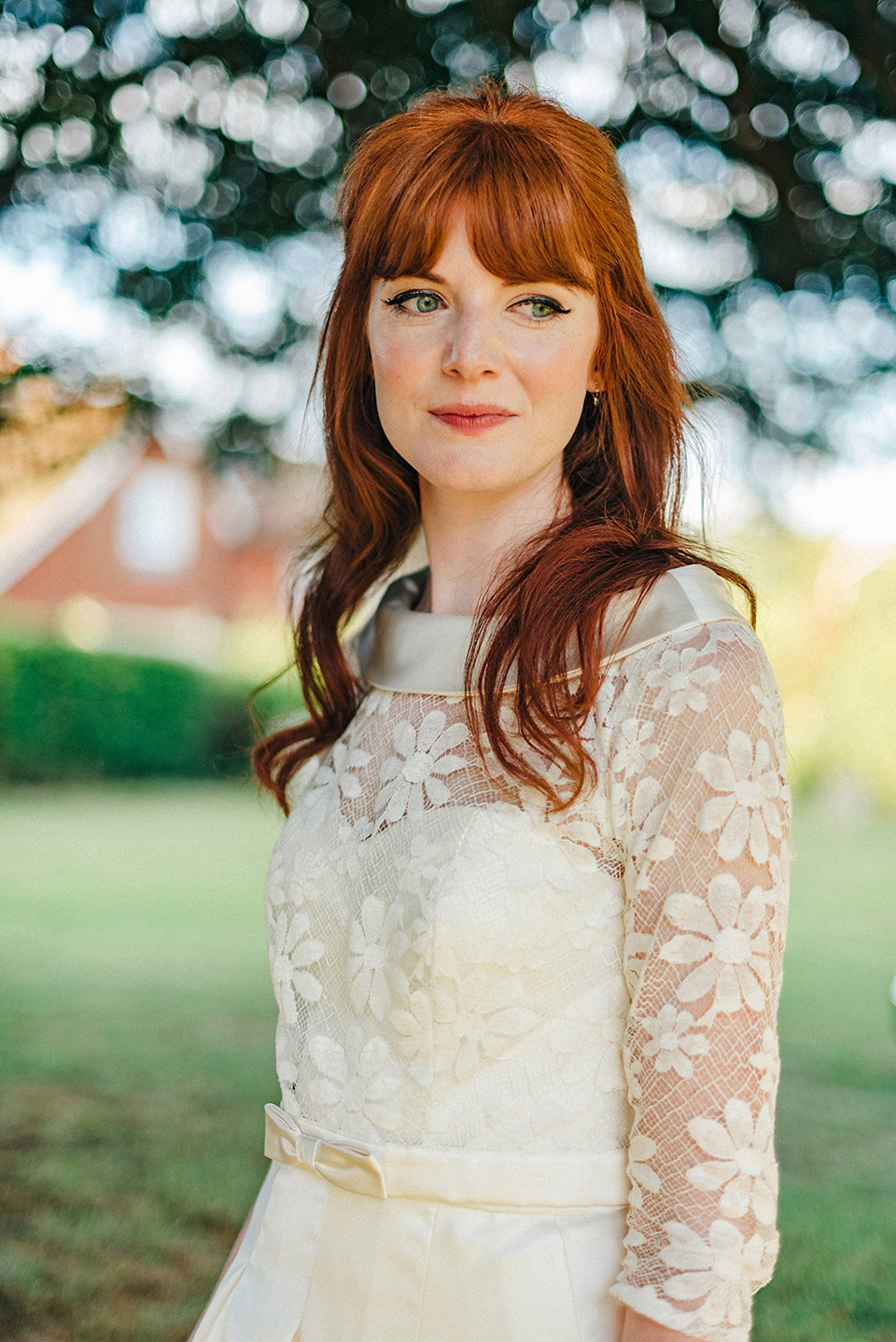 Amy and Martin met through a mutual friend, and then re-connected at Amy's birthday party. They got engaged in romantic Paris and took only six short months to plan their big day.
"We first met at Glastonbury, briefly, through a mutual friend (one of my bridesmaids), but didn't get together until we met again at my twenty-sixth 1950's-themed birthday party. We had lots of fun dating, going back and forth from where I lived in Tunbridge Wells and Brixton, Martin's home, for three years, before Martin relocated to Kent and we moved in together. One year later we got engaged in Paris on my thirtieth birthday.
 We decided we wanted to get married as soon as possible and after deciding on The Bell in January 2015, we were offered their only remaining date for that summer – 25 July 2015."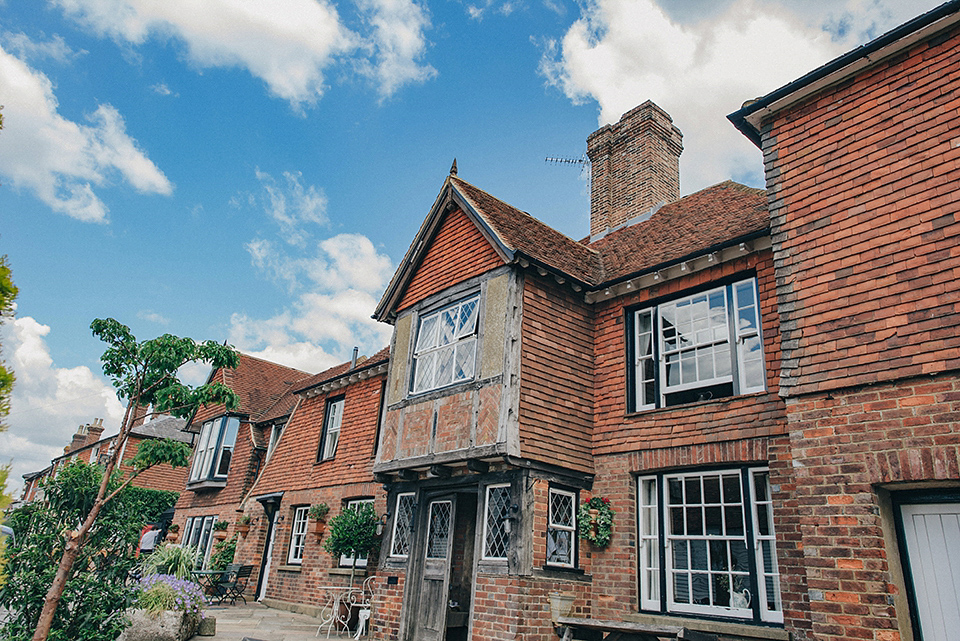 The groom sported a tweed jacket and waistcoat, a tie and pocket square from ASOS, shirt and trousers from All Saints and a pair of Bertie shoes, whilst his groomsmen wore their own mismatched attire. The fellas look fantastic, don't you agree?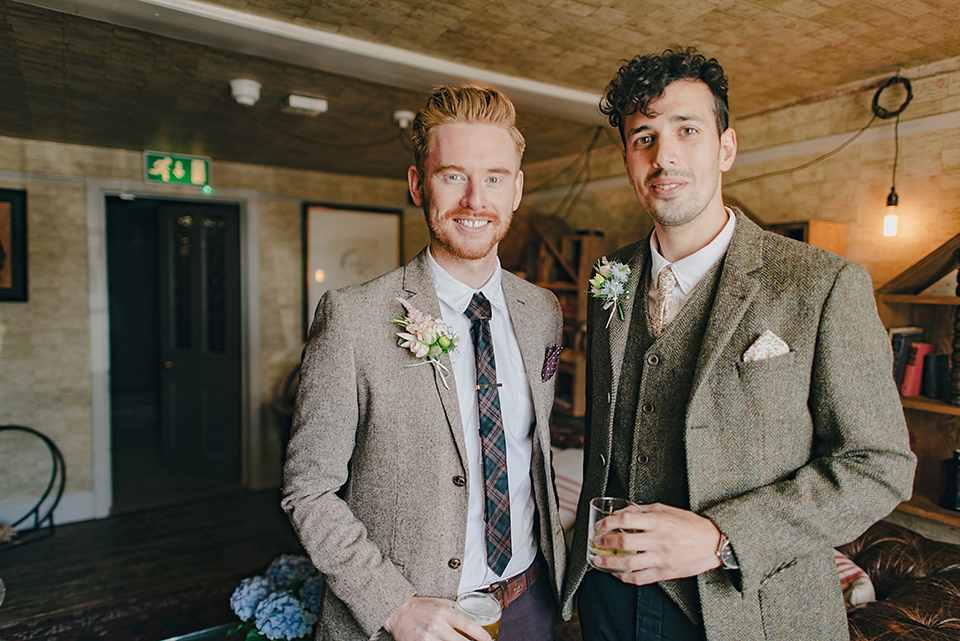 Amy's dad lovingly refurbished and polished up her beloved Nissan Figaro, which was then dressed up in flower garlands and drove her to the ceremony. A very sweet family tradition occurred regarding the aisle walk, as Martin was 'given away' by his mum. And the couple were very keen to focus on the ceremony and had three lovely, heartfelt readings.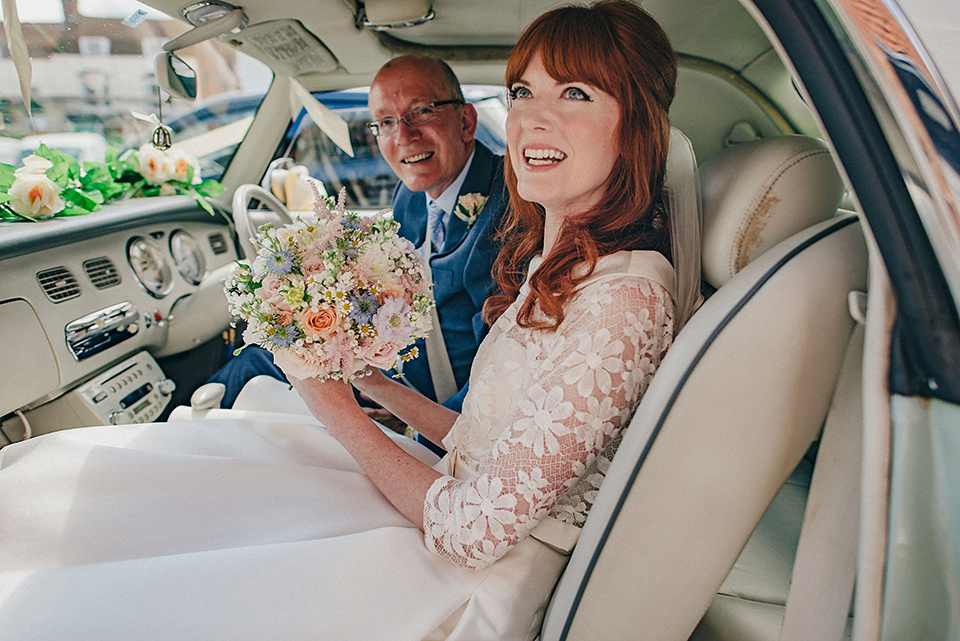 "I actually have no sense of smell, so I wore the Chanel 'Coco Mademoiselle' which Martin had bought me in Paris when we got engaged, as I knew he loved it."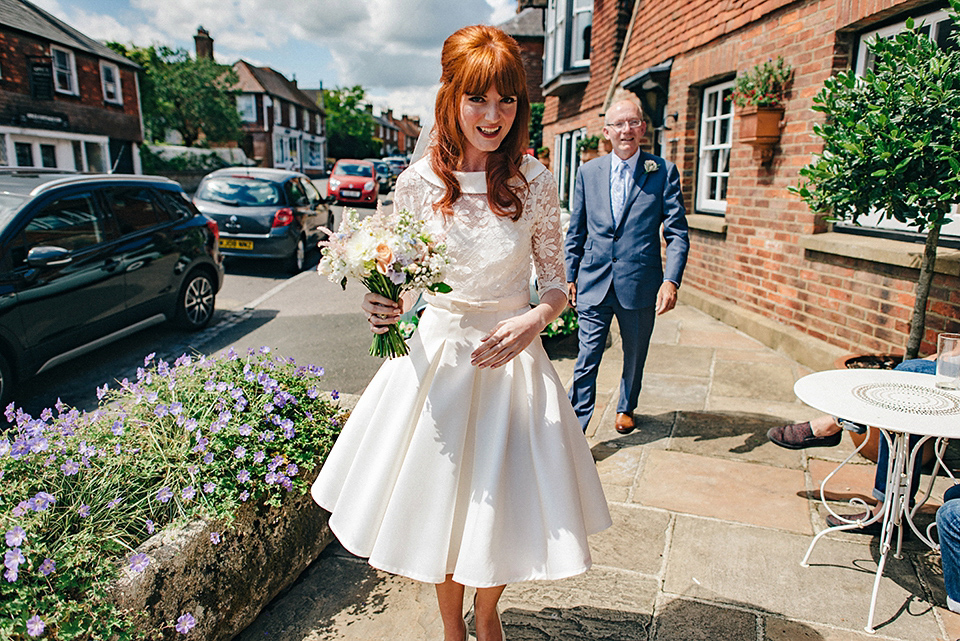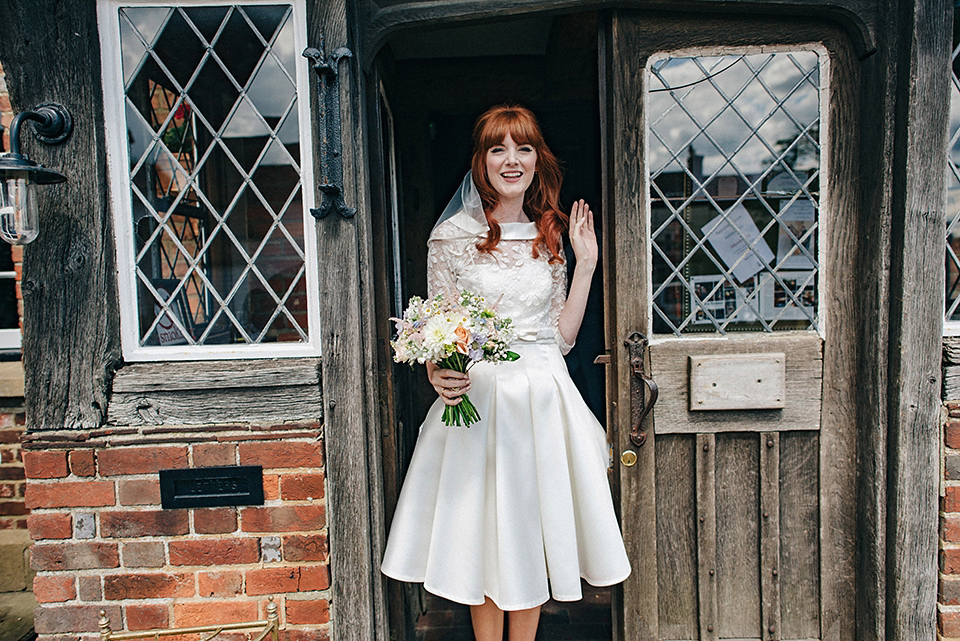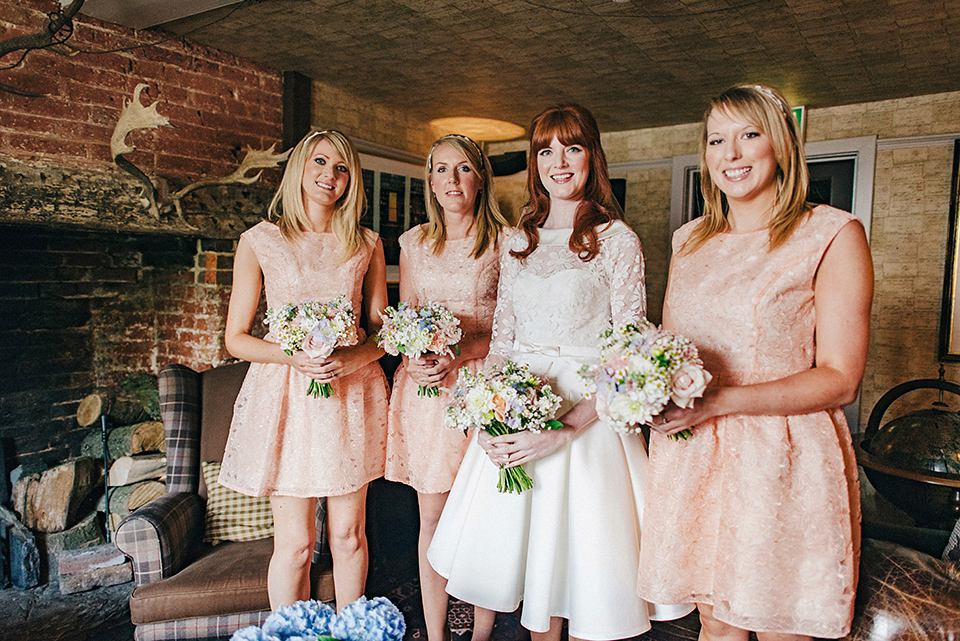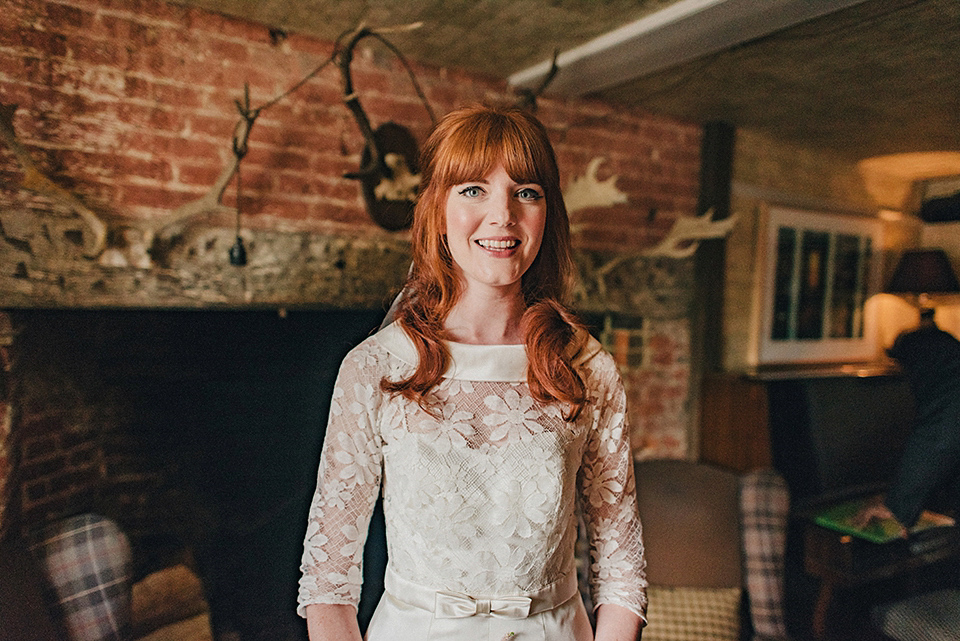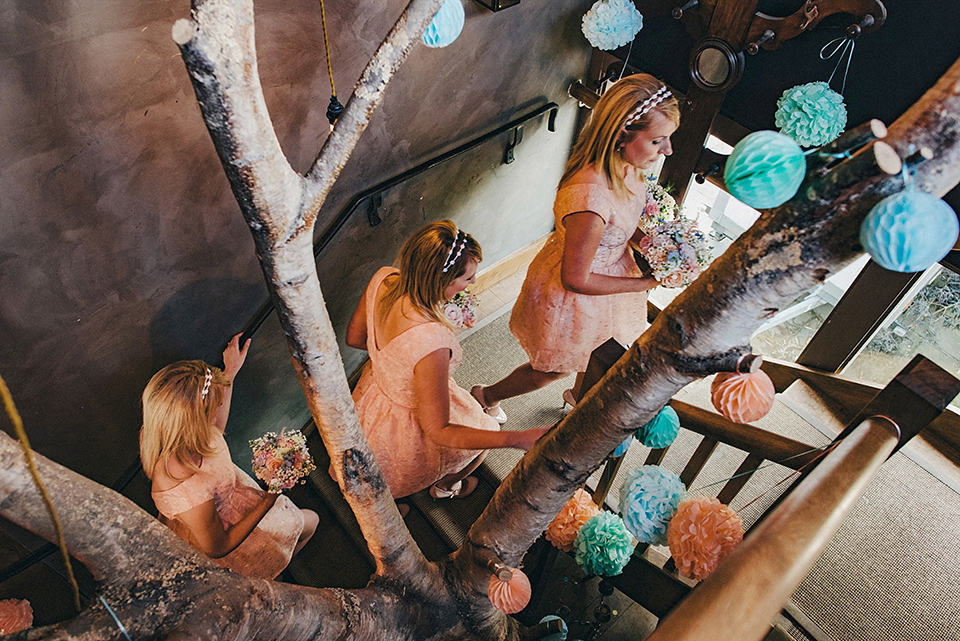 "My dad walked me down the aisle, but Martin was also walked down the aisle by his mum beforehand. Martin's mum is Peruvian and it's tradition that mothers give away their sons when they get married. I walked down the aisle to 'Angels' by the XX and Martin walked to 'Every Other Freckle' by Alt-J."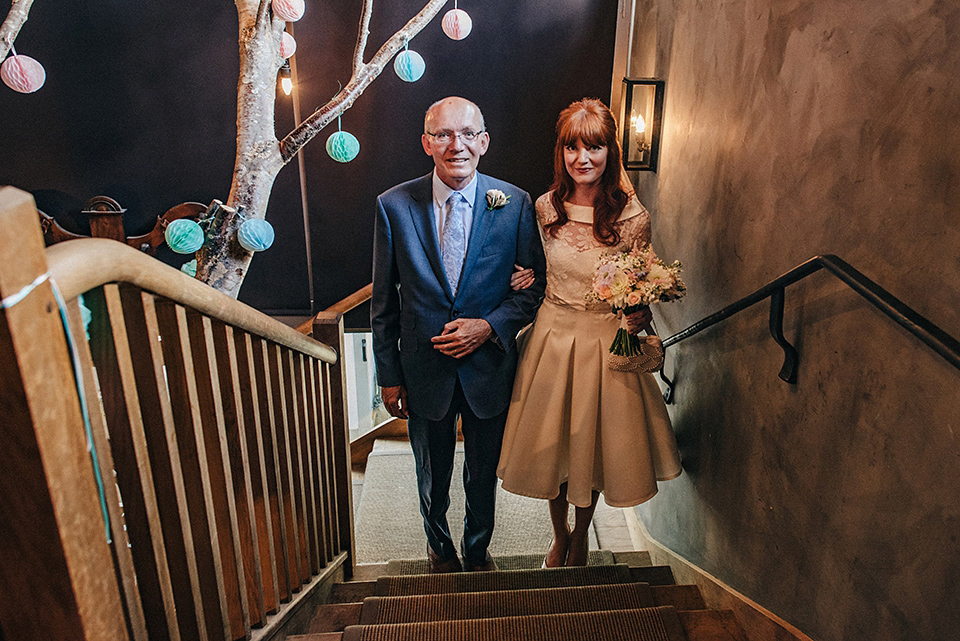 The couple's rings, bought at separate suppliers, ended up looking like part of a matching set.
"Martin wanted a plain gold band but then saw one engraved at Gold Coast Jewellers with a leaf scroll and loved it.
I already knew that I wanted a gold band engraved with a floral design. I was about to give up searching when my mum found The London Victorian Ring Co., who makes reproduction Victorian rings. We love that the two bands look to be part of a set but this was actually completely unintentional!"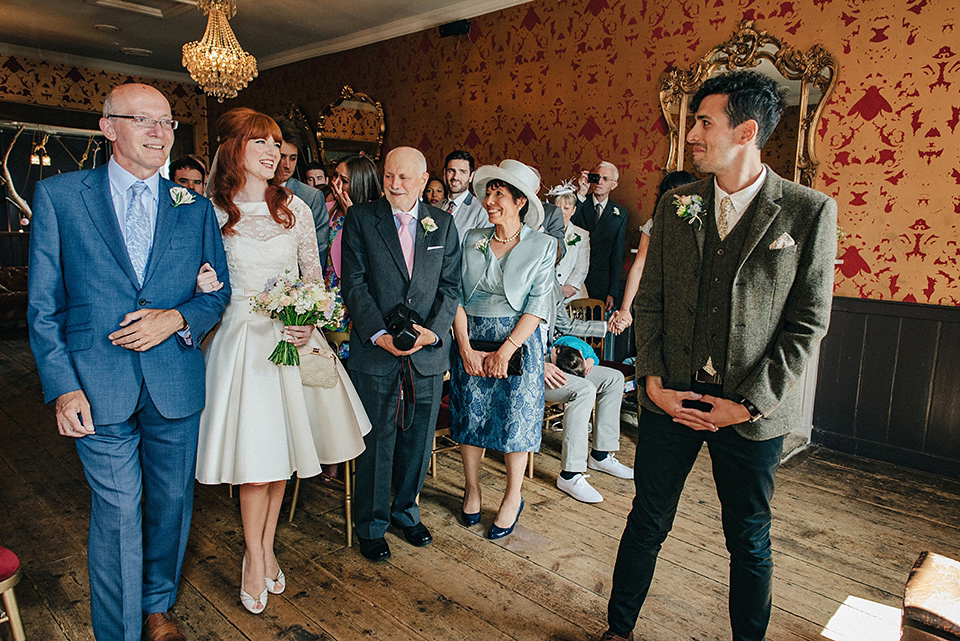 "We wanted to build on the traditional vows to make them more meaningful to us and draw the ceremony out as long as possible! We liked these vows, as they weren't overly soppy but very authentic…."
From this day forward, I promise that I will share with you all that I possess and all that I am. I will be honest with you and stand by you whatever may come. I promise to love you, support you and respect you.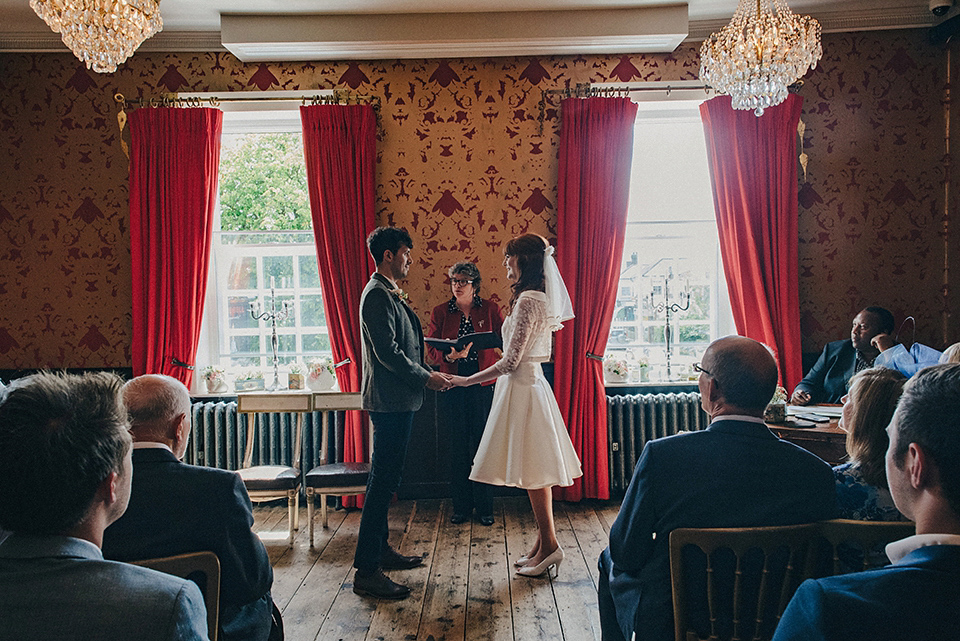 Again, we wanted to make a real event of the ceremony so chose to have three readings by my mum, one by Martin's sister and another by our friend.  Readings were 'Union' by Robert Fulghum, 'Ordinary Morning' by Joyce Grenfell and an excerpt from 'The Amber Spyglass' by Philip Pullman. They were chosen by the readers themselves but with our approval! 'The Amber Spyglass' reading was very emotional and had a nice connection to Martin as a scientist."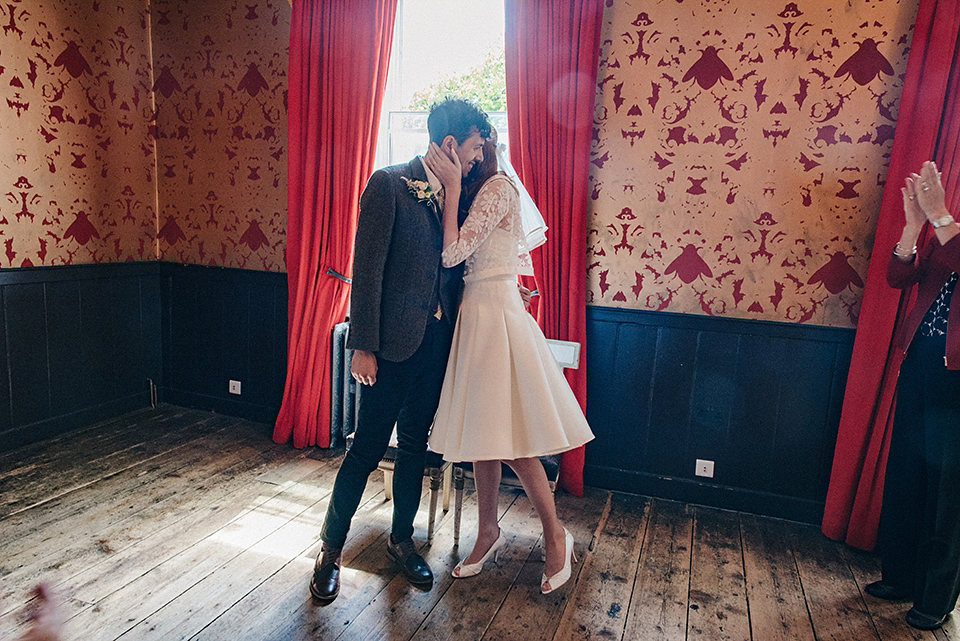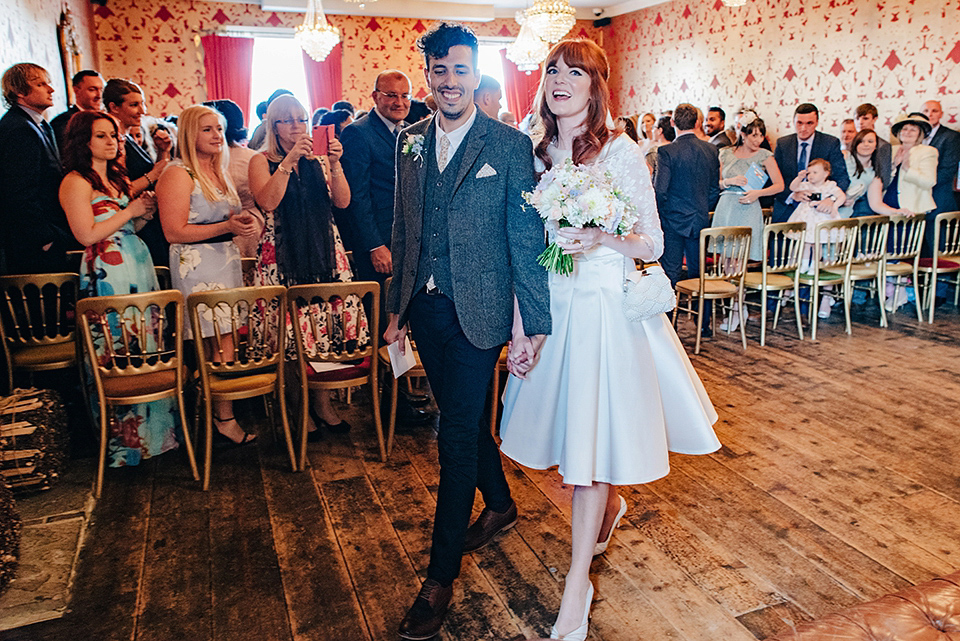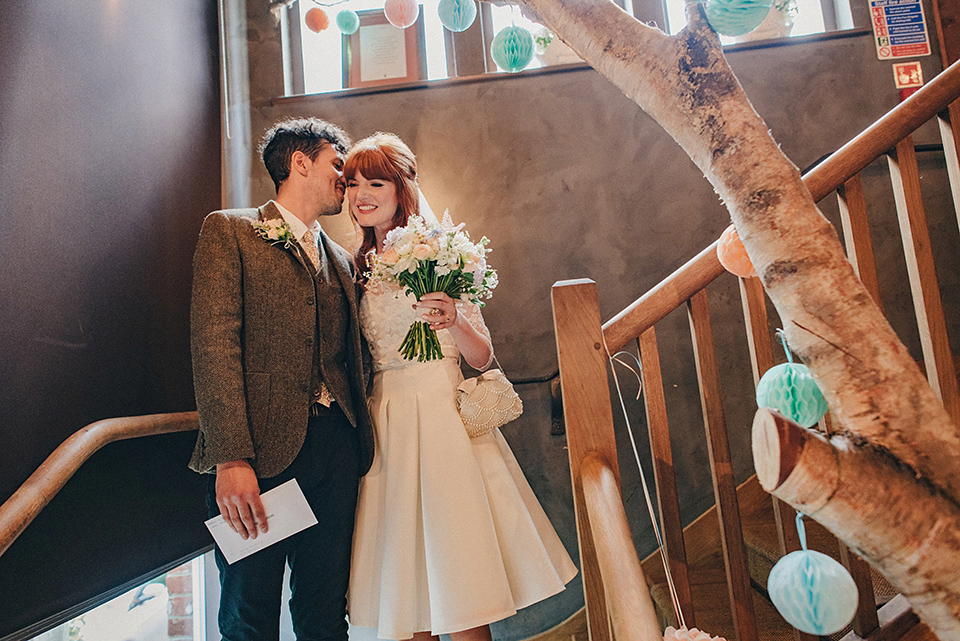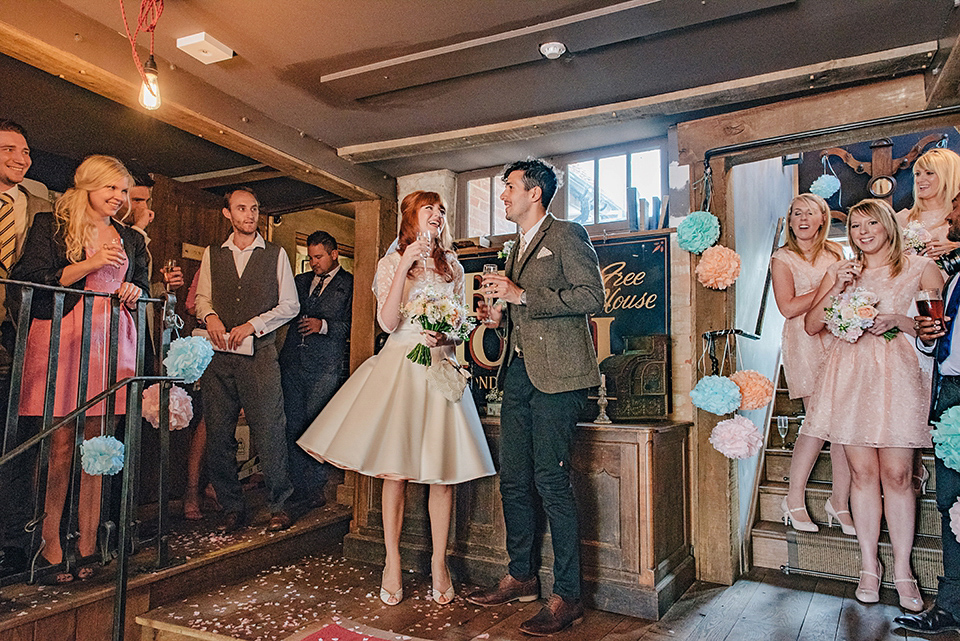 Amy added a pair of ivory peep toes from Rachel Simpson Shoes, a spritz of 'Coco Mademoiselle' by Chanel, bought by Martin when he popped the question in Paris, and a special pair of her mum's earrings.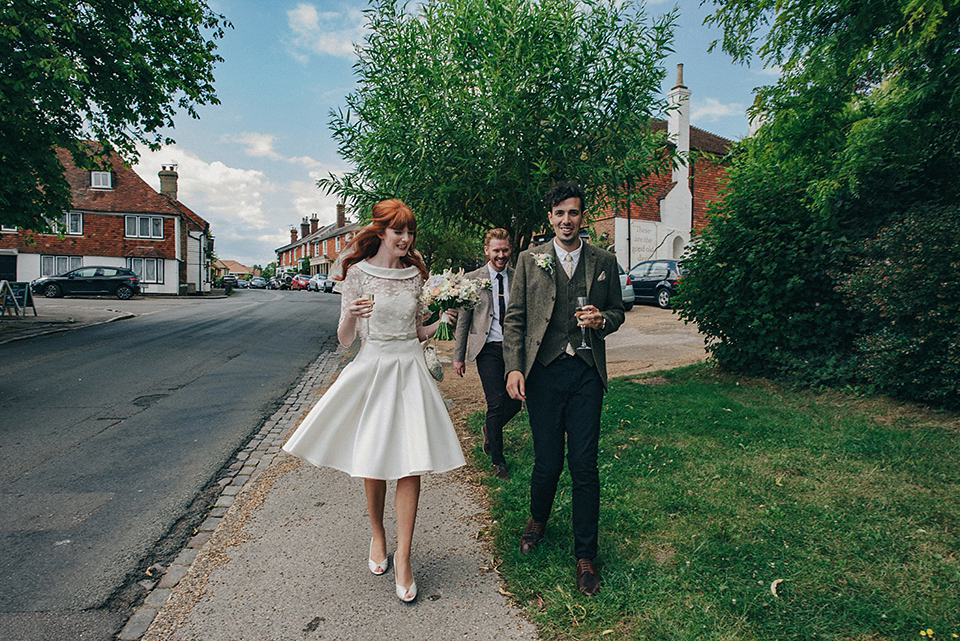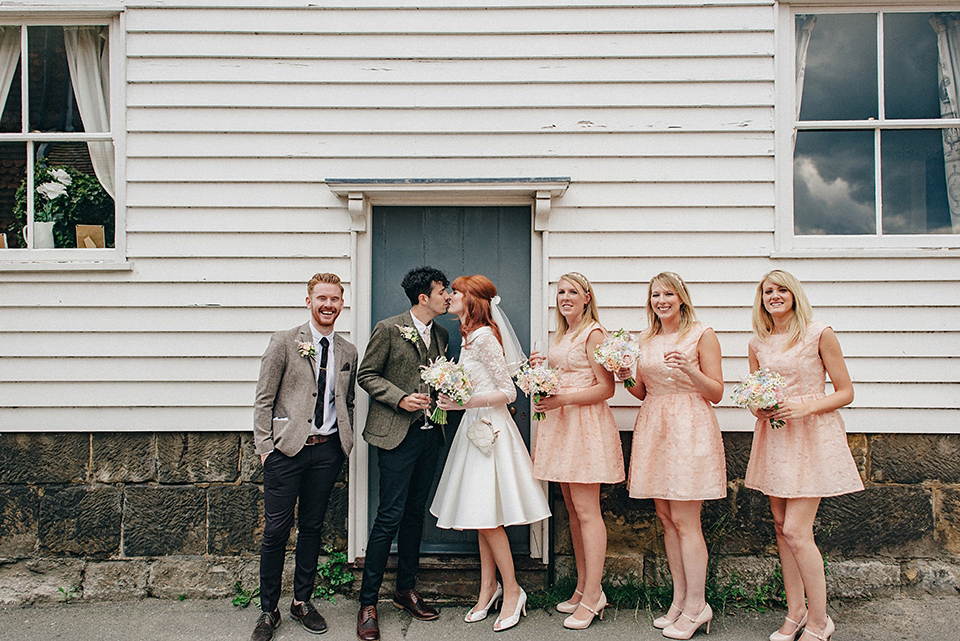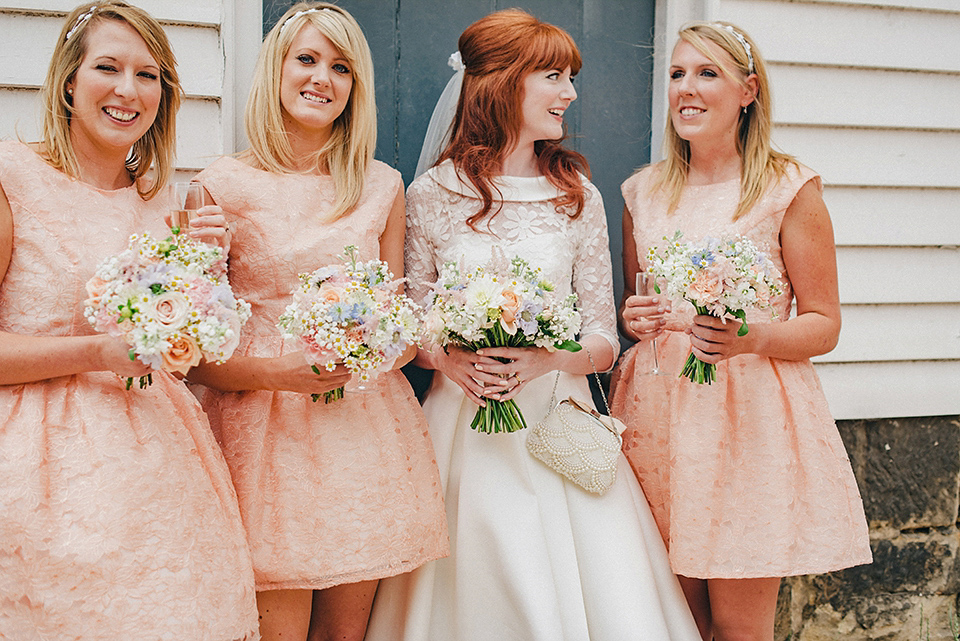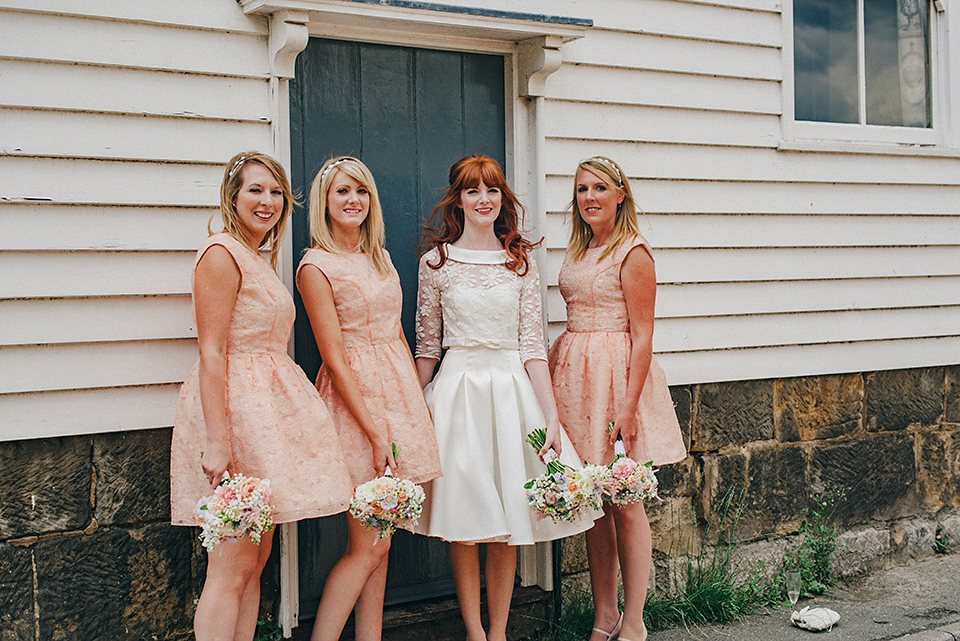 The three maids donned pretty peach frocks from Topshop. They added hair accessories from Accessorize, their own jewellery and Kurt Geiger heels. Lipstick and Curls, another favourite of this beautiful blog and who feature in our Little Book for Brides, stylishly coiffed and made-up the beautiful bride and her stunning maids.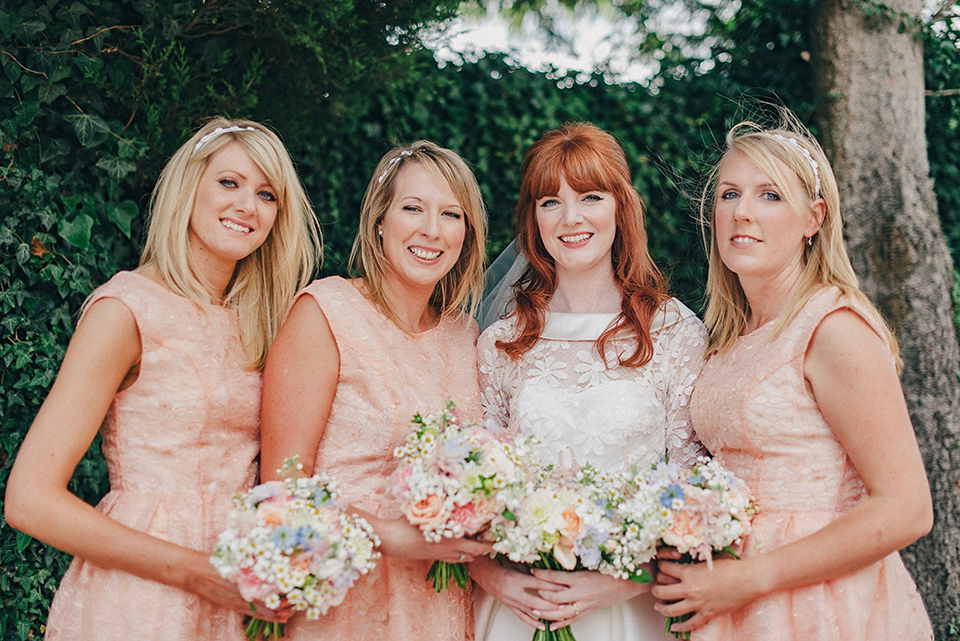 The wonderful Jeanne Picot at The Wild Orchid helped the bride create her vision, choosing the most beautiful range of blooms. I'm in flower heaven!
"I knew I definitely wanted vintage swan planters with pastel coloured flowers when I went to see Jeanne and she helped me to select my favourite flowers – peach roses, pink carnations (an underrated flower very popular in the sixties!), pale blue nigella, pink astilbe with a scattering of tiny daisies to match the lace on my dress."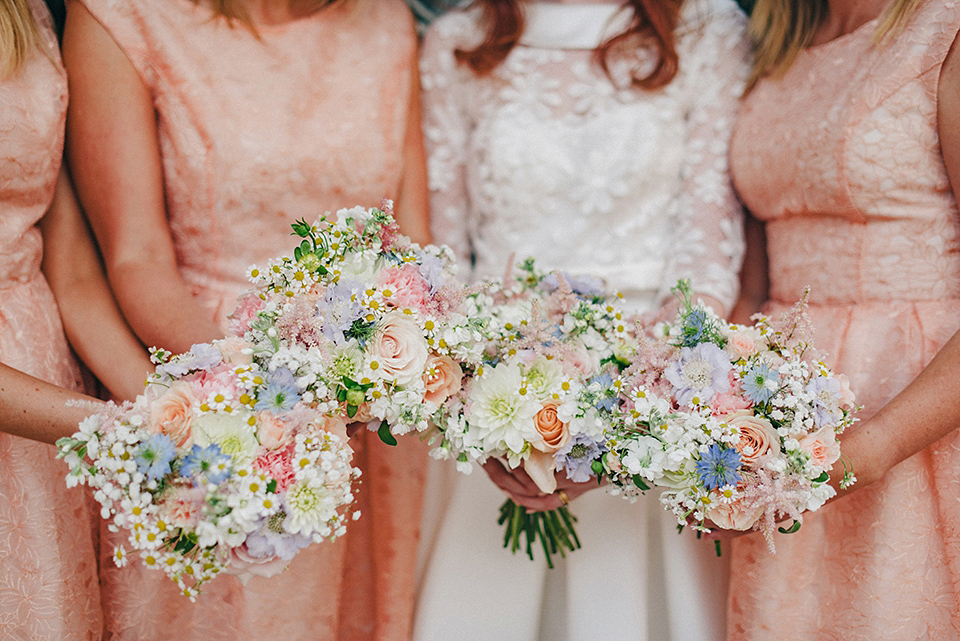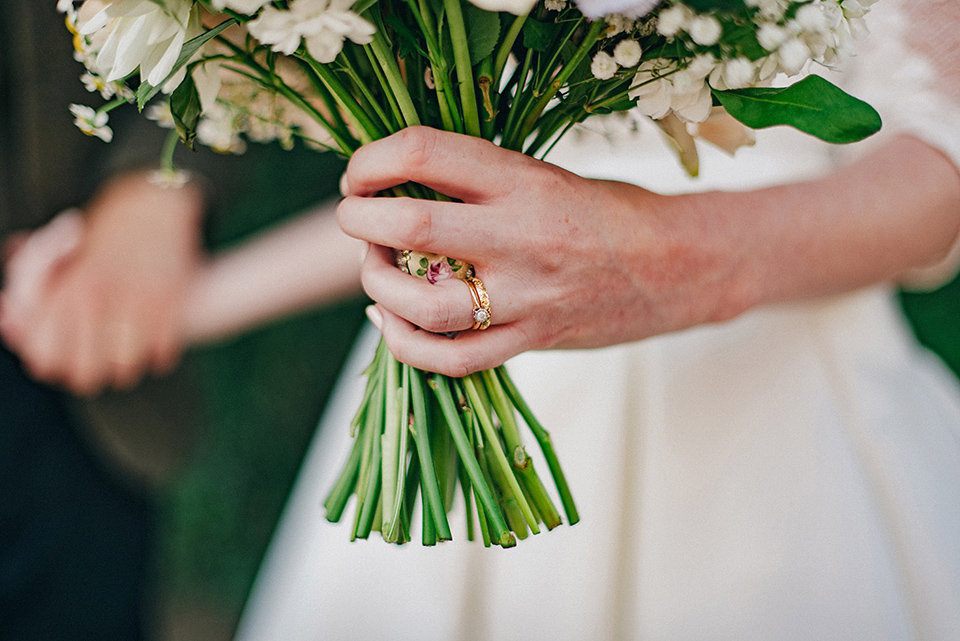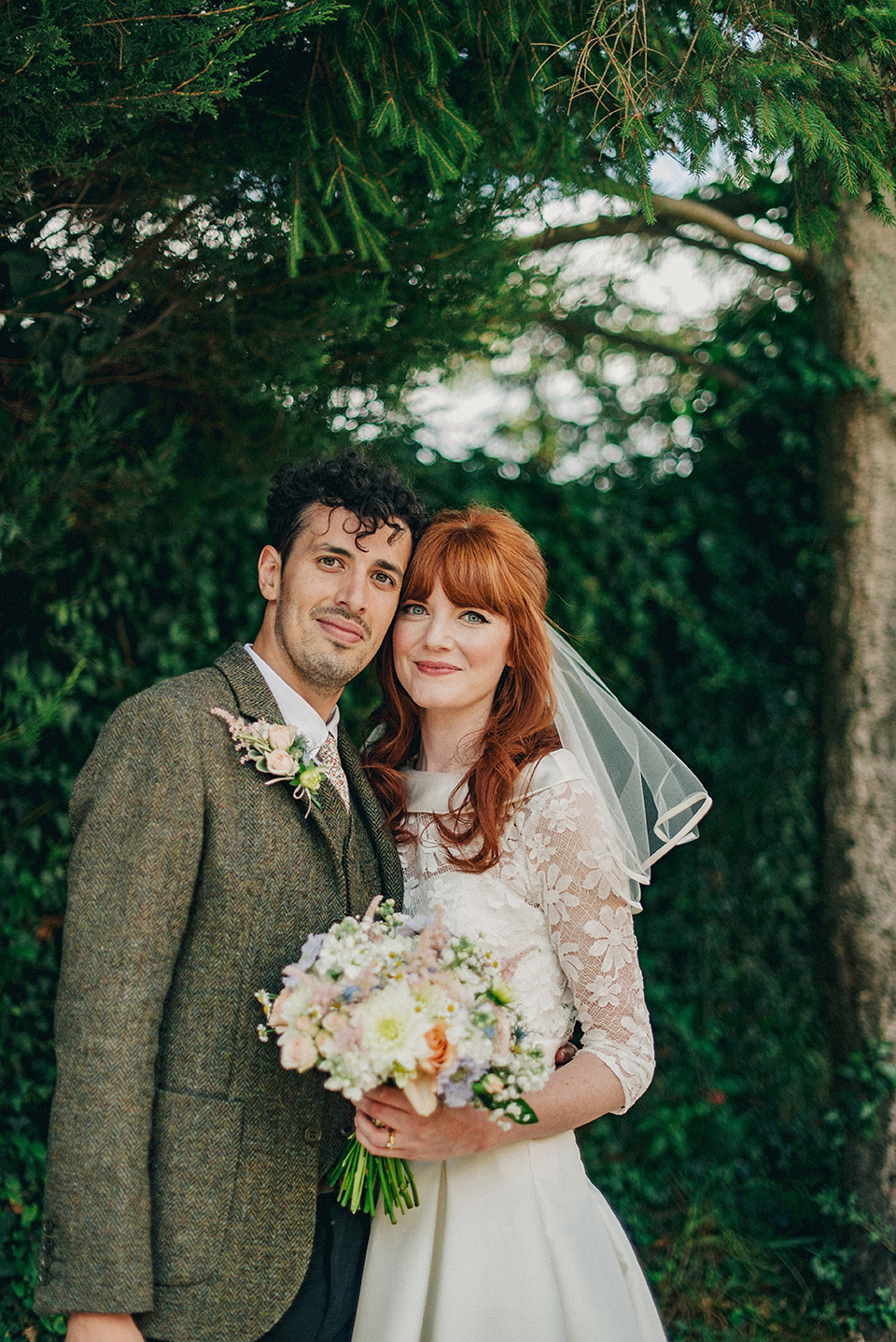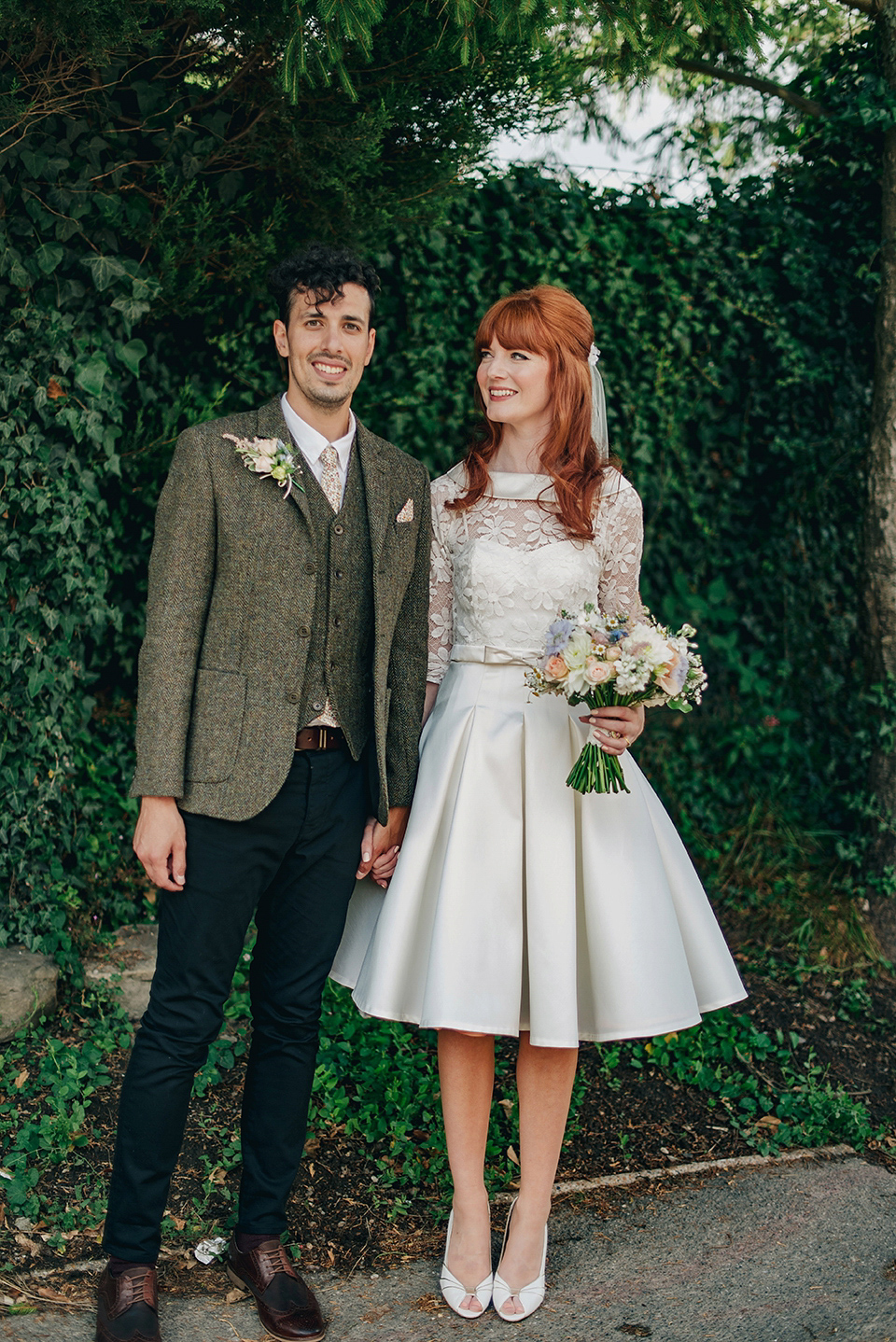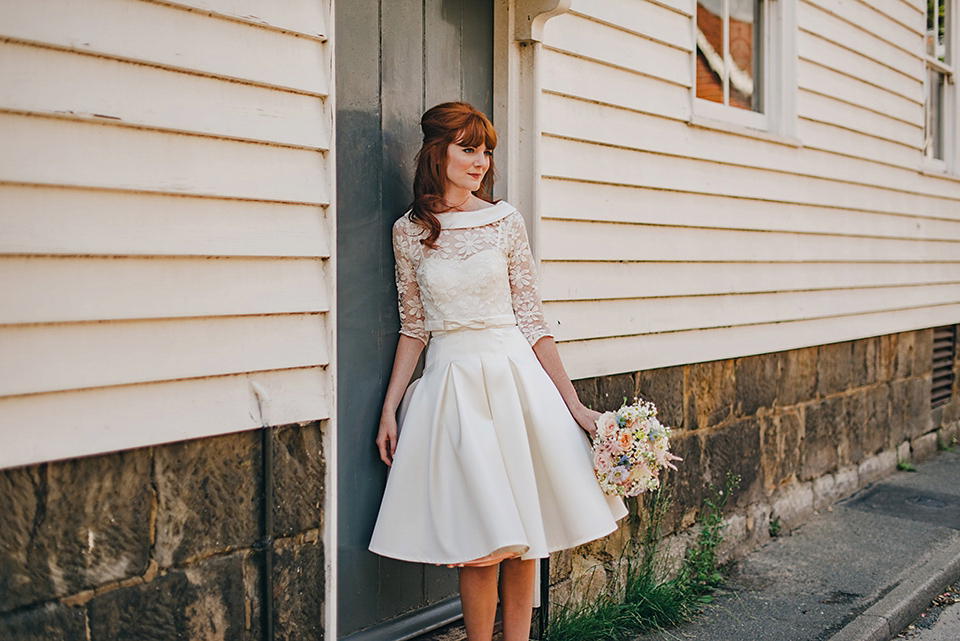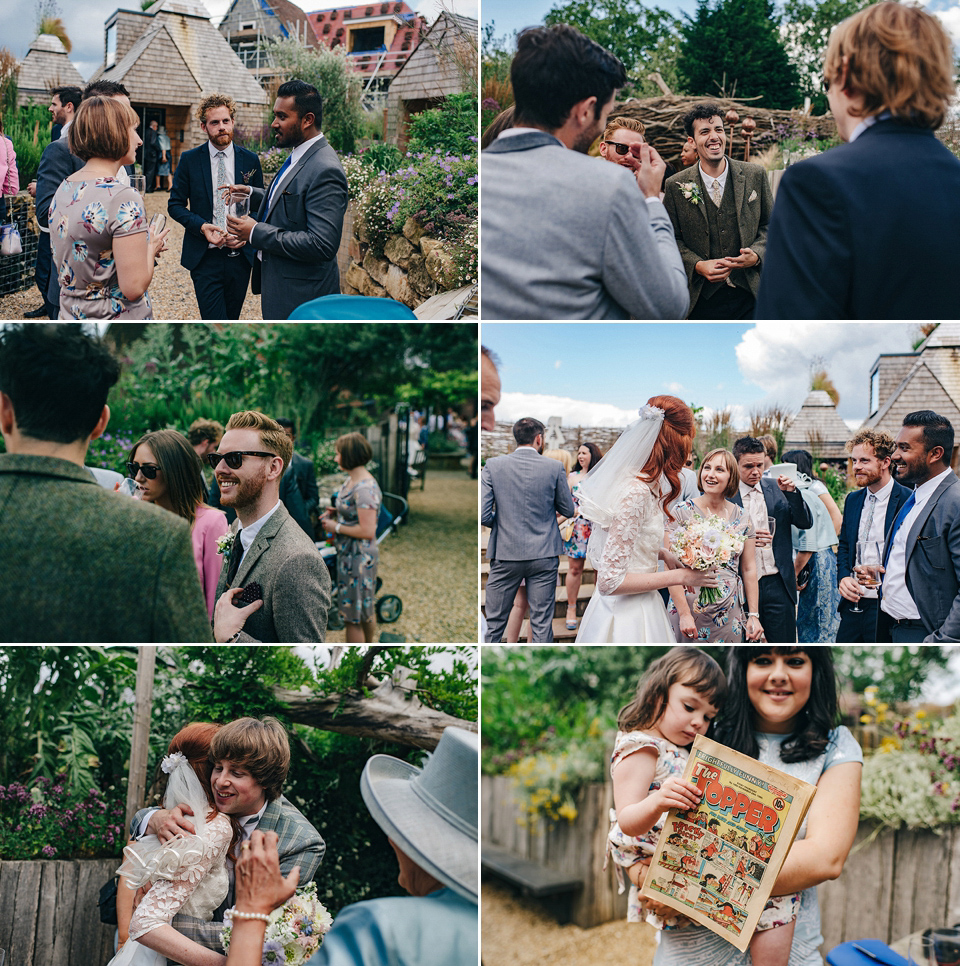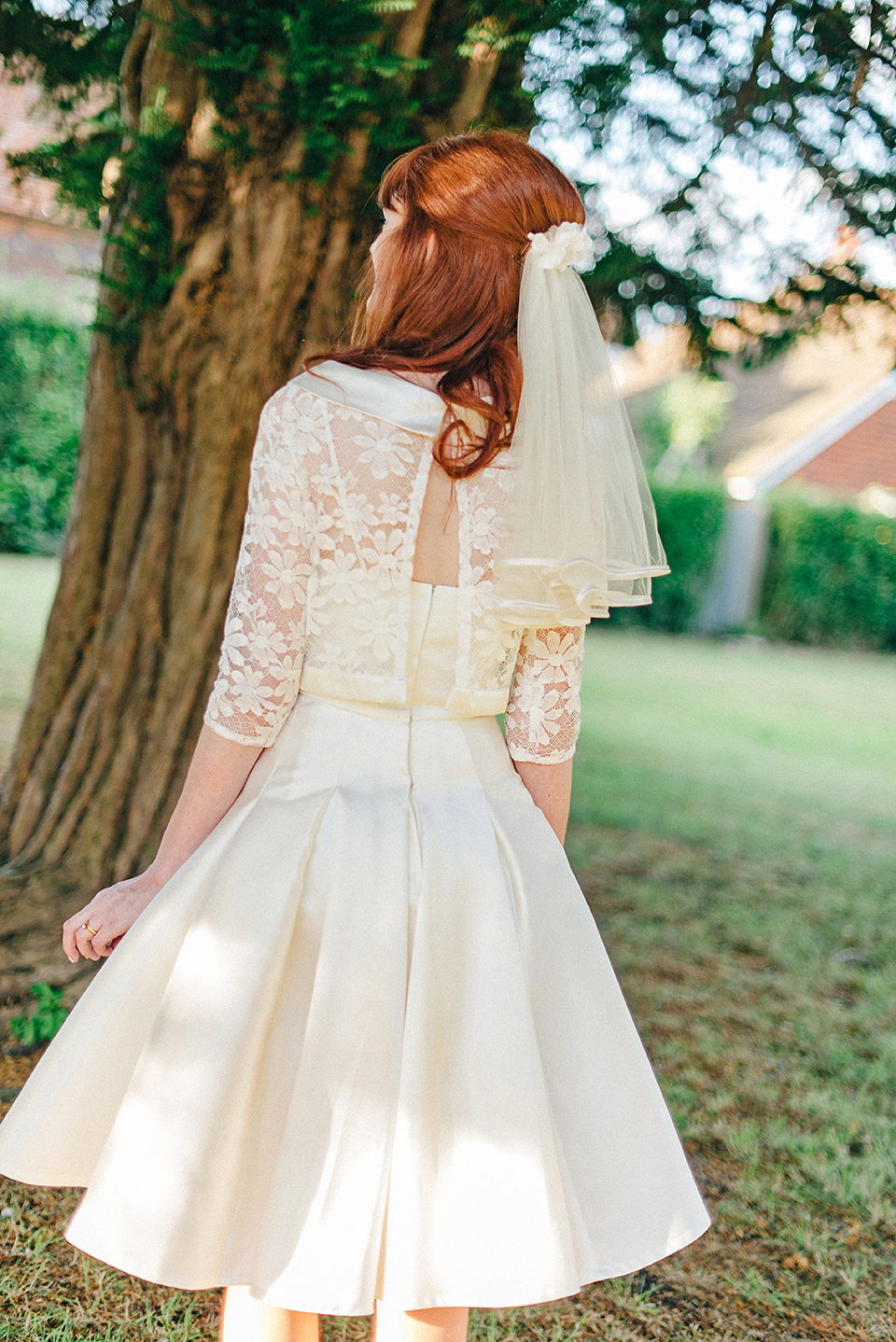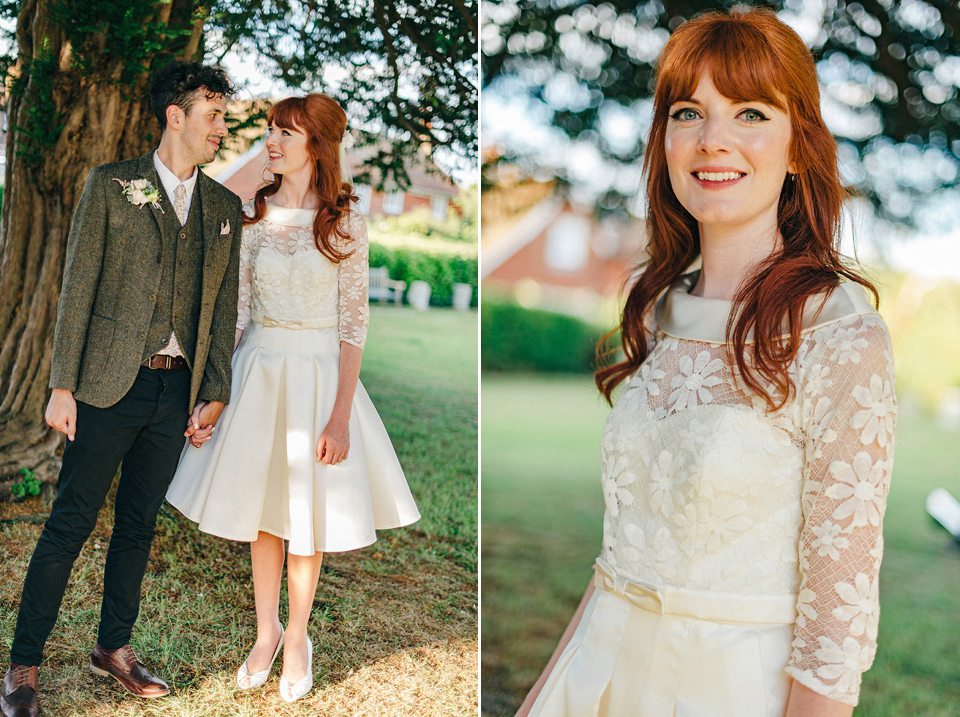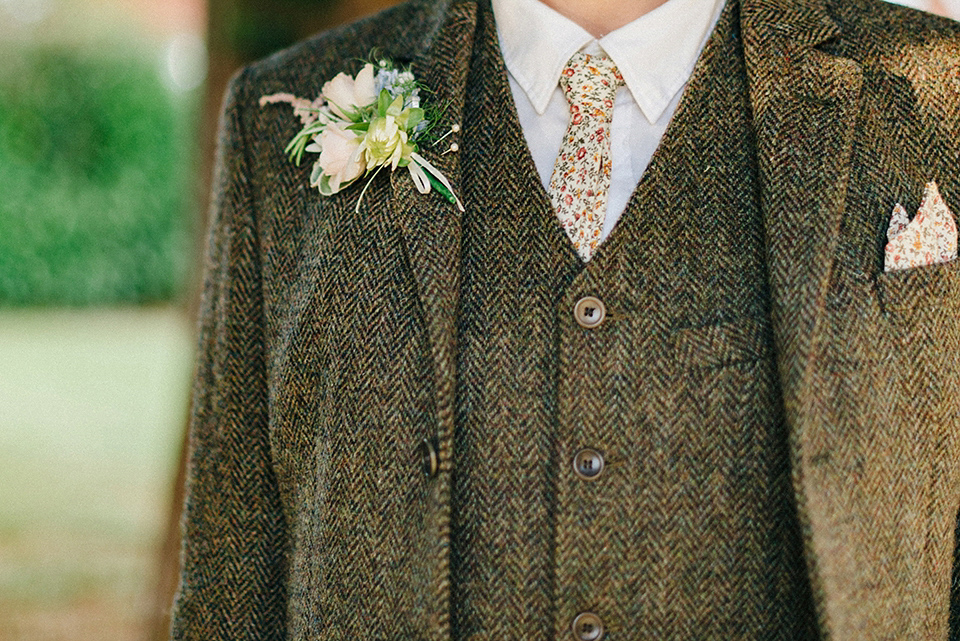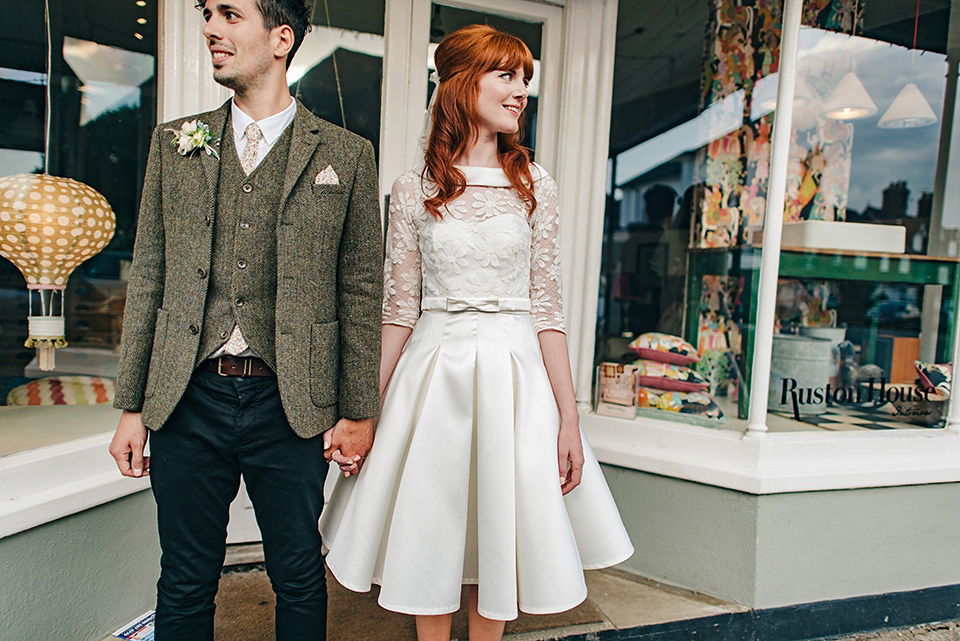 "The Bell was the first and only venue we looked at. As soon as we saw it we knew it would be perfect for an intimate and relaxed wedding and we loved all the little details, such as the stuffed bull's head and neon sign.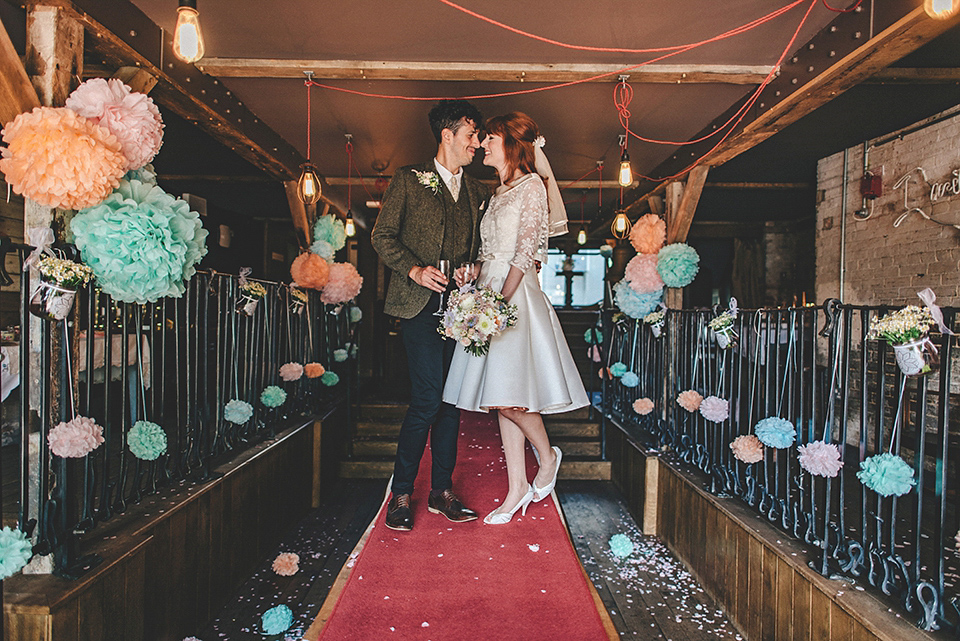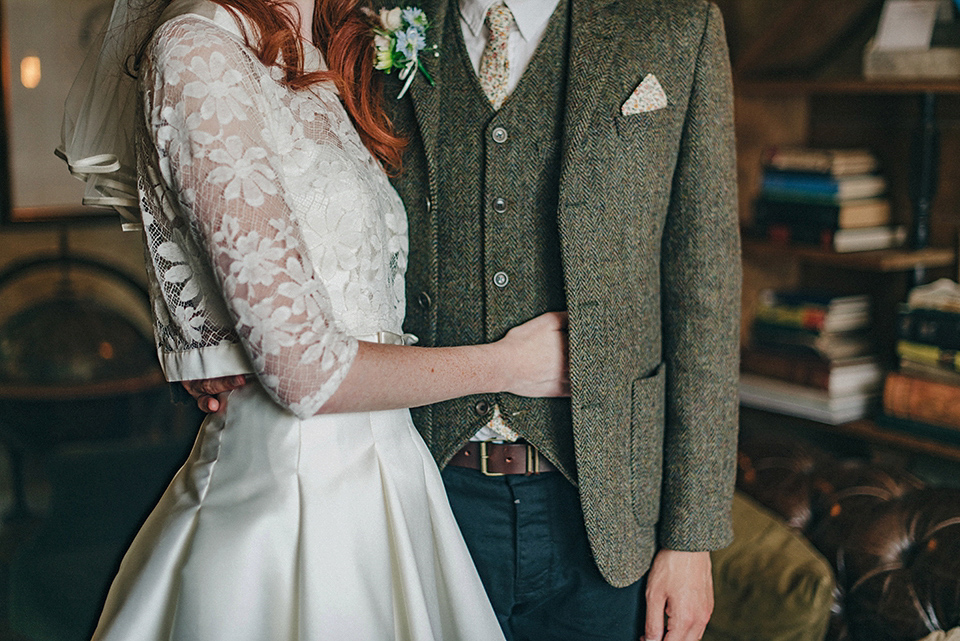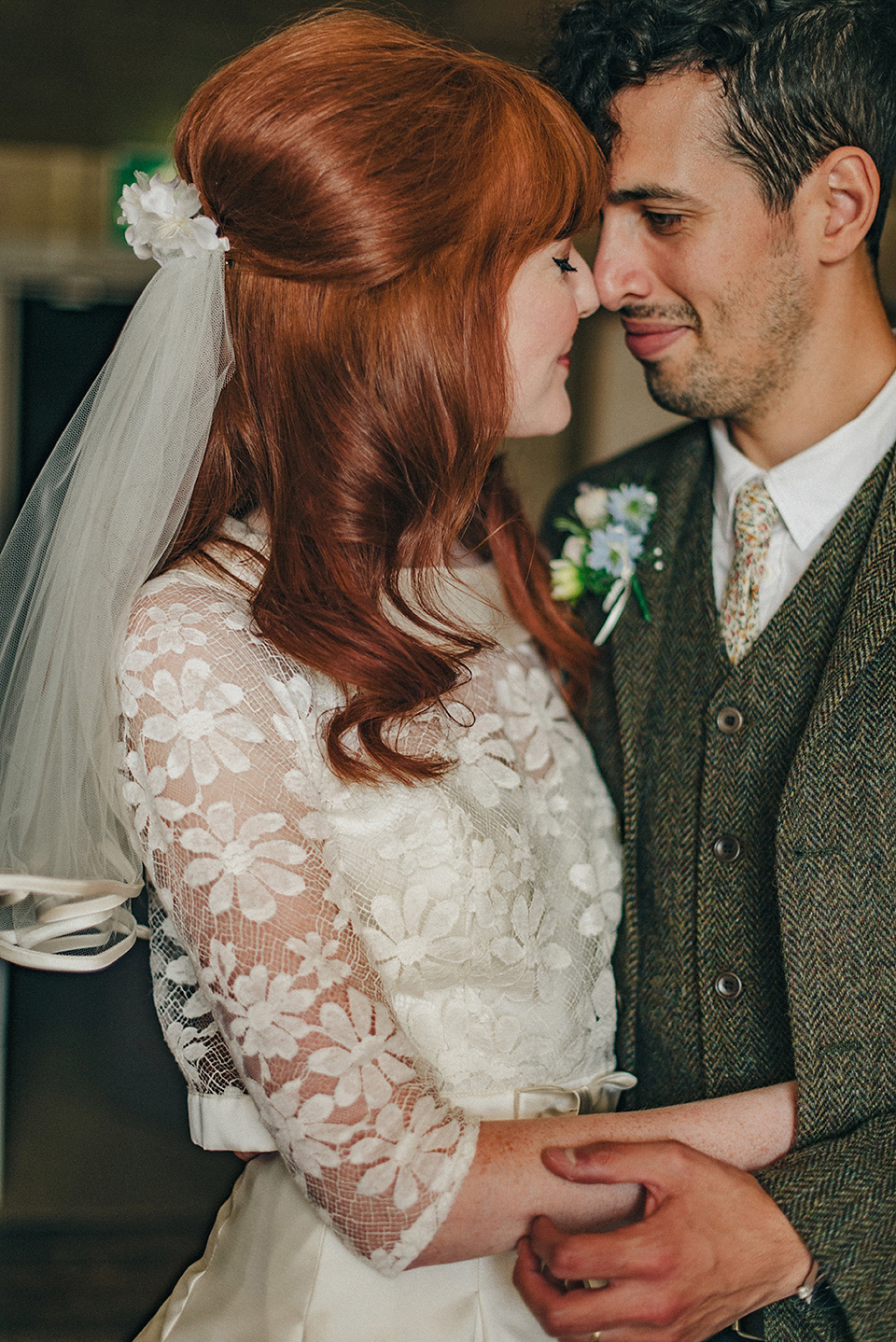 The venue was decorated with a brilliant mix of pom poms by Pop Pop Papier in pastel shades of pink, blue and mint green and matched the ribbons on the cake and the macarons – such a clever and effective touch. And those swan planters are utterly fabulous … I have serious kitsch envy.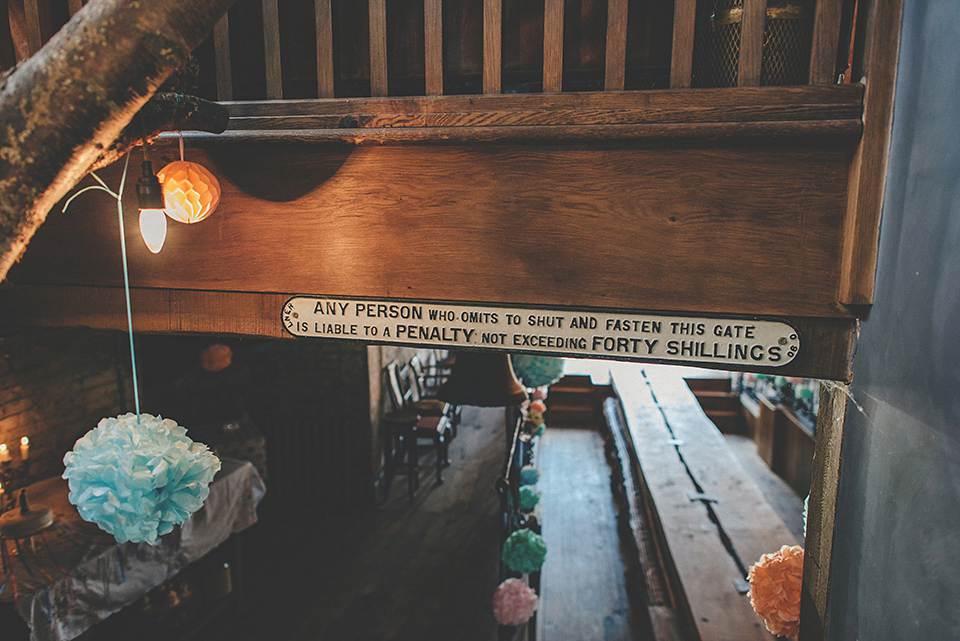 "The swan planters, tins and vintage sweet shop was mainly put together by myself, my mum, dad and sister hunting all over the South East for the particularly elusive swan planters. Some of the swans and tins for the flowers were from Rosehip Sussex. Finding enough swan planters over six months was one of the most stressful but fun parts of organising the wedding!"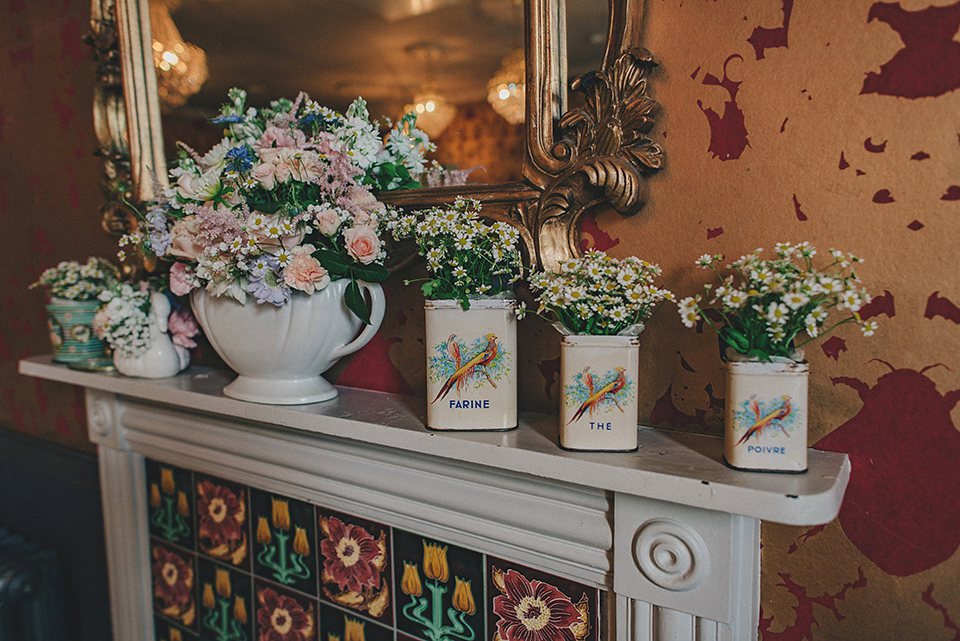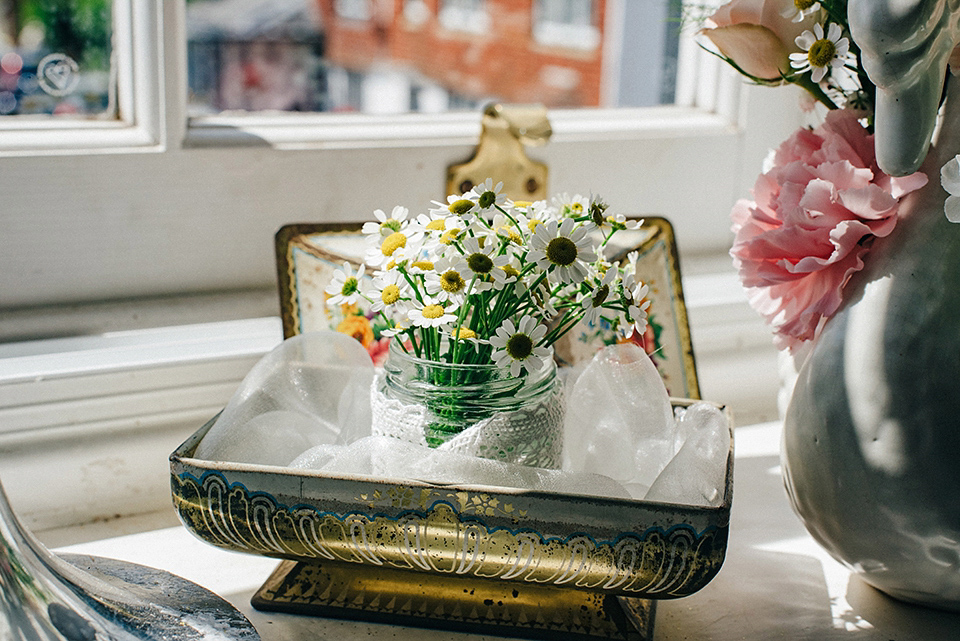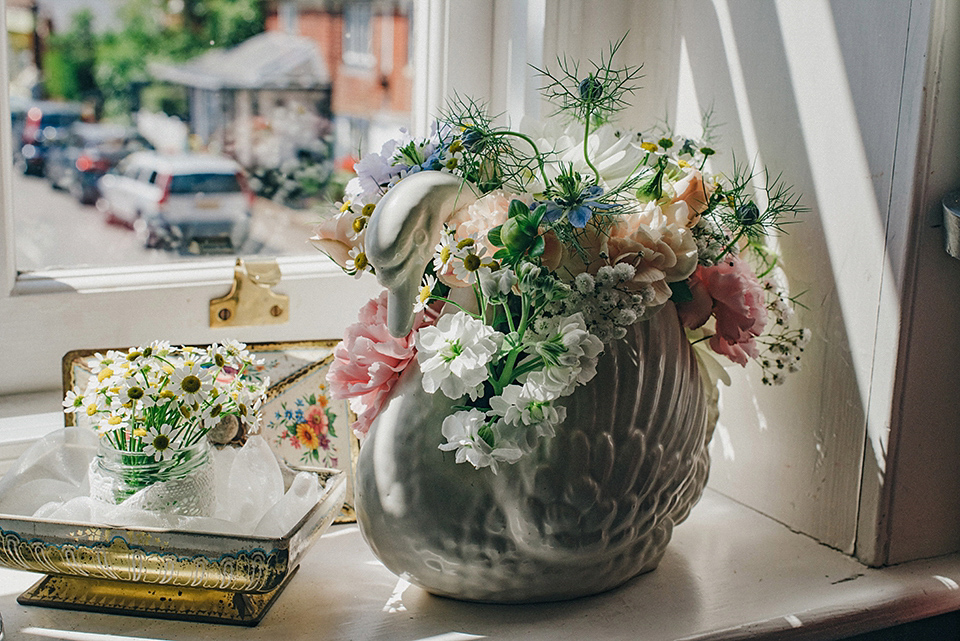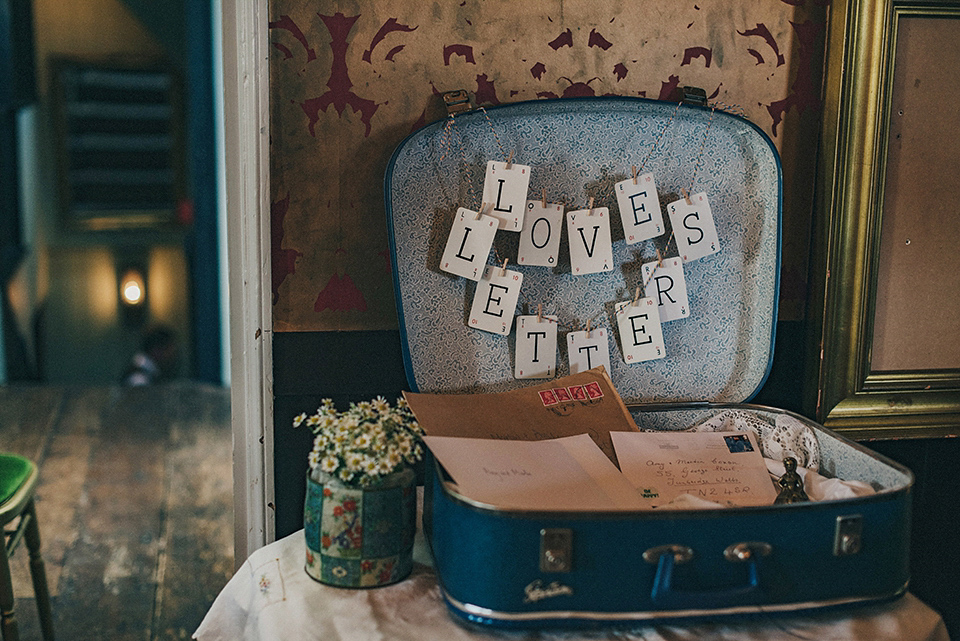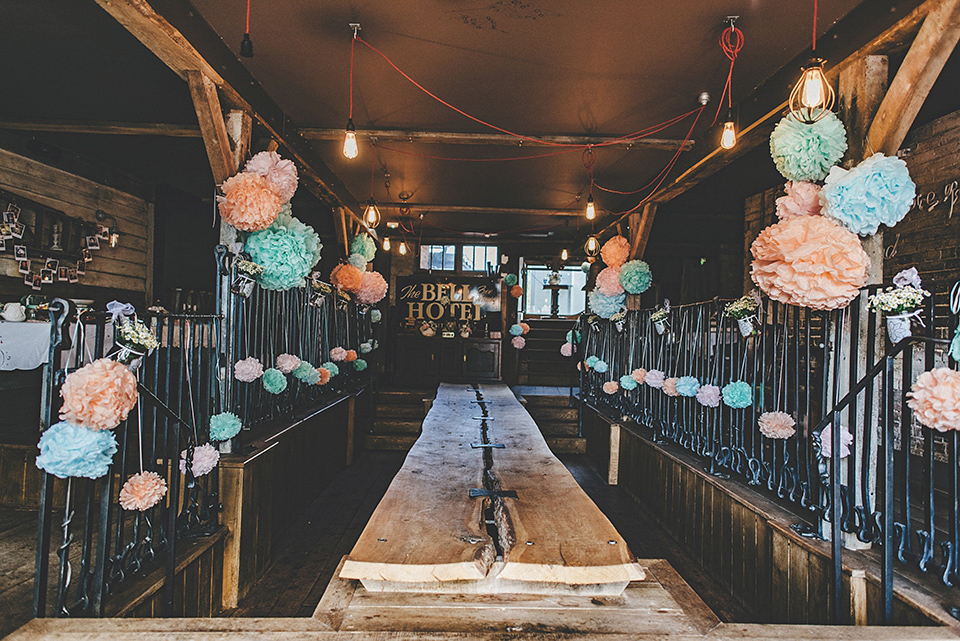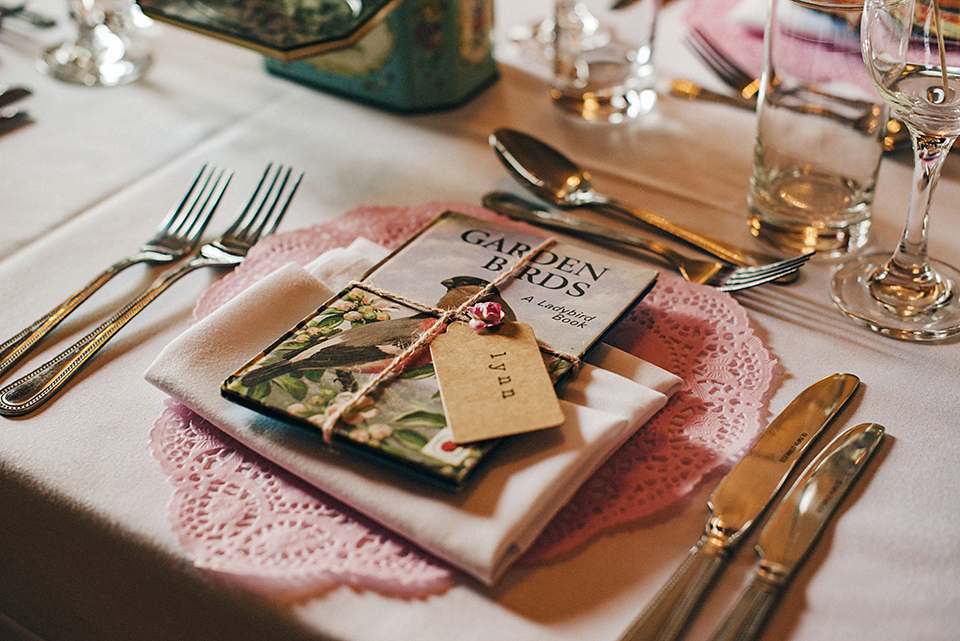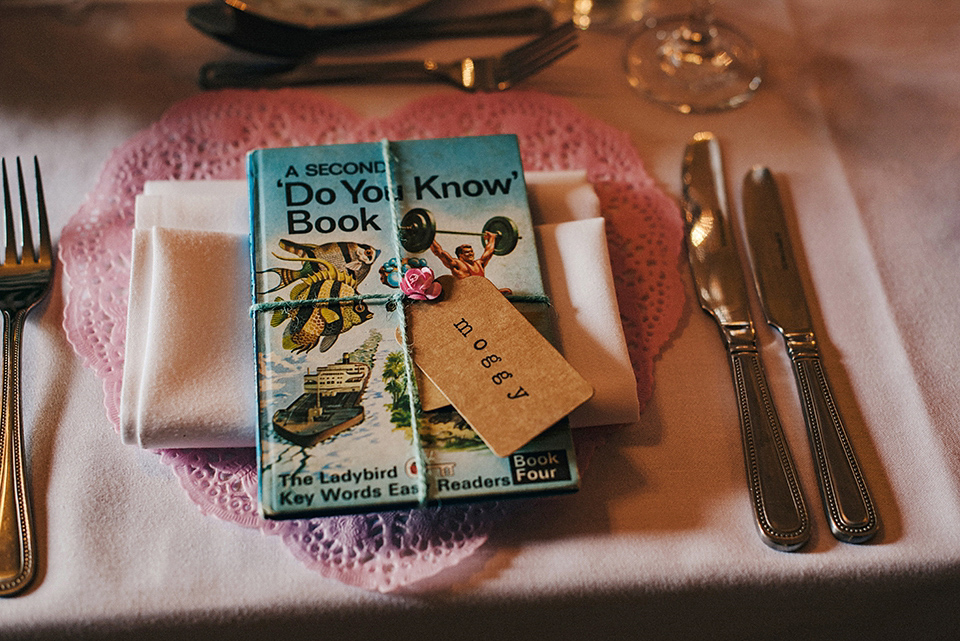 The bride and groom arranged 'save the dates' and invitations from LittleIndieStudio via Etsy. And Amy had a brilliant idea for their favours and name places…
"I came up with the idea of having Ladybird books as favours and name places for each of the guests and Martin tirelessly bidded on ebay for books to specifically suit each one of our guests! We then tied them up with string, and stamped brown labels with each guests' name."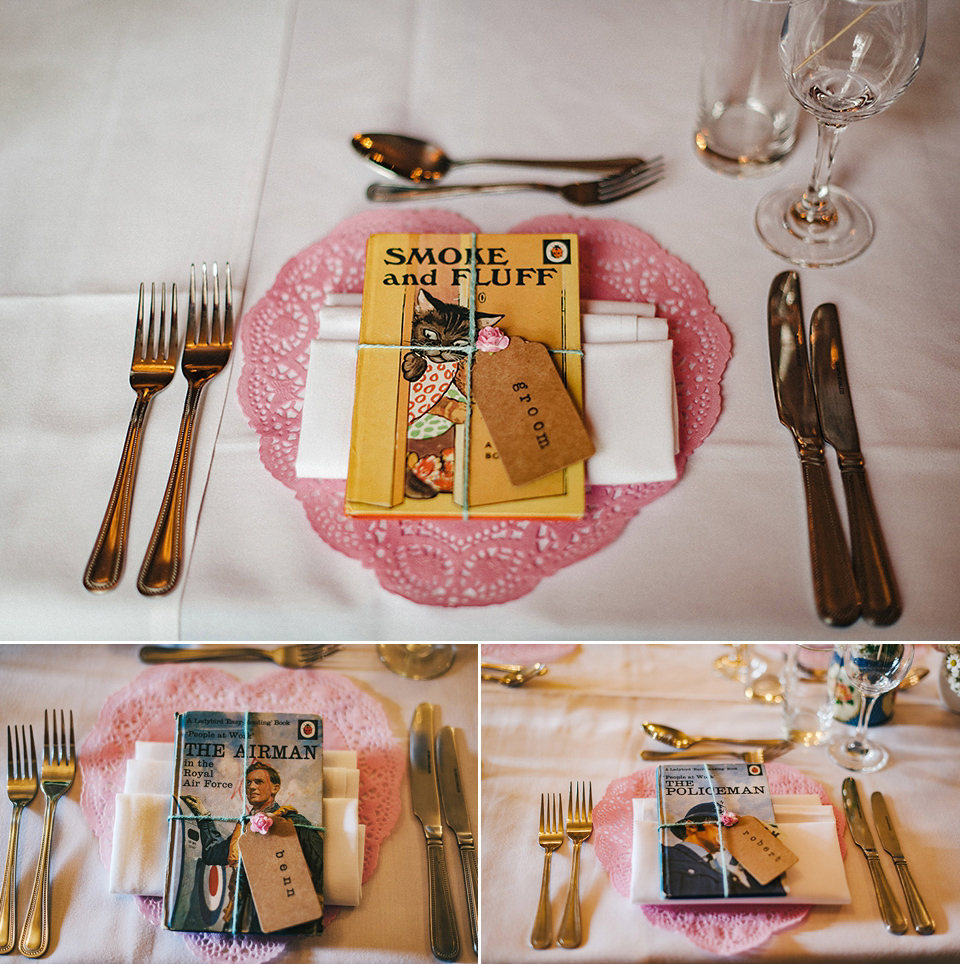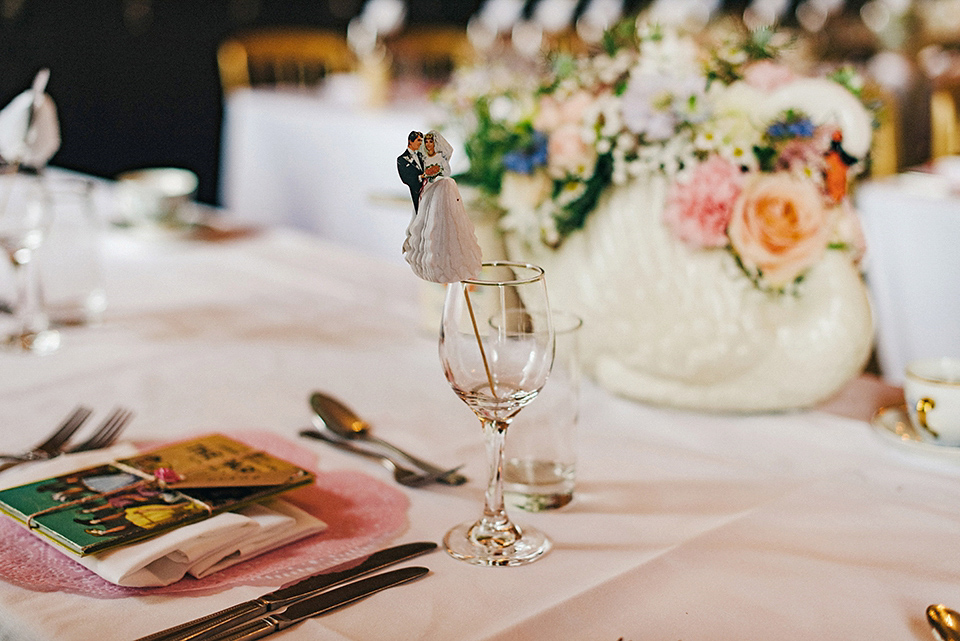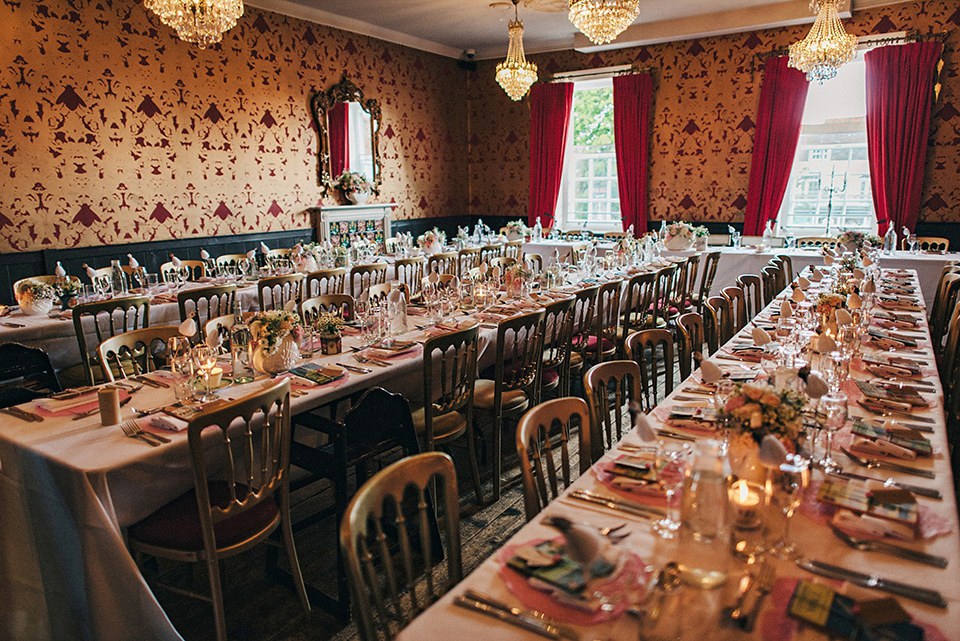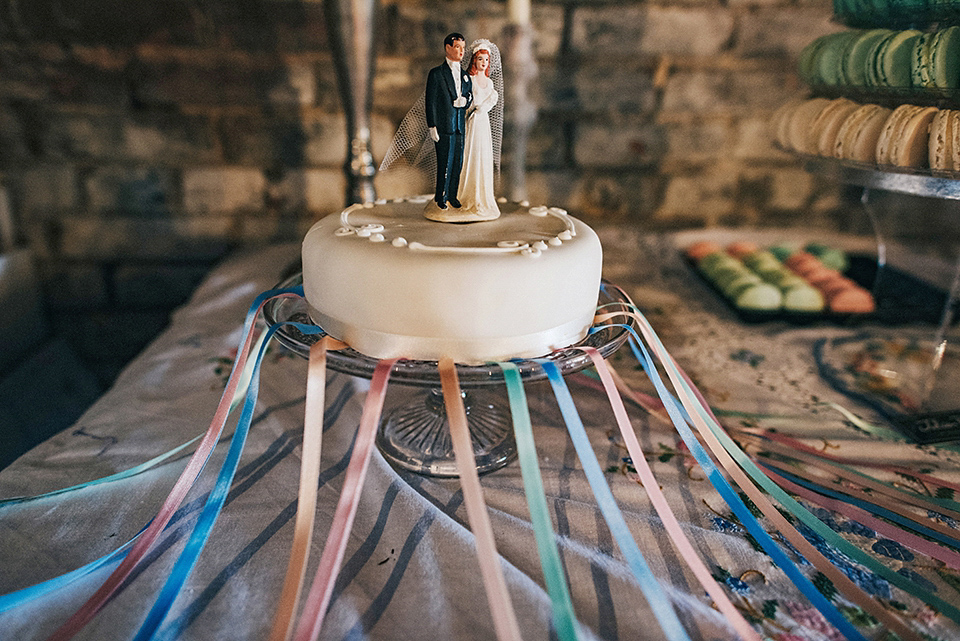 The very tempting range of cakes and treats are making my mouth water. And wait until you hear about this lovely Peruvian tradition to determine the next single girl to marry!
"We had a tower of the most delicious macarons from Julien Plumart, my favourite patisserie in Brighton, and pretty peach cupcakes from my colleague's sister Cupcakes Penny.
 We also bought a traditional wedding cake from M&S on which I put our vintage wedding topper from Etsy and placed coloured ribbons underneath for another Peruvian tradition. All the single girls have to pull a ribbon out of the cake and whoever gets the lucky ribbon with a ring attached, is the next to get married!"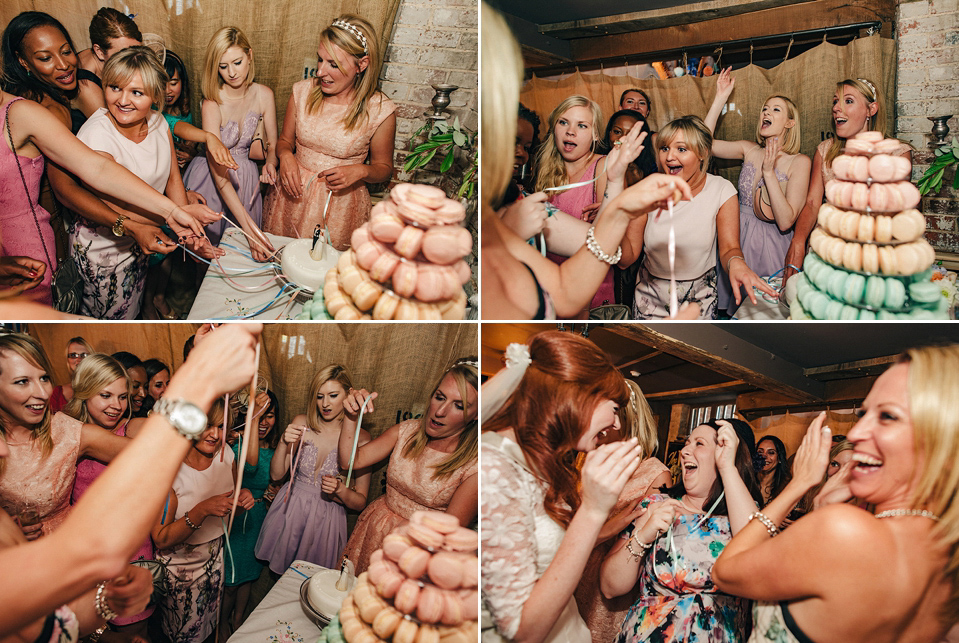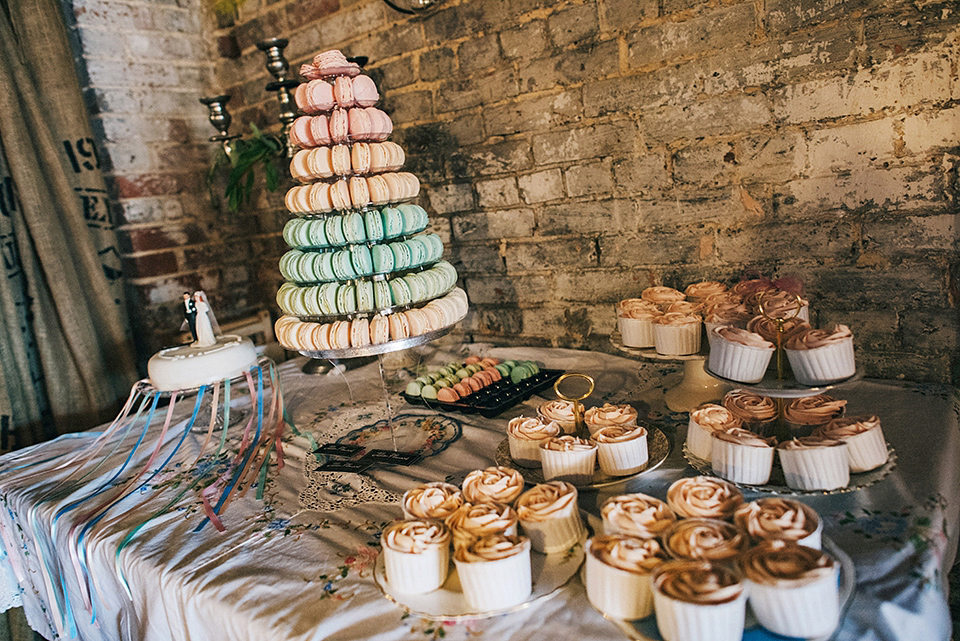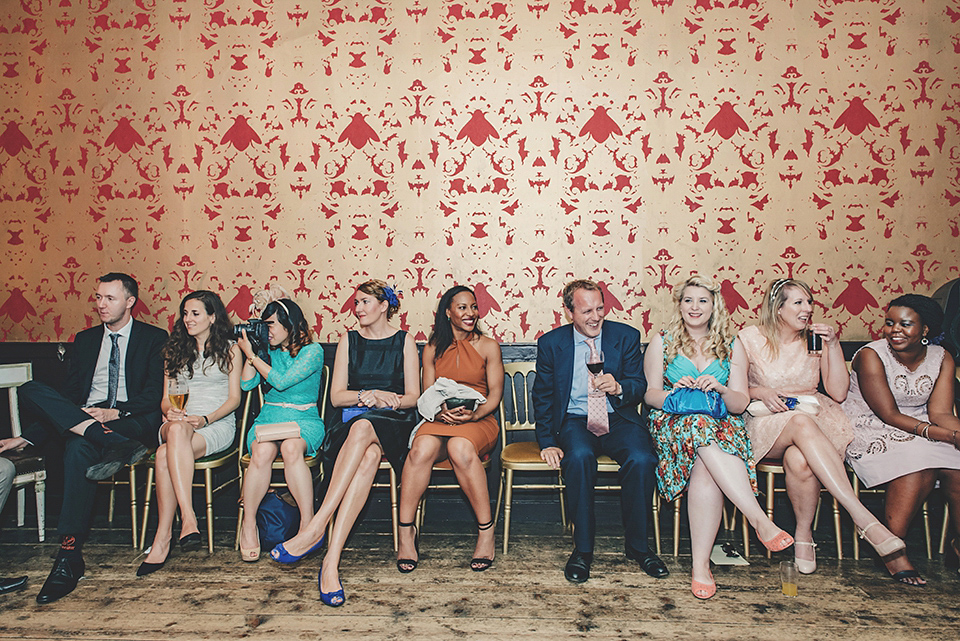 Folk band The Thumping Tommy's entertained the crowd and the couple hired a vintage photobooth from The Mighty Booth. Their first dance song was thanks to a guest's request.
"Our first dance was 'Baby I'm Yours', a cover by the Arctic Monkeys and we chose it because one of our guests requested it as a song to play at the disco. We hadn't heard it before and instantly thought it would be perfect for our first dance. All of 'our' songs turned out to have rather depressing lyrics, so we were glad we found this!"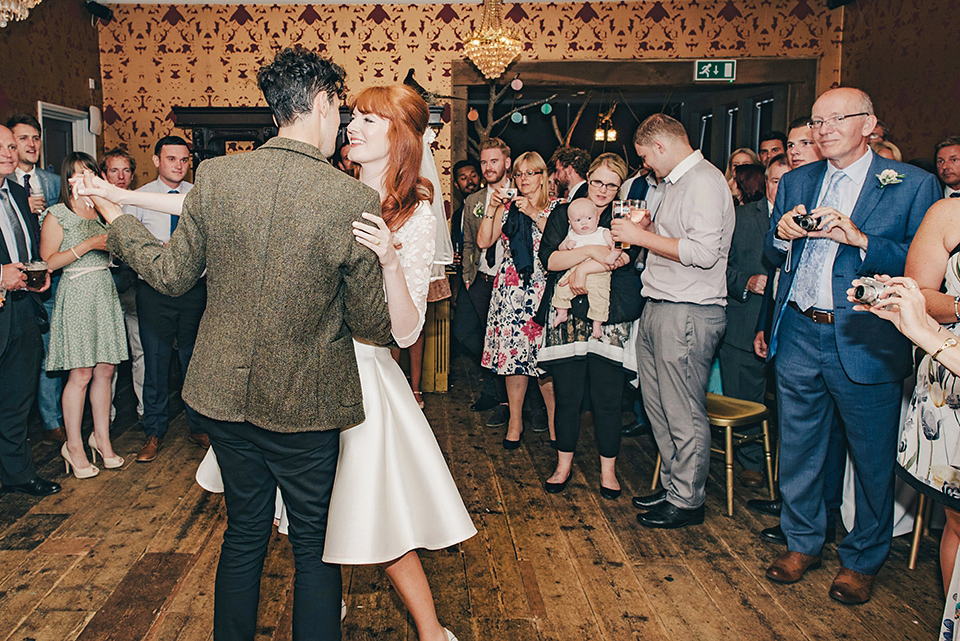 Words of Wedded Wisdom
"I would really recommend having a pre-wedding shoot as I am camera shy and felt uneasy about having to pose for 'cheesy' romantic photos, but the pre-wedding shoot was lots of fun and I loved the shots. I felt relieved and it meant I wasn't at all nervous on the day for the photos!"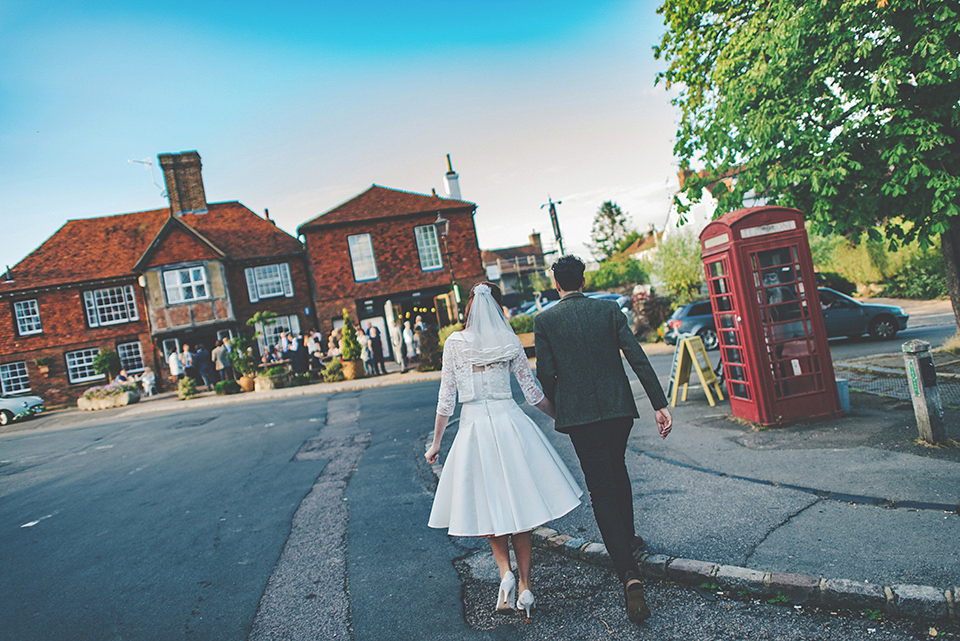 I'm so thrilled to have shared this lovely wedding with you all. I am in total awe of how the pastel shades were peppered throughout the day in the form of pom pom decor, the ribbons on the cake and the delicious macaroon treats – just brilliant! Many thanks to Jacqui McSweeney Photography for sharing these delightful pictures with us and I wish Amy and Martin lots of fun adventures ahead – and here's to many more hunts for tacky knick-knacks together.
If you've been inspired by the bride's divine dress, you can see more Fur Coat No Knickers vintage gorgeousness here.
Love Jo -x-
Photographer – Jacqui McSweeney Photography
Venue + Catering – The Bell Inn, East Sussex
Dress, Veil and Silk Hair Flowers – Fur Coat No Knickers
Shoes – Rachel Simpson Shoes
Perfume – Chanel's 'Coco Mademoiselle'
Bridesmaid's Dresses – Topshop
Bridesmaid's Shoes – Kurt Geiger
Bridesmaid's Hair Accessories – Accessorize
Groom – Jacket, waistcoat, tie and pocket square via ASOS, shirt and trousers from All Saints + Bertie shoe
Florist – The Wild Orchid
Rings – Gold Coast Jewellers + The London Victorian Ring Co.
Cakes – Julien Plumart + Cupcakes Penny + M&S + vintage wedding topper via Etsy
Stationery – LittleIndieStudio via Etsy
Makeup + Hair – Lipstick and Curls
Entertainment – Folk band The Thumping Tommy's + vintage photobooth from The Mighty Booth