Happy lunch time lovely lovely readers.  It's not often we feature a military wedding on Love My Dress, so those that we do are quite special indeed – I can't help but enjoy the whole 'Officer and a Gentleman' vibe with this kind of wedding – there's always an air of 'he swept me off my feet' style romance and glamour as was very evident on this particular dar. English Teacher Clementine married her beau Jonathan, an Officer in the British Army, on 1st August this year at Malmesbury Abbey in Wiltshire.
"With Jonathan being in the military, we were both keen to have a traditional military wedding – the uniform, swords, pomp and ceremony. However we wanted to keep it fun and not too stuffy and overly formal. Over the months of planning, this adapted into a combination of traditional with a more relaxed, bohemian feel."
Photography by Captured by Katrina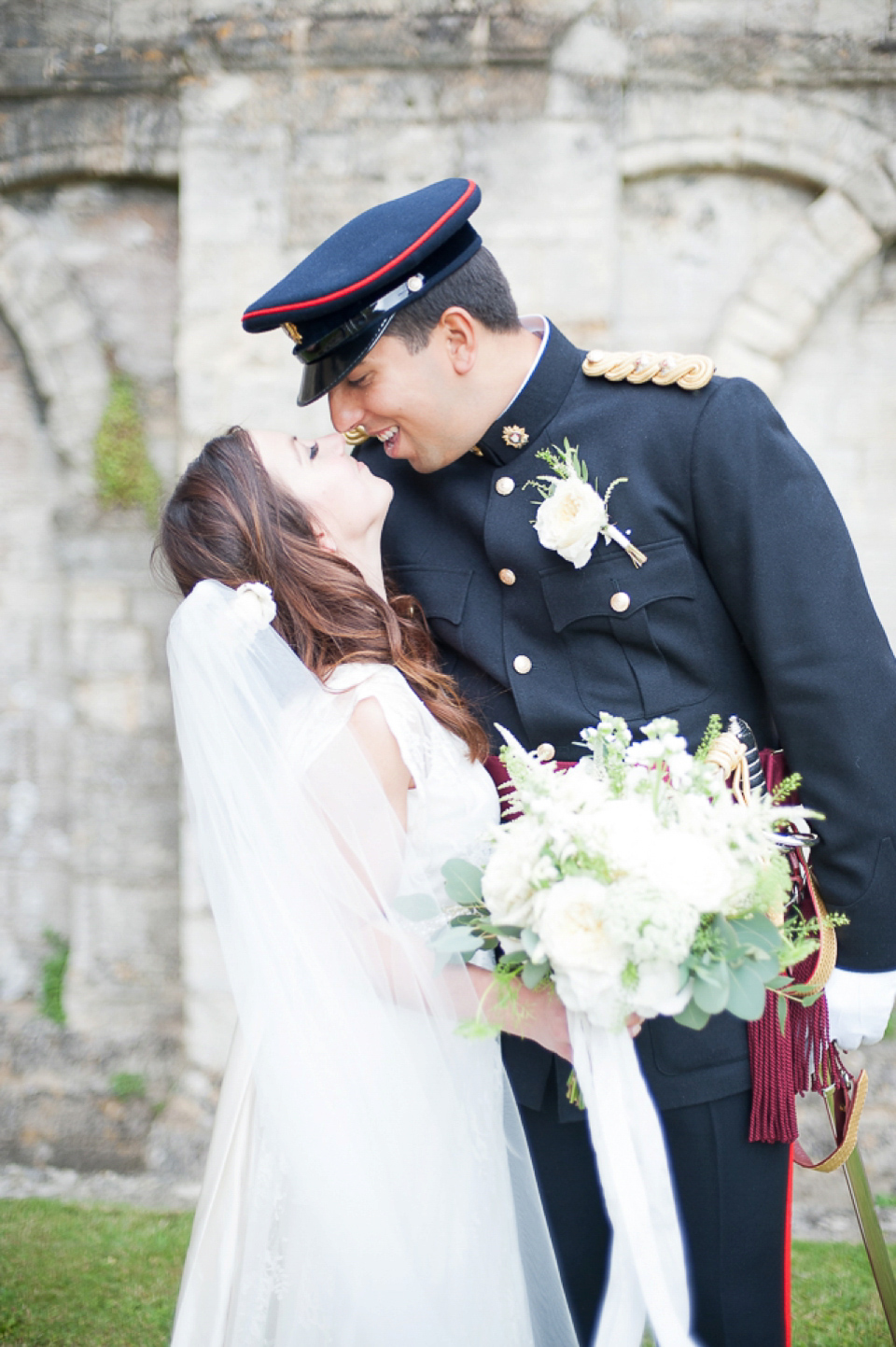 "I was adamant that I did not want to dress my bridesmaids in matching dresses as they are all have such different personalities. I also had my heart set on full-length dresses as they are so elegant and fun. I was shopping with my mum and sister when we passed Ghost. I have always loved their dresses; in fact I was wearing one when Jonathan and I got engaged."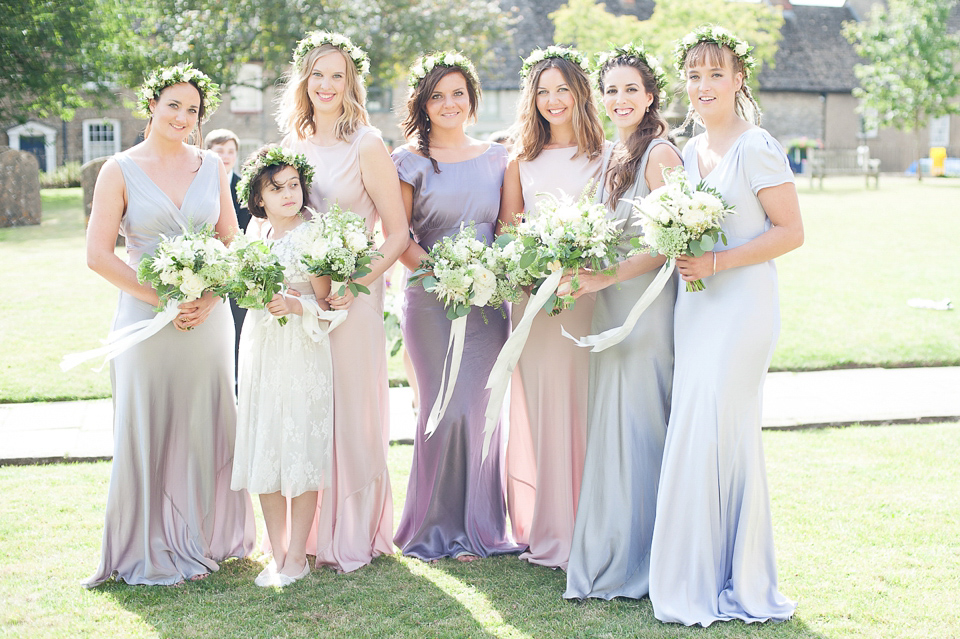 Clem found her Charlie Brear gown via the wonderful Perfect Day Bridal team, who we very highly recommend. We've been supporting Laura and her team of this beautiful boutique nestled in the heart of Wiltshire for about two years now and are very proud to also recommend Perfect Day Bridal through our beautiful new wedding directory, Little Book For Brides… "The ladies at Perfect Day Bridal are absolutely lovely; so welcoming and incredibly helpful. The boutique is gorgeous and I really enjoyed every visit I made there!"
Follow Perfect Day Bridal on Instagram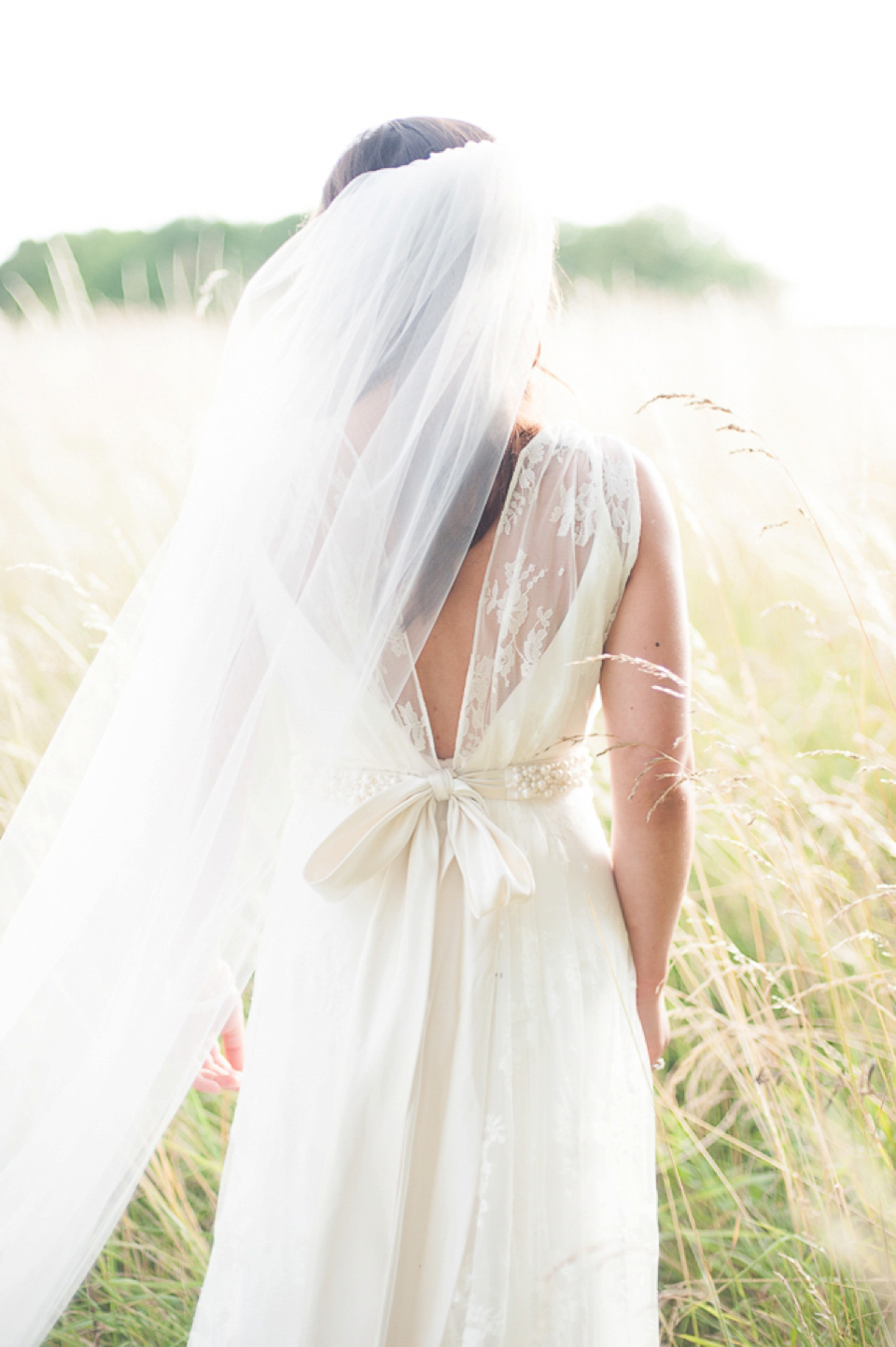 "In terms of accessories, I wore a pearl bracelet which Jonathan had given to me for my 21st birthday. I also wore a pair of earrings from Pandora and a ring which my dad gave me at the rehearsal dinner the night before our wedding. My great-great-great Grandfather had given it to his wife, my great-great-great Grandmother on the eve of their wedding and it became a family tradition to pass it on. As his Aunt had had it previously, I had never seen it before or heard the story and it was such a lovely moment."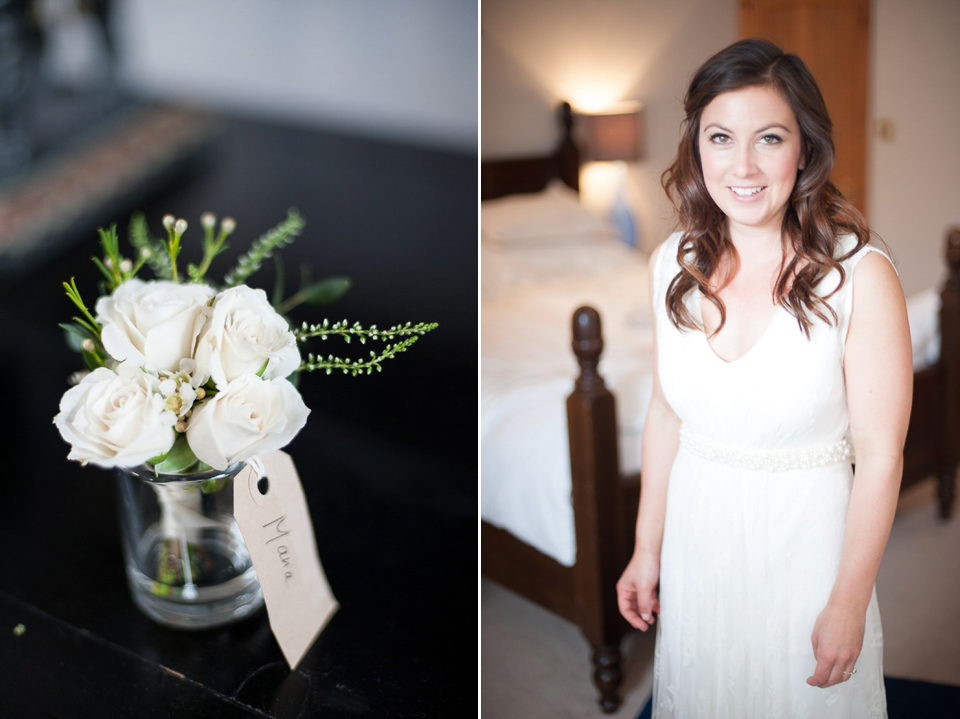 "I thought it would be nice to choose a new perfume which would forever remind me of our wedding day so I went to Jo Malone in Bath and spent ages smelling all the gorgeous perfumes. I could have probably chosen any one of them and loved it but I eventually decided on Tuberose Angelica. It was a bit different to the perfumes I usually choose and really lovely, every time I wear it now it always takes me back!"
"We went in to have a browse of the Ghost store and two hours later, after my poor sister had tried on nearly every dress in the shop, we came out with six beautiful dresses, all in pastel shades and slightly different to each other. Other than my own dress, this was one of my favourite purchases for the wedding; I love how all the dresses look together and how each dress suited each one of my best friends so well. I was blown away by how gorgeous they all looked on the day!"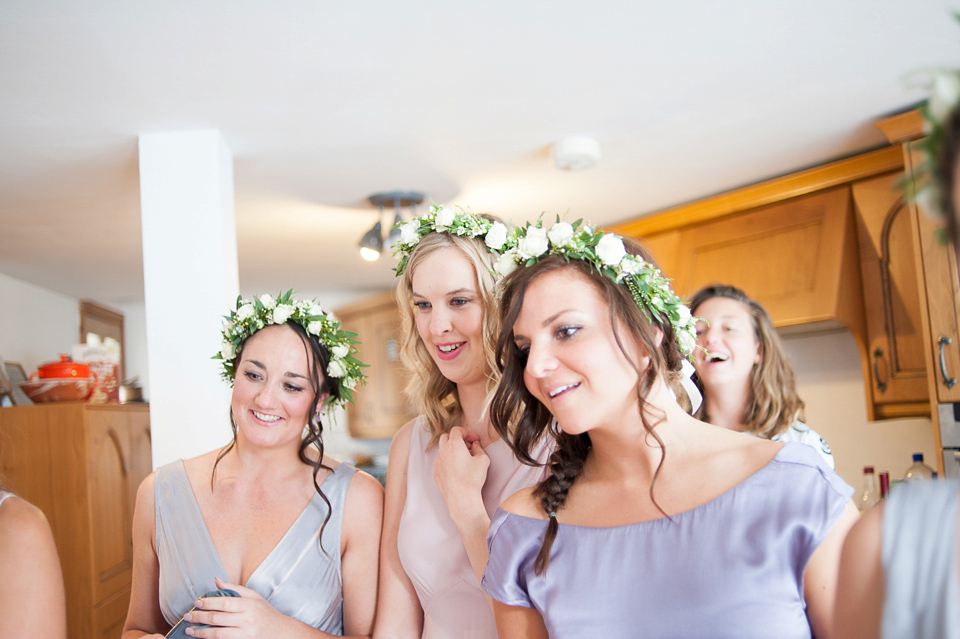 "When I began dress hunting, I had no idea what I wanted my dress to be like only what I definitely didn't want! I am sure this made me a less than easy customer but Julia at Perfect Day was amazing. I tried on a lot of dresses but fell in love with Charlie Brear's designs, I loved that you could start with a simple slip dress that you could then layer up into something unique. I chose the Peyton dress with Voulaire lace overdress and a gorgeous pearl belt tied in a huge bow at the back. I couldn't have loved wearing it more.
We had a second wedding celebration in Greece (at my dad's house) and I wore Peyton again with the belt tied lower and everyone thought it was a different dress."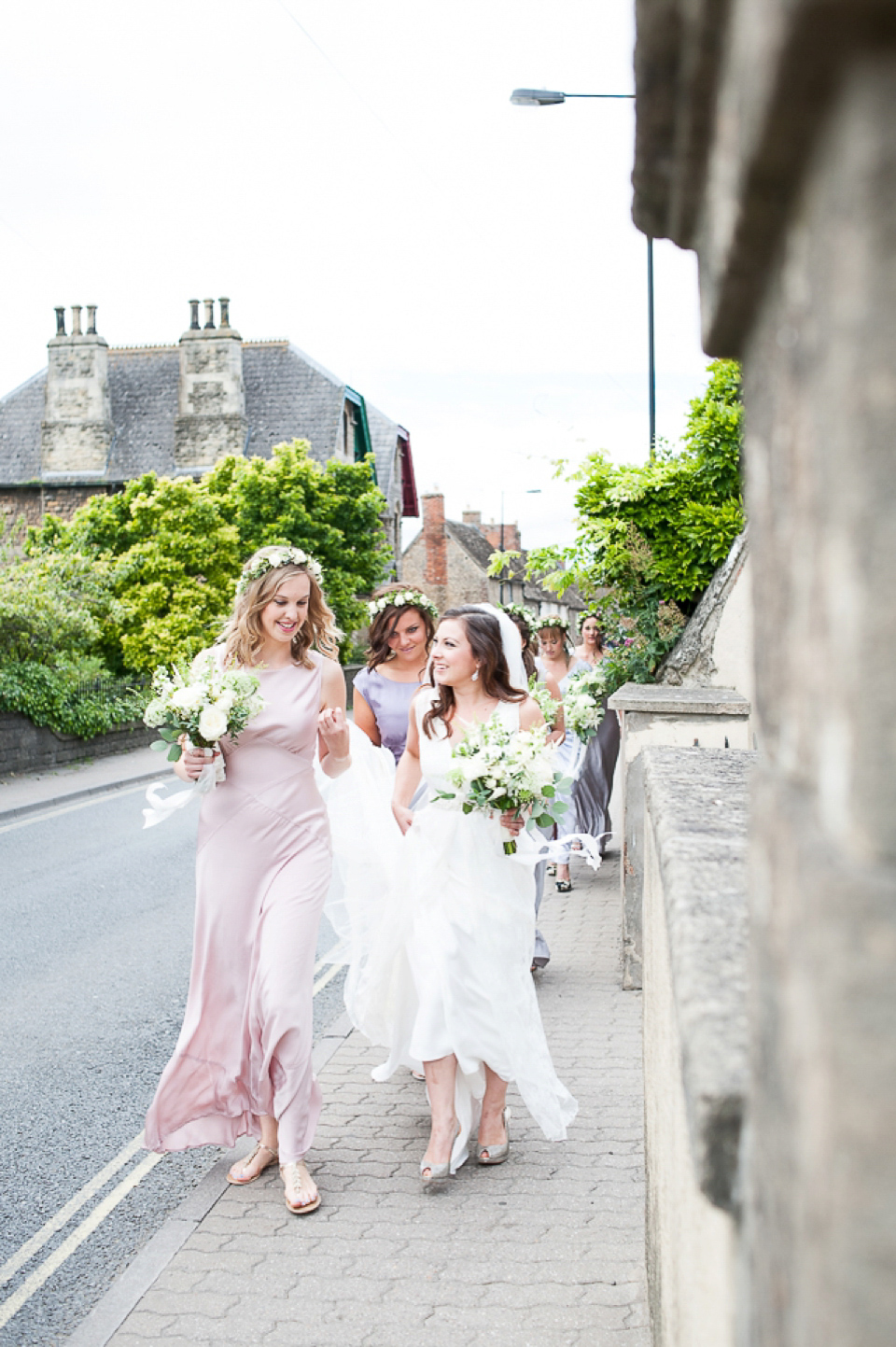 "From very early on in our engagement I was a regular reader of Love My Dress blog and an avid follower of their beautiful Instagram account! We had struggled to find a local photographer we loved until I saw Suzi and Crispin's wedding featured on Love My Dress and realised it was in Bradford-on-Avon, the town next to my family home!
I contacted the photographer, Katrina, and Jonathan and I were both so happy to find out she was available! Katrina was incredible. From the moment she arrived at the house she was warm, friendly and just fitted in perfectly. She managed to be everywhere at the wedding completely unobtrusively and took the most wonderful, natural photos that capture the happiness and joy of the day. So many of our guests commented after the wedding on how lovely she was and how well she used the light in photos. We would recommend Katrina in a heartbeat!"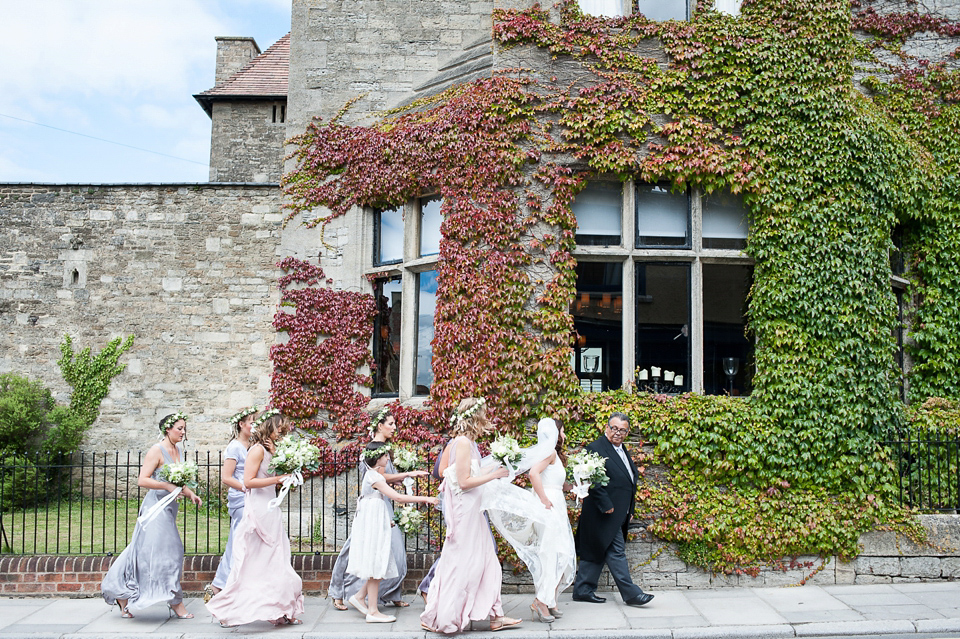 "We chose to get married in Malmesbury Abbey. I grew up in Bath and loved the idea of getting married somewhere near home. As Jonathan is based near Malmesbury, we had spent a lot of time there over the last couple of years and had both fallen in love with the place. As we would be moving there following our wedding, it felt right to get married there! The Abbey originates from the 12th century and only parts of it are still standing. It was beautiful and impressive yet still felt intimate inside."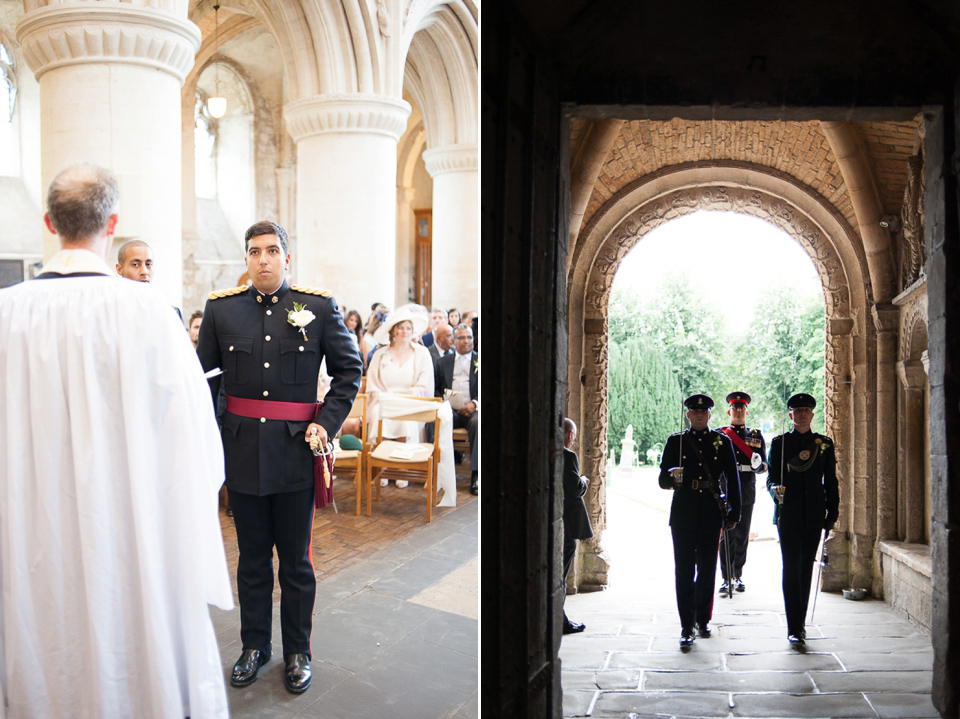 "We decided to have a full blown Military wedding, the grandeur of the Abbey catered perfectly to this– Jonathan loved the idea of wearing his uniform to get married in – and so did I! This made the decision to have our reception in the Officers' Mess really easy; we had the flexibility to decorate the space ourselves and it felt a bit different and personal to us.
My dad walked me down the aisle. He lives in Greece and hadn't been to England for a number of years so it was a really special moment. I walked down the aisle to Pachelbel's Canon in D."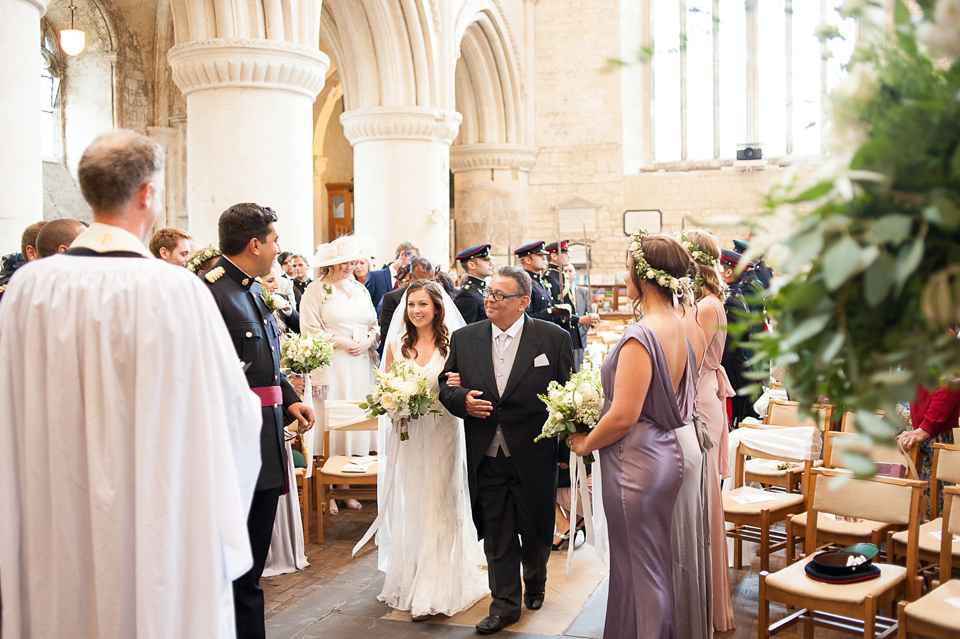 "As we had a religious service we chose two biblical readings, Song of Solomon 8: 6-7 and Ecclesiastes 4:9-12, which were read by two of our best friends. We loved both of these but one that really stood out to us was the Ecclesiastes reading. The line 'a cord of three strands is not easily broken', to us summed up how we were becoming a team, a unit. We were both pledging to love help and protect each other always…"
Two are better than one,
because they have a good return for their labor:
If either of them falls down,
one can help the other up.
But pity anyone who falls
and has no one to help them up.

Also, if two lie down together, they will keep warm.
But how can one keep warm alone?
Though one may be overpowered,
two can defend themselves.
A cord of three strands is not quickly broken.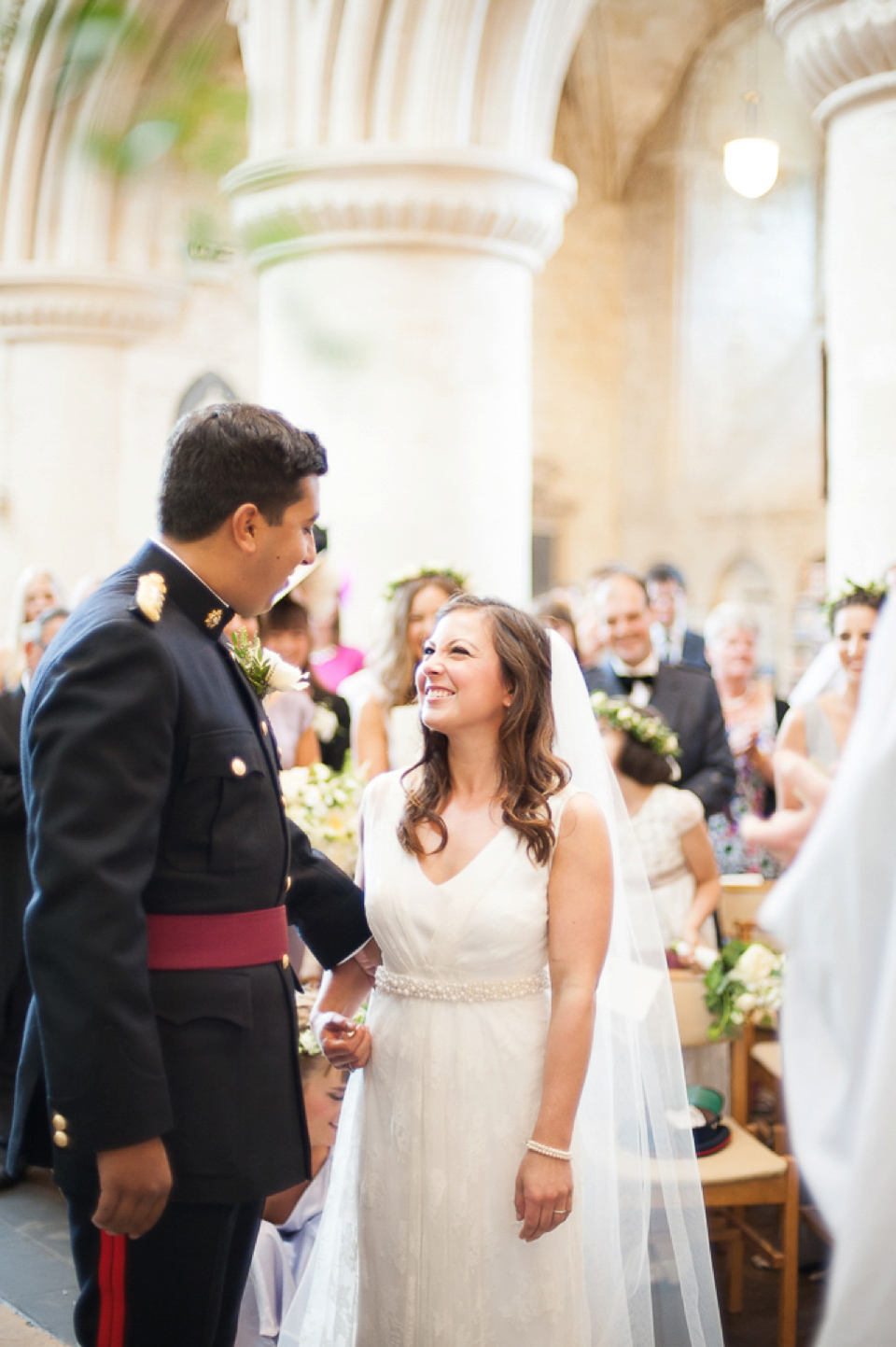 "Jonathan and I both went to the same university and were placed in the same halls in first year. We met (not very romantically!) one day when Jonathan accosted me to buy tickets for the event that he was promoting. After university, Jonathan went to Sandhurst for Officer training and I moved to London. Everyone had always said to us that relationships are incredibly difficult to maintain while at Sandhurst but we both found that we relied on each other during this time and we both treasured the short amount of time we were able to spend together."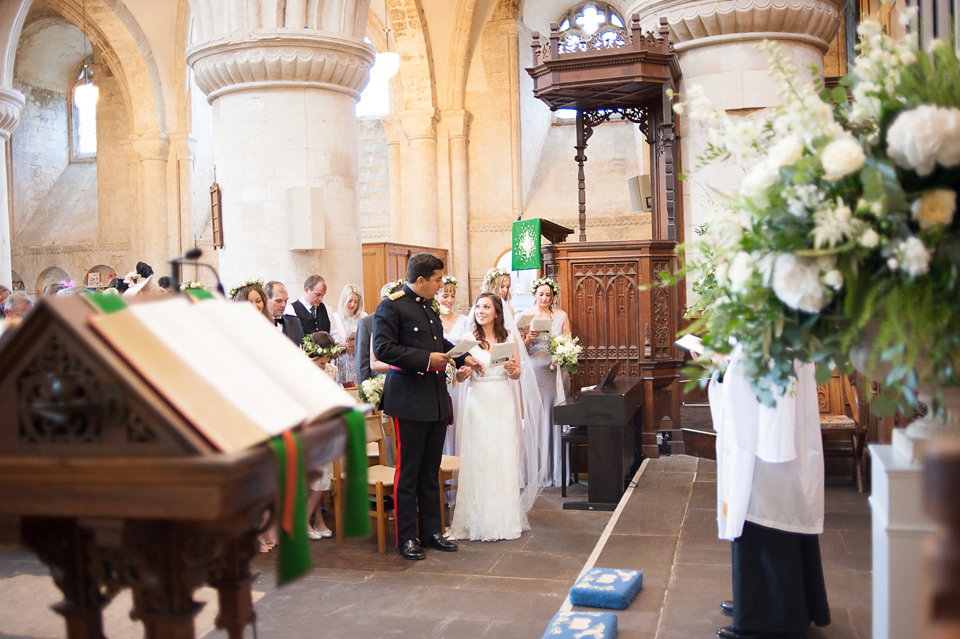 "We found that this time really consolidated our relationship and made us both realise how much we valued and loved each other. On finishing Sandhurst, cadets put on a parade for family and friends followed by a ball in the evening. Watching Jonathan in his uniform with both our families around us, I remember feeling so proud of him. Later that night, as we stood on the grounds waiting for the fireworks to begin, Jonathan asked me to marry him. My only regret is that we had both had quite a lot of champagne by this point!"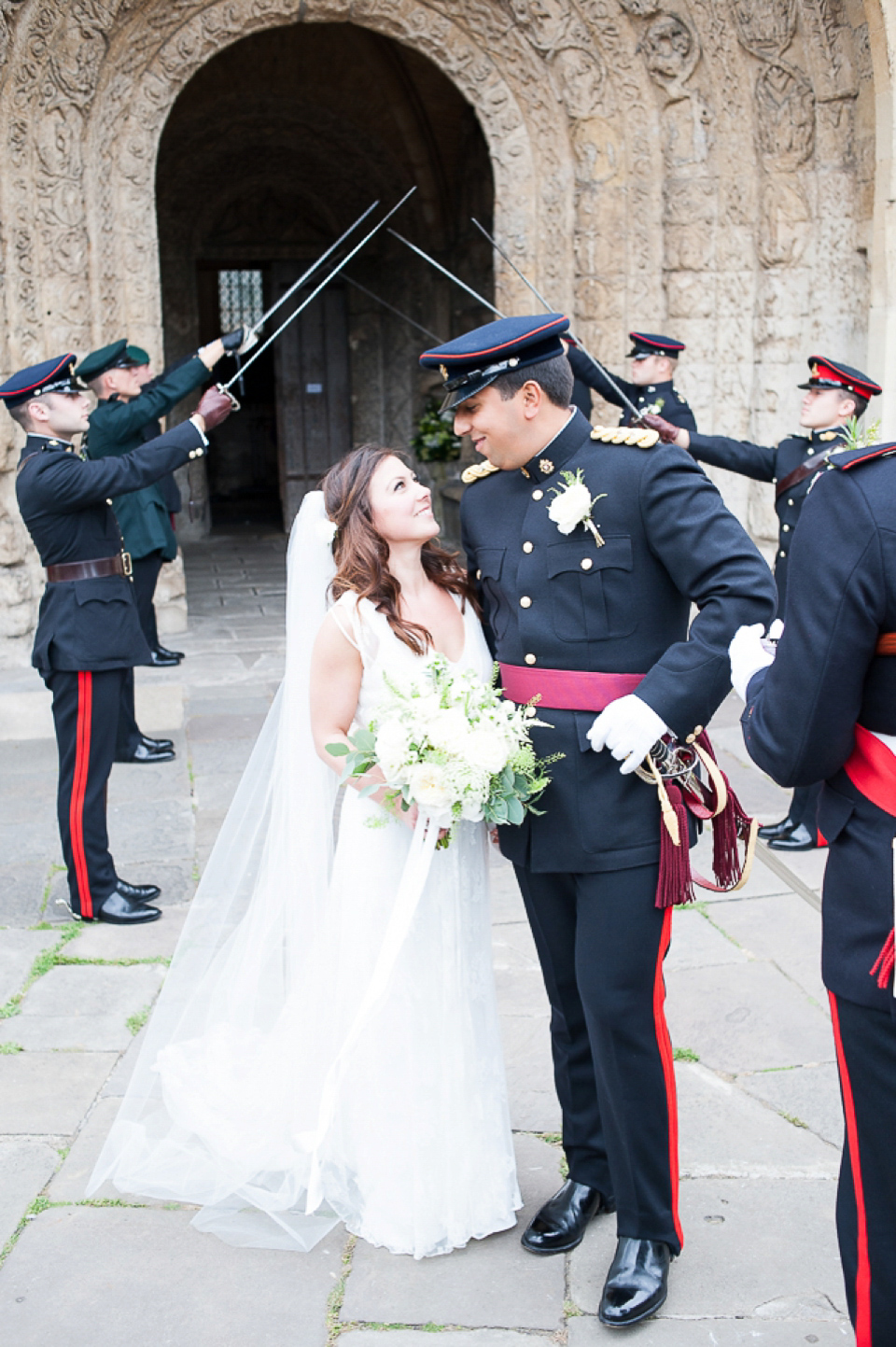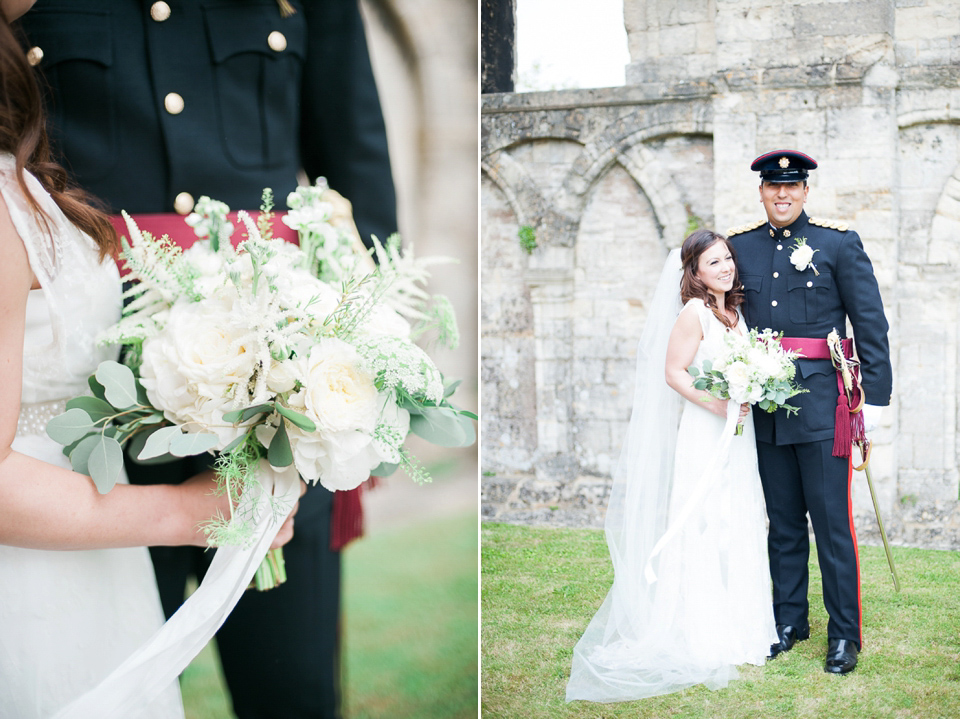 "Jonathan's Platoon from Sandhurst were his Guard of Honour, with his Colour Sergeant from training as the Guard Sergeant Major and best man as Guard Commander. They all wore their uniforms and looked amazing. They followed military tradition and escorted me into the church and formed a guard with their swords for us to walk through. This was such an amazing moment and we both loved it!"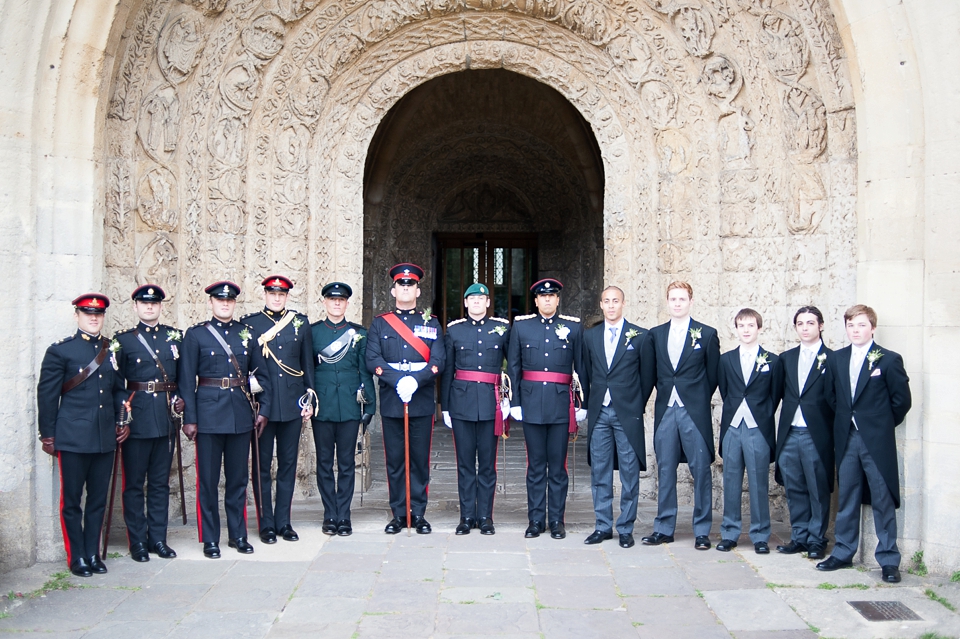 "My flower girl was Jonathan's younger sister who was so excited to be a bridesmaid! Initially I was going to put her in a dress made out of the same fabric as the older girls but I wanted her to look her age, rather than trying to make her look too grown up. I found the perfect dress in Monsoon which complimented both the lace on my dress and also the pastel shades of the bridesmaids dresses and suited her; she looked gorgeous!"
"We decided to find a florist for the bouquets, buttonholes, flower circlets and two large displays next to the altar. I looked at a few florists and was really unsure until I visited Flowers by Passion. They have the most amazing barn just outside Bath and from the moment my mum and I walked in we knew they would create wonderful flowers for us. When Erin arrived with the bouquets and circlets on the morning of the wedding I was totally blown away by the incredible job she had done."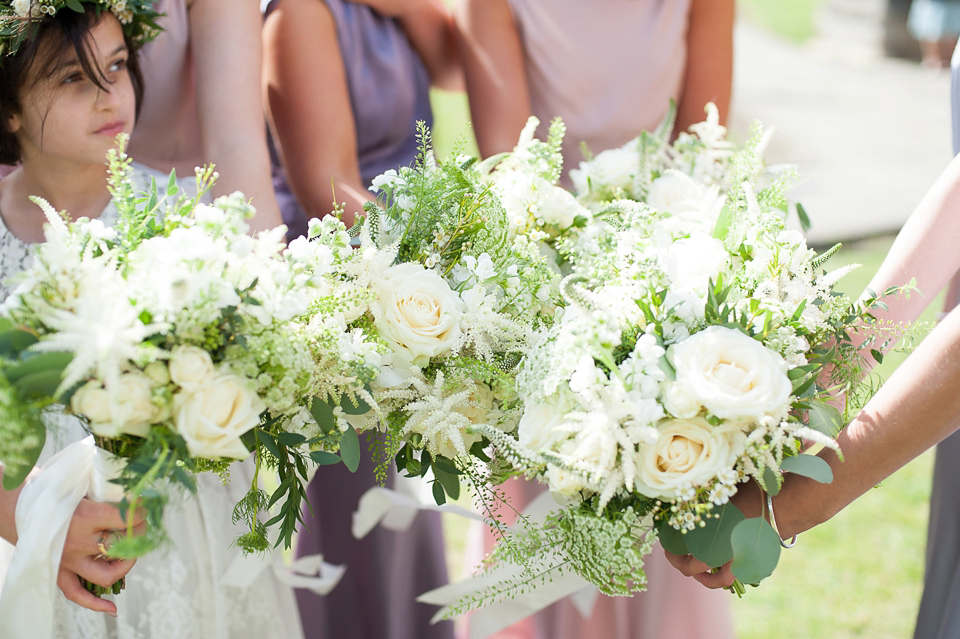 "The bouquets were everything I could have hoped for and more and the hair circlets were stunning. They also made two huge arrangements which we had next to the altar for the ceremony and later moved to the front entrance of the Officers Mess then after dinner were moved again to the back by the marquee; we really made the most of them! I would recommend Erin and the team in a second, they were wonderful to work with throughout the planning and created the most beautiful, breathtaking flowers."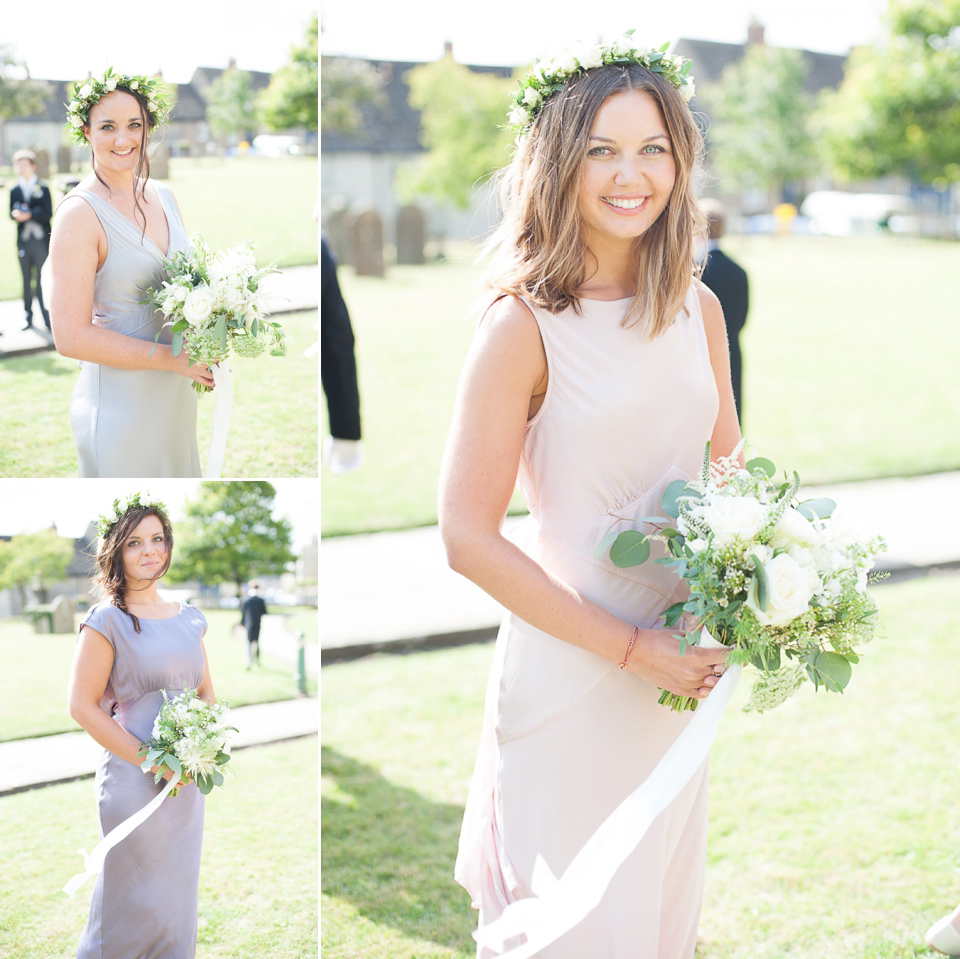 "My bridesmaid's had white and green hair circlets made by Flowers by Passion – I loved them and so did the girls (most of them were still wearing these to the barbecue the following day!)"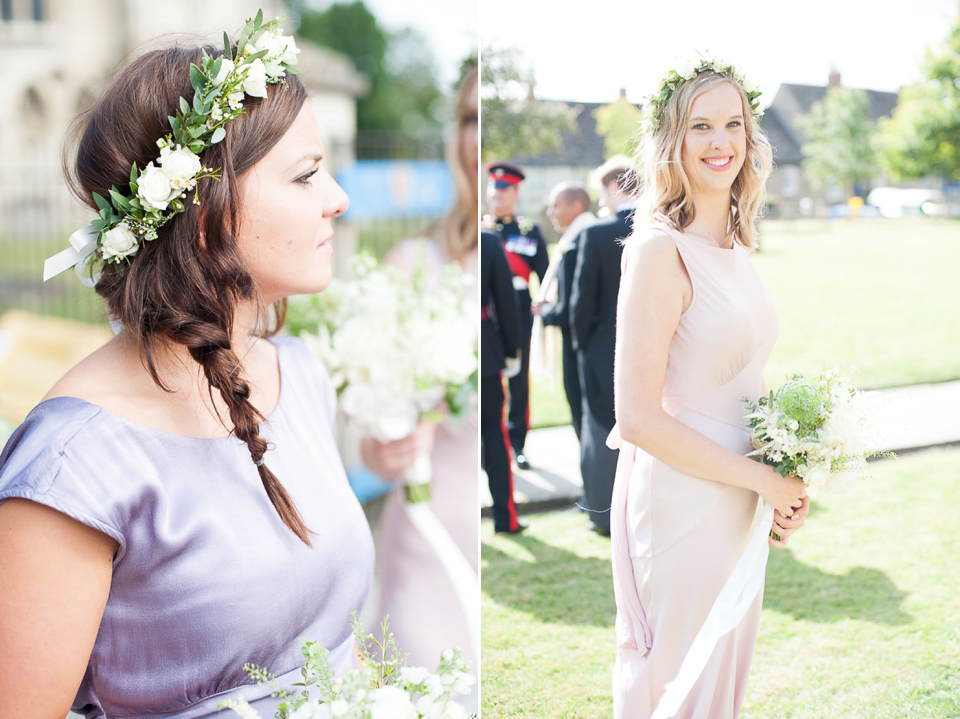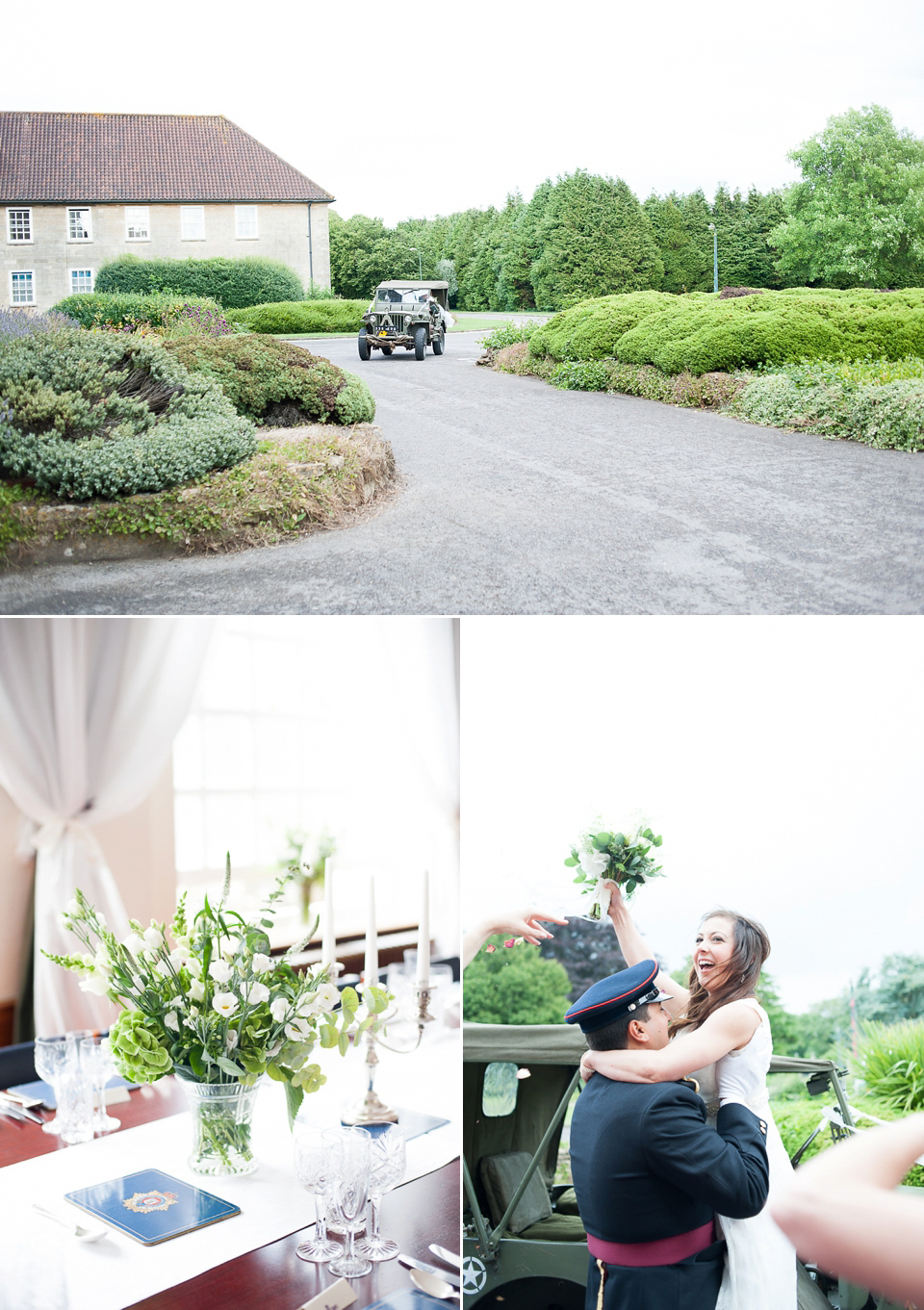 "My mum has very recently begun an event styling business, ByCharlie and having helped her at past events, I knew without a shadow of doubt that she would give Jonathan and I the most amazing, beautiful day. She made every idea we had come to life so effortlessly and she took every single detail into consideration."
"My mum gave us a huge frame to use for our table plan (her house is like an Aladdin's cave full of random items such as this!) Laura (my maid of honour) and I painted this with blackboard paint and then painstakingly drew the table plan on to it with chalk paint which we displayed in the foyer."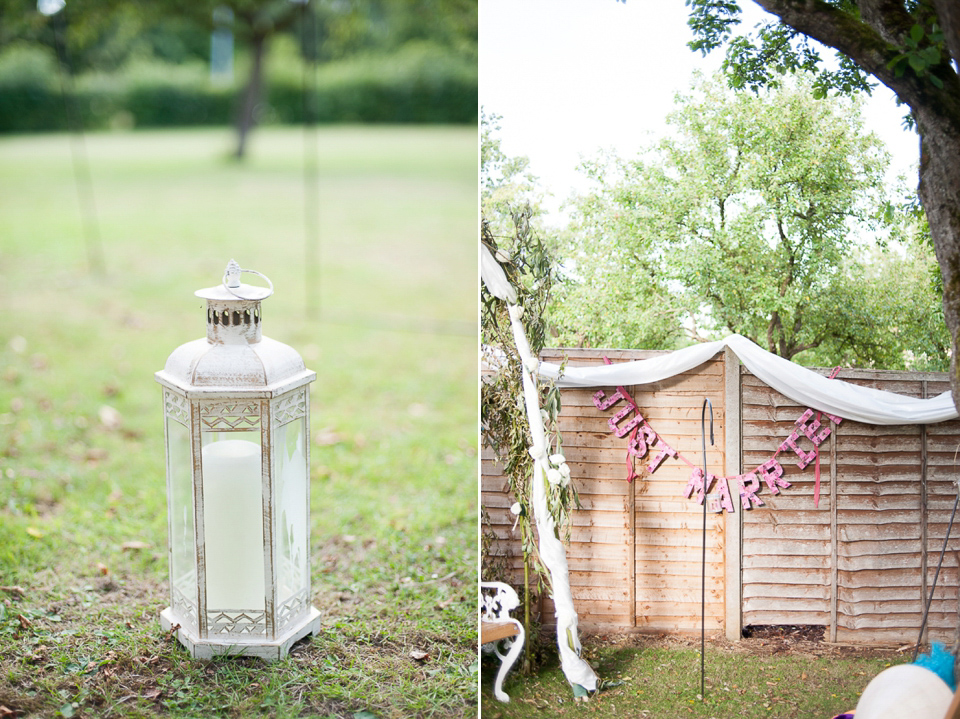 "During the planning I read somewhere that the most enjoyable weddings are those that have different stages of the day and guests are always discovering something new. We tried to apply this to our styling and planning. We had the welcome drinks in the foyer which we decorated simply with cut glass vases filled with white and green flowers. Guests were then led through to the dining room by the head of the guard of honour (who blew a horn to signal dinner was ready).
My mum made white marquee style drapes to go across the ceiling which really lifted the whole room. She also made a floral chandelier which hung from the middle of the room. My mum and I spent the months before the wedding scouting charity shops and boot sales for cut glass vases which we filled with white flowers and put everywhere! These looked and smelled fantastic. We then gave these to guests to take home the next day."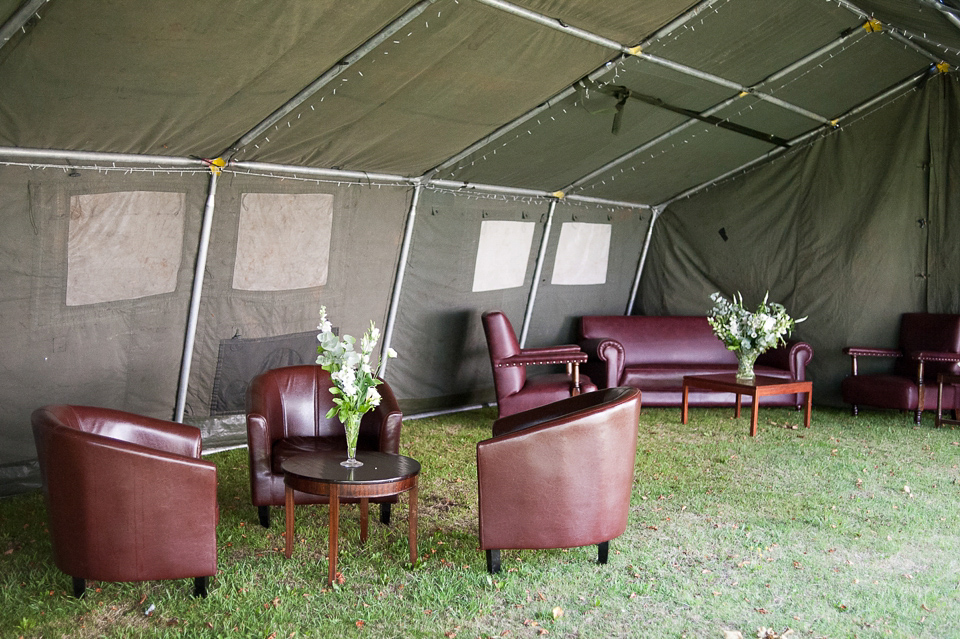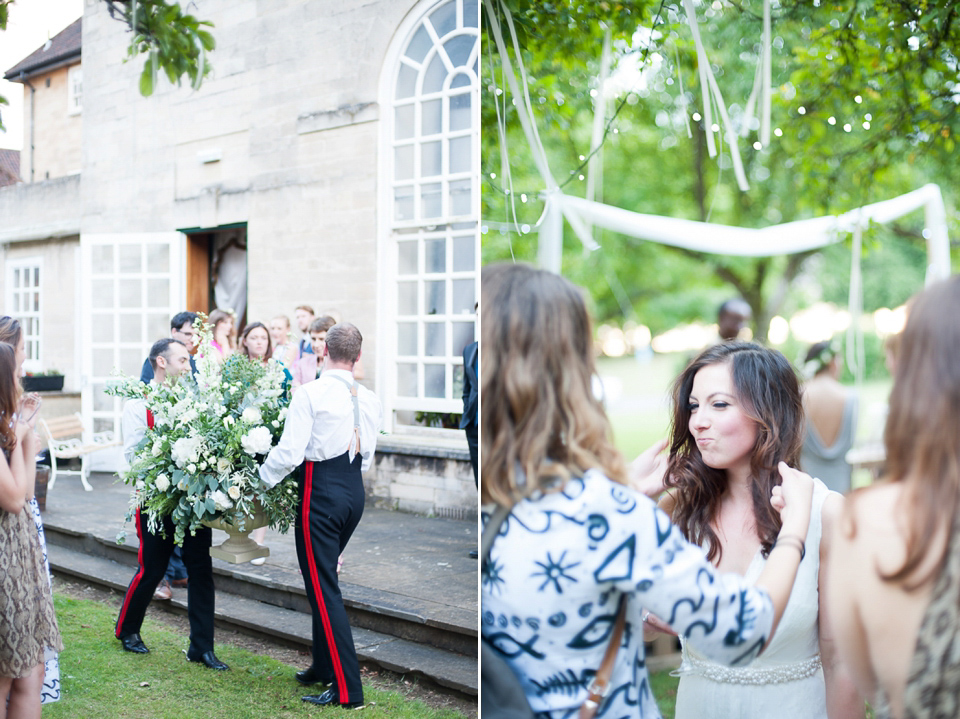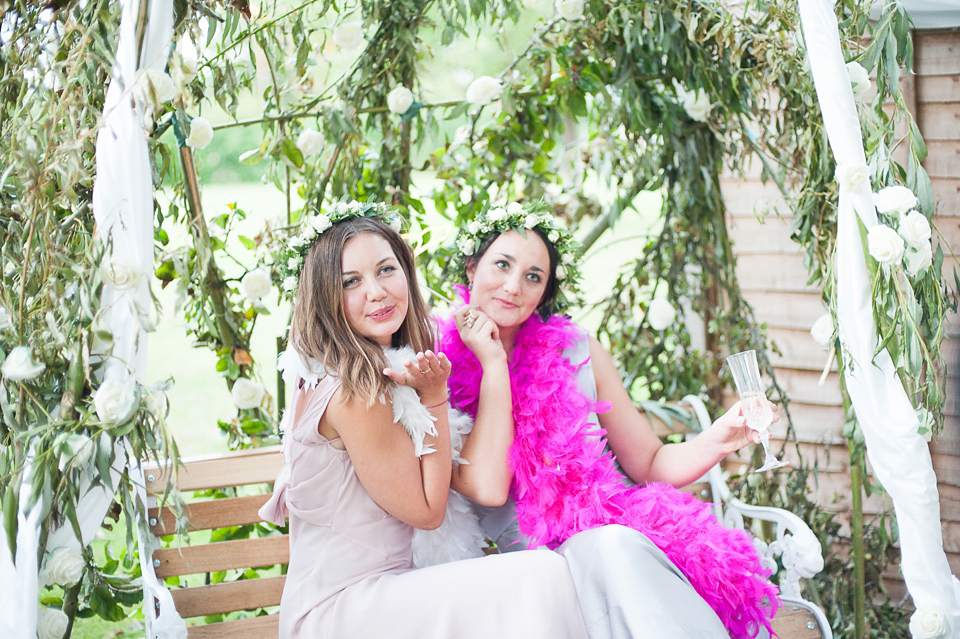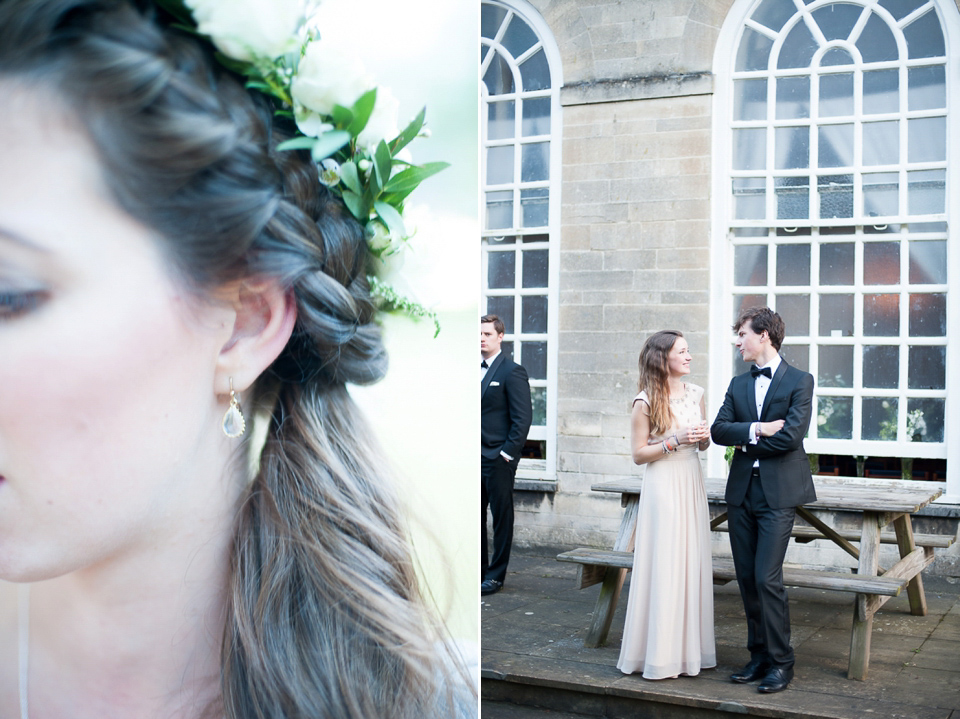 "I was keen to use the big wooden 'banqueting' tables that are traditionally in the Officers' Mess and felt that it would be wrong to cover these up with a table cloth so my mum made cream table runners and Jonathan and his dad painstakingly ironed all 36 metres of them! We then placed cut glass vases filled with white and green flowers and silver candelabras.
We tied cream napkins with fresh lavender, from the lavender farm near my family home, and silver, pink or lilac ribbon. We had simple place cards at each place."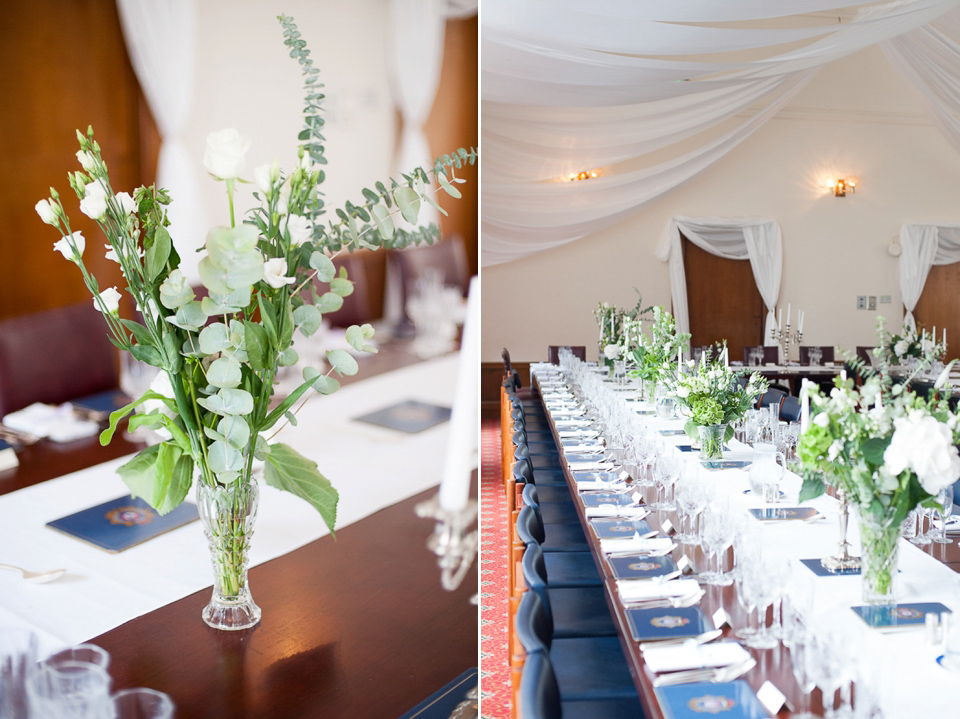 "Flowers were always a really important part of the decoration for me, I just love the way floral arrangements can set the tone and theme of a wedding and can completely transform a room. I knew I wanted a soft, unstructured feel in greens and whites but as for types of flowers, I was pretty clueless. As my mum is pretty adept at flower arranging, we decided to decorate the reception venue ourselves. I visited Bristol Wholesale Flower Market a few days before the wedding (I bought a high vis at the entrance as I had no idea you had to bring your own!) and ordered a lot of white flowers! Steve, from Brunel Flowers was brilliant in dealing with my lack of knowledge and went out of his way to make sure I had the right quantities of flowers that would look good together.
In the end, my mum and maid of honour, Laura, did most of the arranging the afternoon before the wedding as I was running around in panic mode! They did the most fabulous job and the flowers looked incredible."
"My mum is an incredible baker and was the natural choice when it came to our wedding cake. We originally decided on a three tier cake of fruit, chocolate and carrot however a few weeks before, as my mum was trialling recipes (cake tasting- definitely a great part of wedding planning!) she decided that five tiers would look better; we didn't argue!
She had saved the cake toppers from one of her close friend's wedding 23 years ago and my sister made a uniform for the groom figure. 
Mum also sourced a massive tree slice to use as the cake stand and following the wedding we turned this into a garden table."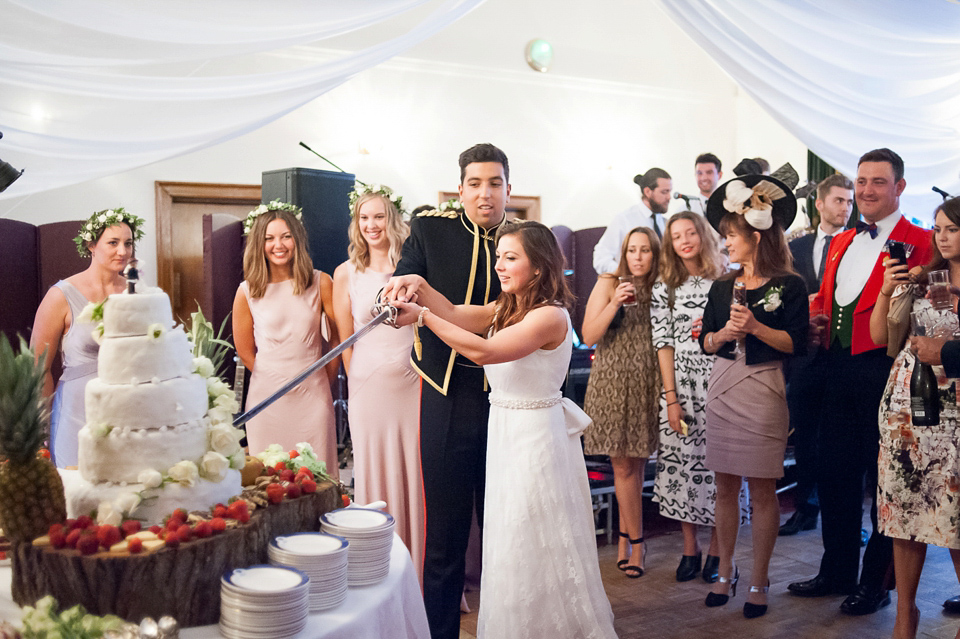 "We had a string quartet playing during dinner, Arcosanti Music, who we had heard previously at an Army dinner night. This provided a really lovely atmosphere. Originally we had decided we were not going to have a band and were just going to have a DJ as our budget was already stretched. However a few months before the wedding we realised we were both really disappointed not to be having a live band. Jonathan immediately began research and spoke to a fiends band, The Alice Band, who Jonathan had booked before for a past Army ball.
They had been brilliant for this event so when we heard they were still available we booked them instantly. They were absolutely incredible; not only did they create the most vibrant atmosphere, they got everyone, of all ages, up, dancing and having fun. I am so unbelievably glad we decided to book them as they really did make the party. They also provided a brilliant DJ who doubled up as a saxophonist and continued into the early hours of the morning and was very much loved by all!"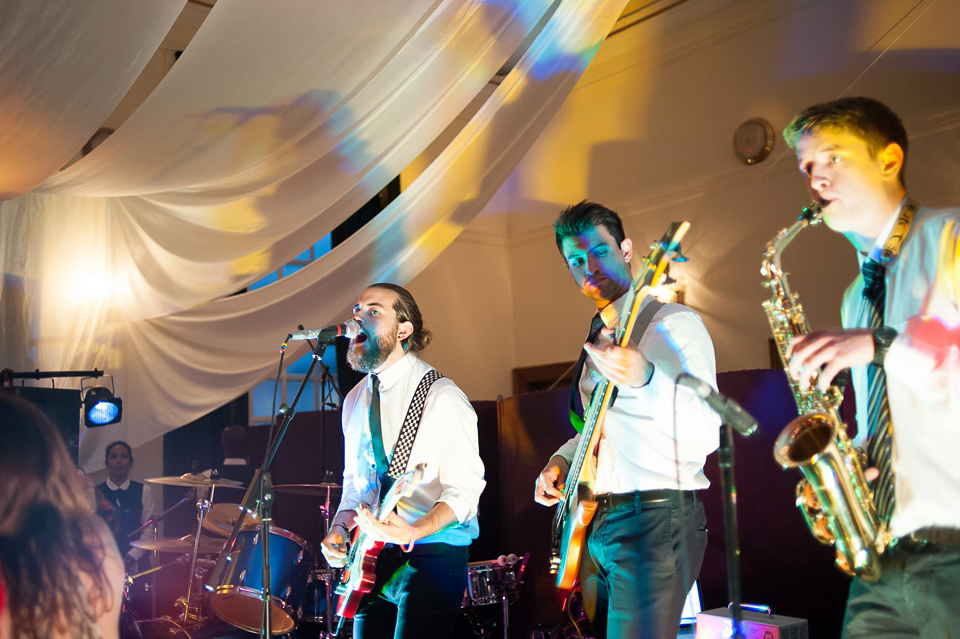 "We chose 'Everywhere' by Fleetwood Mac for our first dance. Neither of us wanted a slow song and we thought something upbeat would be more fitting! We both love Fleetwood Mac and felt that the song reflected us. We cut the cake and the band began playing as soon as we had cut it to avoid any awkward lull.
We had prepped our bridesmaids and ushers to grab another guest and join in after the first chorus; they all did this brilliantly and by the end of the song, the dance floor was full!"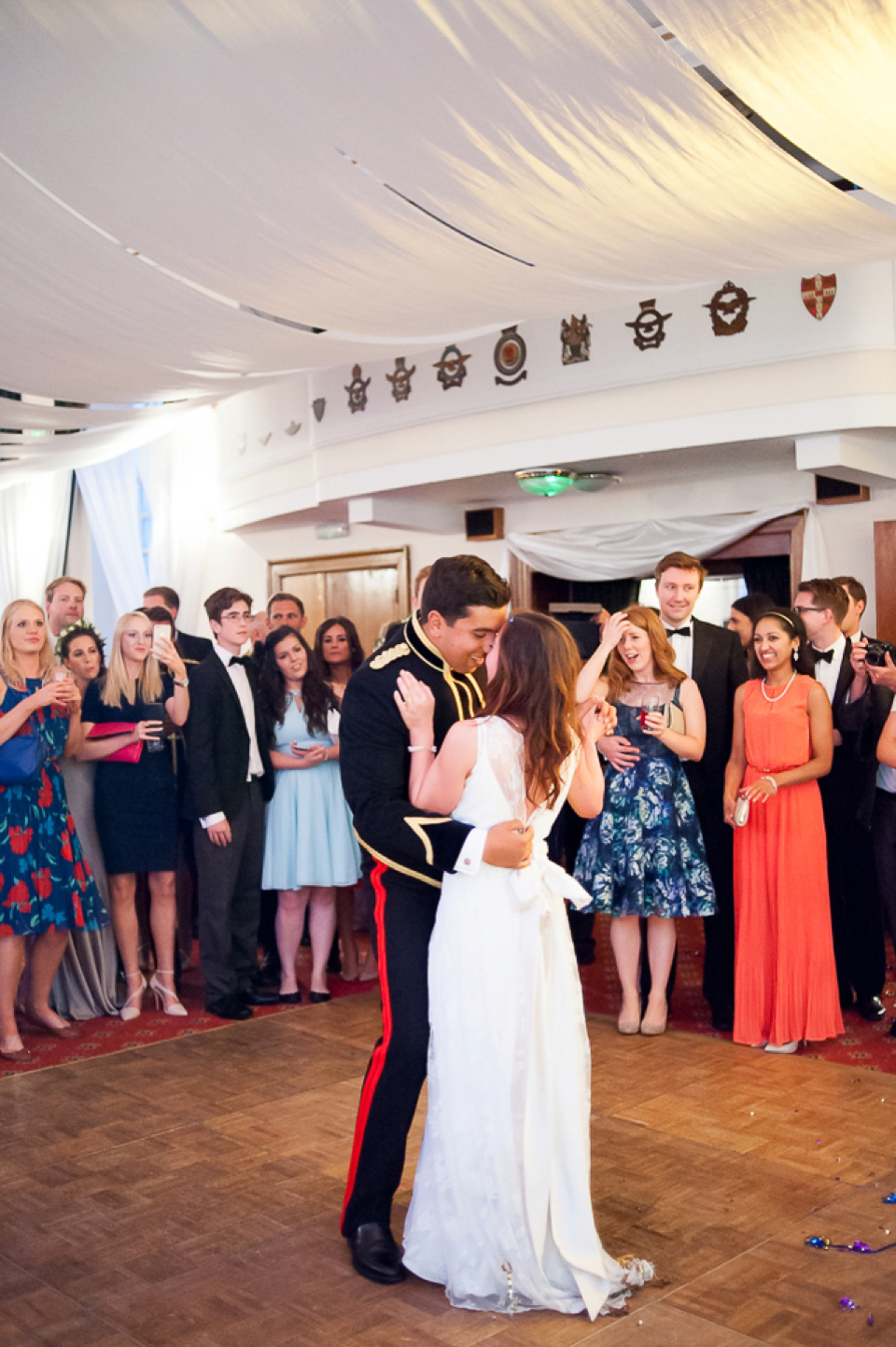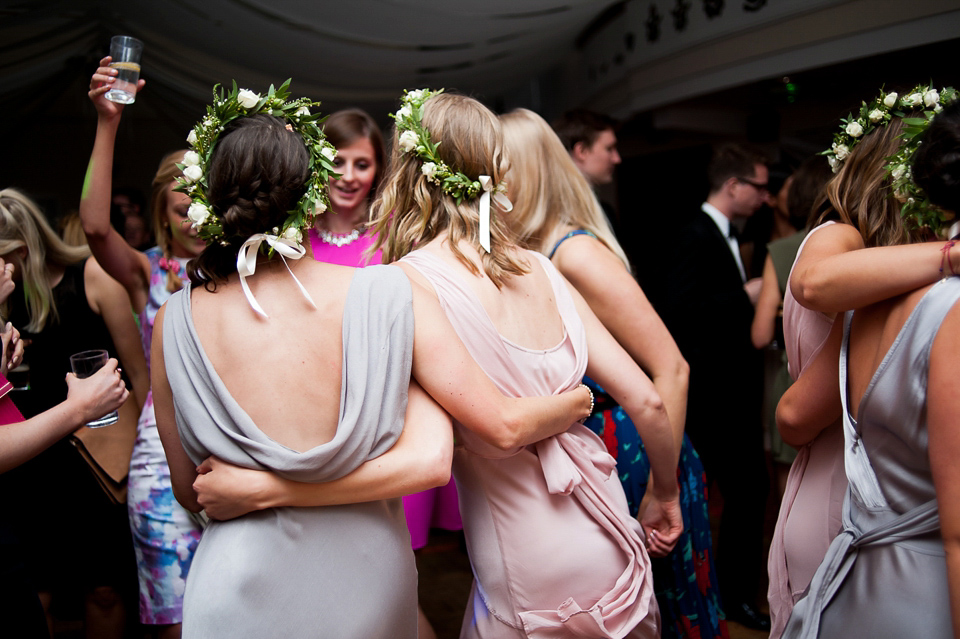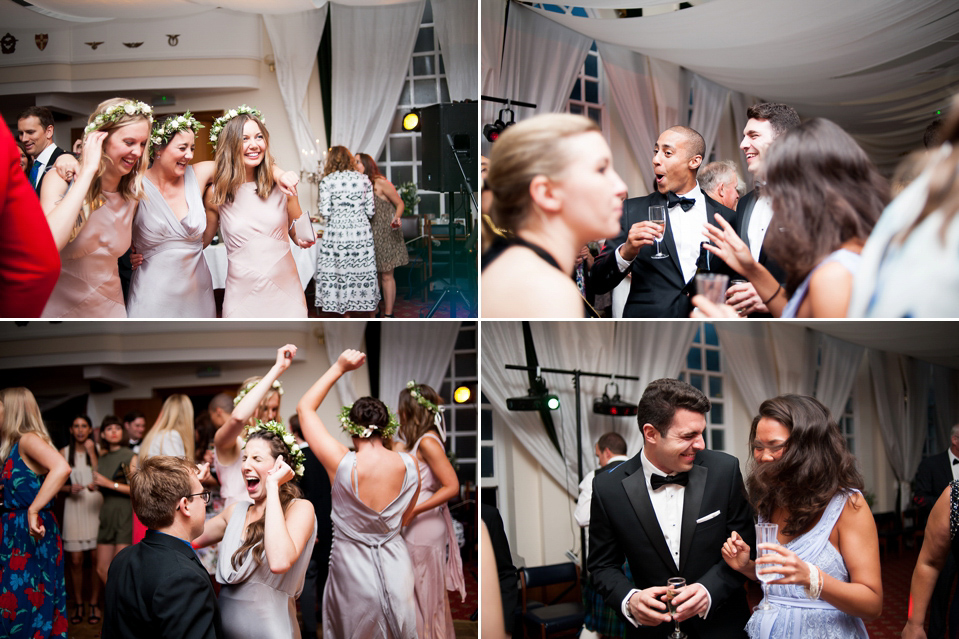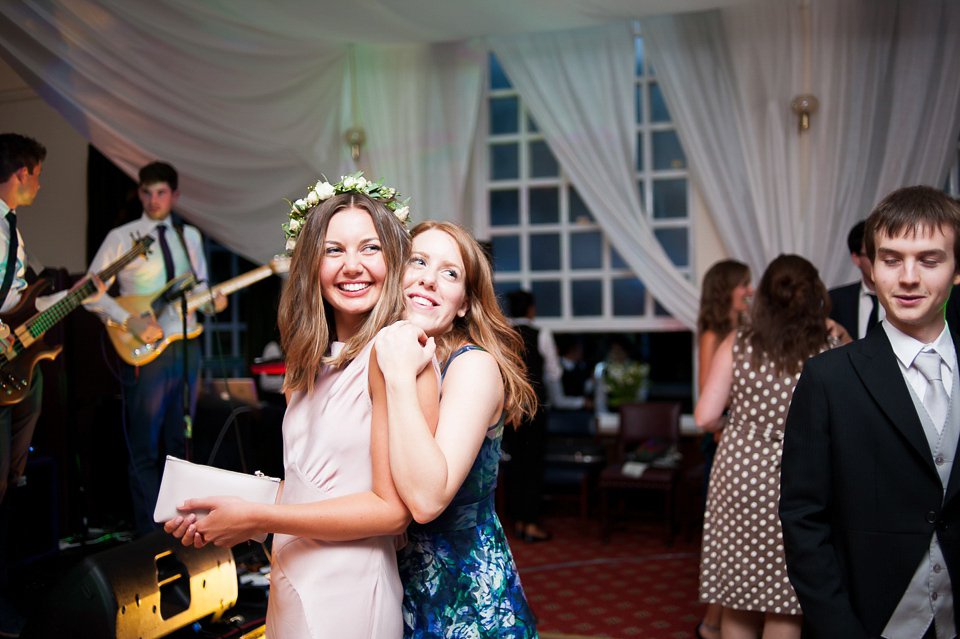 "After dinner, guests could make their way outside the back of the building, where we had put an Army style marquee/tent, tables, armchairs and sofas. We decorated the inside of the tent with fairy lights and strung these up in the trees surrounding the tent as well. We hung different lengths of white ribbon in all the trees to create a soft, romantic feel. We placed different games and things to do around the garden.
My brother's friend is an iron smith and we commissioned these incredible iron crooks which we tied trailing white ribbon around and hung jam jars filled with flowers to line the entrance to the Abbey and had more filled with flowers and candles around the marquee and outside bar."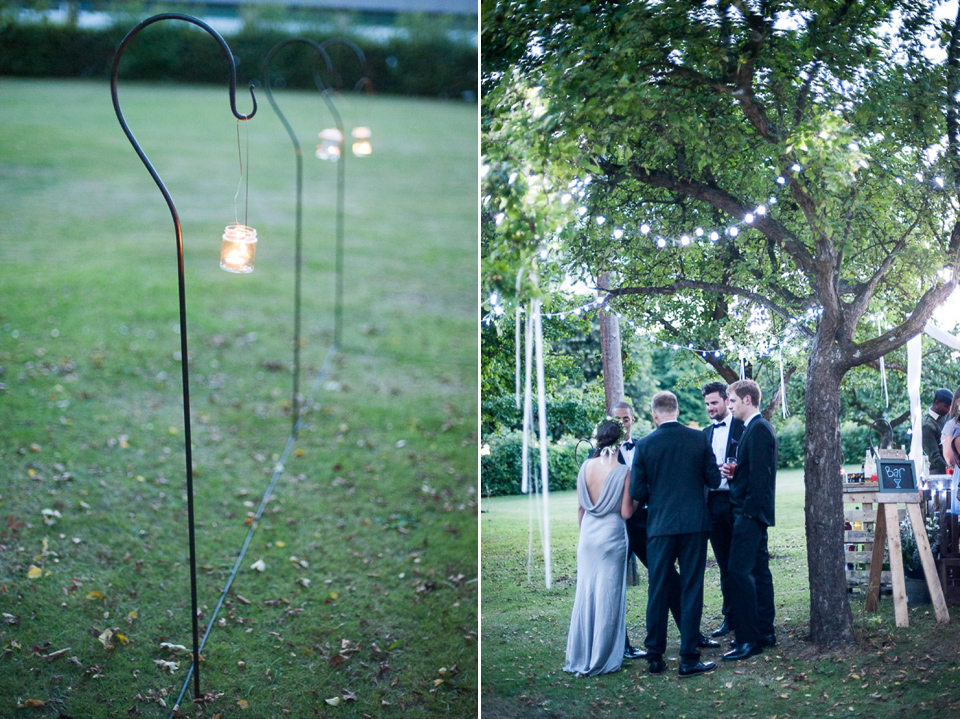 "In one corner we had a homemade DIY photo booth which was a huge hit. My brother made us an arch out of willow branches and my mum had decorated it with greenery and white roses. In the lead up to the wedding, my mum had also made a few benches which we had dotted around the garden and we also used one in the photo booth. We placed a vintage suitcase filled with dressing up items next to this."
"I really struggle to pick a favourite moment, I felt so happy all day, I don't think I stopped grinning! One standout moment is as Jonathan and I ran back into the abbey after the ceremony (through a side door) to walk out through the guard and Jonathan stopped us as just as we got through to take out a bottle of champagne that he had hidden there earlier and we had a quick toast to each other. That was the moment it hit me that we had just got married! We were both so happy and giddy!"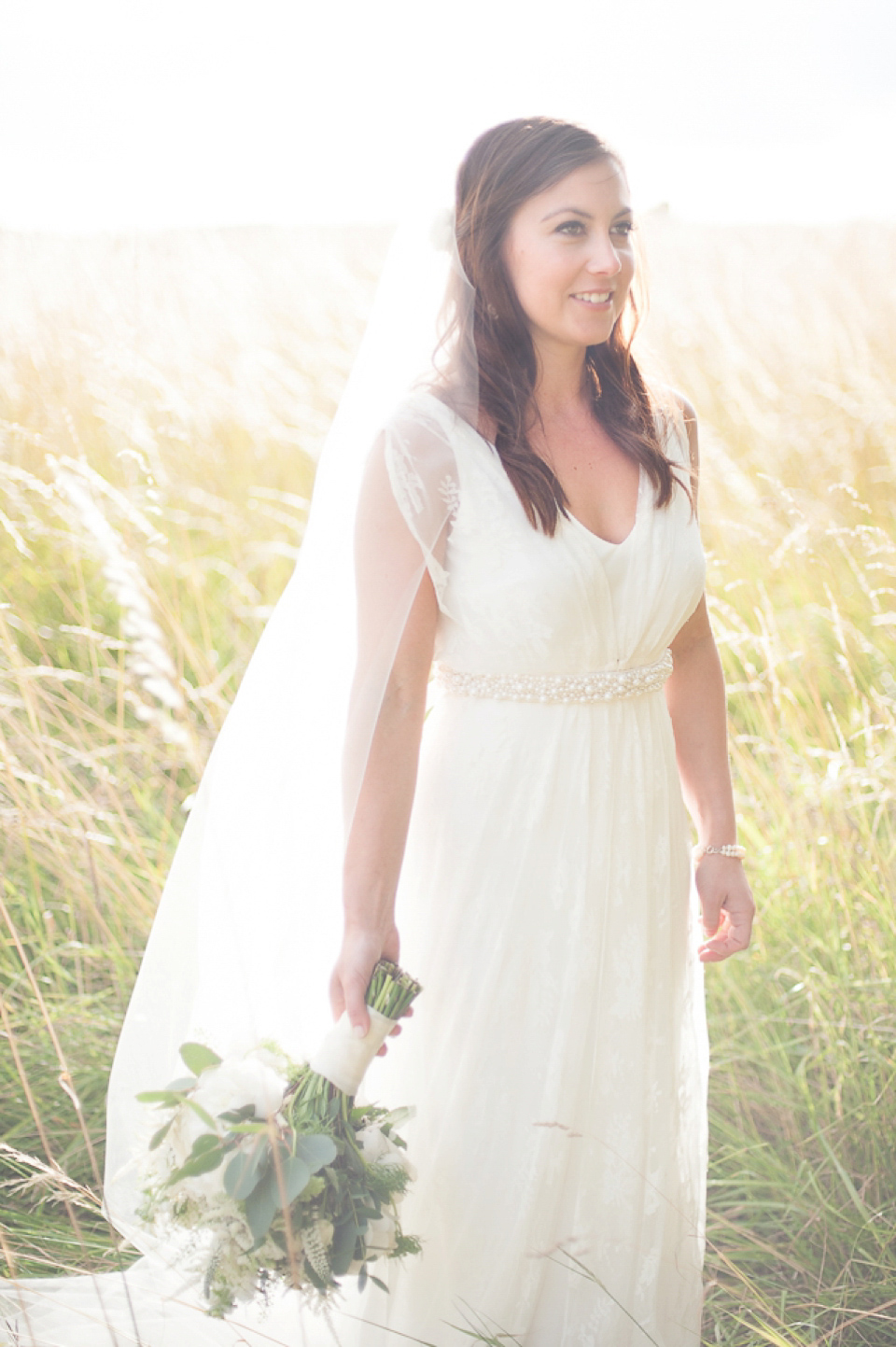 "Jonathan also wanted to share his favourite memories of the day…"When we took a moment during the wedding breakfast to look around and see all of our friends and family enjoying themselves. Everyone was having such a lovely time and I felt full of pride and happiness. Before the wedding people kept telling us to make sure we took a moment to step back and look around us and I am so glad we did this."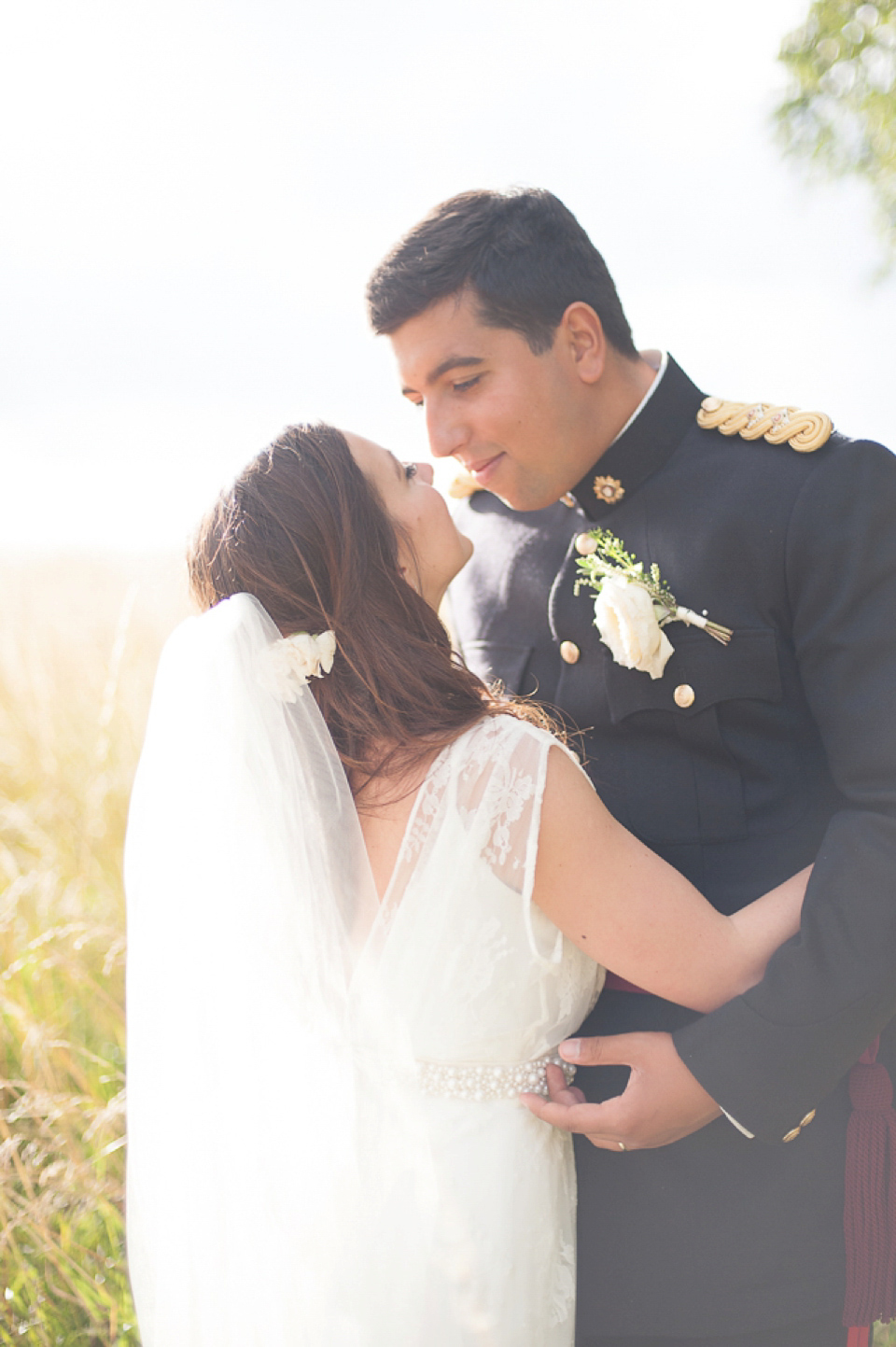 Words of Wedded Wisdom
"My advice would be to enjoy every minute of wedding build up.Yes it is a build up to one wonderful, special, overwhelming day but all the love and work you put in before this day can be so enjoyable. I loved the months of planning that led up to our wedding as it meant that I got to spend time with my favourite people; from dress shopping with my mum, sanding benches with my brother, brunches and dress fittings with my bridesmaids and all the celebratory drinks and meals Jonathan and I would have when we made a decision or wedding related purchase! It really was the best time and I have so many fond memories of all the preparations. We wanted planning to be fun and light-hearted and it was, throughout."
"We made sure every single part of the wedding was exactly as we wanted it so adapted the 'rules' to suit us. Although some aspects of our wedding were very traditional, for others we did things a bit differently. For example my mum did the 'father of the bride' speech welcoming all our guests as my dad didn't really like the idea of public speaking and I am incredibly close to my mum. I also said a few words as I wanted to give my thanks to all our friends and family who had joined us; it didn't feel quite right to me to sit silently as other people gave speeches about Jonathan and I. I am so glad I did a speech, it felt really special standing up and looking round the room filled with all of our loved ones."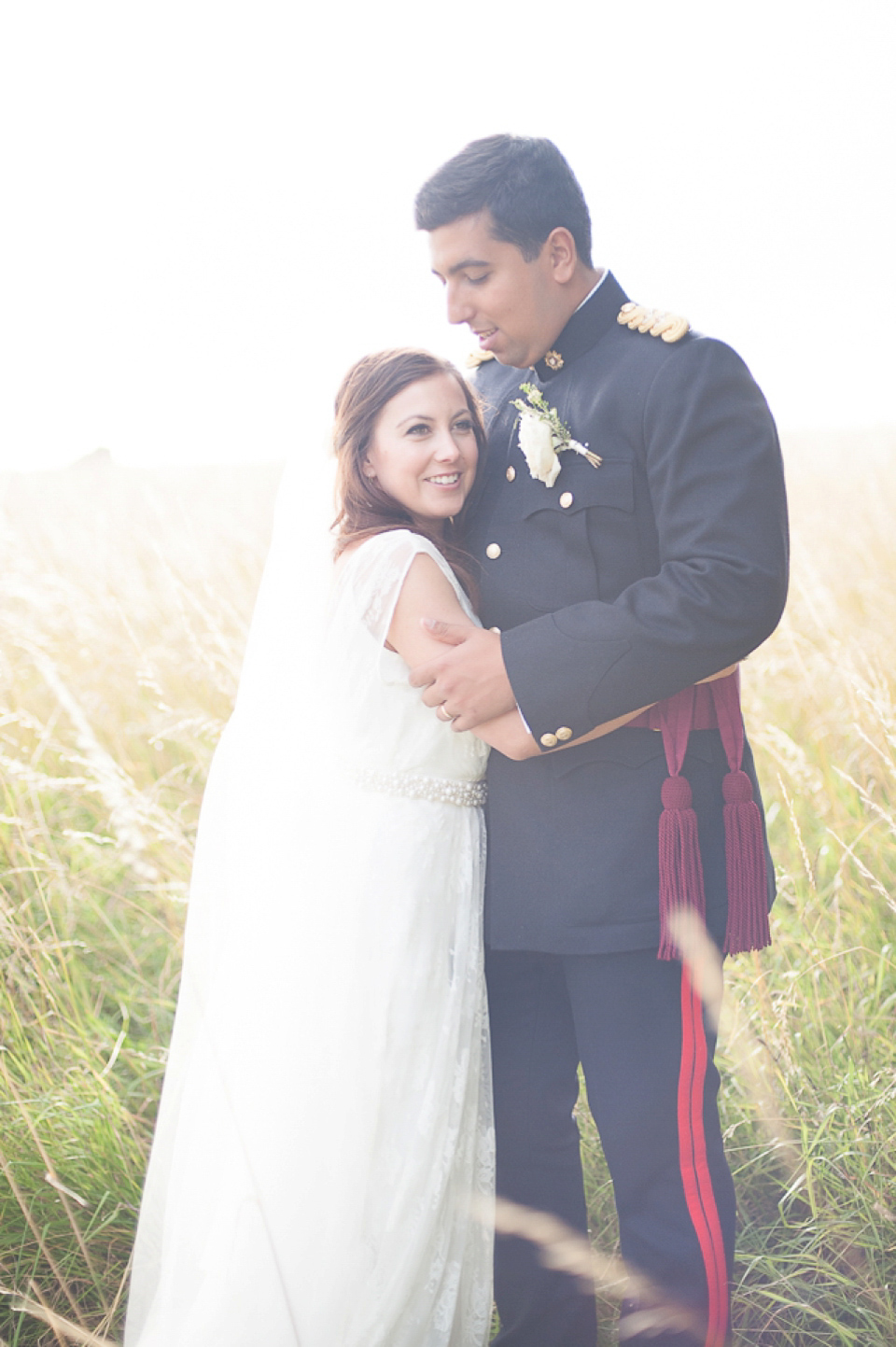 It's such a pleasure to be able to share a wedding knowing the bride purchased her gowns from one of our most highly recommended suppliers and boutiques  – much love and thanks to you both Clementine and Jonathan for allowing me to inspire our readers with your wedding.
Readers, you can explore more military weddings here on Love My Dress – you might want to immerse yourself in our pages dedicated to Charlie Brear brides too.
Love Annabel xx
Photographer – Captured by Katrina
Venue  – Malmesbury Abbey in Wiltshire
Brides Dress – Charlie Brear via Perfect Day
Veil – Perfect Day
Bride's Shoes – Karen Millen
Perfume – Jo Malone Tuberose Angelica
Groom – British Army Officers Uniform
Bridesmaids – Ghost
Florist – Flowers by Passion
Cake – The bride's mum
Transport – Loaned by a friend
Entertainment – Arcosanti Music + The Alice Band,
Rings –  Dynasty Jewellers
Catering Company – Military chefs
Stationery – DIY
Hair + Makeup – Rachael Dove and Olivia Smith