What a blustery afternoon! It's soooo windy out there today. I do hope all our readers getting married today are safe and not letting the wind get in the way of their celebrations. The wedding I'm sharing this afternoon was held at the stunning barn conversion, Healey Barn in Northumberland, on 1st August this year. Lucy, an Account Manager for a greeting card and design company married Website Manager James in rustic-meets-elegance style celebration and allowed the beauty of their rustic barn surroundings to dictate the style and tone of their overall day – an important note to take on how influential your wedding venue can be to the many decisions you will need to take on style and aesthetic.
"I think the venue really set the tone for our wedding day. It was relaxed and informal yet still felt lavish and grand. James and I both love the countryside and always wanted a wedding in a rural location –  the scenery was stunning."
Photography by Little Miss Boyco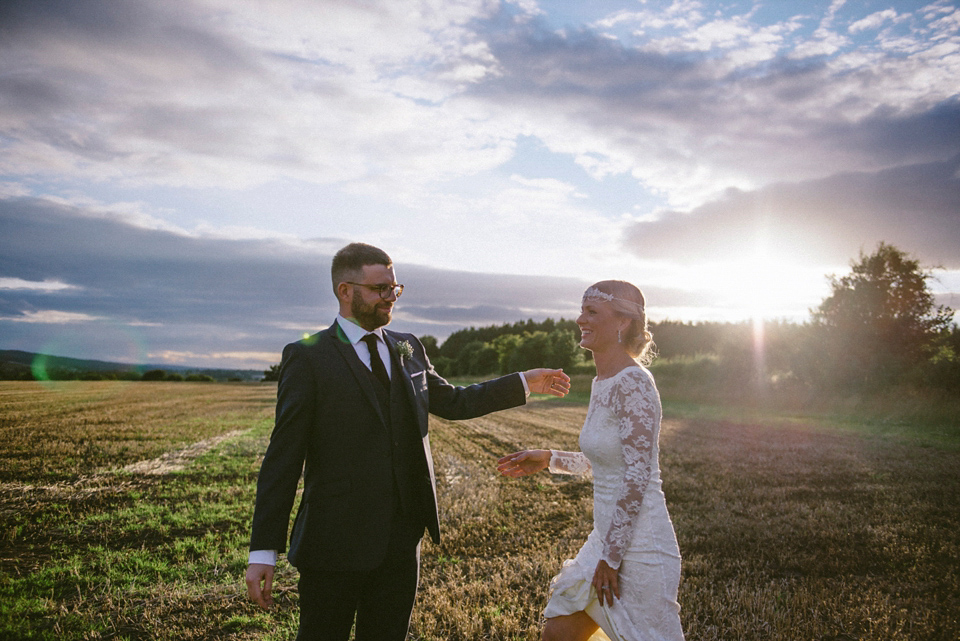 "We actually picked Healey Barne as our venue before they had even started working on it, so it was literally just a muddy, old barn! I'd been to visit one of Cripps other venues in Warwickshire and loved it so I was confident that Healey Barn would be as good as, if not better and I was not disappointed. The barn was renovated to such a high standard and everything was done very tastefully – it was exactly what we were looking for and completely unique to this area."
Lucy's beautiful lace gown was a design by Olvis Lace, and purchased from the Kathryn Trueman bridal boutique in Morpeth, Northumberland.
"I found picking my dress quite difficult – there are so many amazing dresses. I wish I could have picked more than just one! At first I tried on a lot of heavily beaded dresses which I loved and this was the only lace dress that I tried but I think it just felt a bit more 'me' than the others. I loved the long sleeves and neckline and I felt like it was timeless without being too traditional."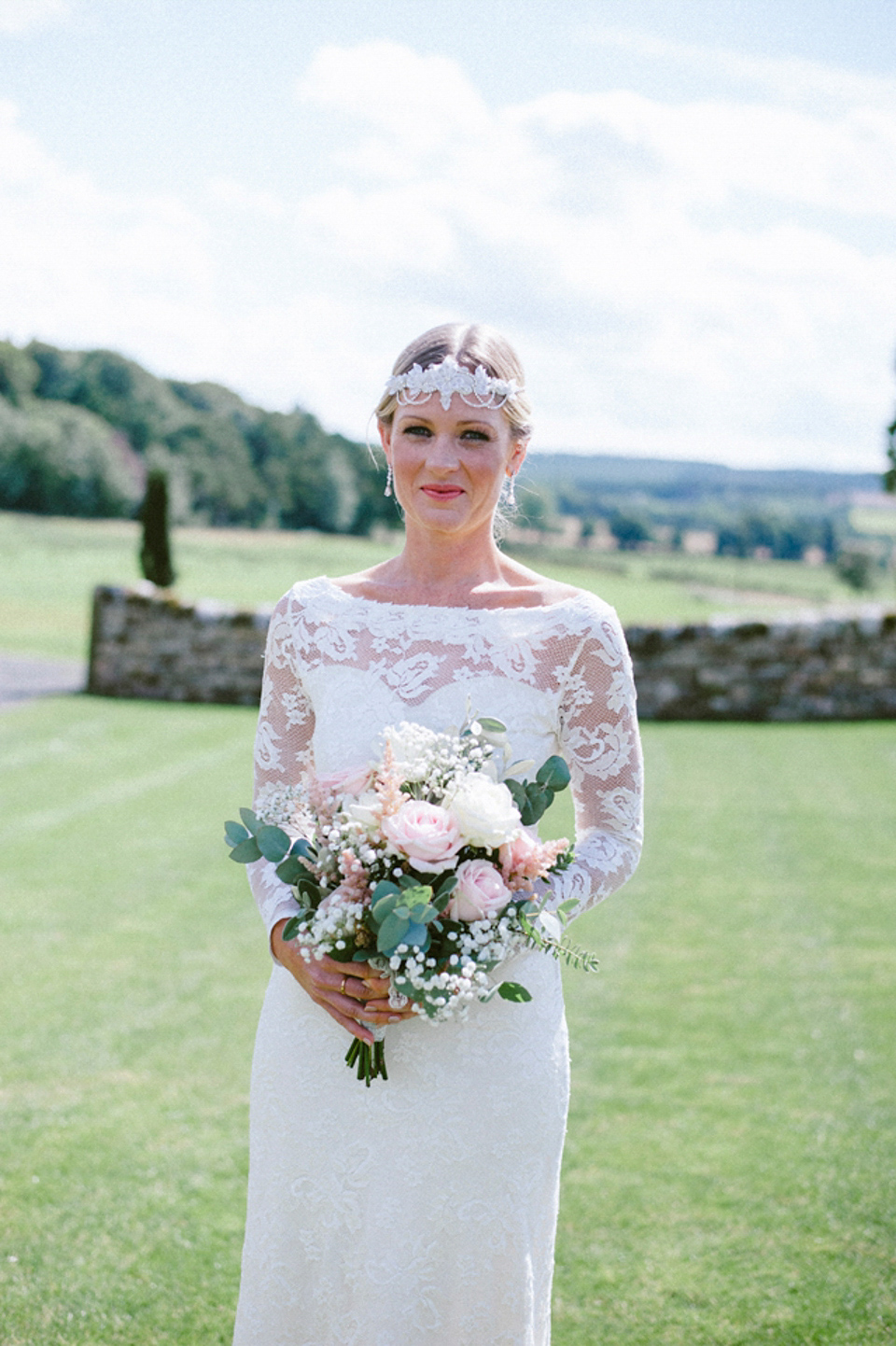 "Our photographer was Weisia Bojko of Little Miss Boyco. We both really like the relaxed style of Wesia's photos and after meeting her we knew she'd be a welcome addition to our wedding day. We're both really happy with the pictures… there is a good mix of formal and relaxed shots and she did a lovely job capturing all the little details."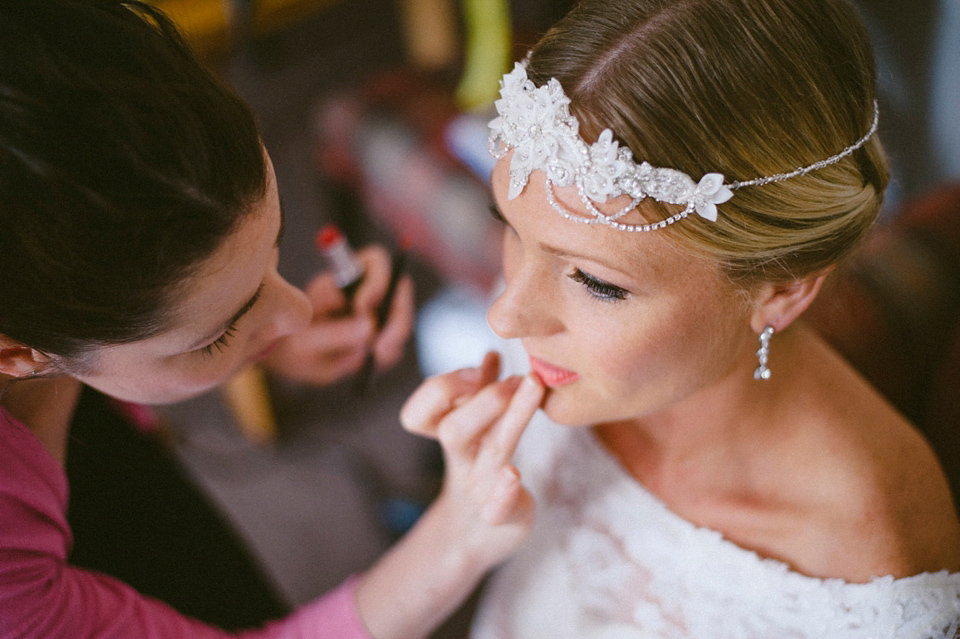 "I wore Chanel's 'Chance' as my perfume. This is my favourite scent – and I know James loves it."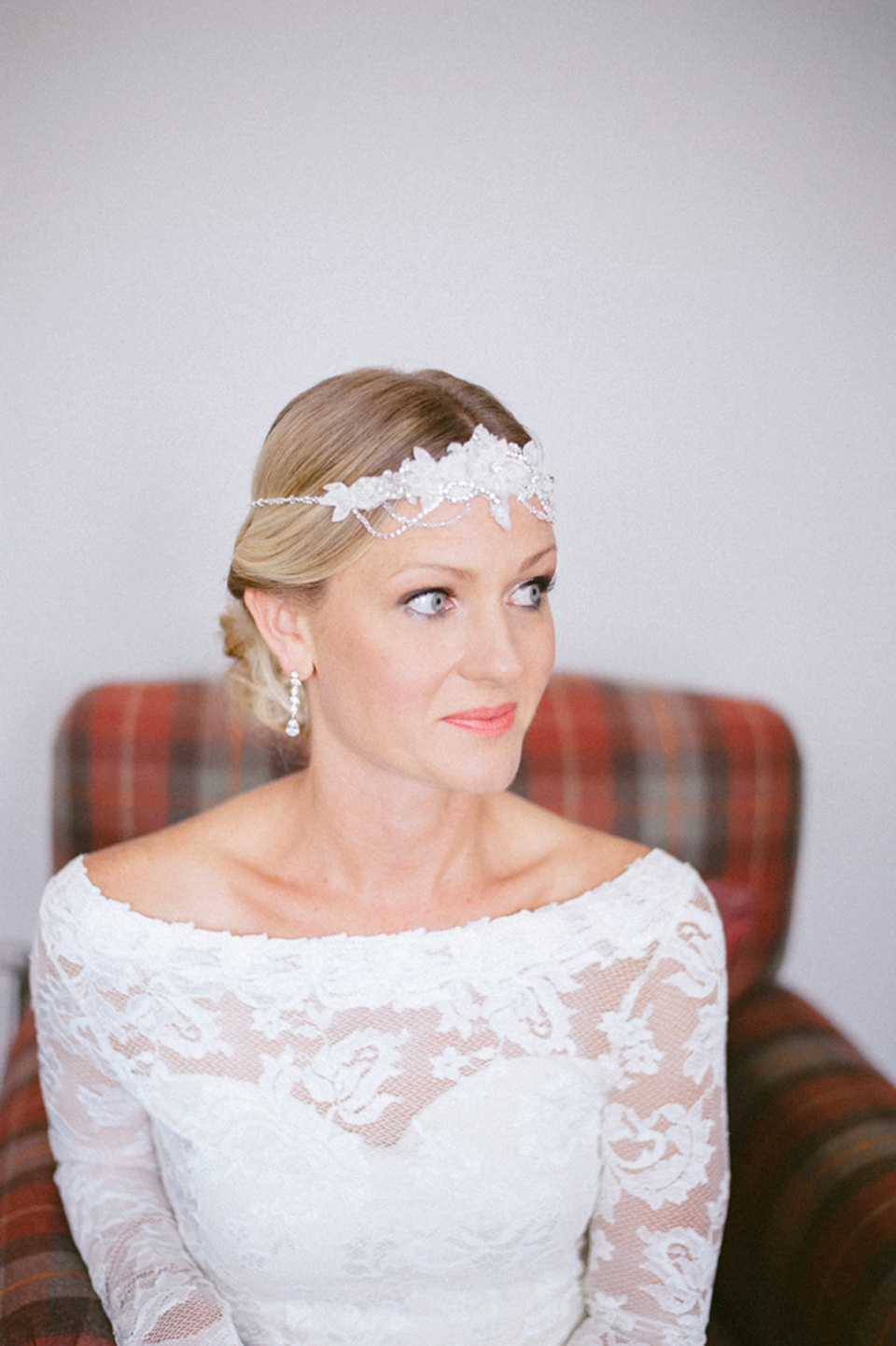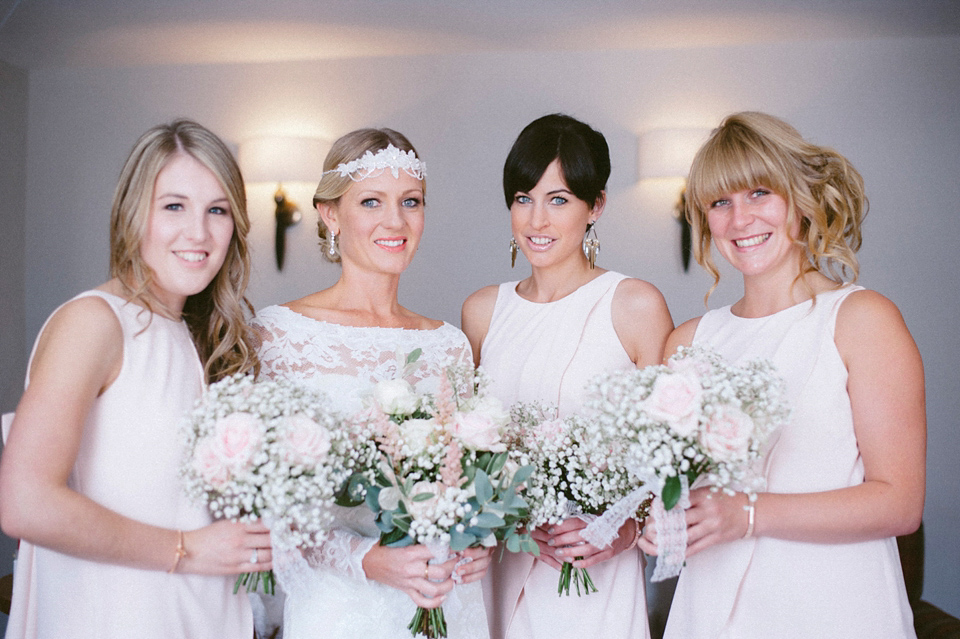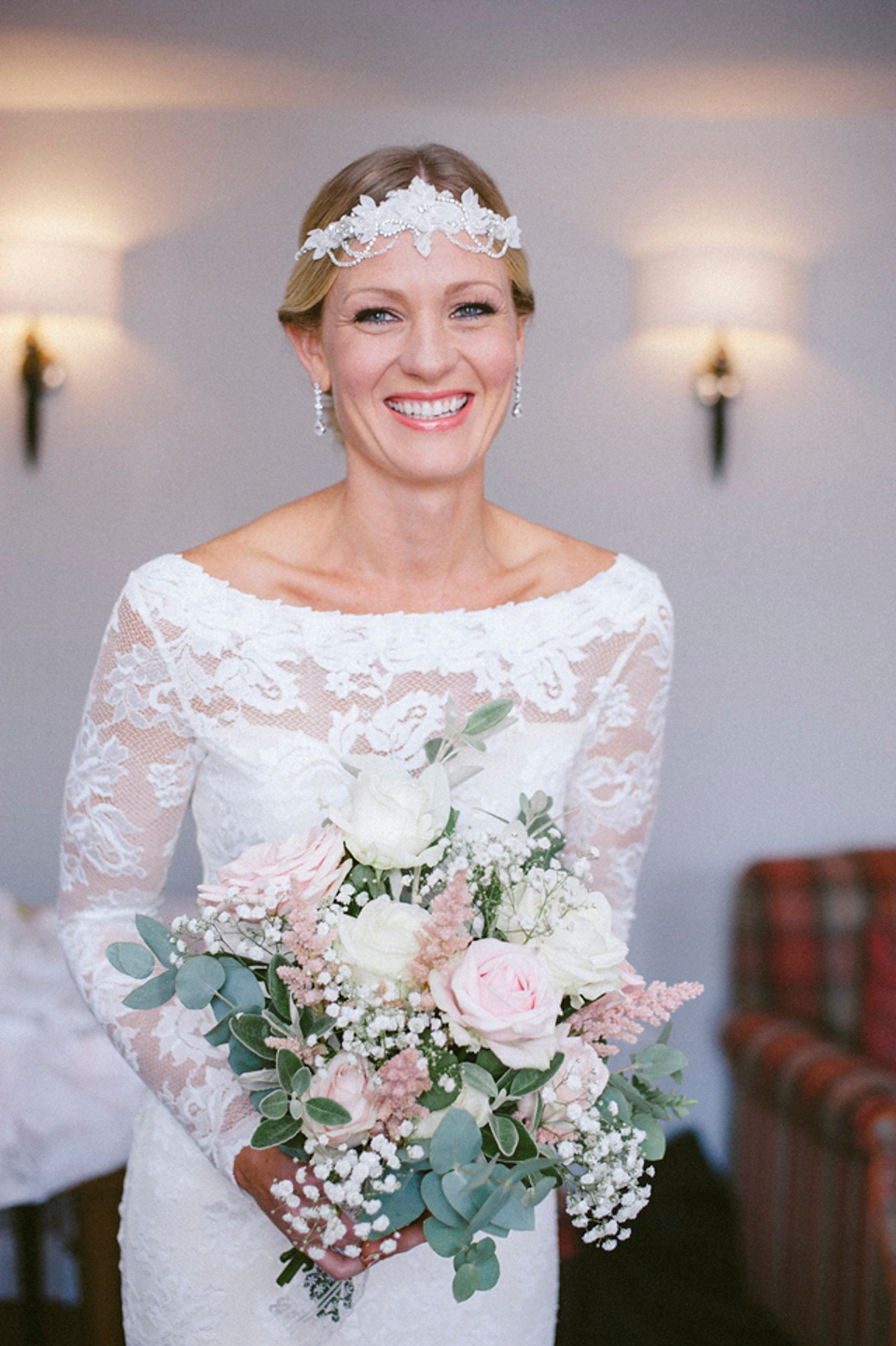 James looked dapper in my favourite colour or a groom – blue. His suit was from Racing Green.
"James and I met when we worked together as teenagers and got together eight years ago. James proposed on Christmas Eve 2013."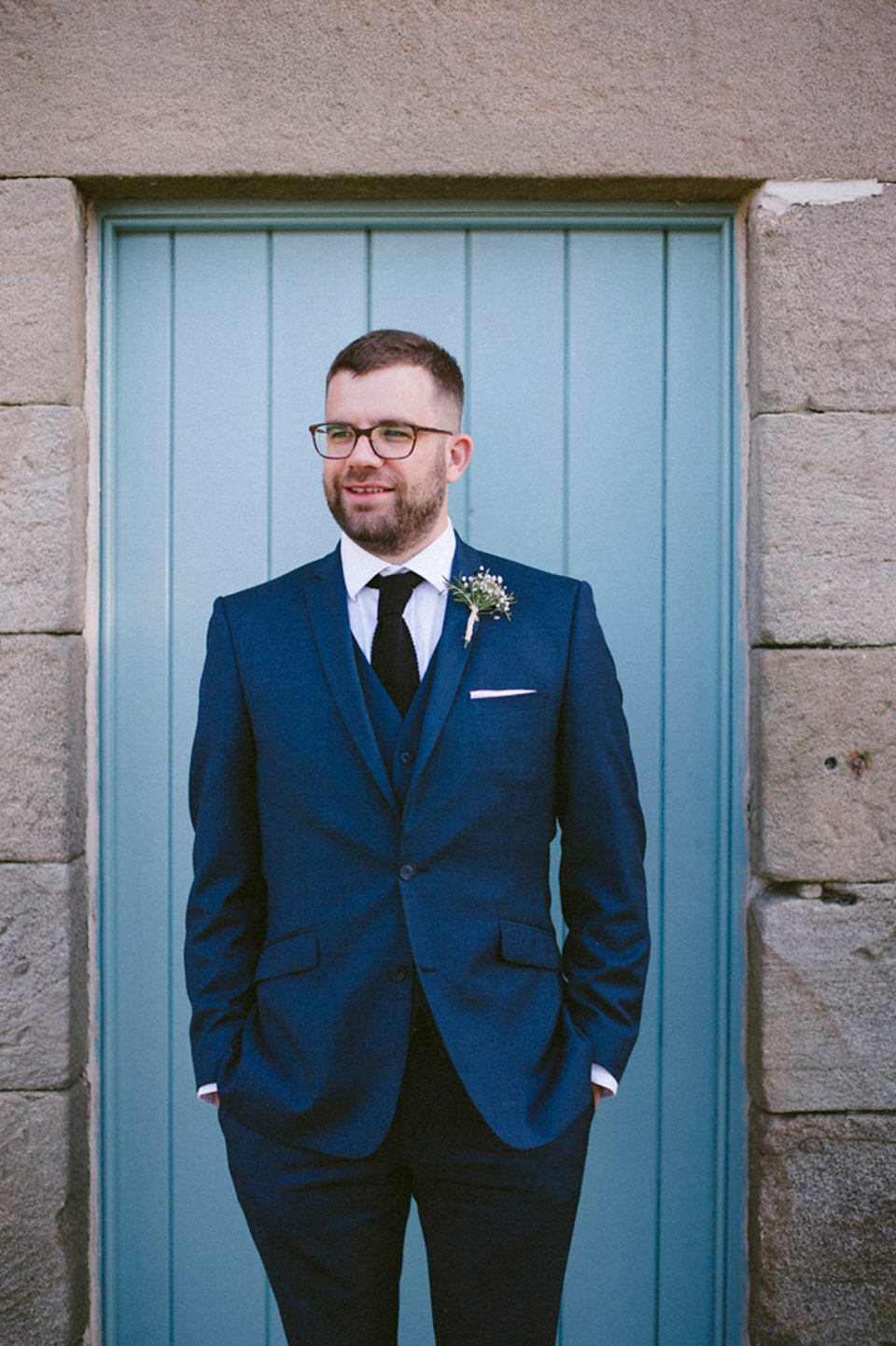 "James had two best men – he couldn't pick between them! Again we kept them quite informal and just asked them both to wear a navy suit to match James."
"Our florist was Flowers Unlimited. Again, I wanted the flowers to be relaxed with a 'just picked from the garden' feel following the same pastel colour palette. Harriet at Flowers Unlimited did an amazing job. Especially with the hanging balls of flowers in the barn. They were stunning and everyone commented on them. On the tables we used a mixture of bottles and jam jars and rustic wooden slices to make up the centrepieces."
Lucy's bridesmaids looked beautiful in pale pink dresses from Coast.
"I chose soft, pastel colours for the bridesmaid dresses and flowers with hessian and lace bunting as I thought it went well with the look and feel of the barn."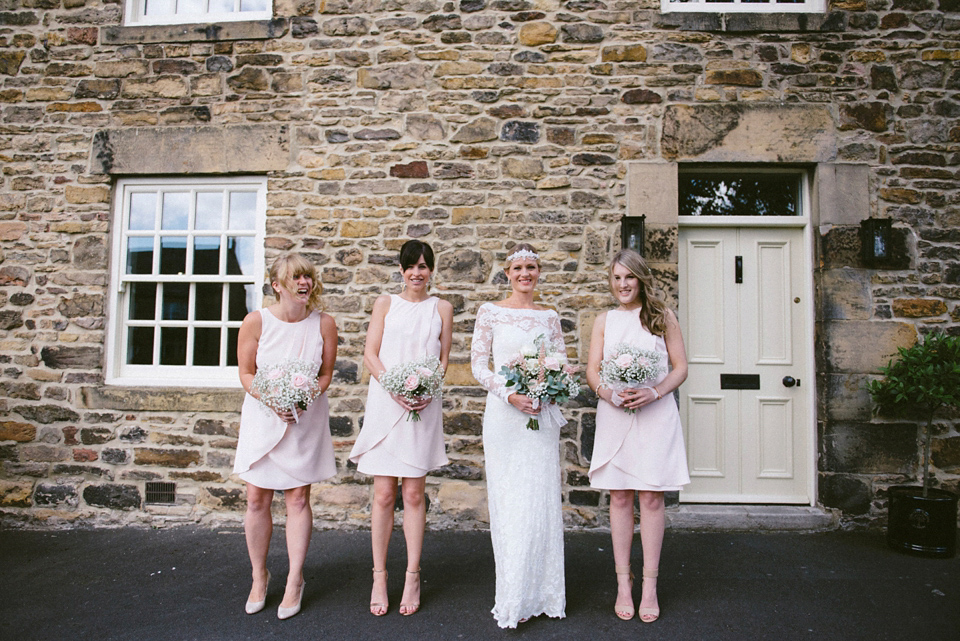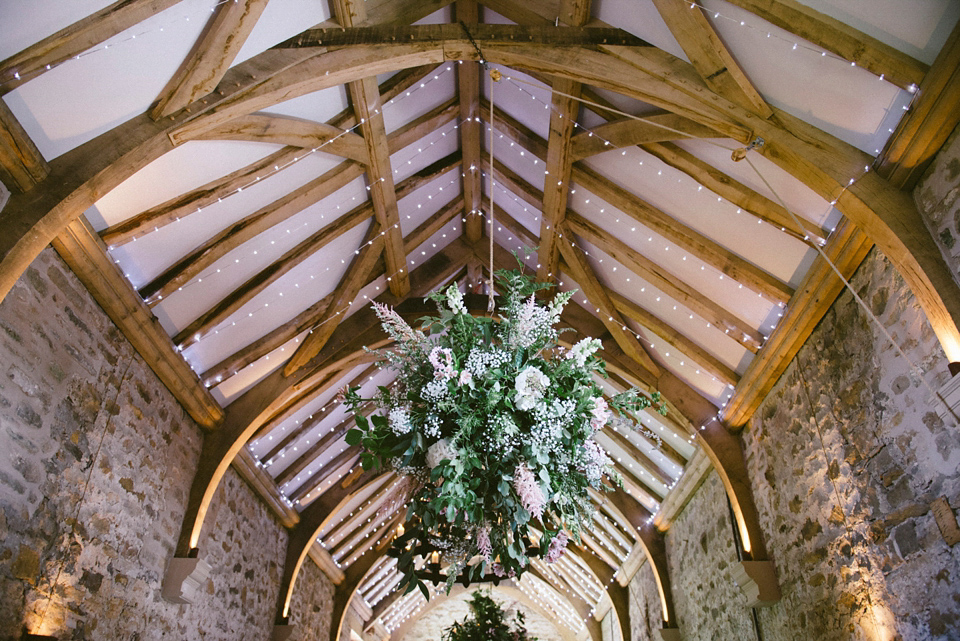 "We had two readings, one by James' twin sister and one by my Gran. My Gran chose her reading herself and it was actually taken from a book of love poems that my Granpa sent her when he was alive. She really stole the show with her reading, it was incredible!"
My true love has my heart and I have his
Both equal share in this exchange of bliss
And as for me those dreams cast forth a light
That wakens all the joys that love can give

He loves my heart for once it was his own
I cherish his because it in me lives
Our hearts have dreams together made in heaven
There never was a better bargain driven
My true love has my heart and I have his.

(Philip Sidney)
"We didn't think the venue needed much styling as the exposed stonewalls and oak beams of the barn were so stunning I didn't want to detract from them. Aside from the flowers we had a couple of personalised signs made by a family member for the barn entrance and above the fireplace and we added some bunting in hessian and lace to the dining room."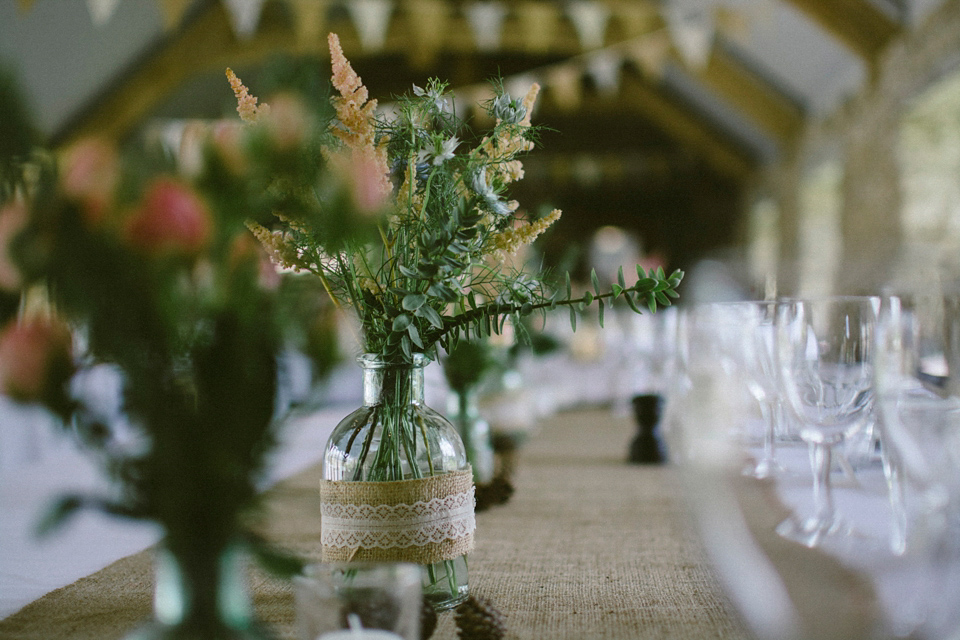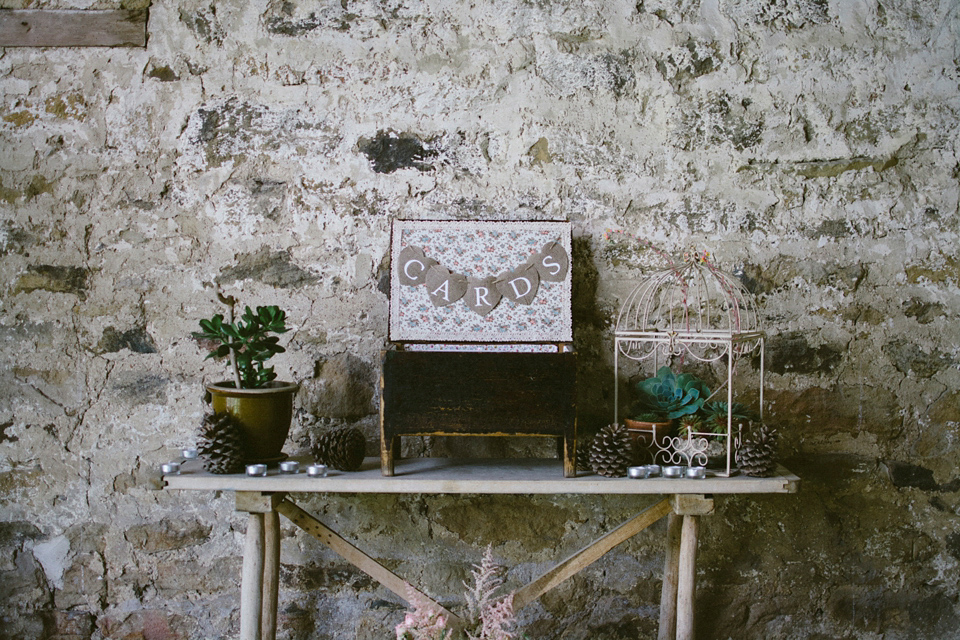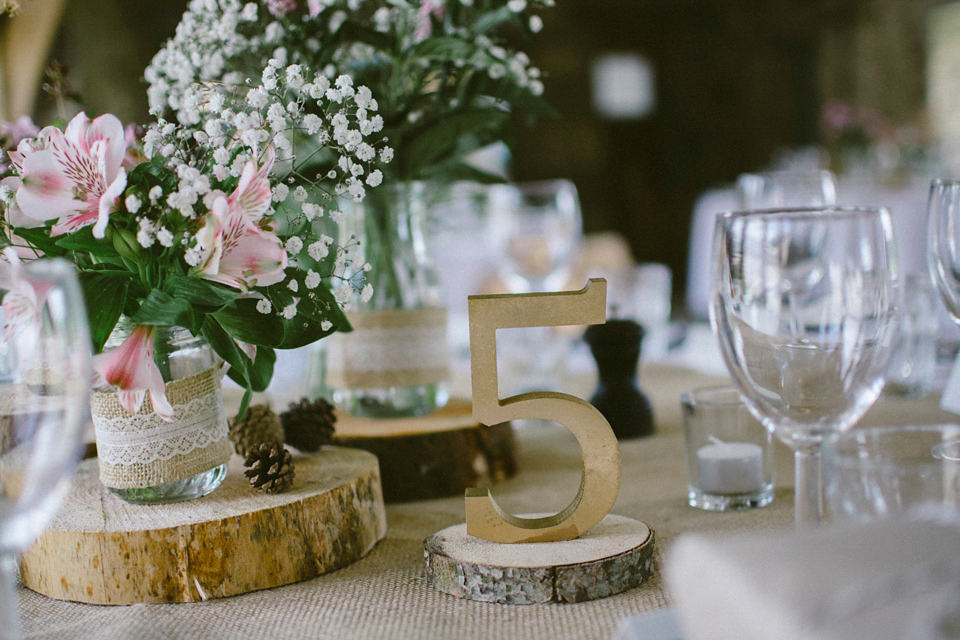 "A family friend made our cake for us and she did a fantastic job! It looked even better than I had imagined. We went for a 'naked' style cake as I thought it would fit in nicely with the overall look of our wedding… I didn't actually get the chance to taste any of the cake but everyone who did said was delicious."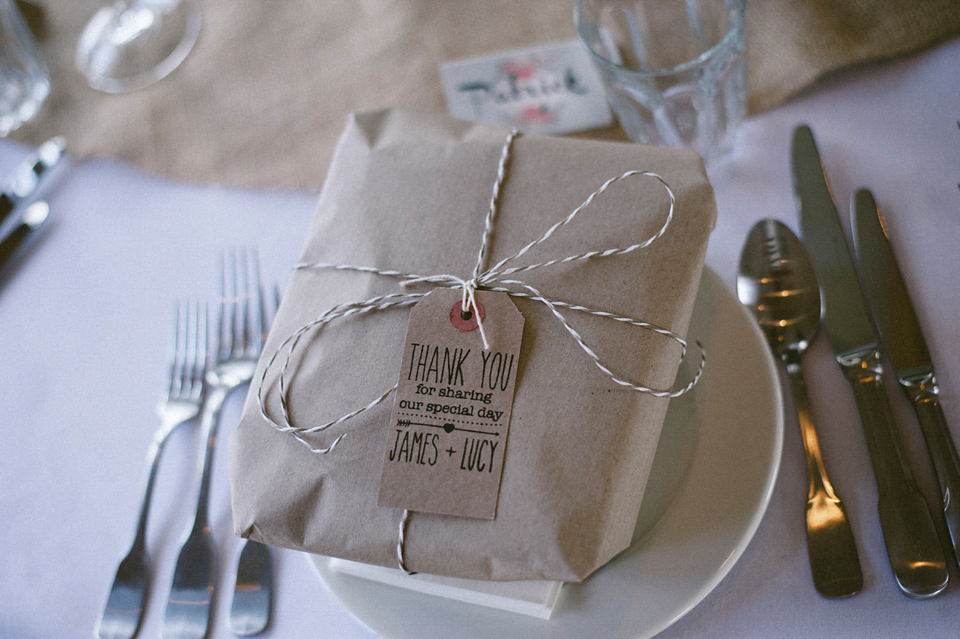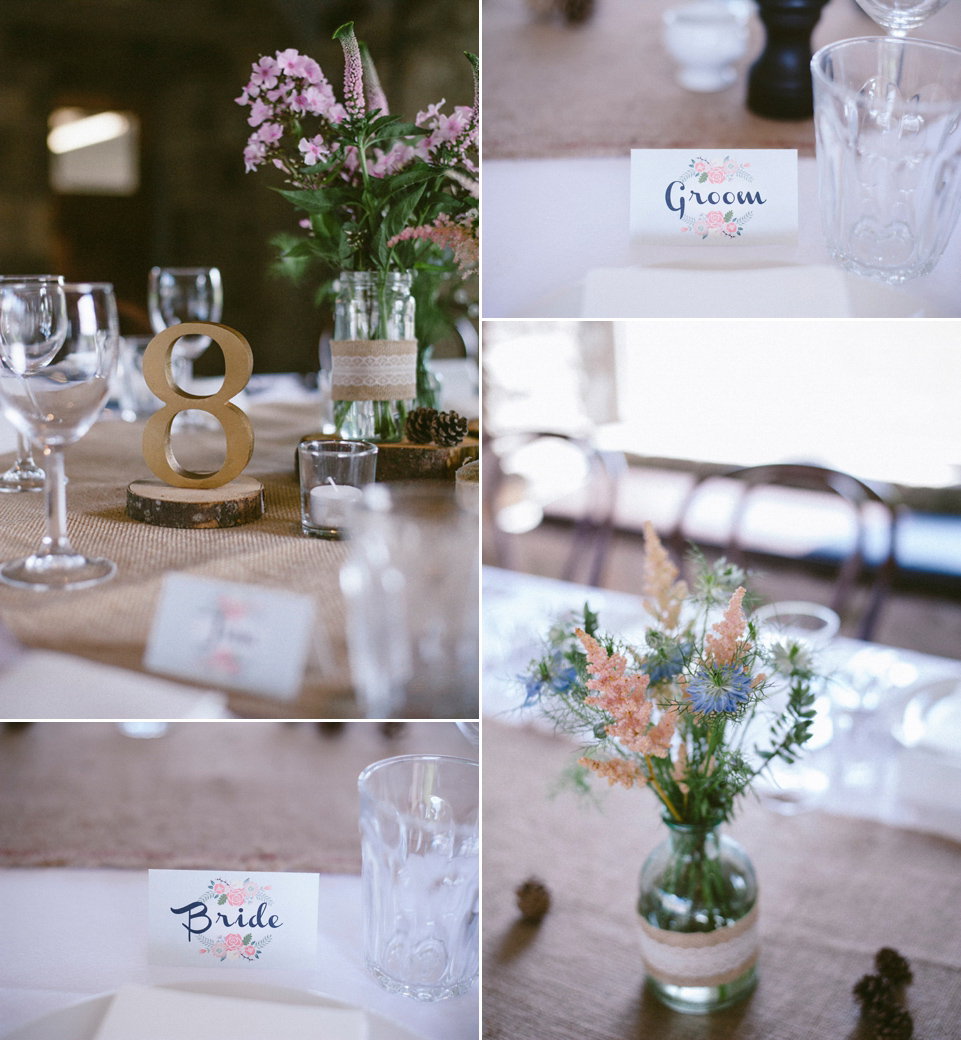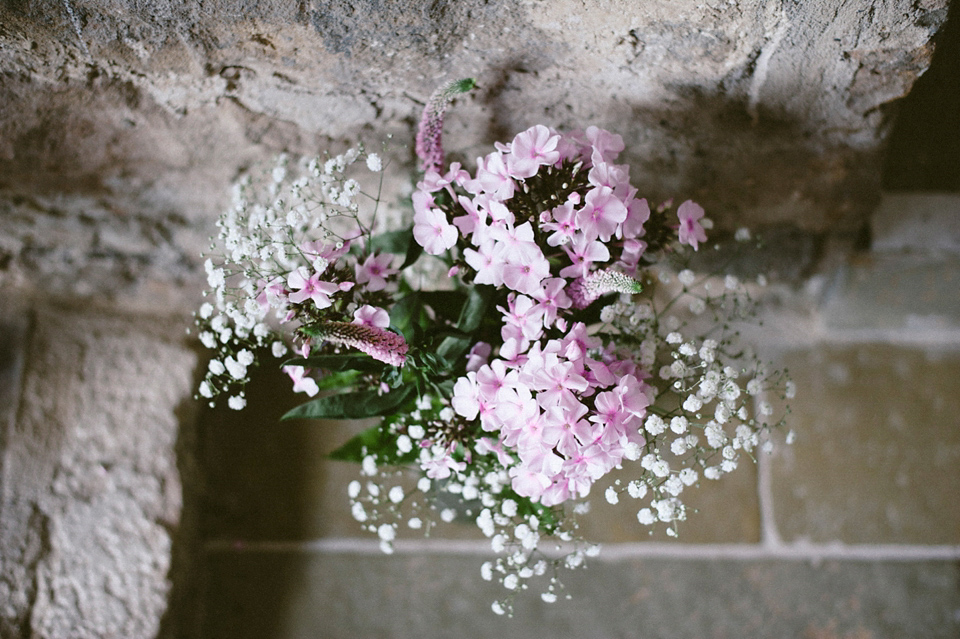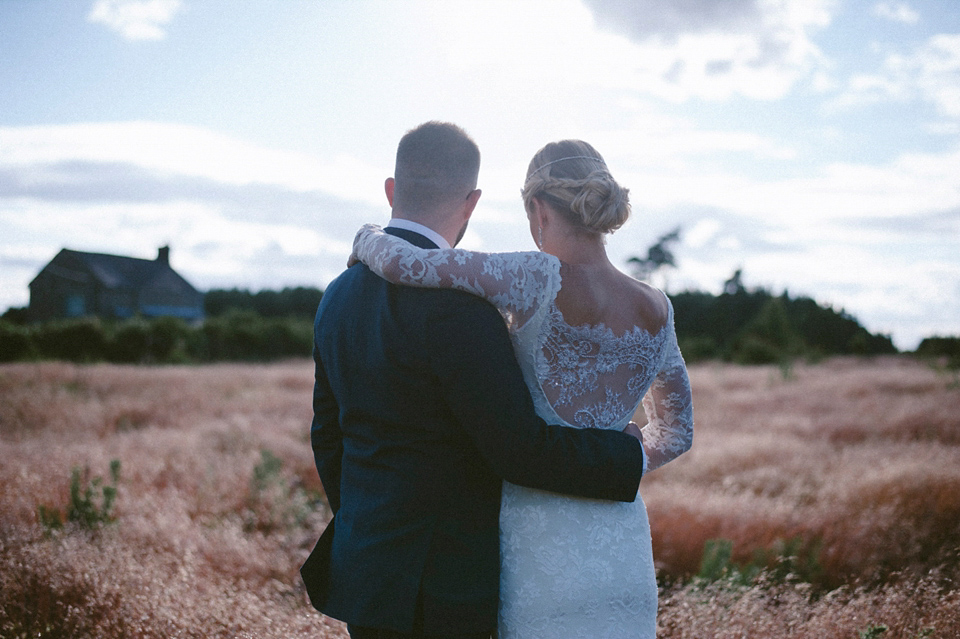 "I enjoyed the whole day so much that it is difficult to pick a favourite part. Our ceremony wasn't until 2pm but the fun started as soon as I woke up. I had the best time in the morning, getting ready with my bridesmaids and the journey to the venue in the vintage camper van was hilarious!"
"I loved seeing everything we had planned come together and watching all our guests enjoying themselves. We had friends and family there who hadn't seen each other for years and people who had travelled from Australia and America to help us celebrate. It felt really good to be the reason that so many people were together, having such a great time.
Looking back I can't think of anything I would have done differently because the only thing that really mattered was that all of the people we loved were there to celebrate with us."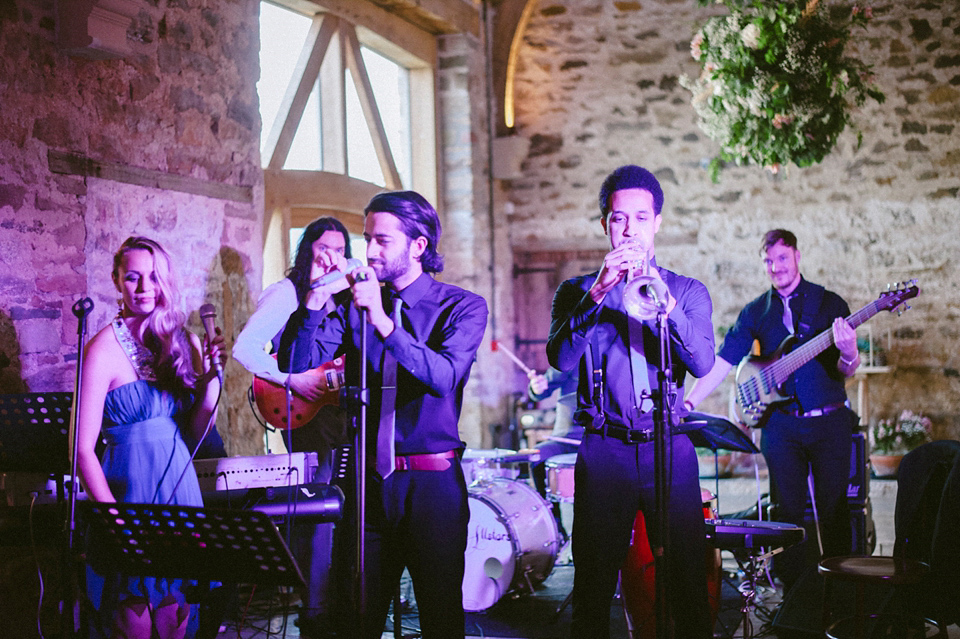 Words of Wedded Wisdom
"If you are a bit of a control freak like I am you'll find it difficult to let go and trust that everything is going to go to plan but ultimately the only thing that matters is that you and your partner relax and have a good time. It's easy to put a lot of pressure on yourself because you want everything to be perfect and because it's supposed to be the 'best day of your life'. But I think even if things aren't perfect it will still be the 'best day of your life'… because how can it not be when you're with all your friends and family and you're getting married to the person you love?
I also asked a friend to record the ceremony and speeches on video and I'm really glad I did… When James and I watched it, it was almost like seeing it for the first time. The day itself is such a surreal experience, its difficult to take it all in so its good to be able to watch it back.
I found Love My Dress really good for inspiration. And you can't beat Pinterest for wedding ideas – I'm not sure what I would have done without it!"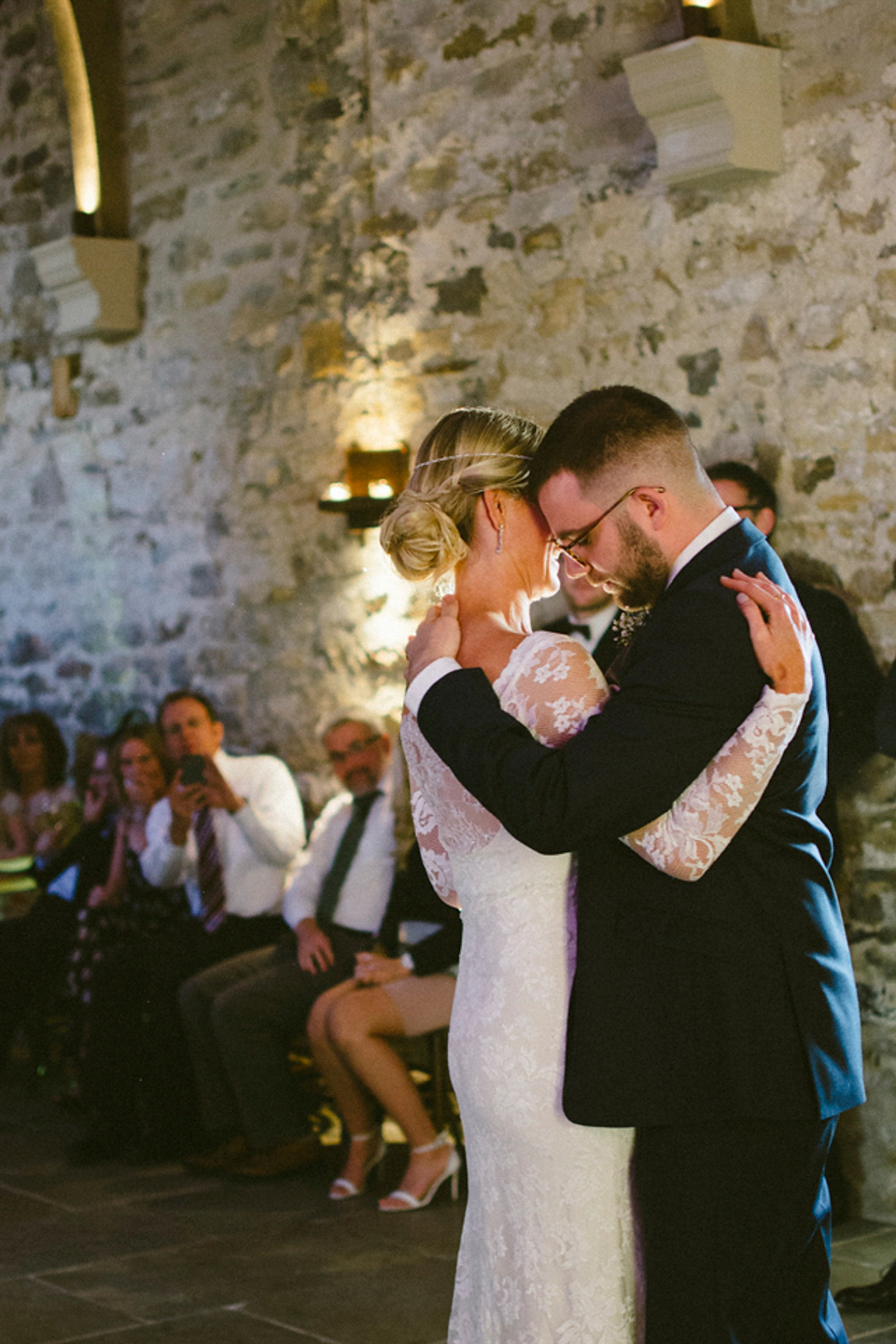 Another beautiful and inspiring wedding – you are so welcome dear reader!
Please take a moment to visit the sites of all the suppliers listed below who made this wedding possible. And enjoy the rest of your Saturday – I'm hoping it involves being indoors and out of these gale force winds!
Much love, Annabel xx
Photographer – Little Miss Boyco
Venue – Healey Barn in Northumberland
Wedding Dress – Olvis Lace via Kathryn Trueman bridal boutique in Morpeth
Bride's Shoes – Nine West in House of Fraser
Hair Accessory – Richard Designs via Kathryn Trueman
Accessories – Ivory and Co earrings
Perfume – Chance by Chanel
Grooms Suit – Racing Green
Bridesmaid's Dresses – Coast
Florist – Flowers Unlimited
Cake – Made by a friend
Transport – Grooms Father's vintage VW Camper Van
Entertainment – The Groove Allstars
Rings – Old Eldon Jewellers
Stationery – DIY
Hair Stylist – Lorraine Bradley via John Gerard Hexham
Makeup Artist – Haley Stokoe via Beautiful Betty Hexham