Hello dear readers and I do so hope that you're having a wonderful December Saturday. Writing this feature has made me feel as if Christmas has come early for a number of reasons. Firstly, it's full of the most glorious shoes that are actually making my feet dance around under my desk at the mere thought of wearing them and secondly, Harriet Wilde is a brand that I absolutely adore. So, for a little while, let's indulge together and fall in love with gorgeous bridal shoes by Harriet Wilde.
Photography by Kerry Bartlett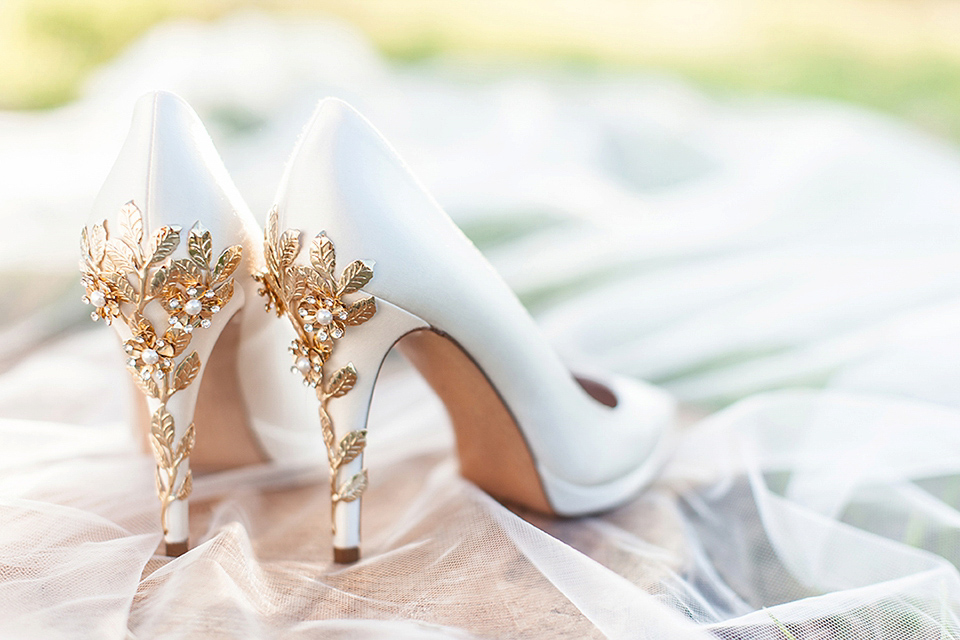 So, why does the mere thought of shoes from Harriet Wilde make me smile? Well, designer Ruth Shaw is just one of those women who makes you feel fantastic. I have admired her work for so long (those dreamy floral encrusted heels – swoon!) and, when I finally met Ruth at Annabel's milestone birthday party last year, I'll admit to having a bit of a fangirl moment because Ruth is quite simply human valium. Everything she does makes you happy and warm and her work is the clearest reflection of the person that sits behind the brand.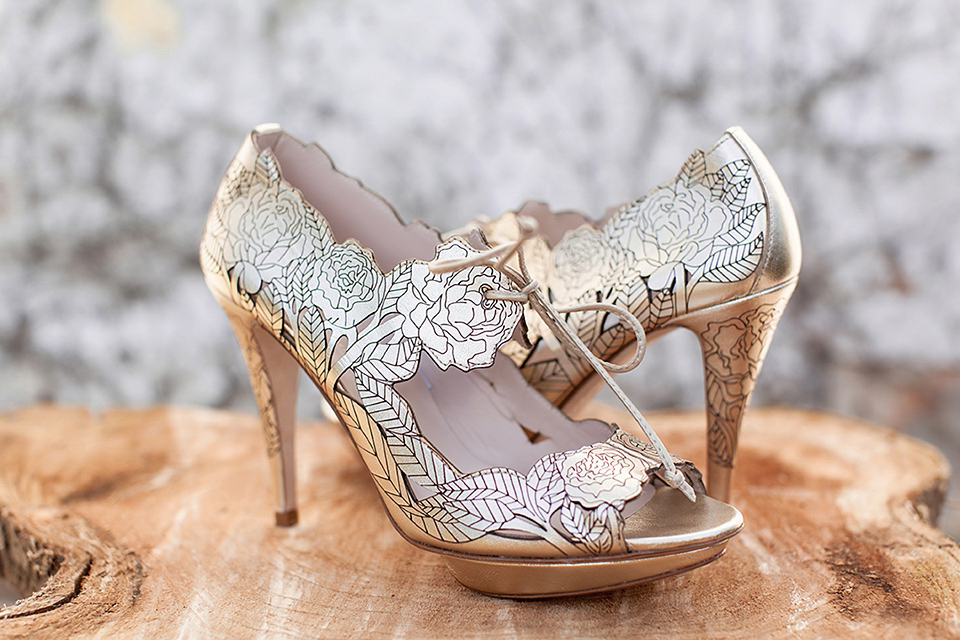 Founded by Ruth Shaw, a talented footwear designer, in 2008 and named after her beloved great grandmother, Harriet Wilde has become one of the foremost bridal footwear brands in the world. Ruth set out to create beautiful and comfortable designer bridal shoes and oh my goodness, how she has succeeded in this aim.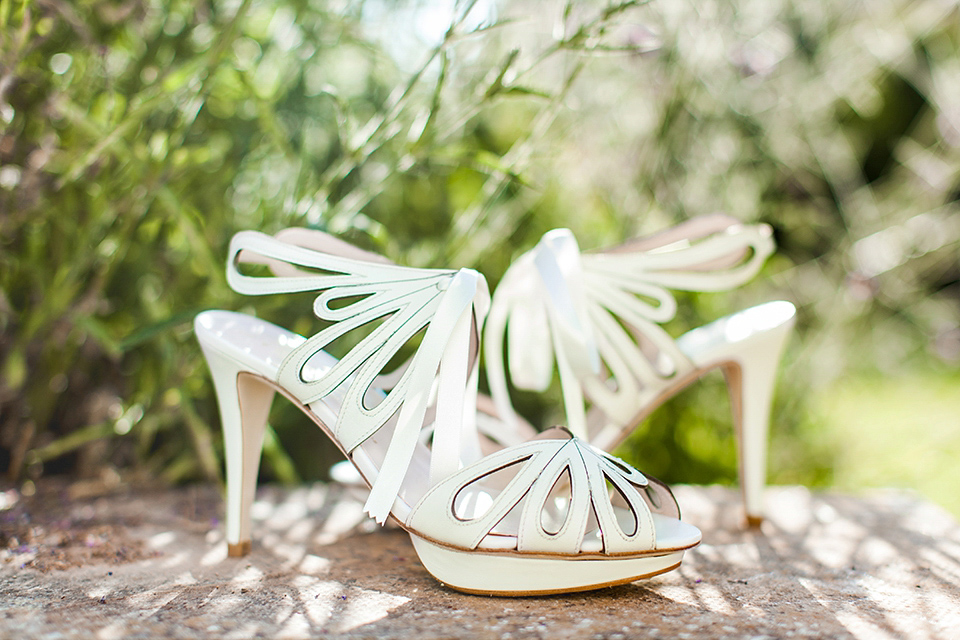 Ruth literally overflows with passion for her business and the growth and success of Harriet Wilde is testament to this. She takes great care to see that each and every collection offers unique styles that complement current bridal trends and every bride receives as much advice and assistance as they need coupled with all round excellent customer service.
But, as much as I think Ruth is fabulous, I think that bridal shoes that make up the Harriet Wilde collections remain the stars of the show. It's clear to see elegant femininity in Ruth's designs but there's still a strong sense of the modern with fashion-forward design cues combining with both modern and bohemian elements. The craftsmanship is superb, the materials luxurious. Oh yes, these are shoes truly fit for your wedding day.
For me, it's the detailing on Harriet Wilde wedding shoes that transports them to a whole new level of brilliance. Take the intricate, metallic florals that climb the heels of designs such as Bridgette, Joanie and Marina– it's an inspired touch that's both subtle and attention grabbing.
I'm also smitten with the unique laser cut design of Peony (in both the high and low heel heights!). It's such an eye-catching look that's playful yet sophisticated and let's not forget the colour options too – pale blues, opulent golds and classic ivory means there's something for every bride.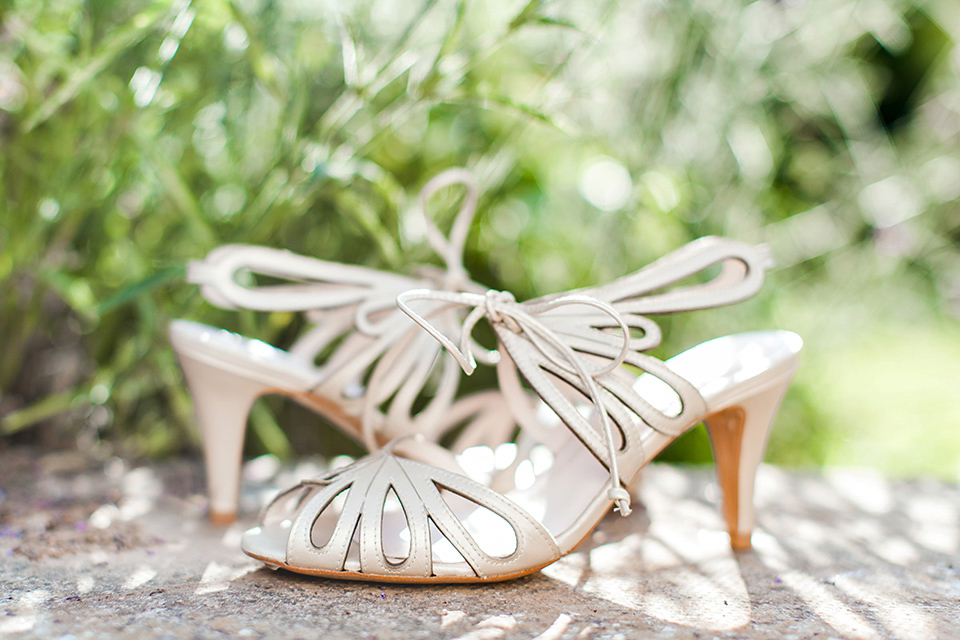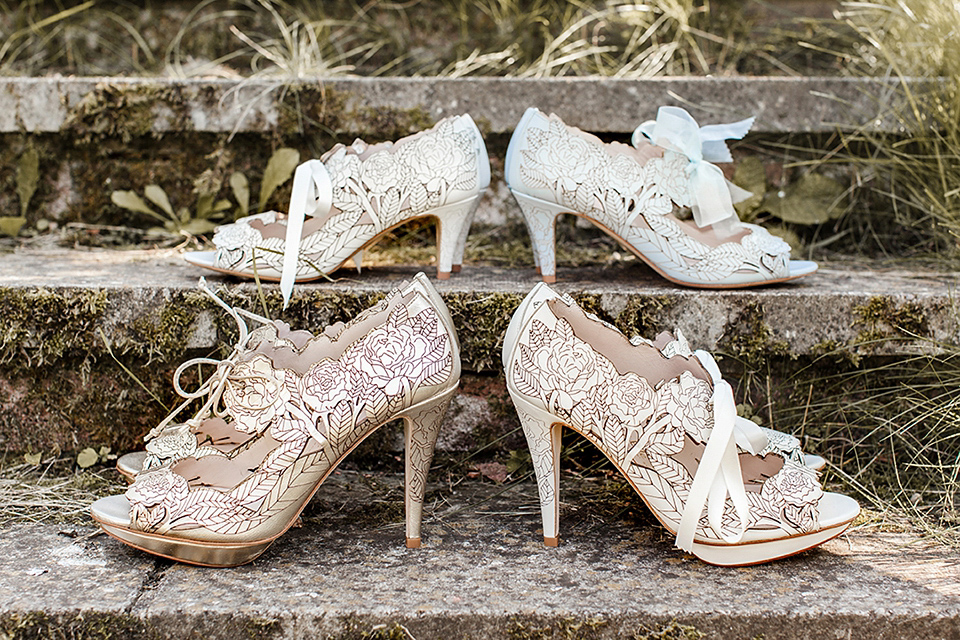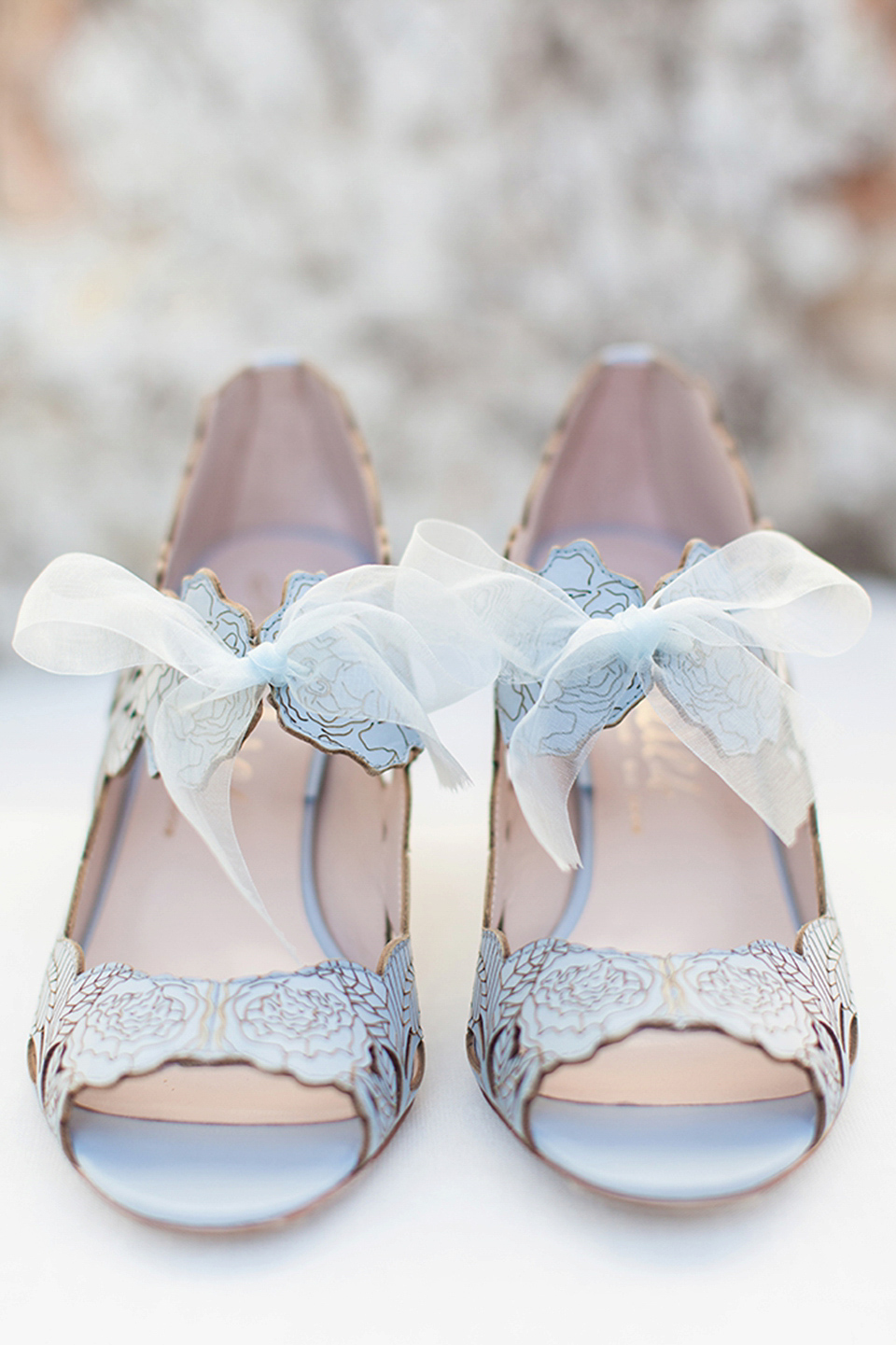 The cutaway design of Delfina, the barely-there styling of Ivana, the pretty pom pom flowers that decorate Daisy and Camille (aka the most fabulous flats you'll ever wear!) also make my heart sing. Harriet Wilde also offers a bespoke service to clients around the world where you can personalise you very own pair of shoes, changing the colour, material and heel height as well as adding a straps and embellishments.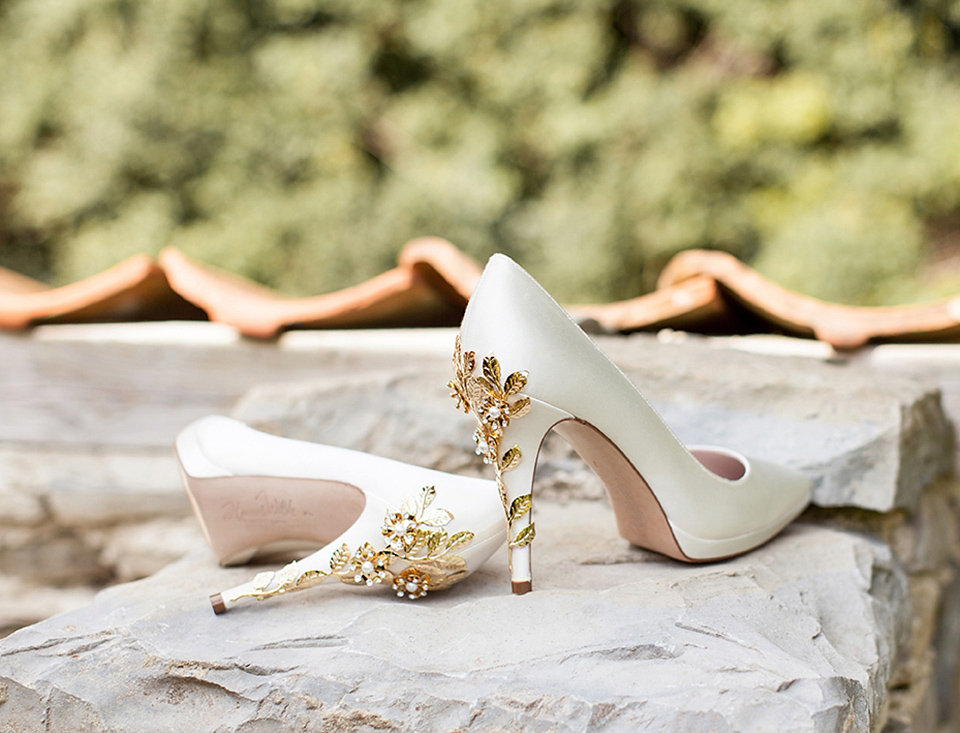 Wedding shoes from Harriet Wilde really are the epitome of bridal style – lovingly designed, expertly crafted and certain to make you feel extraordinary, these are shoes to treasure long after your big day.
Bridal shoes from Harriet Wilde range from £160 to £450 whilst bespoke shoes start at £450. In addition to the flagship London showroom and an online store, Harriet Wilde shoes are available through a number of wonderful stockists in the UK, Germany, Spain, Republic of Ireland, Russia, Australia, China and the US, including BHLDN.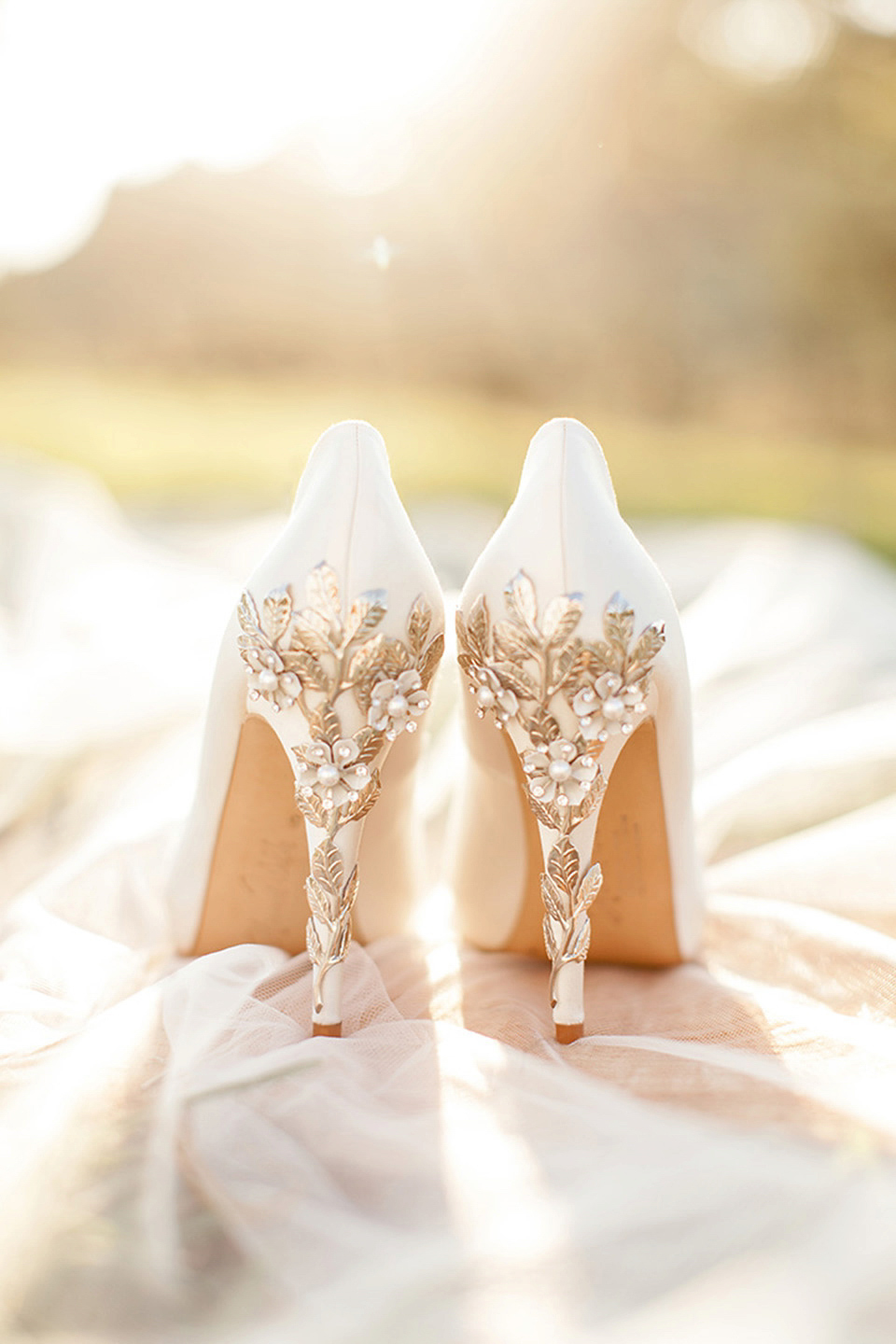 To find out more about Harriet Wilde and to view the latest collections, do take a look at their website where you'll find a little piece of shoe heaven waiting just for you. You can also keep up to date with Harriet Wilde on Twitter, Facebook, Pinterest and Instagram.
Love Tamryn x