As we enter the final week of wedding blogging in 2015 for Love My Dress, my heart feels full of a sense of pride and contentment. Forgive me for taking the time to reflect, but this past year has been an incredible one for this little blog. We celebrated our 6th year of business and blogging last month, expanded our team, reached over half a million social media followers, fought off trademark infringement, won some awards – and in September, we launched our very own beautiful new wedding directory, Little Book For Brides® – a huge project that had been in the making for over a year. On a personal level, it has been my busiest, most challenging (and exhausting!) but also fulfilling and rewarding year yet. It's funny too, because this week also marks the 8th year since my now husband proposed to me, on a particularly grey and rainy Christmas Eve in Whitby.
It's almost unbelievable to think that prior to that proposal, 'weddings', just didn't figure in my life at all. Yet 8 years later, most of my days revolve around all things wedding, and my career and life have changed in unrecognisable ways. Becoming engaged led me to discover a passion for weddings in general – the meaning and value behind them and the creativity that goes into planning them. The proposal was, in essence (though I didn't know it at the time), the very start of this wedding blog. I'd spend hours and hours in online forums back in 2008 when I was planning my own wedding. As it happens, one of the lady's I met through the forums just so happens to have photographed this wedding today. Cat Hepple and I became real life friends too and so it gives me a great deal of pleasure to be sharing this particular wedding with you this morning and to show-off my lovely friend's beautiful, light, luminous and incredibly elegant photography. Cat was just starting out as a photographer when I first met her in 2008 – prior to that she had been a BBC news reporter, a lady who I hadn't even realised had been gracing my TV screens on a very regular basis at 6pm and 10pm each night. Weddings, as it turns out, would change Cat's career and life path too – leading her to meet couples like Meg and Ben whose wedding I am so delighted to be sharing with you this morning.
NHS Blood and Transplant employee Meg, married Ben, who works in Finance, on 22nd August 2015 at Woodlands Hotel in Leeds.
"We knew we wanted to spend a large percentage of our budget on our photographer as the images last a lifetime and we wanted someone who had the same vision as us. Being quite shy we also wanted a photographer who could make us feel comfortable in front of the lens." 
Photography by Cat Hepple
Follow Cat Hepple on Instagram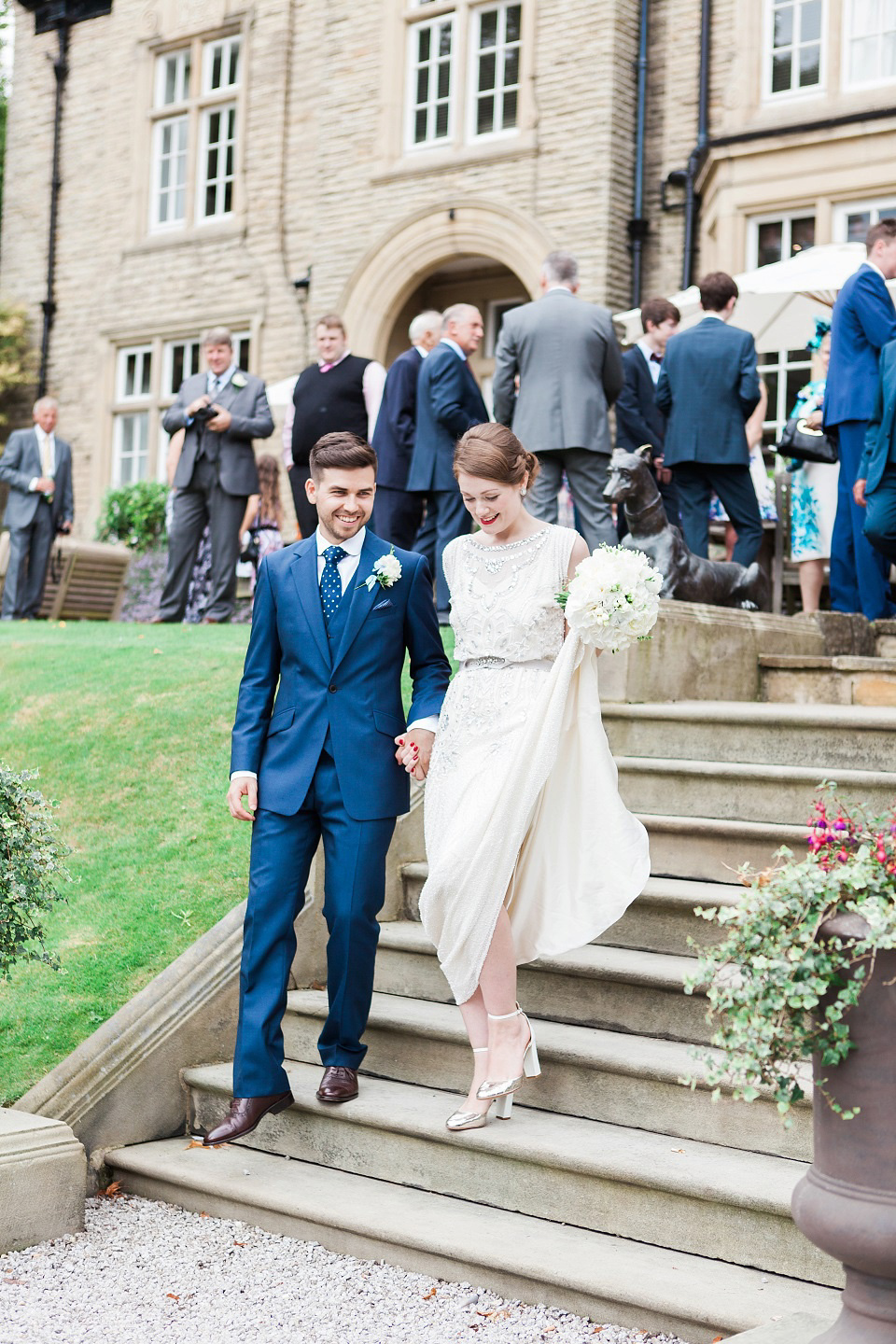 "We searched for wedding photographers based in Leeds and came across Cat Hepple's website which was so striking we contacted her immediately to book a consultation. Cat was so passionate and enthusiastic about our plans. Her images are not just photographs but pieces of art. We had a lovey engagement shoot at Harewood House and got to know how Cat works and she got a feel for how we reacted to the camera and gave us tips on how to pose."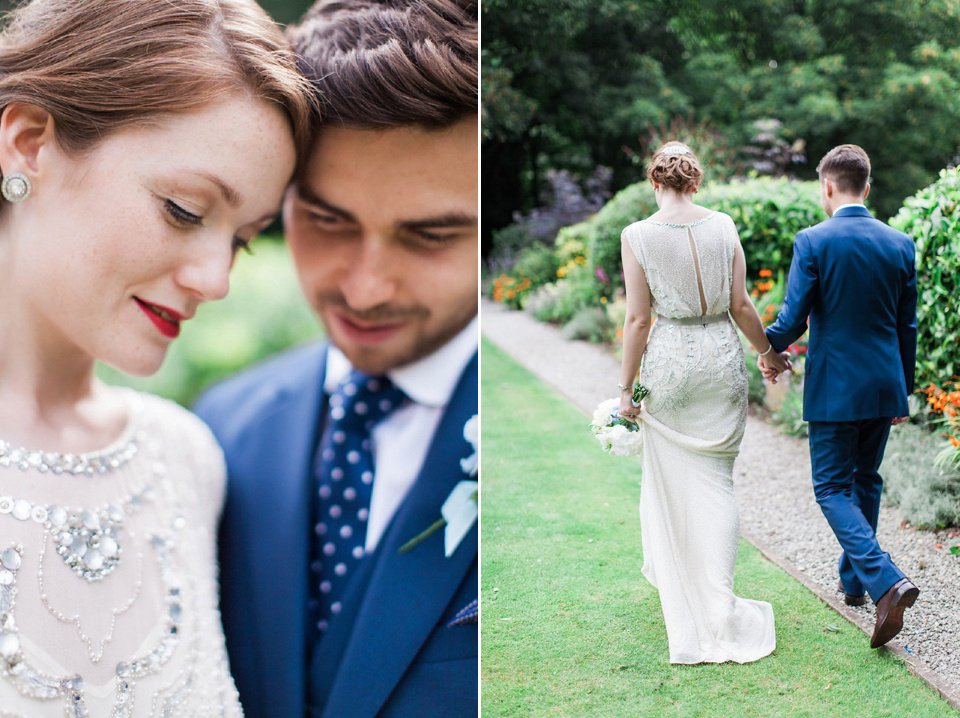 "On the morning of the wedding, Cat was wonderful, keeping us all calm and making sure we were on schedule. It was very reassuring knowing that Cat was keeping timings and looking out for anything that could present a problem."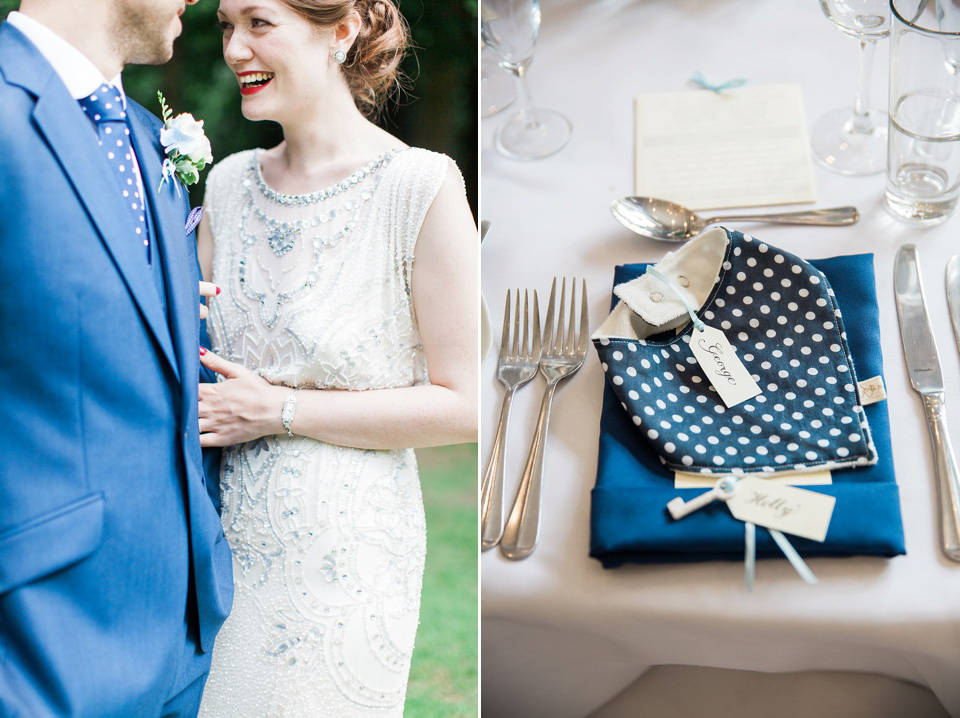 "Ben and I made mood boards in order to collate all of our ideas. Like a giddy school girl, I ran out and bought every bridal magazine, subscribed to Pinterest, and followed Love My Dress, however, I would say the biggest inspiration was my sweet little car- a Nissan Figaro affectionately named Florence. She was the inspiration for our colour palette- light grey/blue, silver and cream."
"I was also inspired by the style of my engagement ring and love of The Great Gatsby by F. Scott Fitzgerald, which lead us to introduce a little hint of the 1920's, however, we wanted to keep it simple and elegant, without it being too rigidly themed.
I actually saw my shoes in a magazine on the feet of Peaches Geldof and knew that moment they were perfect. After a quick internet search I was so relieved to find out they were from Kurt Geiger."
"I knew that I wanted a very natural look I don't generally wear a lot of make-up and I wanted to look like myself. I found Victoria Farr at a vintage wedding fair in York. I looked through her portfolio and also her website and absolutely loved her work. She created such a flawless, elegant and natural look for me, my mum and my sister. We had a hair and make-up trial at Victoria's home. It was a wonderful afternoon. She was so very welcoming and friendly and made the whole experience very special.
The morning of the wedding was very relaxed and it was a pleasure to have Victoria with us. She was a calming influence. My mum had made a special playlist and we had such fun listening to an eclectic mix of songs that I still can't stop listening to."
"My dress, a stunning Jenny Packham gown, was purchased from Andrea Bambridge in York. My mum, dad and I attended a Jenny Packham Event in March 2013. I initially had my heart set on the 'Tuberose' design, however, after trying it on it didn't feel quite right. I then tried on 'Esme' and it was perfect! I had found my dress!"
"From the initial appointment, it was over two years until my first fitting which seemed like a lifetime away. I think my mum and dad were a little worried that I would see another dress during that time but nothing came close.
Keeping my dress a secret from Ben was really difficult. It was the one thing I wanted to talk to him about as I was so excited, but it was the one thing I couldn't mention. Also, it was one of the things that I took inspiration from for the styling for the rest of the day."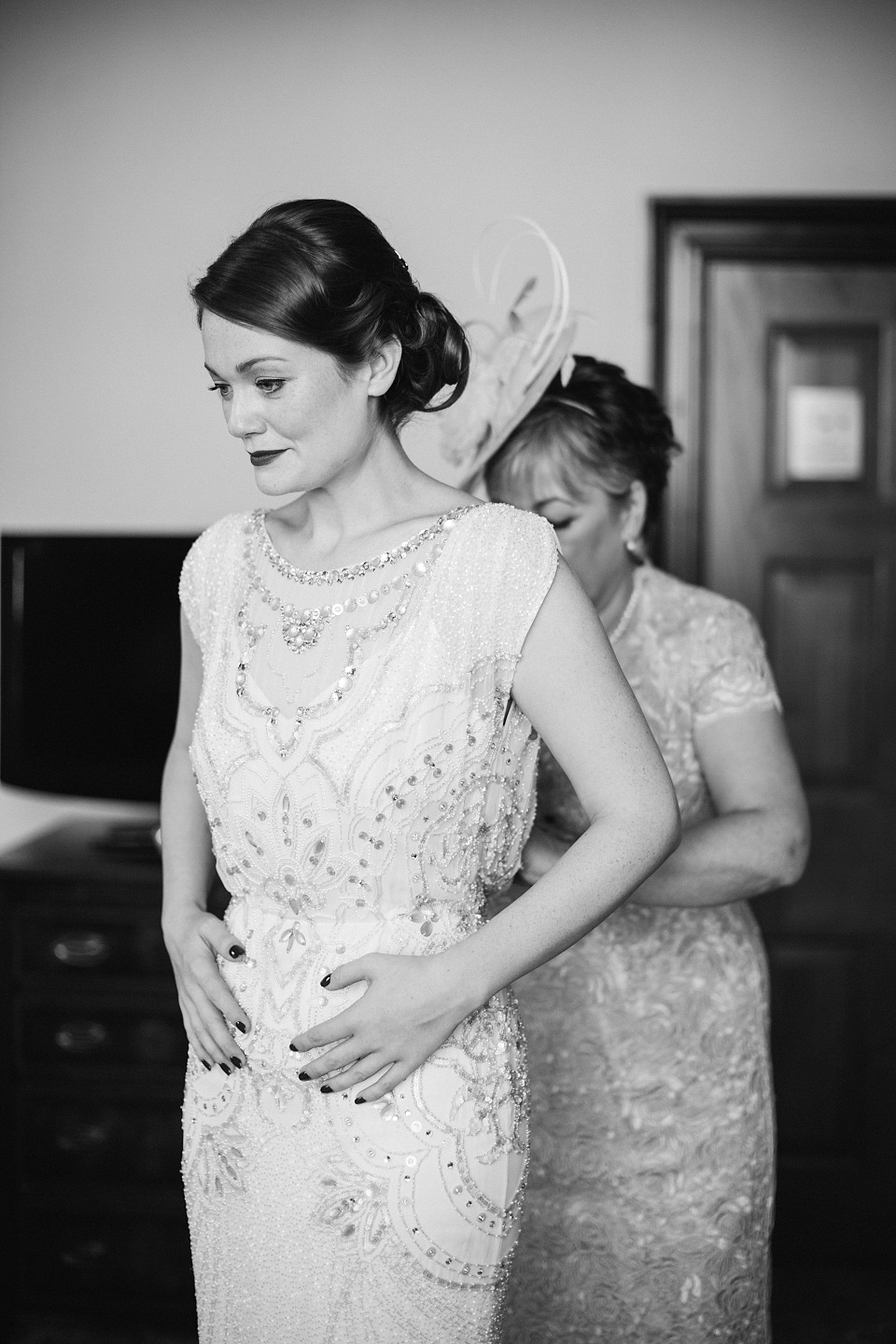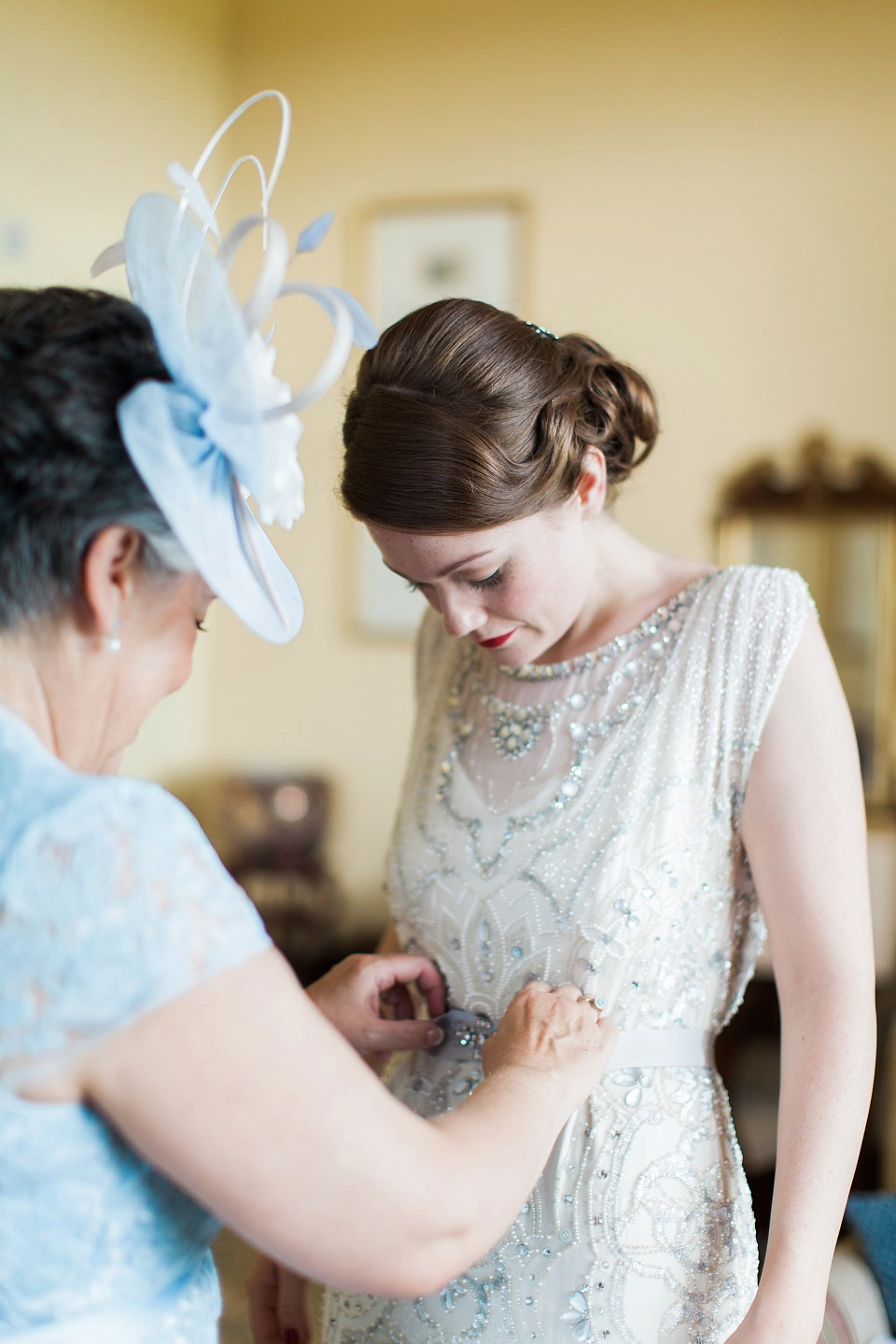 "I had always known that I wanted a Jenny Packham wedding gown and have been lucky enough to have fulfilled that wish. The 'Esme' design suited my figure perfectly. I loved the cut, the detail and delicate bead work with pearls and sequins. The back of the dress is what really attracted me though; it gave the dress such a glamorous feel. It fit perfectly with other aspects of the wedding, the 1920's and the subtle grey/blue colour of some of the beads."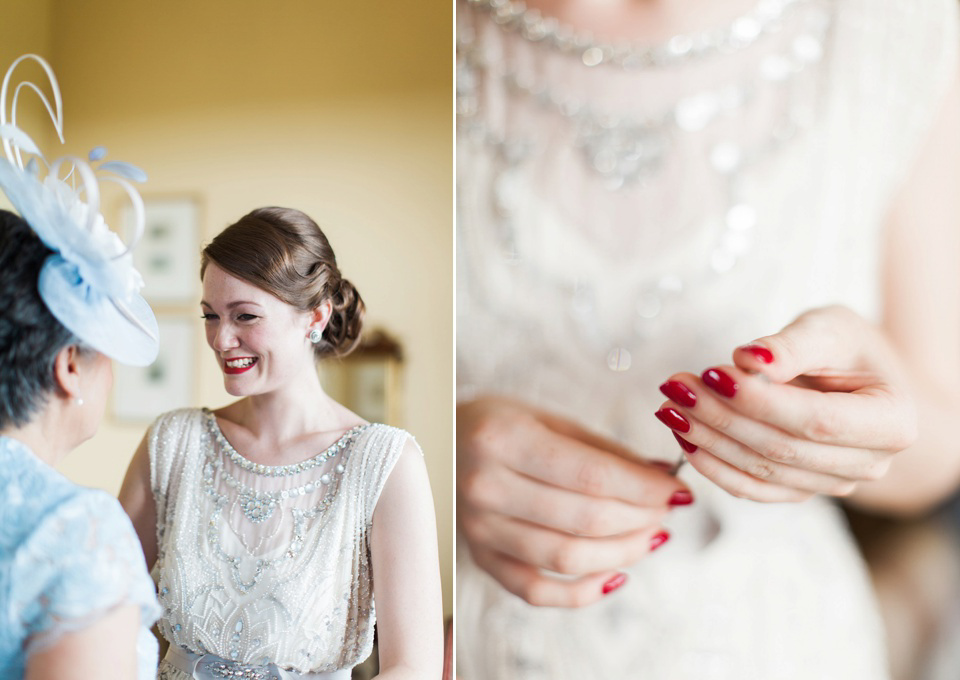 "I wore Chanel No.5 as it is not only my favourite scent, but also reminds Ben of me. It now evokes so many wonderful memories of the day when I smell it."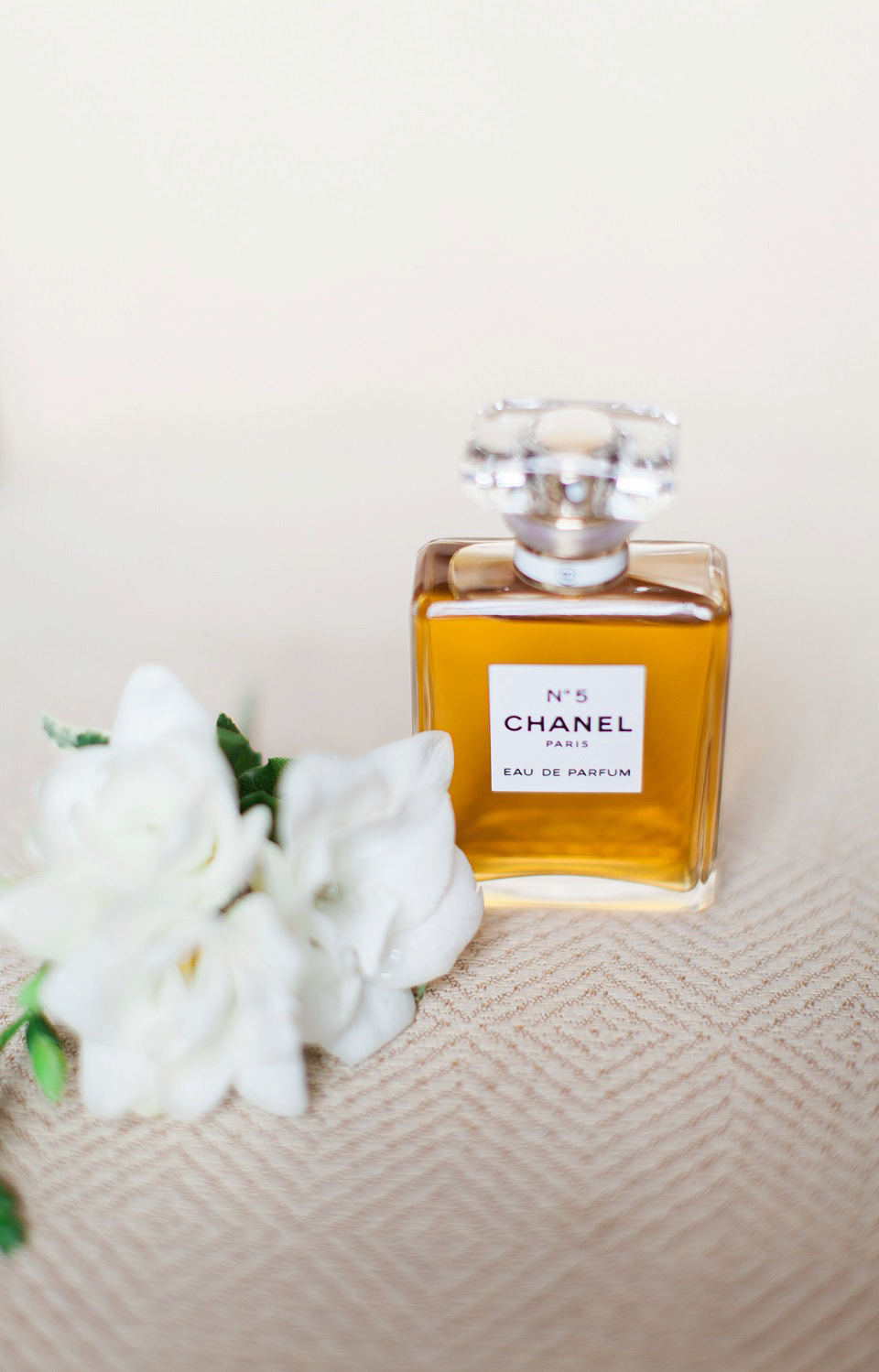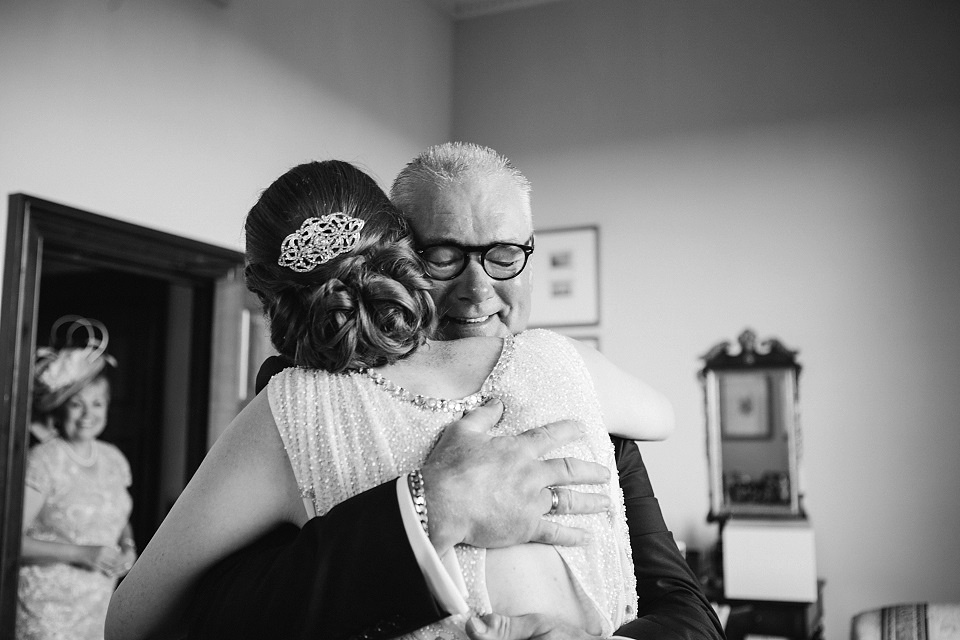 "Our nephew Teddy was our ring bearer. His suit and his shoes were Marks and Spencer. I made him a little badge, instead of a floral boutonnière, that said 'Best Little Man'."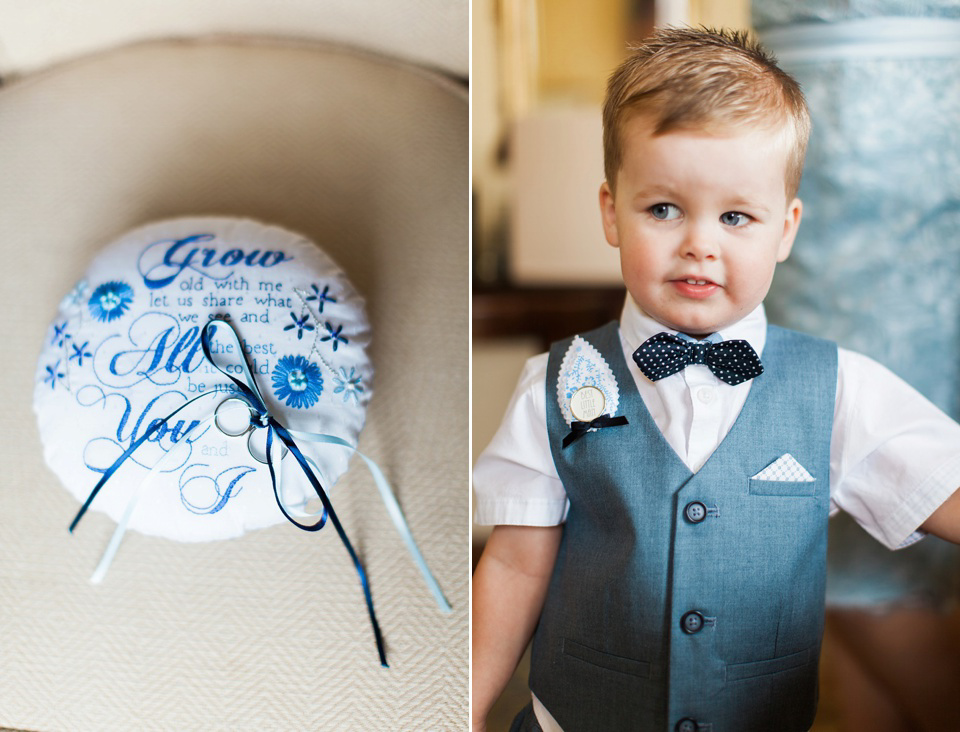 "Our bridesmaid, my sister Holly, wore a beaded navy blue Adrianna Papell gown from House of Fraser. As a thank you gift, we bought Holly a vintage style pearl bracelet from a gorgeous website called Liberty in Love."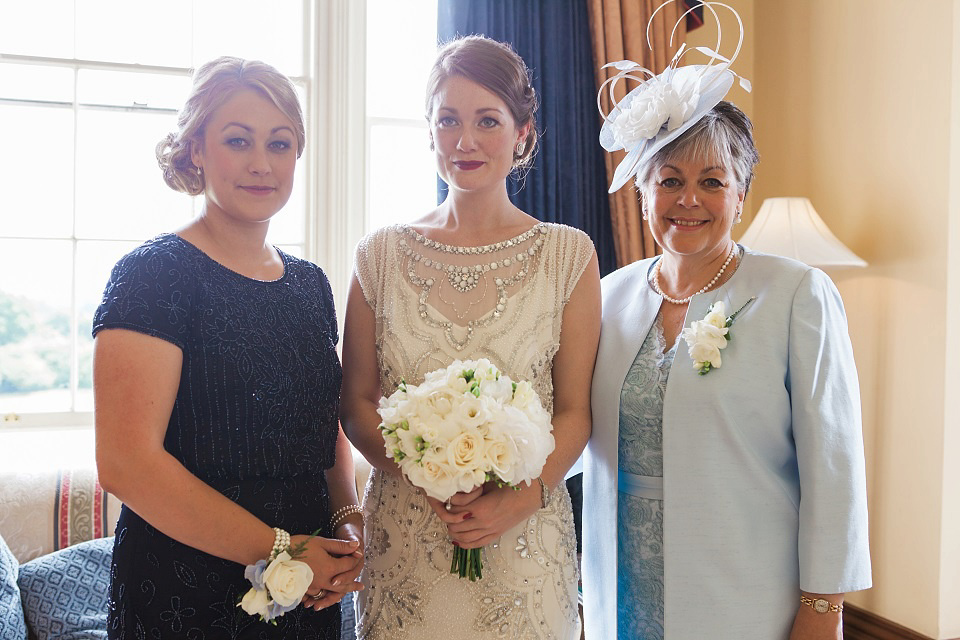 "I wore an antique 1920's platinum and diamond watch which was my 'something old', and a Swarovski bracelet bought for me by my fairy godmother, Julie, which was my 'something new' and I borrowed by mums pearl and diamond ring. My earrings were a pair that I have had for years purchased from Debenhams, they are clip-ons as I don't have pierced ears, but they matched my hair comb perfectly."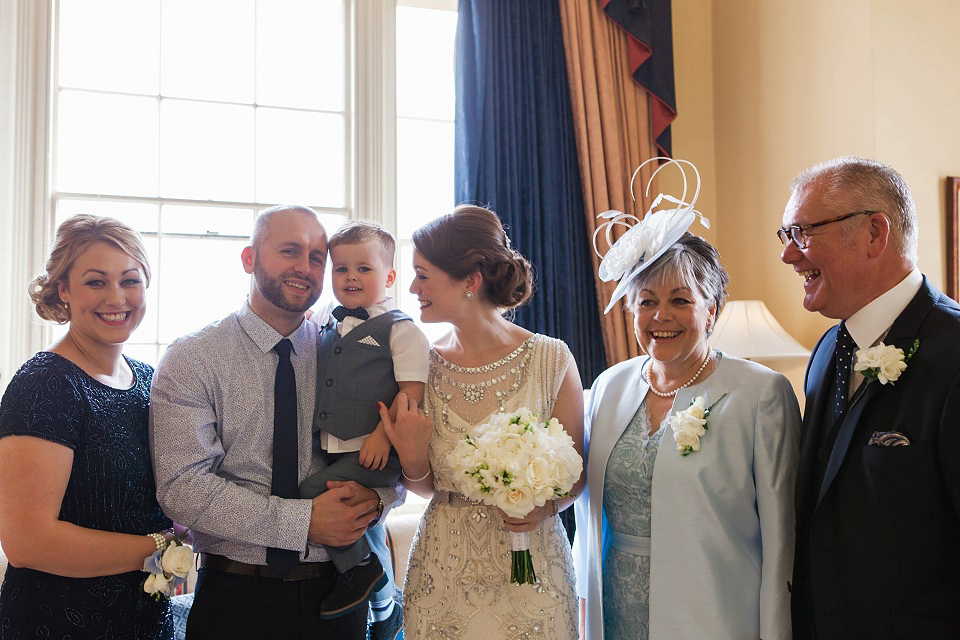 "After considering a number of venues throughout Yorkshire, we finally decided to get married at The Woodlands, a luxury boutique hotel located in our home town of Leeds. We were drawn to the venue by its location, size, style, character and grounds.
I stayed at Oulton Hall, in Leeds, the night before our wedding with my mum, dad and sister. We had a lovely meal before heading to our suite to relax. It was lovely to spend my last night as 'Miss Roberts' with my family, we had so much fun practicing how we would walk down the aisle and me and my dad trying to remember our dance routine for the following evening."
"I had always wanted to use my Nissan Figaro, as my wedding car, however, after being off road for a few years it needed quite a bit of work. Luckily, my dad is an engineer and a dab hand at fixing cars. The list of things that needed doing grew quite rapidly; however, she looked amazing on the day."
"We put the old fashioned plates on, shined up the chrome, polished the paint work and added a luggage rack decorated with artificial flowers. My dad ribboned the car whilst we were having our hair and make-up done on the morning."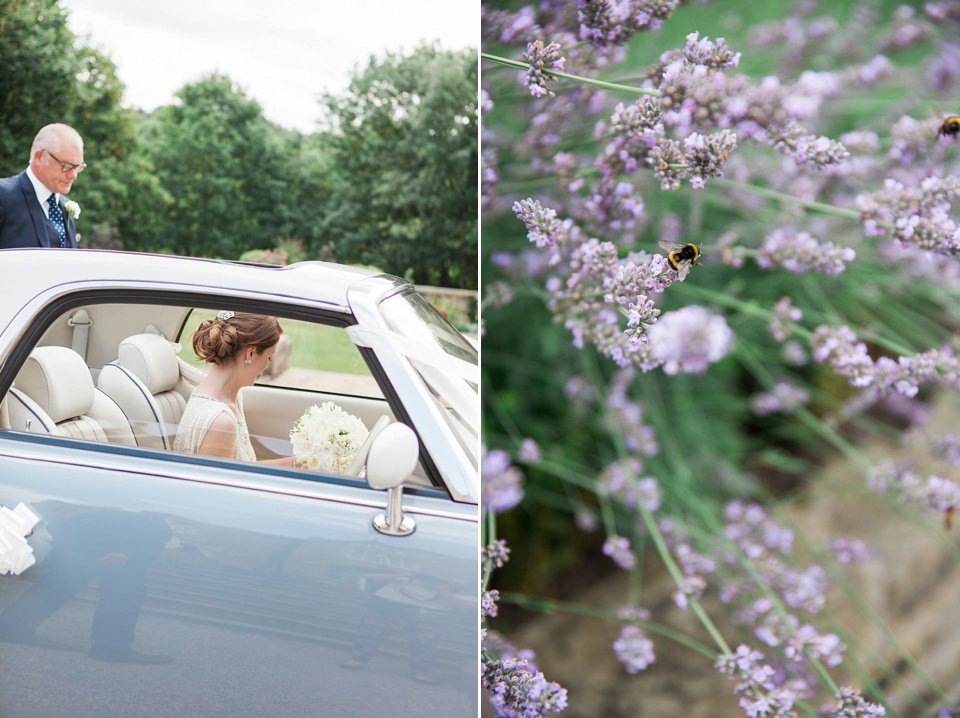 "The drive to the ceremony with my dad was something that will stay with me for the rest of my life. He created a wonderful and very emotional playlist for us to listen to. It was so special just to spend that time together just the two of us."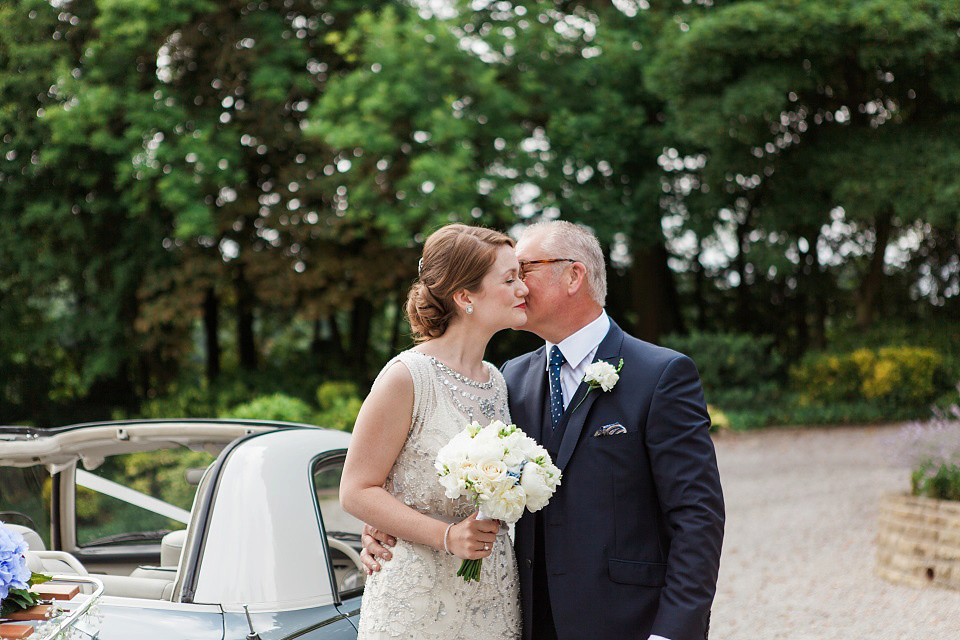 "My dad walked me down the aisle and it is one of my favourite memories from the day. We walked down the aisle to Sidney Bechet's 'Si Tu Vois Ma Mère', which no one expected, especially Ben. It is featured in one of our favourite films, Woody Allen's 'Midnight in Paris', and was just so unusual. I was originally looking at more traditional music but I am so pleased I went with this."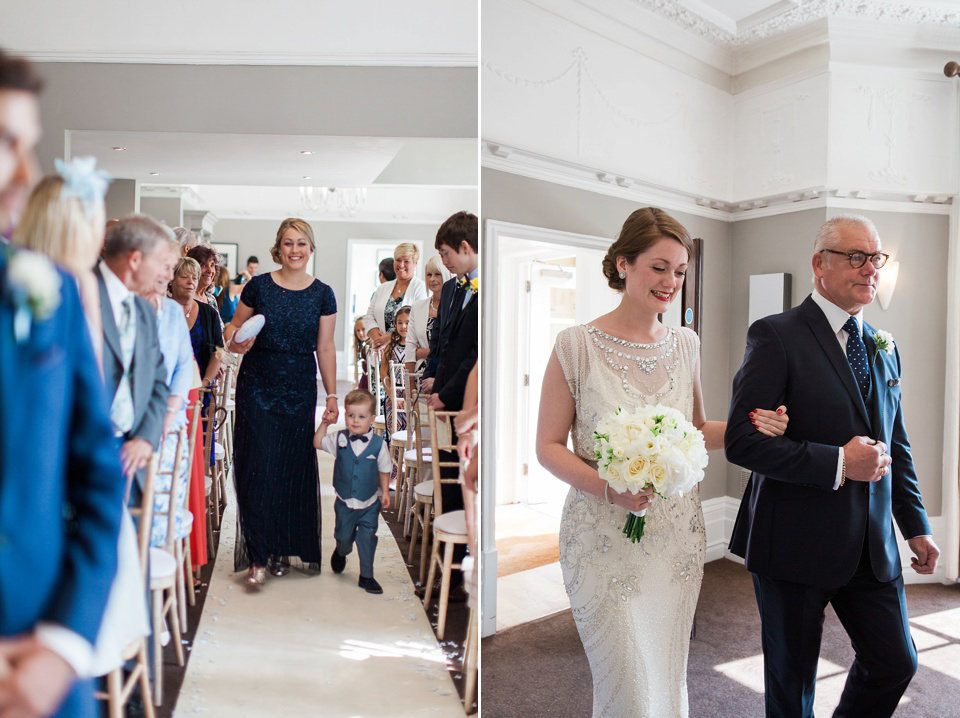 "My Godmother, Auntie Julie read 'Love is Giving' and my friend, Kim read 'The Lovely Love Story' by Edward Monkton. We also had 'Love is Giving' as we wanted something that was traditional and sentimental. Ben also chose 'The Lovely Love Story' as it was something different and light hearted. It also reminded him of us – especially the 'uncommonly keen on shopping' line."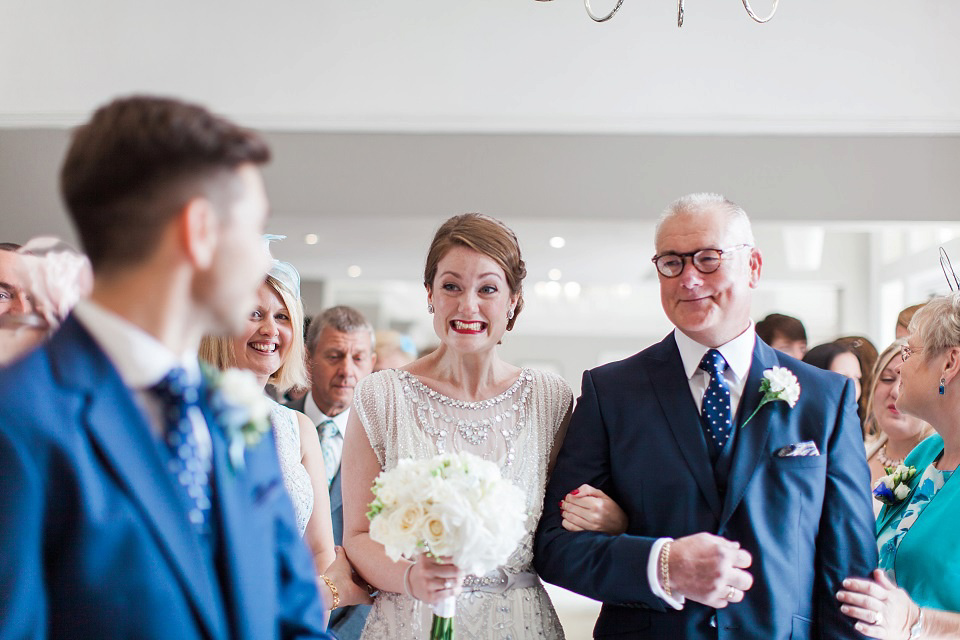 "Ben and I actually met at high school; I was in year 12 and Ben year 13. We were both so shy, but after few months of admiring him from across the common room, I asked our mutual friend, Diane, to introduce us, since then we have been inseparable.
Ben had always said that if he ever proposed it would be in New York where we shared our first holiday at Christmas time, however, having just moved into our 1st home together funds wouldn't quite stretch that far, so he brought memories of New York to our home. He proposed on the morning of 23rd December 2012 or Christmas Eve Eve as we like to call it. He made me the most wonderful American style breakfast in bed then led me down stairs to where my engagement ring was hanging on the Christmas tree, sparkling in the lights."
"Ben bought my engagement ring from Philip Stoner in Leeds and he couldn't have picked a more perfect ring. It's a stunning platinum ring with a radiant cut centre diamond surrounded by a diamond set cluster and shoulders."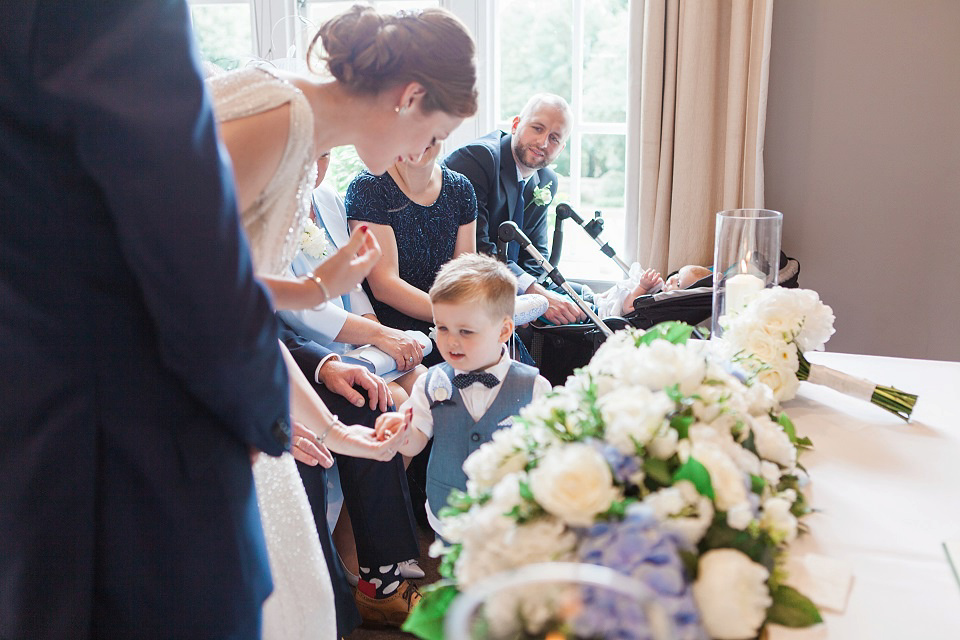 "We decided to return to Philip Stoner for our wedding rings. Ben decided on a simple palladium band and my ring matched my engagement ring, a platinum half set eternity ring."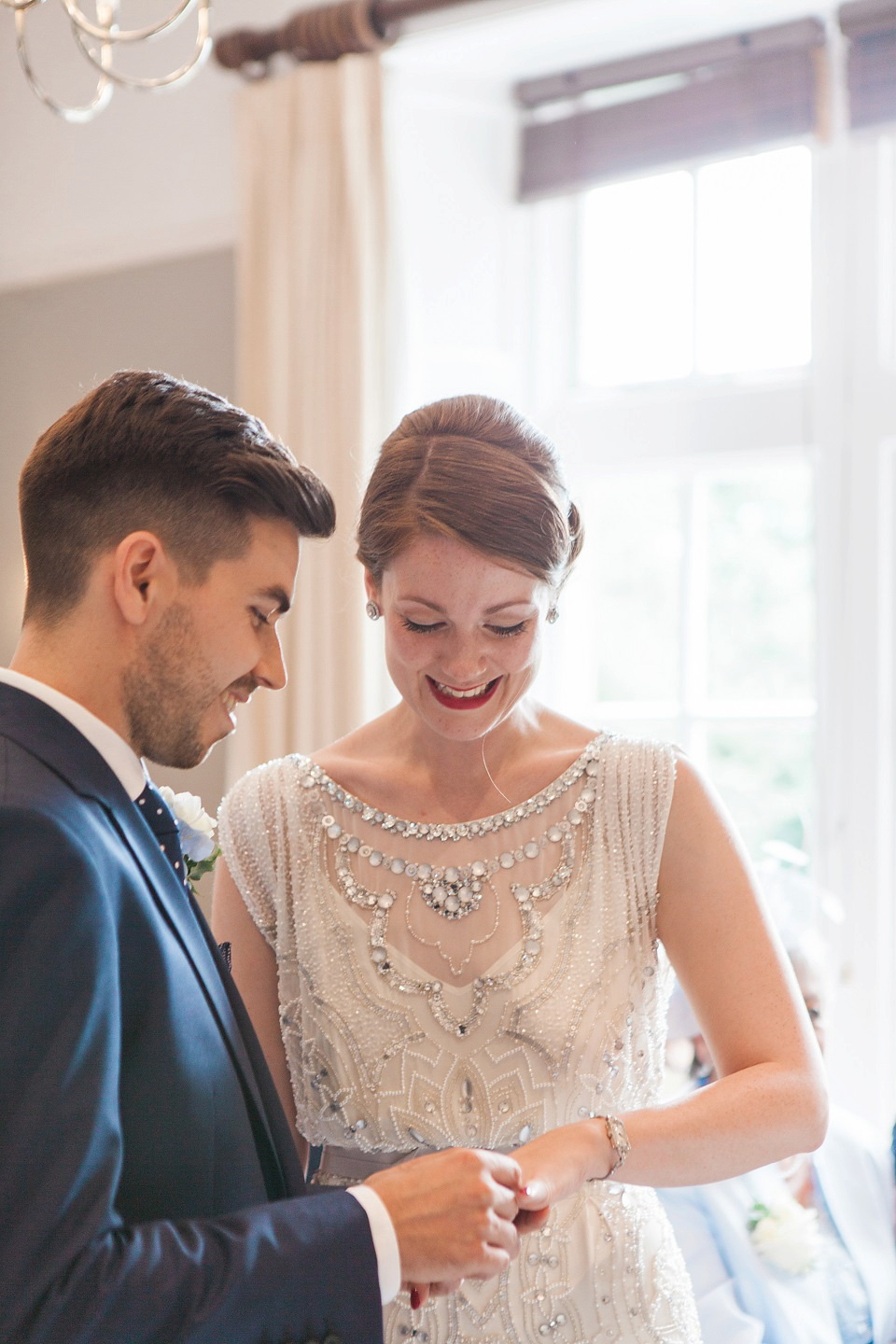 "We had quite a long engagement 2 years and 8 months. This was mainly so that we could save for the wedding we wanted. It was a really hard time full of sacrifices but certainly worth it!"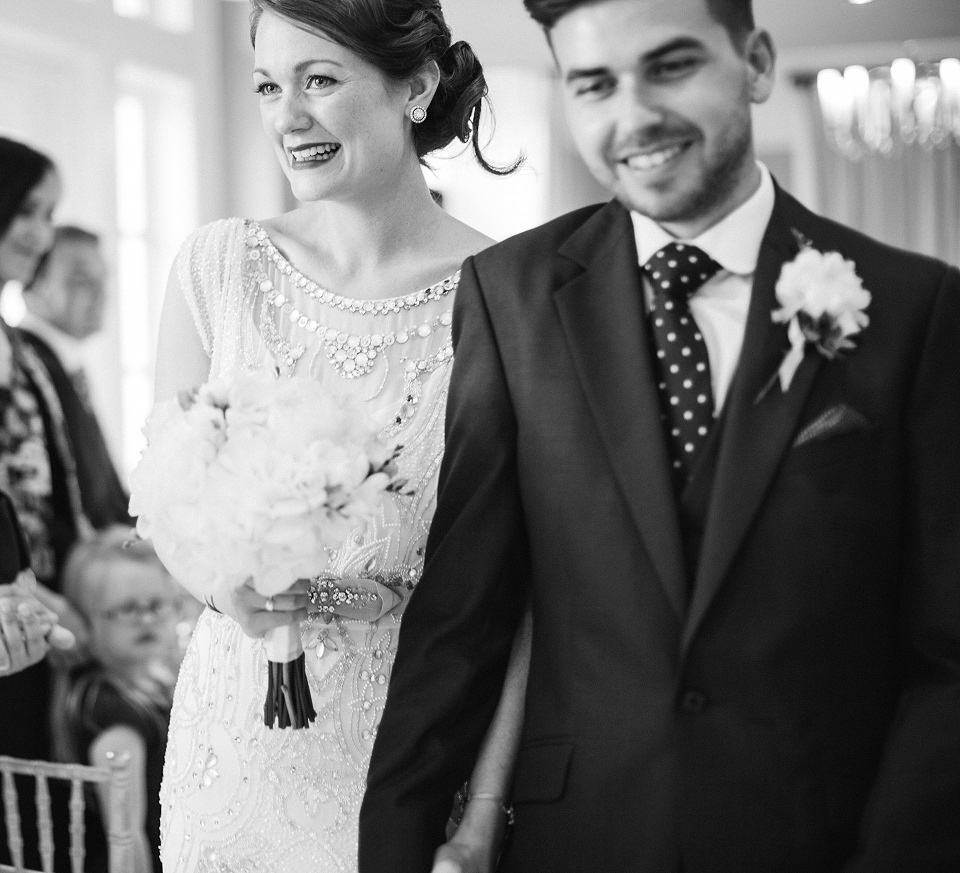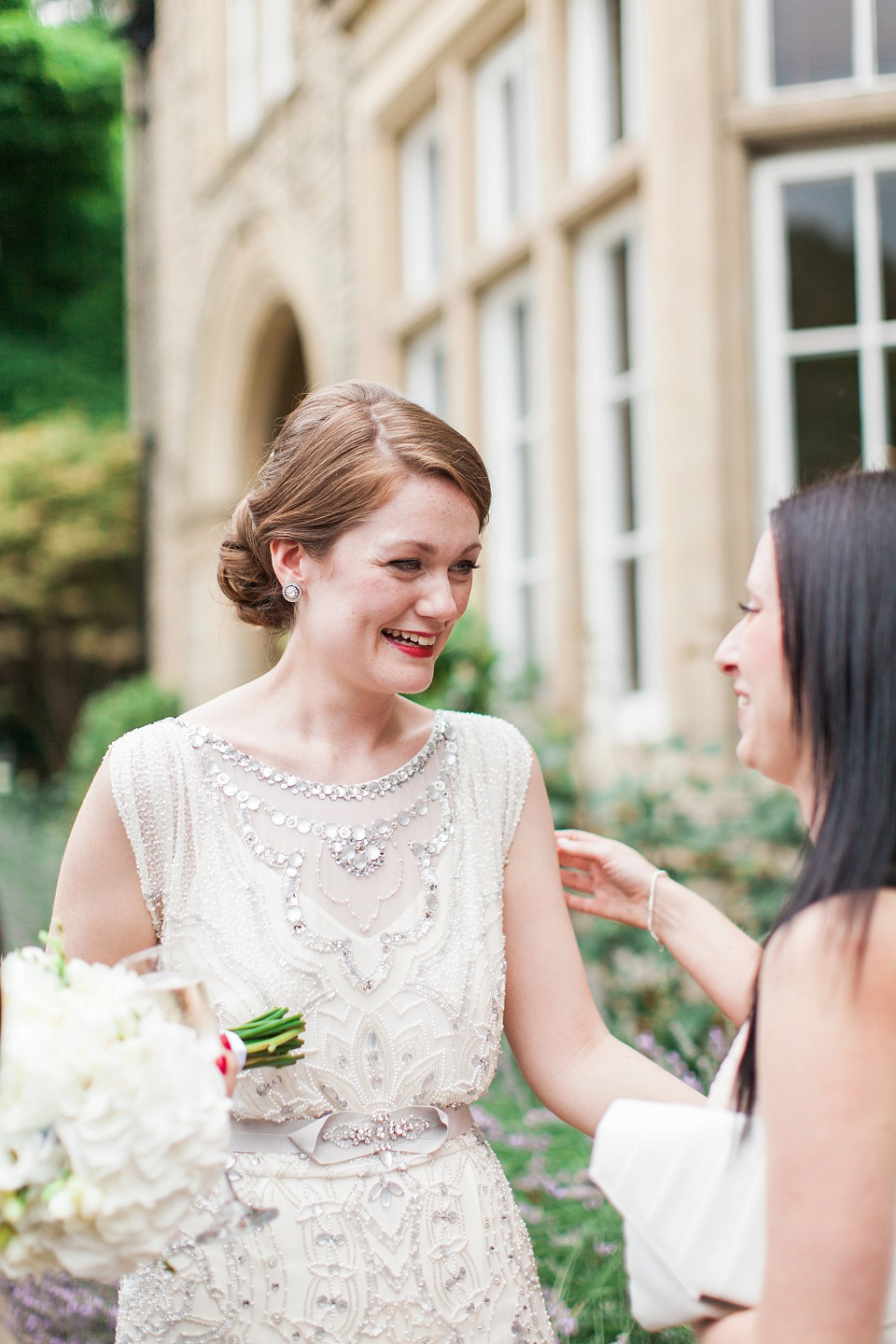 "Ben wore a blue 3-piece suit from Reiss. It was off the peg but tailored to fit. He also wore a gold pocket watch that had been passed down to him from his Great Grandad and his pocket square originally belonged to my Grandad Bob- he got it for his 21st birthday and gave it to my sister on her 21st birthday (it was another old, borrowed and blue)."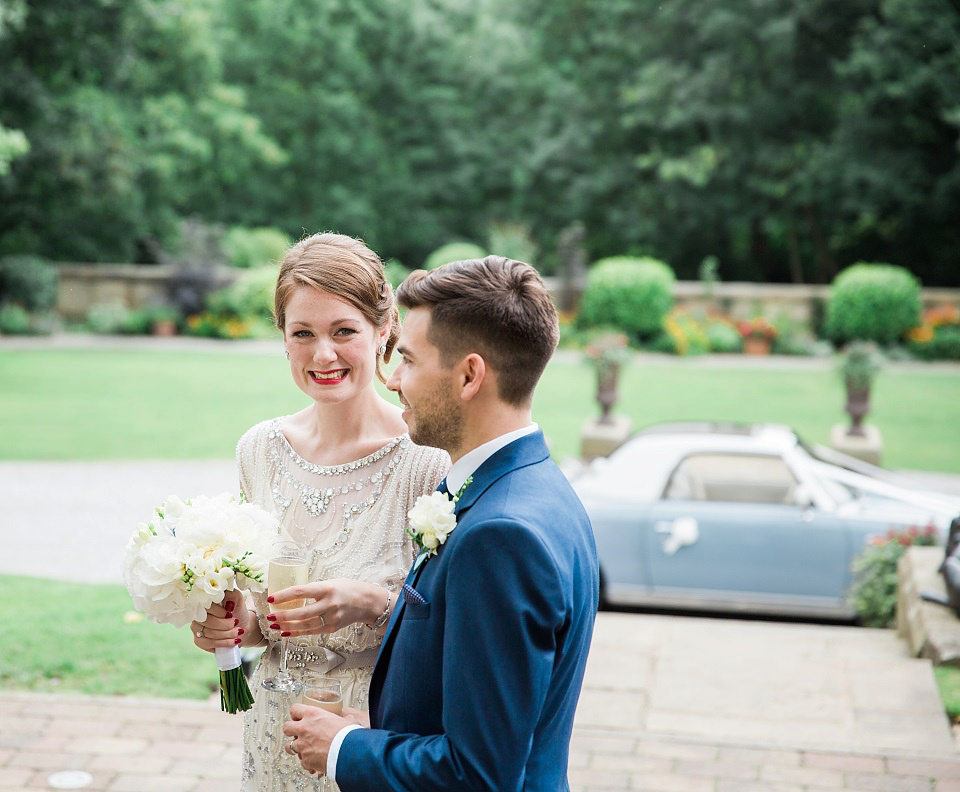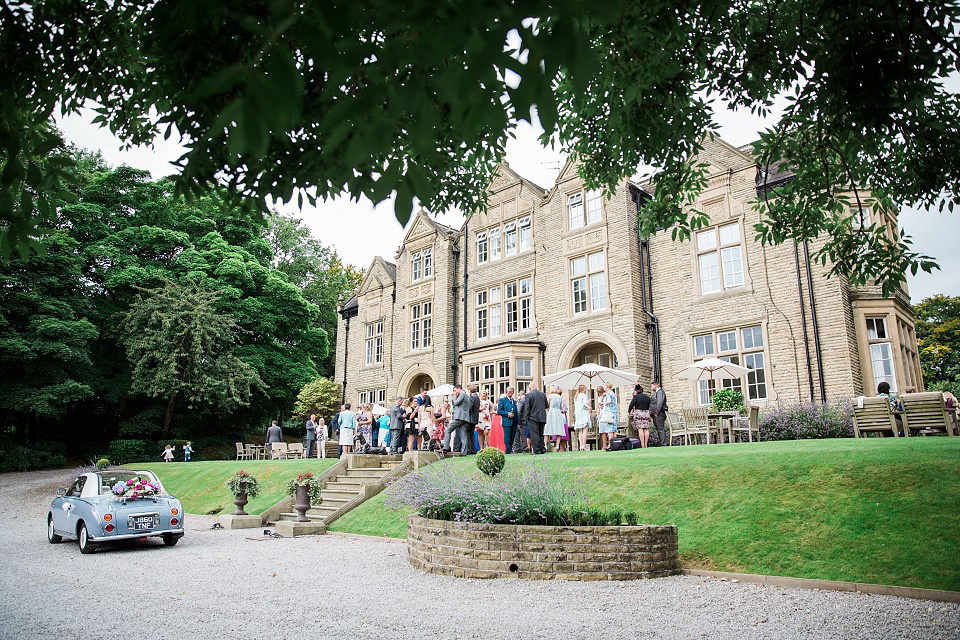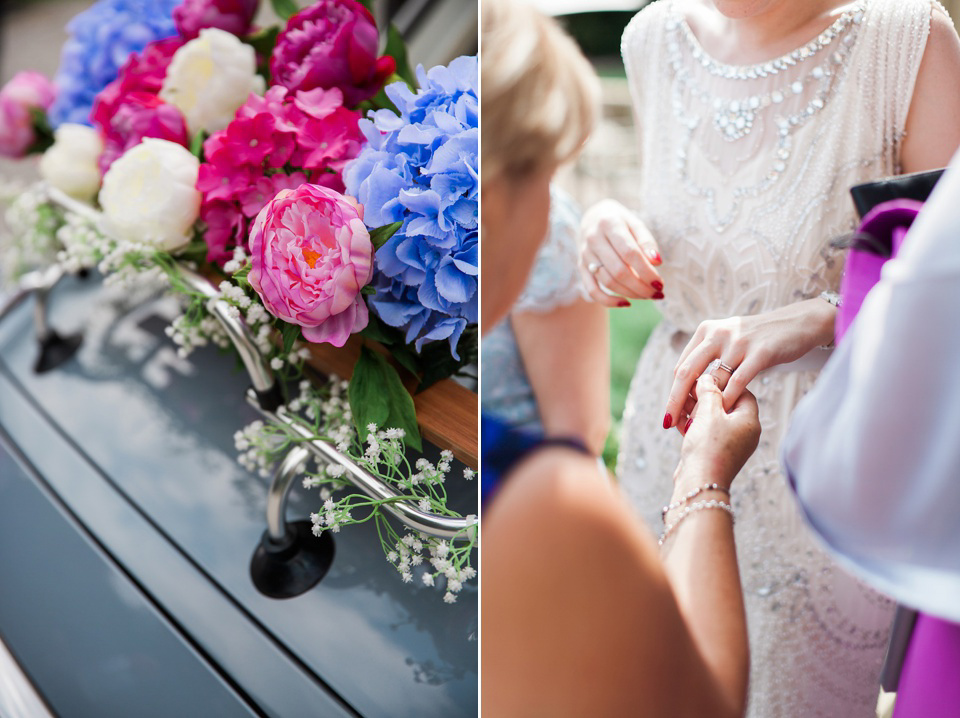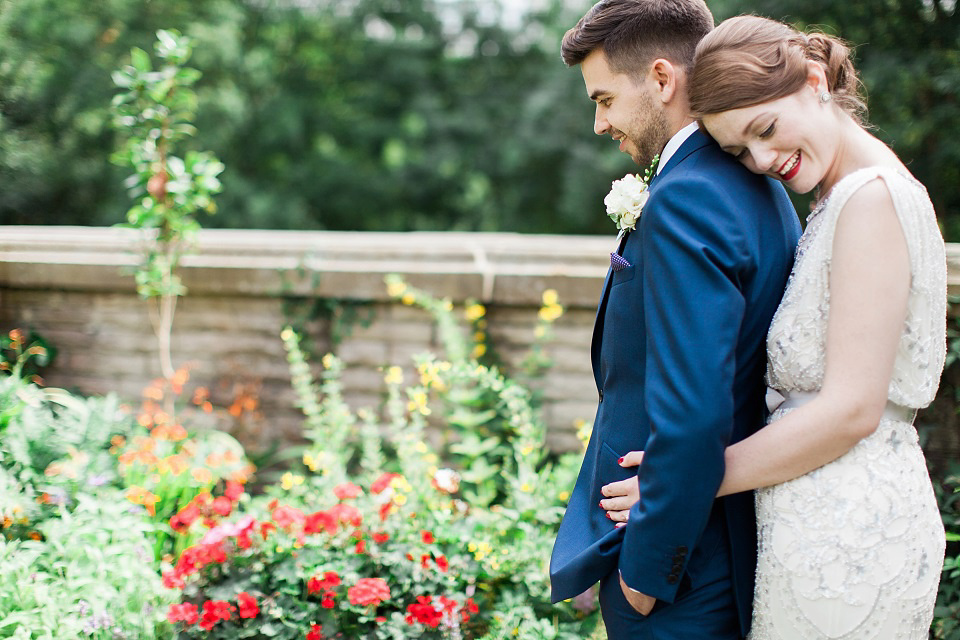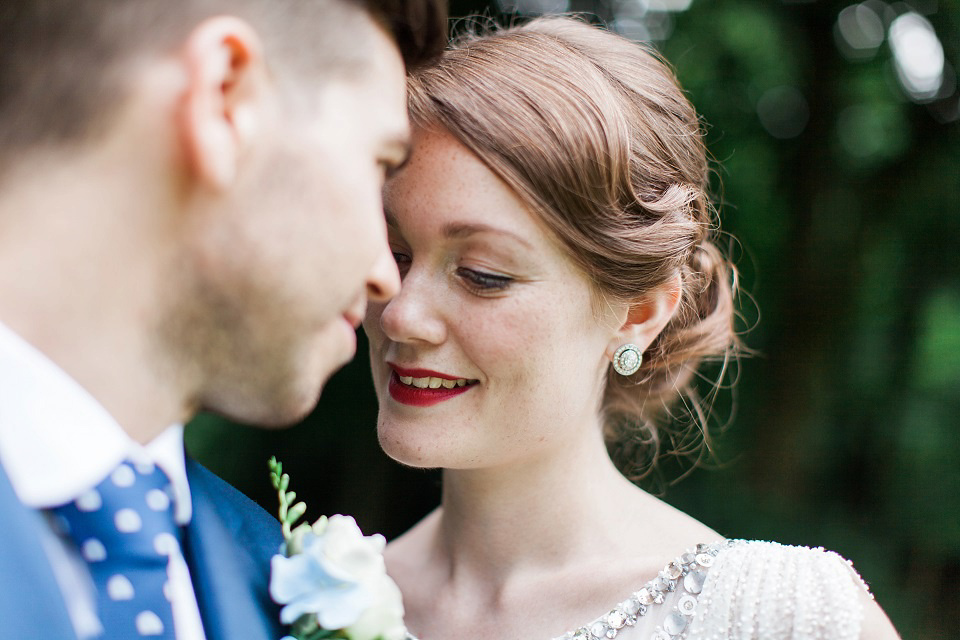 "We lined the aisle runner with blue silk hydrangea petals to echo the flowers used in the bouquet and table arrangements. The two mantelpieces in the room we held the ceremony in held photographs of our parents and grandparents on their wedding days which was a lovely way to have grandparents who are no longer with us present on the day.
To bring in the 1920's we punched love hearts out of the pages of F. Scott Fitzgerald's 'The Great Gatsby' to use as table confetti. Our evening tables featured pearls and home-made 20's style photo props. On the bar we had quotes in photo frames 1920's literature.
Our wedding cake was a simple sponge cake with white icing from Marks and Spencer. Annemarie, our florist, added flowers for colour and replaced the white ribbon with navy blue. Our cake topper was purchased from BHLDN."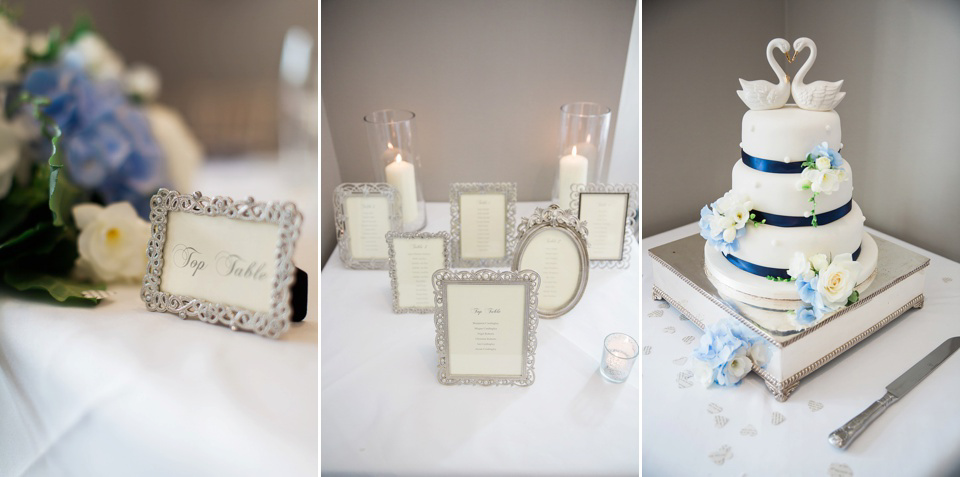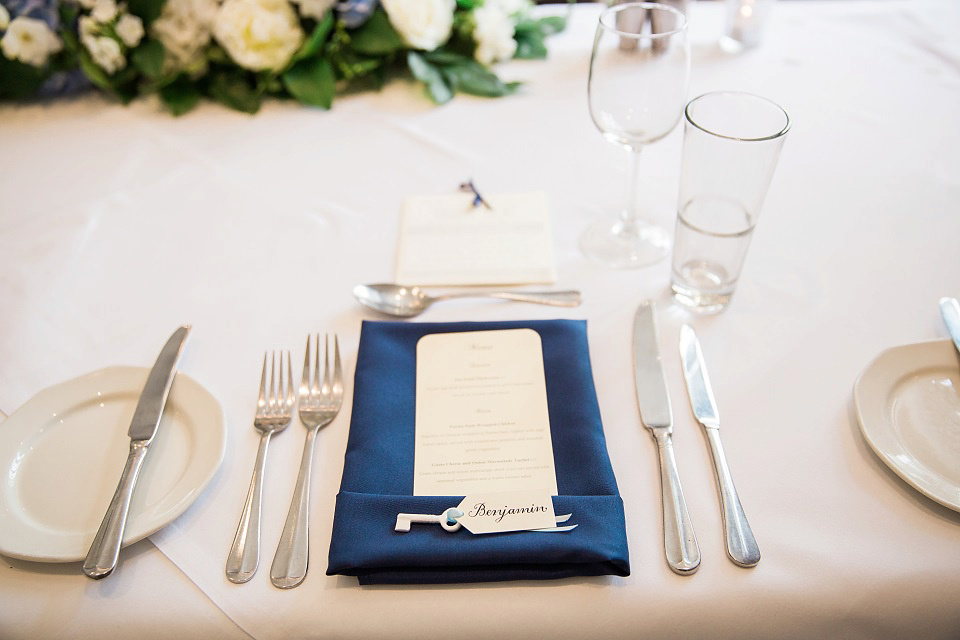 "Our favours were home-made CD's that comprised of the 8 song we used during the ceremony, 2 first dances and 10 other song that Ben and I both love. Music plays such a huge part in our lives and was a large part in our day. We spent days choosing the perfect songs, the songs that were played to our guests before the ceremony, to walking down the aisle, signing the register, our exit music and the first dances. We have quite an eclectic taste in music which was reflected in the favours. 
Our guests loved them and have told us they listen to them all the time in their cars. We have one too but we get very emotional listening to it."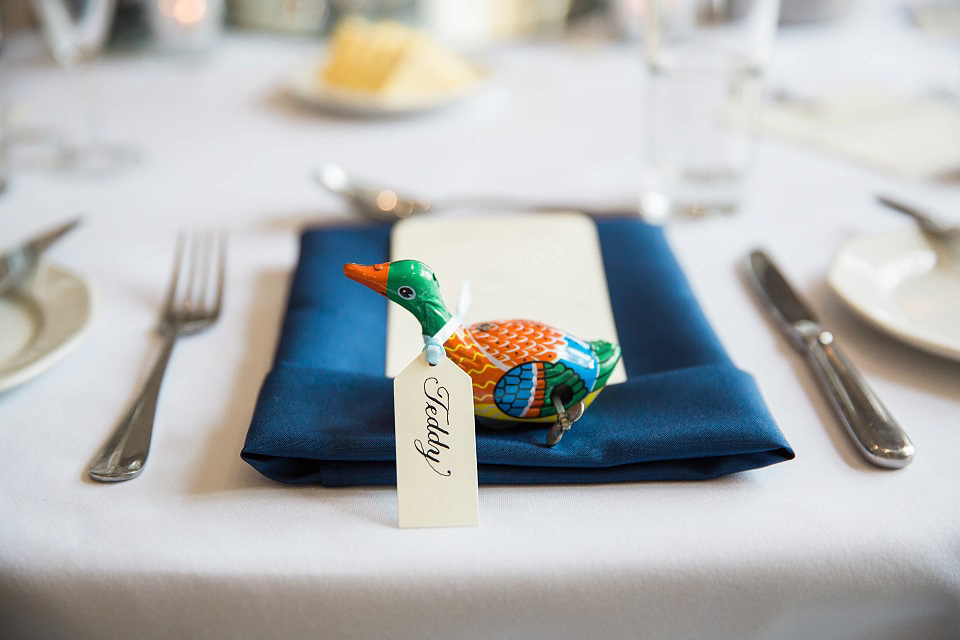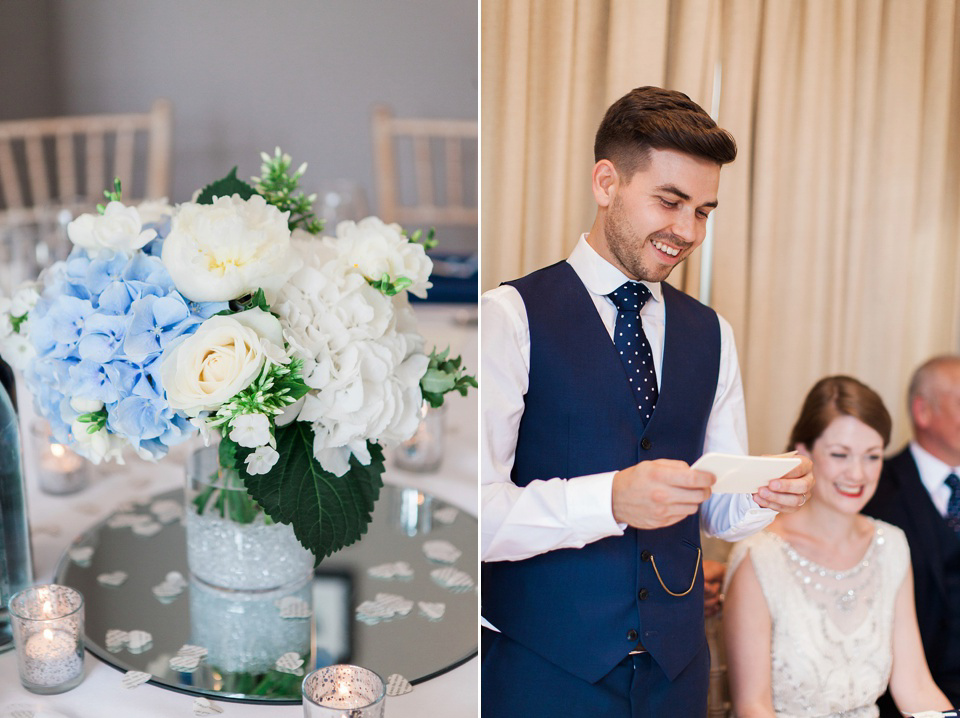 "We had the most wonderful florist, Annemarie Wilkinson. We had a definite idea of the type of flowers and style we wanted for the wedding and Annemarie created our vision beautifully.
We met Annemarie at The Woodlands a few months before the wedding to discuss what we would like. We took along one of our mood boards and talked through our choice of flowers."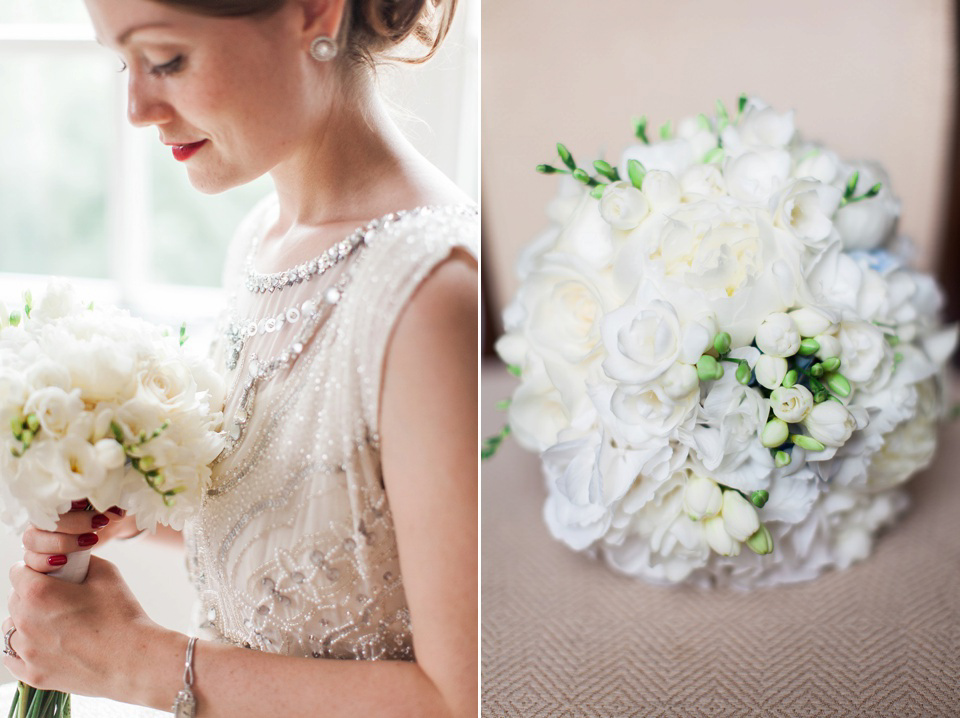 "We wanted pale blue and white hydrangea which are my favourite flower for my bouquet and flower arrangements. Both my Grandma Rita and Ben's Grandma Mary loved Freesia so we chose white freesia in their memory, it had the most beautiful scent that followed me around all day. We also asked for white peonies and Annemarie added white tea roses, white stephanosis and greenery.
The flower arrangements looked stunning and were exactly what we wanted. We were completely overwhelmed when we saw the room set up."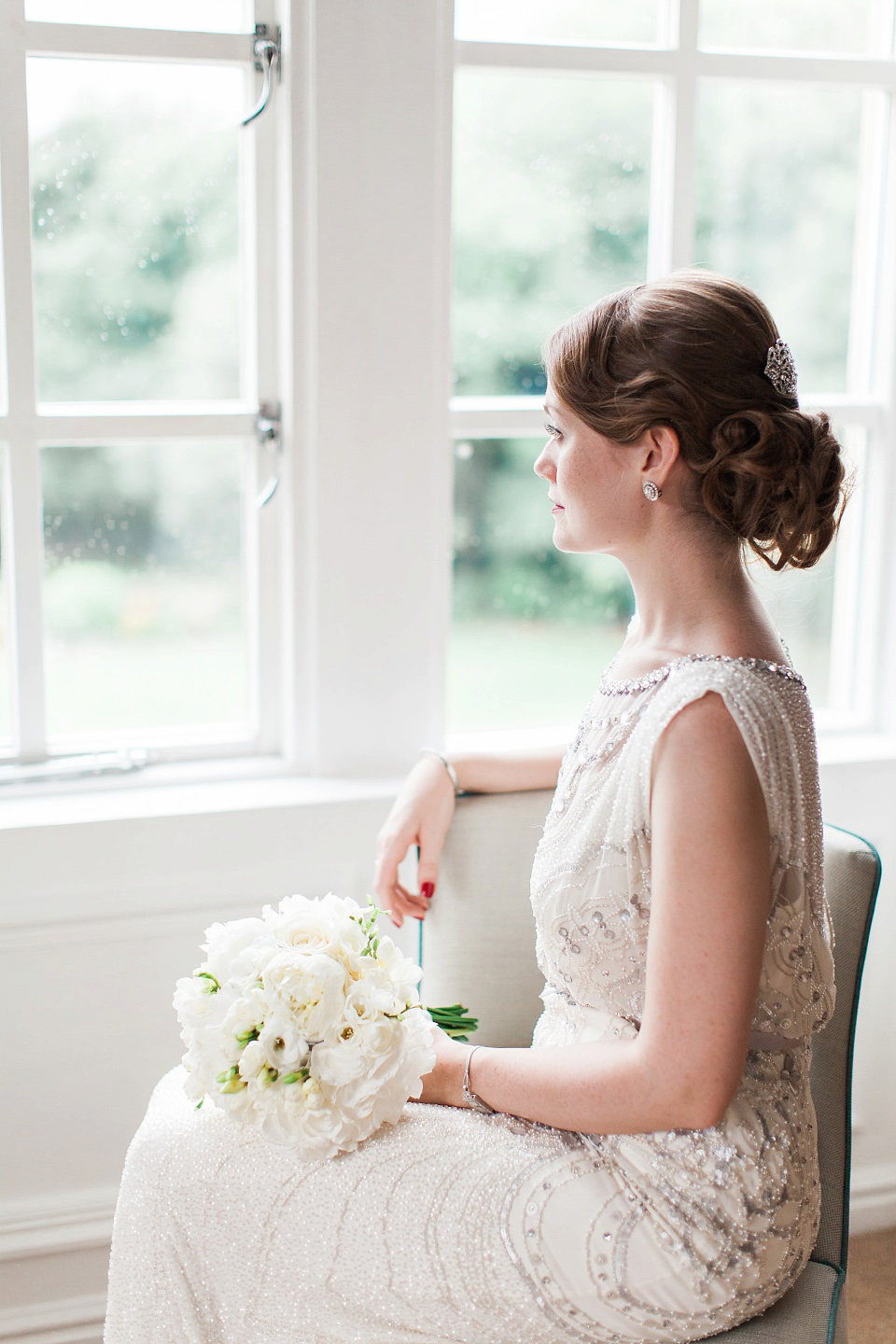 "My hair comb was purchased from Debenhams and is reminiscent of the art deco style of the 1920's. The shape of the comb was echoed in the beading on my dress."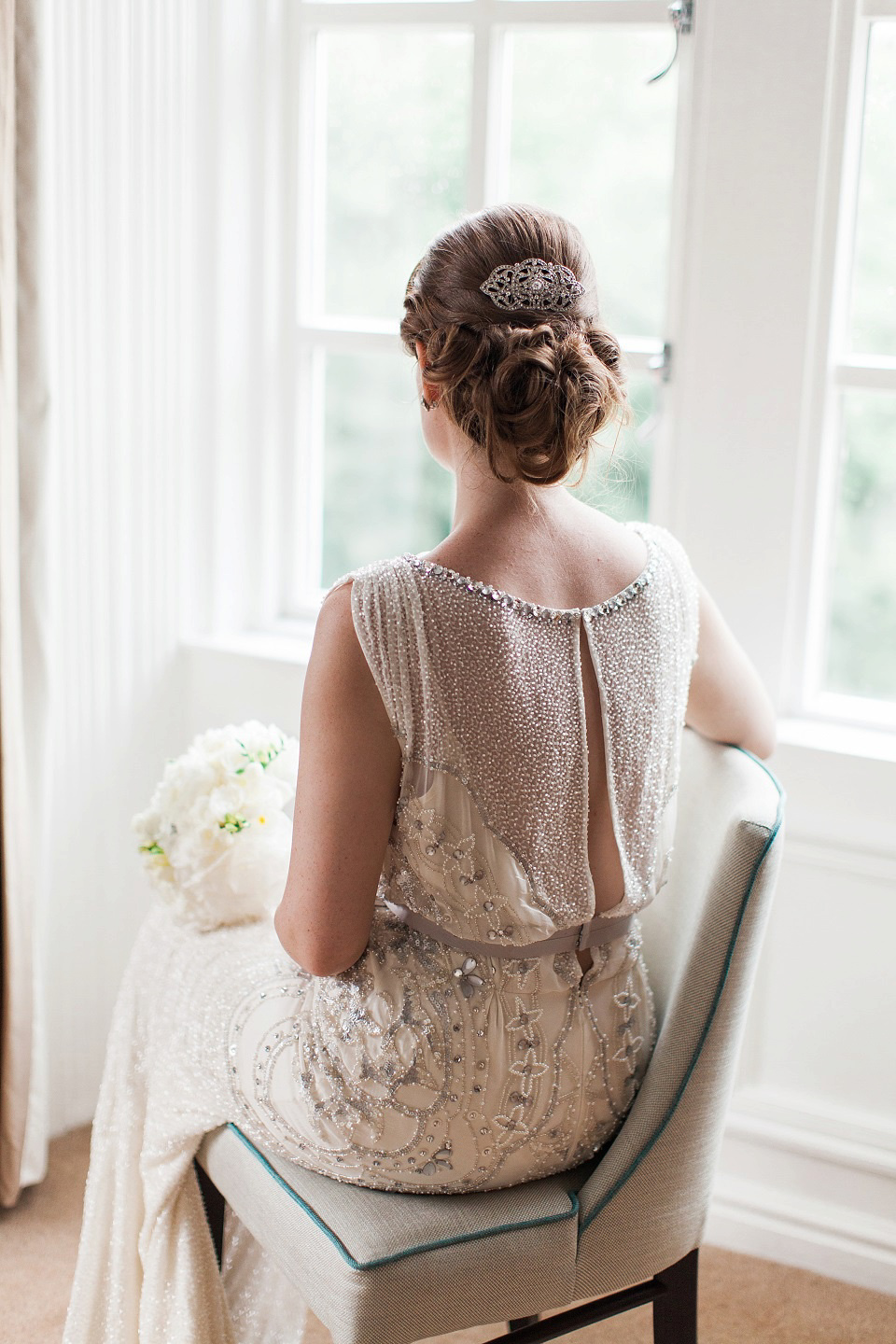 Reflecting on their beautiful day, Meg recalls some of her favourite moments…
"There are many aspects of the day that were wonderful and it is really difficult to pick any one thing. I loved the moment I saw Ben waiting at the end of the aisle. Driving to the venue and walking down the aisle with my dad are precious memories. I will never forget dancing with both Ben and my Dad. Finally, dancing in the middle of a circle of our family and friends whilst the band played 'New York, New York' was really special and reminded us how lucky we are to have such wonderful people in our lives.
I think because we had a long time to plan, a definite idea of what we wanted and a firm budget, we managed achieve a perfect day and wouldn't change a thing."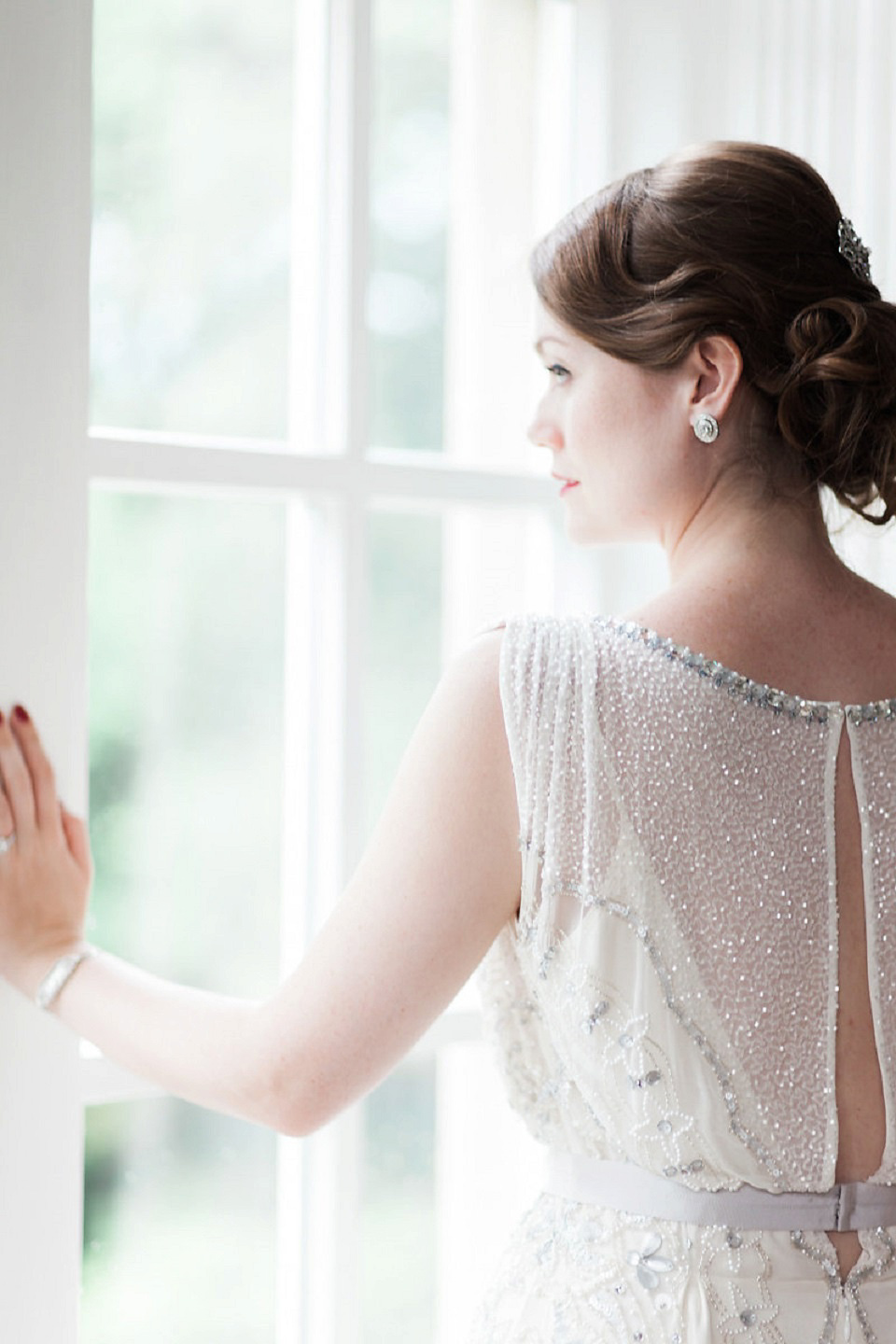 "We didn't want to be a couple that just hung off each other on our first dance, so early on we decided to learn to ballroom dance, which we did for almost a year. Only a handful of our guests knew that we had been learning so on the day it was a huge surprise. Ben and I danced a foxtrot to The Maccabees 'Toothpaste Kisses'. We are both huge fans of The Maccabees and this song has the most beautiful lyrics. It was really difficult to learn as it's not a natural foxtrot beat, but we had a wonderful teacher in Sharon, who was really patient with us, especially when we all got the giggles.
My dad and I danced also a waltz to Henri Mancini's 'Moon River', featured in the film Breakfast at Tiffany's. It is a song that reminds my family of me due to my fondness of Audrey Hepburn. It was really moving and had a lot of our guests in tears. I can't listen to the song without welling up myself now.
Ben, my dad and I started dance lessons a year before the wedding, learning to waltz and foxtrot, but when I picked my dress up, it dawned on me that it would be impossible to even attempt the routines without damaging the delicate beading, so a second dress was bought from Debenhams.  This gown also had a 1920's feel to it. As a budget wedding dress it fit beautifully, again the detailing at the back was very elegant and it allowed me to dance with Ben and my Dad."
"Ben would probably agree that I am a bit of a music snob, which made it quite difficult for us to find a DJ that we liked and who wouldn't play cheesy pop. We had spent hours searching the internet to find the perfect DJ before we came across Phil Lyons and the New Vintage Band. They played such a wonderful range of music from Jazz to Big Band, Swing to 1950's Rock 'n' Roll and Soul hits of the 1960's. They were an instant hit for us and we even managed to see them perform prior to our wedding which made us even more excited. We didn't mention to our friends and family that we were having a band as we thought it would be such a fabulous surprise on the day for our guests. Everyone commented on how fantastic they were, they were perfect for those who wanted to get up and dance or those who wanted to sit and watch a show.
They played a two hour live set followed by a DJ set. Phil knew our music likes and dislikes and welcomed song suggestions. We can't recommend them highly enough!"
Words of Wedded Wisdom…
"The best piece of advice I received was to take moments throughout the day to stop, look around and occasionally smell your bouquet. The day goes so fast and you do need to take time to just take it all in. The best piece of advice I can give is that as a bride it is so easy to get carried away in a wedding whirlwind but don't forget about your groom, after all it is his day too.
The only blog that I visited was 'Love My Dress' as I found it so beautiful and full of ideas. I read one particular post titled 'Paper Cranes, Books, A Beehive and Glasses: A Stylish Literary Inspired Wedding', which inspired me to decorate my Nissan Figaro car with flowers. Love My Dress is user friendly, beautifully presented and I love being able to search by era or dress designer etc. – I spent quite a while looking through the 1920's style weddings and other Jenny Packham brides and their weddings."
So absolutely beautiful and so sensitively captured in images too. Cat, you have done the most wonderful job, but I'd only ever expect such loveliness from you – you truly are a talented and wonderful photographer. Readers, if you love Cat's images as much as I do, you can find out more by visiting Cat's website or her page in our wedding directory, Little Book For Brides.
Have a good morning all – we'll be back this afternoon with something creative to inspire you.
Love Annabel x
Photographer – Cat Hepple
Venue + Catering – Woodlands Hotel in Leeds
Wedding Dress – Eden by Jenny Packham
Headpiece – Debenhams
Shoes – Kurt Geiger
Perfume – Chanel No.5
Grooms Suit – Reiss
Bridesmaids – Adrianna Papell gown via House of Fraser
Page Boys – Marks and Spencer
Florist – Annemarie Wilkinson
Cake – Marks and Spencer, topper via BHLDN
Transport – Bride's own Nissan Figaro
Entertainment – Phil Lyons and the New Vintage Band
Rings – Philip Stoner