Firstly, as this is my last feature of 2015, let me wish you all the happiest Christmas – I hope that whatever you're doing over the coming weeks, it's all kinds of brilliant. I'm signing off for the festive season in fine style today because I have the absolute pleasure of introducing you to the brand new bridal Capsule Collection from the super talented designer, Andrea Hawkes (who by the way we are very proud to recommend through our wedding directory, Little Book For Brides).
Back in August, I wrote this piece all about the exquisitely luxurious hand made wedding gowns from Andrea Hawkes and then I fell in love with the classic simplistic shapes that are all given a modern twist and made with the finest of fabrics. Now, the Capsule Collection is adding another layer of brilliance to the Andrea Hawkes label.
Focused on slightly relaxed shapes with strong lines and outstanding attention to detail, the collection offers five delightful designs that continue Andrea's reputation for classic beauty and a fashion forward approach. Of course, every piece is still made from completely natural fabrics all finished with couture techniques. It's just heaven.

The Capsule Collection was inspired by the bespoke dresses that Andrea Hawkes has made for brides this year and these new designs sit perfectly alongside the main collection giving you more style options:
"The great thing about our collection pieces and service is that all our dresses can be made with more 'bespoke' adaptations if desired or you can 'keep it simple' as per the sample," explains Andrea. "We're a skilled, flexible team and we love giving tailored options to our brides. We really wanted to offer brides a lighter dress feel but retain quality, natural fabrics with craft and fit, all made in London."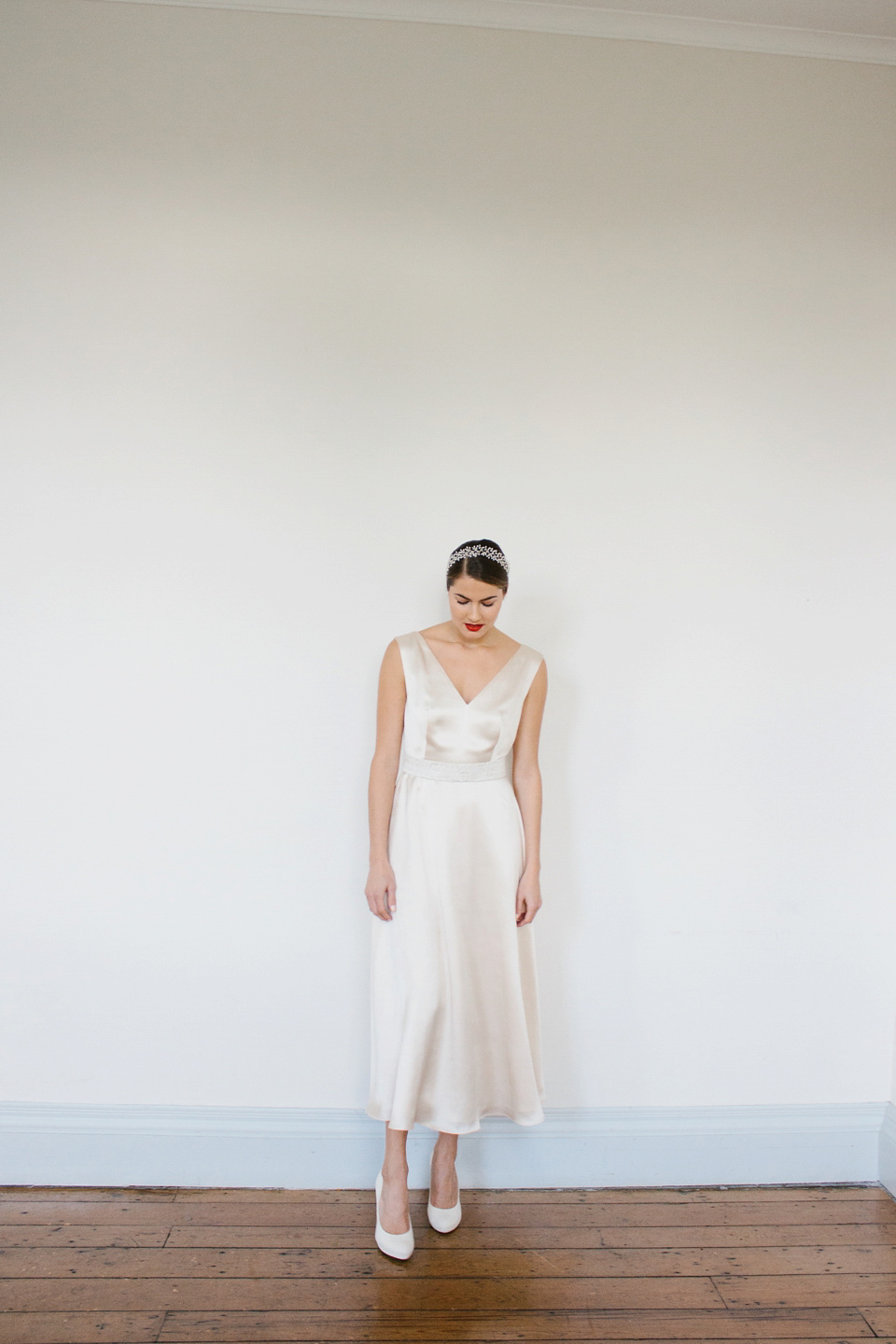 So, what awaits you in the new Capsule Collection from Andrea Hawkes? Well, There's 'Freya', an ivory silk satin crepe gown with a French corded lace panel, matching hand made silk and a lace belt. I love 'Vero' in muted grey silk satin crepe as that column shaped dress with the open black slit is just perfection.
'Elise' with an A line design in ivory double silk georgette and contrasting sea pearl coloured belt is so classically elegant and the bridal separates of the 'Poppy' skirt and 'Rowan' ivory silk jersey long sleeved fitted t-shirt combine current trends with timeless style.
"There is nothing throw away about our style and we love a look that is truly timeless," says Andrea. "Our brides have an appreciation for perfection on a really understated level. It's all about 'less is more' but done to absolute perfection. I love it when a girl just wants to strip something back and focuses on a fine detail such as seams, neckline shape or the detail of proportion. Our brides have an appreciation for quality and love a modern aesthetic."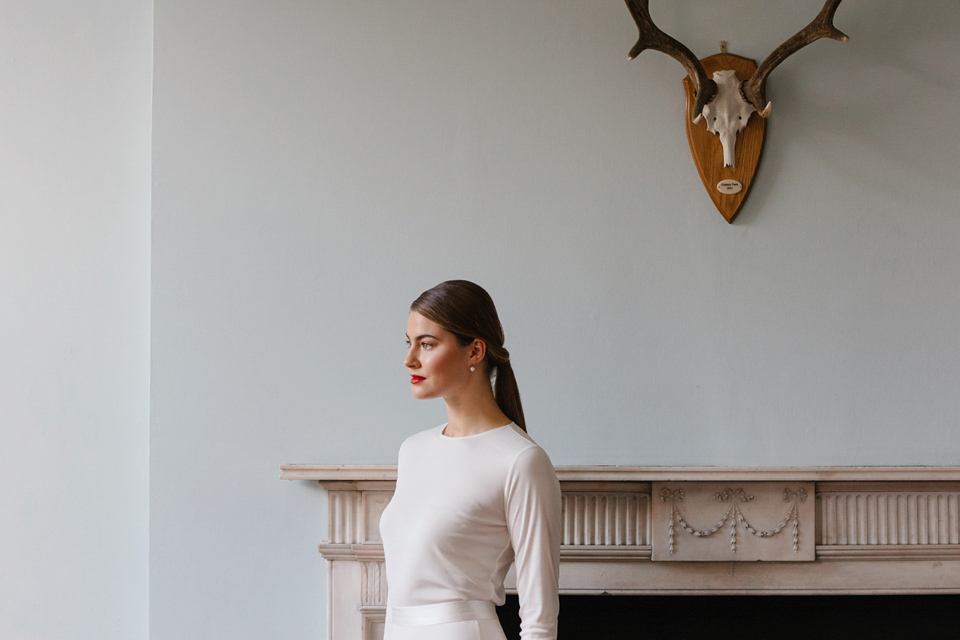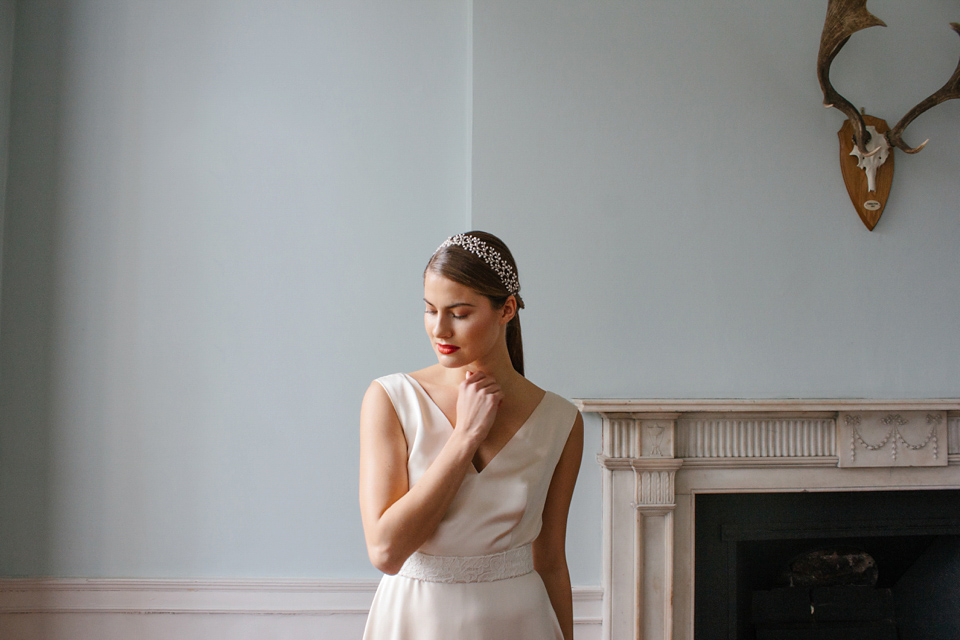 As always, you can expect superb service from Andrea Hawkes and indeed, their whole ethos is built around delivering an exceptional, personal experience. From your relaxed first appointment where you can try on the collections and discuss different options through to your toile and gown fittings and even being dressed by the Andrea Hawkes team on your wedding day, it's a unique process that's completely tailored to you. What a treat.
The shoot we're sharing with you today is a fabulous showcase for the new Capsule Collection from Andrea Hawkes. Shot at the stunning Clissold House in Stoke Newington, London, the team has certainly succeeded in their aim of creating warm and natural images that give the feel of a bride on her wedding day. The location couldn't have been more perfect as a number of Andrea Hawkes brides have said their vows at this London venue and it's certainly the right backdrop for these extraordinarily beautiful gowns.
The Capsule Collection from Andrea Hawkes is now available to view at their London boutique and will be with their stockists from mid 2016. Offered in Standard UK sizes, made-to-measure or bespoke designs from key shapes, The Capsule Collection is made using 100% European Silk and French Lace, including linings and finishes. All garments are hand made in the London studio and the collection ranges from £1650 to £2050.
For more information on wedding dresses from Andrea Hawkes, do take a look at the website. Here you'll find details of the full collection and lots of gorgeous real brides. If you'd like to get in touch to arrange an appointment at the London boutique, simply get in touch with the team via [email protected] or on 020 7837 0759 and they'll be thrilled to help you.
You can also keep up to date with the latest from Andrea Hawkes on Instagram, Facebook, Twitter & Pinterest.
Love,
Tamryn x
Venue – Clissold House
Photography – Ellen Williams
Hair Accessories – Kelly Spence
Shoes – Emmy London
Wedding Ring – EC One