Happy Monday lovelies – how you doing this Monday afternoon? I'm so delighted to be sharing this wedding with you as we count-down towards our little Christmas blogging break. Kate and Joe married in a flower filled outdoor ceremony on Joe's family farm in Northumberland in June this year. I love a wedding in a location so personal to the couple and Kate and Joe are clearly outdoor people so really, what better setting? And this is the second time we've had a gorgeous flower-dog almost steal the show in the past few days!
These lovely photographs were taken by Anna Urban, who is a member of our wedding directory, Little Book For Brides.
"Having the wedding at Joe's parent's home (where we also live at present) meant we could do it our way and have exactly the kind of day that we wanted. We are keen gardeners and so liked the idea of having our ceremony in the little garden we have made together by our cottage and it was lovely not to have to go anywhere on the day."
Photography by Anna Urban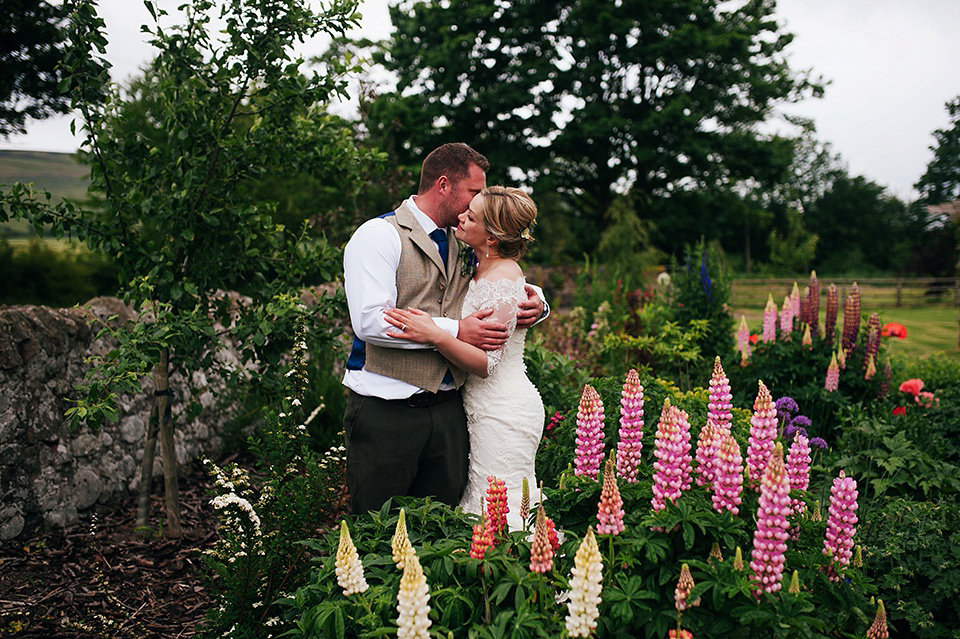 "We just picked lots of things that we liked and hoped they would go together. I wasn't sure it was going to work until we decorated the marquee and the flowers arrived. The most important thing to us was that it was relaxed and fun for our guests."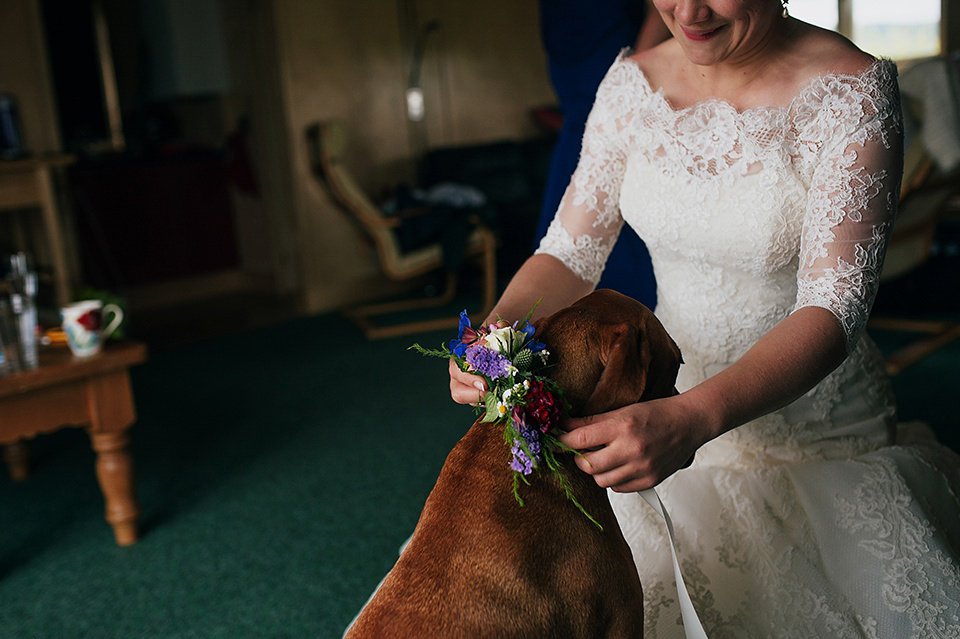 The bridesmaids wore beautiful bright blue frocks from Karen Millen, paired with their own shoes and jewellery.
"We did our own make up. I spent a day in Glasgow with one of the bridesmaids buying some new makeup. I don't get to wear it on a daily basis so it was a perfect opportunity to restock. We had such a fun day although I think the girl at the make-up counter must have despaired at my lack of knowledge. My bridesmaid said it was very stressful watching me practice but it was ok on the day!"
Kate and Joe chose Scotland based photographer Anna Urban to capture their big day. I just love her style and her outdoor wedding shoots in particular are spectacular. While browsing her website I discovered the engagement shoot she did for our couple, which is stunning, and brings to life the rugged shapes and rich colours of the Northumbrian landscape perfectly.
"Anna did a great job. Anna provided beautiful photos of everyone having fun and I don't think we spent more than 15-20 minutes walking round the garden for photos whilst everyone was being seated for dinner. We didn't feel we missed out on time with our guests at all. The photos really capture the mood of the day and will provide happy memories in year to come."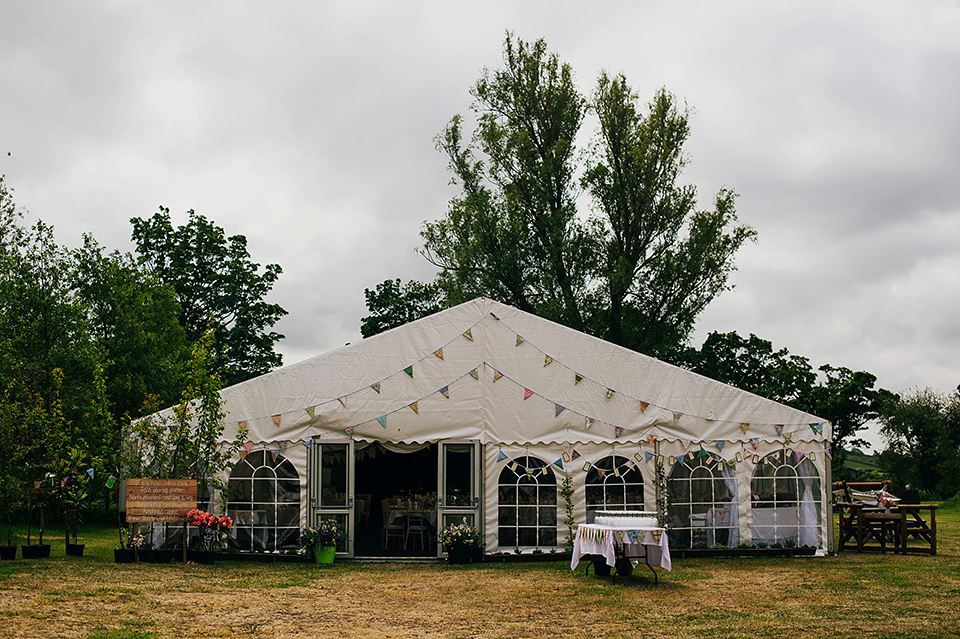 Like so many modern couples, Kate and Joe met online, via dating website eHarmony.
"I hated the idea of internet dating when I first joined the website but the way life was and with the hours I worked I was never going to meet anyone single and suitable otherwise. We had our first date at Tinto Hill where we went for a walk. Joe had promised to bring a picnic and I was expecting a few sandwiches but he turned up with a three course feast including cheese from the local dairy, homemade drop scones and homemade elderflower champagne.
I couldn't not see him again after all the effort and after a couple of years driving backwards and forwards between Northumberland and Ayrshire every weekend we decided it was time to move closer together."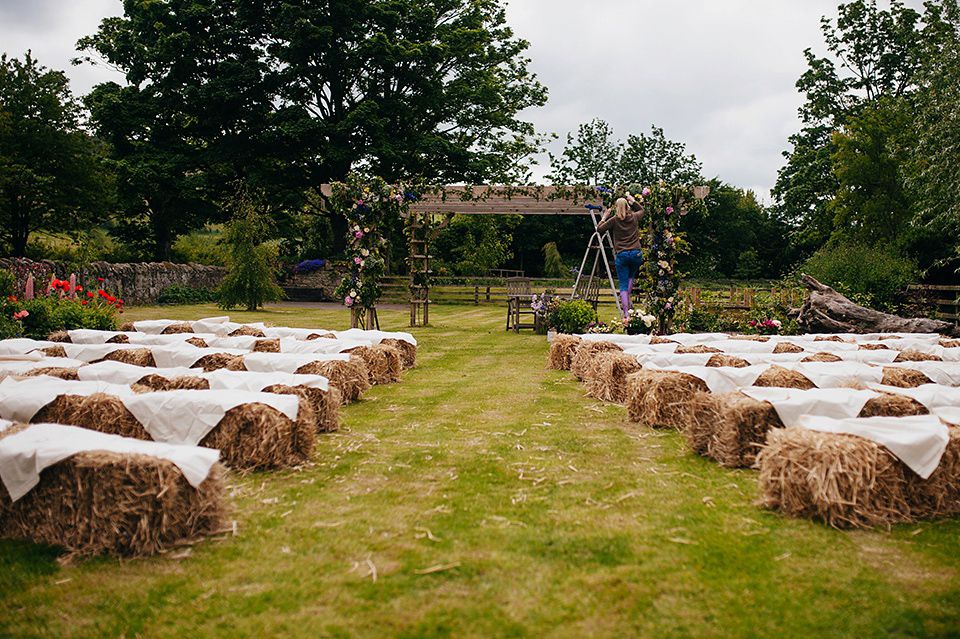 The couple hired a local florist, Jennifer Ord, to provide all their flowers. Sadly we do not have a website or contact details for Jennifer.
"Jen has done a couple of local weddings and I have always loved what she has done. I knew whatever she did I would love it and so I gave her some colour preferences and we went through some bouquet shapes and I left the rest to her. She knew I liked garden flowers and didn't want anything too formal.
I asked her to make corsages for my very best friends and Joe's sister, mum and nana so I sent her a list of the colour of their dresses and she designed them to match. She also decorated the two arches in the garden for us and made a posy for our dog's collar.
The rest of the flowers around the marquee and on the tables were all from local gardens. Joe's Mum and a couple of her friends spent Friday morning raiding friend's gardens and we ended up with the most wonderful pile of brightly coloured flowers which made the marquee beautiful."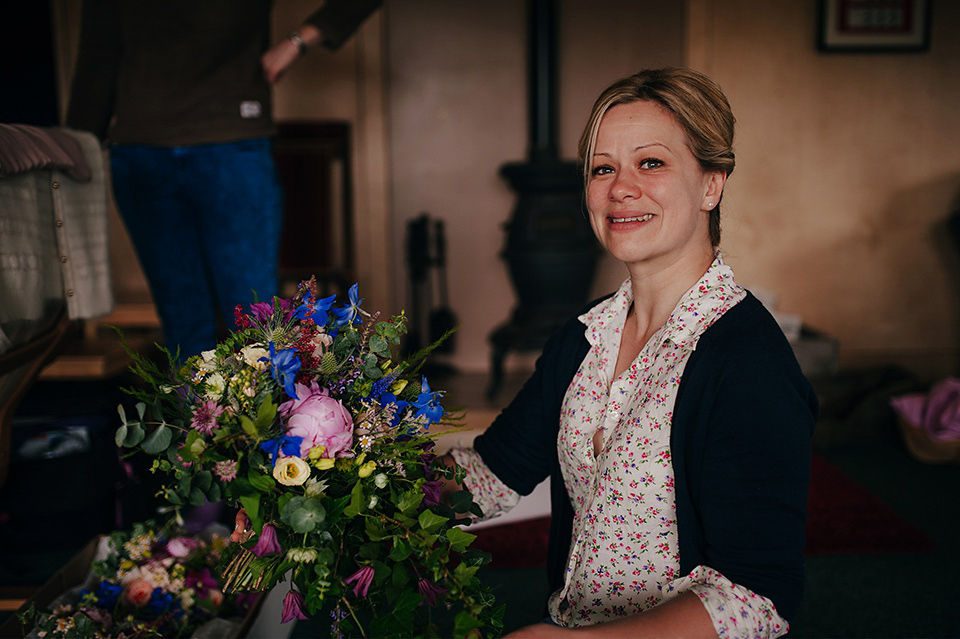 "I had some shoes made in my family's tartan by Upper Street– I bought the material and sent it to them to be made up. They provided excellent service and I will definitely wear them again; they will be great paired with skinny jeans!"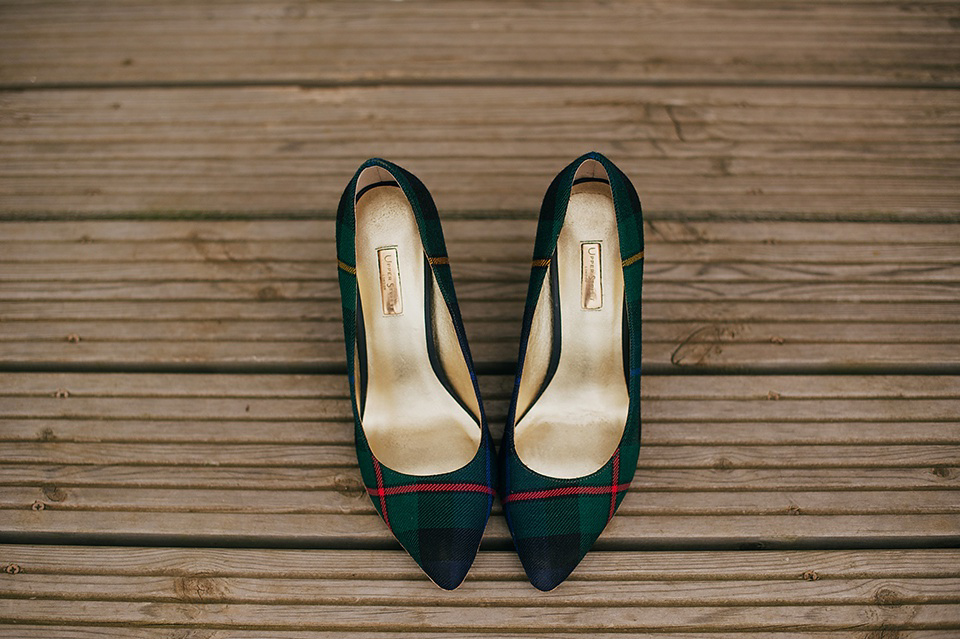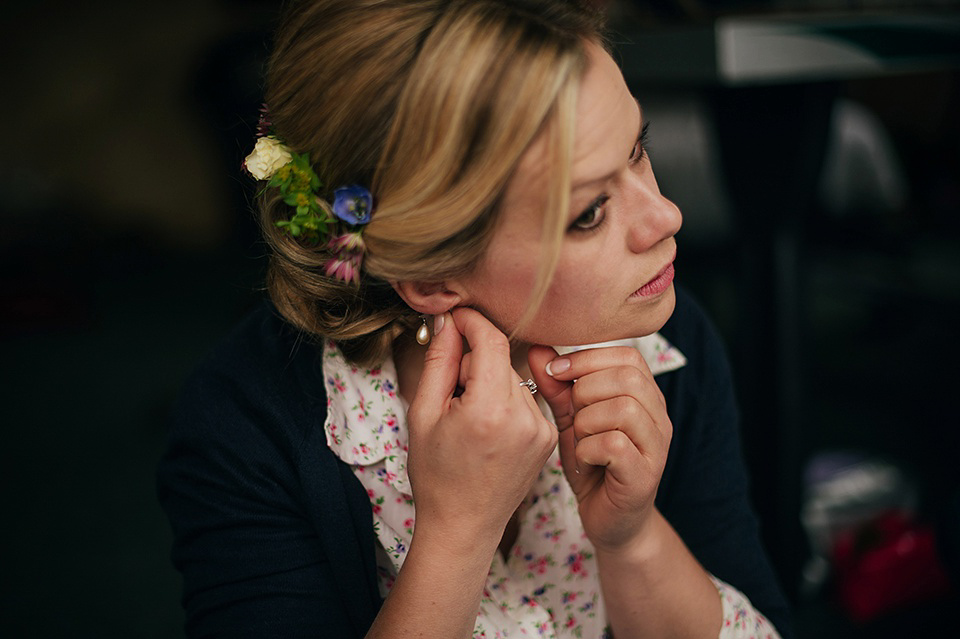 Kate's wonderfully elegant dress was the work of international brand Enzoani, purchased from
. As an equine vet, Kate spends most of her working life in a boiler suit, so dressing up in such a fabulous dress must have been a wonderful treat. Kate worried that it was too fancy for a garden wedding but I actually love the juxtaposition of the glamour of the dress and the rustic setting, and of course, it helps that she looks a million dollars in it! All those little buttons down the back… and that lace… sigh…
"The shop where I bought my dress is in the village I grew up in. As we were not having the wedding in Ayrshire it was nice to get my dress from there.
I went to the shop with no preconceived ideas of what shape I wanted. After trying on quite a few dresses the assistant paired one of them with a jacket and I fell in love with it. After that we looked for a dress that went with the jacket and the Dakota dress was the one. I had a bit of a stress about it when I went home as it seemed very grand for just walking down the garden but my friends reassured me it was the right one and on the day I absolutely loved wearing it. My dog thought it was great too; she spent most of the day curled up sleeping on the train! It wasn't terribly easy to ceilidh dance in but I had a good go."
"Joe hates to be too hot so we decided early on that he was not going to wear a morning suit. After a bit of thought we opted for some tweed waist coats from House of Bruar for both Joe and his two best men- all similar but different colours on the back and slightly different tweed.
By chance the blue on the back of Joe's went well with the colour of the bridesmaid's dresses which tied in nicely. They just paired them with white shirts, we got some woollen ties to match the backs of them and they picked their own trousers. We just wanted them to be comfortable."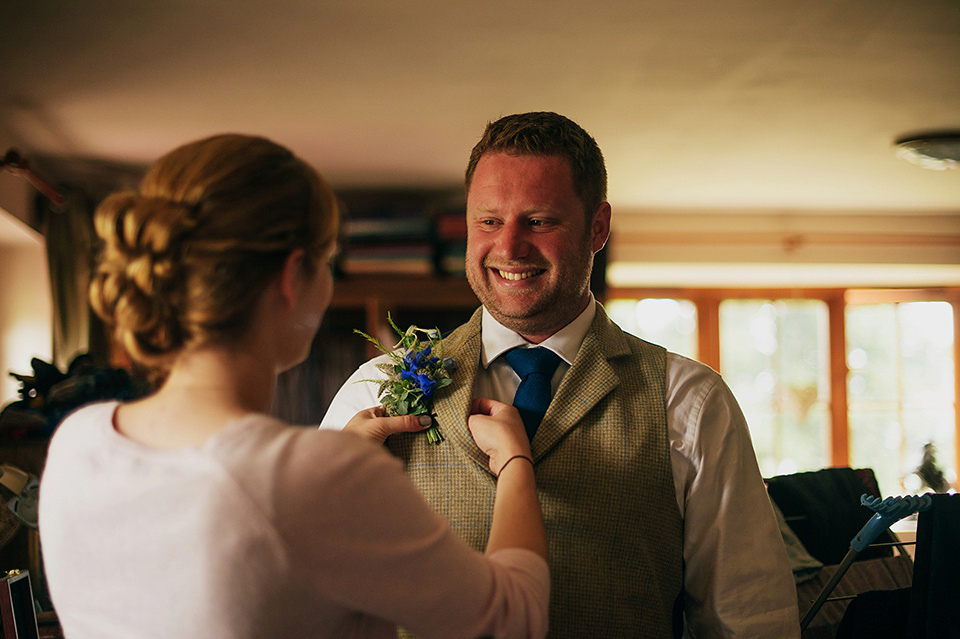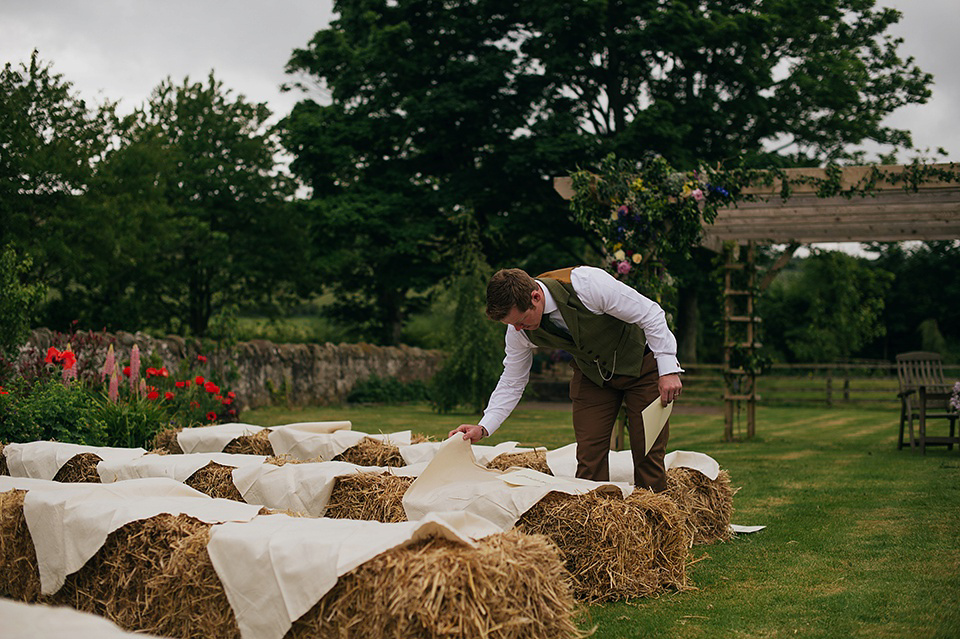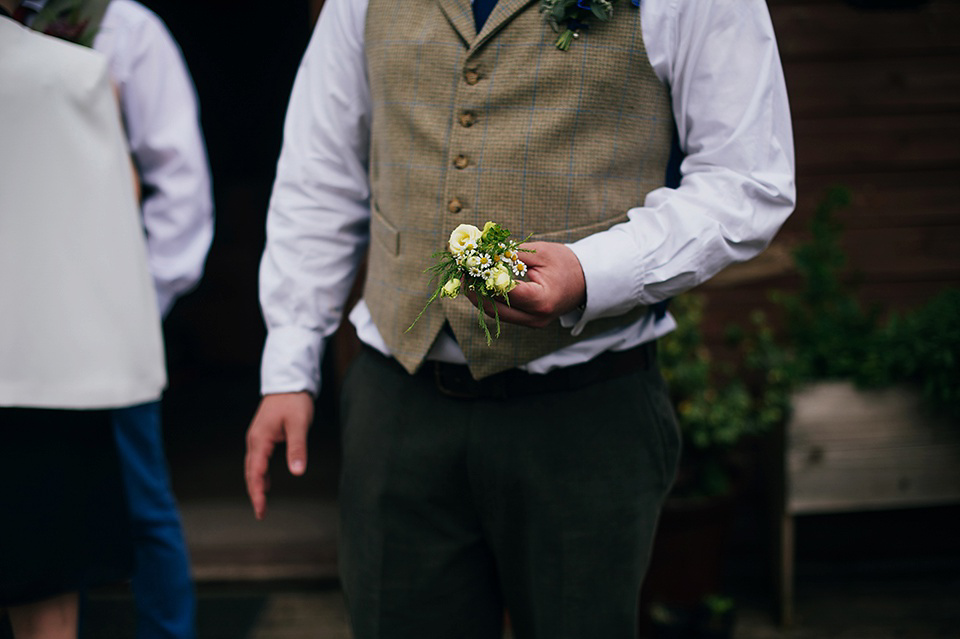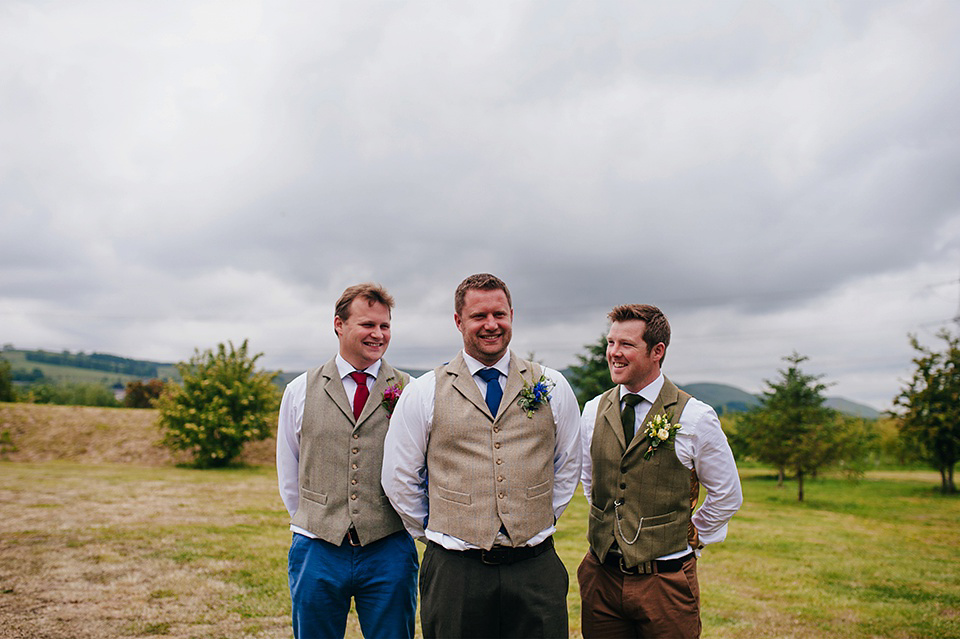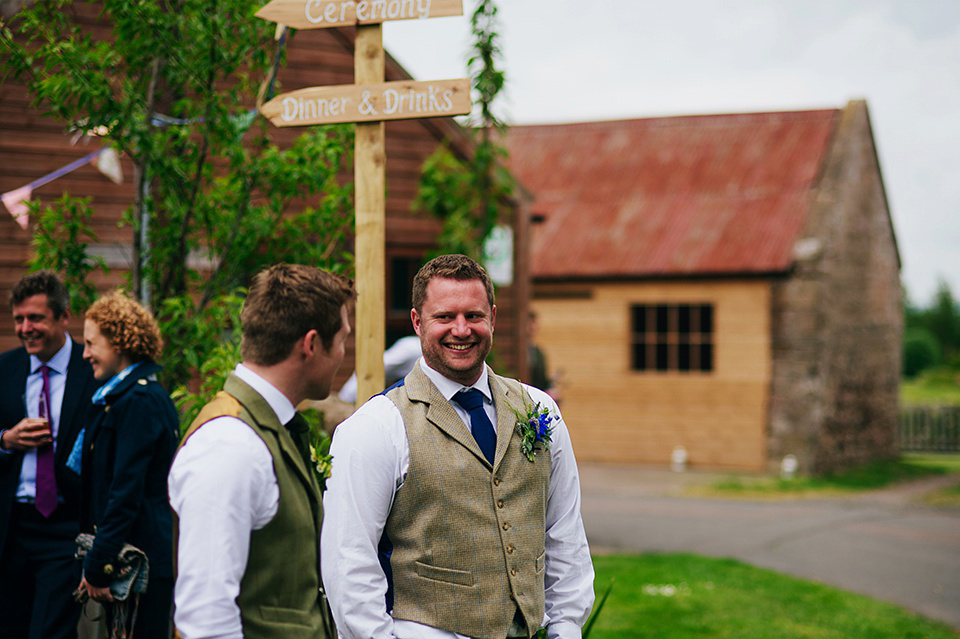 "We had a humanist ceremony in the garden with everyone seated on straw bales. We put a marquee up in the paddock next to the cottage and so guests only had to walk about 100 metres all day."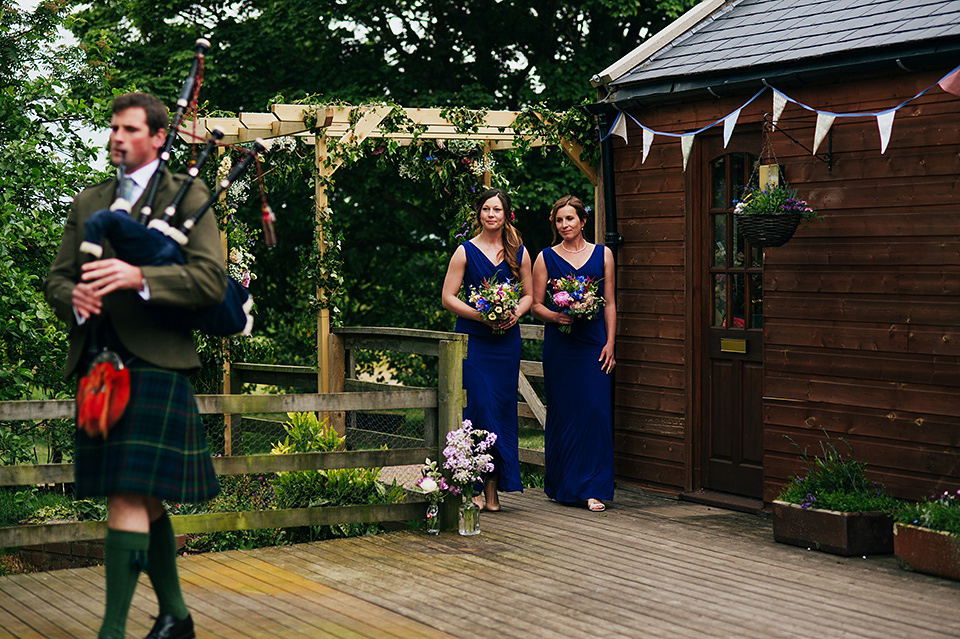 Kate was walked down the aisle by her delighted younger brother, to the Scottish bagpipes, played by as friend of Joe's. They nearly made Kate cry, but an amusing accident saved the day…. 
"I love the pipes although they always make me feel a bit emotional. I was feeling a little teary when I got to Joe but as we turned round we saw straight up the kilt of his younger brother who was sitting in the front row. This made both of us giggle and there were no tears, just smiles."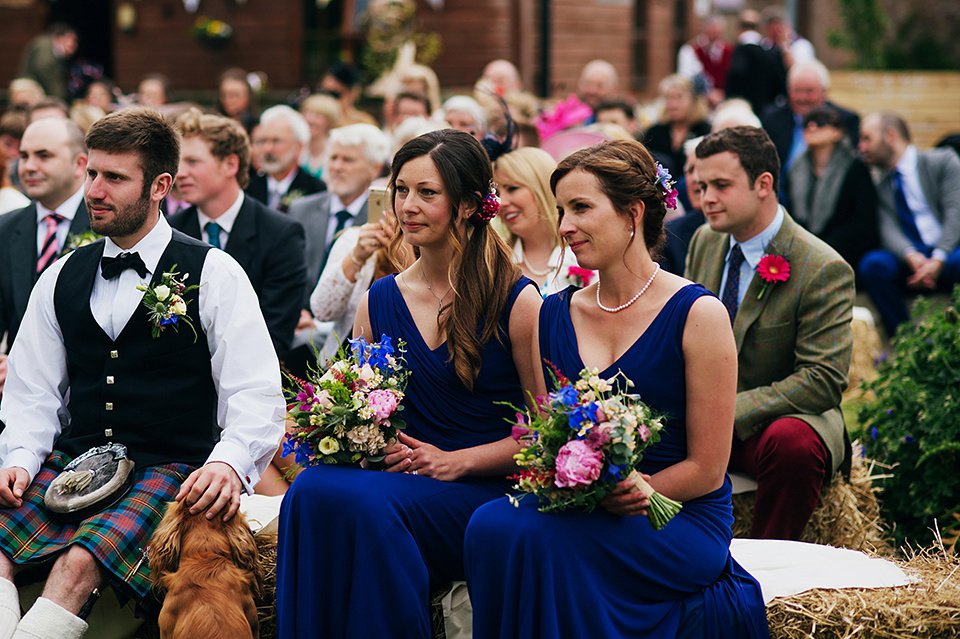 The couple personalised a famous poem as their reading, and I just love the outcome. 
"Joe didn't want anything soppy but did like Pam Ayres poem, 'Yes, I'll marry you' so we tweaked it to suit us and I sent it to two friends who made a couple more changes and then read it for us during the ceremony."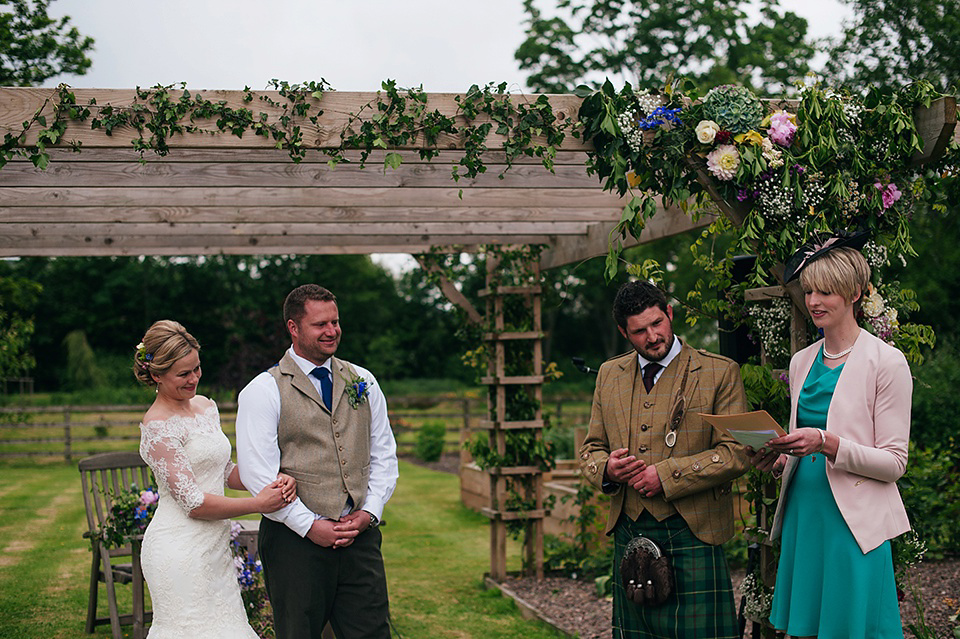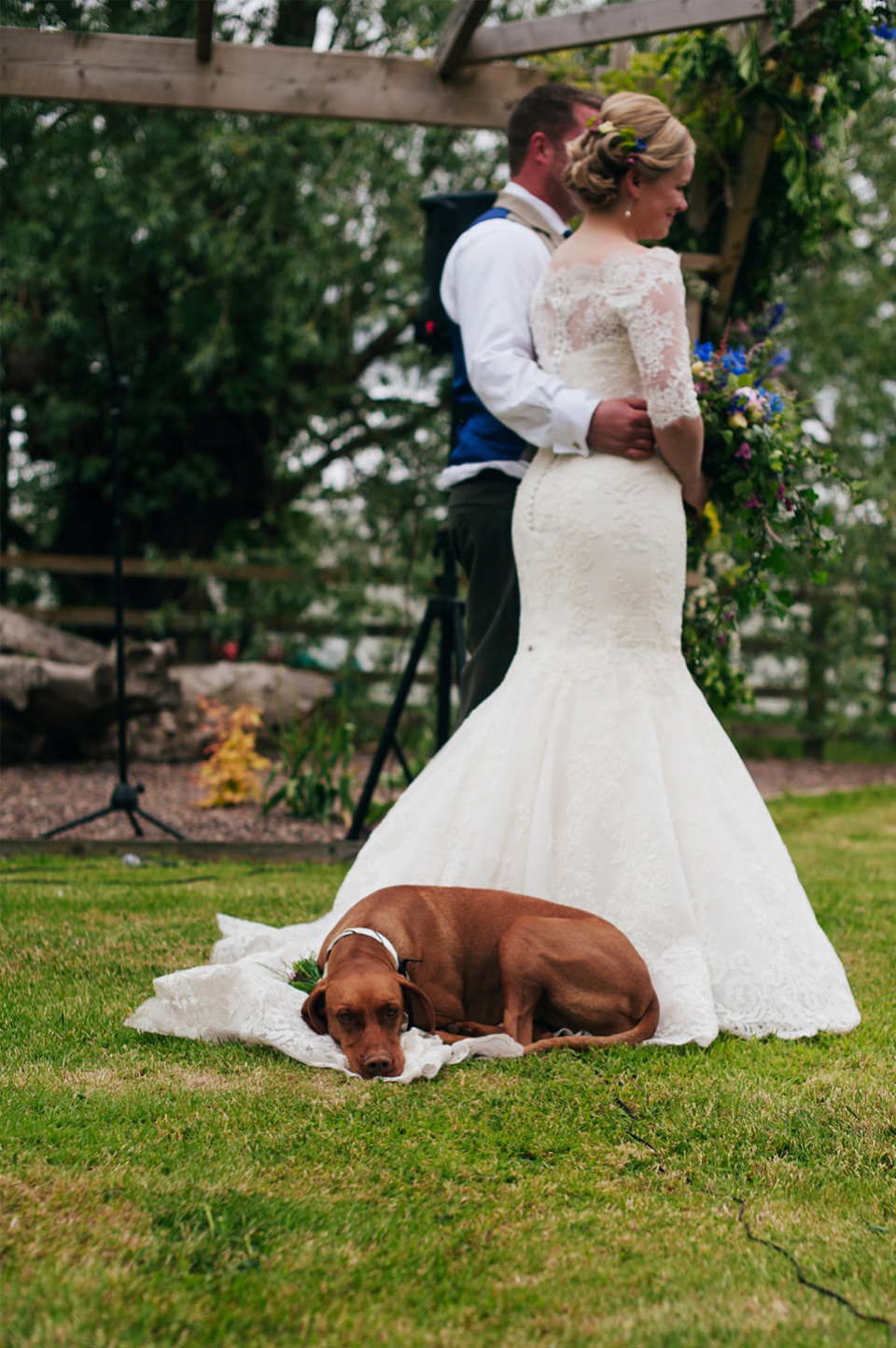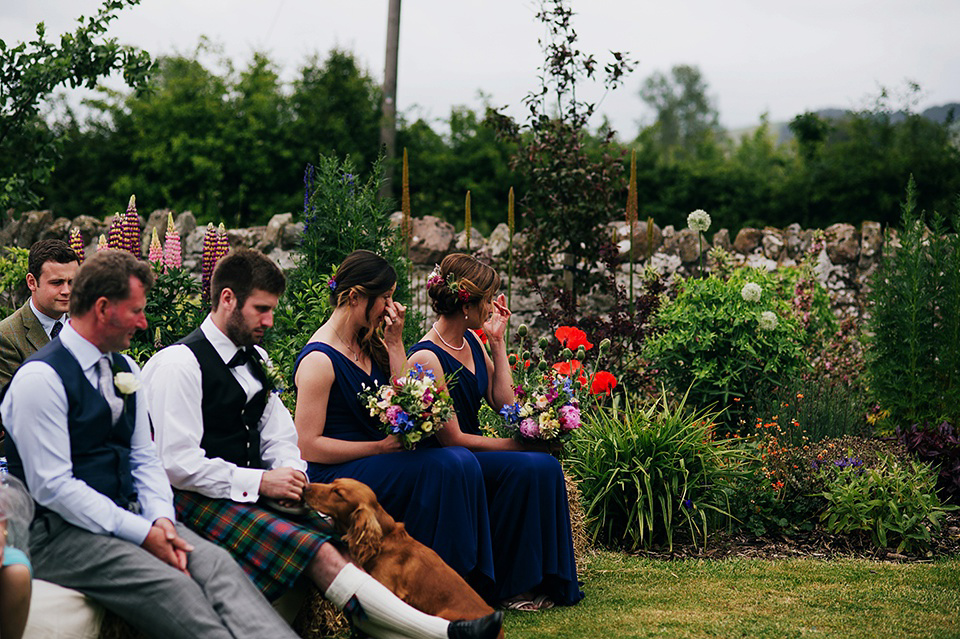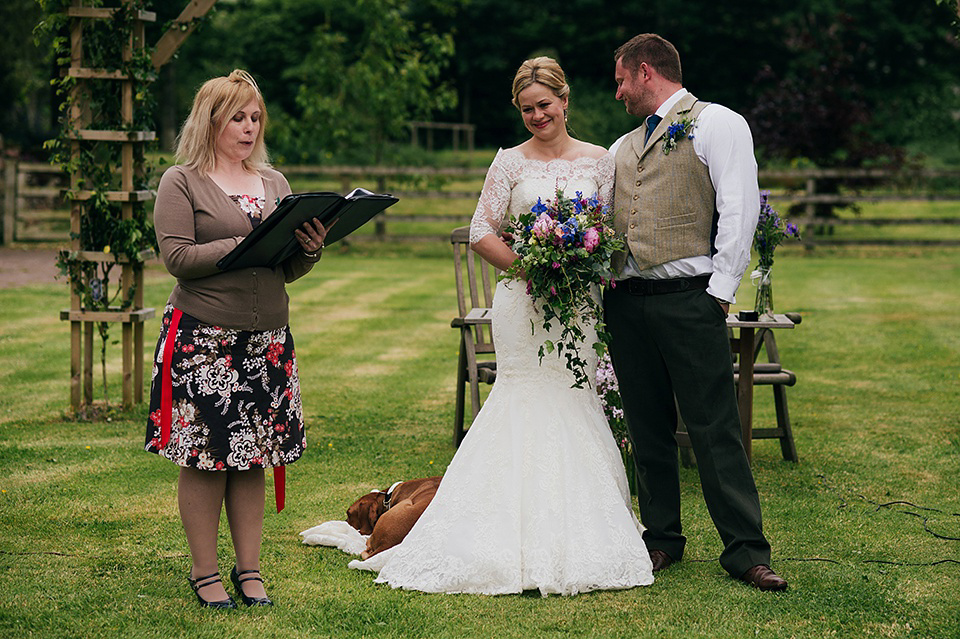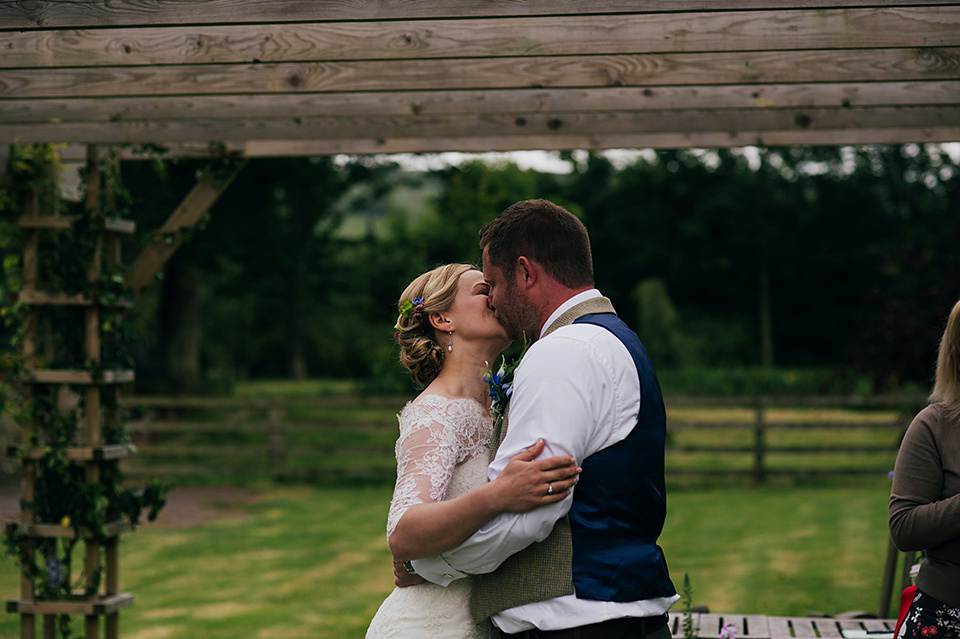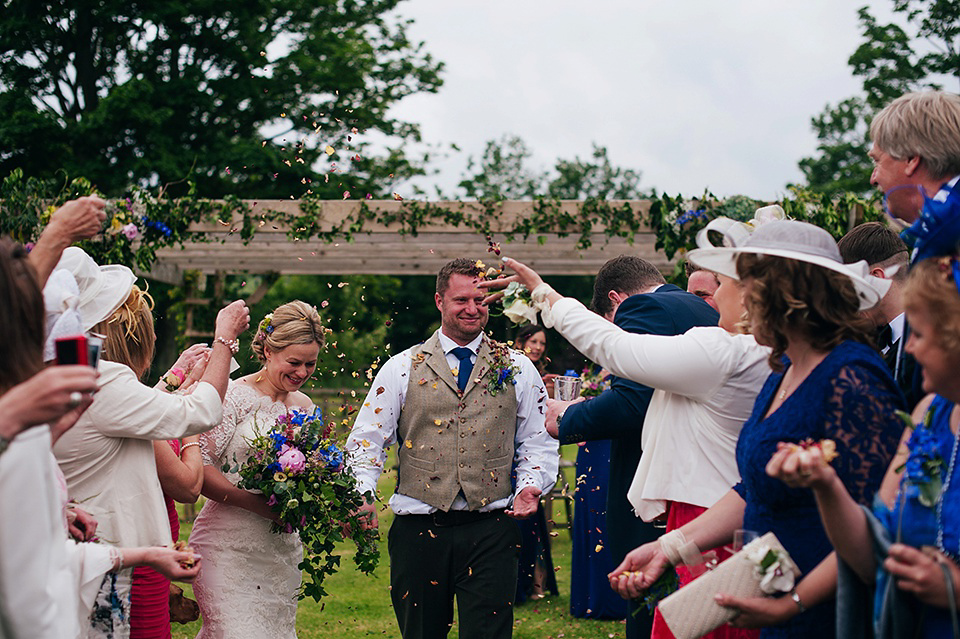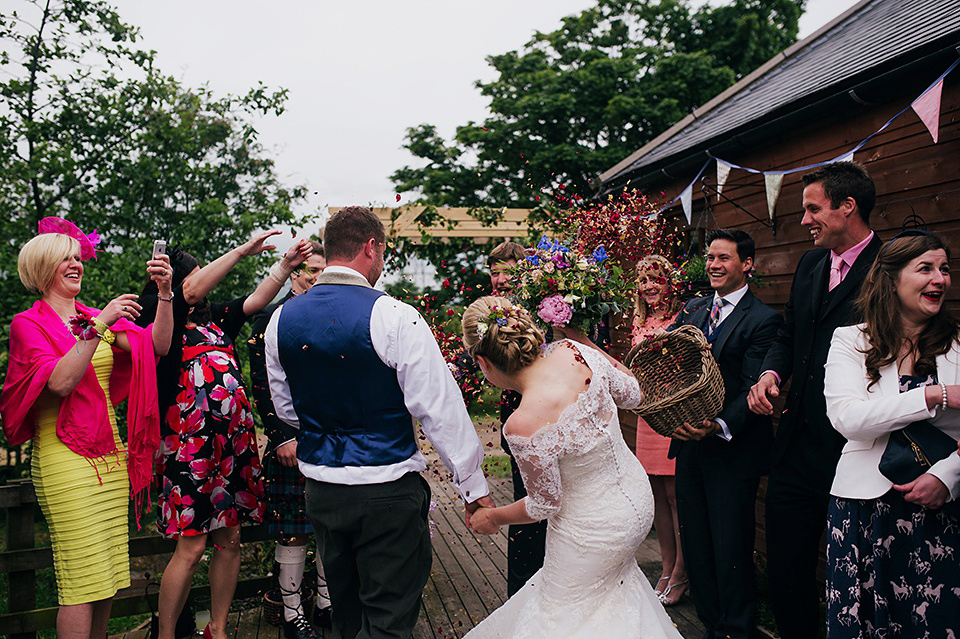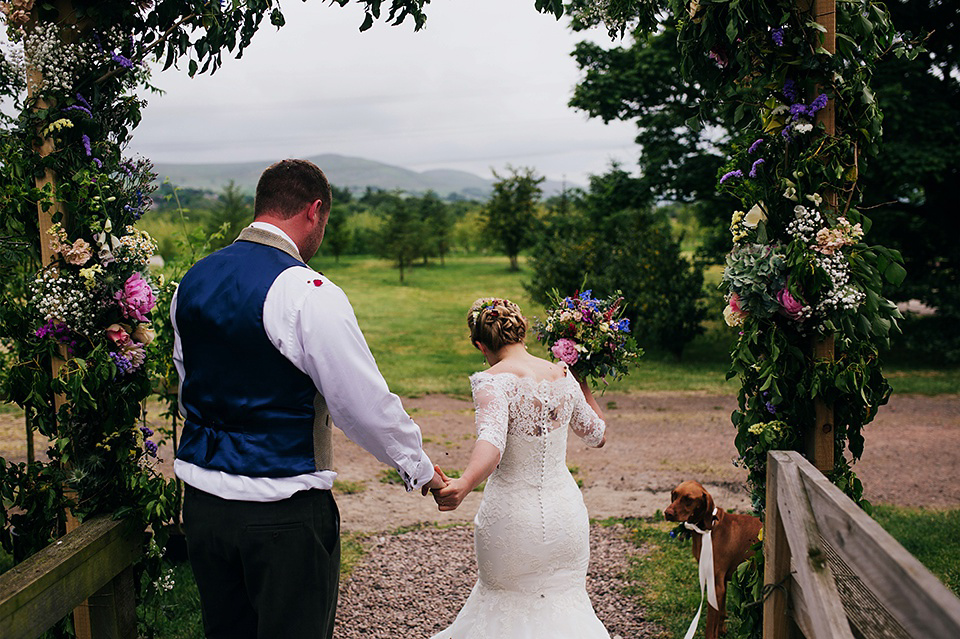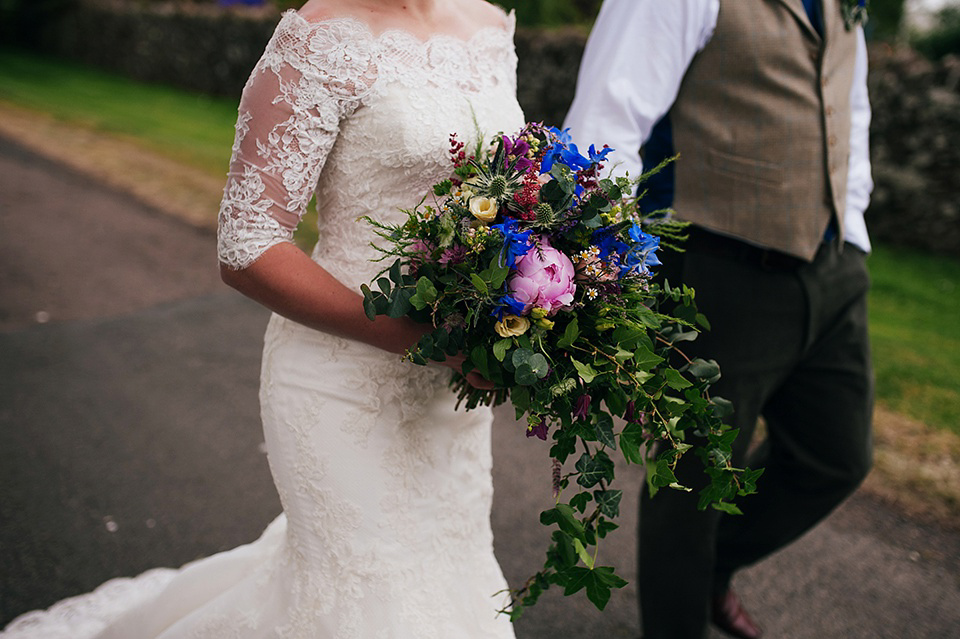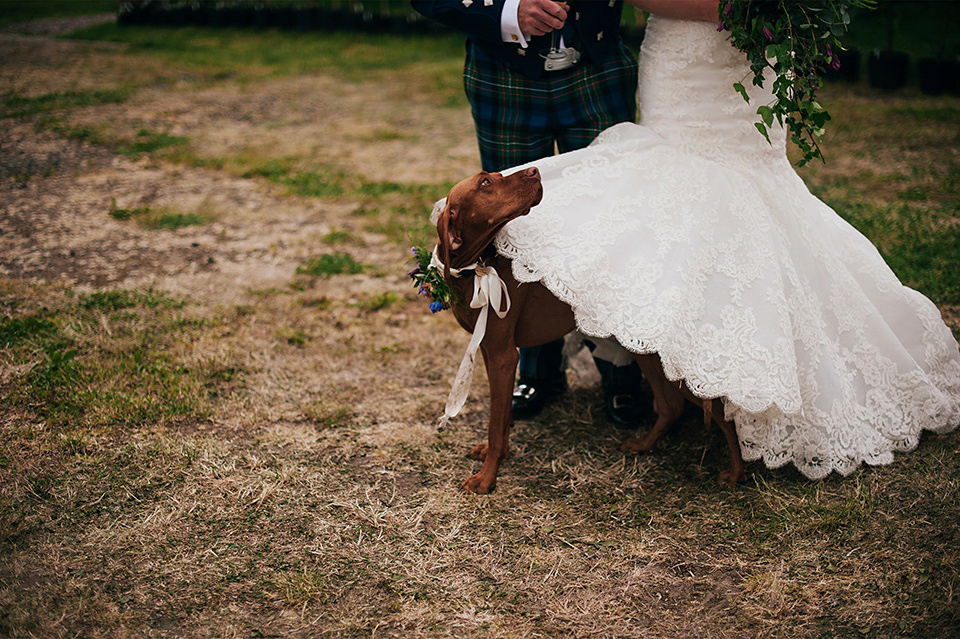 "Collingwood Marquees were great. The marquee went up on the Tuesday so we had all week to get it ready. By Friday night everything was done and we had the chance to go to the pub and see some of our family who had come from further away."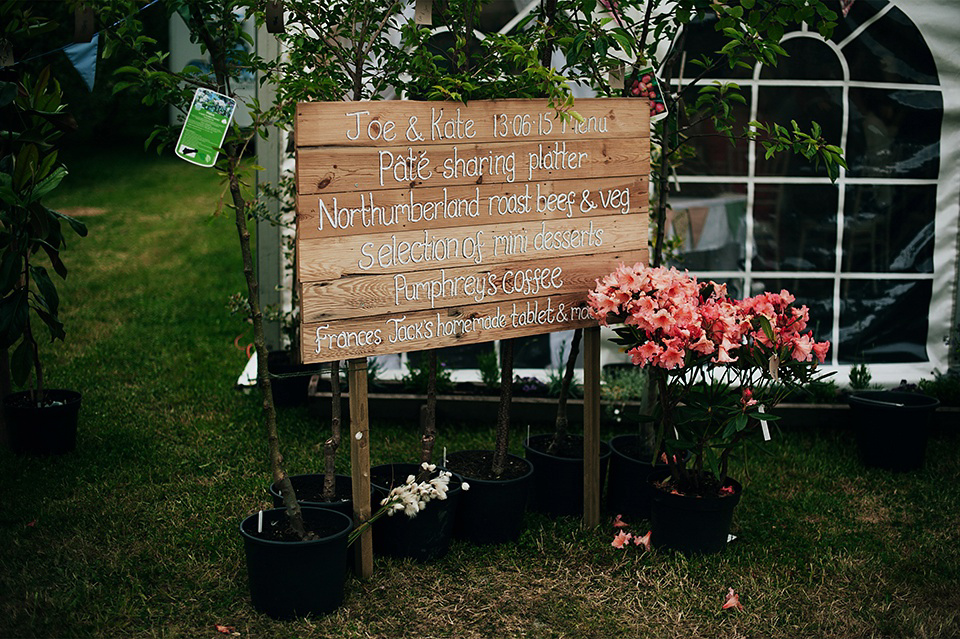 "The food was really important to us. We wanted simple, local good quality food that was really tasty and opted for a pate platter with fresh bread to start, roast beef carved by the guests at the table and then a cake stand with lots of different little mini deserts."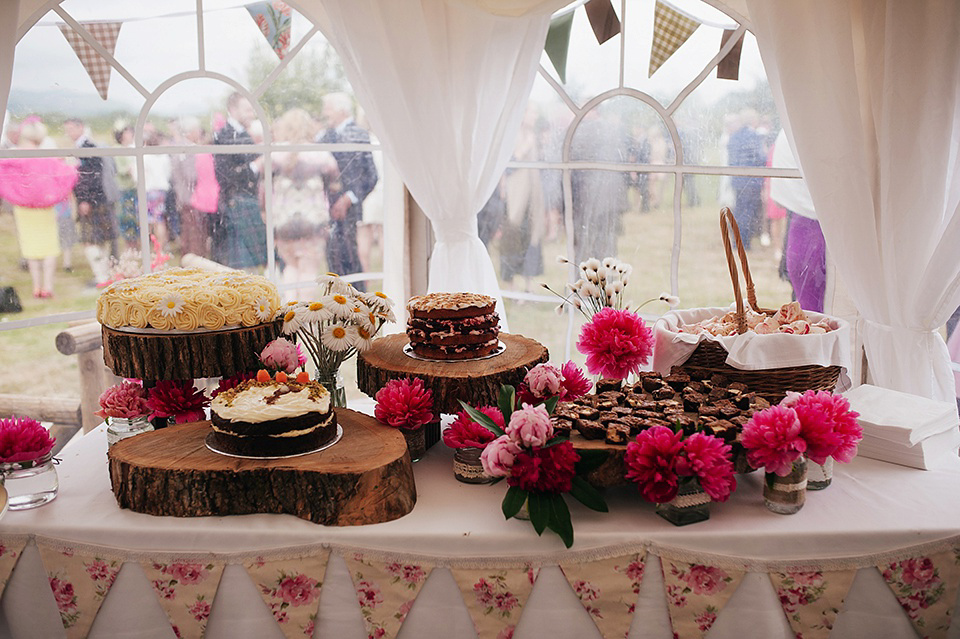 "Our brother in law to be has a coffee company in Newcastle called Pumphreys. He was good enough to provide lovely coffee to go with desert and one of my family friends made a huge pile of Scottish tablet for us to have with coffee.
For the evening guests we had a hog roast that was provided by Foremans of Norham– it was absolutely delicious."
"We made most of the cakes ourselves and they were iced by a very talented friend, Helena. We didn't want a traditional fruit cake and I struggled to make cakes that were uniform enough to stack so in the end Helena suggested we just have a cake table with different cakes and it was lovely.
They were definitely not traditional but we loved them and had great fun making them."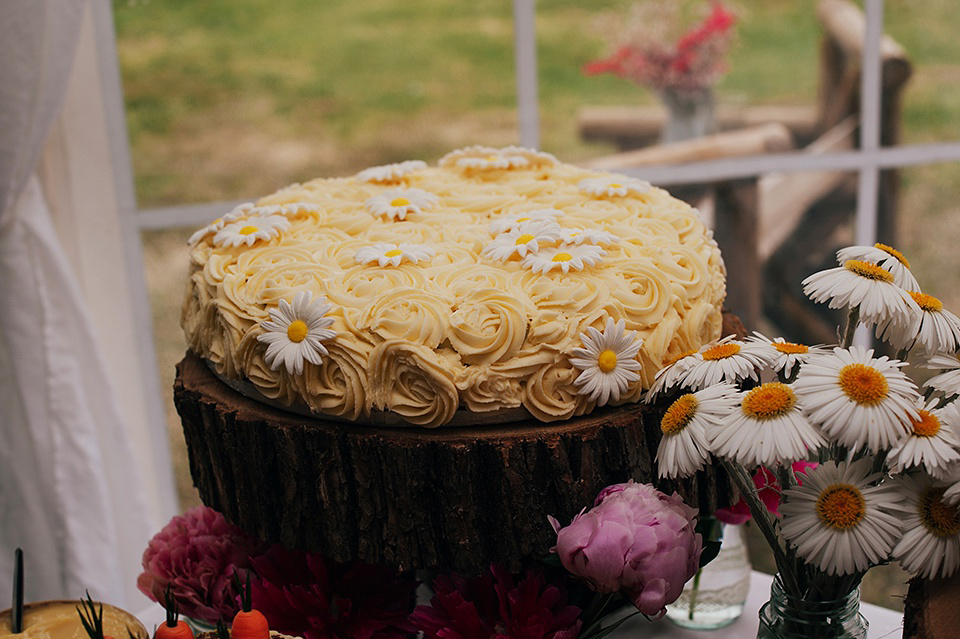 "My very favourite part of the day was having all of our favourite people together and the fact that they all seemed to get on so well was the best part of the day, but I also loved the ceilidh dancing, Inca trotting down the aisle and curling up on my dress in the middle of the ceremony, a lovely card I received from a new friend whilst I was getting ready full of hopes for us all together over the coming years and receiving the amazing flowers from the florist."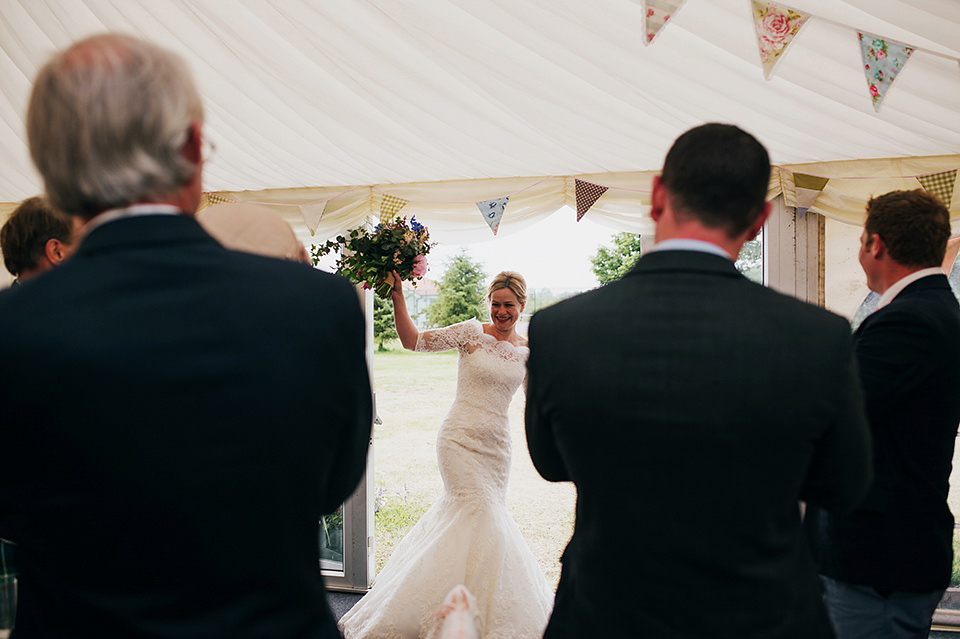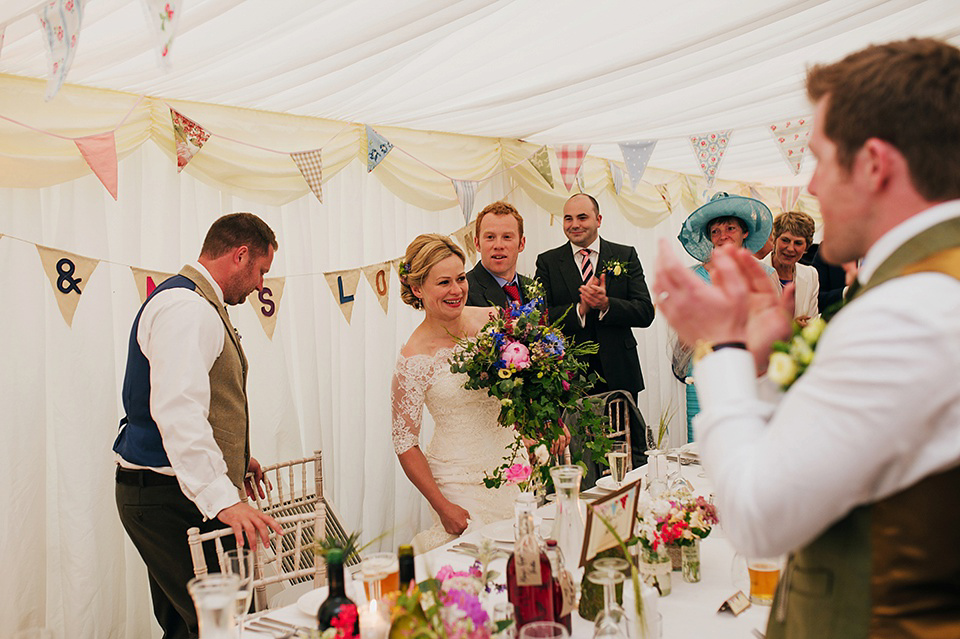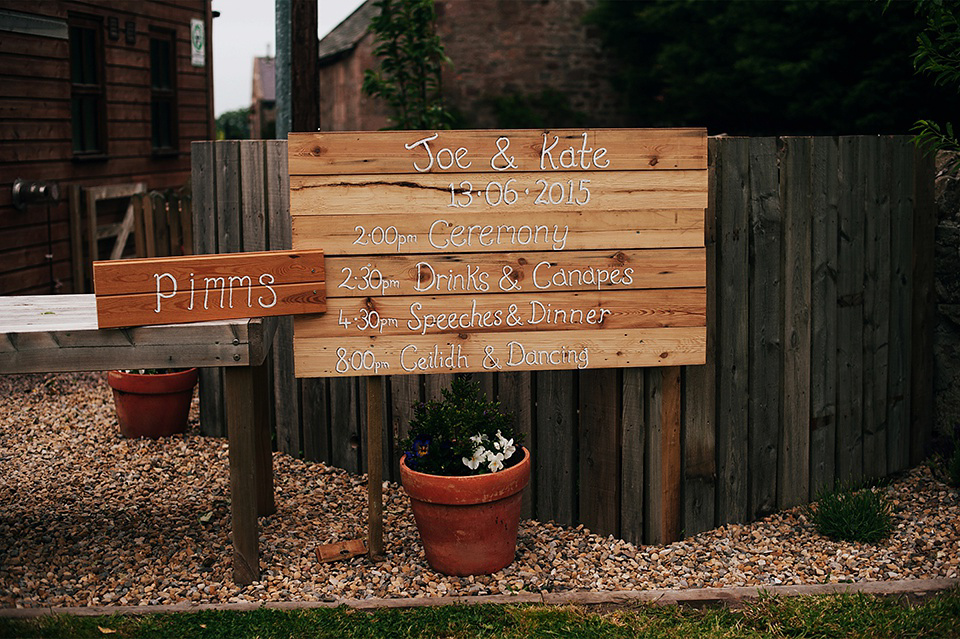 Words of Wedded Wisdom
"We had a wedding website with all the information on it; this was great and a lot easier than sending out all the info with the invitations. However there must have been a lot of Kate and Joes getting married as a few people had trouble finding the site because they had the address slightly wrong and so were trying to log on to someone else's wedding webpage. If you make a website make sure you make the address unusual so that it does not get confused with others.
We were quite overwhelmed how much time and effort people were willing to give up to help with the day. You cannot do everything yourself so say yes to offers of help. People like to be involved.
If things are not exactly as you imagined them, don't stress about it, no one else will know and you will probably get lots of lovely ideas from them."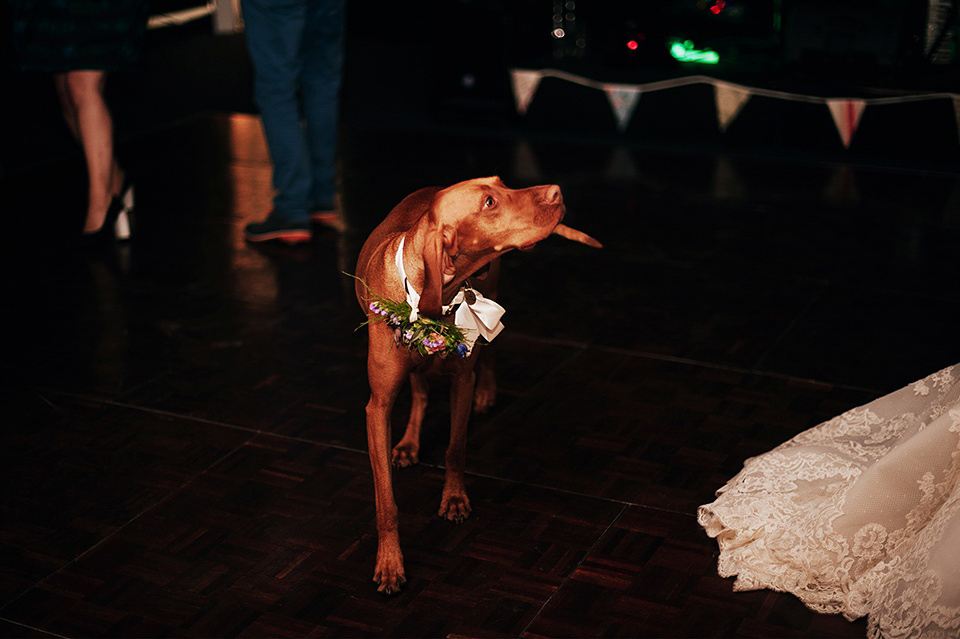 "I felt really strongly that I wanted a proper ceilidh band. We were really lucky to find a great band in Glasgow who were prepared to travel. They were fantastic and had the dance floor full all night and did a great job of calling the dances for those with no ceilidhing experience so everyone could join in."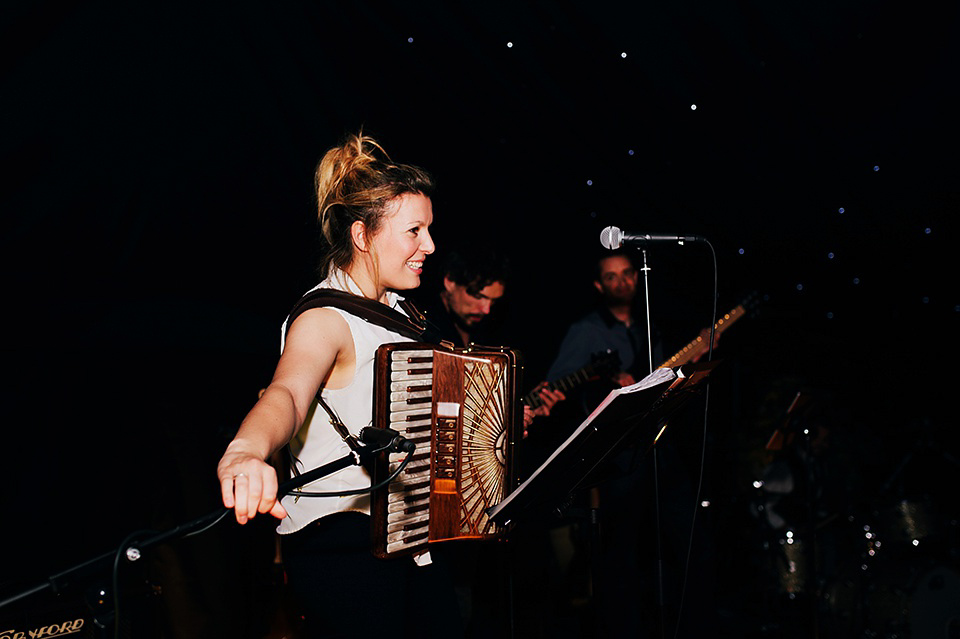 I love love love this wedding, and not just because it features the most beautiful dog and my wonderful home county of Northumberland, but because the love and happiness of Kate and Joe shines through the whole day and so much thought and care has clearly gone into every element. Thank you so much for sharing it with us today, and to Anna Urban for the gorgeous images. Take a peek here for another couple of Love My Dress weddings photographed by Anna.
Much love,
Shona x
Photographer – Anna Urban
Venue – Joe's family farm
Wedding dress –Dakota by Enzoani, purchased from Opus Couture, Ayrshire
Shoes – Upper Street
Accessories – Pearl earrings, borrowed from Joe's gran
Perfume – Vera Wang
Bridesmaids' dresses – Karen Millen
Groom – Waistcoats from House of Bruar
Florist – Jennifer Ord, no contact details
Cake – Made by family and friends
Catering – Main caterers unnamed
Hog Roast – Foremans of Norham
Hair stylist – Salon two, Alnwick (01665 604603)
Entertainment – The Tatties
Stationery – Made by the couple themselves. Signage by Joe's sister.
Marquee hire – Collingwood Marquees