It's almost Christmas lovelies; we are so close I can hear Santa's sleigh bells jingling. I'm in slight panic mode as I am in charge of baking all of the treats – mince pies and jam tarts – and I'm failing miserably at the pastry! I'll just have to watch some old episodes of the 'Great British Bake Off' for tips and tricks. Just you wait until you see the cake in this beautiful wedding I'm sharing – it comes complete with fireworks! Bride Lizzie works in charity PR, and groom Sergio in banking, and the lovely couple married on 31st July 2015 in Portugal.
"We had a few inspirations for our day, although the main thing we wanted was simply for all of our guests to have a great time; with lots of food, drink, music, and dancing. We chose to have a destination wedding and getting married in Portugal, in front of lots of Sergio's Portuguese relatives, meant we could include key elements of the culture – such as the Catholic ceremony and traditional Portuguese band – whilst still making sure it reflected us as a couple. We love exploring new places, so travel become another theme that I weaved into the day."
Photography by Quem Casa Quer Fotos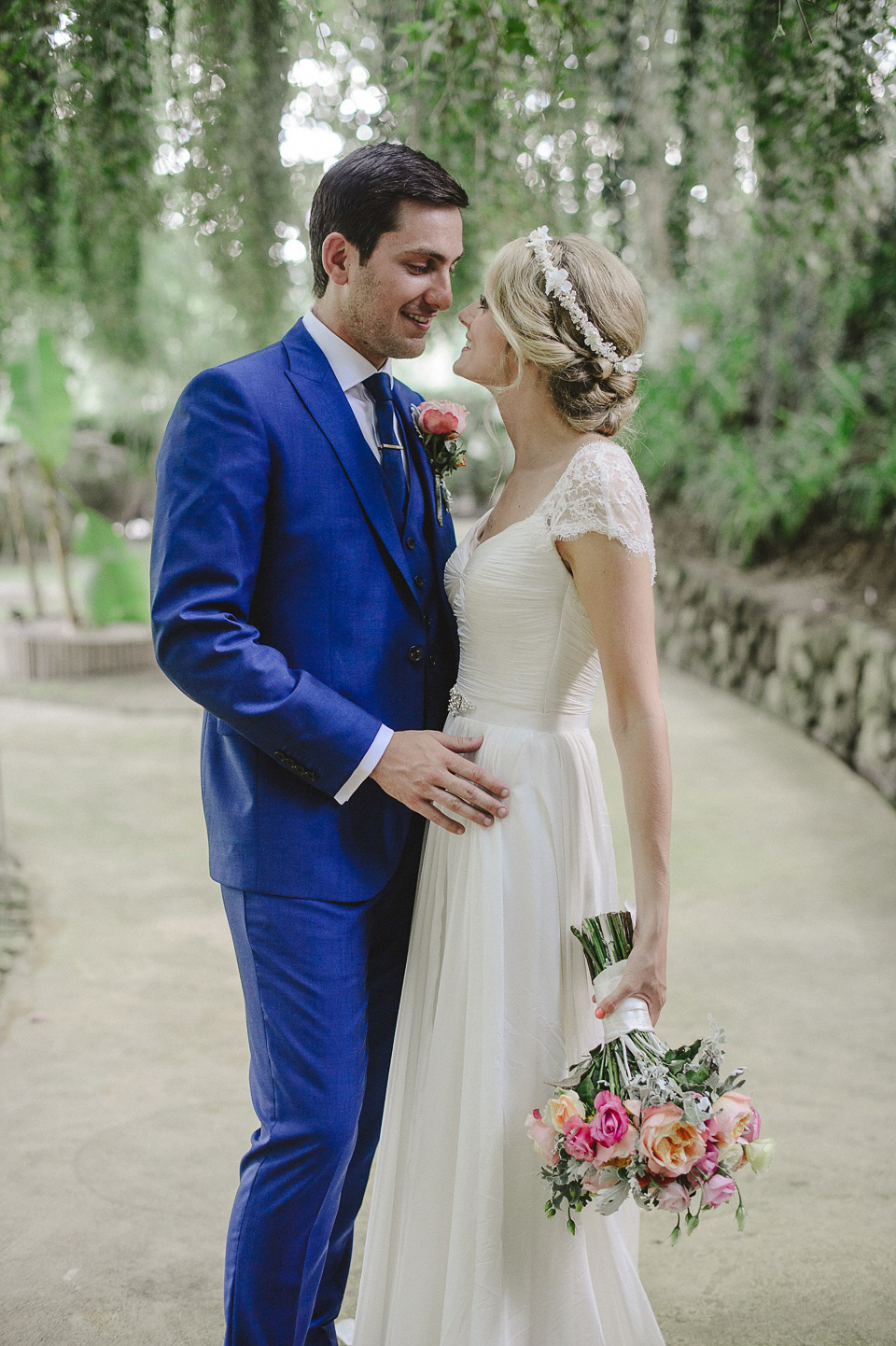 "Although he was born in the UK, Sergio's parents are from northern Portugal and we go back every summer. When we got engaged it was an easy decision to get married there – it's such a beautiful part of the world with stunning scenery, lovely food and amazing wine. The makings of a great wedding! Plus, it meant we could have a wedding incorporating both cultures."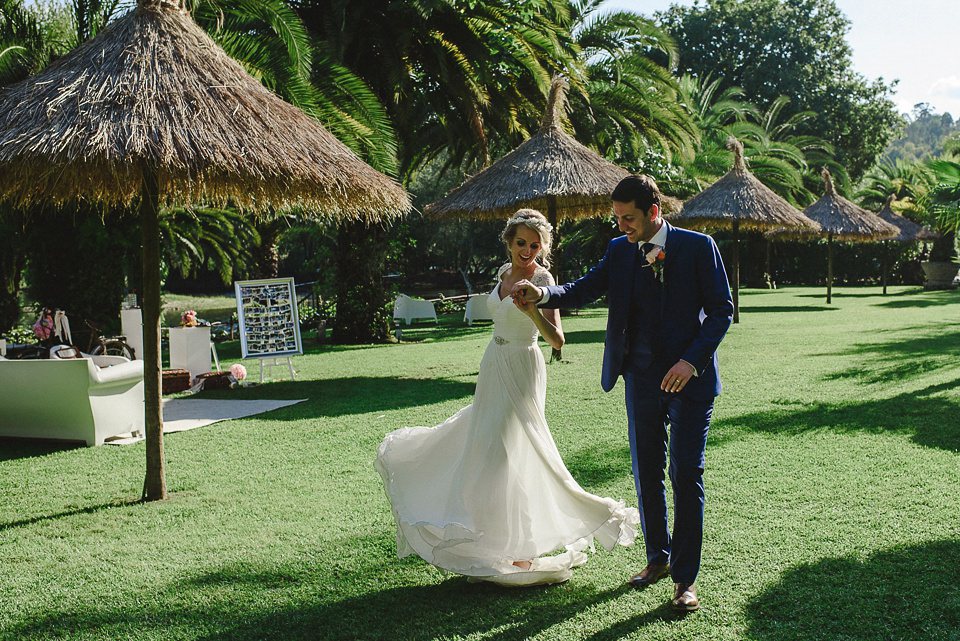 "We found our venue first, Quinta Lago dos Cisnes in Amares, and knew it was 'the one' straight away with its beautiful tropical paradise gardens and classic white interiors, with just a hint of Portuguese traditional stone."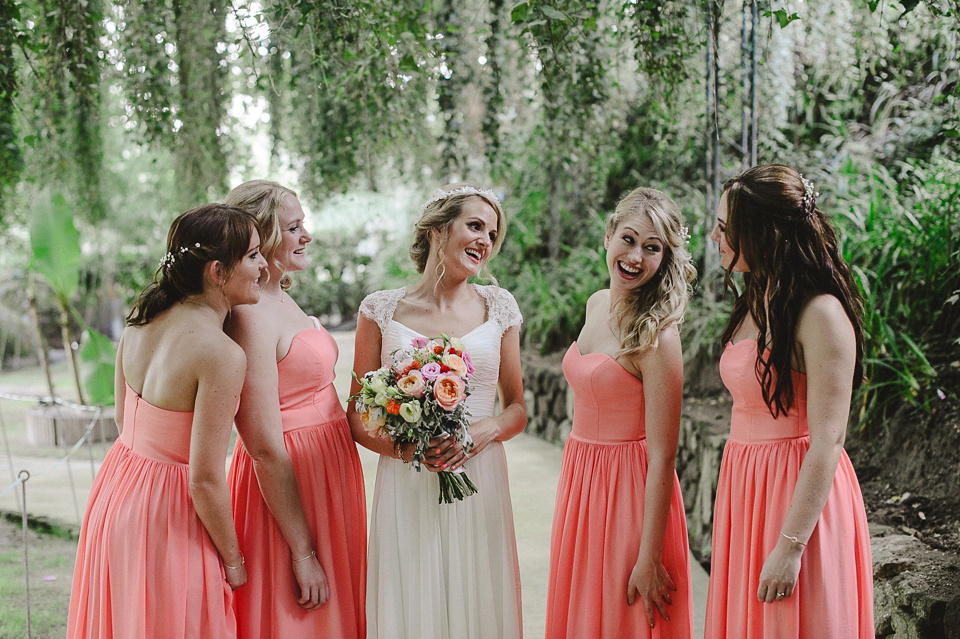 "Sergio and I met on Halloween almost six years ago at a house party of one of my best friends from university (and bridesmaid, Carina) who Sergio knew through work. We were covered in fake blood and somewhat inebriated, which didn't make for the most romantic introduction, but we arranged a date the following week and the rest is history!
Sergio proposed during a trip to Italy in March 2013, catching me completely by surprise at the beautiful San Miniato church overlooking Florence. It was pouring with rain and we took a wrong turn so I moaned the whole way up, then when we got there I wouldn't stand still long enough for him to ask me! I couldn't understand why he wanted to stand around when we had so much to see that day. Eventually, he just grabbed me by the shoulder and when I turned around he was down on one knee. I cried, of course, and then the rain stopped briefly so we could enjoy the moment and the gorgeous view in peace."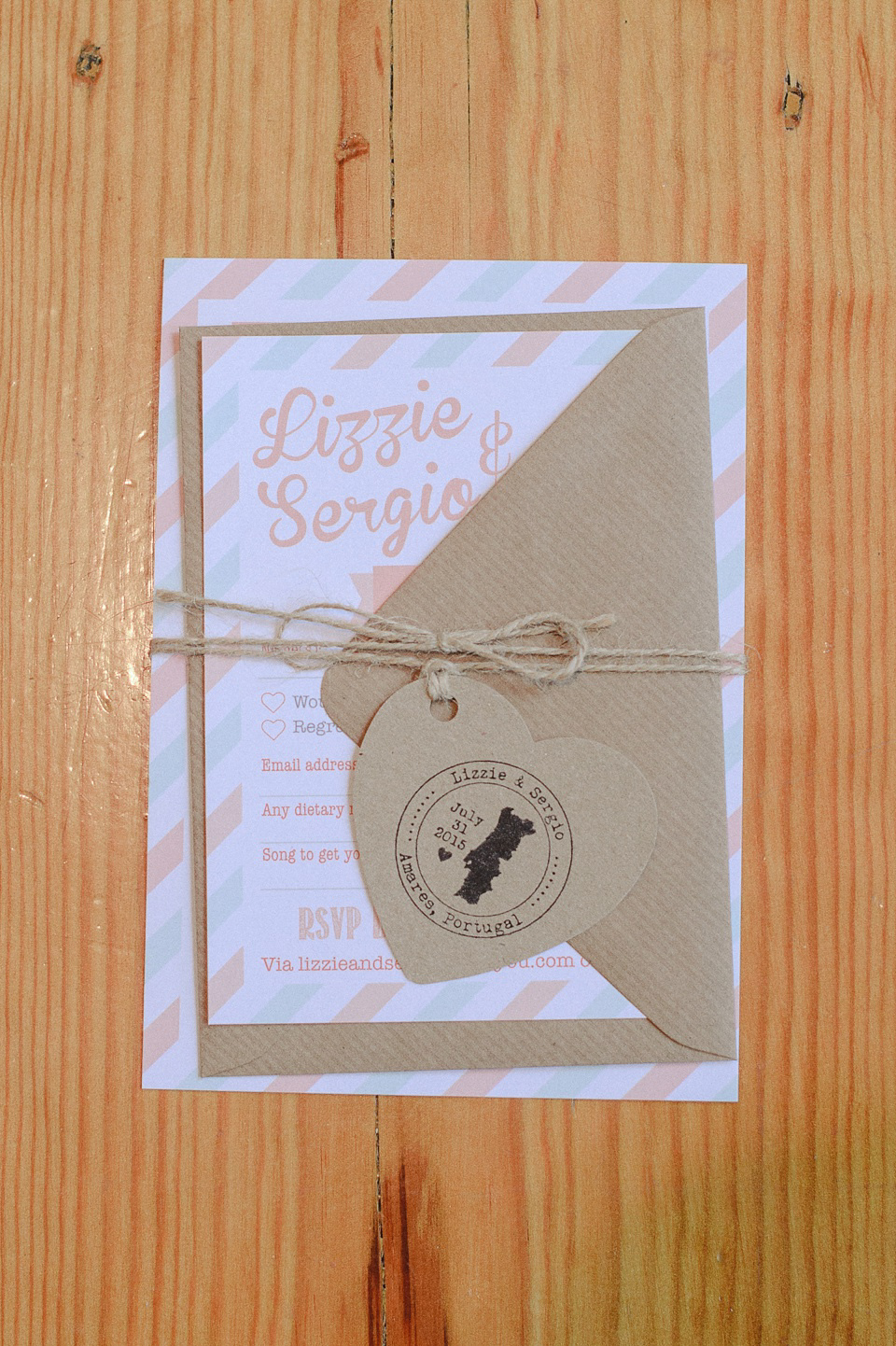 The flowers look utterly divine and were by Bloom Flores & Eventos.
"I wanted a rustic look for the bouquets, using a variety of pink and coral colours and lots of textures. For the church, we didn't want anything that would take away from the beautiful interior and so opted for simple puffs of gypsophila along the pews, and stunning trees made out of giant balls of it for the altar. Victor at Bloom did a great job – thank goodness Pinterest boards transcend the language barrier! 
Like the church, I wanted to keep things classic and simple at the venue too. We had tall glass jars with puffs of gypsophila for centre-pieces, surrounded by candles and smaller jars filled with more gypsophila and pale peach roses."
Make-up was by Barbara Brandao and hair by Vanessa Campos and both helped Lizzie and the four bridesmaids relax with laughter as they got ready.
"Barbara and Vanessa both came recommended by our photographer and did a fantastic job – I was excitable all morning as I saw my wedding hair Pinterest boards come to life! I went for natural make-up and a loose up-do, which would be soft around my face, but still show off the lace back of my dress and pretty neckline."
"I've never been one for nude nail shades and so went for a bright coral colour on my fingernails to tie into the bridesmaid's dresses."
"We had so much fun getting ready in the morning and dancing around in our robes and matching sunglasses! Vanessa, Barbara and her assistant Ruby were so calm and organised there wasn't even a hint of stress, just lots of laughter – even when the heavens opened at eight am, just as I sat in the window-facing make-up chair. Thankfully, it had cleared by the time we had to leave for the church, and there's a Portuguese saying 'Wet Wedding, Blessed Wedding', so that was just our blessing."
Lizzie accessorised with diamond art-deco style stud earrings, a birthday present from by Sergio, a simple gold and crystal bracelet from Jon Richard, a gold wire 'knot' bracelet from Etsy, her mum's garter, her favourite perfume 'Coco Mademoiselle' by Chanel and a pretty flower crown.
"I knew I wanted a flower crown – another subconscious nod to romantic ballerinas! – but was worried a fresh one would wilt in the Portuguese heat and look awful after a few hours. I started searching for alternatives and found Noon on the Moon on Etsy. Felicite was great and made me a custom design with dried gypsophila and little white flowers, plus some freshwater pearls and crystals weaved in to echo my dress."
Lizzie found her beautiful dress, 'Cherish' by Suzanne Neville, as well as her stunning cathedral-length Italian tulle veil, via The Bride in St Albans and was the first shop she visited. The gorgeous bride has lots of excellent dress advice from her experience, so take note upcoming brides!
"I actually bought my dress in the first shop I went to, on my first day of wedding dress shopping. I tried on 'Cherish' and the combination of a structured top, beautiful floaty skirt, plus a bit of vintage-style bling and a hint of lace ticked all the boxes – catholic church appropriate, and something I could move in, with the slight romantic 'boho' look I love.
I thought it was 'the one' but then assumed I'd have weeks to decide, until they told me that the dress I was wearing had gone into their sample sale that day, which meant I could take it home for less than half the price. I thought about it over lunch, had an appointment in another shop in the afternoon when no dress compared, and went for it. As I'd saved on the main dress I then bought a silk camisole and skirt combo from BHLDN to change into later for unrestricted dancing!"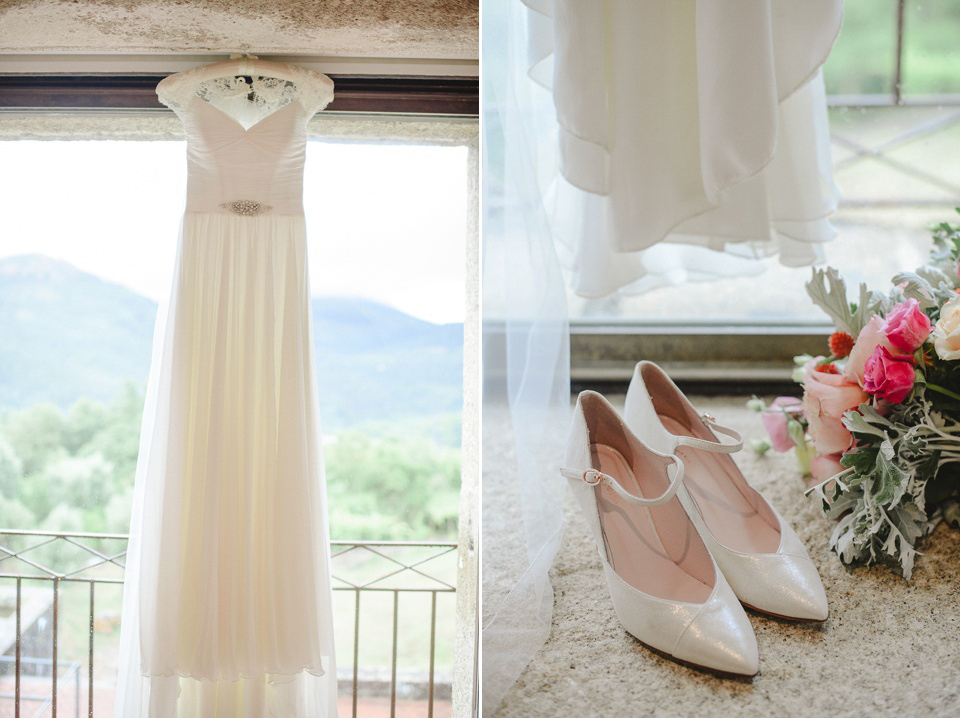 It sounds like a dream dress experience, but I have to be honest that I doubted my decision several times along the way. I was worried that I'd rushed into it, that the sample wouldn't fit me properly – I need not have worried about this, The Bride's talented seamstress Rani made sure it fitted like a glove – that it wasn't 'wow' enough, that I didn't have 'that feeling' at my second fitting (maybe I was expecting violins to play and doves to fly out of it?) … you name it, I fretted over it.
If my friends are anything to go by, dress pressure ('dressure'?!) is a thing that most, if not every, bride-to-be experiences at some point. I think in this social media filled world that we live in it's all too easy to constantly compare yourself to others and get so caught up on perfection that you lose sight of what really matters.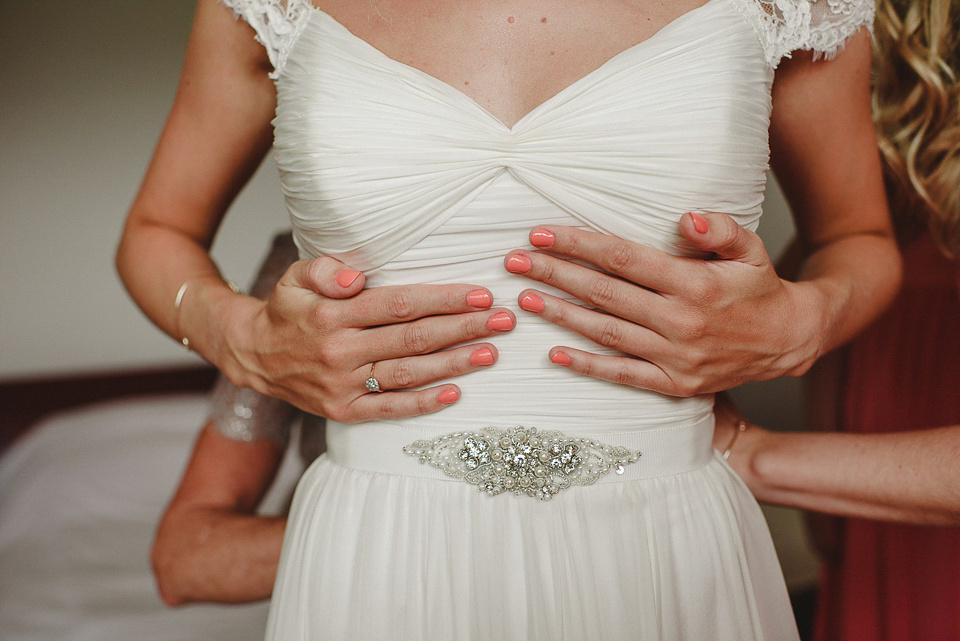 "To anyone in this position now who's having doubts about their choice, I would say remember the feeling you had when you first decided it was the one for you and keep going back to that. On the day, all my worries were completely behind me – I adored my dress and couldn't believe how silly I'd been! But even more importantly remember that, of course the dress is a key part of the day, but a wedding is so much more than that.
Walking down the aisle towards the love of your life is what's really important, not just what you're wearing."
"Our venue was amazing and helped organise so much – from the table decorations to the catering to setting everything up. They really understood what we wanted, and it was amazing to see it looking even better than I'd imagined on the day. It also took lots of the stress out of planning a wedding in another country!"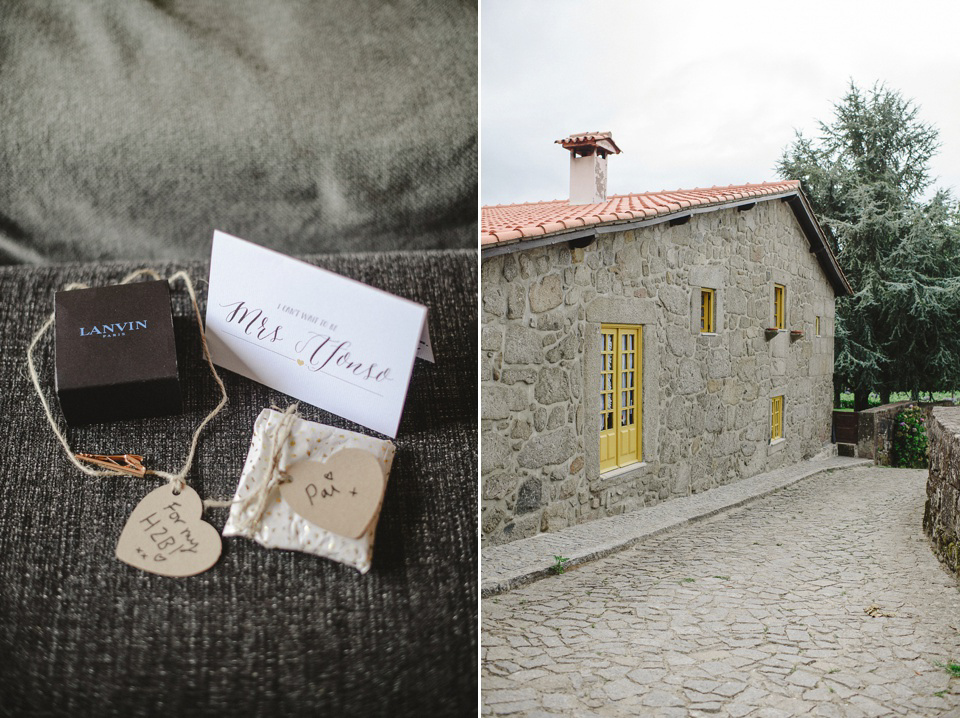 "Sergio wore a three-piece bright navy suit by Reiss which looked lovely in the Portuguese sunshine and added a navy tie and shoes, also by Reiss, and a gold tie clip and cufflinks by Lanvin from Mr Porter."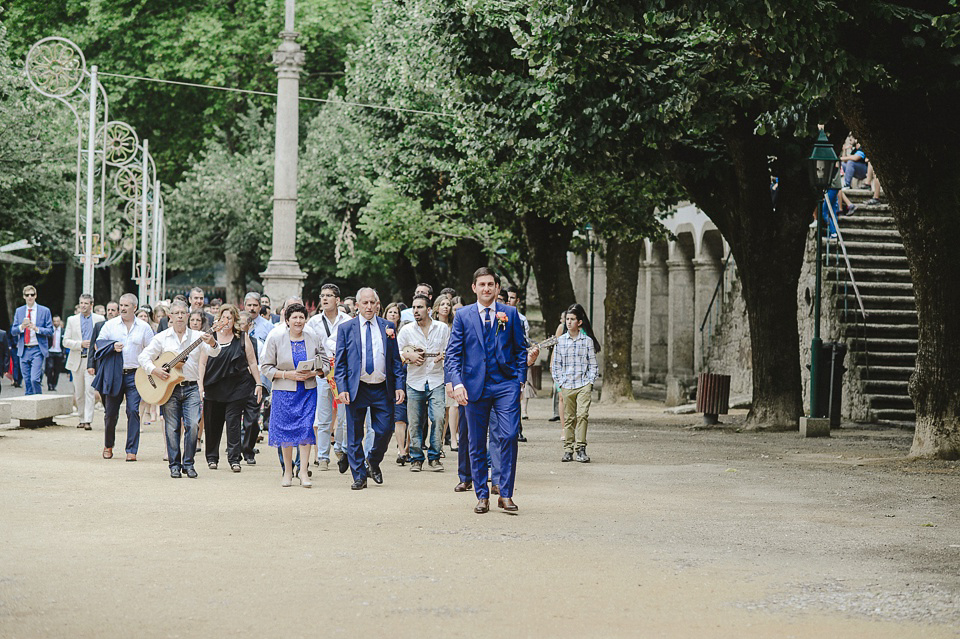 "My four bridesmaids – my now sister-in-law Cristina and friends Sarah, Carina and Jodie – all wore 'Georgia' by Sally Eagle in a colour called 'Carousel', bought from Luella's Boudoir in Wimbledon Village. I knew I wanted full length dresses in coral, but was happy for everyone to pick a different shape to suit them. Amazingly though, everyone loved 'Georgia' and, although we had to decide the colour based on a tiny swatch, the shade was perfect and looked lovely in our bright, tropical venue.
I didn't specify shoes; the girls just picked a pair they liked that were gold or nude. As a gift, I bought each bridesmaid a wire 'knot' bracelet via Etsy and a pearl necklace from Asos and to complete their look, fresh sprigs of gypsophila were added to their hair."
"We  looked for churches nearby and after taking a chance journey up a mountain road discovered the gorgeous Santuário de Nossa Senhora da Abadia. Although a historic traditional church, its peaceful location nestled in the mountains made it the perfect choice."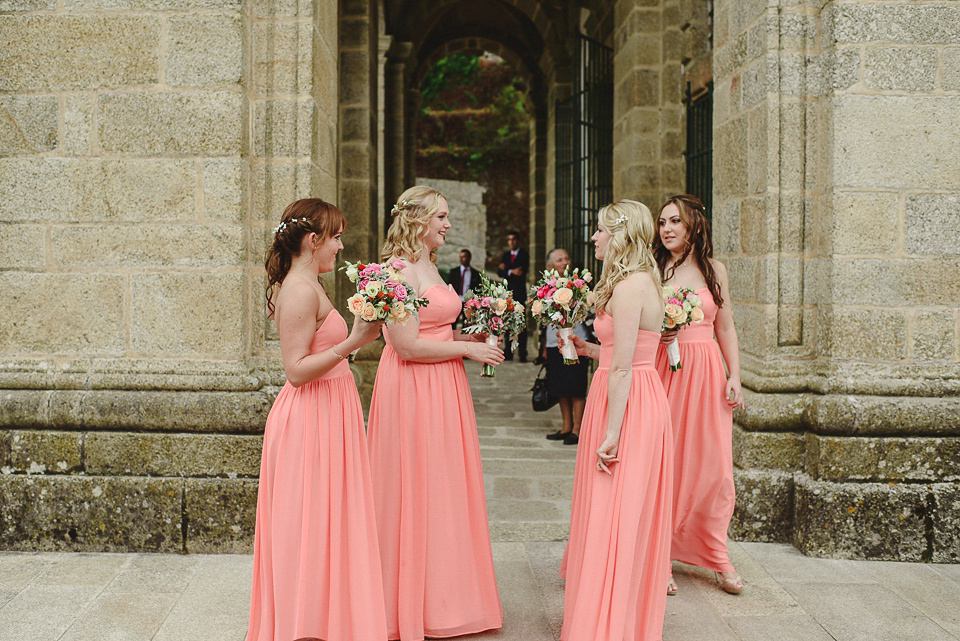 To travel to the church, the couple hired a stunning vintage Bentley from Matrimonio Car, which had recently been immaculately restored, and Lizzie's dad walked her down the aisle, to her brother playing Pachelbel's 'Canon in D' on classical guitar. They had a traditional Catholic service in the beautiful surrounds of Santuário de Nossa Senhora da Abadia church.
"My brother is a professional musician and I knew I wanted him to play at some point during the service. When we started searching for entrance songs I found a stunning version of Pachelbel's 'Canon in D' played on classical guitar, and asked if he'd play it as I walked down the aisle. It was such a special moment walking in with my Dad to my brother's beautiful playing.
The church's choir sang throughout the mass and were absolutely incredible – a wonderful surprise as we hadn't heard them before the day. We were both completely mesmerised and quite overwhelmed that it was all for us!"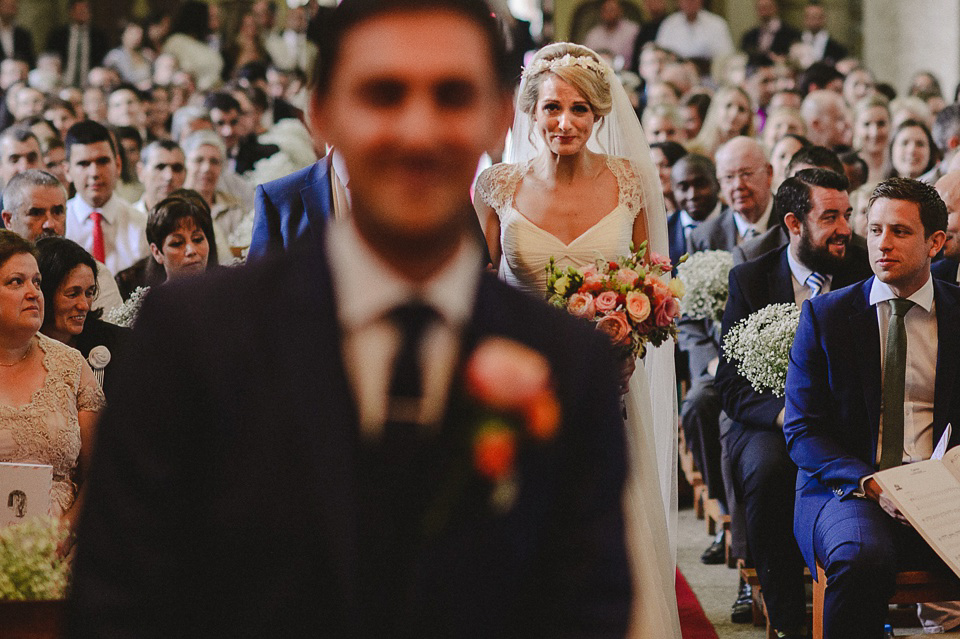 "Although I'm not particularly religious, this is very important to Sergio and his family, so I was happy to get married in a church. We had a traditional Catholic service, and were keen to make sure that both our English and Portuguese guests would be able to understand what was going on.
Our Priest was a family friend, who kindly practised his English for us so he could do some of the mass – including our vows – in English. I then created a dual language order of service that everyone could follow."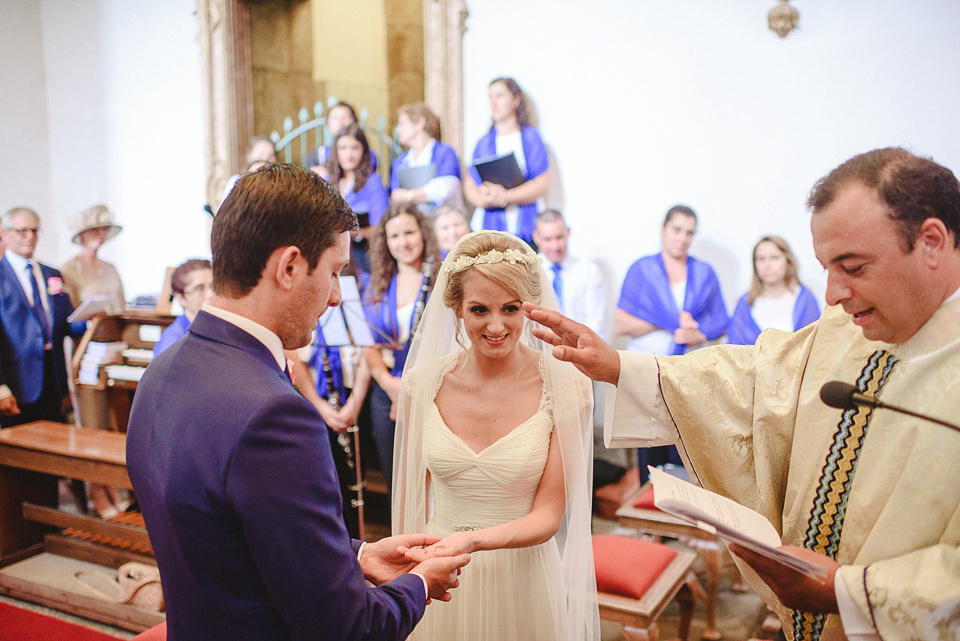 Lizzie's wedding band is her Granny's old ring and her engagement ring belonged to her Nana and she loved being able to wear specially jewellery from the two sides of the family. Sergio purchased a plain gold wedding band from a local jeweller's to match.
"I'm not a particularly 'bling' person and had always admired my Nana's engagement ring; a delicate 1930's daisy cluster. I joked with Serg before we got engaged that I'd much rather inherit my Nana's ring (I'm the only granddaughter) and also have a Chanel 2.55 bag. I couldn't believe it when he proposed with the ring in its original box complete with a little note from Nana (she's eighty-six and was delighted for me to be able to have it in her life-time).
We then went to Paris a few weeks later where I got the dream bag. When my mum suggested I had my Granny's wedding band, which she had been wearing alongside her own since she passed away, it was the perfect match and meant I had a special bit of history from both sides of the family. I love being able to always wear a symbol of my grandparents' happy marriages, to bring Sergio and me good luck in ours."
"Being a Catholic service, we were restricted to religious readings, choosing 'Allow us to live together to a happy old age' from Tobit, read in Portuguese by family friend Andreia, and the beautiful 'If I do not have love, I gain nothing' from the first letter of Saint Paul to the Corinthians, read by my brother's girlfriend Markella. We then wrote our own bidding prayers, which were read by my bridesmaid Jodie.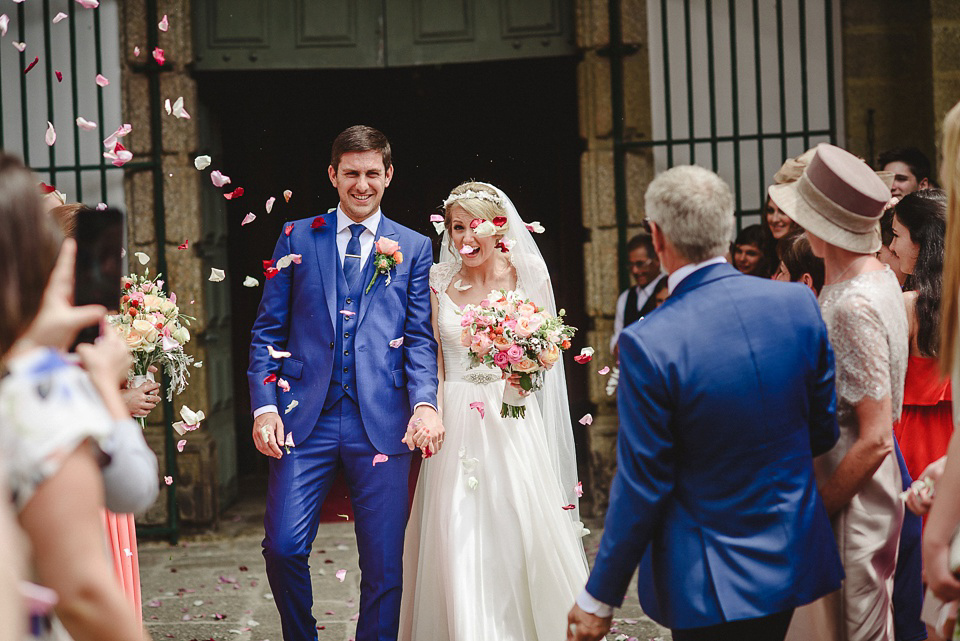 "I included one of my favourite poems on the back of the order of service; Elizabeth Barrett Browning's Sonnets from the Portuguese 43: 'How do I love thee, let me count the ways', which also happened to have an appropriate title given the location of the wedding!"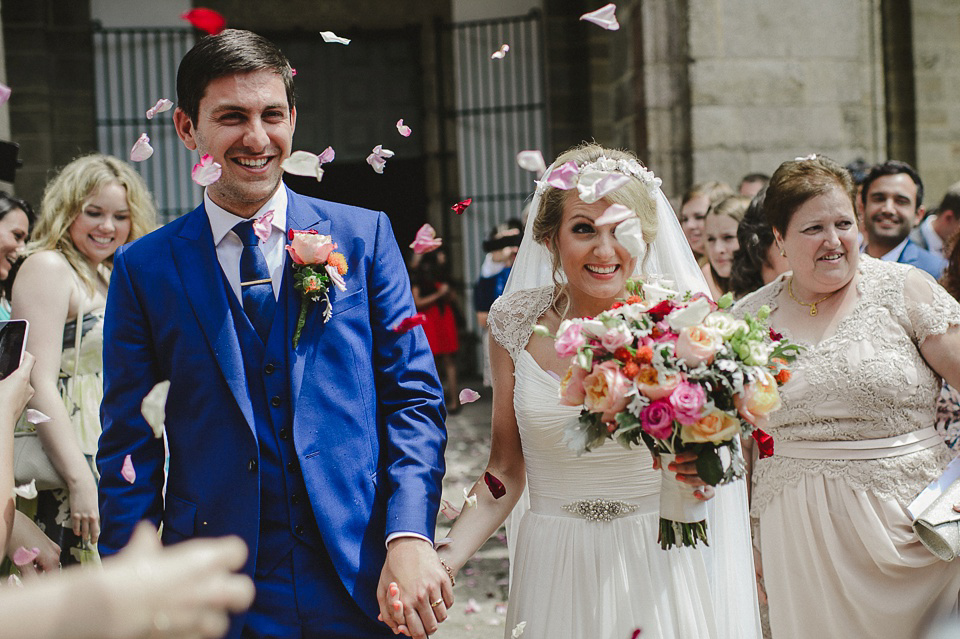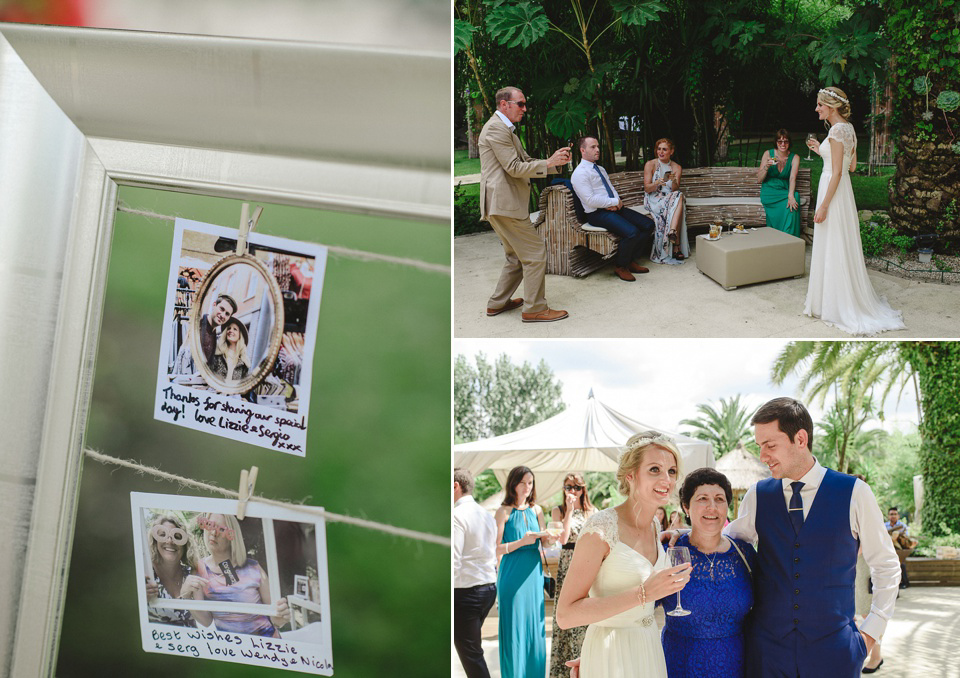 The couple were incredibly happy with their photographer, Luis from Quem Casa Quer Fotos, who also shot their engagement photos.
"We put a lot of time into researching the right photographer, and knew we wanted someone who could really capture the spirit of the day. Luis did just that! We met Luis and his partner Isabel, who is a videographer, back in March when they came over to London for our engagement shoot. As soon as we met it was like we'd known each other for years, and we spent an amazing afternoon strolling round the streets of Shoreditch and across Westminster Bridge. Not only did we get some lovely photos, this helped make us so much more relaxed on the day too.
Being an ex-photojournalist, Luis has an incredible eye for story-telling and caught so many wonderful moments and emotions – going through the photos was like reliving it all over again, and catching up on everything we'd missed. Our friends and family love them too and all commented how perfectly the pictures reflected the day."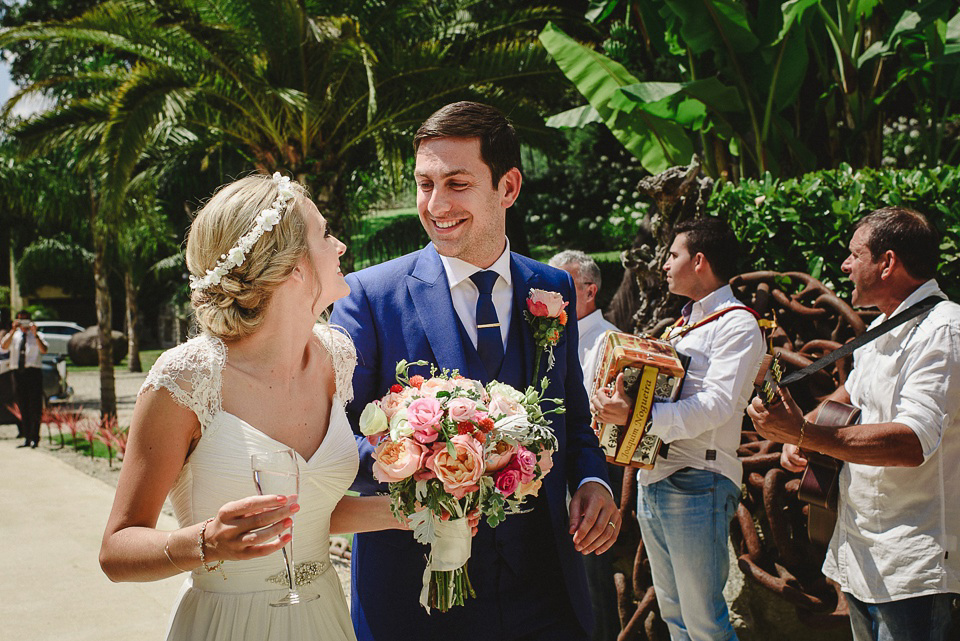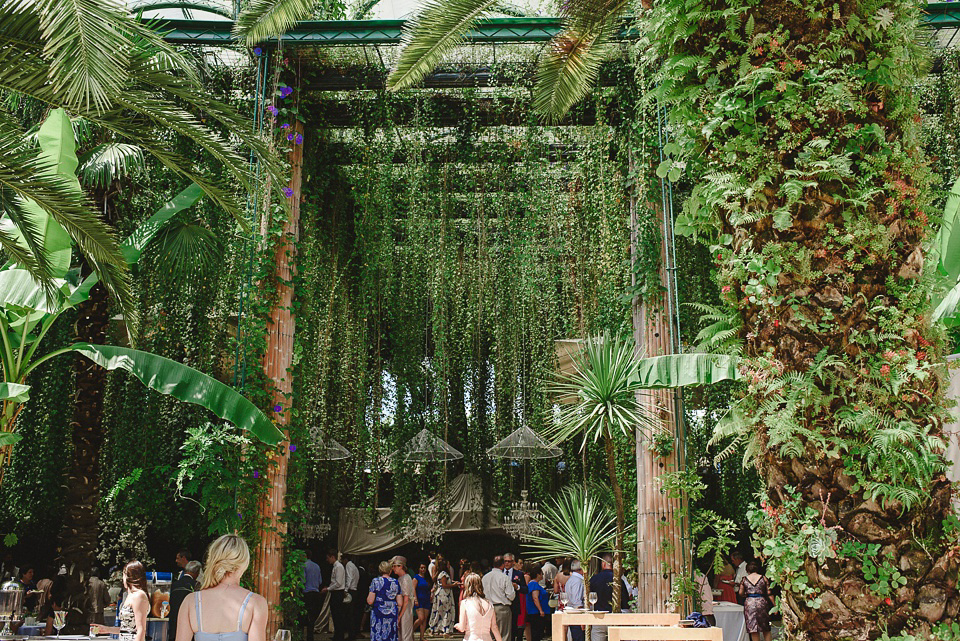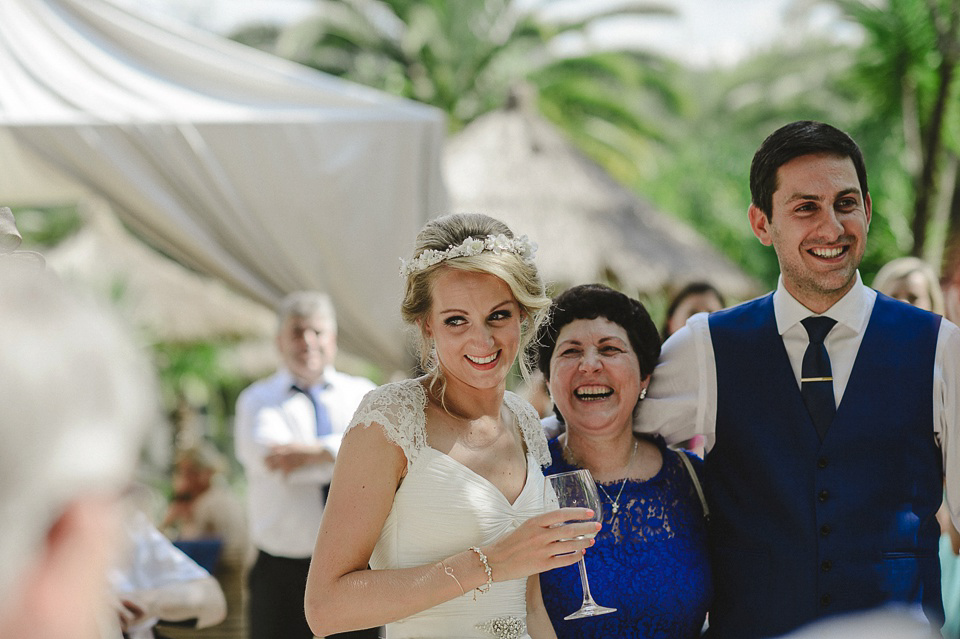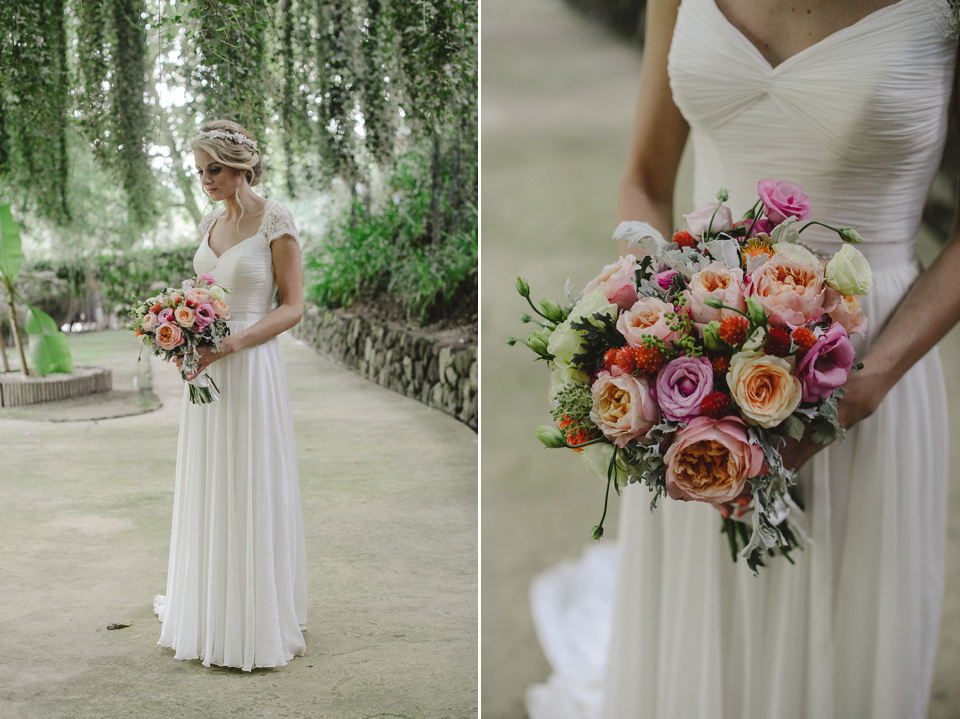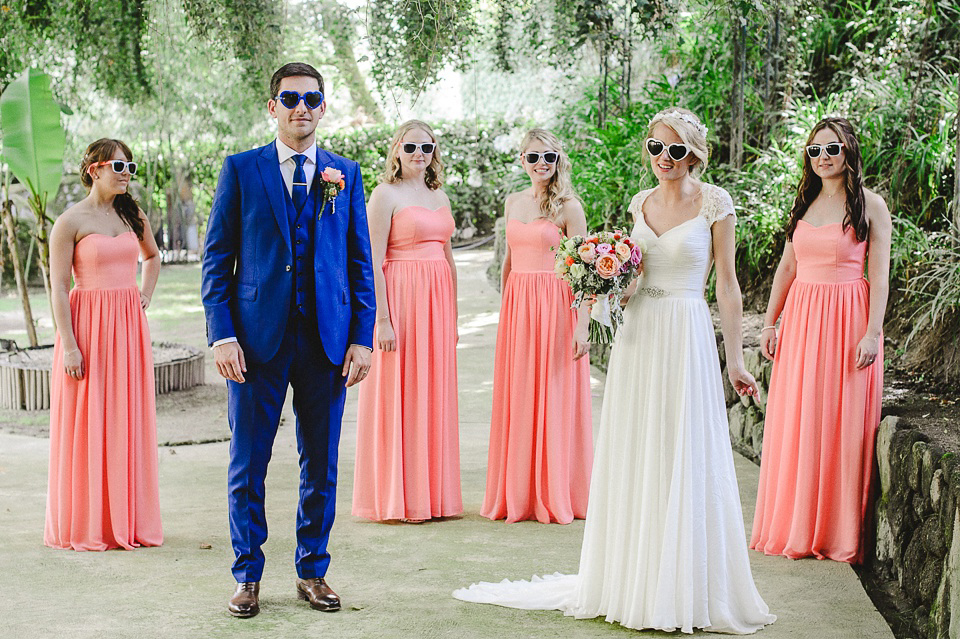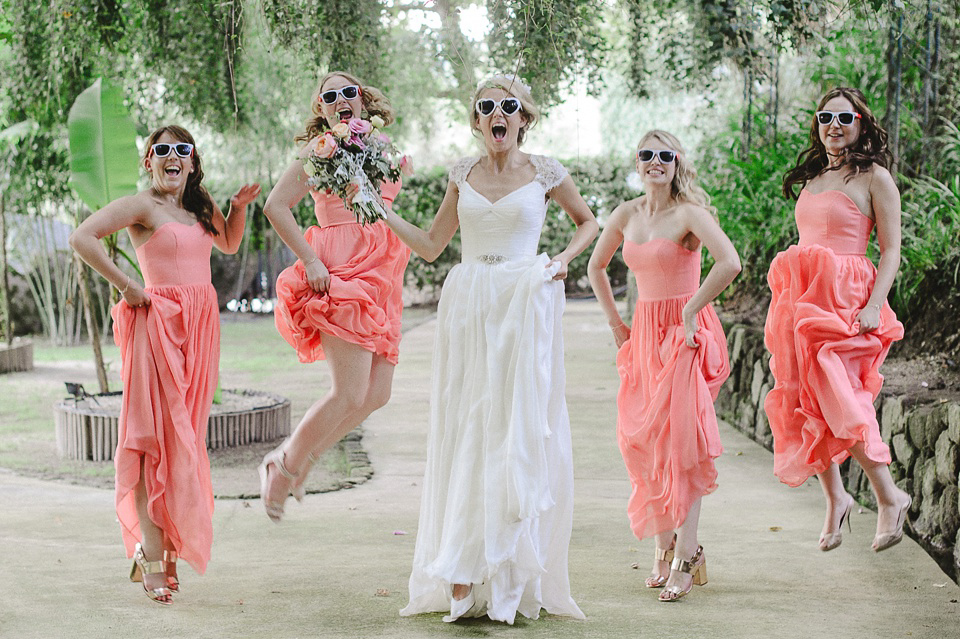 "I bought lots of chalkboards and bright pastel-coloured markers for various signs, and then enlisted my brother's girlfriend to help make them look pretty as I'm fairly useless at art! We created a fun outline of the day sign, complete with lots of emojis, and a variety of signs for our Polaroid guestbook. For this I also sourced loads of fun props – a variety of novelty sunglasses from Primark, the obligatory tashes on sticks, and mini Portugal and Union Jack flags.
I strung rows of twine on a big frame and started it off with a Polaroid version of one of our engagement shoot pictures. Then everyone wrote messages on their Polaroid with a marker pen before pegging it onto the frame. Not only did it look lovely on the day, I was able to create an amazing collage afterwards to put up at home."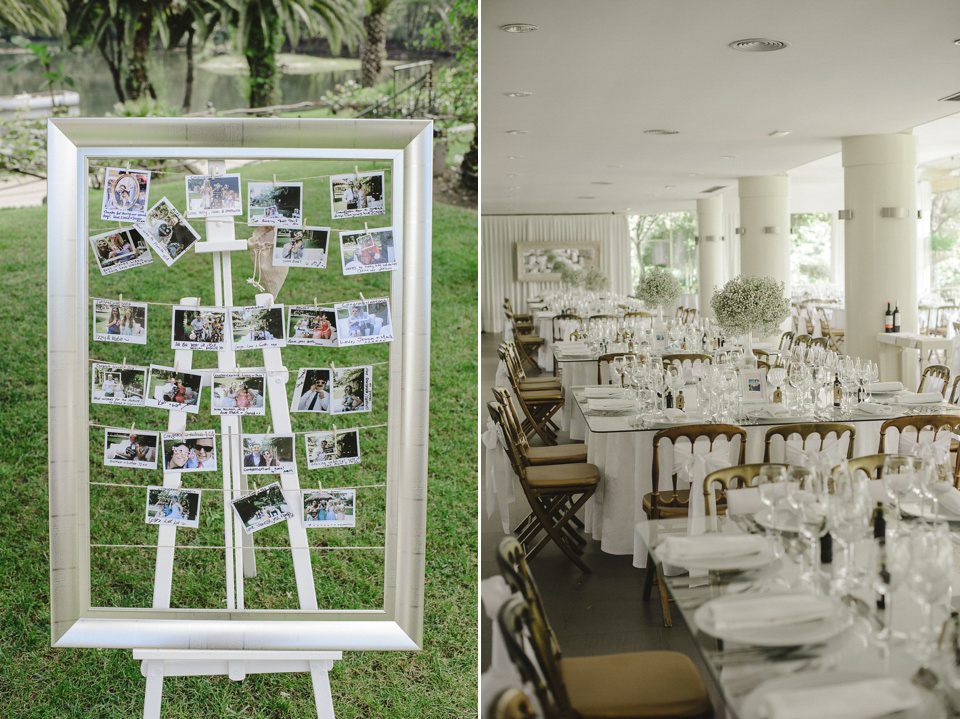 "We wanted to give everyone a little piece of Portugal and so bought mini bottles of Taylor's port from Just Miniatures for our wedding favours. Amazingly the vintage of the port was 2009, which also happened to be the year we met! I bought a custom stamp from Etsy for our invites, complete with our names, the date and a cute little map of Portugal, and used the same stamp to create little tags for each bottle, tied on with rustic twine."
The travel theme was incorporated into the stationery design, table plan and table names.
"I asked my colleague Emma Amato, a graphic designer, to help design our wedding stationery. She was able to incorporate the travel theme with a lovely map emblem featuring the UK and Portugal and 'airmail' style border, which I then also used on our order of services.
For the table plan we had little frames hung from a tree in the gardens. Each table was named after a place we'd travelled to or that meant a lot to us, and I created a Polaroid picture from a photo of me and Sergio in each place which we used instead of table numbers."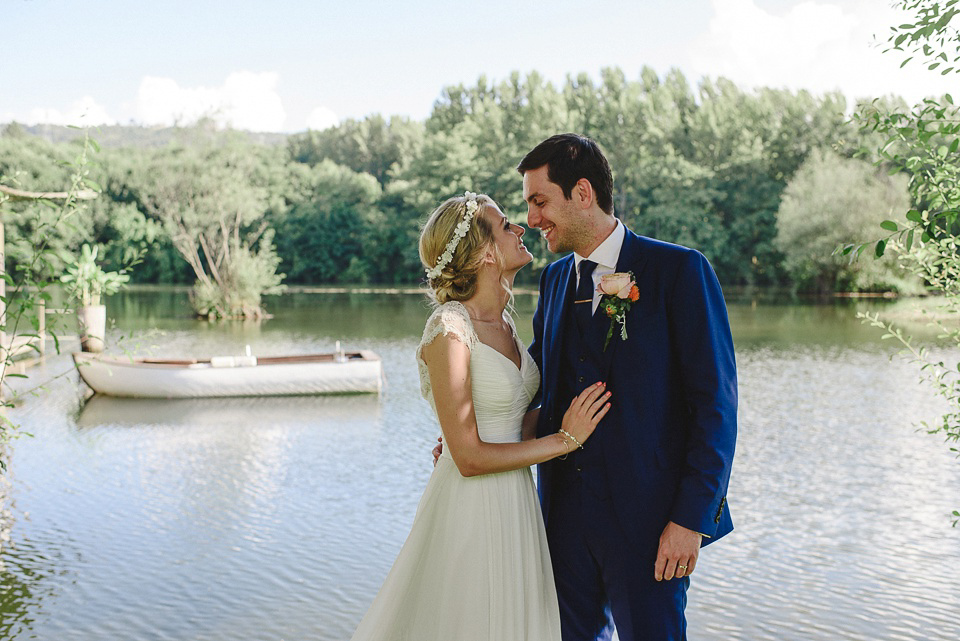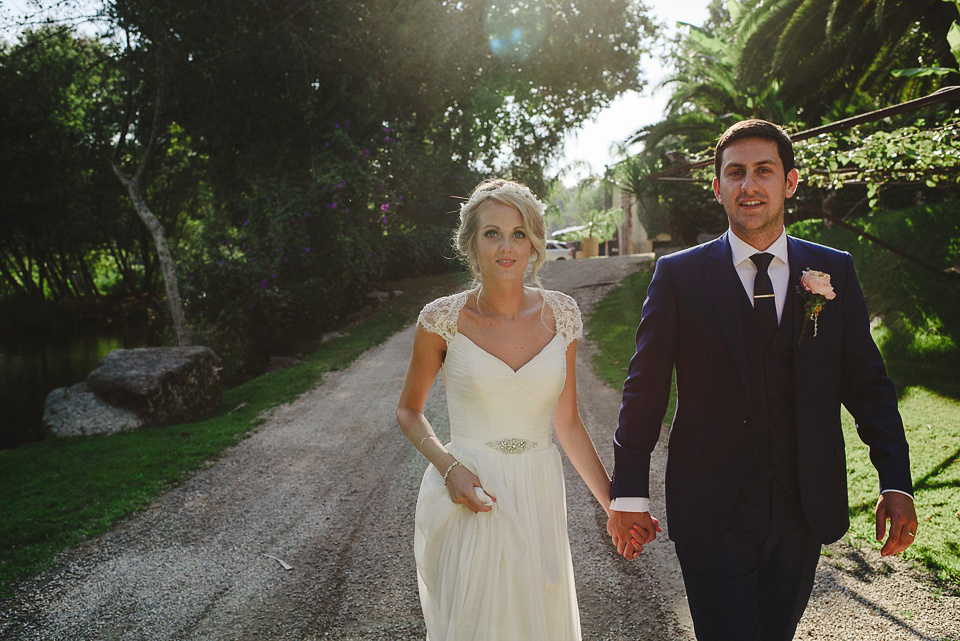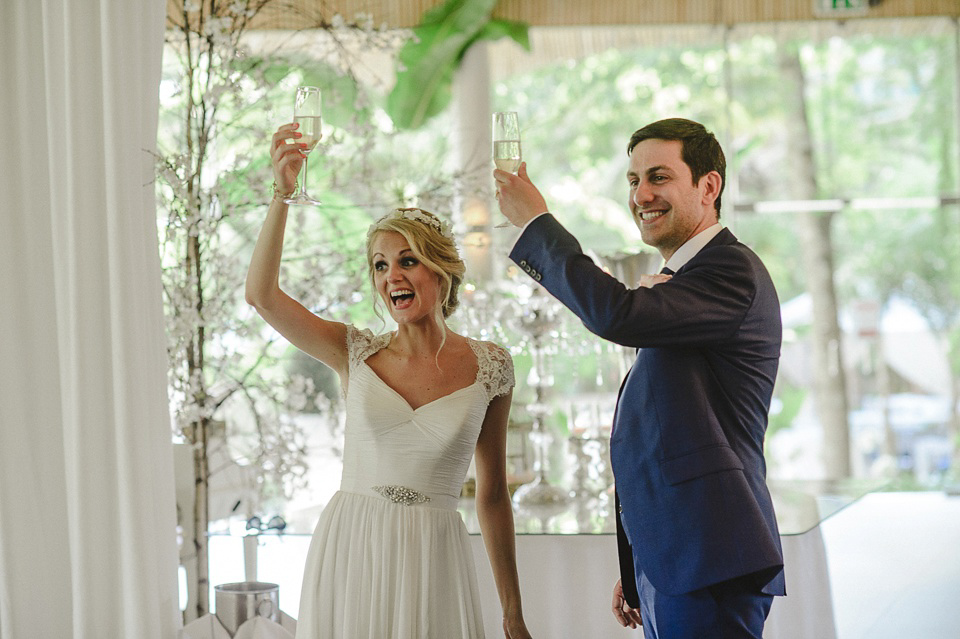 To entertain the guests, a traditional Portuguese band played throughout the day, followed by a DJ in the evening. The couple chose 'All of Me' by John Legend for their first dance song.
"Sergio and I were in the car together the first time we ever heard the song and loved it instantly. The lyrics are just beautiful. After a couple of verses we asked the DJ to mix it into 'Good Times' by Chic so we could get everyone up on the dance floor, but not before Sergio picked me up and spun me round so fast I was in danger of knocking someone out with my flower crown. Definitely a memorable moment! The DJ then played a couple of Portuguese songs, which made for lots of fun on the dance-floor as our English friends and family – many of them after several glasses of wine! – attempted to pick up the steps from the Portuguese guests."
"It's so hard to choose one part as we just loved the entire day – from the getting ready in the morning, through to sweaty dancing into the early hours. But walking out of the church as husband and wife and seeing all our friends and family was amazing, as was our entrance into dinner – throwing some shapes to Flo Rider's 'I don't like it, I love it'!"
Other than the actually getting married part, the most incredible thing about your wedding day is looking around and seeing everyone who's close to you in one place. The fact that over one hundred people had flown to Portugal for us made it even more special."
Words of Wedded Wisdom
"I loved the planning process and putting together all the little touches that helped personalise our day, but my advice would be don't let this consume you. In this modern world of wedding planning we are so lucky to have Instagram and Pinterest at our fingertips, filled with incredible images and inspiration, but it's easy to get caught up in that and lose track of what's important – actually getting married!
As I mentioned with my dress wobbles, I wasted far too much time before the day fretting that everything wouldn't live up to a vision of perfection I'd created in my head. The day of the wedding is when you finally realise that declaring your love and commitment to each other in front of your friends and family is what it's all about, and that in itself is the makings of a pretty perfect day. It goes so quickly that you have to enjoy every second – there's no time to even think about the little things that seemed so important the day before!"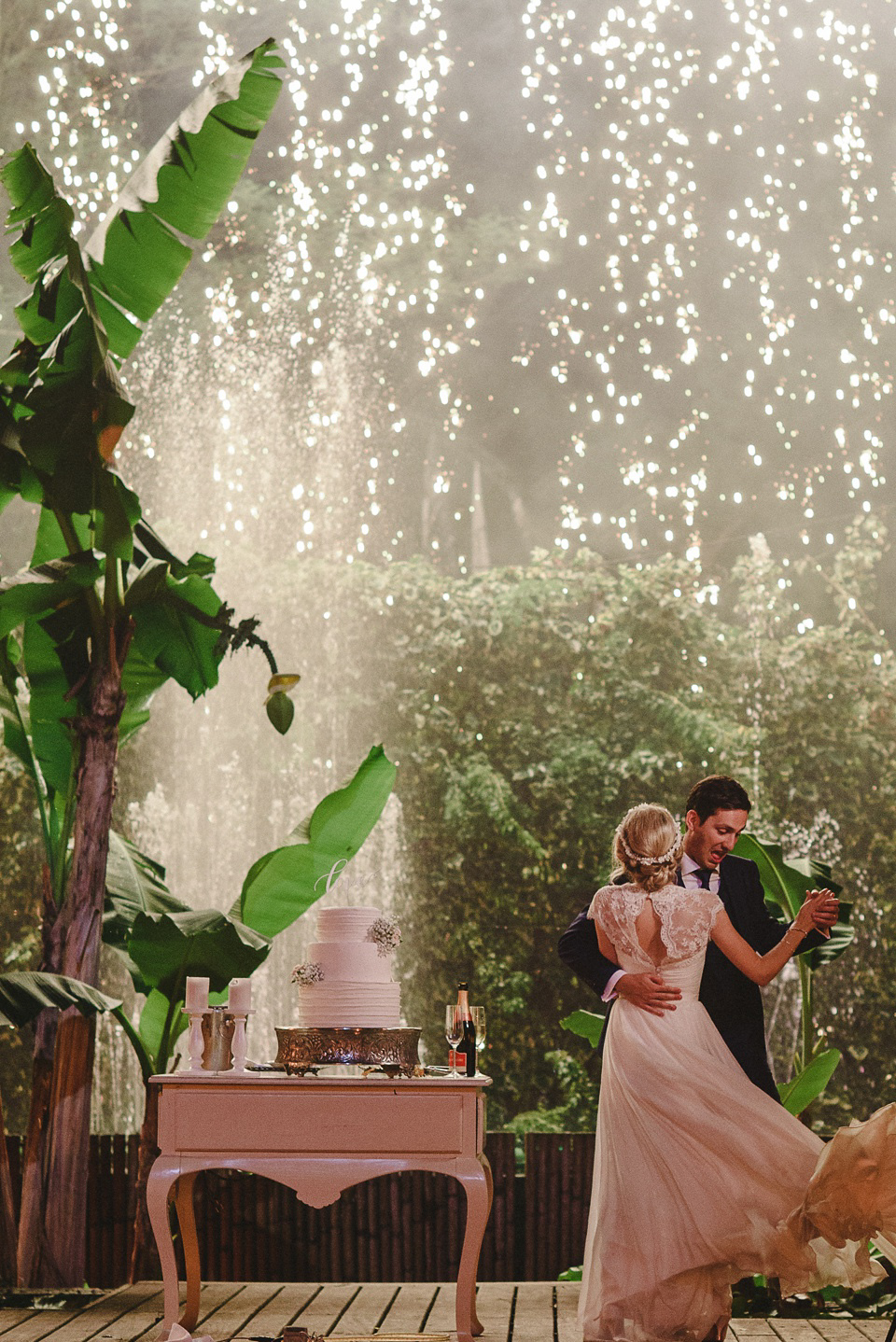 Thank you Lizzie for these incredibly wise words. I know our brides and grooms will find this guidance very helpful. Congratulations to you and Sergio on your special day and I've so enjoyed sharing your story with our readers. And a big thank you to Luis from Quem Casa Quer Fotos for sharing these stunning pictures of the couple.
Be sure to see more Suzanne Neville elegance here from other beautiful weddings we've previously highlighted.
Wishing all you lovely readers the jolliest of Christmases and here's to a brilliant 2016 for everyone. I'm off to finally conquer the pastry battle and bake that batch of mince pies (and find a good hiding spot from hubby so they don't get eaten before the big day!).
Love 'n' kisses under the mistletoe
Jo -x-
Photographer – Quem Casa Quer Fotos
Venue – Quinta Lago dos Cisnes, Portugal
Ceremony – Santuário de Nossa Senhora da Abadia, Amares, Portugal
Dress + Veil – Suzanne Neville via The Bride in St Albans + silk camisole and skirt combo from BHLDN
Shoes – Repetto
Hair accessory  – Etsy
Jewellery – Diamond earrings from the groom + bracelet from Jon Richard + knot bracelet from Etsy
Scent/Perfume – Chanel's 'Coco Mademoiselle'
Bridesmaid's Dresses – Georgia' by Sally Eagle via Luella's Boudoir
Bridesmaid's Shoes – Own shoes
Bridesmaid's Accessories – Knot bracelet from Etsy + pearl necklace from Asos
Groom – Suit, tie and shoes from Reiss + gold tie clip and cufflinks by Lanvin via Mr Porter
Florist – Bloom Flores & Eventos
Rings – Family rings for the bride and groom's ring via a local jeweller
Catering + Cake – By the venue + cake topper via Etsy
Stationery – By Emma Amato, a graphic designer friend
Favours – Mini bottles of Taylor's port via Just Miniatures
Makeup Artist – Barbara Brandao
Hair Artist – Vanessa Campos
Entertainment – A traditional Portuguese band during day + DJ in the evening (suppliers unknown)
Transport – Vintage Bentley from Matrimonio Car