Merry Christmas Eve-Eve lovely readers. I feel very privileged to be writing one of the last posts before the Christmas break and I'm pleased to say that we're sending you out on a real high- today's wedding is just lovely.
As anyone who knows me will tell you, I love books – I can think of nothing better than curling up in front of a fire with a brand new adventure to leap into, or an afternoon wandering round a bookshop breathing in that wonderful papery smell. I also love the outdoors, so this wonderful farm wedding with a book decor theme is right up my street and I'm sure you're going to love it too. Matt and Suzanne married on the 5th of July 2014 at Beechenhill Farm and Lower Damgate Farm, Derbyshire, surrounded by their friends and family and many, many paperback.
"We wanted somewhere laid back and rural where we could put our own stamp on things and make a weekend out of it, with lots of accommodation close by. The styling was really inspired by the venue's surroundings: rustic, informal, bohemian. We didn't want anything to be too polished and we wanted everyone to feel at ease and to see our personalities come through."
Photography by Lucy Little
"My dress was a 1970s vintage dress from Vintage Lane Bridal & Boutique in Bolton. When I tried it on it was too big and the train was huge, but I could see its potential and I loved the fact it was floaty, feminine and unstructured."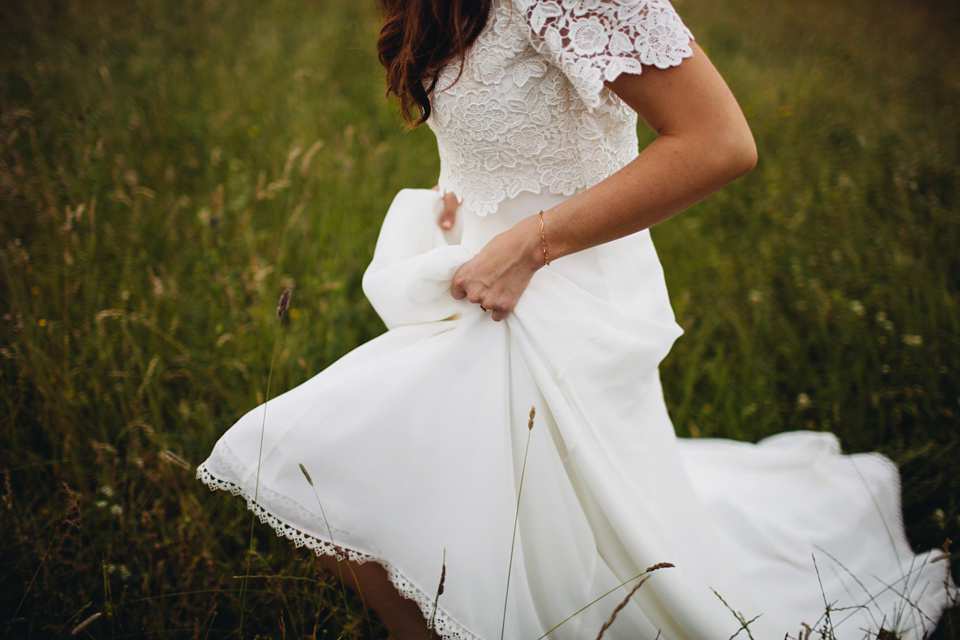 "My friend's mum, Christine, runs Cake Events and I cannot explain how good Christine's cakes are! She made us a naked cake which my friend (her daughter) dutifully assembled with some help from my mum in the morning. We also had a cake of cheese, sourced from my mum's local market, and a pork pie cake for the evening buffet."
Suzanne and Matt chose photographer Lucy Little to capture their day in pictures. Lucy is a new photographer to Love My Dress but I'm certain we're going to see more of her work in future.
"Lucy was probably the best decision we made in regards to our wedding – after actually deciding to marry one another! She went above and beyond from beginning to end, from meeting us upfront for tea and cake (so that we could check she was indeed our cup of tea) to the slideshow she put together for our first viewing which had us balling our eyes out. We couldn't be happier with the output and she was like a ninja on the day! I don't know how she got to be in so many different places. If Lucy happens to be free on your date, count yourself very very lucky."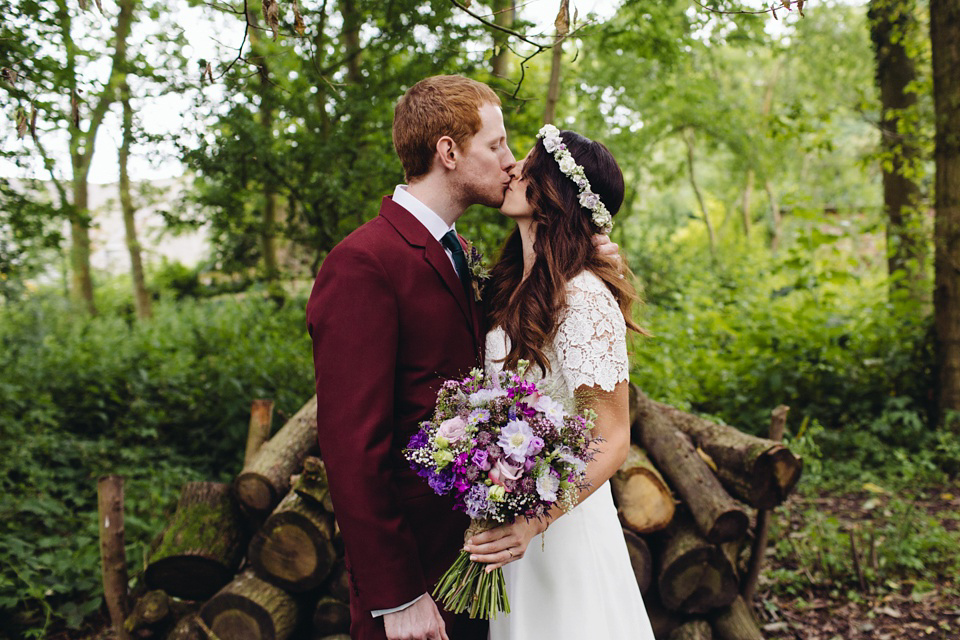 "My shoes were 'Bohemian' by Harriet Wilde. I'd planned on trying to find something a bit more practical for a farm wedding but I fell in love with them and couldn't part with them once they arrived."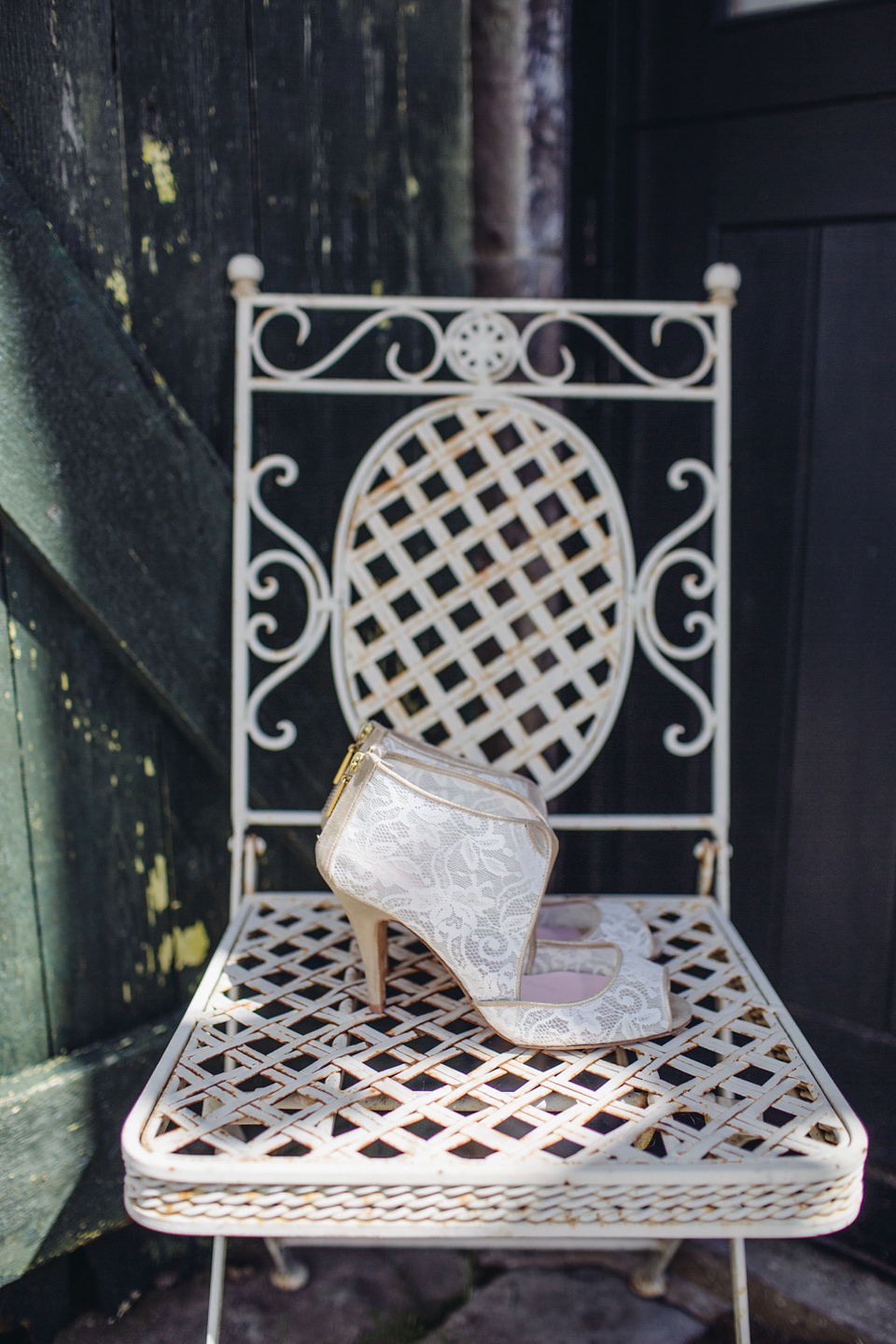 As her something old and something blue Suzanne wore a necklace bequeathed to her by her Nanna – a super delicate drop style with a blue stone. In her ears she wore the matching studs. Her something borrowed was a gold bracelet belonging to her Mum. I love the family connections here, with the jewellery moving through the generations.
"I planned on a fresh flower crown but started to get nervous about only getting to try it on the morning of the day itself. I had a total 'meant-to-be' moment in the end; I'd found a supplier of beautiful clay flower crowns but left the appointment with my heart sinking due to how expensive they were."
"On my way home I decided to cheer myself up with a wander around Spitalfields market, where I met the lovely Fiona Jones who was running her first ever stall selling her fabulous floral headpieces.  She agreed to do a bespoke piece and even ended up hand painting all the flowers individually; I could not have been more thrilled with the outcome and I get to keep it forever!"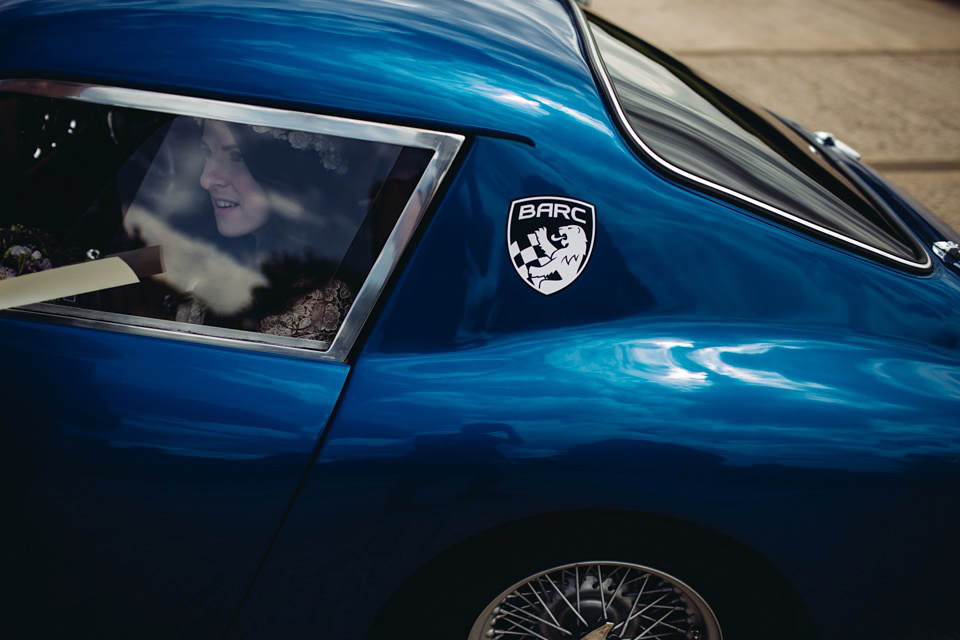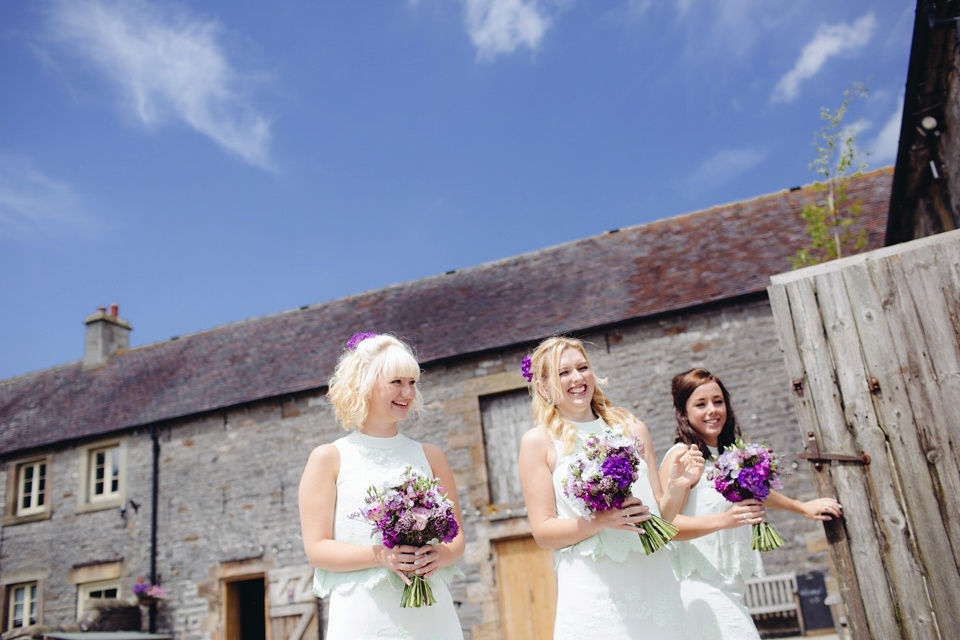 Matt looked very sharp in a burgundy three-button suit from Mod Clothin. On delivery he discovered it was too large so had it taken in by a lovely tailor in Soho, and you would never know it hadn't been made for him. The colour is just perfect as a match for Suzanne's 1970's dress- I'm sure I've seen photos of my dad in something similar back in the day.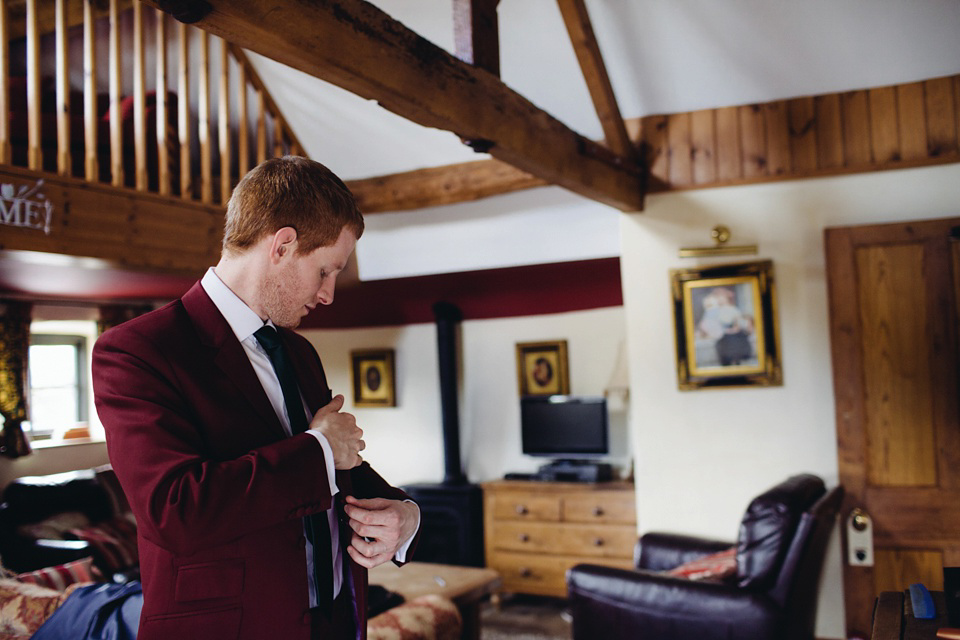 His cufflinks were custom-made by two of his groomsmen for his 30th birthday- how lovely!
"We didn't worry too much about matching best men and groomsmen, but they each wore mint ties from Ties Planet to complement the bridesmaids' dresses.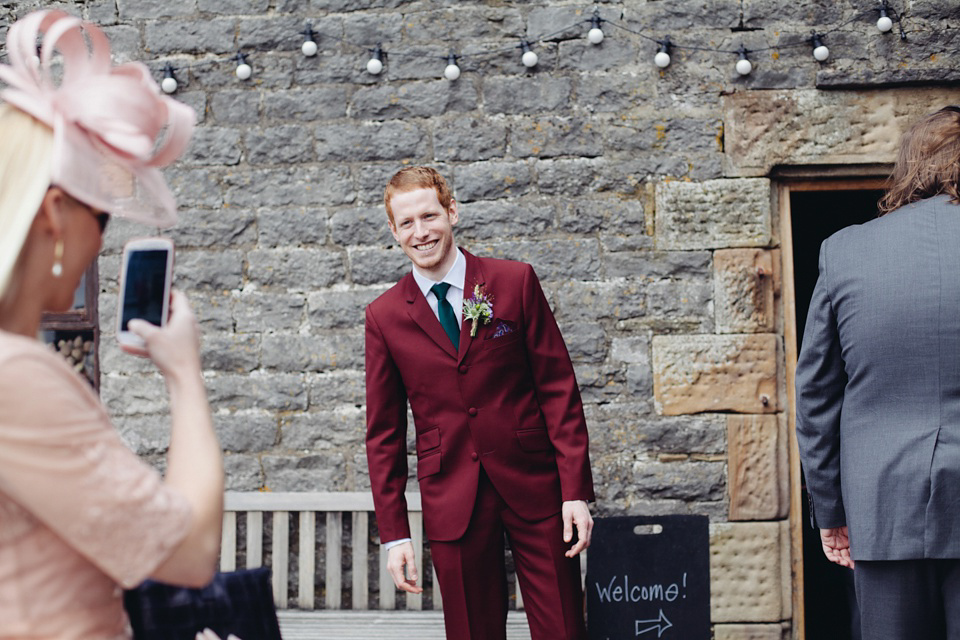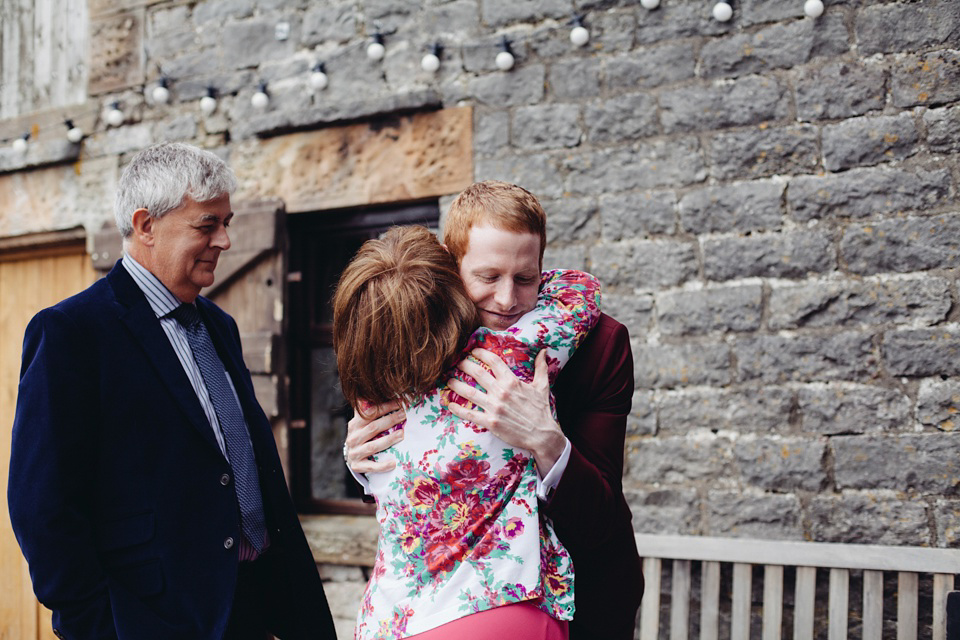 "We went to school together so have known one another for a long time. Matt asked me out when we were twelve and I coldly rejected him, but it made good content for his wedding speech to laugh about the fact he ended up marrying 'the first girl he ever found fascinating'. We didn't stay in touch after school but met again in our early twenties when someone from school organised a reunion on MySpace. Matt proposed on a weekend in Paris in March 2013."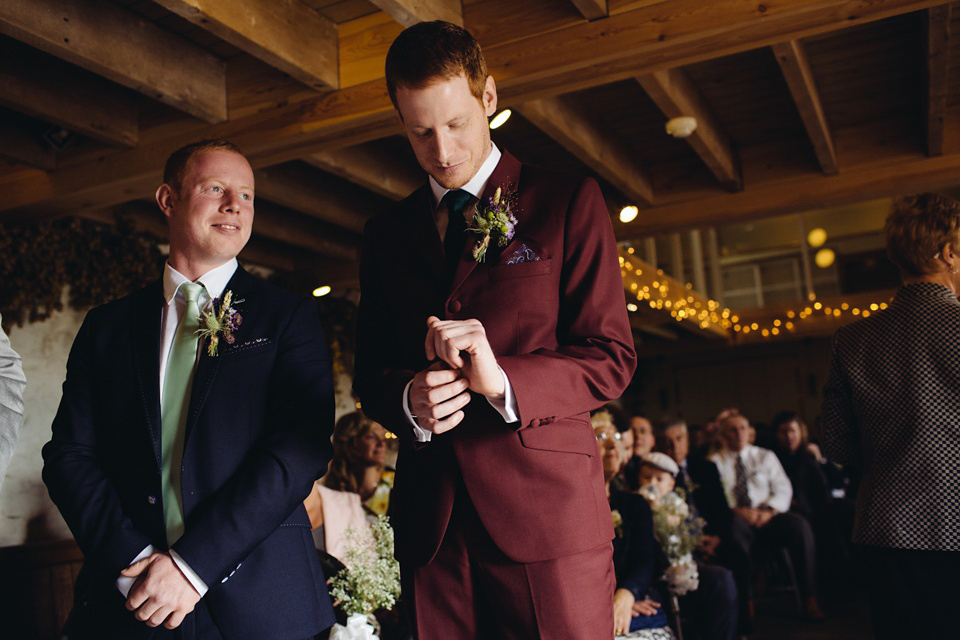 Suzanne walked down the aisle with her Dad to Untitled 4, by Sigur Ros, a song she and Matt used to listen to on long drives when they first started dating.
"Our formal ceremony was followed by a blessing outside on the farm. We kept the ceremony vows simple and although we didn't have a traditional church wedding we did want to say the 'til death do us part' traditional marriage vows as part of the blessing."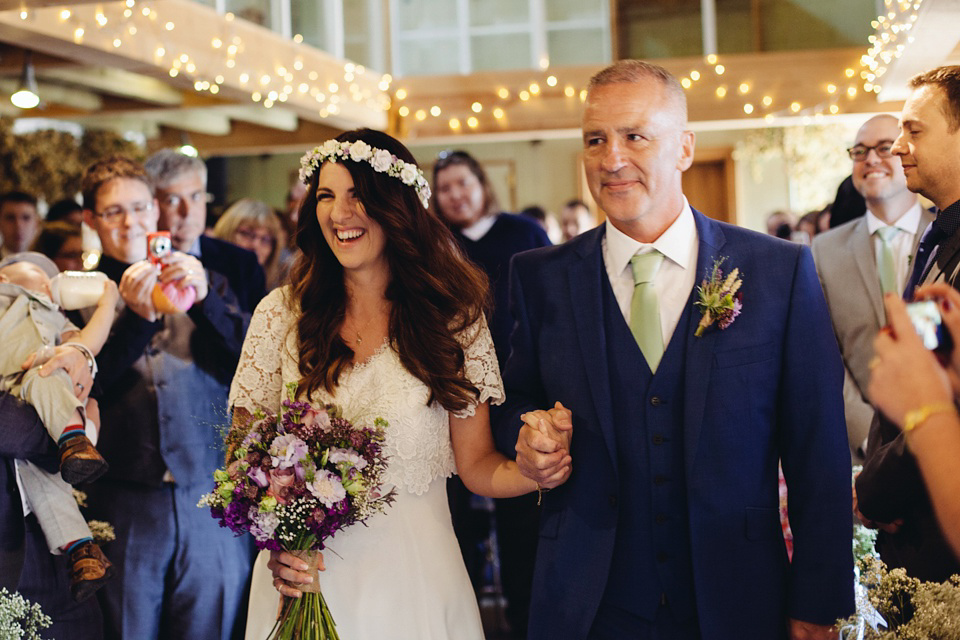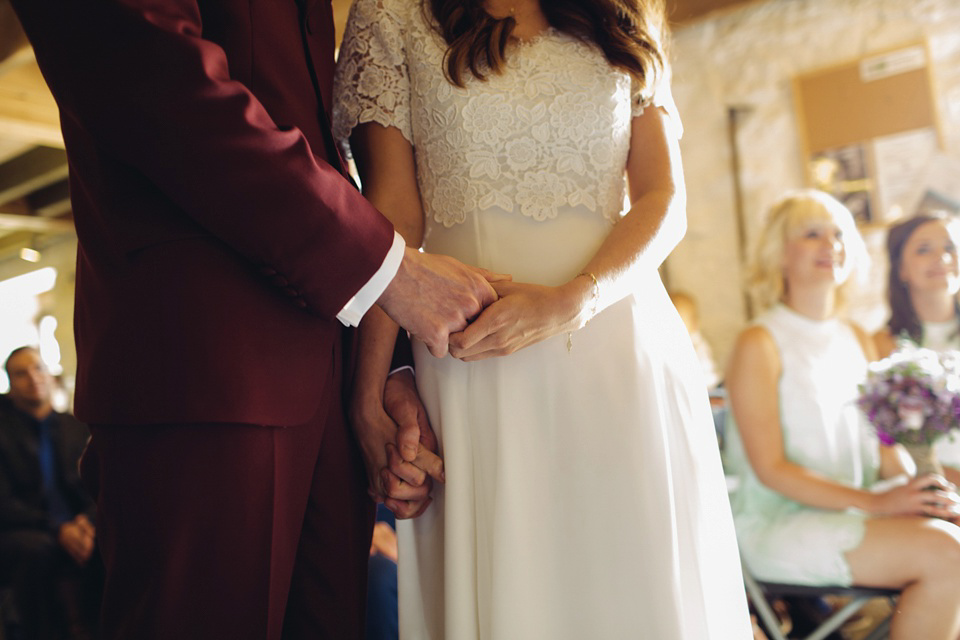 Suzanne's brother did a reading which was a mash-up of Hemingway extracts – one of them her favourite quote from 'A Moveable Feast' and a close friend read a bible passage at the blessing as well.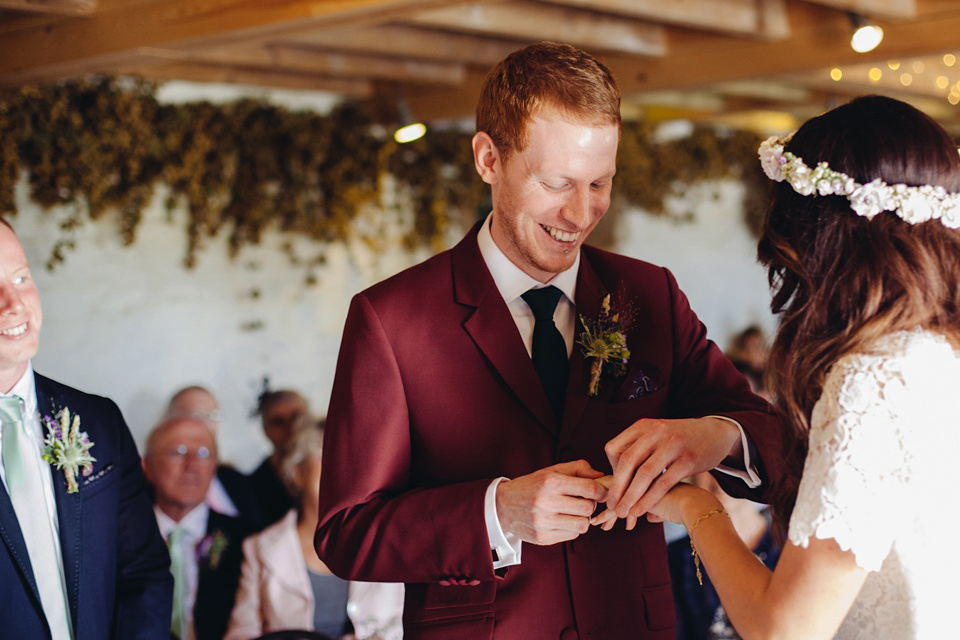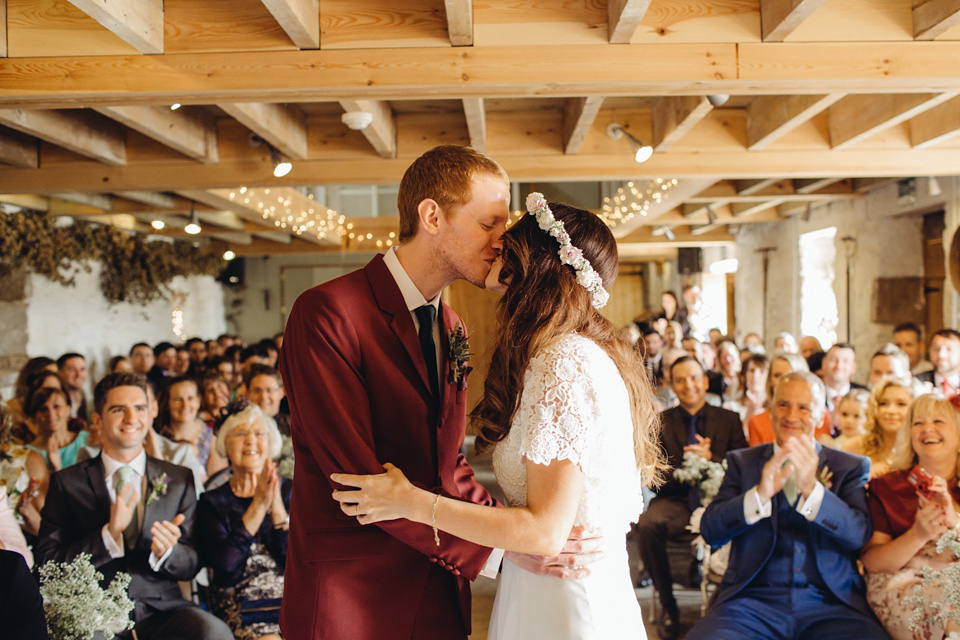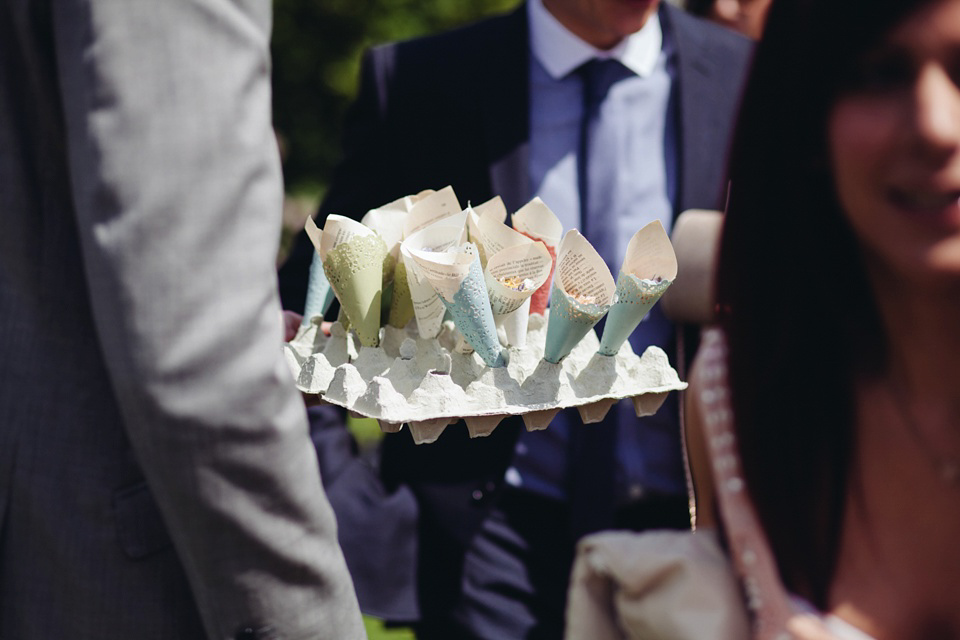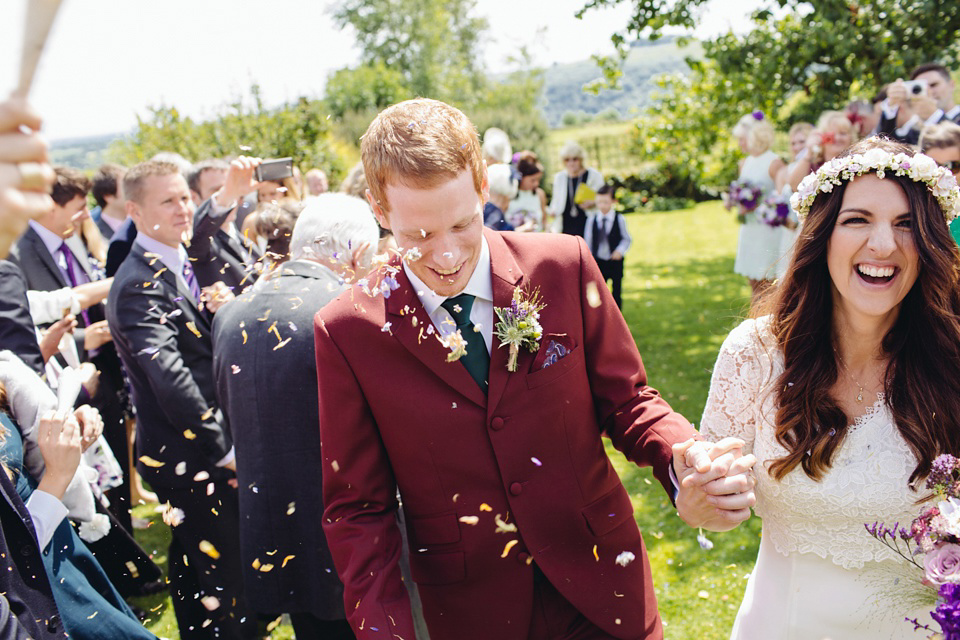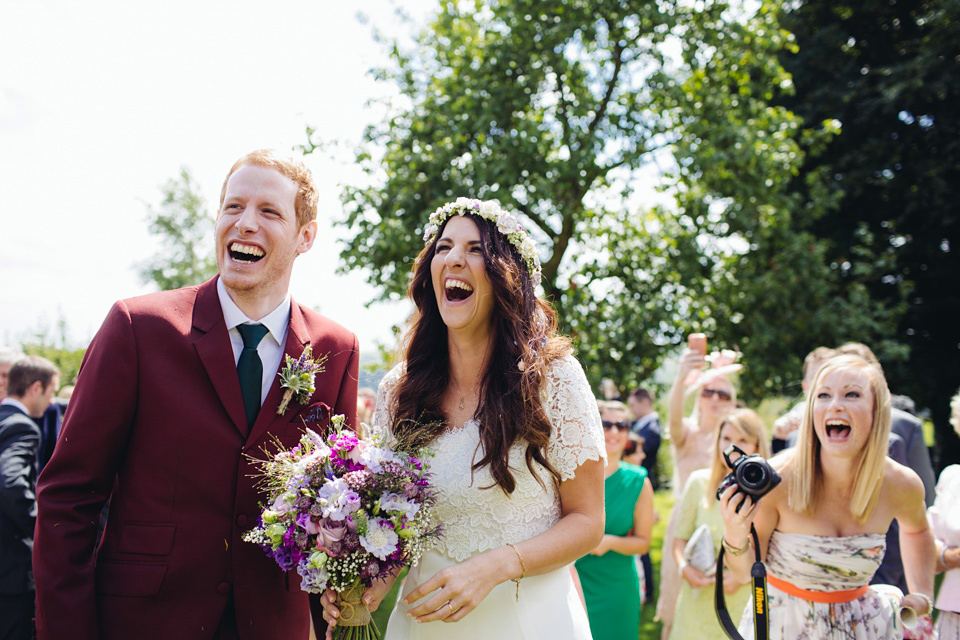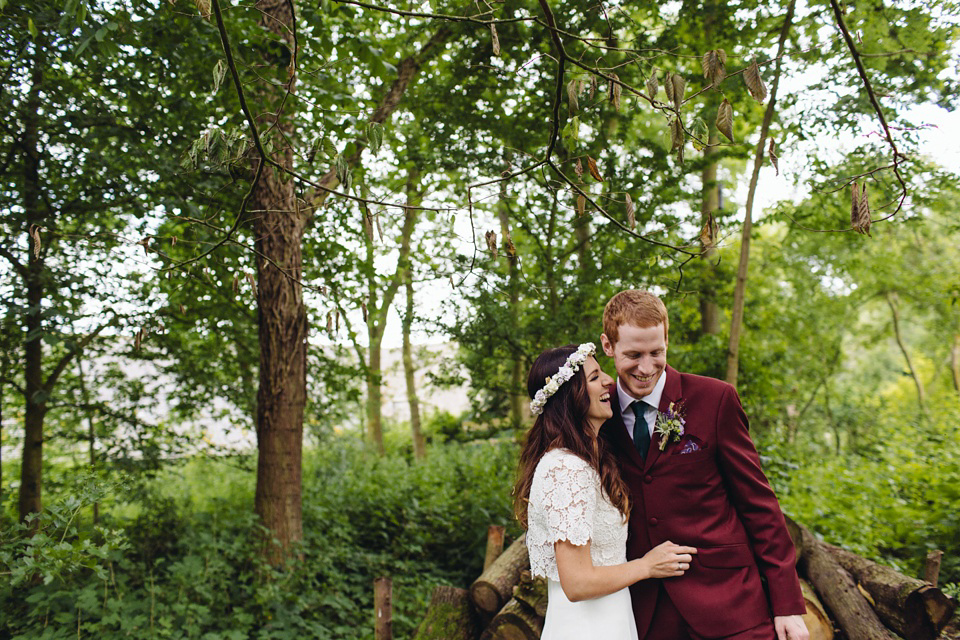 Florist Nadia Di Tullio was the artist behind the beautiful bouquets and rustic buttonholes.
"Nadia worked wonders with my woolly brief! I'm not up on my flowers, and all I knew was that I wanted natural, wild and rustic in shades of purples. She did a fabulous job of bringing that to life with the bouquets and buttonholes – they were the most stunning flowers I've ever seen. We had amazing friends who helped us do DIY flowers for the tables and the barn, but Nadia also supplied crates to add to that rustic feel."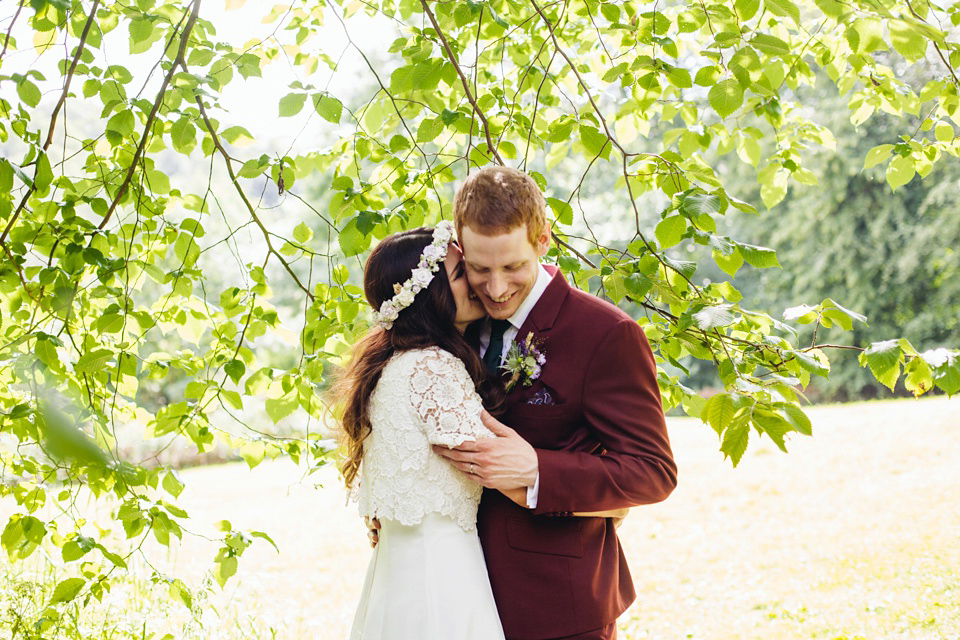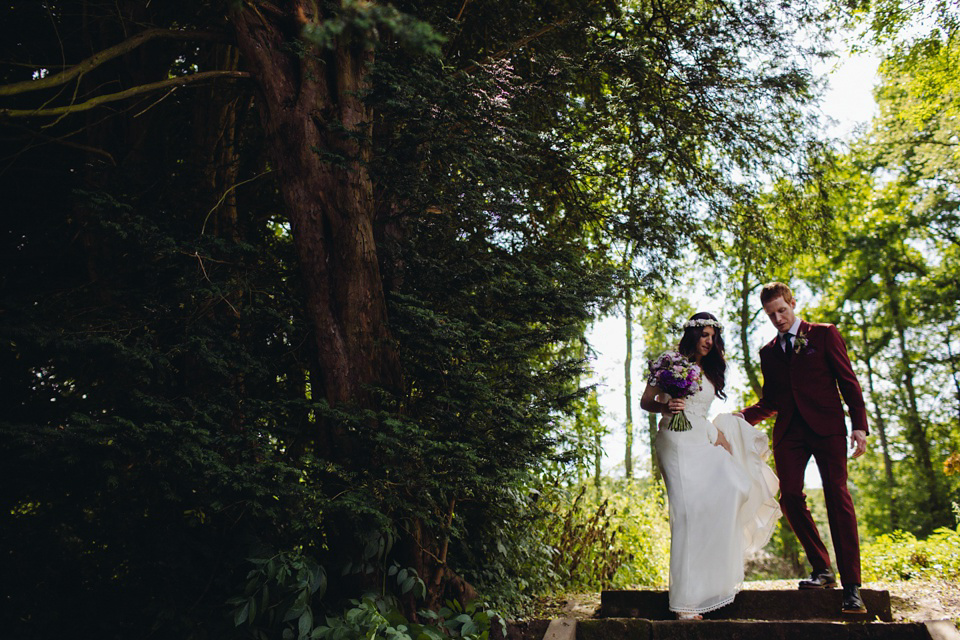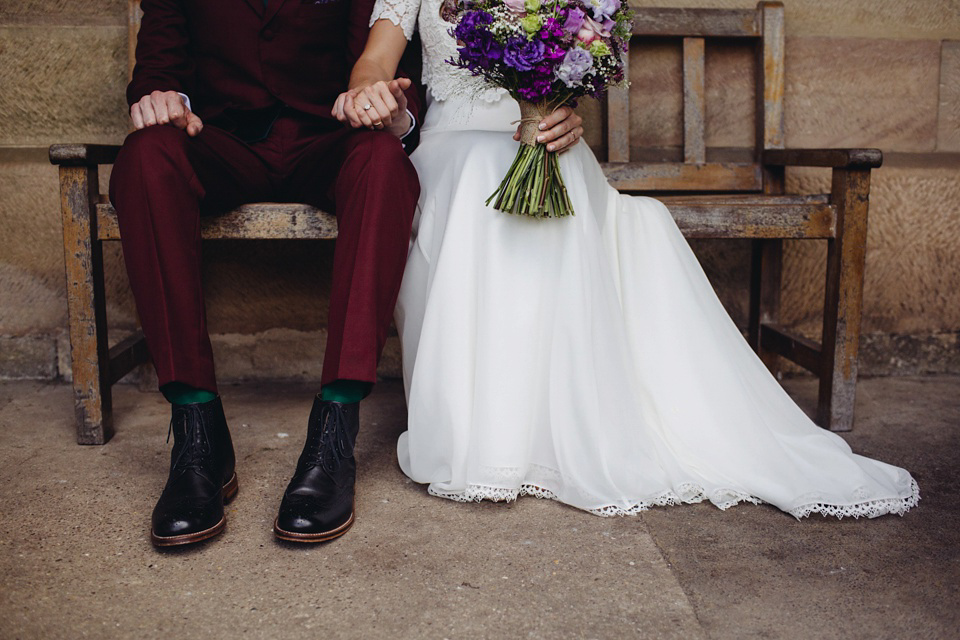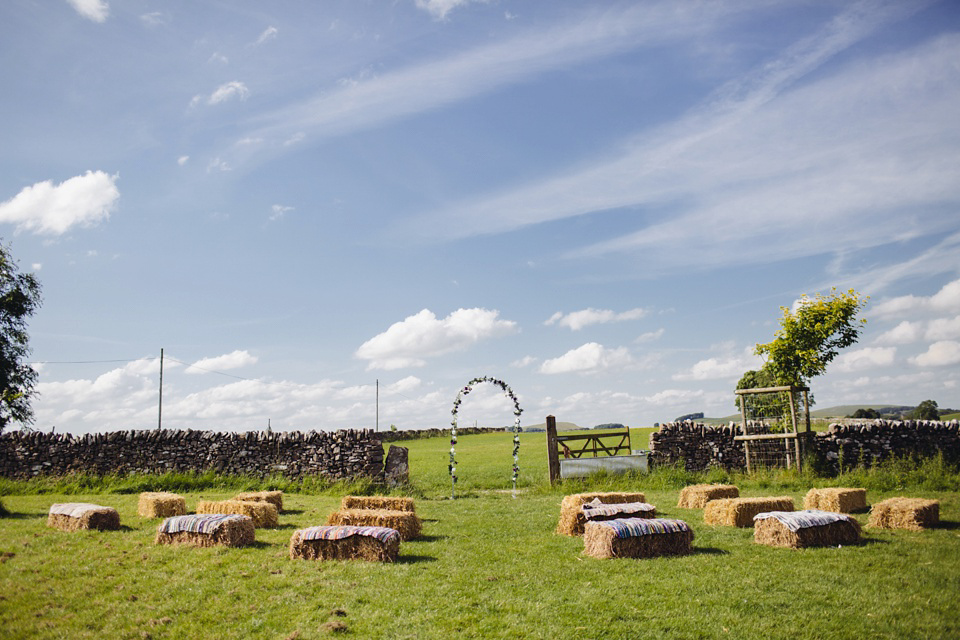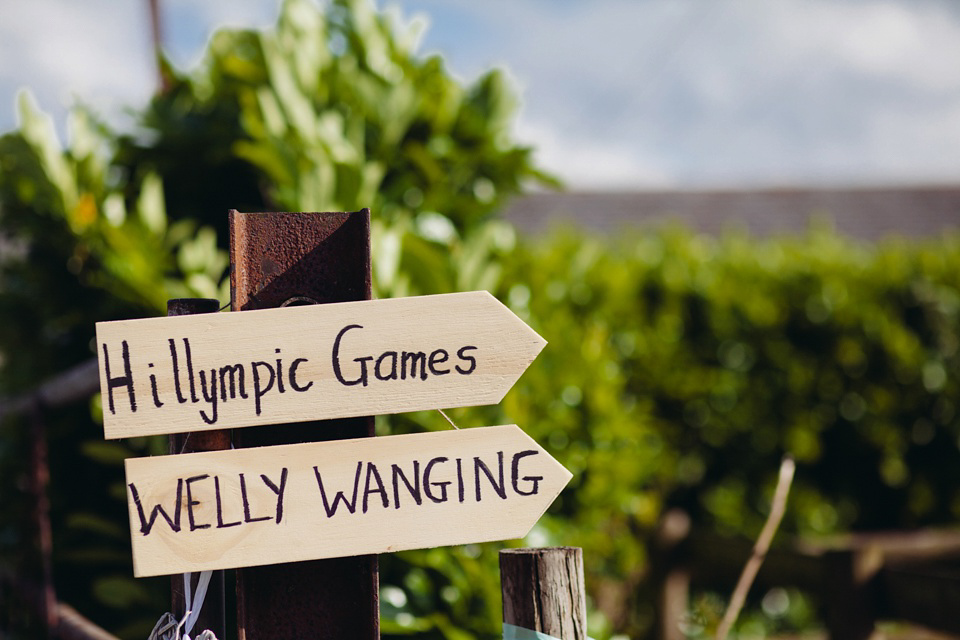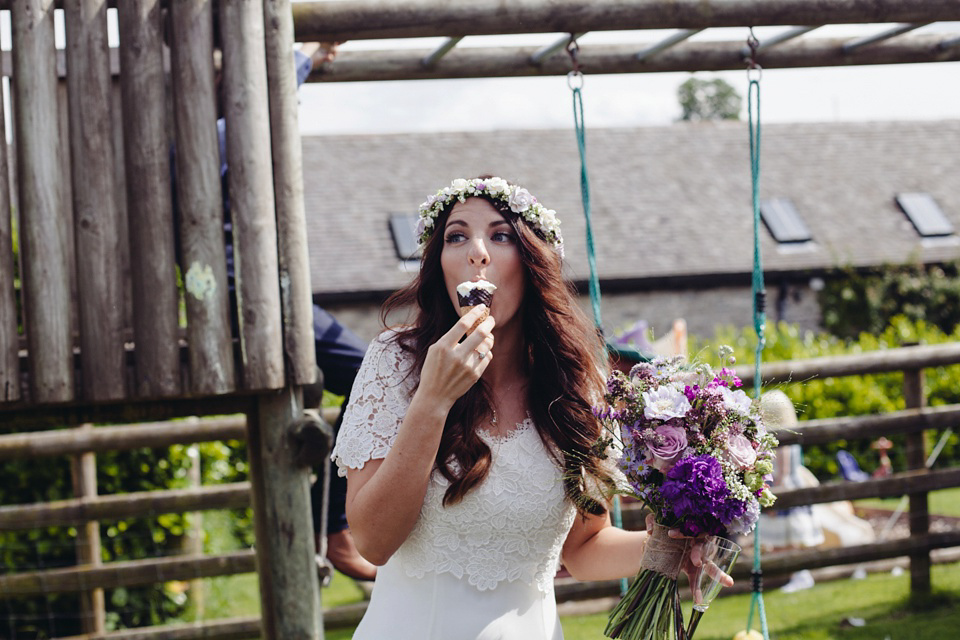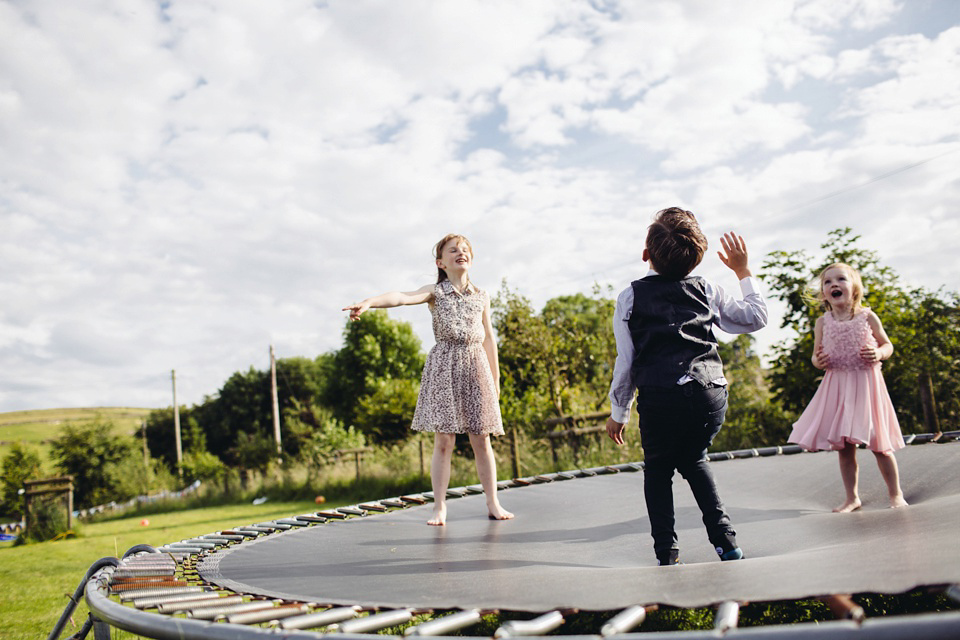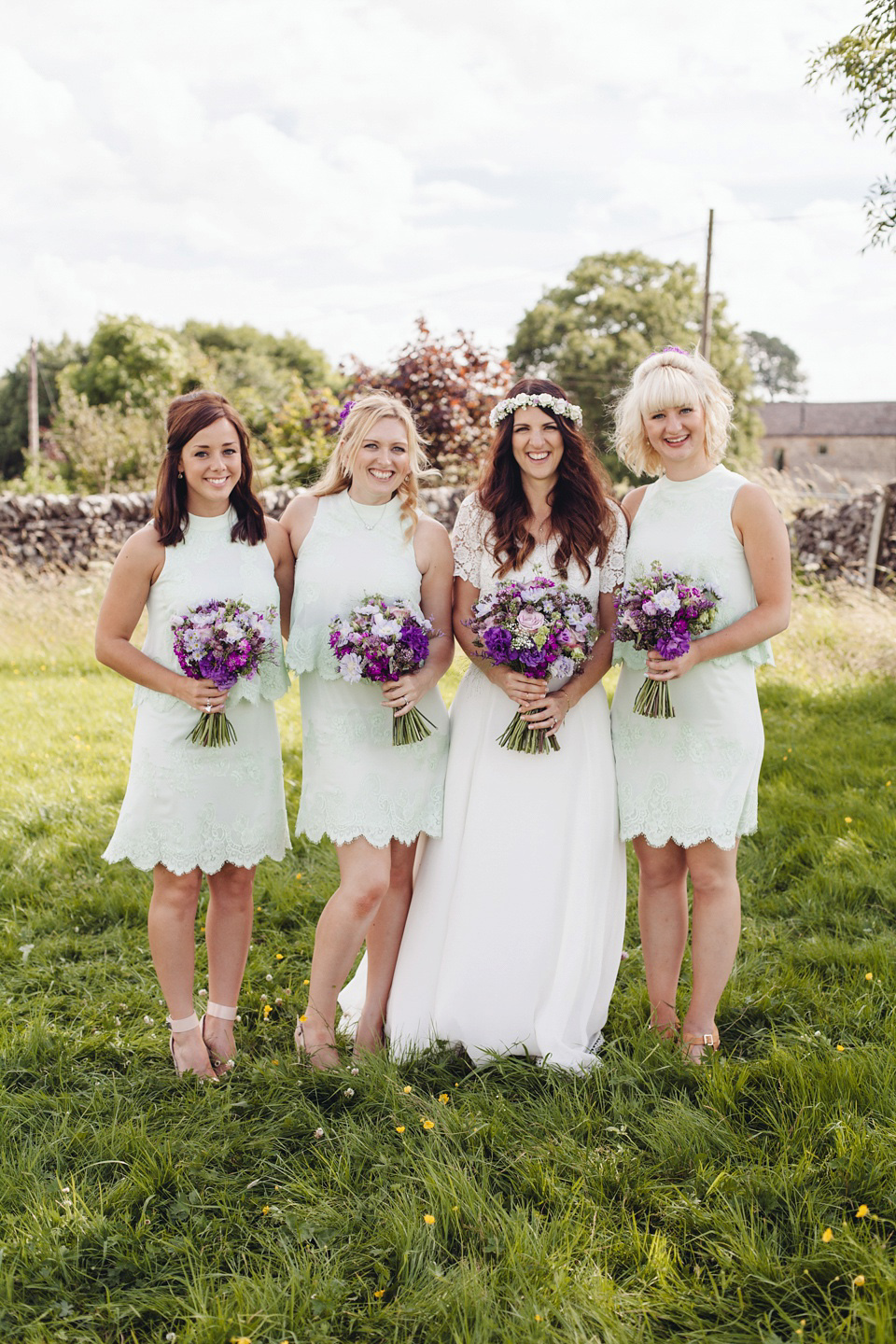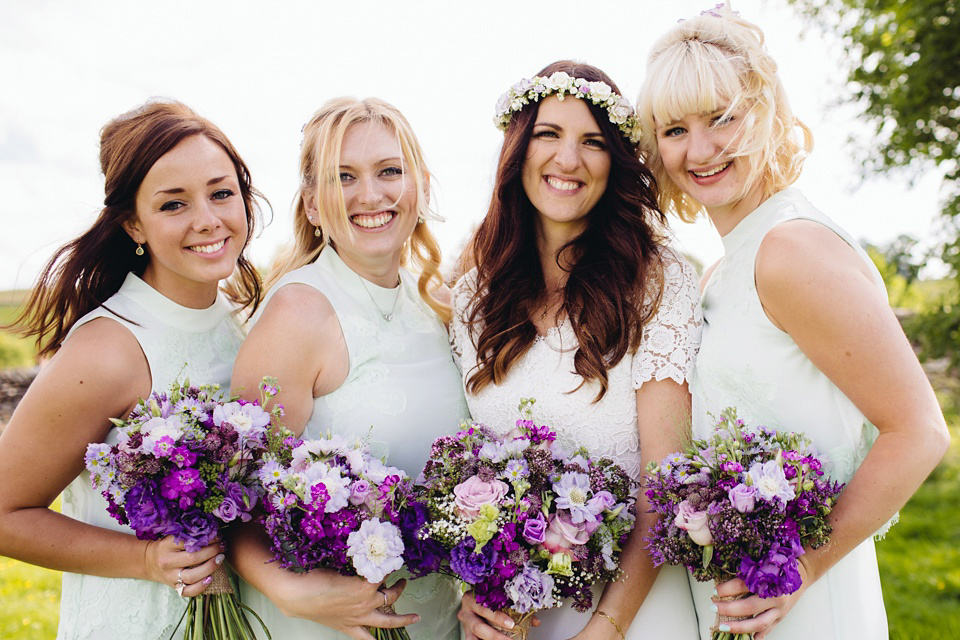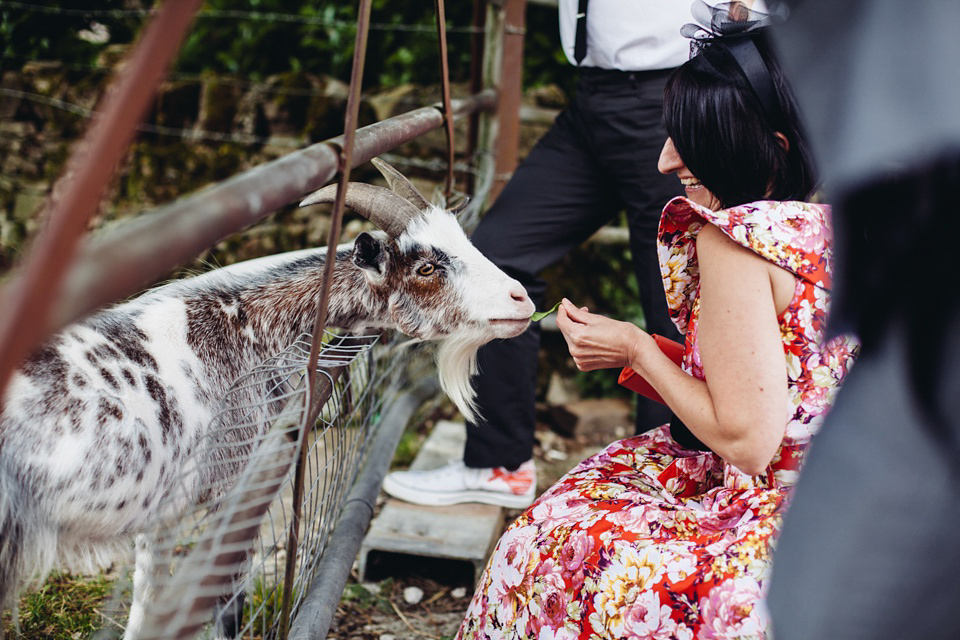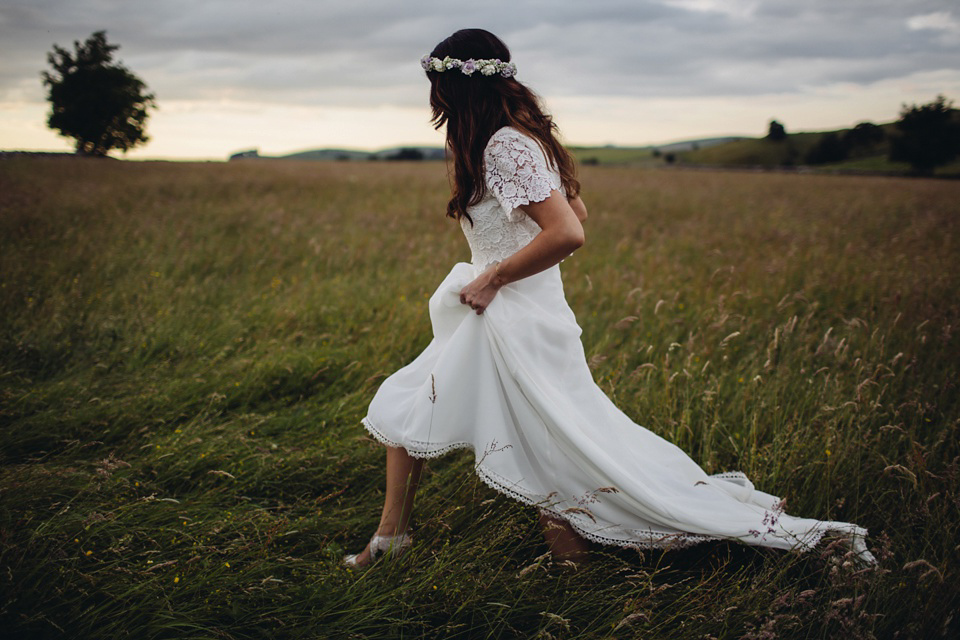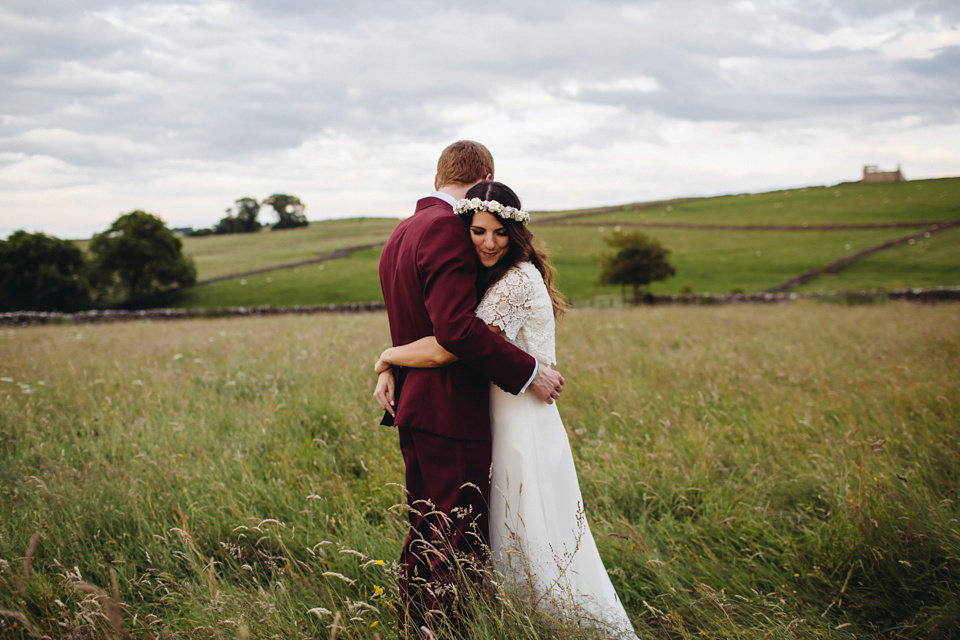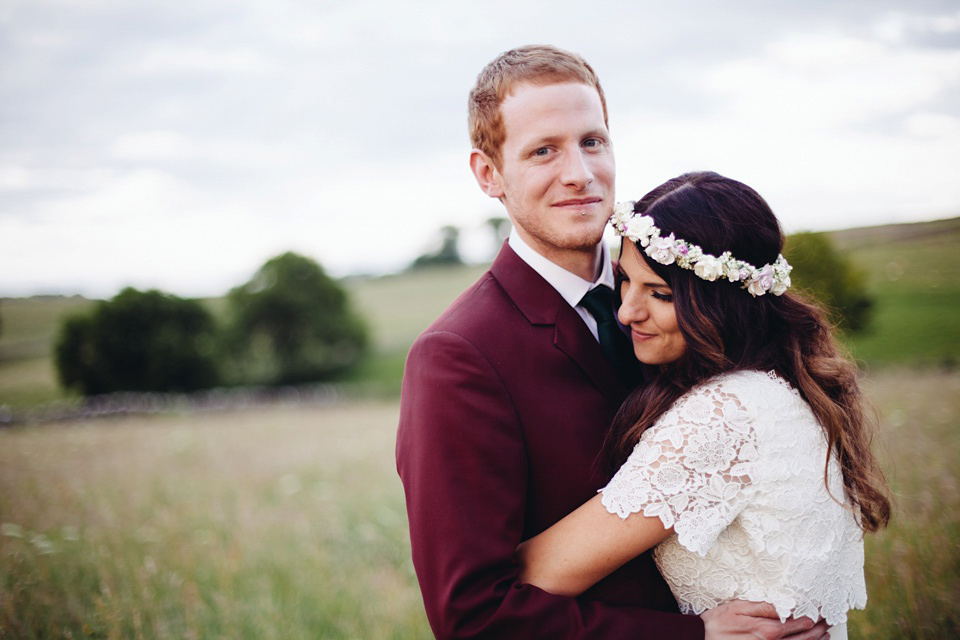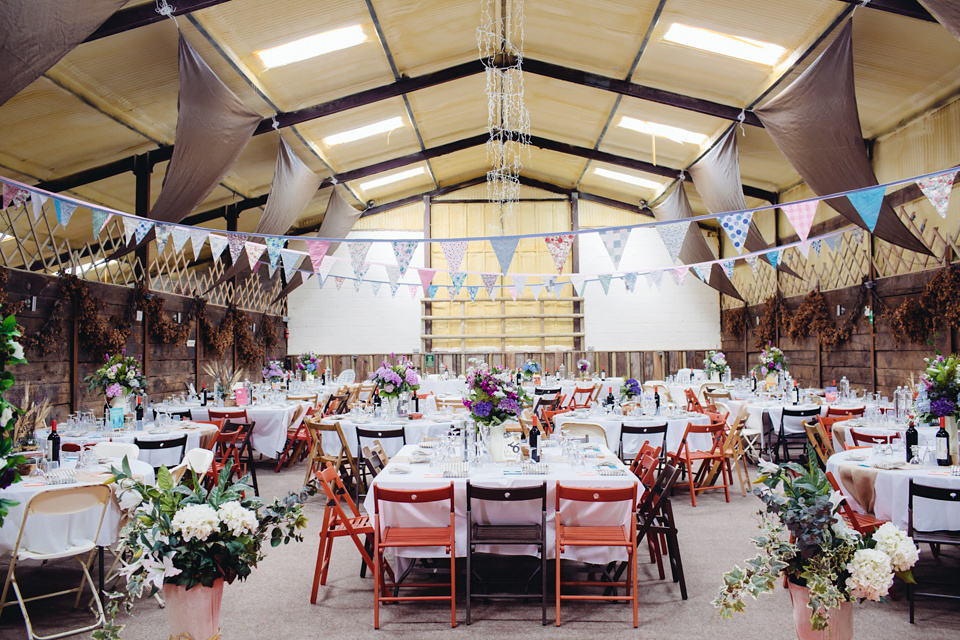 "Matt is an author, so we had a bookish theme to the day. Matt had an amazing idea for place names and made each person an individual Penguin-style book cover with their own book title. It took a lot of imagination and creativity to come up with a personal and relevant title for 160 guests! Our place names doubled up as favours and most people have framed theirs since.
As part of the book theme, we made heart-bunting and table confetti out of book pages. We had stacks of old books tied with string on the tables, as well as quills and a vintage typewriter. Table names were our favourite books, propped up on mini easels."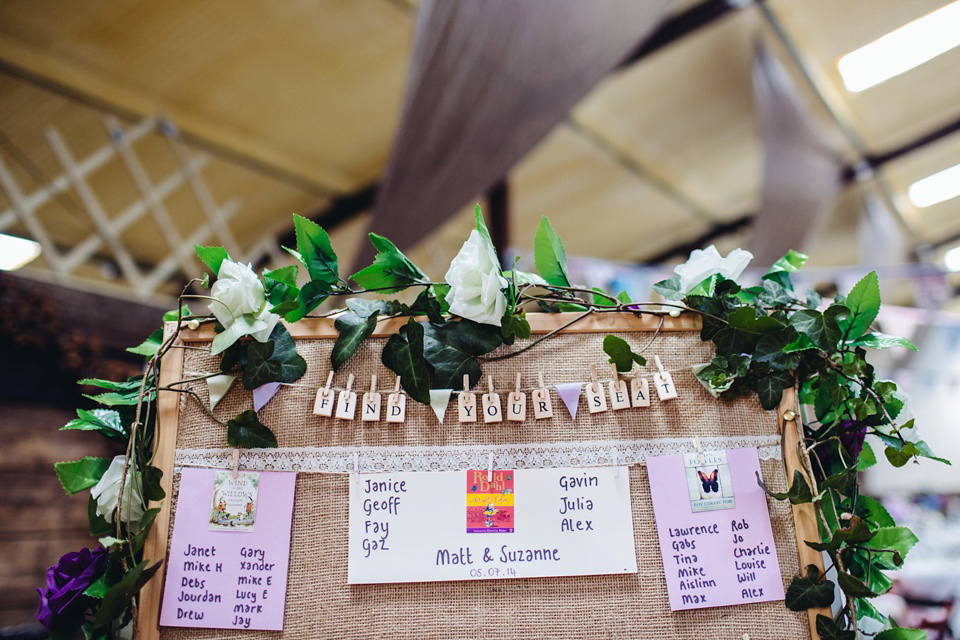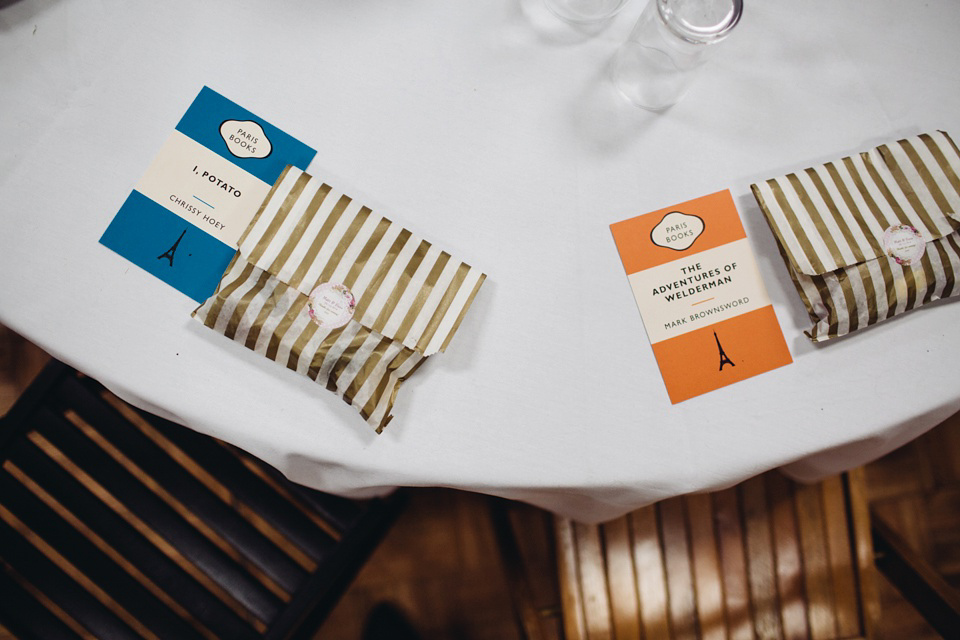 "For the wedding breakfast we had a hog roast provided by Hot Roast Hogs which was perfect for our large number of guests and went down a treat. They also provided spicy wedges as part of the evening buffet."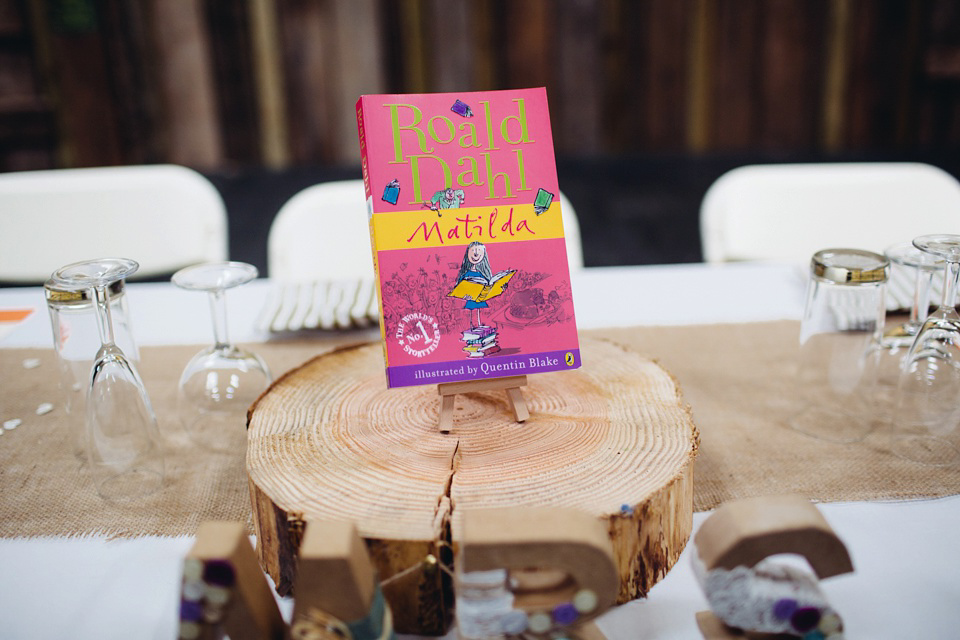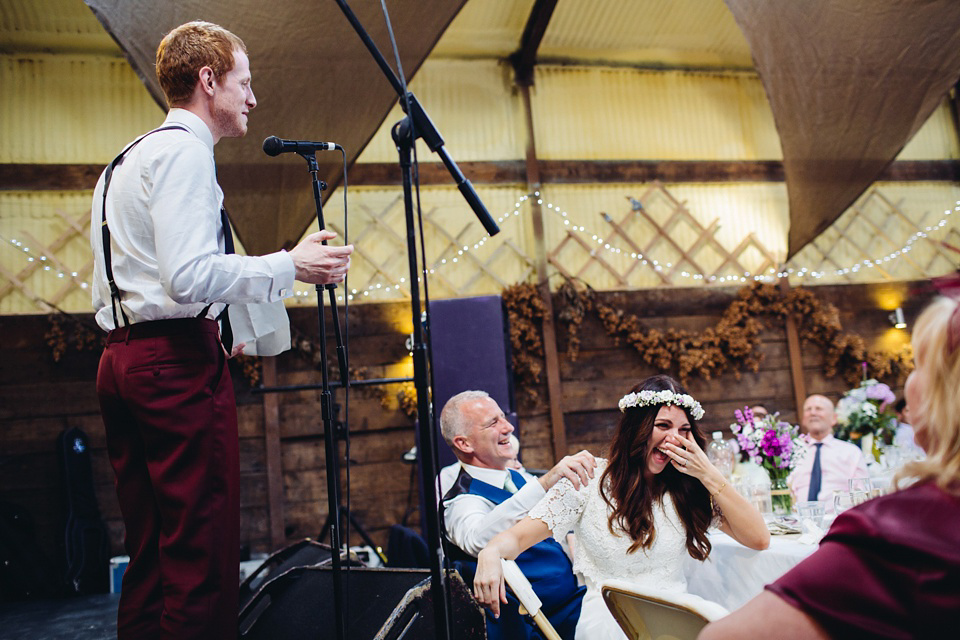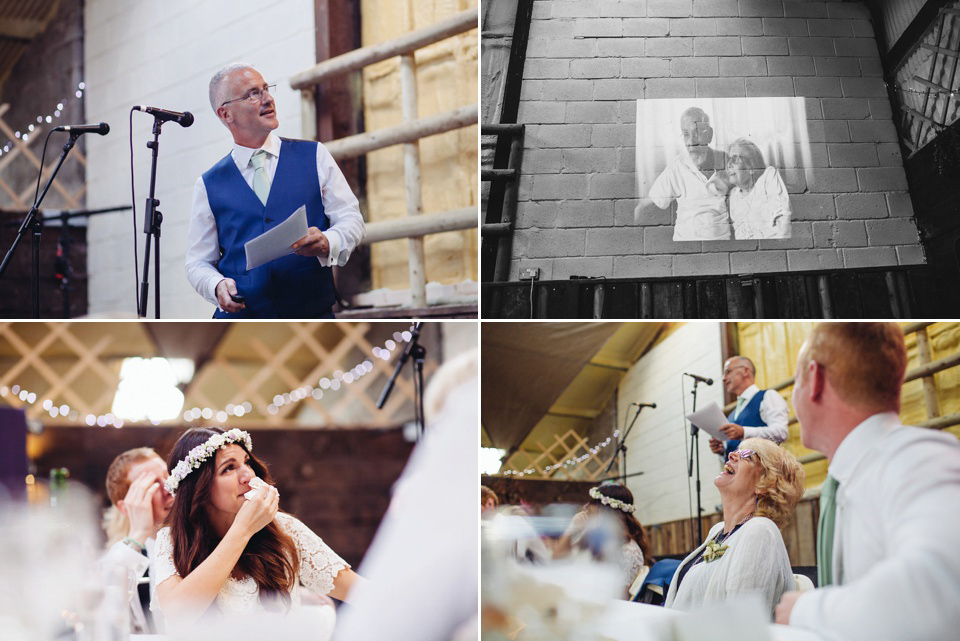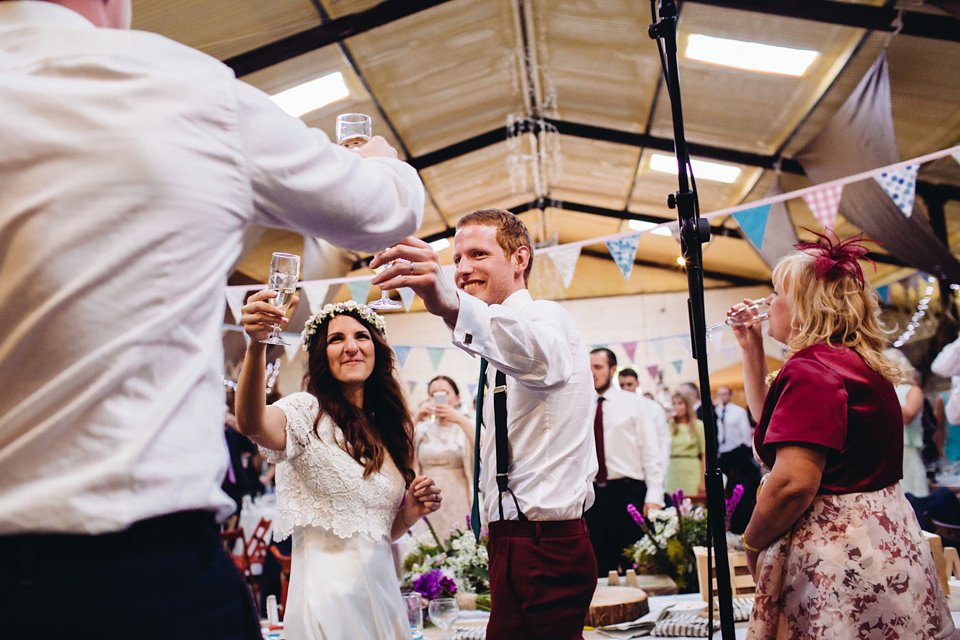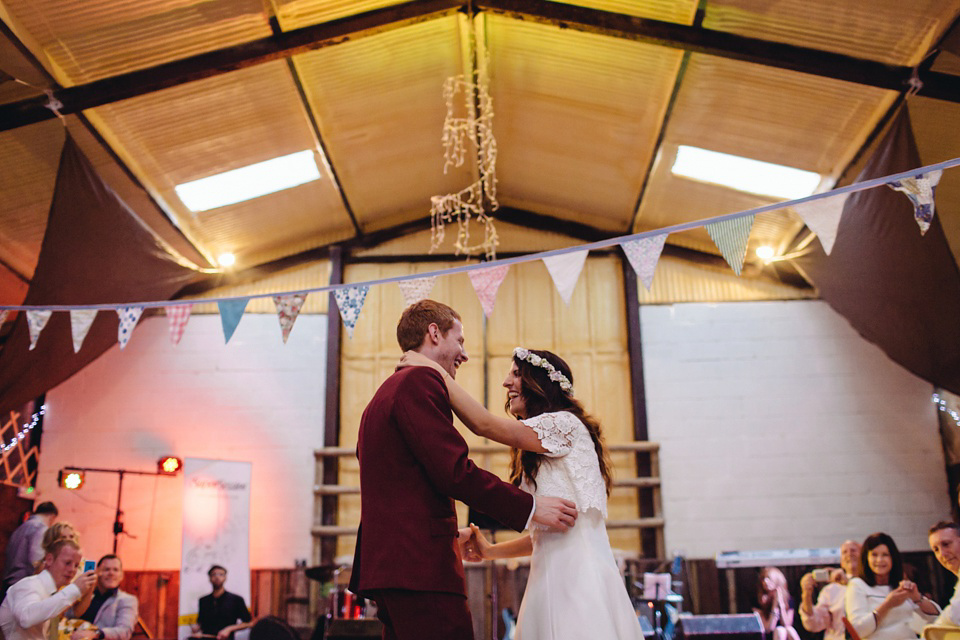 "I don't think either of us could possibly pick a favourite moment. The whole day was the best day of our lives from the quiet moments with my dad before the ceremony, to seeing Matt for the first time, to dancing our socks off (including all the hens surprising everyone with a routine we'd learnt on the hen do!) – I wish we could relive it all again!" 
"We were lucky enough to have our close friend Lucy Evans sing an acoustic version of Disclosure's 'Latch' at our ceremony and 'Into My Arms' by Nick Cave at our blessing. You could have heard a pin drop, she is so captivating."
"We had the fabulous SuperSession provide the evening entertainment. The dance floor was never empty! All of our guests raved about them. Our first dance was to 'Shuffle' by Bombay Bicycle Club. It makes us both ridiculously happy and it was more fun to dance to than something soppy."
Words of Wedded Wisdom
"Be confident in the decisions you make; your gut was probably right the first time. I had numerous wobbles, but turned out each decision was the right one, and if it wasn't, you won't care amid all the fun and joy of the day itself!
Also accept all offers of help; people enjoy looking round and seeing what they contributed on the day."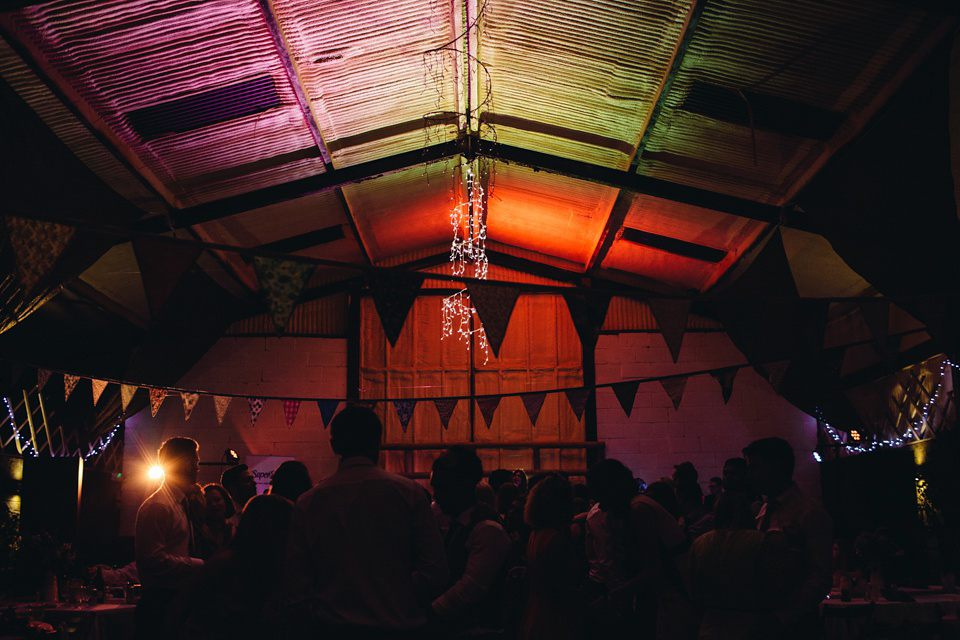 Thank you so much to Suzanne and Matt for sharing their day with us, and of course to Lucy Little for sharing her photographs, I have enjoyed every moment of writing this up.
I wish you all a very lovely festive season and look forward to seeing you all again in the new year, when we will undoubtedly be greeting lots of newly engaged people as well!
Much love and Merry Christmas,
Shona x
Photographer – Lucy Little
Venue – Beechenhill Farm and Lower Damgate Farm, Ilam, Derbyshire
Wedding dress –Vintage Lane Bridal & Boutique, Bolton
Shoes – 'Bohemian' by Harriet Wilde, purchased through Arabesque direct
Flower crown – Fifi Boutique
Accessories – Family Jewellery
Bridesmaids' dresses – Coast
Groom –Suit, Mod Clothin, boots, Grenson, shirt, TM Lewin, tie, Ties Planet
Groomsmen – Ties from Ties Planet
Florist – Nadia Di Tullio
Cake – Cake Events
Pork Pie cake – Nelson's Butchers
Catering – Hot Roast Hogs
Rings – Premier Jewellers, Hatton Garden
Hair stylist and makeup artist – Charlotte Dobson
Ceremony music- Lucy Evans
Entertainment – SuperSession
Transport – Matt's dad's WSM Sprite