Good morning readers! I hope you have all had a wonderful weekend? To help ease you into the last week in January, we have a beautiful, sunny, French château wedding to share with you this chilly Monday morn. Today's couple planned their wedding in just five months, after a date became available at their dream venue. Our free – spirited couple dispensed with traditional vows, prescribed readings and enforced dress codes and threw themselves into creating a relaxed wedding day, completely personal to them.
Dressed in a bespoke, boho – luxe inspired gown and a bright orange suit respectively, Emmanuelle (AKA Manue) and Dominic tied the knot on the 13th of June, 2015, at Château de la Bourlie, near Uval; a beautiful 14th century castle tucked away in the Dordogne hills.
"We just wanted to make sure that our wedding felt as relaxed as possible, spontaneously fun and even a little crazy! We went for colours and styles designed to put a smile on our guest's faces. Ultimately we knew what felt right and what would be too much – what was 'us' and what wasn't."
Photography by Joseph Hall
Our talented bride designed her own dress, enlisting a local tailor to make her vision a reality. With its dropped waist, low back and guipure detailing, Emmanuelle's gown is the epitome of effortless elegance…
"I only had five months to plan the whole wedding and find THE dress, so I decided to design my own gown and get it made from scratch by a dressmaker. I love my gown's boho-chic style." 
"The dress is so simple as well as being sexy and sophisticated at the same time. My girlfriends helped me fine-tune it and I was so pleased with the results. I decided against a train as I wanted to feel comfortable and dance the night way, which I did!"
Manue purchased her stunning, ivory, silk flower crown from Laure de Sagazan and accessorised with a pair of pearl earrings borrowed from her mother.
"I saw my flower crown in Laure de Sagazan's collection and had to have it."
"Dom and I met in London five years ago, while working at the same design agency. We got together two and a half years later, after Dom had moved to New York and I was in Paris. After a few spontaneous holidays to see each other, Dom moved to Paris to give the relationship a go. Two years later, during Christmas 2014, we got engaged following a sky dive in Australia…I think you know when it feels right and you just need to go for it!"
"We chose Château de la Bourlie because we wanted somewhere everyone could come and stay and enjoy the French countryside. La Bourlie has been in the same family for 800 years and is now run by an artist. The Château had everything we wanted and was also very flexible, which meant we could make it our own."
Our bride wore a gorgeous pair of statement, suede, Carvela Kurt Geiger stilettos in her favourite shade of orange and her scent was Coco Mademoiselle by Chanel.
"I knew I wanted brightly coloured shoes to finish off my outfit and they were the first thing I bought, before I'd even designed my dress! Luckily, the only brightly coloured suit that Dom found was in a similar shade – it was meant to be!"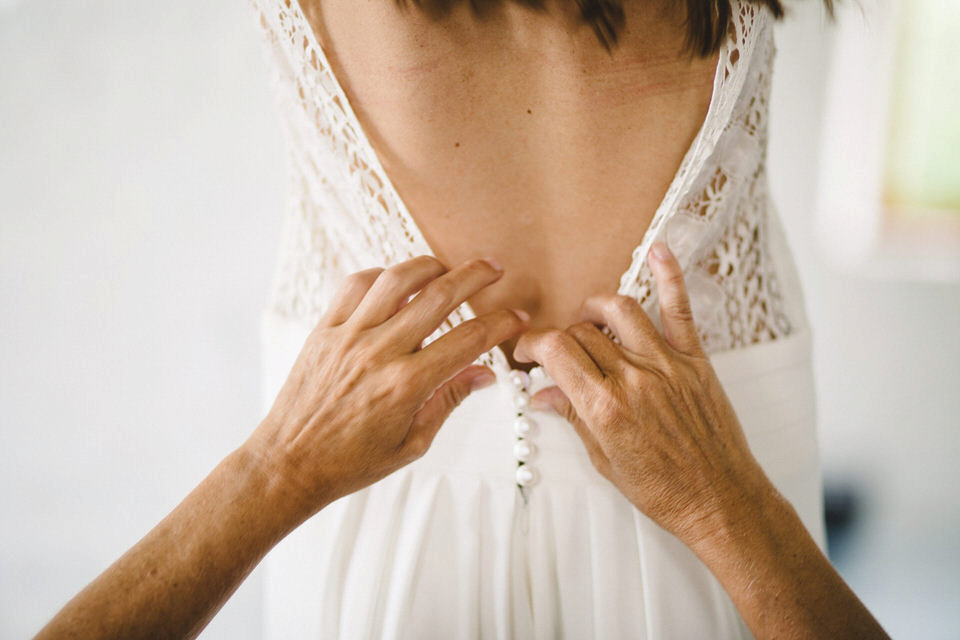 Emmanuelle and Dominic's wedding was captured by Bristol based photographer, Joseph Hall. I love the way that Joseph has documented the couple's big day, recording some lovely moments from the morning preparations as well as the nuptials themselves.
"We decided early on that our photos were going to be some of our most important memories, so we saved on some other parts of the wedding so that we could get a great photographer. Joseph was exactly what we were looking for: natural, reportage style photography with an amazing ability to find unique compositions with great light and true to life emotions. He made us feel completely relaxed and was super easy going. We were happy to let him do his thing on the day and we are ecstatic with the result. We give Joseph 11/10!"
Our handsome groom looked very striking in a bright orange suit from De Fursac, a grey Sandro tie and white shoes from Bowen…
"We asked a friend each to say something during our ceremony as well as both of our mothers (who did a joint speech called 'The Mother's Advice'). We had no set texts as we wanted to be surprised on the day and let our speakers say what they wanted, in a way that they felt comfortable. Each speech was epic and we couldn't have asked for anything more."
"I will never forget the moment we walked out of 'La Mairie' (the town hall), just after officially getting married and signing the papers. It was the first time we saw all of our guests together and we were showered in a blizzard of confetti."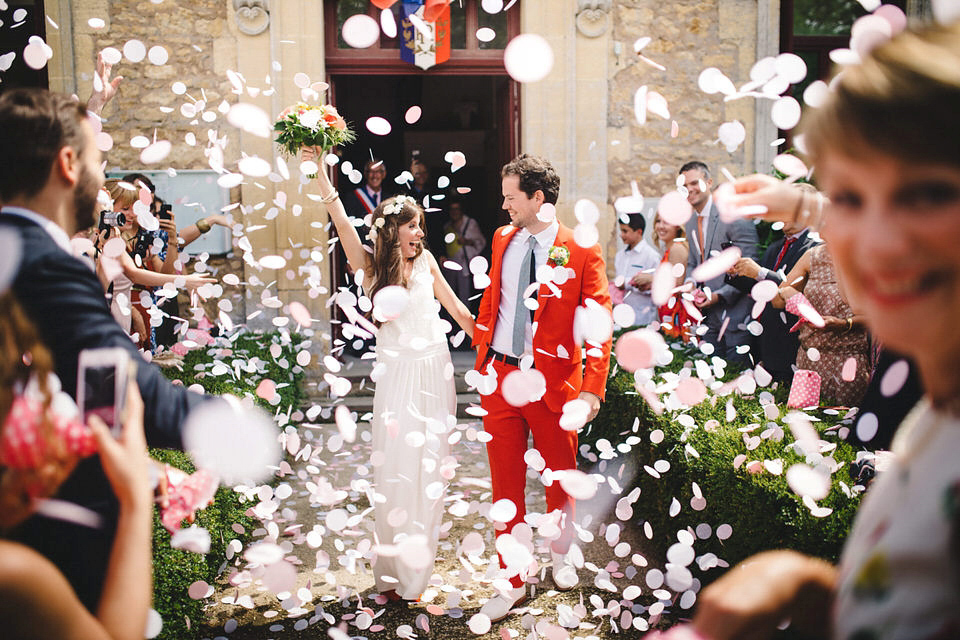 "One of our friends lovingly restored an old VW camper and we were honoured that he drove the twelve hour journey from England so that we could use it on the day. Amazingly, the colour also just happened to match. Thanks Ricoh!"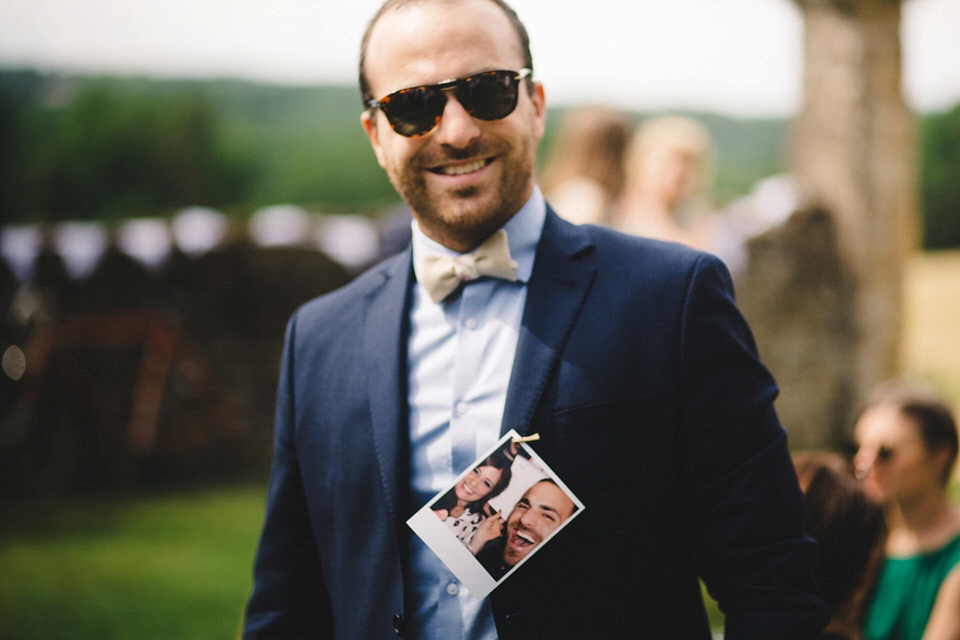 The bridal party's beautiful bouquets were put together by Helène of Vert Tilleul in Lalinde, with Dominic's mother creating the rest of the floral arrangements.
"We ordered all the flowers from Vert Tilleul in Lalinde as we really loved the vintage style of the shop. We briefed Helène on what we wanted and she did a great job on the bouquets.
Dom's mum did all the rest of the flower arrangements for the day (she's a bit of a horticultural expert), helping us to pick the right flowers and offering us advice on how to create our desired 'garden party' feel"
After completing the legalities at the local town hall, Dominic and Emmanuelle tied the knot in an outdoor ceremony in Château de la Bourlie's beautiful gardens. Manue's dad walked her down the aisle to the sounds of 'You & Me' by Penny and the Quarters, and our couple read promises to one another instead of traditional vows.
"We wanted to make sure we had an opportunity before the wedding (amidst all the party planning and money spending) to think a bit more seriously about why we were getting married. Writing our 'promises' together was a great way to do this and we had loads of fun in the process."
"In the end we wrote eleven promises that we said to each other with one of us speaking English and the other French (so everyone could understand!). Neither of us are religious, and it proved a great alternative to traditional vows."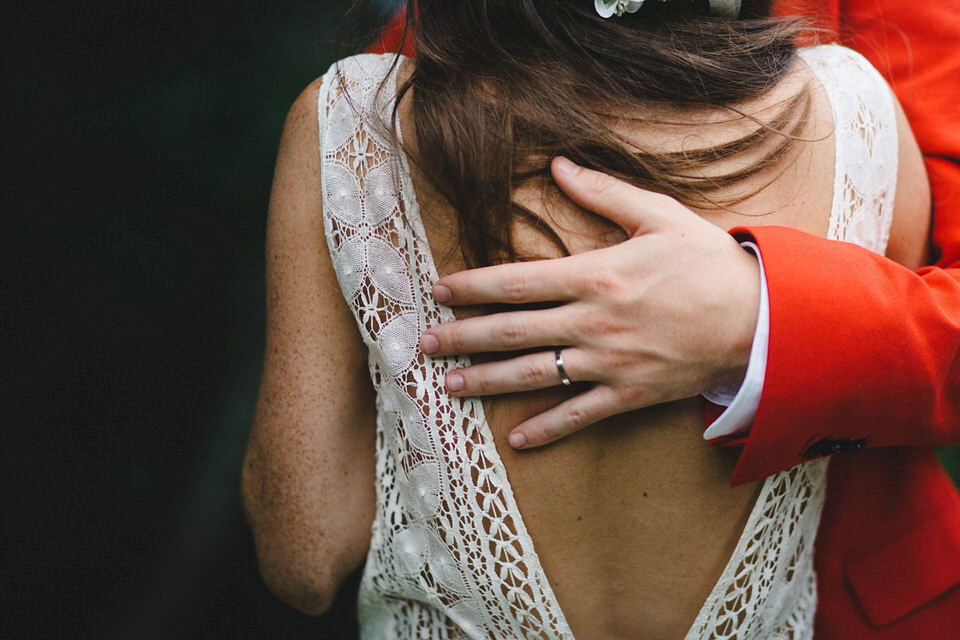 Manue and Dom styled their venue simply and elegantly with lots of white bunting, strings of photos and jam jars full of flowers.
"We knew we might not get to talk to everyone for as long as we might like during the wedding so we printed a Polaroid of us with each guest, wrote a personal message on the back and strung them up so that guests could find their photo and take it home."
Our couple decorated their tables with beautiful blooms in shades of peach and ivory, displayed in vintage bottles, surrounded by white candles and a scattering of dried flower petals.
Our couple opted for a relaxed and informal wedding breakfast with guests helping themselves to food placed in big dishes on each table…
"We wanted a relaxed, family like meal with big and delicious dishes for each table to share and pass around and La Porte Verte created the perfect menu for us. We served cupcakes for dessert, topped off by a few bride and groom cake pops made by our friend Clare. Clare is the proprietor of Pop Bakery in London. The pops looked great and were delicious – thank you Clare!"
"Our DJ was a very good friend of ours – Paris Massenot AKA Ostrich Sound. Our first dance was going to be 'Dance me to the end of love' by The Civil Wars (originally a Leonard Cohen song) but by the time we were supposed to do it, everyone wanted to dance properly so we skipped it! Instead, our 'first dance' was 'Alors on danse' by Stromae along with all of our guests. It was much more fun!"
Words of Wedded Wisdom:
"Make sure you spend time with your new husband/wife during the day as it is very easy not to. So many couples told us that they hardly saw each other on the day, so we wanted to make sure we did. The whole day goes so quick and everything feels so overwhelming. My advice is spend some time together when you can to debrief and talk. Maybe it was a bit extreme, but we decided to have a table for two at dinner. It gave us the chance to relax, properly talk and take it all in together. This gave us new energy to carry on partying…"
A huge thank you to our wonderful couple for sharing the details of their big day and to Joseph Hall for capturing it so very beautifully. To see other boho – luxe weddings on the blog, please follow this link. For further destination wedding inspiration, including lots of lovely French château weddings, do take a look at our archives.
Have a great rest of your week and stay warm!
Annora x
Photographer – Joseph Hall
Venue – Château de la Bourlie, Urval, France
Wedding Dress – Designed by the bride and created by a local dressmaker
Headpiece – Silk flower crown by Laure de Sagazan
Shoes – Carvela Kurt Geiger stilettos
Bride's Scent/perfume – Coco Mademoiselle by Chanel
Groom – De Fursac suit + shirt + Sandro tie + Bowen shoes
Florist – Helène of Vert Tilleul in Lalinde
Cake – Pop Bakery
Transport – A vintage VW camper van borrowed from a friend
Entertainment – DJ Paris Massenot AKA Ostrich Sound
Rings – Tiffany & Co
Catering – La Porte Verte
Stationery – Designed by the groom