Happy Friday everyone! I have the most delightful wedding today to take you into the weekend. Jennifer and Edward wed on 4th September 2015 for their glitzy and glamorous nuptials at the most magical location – the Roman Baths in Bath.
"We were extremely fortunate as it all kind of fell together really beautifully. I let the venue guide me, as it is a spectacular location with a sense of understated glamour. I wanted to give people a chance to really bust out the tux or gorgeous gown they have in wardrobe that does not get much use. The dress code was evening wear – 'Go Glam'. In his opening remarks, the vicar said it was the best-dressed wedding he had ever seen!" 
Photography by  A Thing Like That Photography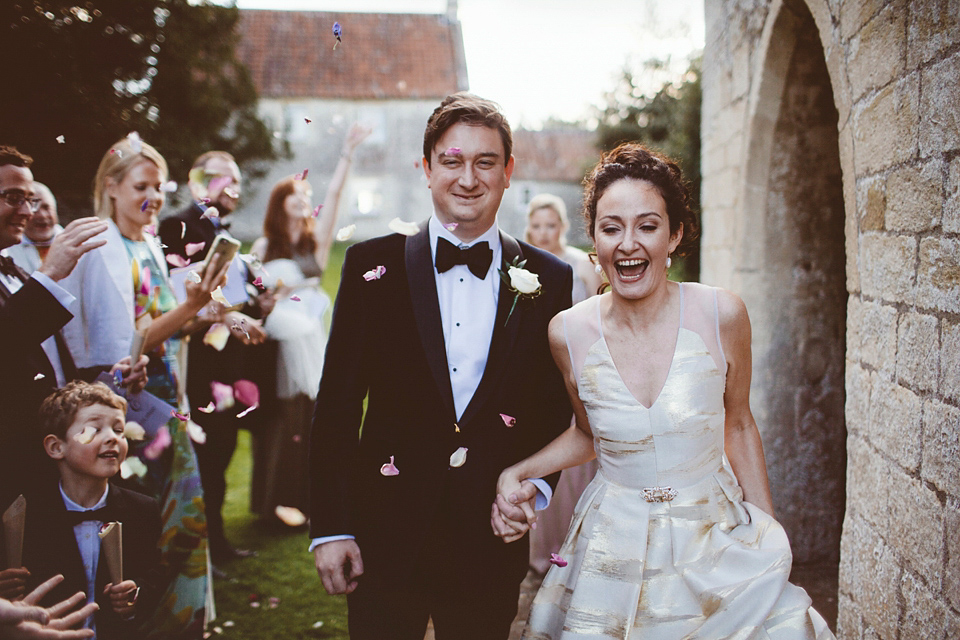 "My 'wedding stylist' Leonie Tovell designed everything from the wedding invitations to the order of service to the table plans to the menus and even handmade my table numbers. I am extremely fortunate that she was so generous with her time and talent. My amazing family from the States, the Collins's, performed a labour of love by spending the day before the wedding and morning of tying together my orders of service. I am forever grateful!"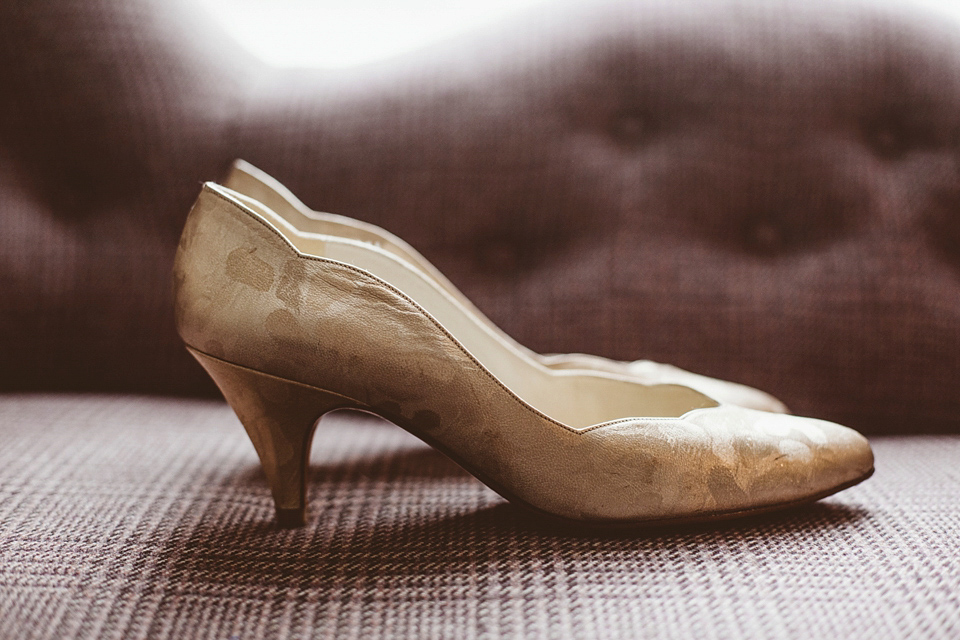 The divine bridesmaid's dresses were by Australian designer Rachel Gilbert, whose work I've been following for a few years, and were paired with their own shoes and thank-you bracelets from the bride. You can view more Rachel Gilbert glamour here that we've previously highlighted on the blog.
Jennifer's sensational Lela Rose dress was purchased via net-a-porter, with underskirt and alterations by Frost.
"My dress felt like a very special gown, yet very easy to wear that I could have a really fun night in. I tweaked it to give myself three slightly different looks. Under the supervision of my wedding stylist, I purchased an underskirt from Frost in Dubai. So I had the big 'Gone With the Wind' underskirt for the ceremony and drinks by the baths, took off the underskirt for dinner, and then shortened it at the front for swishing my way around the dance floor."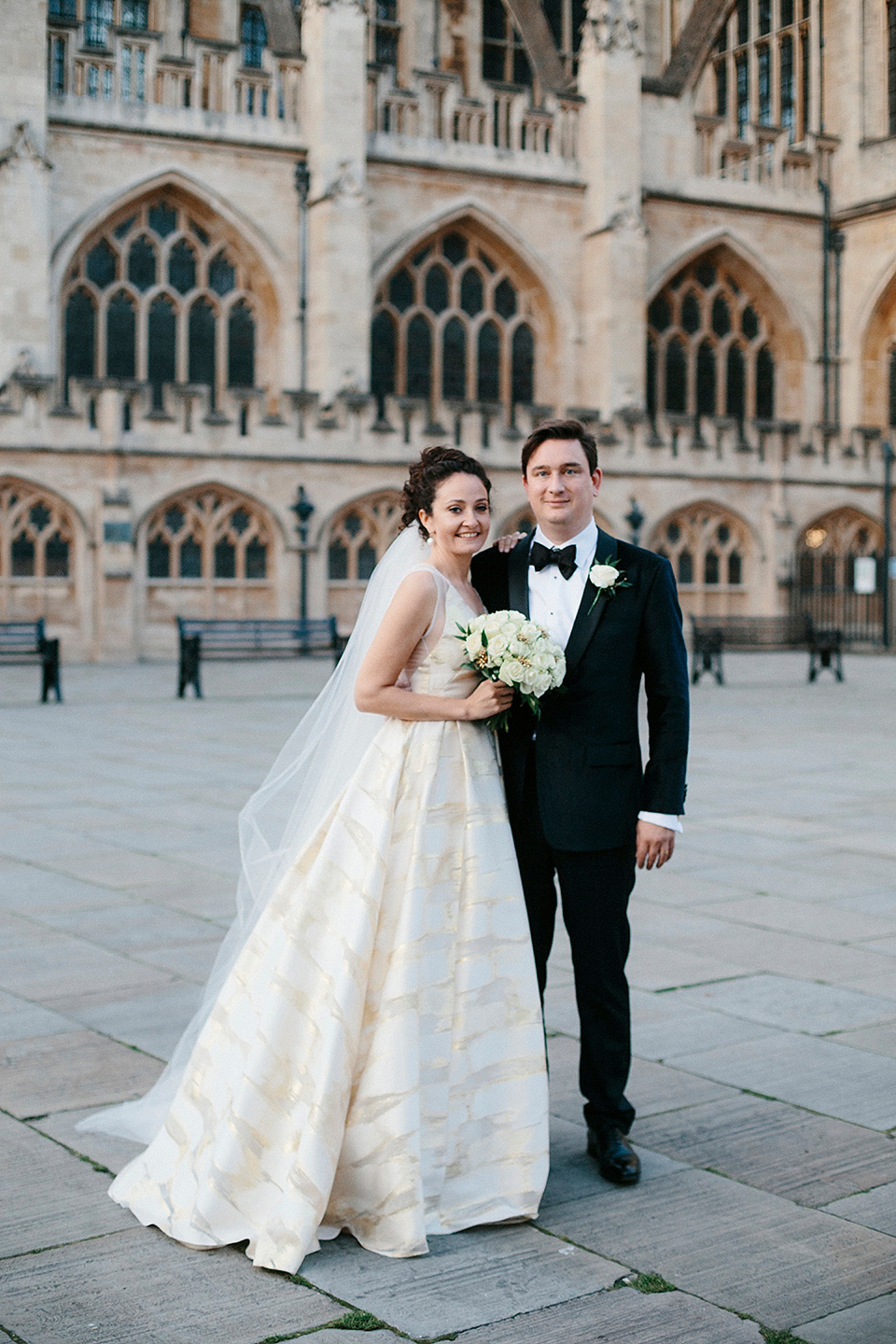 "We planned the wedding ourselves, with a lot of help from family and friends and in particular my parents and bridesmaids. My darling friend, Léonie Tovell is Managing Director of Blink Impact Consultancy – an image consultancy – so I put her professional skills to use on my wedding. She really helped me identify, then create the look and feel I was after. She designed everything, from the invites to the orders of service to the seating plans and even made the table names. I dubbed her my 'wedding stylist'; she was a star!"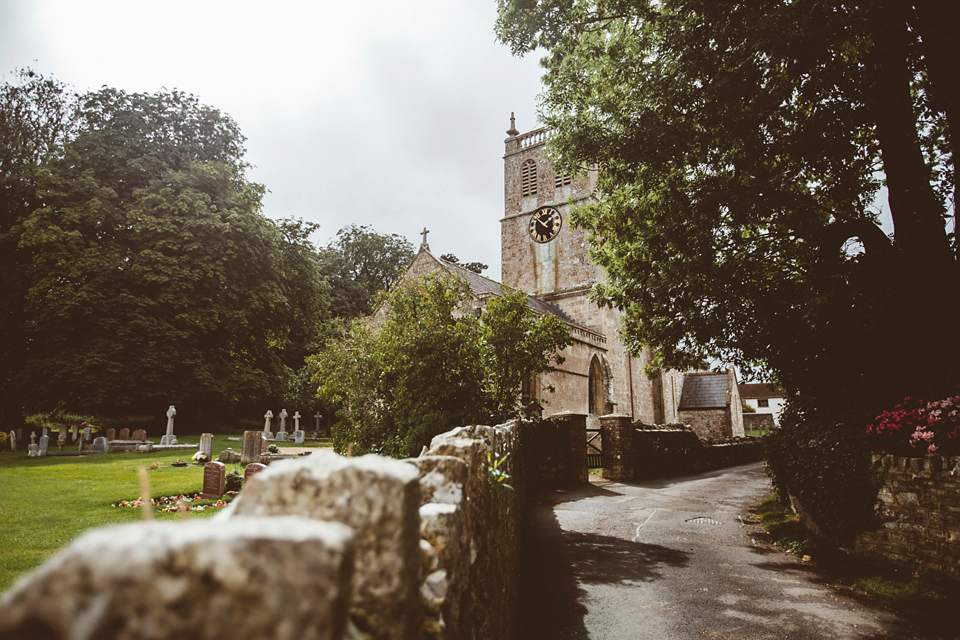 Hailing from Sydney (hello fellow Aussie!), Jennifer met Edward at work in London and the two have trekked around the world together and are now living in Dubai. Here is their little meeting and engagement story – it's so very heartfelt.
"Edward and I met working for the same conference company in London many moons ago and since then have lived in Dubai, Singapore and then moved back to Dubai about three years ago. Last year we were in Barcelona for a short holiday off the back of visiting his family in the UK. We had heard there were some Roman ruins a train ride away on the coast at Taragona. With Ed's interest in Ancient History, no holiday is complete without a Roman ruin or two, so off we headed on a day trip. I had no makeup on, no phone and not looking terribly special when he popped the question. It was totally brilliant. We finished our rounds of Roman ruins and celebrated with tapas, cava and a swim in the Med.
That was July and the original plan was to get married in April in Sydney, my hometown, but sadly Ed's father was diagnosed with brain cancer at Christmas, so we shifted venues to Ed's hometown of Bath in the UK. As a result, the engagement was a bit longer than planned by the time we got everything sorted. Until we found the Baths, there was a terrifying period where it was looking really grim with venue availability, as it was considered very short notice!"      
"My shoes were my something old! I got them about seven years ago in New York, and are by BCBG Max Azria. I looked high and low for shoes but could not find something I was confident I could walk in over treacherous terrain and I loved. I had been planning on getting some fabulous Jimmy's or the like but in the end I decided to put the shoe budget towards the pressies for my bridesmaids as they had been so amazing
Mum also thought to bring over my late maternal grandmother's gold vintage Stuart Weitzman shoes, which I changed into later in the night for dancing. I also got ready in one of my grandmother's vintage silk Christian Dior robes. It was really nice to have her represented on the day."
"My earrings were my borrowed item, and a totally last minute addition. Mum brought them with her for me to see if I wanted to wear them, as I did not have any accessories. They were a present from my late aunt, so it was nice to have a part of her with me. Mum also brought from the seamstress in Sydney who made my veil the brooch I put on my dress. I really have Mum to thank for pulling the whole look together through the accessories.
She did it herself with very little direction from me and without having ever seen the dress in person. Looking back, the fact it all came together so beautifully is a miracle!"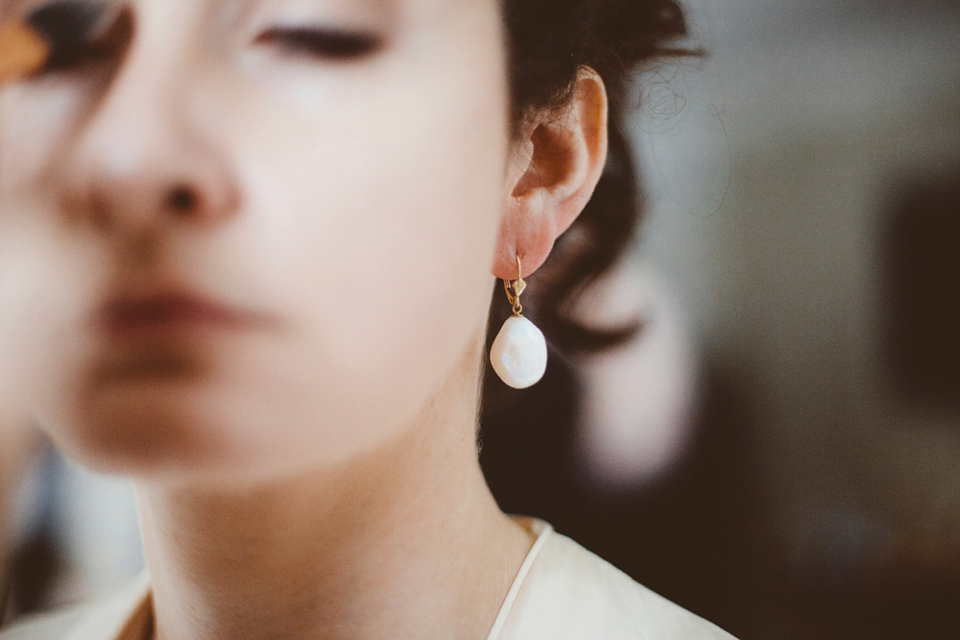 As many brides-to-be often experience, her dress-finding venture was not as straightforward as hoped.
"As I got the dress online I did not try it on until I went to Frost to see if they could take it in. I Skyped Mum in and she cried. I tried on dresses all over the world, from Sydney to Dubai to London to Chicago to Bath, and she was there for quite a few of them, but it was the first one that made her cry and got me really excited. My poor mother, bridesmaids and 'wedding stylist' were beside themselves, as I still did not have a dress three weeks out – we had the bridesmaid's dresses before we had mine!
There were lots of close contenders and I tried on some beautiful dresses, but could not quite fall in love with any of them. None of them felt uniquely me. Part of my problem was I wanted a couture dress on an off-the-rack budget. Lots of the dresses I tried on were really pricey, but the fabrics did not feel lush or the construction real quality. My chosen dress felt really beautifully made and the fabric was exquisite."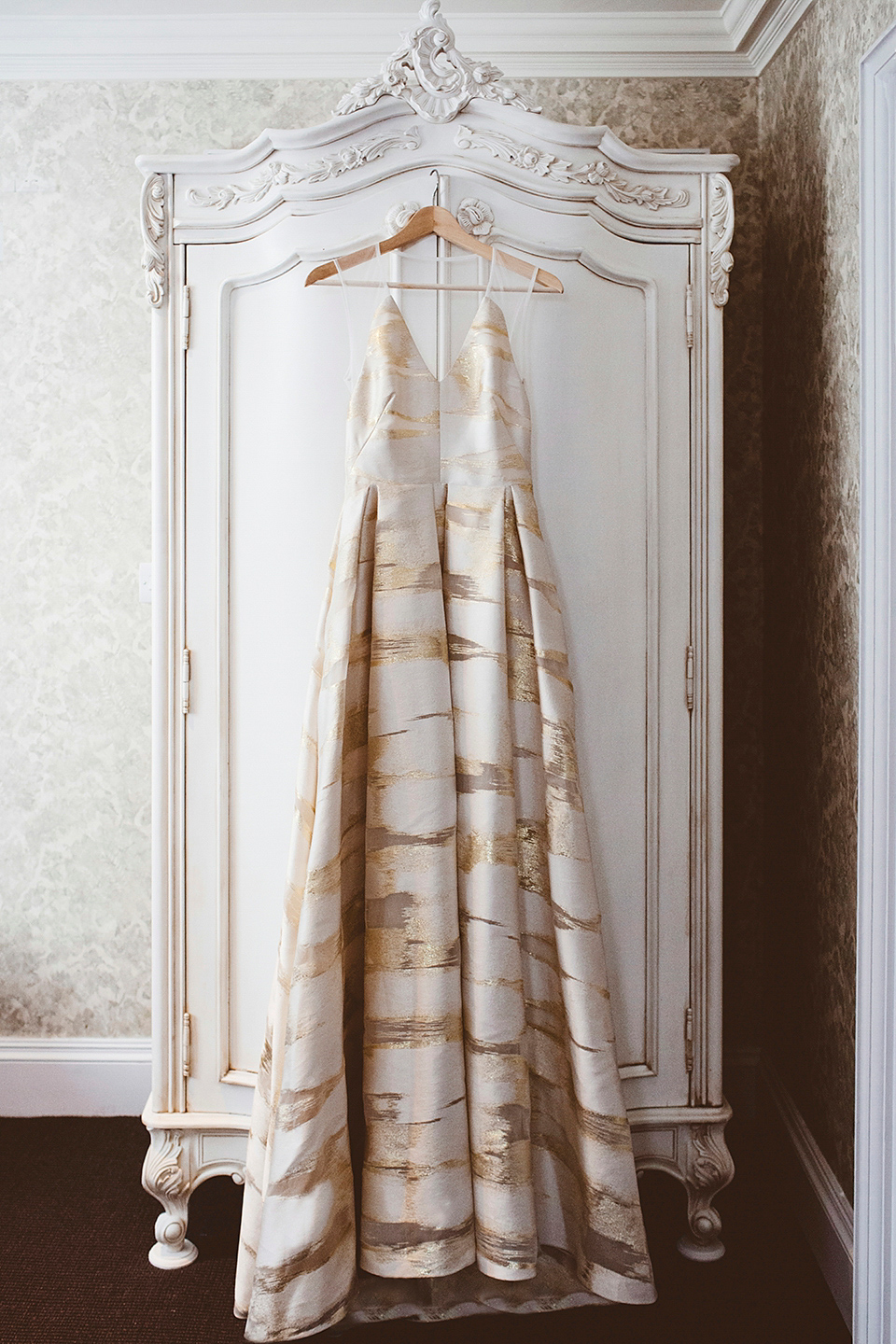 "I adored my girls' dresses! One of my bridesmaids' Philippa found them amongst the dozens they had looked at and they were perfect. The girls had to buy them without me, but I totally trusted them. I just wanted them to have something that they loved and felt fabulous in. I just gave the brief of something long and metallic in colour.
The girls just accessorised with the infinity bracelets I had made for them as a thank you for being so supportive and amazing through the whole process. Roger at Cara Jewellers customised them for me to make them in each girl's favourite gold: white, rose and yellow (and my 'wedding stylist' got one too!)."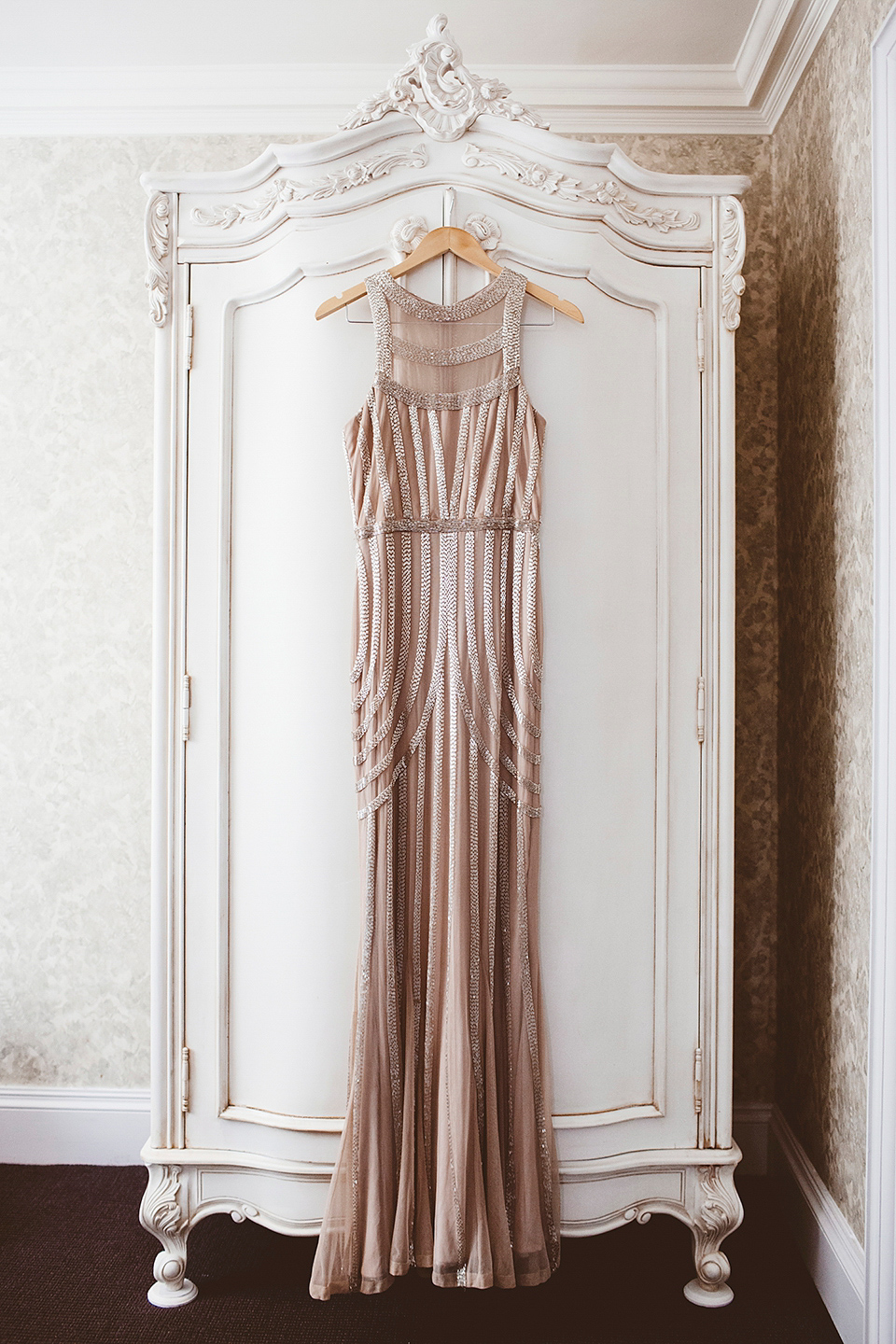 "I have been going to Michael at his studio Unruly Curls for about the last eight years. He is a genius with curly hair and he achieved a feat of almost structural engineering on the day. Natasha was fabulous with the makeup both in the lead up and on the day. She really worked with me in advance to make sure I got the look I was after for the girls and me and we were all delighted with the end result."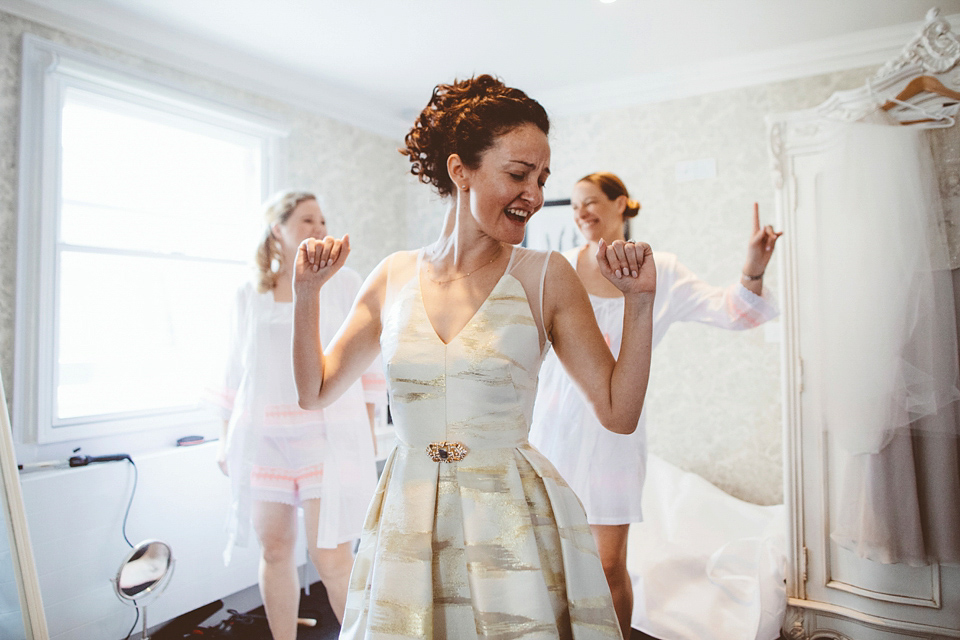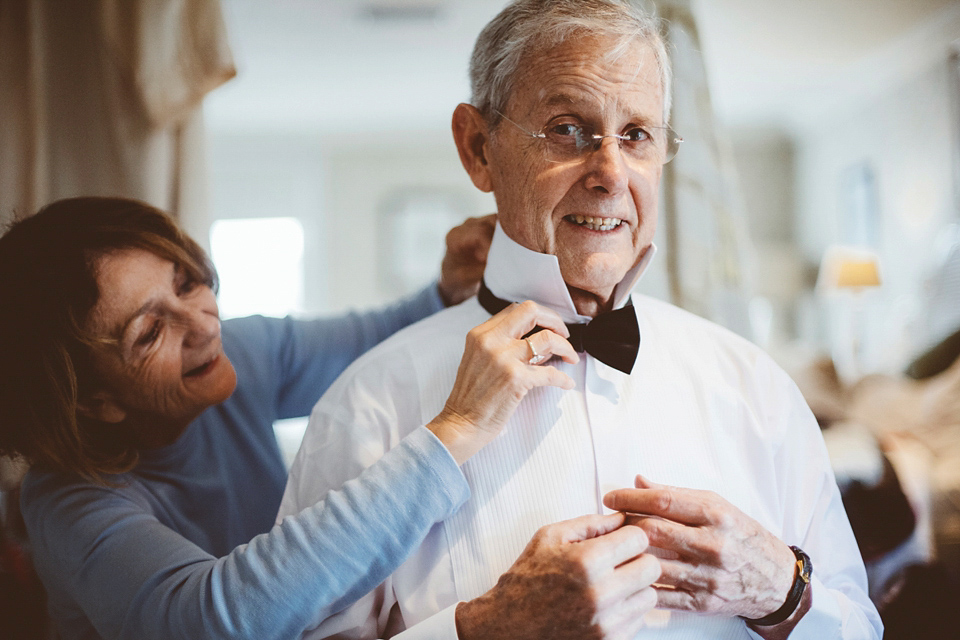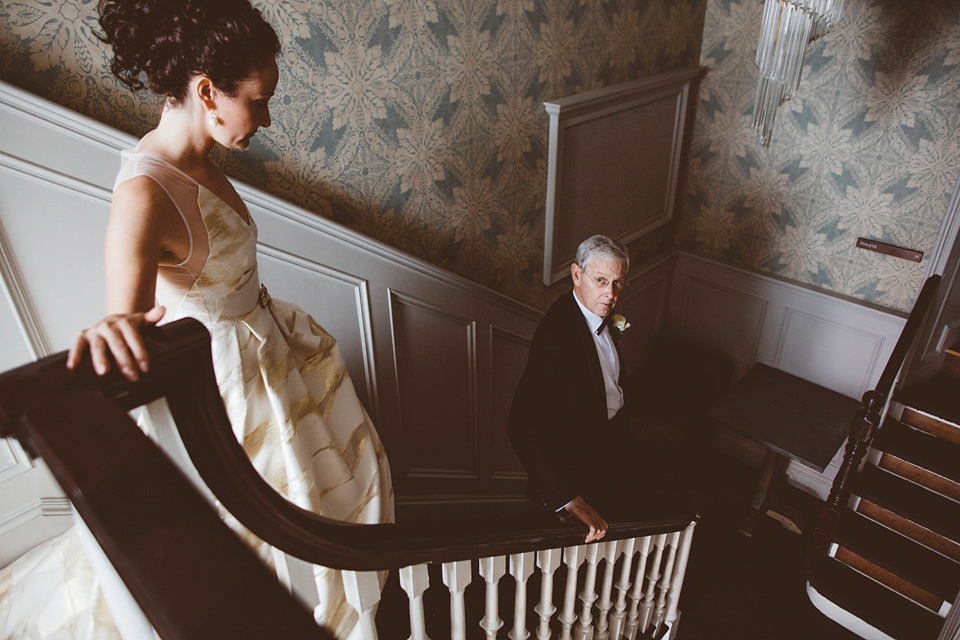 The groom's suit was custom made, under the careful supervision of the couple's 'wedding stylist', by Royal Fashion in Dubai. And the groomsmen were very helpful with sorting out their own attire.
"Ed's brothers George and Michael were brilliant, as they sorted themselves out with smoking jackets from Dobell to compliment Ed's. All I had to do was approve them. They even sorted one out for Henry, the best man, who was flying in from Singapore."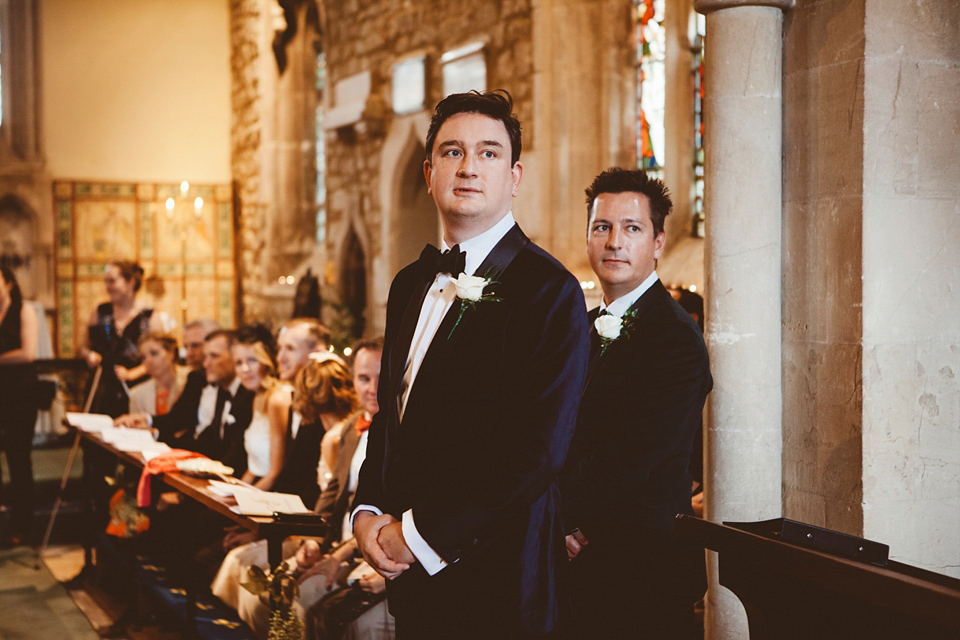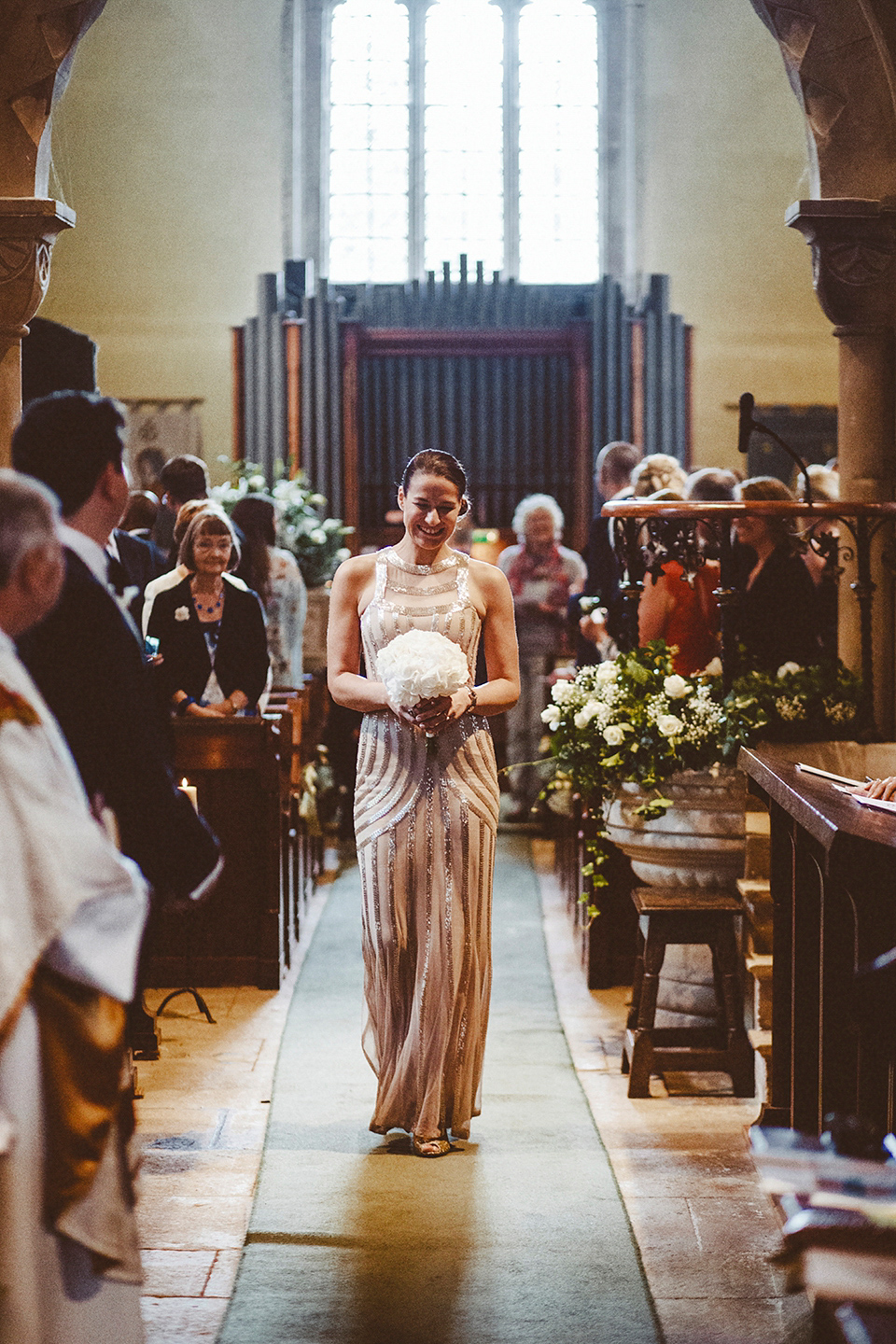 I love this little story Jennifer shares about another possible wedding location the couple did (briefly!) consider …
"Last year we climbed Mt Kilimanjaro as a part of a Guinness World Record for the world's highest game of cricket ever played – 'Mt Kili Madness'.  We briefly entertained the idea of getting married on the top but, amongst other things, I just kept thinking that I would not want Dad to miss out on walking me down the aisle. When I told him what we were thinking he was all for the idea and throughout the planning process kept saying, 'You should have married on Kili!' – I am not totally sure he was kidding at the time – but for me at least it was worth waiting to have Dad walk me down the aisle and stand next to me on the day."
"It came as a really pleasant surprise that Dad actually stood at the altar with me for part of the ceremony before 'giving me away'. It was really lovely to have those moments holding Dad's arm, standing between the two men of my life. I think in the end Dad was very happy about how it all worked out too."
With a simple tulle cathedral-length veil that was handmade by a seamstress in Sydney and a spritz of 'Kelly Calache' by Hermès, the beautiful bride added a pair of her old faithful shoes and accessories sourced by her very helpful mum.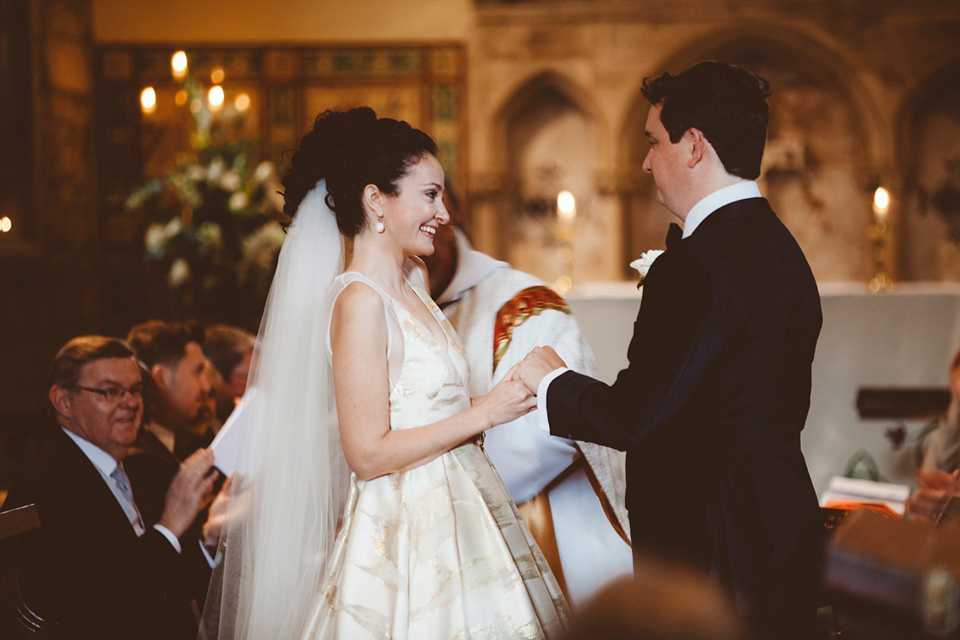 "We were married in St Luke and St Andrew's Church in Priston, just outside of Bath. It is the local church in the little village where Ed grew up and his Mum still lives – Ed is from a lovely part of the world. We were terribly boring and just had the vows as specified by the vicar, but that is what we wanted.
Much to my father's horror, I had my aunt and uncle read verses from 'Home' by Edward Sharpe and the Magnetic Zeros. Having moved all over the world together, the song has always articulated perfectly how I feel about Ed – 'Home is wherever I am with you'. I think it was probably the first time in the church's 900-year history that 'Holy Moly' was part of a reading!"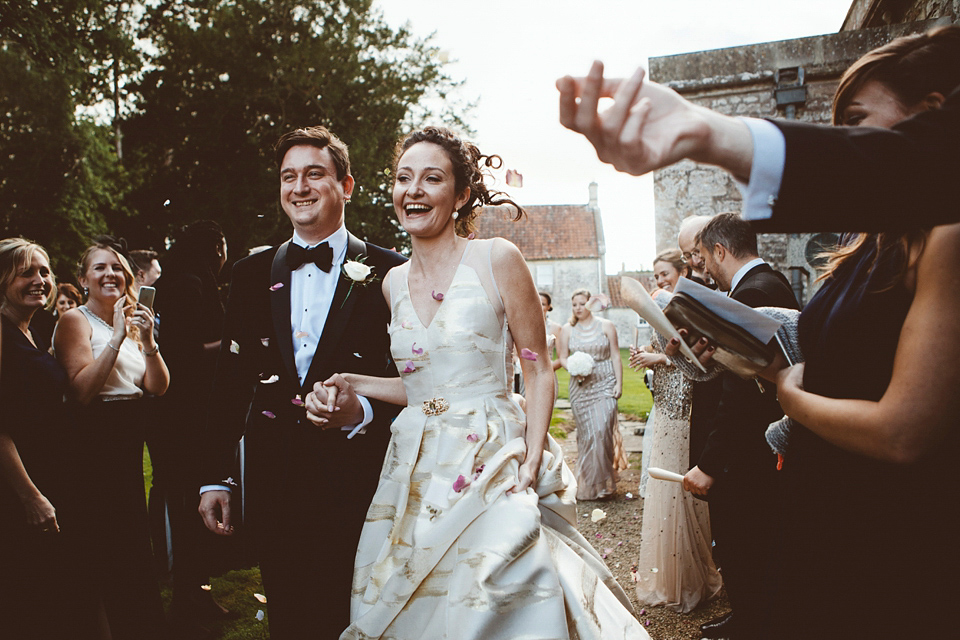 A Thing Like That Photography was the chosen photographer and captured the most delightful images of the couple's love story.
"I talked to several photographers and went with Rebecca, as she was the one that I felt I would be happy to share my day with. Her passion for photography really came across and I could tell that she just loved what she did. She had never photographed the area before so she went and did a scout in advance – she was so professional. I also felt that she understood that what I wanted was a story of the day. I felt confident that with very little direction she would do an amazing job of telling our story, rather than just producing generic wedding images. I was totally right. She was brilliant in the lead up, on the day and in the follow up."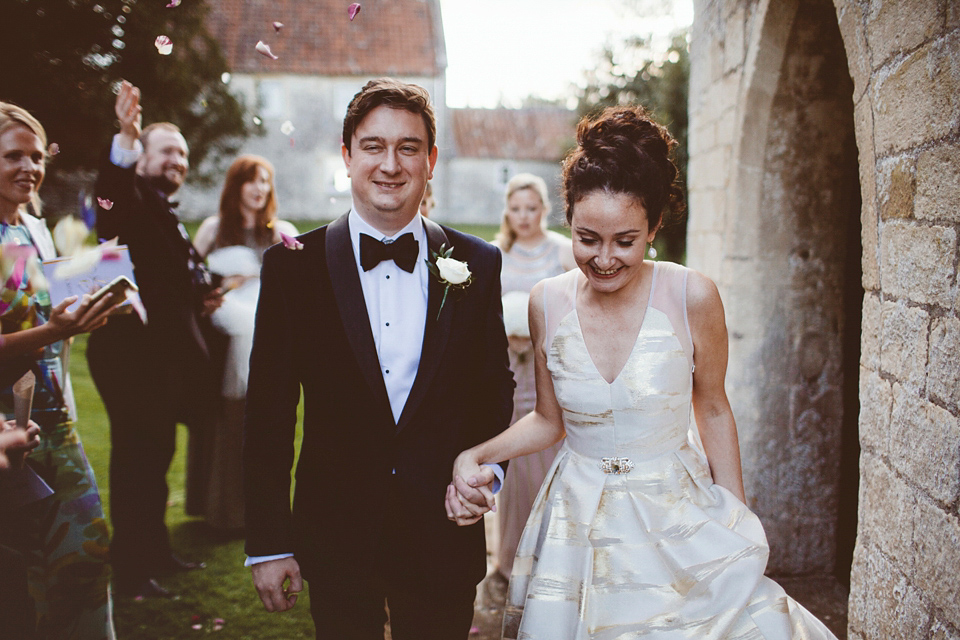 "And most importantly, I totally adore my images. My parents do too, which was also key for me, as I wanted them to have images they loved for them to share with family and friends who could not be there. My issue now is picking which make the wall as there are so many ones worthy of a frame and my husband has informed me that our house cannot become a shrine to our wedding day!"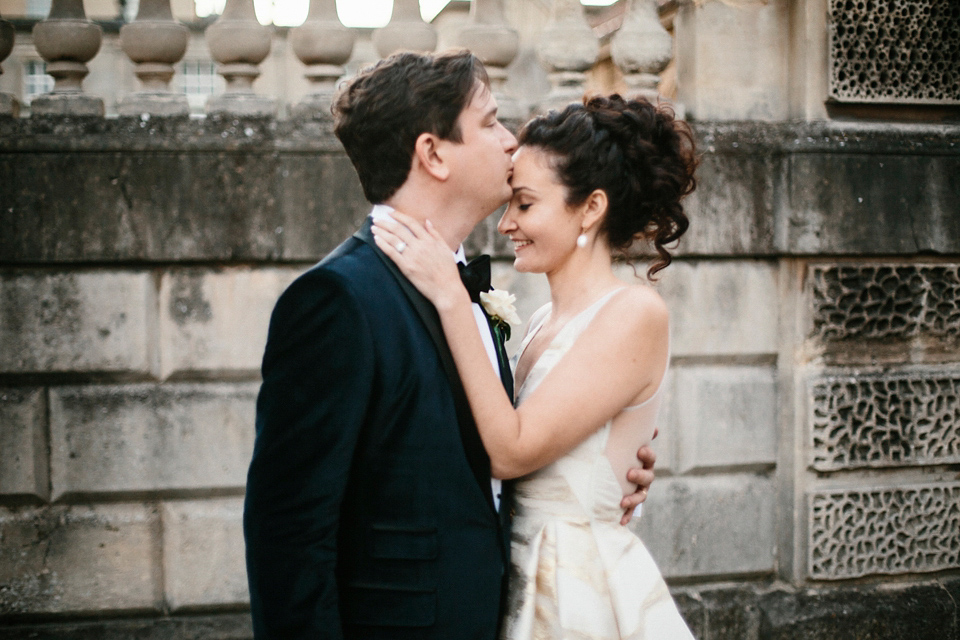 "For me, my favourite part of the day was just looking around throughout the day at my family and friends coming together and just seeing them all in one place. It was so fabulous and worlds colliding in the most wonderful way.
"Our florist was Jill Jeffries. I had a meeting and chat over the phone with her and, based on my budget, she came back with some suggestions that were great. I wanted quite simple flowers for both the bouquets and the tables and was really led by Jill. She was brilliant, as given we had a tight budget, she suggested that we ask the vicar who did the flowers for the church and use them instead of her for the church, as we were better off saving money there and putting it into the venue decor.
We did exactly that and Heather Lippiatt from the local parish did a phenomenal job – the church looked magical. I bought a bunch of candles from Marks and Spencer and IKEA as well."
"We had drinks and dinner and dancing at the Roman Baths and Pump Room, both gorgeous venues that evoke a sense of history and old world glamour. It was always important to me to have a venue that was not just gorgeous but we had some kind of connection to. Ed has a Masters in Ancient History; it is his passion. One of our first dates was there. It is a stunning venue and given about half of the guests were travelling in from various spots around the world, we wanted something uniquely Bath."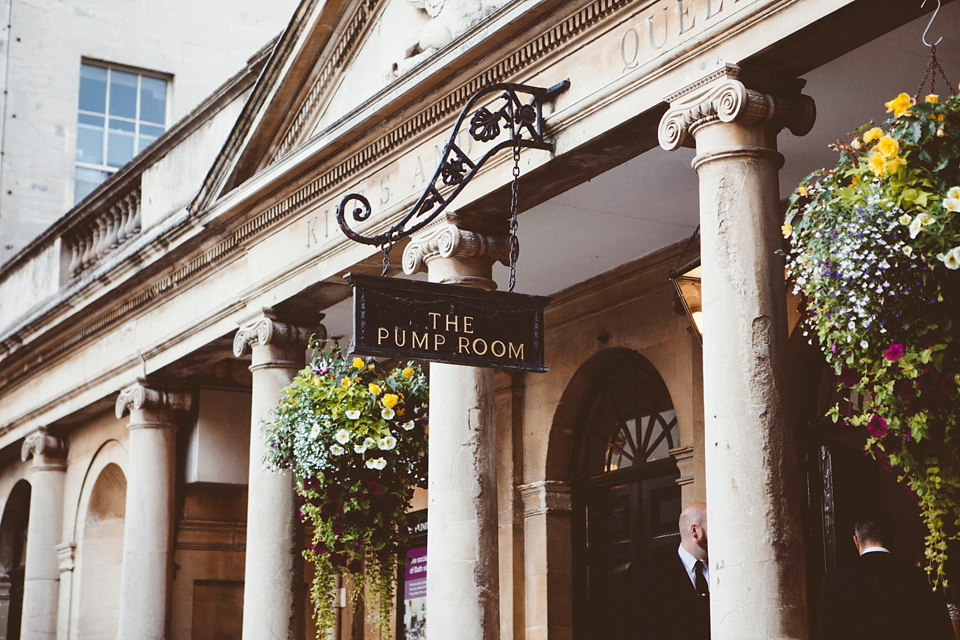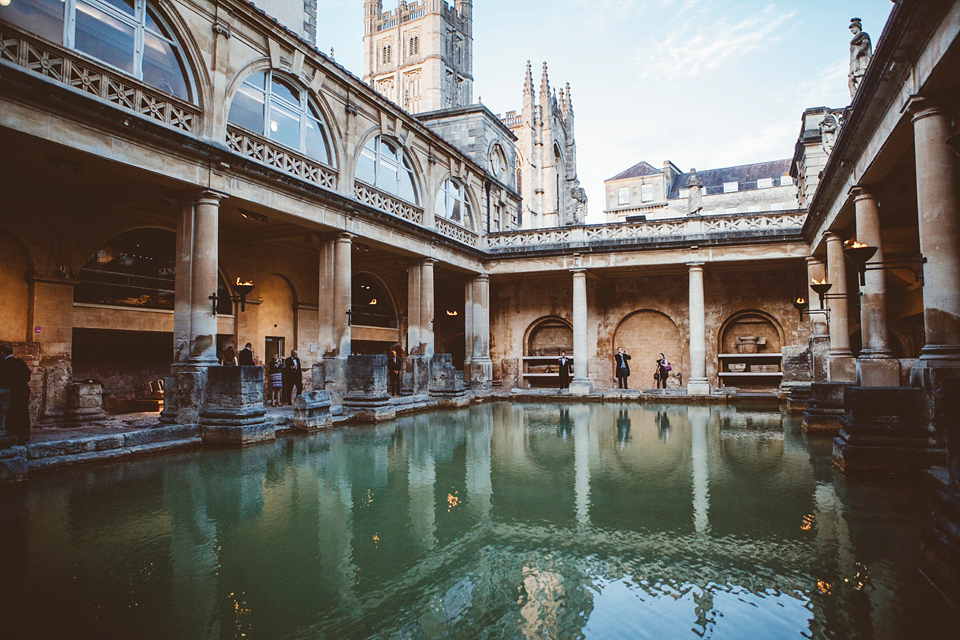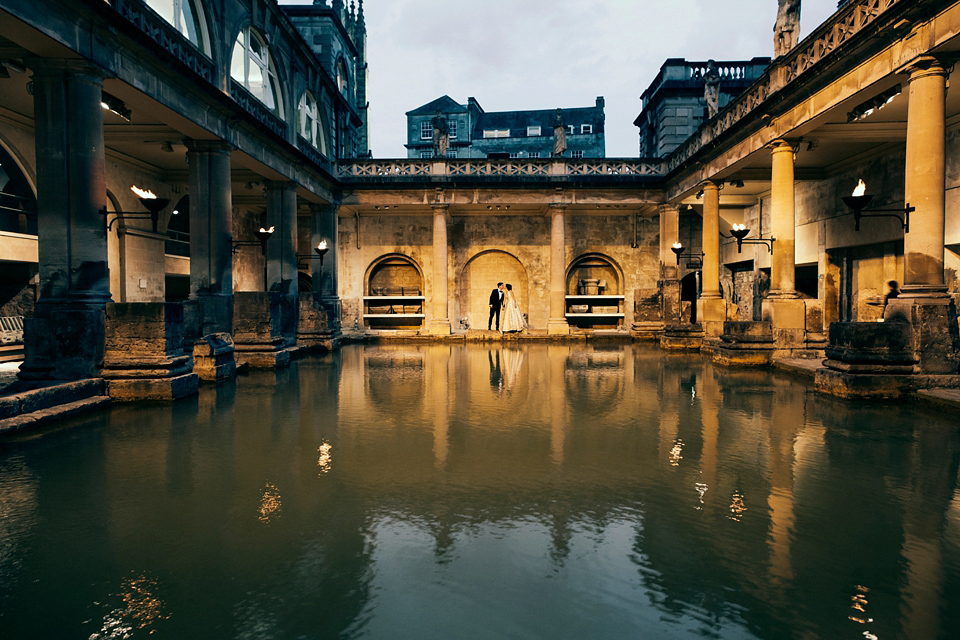 "Searcys are the in-house caterers for the Roman Baths and Pump Room and our contact Caro was a lifesaver. She was so patient meeting with us several times to ensure it was all just what we wanted and within our budget. The onsite team on the night was brilliant – and I don't say this lightly as I do events for a living and have dealt with event teams all over the world. The quality of the food was excellent and standard of service was first class.
The cake was made very kindly by Ed's mum Julie. Once again I wanted it simple and to tie in with the overall vibe of elegant glamour. It was really lovely, as the little cherubs on the top of the cake were on Julie's cake as well as her mother's. We went with a summer fruitcake so that a layer could be taken back to my nana, who sadly was not able to travel for the wedding. The cake was cut with a replica Roman sword!"
"We had a huge J and E in lights on the dance floor, which we hired from The Swing Kings."
"The Swing Kings did our music and I was a bit nervous to be honest, as I am very fussy about my music and it was basically just two blokes with a sound system. However, I need not have worried they were fabulous on the night.  In the lead up they were a pleasure to deal with and very professional and I would highly recommend them.  
For the first dance song, I literally made the decision and told the band just before we got on the dance floor. It was not until the music started that Ed knew our first dance was going to be to 'Friday I'm in Love' by The Cure. It is Ed's favourite song and we have danced around the living room to it countless times, plus we got married on a Friday, so it was perfect.
One totally unexpected moment I loved was right at the end of the wedding when the Swing Kings announced the last song as being one of the songs which had been in contention for our first dance, 'Dog Days are Over' by Florence and the Machine and we had a second first dance with all of our loved ones around us. It was the perfect way to finish the night."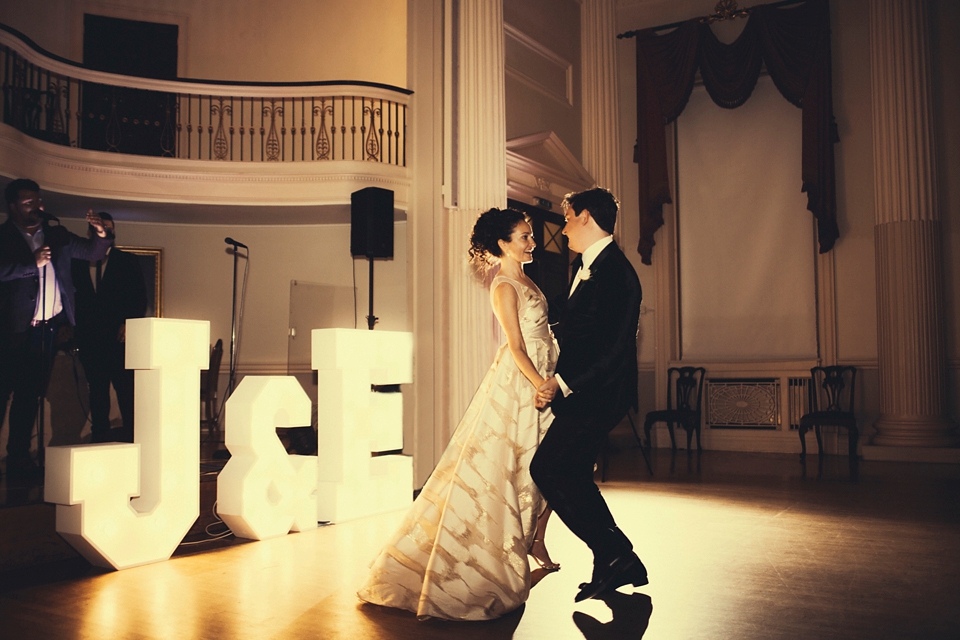 Words of Wedded Wisdom
"Don't over think it. Go with your instincts and what feels right. I felt there was a lot of pressure to have a 'vision' and to know exactly what you want and to have thought out every detail. Don't feel like you need to know what you want; get some good suppliers in place and then let them guide you. If you are lucky enough to have friends and family who are willing to help, let them.
 For us, we wanted our guests to have a really fun, special night that would make them feel how much we valued their friendship. We had so many people making extraordinary efforts to be there and we wanted to make sure they knew we appreciated it. So we put the majority of our budget and brainpower into 'guest experience' and tried to save money in other areas. We tried to plan the evening from our guests' perspective, as for us it was important to celebrate the people we love and we wanted to make sure they all had a fantastic time. Also, it was really important the day felt authentic to us. Turns out 'us' was a church wedding and evening at the Roman Baths!"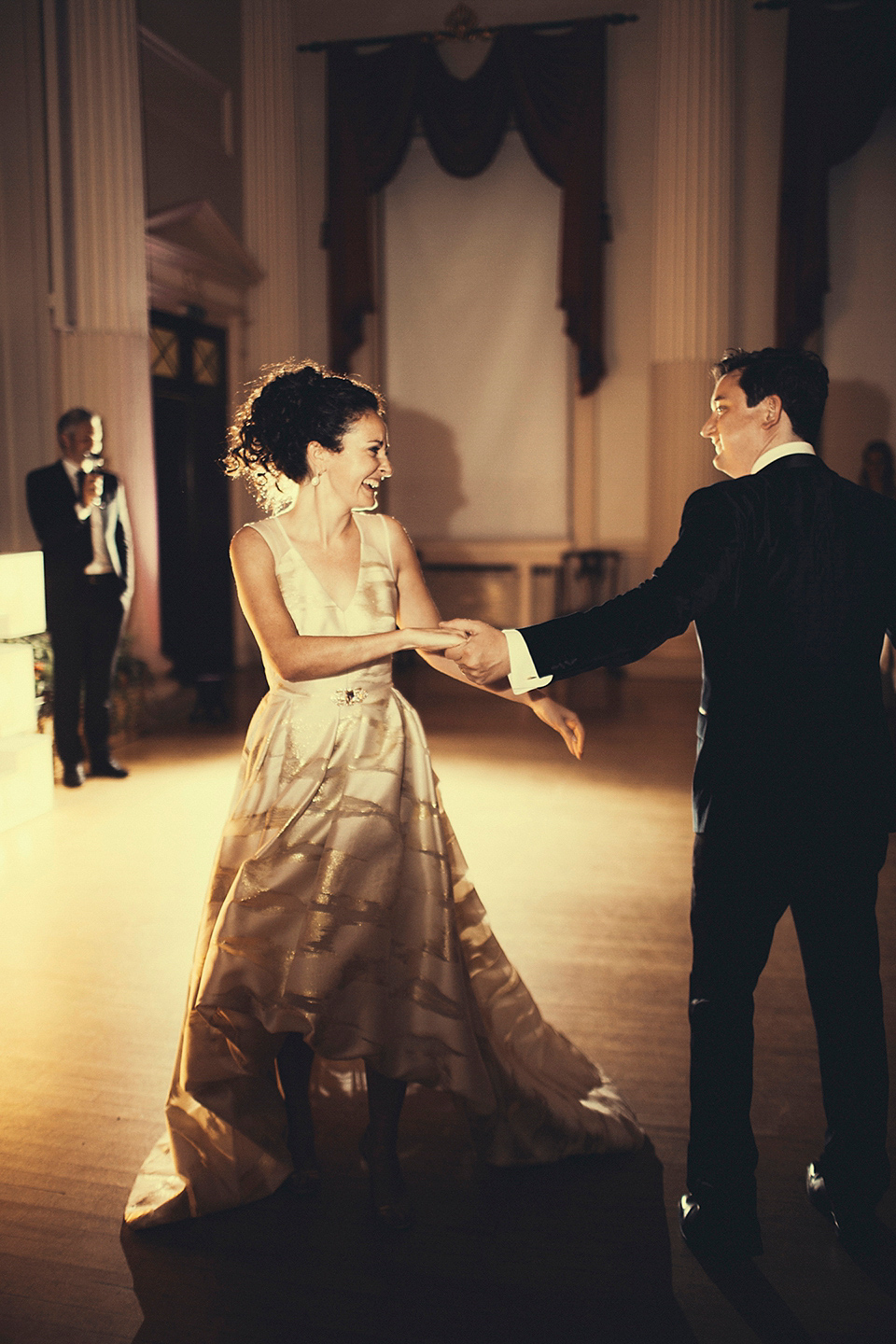 Such wonderful words of advice from the gorgeous bride! Thank you so much Jennifer and Edward for sharing your very special day with us and I wish you a lifetime of more travels and adventures together. And a huge thanks to Rebecca and Heather from A Thing Like That Photography – the images are beautiful and showcase the couple's day to a tee.
If you've fallen for Jennifer and Ed's majestic location, be sure to see these lovely weddings held at the Baths that we've previously highlighted here and here.
I hope you have a fun-filled weekend everyone! Brides-and-grooms-to-be – will you be having a weekend of planning? Make the most of the chilly weather to rug up indoors and tick things off the to-do list. It's very satisfying when you do 🙂
Love Jo -x-
Photographer – A Thing Like That Photography
Videographer – McGill Sister Films
Venue – Roman Baths and Pump Room, Bath
Ceremony – St Luke and St Andrew's Church, Priston
Wedding Stylist – Léonie Tovell from Blink Impact Consultancy
Dress – Lela Rose purchased from net-a-porter + underskirt and alterations by Frost
Veil – Handmade by a seamstress in Sydney
Shoes – BCBG Max Azria + Stuart Weitzman
Jewellery – Sourced by the bride's mum
Scent/Perfume – 'Kelly Calache' by Hermès
Bridesmaid Dresses – Rachel Gilbert
Bridesmaid Shoes – Own shoes
Bridesmaid Accessory – Bracelets by Cara Jewellers
Groom – Royal Fashion in Dubai
Groomsmen – Dobell
Florist – Jill Jeffries + church flowers by Heather Lippiatt
Rings – Cara Jewellers
Catering – Searcys
Cake – Handmade by the groom's mum
Hair and Makeup – Unruly Curls
Entertainment – The Swing Kings