Happy Saturday readers! Today is a particularly joyful one for me, as I get to see one of my best friends tie the knot this afternoon. I am so excited for her and her beau and I cannot wait to help them celebrate their marriage – HOORAY!
In the meantime, I've very much enjoyed writing about this morning's lovely, summer barn wedding, featuring an elegant Naomi Neoh bride, garlands of roses and a bevy of beautiful handmade décor. Melanie, a physiotherapist, married Michael, an energy consultant, on the 21st of August 2015 at Cripps Barn near Bibury in the Cotswolds.
"We wanted our day to be relaxed and personal with a romantic, rustic feel. I love making things and we both love a DIY project. When it came to our colour palette we went for lots of pastels, particularly blush pink."
Images by M&J Photography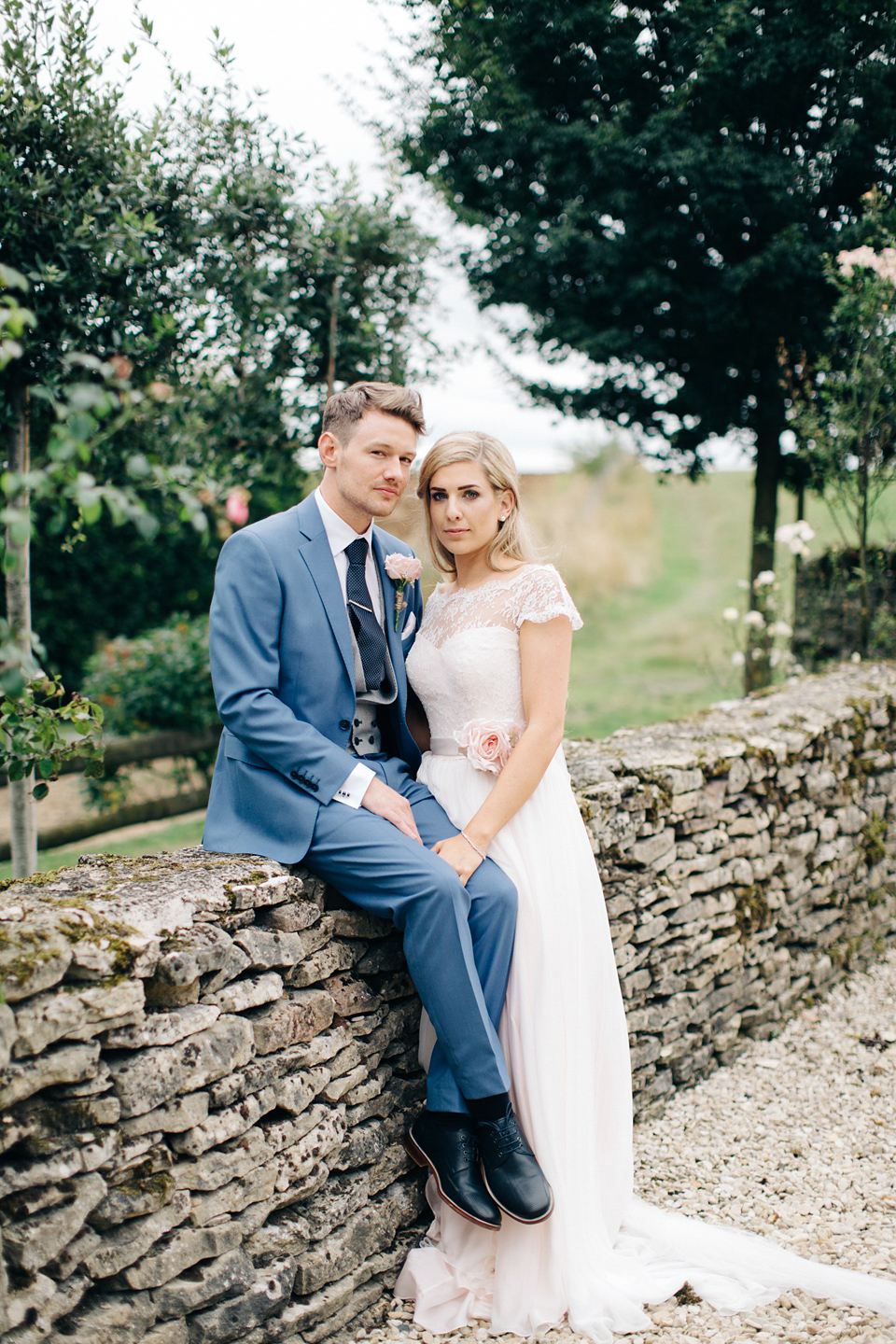 Melanie purchased her elegant Naomi Neoh dress from Cicily Bridal, which she paired with a simple floaty veil, to great effect.
"I went wedding dress shopping with my sister in Birmingham, but all of the dresses were very blingy and not what I was looking for. "
"After describing the romantic but classic feel and lace fabric I was after, the shop assistant told me about Naomi Neoh. I had a look online and fell in love with all of her dresses and quickly booked an appointment at Cicily Bridal.""I loved the 'Fleur' gown, the fabric is gorgeous – French lace and beautiful silk.  I ended up taking all of the underskirt out to create more of a romantic feel. During the final fitting, a week before the wedding, I changed the long sleeved fleur jacket to the Primrose jacket with the shorter sleeves.
My lovely seamstress Julia Grant was fabulous even through my indecisiveness and last minute changes!"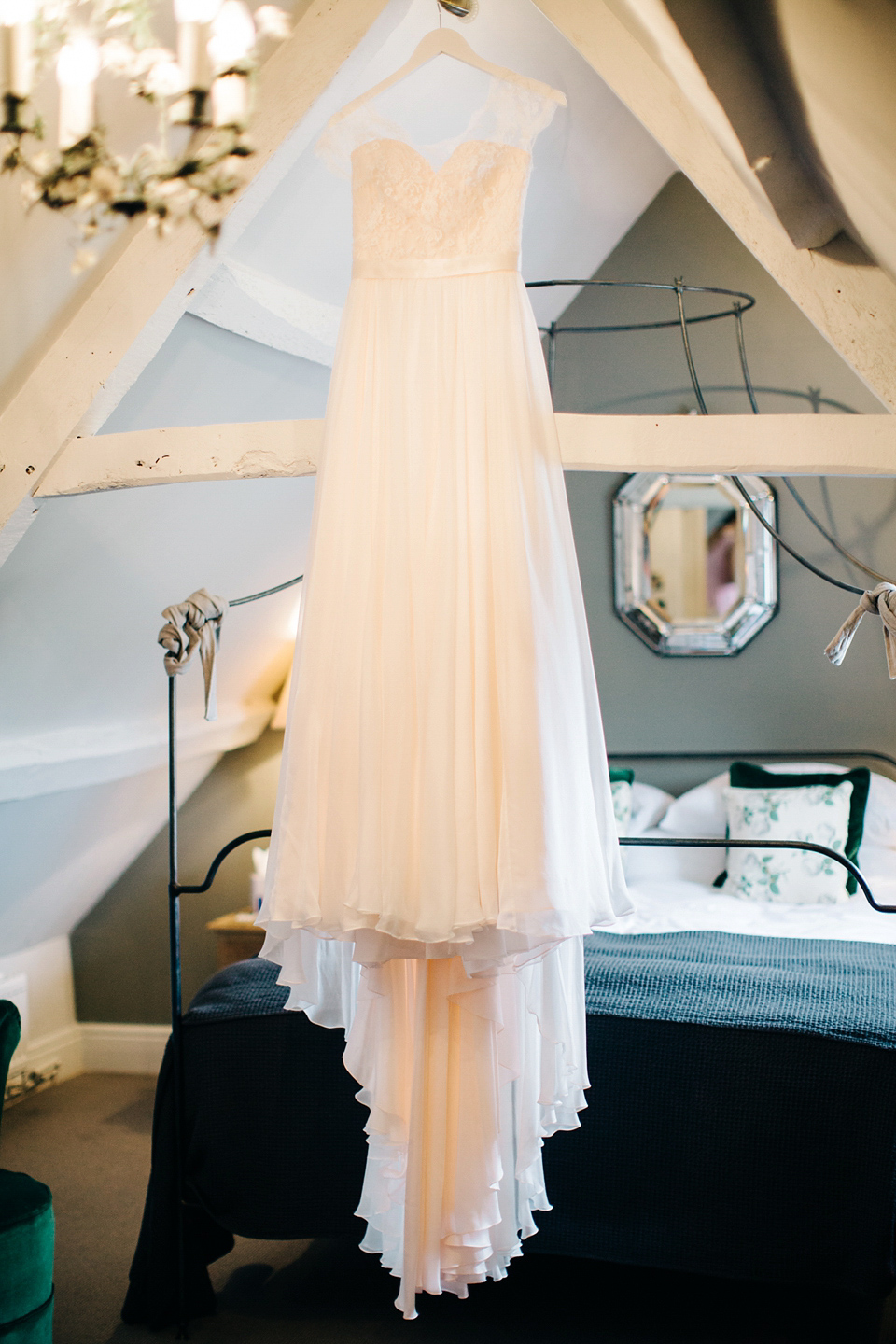 Melanie's beautiful, flaxen, tresses were styled by Your Lovely Face and her makeup expertly applied by Makeup by Jodie.
"I really loved the morning of the wedding and the general build up. The best man delivered a wicker picnic basket to my room from Michael, with a hand mirror he had personalised with my name and the date of our wedding as well as a letter for me and each of the bridesmaids, which had us all in tears. It also had a scrummy breakfast in it – salmon blinis and a bottle of Veuve Clicquot."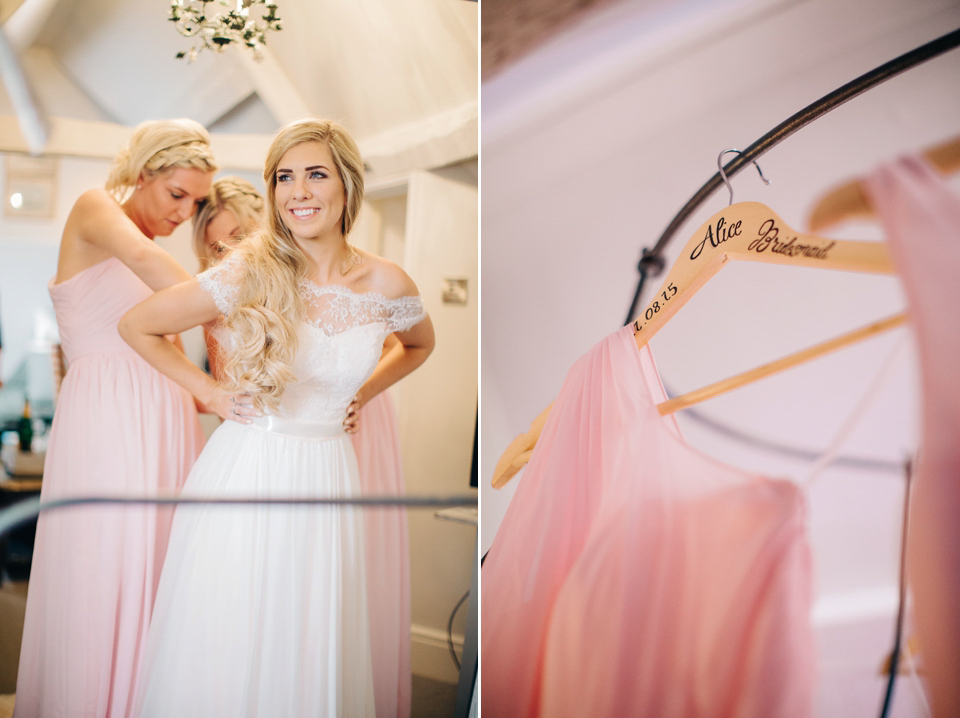 "I made up boxes for each of my bridesmaids as a thank you for all their help. I painted wooden boxes and decorated them with photos of myself and the bridesmaids."
"Inside were silver knot earrings from Not on the High Street which came in lovely personalised pouches with their names on and a necklace from Accessorize."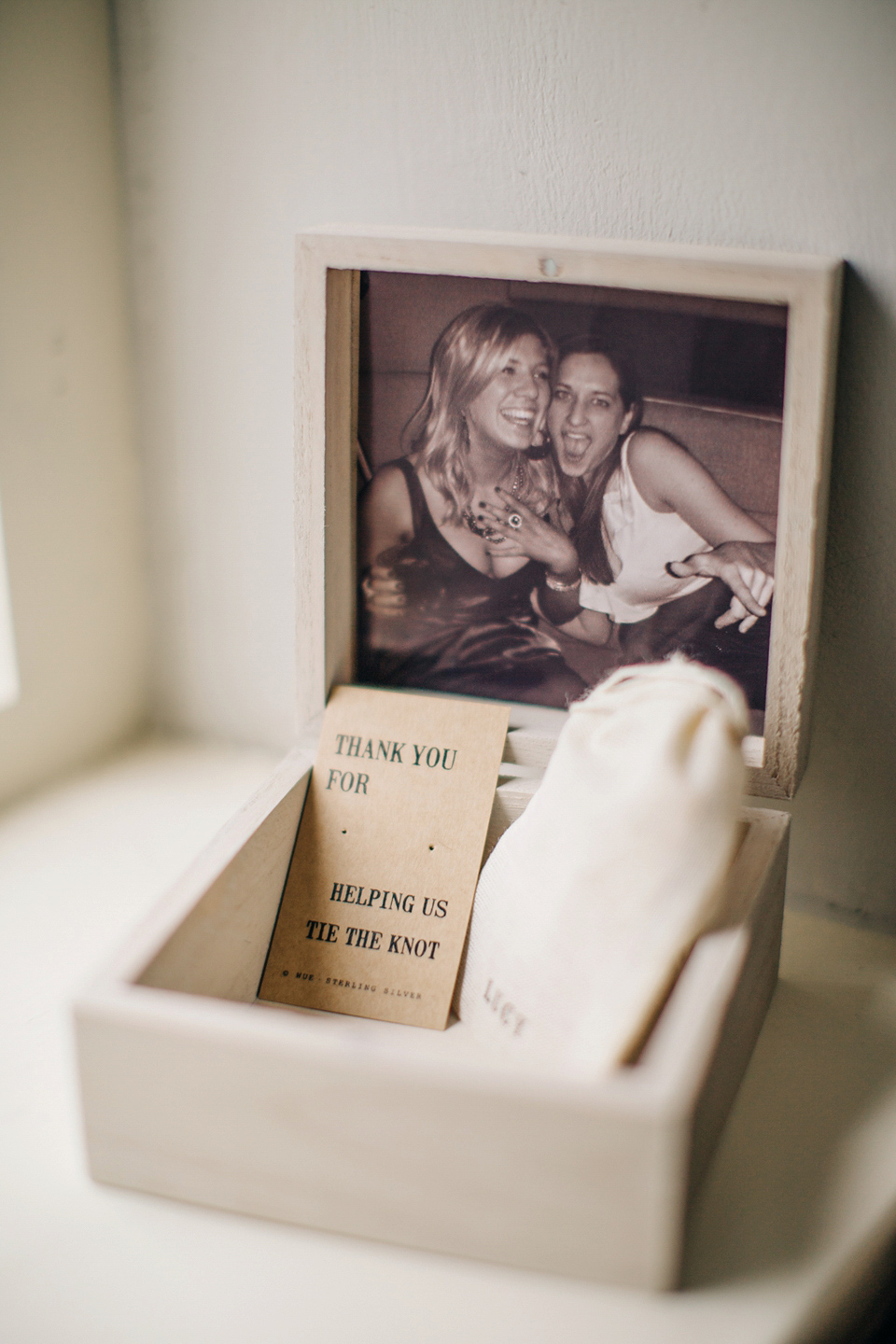 Melanie opted for a pair of white satin t – bars which she purchased from Pink Paradox and her wedding day scent was Olympea by Paco Rabanne. Our bride wore a pair of pale blush, pearl earrings and her 'something new' was a vintage inspired pearl bracelet given to her by one of her bridesmaids.
"My sister also gave me one of our mother's gorgeous rings to wear on the morning of the wedding (who sadly passed away when we were younger) as my 'something old'."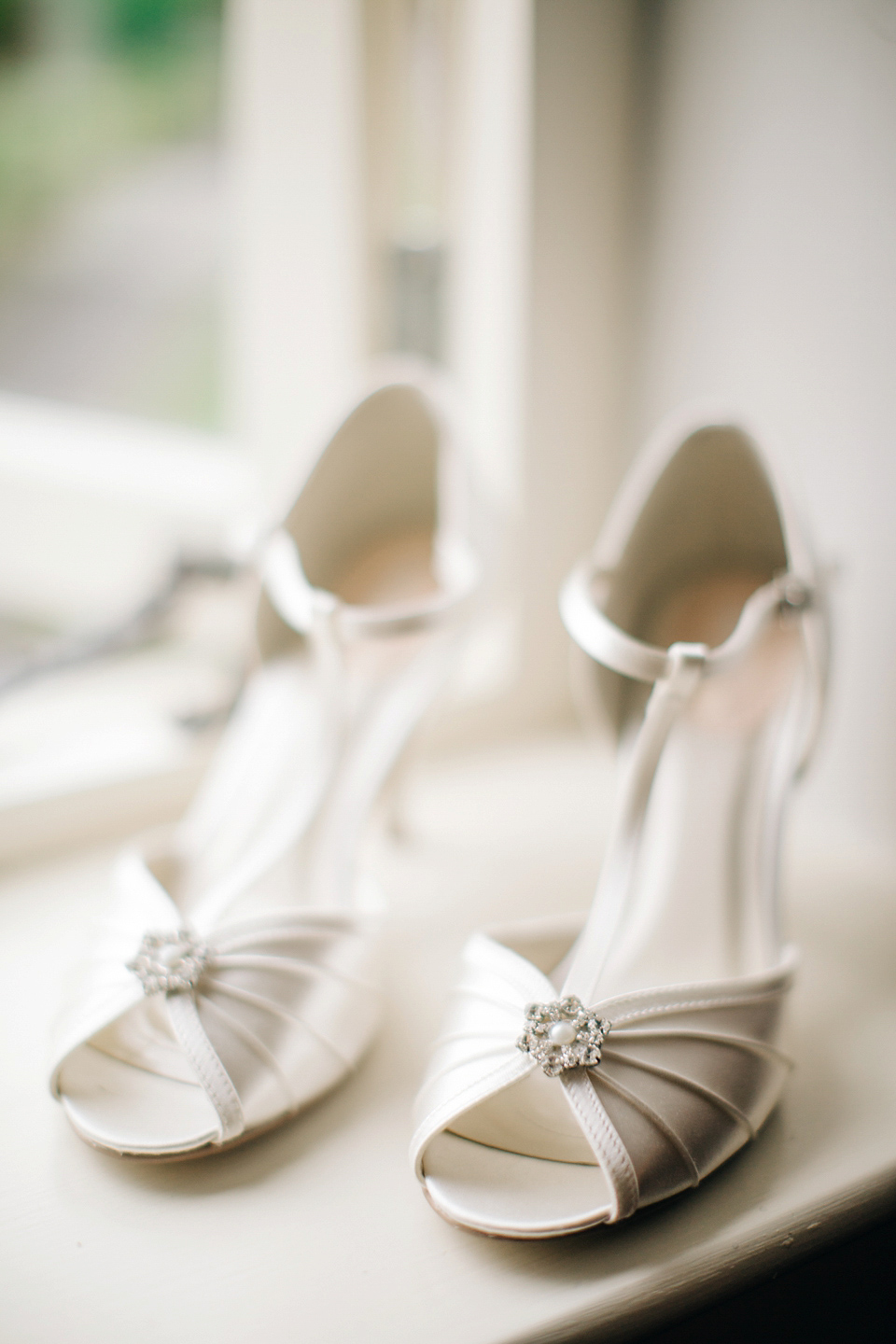 After much searching, Melanie found her bridesmaid's pale pink maxi dresses online at US based website For Her and For Him. Fortuitously, For Her and For Him are offering 30% off bridesmaid dresses until the 31st of January, with free UK shipping and custom fitting (check out our article on the sale here).
"Finding the right dresses for my bridesmaids was one of the hardest tasks. I wanted them all to feel comfortable and to look beautiful. In the end, I purchased their dresses online from For Her and For Him – it is a great website if you want to mix and match dresses in similar colours or materials. I went for a 'barely pink' colour and picked different designs so that the dresses complemented each of my 'maids figures."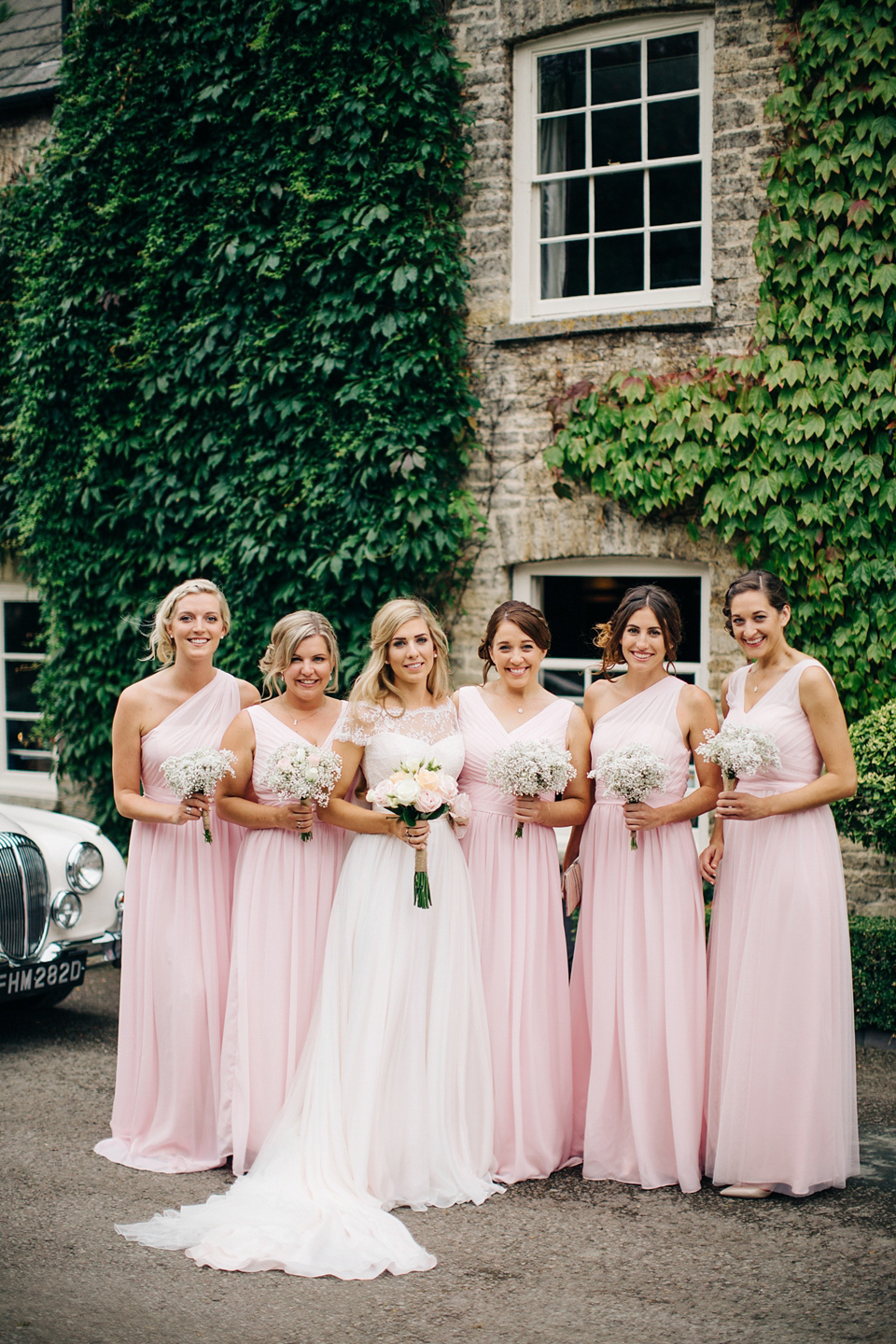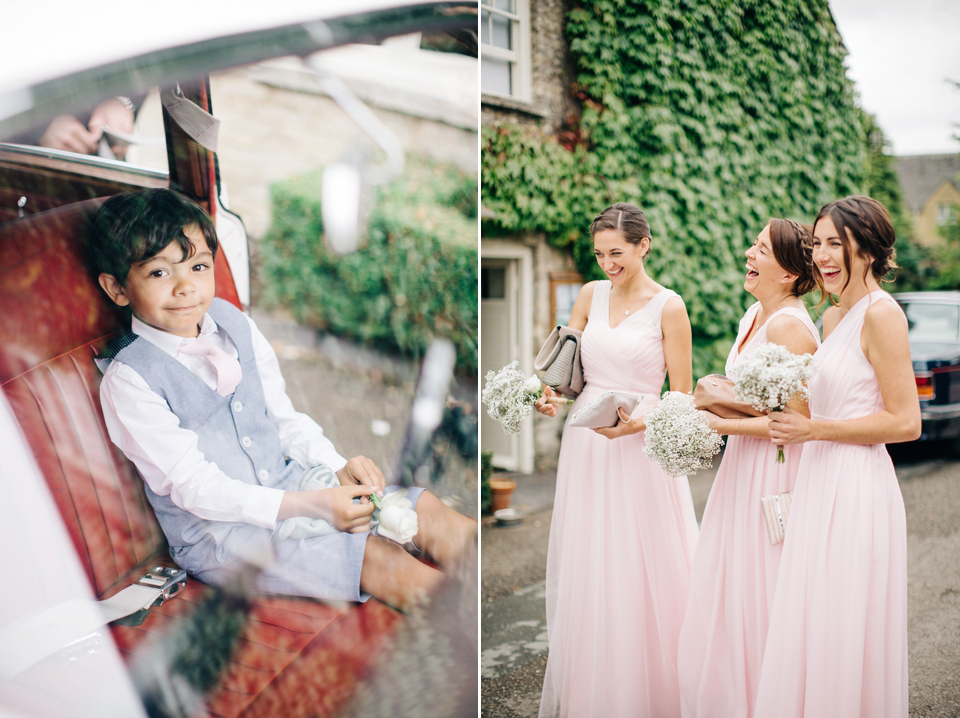 "Our very cute flower girl, Emily, wore a dress from BHS and we made her a gypsophila head band. Our two nephews, Bobby and Blake, acted as pageboys and wore suits from John Lewis."
"My good friend Amanda made two signs for my nephew and flower girl to walk down the aisle with. Bobby's said 'here comes your bride Uncle Michael' and Emily held a 'I am only here for the cake' sign. The children loved the having a job (and the attention!) and it was a lovely surprise for Michael and the guests"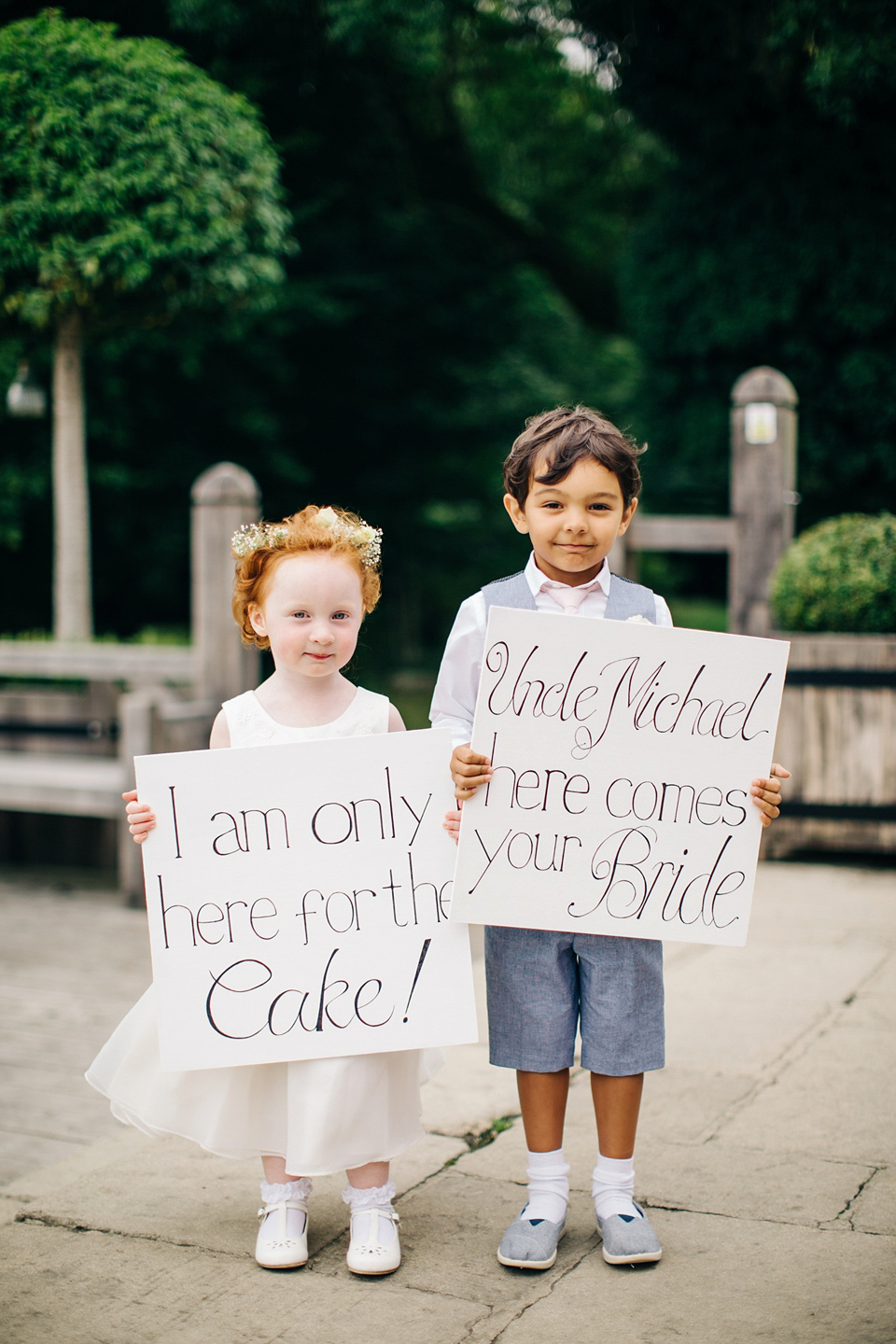 "Michael is a country bumpkin and we wanted this to be reflected in our choice of venue. We fell in love with Cripps Barn straight away after finding it online and it was the only venue we visited (it gave me butterflies!). The barn itself is stunning and the outdoor space has a fairy tale like quality to it."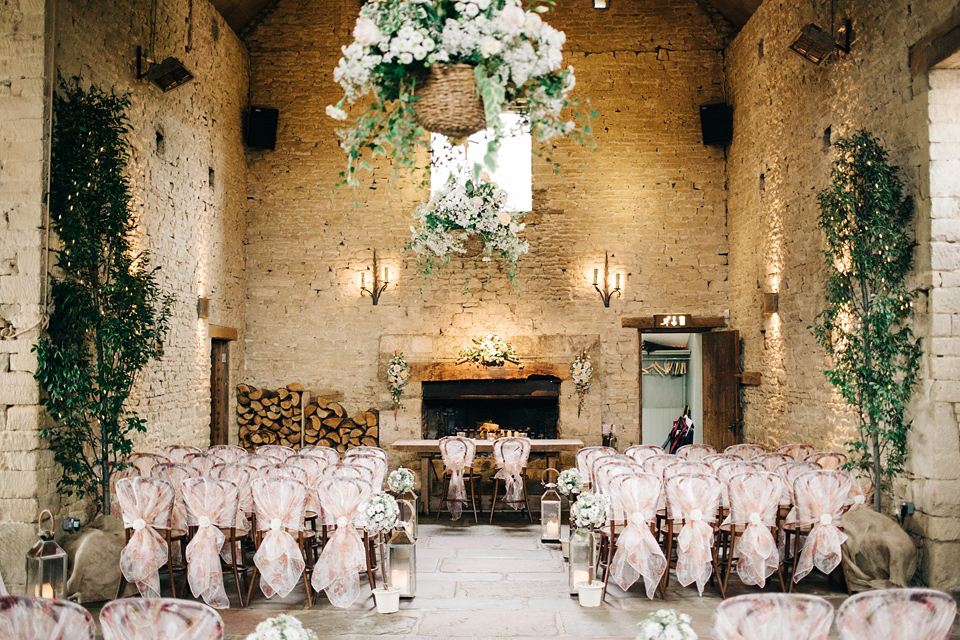 Our handsome groom opted for a bespoke suit handcrafted by Roy Smith Tailors and accessorised with a watch from Hugo Boss and a silver tie bar and cufflinks from John Lewis.
"After searching and searching, Michael couldn't find the suit he wanted so he went bespoke, using Roy Smith Tailors. His suit was a gorgeous blue which he paired with a houndstooth, check, double-breasted waistcoat, a navy blue polka dot tie and a pair of shoes from Bertie."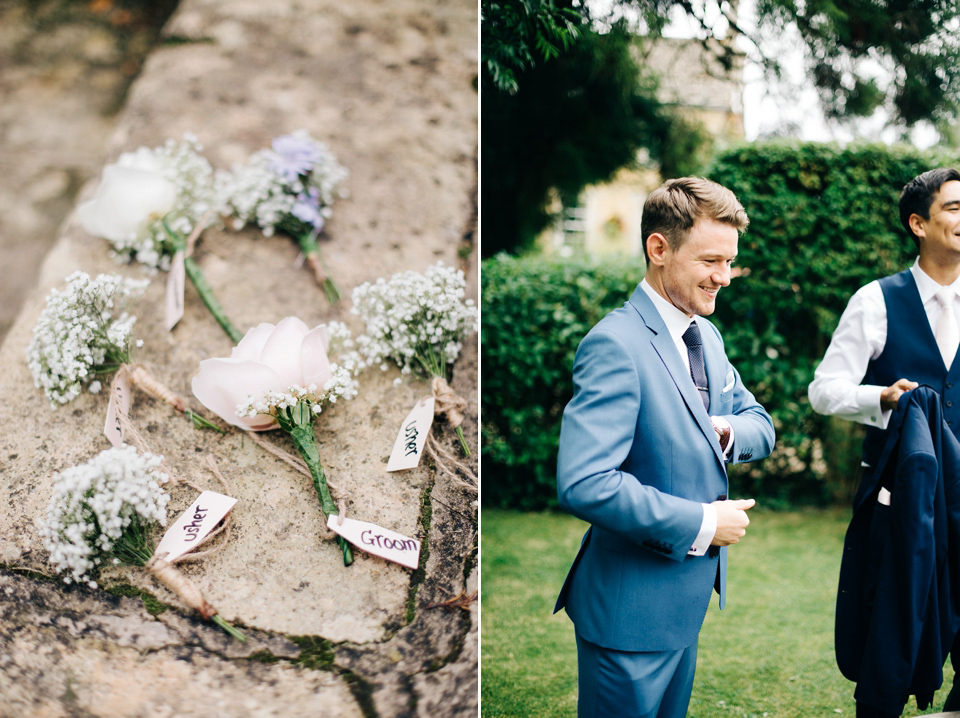 "Michael and I met twelve years ago at Nottingham Trent University, where we both studying Sports Science. It took us a year to get our act together and make it official and we haven't looked back since! True to form it took us another ten years to get engaged…
In July 2014 we went on safari in Tanzania and then spent some time in Zanzibar. Michael arranged a romantic dinner on the beach complete with candles, fizz and lobster. He wrote 'Marry Me' in the sand using shells, which he had slyly collected earlier that day. I later found out he had been carrying the ring in his trouser pockets throughout the whole safari! We gave ourselves a year to plan the wedding."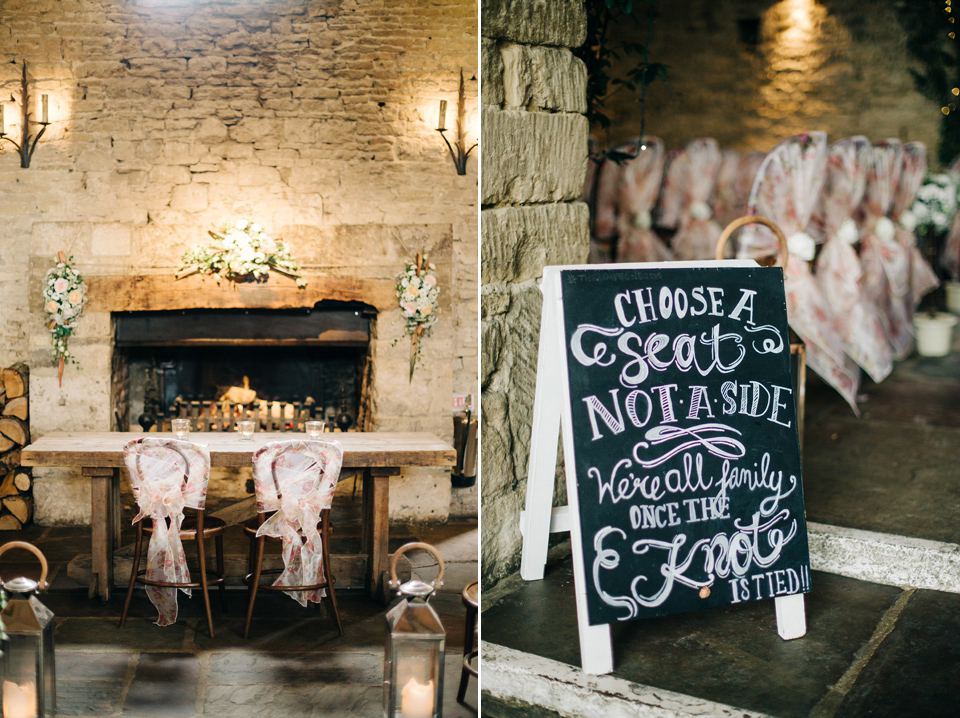 Melanie walked down the aisle accompanied by her sister to 'The river flows in you', a piano piece by Yiruma.
"My sister gave me away. I contemplated walking down the aisle on my own, but it felt right to have the support of my sister by my side. She was amazing throughout the planning process from the hen do, to the day itself."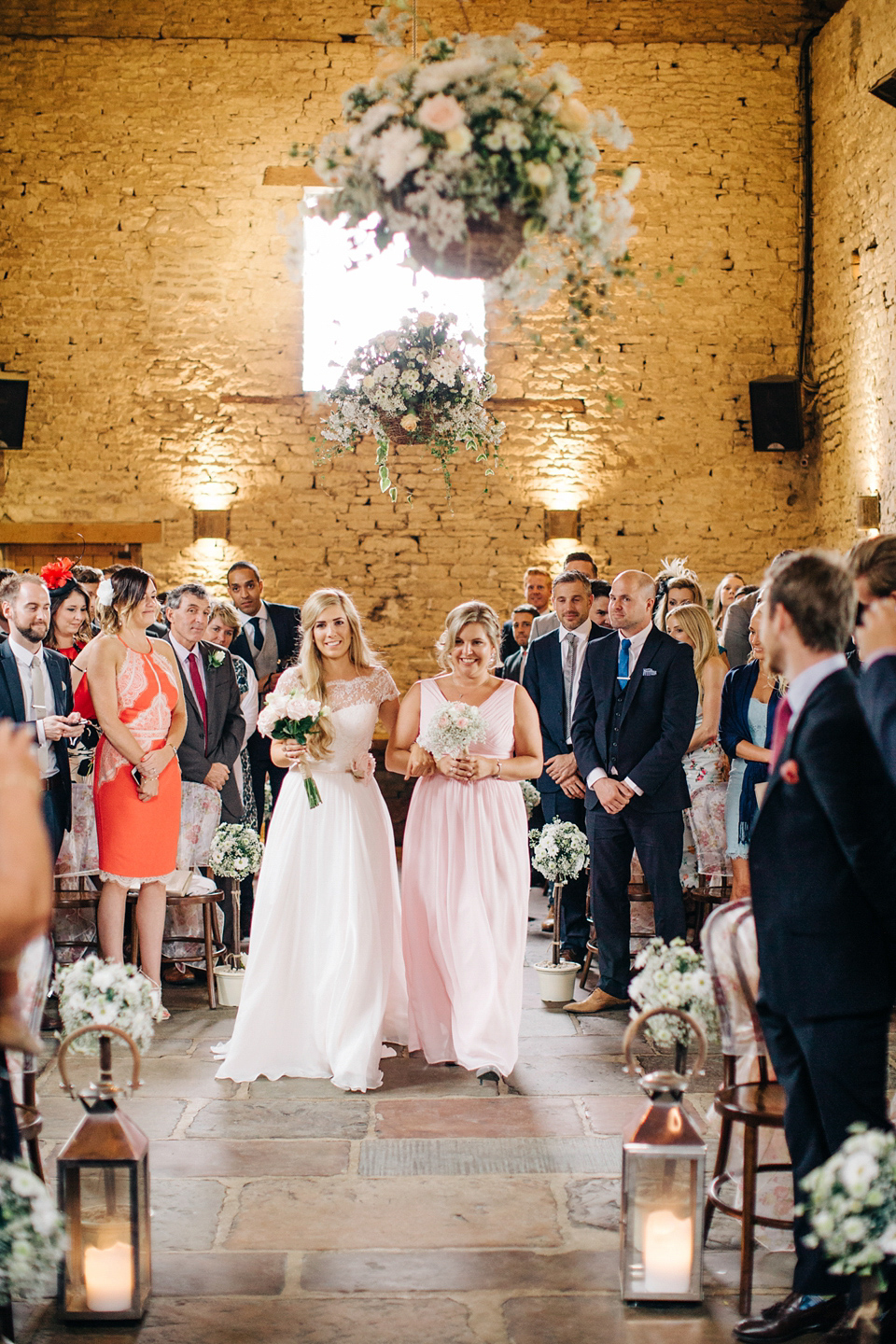 "Walking down the aisle was a standout moment for me. Michael isn't 'a cryer' so to see him cry as I walked towards him made the moment so emotional and special. I managed to hold it together – just!"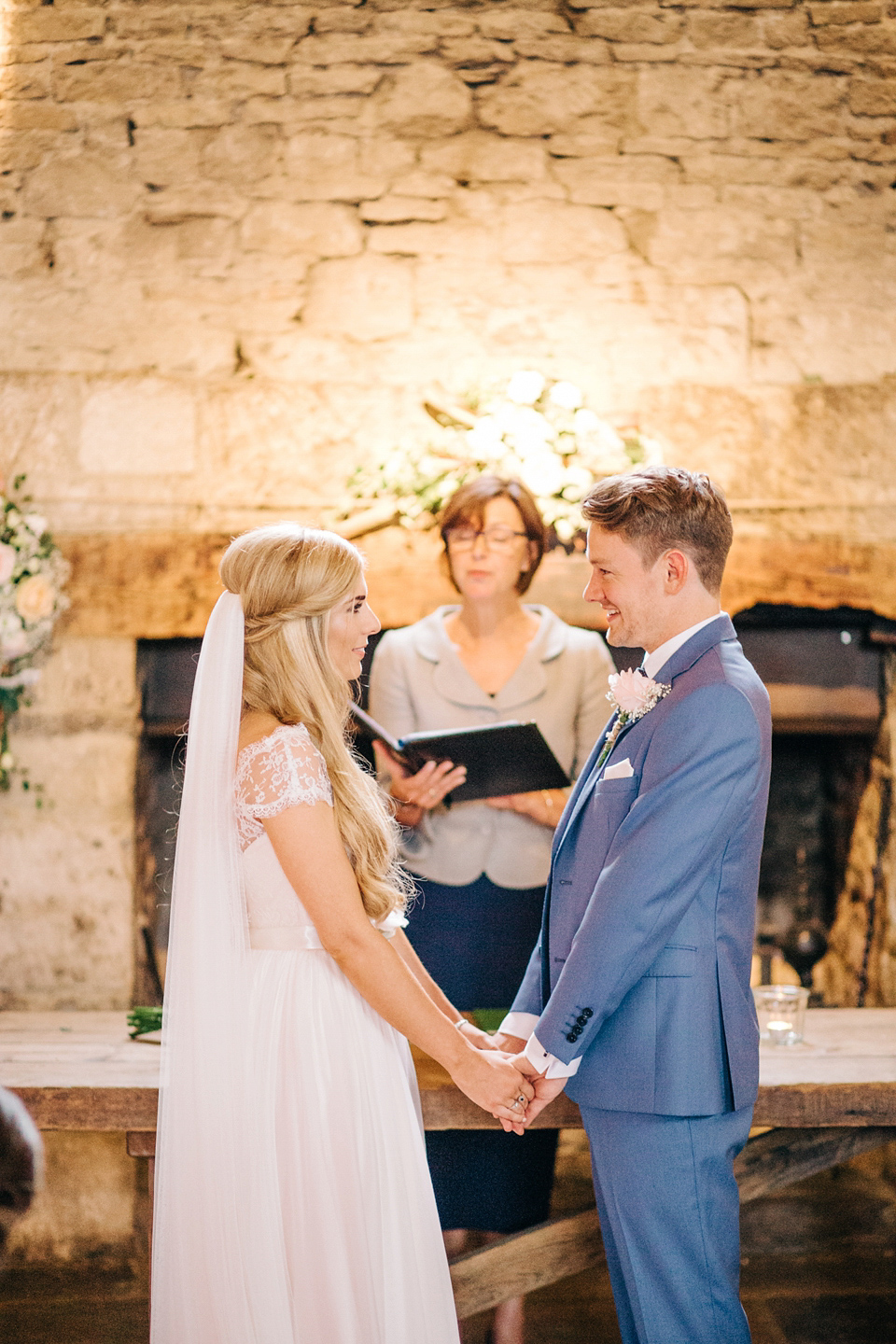 Our couple chose two readings; the lyrics from 'I will be here' by Steve Curtis Chapman and 'Love is a temporary madness', an extract from Captain Corelli's Mandolin by Louis de Bernieres.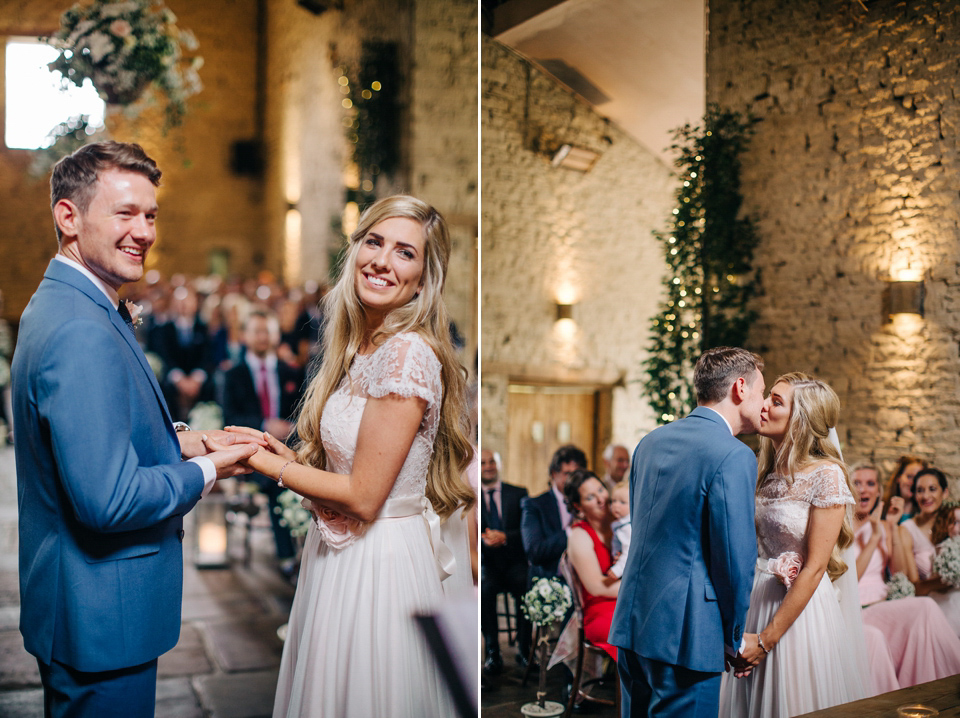 "We wanted readings that reflected our long-term relationship and the solid friendship we have.  We have been through a lot together and are incredibly supportive of one another. We felt the readings were perfect for us."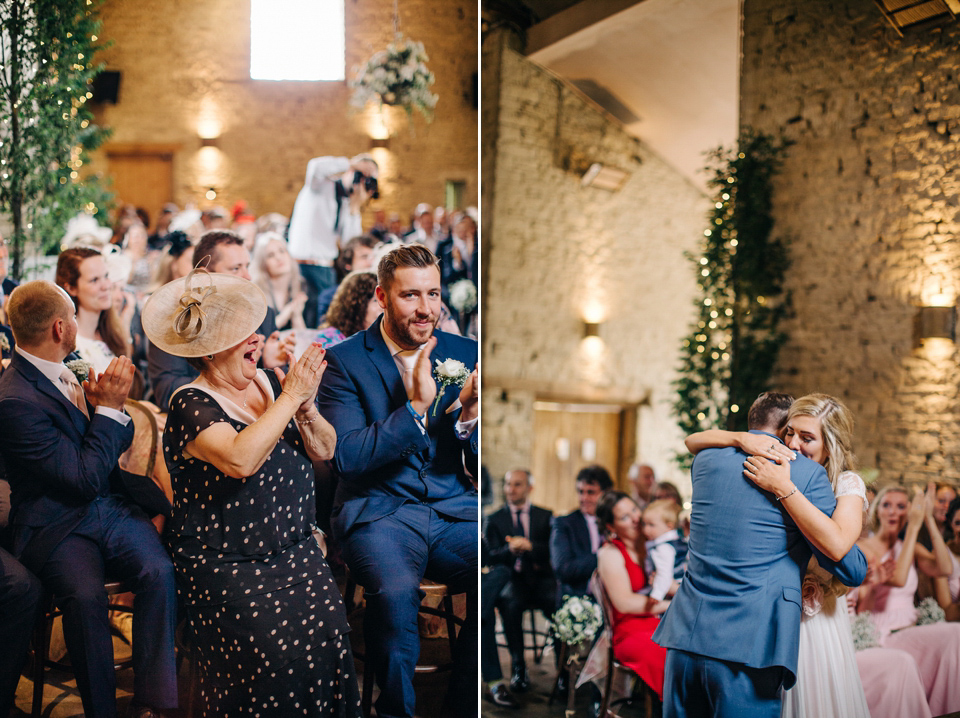 Melanie and Michael's big day was captured by Morgane and Jonny of M&J Photography, who regularly grace the pages of Love My Dress with their beautiful, timeless, images.
"Jonny is a friend from school and I have always loved their pictures so it was a no brainer. M&J are wonderful at capturing beautiful, natural shots and very good at putting you at ease. They have a very good balance between direction and keeping things relaxed. We felt it important to prioritise our photography in our costing as it is something we will be able to keep forever."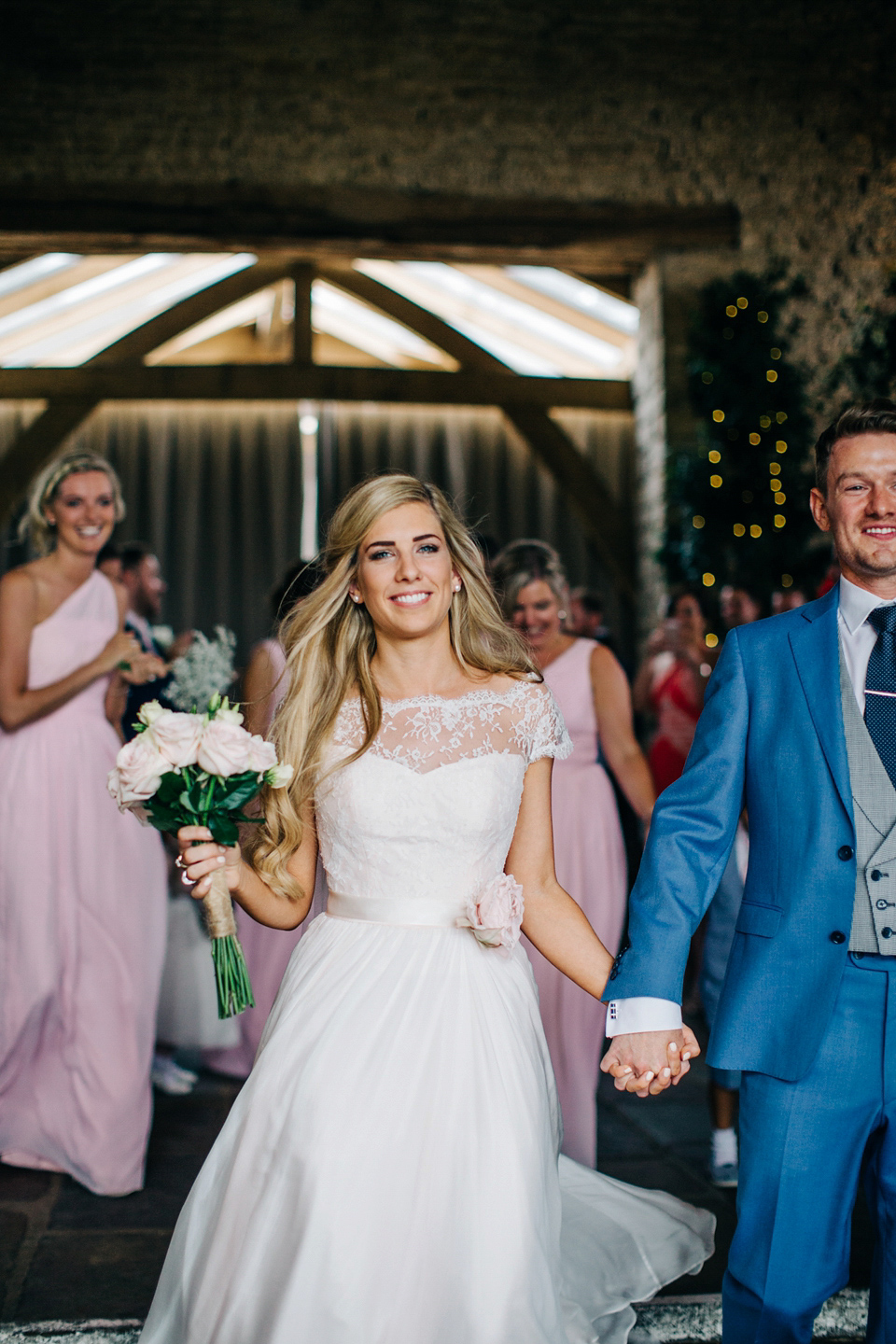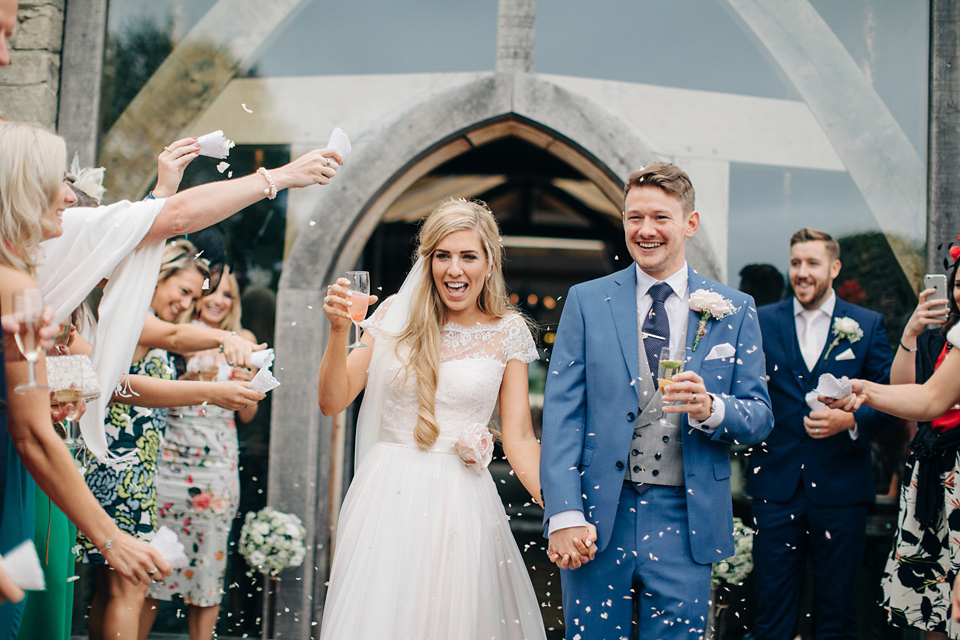 The couple's delicious looking wedding breakfast was catered by the venue and their cake was handmade by the Melanie's sister.
"Cripps barn do all the catering onsite and this was one of the main reasons we booked the venue (we were overwhelmed at the taster session!). We opted for the sirloin steak bricks, which were carved at the table by our guests. It was served rare and everybody commented on how fantastic the food was. We had a smoked salmon starter and chocolate brownies for dessert. It was simply amazing!"
Melanie and Michael decorated Cripps Barn with lots of fairy lights, handmade signs, rose garlands and floral arrangements created by Michael's mother.
"My mother in law, Linda, did all of our flowers and although she's not a florist by trade, she has many years of experience arranging flowers for various events. It was such a blessing having such skills in the family!"
"With some help from the rest of the family, Linda made two big hanging baskets, flower pots for aisle and other decorations for the ceremony. For the tables we wanted a relaxed feel and filled jam jars I had decorated with roses and gypsophila. All the flowers were in whites, light peach and blush colours."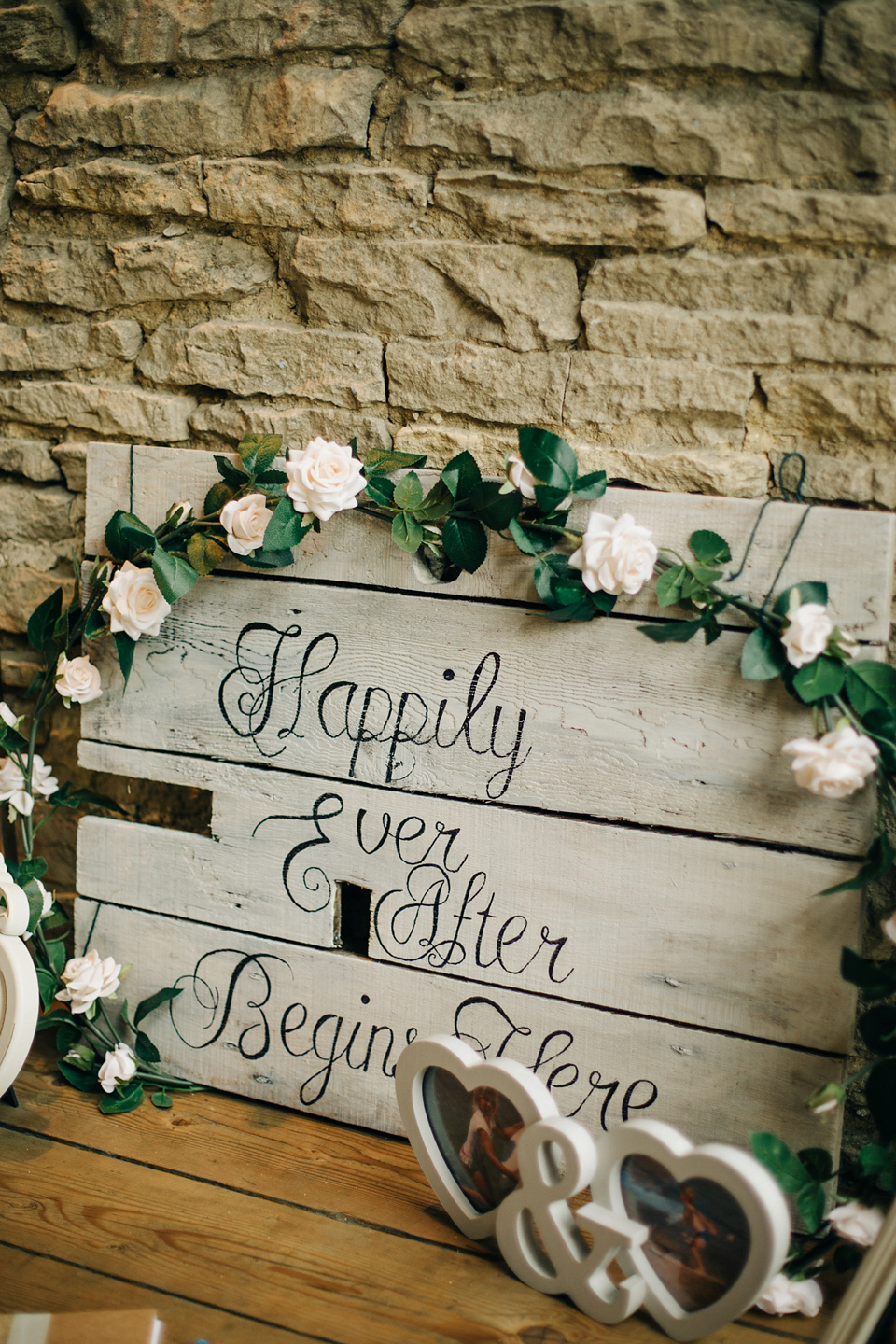 With a little help from their friends, our crafty couple made most of the décor themselves…
"I had fun making many signs (I think I almost got addicted to it) and we made the table plan together. We painted a big picture frame, covered the back with hessian and decorating it with lace and flowers. Our card box was a vintage suitcase which belonged to Michael's granddad which we dusted down and lined with polka dot material."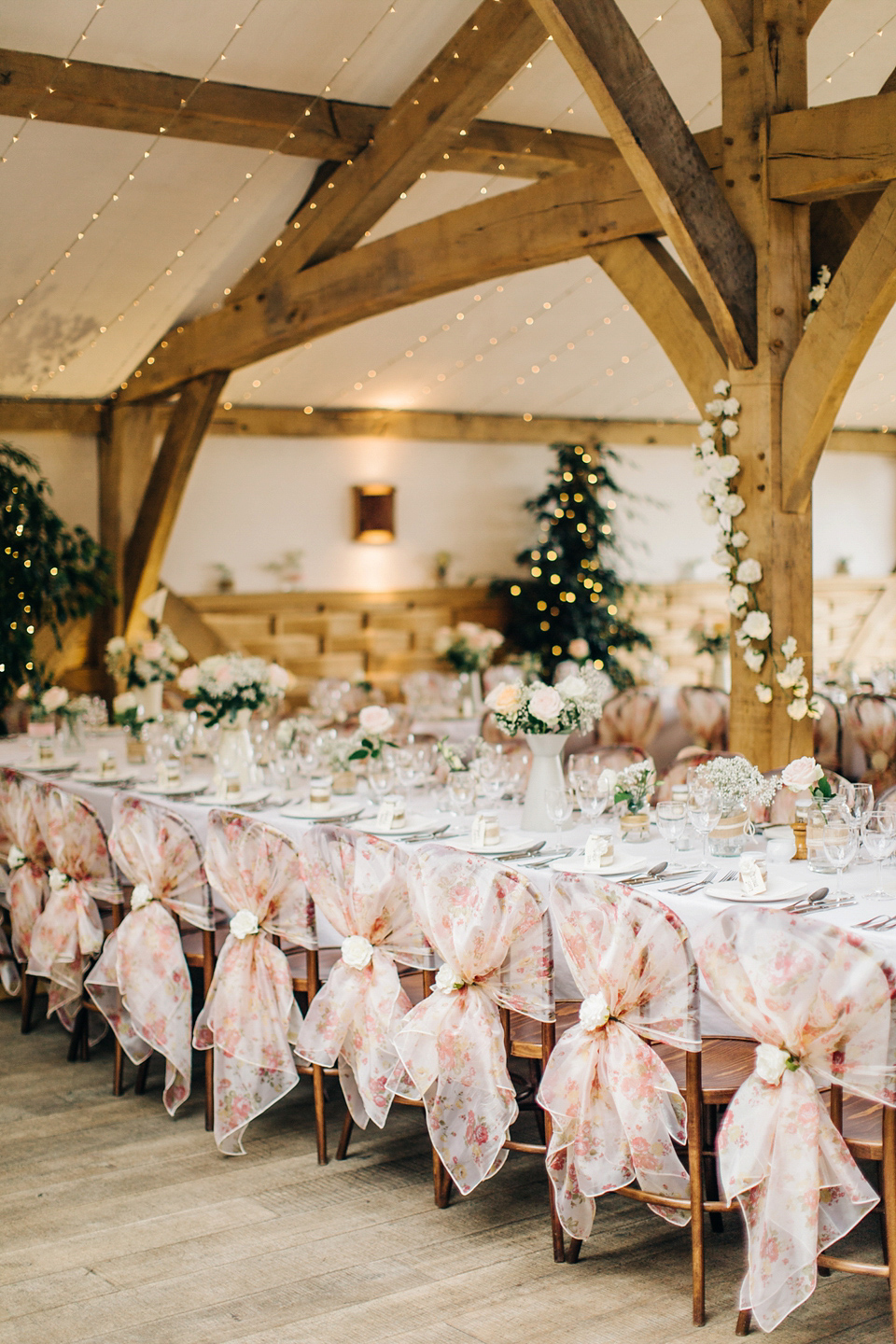 "We tied our place cards to our favours with twine, which were handmade candles which I created using soya wax and crème brûlée flavoured essential oil (one of our favourite desserts!). It was time consuming but I enjoyed making them and they went down well and smelled great too!"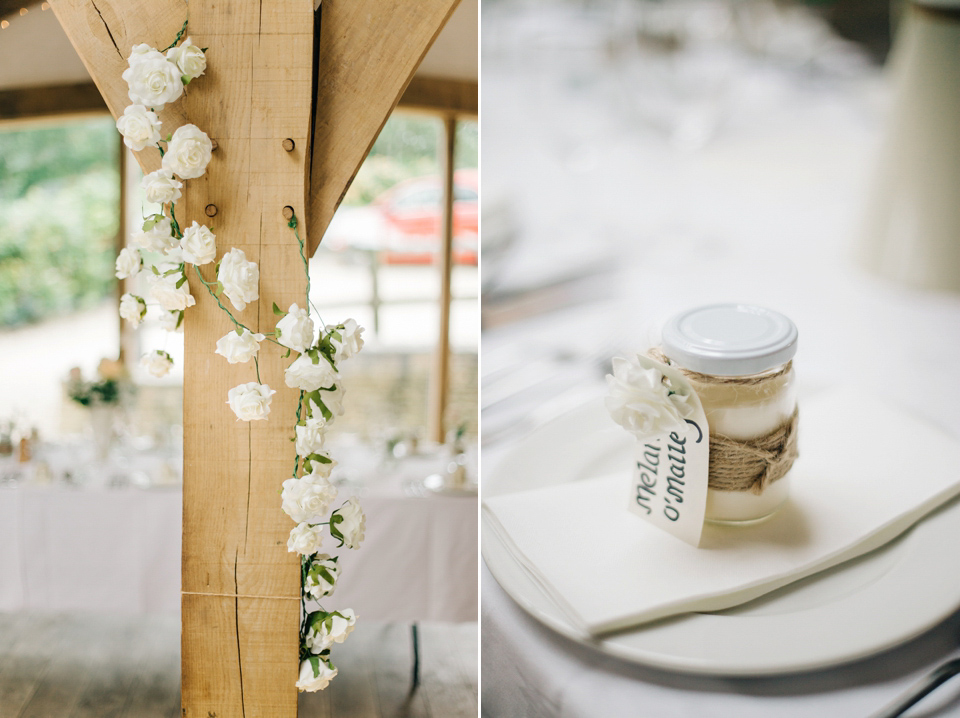 "My sister made our cake, which tasted wonderful. It was three tiers and the bottom layer was red velvet chocolate, the middle layer was carrot cake and the top lemon. The cake was coated in buttercream and decorated with ivory roses. The cake stood on a round of wood which had our names carved into it by my cousin Sam who handily happens to be a tree surgeon!"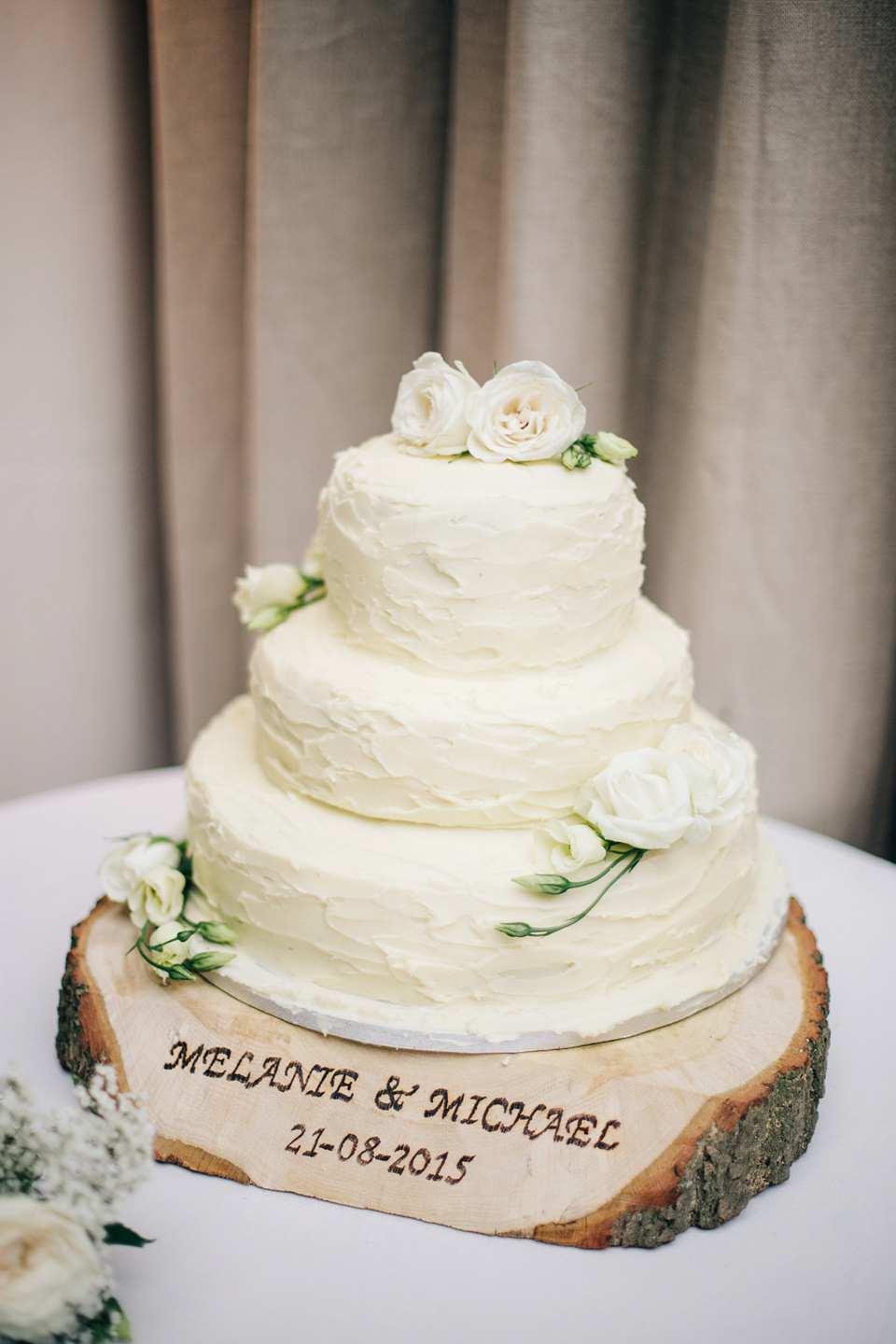 After seeing them perform at a friend's wedding, Melanie and Michael jumped at the chance to hire five piece band Mowgli for their evening entertainment.
"The band was one of the first things we sorted. Mowgli are known for their mash-ups and they did not disappoint! They did an amazing 90s/garage mash-up and many guests commented on how they were the best wedding band they had ever seen. The female vocalist also sang our first dance 'Song Bird'. We wanted a song we hadn't heard as a first dance yet and went for something very romantic (which surprised a few people)."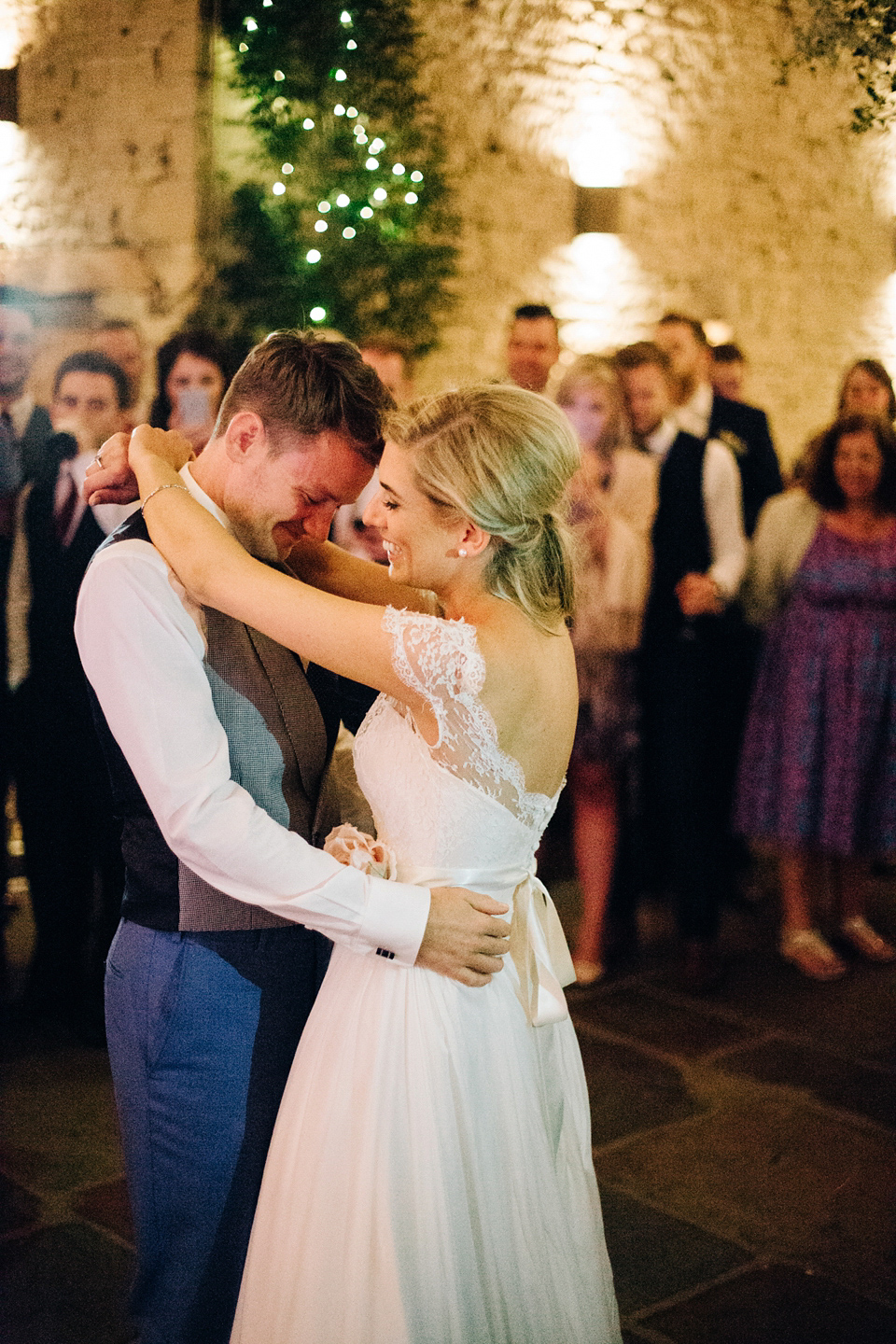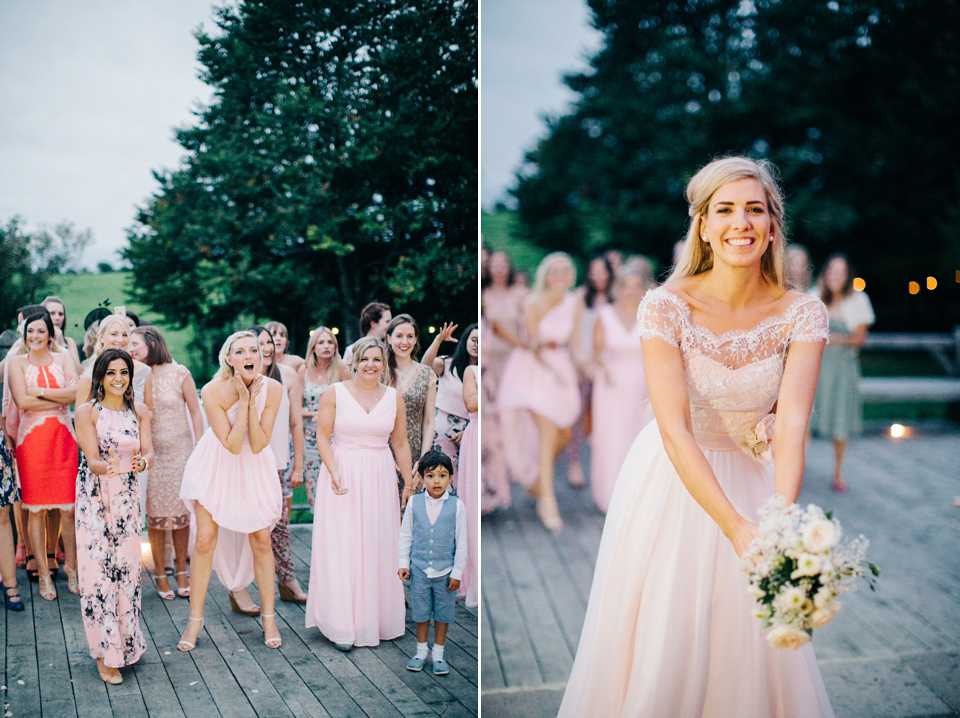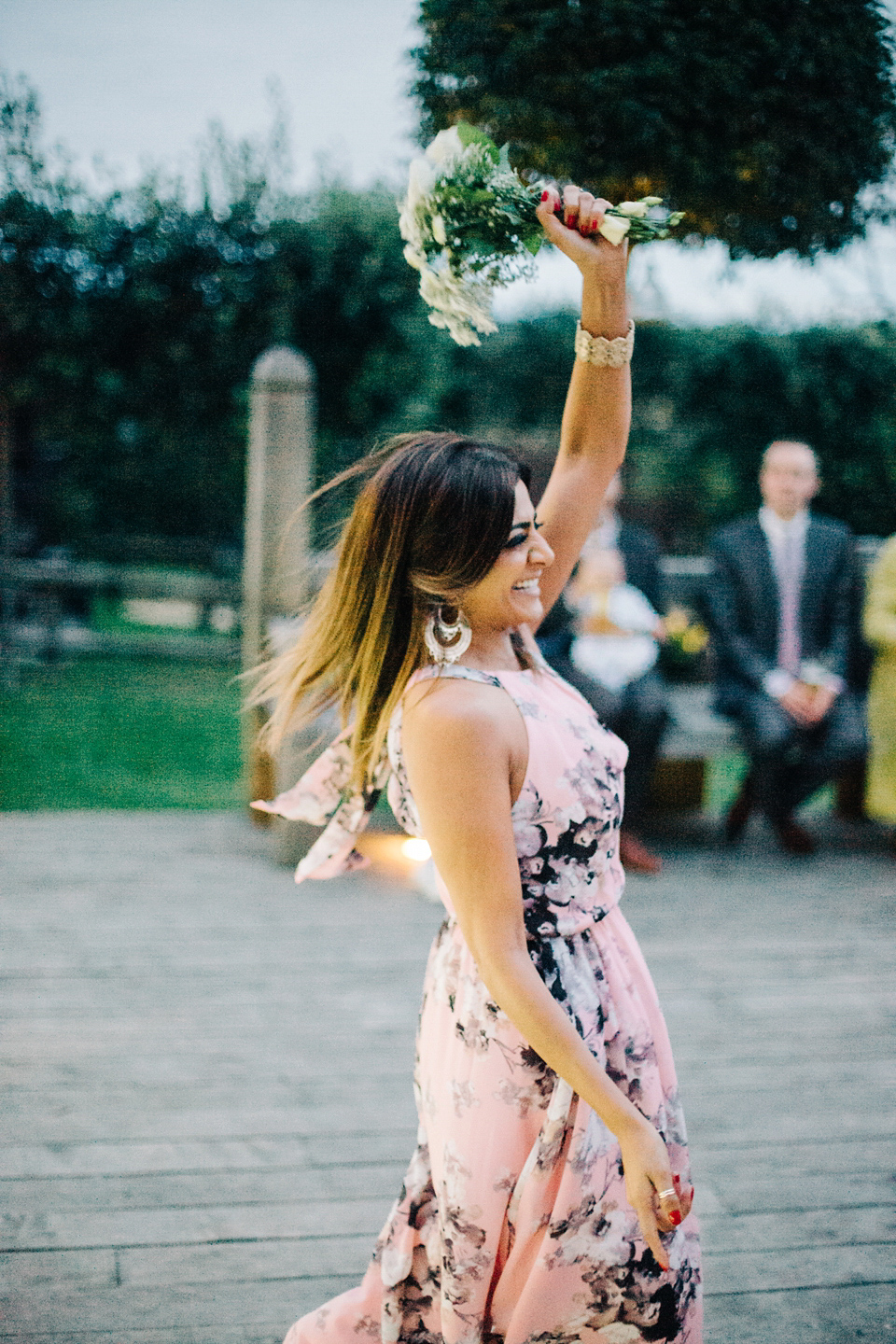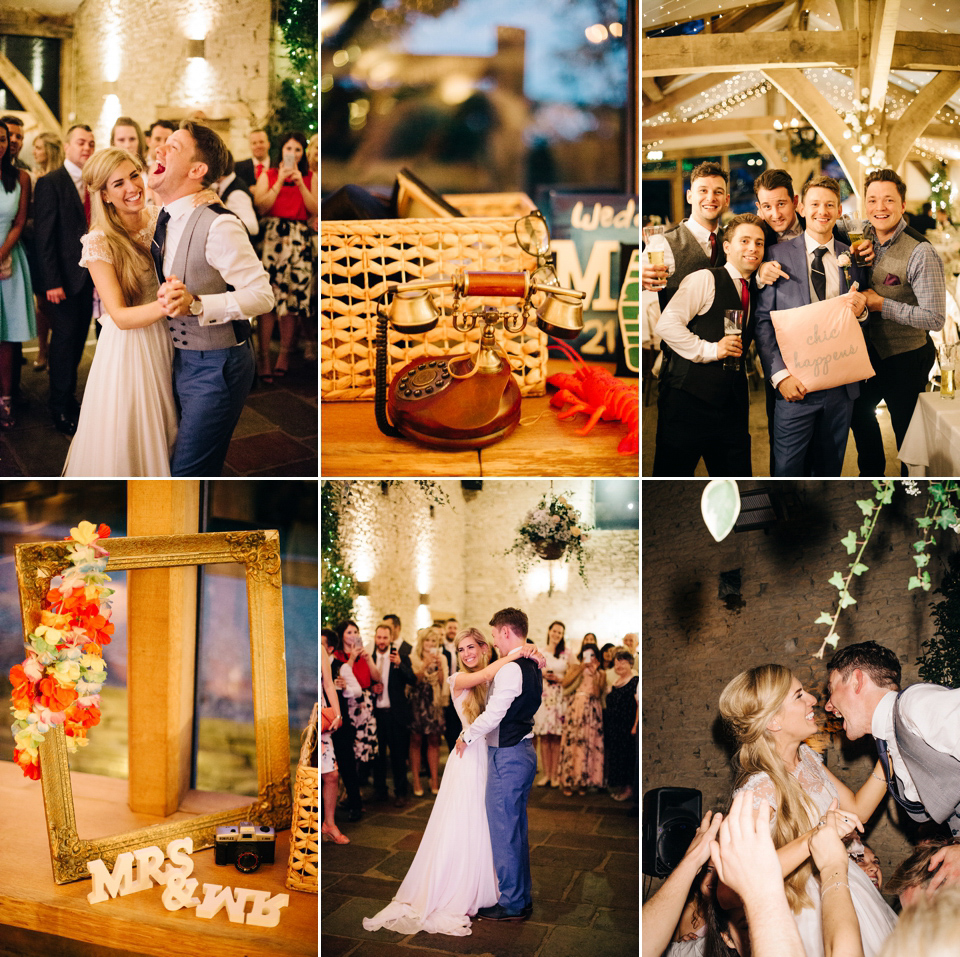 Words of Wedded Wisdom
"Enjoy every part of the build-up to the wedding, as the day itself goes by so fast. Accept every little bit of help offered to you from friends and family, you will be surprised at their talents, and make sure you delegate on the day itself."
"If we could do it all again I would take more time out for myself and Michael."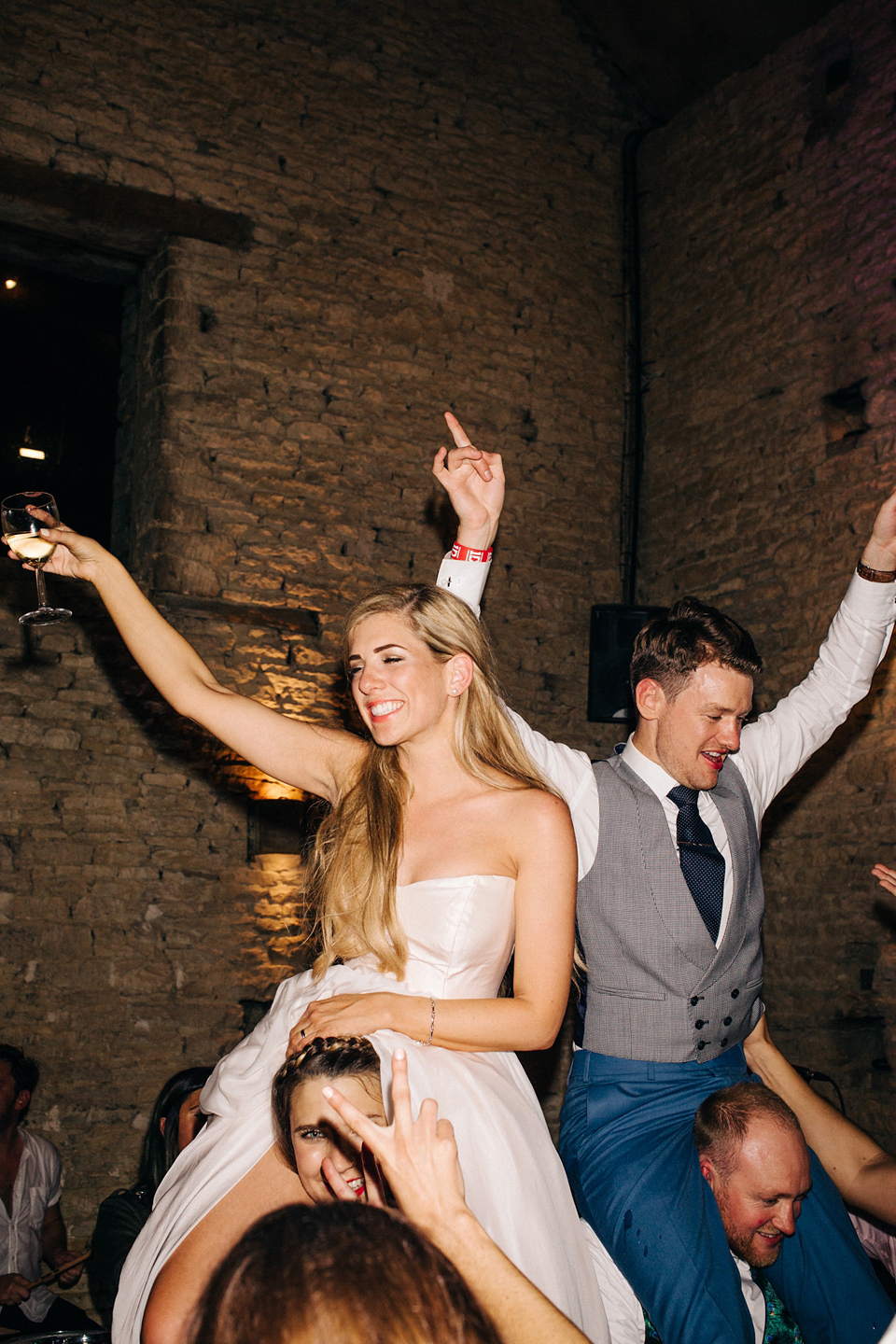 Congratulations Melanie and Michael! Thank you so much for sharing your big day and to M&J photography for capturing it so very well. If you'd like to see more lovely barn weddings on the blog, please follow this link. And if you are in search of bridesmaids dresses, remember to check out the sale over at For Her and For Him (I particularly loved the sequined gowns!).
M&J photography have captured some of our favourite ever weddings on Love My Dress – take time to explore them  here – they really are phenomenal photographers.
Wishing you all a brilliant weekend!
Annora x