Good morning lovely ones and I hope your day is going swimmingly well. Are you ready for some serious dress, floral and decor inspo, together with a reminder of summer days? Go get yourself a hot beverage, take a break right now, and prepare to be dazzled by Anna and Will's delightful summer wedding, with beautiful images by Fuller Photography.
The bride, a radio producer at BBC Radio Norfolk, married her groom, a design and technology teacher, on 1st August 2015 in the picturesque Norfolk countryside. The ceremony was held at St Nicholas Church, Dilham, followed by a reception at the Dairy Barns in Hickling.
"We wanted everyone to feel involved and have fun. We just happened to end up with a countryside wedding, simply because the flowers came from our garden and that's the style we love. "
Photography by Fuller Photography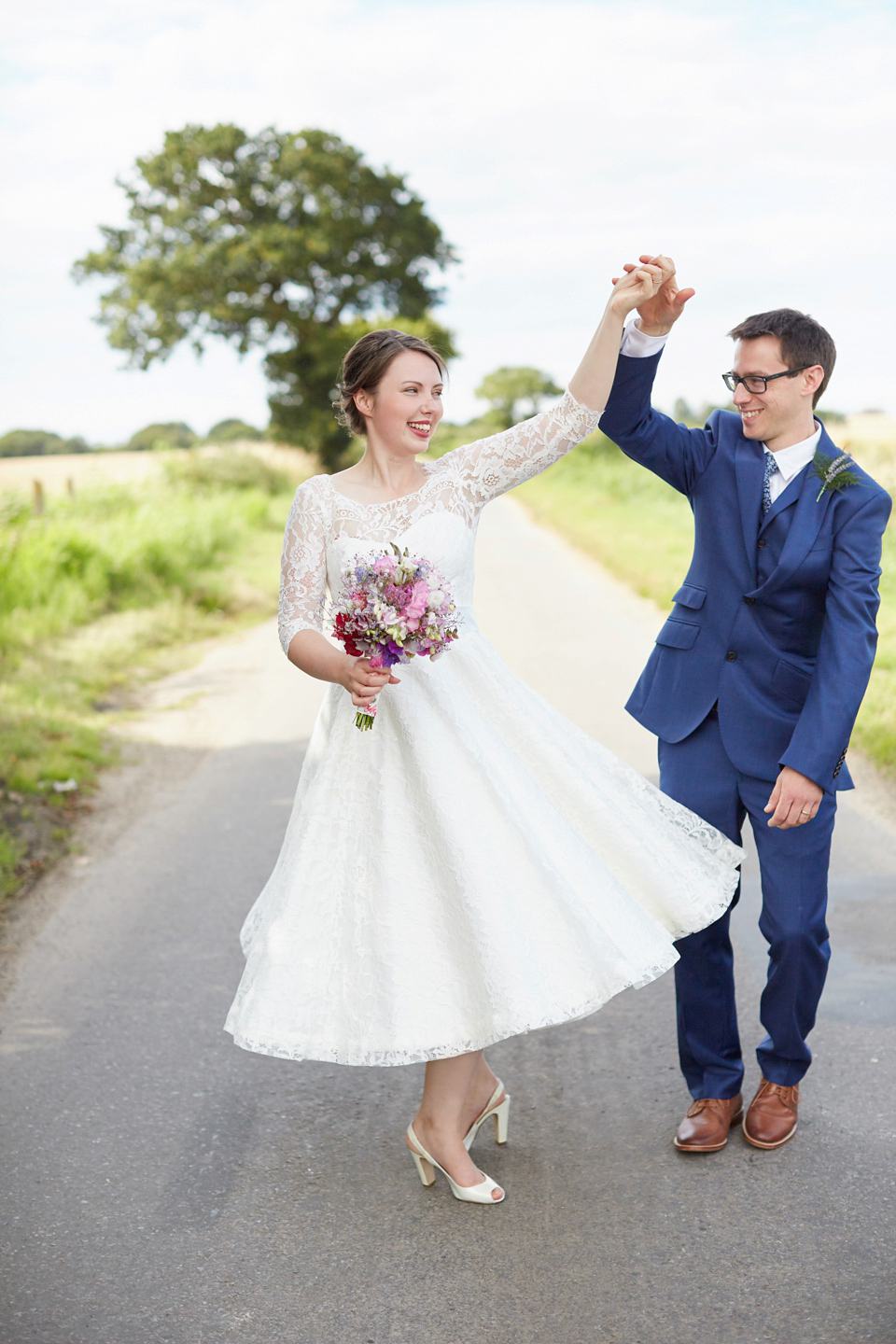 Anna's dress was a stunning 1950's tea-length lace dress, with long sleeves. The bride chose her dress based on having the ability to dance, as well as an essential logistical matter – the shorter length meant she would fit in the car she would be travelling in to the ceremony! Anna looks absolutely divine – a beautiful bride of a bygone era.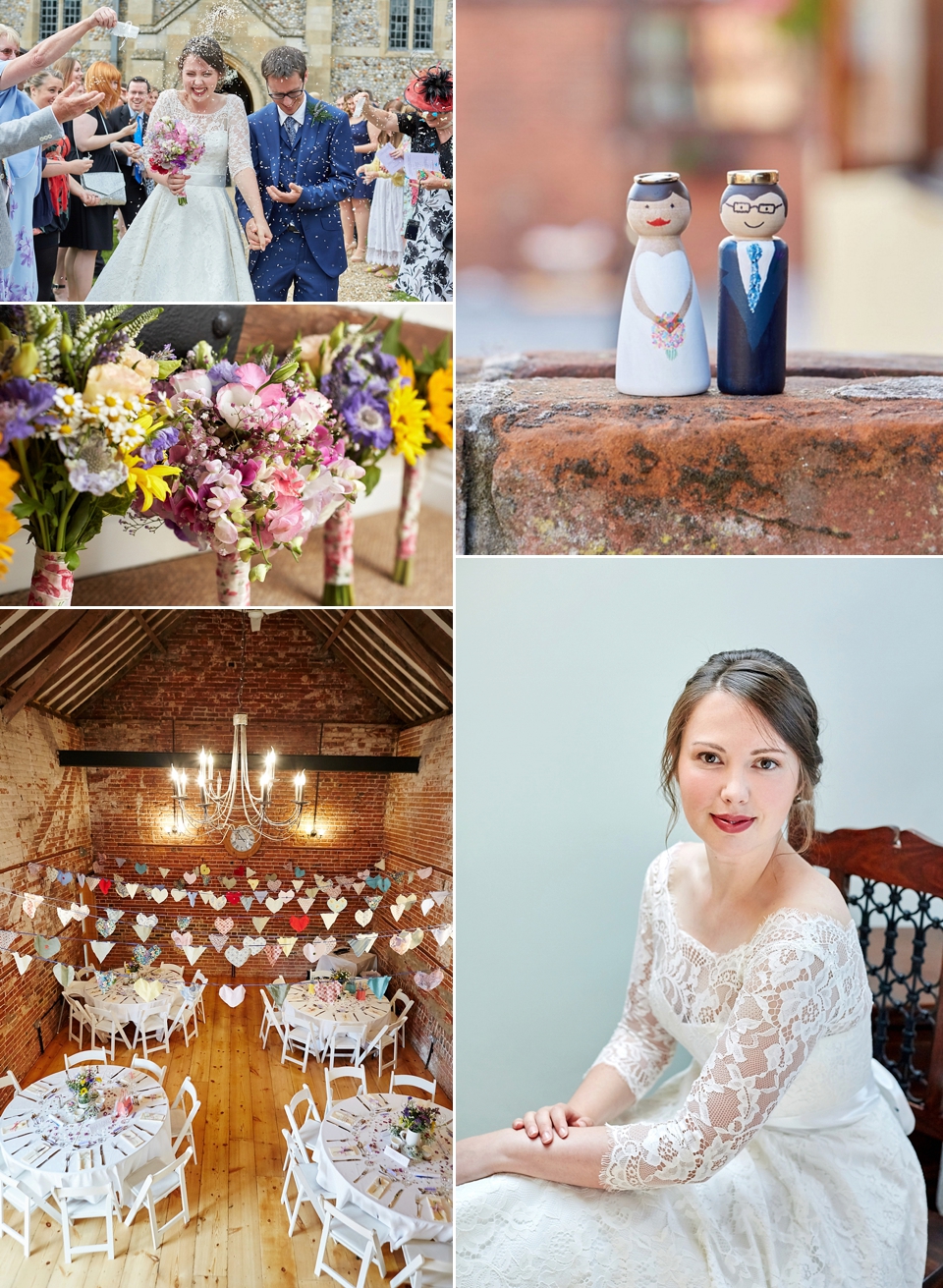 Hair was by Amy Taylor from Flamingo Amy, with make up by Cherrie Imogen Wedding Hair & Make Up Artistry.
"I wanted a short dress so I could dance – I think long dresses are too restrictive and I knew I would feel a bit precious in them. Also, I had to fit in the Fiat! The girls at Fur Coat No Knickers were fantastic, they just got my style and we had a great time."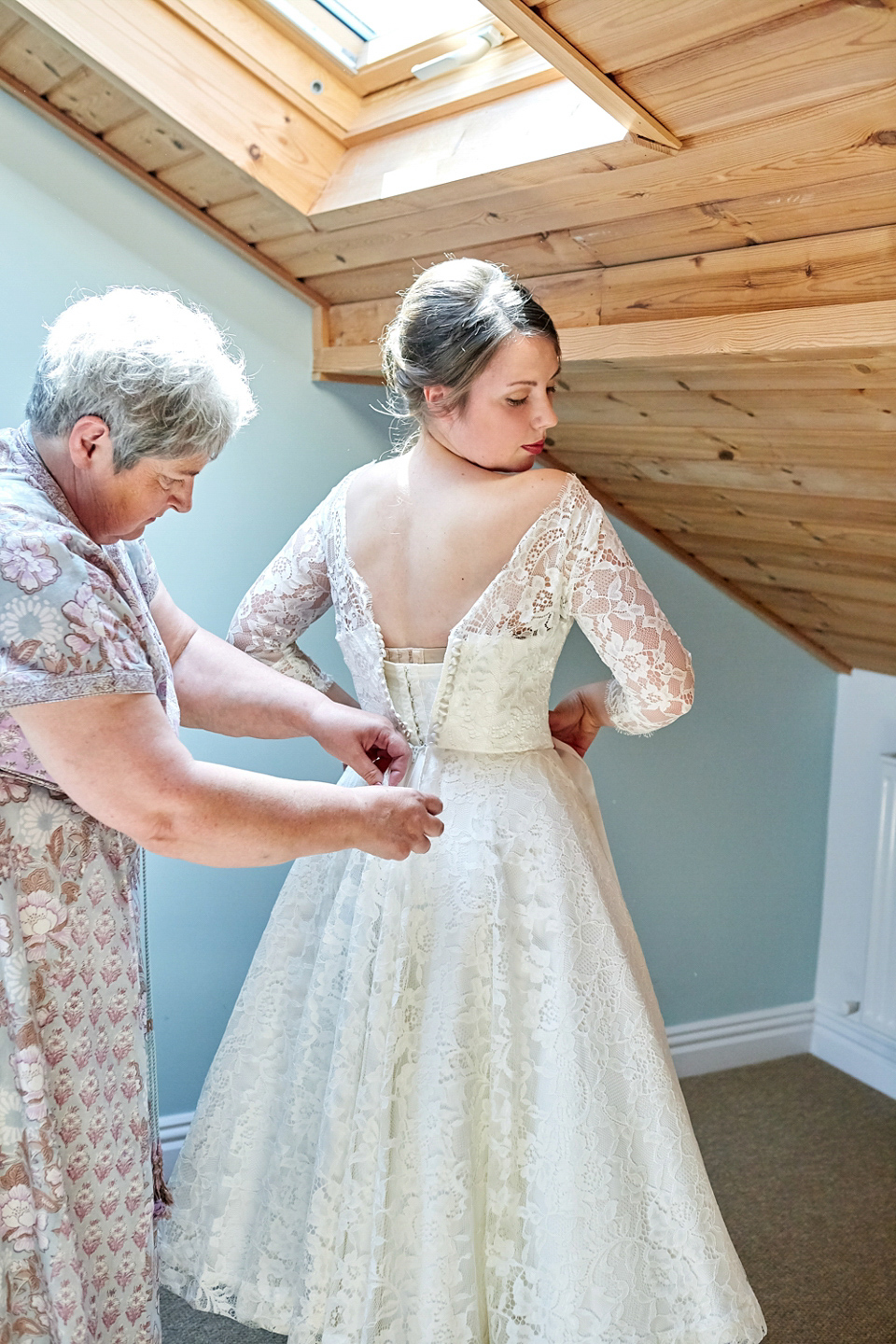 Anna found her Sergio Rossi peep-toe heels at a secret sample sale in London, how brilliant! And to finish off her pared-back look, the beautiful bride added sprays of Jo Malone scents of 'Red Roses', 'Orange Blossom' and 'Bay & Blackberry.'
"I mixed these scents together because it was fresh and the red roses reminded me of my Grandma."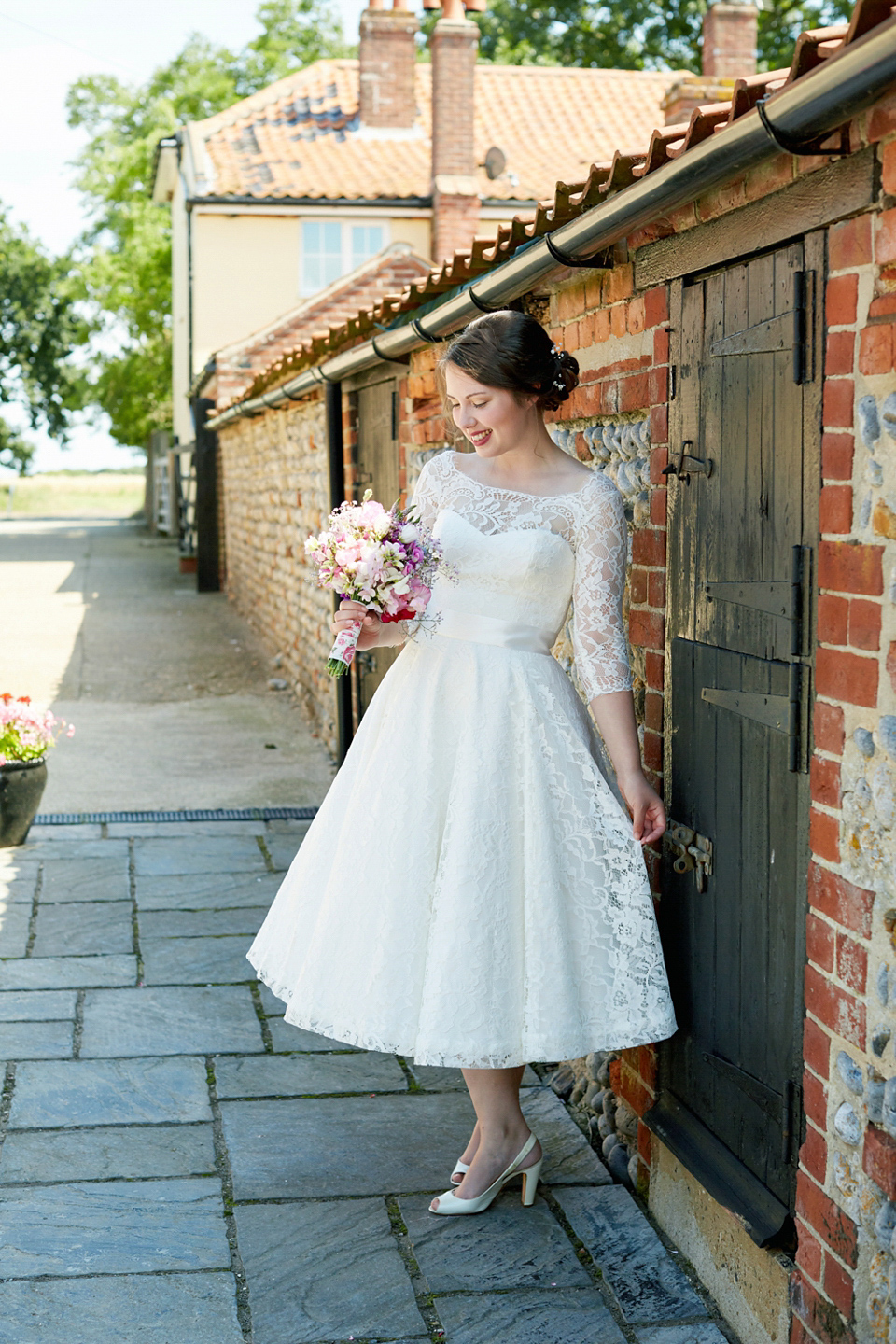 And don't the flowers look utterly fabulous? The vibrant pops of colour were a major feature of the couple's big day, and a mix from the garden and market for that 'just-picked' wildflower look.
"We used flowers from Norwich Market and our own gardens! You just can't buy authentic wildflowers – it was lovely having a piece of home with us and they felt so natural."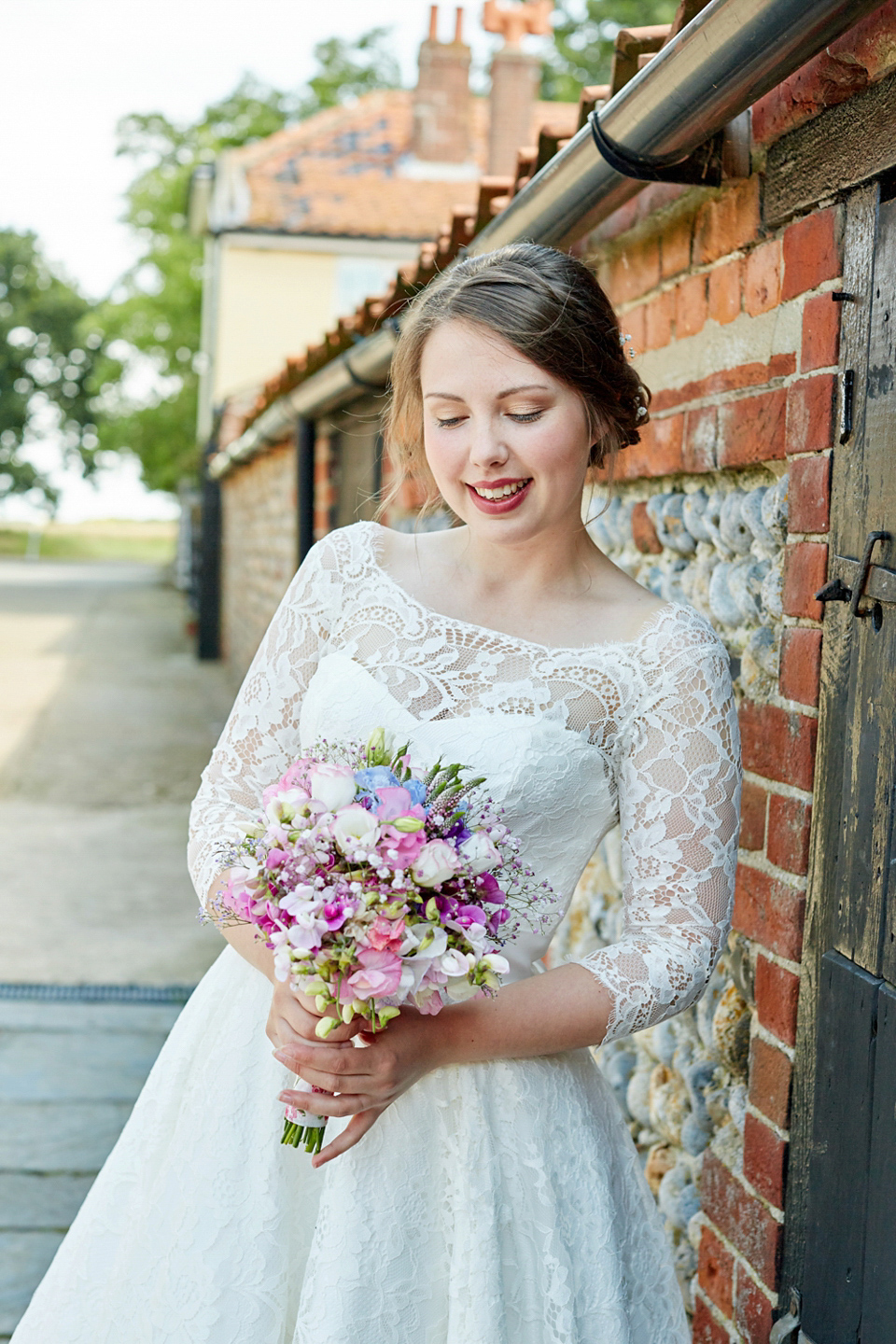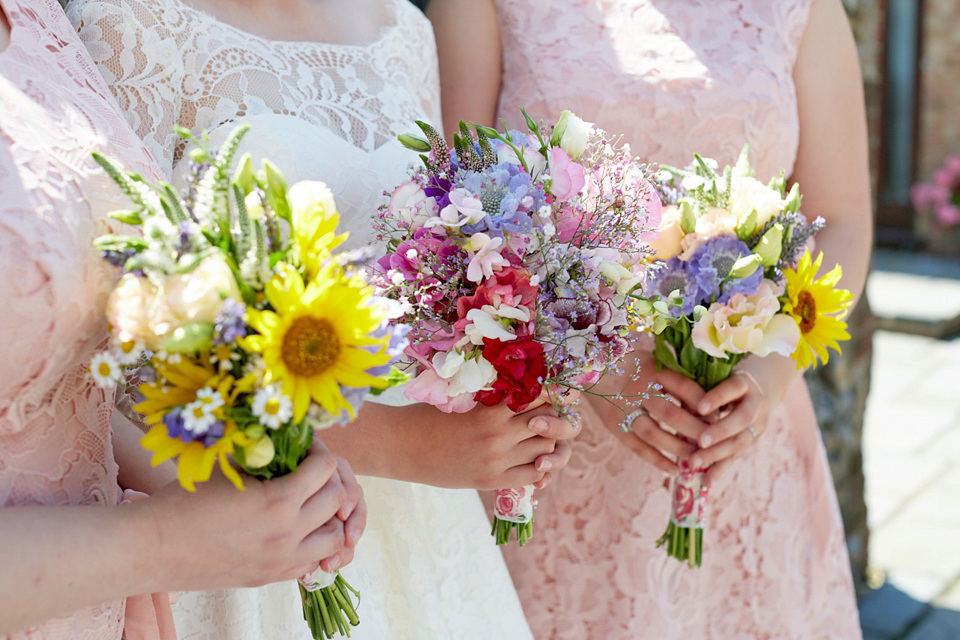 The two pretty maids wore Phase Eight lacy dresses in a blush pink shade, with shoes from Jarrold and their bouquets contained bright sunflowers. The three sweet flower girls donned flowery-patterned dresses from Monsoon, flower headbands with waterfall braids in their hair, and clutched sunny sunflowers as they walked the aisle. Just gorgeous!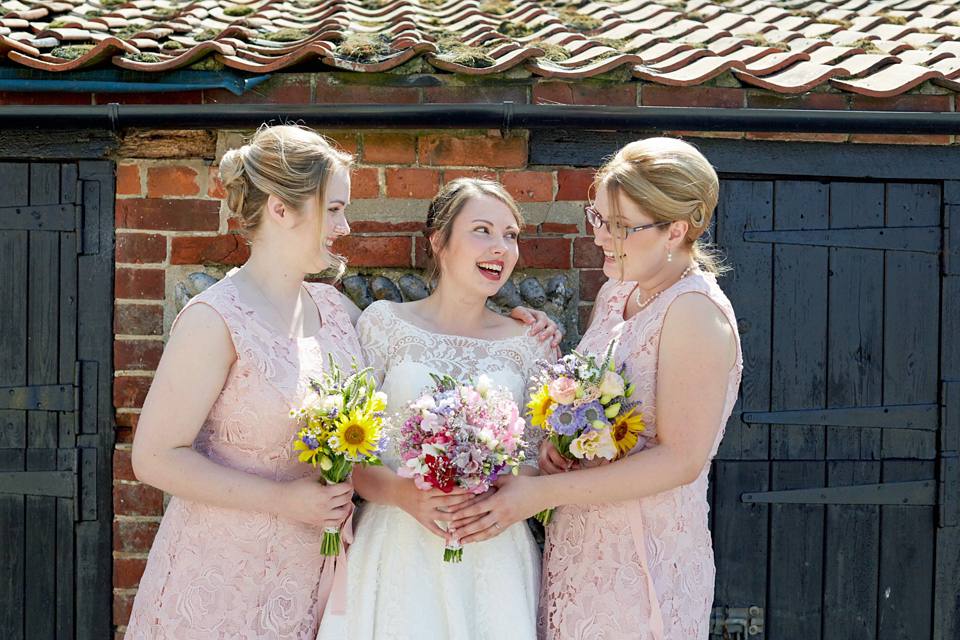 I'm a little bit of a fan of groovy cars (my husband rode in the 'Eleanor' Mustang for our wedding, very cool!), so I love to see what transportation methods our brides and grooms choose.
The groom looked dashing in an ensemble from Jonathan Trumbull & Hatters, complete with blue three-piece suit and a paisley tie.
"My Dad drove me and my sisters to the church in his Morris Minor and Will drove us from the church in our Fiat 500L, which he renovated over five years, just in time for the wedding!"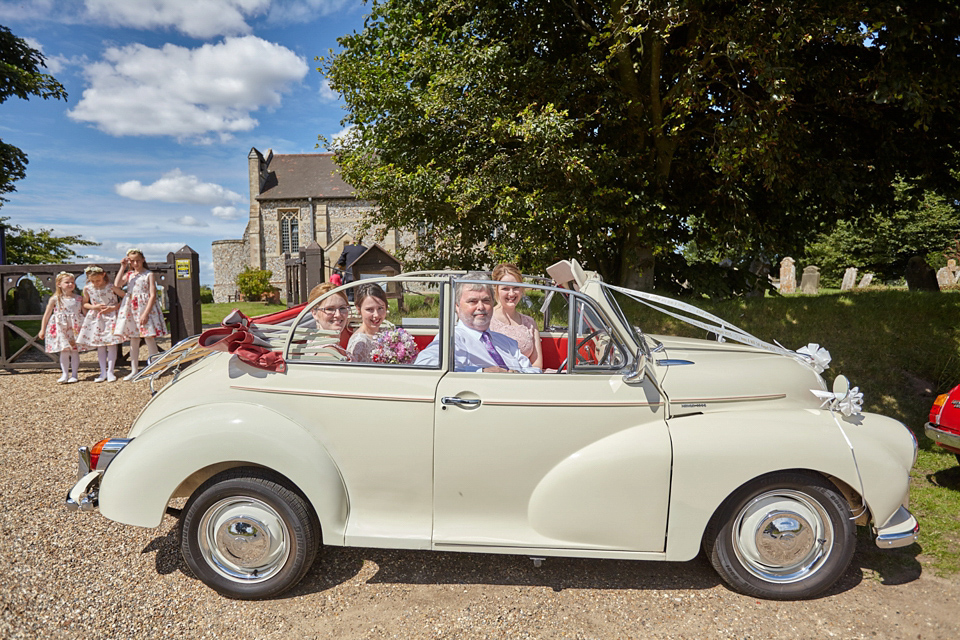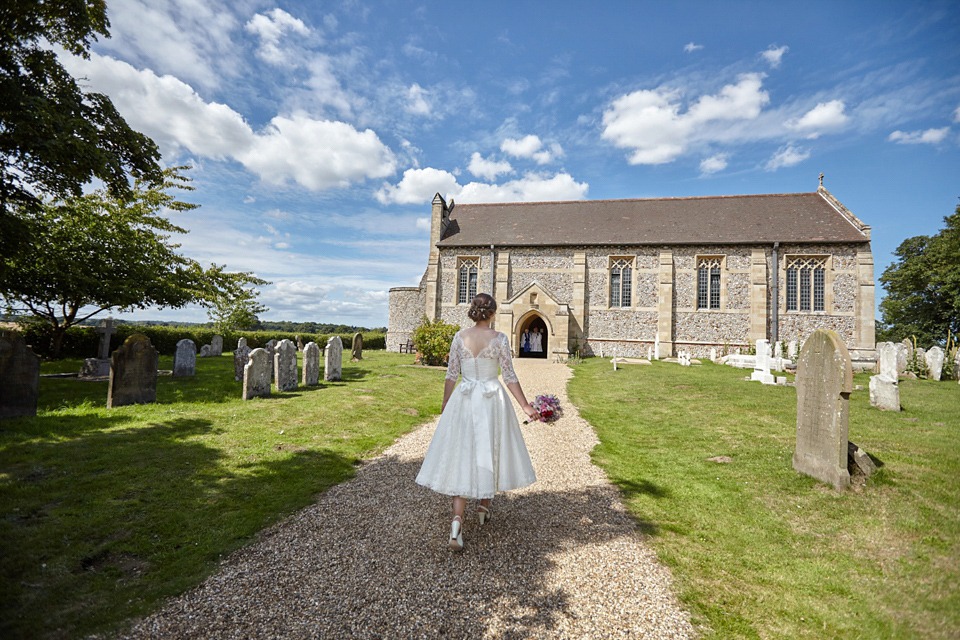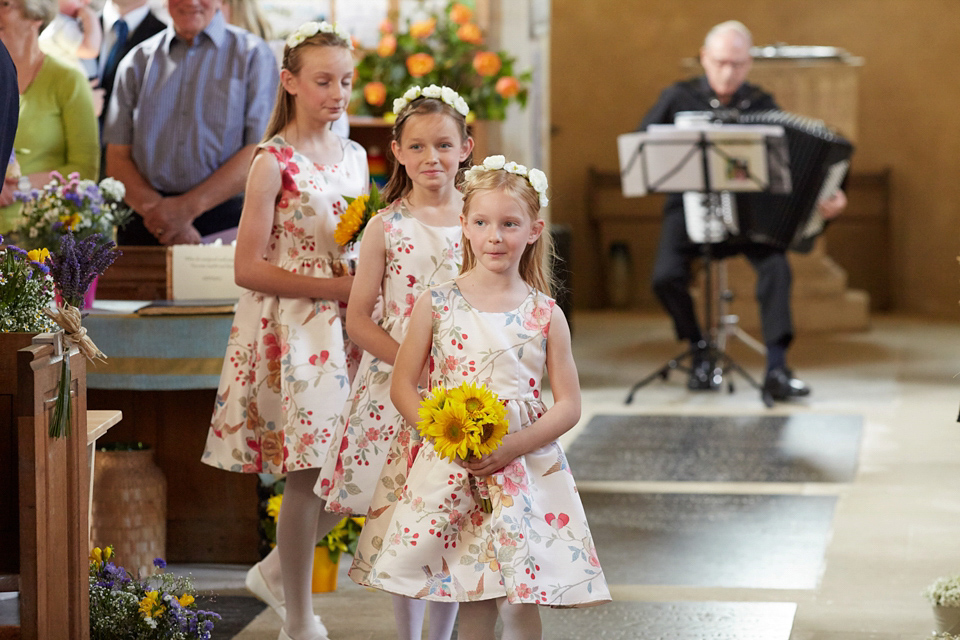 "My Dad walked me down the aisle accompanied by an accordionist playing the theme tune to 'Allo Allo', which really set the scene for the whole day. The vicar even started the service with 'Listen very carefully, I shall say this only once!'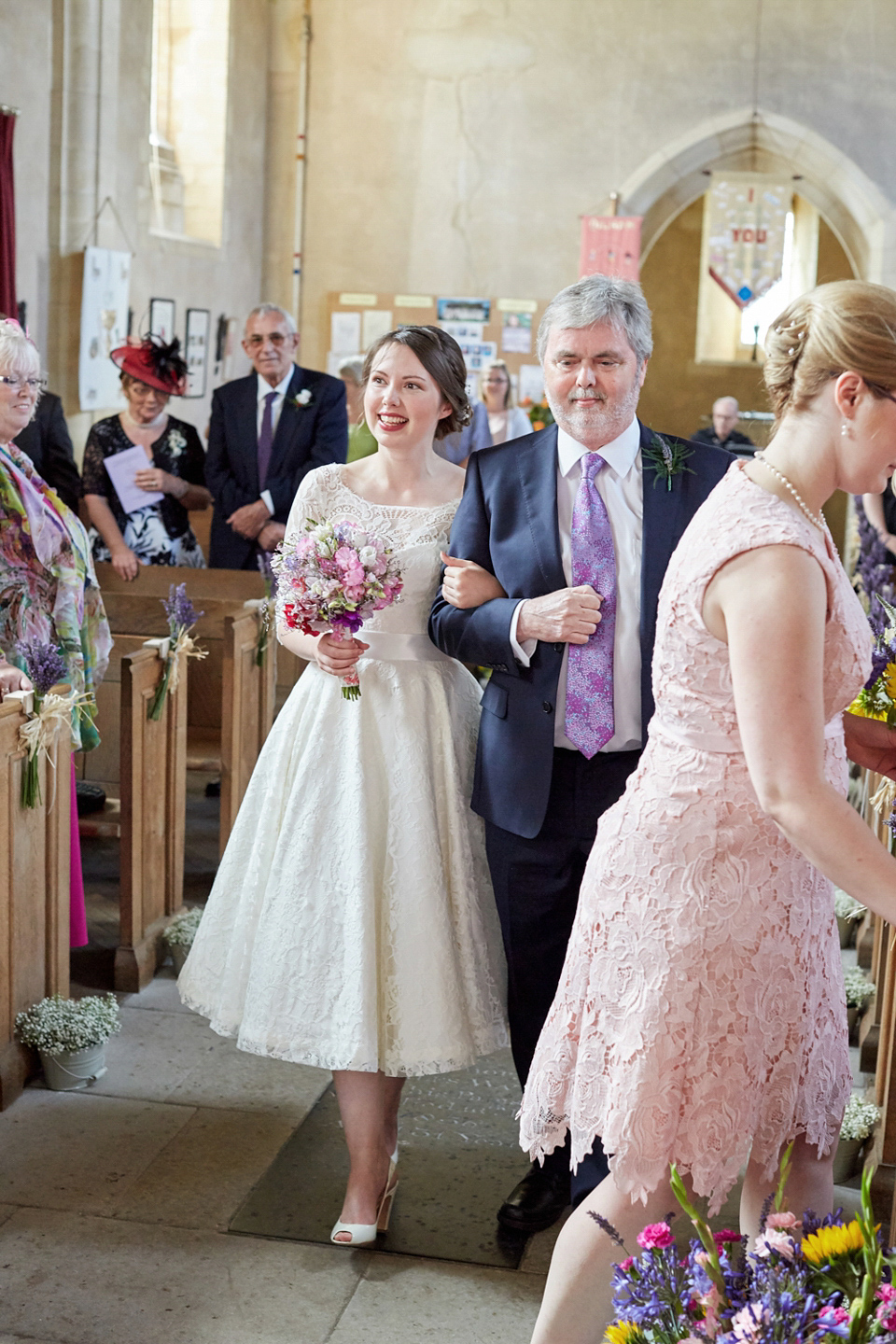 "We had one reading called 'Being in Love is like Owning a Dog' by Taylor Mali (the last two verses are below). This reading was chosen because Will and I both love dogs and it was our dream to have our dog with us on our wedding day, but unfortunately he didn't make it. Our previous dog had helped Will propose by providing an excuse to kneel down…"
But love makes you meet people wherever you go. People who have nothing in common but love stop and talk to each other on the street.
Throw things away and love will bring them back, again, and again, and again.
But most of all, love needs love, lots of it.
And in return, love loves you and never stops.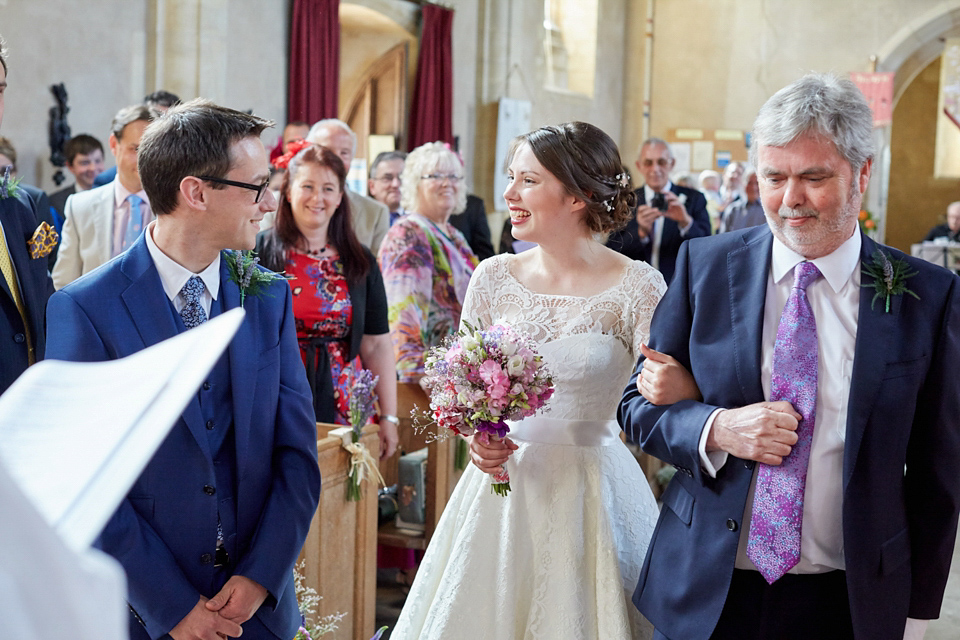 "Will and I both play the trumpet and met through music! Will proposed on Southwold Pier in the rain. Our old spaniel, Sprocket, gave Will an excuse to get down on one knee! We got engaged in 2012 whilst I was at university. We were doing long distance at this point, so we got engaged to see us through to when I finished and came home."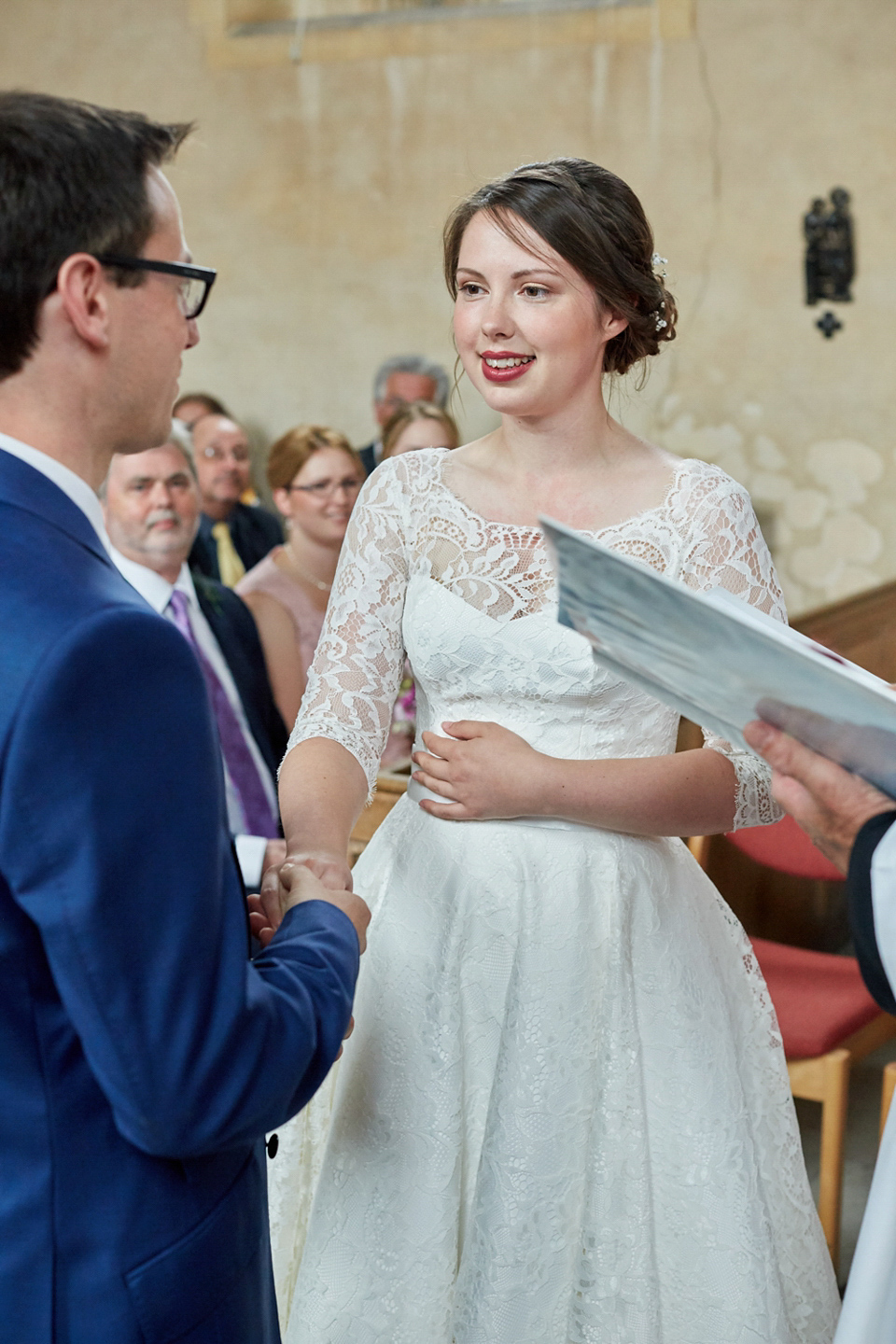 "The rings were from Lanes Jewellery in Holt – it is where my engagement ring came from too."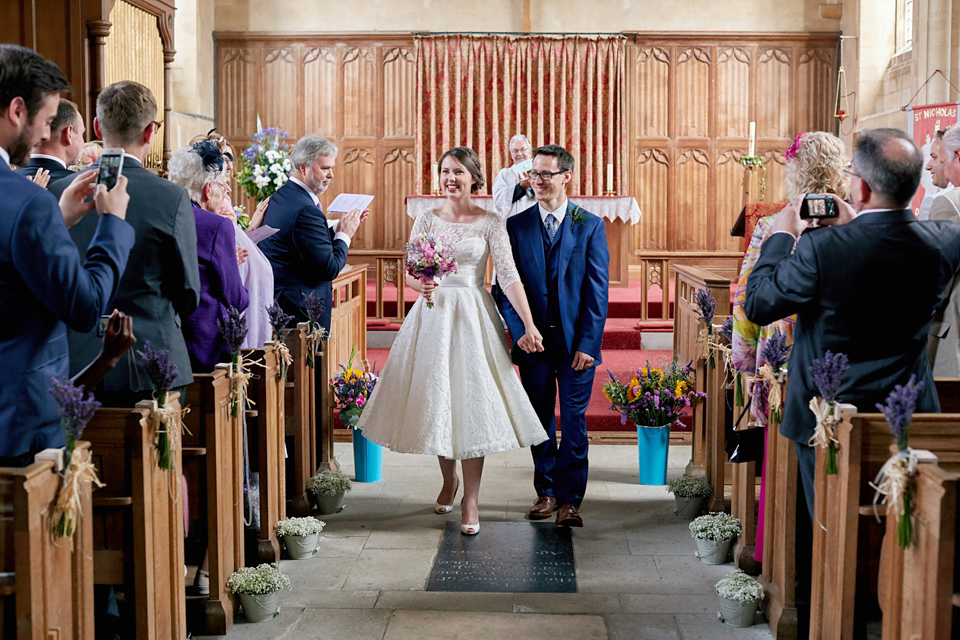 "Karen from Fuller Photography was an absolute star at our wedding. She was the first thing we booked – having photographed my sister's wedding so beautifully we had no need to look any further. She is a lot more than a photographer; she helped us keep organised on the day and fitted in like a guest. She was a pleasure to have around with us and we felt so comfortable in her presence."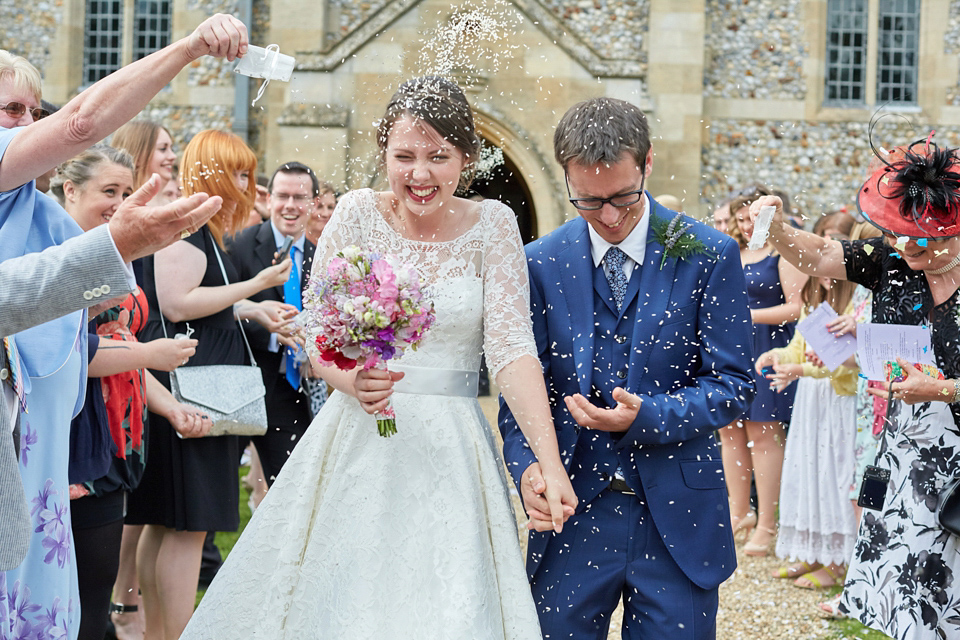 "Karen also supported us during the build up to the wedding to make sure everything was organised, so we had no need to worry on the day."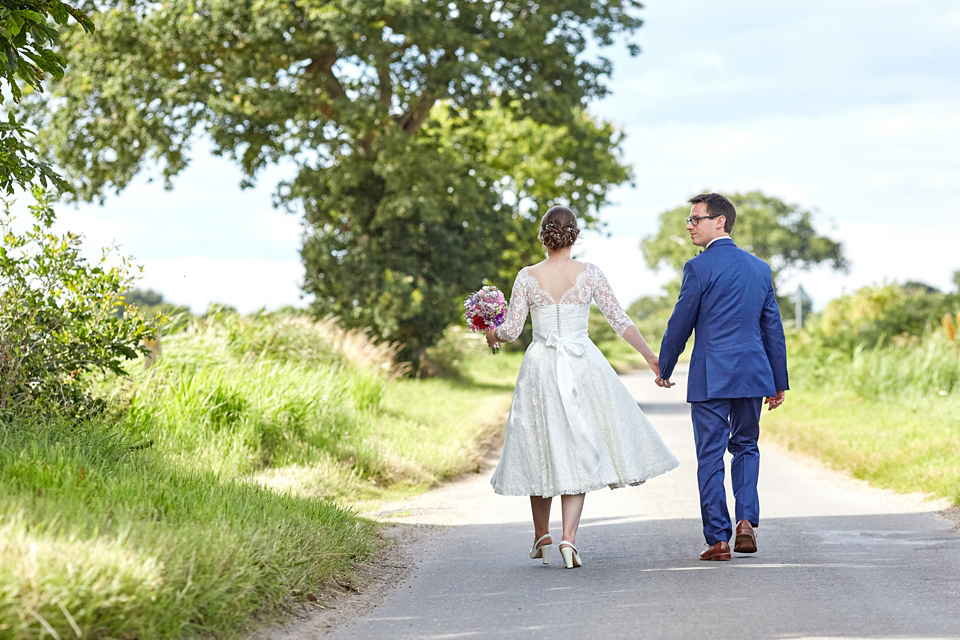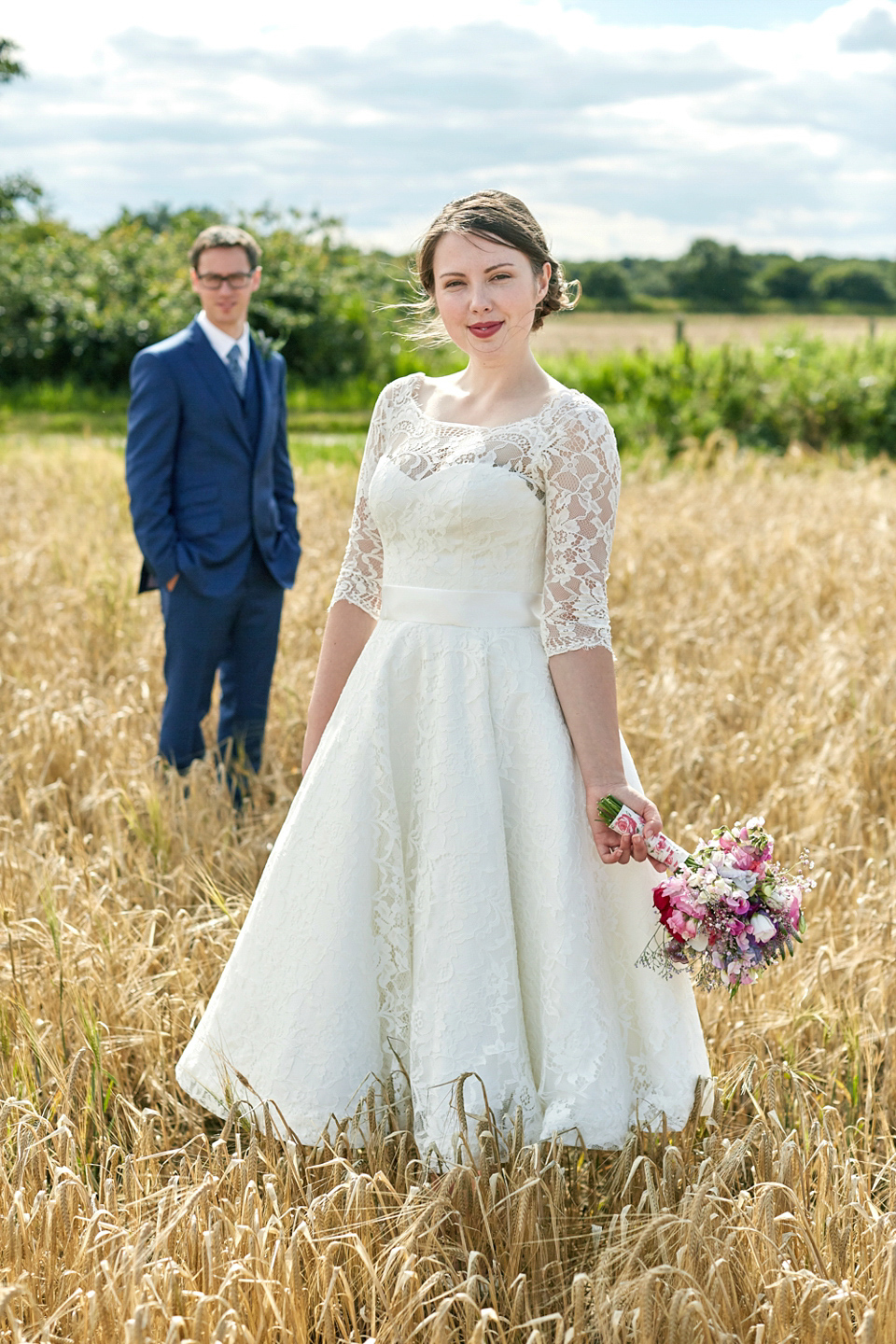 "I didn't wear a veil – I have quite a small head and they all looked a bit strange. Instead, I had small white sprigs of gypsophila added in my hair, which continued the lace style into my hair."
Anna and Will were lucky enough to view only one venue, knowing when they saw it that Dairy Barns was the one. 
"We only visited one venue and booked it immediately. It was important that family and friends could stay too. Our venue provided all the food – we had sausage and mash!"
The pretty decor in the barn was all handmade – the coasters, table decorations, vintage candle teacups – and my absolute favourite feature; metres and metres of heart-shaped patterned fabric bunting. Sensational! Also, the tables were named after different biscuits, like jaffa cakes and custard creams. I personally would have been very happy being seated at the 'jammie dodgers' table!
Another lovely touch was making a keepsake for the couple for years to come. 
"We had people sign their thumb prints on a painting of a tree."
The very musical bride and groom provided much of the entertainment, playing the trumpet for their hootenanny, and organised a quiz, a caricature artist and jukebox for the evening for their guests.
"Performing the hootenanny was brilliant – although a little tight playing a trumpet in my dress! I felt that people really enjoyed the quiz element and it just made perfect sense for us to perform. It was lovely to see guests talking to each other and having a good time.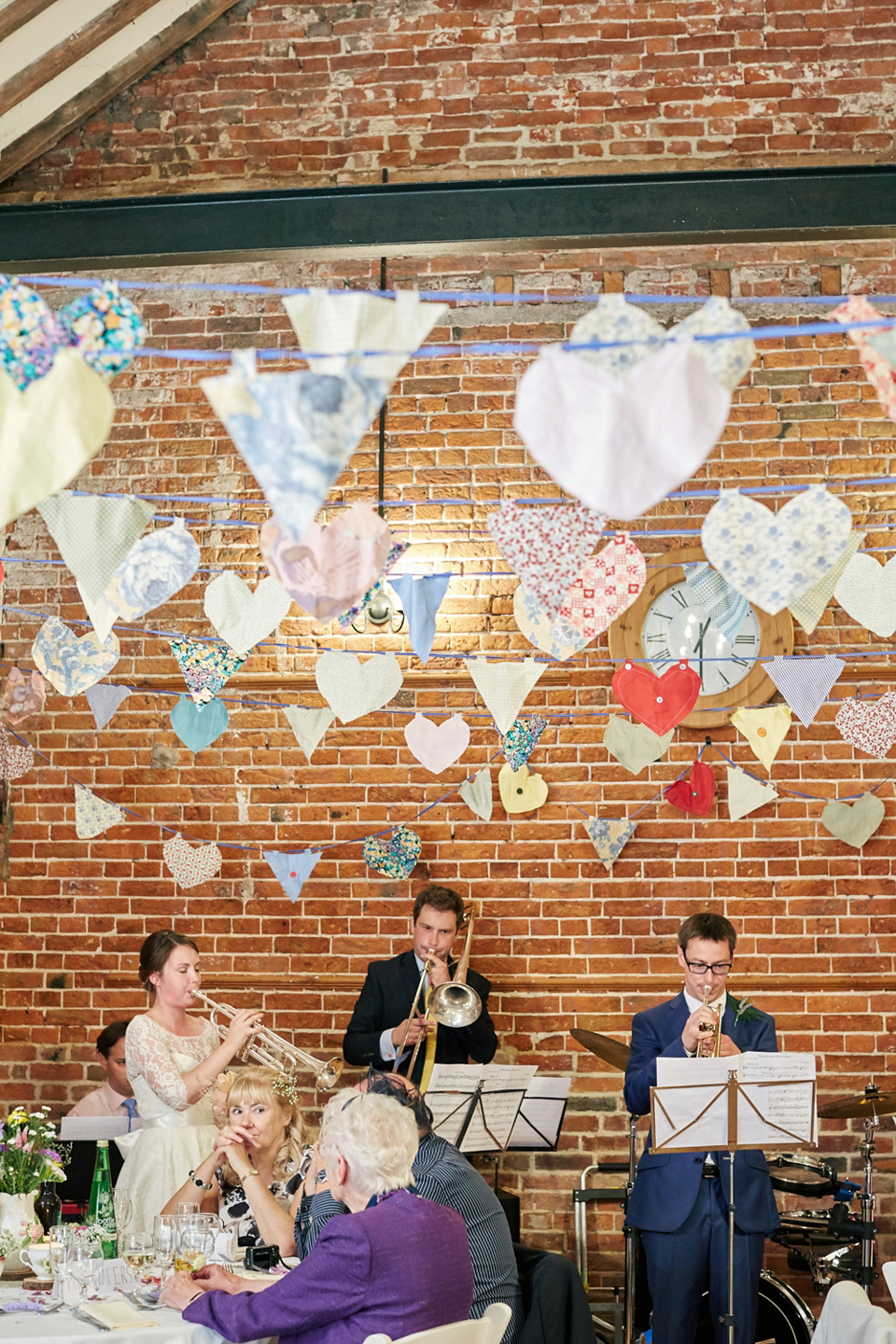 "Cafe 33 in Norwich bake the most wonderful cakes! We wanted to give people choice so we had five wedding cakes, all different flavours (cherry bakewell, lemon drizzle, chocolate orange, carrot and coffee and walnut). Traditional wedding cakes have always got my goat – you always end up with a sliver of just icing. Not at our wedding – the slices looked like door-stops!
We also had very yummy fudge to pick at from The Little Fudge Stall."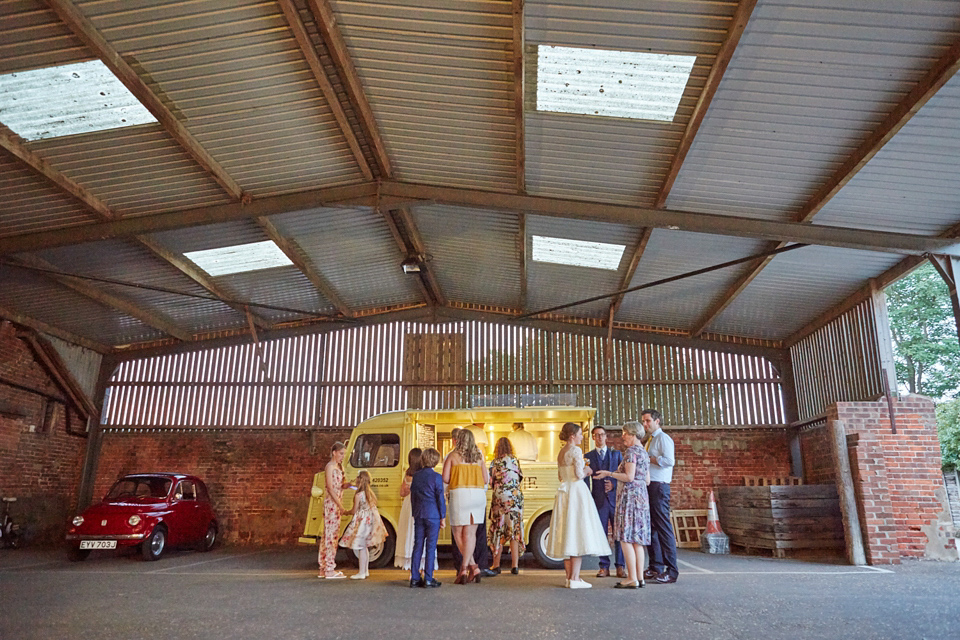 "We hired a jukebox from Jukebox 45s for later on – people loved choosing their own music."
For the couple's first dance, Anna changed into comfy flat white trainers – clever bride putting comfort first.
"We danced to 'The Ketchup Song' by Las Ketchup – it was the first single I bought for Will!"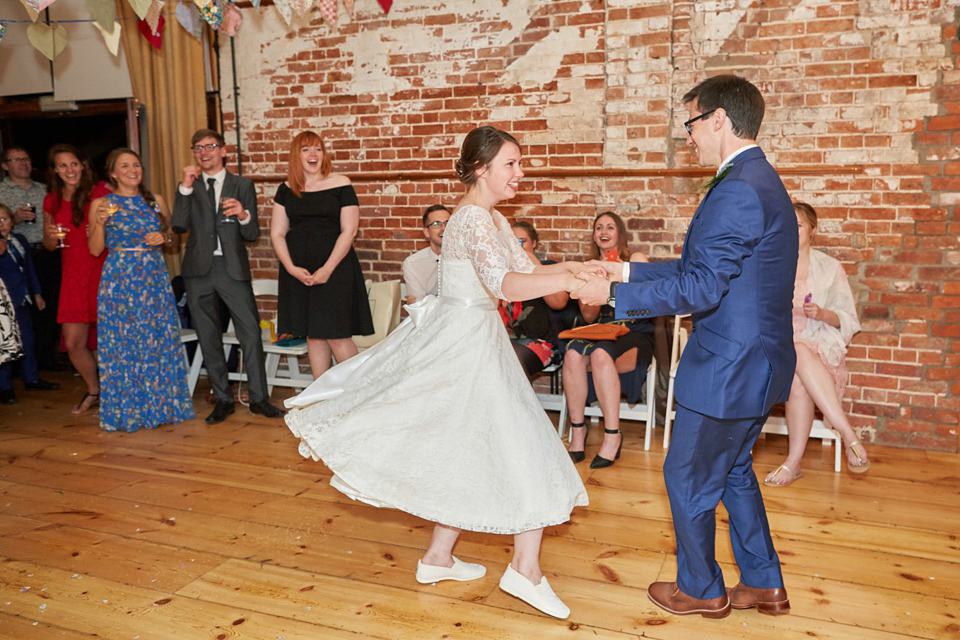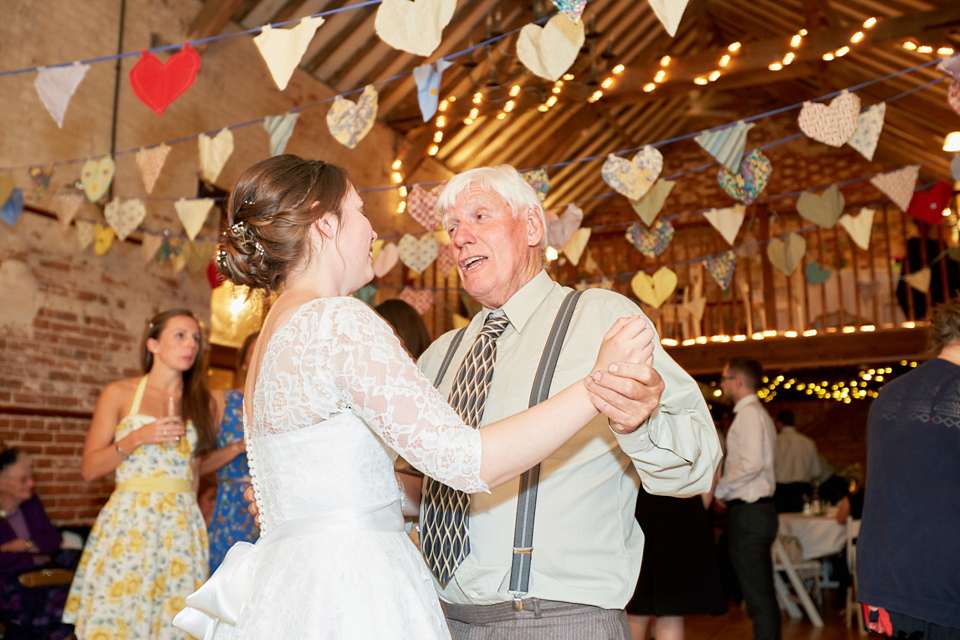 Words of Wedded Wisdom
"Try and enjoy the build-up because the day only lasts 24 hours – well, less than that after you've had a kip. Choose a photographer that you feel really relaxed with, as the last thing you want to feel is awkward on the day. And just chill – everyone who is coming absolutely loves you both so you have no need to be nervous. Brides who get nervous have planned things out of their comfort zone – there really is no need.
Was it the best day of my life so far? Yes – without question, I get giddy at the thought of it!"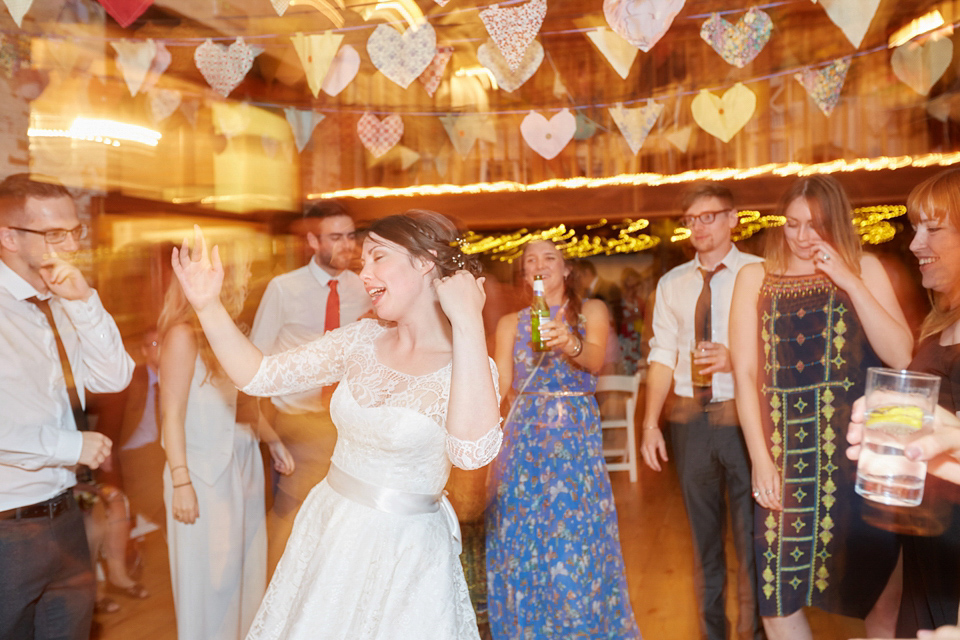 Thanks so very much to Karen from Fuller Photography for capturing these very happy pictures. And I'd like to give a huge thank you to the gorgeous Anna and Will – the day looked like such fun and I wish you both a very jolly, fun and music-filled future together.
Make sure you click here to see more fabulous Fur Coat No Knickers frocks we've featured previously.
Have a groovy rest of week lovely readers!
Love Jo -x-
Photographer – Fuller Photography
Ceremony – St Nicholas Church, Dilham
Venue + Catering – Dairy Barns, Hickling, Norfolk
Wedding Dress – Fur Coat No Knickers
Shoes – Sergio Rossi
Perfume – Jo Malone
Bridesmaid Dresses – Phase Eight
Bridesmaid Shoes – Jarrold
Groom – Jonathan Trumbull & Hatters
Flowers – Norwich Market + own gardens
Flower girl dresses – Monsoon
Rings – Lanes Jewellery
Cake – Cafe 33 + fudge from The Little Fudge Stall
Transport – Bride's dad's Morris Minor and the couple's own Fiat 500L
Entertainment – Caricature artist via Magical Memories + jukebox from Jukebox 45s
Hair – Flamingo Amy
Makeup – Cherrie Imogen Wedding Hair & Make Up Artistry