This wedding initially arrived in my inbox via the most exceptionally talented florist who provided the beautiful blooms for the occasion. Her name is Juliet Glaves and I highly recommend you drop her a line if you want to make a real statement with flowers on your wedding day. Juliet was commissioned by bride and groom Abby and Steve to style their beautiful Manor house wedding in Autumn last year.
Abby, an Operations Manager for Anya Hindmarch and Steve, a Senior Quantity surveyor, tied the knot on 3rd October 2015 at Lemore Manor in Eardisley, Herefordshire. The couple are yet another online dating success story to add to our archive. I adore the tone and texture in these images – all those deep, dark Autumn hues, and the little snippets of luxe detailing -the gold headpiece and those divine high heels. This wedding has immediately made it's way onto my top 10 faves so far of 2016, and I very much hope that you enjoy it as much as I have. Abby tells us more…
"I'm such an Autumn person – the clothes, the colours, the textures – and these formed a big part of the elements we chose from the venue to the smaller details. I described our wedding as 'Autumnal rustic luxe'. We wanted the rustic nature and outdoors elements of Autumn and the neutral and dark colour palettes that come with it, but not rustic in a bunting and pastel colour village fair way. As such our colour palette dictated much of our choices; browns, nudes, dark greens and berry tones."
Photography by Sarah Beth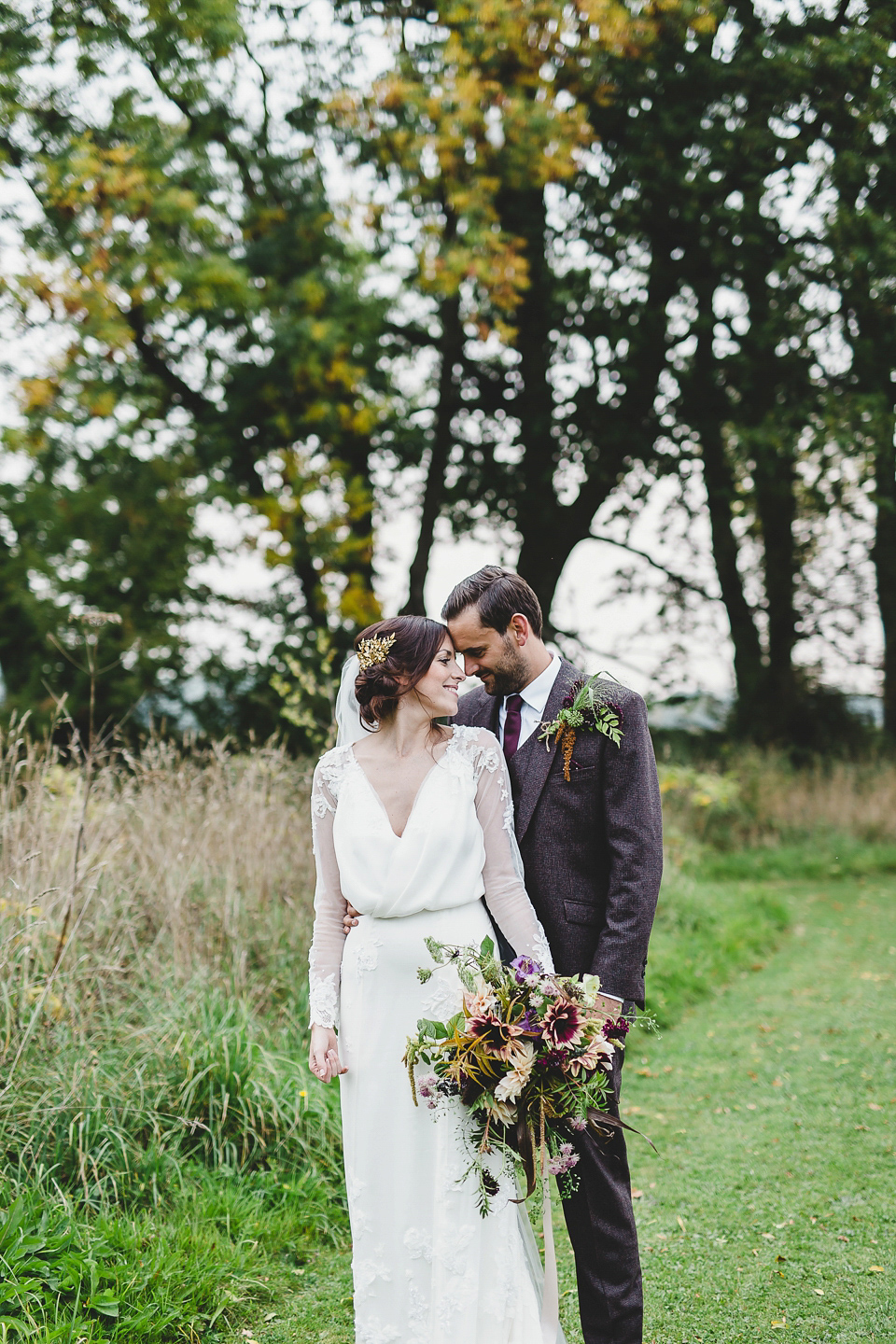 "Where do I begin with the fantastic wonderful Juliet Glaves? I love her! Her flowers absolutely made the wedding for me. My brief was 'Autumnal, oversized, bouquets', that looked like they had been scooped up rather than precisely arranged – and foliage, foliage foliage."
"My dress was designed and made from scratch by the amazing Charlotte at Wilden Bride London."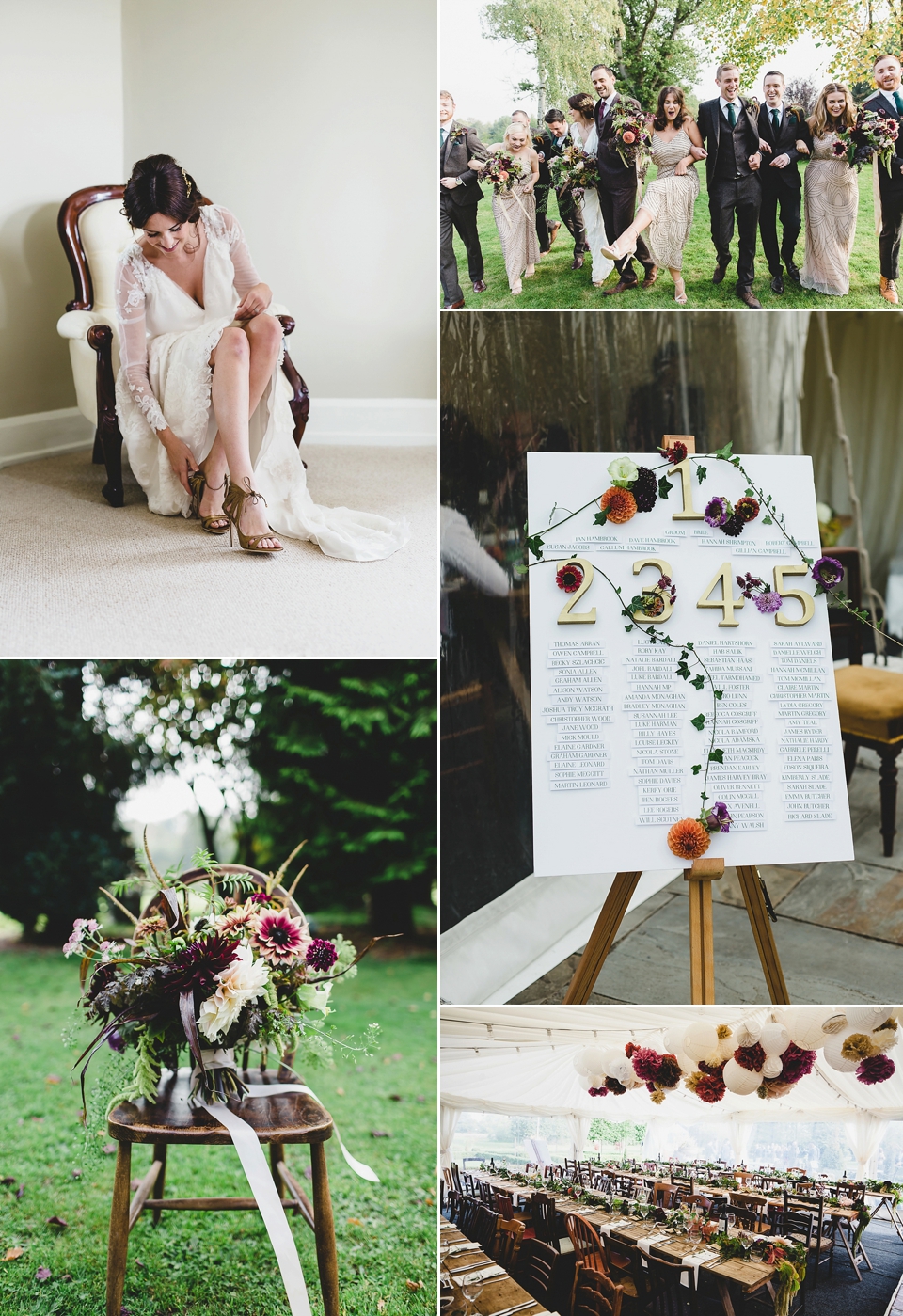 "We actually met online on a dating site, but before it was completely socially acceptable to talk to people about the fact you were online dating. I went on one date from the site and that was Steve. He was taking part in 'Movember' at the time so had a huge Hulk Hogan moustache on his 6 foot 5 frame and I had a good feeling about him the minute his head popped up above the crowd in the bar we met at. We drank our way through the cocktail list on a Wednesday night in Covent garden and kissed at Charing Cross."
"We got engaged two years later after living together for one. Steve proposed on my birthday in a beautiful log cabin on a lake in Herefordshire with one of his mums rings, something that would be particularly poignant for us as she passed away just a month or two later. It wasn't for me to keep though and we found a beautiful vintage ring in Hereford the next day which I love. We decided to have a two year engagement partly because I had always wanted an Autumn wedding.
Also because we still wanted to do more together as a couple before we tied the knot, some big holidays and trips with friends. We got married literally almost two years to the dot from our engagement."
"My shoes were a last minute pick once we knew how the dress would look. They are theAda heel by a brand called 'Chelsea Paris'. I'd seen them on all the bloggers and decided this was a good excuse to splash out on a pair (well actually, Steve did as a wedding/30th present as my birthday was two days after the wedding). They were a beautiful hammered bronze/gold and were so comfortable I wore them until the end. I cannot praise the team at @ChelseaParisInt enough who also got me a pair last minute (one week before) and allowed me to go to their design studio to collect them, they were absolute stars."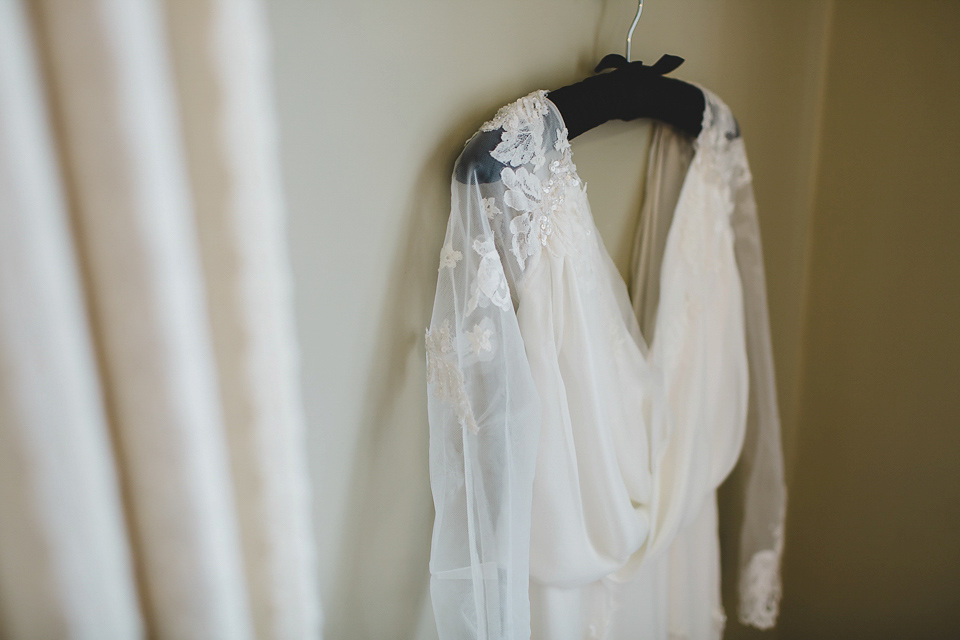 "Not being local to Hereford made everything harder to find, investigate and book. I was struggling to find a make-up artist whose work I liked the look of and that was local to the venue. After I found Jess Mac everything clocked into place.
I had a pre wedding trial with her two weeks before and despite running over the time we thought it would take for the trial and me being like 'Its great, I trust you, it will be fab' she was adamant I wasn't leaving until I was 100% happy and we'd got it perfect. On top of that she is also a lovely sweet person with a great business."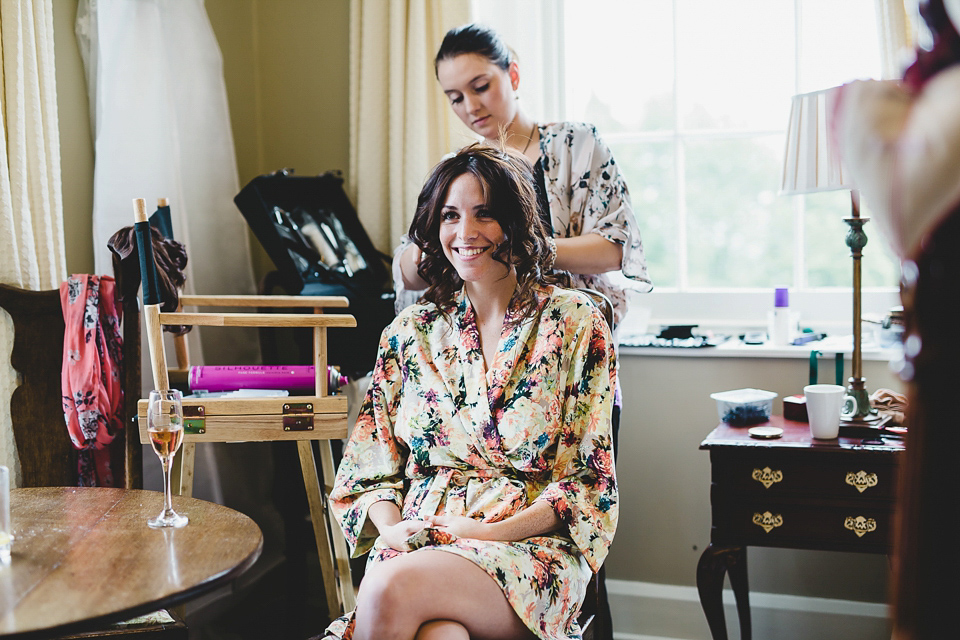 "The brief for my make-up was gold, smoky eye and nude lip. The bridesmaids wore a subtler golden eye and a berry lip which matched their Chanel Rouge Noir nail varnish. The girls had their hair softly curled and we used the leaf grips to keep some hair out their faces and add some interest. Jess managed to achieve just what I wanted for my own hair, a large loosely pinned bun (not too perfect) for my hair pieces to sit on top of."
"My flowergirl Sophie's dress was from House of Fraser, it had the beaded sequin elements of the other bridesmaids but the dark purple element on the bodice picked out the colours in the flowers we all had. Her bolero was from Monsoon."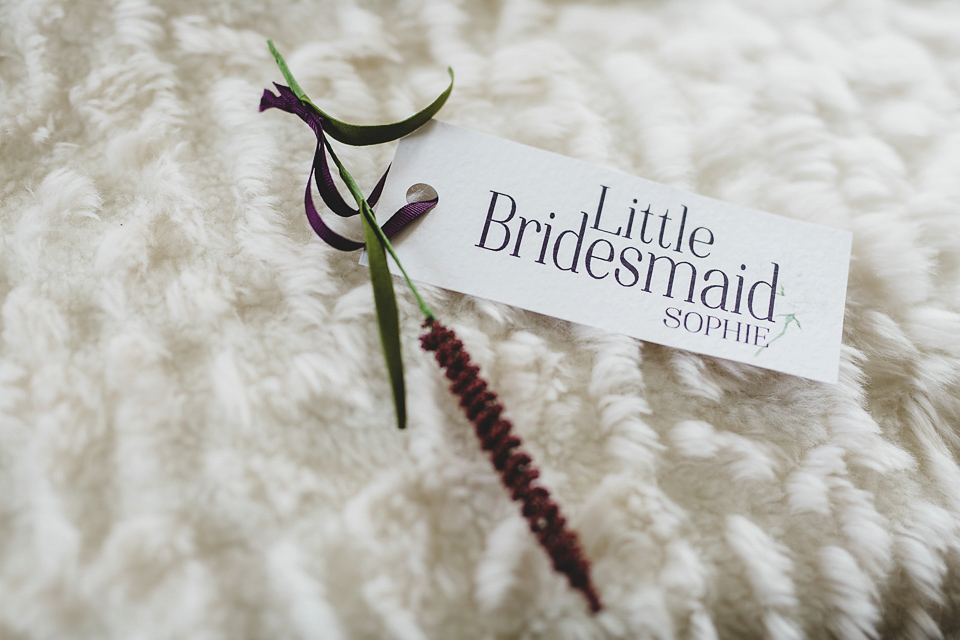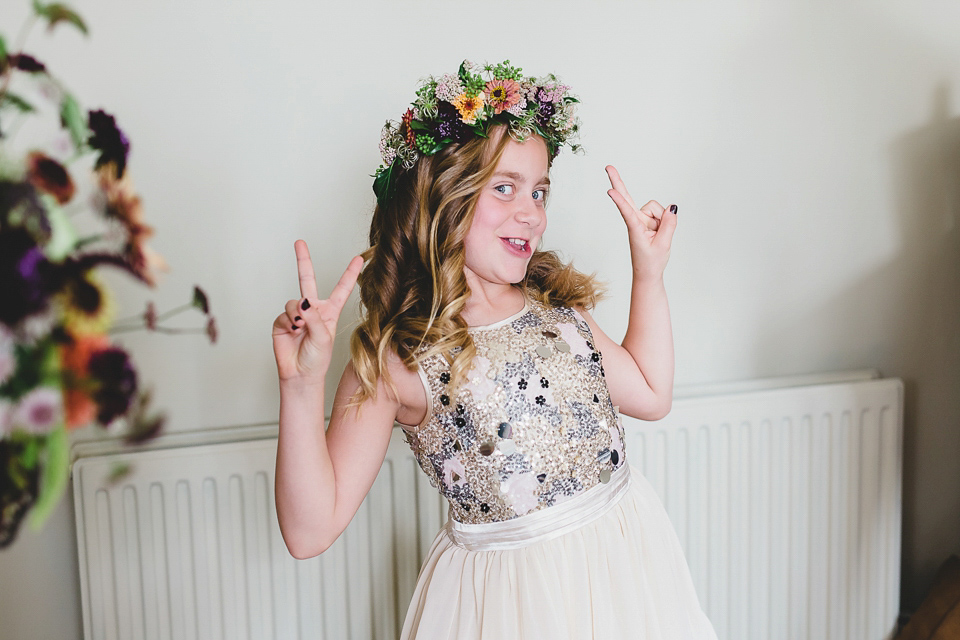 "The bridesmaids dresses were the ever popular and always flattering Adrianna Papell blouson style dresses. Each was a slightly different neutral shade with slightly differing bead patterns and made every one of them look so beautiful."
"My hair piece was one of my favourite things also. It was an Etsy find from Mignonne Handmade based in France. They do beautiful hand made pieces and they kindly altered a crown design into 2 split headpieces for me so I could wear them Grecian style coming from the back of my hair. They incorporated the foliage autumnal feel perfectly.
The main design features I wanted were a blouson style top into a fitted waistband, long lace sleeves with a skirt that skimmed my hips and became fuller gradually at the bottom. Charlotte got this and made my dream dress that fit perfectly. She was an absolute star dealing with a stressed, dress-less bride, altered the little design features based on my (sometimes crazy) feedback and hand embroidered all the lace elements round the hem and sleeves by hand and from 3 different types of lace that we picked on a shopping trip to Berwick St."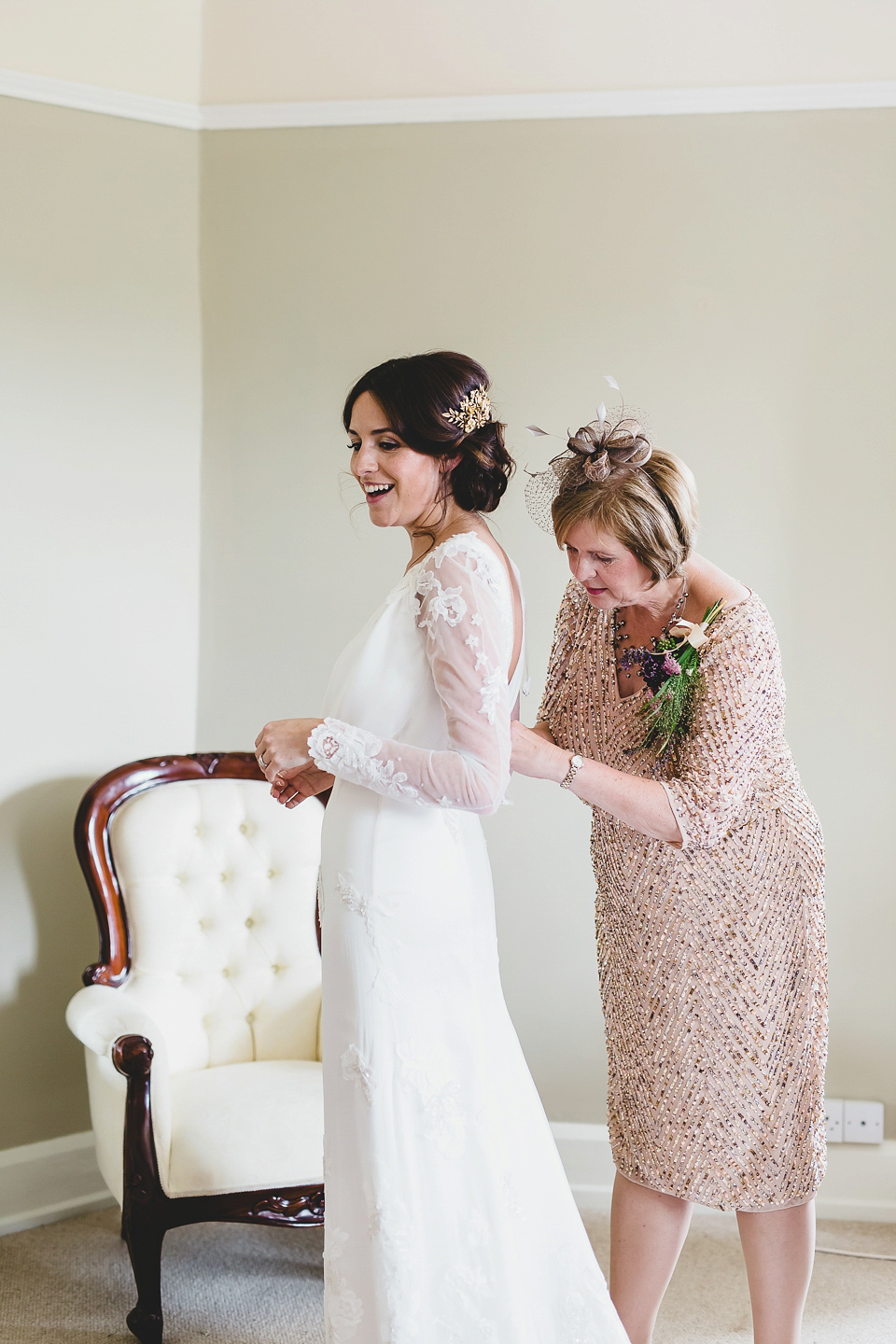 "I actually originally had another dress –  I was super prepared and ordered a classic lace and chiffon strapless dress from another store but when it arrived 8 months later (and 4 months before the wedding) it looked awful. The sample I'd tried on was a 16 and they had clipped me in, failing to tell me the skirt would actually be fitted to the knees in my size – the dress that arrived was full on mermaid style and completely not me. I lost the deposit but pulled out of the dress and set about Googling key words I wanted for my dress and came across Charlotte of Wilden Bride London–  who saved the day.
I had a small golden maple leaf brooch pinned to the ribbons on my bouquet that belonged to Steve's mum."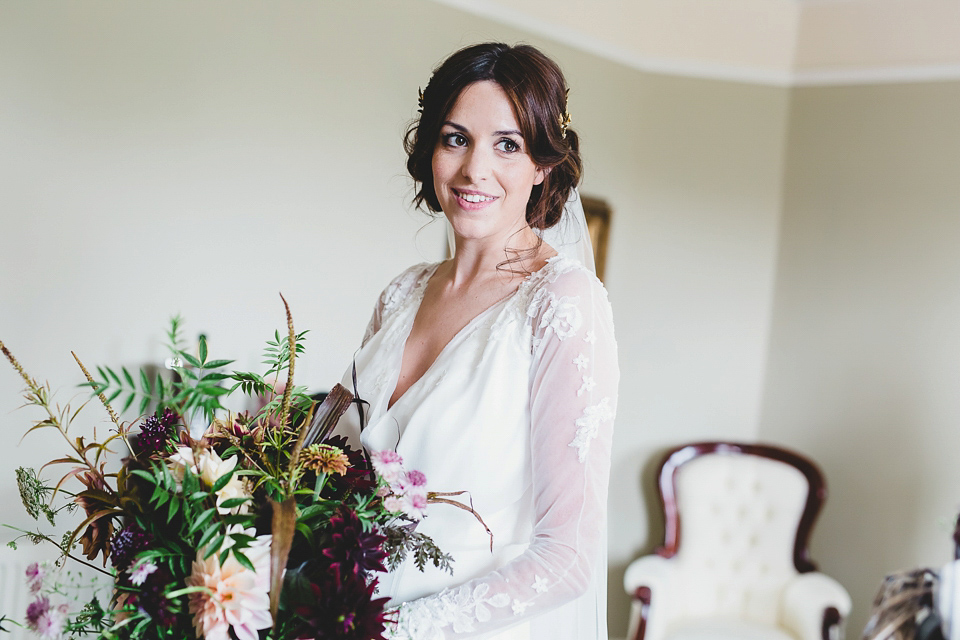 "Charlotte whipped up a basic veil for me with one week to go when we decided it would suit the finished dress (both of which I picked up just 5 days before the wedding…)"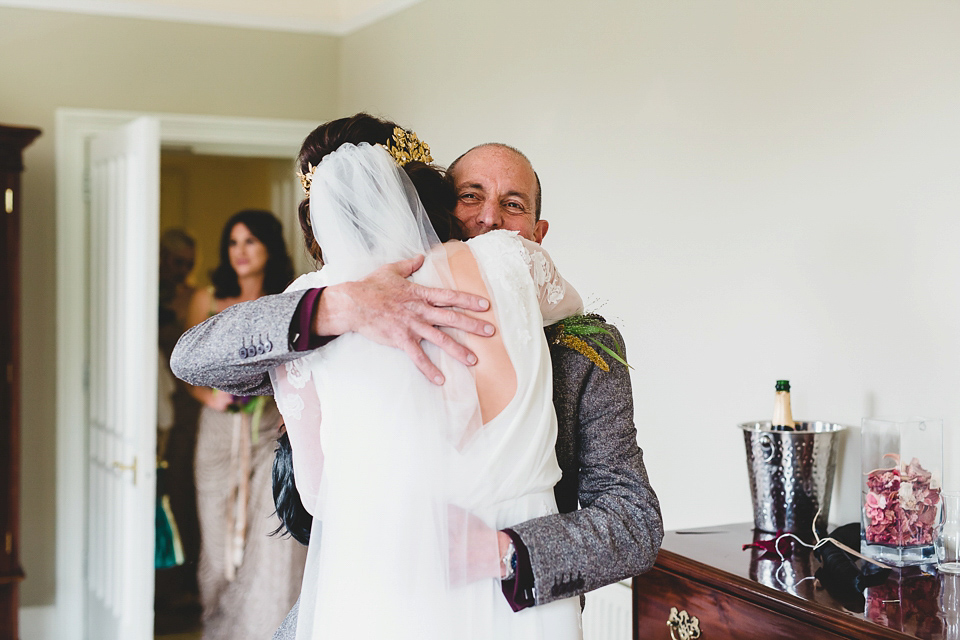 "With Steve being from London and me from Lincolnshire we were aware that 50% of the wedding guests would be travelling across the country anyway which meant we didn't feel tied to one location. We picked Herefordshire as that's where we got engaged 2 years earlier and we thought the area was beautiful – something our guests understood when they arrived."
"It was important to us to have a long weekend with our closest friends and wanted a chance for the friendship groups to get to know each other before the day. At Lemore 40 of us could stay on site, in a place where every bedroom is as beautiful as the next and I loved the big Greystone manor house, it fit perfectly with the feel and themes of the wedding."
"Juliet brief  was also to make the quite twee bandstand look like it had been left in the forest for a few years, and the arch she created for us to get married under (and later moved to the top table) was above and beyond anything I could ever  have imagined."
"'Foliage' became our buzz word. I'm sure Juliet was sick of hearing me saying it. I wanted a lot of ivy, grasses and leaves in the bouquet to surround my key flower which was the stunning black Dahlia."
"Everyone was blown away by them and they pulled all the other elements together with the feel and palettes they created. She incorporated trailing nude shades of ribbon I bought to the bouquets which added a fluid movement to them and also some small gold antler pins in the boys button holes. Sophie's flower crown also had a small gold deer pin that belonged to Steve's mum attached for me."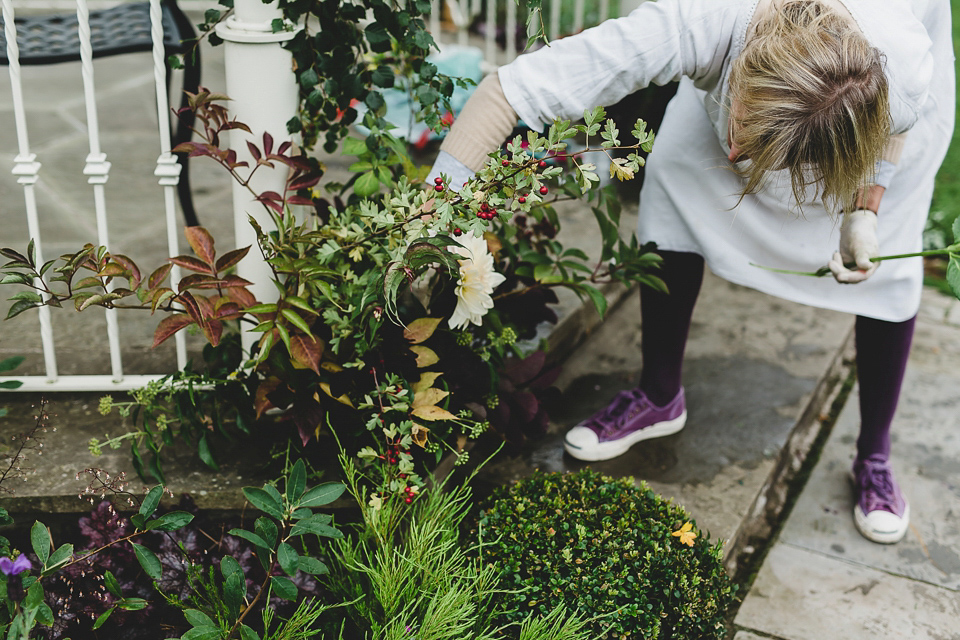 "I designed and made all the wedding stationery myself. It's something I love and enjoy doing and I'm a bit of a computer and photoshop geek so I always wanted to create something really personal. The illustrations for all the stationary were created my one of my bridesmaids who happened to have an illustration degree from Central Saint Martins.
She hand drew all the flowers that were going to be in the flowers on the day, from the ferns to the berries and dahlias. They were perfect and I manipulated them onto everything. The theme of the stationary ran all the way from the Save the dates right through to the place settings and I was super happy with the final package."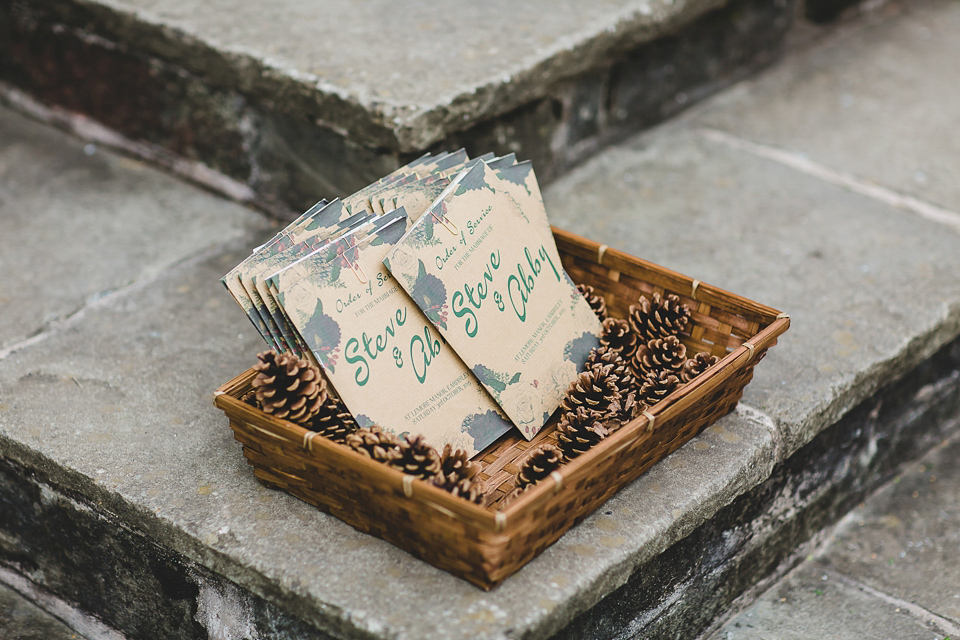 "Steve's suit was a bespoke piece from Michelsberg Tailors in the Victoria Arcade in Leeds.  Steve is a slim 6 foot 5" (and he's all leg!) so buying off the rack is impossible for him. We normally make it work with some quick sewing adjustments but for the wedding he definitely deserved something designed to fit him properly that he could keep and wear again."
"It was also a good excuse to plan a few visits to see my friends and family up north. Michelsberg was an amazing experience for him, he picked every single fabric, notch, loop and pocket on that suit and the team there were fantastic."
"The groomsmen – of which he had six – all wore brown wool tweed three-piece suits from the heritage collection at Next. I was desperately trying to find the perfect forest green, matte tie and pocket square and was having no luck until my mum agreed to make them all for me from some suiting fabric I found on Berwick street. They were perfect colour wise and really finished off their outfits…not bad for her first attempt."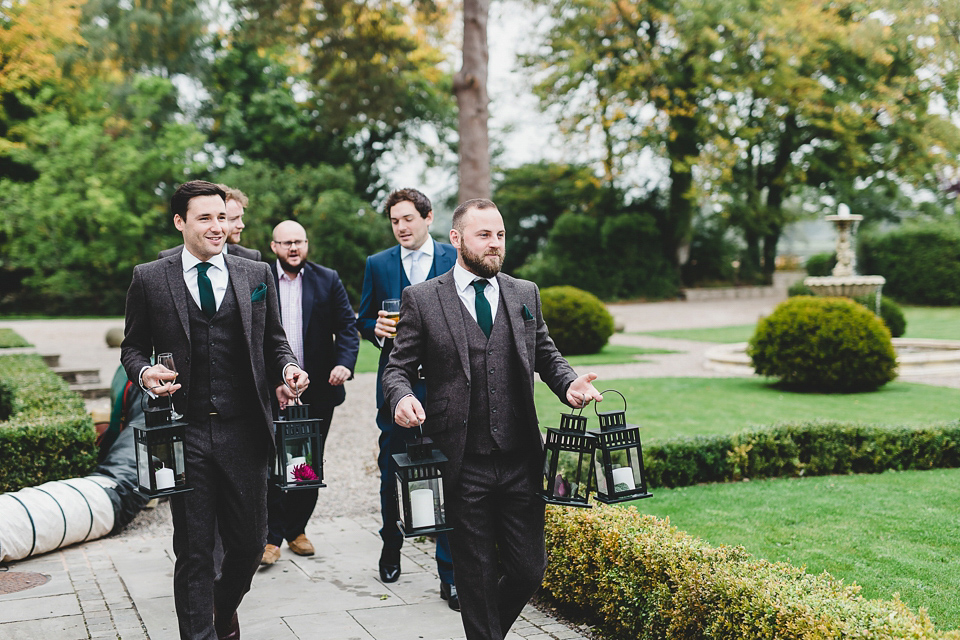 "The gorgeous little Callum wore dark maroon chinos from Next, a white shirt from Zara, little black braces from Ebay and a bow tie from Etsy."
"My Dad gave me away, I had to tell him to stop talking about the weather as we walked towards the front of the aisle. We were accompanied by the sound of Ellie Goulding's 'How long will I love you?'."
"We wrote our own vows after attending a wedding that summer and enjoying our friends doing the same. They were a mixture of sentimental and funny that kept the ceremony light-hearted, Steve was chuffed he got the biggest laugh with 'I can't wait to fill our house with tiny little tall people'. We created our vows on a rough template and the basis that lines had to begin with 'I promise to…', 'I will always…' 'I will never…' etc. to give our vows a similar feeling, as we wrote them separately."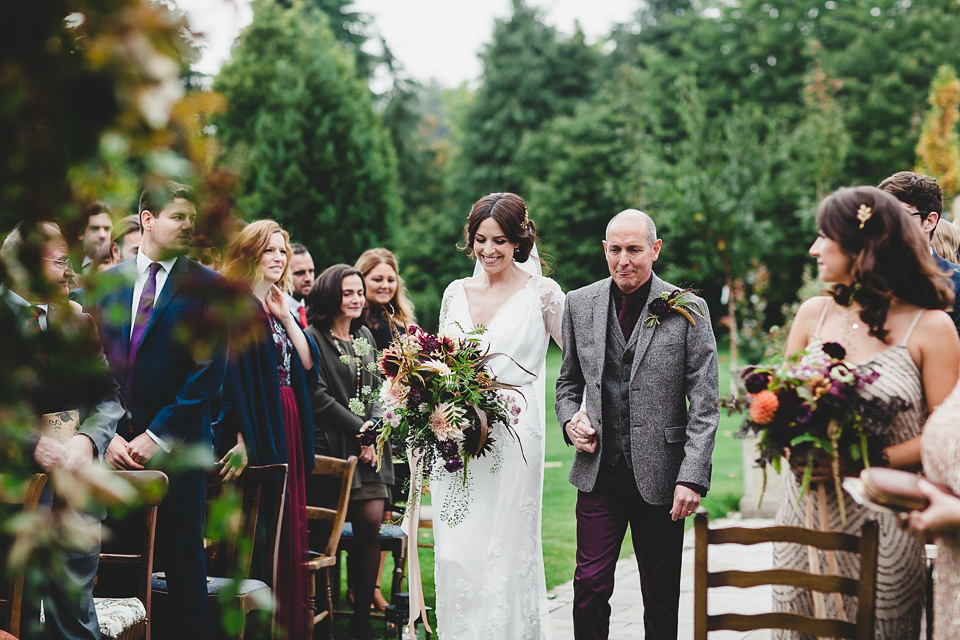 "Our first reading was 'He's not perfect' by Bob Marley. Again its light hearted and not too soppy, more of a realistic modern view on relationships, or maybe just men? Most of the examples it gives of what the man or woman will or won't do in relationships fitted us as a couple very well. I loved the last line in particular as its somewhat of a thing we have always said to each other"
He's Not Perfect – by Bob Marley
He's not perfect. You aren't either, and the two of you will never be perfect.
But if he can make you laugh at least once, causes you to think twice, and if he admits to being human and making mistakes, hold onto him and give him the most you can.
He isn't going to quote poetry, he's not thinking about you every moment, but he will give you a part of him that he knows you could break.
Don't hurt him, don't change him, and don't expect more than he can give.
Don't analyze.
Smile when he makes you happy, yell when he makes you mad, and miss him when he's not there.
Love hard when there is love to be had.
Because perfect guys don't exist, but there's always one guy that is perfect for you.
"Our second reading was 'Reasons to marry' by Charles Darwin. It's from two lists found in the back of one of his notepads, basically a pros and cons list of whether he should get married. I tweaked it slightly (I'm sure that's blasphemy to alter Darwin) just to make it more readable and easier to understand to people hearing it instead of reading it. Original below. Again it fitted us as a couple well and the references to the 'smokey London houses' and the threat of being banished out of London should his wife want got some laughs from the Northern and Southern guests."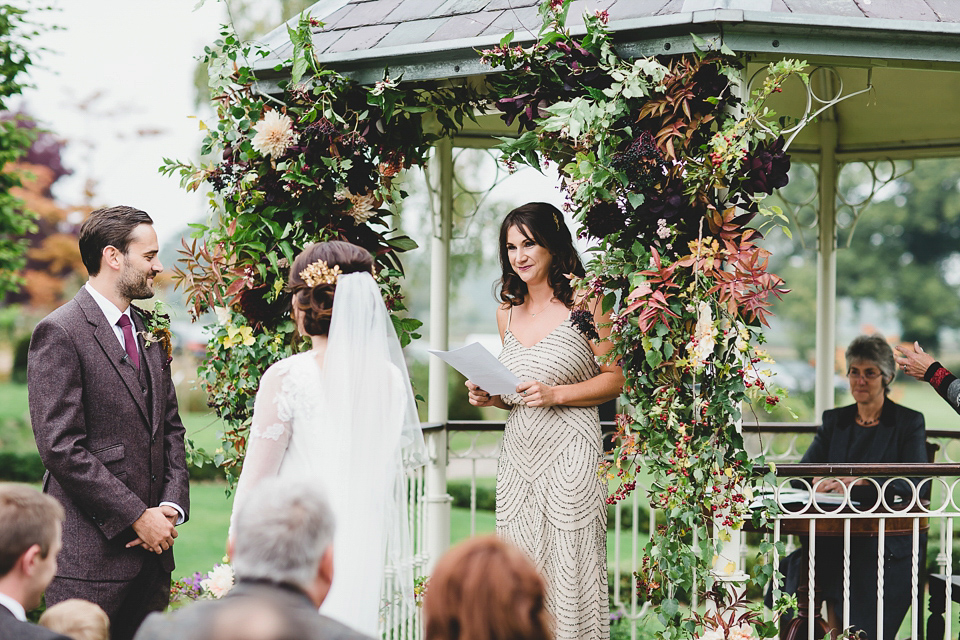 "There were black lanterns up the aisle with flowers and candles inside that burned till the morning. I bought the 'his and hers' arrow signs from Etsy that hung in-front of our seats at the dinner. I stencilled 'Pencil and Picklefork, Est 2015' on the front of the crate that held our cards and also created 'S&A' in moss letters that were somewhere in the house."
"My engagement ring was vintage so we had a morning in Hatton Garden in London finding a designer who would bespoke make a wedding band to fit the unusual helix shape. Arlington Jewellers created the perfect fine asymmetric diamond band that fits perfectly below my ring. Steve's gold band was also from a Hatton Garden jeweller who merged elements from two rings together to create the band he wanted."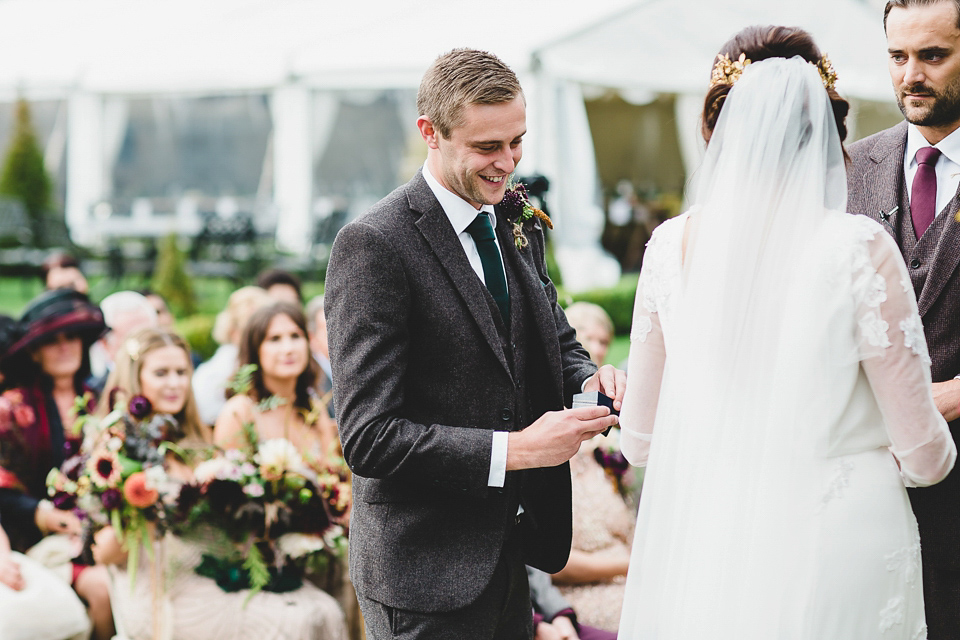 "The first thing I knew when we got engaged was that Sarah Beth would be our photographer. She photographed my friends wedding in Amalfi and apart from the photos being great, herself and Tom (who she works with) were just lovely people. We've kept in touch since then and I've seen her photographing a few more of my friend's weddings. As she knows how much of a photo fiend I am, I trusted her completely as she knew me and what was important to me to capture."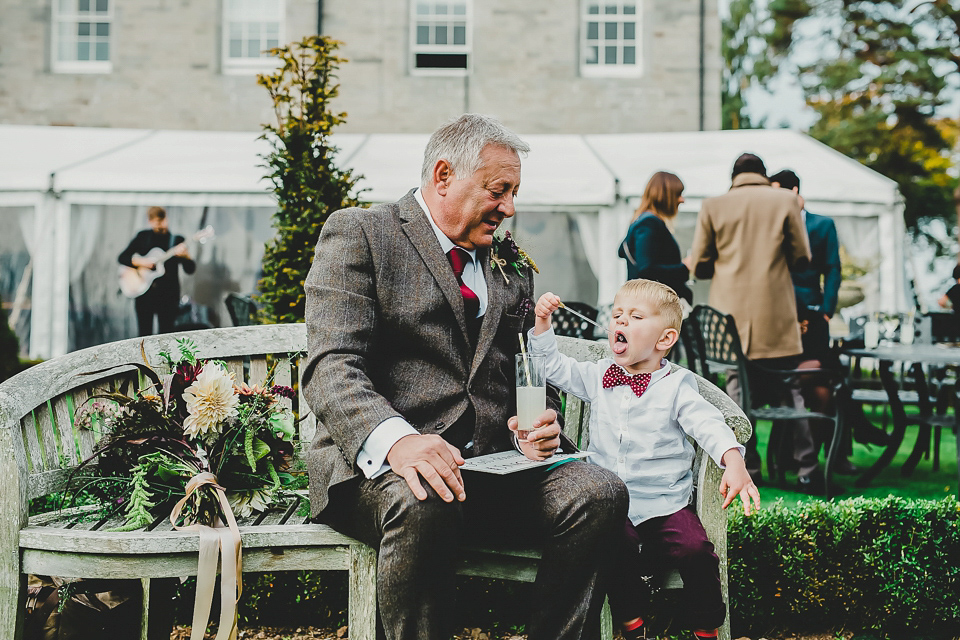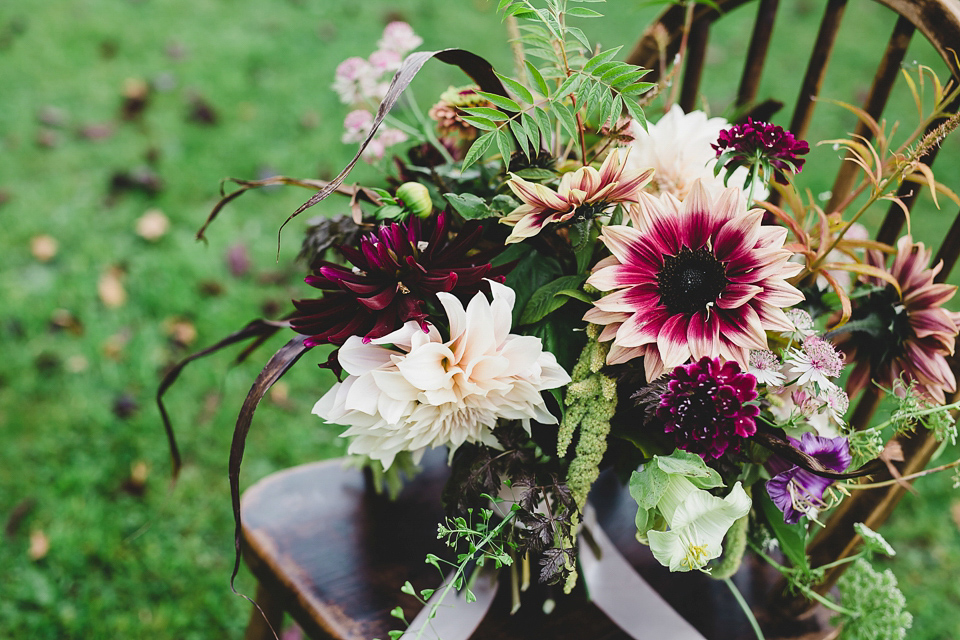 "One of my favourite moments was actually immediately after the ceremony – doing the rounds with the guests who had all come from far and wide – and very importantly – being able to do all that outside on a balmy 18 degree sunny day in October. The weather could not have been more perfect."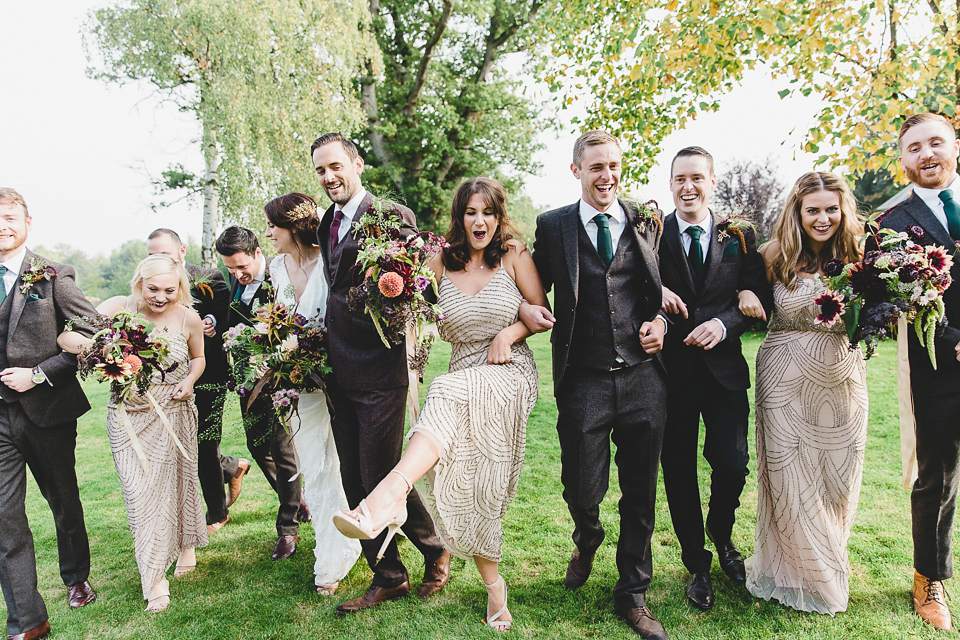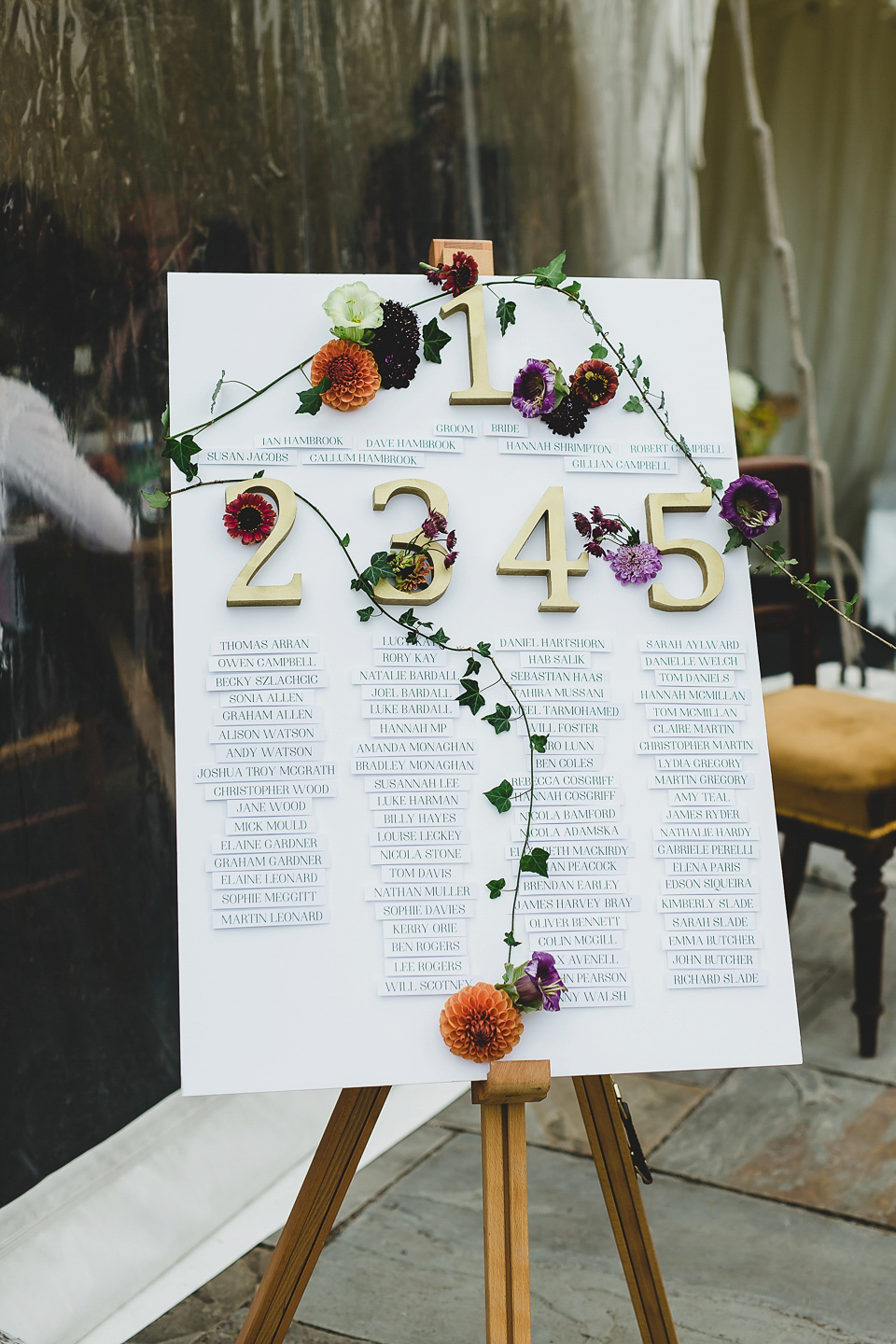 "We filled the top of the marquee with nude, white and dark purple pompoms and lanterns all grouped together to bring the ceiling lower and create a cosier atmosphere. My friends and family were all roped in the night before to frantically make all 80 of these."
"We provided small brown paper bags filled with cinder toffee, my favourite, and also a sweet treat in-keeping with the autumnal feel. We packaged them with green ribbon and a sticker containing what I created as our 'family crest' – the 'Pencil and Picklefork', which was also our #hashtag on the day. We discovered in conversation one day that when we were at school we were both called (not always so nicely) a name poking fun of our height and skinny frames– he was pencil and I was picklefork. The image was used on the menus, and on a small parcel tag tied keeping the invite package together too."
"My friend Hannah made the cake with my favourite flavours included. She trimmed it with dark green ribbon and we added fake flowers to the tiers to dress it. It was absolutely delicious.
Our wedding breakfast food was supplied by the venue. The evening catering was supplied by a local burrito van which went down an absolute storm with the guests."
"I printed off wedding photos of our immediate ancestors getting married which was a great point of interest for the guests."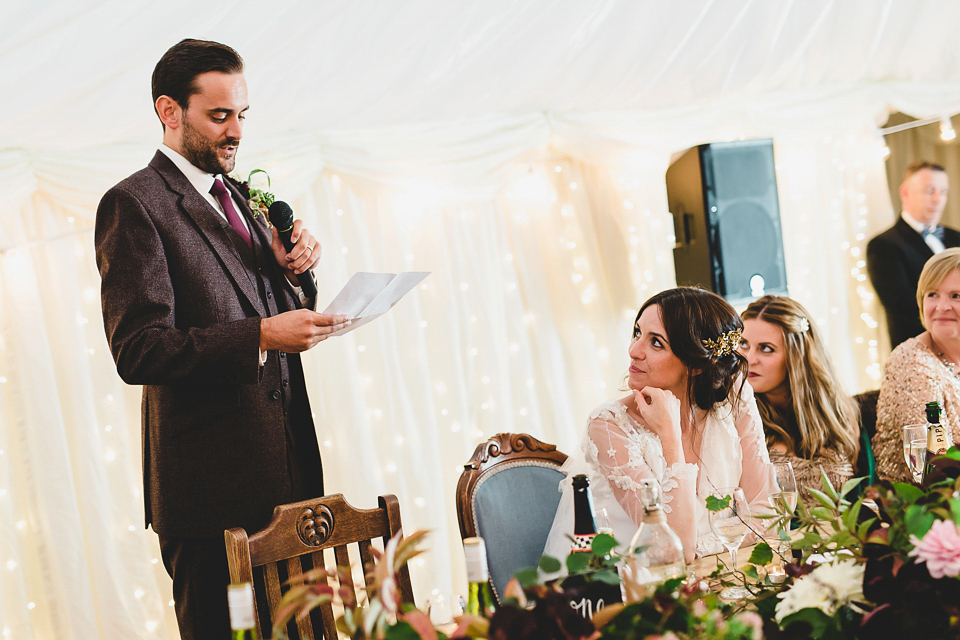 "My bridesmaid, during her actual speech, brought out a 30th birthday cake and everyone sang Happy Birthday to me. I'm sure never again in my life will I have 80 of my favourite people in one room to do that for me. It was a great moment to look up and really take that in."
"We hired Soul Serenade from Warble entertainment, because of Steve's love of Motown and the wide variety of songs they perform. Everyone loved them and the 3 sets they did throughout the day/evening fit each period of the day perfectly and kept everyone on the dance floor till the very end."
"Our first dance was Ray Lamontagne's 'You're The Best Thing'. We had amazing singers there but we still wanted to just play this track, we love his voice and again it's not too soppy, its message is realistic and simple 'You're the best thing that ever happened to me'. We ended the night to Mumford and Sons 'Lover of the Light'."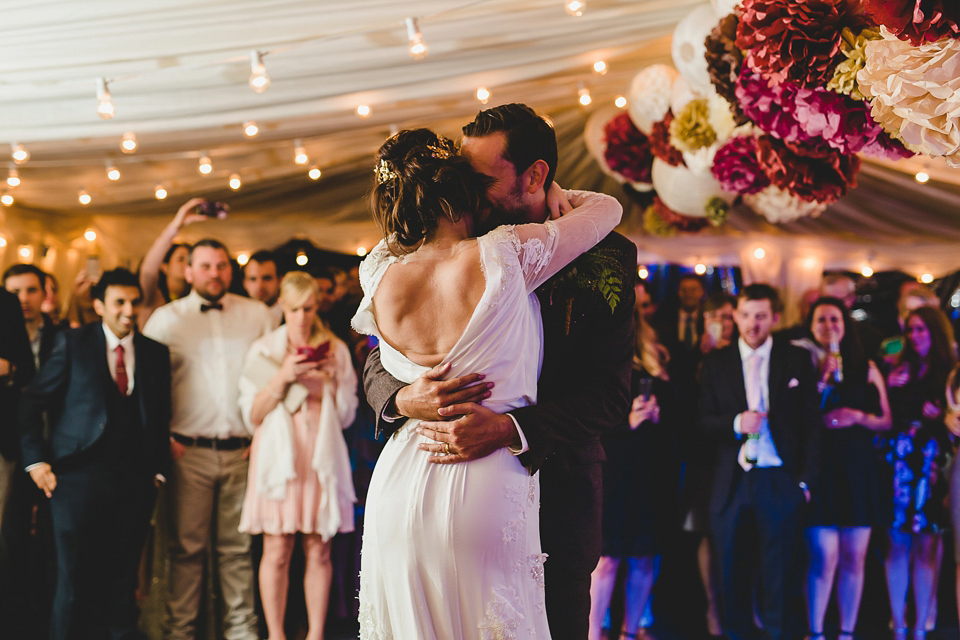 Words of Wedded Wisdom
"A girl at work gave me the best advice and it really worked. She said her and her husband said that no matter who they were talking to or what they were doing they would always 'aim' to be holding hands. Almost acting like you were tied together with a piece of elastic. The worst feeling would have been to get nearly to the end of the day and feel I hadn't actually seen him as we were so busy with everyone else. It really worked especially I feel for Steve as it's just a really simple principal and a few times when I'd be talking to someone I'd just feel him grab my hand smile at me then turn and talk to someone else while I also chatted away. It just meant we always found our way back to each other in the crowd.
Getting a venue closer to home would have made it easier. A far flung venue is great if you have a local planner or a venue that's doing everything or if you're just not an insanely detail driven person like I am. The more you want to do yourself for your wedding the closer I'd recommend getting the venue."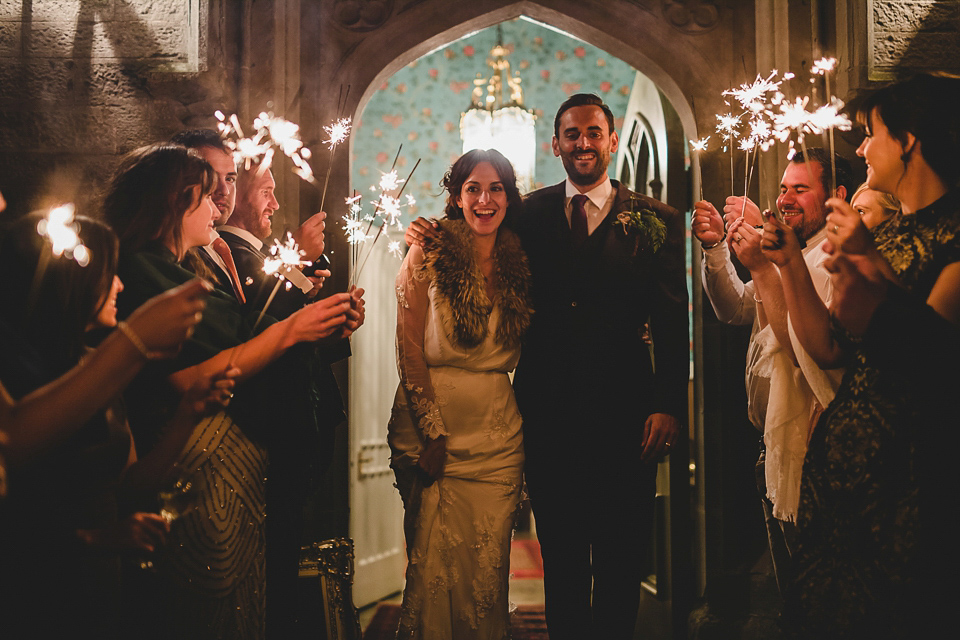 "Photographers will ask you to do some weird things – it *will* feel unnatural to stand touching noses or foreheads for example. But trust them because the nose touching photos are some of my favourites. They know what they are talking about.
It's ridiculous to say this – I scoffed when other brides on blogs said it – but don't stress too much. My friends had to do an intervention the Thursday before the wedding at the venue grabbing me, forcing me to sit down and forcing wine into my hand because I was acting like a lunatic."
What an exceptionally beautiful day, my heart fills looking at these photographs and all the wedding day joy and love they capture. My love and thanks to florist extraordinaire  Juliet Glaves for bringing this most beautiful of weddings to our attention, and of course to the beautiful Abby and her husband Steve for allowing us all the pleasure of a peek into their wedding day.
Have a lovely late afternoon and evening all – halfway to the weekend!
Love Annabel xx
Photographer – Sarah Beth
Venue  – Lemore Manor in Eardisley, Herefordshire
Wedding Dress + veil – Wilden Bride London
Headpiece – Etsy find from Mignonne
Shoes – Ada by Chelsea Paris
Perfume – Chanel CoCo Noir (the bride's favourite scent)
Groom – Tailored suit via Michelsberg Tailors in the Victoria Arcade, Leeds
Bridesmaids – Adrianna Papell
Flowergirls – House of Fraser + Monsoon
Page Boys – Next + Zara + Ebay + Etsy
Florist – Juliet Glaves
Cake – made by a friend
Entertainment – Soul Serenade from Warble entertainment
Rings – Hatton Gardens, London
Catering – Lemore Manor
Stationery – made by the bride
Makeup Artist – Jess Mac