Hello fabulous ones, I hope you're having a great week so far. We feature so many different types of weddings here at Love My Dress but I'm always in awe of a crafty bride. Where does she find the time? Where does she get her amazing ideas from?! Jenni, a primary school teacher is one of those brides, she made every decoration and detail by hand and she has done a wonderful job. Her new new husband Andy is a DJ and Music Producer and they tied the knot at Winton House, a holiday let near Edinburgh on the 18th of July 2015. The sublime Julie Tinton Photography has captured the day beautifully.
"We were aiming for a relaxed day, using muted pastel colours and rustic browns. We hired Winton House for the weekend, got a marquee, caterers etc and went to town with handmade decorations and personal touches to transform it into a magical wedding venue! It was important for the day to be totally unique and personal to ourselves and our families."
Photography by Julie Tinton Photography
Jenni bought her Essence Australia a dress and veil from Kudos Couture. She wore her own lace shoes and hand made gorgeous flower headband herself.
"I initially wanted something quite loose, light and floaty with a bohemian feel, in keeping with the relaxed vibe of the wedding. I just couldn't find what I had pictured in my head in any of the dress shops I visited and I wasn't blown away when I saw my dress on the hanger but as soon as I tried it on it felt perfect!"
"We met through a mutual friend on a night out at The Arches in Glasgow. Andy's a DJ so he loves music and was appalled at my lack of music knowledge and taste!"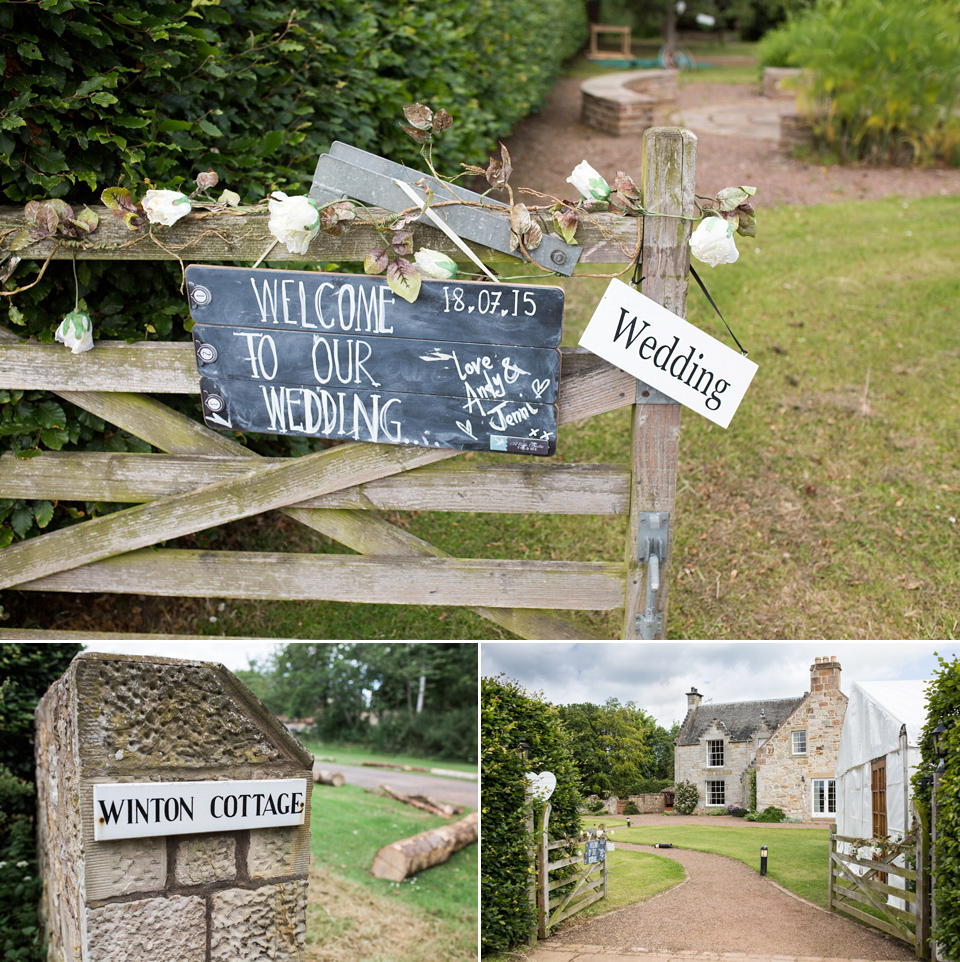 The couple enlisted Julie Tinton to capture their wedding day. Her attention to natural light has produced the most beautiful, whimsical images.
"Julie provided a personal service from start to finish! She shared my love of handmade details and understood exactly the theme I was trying to create. She captured all of our personal touches perfectly! She provided an assistant photographer so that all aspects of the wedding were covered, from Andy and his groomsmen getting ready and setting up, my hair and make-up, to the bridesmaids leaving in a vintage Volkswagen Camper Van!"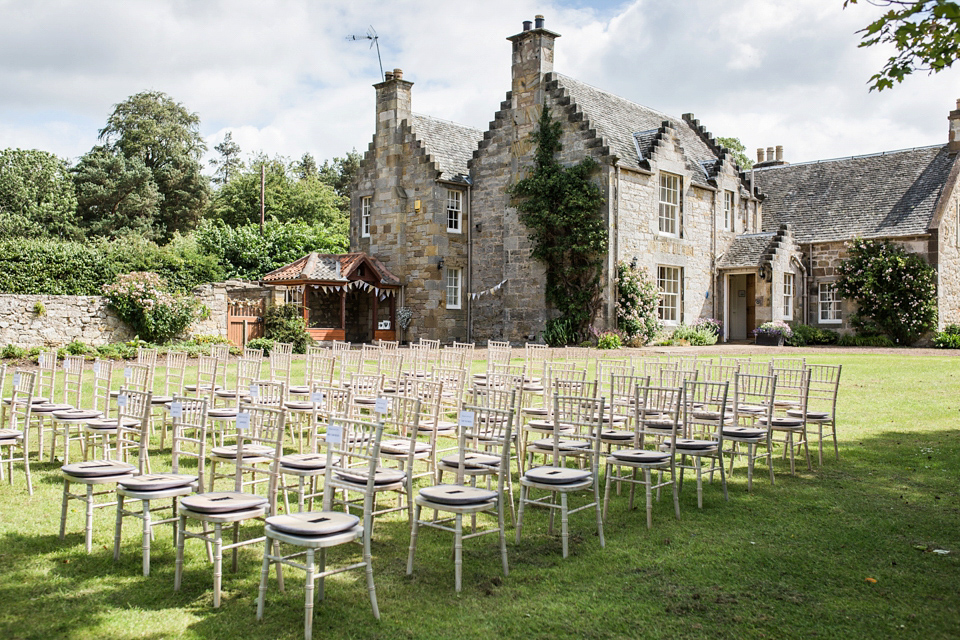 "We got engaged on a little secluded beach in Dalmeny, South Queensferry, on a Monday in February, a year and a half before the wedding. Every spare minute of my time throughout our engagement was consumed with wedding crafts, from making invitations and bunting, to the floral archway that we got married under!"
Nikki's Fleurs put the gorgeous rustic bouquets and buttonholes together using pastel flowers, gypsophila and thistles.
"Andy's mother, Moira, is a keen gardener and very knowledgeable about flowers and floristry. The day before the wedding, she got a team together to help her prepare dozens of beautiful floral arrangements in the vintage bottles and vases that I had spent all year collecting!"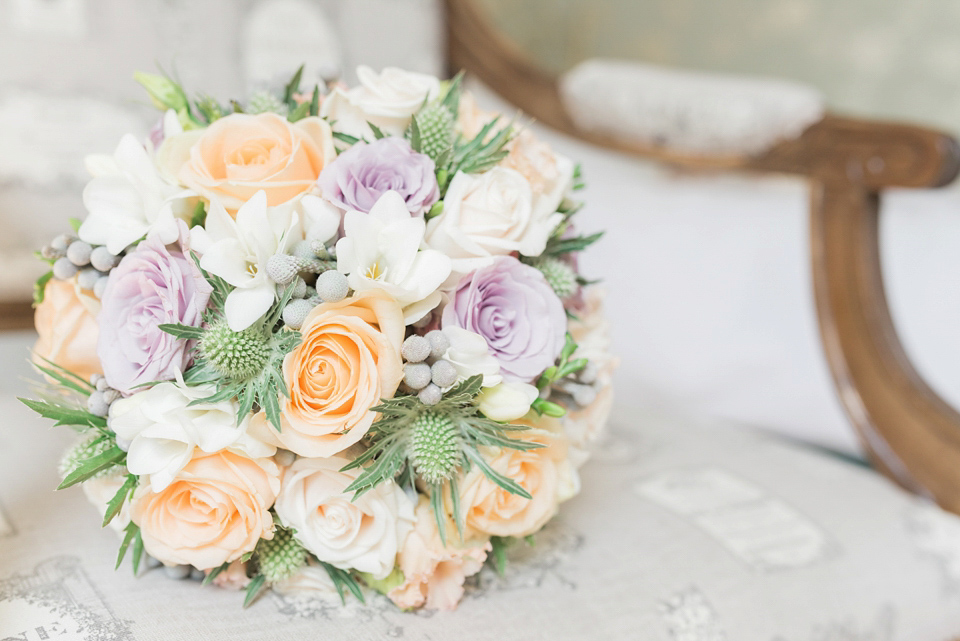 "Andy's sister, Lesley-Anne with her assistant Clare kindly did the make-up for the bridal party on top of her bridesmaid duties! Our wonderful Hair Stylist, Angela Christie, had a terrible climbing accident a few weeks before the wedding, breaking her back! Luckily, Lesley-Anne stepped in and Angela is making a full recovery!"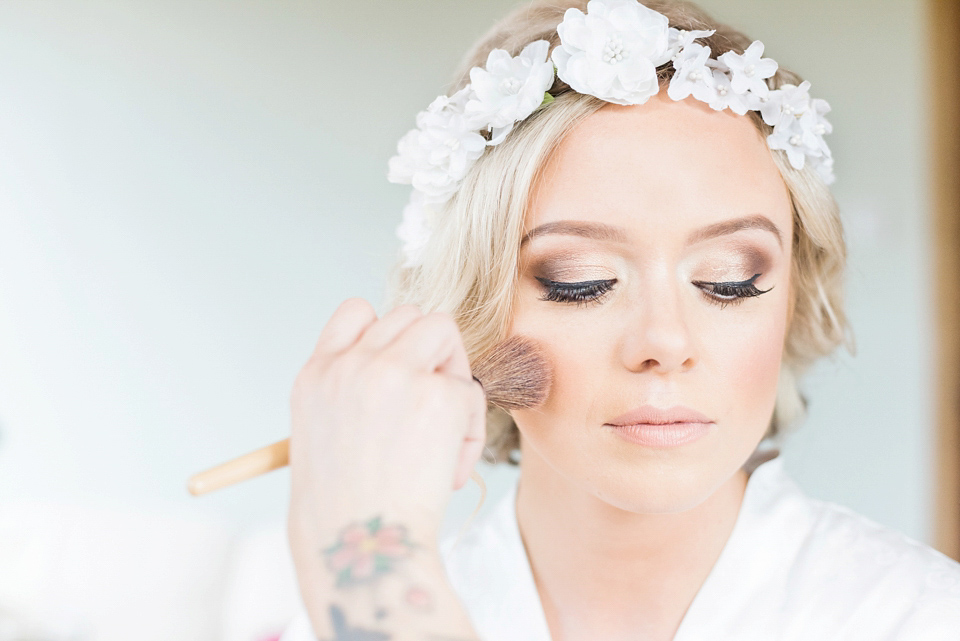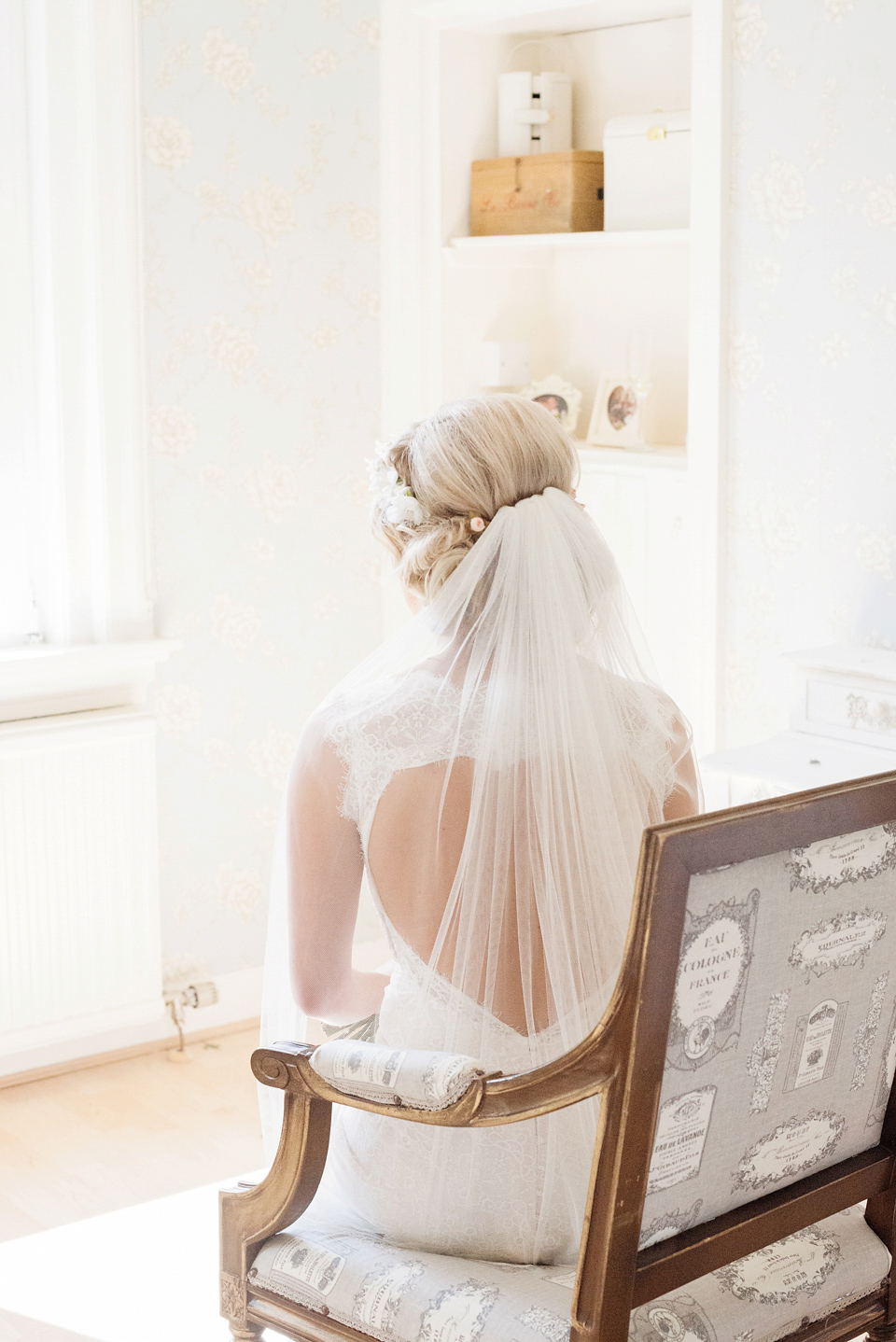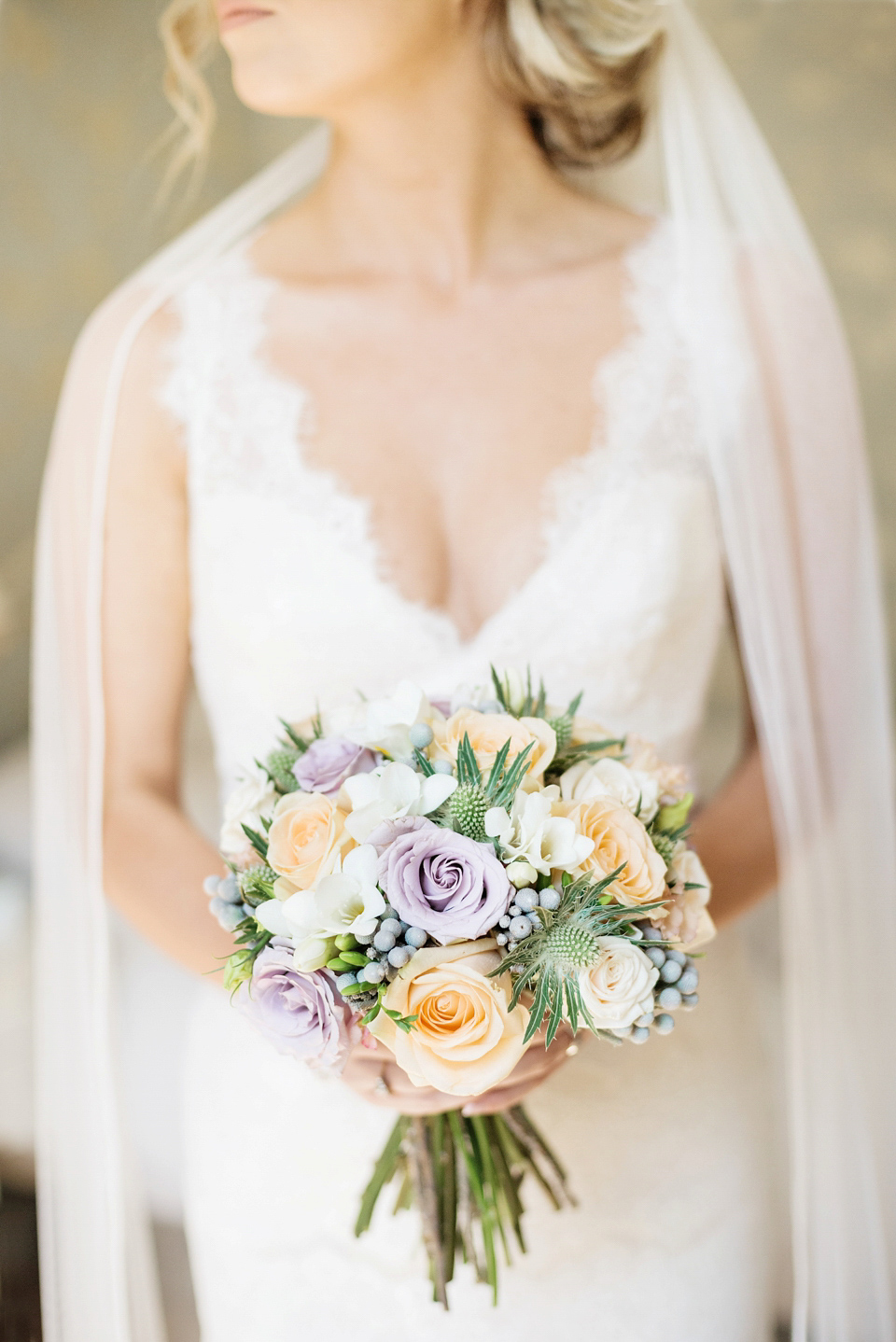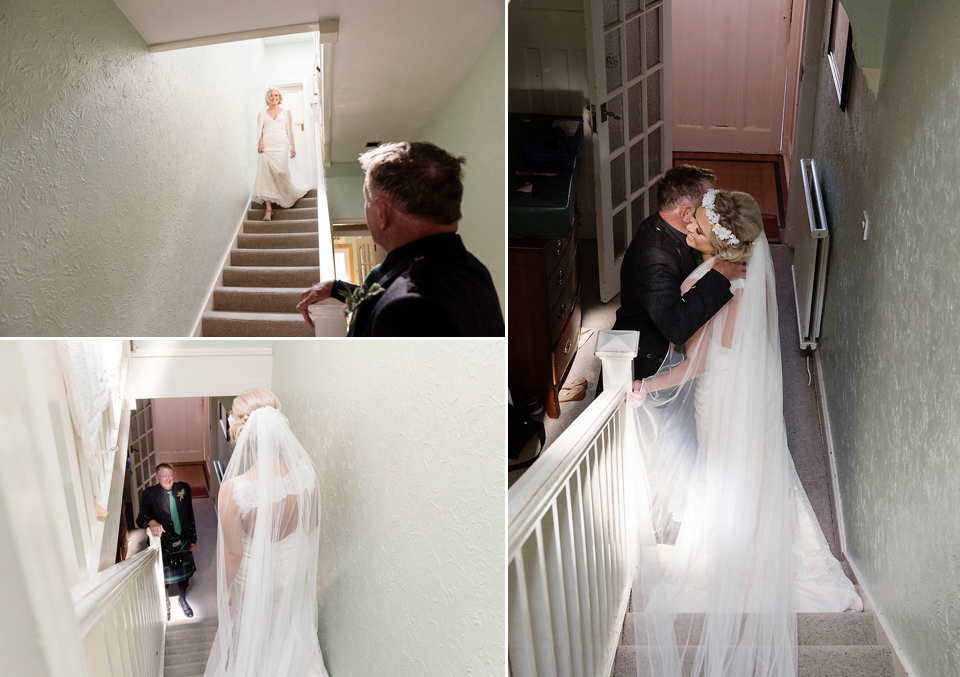 The groom, groomsmen and page boys all wore their own kilts and waistcoats, adding to the eclectic style of the day.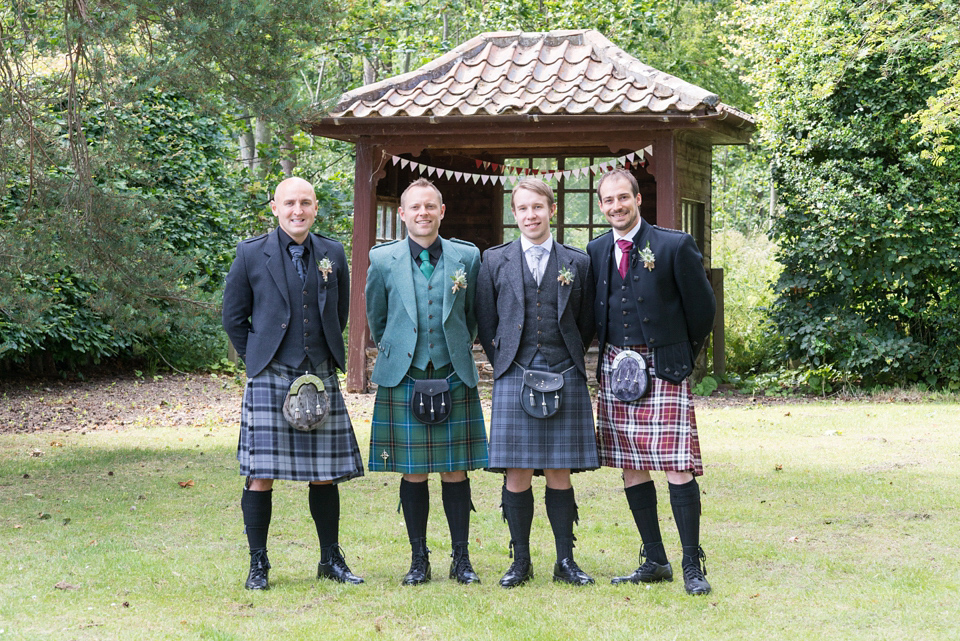 "My lovely Dad walked me down the aisle while Andy's brother played 'The Wedding Song' on classical guitar."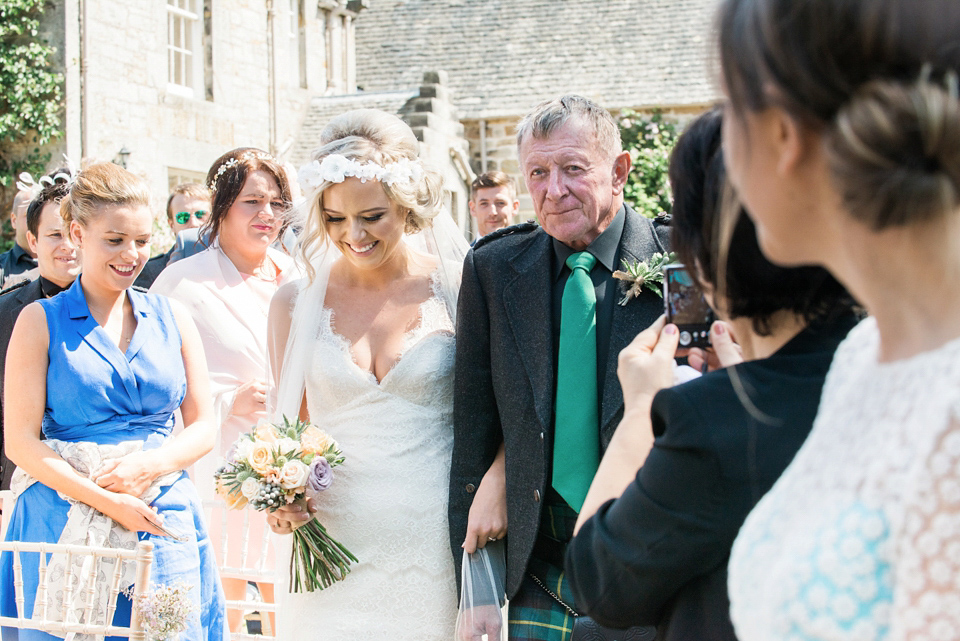 "We wanted our entertainment to be unique and personal so we pulled in favours from our families. Andy's brother, David McGirr played the classical guitar as we walked down the aisle, his mum sang 'The Wedding' (Ave Maria) during the wedding dinner, accompanied by David and groomsman Rolf performed one of my favourite Paulo Nutini songs with the band! We also hired a traditional Scottish Céilidh band, Callanish."
Jenni's beautiful bridesmaids wore light coloured Coast dresses, in a style complimenting the bride. The flower girls wore soft white Debenhams dresses, despite the youngest wanting a blue dress à la Elsa in Frozen! They all wore headbands embellished with flowers.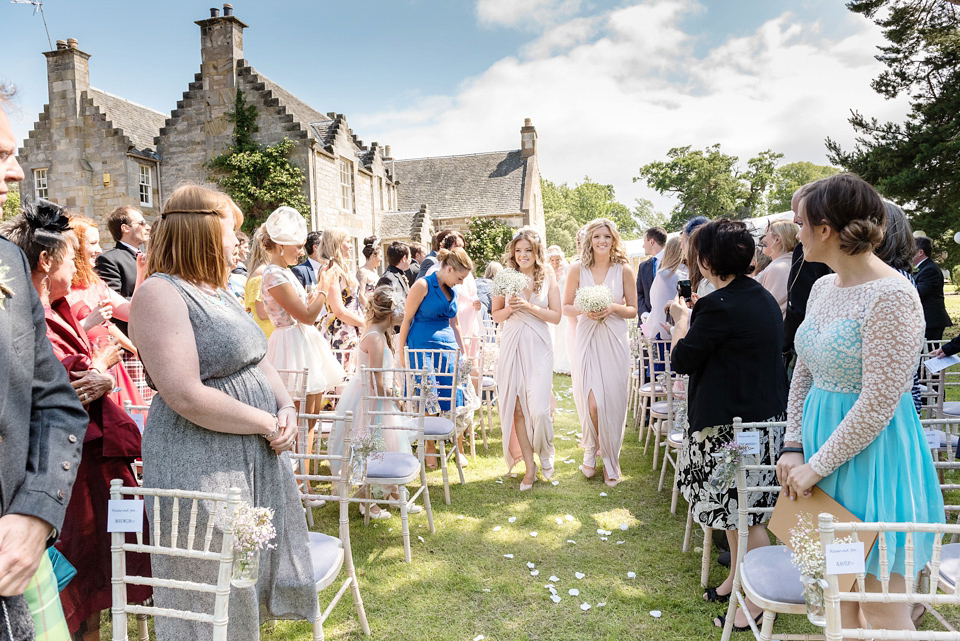 "We were married outside by a Church of Scotland minister who is a friend of the family. There was rain in the air as I was arriving, everyone was trying to decide whether to move the ceremony inside. Andy said "The sun will come out as soon as Jenni appears", and it did! We decided against having hymns as neither of us find it easy to sing them and felt that they weren't particularly relevant to us as a young couple. Instead, our family and friends recited a series of readings.
Andy's step mother, Sarah, recited Corinthians 13:4-8, my school friend, Julia, read a traditional Celtic blessing, my friend Bethany wrote and recited a poem just for us and my uncle John recited a Robert Burns extract adapting the words, making it personal to us. My mum, Janice also surprised us during the speeches by reading 'Cloths of Heaven' by William Butler Yeats. This was completely unexpected and reduced us all to tears as she wished us well in our new lives in Dubai (we moved shortly after the wedding)."
"There were lots of children invited, adding to the relaxed atmosphere. The flower girls were running around playing in their pretty white dresses while the boys climbed trees in kilts and there was even a game of Rounders on the grass!"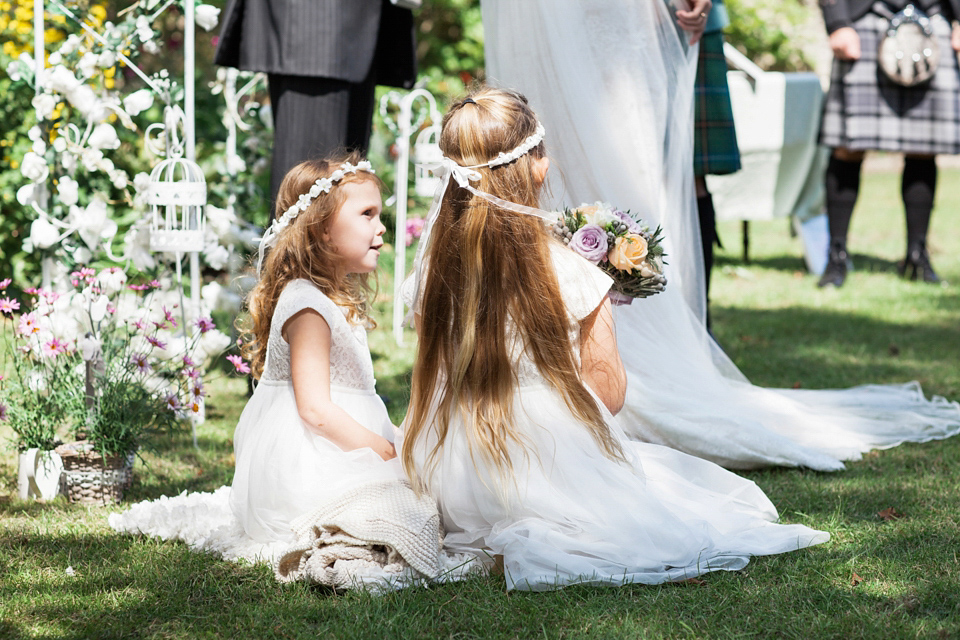 "We also decorated the area for the wedding ceremony. We hung jam jars filled with fresh flowers from the chairs and I made the archway centre piece!"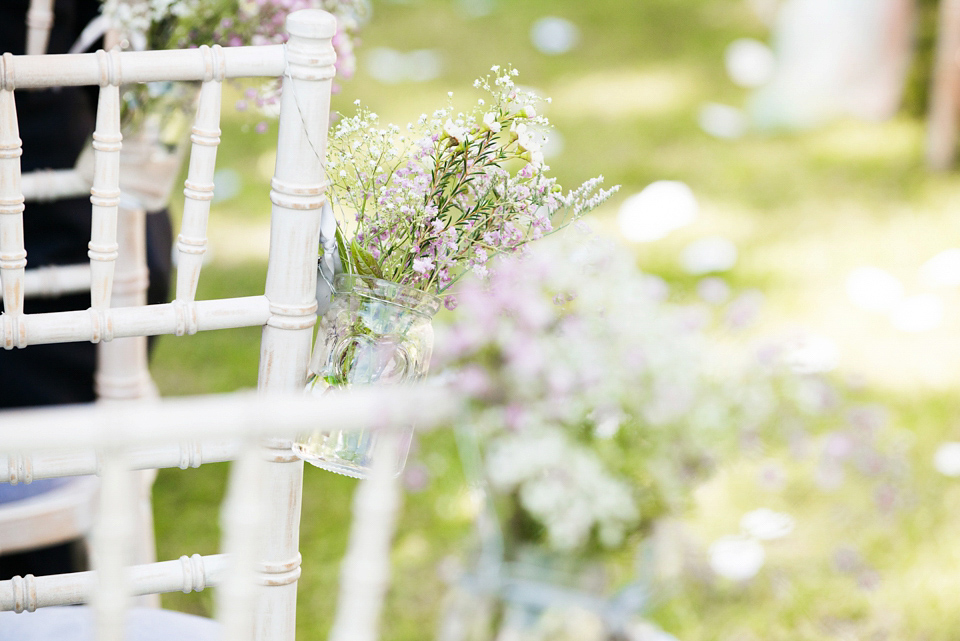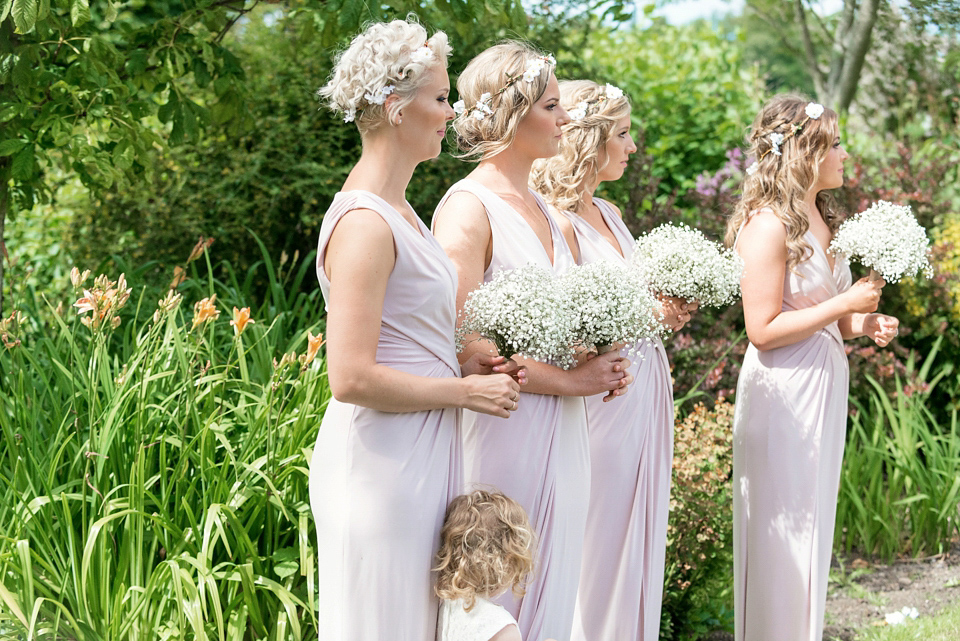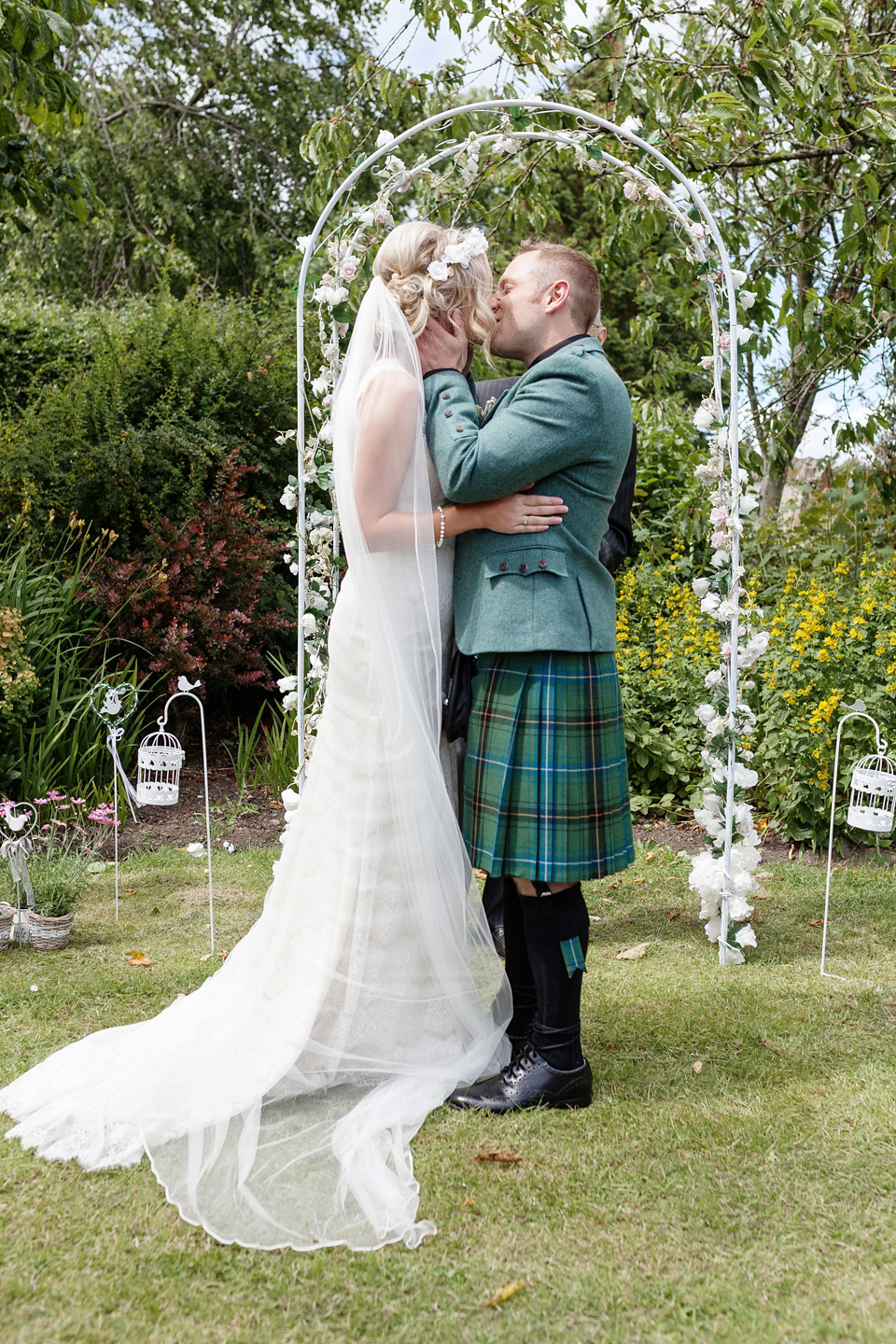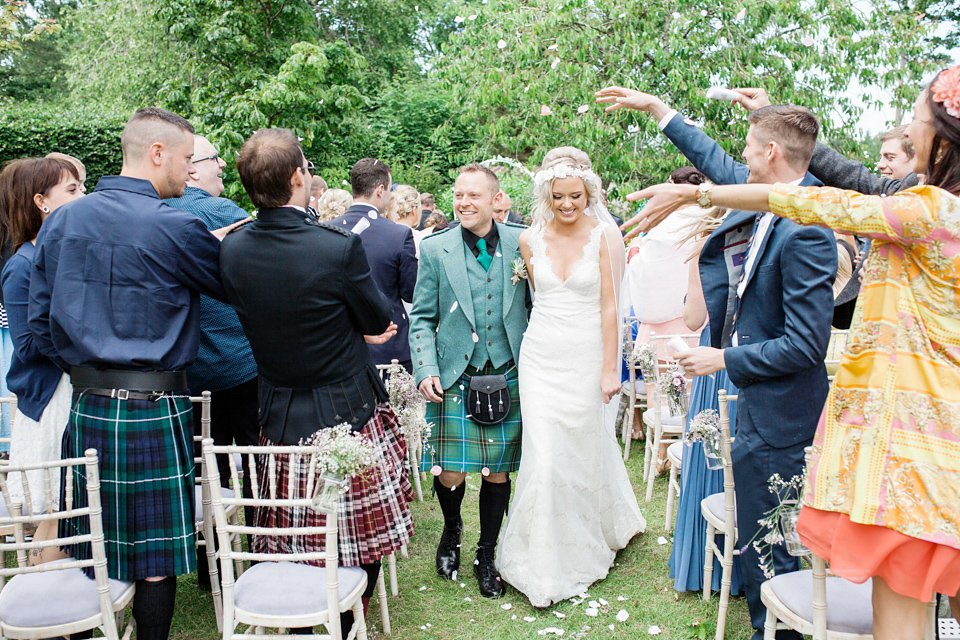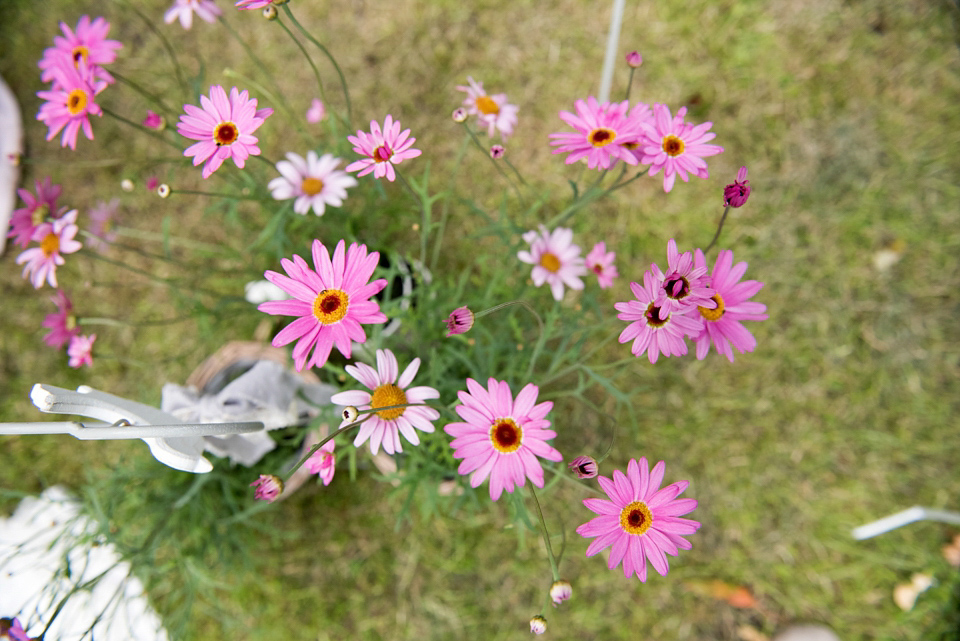 "The vintage cars were all lent to us by friends and family. Andy's dad decorated his Jaguar and drove my dad and I and our brother-in-law, John, drove the bridesmaids and flower girls in his pride and joy, Elvis, the vintage Volkswagen camper van."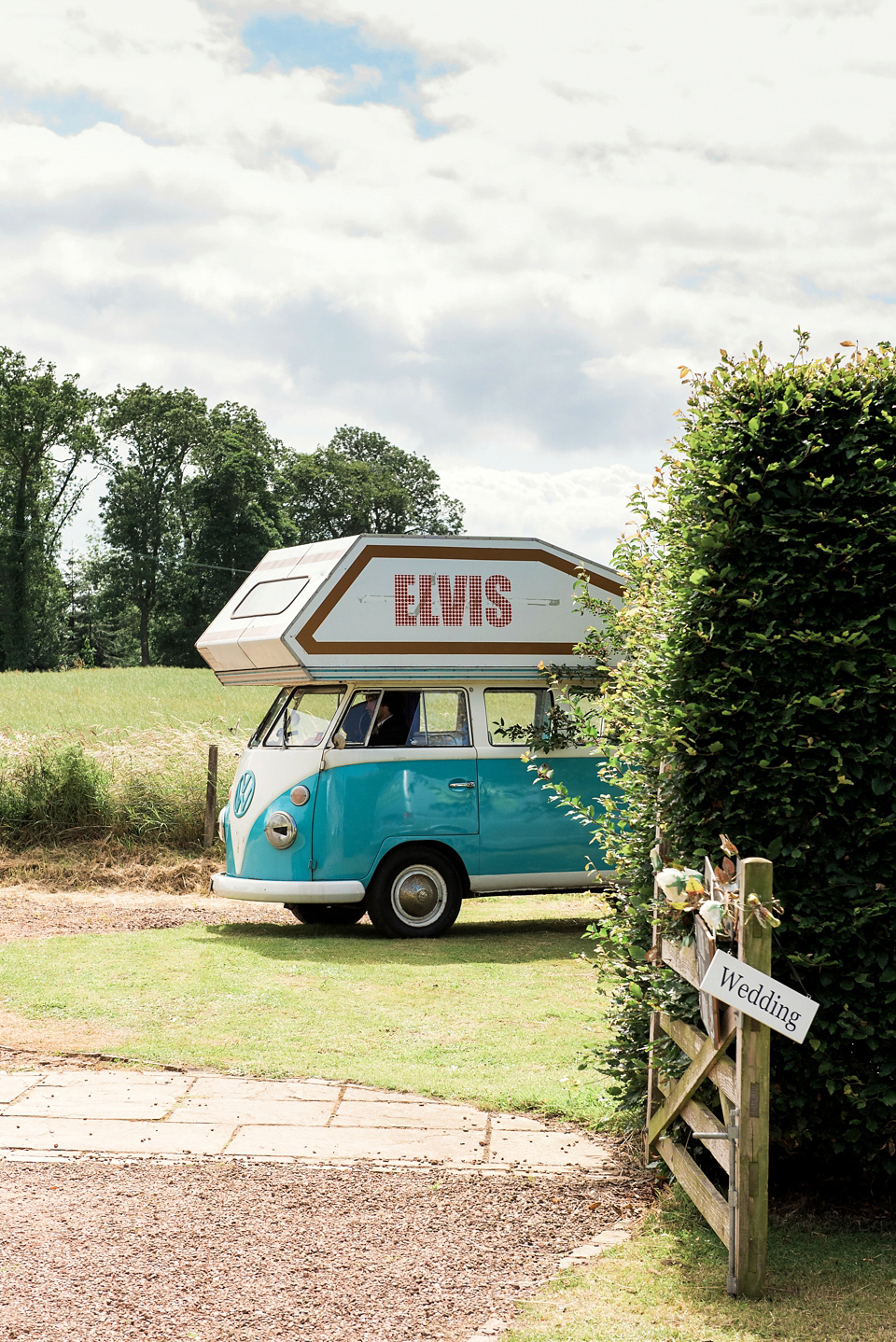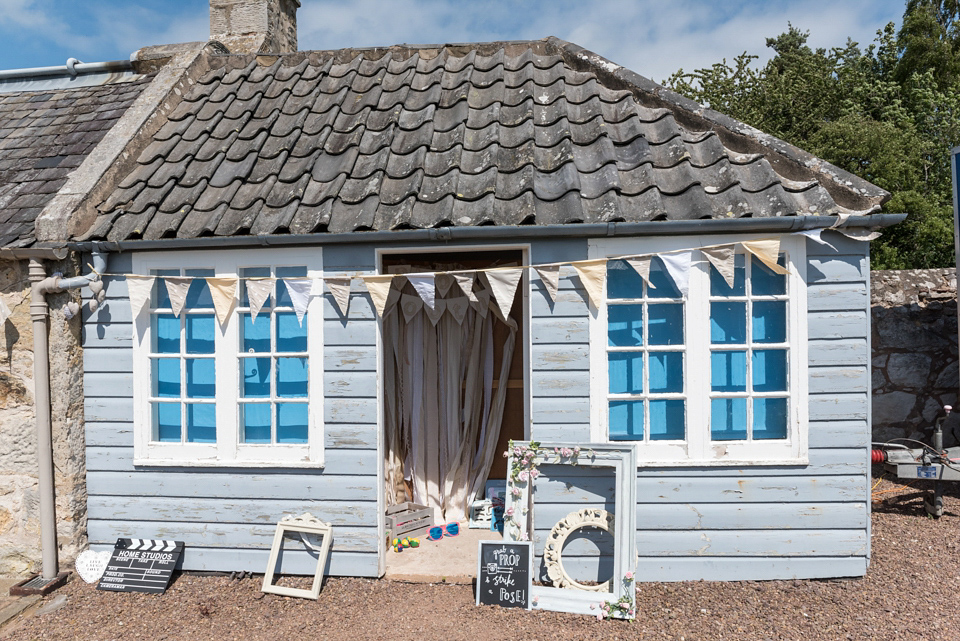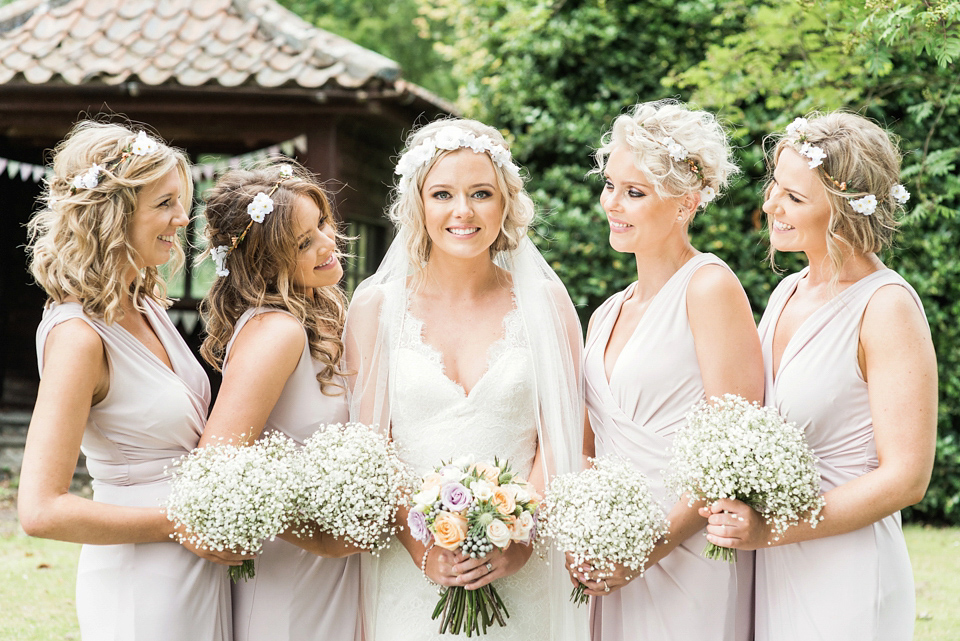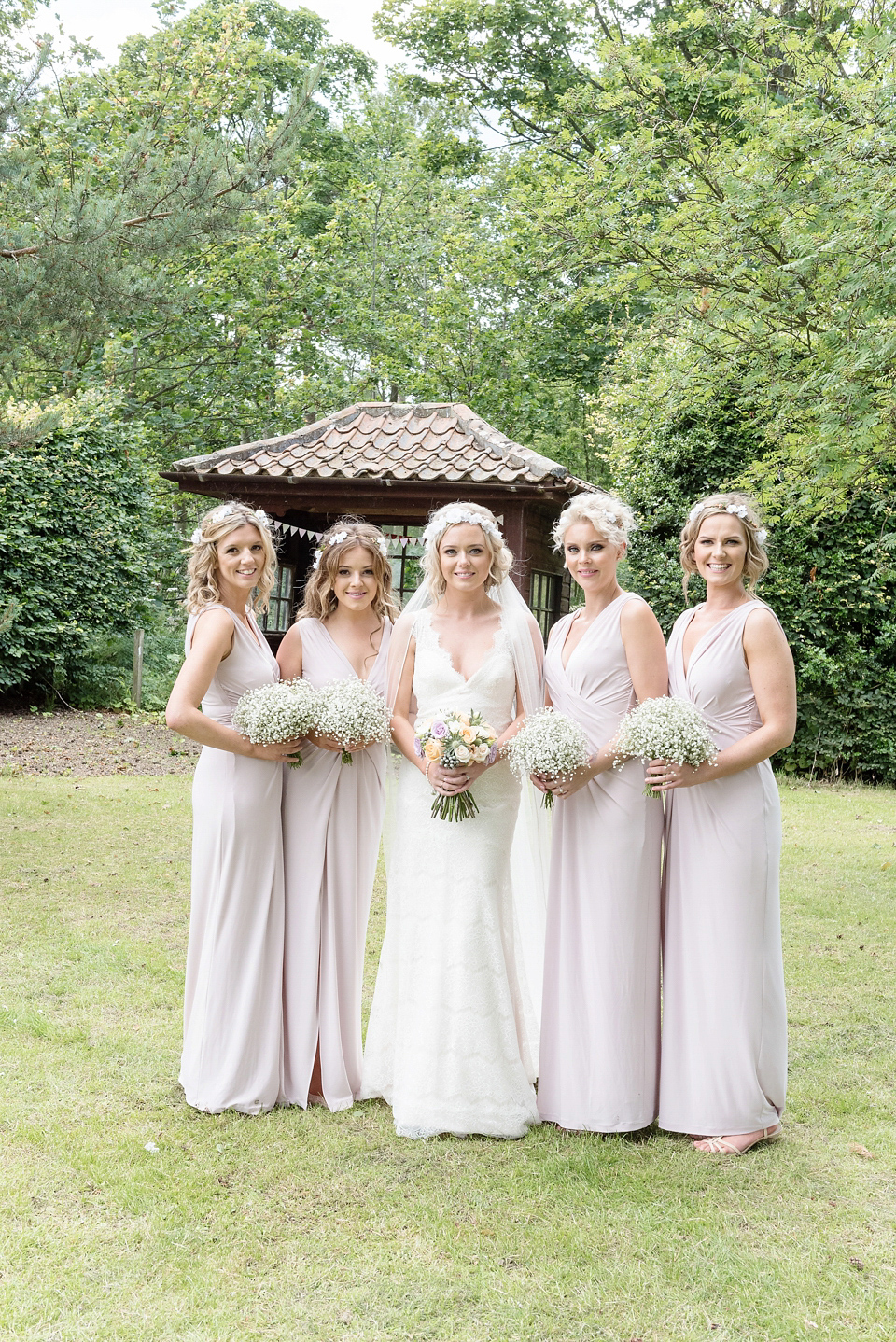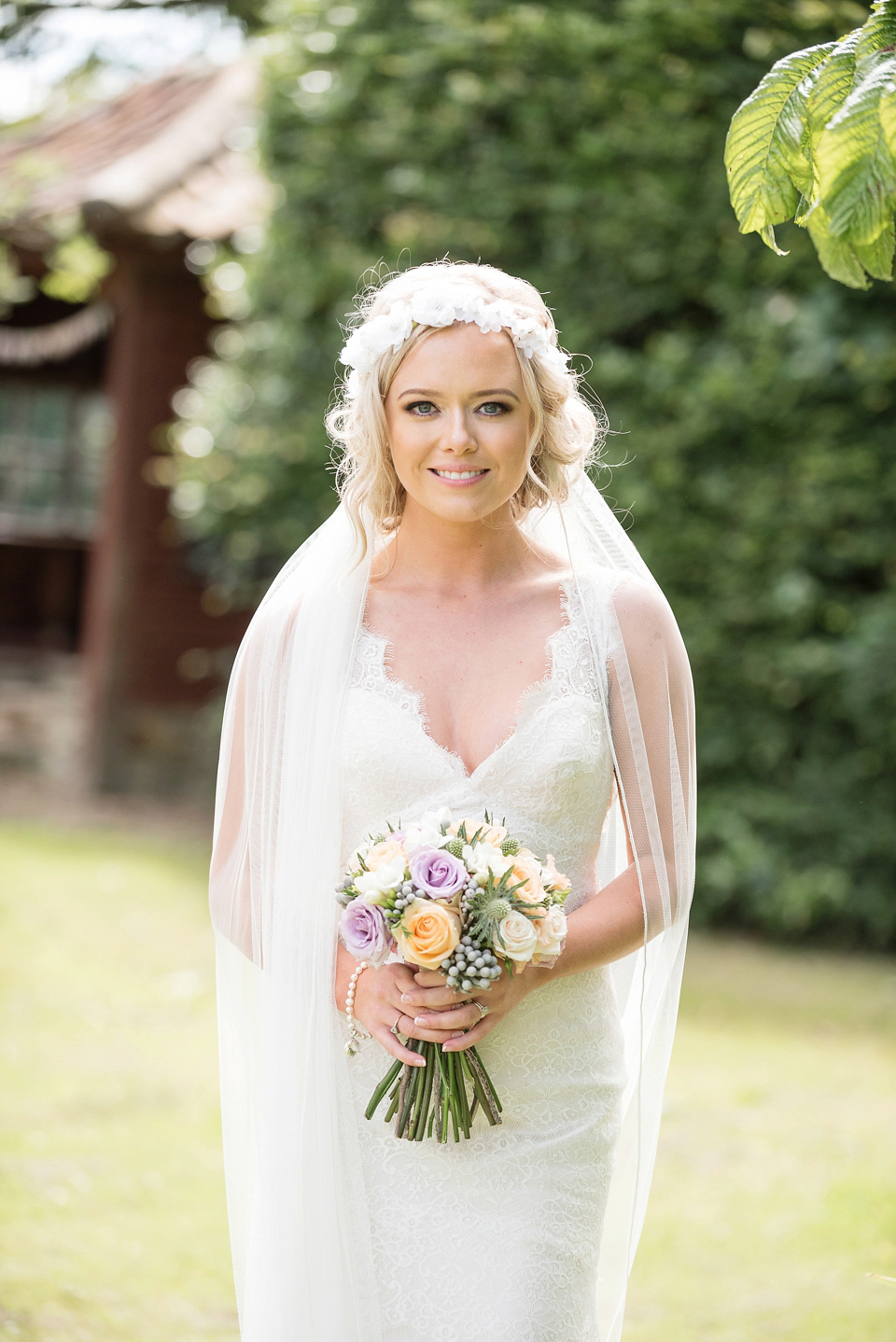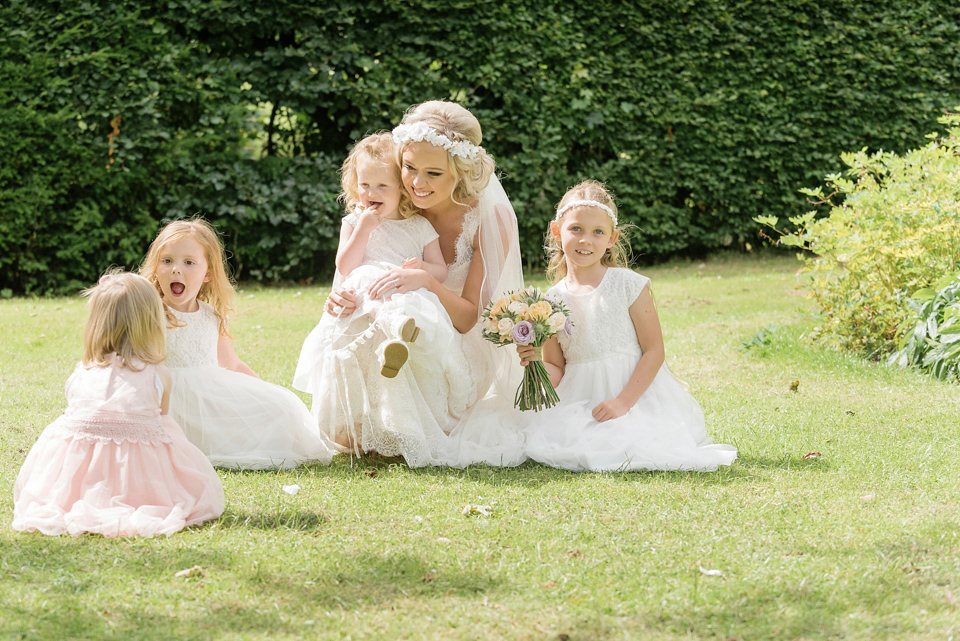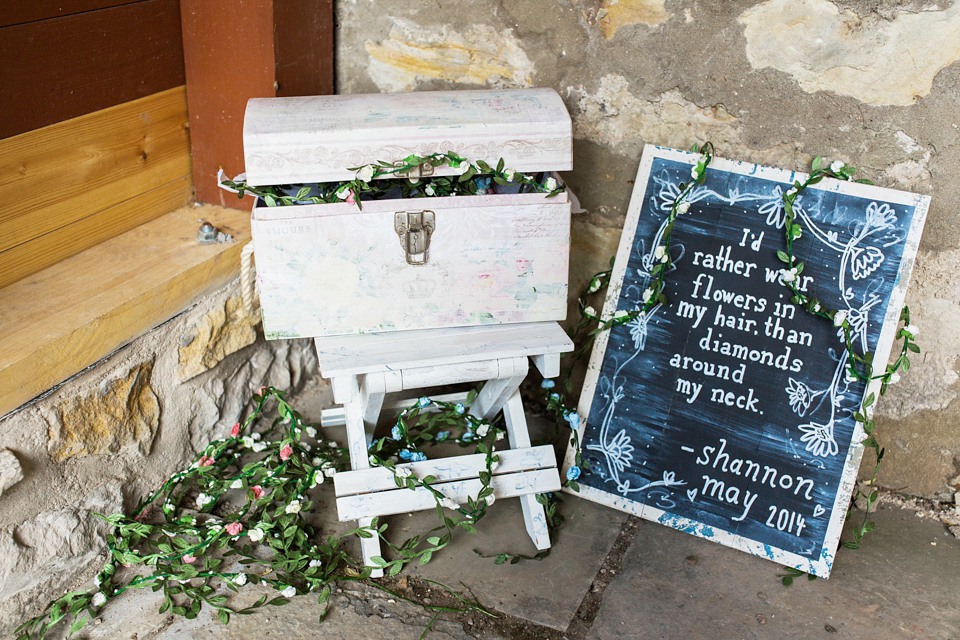 "Nicola from Annabelle's Catering was fantastic! She couldn't have done more for us, tailoring the menu to our tastes and adding Scottish twists to traditional canapés. We decided to do have a tapas-style starter that our guests could pick at throughout the speeches, presenting them in a mismatch of pretty teacups and chinaware. In the evening, we had a hog roast that guests could eat casually."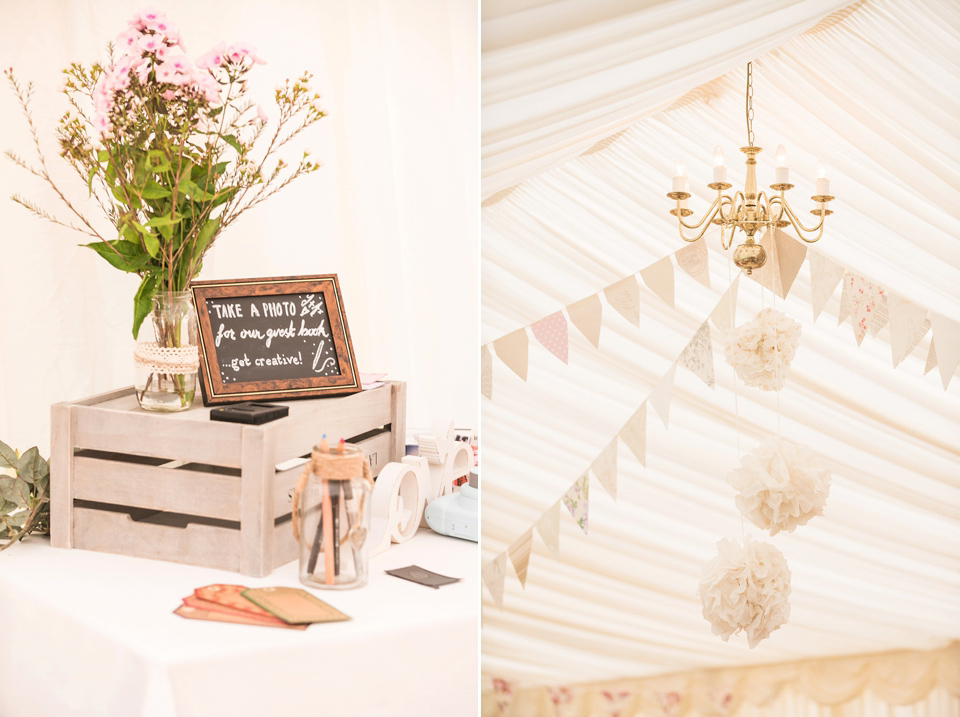 Jenni's wedding crafting was extensive. She made everything from the many chalkboards, the photo booth with fun and silly props and paper fortune tellers (like we made at school!) with questions and conversation starters. She even created flower hair garlands for the guests to wear and that gorgeous archway!
"I had a whole spare room in my parents house full of wedding stuff and I was actually at the venue until 11pm the night before decorating but I wouldn't have had it any other way! I spent the year scouring second hand shops and junk yards for interesting bits and pieces, Sam Burns Yard in East Lothian became heaven for me!"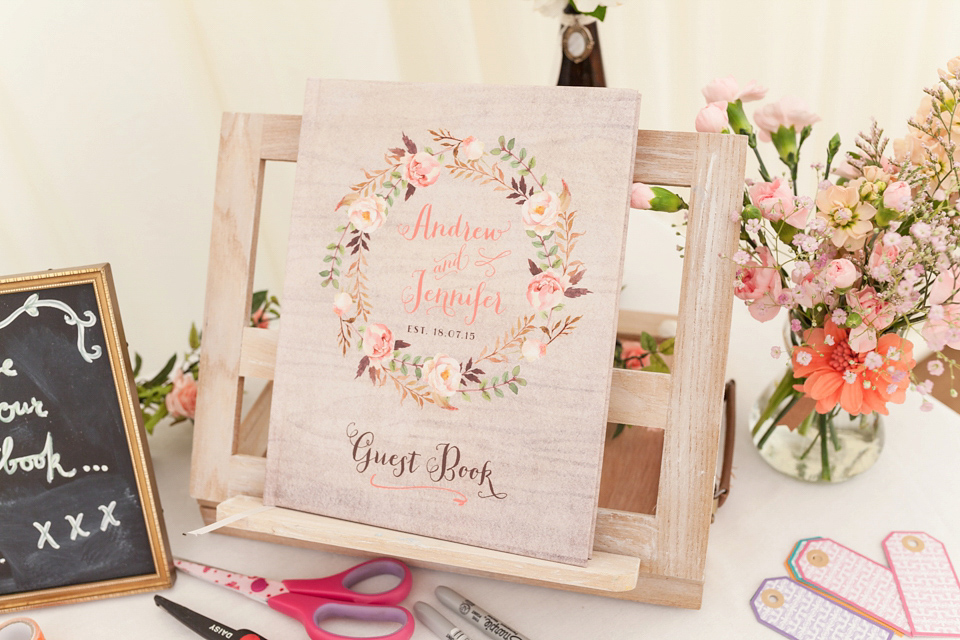 The newlyweds gave the ladies sweet filled vintage teacups and the gentlemen got a miniature bottle of Jägermeister.
"Over the year, a bit of a travel theme crept in, this was fitting as Andy and I moved to Dubai shortly after the wedding. My family have some beautiful old luggage trunks of my grandfather's, stamped with our family name and I also found Andy's grandmother's old vintage suitcase which we used around the venue.
I created the centrepieces using a slice of old wood, a vase of flowers flowers and second hand books which are relevant to us. I sprinkled strings of pearls and other fun details around the tables. I loved the juxtaposition between the rustic wood and old books with the pretty pearls and fresh flowers."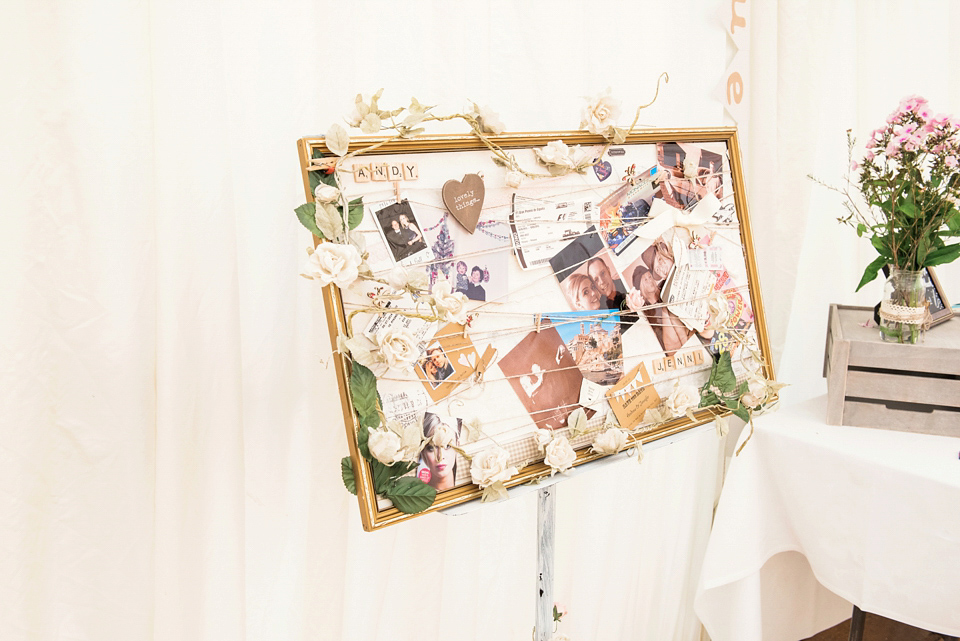 "The wedding cake was our gift from Andy's mum to us. She chose it herself and I had every faith that it would suit the theme perfectly. I couldn't have chosen better myself! One tier was fruit cake so that we could indulge the old tradition of saving some for your first baby's christening.
We chose 'Blue Moon' for our first dance. One night we were walking through Glasgow after a night out and stopped at the Blue Lagoon chip-shop. I started singing Blue Moon and Andy told me that his mum used to sing it to him as a child and they taught their dog, Floss to sing along to it!"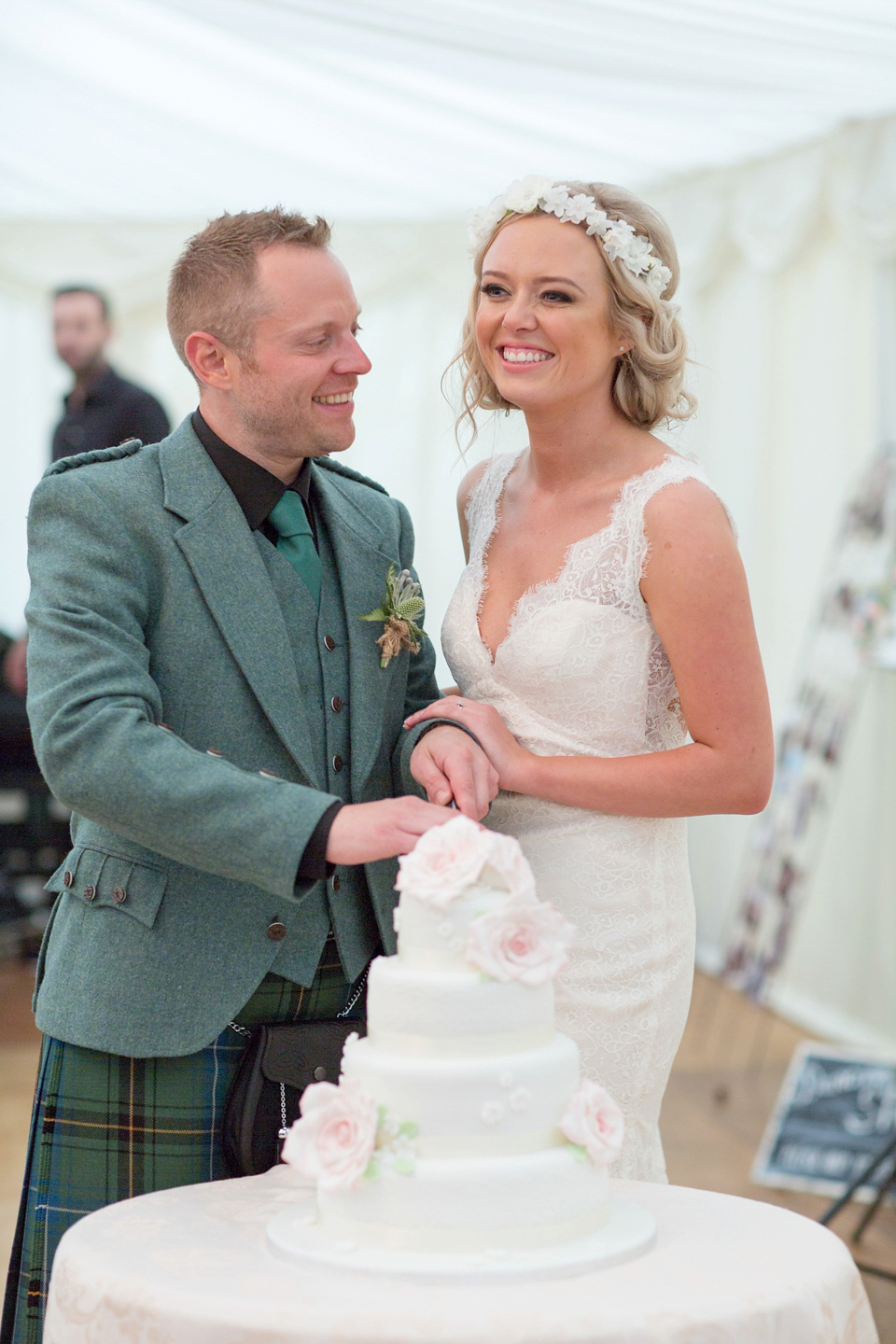 Words of Wedded Wisdom
"We brought two van loads of homemade decorations to the venue. With a DIY wedding, what goes up must come down! We didn't really consider how long it would take to dismantle everything! Luckily our family chipped in and we were still on Cloud 9 so didn't mind, but it really was a big job!
Make it unique and personal to you and your husband. Get your family and friends involved, pull in any favours that you can from them! Have fun!"
Thank you so much to Jenni and Andy for sharing your beautiful wedding with us. Thanks also to Julie Tinton for the gorgeous images. We have featured plenty of DIY projects if you are thinking of getting crafty like Jenni in the run-up to your wedding.
Love Caoimhe xx
Photographer – Julie Tinton
Venue – Winton House, East Lothian, Scotland
Wedding Dress – Essence Australia from Kudos Couture
Veil – Kudos Couture
Headpiece – Handmade by the Bride
Shoes – Dune
Groom – Wore his own waistcoat and kilt
Bridesmaids – Coast
Flowergirls – Debenhams
Page Boys – Own Kilts
Florist – Nikki's Fleurs
Cake – The Cake Rack
Entertainment – Callanish
Rings – Rox
Catering – Annabelle's Catering
Stationery – All designed by the Bride
Makeup Artist and Hair Stylist – Kiki-Chic Make Up