Good morning folks! Hot on the heels of 'Lovette' Emily's nuptials yesterday and as our third Jenny Packham bride so far this week (it's only Tuedsay!) we are sharing with you today the wedding of another one of our wonderful blogging brides. For those of you who are not already familiar, the Lovettes are our growing community of real brides serving up a behind the scenes look at the highs and lows of wedding planning. Today's Lovette, Charlotte (a senior communications officer for Liberty), wed Rik (manager of the Crown Jewels at the Tower of London) on the 18th of September, 2015, at The Tithe Barn in Petersfield, Hampshire; a grade II listed building set in 300 acres of farmland, in the heart of the South Downs.
We have so enjoyed following Charlotte's wedding planning adventures and we are delighted to be sharing her marriage to Rik with you today, captured in stunning detail by husband and wife duo Pen and Cam, the creative couple behind both McKinley – Rodgers Photography and Story Catchers Wedding Films. Let's begin by taking a peek at Charlotte and Rik's beautiful Story Catchers film.
"Rik and I have a mutual love for Wes Anderson films – everything from the colour palettes he uses to the typography and styling. Our day wasn't themed, but we had a slight nod to Wes Anderson in everything from our colour scheme and invites, to the table names and photo booth backdrop. We also love the music in his films and put together a Wes Anderson playlist for when the guests were entering before the ceremony and for during the wedding breakfast."
Film by Story Catchers
Find Story Catchers in Little Book for Brides
Follow Story Catchers on Instagram
"I read Love My Dress religiously every lunch break and evening that I had spare. It really was the best source of inspiration, and I wish I'd started reading it long before we'd got engaged! I actually found that wedding blogs were a far better source of inspiration than magazines, because there is so much more real content and it really helps to be able to 'pin' from them too. Love My Dress is without a doubt my favourite of all wedding blogs."
Photography by Mckinley – Rodgers
Find Mckinley – Rodgers in Little Book for Brides
Follow Mckinley – Rodgers on Instagram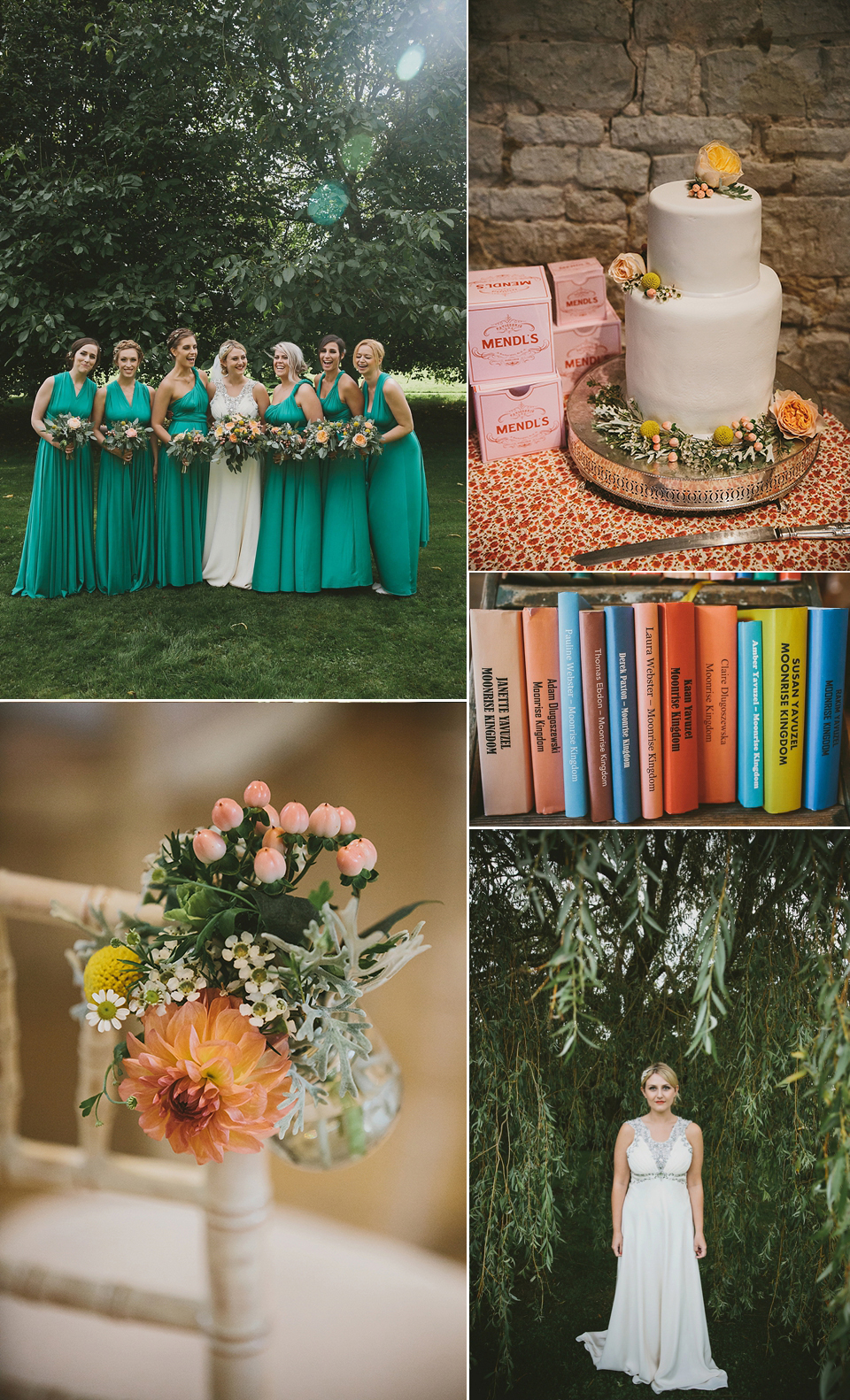 Our couple's photos were taken by the wonderful Pen and Cam of McKinley Rodgers. We are big fans of Pen and Cam's heart-warming, love filled photography here at Love My Dress HQ…
"We met Pen and Cam at our best friends' wedding, a month before we got engaged. It was almost as if they were a part of the family at their wedding and as soon as we saw their 'sneak peek' photos we knew we had to book them. They really are the loveliest people and fit right in with our friends and family. It goes without saying the photos they produce are pure magic, and full of wonderfully captured moments. "
"Rik and I met at school but didn't get together until about seven years later when a personal tragedy meant I moved back to Brighton where we're both from. We had been together for seven years when Rik proposed in Kensington Gardens, London and were engaged for just over a year before the wedding."
"Our florist was Bethan at Farmyard Flowers, who we found through an open day at the venue. There were lots of local florists recommended by the venue but Bethan stood out to me as she has a very organic and creative style, and totally understood what I wanted in terms of colours and everything being quite loose and natural."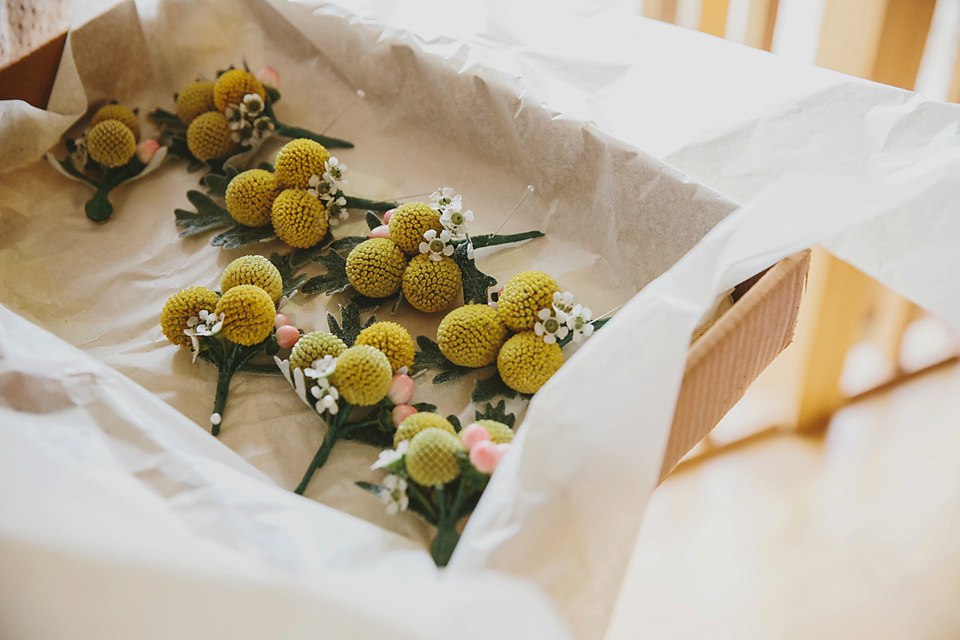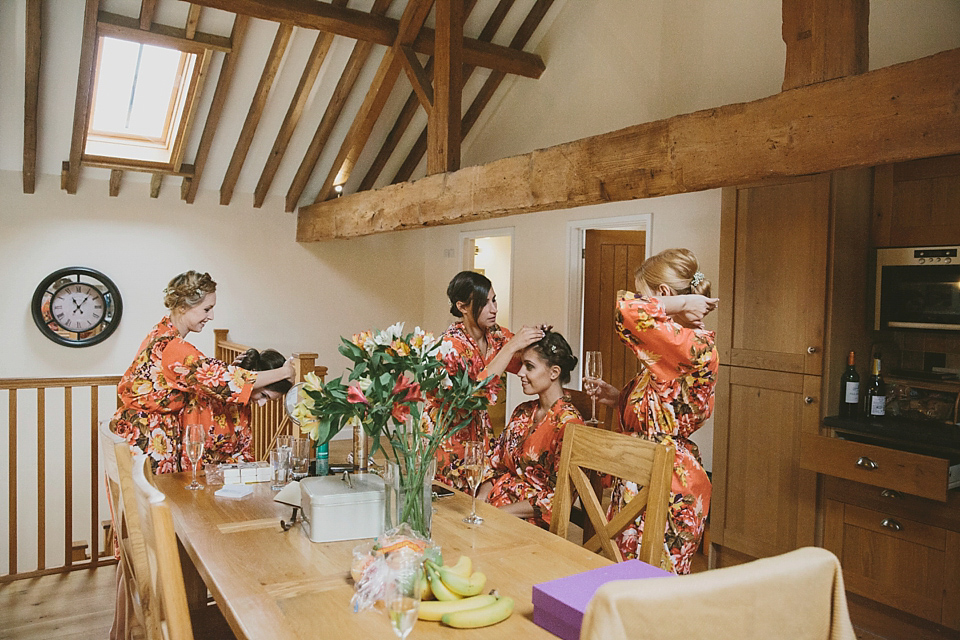 Charlotte looked stunning in an ethereal Jenny Packham gown, which she purchased from White Mischief Bridal in Henfield, Sussex.
"I love Jenny Packham dresses but I wasn't sure if they'd suit me. White Mischief was the first shop I went to and I chose about five Jenny Packham dresses to try. My mum actually picked out the 'Muscari' gown, as she thought it would fit my frame well. As soon as I had it on I knew it was 'The One'. A week later I went to a few other shops, just in case, but couldn't stop thinking about the 'Muscari'. Later that day I went back to White Mischief and bought it."
Charlotte's 'maids wore emerald green multiway dresses from Etsy, with tiny wax flowers adorning their locks.
"I gifted each of my bridesmaids (and my mum) with a dressing gown from Etsy and a little gold necklace with each of their initials on."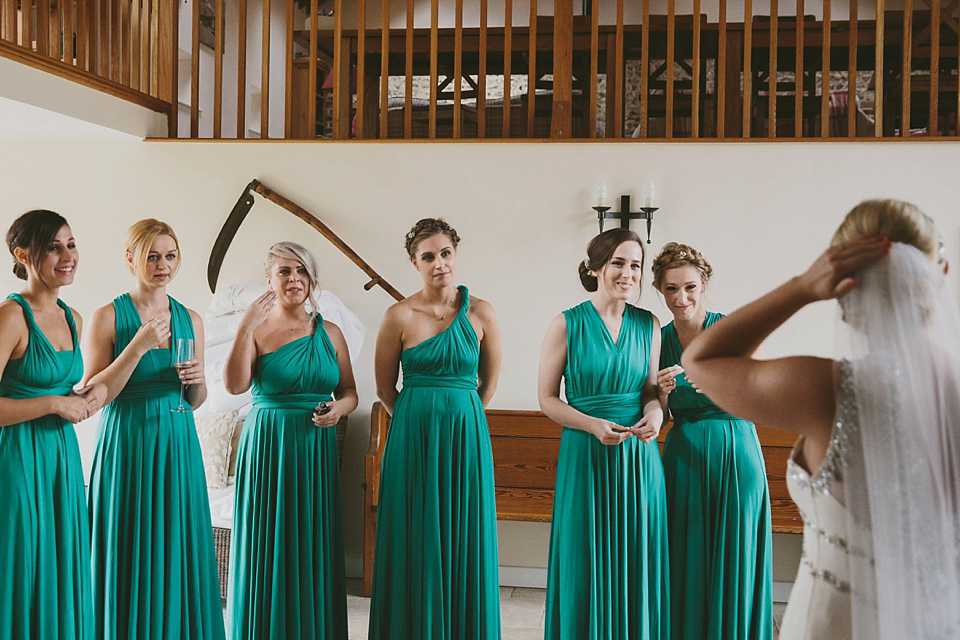 Our bride paired her gown with a simple veil from Wedding Veils Direct and a crystal encrusted Jenny Packham headpiece.
"At first I was unsure about wearing a veil, but I eventually decided that if you don't wear one on your wedding day then when will you?! I wanted something really simple so ordered via the 'build your own veil' service on Wedding Veils Direct. They are great value, based in the UK and the service is wonderful. I highly recommend!"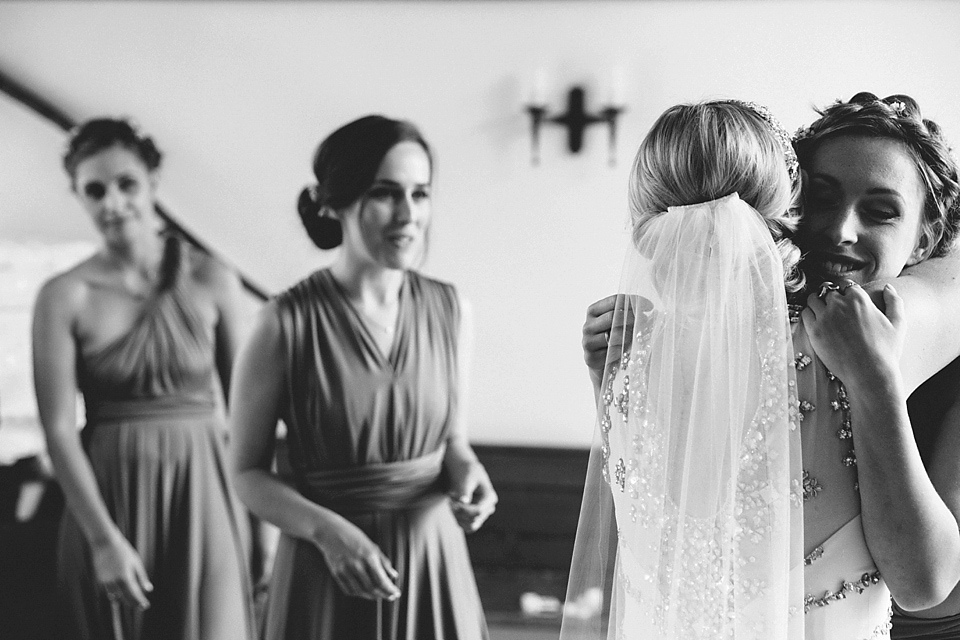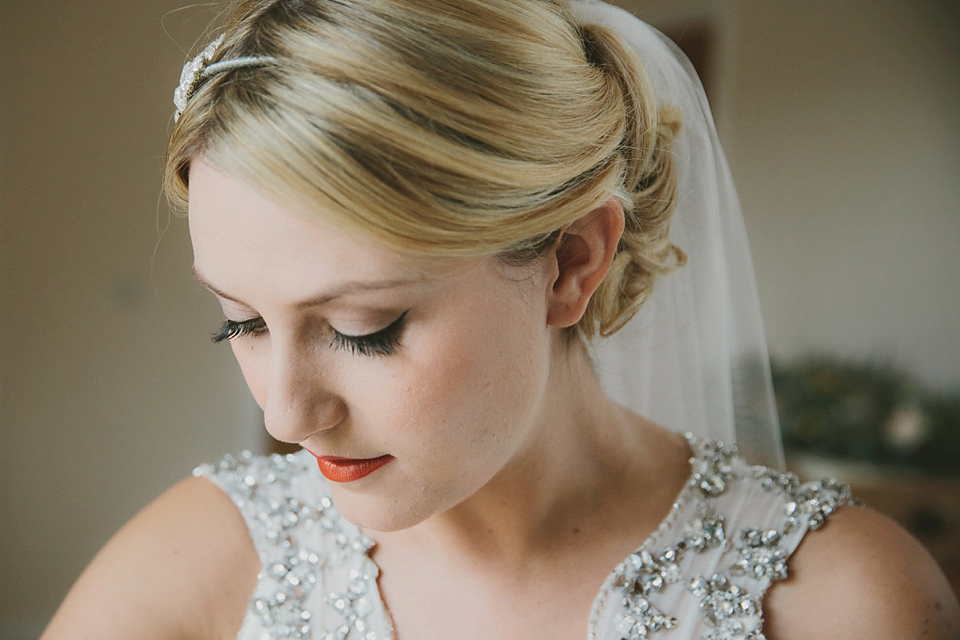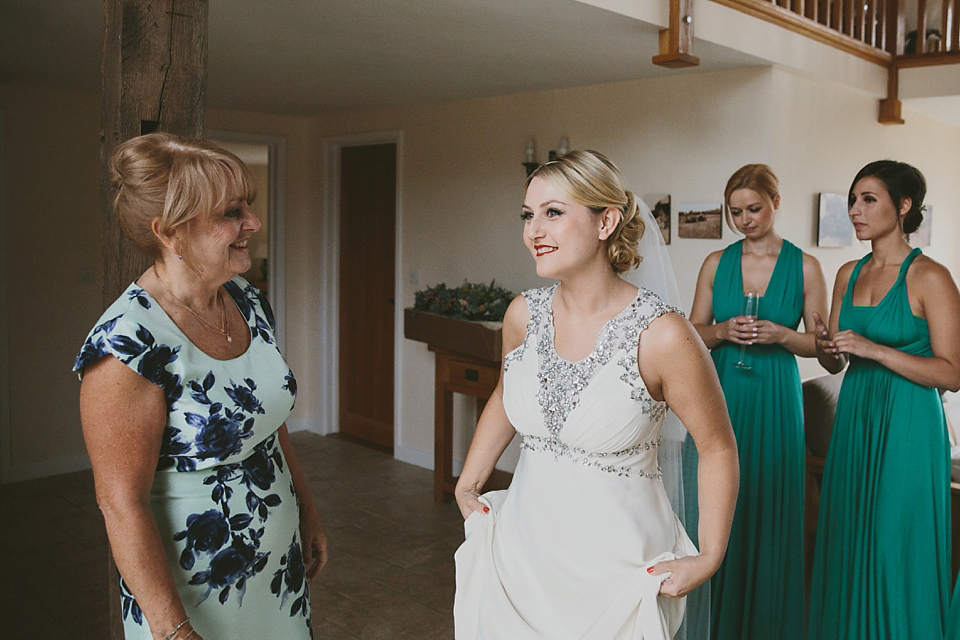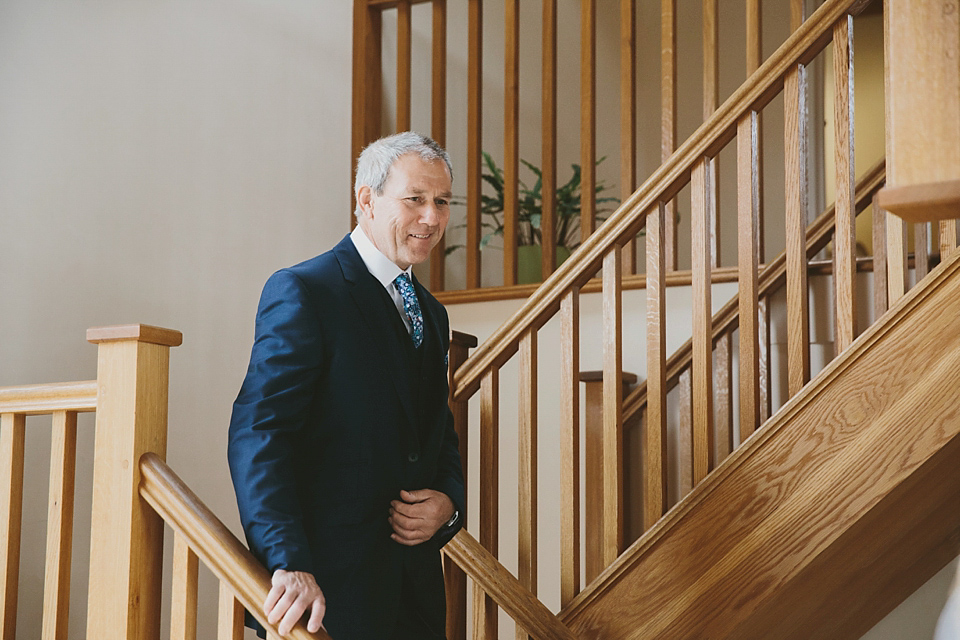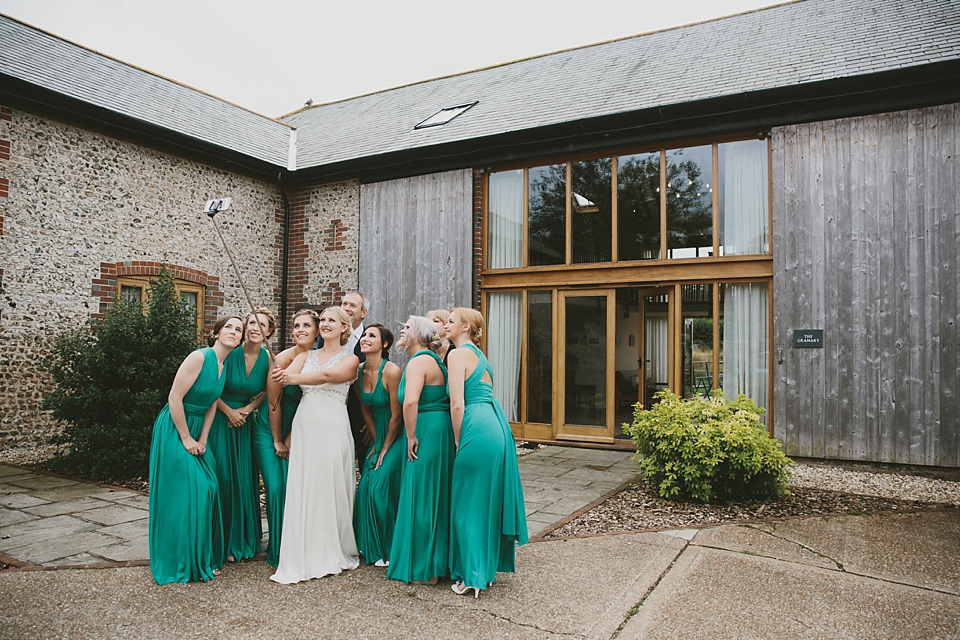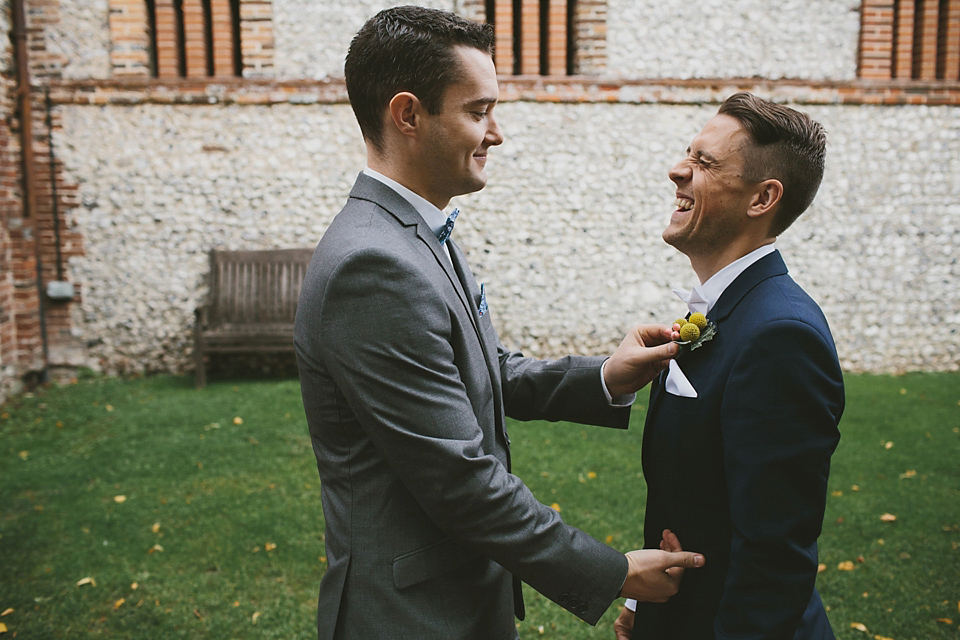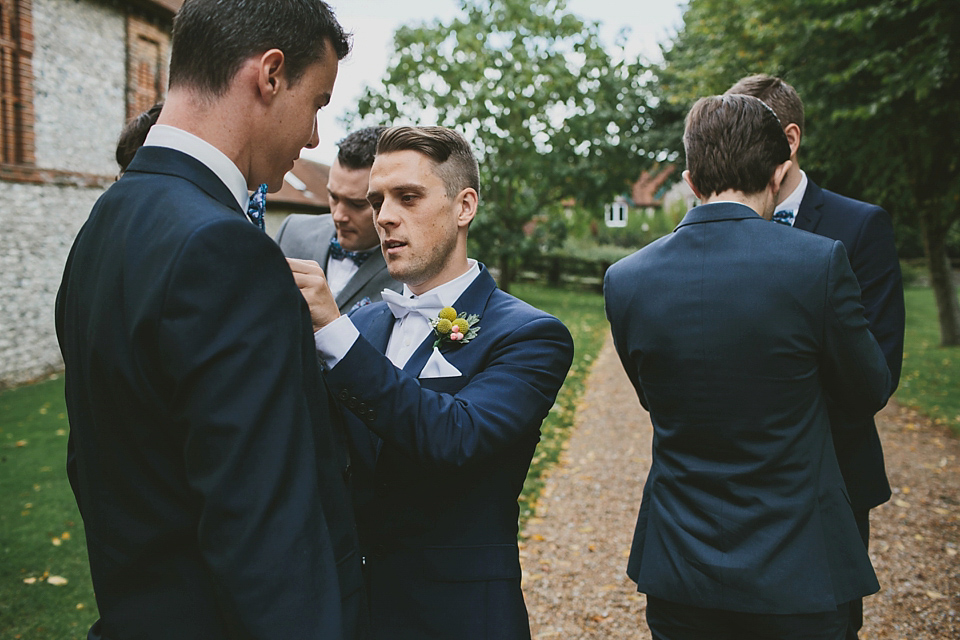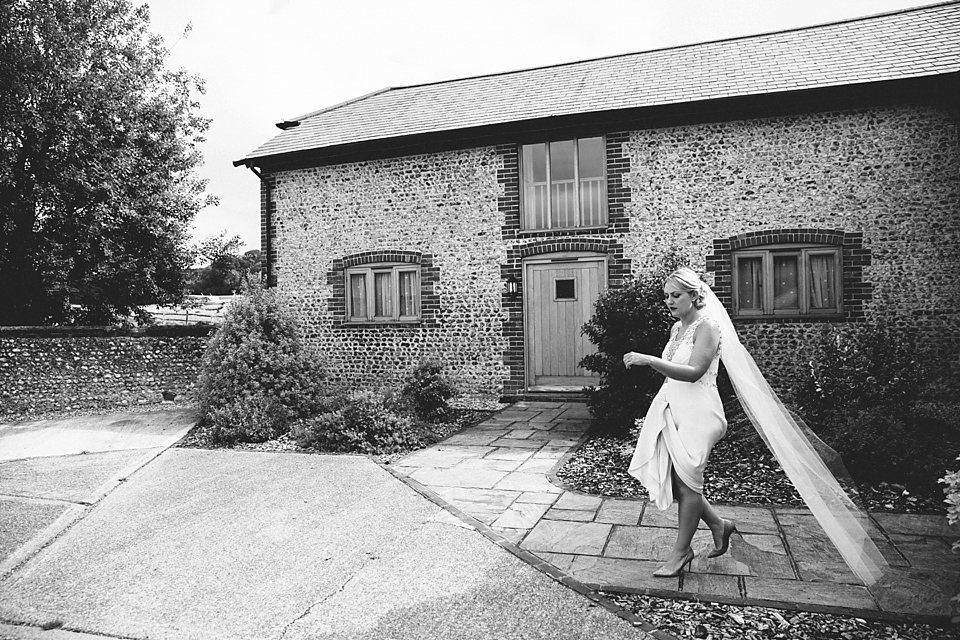 Charlotte arrived at the venue in style, chauffeured by her dad in his classic Jaguar…
"It was lovely being able to be driven there by him, listening to Radio 2 along the way, and I know it made him really happy."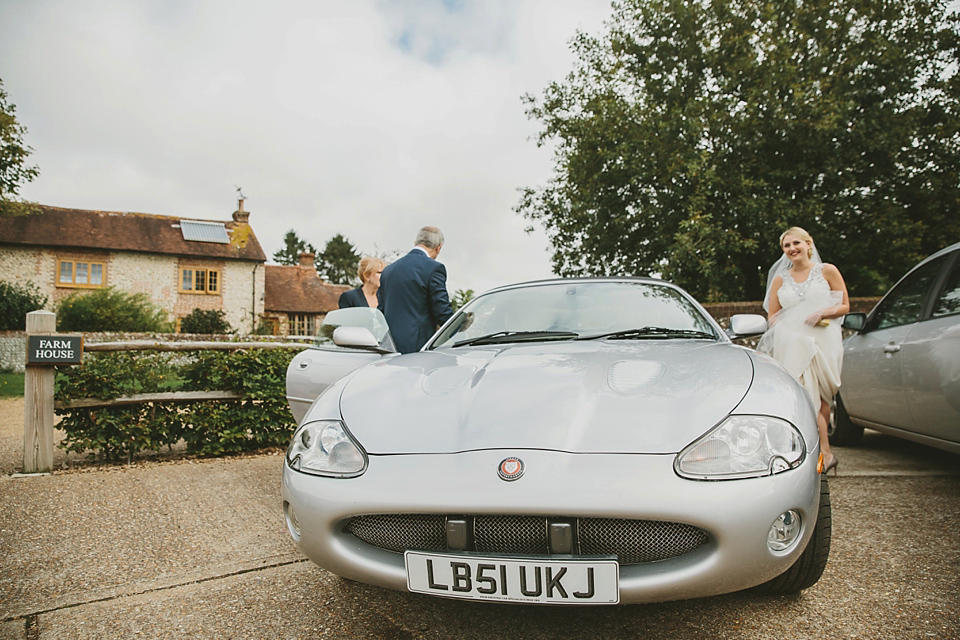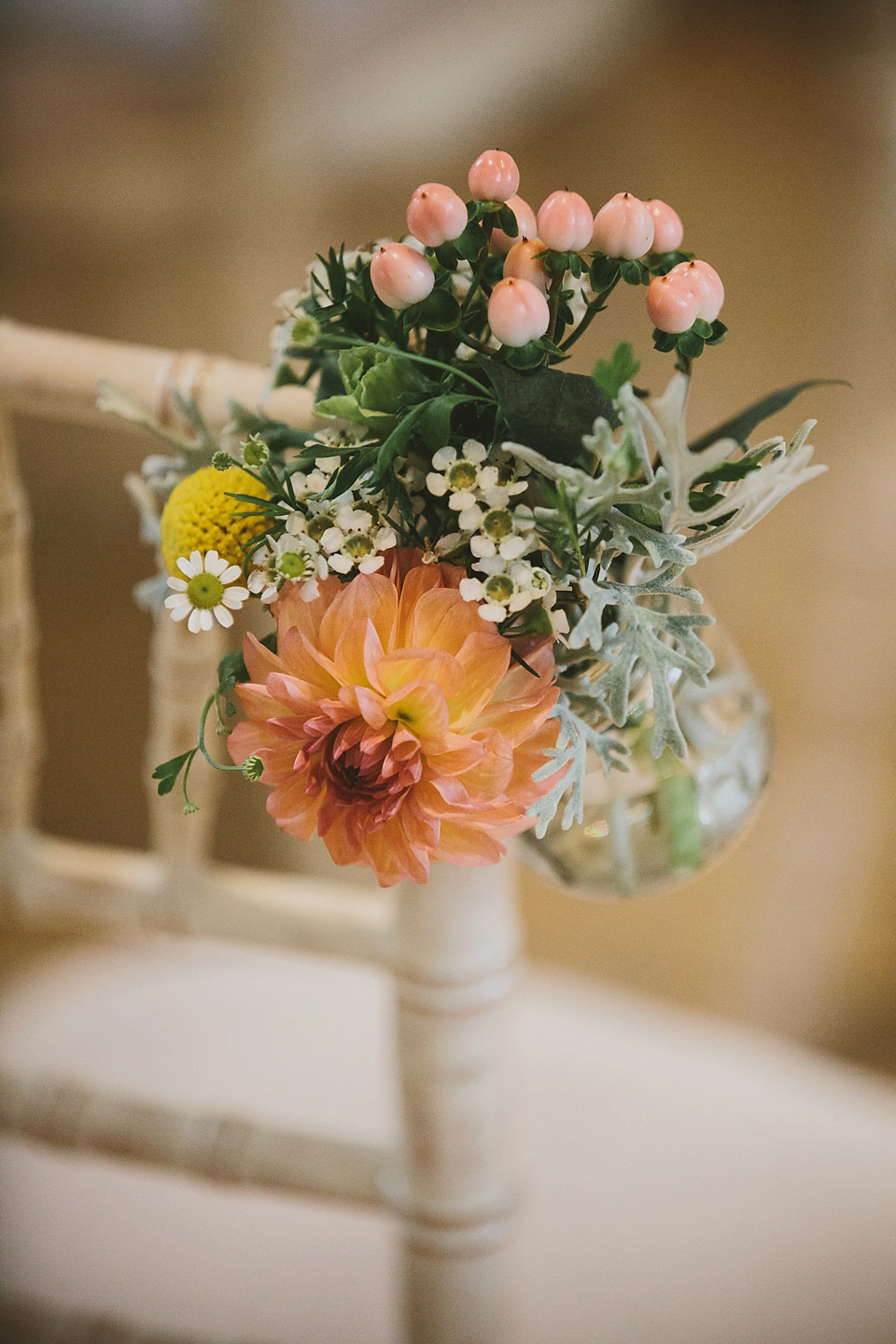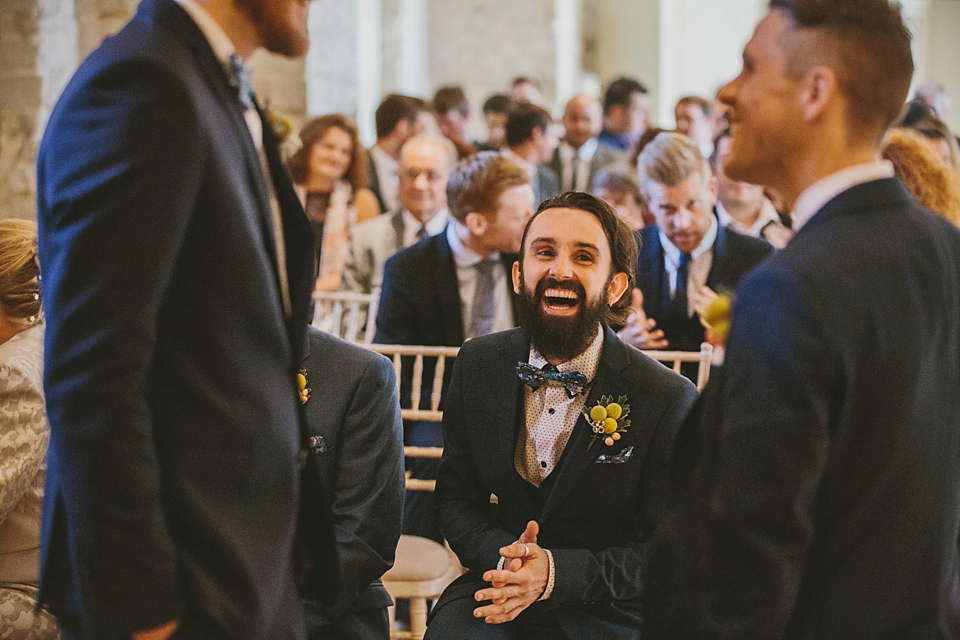 Our bride treated herself to a fabulous pair of glittery Christian Louboutin's for the occasion and her scent was Philosykos by Diptyque, a present from her team at work.
"I justified splashing out on a pair of Christian Louboutin's by telling myself they were the only thing I would get a lot of wear from after the wedding. They had reasonably low 10cm heels so were pretty comfy but still elegant. For anyone thinking about glittery shoes, make sure you try them with your dress and make sure they don't catch. My mum and I spent a few evenings in the days running up to the wedding coating them with layers of clear sealant to smooth them – it was definitely a stress I could've done without!"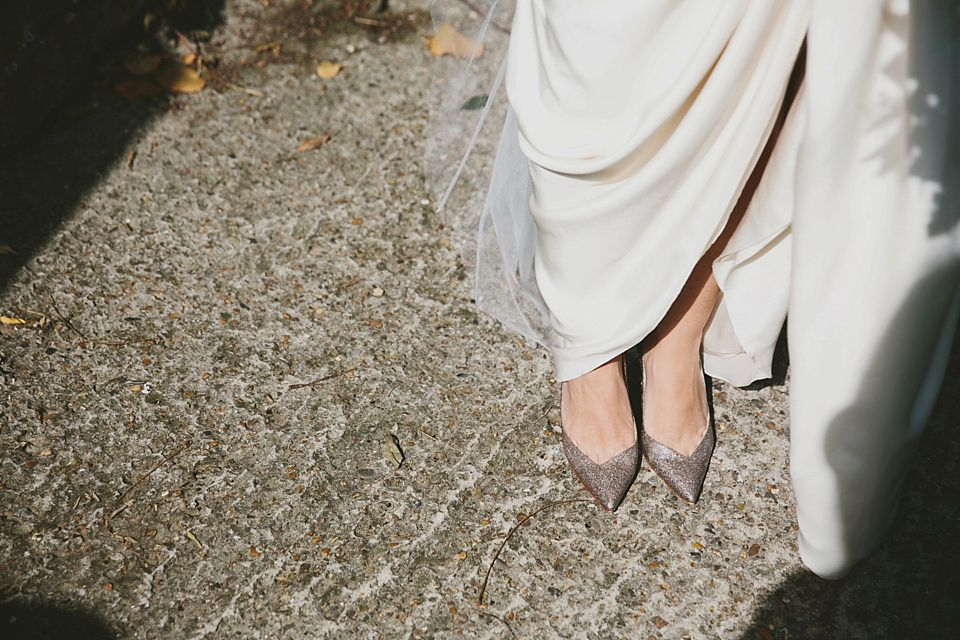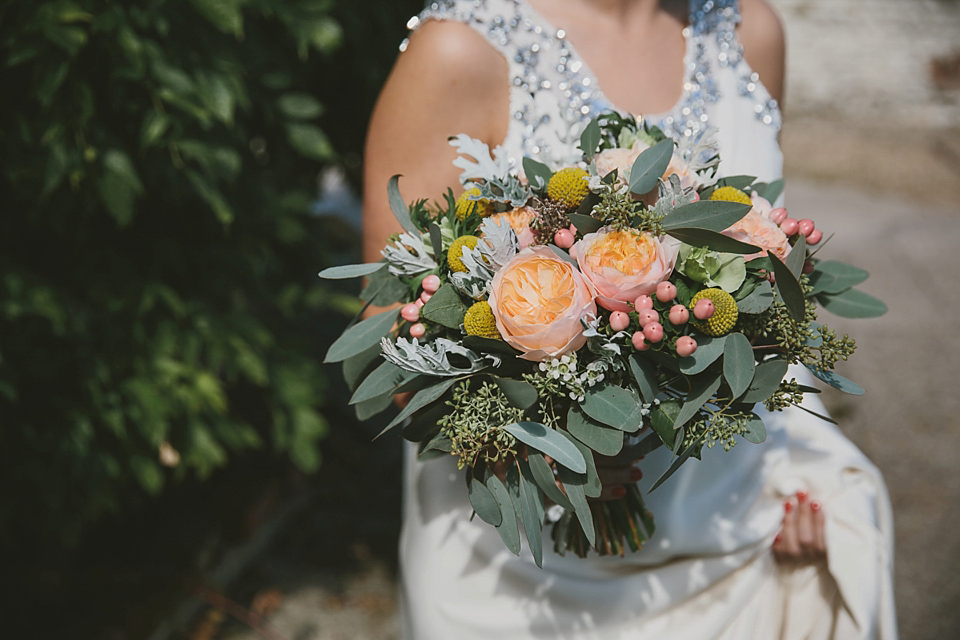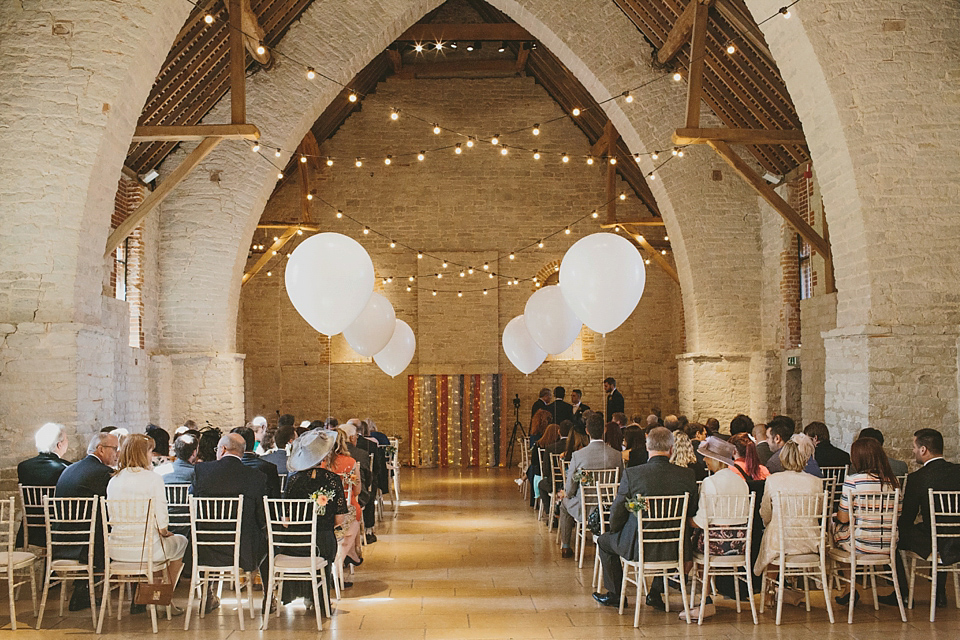 Charlotte and Rik said 'I do' in front of a beautiful backdrop crafted by the bride, using  Liberty fabric gifted to her from her team at work.
"My lovely dad walked me down the aisle to 'Moonlight Serenade' by Glenn Miller. It was my late grandma's favourite song and is also a favourite of Rik's. It made me feel like my grandparents were there with me and I couldn't have walked down to anything else."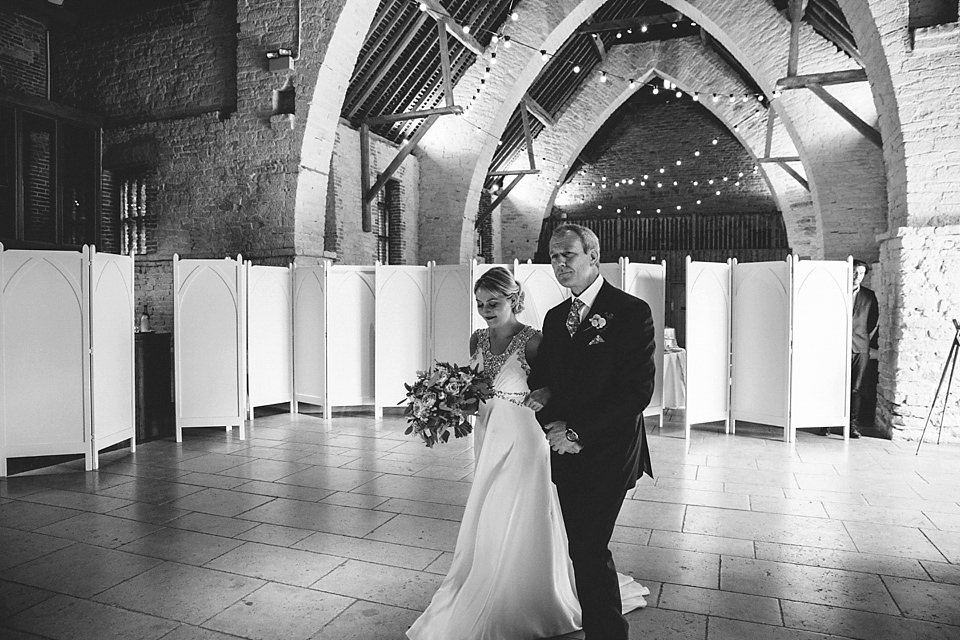 Our couple opted for two two humorous readings: 'Yes, I'll marry you my dear' by Pam Ayres and 'A Lovely Love Story' by Edward Monkton.
"We wanted the readings to represent our personalities and add to the personal feeling of the day. One was 'Yes, I'll marry you, my dear' by Pam Ayres, read by my cousins Laura and Claire. It's quite a funny reading and we thought the words were quite relevant to us (although I don't know what that says about me!)"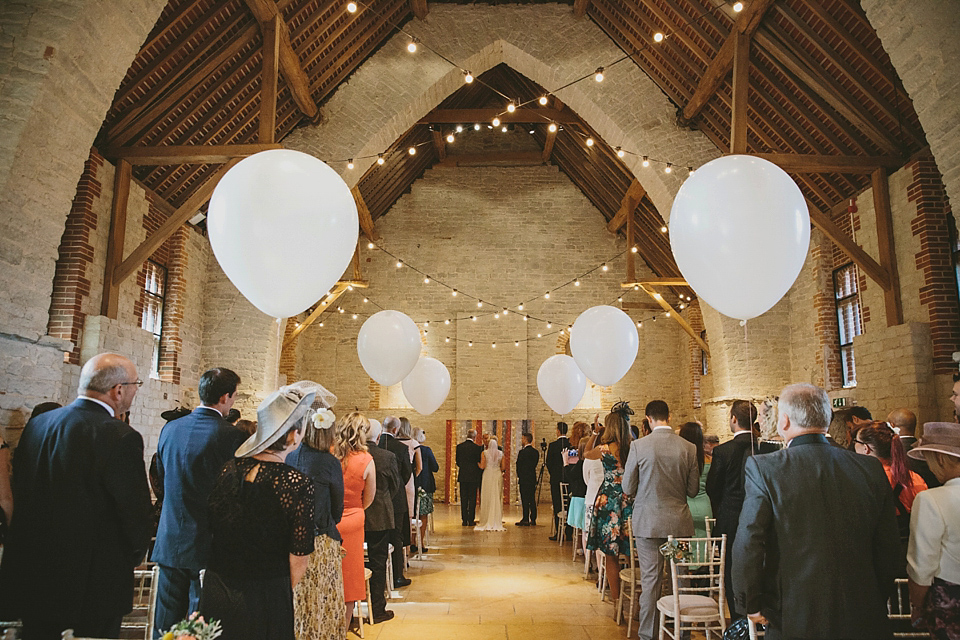 "The second was 'A Lovely Love Story' by Edward Monkton, read by one of our closest friends Cefin. Rik is obsessed with dinosaurs and wanted to find a way to get them into the wedding in some way, so it was an ideal choice. The story behind it is also very pertinent, about two dinosaurs falling in love in spite of their differences and growing old together."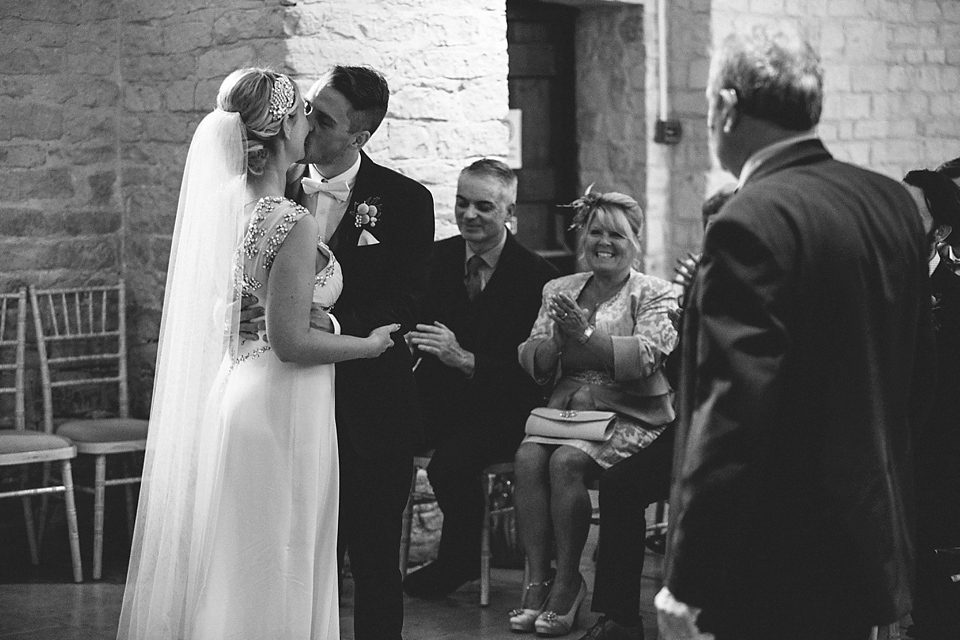 "The ceremony was our favourite part of the day. It sounds so cliché but it really felt like time stood still and I could really feel the love and support from all our friends and family."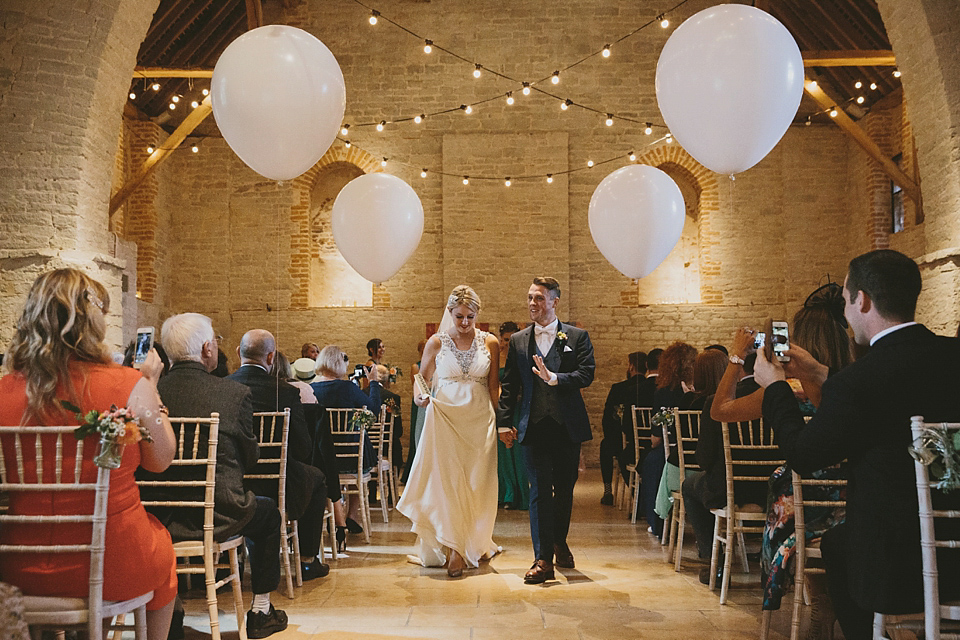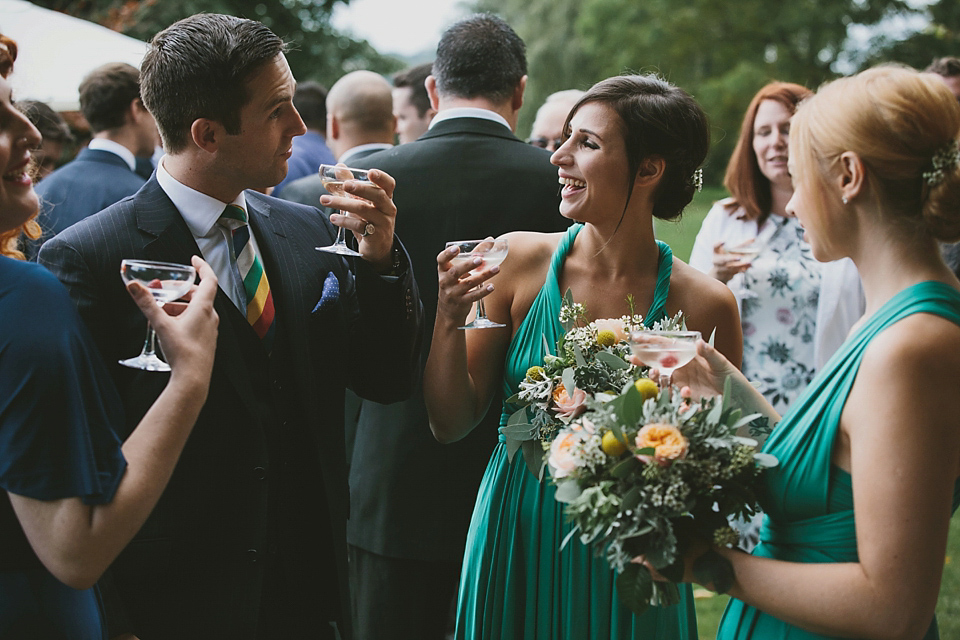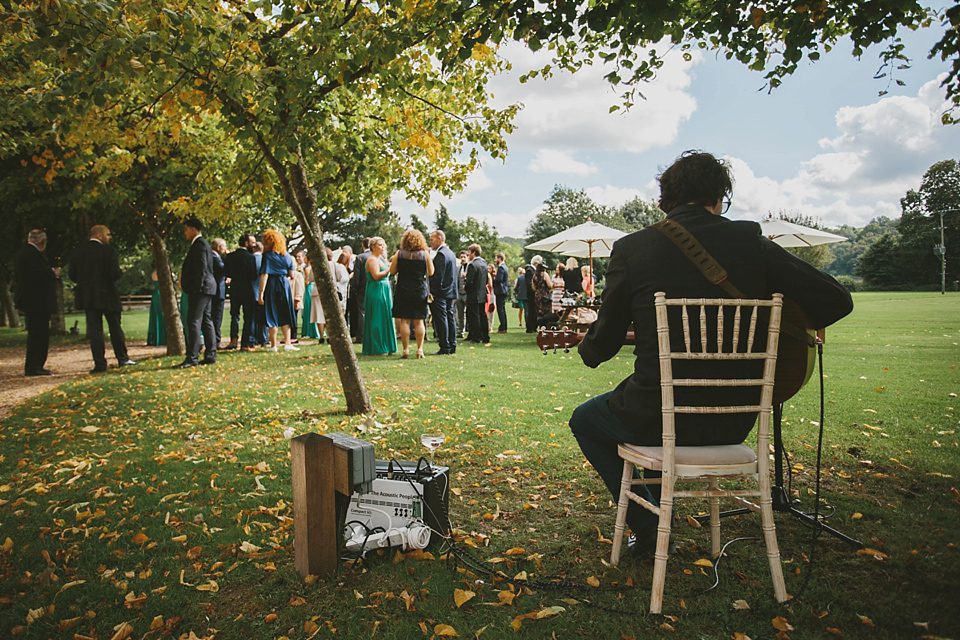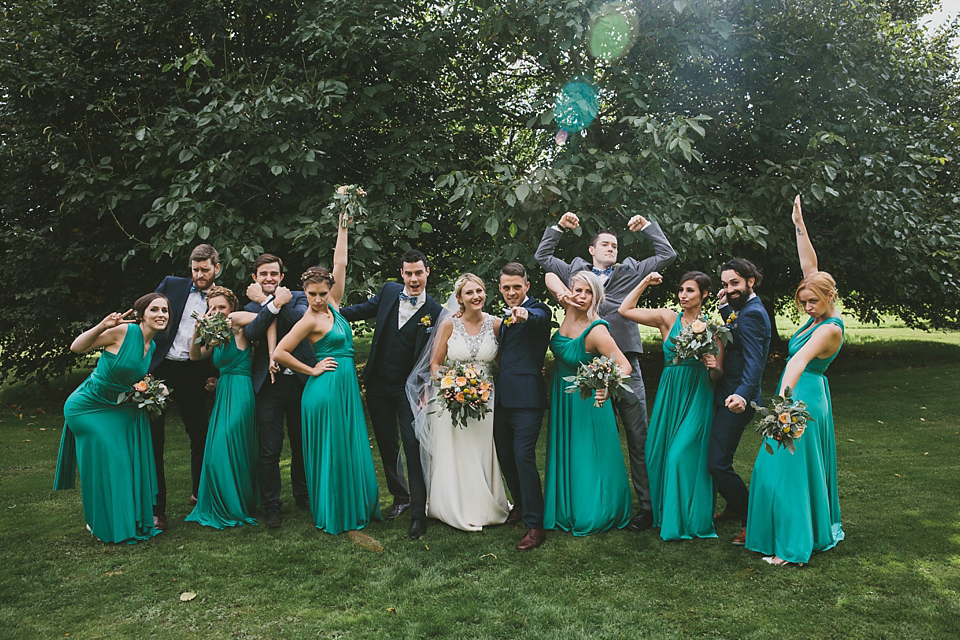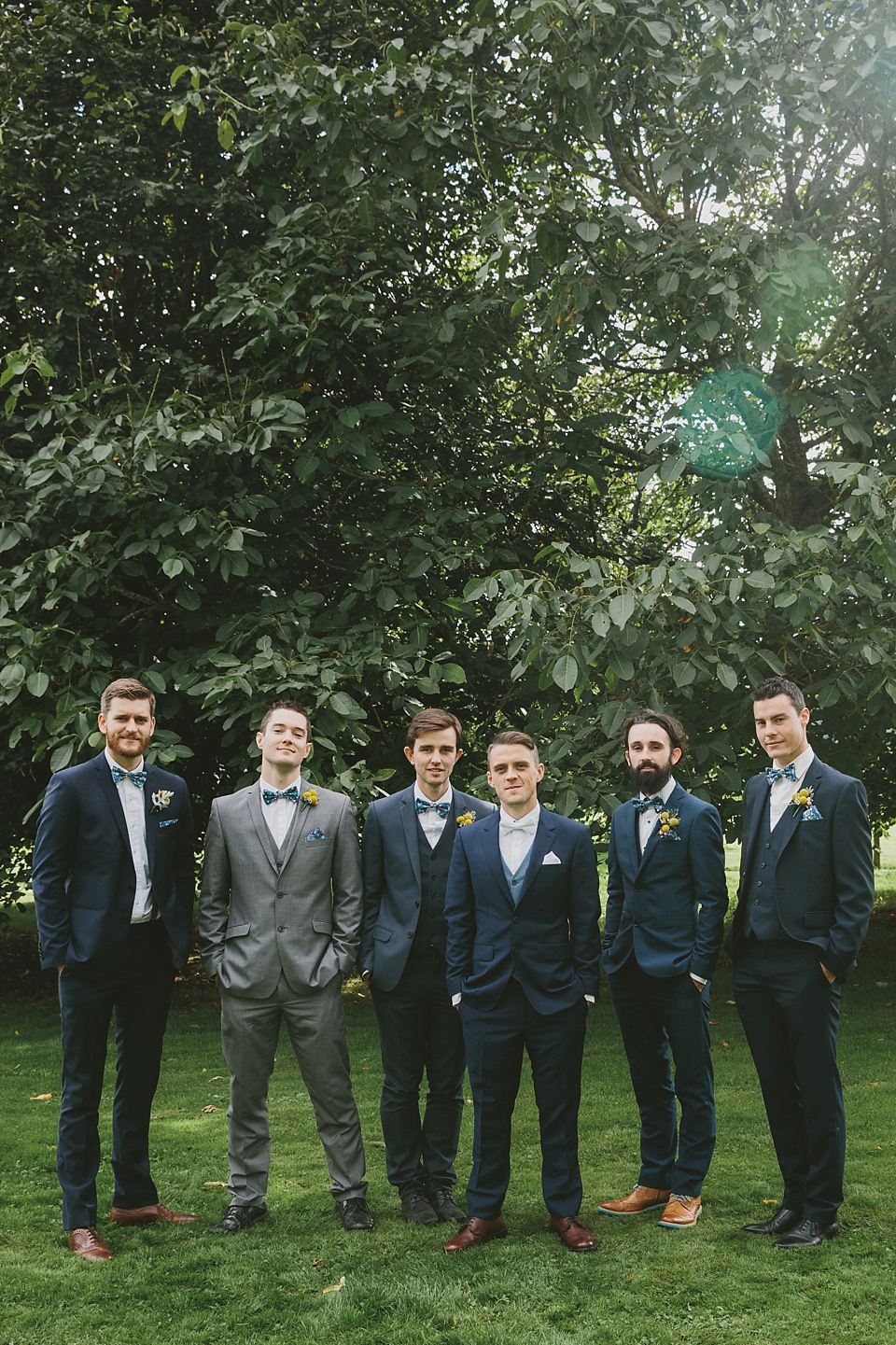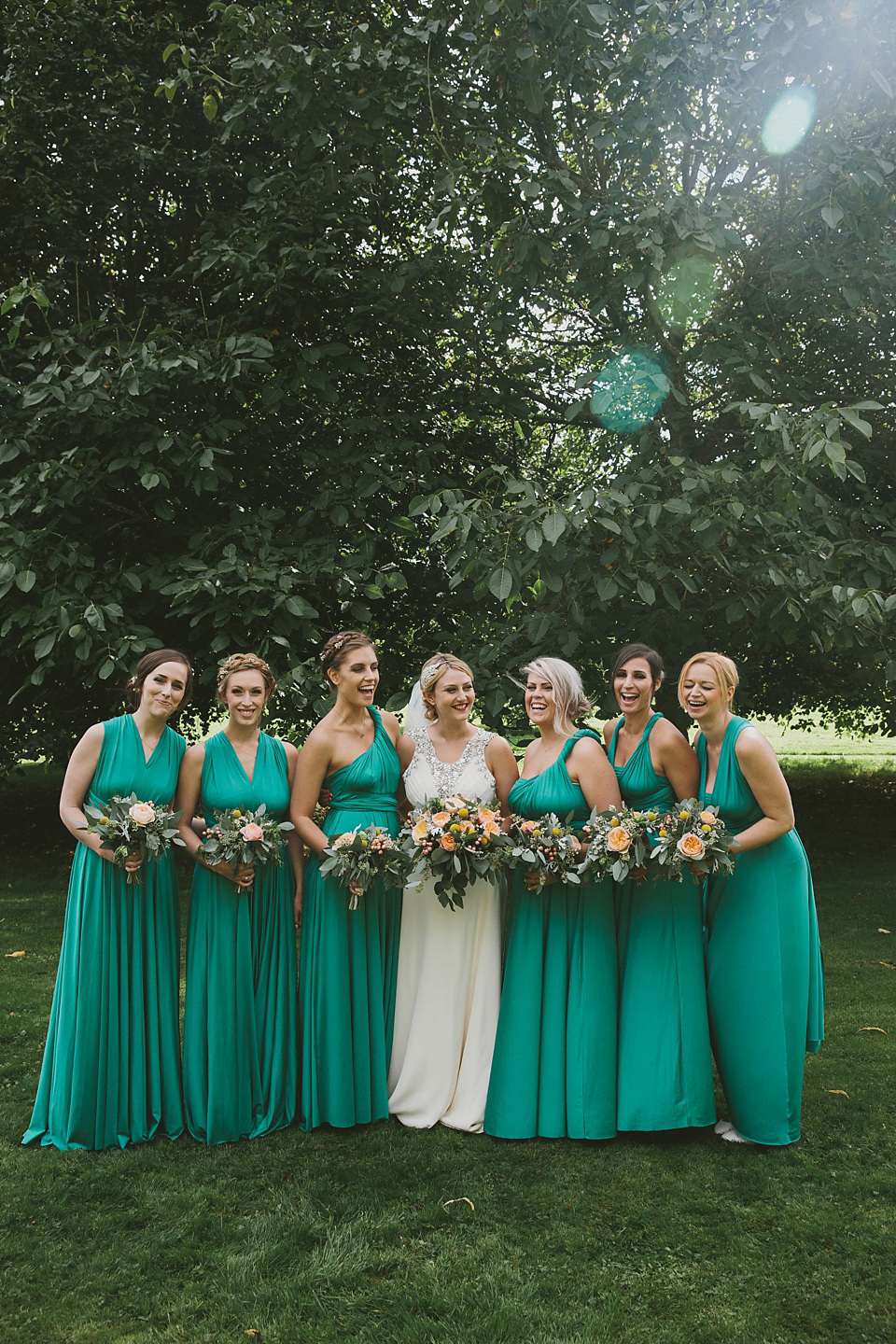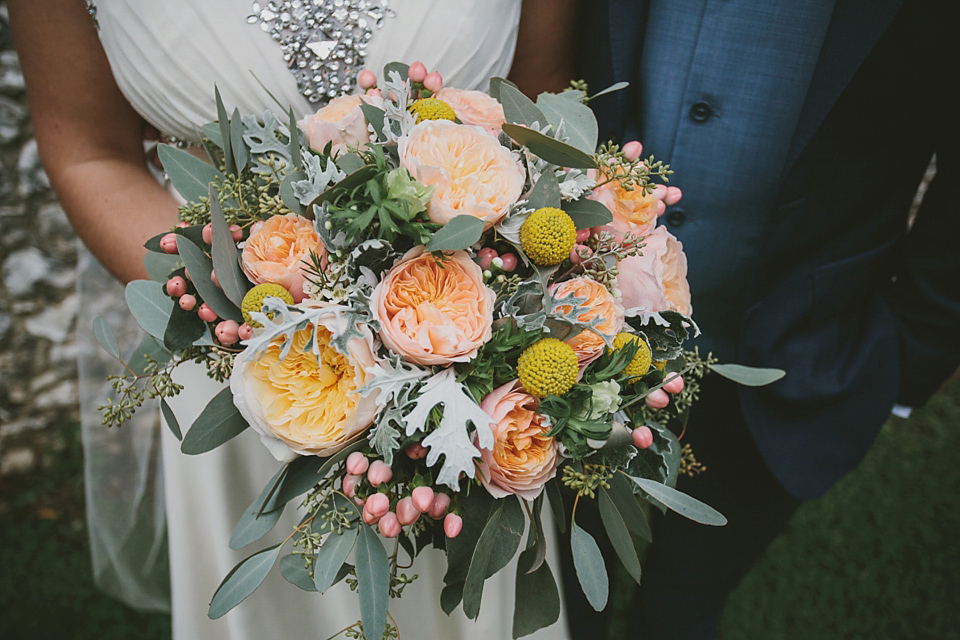 Rik pulled out all the stops with a beautifully tailored Burberry suit, a custom made bow tie from Blow Ties and a Larsson and Jennings watch – a gift from his bride on the morning of the wedding.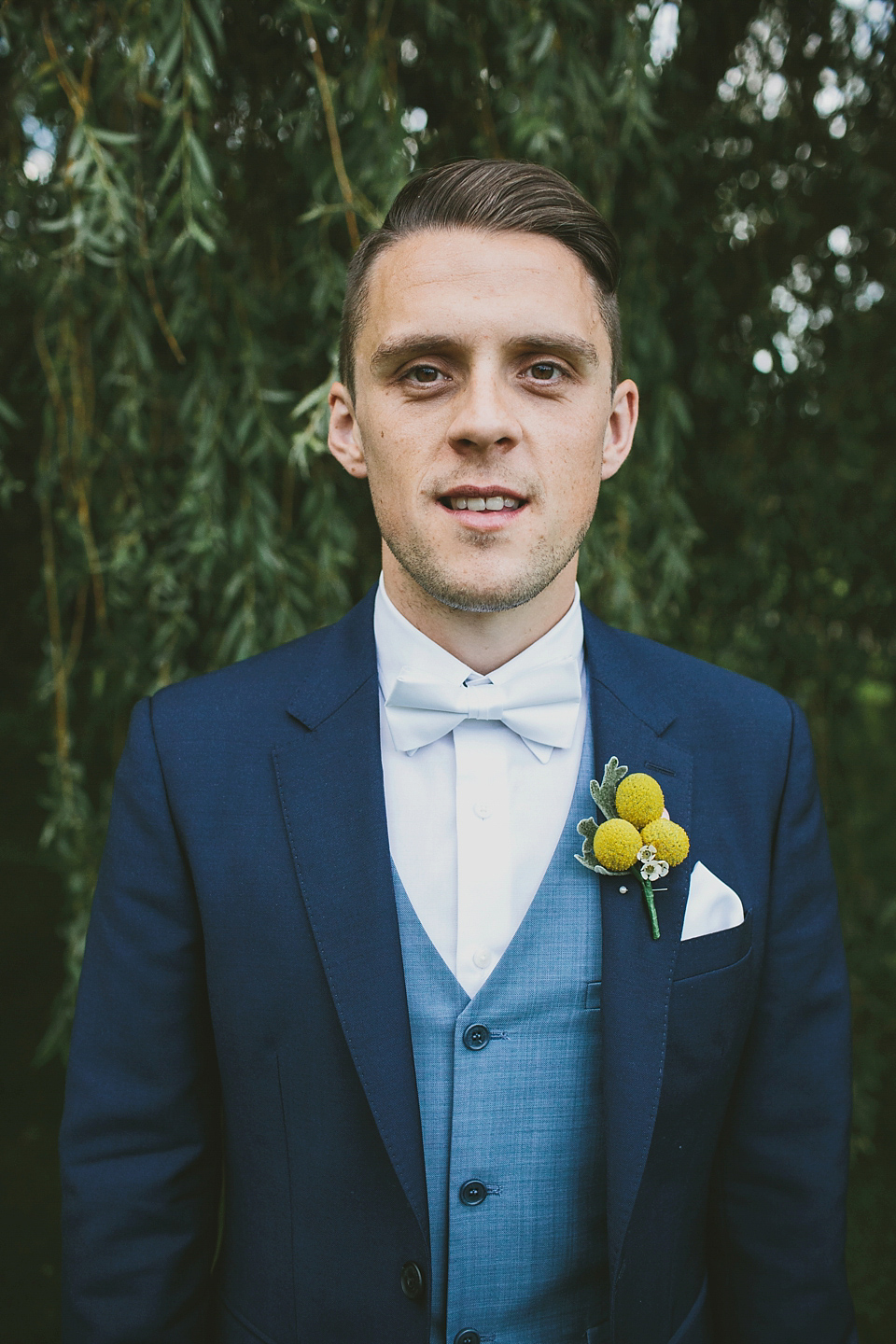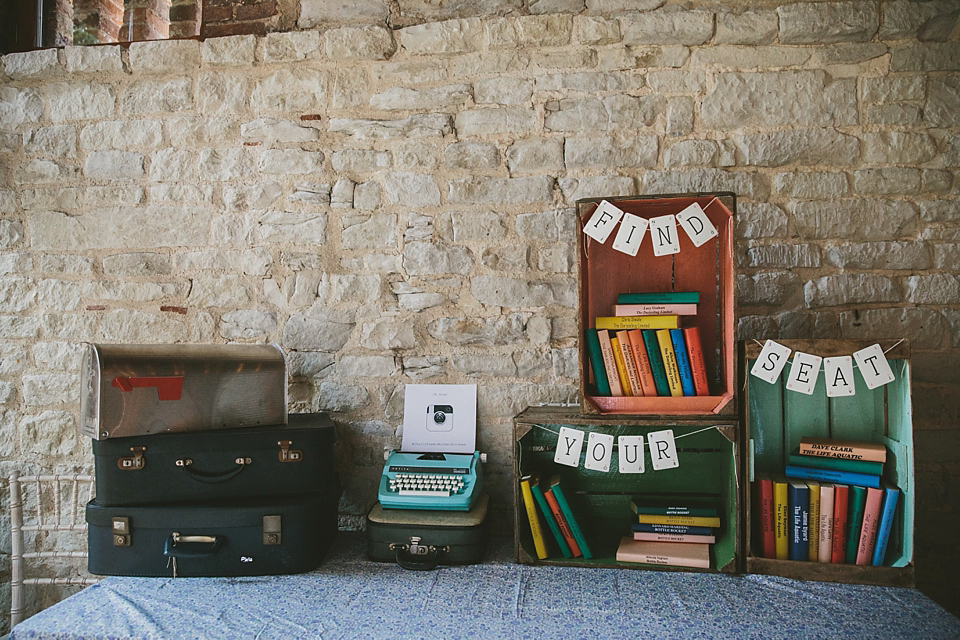 Charlotte used some of the Liberty fabric she was gifted to create table runners and used tiny toy animals for the place settings.
"We used little toy animals with luggage tags tied round the necks for the place names, as a little nod to the animal decorated luggage in The Darjeeling Limited, and lots of people kept these too although we hadn't intended these to be the favours!"
"Our caterers, Tourelle Cuisine, were absolutely amazing, Tom even came all the way up to our flat in London to do a tasting for us, and the food was outstanding. So many of our guests have said it was the best food they've ever had at a wedding and I absolutely agree!"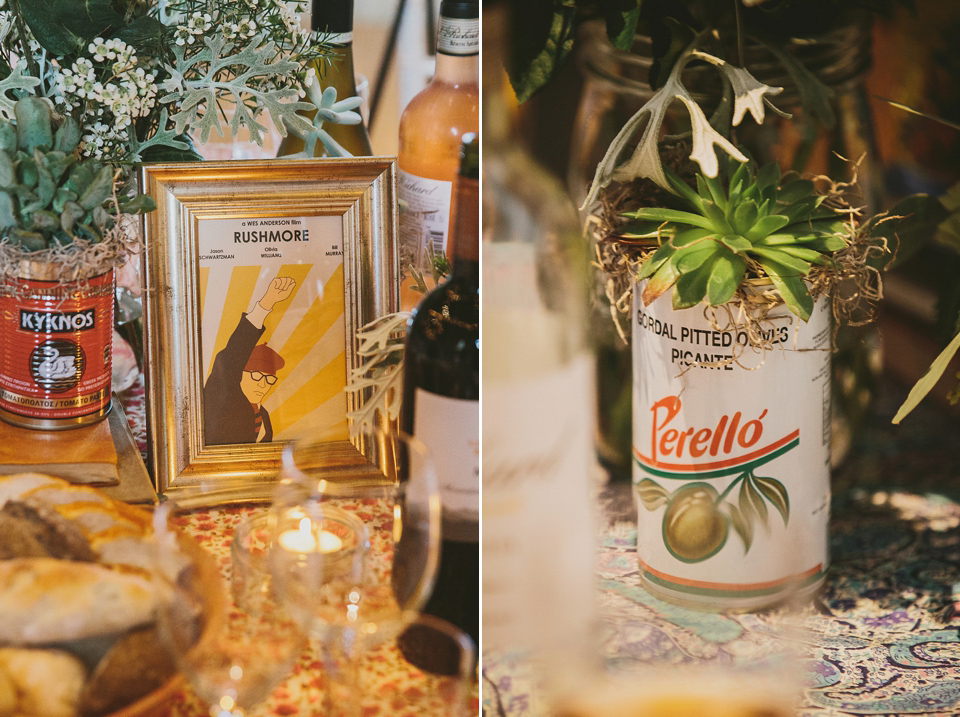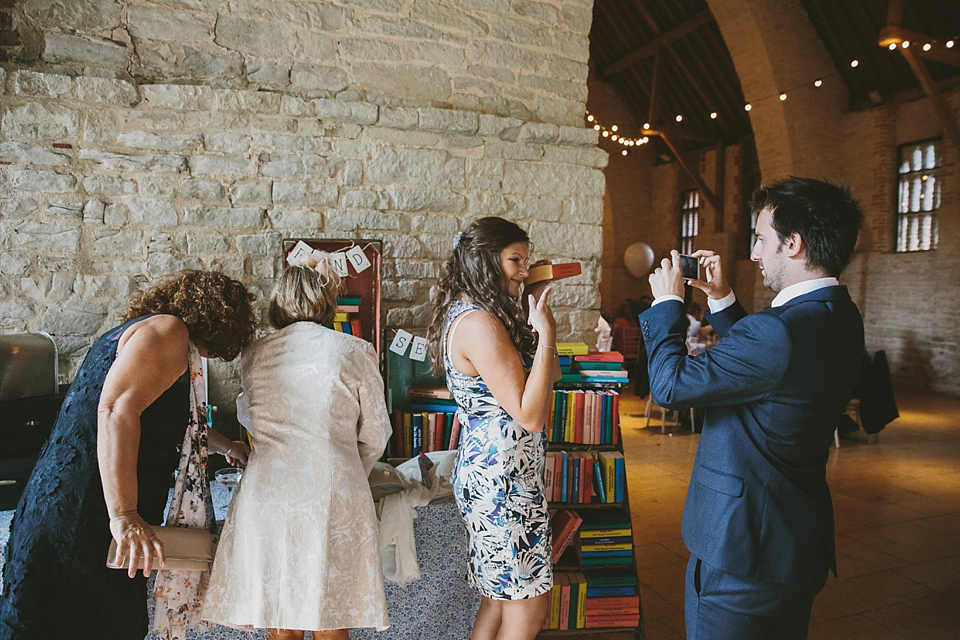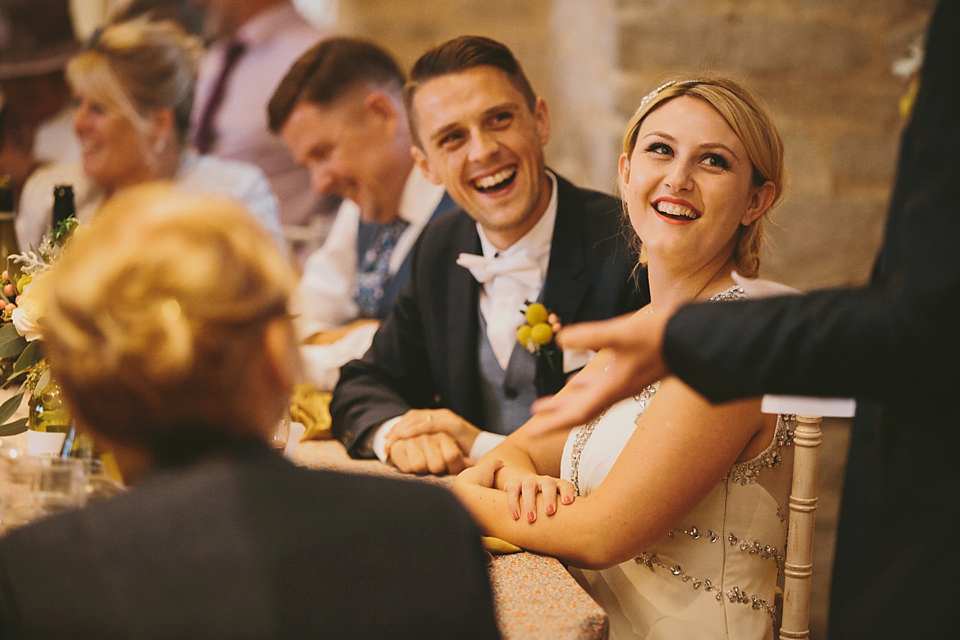 To make the most of the barn's high ceilings, Rik and Charlotte illuminated the space with meters of festoon lighting and a whimsical light box.
"My dad made us an amazing lightbox which was another little Wes Anderson-esque detail."
"Our table plan was a bit of a labour of love. I had the idea to do a book shelf type table plan and re-covered 90 books with everyone's name on them. It did look really striking on the day but I did kick myself several times the week before for doing something that was so ambitious..."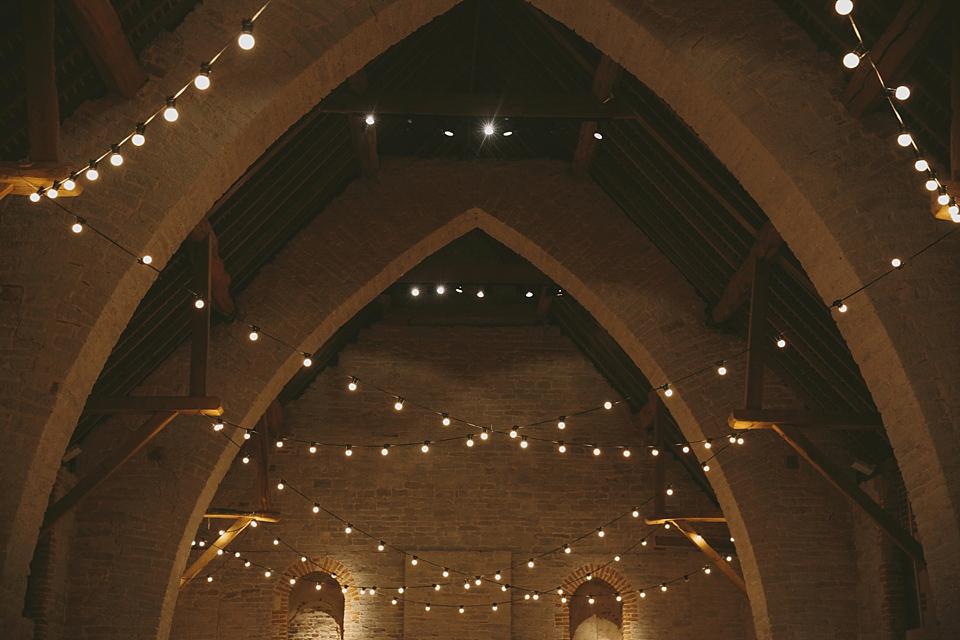 "Instead of favours we put the money into a photo booth that everyone could enjoy all evening."
Our crafty couple created the top tier of their wedding cake together, with Charlotte's mum creating two tiers of red velvet. Yum!
"Rik and I made the top tier of the cake together, a rum-soaked fruitcake, and my talented mum made the main red velvet cake and iced and decorated the whole thing."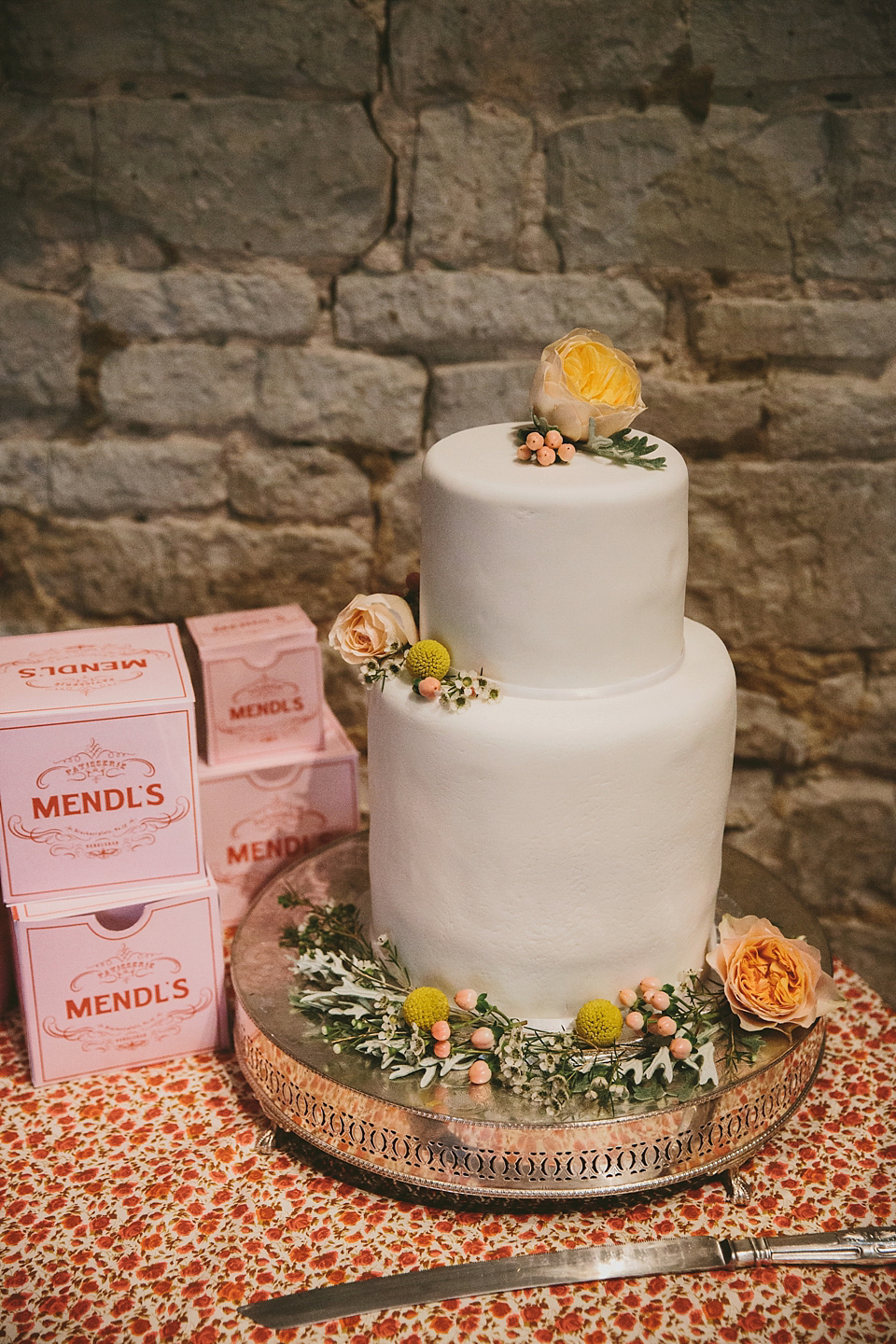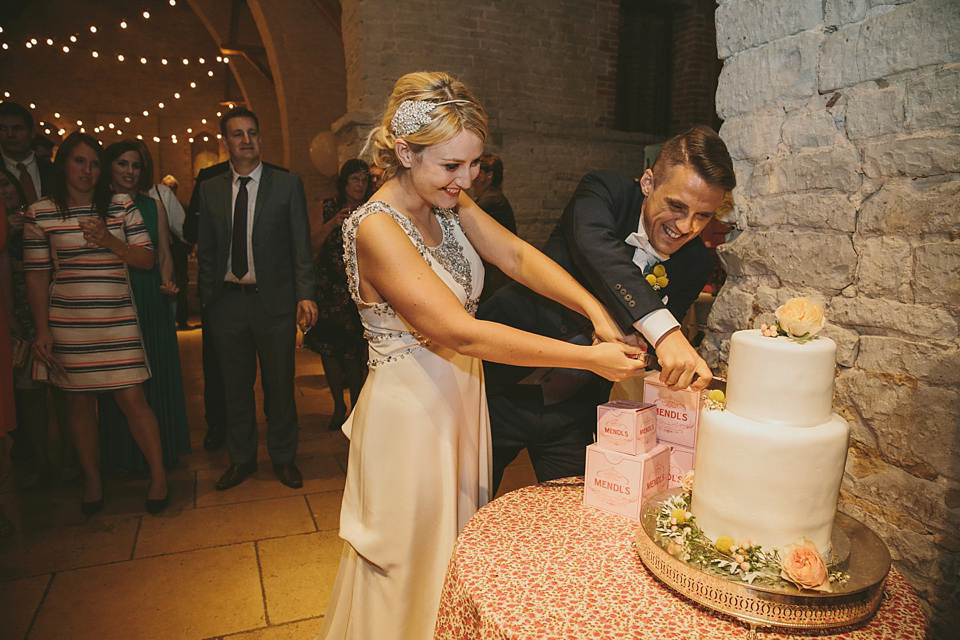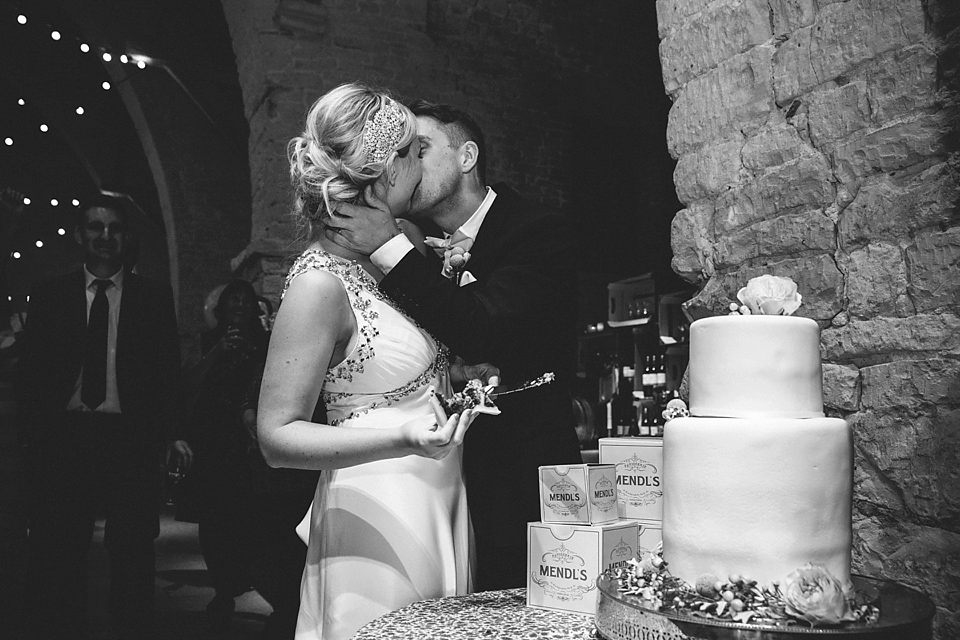 Rik and Charlotte's musical entertainment was provided by Tony Bowen and his band Kingtastic and the couple chose 'River' by Leon Bridges as their first dance.
"Most Thursdays we can be found in our local, where singer – songwriter Tony Bowen plays. His music is always the highlight of the evening so it made sense to book him to play at our wedding. He played acoustic guitar for us during the day and his band Kingtastic joined him in the evening. They kept the dancefloor packed all night and were amazing!"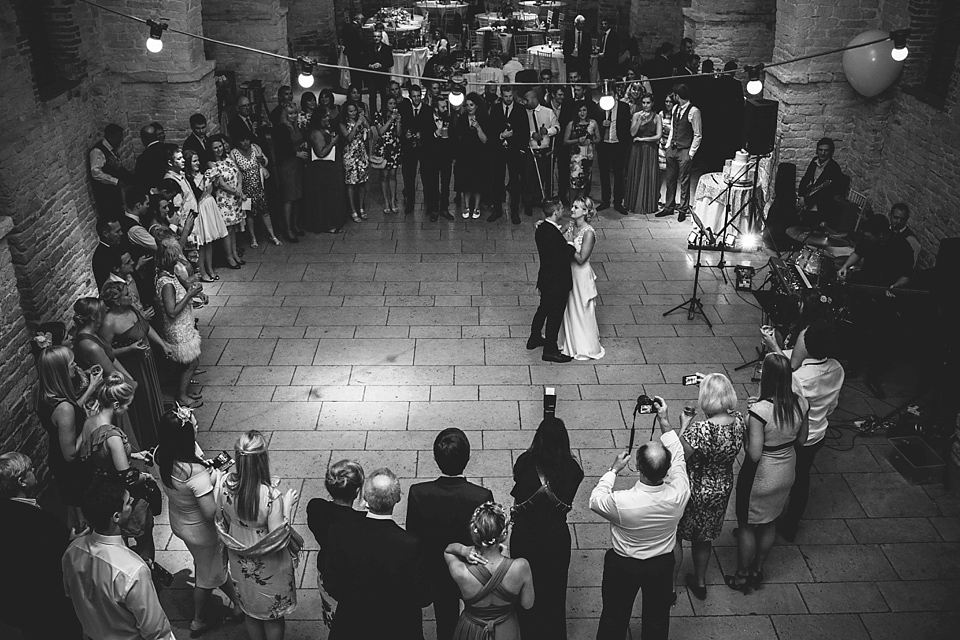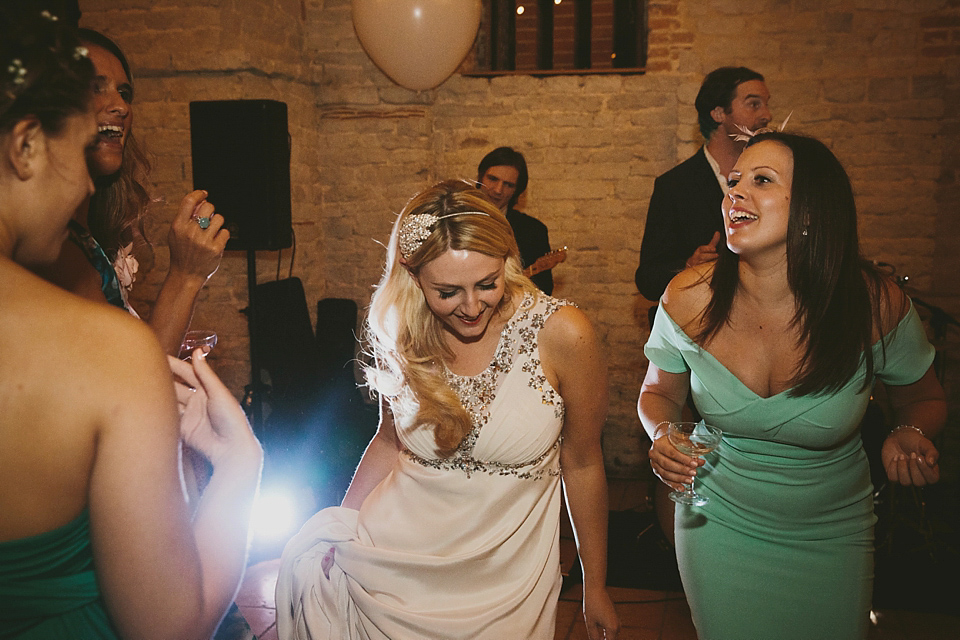 Words of Wedded Wisdom
"Remember to be true to who you are and don't make any snap decision- you'll only regret them in the long run. Lots of details and parts of our wedding were bright and graphic and funny, and not very traditional or what's normally thought of as 'wedding-y'. I think it's more important to listen to your gut and put your own personal stamp on your big day rather than to fit a mould of what people might think a wedding should look like.
Definitely get a wedding video if you can afford it, you won't regret it. I managed to scrape together some money for it about a month before the wedding and I'm so glad I did."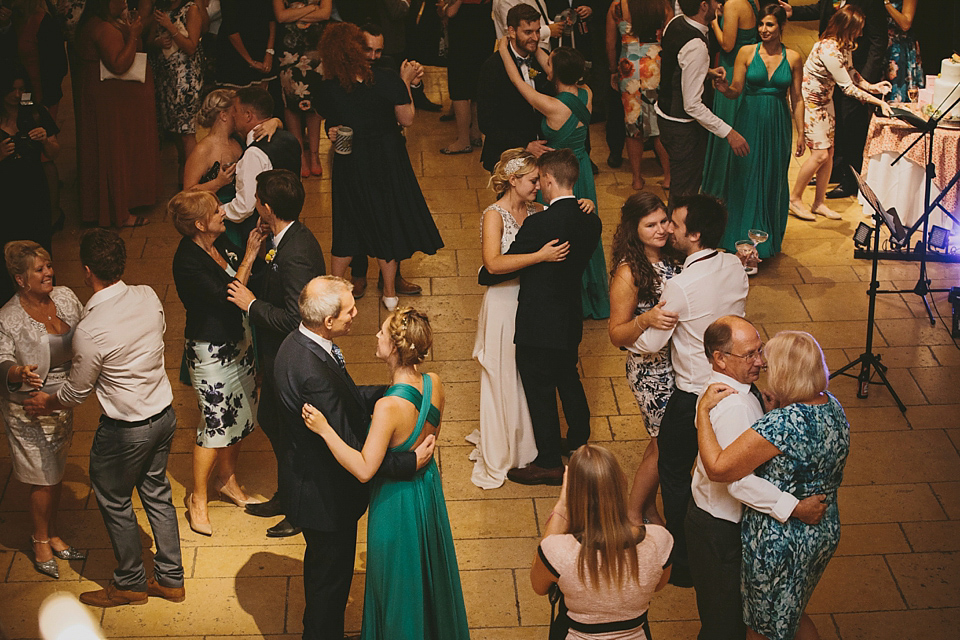 Huge congratulations to you both and thank you so much Charlotte for sharing both the run up to your wedding, as well as the details of the big day itself. If you'd like to read more about Charlotte's wedding planning journey, please click here. To see other lovely weddings captured by the wonderful duo behind McKinley – Rodgers Photography, take a peek at this link.
Have a great rest of your week!
Annora x
Photographer – McKinley – Rodgers Photography
Film – Story Catchers Wedding Films
Venue – The Tithe Barn in Petersfield, Hampshire
Wedding Dress – 'Muscari' by Jenny Packham, purchased from White Mischief Bridal Henfield, Sussex
Veil – Wedding Veils Direct
Headpiece – 'Stellina III' by Jenny Packham
Shoes – Christian Louboutin
Bride's Scent –  Philosykos by Diptyque
Groom – Burberry suit + custom made bow tie from Blow Ties + Larsson and Jennings watch
Bridesmaids – Etsy dresses
Florist – Bethan at Farmyard Flowers
Cake – Created by the couple and the mother of the bride
Transport – Father of the bride's Jaguar
Entertainment – Singer/songwriter Tony Bowen and his band Kingtastic
Rings – Number Ten Jewellers,  Brighton
Catering – Tourelle Cuisine
Stationery – Designed by a friend of the couple and printed by Solopress
Hair & Makeup Artist – Amanda from Lipstick and Curls