This wedding is beautifully elegant, from the breathtaking Caroline Castigliano gown to the exceptional country house setting. PR workers Joanne and David tied the knot at St. Vincent's Church in Altrincham on the 3rd of October 2015. The church has special significance for Jo – she attended mass there growing up.  Colshaw Hall hosted their 'Modern English' reception, with nods to Jo's Polish heritage (a bread and salt goodwill greeting and a vodka toast), their Manchester upbringing and their life in London, all to the sound of great music and the fabulous Lawson Photography were on hand to capture this most gorgeous wedding.
Joanna found her spectacular Caroline Castigliano gown from Agapé Bridal Boutique – one of our favourite boutiques in the UK – you'll find their listing in our wedding directory, Little Book For Brides here.
"I imagined myself in something slinkier but as I am quite petite and we were getting married in a church, I could afford to have a bit of volume to my dress and make a bit of a dramatic entrance! In the end I felt like Hepburn was perfect for me and my style – classic with a touch of drama."
Find Caroline Castigliano in Little Book For Brides
Follow Caroline Castigliano on Instagram
Photography by Lawson Photography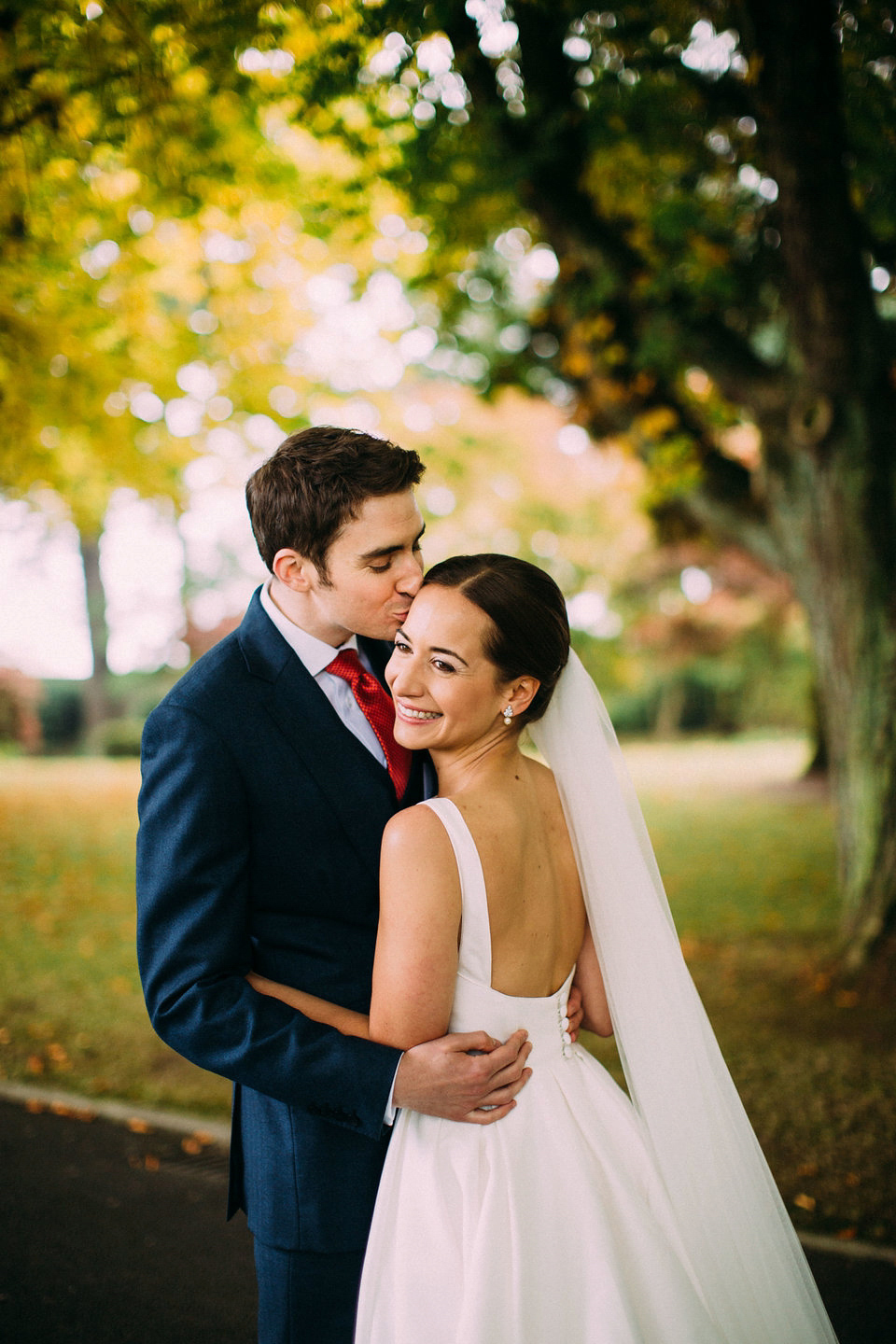 "We had a naked cake made by Victoria Queen of Cakes with alternate layers of lemon and chocolate, decorated with figs, berries and real flowers."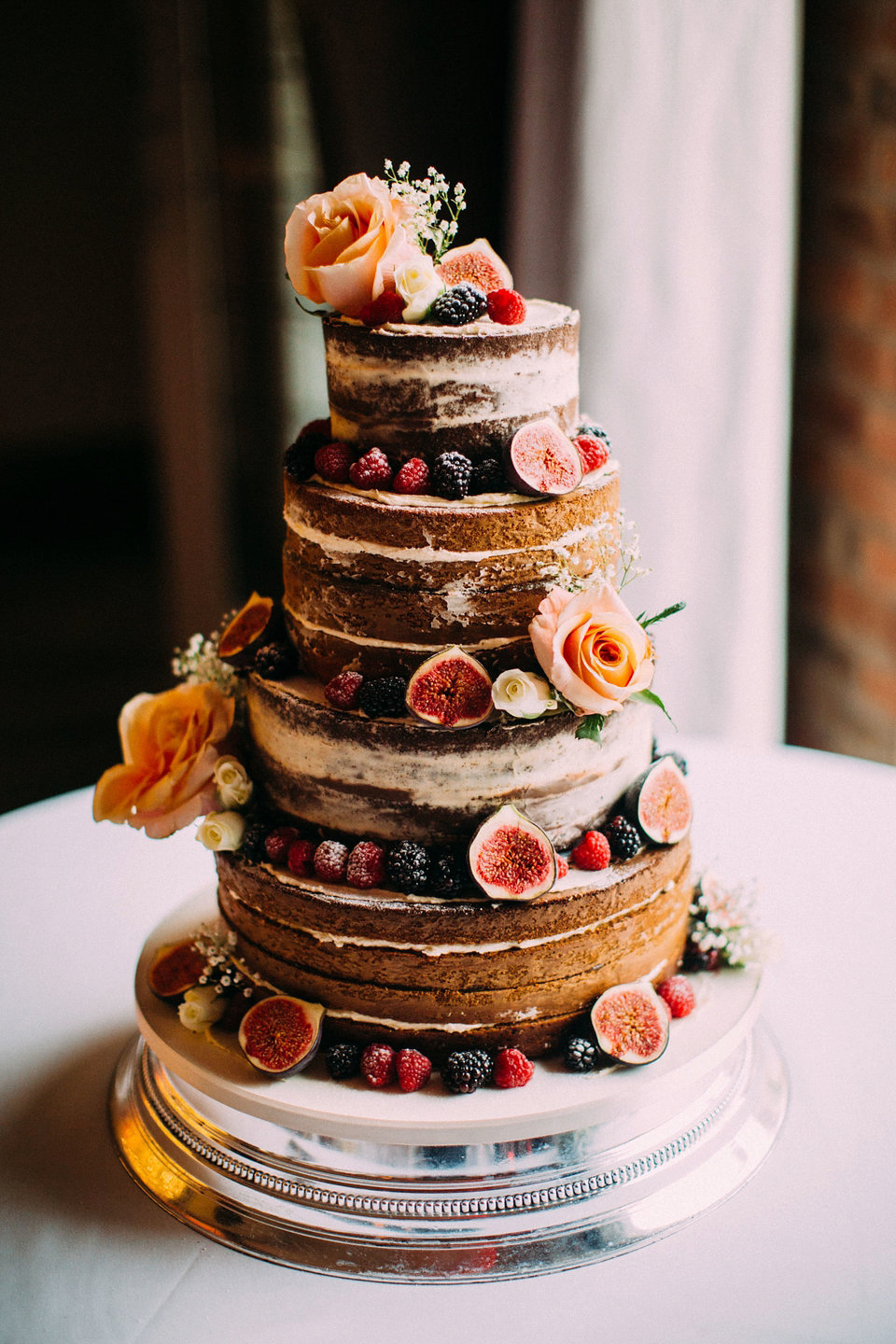 "I tried on loads of really nice dresses but as soon as I put Hepburn on, I knew it was the one, it made me cry – it also it had pockets which was a bonus."
Find Agapé Bridal Boutique in Little Book For Brides
Follow Agapé Bridal Boutique  on Instagram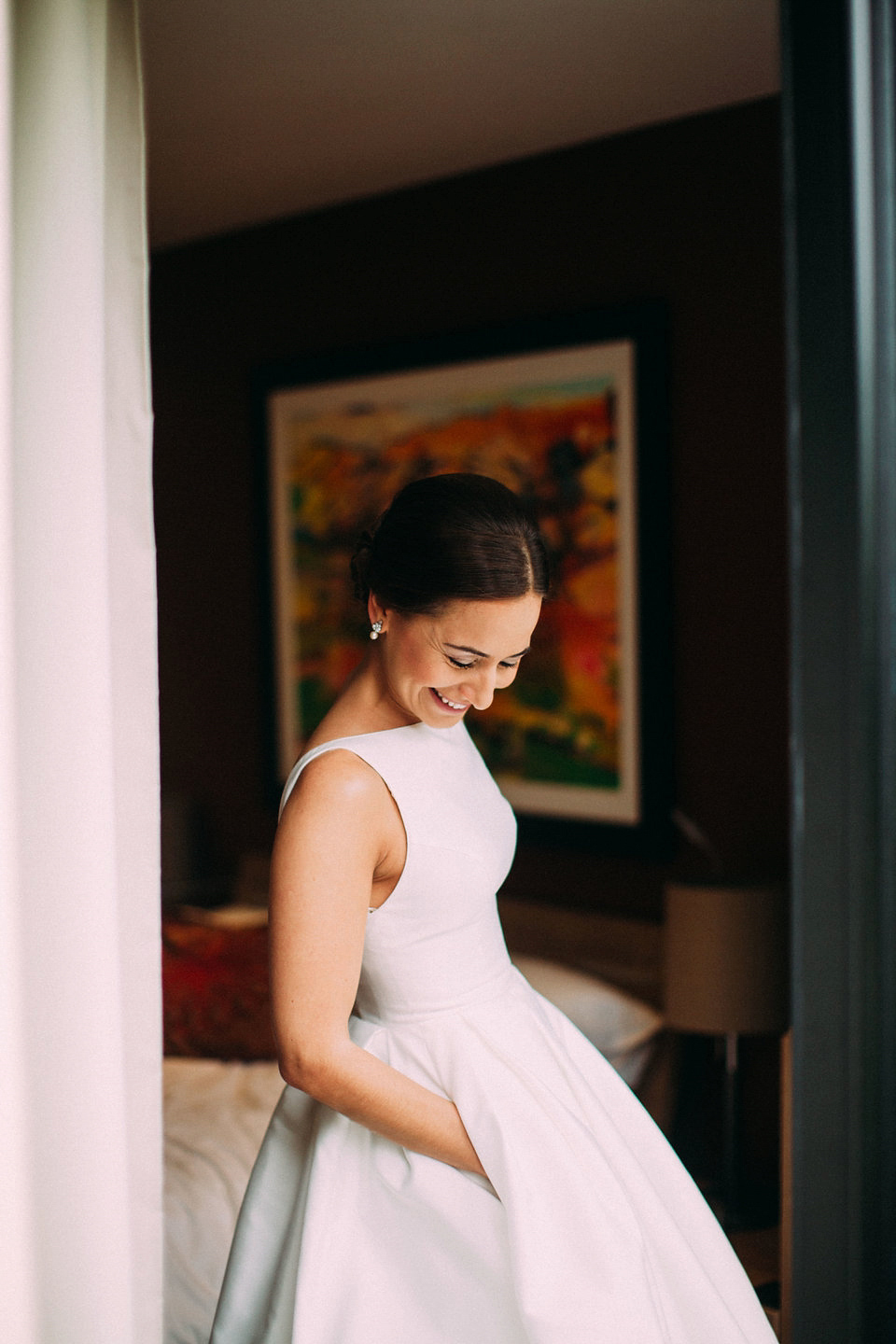 "Paisley Gamble did our hair and she was absolutely brilliant to work with, very flexible and easy-going and totally understood what we all wanted. She worked so quickly too so we were all ready in plenty of time. My friend Christina did our lovely make-up."
She added flowers to her hair when she took her veil off and bought Stephanie Browne earrings from Liberty in Love following a tip from Love My Dress.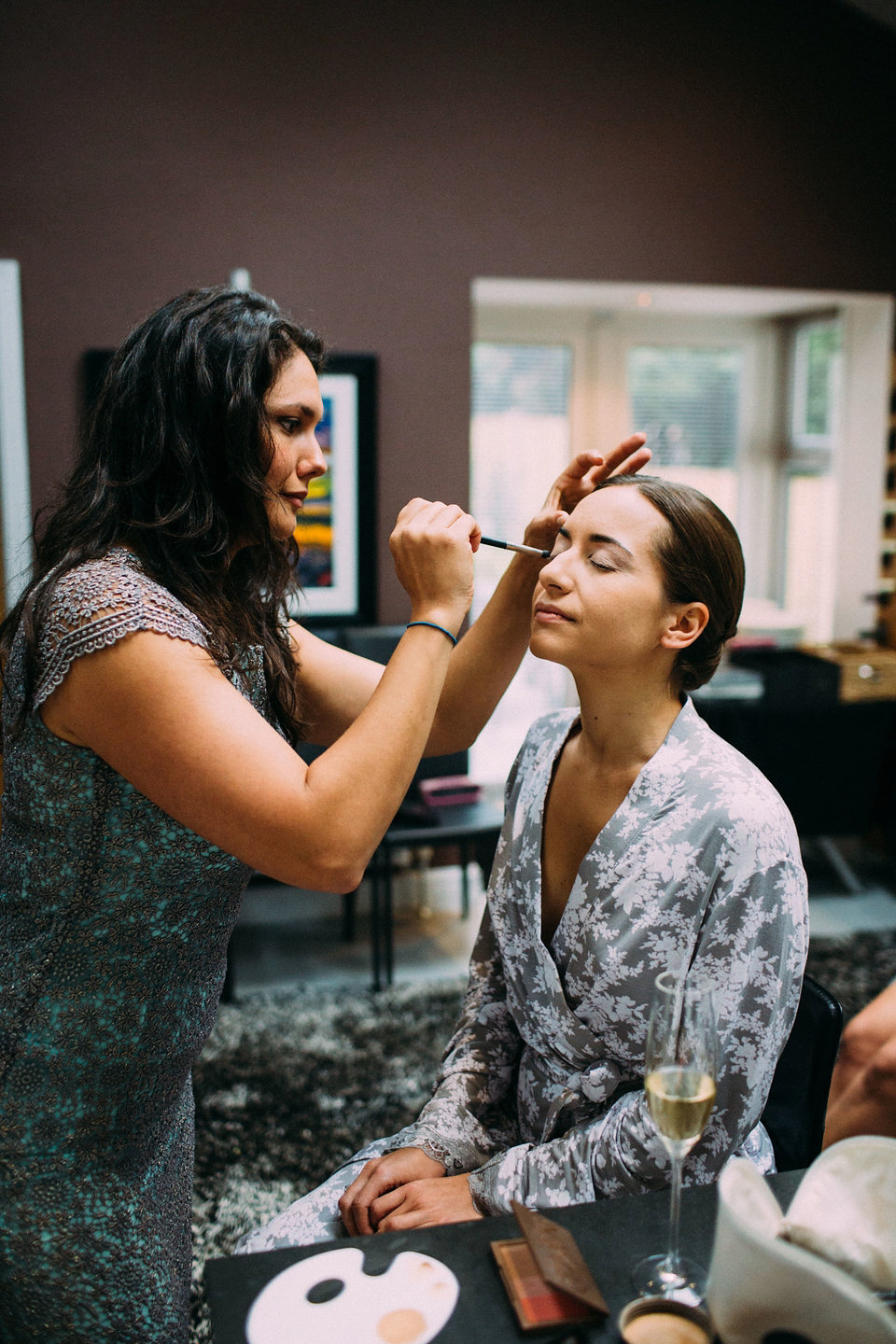 "We met when we worked together and were friends before we started dating. We got engaged on the August Bank Holiday weekend in Kew Gardens and set the date for just over a year later. I think a longer engagement would have driven us crazy! Kew now holds a special place in our hearts and we sent our 'save the date' notifications out on their vintage postcards."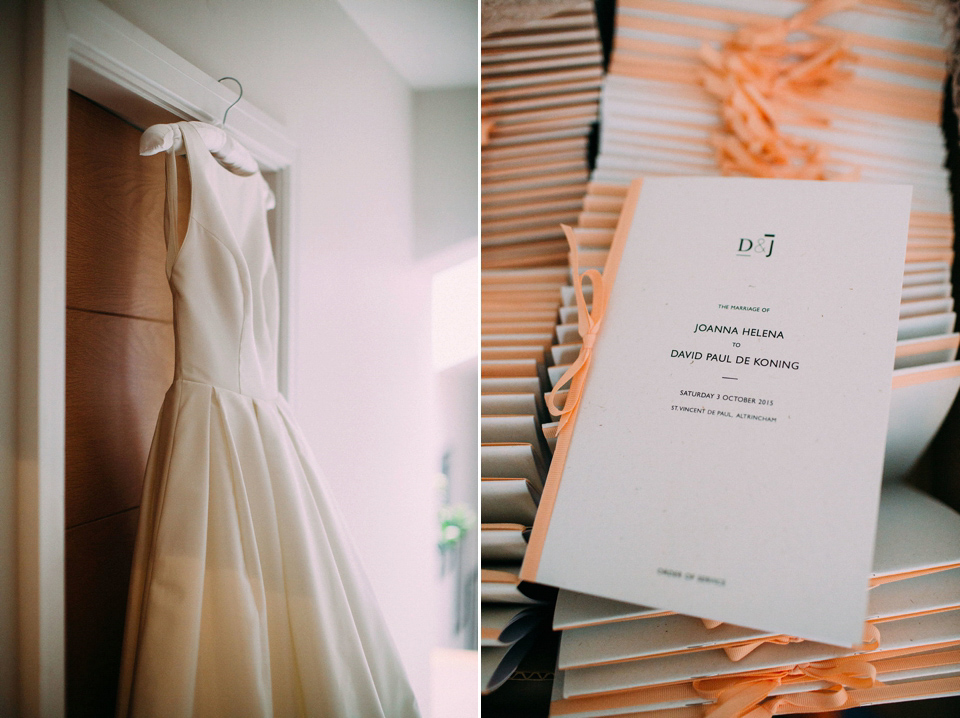 "I fell for the whole 'scent layering' sell at Jo Malone! I used wood, sea salt and sage body crème with Tuberose Angelica layered on top. The smell will always remind me of the day."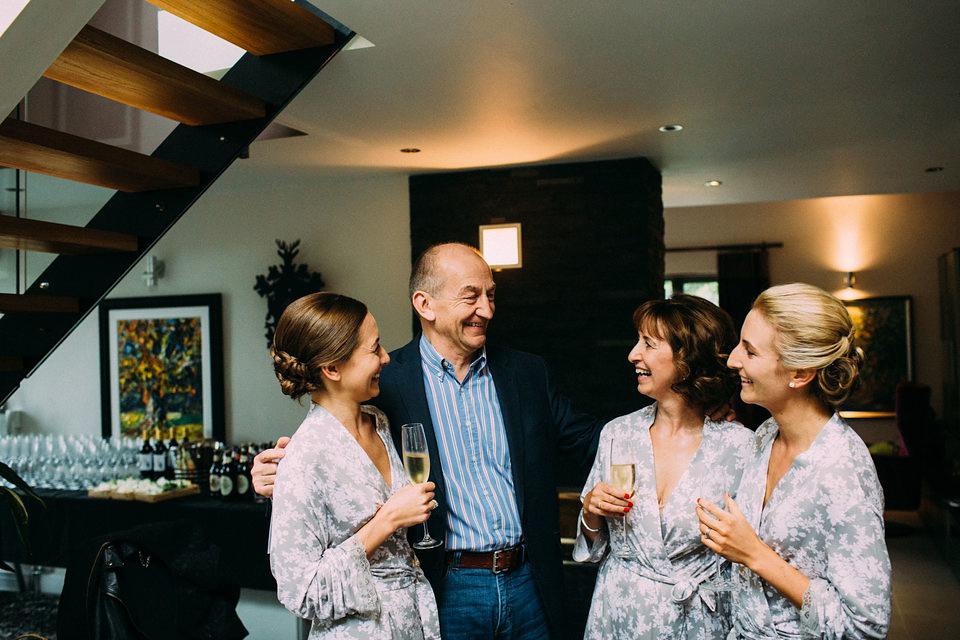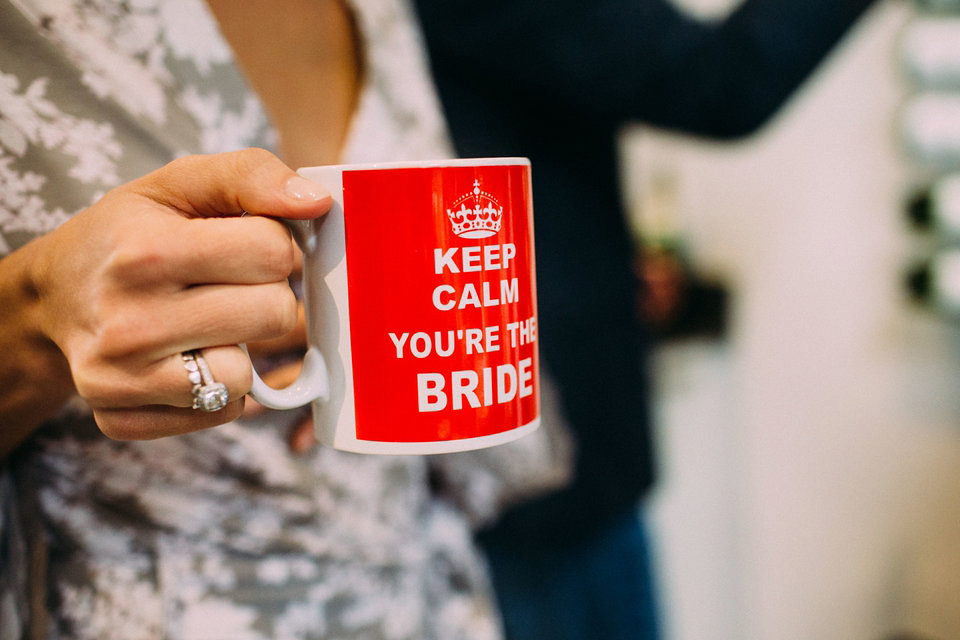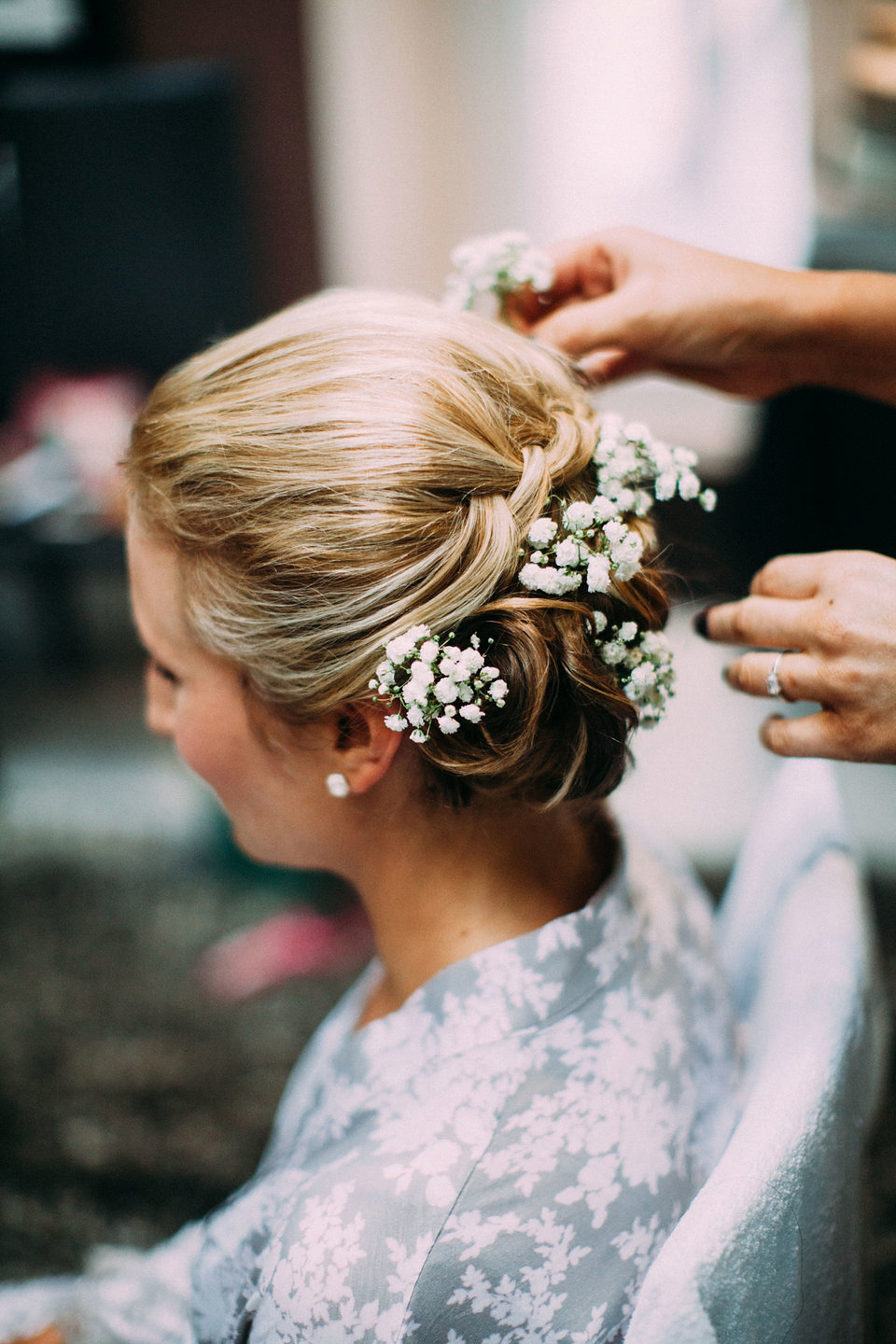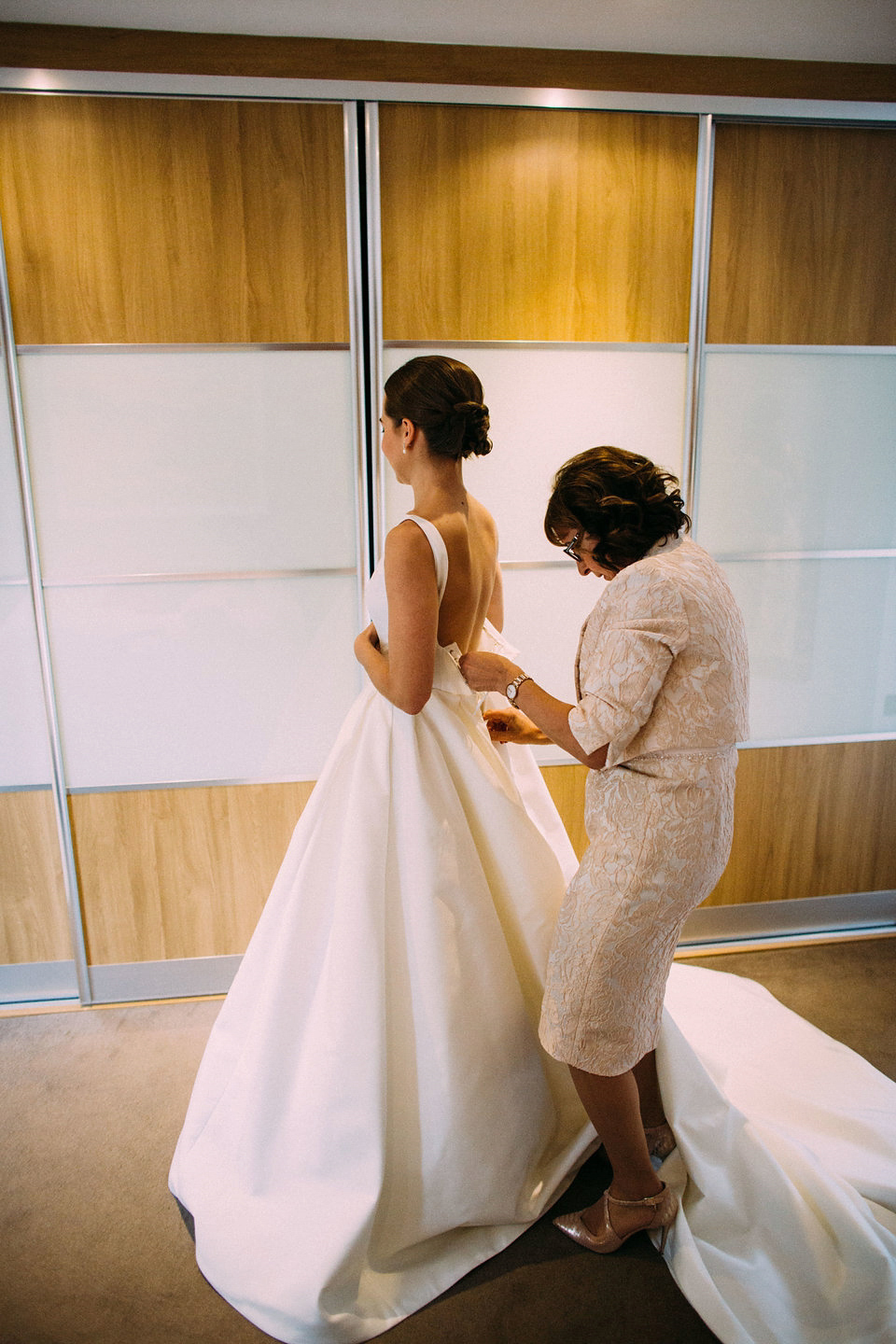 "David got a Cad & the Dandy bespoke navy herringbone three-piece. His tie was from Hawes & Curtis and he wore Mulberry cufflinks, a wedding morning gift from his wife. The best man and ushers all wore their own navy suits and we bought them all ties from Mrs Bow Tie."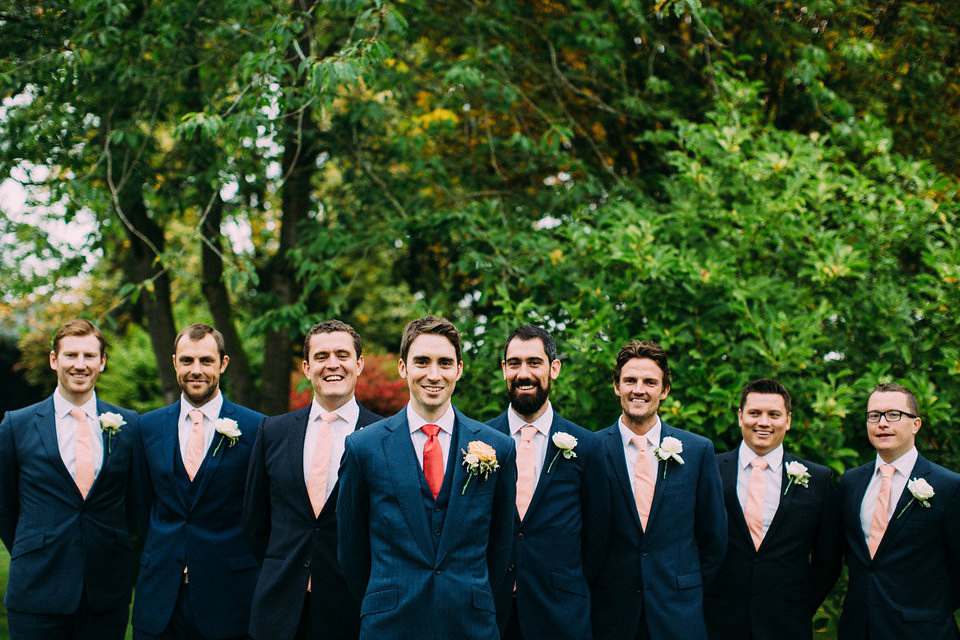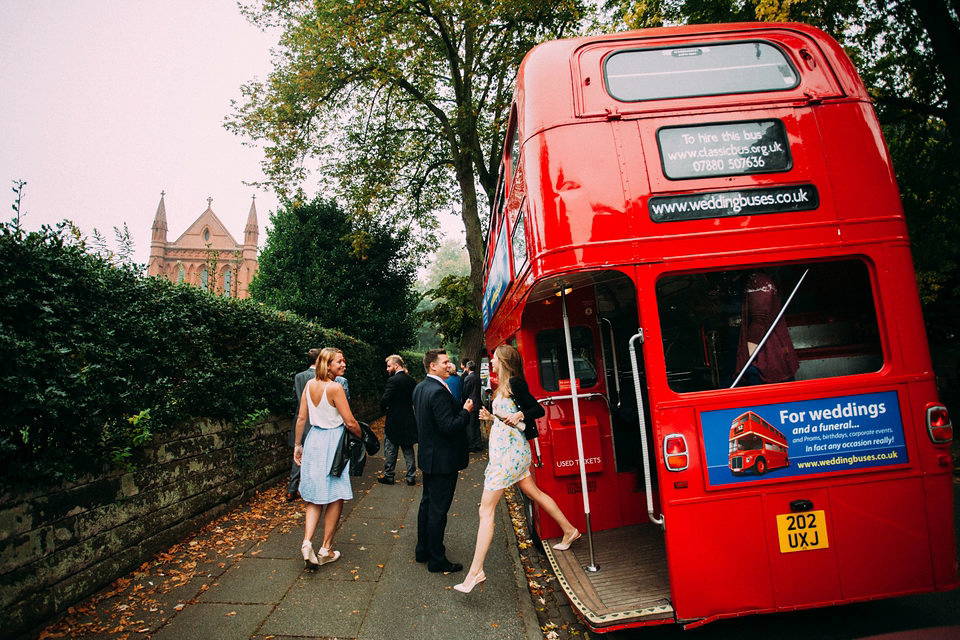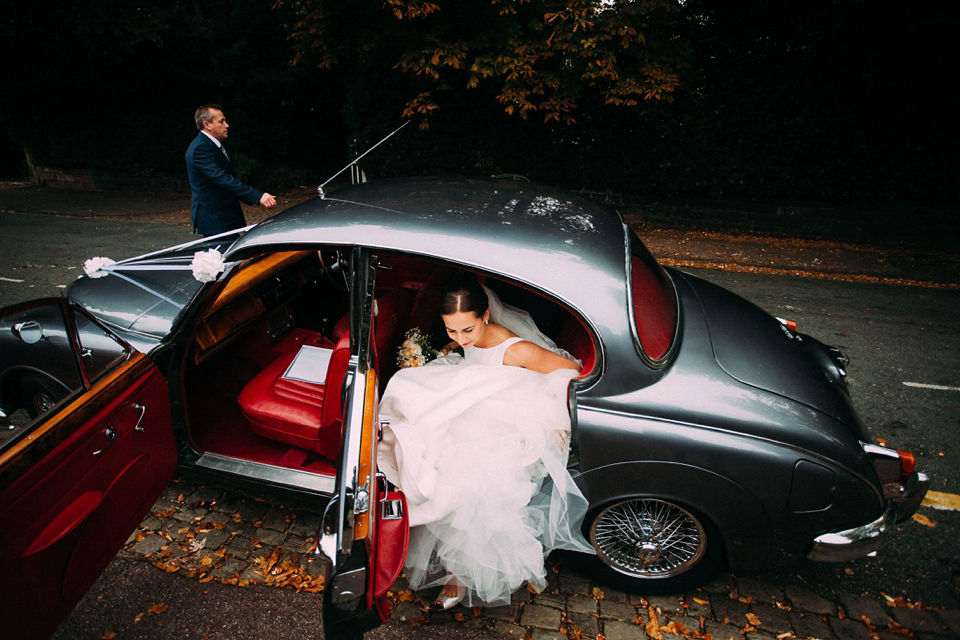 Joanna's sister found the beautiful navy blue bridesmaids dresses in House of Fraser and the gorgeous little flower girls were decked out in Monsoon. They all wore sprigs of gypsophila in their hair and Jo bought cute 'Thanks for helping us tie the knot' earrings for the ladies from Not On The High Street.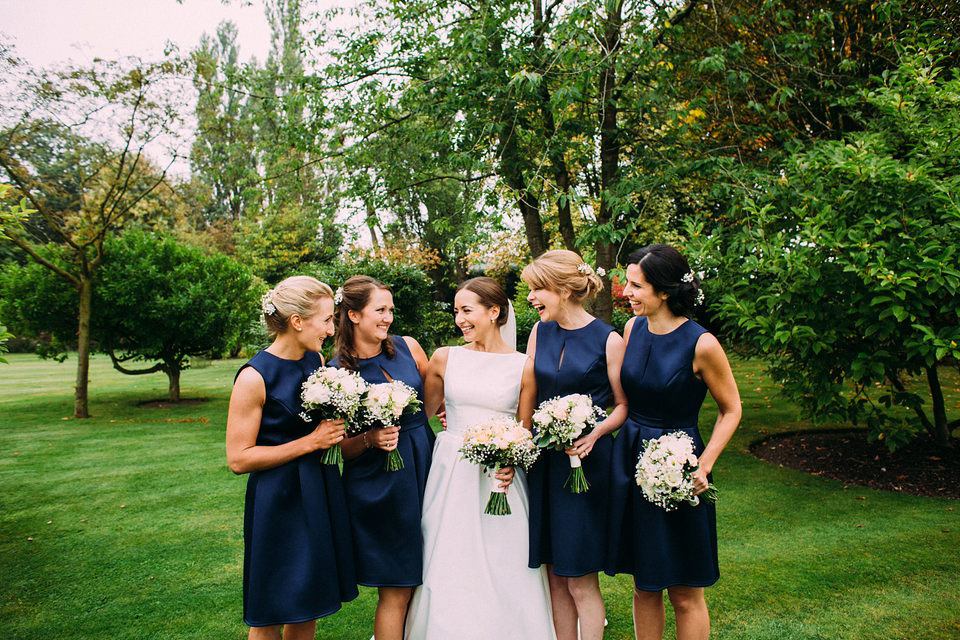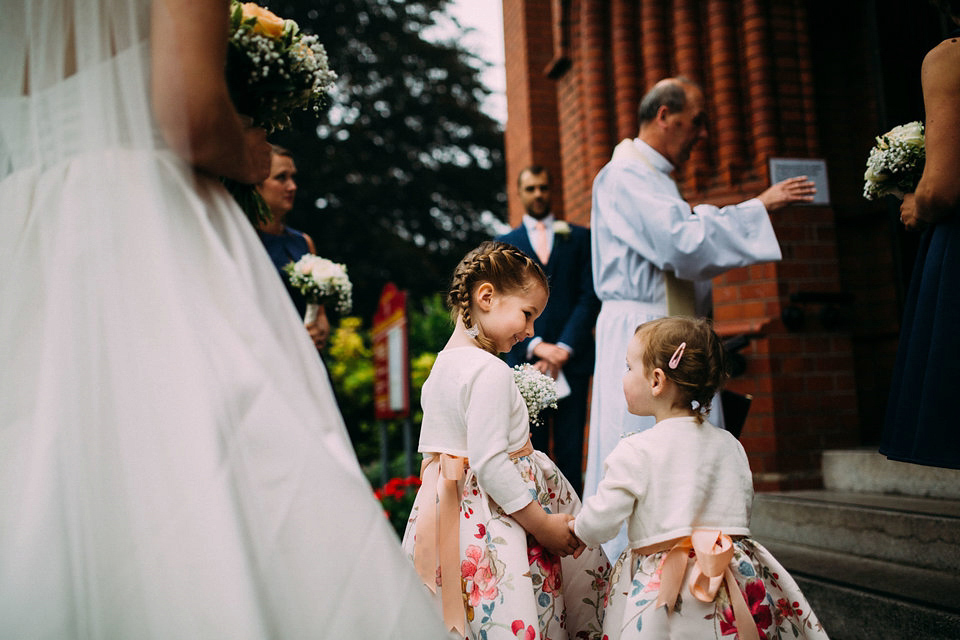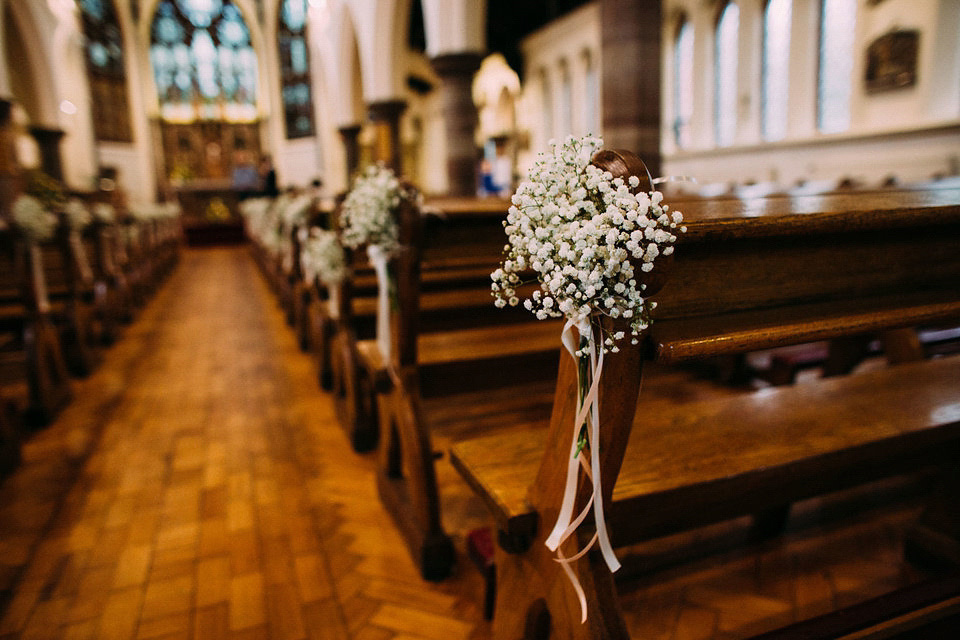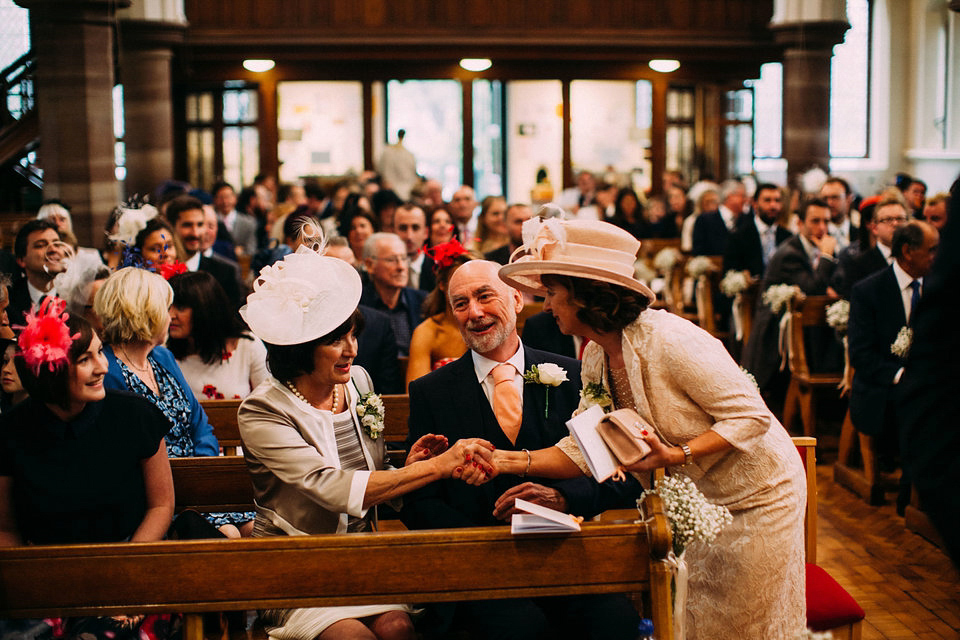 "Elizabeth Bell, a very talented organist, played 'Processional in D' by David N. Johnson for the entrance of the bride and Di Voci, a female voice choir, sang during the ceremony."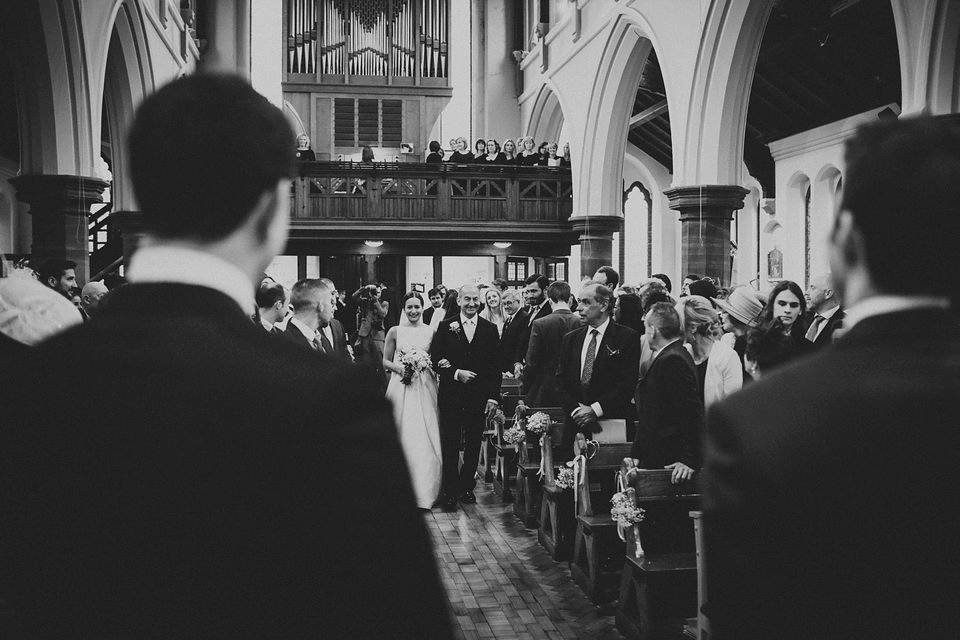 "The wedding ceremony was very moving and special. My dad gave me away and it was a very special moment for both of us.
We said traditional Catholic vows and read through them with our Priest beforehand so that on the day itself, we focused on looking straight into each other's eyes and everything else faded into the background."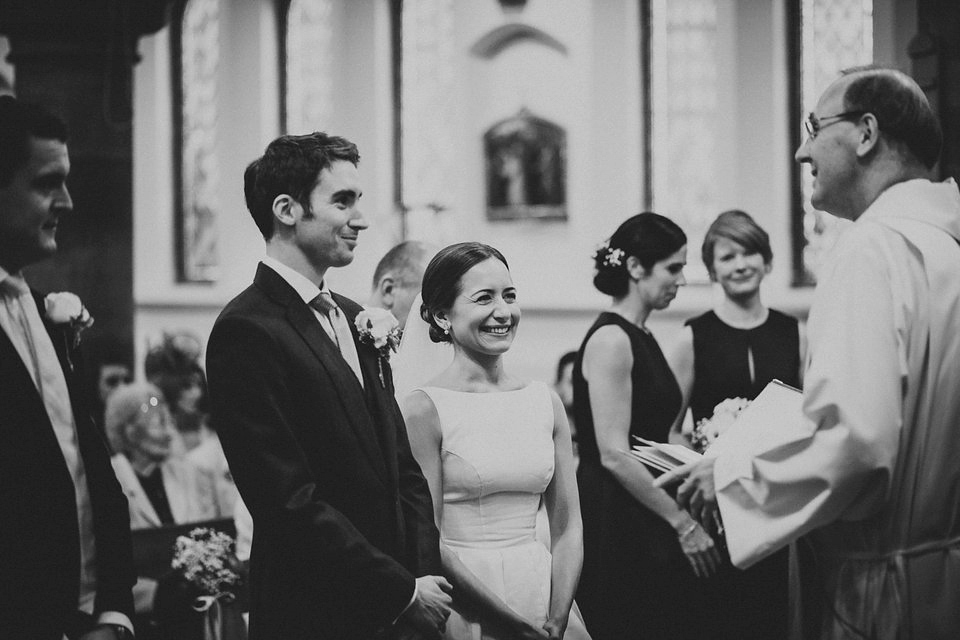 "David bought my stunning engagement ring from Jade Jewellers in Hatton Garden so we went back for our wedding rings. David knew them through work and they were excellent to deal with."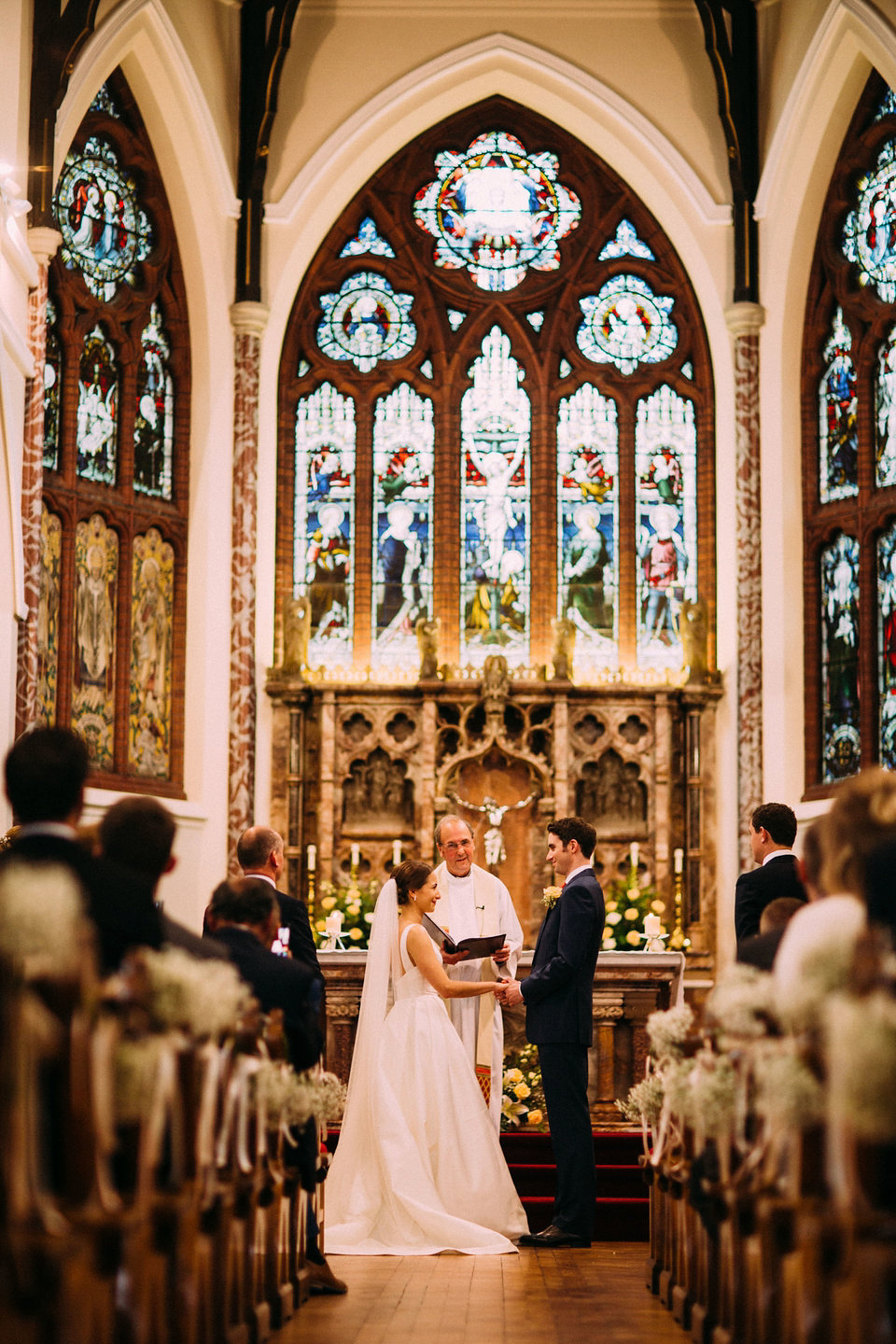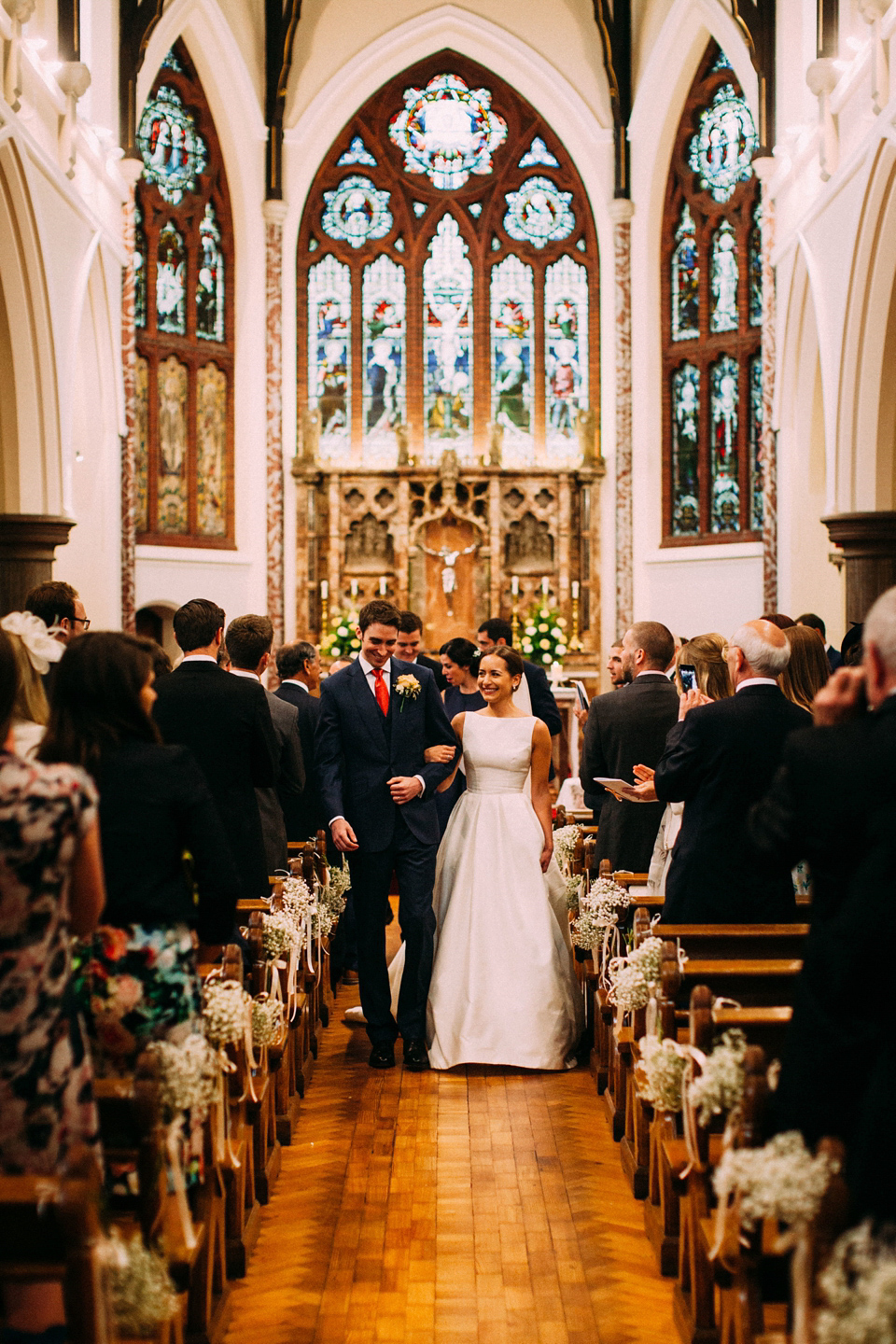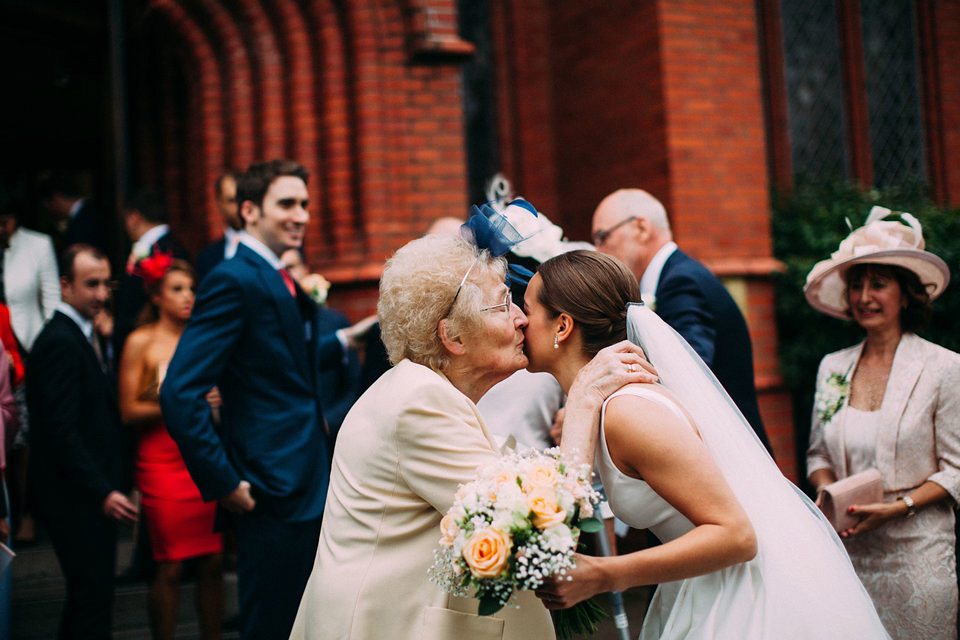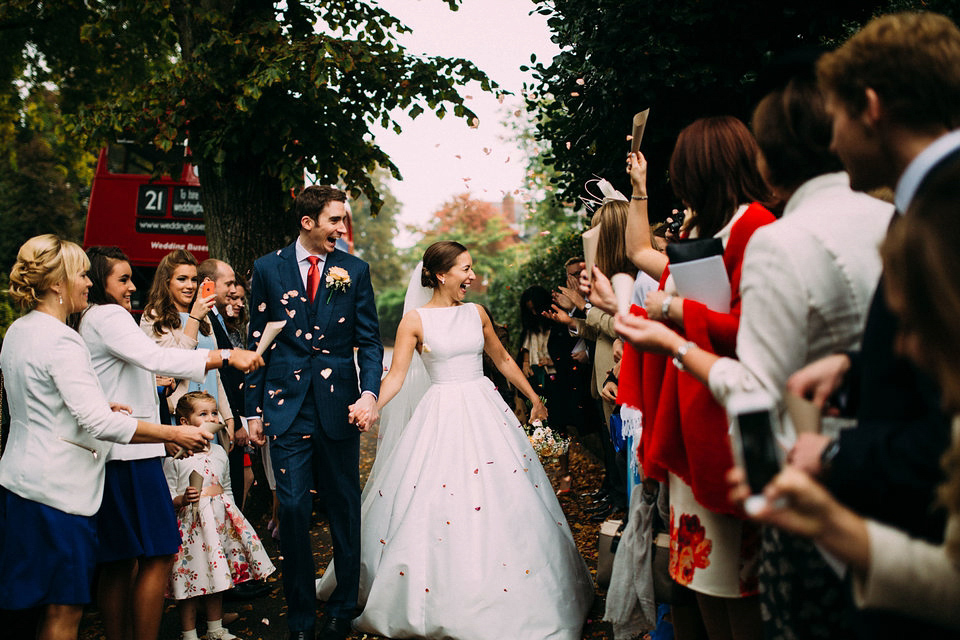 "We wanted understated, country style flowers. I love peonies but sadly they were out of season so Laura at Laurel Weddings created bouquets and centrepieces of roses, lisianthus, gypsophila and bouvardia as well as the pew ends of gypsophila."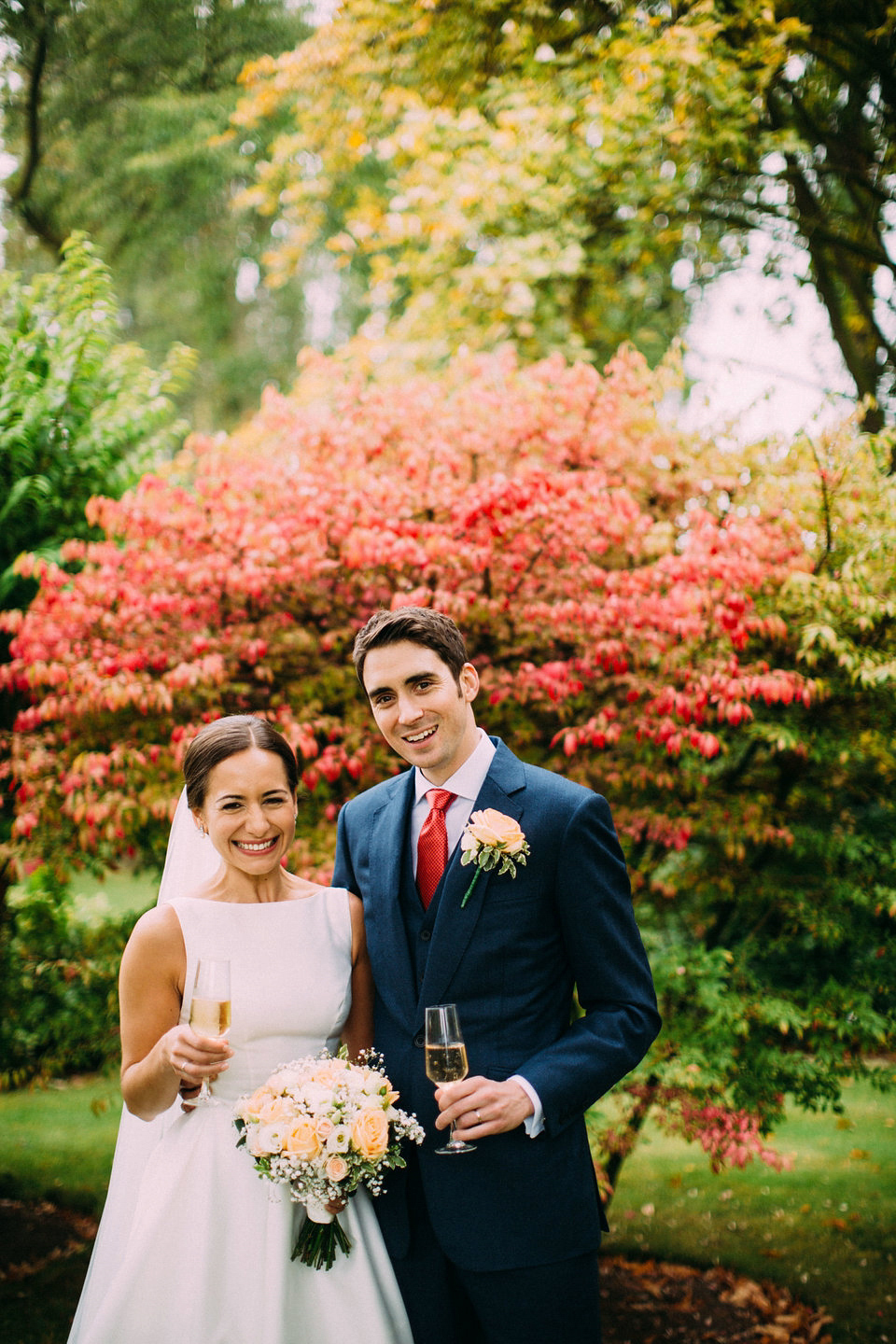 The couple chose the inimitable Lawson Photography to capture their beautiful wedding day.
"Pete and Laura were absolutely amazing and we're so pleased with our photos. They are both absolute legends and we wished they were our friends! It's so important to pick photographers you like and get on with and who understand your style as you will spend more time with them than you spend with anyone else on the day. It's a real bonus that you get two of them as it means they can capture different angles and different parts of the day."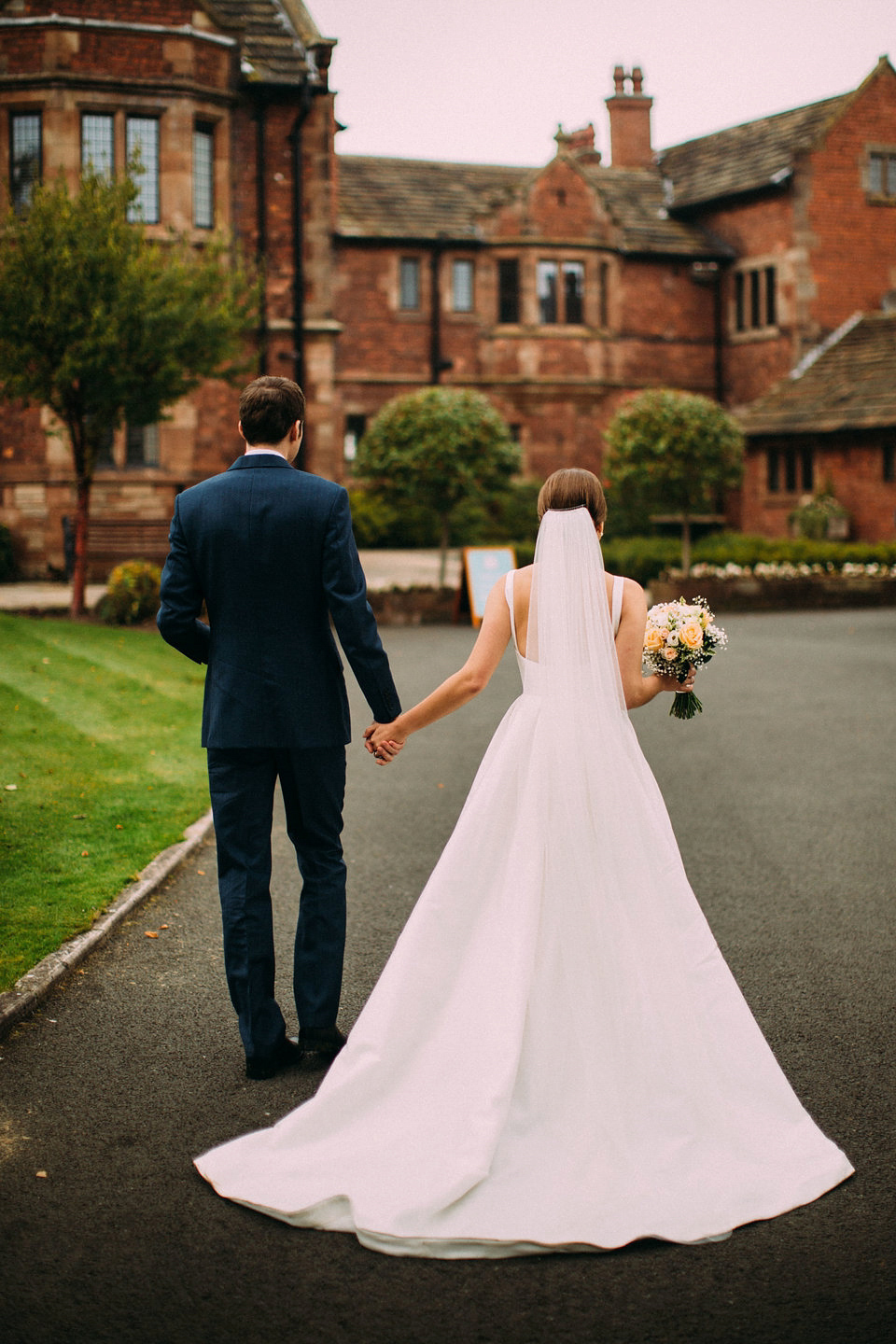 "As soon as we saw Colshaw Hall, we just knew it was right. It's a stunning country house with the perfect blend of traditional and modern luxury. It ticked so many boxes and the wedding events team were so well-organised and reassuring. In addition, 20 of us were able to stay there overnight which made the whole experience even more special."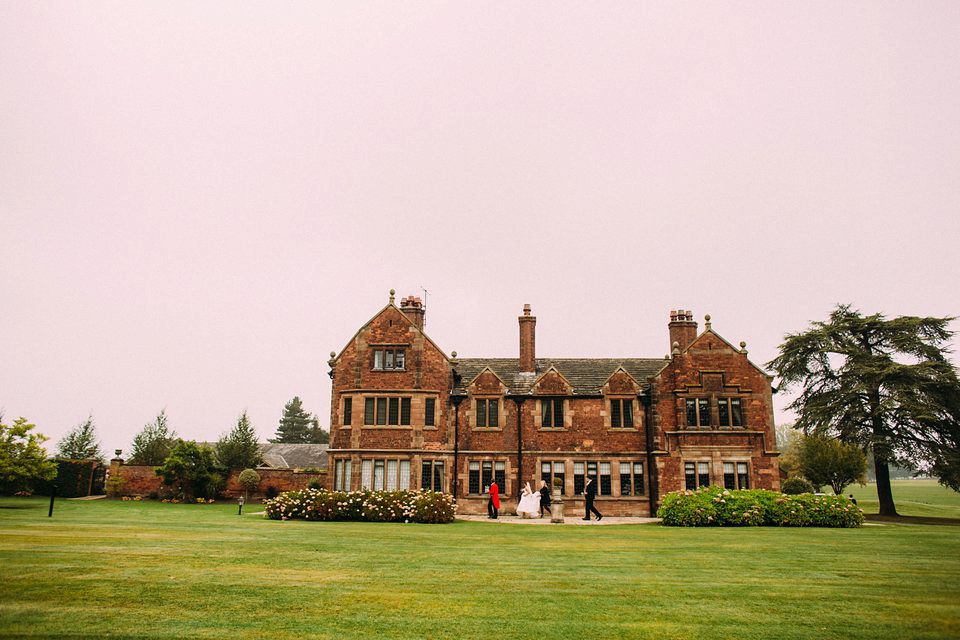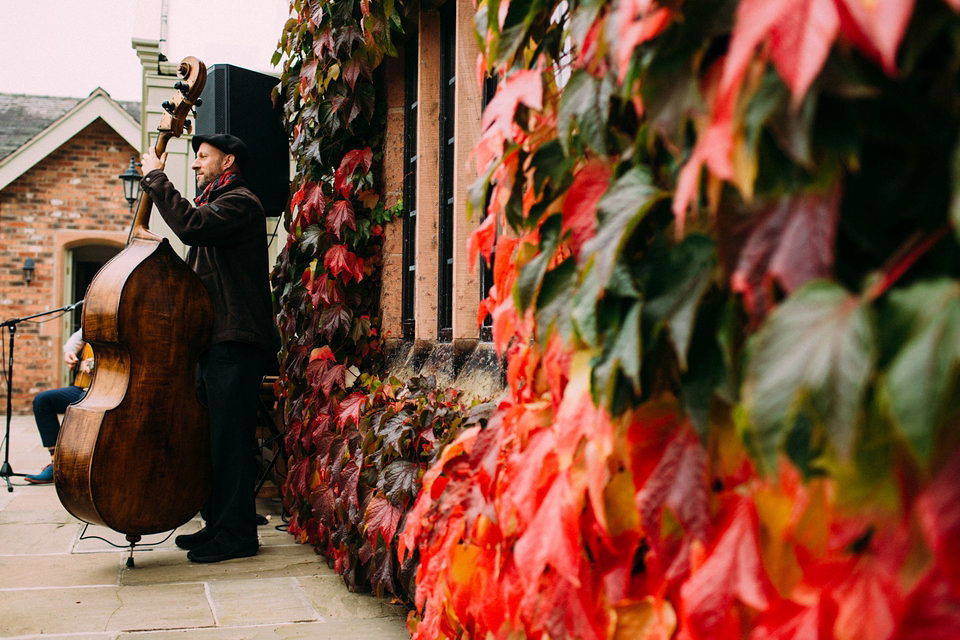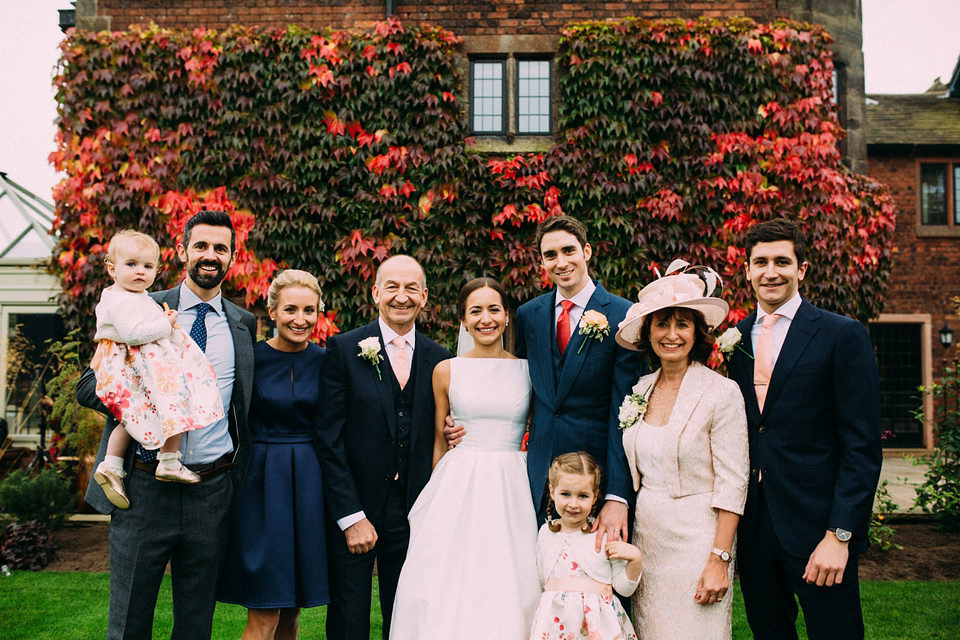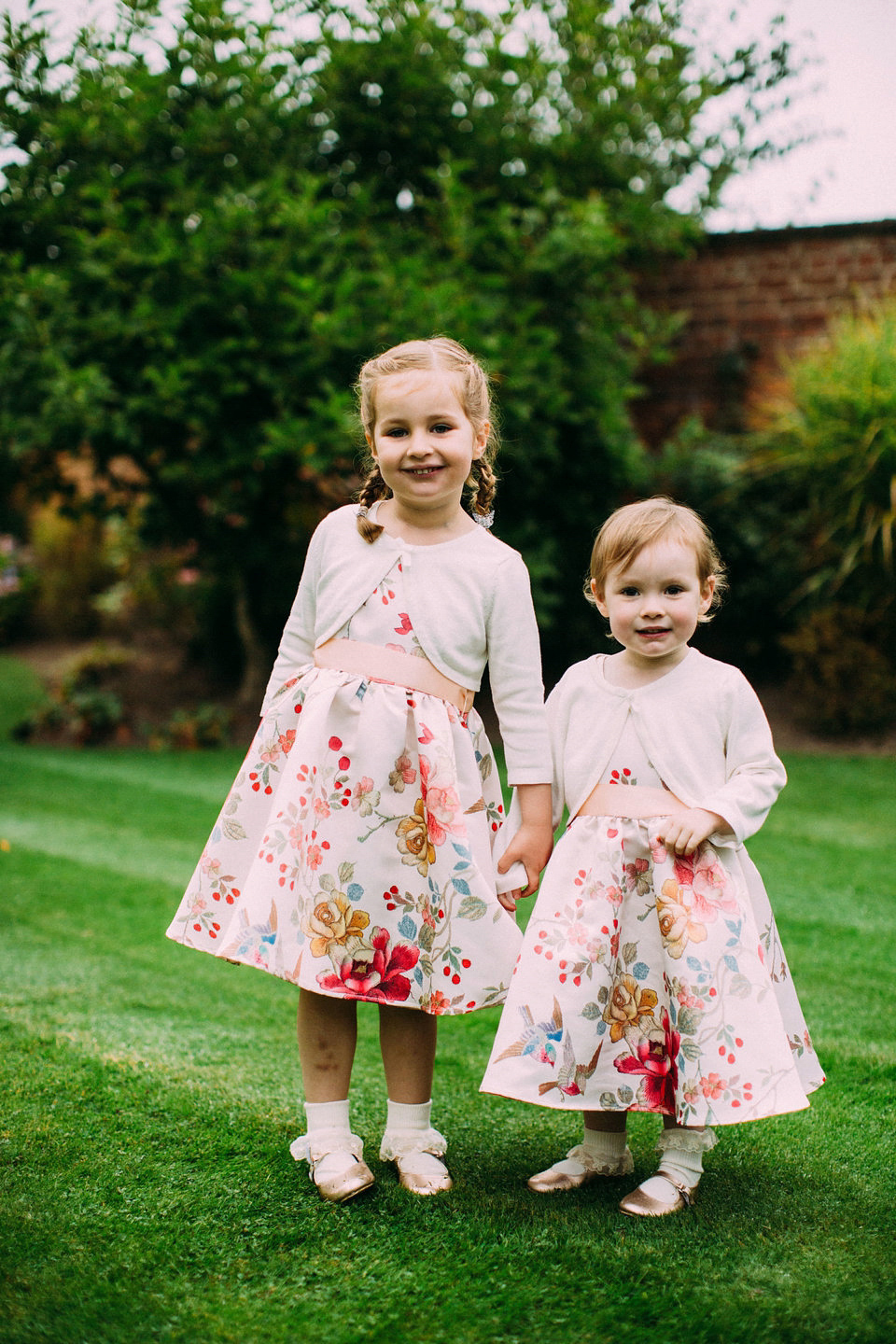 Jo and David named the tables after special places in London and asked Jo's brother, a talented photographer, to take photos of each location to be displayed in frames.
"Barrett's Event Caterers were absolutely excellent, many of our guests said the food was the best wedding food they had ever tasted and the service was also top-notch."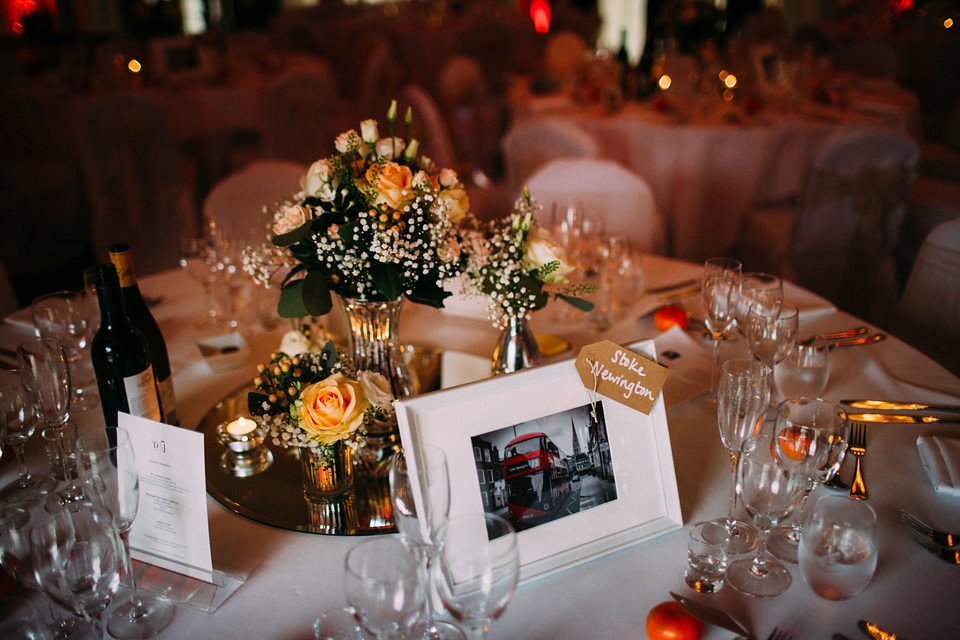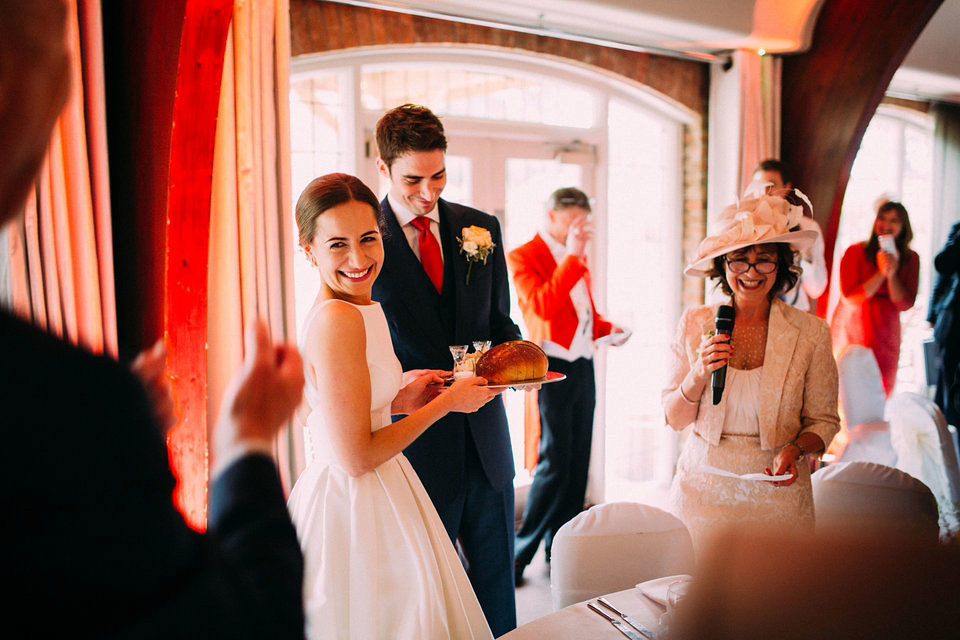 "I am so glad I gave a speech. I had the opportunity to thank people and to give a girl's perspective on our relationship. If you can't face speaking yourself, ask one of your best girls to do it on your behalf. In this day and age, it makes total sense for us ladies to make our voices heard."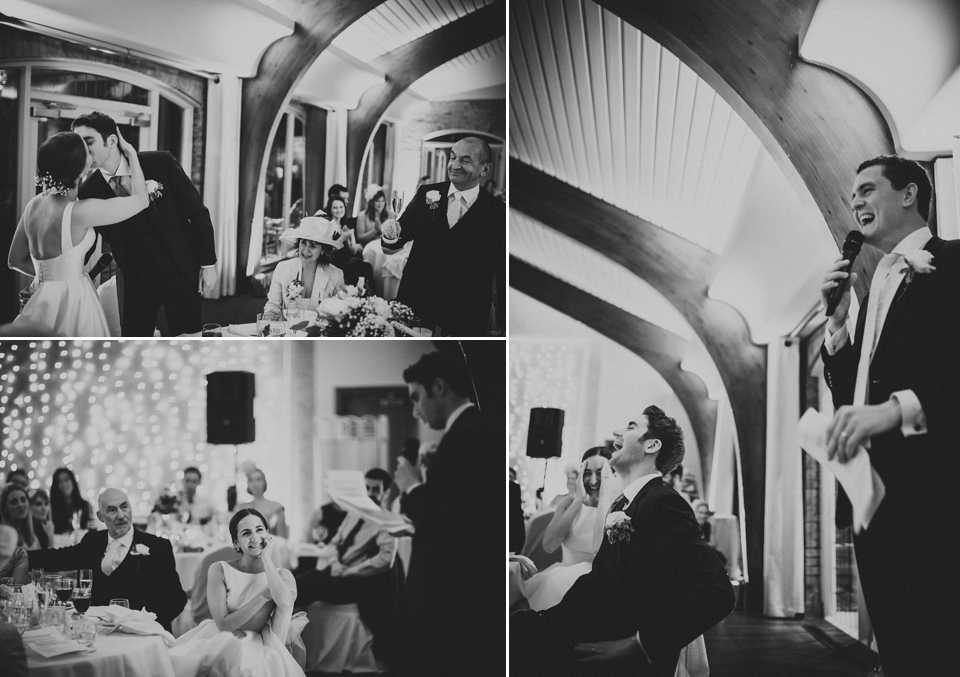 "Music was a top priority as we didn't want any quiet moments! Gypsies of Bohemia played during the drinks reception and wedding breakfast, then we had The Dedications and DJ Andy Murphy in the evening. They were all brilliant. Andy curated the perfect playlist, with a balance appealing across generations and the dancefloor was always full – no mean feat at a wedding.
Luminate Events provided orange-shaded uplighters and a backdrop of fairy lights. We were really pleased that we spent a bit extra on lighting as it really added to the overall ambience."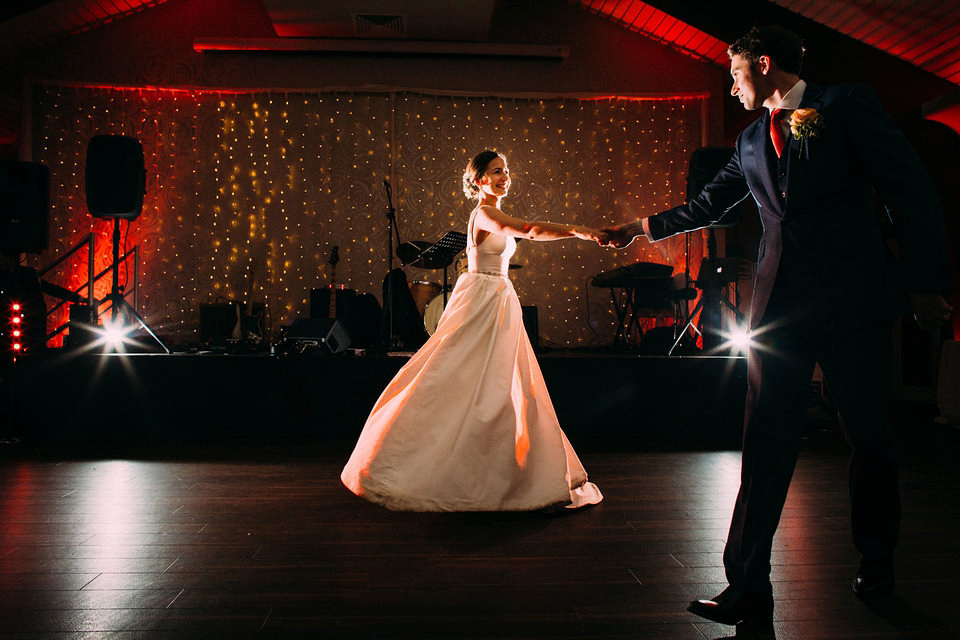 "We didn't want an obvious first dance song so chose 'The Masterplan' by Oasis. The words are perfect, it's about a journey through life, making the best of everything that comes your way. We decided to have a couple of dance lessons with Lydia from Start the Dance which I saw recommended on Love My Dress."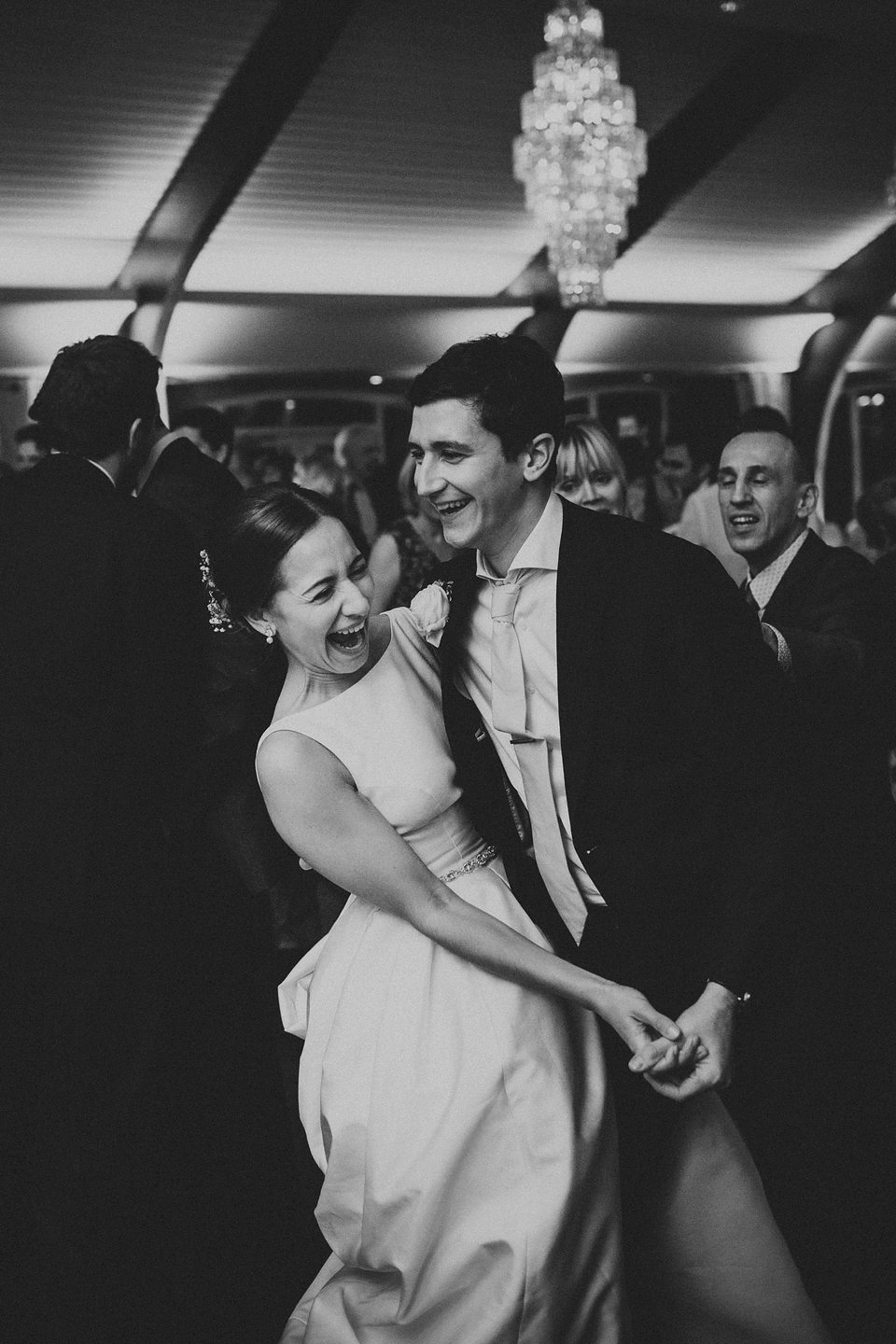 Words of Wedded Wisdom
"Decide the things that are most important at the outset and focus on them when things start getting over-complicated and stressful. Delegate or de-prioritise the rest!
Delegate the organisation of transport on the day to the ushers. You don't want to be worrying about things running late or anyone getting lost!
Write notes for the day so everyone is clear on the running order and what you need them to do. No detail is too small e.g. who goes in which car, what time people are having their hair done and who is carrying your tissues and lipstick!"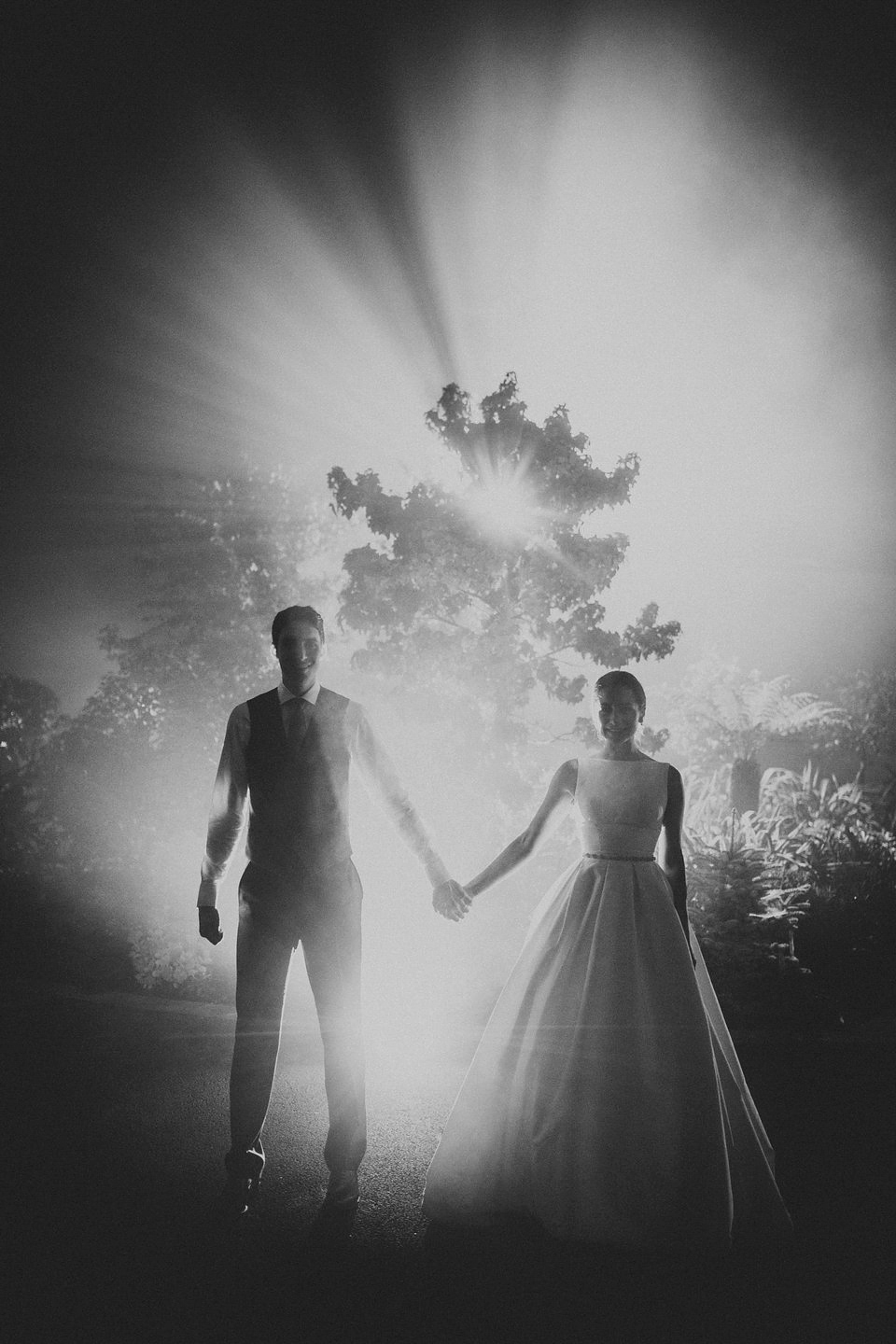 Wow, aren't the portraits of the couple beautiful? Lawson Photography as always did a fabulous job of catching the pure emotion and wonderful autumnal light. We have a full archive of Pete and Laura's work if you haven't quite had enough (of course you haven't!). Huge thanks also to Jo and David for sharing the details of your special day.
Brides, if you love the idea of a wedding dress with pockets, you can explore more such gowns here on Love My Dress. We also strongly encourage you to find out more about designer Caroline Castigliano and Agapé Bridal Boutique – we recommend both of these suppliers very highly.
Love Caoimhe xx
Photographer – Lawson Photography
Venue – St. Vincent's Church, Altrincham + Colshaw Hall, Cheshire
Wedding Dress – Hepburn by Caroline Castigliano from Agapé Bridal Boutique
Shoes – Jimmy Choo
Bride's Scent/perfume – Jo Malone
Groom – Cad & the Dandy
Bridesmaids – Untold + Not On The High Street Earrings
Flowergirls – Monsoon
Florist – Laurel Weddings
Cake – Victoria Queen of Cakes
Transport – Platinum Wedding Cars +  Classic Bus
Entertainment – Elizabeth Bell + Gypsies of Bohemia + The Dedications + DJ Andy Murphy
Rings – Jade Jewellers
Catering – Barrett's Event Caterers
Stationery – HAM
Hair Stylist – Paisley Gamble=
Lights – Luminate Events