Happy 'leap day', readers! According to ancient Irish folklore, the 29th of February is the luckiest day for women to take the plunge and pop the question. Legend has it that St Brigid of Kildare, a 5th Century nun, struck a deal with the patron saint of Ireland, St Patrick, to allow women to propose on leap day, in order to create a little more balance between the sexes. Centuries later, the tradition is still being observed – last year we featured the wonderful festival inspired wedding of a bride who asked her beloved to marry her on the last leap day in 2012.
We'd love to hear your thoughts on 'leap day' proposals in the comment section at the end of this article. If you'd like some more food for thought in the meantime, do take a look at Annabel's discussion post on the subject here.
Now to today's nuptials…prepare to be swept off your feet by a relaxed and romantic, pared back, stateside wedding! Maris, an art director, married Brock, a video editor on the 11th of July, 2015, at Glasserie; a former factory in the heart of one of my favourite places in the whole world: Brooklyn, New York. I could wax lyrical about today's nuptials, but instead I'll let our bride, and these stunning images by photographer Jean – Laurent Gaudy, do the talking…
"My main goal was to keep things simple, and keep them beautiful. I didn't want to get lost in the details. We wanted everything to feel casual and easy, not too fussy. Romantic and beautiful, but not too serious."
Photography by Jean – Laurent Gaudy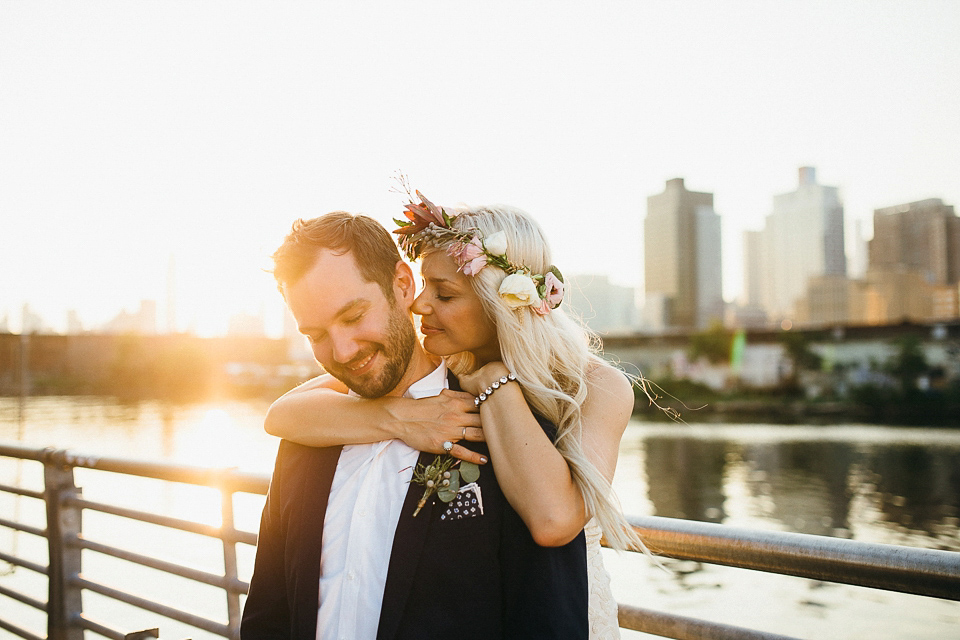 Maris looked effortlessly chic in a stunning Nicole Miller gown adorned with beautiful, Baroque inspired beading. UK brides can purchase Nicole Miller's gowns from the designer's online store or at The Suite in Dublin.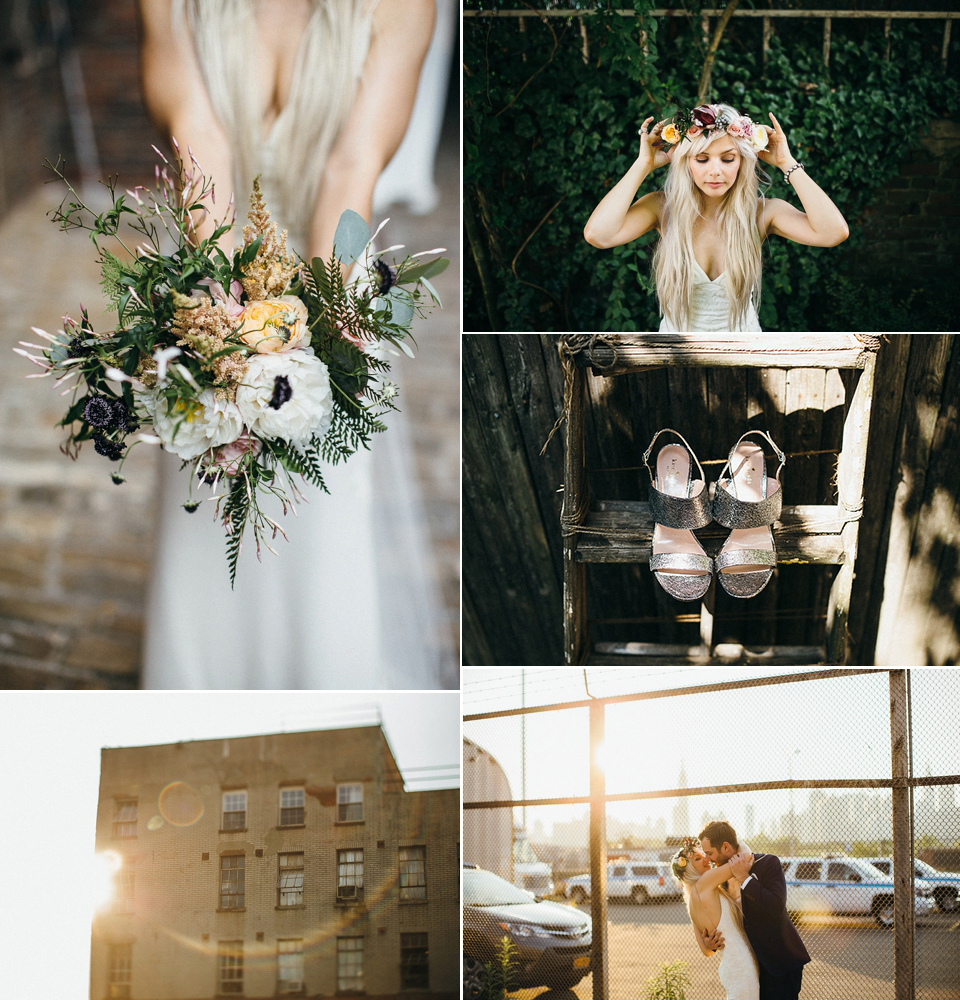 I love the use of light and colour in these beautiful images by New York based photographer Jean-Laurent Gaudy…
"We could not have been happier with JL and his pictures speak for themselves. They're beautiful, intimate, and perfectly capture those little moments you want to remember forever."
Our bride paired her gown with a simple Chapel length veil from BHLDN and the most beautiful fresh flower crown, created by the couple's florist, Lisa Pryzystup of James' Daughter Flowers. On her toes, she wore sparkly, silver Kate Spade heels.
"The most important accessory was my great grandmother's opal ring. It's beautiful and I was honoured to wear it."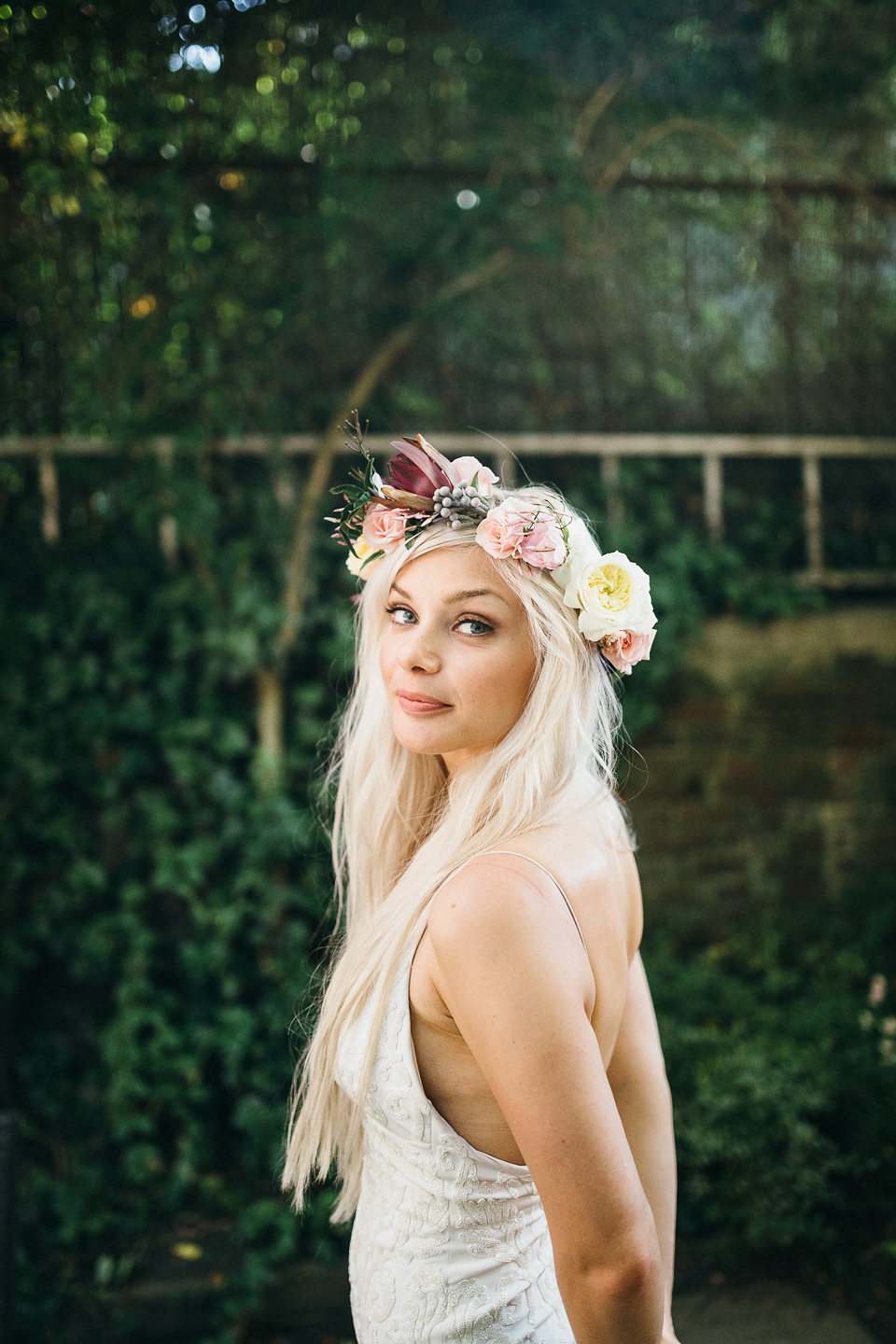 Meanwhile, Brock opted for a relaxed, midnight blue suit and polka dot pocket square from JCREW.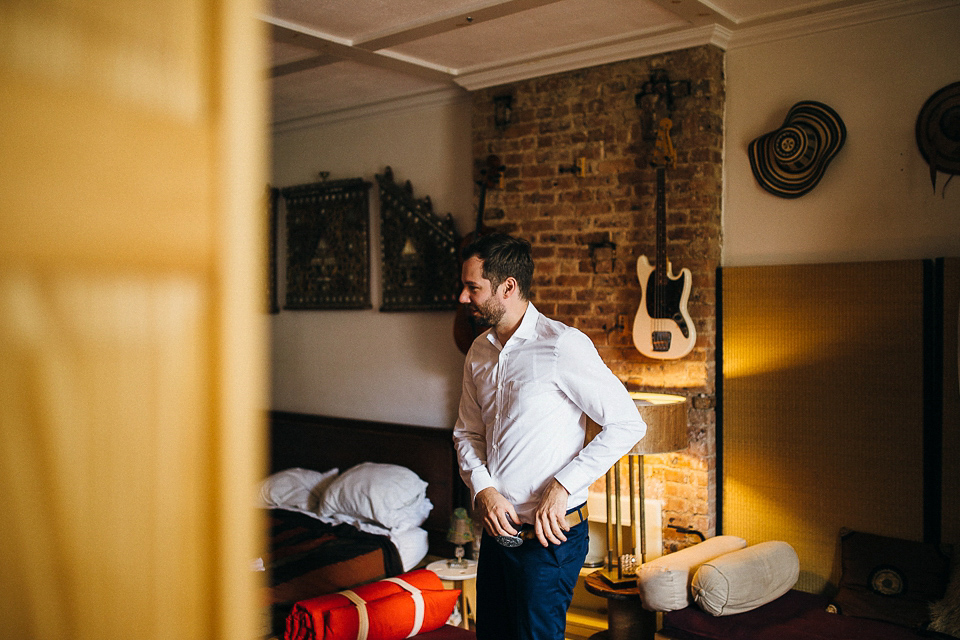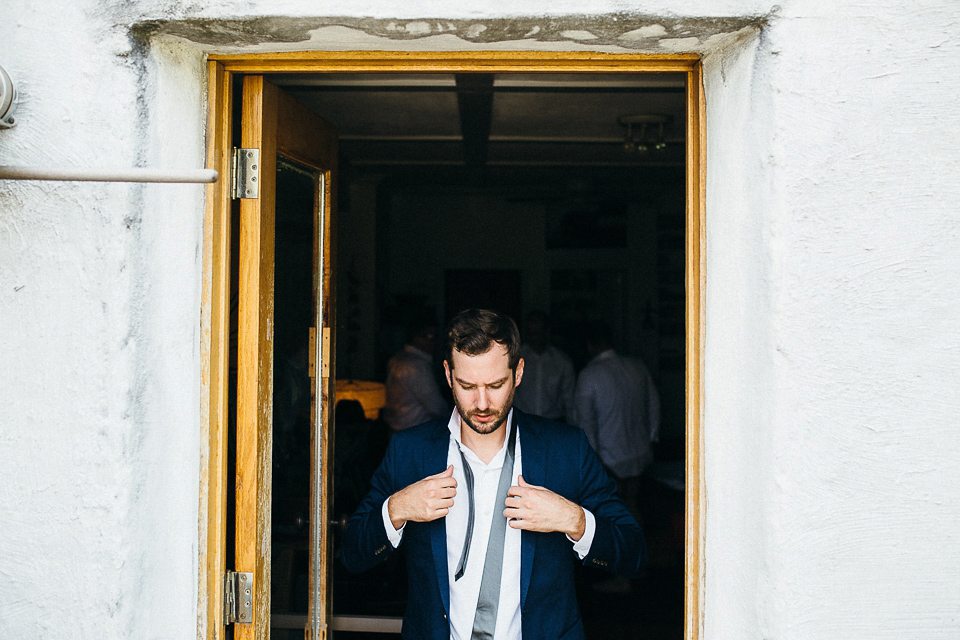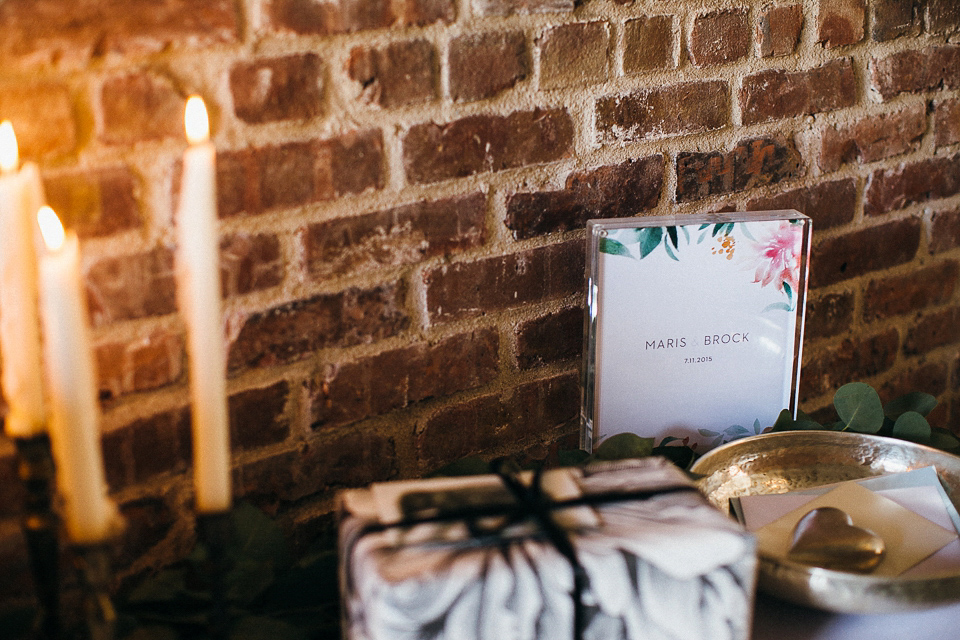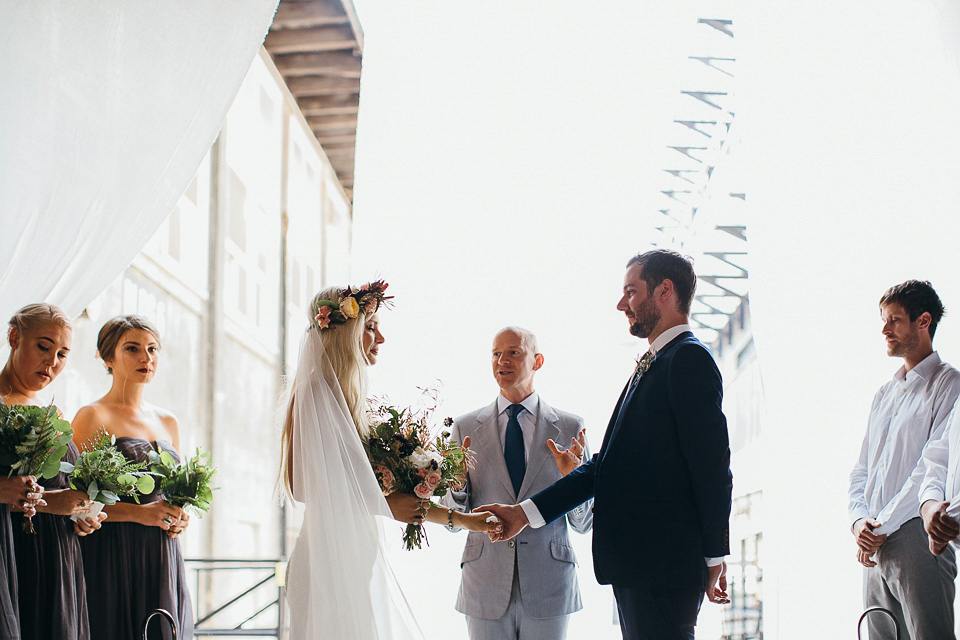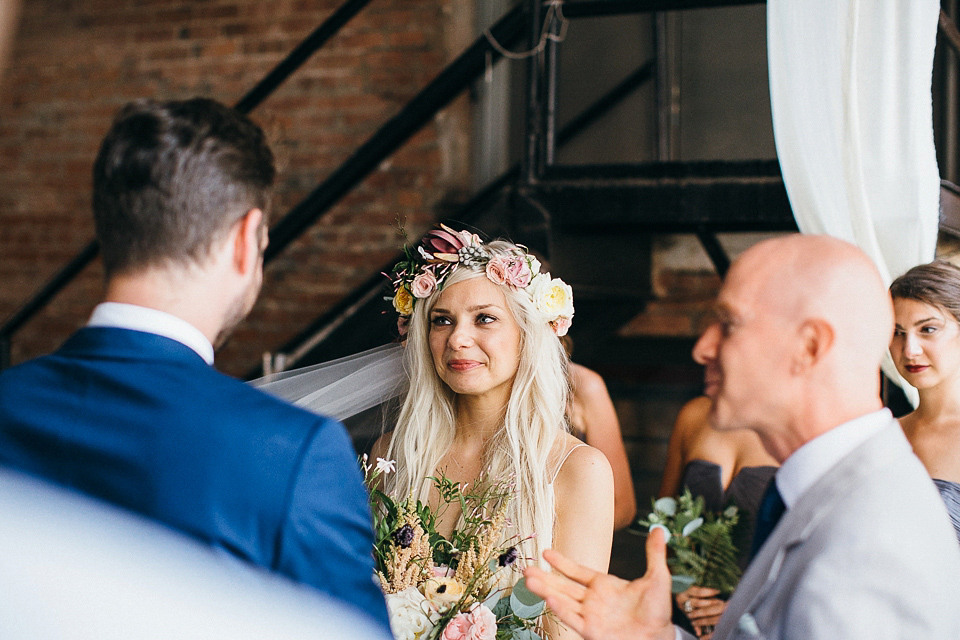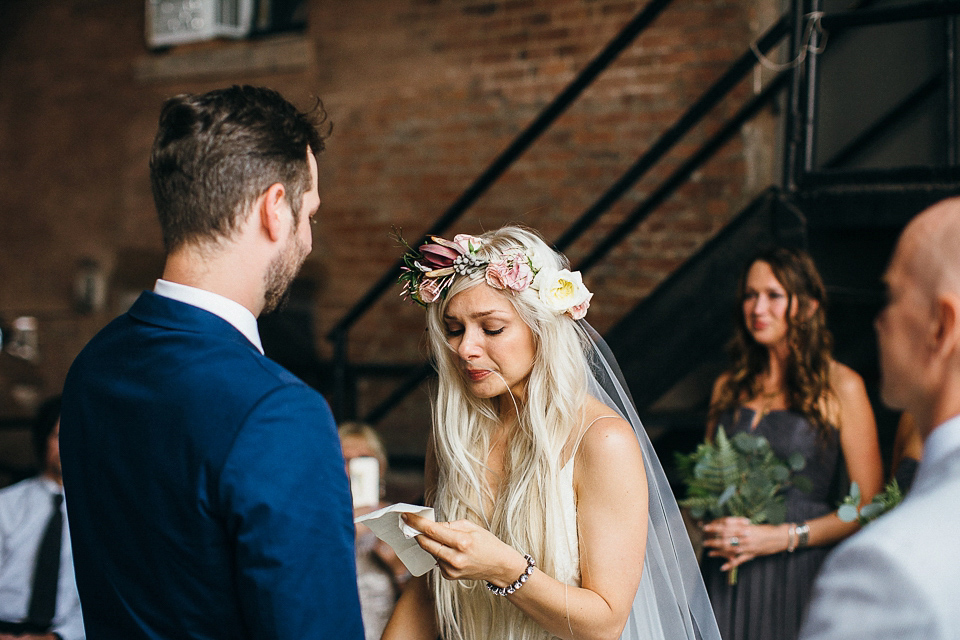 Lengths of white muslin danced in the breeze as Maris and Brock said 'I do', providing the perfect backdrop for the couple's romantic ceremony.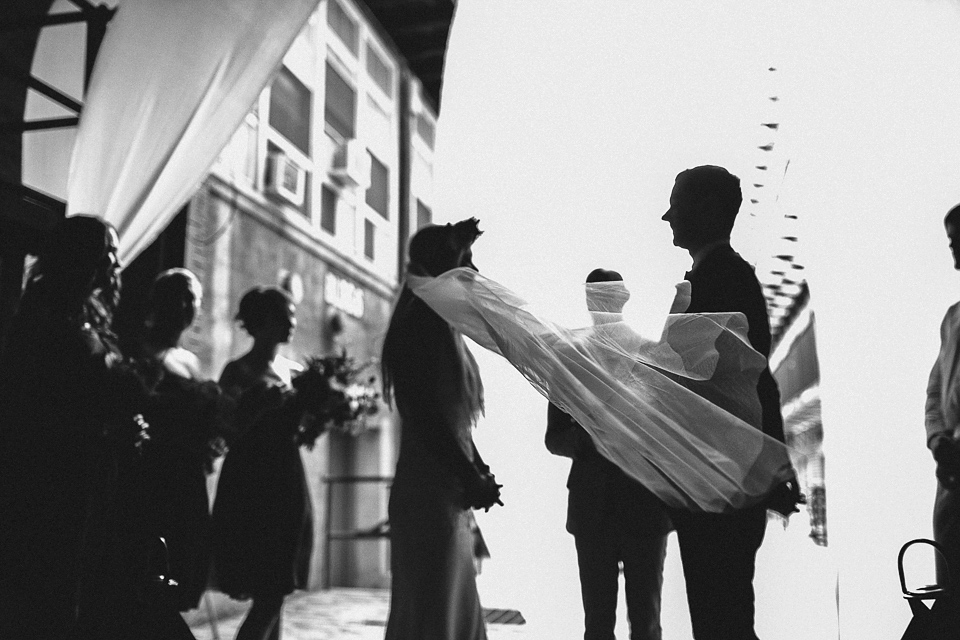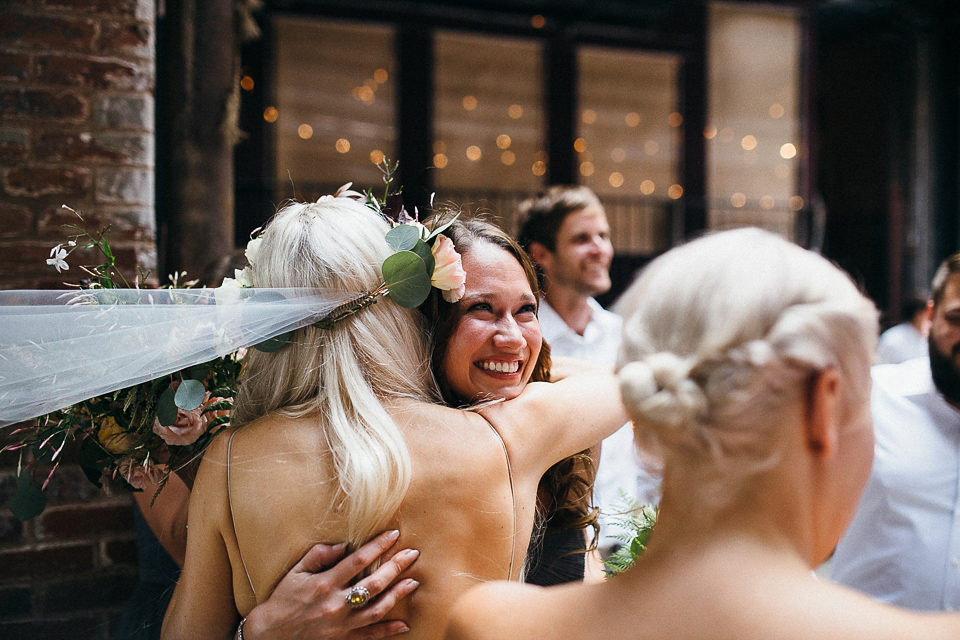 Maris dressed her three 'maids in charcoal grey, bandeau dresses from JCREW…
"I had the florist make a special hairpiece for my sister, who was my maid of honour."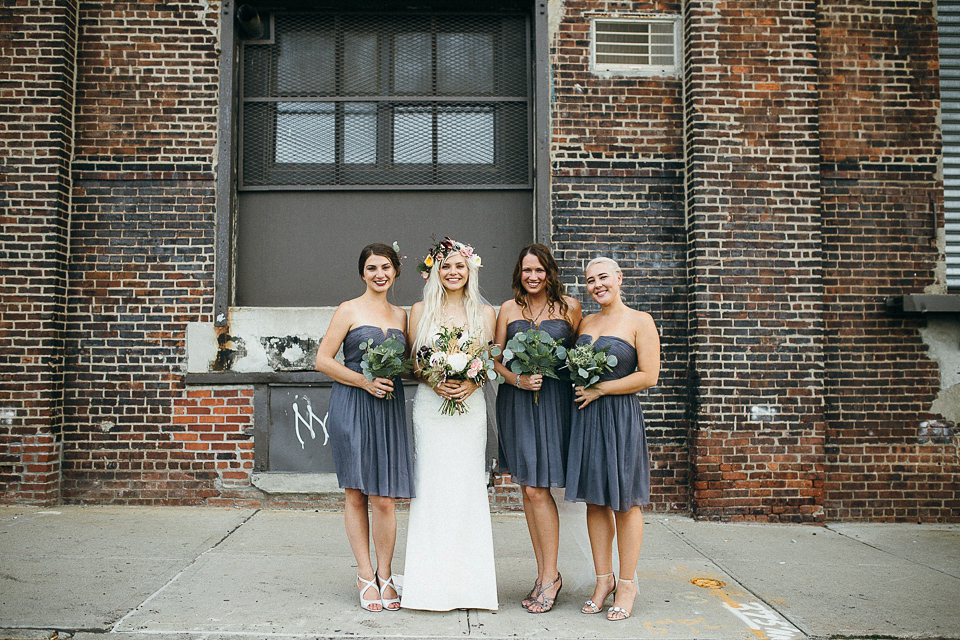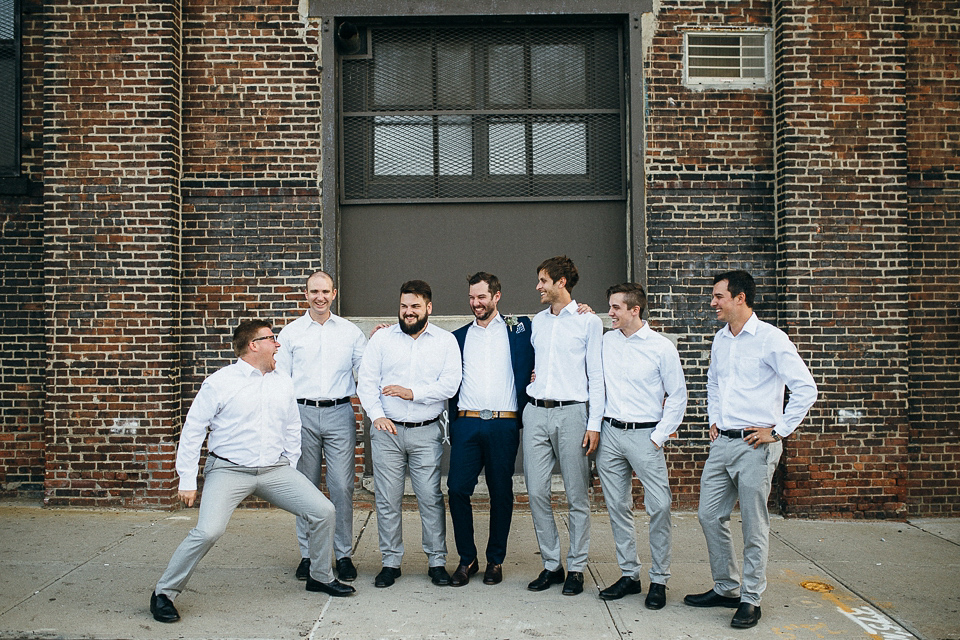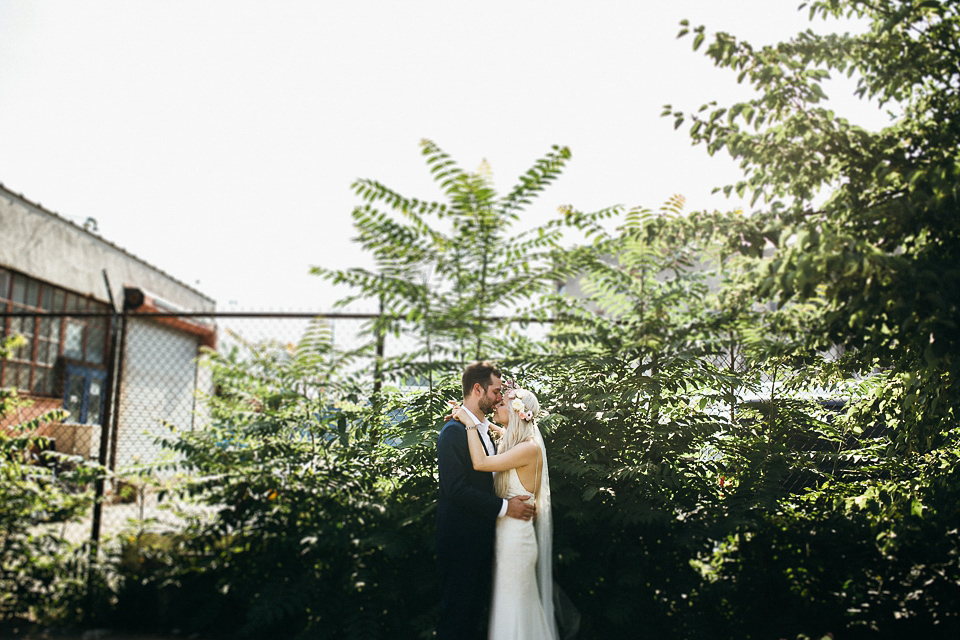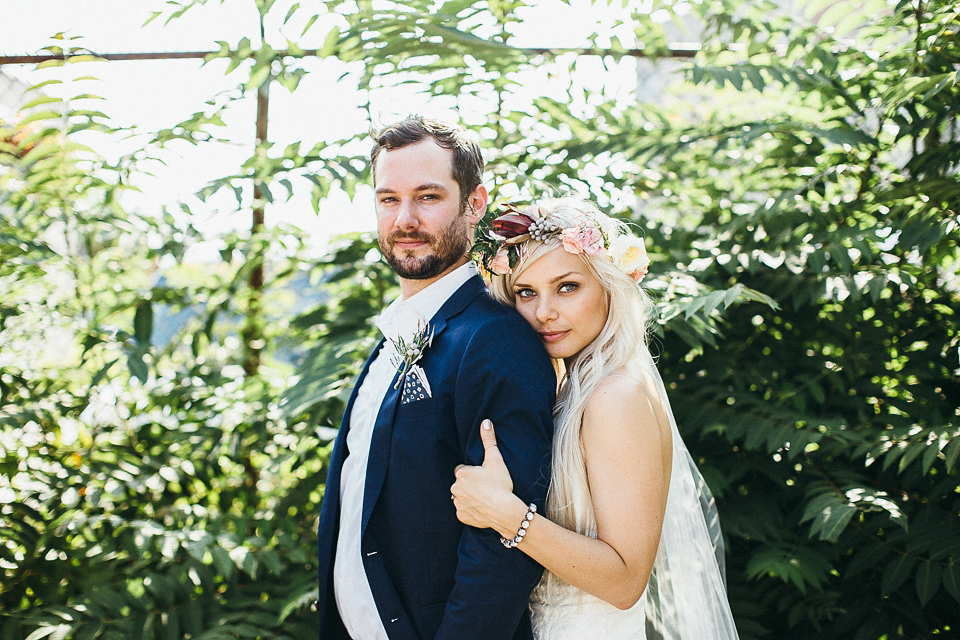 "Our venue, Glasserie, really just felt like us. The outdoor courtyard is a romantic and stunning space, perfectly relaxed and organic to the area. The food is amazing, the staff are amazing – it just had the vibe we wanted."
The couple decorated Glasserie simply and elegantly with lots of foliage and relaxed, unstructured florals arranged by local florist, Lisa Pryzystup of James' Daughter Flowers. In keeping with the relaxed vibe of the day, Maris and Brock opted to seat their guests at long trestle tables, decorating the middle of the trestles with leaves and candles, in place of traditional runners.
"Lisa just gets it, so I trusted her completely. I wanted something very natural and wild, and summery and she just did her thing. I borrowed some vintage brass candlesticks from a friend of mine, and they looked absolutely gorgeous scattered throughout the venue. As the night went on, and the candles dripped down, it gave off a really lovely and timeless feeling."
As with the rest of their wedding planning, our couple found choosing a wedding cake easy and fuss free…
"Our cake was from Sweethaus in Brooklyn. We picked a small almond cake – we just walked in one day, tried the almond, and done."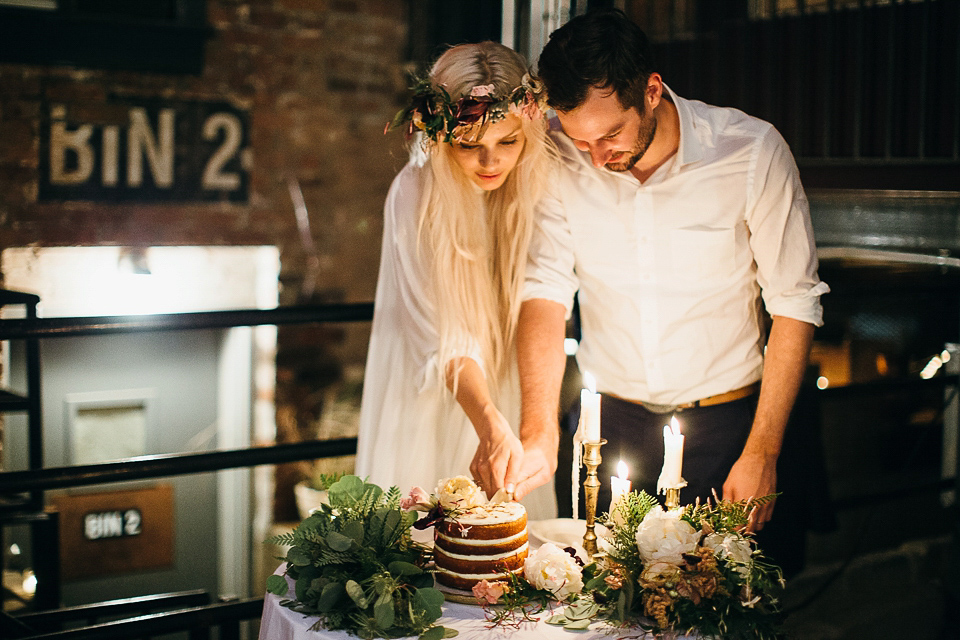 As the sun set, the venue was illuminated by the warm glow of dozens of candles, lanterns and strings of festoon bulbs.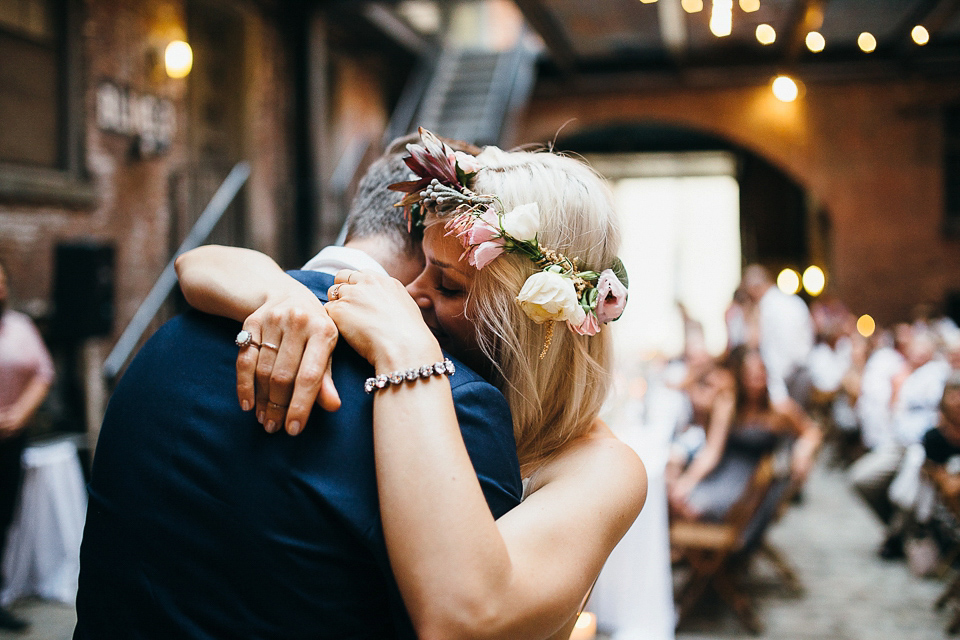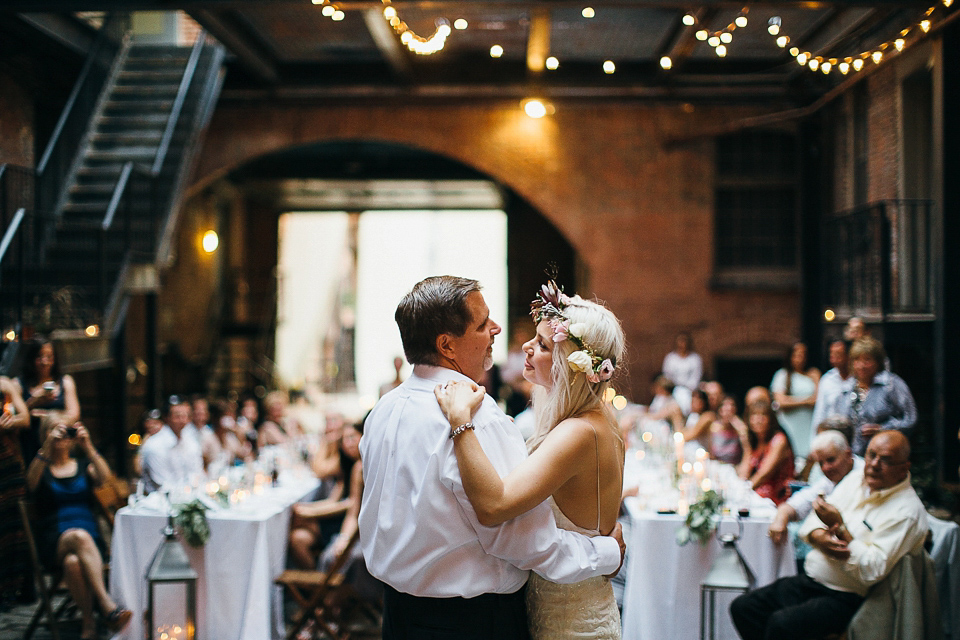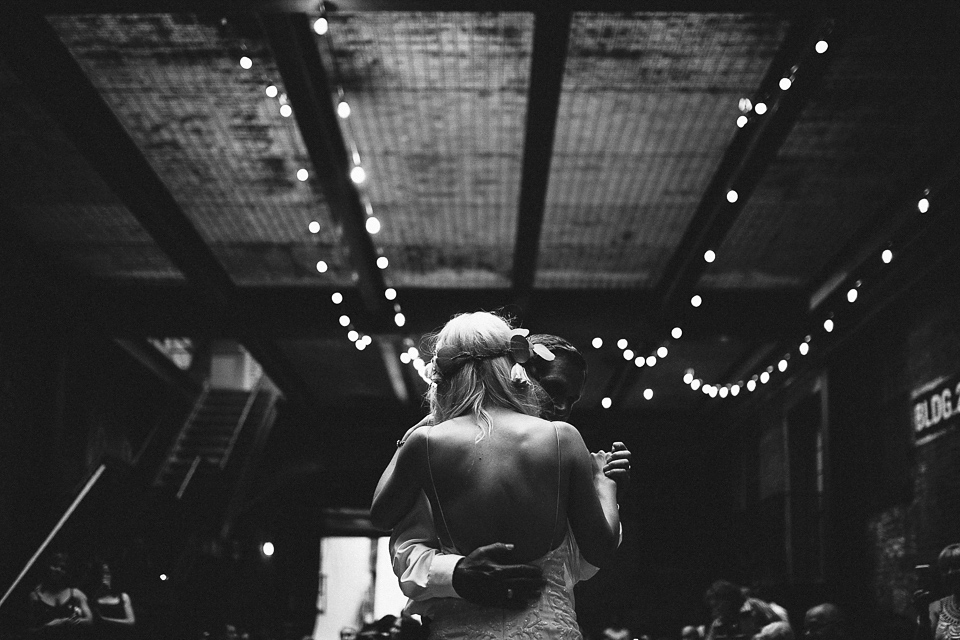 Words of Wedded Wisdom
"Keep things simple and keep them light. Make decisions and don't second guess yourself. It's only one day, albeit a magical one, but still only one. Don't ever forget that."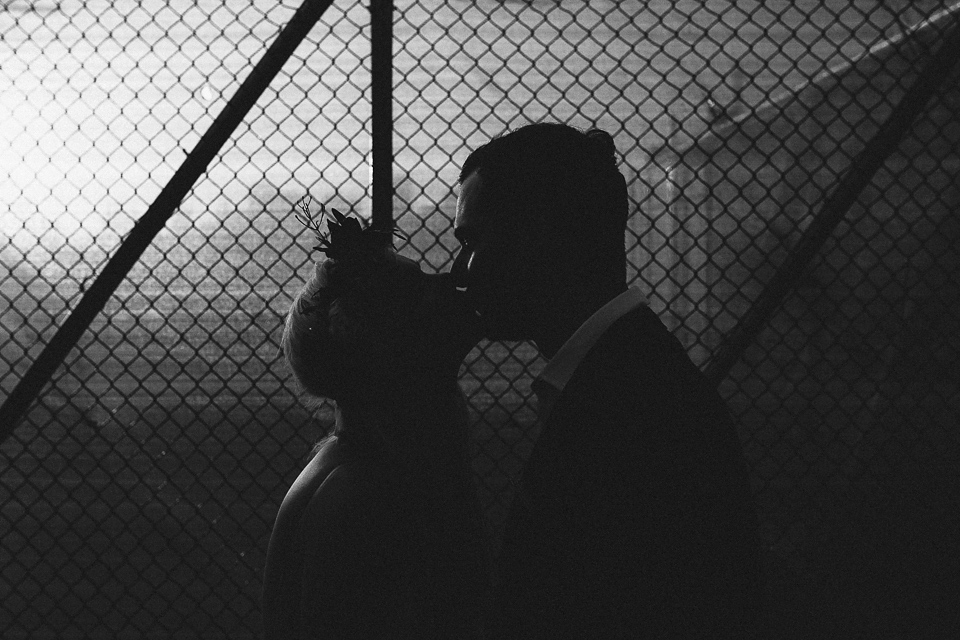 What a way to start the week! Thank you so much Maris and Brock for sharing the details of your day and to Jean – Laurent Gaudy for these wonderful images. If you'd like to see more real brides wearing floral crowns, please follow this link. Other New York nuptials await your perusal here.
Wishing you a great week!
Annora x
Photographer – Jean – Laurent Gaudy
Venue + Catering – Glasserie, Brooklyn, NYC
Wedding Dress – 'Annabel' by Nicole Miller
Veil – BHLDN
Headpiece – Fresh flower crown created by Lisa Pryzystup of James' Daughter Flowers, Brooklyn, NYC
Shoes – Kate Spade
Accessories – The bride's great grandma's opal ring
Groom – JCREW suit
Bridesmaids – JCREW dresses
Florist –  Lisa Pryzystup of James' Daughter Flowers, Brooklyn, NYC
Cake – Sweethaus in Brooklyn, NYC
Rings – Catbird Brooklyn