Hello folks! Did you celebrate Valentine's Day yesterday? Whatever you did this weekend, I hope you had a lovely one. Today's intimate, homespun, humanist wedding is capable of brightening even the gloomiest of Mondays. On the 29th of August, 2015, Meg and Tom said 'I do' on the sweeping lawns of How Hill, a picturesque Edwardian house, in the heart of the Norfolk Broads. Our couple's dreamy outdoor ceremony was followed by a sunny, picnic style wedding breakfast and a party filled with lots of dancing. Meg and Tom's big day was captured by one of our favourite photographers, the award winning Ed Godden.
"The house at How Hill is Edwardian and I took inspiration from this era for my dress, hair and shoes. We love flowers and nature, so this theme ran throughout our big day too. When it came to planning the wedding we aimed to be as true to ourselves and our values as possible. We kept our guest list fairly small, with only our nearest and dearest in attendance, as well as our doggie, who we adore. We are both vegetarian and we love food so there was lots and lots of fantastic veggie food. We wanted our day to be fun for all our guests."
Photography by Ed Godden
Find Ed Godden in Little Book For Brides
Follow Ed Godden on Instagram
Our couple's big day was captured in style by the inimitable Ed Godden. Ed is also a member of our Little Book for Brides. You can take a peek at his listing here. I love the way that Ed captures the emotions of the day in these beautiful images…
"Having both studied photography, choosing a photographer was tough. We trawled all of the wedding blogs in search of the best wedding photographers and whittled it down to six. We chose Ed and thank goodness he was available!"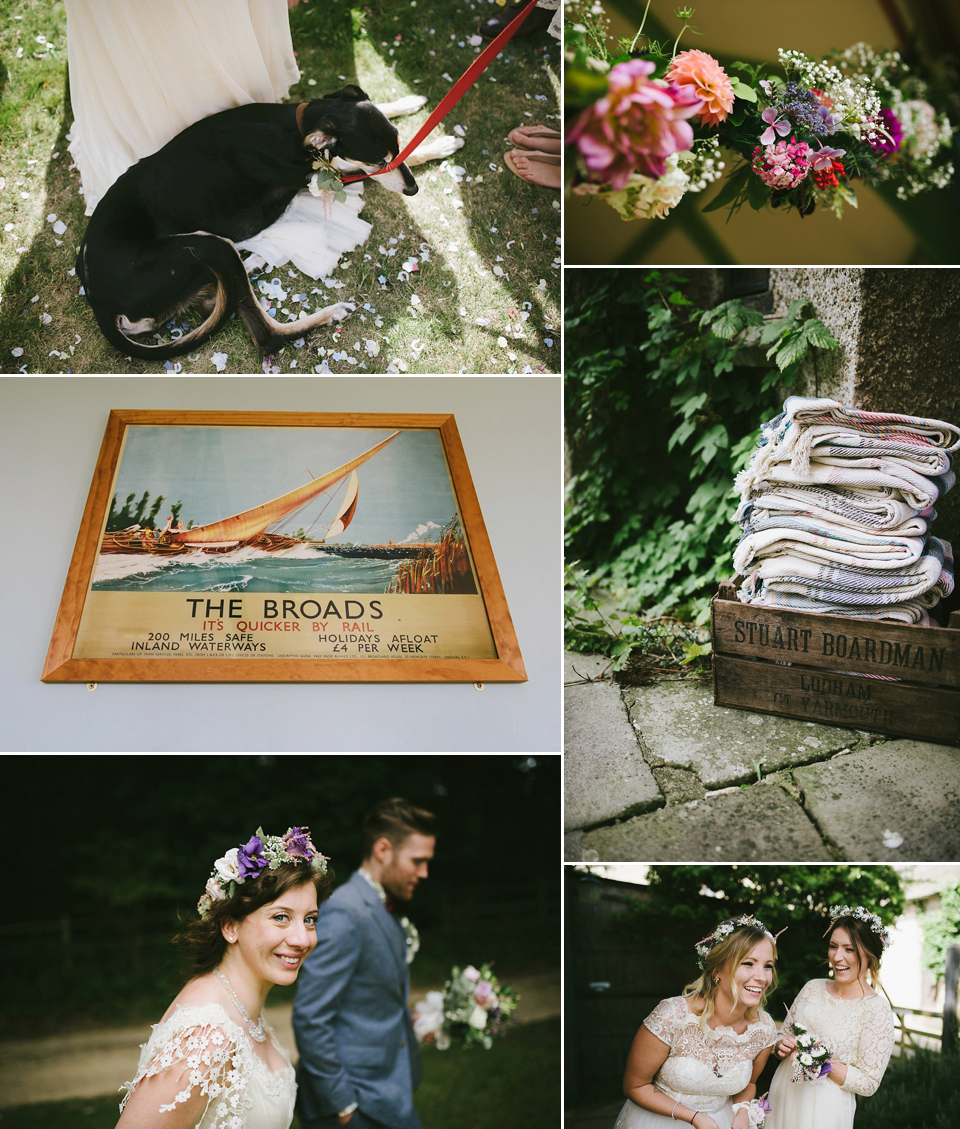 " When choosing a photographer, we would recommend looking at the chemistry that comes across in the photographer's shots. Ed creates natural candid images with the most beautiful editing. Also he is like a fairy; you don't even notice he is there, flitting around everywhere, grabbing all the great shots. And when you do chat to him, he's such a lovely guy with a great sense of humour, he's been doing it a long time and has a huge amount of respect for you both."
Meg looked stunning in an Edwardian style gown, with applique detail, by Brighton based designer, Joanne Fleming. We are big fans of Joanne Fleming's vintage inspired, couture designs here at Love My Dress HQ. You can find Joanne Fleming listed in our Little Book for Brides; a carefully curated directory of wonderful, hardworking wedding suppliers.
"I found Jo on Love My Dress. I came across a real bride wearing a Joanne Fleming design that was not only stunning, but perfect for the bride. I thought 'goodness, this is a special designer.' I looked up Jo's dresses and was really taken by all the creations on her website. It was such a special treat to go back to Brighton, the city where we got engaged, to meet with Jo for fittings. My mum and sister joined me each time (between us, travelling from London, Liverpool and Norfolk). All the travelling was worth it. I loved wearing my dress, it felt like I was wrapped in magic!"
Meg purchased her gorgeous, 1920s style shoes online from American Duchess, a historical footwear company based in the US.
Meg wore a half circlet of flowers in her hair and accessorised with her great grandma's antique crystal necklace.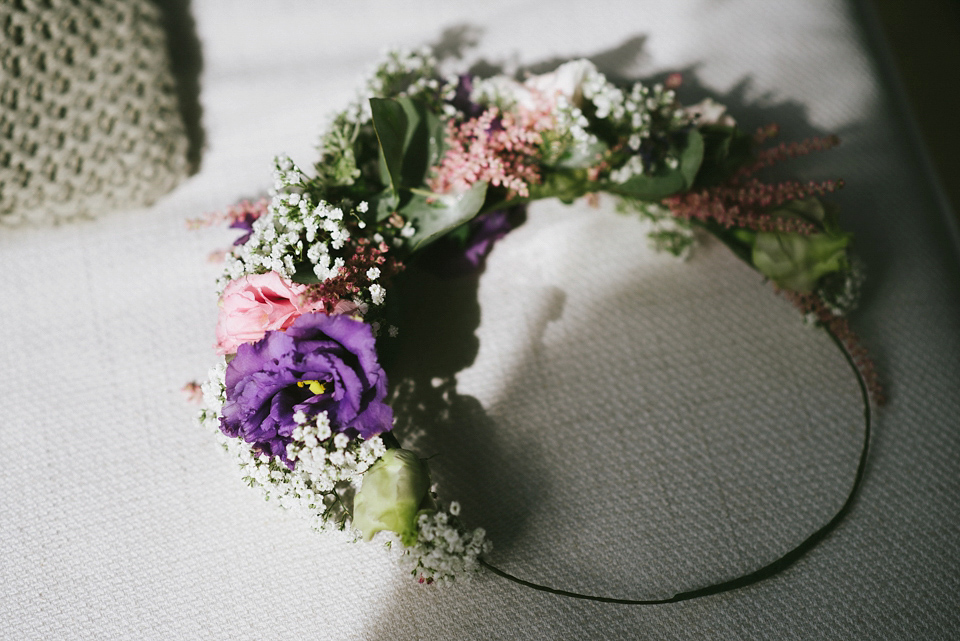 "I put my hair in rags to create the soft messy curls, which then got pinned up around the circlet. I wore a string of crystals that belonged to my great grandma, which were given to me by my nana (her daughter) on my 21st birthday."
Meg asked her bridesmaids to pick their own white lacy dresses, with each 'maid wearing a fresh flower circlet in her hair.
"Our two flowergirls are the daughters of some dear friends of ours and their beautiful little dresses were from ASDA!"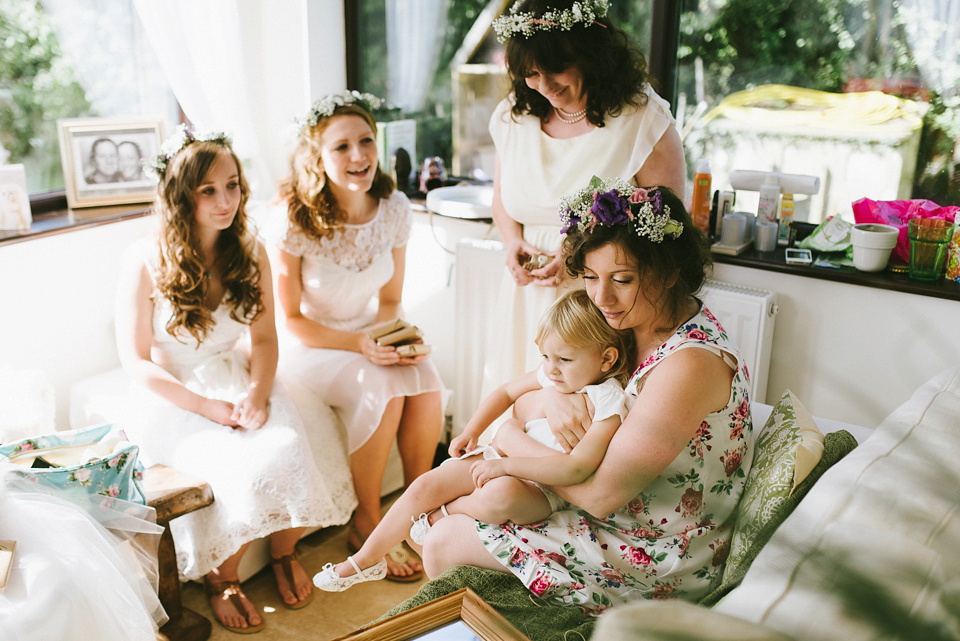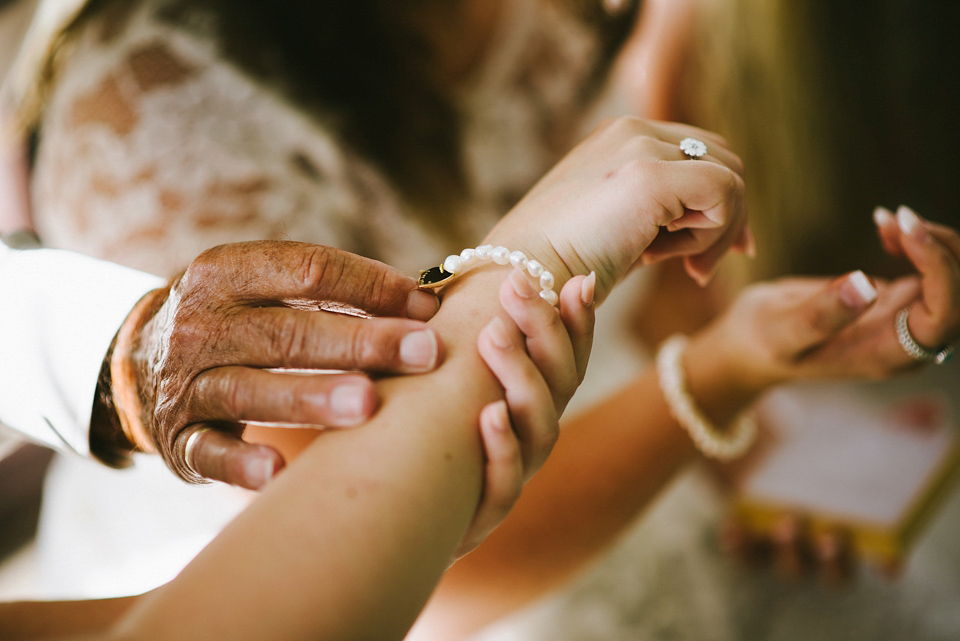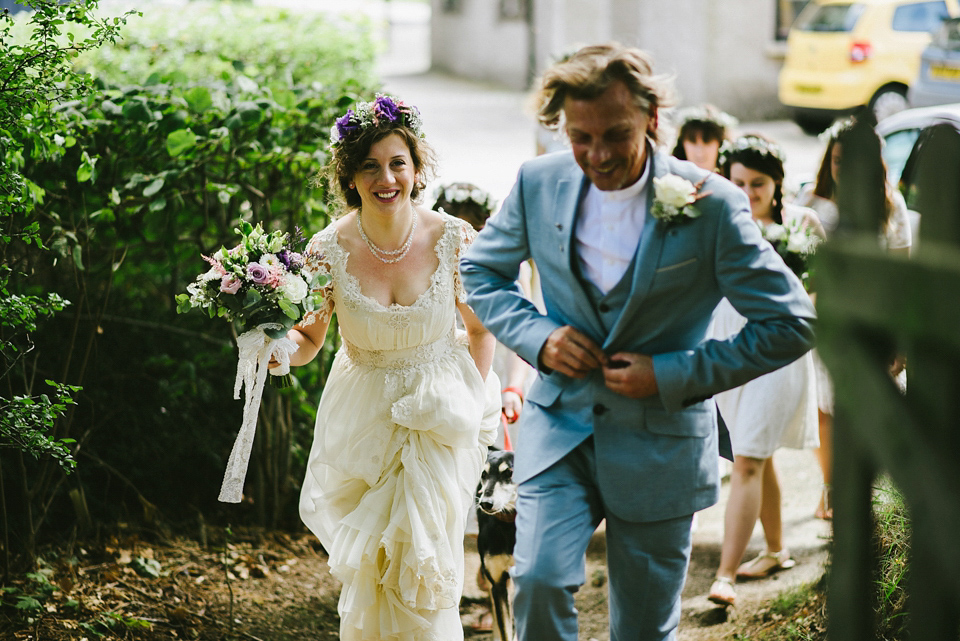 Tom paired his grey – blue, three piece, Beggars Run suit with an amazing animal print shirt from Liberty and a burgundy bow tie, to great effect.
"Tom and I met at university in Newport, South Wales, where we were both studying photography.  We got engaged in Autumn 2013 and it was a mutual decision we made together on a day trip to Brighton."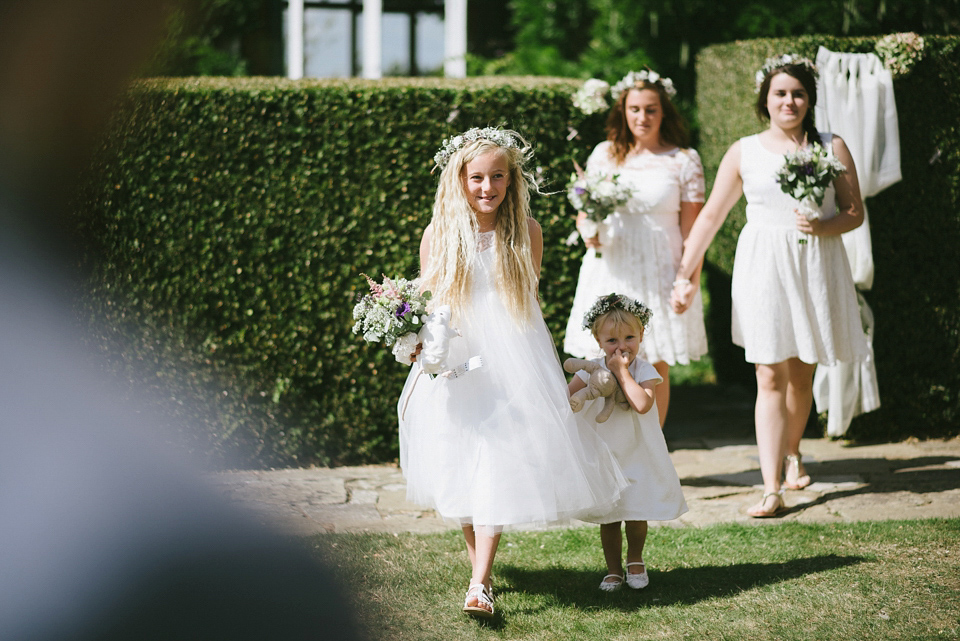 Our couple tied the knot outside, in How Hill's beautiful gardens. Meg walked up the aisle, accompanied by her father, to one of my favourite songs; 'Do You Realise' by The Flaming Lips, performed by their violinist, Jessica Diggins.
"We chose How Hill because of its wonderful location in the Norfolk broads. The gardens are spectacular and overlook old windmills and little River Ant. How Hill isn't a typical wedding venue; they are actually a charity and have schools from all over the county come for residential visits. How Hill teach children about the unique wildlife of the area and it's a very special place to stay for children who may have never been to the broads before. I first came to How Hill on a school trip myself."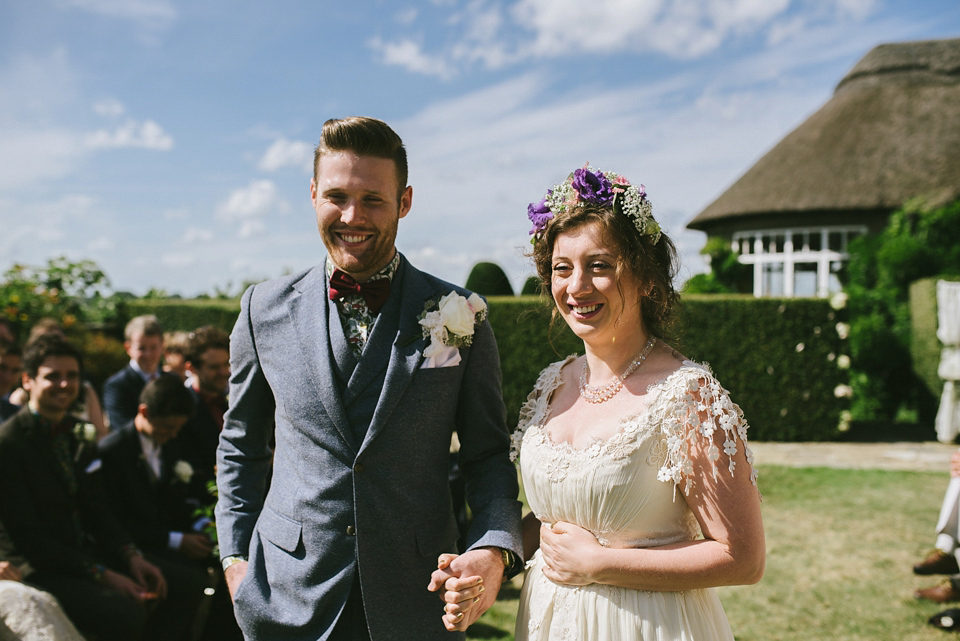 "We are humanist, meaning that people are at the core of our values. Our humanist ceremony was led by my mum's best friend, who is a professional celebrant. She is my godmother and was a bridesmaid at my parent's wedding, which made the whole thing even more special and personal."
"Tom and I both write (Tom professionally and both of us creatively) so we wrote all our vows ourselves. Our vows were our promise to each other, so we thought very carefully about what the words meant and made sure that they were true to us. We kept the words for the ring exchange as a surprise for each other."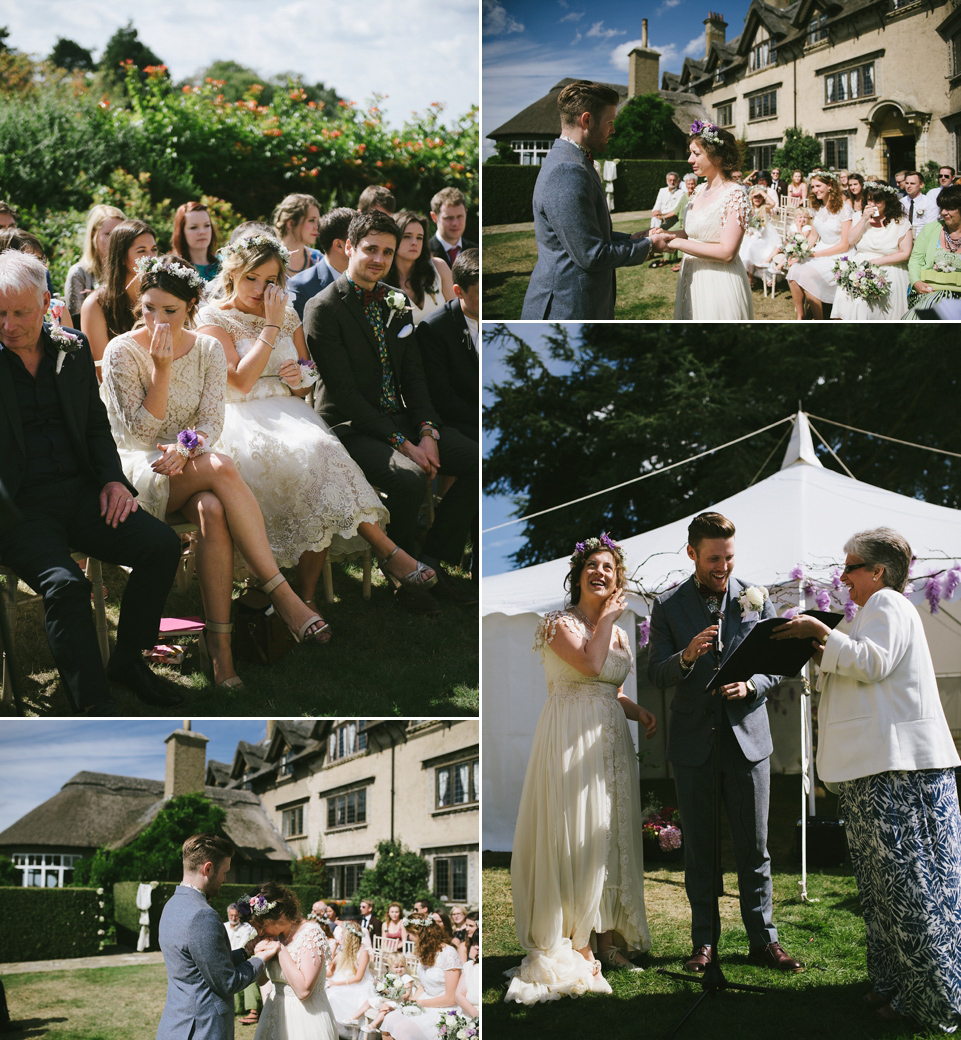 "Tom chose not to have a ring. I still wanted to give him a gift, so I chose a rose bush, which is now planted in the grounds of How Hill. My ring belonged to my Nanny Ruby; it was very thick so I had it cut in half and gave the other half to my sister."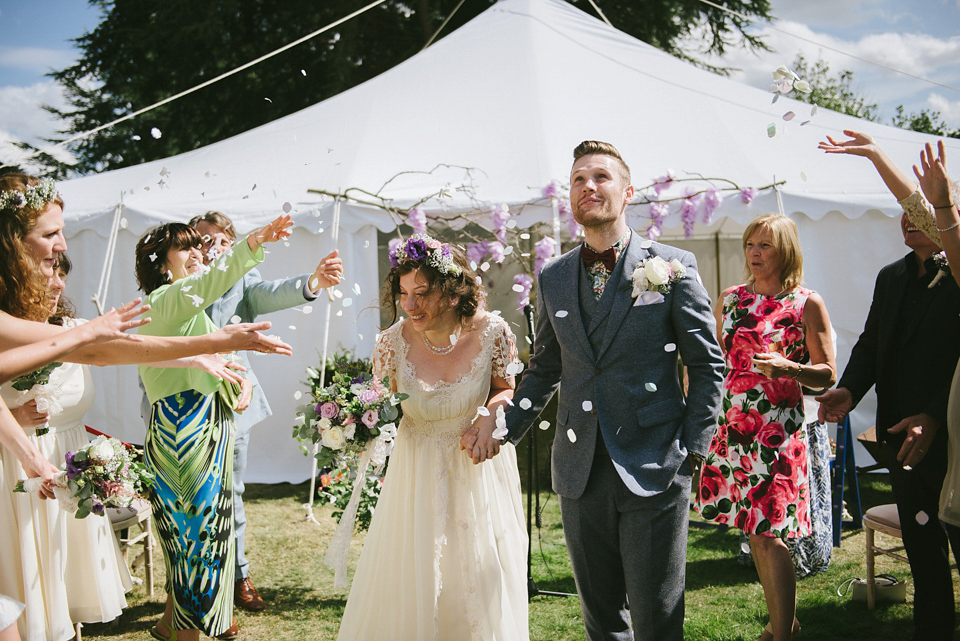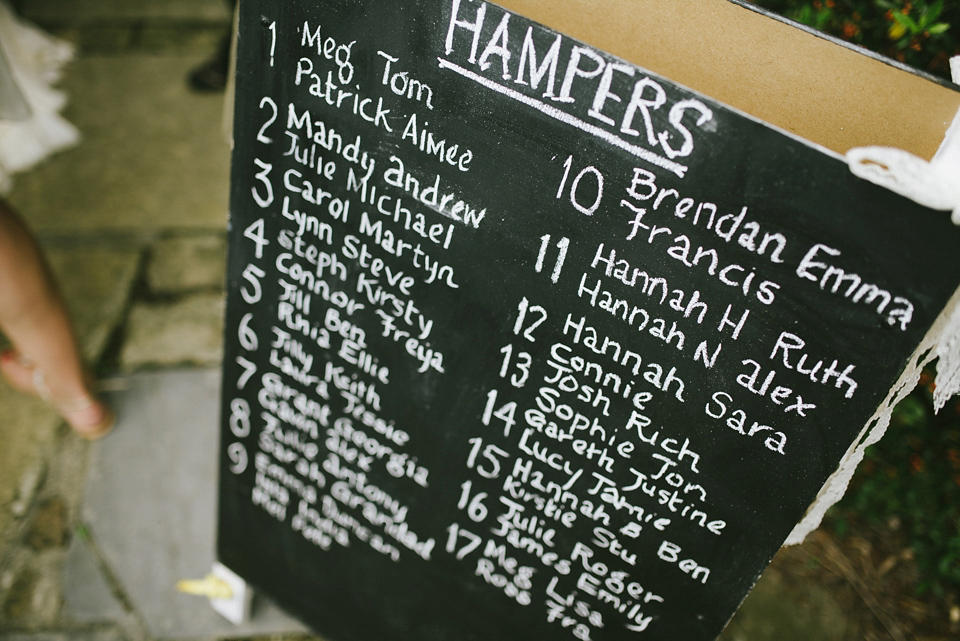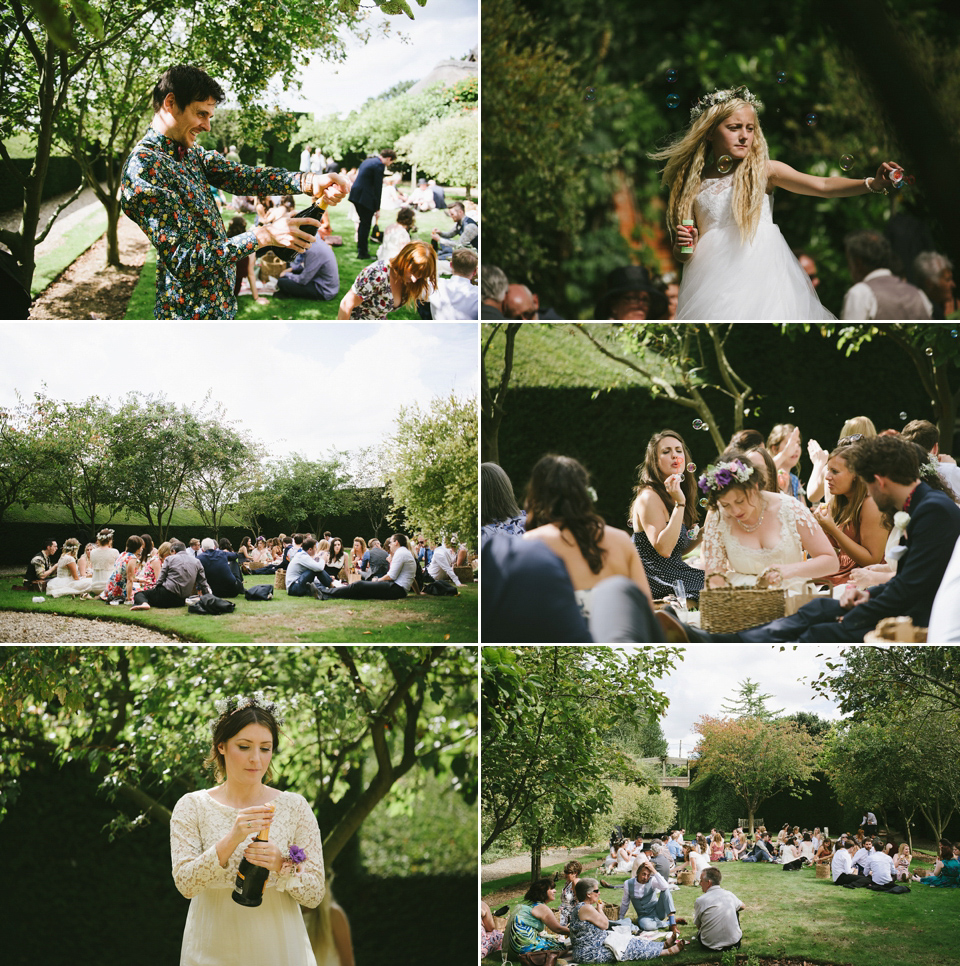 Our couple held a picnic style wedding breakfast, catered by Bridget of How Hill and their Victoria sponge cake was created by Taylor Made Cakes.
"Our picnic felt like something out of Alice and Wonderland! The food was fantastic and all made using fresh, local, produce."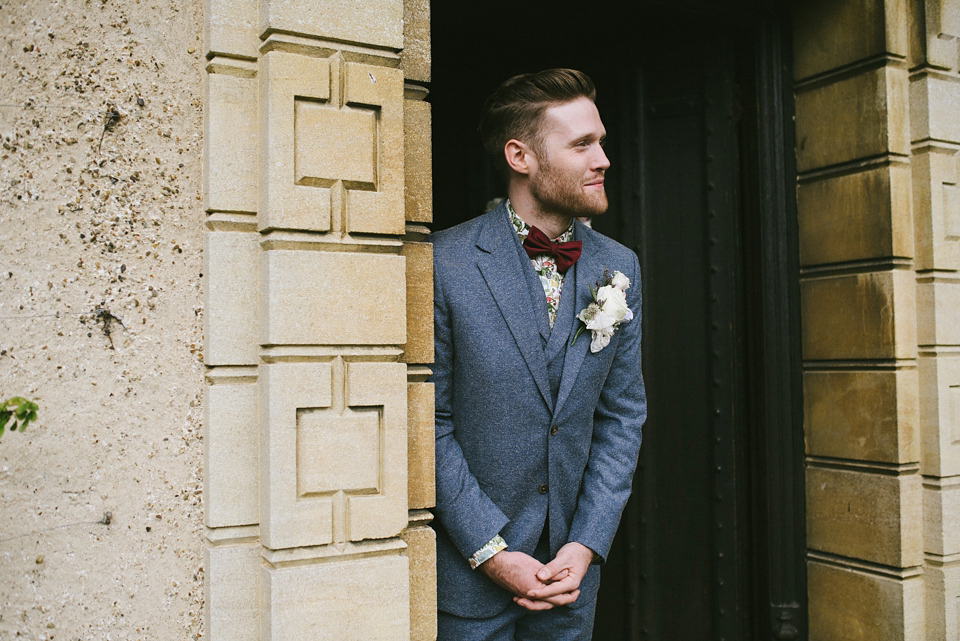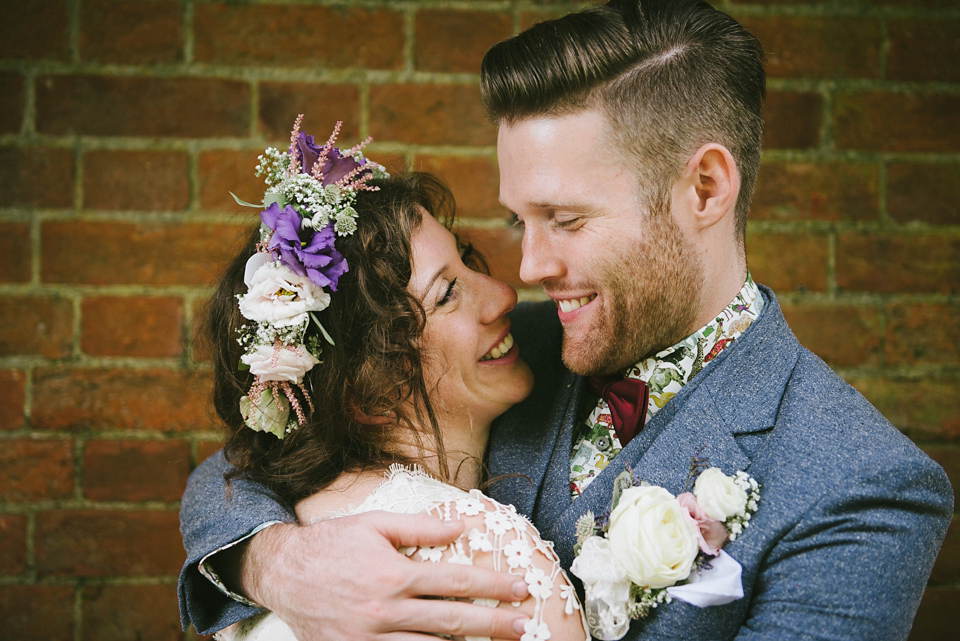 The bridal party's flowers (including those wonderful floral crowns) were arranged by Henrietta of Arcade Florist.
"I wanted to use someone local, who I could trust, and Henrietta is brilliant. She was great at taking on board what we wanted – including buttonholes for all our guests."
With help from their friends and family, our couple decorated How Hill with lots of lovely handmade touches including fresh flower garlands, strings of handmade paper wisteria and hand painted chairs.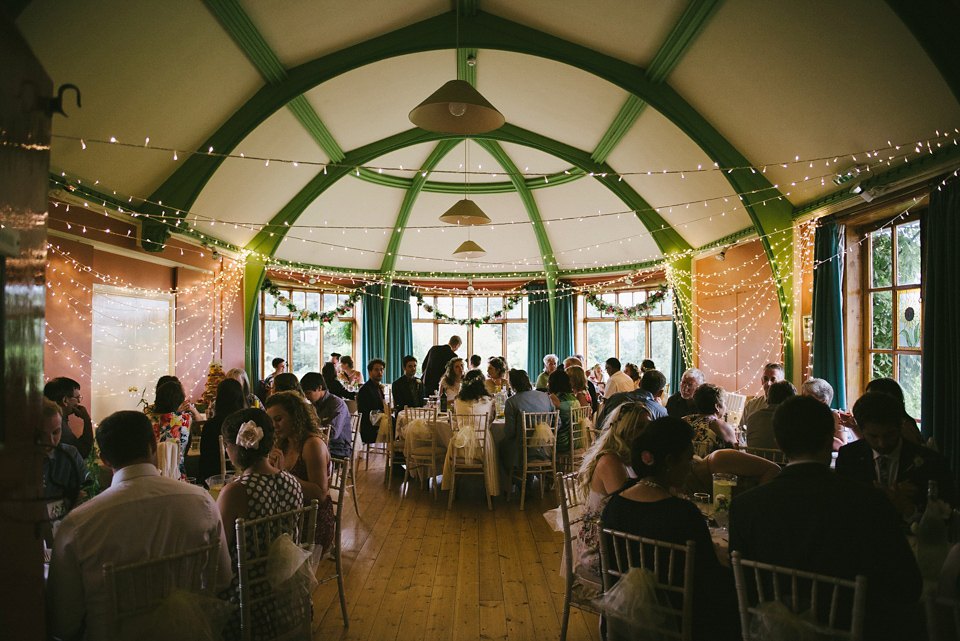 "My mum was in charge of décor. Everything had a personal meaning to it and we were overwhelmed by the help and support people gave us. My mum created the flower garlands using local flowers and my bridesmaids made the paper wisteria (which hung in the entrance to the marquee) with help from their families.
The chairs Tom and I sat on during the ceremony were painted by my auntie Julie as a wedding gift, and the wheelbarrow and watering can, filled with flowers, belonged to my late grandad, who I was very close to."
"For our favours, we gave our guests RSPB bird badges. We love their little badges and we are passionate about the great work the charity do."
"Our cake was made by Sarah Taylor of Taylor Made Cakes. We chose Victoria sponge as it's the queen of cakes, we love fresh fruit and it's a great option for a modern lighter wedding cake. Tom and I decided to cut and dish out a slice to each one of our guests as part of their dessert. It was so much fun, giving us a chance to speak to every single person one by one."
You have to adore a bride prepared to do hill rolls in her wedding dress…
Meg and Tom's evening entertainment was provided by Jason from Disco Wed and our couple chose an upbeat classic for their first dance; 'Close to Me' by The Cure.
"Jason is such a great guy and he kept our guests very happy. We hugely recommend him – he is the perfect antidote to cheesy wedding DJs."
Words of Wedded Wisdom:
"Talk to each other, respect one another's choices and remember that the day is about you two as a unit, so work as a team. Get your other team mates assembled too; it's a big project and it's wonderful to share it with those you love.
Do stick to your guns; listen to your heart and go with your gut. Everyone will have opinions, just listen politely and take what you want from it. Play some cards close to your chest – because sharing lots of major decisions, can open a huge can of worms."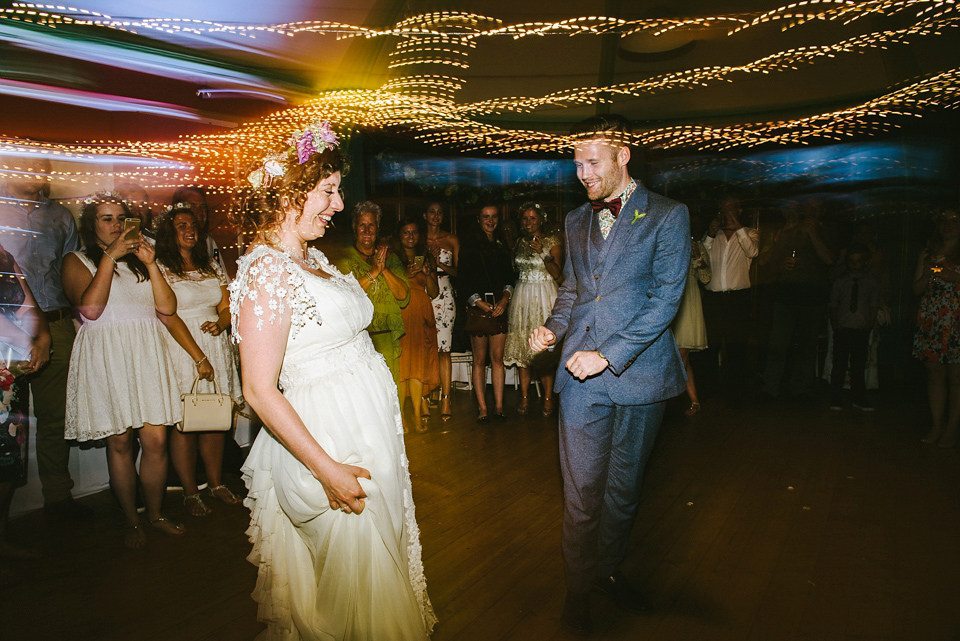 A huge thank you both to the happy couple and to Ed Godden for these wonderful images. If you'd like to peruse other homespun weddings on the blog, please click here. If you've been inspired by today's wedding to create a floral crown or circlet, why not take a look at this brilliant tutorial by award winning florists, Lily and May.
Have a brilliant week!
Annora x
Photographer – Ed Godden
Venue + Catering – How Hill
Wedding Dress – Joanne Fleming Designs, Brighton
Headpiece – Fresh flower crown created by Arcade Florist
Shoes – American Duchess
Accessories – Earrings from Accessorize + the bride's great grandma's crystal necklace
Bride's Scent –  Lumière Blanche by Olfactive Studio
Groom – Beggars Run suit + Liberty shirt + Komono watch
Bridesmaids – Dresses from Etsy, ASOS + ModCloth + fresh flower crown created by Arcade Florist
Flowergirls – ASDA dresses
Florist – Henrietta of Arcade Florist
Cake – Taylor Made Cakes
Entertainment – Violinist Jessica Diggins + Jason, a DJ from DiscoWed
Stationery – Peter Hope-Parry
Makeup Artist – Claire and Sarah Whiston