Well I don't know how you're finding this week but I'm certainly smiling because spring seems to be in the air. I just love this time of year when so much seems new and fabulous and those two words lead me perfectly into this feature. Today, I'm thrilled to introduce you to the brand new spring 2016 bridal collection from 1950s inspired fashion label Oh My Honey…
Oh My Honey was launched back in 2009 by designer Louise O'Mahony to create skillfully handmade 1950s-style dresses to customers as well as giving brides the opportunity to have dresses made to order without having to travel miles to a unique bridal boutique.
The dresses have, quite rightly, become internationally famous for the level of craftsmanship involved in each piece and the super creative take on the retro trend you'll notice in each design.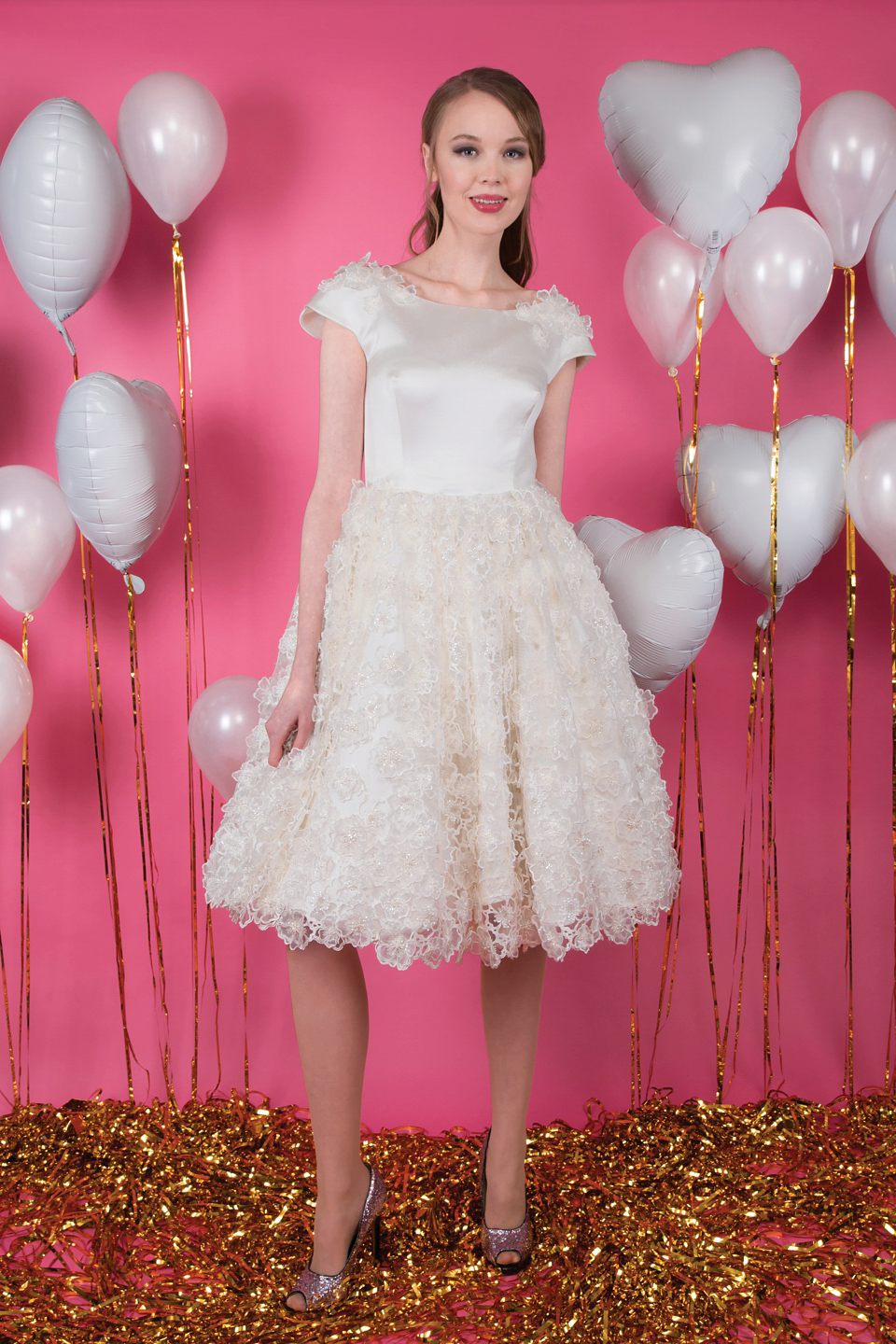 The 2016 collection features twelve new dresses, all impeccably made using heavenly fabrics such as lace, raw silk, duchesse satins and organzas not to mention the most beautiful and intricate decorative elements in blush, gold and ivory. That's bridal perfection right there!
"I designed these dresses for the fun loving bride," says Louise. "They take a strong influence from the 1950s classic styles whilst also being exceptionally flattering on today's figure. I wanted to create wedding dresses that make a bride feel beautiful and allow them to project their own individual character."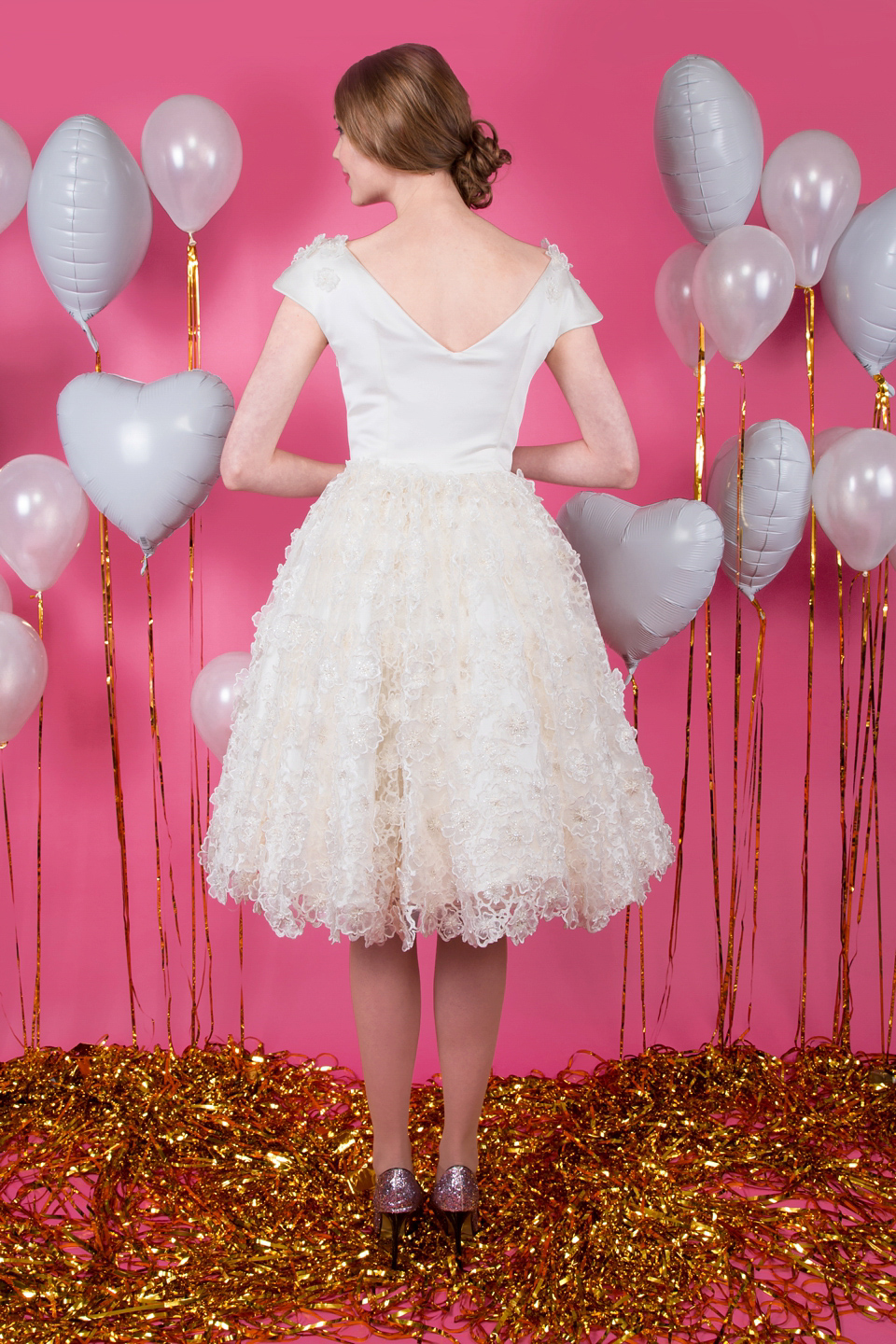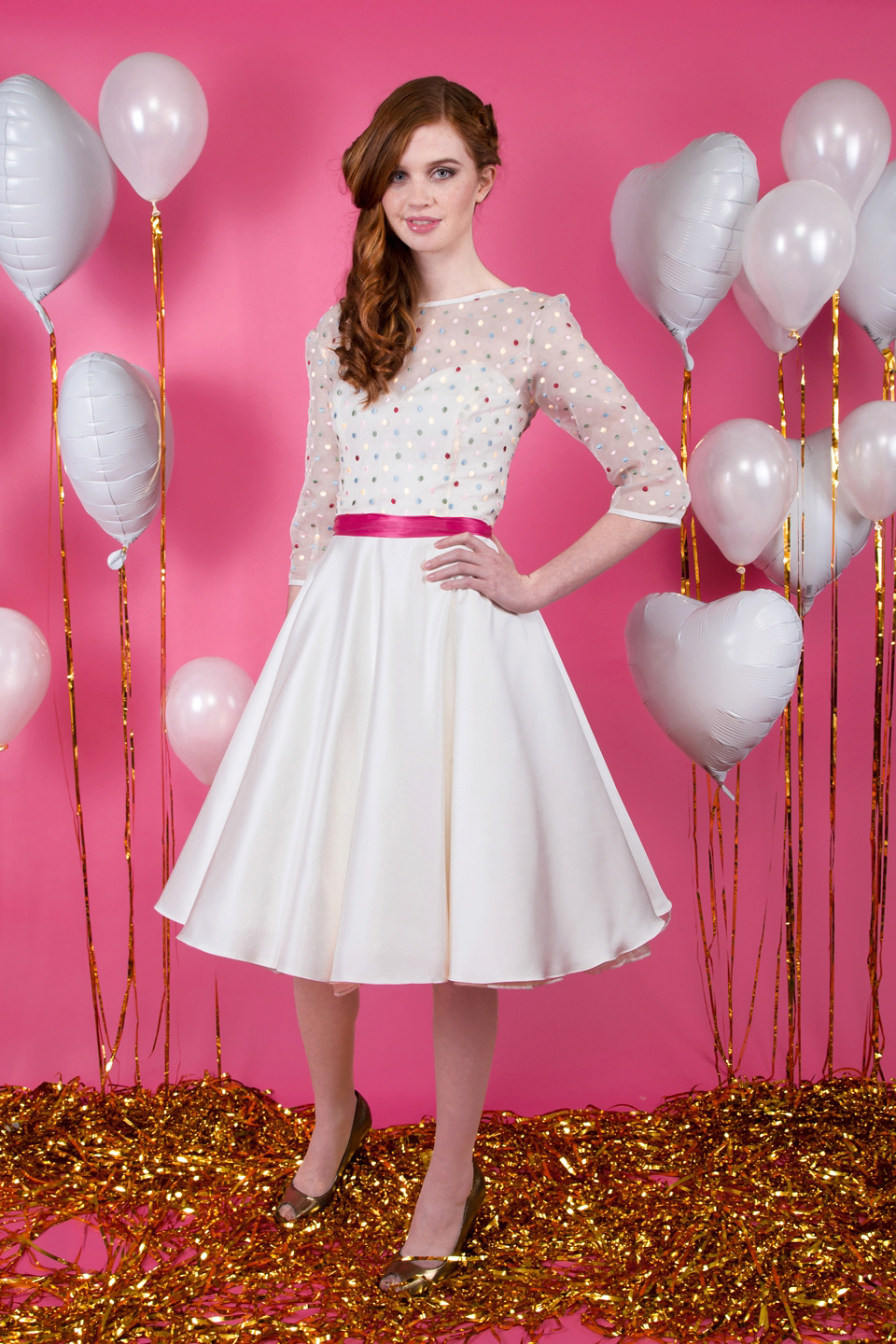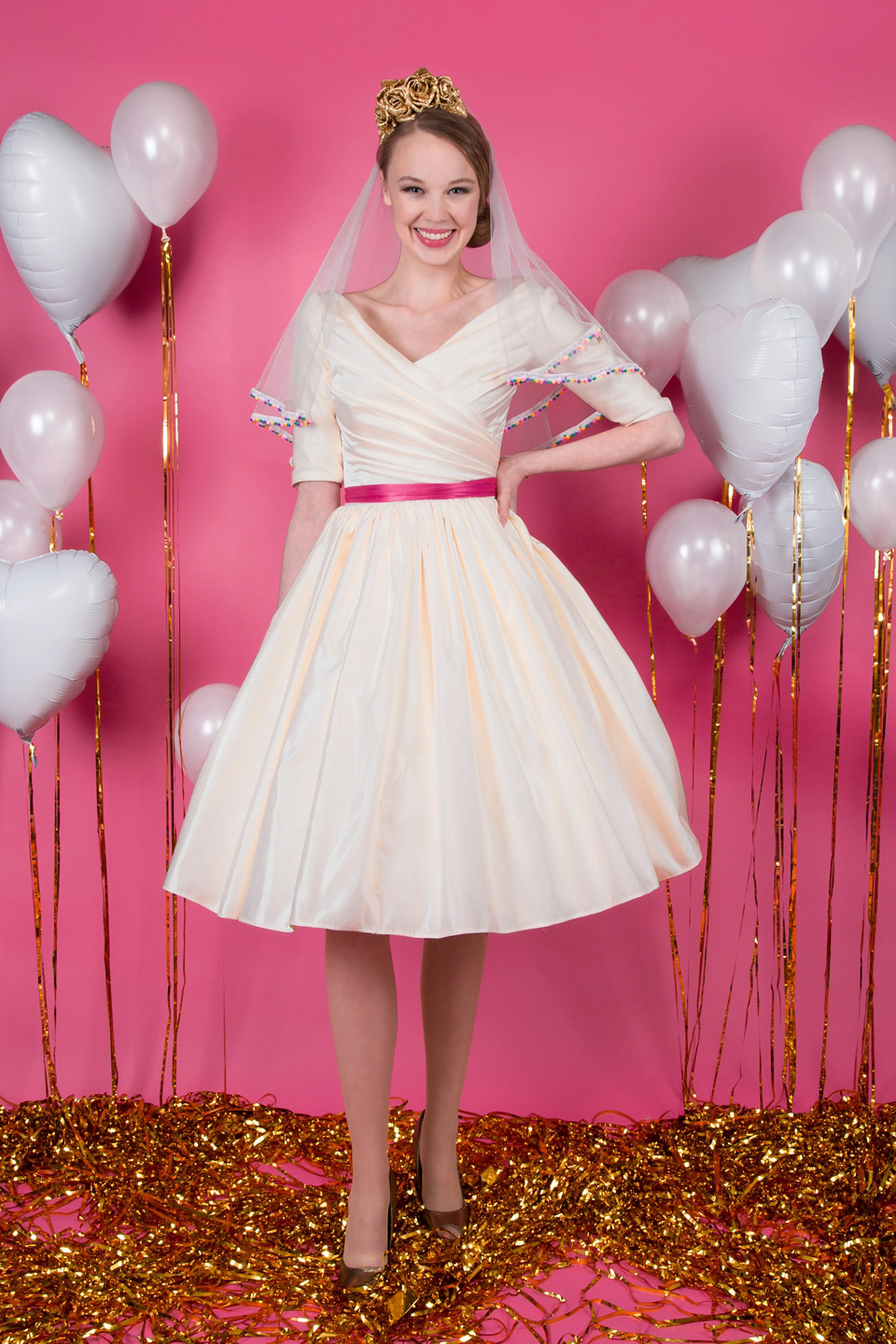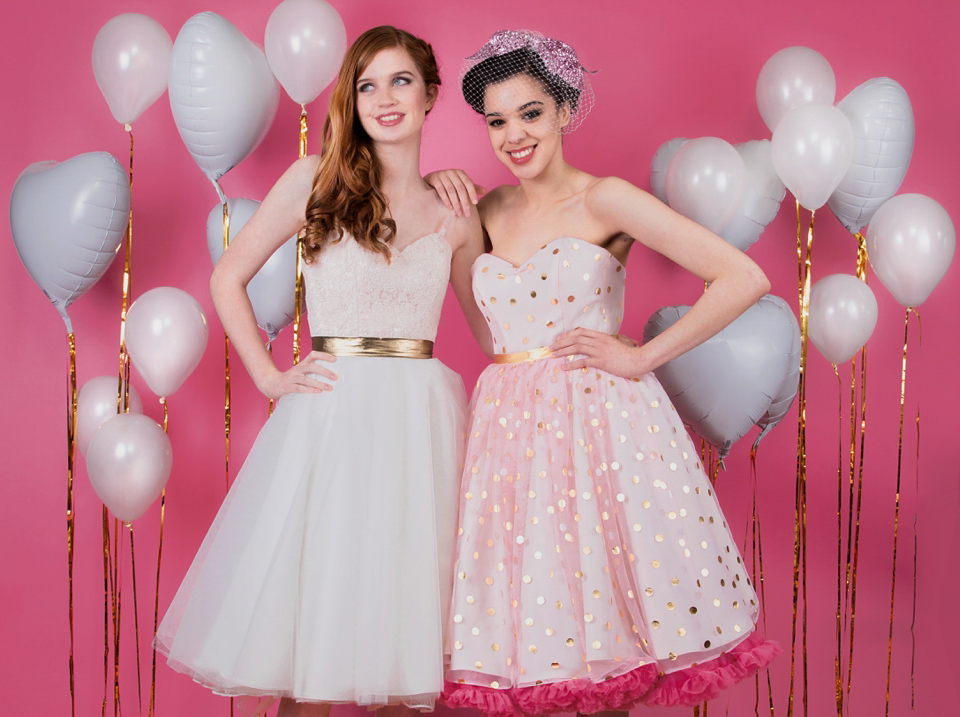 Louise unveiled the new Oh My Honey dresses at a rather fabulous party at her Brighton HQ and I'm smitten with this amazingly pretty collection of vintage gorgeousness. Gold sequins, embroidered polka dots and glitter spots not to mention laser cut flowers and pink ombre tulle are just all the things that dreams are made of.
There are a lot of stars in this new collection. I love the elegant Eileen (£590) featuring an off the shoulder collar, long sleeves and a beautiful beaded design. Another shorter dress that makes me smile is the super cute Effie (£490) with that multi-coloured polka dot silk skirt with its organza overlay not to mention the sweet three-quarter length sleeves that are edged in silk ribbon.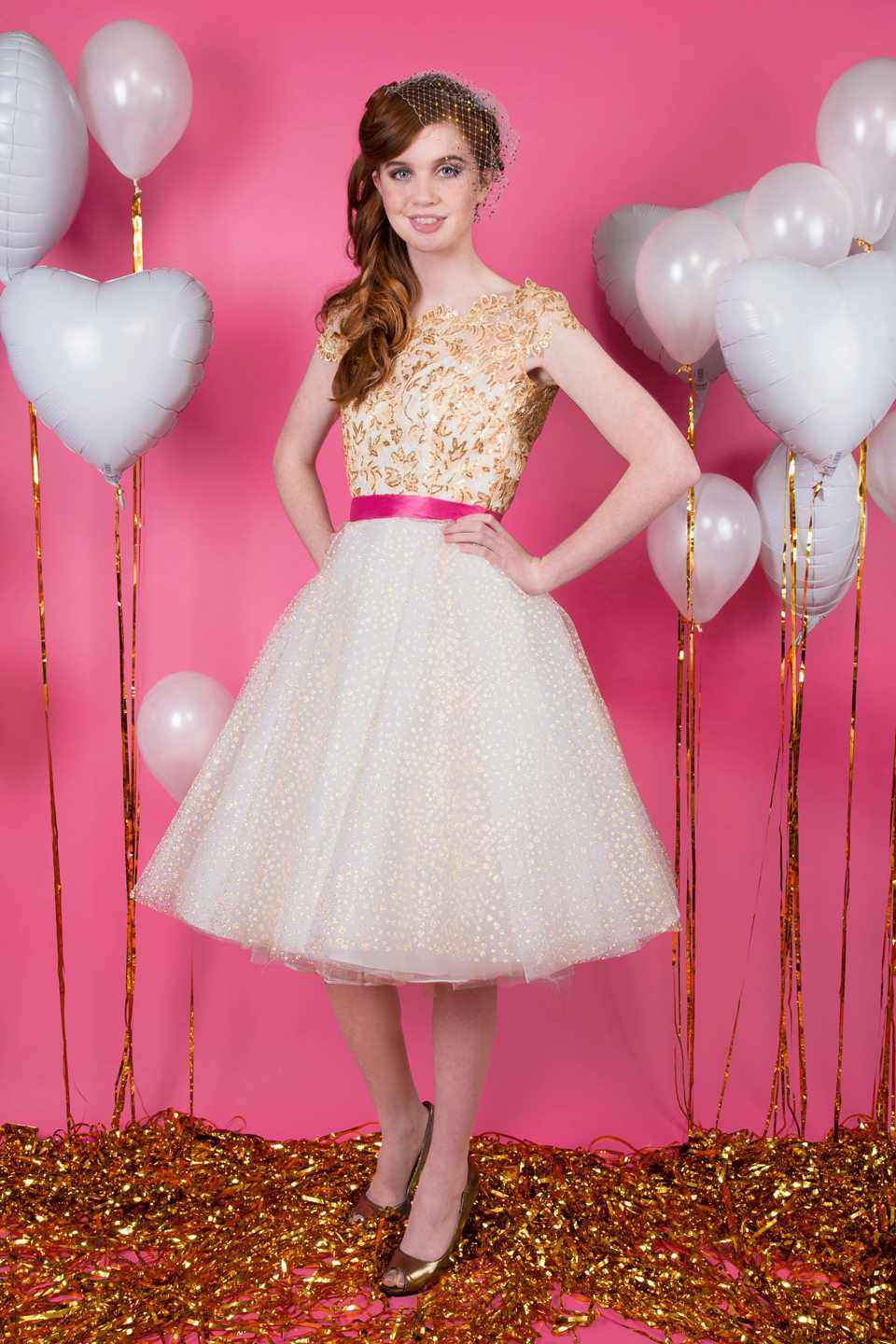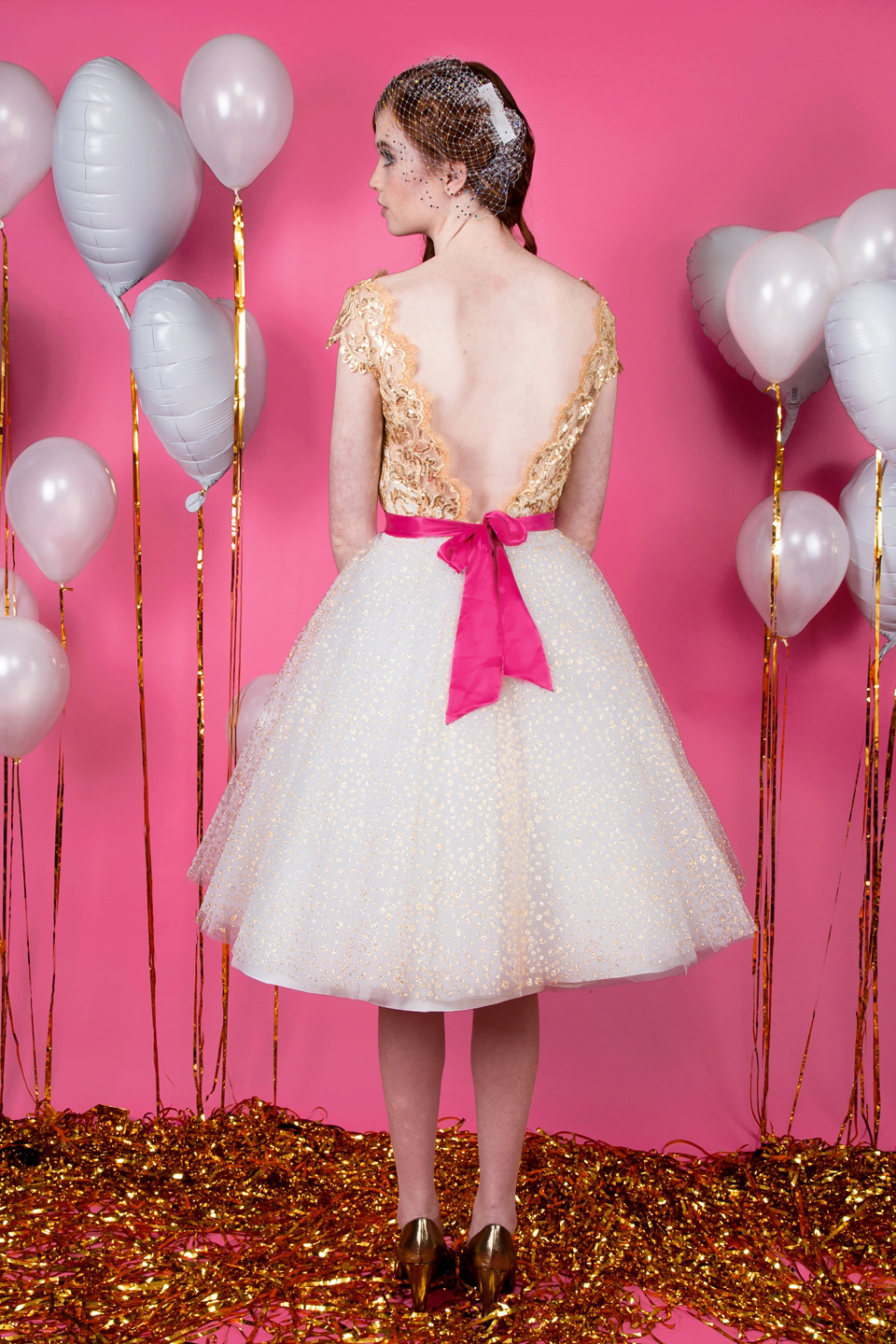 The part of me that simply longs for glamour is so taken with Alexandra (£990). This is a showstopper of a design that's also two dresses in one. The skirt, with over 13 metres of satin can be removed leaving you with the delectable wiggle dress that's sure to turn heads. Another chic and figure-hugging dress that caught my eye is Kimberly (£990) with its feather fishtail and blush pink silk and ivory lace bodice.
I also need to mention Lexi (£350) because the rose pink tulle and gold polka dots are just the happiest combination you ever did see and it's ideal for the fun loving bride or the 1950s inspired bridesmaid.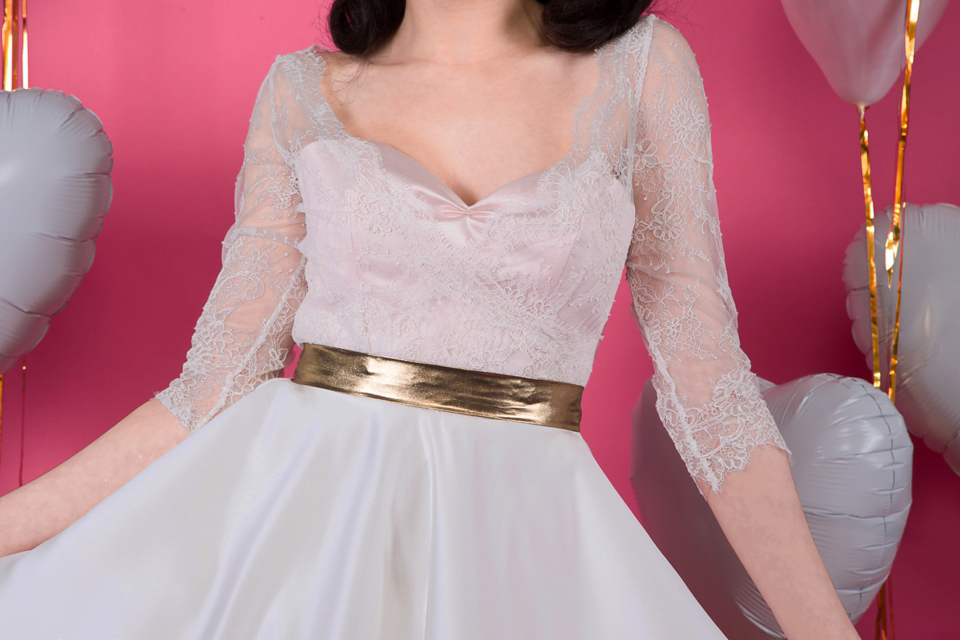 All of us here at Love My Dress send the hugest congratulations to Louise and everyone at Oh My Honey – the new 2016 collection captures all the elements of the 1950s that we love and these British made bridal dresses are truly fantastic.
For more information on the 2016 bridal collection from Oh My Honey, just take a look at the website. Here you'll find all the details on each design plus everything you need to know to order your dress.
Oh My Honey can also custom make dresses to suit your own requirements so whether you'd like a different length, fabric or colour, Louise and the team can adapt a design to suit you and a made to measure service is also available on most dresses with prices ranging from £350-£990.
Oh My Honey dresses are available to purchase online and, if you'd like to discuss a custom order, just drop an email to the team – [email protected] – and they'll be very happy to help you. You can also find Oh My Honey on Facebook, Twitter and Instagram.
Love Tamryn x
Lookbook Image Credits:
Photographer: Fleming Photo
Models: Insea Landt, Emily Coxx, and Rachael Banahan
Make Up Artist: Martha Joy Warnes
Hair Stylists: Natalie Hogan and Billie Walker at Betty Lou's Salon
Hair Accessories: Crown and Glory
This is a sponsored post