Hello folks! We are delighted to be starting the week with a wedding featuring one our wonderful 'Lovettes'. Emily is a member of our team of 2015/16 blogging brides who have kindly taken the time to share their wedding planning journey with us. I highly recommend taking a peek at Emily's beautifully written, heartfelt, humorous posts full to the brim with lots of helpful wedding planning tips she has picked up along the way. Emily's posts span everything from winning her dream Jenny Packham gown and learning the art of calligraphy to negotiating stress and anxiety in the run up to her big day.
Emily, a freelance editor and writer, wed Daniel, a communications manager, on the 12th of September 2015 at St Cuthbert's Church in Shustoke, followed by a reception at nearby Shustoke Farm Barns, Warwickshire.
"We weren't fans of the idea of having a colour scheme or a theme – we didn't want to be too tied into one particular thing. So we just chose what caught our eye and hoped it would all come together on the day!"
Photography by Mister Phill Photography
Our couple's big day was captured in style by photographer Mister Phill and videographer Emmelie Eriksson…
"There truly aren't words for how incredible Mister Phill is. Not only does he take the most beautiful photos and capture special moments you didn't even take in on the day, but he is the nicest man to boot. I can't recommend him highly enough – his photos are now in my 'top three things I would save in a fire'. That's how good he is."
Our lucky bride wore a jewel encrusted Jenny Packham gown, which she won in a competition – more on that shortly.
"The gown was, hands down, the most beautiful dress I had ever seen. It was understated, but remarkable, all at the same time. The beading was incredible and I couldn't believe that it was going to be mine. I fell hook, line and sinker for it – I will always be grateful to Jenny Packham for stepping in and making the decision for me!"
"Daniel and I met eight years ago at Birmingham Airport – at the time, Dan worked in their PR department and I was a local reporter. Within a few months we were living together – we knew very quickly that we had found something out of the ordinary. Dan asked me to marry him in Washington DC in front of the Lincoln Memorial – it was too late to call anyone at home, so we kept the news to ourselves for a few hours and celebrated by drinking champagne out of mugs back at our hotel and eating pizza in our pyjamas. We were engaged for 18 months before we were married."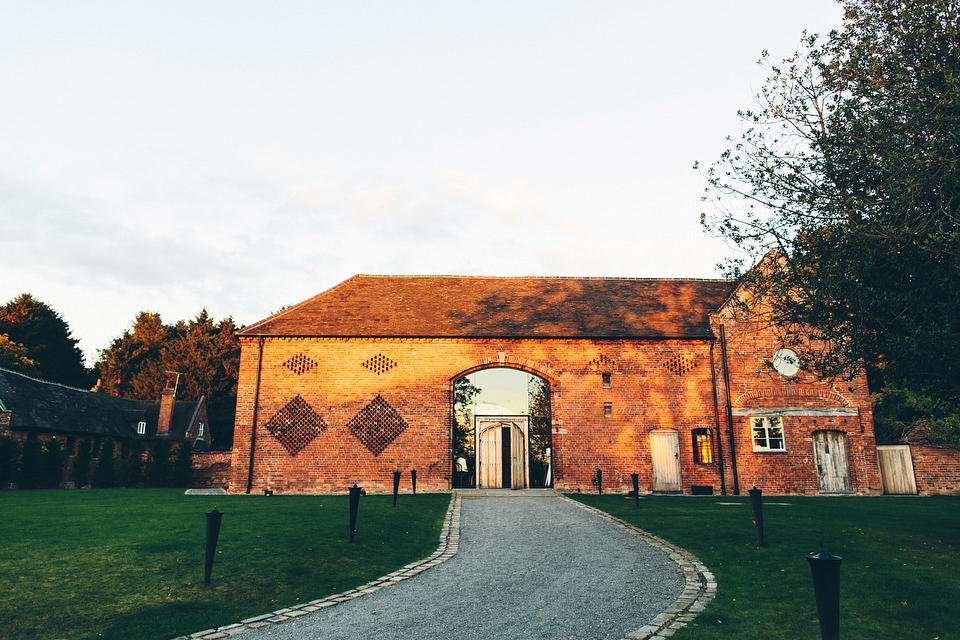 "Our invitations featured an original illustration by Alex Griffiths and John and I created the Order of Service booklets, based on Mr Men books. I also taught myself calligraphy and went on a Quill London course (which was amazing) so I could put my new skills to good use with the envelopes, place cards and menu."
"Our florist, Hannah at Bloom Fleuriste, is insanely talented. Hannah has such a good eye, seamless taste and effortless style – visiting her to talk about flowers in her little garden hut were some of the happiest times I had during the planning process. I knew that whatever she created would be beautiful and I was right – she is a star."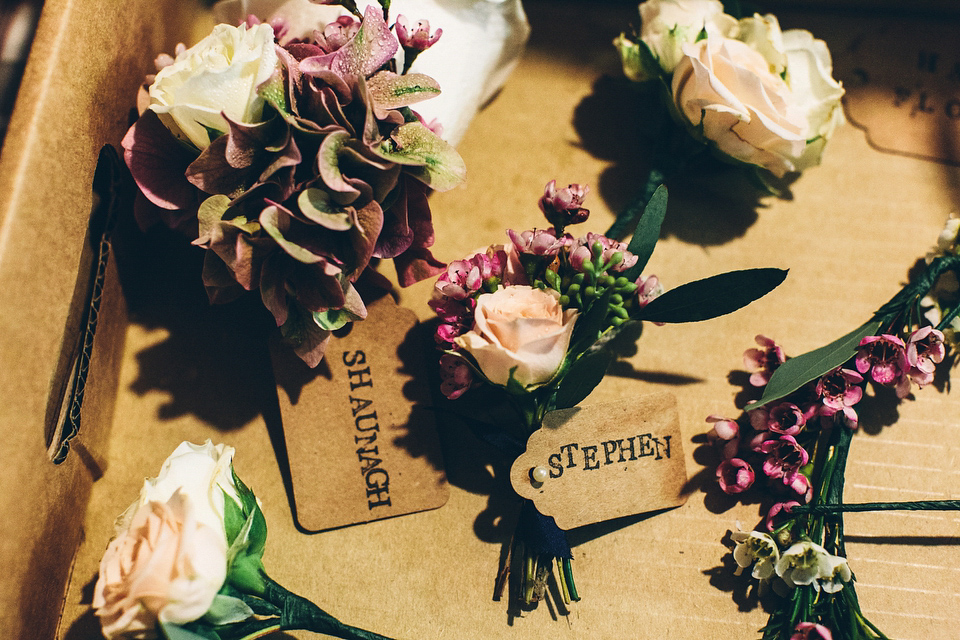 Emily actually won her gown in a Brides magazine competition…
"I found wedding dress shopping really difficult. I would try a dress on in a shop, like it, but then get home, search for images of it on the internet and talk myself out of it. I had no idea how I was going to break this cycle until I got an email from Brides magazine one day – I had entered a competition to win a Jenny Packham gown for which I had to submit a Pinterest board of my perfect wedding. Jenny Packham picked me as the winner, so as quickly as my legs would carry me I raced to London to see the dress."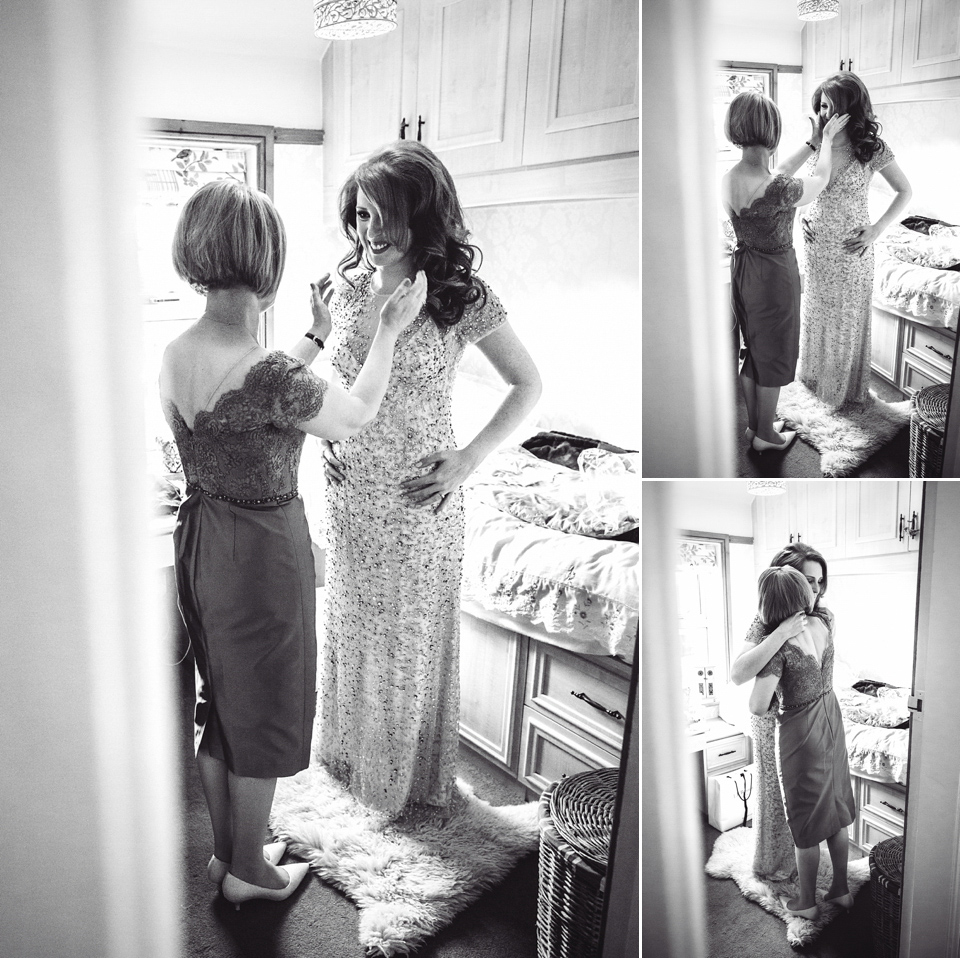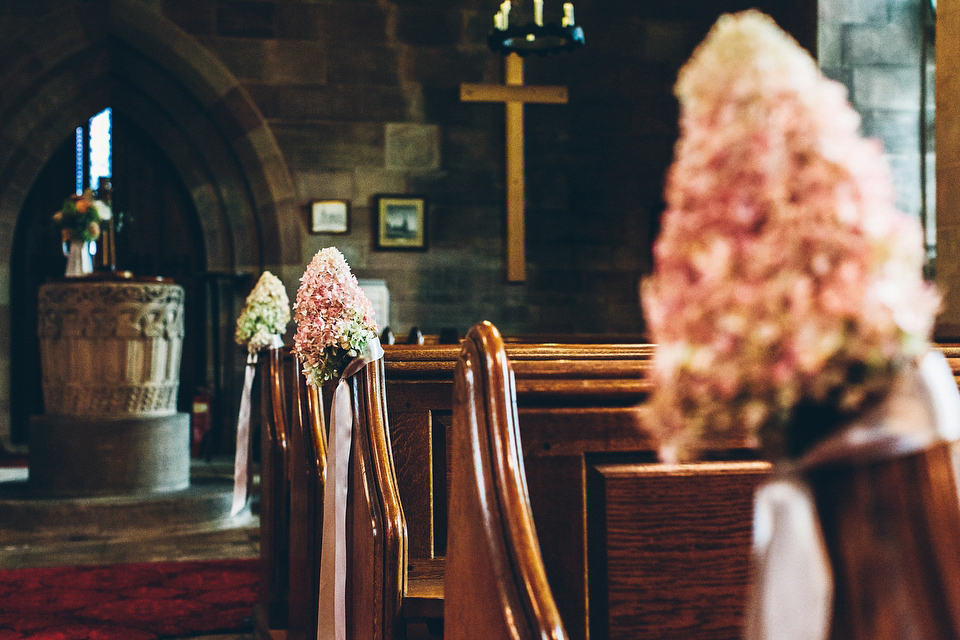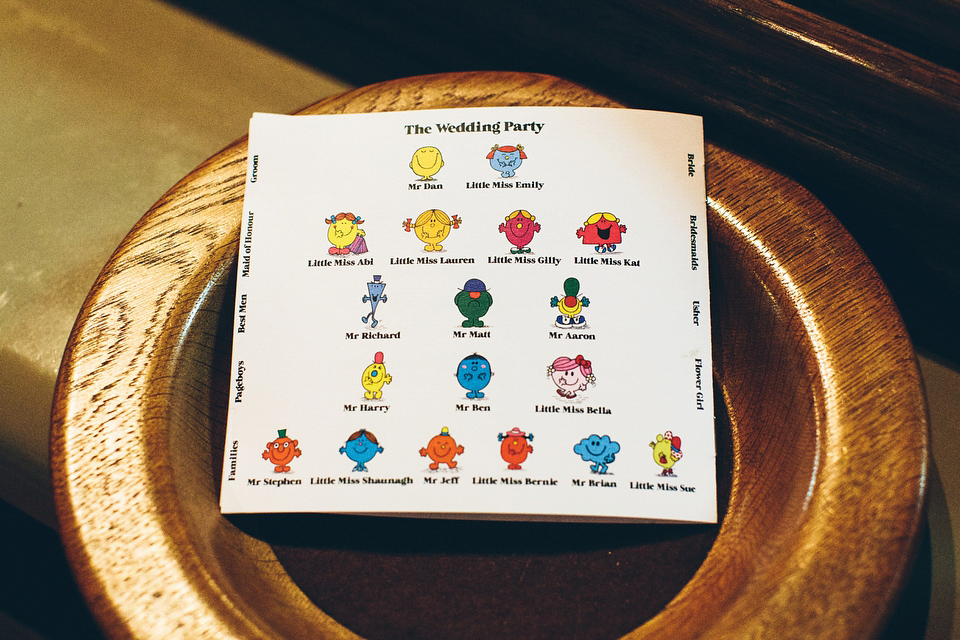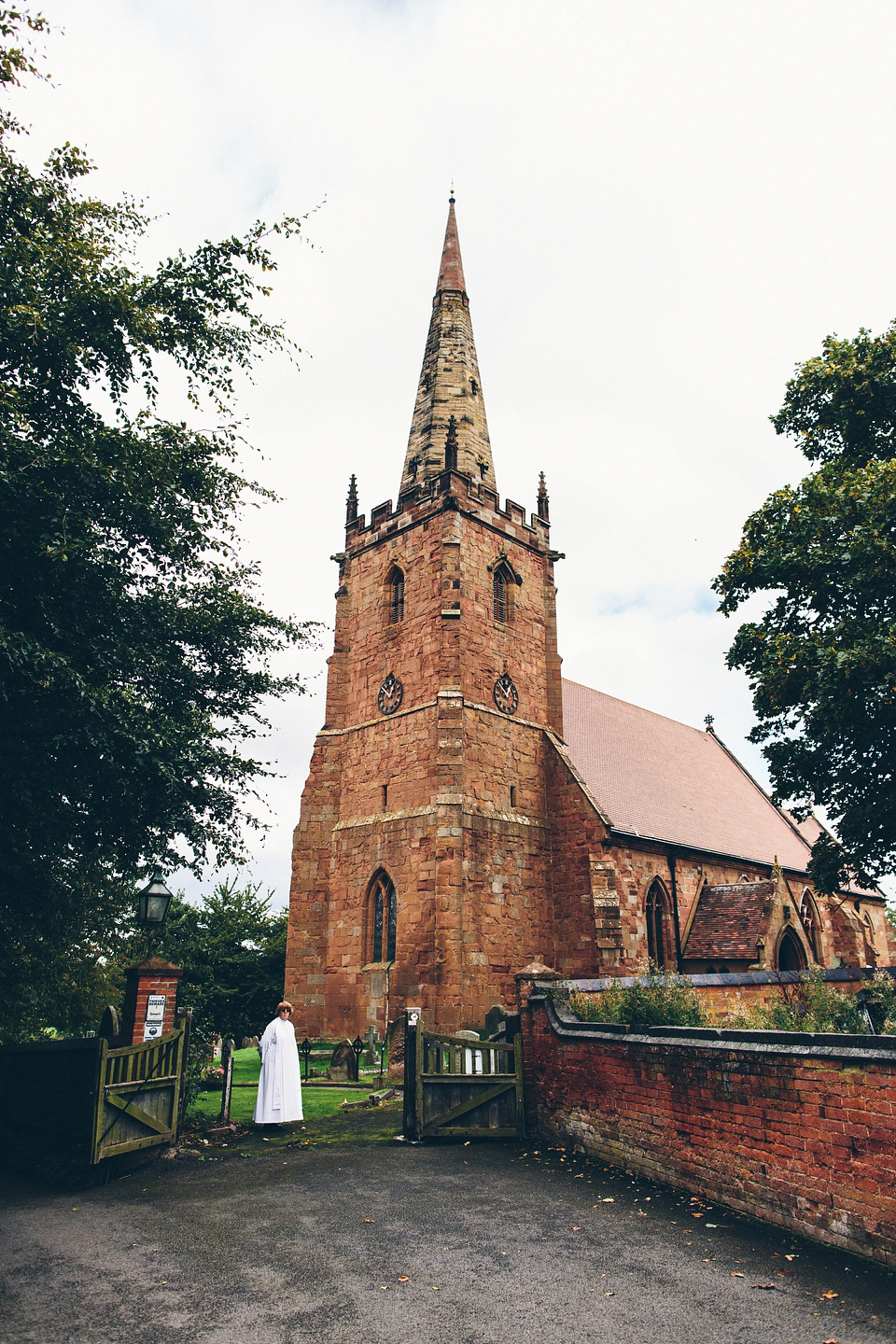 Emily and Daniel tied the knot at St Cuthbert's Church in Shustoke. Our bride walked up the aisle accompanied by her father to the sounds of Pachelbel's 'Canon in D Major', performed by string quartet Emerald Strings.
"My lovely dad gave me away. He looked so handsome in his suit and did a great job."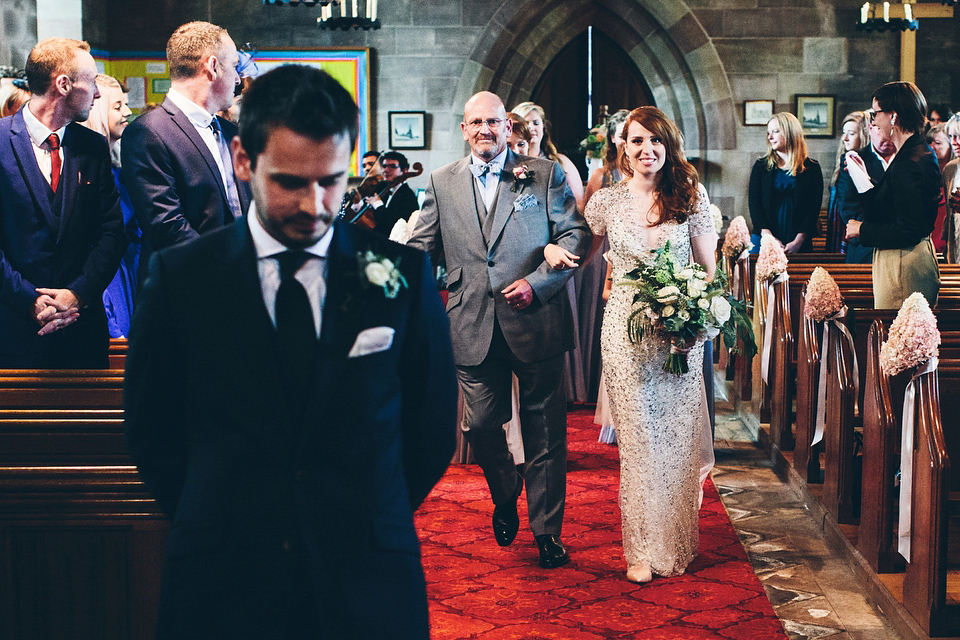 Our couple opted for three readings, with Emily's mum reciting a letter Robert Browning wrote to Elizabeth Barrett on the morning of their own wedding, on the same day, in 1846. Meanwhile, two friends of Emily's performed readings they had chosen especially for the occasion: 'The Presence of Love' by Samuel Taylor Coleridge and 'Vow' by Clare Shaw.
"If you have friends with impeccable taste, I highly recommend asking them to surprise you with a reading. For me, it was one of the most emotional parts of the service – both of them brought a tear to my eye."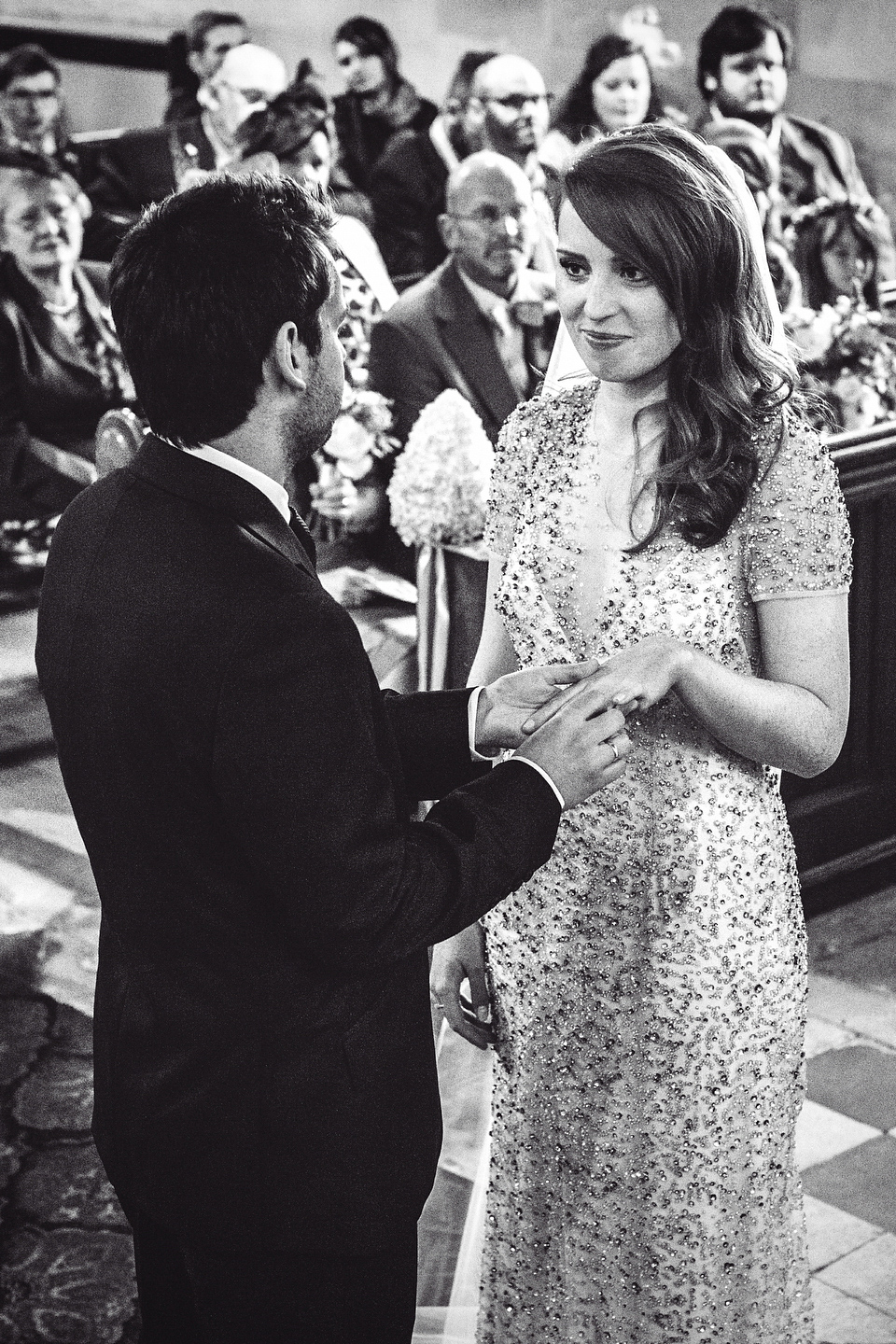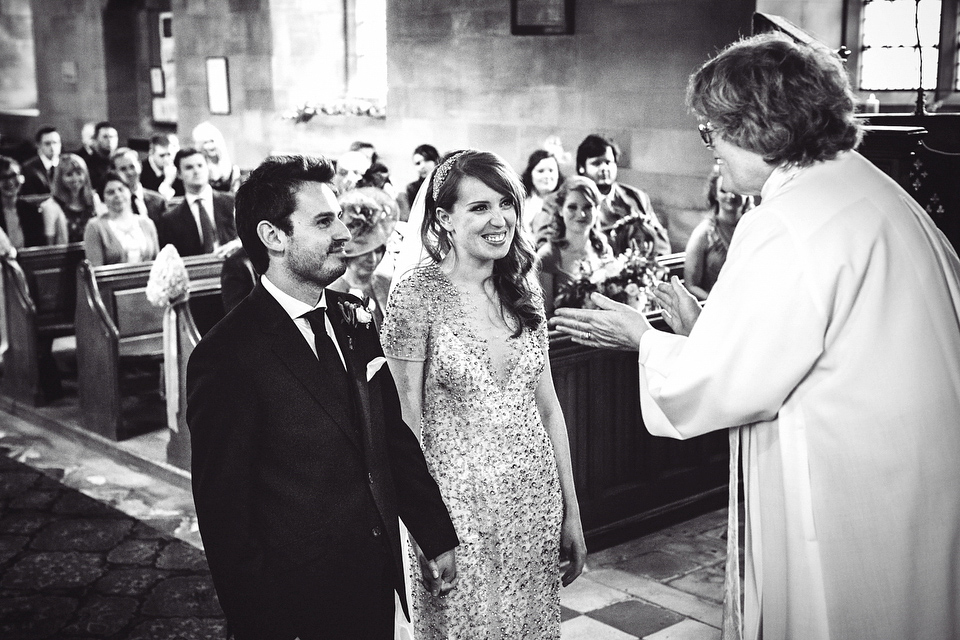 Emily paired her glamorous gown with a simple, floor length veil and a sparkly, Art Deco inspired, headpiece, both by Jenny Packham. On her toes, she rocked a pair of Jimmy Choo flats.
"Originally, I didn't really see the point of veils, but the minute one was placed on my head I fell in love. I'd wear one every day if I could. If other brides are in the same position, make sure you try one on – they really do feel amazing."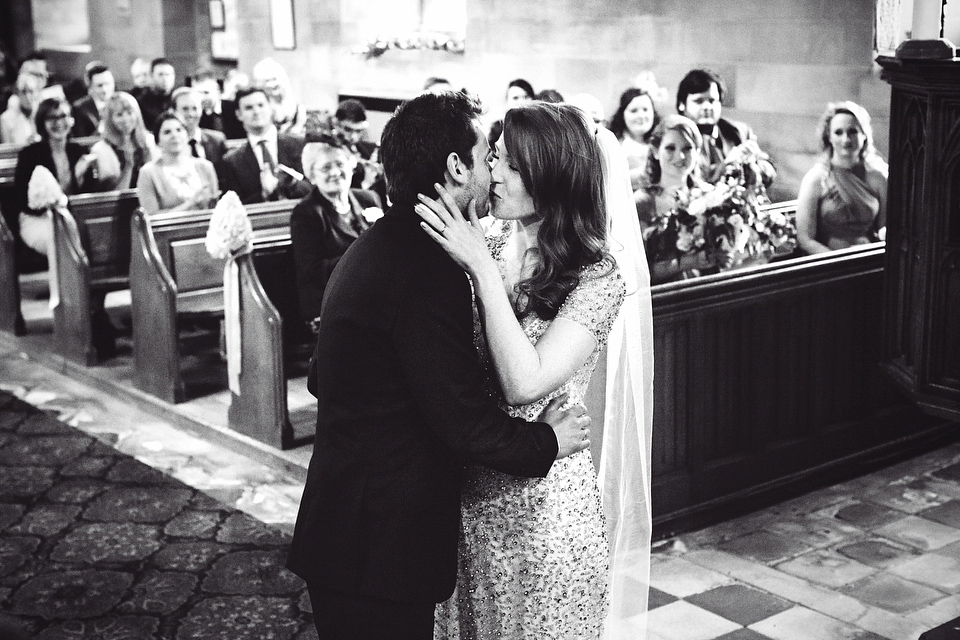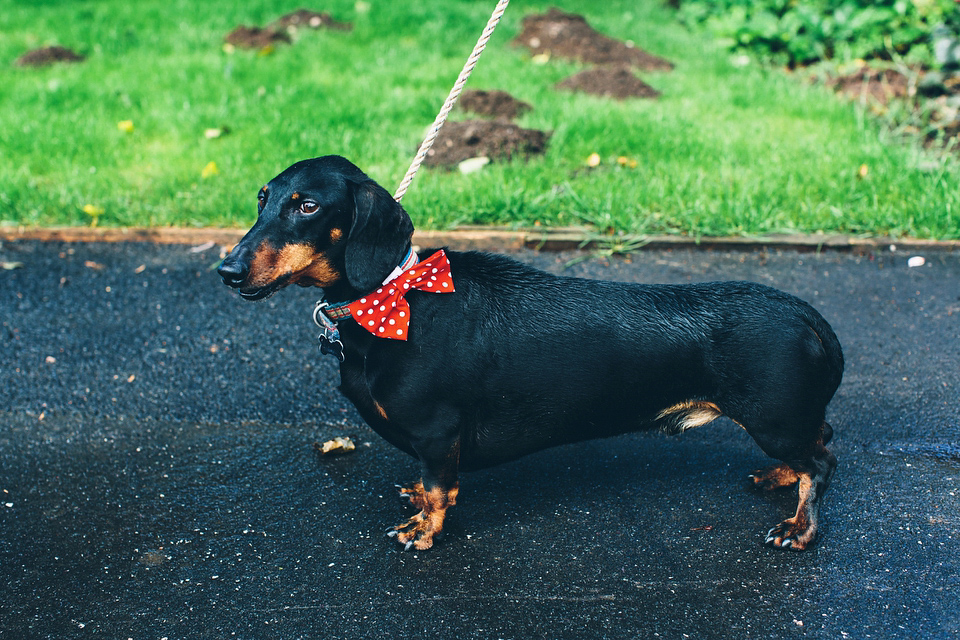 Meanwhile, our groom looked dapper in a made to measure, midnight blue suit from Reiss…
"Dan looked so handsome in his suit. The made to measure service at Reiss is a really special process – you choose everything, from the buttons to the thread. It was so seamlessly done that I didn't even notice he'd included a subtle nod to his football team in the choice of lining colour – sneaky."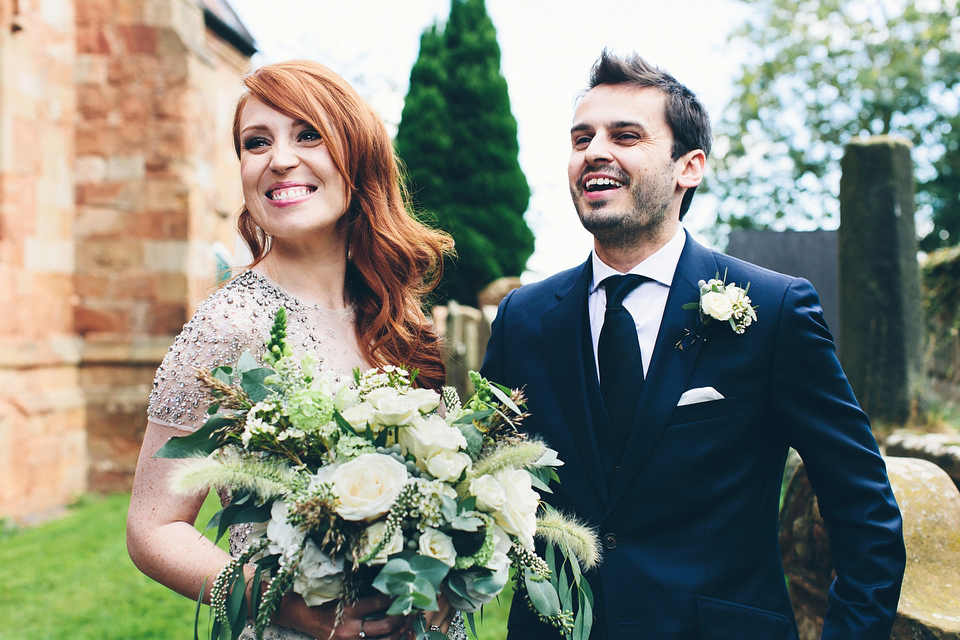 Emily's beautiful red locks were carefully coiffured by Aaron of The Bridal Hair Specialists and her makeup was expertly applied by Katy Bird.
"Aaron and Katy are in trouble if I ever win the lottery, because I'd make them do my hair and makeup every day! Both were a huge hit with everyone in the room. Don't hesitate to book them."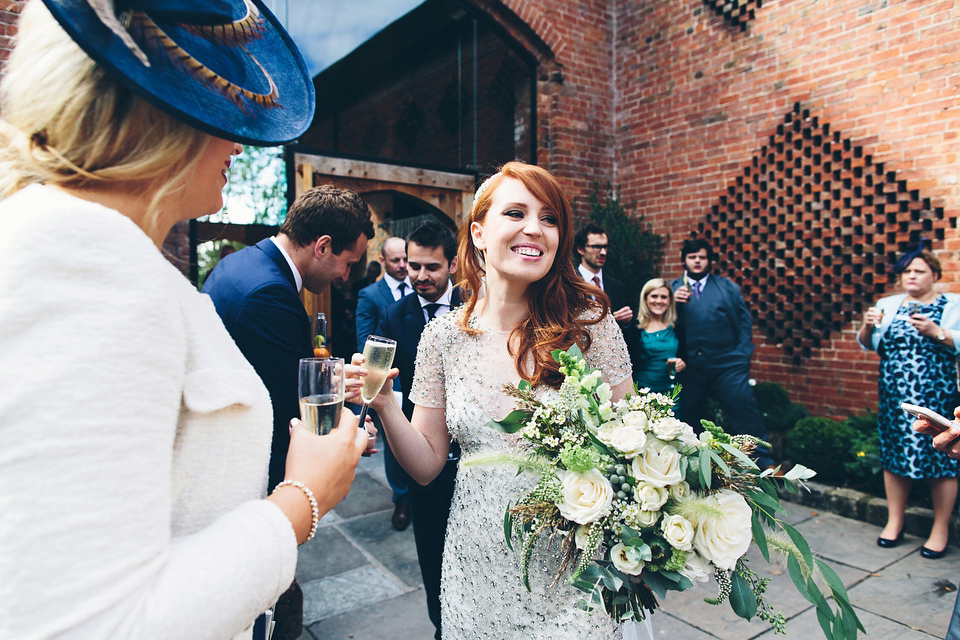 Emily's four bridesmaids wore beautiful, dusky blue, convertible gowns by twobirds Bridesmaid. You can find twobirds listed in our recently launched Little Book for Brides, our carefully curated collection of wonderful, hardworking wedding suppliers. The couple's flowergirl, Bella, looked very sweet in a fresh floral crown, paired with an ivory dress from Debenhams and the super cute page boys wore braces with their Next trousers, lilac shirts and dog print bowties from Mrs Bowtie.
"Two Birds dresses aren't cheap, but the quality shows and their design meant that my bridesmaids could wear them in different styles to suit their different body shapes. It also meant they could have a costume change for the evening, which they were big fans of!"
" I absolutely loved the page boys' outfits – they looked gorgeous. I'm not sure they shared my love though, as their braces were hanging down by their ankles within five minutes of getting to the reception!"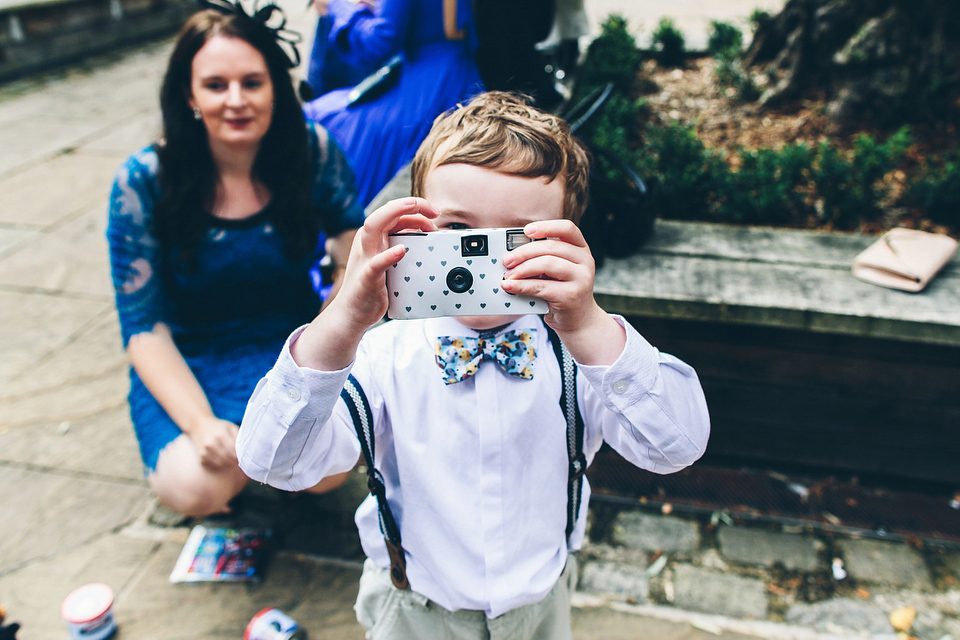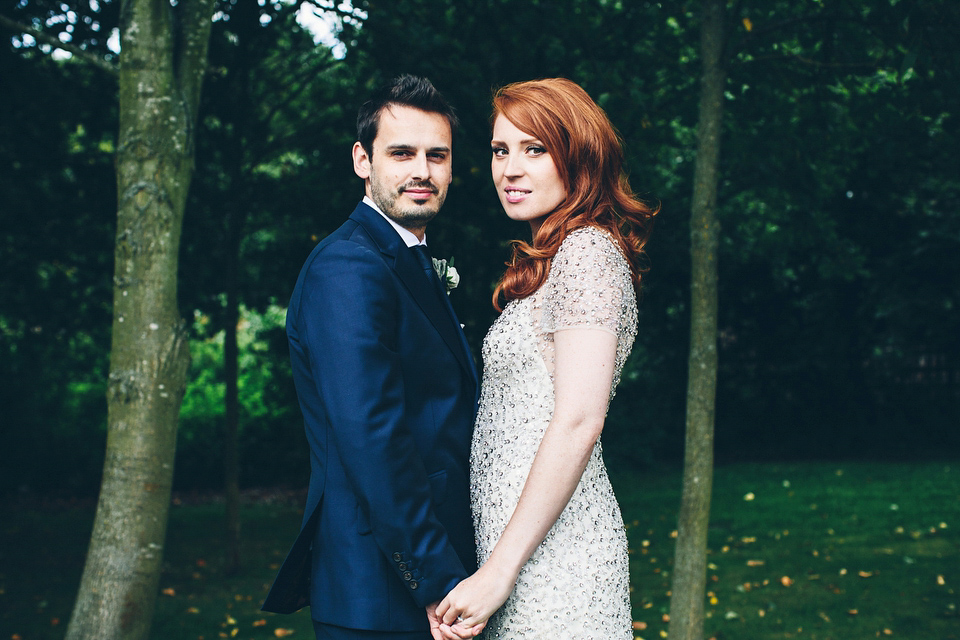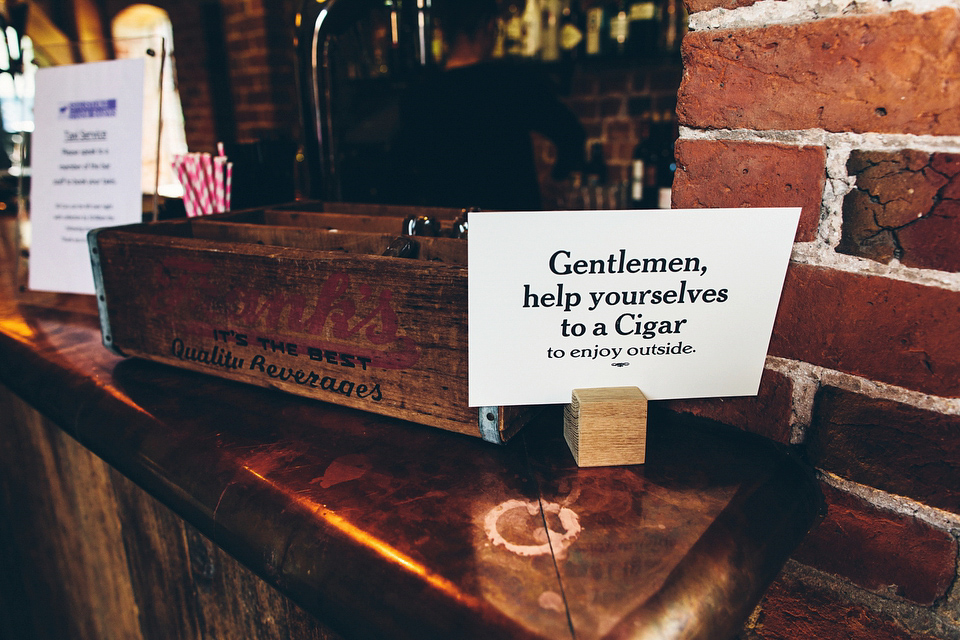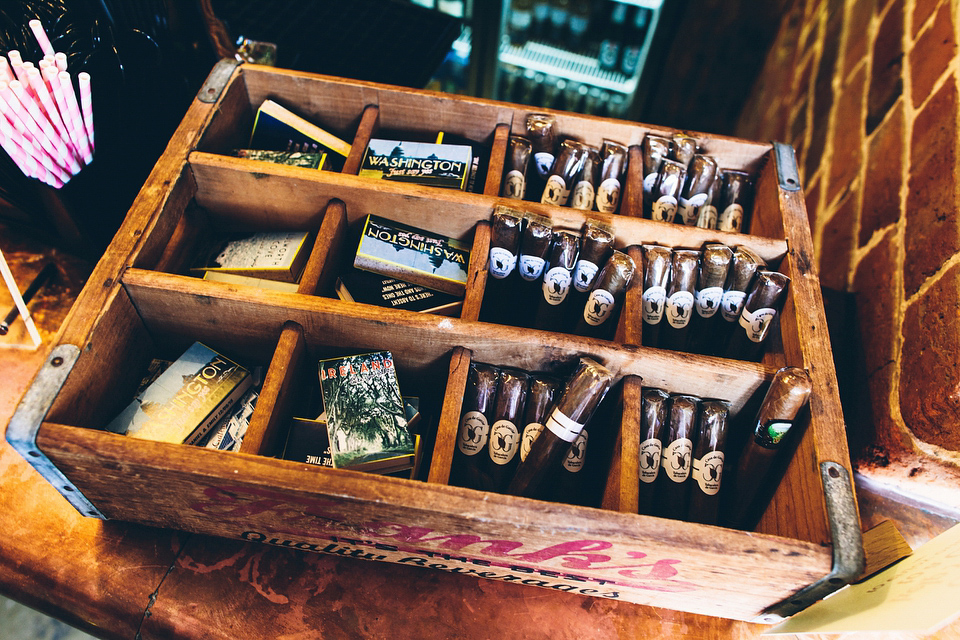 Together with her graphic designer friend John, Emily (a magazine editor by trade) created a special magazine to mark the occasion. The magazines were such a big hit with their guests that the pair decided to set up Script and Serif. Check out Script and Serif's beautifully designed, personalised wedding magazines here.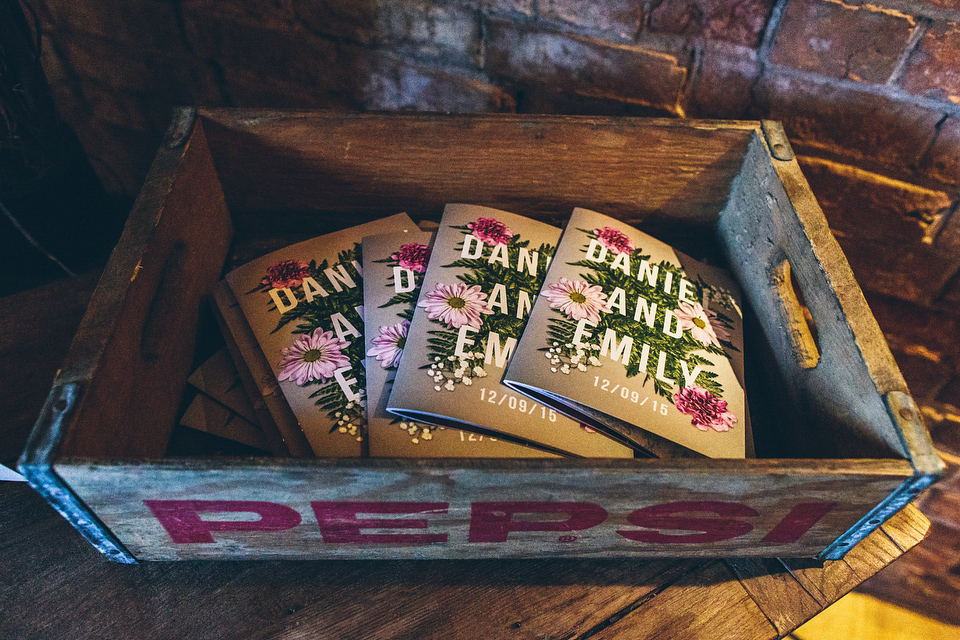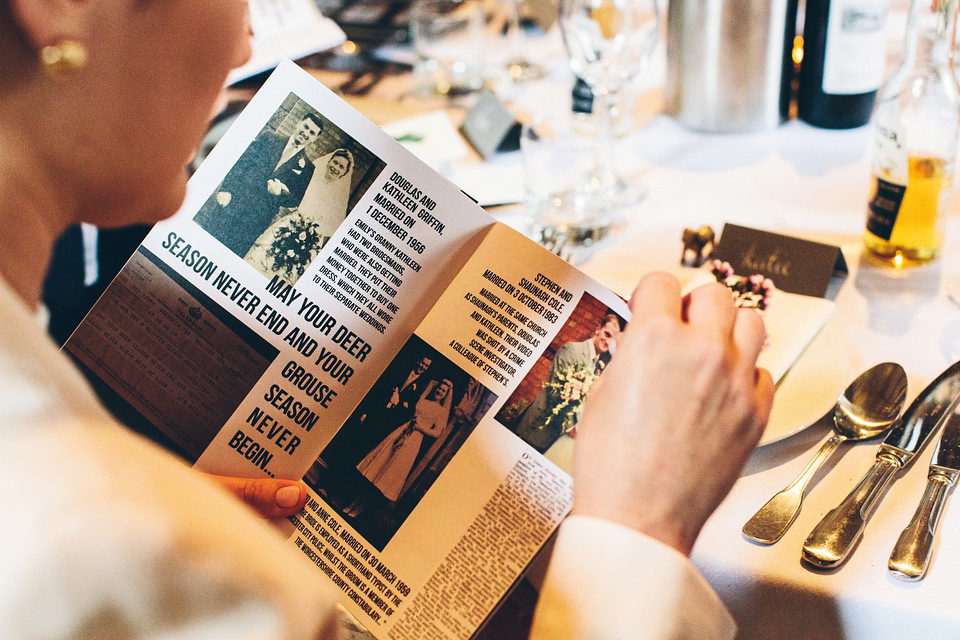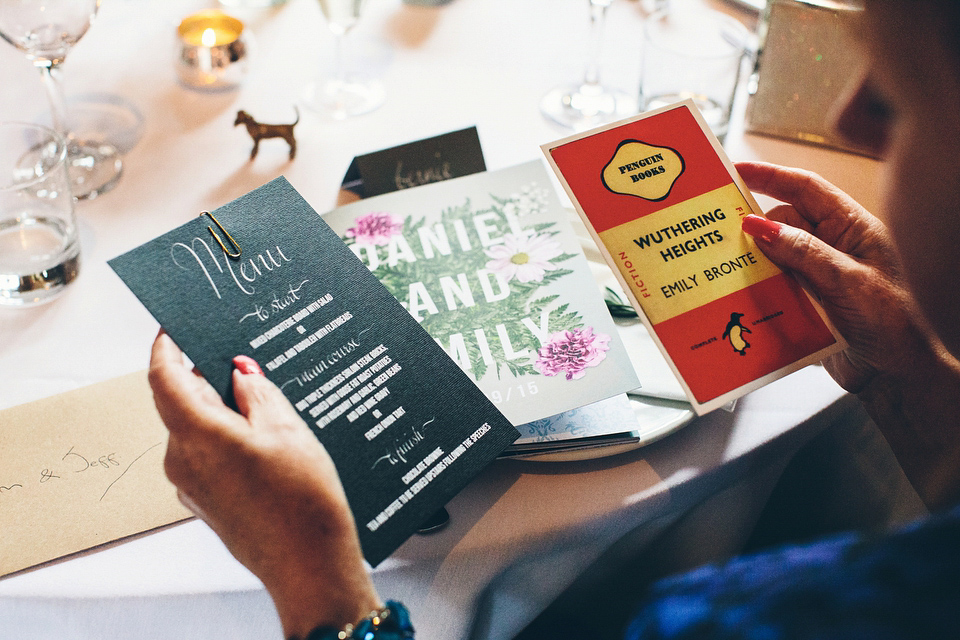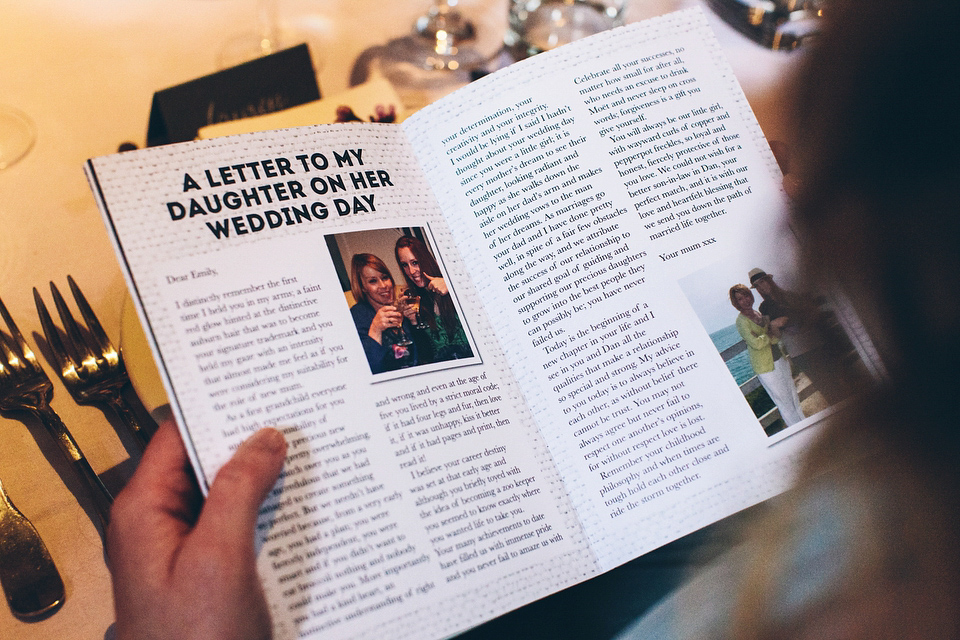 "In addition to the magazine, everyone had a model dog by their place setting that we had spray painted gold and I wrote a personal note to each person on a Penguin postcard."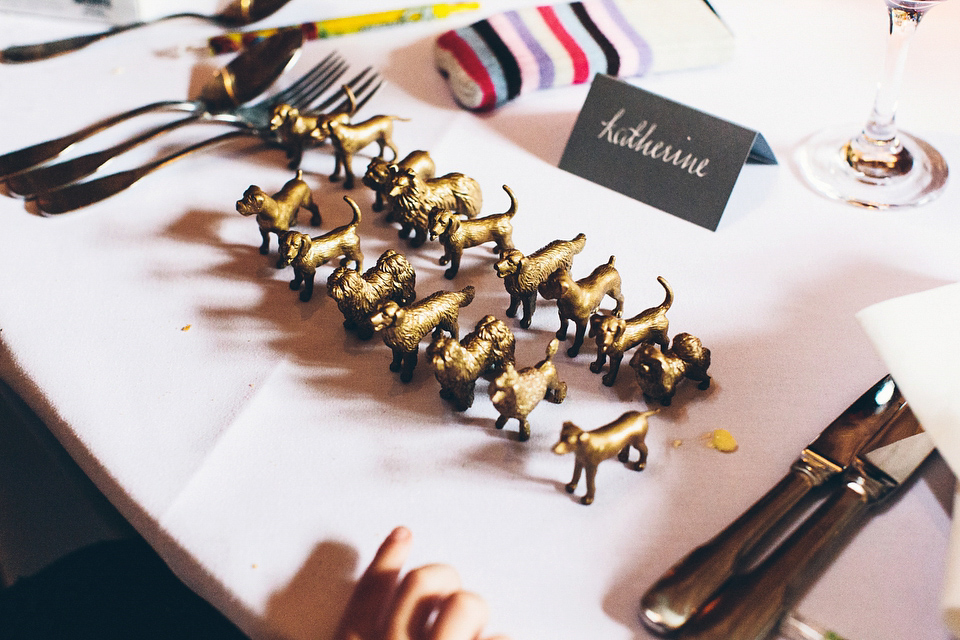 Our couple decorated Shustoke Farm Barn with lots of quirky props and vintage inspired décor hired from Rachel at Another Story Studio, illuminating the space with light up LOVE letters and tea light holders hired from their florist.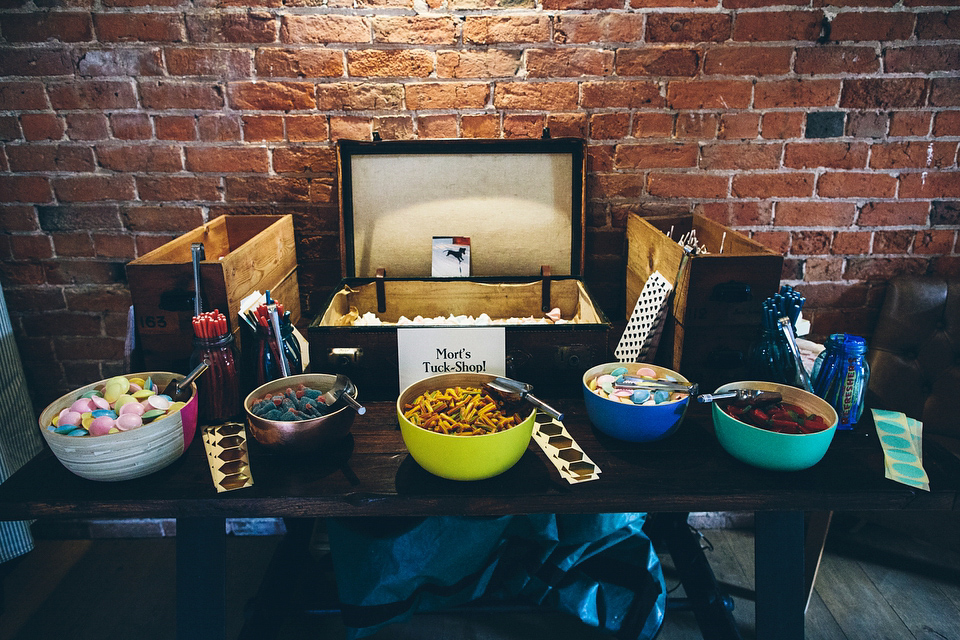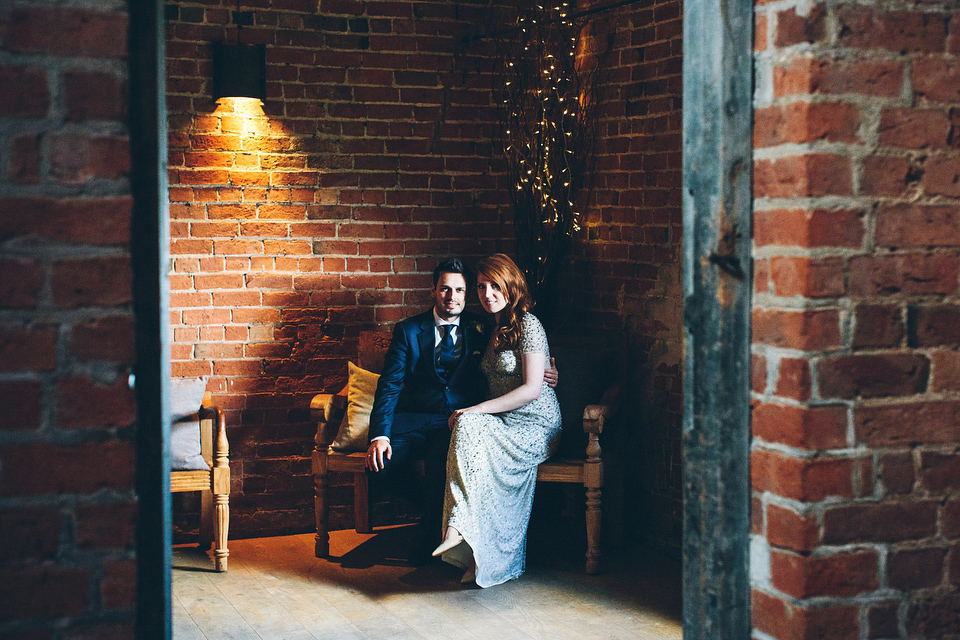 Our cake loving couple asked Chitty's Cakes to make four cakes in total, crowning their main wedding cake with little wooden figurines of themselves and their dog, purchased from Etsy.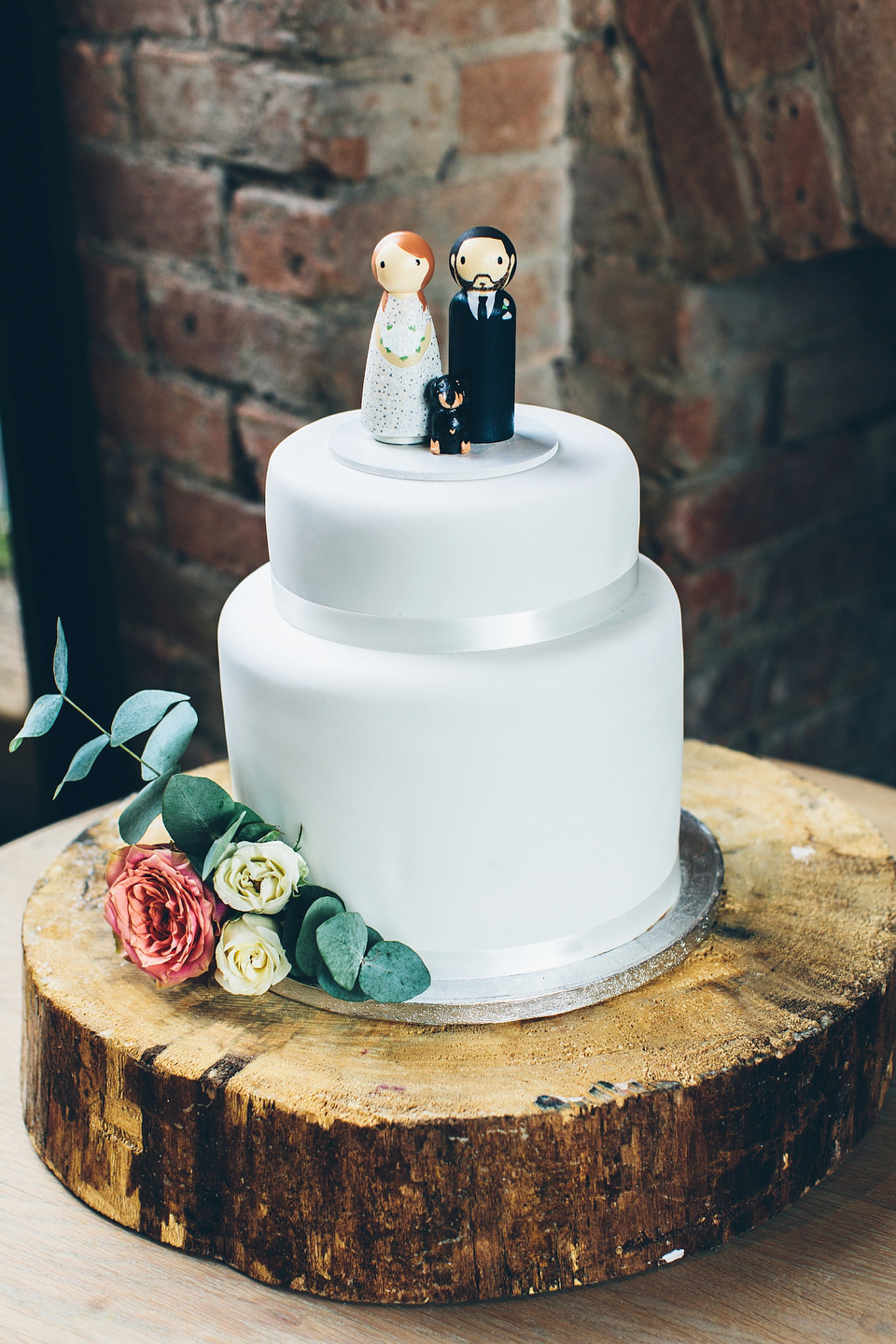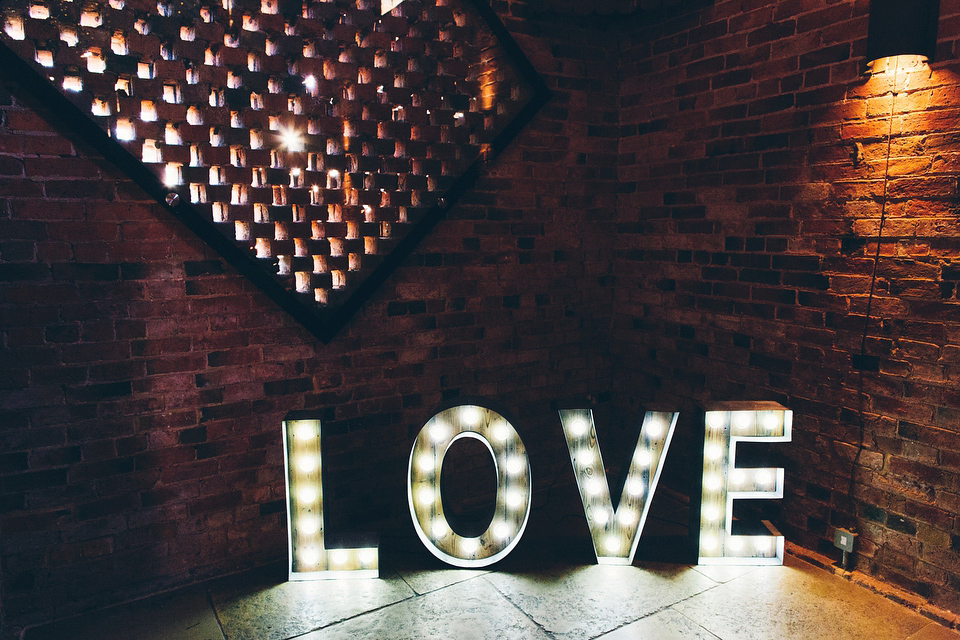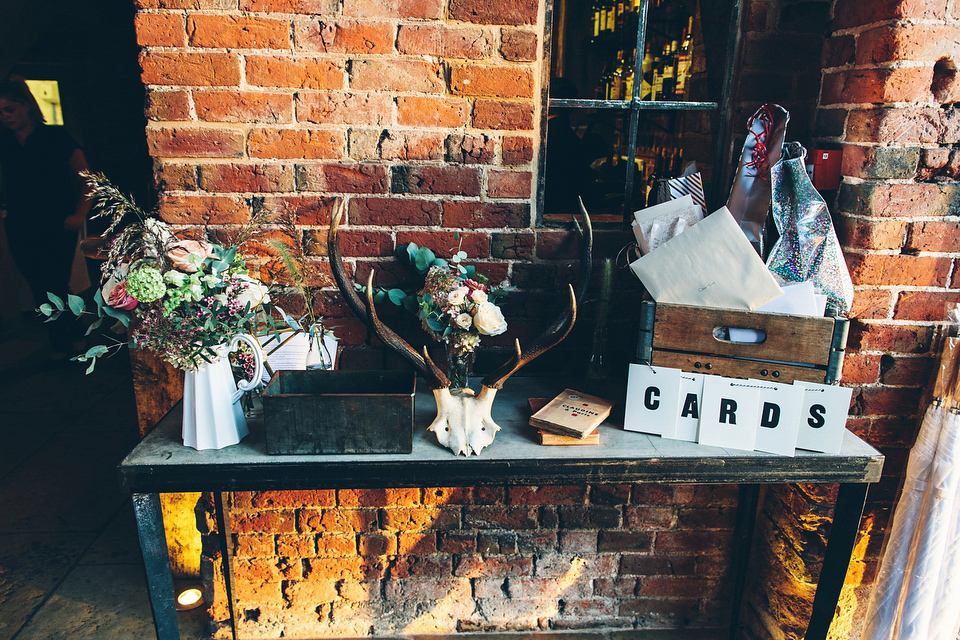 Emily and Dan's wedding breakfast was catered by Shustoke Farm Barn, with Baz & Fred providing freshly baked pizzas in the evening.
The Vintage Photobooth helped keep guests entertained and a table piled high with temporary tattoos, sweets and cigars was a huge hit…
In the evening, DJ Benny Smyth rocked the dancefloor and the couple chose 'God Only Knows' by the Beach Boys as their first dance.
'I wasn't allowed 'No Diggity' by Blackstreet and 'God Only Knows' was the eventual winner in our search for a song that didn't make us cringe!"
"I have a few favourite moments from the day…waking up ten minutes before my alarm, having a cuddle with my dog Mortimer before the madness started and putting his red bowtie on. Reading the letter that Dan had written me and feeling incredibly lucky that I was about to marry my best friend. My parents' lovely neighbour knocking on the door with bacon sandwiches. Walking out of my childhood home to a mini-crowd that had assembled."
"My mum putting a silver sixpence in my shoe. My Dad giving my hand a quick kiss as the doors to the church opened. Seeing Dan and realising that we were finally here. One of my nephews shouting 'Simon!' when the vicar asked if anyone objected (I still to this day don't know who Simon is. Honest). The readings, which all nearly made me cry. That feeling when you are told you are man and wife…The day is full of small moments, all special and sacred. Try your best to remember them all."
a
Words of Wedded Wisdom:
"As much as your wedding day is about your love for each other, it also makes you realise how dear lots of people are to you. Unfortunately, my very poorly aunt passed away a couple of months after the wedding and it really hit home how short life is. So my advice would be the following: yes, your wedding is just one day, but don't underestimate the joy it will bring to the lives of the people who love you. And don't underestimate the importance of the photos – ours arrived the day after her funeral, and they brought people a lot of comfort.
Everyone says it but it's true – the day will go by so quickly. You will miss things and forget details – I can't emphasise the importance of photography and videography enough. These people are your eyes and ears on the day – cherish them and choose the absolute best.
And finally, in the name of all that is holy, have a honeymoon. You will need a break. You'll spend the entire time looking at images of the wedding on Instagram, but at least do it on a sun lounger, with a cocktail in one hand and whatever carbohydrate was closest in the other."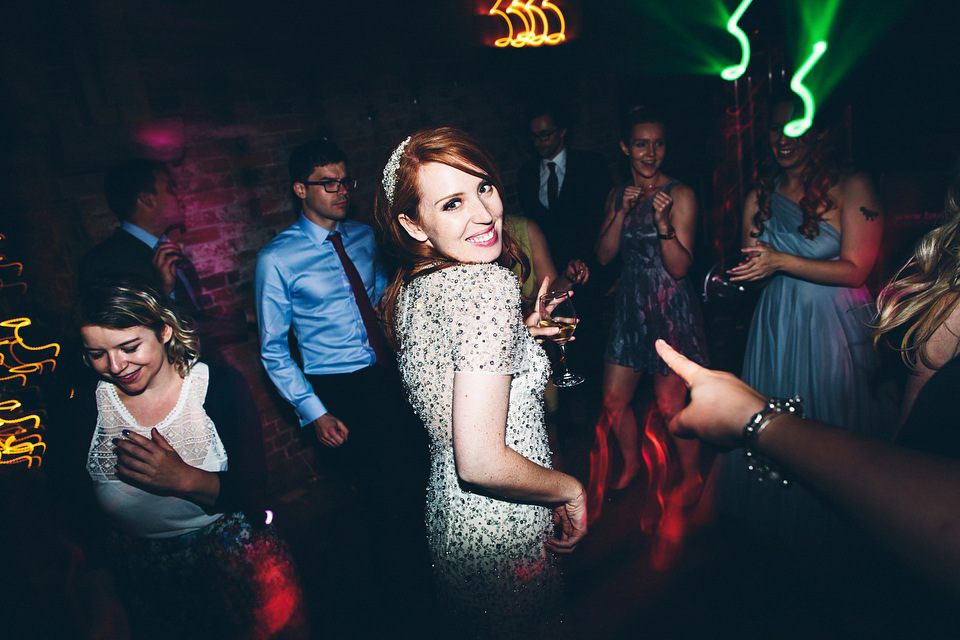 A huge thank you and a tonne of love from us all at Love My Dress to both Emily and Daniel – Emily we have all thoroughly enjoyed your Lovettes features – thank you so much for sharing your wisdom and wonderful sense of humour.
Thanks also to the wonderful Mr Phill for these exceptional images. If you've enjoyed today's wedding, I highly recommend taking a look at Emily's posts documenting the run up to her big day.
Wishing you a great week!
Annora x
Photographer – Mister Phill Photography
Film – Emmelie Eriksson
Venue – St Cuthbert's Church, Shustoke, followed by a reception at Shustoke Farm Barns
Wedding Dress – 'Jocasta', by Jenny Packham from the flagship boutique on Elizabeth Street in London
Veil + Headpiece – Jenny Packham
Shoes – Jimmy Choo
Bride's Scent/perfume – Wood Sage & Sea Salt Cologne, by Jo Malone
Groom – Made to Measure suit + tie + handkerchief + shoes, all from Reiss
Bridesmaids – twobirds bridesmaid
Flowergirl – Debenhams dress + fresh flower crown by Bloom Fleuriste
Page Boys – Next
Florist – Bloom Fleuriste
Cake – Chitty's Cakes
Transport – Concorde Wedding Cars
Entertainment – String quartet Emerald Strings + DJ Benny Smyth
Rings – George Pragnell in Stratford upon Avon
Catering – Shustoke Farm Barns + Baz and Fred
Décor Hire – Bloom Fleuriste + Another Story Studio
Stationery – Invitations + wedding magazines, created by the bride; table numbers + signs +table plan made by The Smallprint Company
Hair Stylist – Aaron from The Bridal Hair Specialists
Makeup Artist – Katy Bird