This is my last post, and I could talk about how excited I am (very), the last minute details I've been busy with (lots) or the number of times I've searched for the hashtag #jennypackham on Instagram (ahem…once or twice). I could present a glossy, idealised image of the run-up to our wedding and you'd probably think 'how spiffing' and then quickly forget it. But this is my last post as a Lovette, and it felt too important to throw away – I wanted to finish with something real. I don't write this in the hope that people will feel sorry for me. Quite the opposite. I write it because if it strikes a chord with one person, well, that's enough.
As Bridget Jones once said, "It is a truth universally acknowledged that when one part of your life starts going okay, another falls spectacularly to pieces." Amen, sister. Getting engaged to Dan was the highest of highs. But it didn't change the fact that up until that point I had had a really stressful six months. And it didn't stop the next few months after that being even more stressful.
It didn't stop the dizzy spells, the panic attacks, the inability to make a decision, the fatigue, the imbalance, the black dog following me around. It didn't stop the high blood pressure, the shaking hands and finally, and most dramatically, the tingling face which landed me in a neurologist's office. I was living two lives – one high as a kite, picking an engagement ring, drinking prosecco and looking round venues squealing "I can definitely see myself here!" – the other (which I tried my hardest to brush under the carpet) burnt out, very ill and not able to see anything, not least myself, through the fog. But I could see us. And I could see our wedding.
The next time someone says to you that weddings are silly, that they're extortionately expensive, materialistic and frivolous, feel free to kick them in the nuts. Or the lady balls, whichever applies. Life isn't about the bad bits and you shouldn't be made to feel bad for celebrating the good. Look for the silver lining, celebrate special moments, raise a glass of prosecco for no other reason than its Tuesday and you just ordered a bowtie for your dog. Things are sent to try us and by God, do they try us. But never underestimate the power of a dog in a bowtie.
Stress gets to us all at some point. Granted, not everyone ends up in a neurologist's office with a weird face, but no one is immune. Know that it's normal, everyone goes through it and that family-sized bags of chocolate were invented for a reason. Coping is all about finding distractions – our wedding took me from a place of intense stress and unhappiness, to one of hope and excitement. I made a thousand and one joyous decisions that showed me I do know my own mind. It's sometimes a bit jumbled, but it's mine, and I won't apologise for it.
If I can leave you with one thing from me and my Lovette posts it's the following: you're great. You're getting married to someone who has picked you, above all others. Who thinks the laugh you hate is cute, who doesn't mind you sleeping on the sofa with your mouth wide open and who thinks you look brilliant when you're only wearing your pyjamas from Primark (yes, the ones with holes in).
You are someone's lobster. Give yourself a high five IMMEDIATELY.  Do you know how difficult that is to find?
It doesn't matter if your napkins are the wrong colour, if some guests don't RSVP or if the chicken is a bit dry. Enjoy every second. Walk down that aisle like the lady boss you are, thinking: "I'm here. Despite everything that life brings, I'm here. Exactly where I'm meant to be."
Photo by our wedding photographer! (Mister Phill)
And, before I finish this, to waltz off on my hen do, I will leave you with some thoughts. Because I don't think I've written a post yet that doesn't mention huge pants.
A very wise lady at Jenny Packham told me you must always order your huge control pants in a size bigger than you need. This way they smooth over your lumps and bumps, rather than forcing all your flesh upwards. A spare tyre of flesh under your boobs is not a good look, no matter how flat your stomach is.

Find what relaxes you or makes you feel healthier and do it. For me, it's pilates, acupuncture, my Nutribullet and walking the dog.

Nothing makes people happier than cheese. Fact. Get some for your wedding and swim in smiles. One of my favourite wedding memories is dancing at a reception, glass of wine in one hand, block of Brie in the other. An innocent bystander to this spectacle innocently asked if I'd like some bread. Of course I didn't want bread – that would take up valuable space where more cheese could have gone.

Embrace those people who are genuinely happy and excited for you. Mentally put the others in a bin marked 'miserable gits to avoid'.

Life's too short to spend hours searching for the perfect pair of pyjamas to wear on your wedding morning. I did this and I can conclude they don't really exist. Someone out there: make them please.

Enjoy your makeup and hair trials. Never again will you be encouraged to look in a mirror and talk about how good you look. Just don't do what I did and ask your makeup artist if there is anything she can do about your 'massive face'. I was just asking….

In the last couple of weeks you will question everything. Everything. At this point, surround yourself with people who will reassure you. Not people who say helpful things like: "Yeah, I see what you mean." IT WAS A RHETORICAL QUESTION. Note to people who know me: assume everything in the next two weeks is a rhetorical question. If something is weird, at this point, I don't want to know.

There will be a moment that reinforces you're marrying the right person. I thought I couldn't love Dan more than I do. But then I hired an enamel bath to put beer in and emailed him nervously to tell him what I'd done, without agreement. He replied: 'Sounds good'. We've reached the point where he's impossible to shock. This bodes well for our marriage.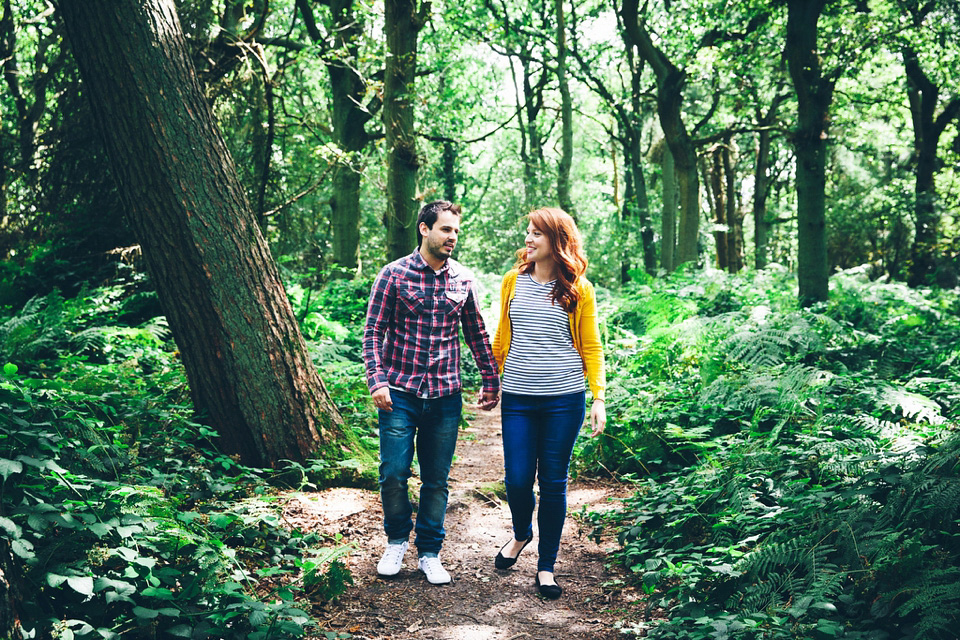 Just because we have weddings to plan, doesn't mean that bad things don't happen. Whether its mental illness, physical illness, bereavement, car trouble, money problems or some evil witch telling you that you look 'healthy' (we all know what that means), there is always another shoe, ready to drop. What's important is sussing out what your personal first aid kit is. For me, it was our wedding. It brought me back to life.
See you on the other side,
Love Emily xx
___________________
Emily is due to marry Daniel on 12th September 2015 at Shustoke Farm Barns, Warwickshire.  Their photographer will be Mister Phill. You can find Emily on Instagram and Pinterest and read her other posts for Love My Dress here.  Drop her a line – she'd love to hear from you.