Happy Friday Love My Dress-ers! I hope you have wonderful weekend plans?  We have a really important feature going live at 12 noon today – make a note check the blog at lunch time, as it involves you. For the time being, and to start off that Friday feeling I have a wonderful festival beachside wedding for you today, full of sun, sand, ice-cream colours and a stunning floral crown.  I know you're going to love it.
Let me introduce Tim, an engineer, and Laurie, a primary school teacher working in a specialist school for the deaf, who married in sunny isle of Ibiza on the 1st of August 2015. This delightful wedding was a riot of colour and smiles. The couple love attending festivals and tried to recreate a festival vibe on their wedding day.
"We just wanted a chilled, relaxed celebration with family and close friends.  We both don't really like to be the centre of attention too much so wanted the day to be as relaxed as possible and to have a great party afterwards; we both like a party!"
Photography by Becky Bailey
To go with her shorter dress, Laurie chose shoes from the wonderful Charlotte Mills Bridal – every pair of Charlotte's shoes contains a silver sixpence.
View Charlotte Mills on Little Book For Brides
Follow Charlotte Mills on Instagram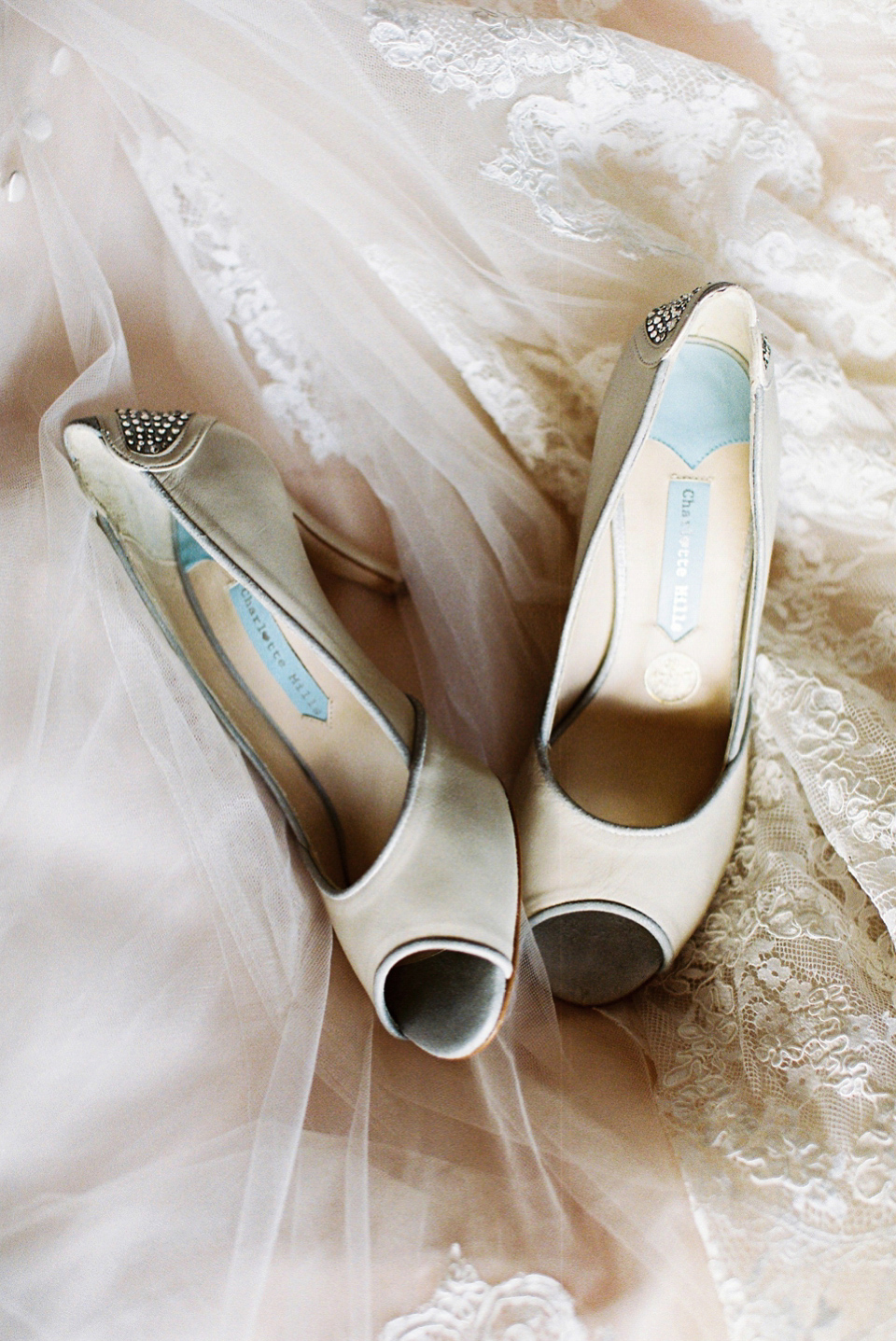 The super-cute flower girl looked gorgeous in a dress from Angelika's Boutique, and even sported a small version of Laurie's own flower crown over her curls.  The page boys looked cool and handsome in pale short suits from Zara.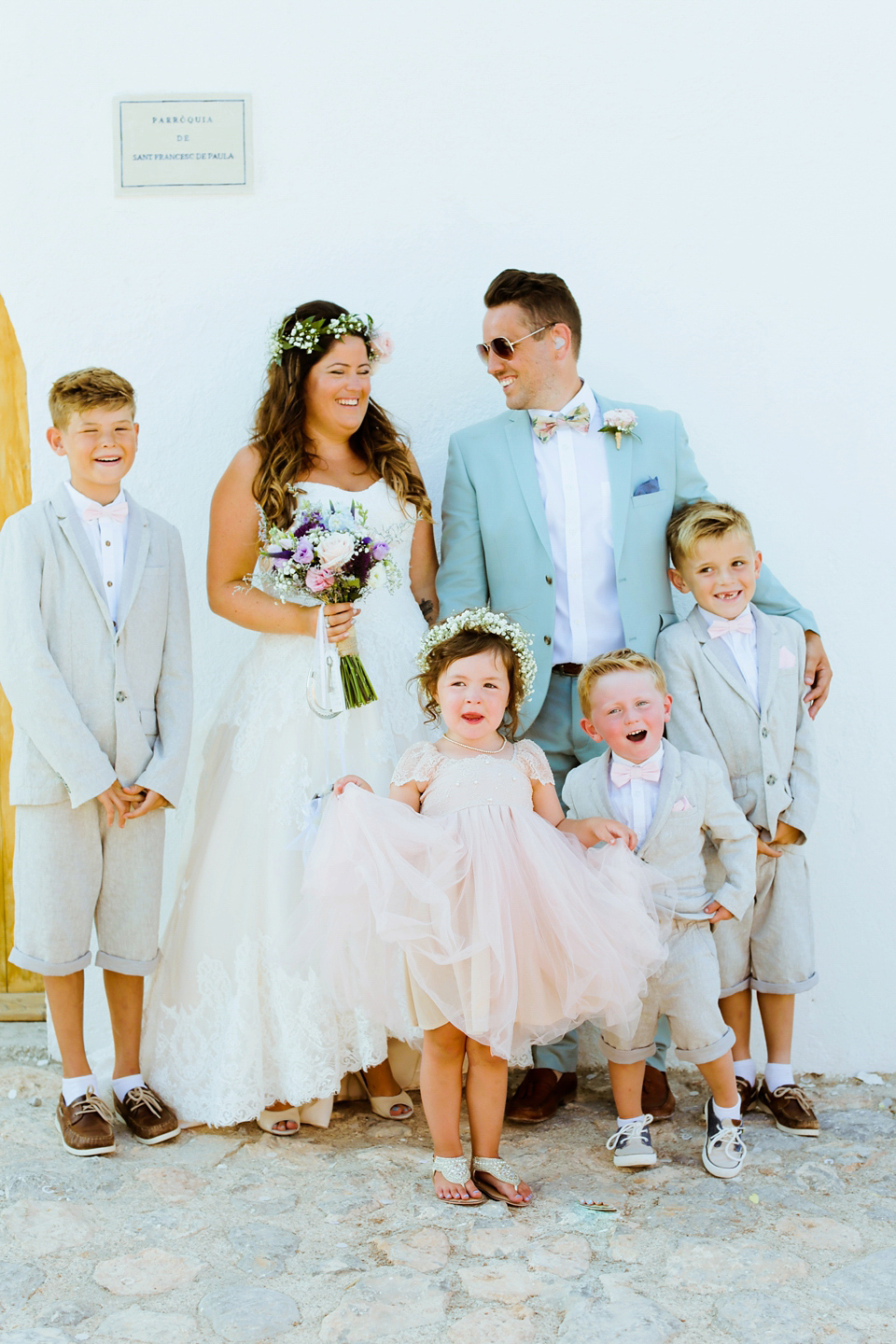 "We both went to the same school but it wasn't until years after we left that we met again through mutual friends and our life together started from there. We were engaged for 364 days. We originally wanted to get married on the same date which was 2nd August but our venue holds a vintage market on Sundays so we had to have it a day earlier.
We chose this location because Tim proposed to me on a sunset cruise in Ibiza the previous year. We both fell in love with the white isle and felt this island was a reflection of our personalities and desires."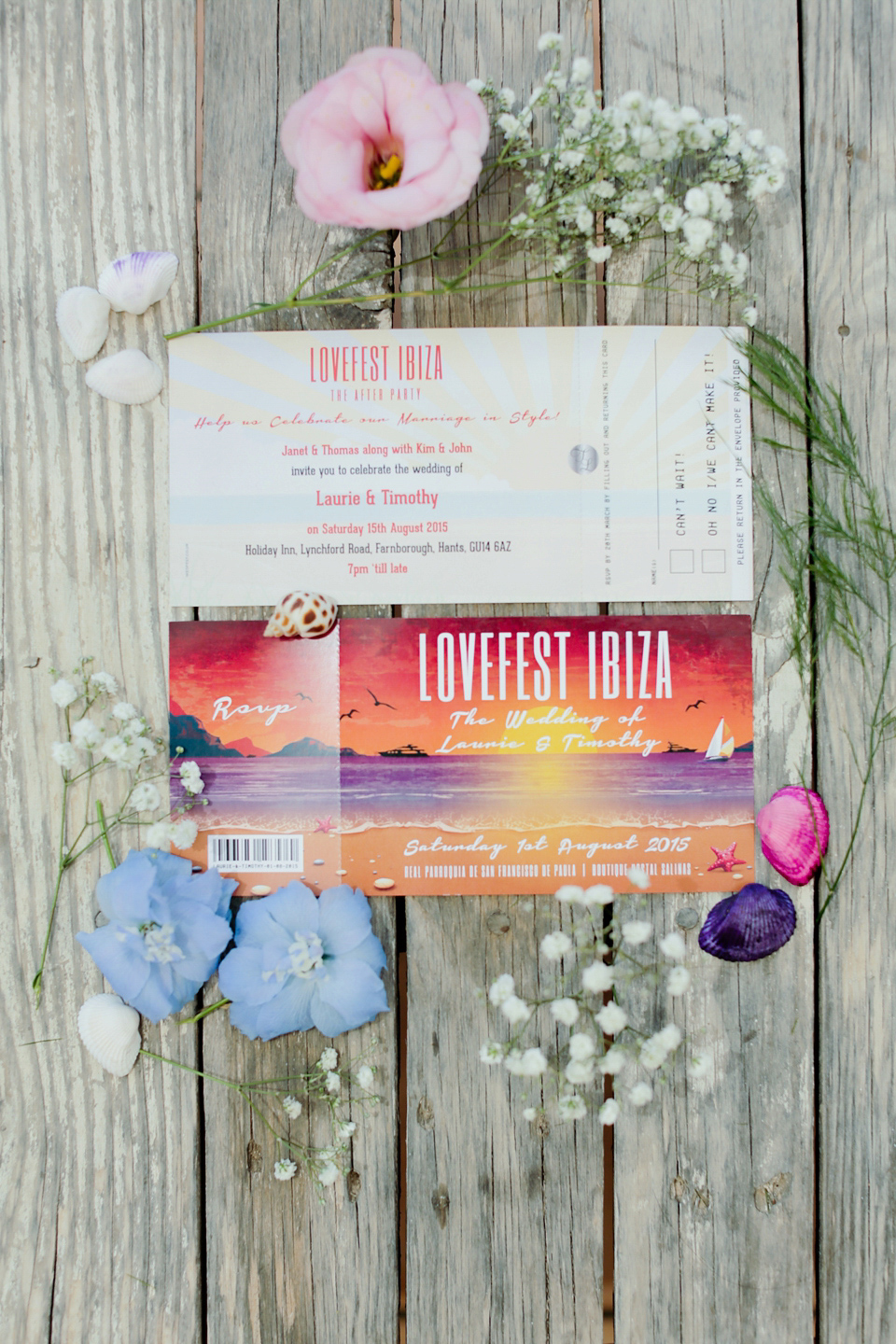 Laurie looked beautiful in a gown from Allure Bridals, purchased from Glamorous Gowns in Camberley, Surrey.
"I knew I wanted a baby pink wedding dress just because I had to be different, but it was the detailing of the lace that sealed the deal for me.  It was winter when I bought my dress and when I went back in May to get it I realised I had made a mistake… I was getting married in Ibiza in August and the dress was just too heavy and hot.  I didn't tell my Mum as she would have hit the roof so my sister and I searched for dress makers and found Zuzanna at Tailoress Designs.  She calmed me down and reassured me that I could still wear this dress with a few alterations. She took some of the netting out to make it less heavy and the front was taken up which meant I could show off my shoes.  I was a much happier bride when it was finished!"
I love the lace on the bodice and I'm also rather taken with the shortened front- it makes so much sense in a warm climate!
Laurie's flowers are some of the most beautiful I have seen in a long time, and I just love her romantic floral crown.
"We decided to go with Floral Dreams Ibiza after seeing the reviews and photos on Facebook.  Gary and Holly were so lovely and communication was fantastic as I kept changing my order and adding to it!"
To accessorize, Laurie chose a crown of fresh flowers, a pearl bracelet and earrings borrowed from her Mum (bought for her by Laurie's dad on the pearl wedding anniversary) as well as squirt of Estee Lauder Bronze Goddess- her favourite summer perfume.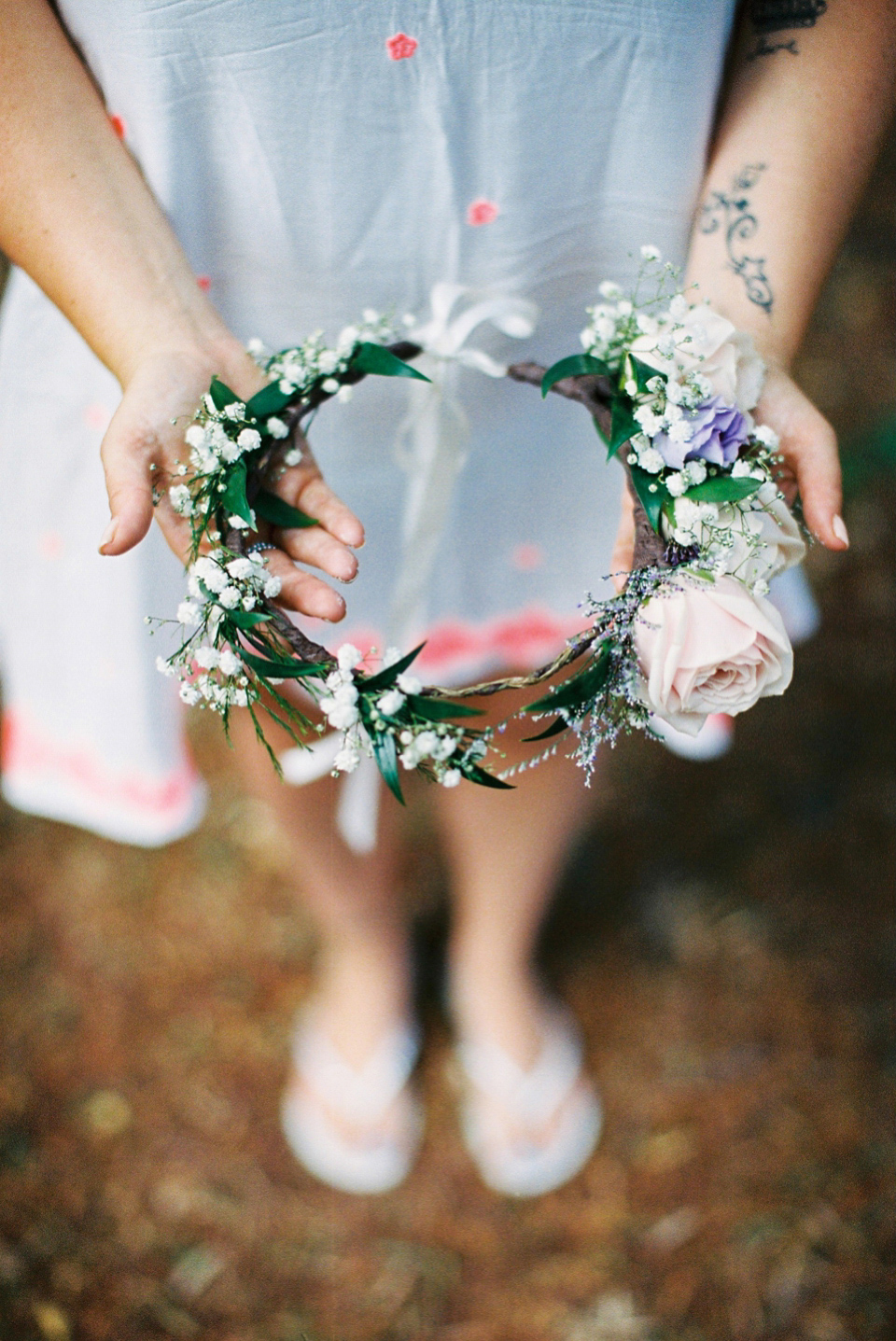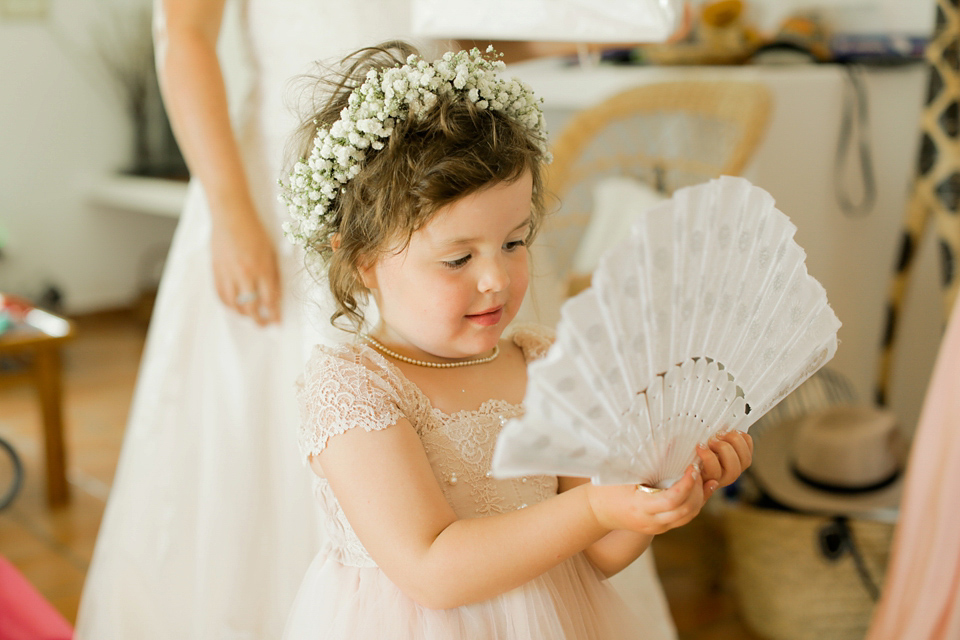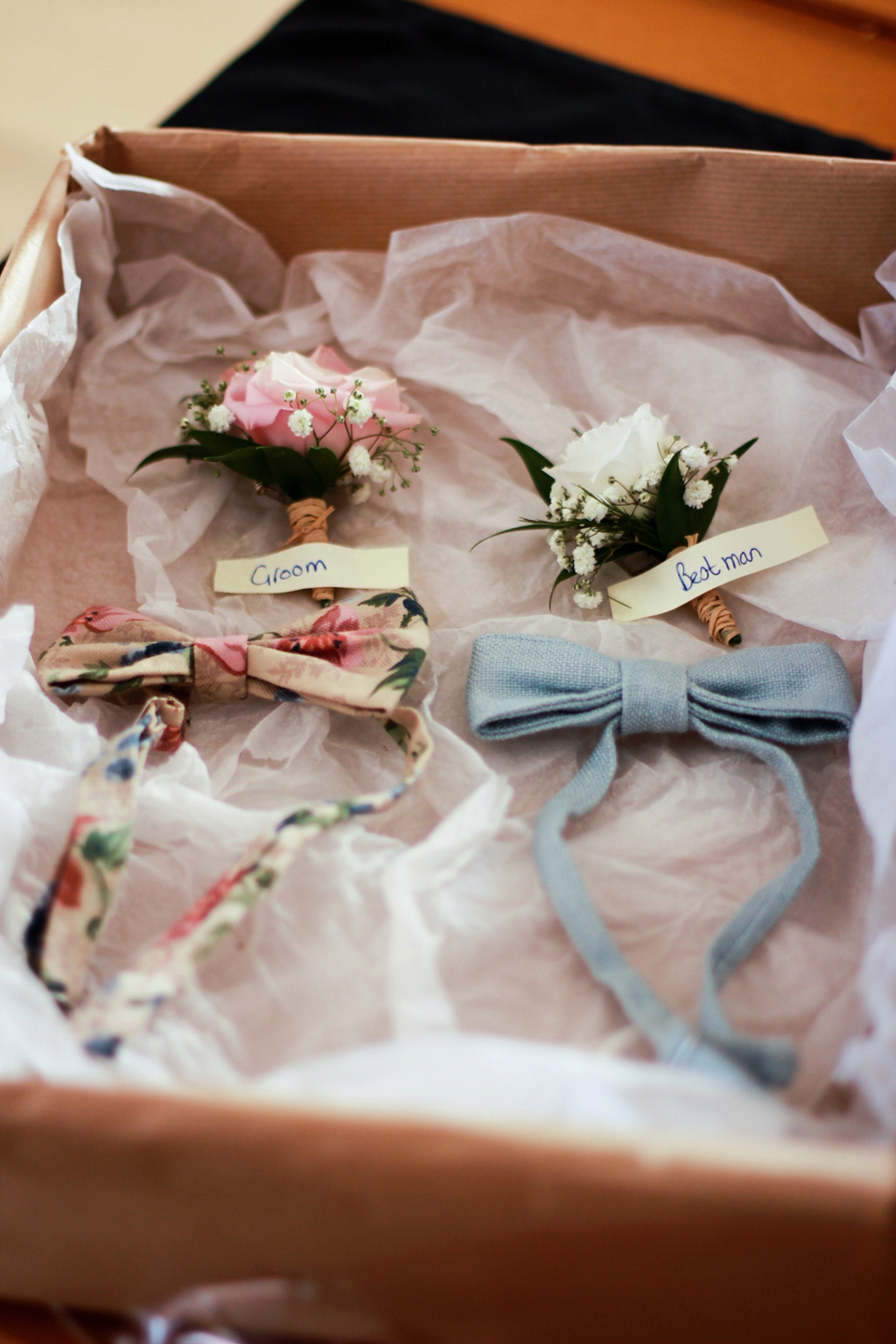 Tim chose a two piece suit in a wonderful pale bluey-green, purchased from Next, with a white shirt and a fabulous floral bow tie from BeauTieUK which I absolutely adore.  The colours go beautifully with the bridesmaids and really add to the seaside feel.
Laurie was walked down the aisle by her very proud dad to Mendelssohn's Wedding March which is also used in A Midsummer Night's Dream- Laurie's favourite Shakespearean comedy.
The ceremony was held in Sant Jordi Parish chapel in Las Salinas village.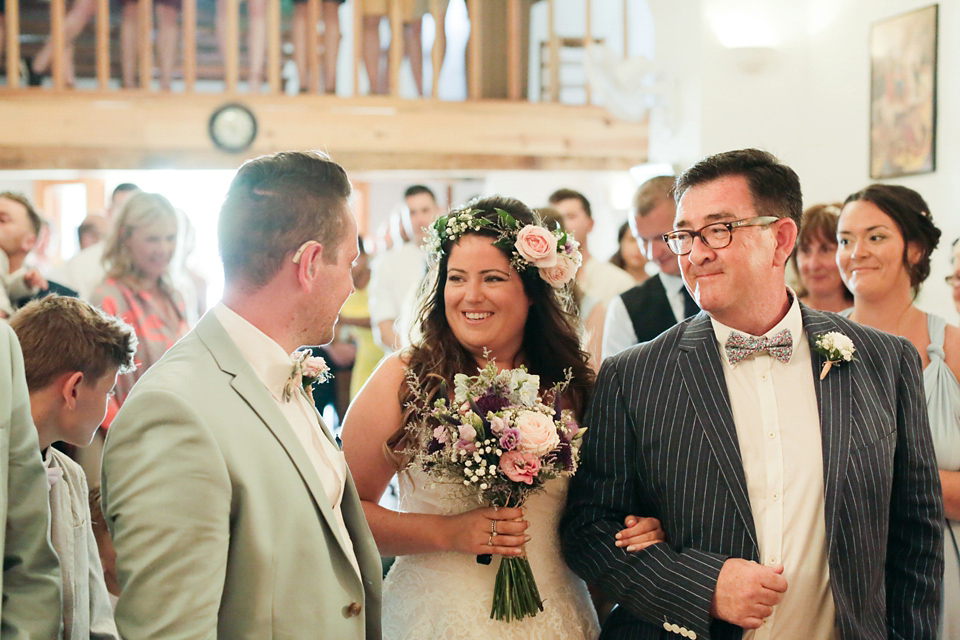 "We decided to have a Catholic ceremony because we were both baptised Catholic and losing close family members prior to the wedding meant we could value their beliefs which have had influences on both of us. The chapel was beautiful and we couldn't have been made to feel any more welcome."
"Tim wanted a white gold ring and because of his job being very hands-on he opted to have a plain ring which we bought from an independent jeweller in Hampshire.
I struggled with mine and think I changed it twice!  I wanted a vintage ring but the ones I liked were very expensive.  I eventually found my ring in Ernest Jones and it matched my engagement ring perfectly."
For their reading they chose the Song of Solomon (the modern version) "because it means the celebration and blossoming of love."
I just love how the happy couple have the biggest smiles all the way through the ceremony- happiness personified!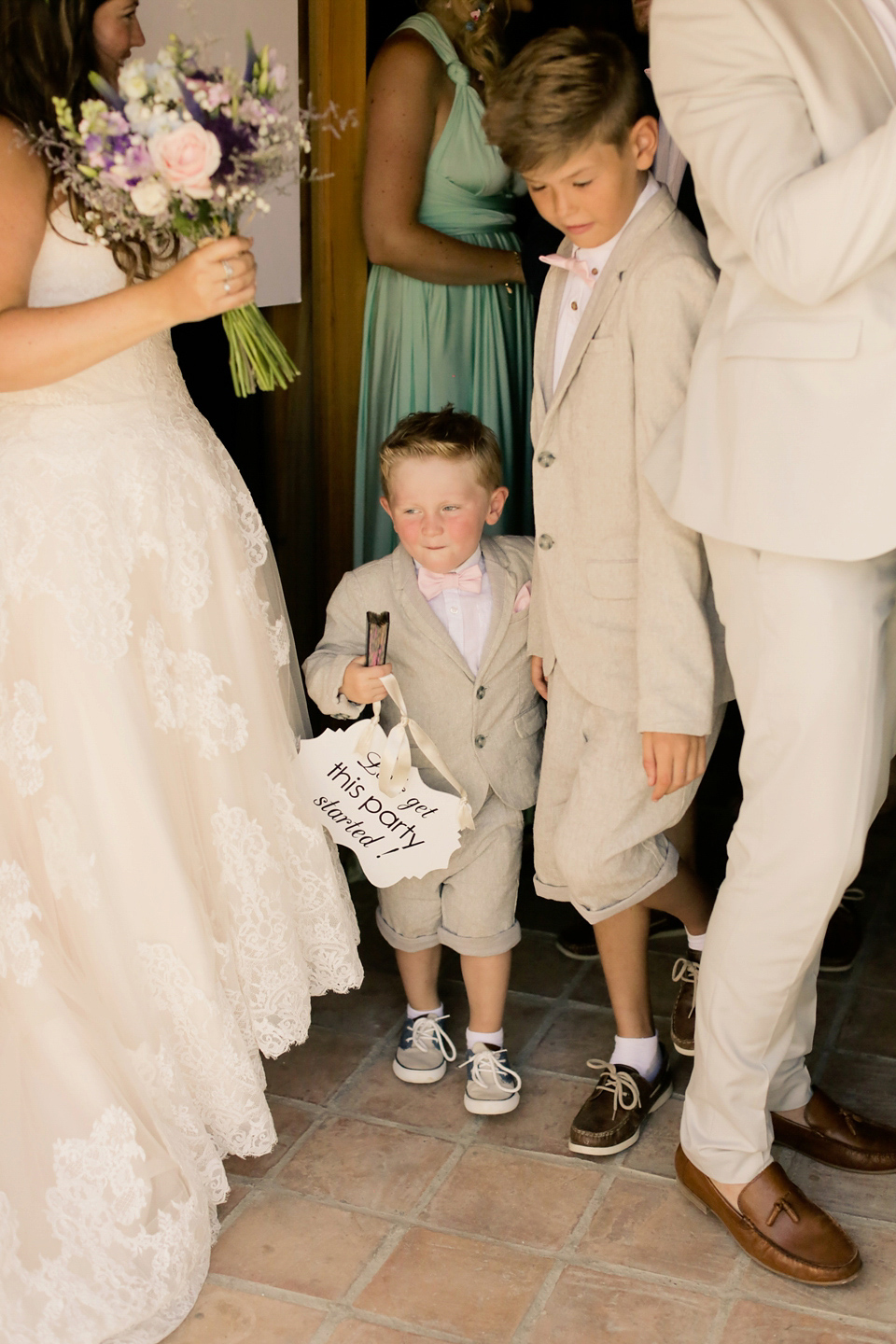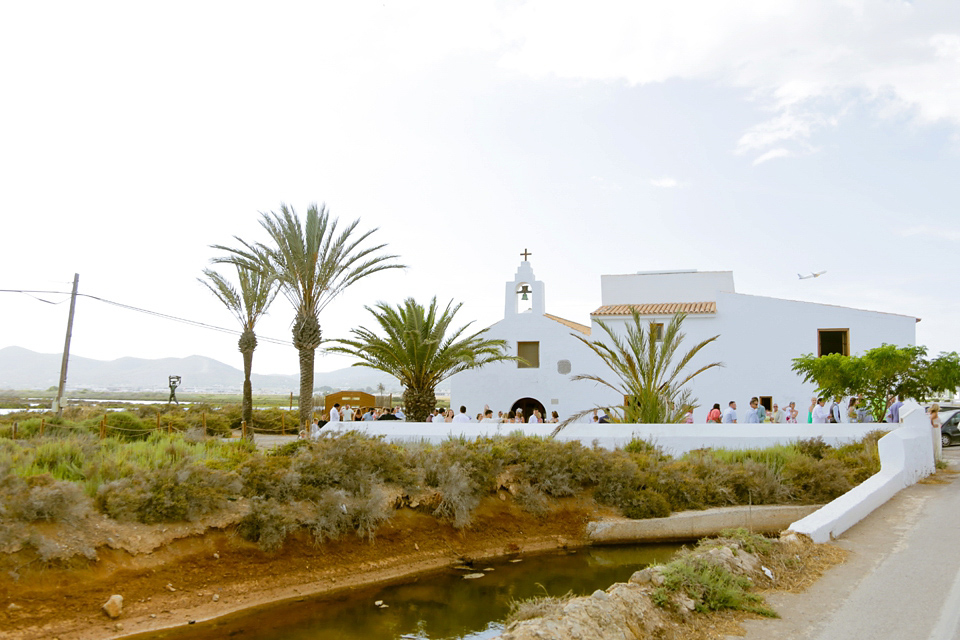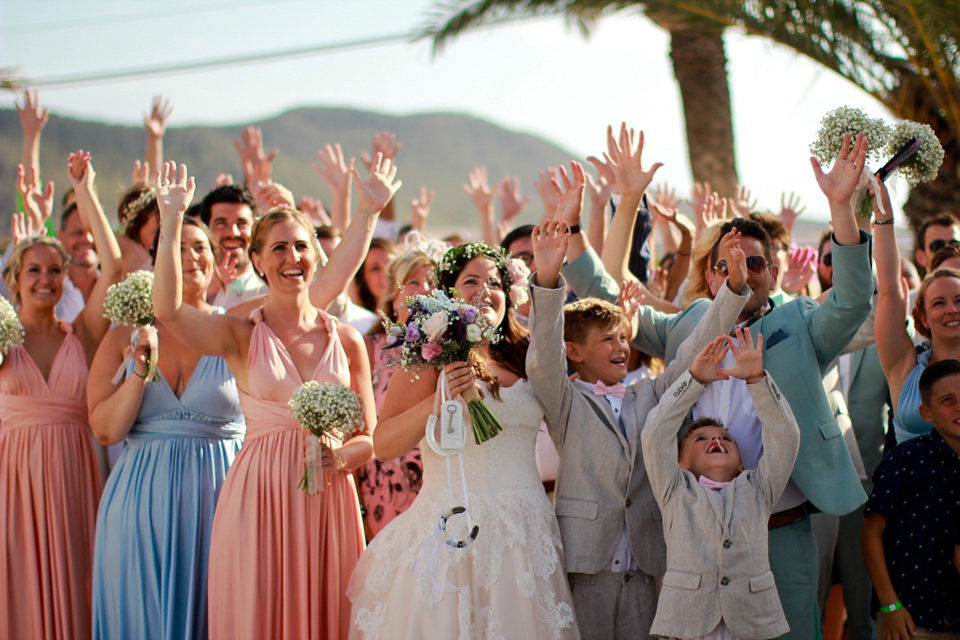 Laurie's five bridesmaids wore dresses in various shades of pastel- peach, mint and pale blue, purchased from the same shop as Laurie got her own dress.  I love the ice cream colours and the flowing skirts.
"The bridesmaids' dresses were multi wrap dresses by Eliza and Ethan. All my bridesmaids had different requests and this dress suited everyone."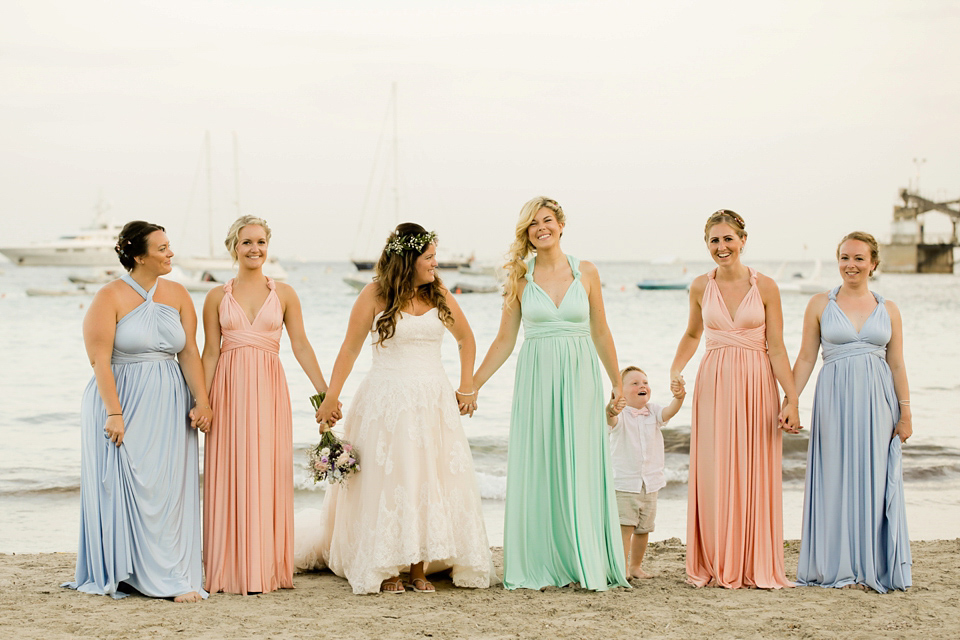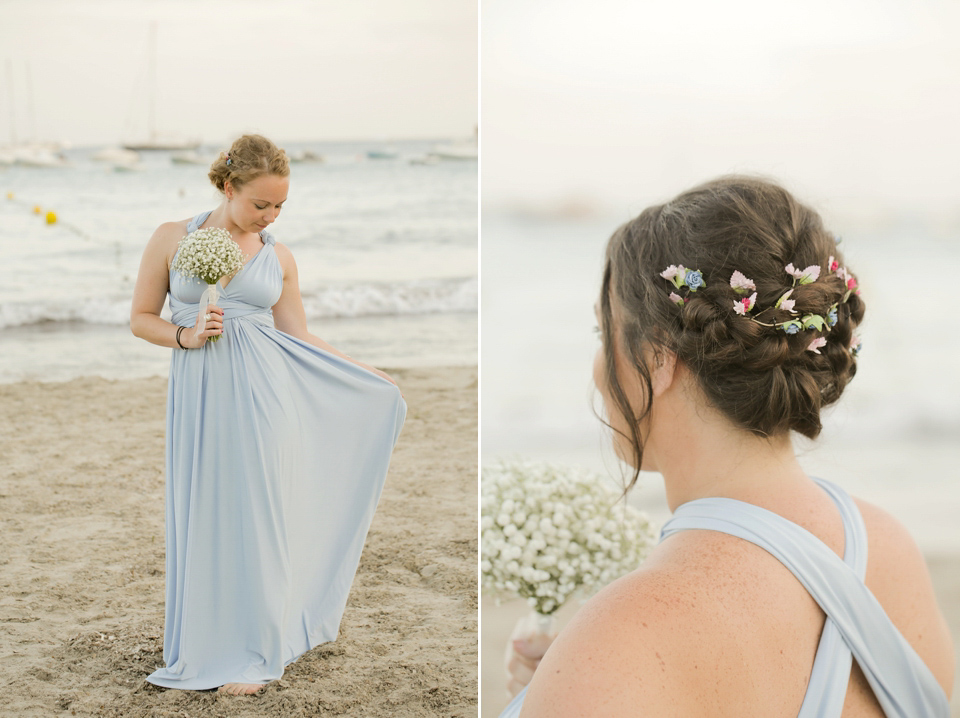 The couple chose London based photographer Becky Bailey to capture their big day.  She got every ounce of light and sunshine into these shots and Laurie and Tim were delighted with her work.
"We highly recommend Becky as she is so warm and passionate about what she does. She captured the true essence of our wedding and I've already recommended her to family and friends."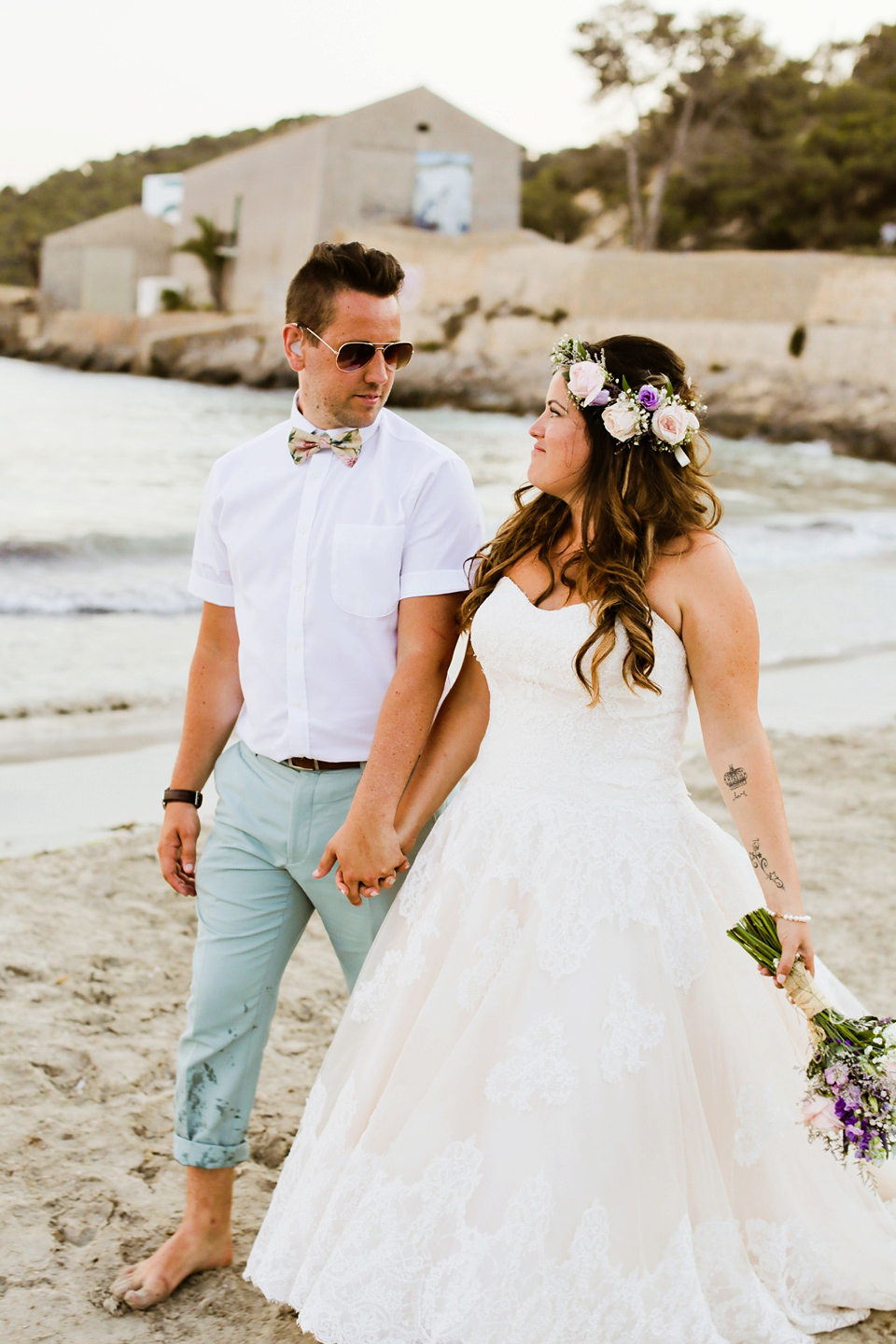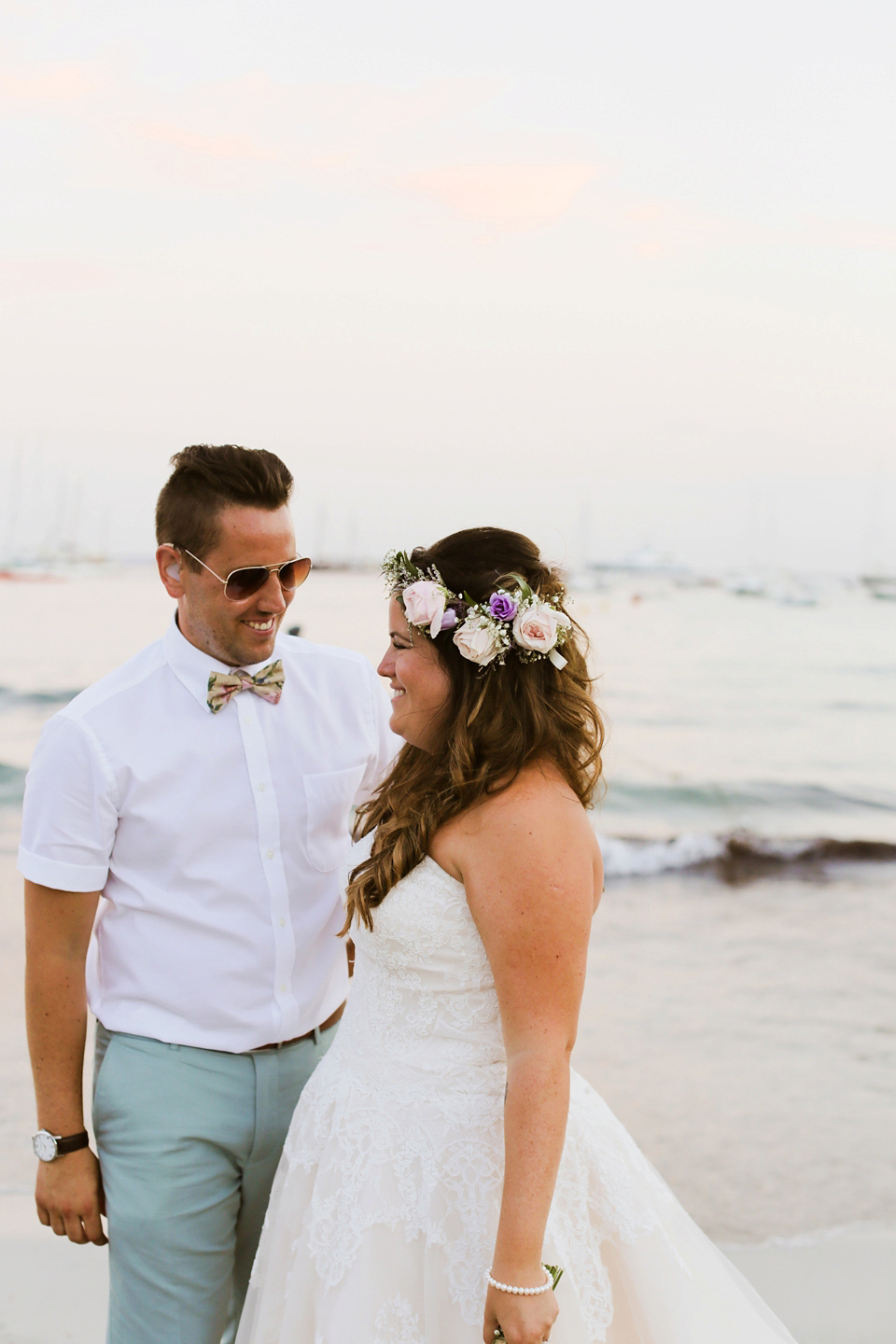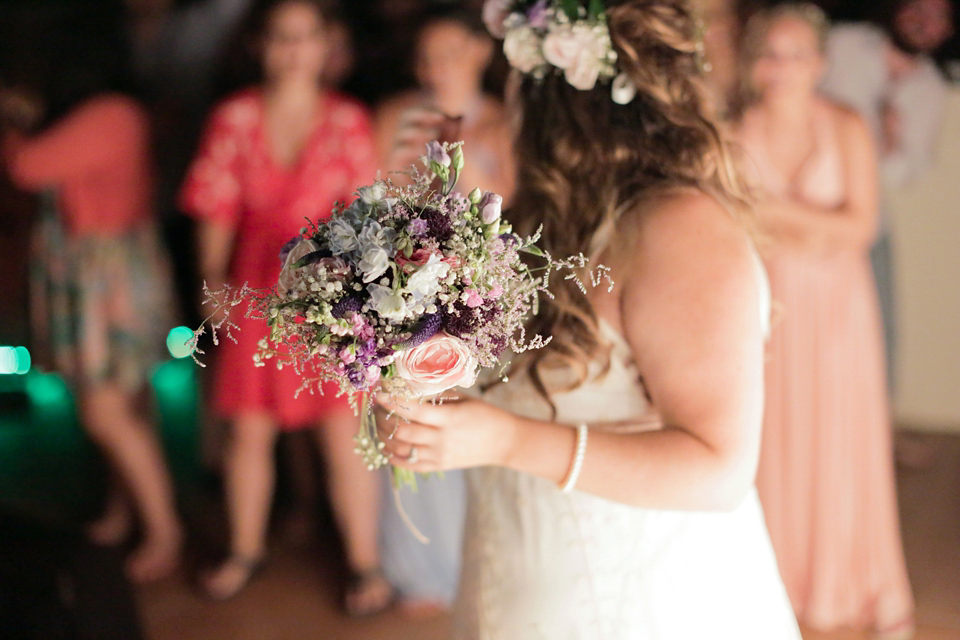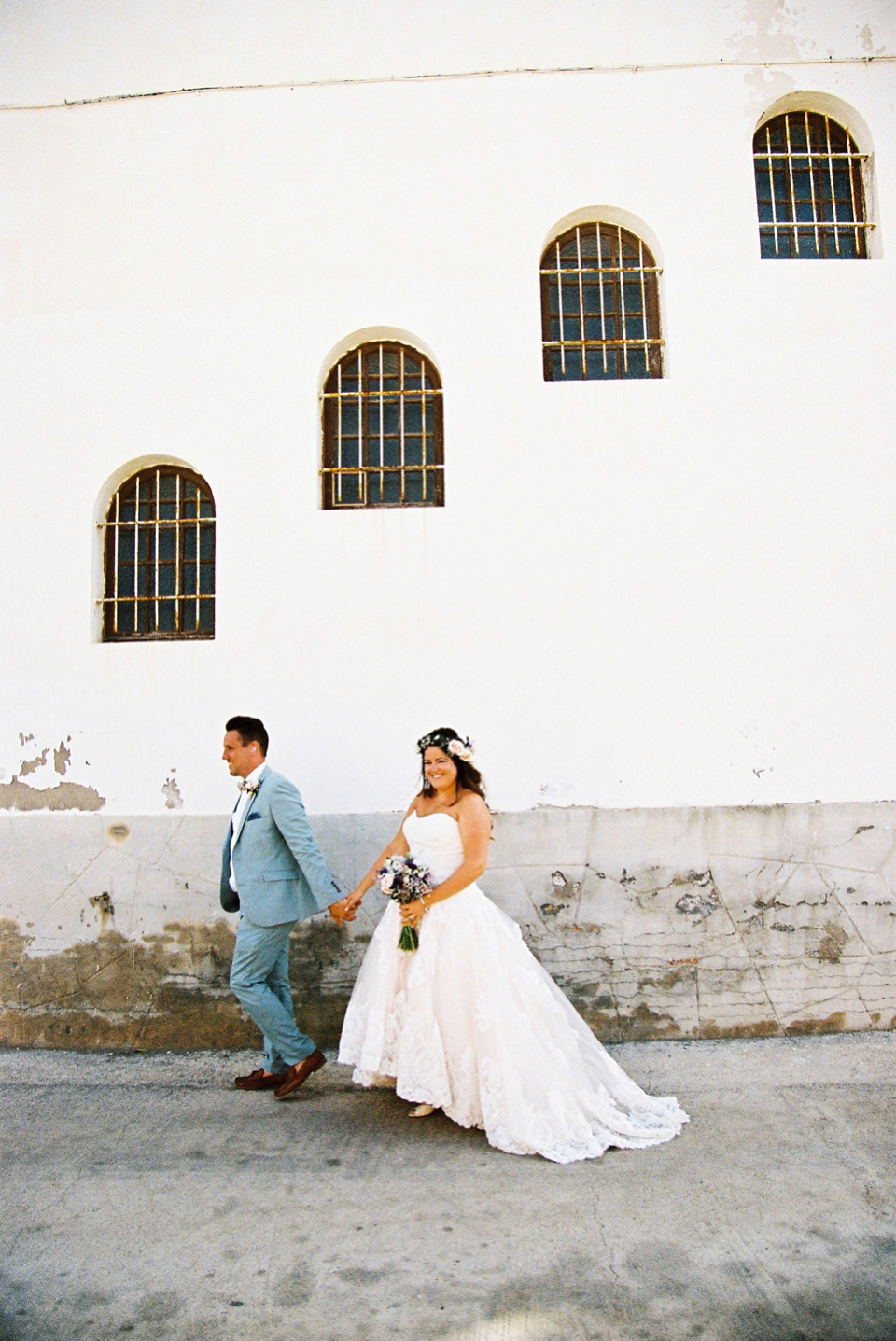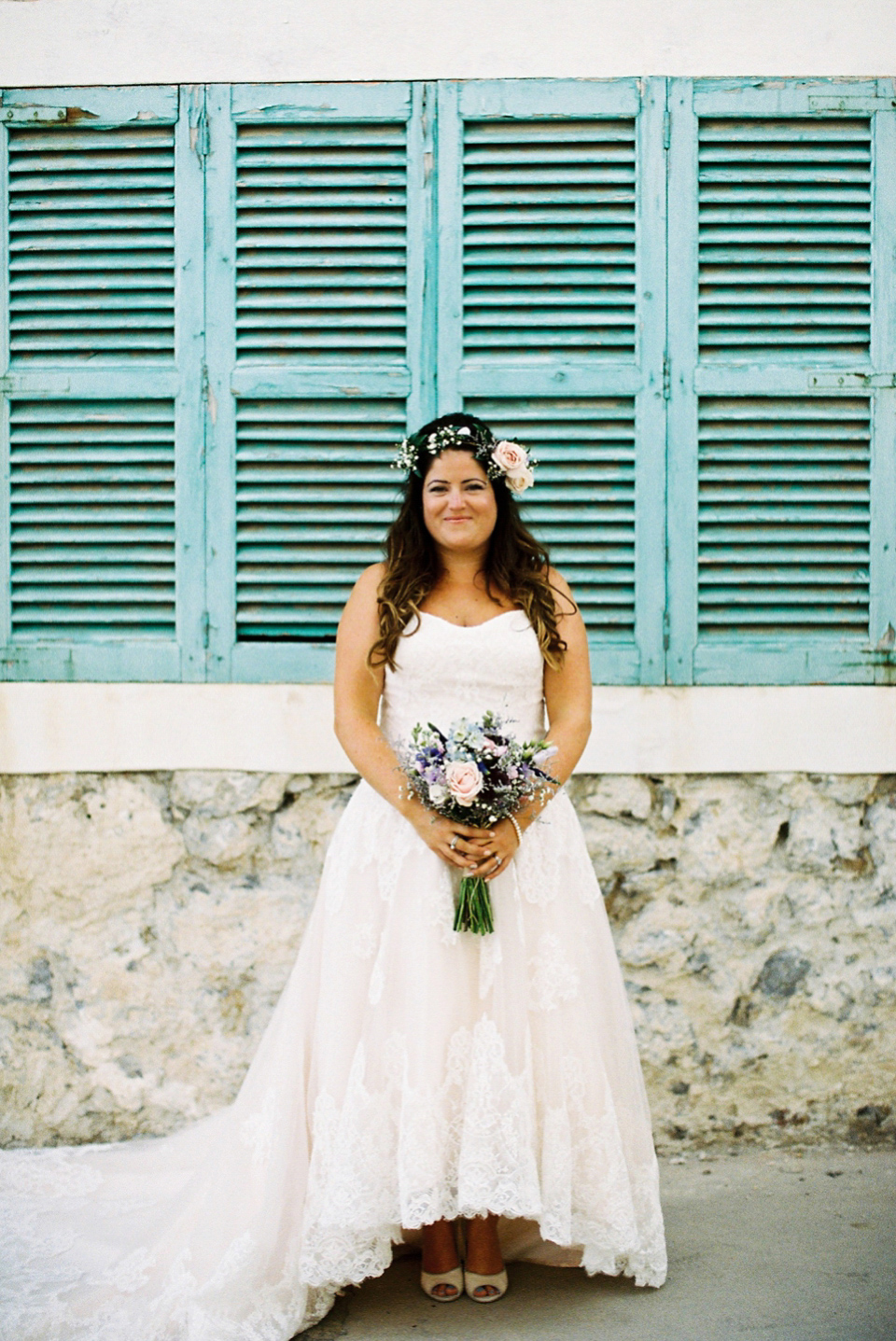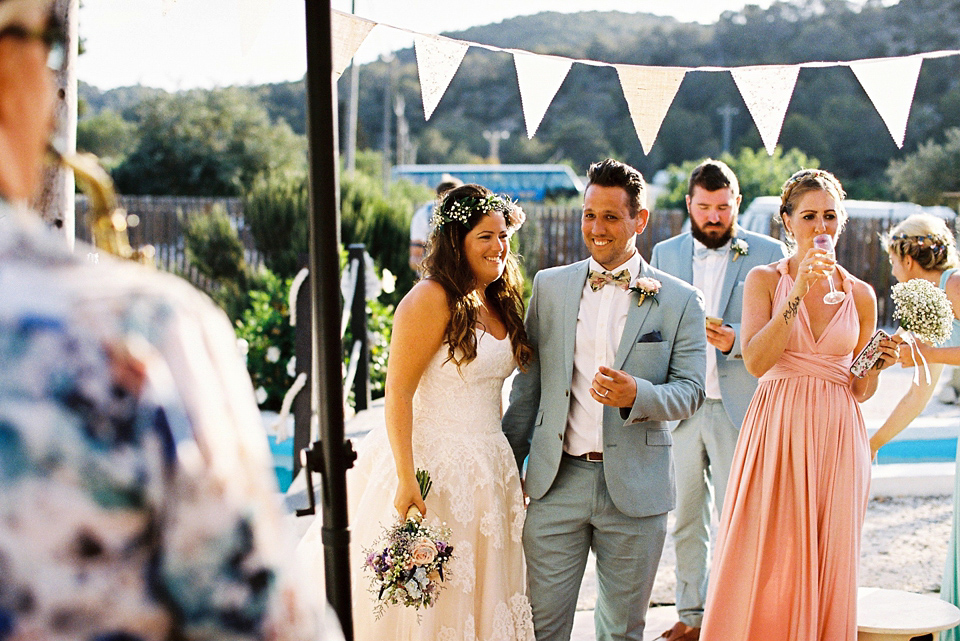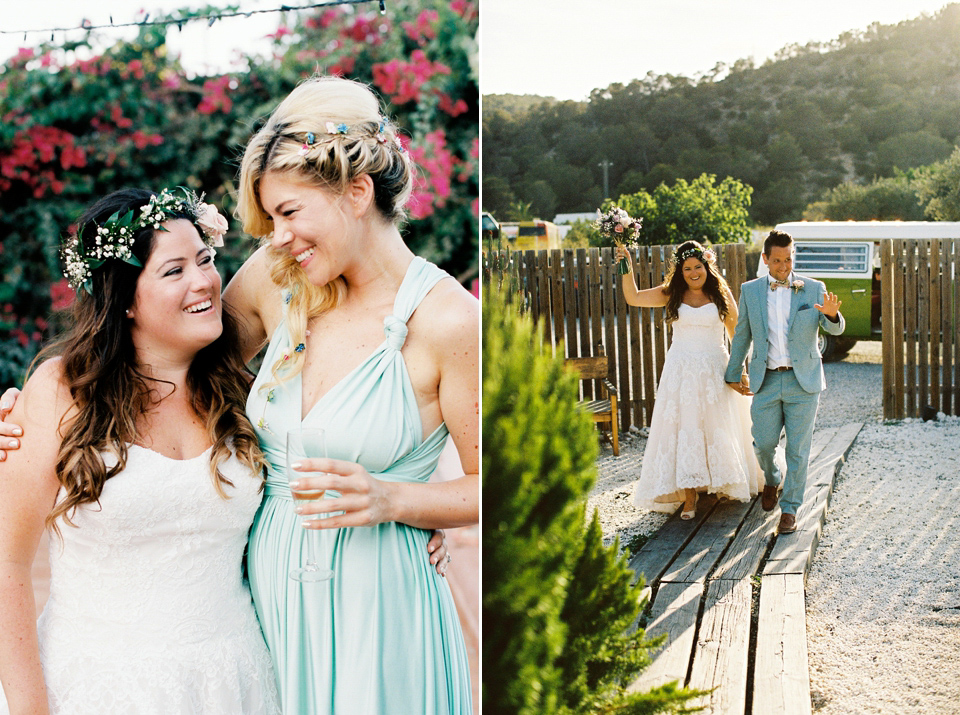 "We only looked at one reception venue- Boutique Hostal Salinas and we fell in love with the cool and stylish décor.  We could see straight away the bunting, fairy lights, pastel colours décor which gave us the idea of how we wanted our wedding to look and the recent addition of Inkie's graffiti mural on the wall added that edgy feel."
"It's so difficult to choose one favourite moment… We enjoyed the ceremony a lot more than we thought we would as we were so nervous about standing at the altar and sharing our vows but Father Virgilio made us feel so relaxed. My Dad's speech was amazing as he brought a lot of little mementos of my childhood and told a lot of embarrassing stories and the party was great and it lasted until 7am in true Ibiza style!"
"Eileen from Ibiza Cakes made our cake. I asked for it to be pastel coloured and for Eileen to add lace which was similar to my dress."
"We had a saxophone player for when people arrived at the venue as I used to play the saxophone and have always loved this instrument.  In the evening we then had DJ David Phillips who is also a resident DJ at Space and Lo Cura."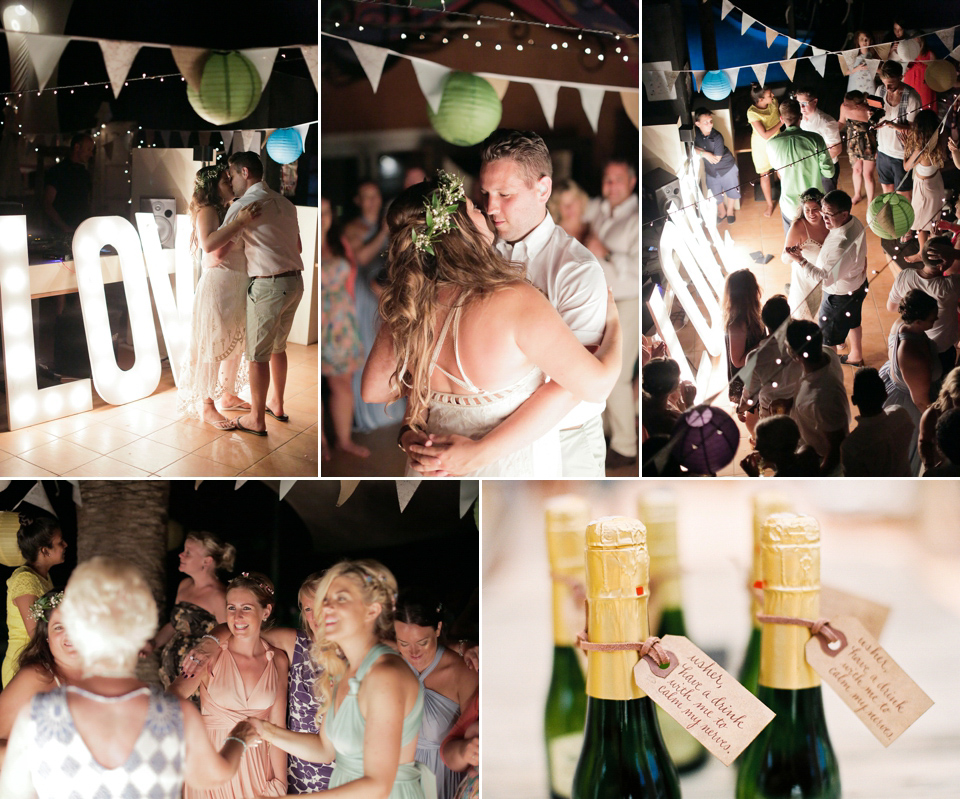 Words of Wedded Wisdom
"Set aside thirty minutes on the day for yourself and your partner to have some alone time as it can be overwhelming and just to say hello to each other…
Enjoy every minute and don't let anything stress you out on the day. If you start to feel stressed just smile and go into another room alone to relax.  After all it's only one day in your life.
Also don't feel pressured by wedding shops to choose your dress months in advance, and if you like bits of different dresses go to a dressmaker."
Huge congratulations to Tim and Laurie; thank you for sharing your day with us.  As ever, many thanks to the photographer, Becky Bailey, for allowing us to feature her beautiful sun kissed images.
I'm wondering… do you think it's acceptable to get a flower crown just to wear around the house…?
Much love,
Shona x
Photographer – Becky Bailey
Videographer – Garry McManus
Venue – Boutique Hostal Salinas, Ibiza
Wedding Dress – Allure Bridals, purchased from Glamorous Gowns, Surrey
Alterations – Zuzanna at Tailoress Designs
Hair Accessories – Floral crown by Floral Dreams Ibiza
Shoes – Amante by Charlotte Mills Bridal
Bride's Scent – Estee Lauder Bronze Goddess
Groom – Suit and shoes, Next; bow tie, BeauTieUK
Groomsmen- Suits and shoes, Next; bow ties made by Charlotte Quigley  (no details)
Bridesmaid dresses – Eliza and Ethan
Flowergirl –Angelika's Boutique
Page Boys – Zara
Florist – Floral Dreams Ibiza
Cake – Ibiza Cakes
Entertainment –  Ivan M, saxophone
Rings – Tim- Paul Rocheres, Laurie- Ernest Jones
Catering – Boutique Hostal Salinas chef Manuel Novas
Stationery – WEDFEST
Hair and Makeup – Emma David (no details provided)
Favours – Cancer Research pins
Transport- VW campervan