Today's wonderful, joy filled, barn wedding is proof that grey skies needn't mean disaster on your wedding day. Our couple, who had their heart set on tying the knot outdoors, were forced to move their ceremony under cover following a sudden downpour. But instead of dampening their spirits, the last minute change in location led to a sense of camaraderie and intimacy which made their big day even more special.
Krysta and Dan tied the knot on the 30th August 2015, at Lyde Court, a romantic 17th Century stone barn in an isolated Hereford valley. Now, over to our lovely bride, (proprietor of wedding coordination and styling business, For The Love of Weddings) who pulled out all the stops to create a wedding day worthy of the couple's love story…
"As soon as we found Lyde Court we knew our search for the perfect wedding venue had ended. Lyde Court's higgledy piggledyness, artwork and beautiful rustic surroundings lend itself to the relaxed and informal feel we wanted for the day. We opted for muted tones (ivory, coffee, blush pink) and anything that would complement the venue's existing rustic features. I loved the idea of using an abundance of candlelight and fairy lights to enhance the whimsical church feel of the stone barn."
Photography by Mustard Yellow Photography
"Whenever I found myself getting lost, overwhelmed and sometimes stressed in the wedding planning process, Love My Dress would bring me out of that slump and remind me to focus on the single most important aspect; celebrating our personal story. Each post hits home what it's really all about and it's wonderful watching a couple's love-story unfold before our eyes."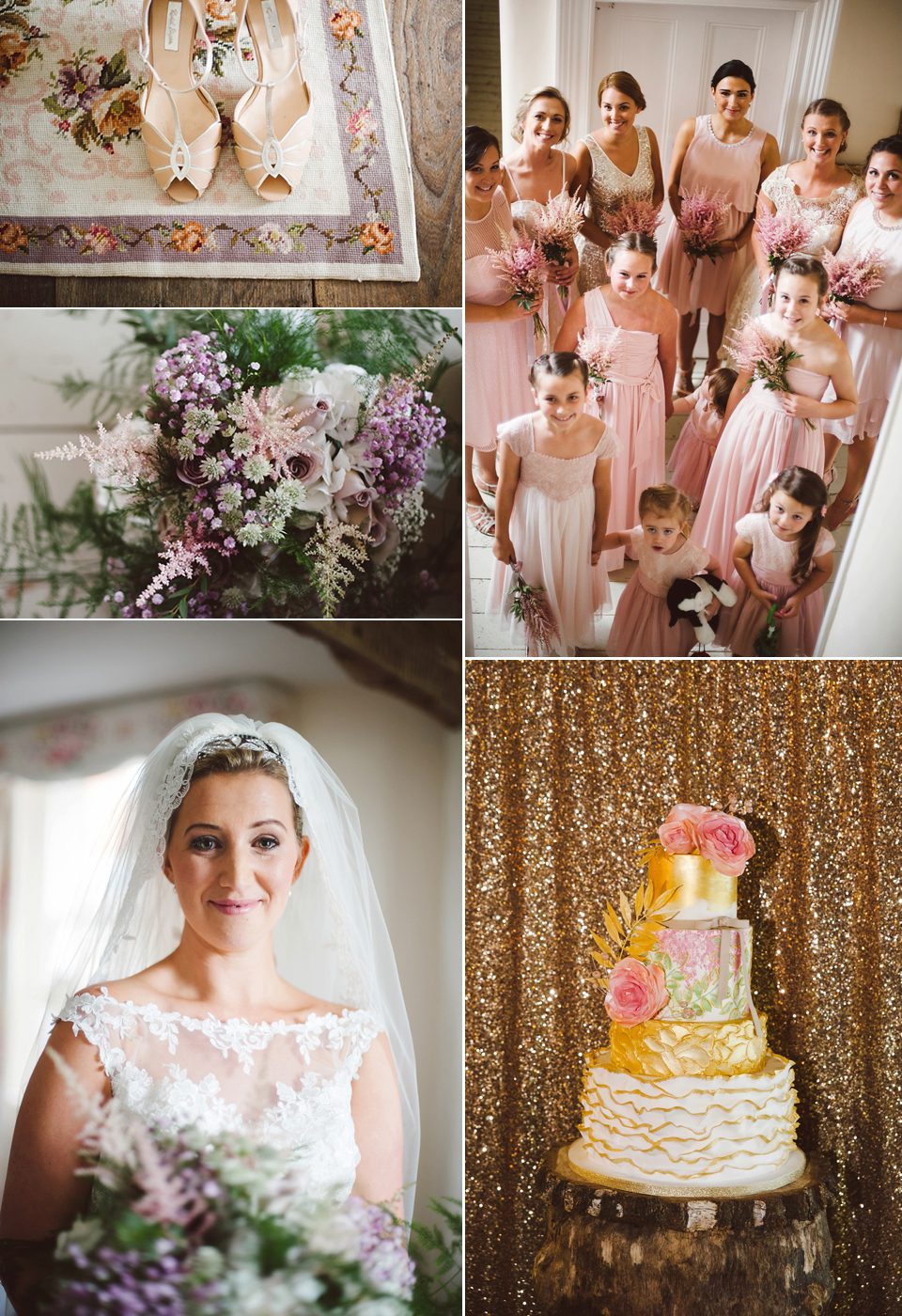 Krysta looked stunning in a lace, Stella York gown which she purchased from Perfections Bridal Studio in Worcester.
"I had been chatting to a bespoke wedding dress designer about my dream dress and described an ivory lace, mermaid style, backless gown with a silhouette neckline over a sweetheart bodice. One day, I walked past Perfections Bridal Studio and the dress I had described was in the window!"
"I thought that there was absolutely no way choosing a wedding dress could be this easy, or within my price range, but to my surprise it came in at around £600 under budget! I was four months pregnant and very poorly when I tried the dress on, but I felt like a million dollars."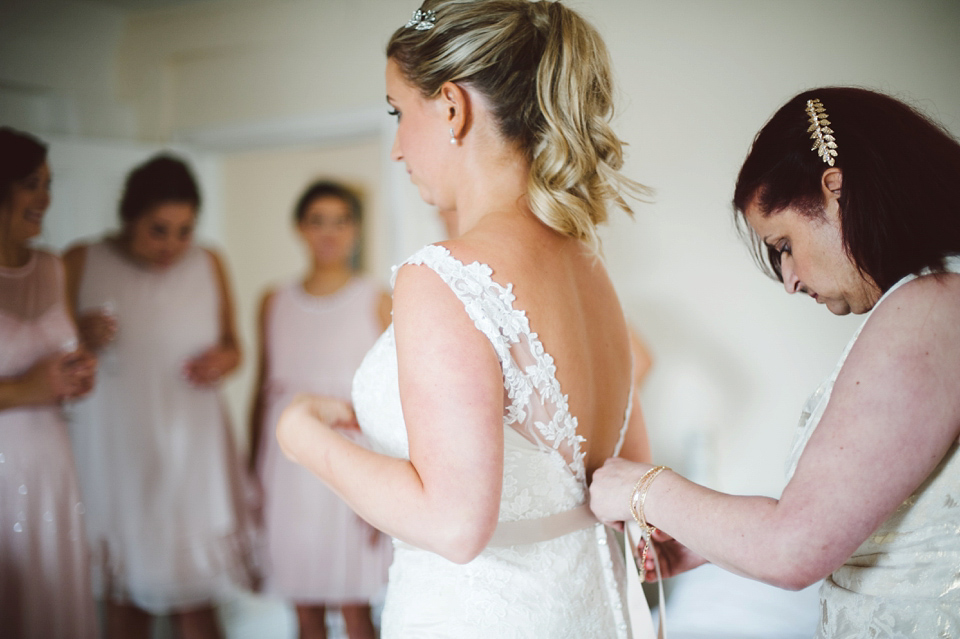 Krysta wore peach and gold Rachel Simpson heels on her toes and she chose Le Parfum by Elie Saab as her wedding day scent.
"My earrings were a gift from my brother on the morning of the wedding. My brother gave me away on the day and he massively stepped up to the role – I just fell apart when he gave these to me."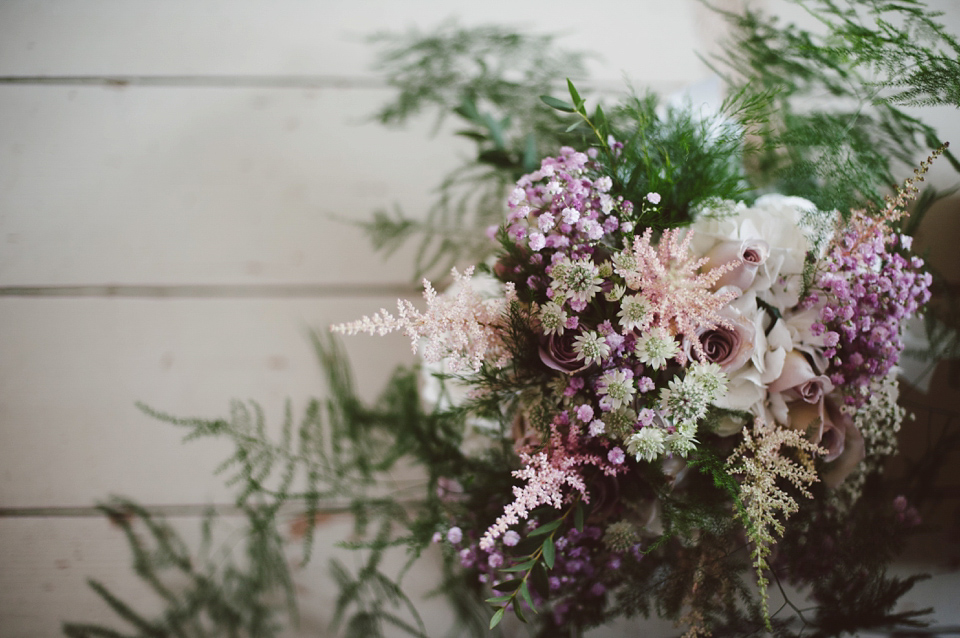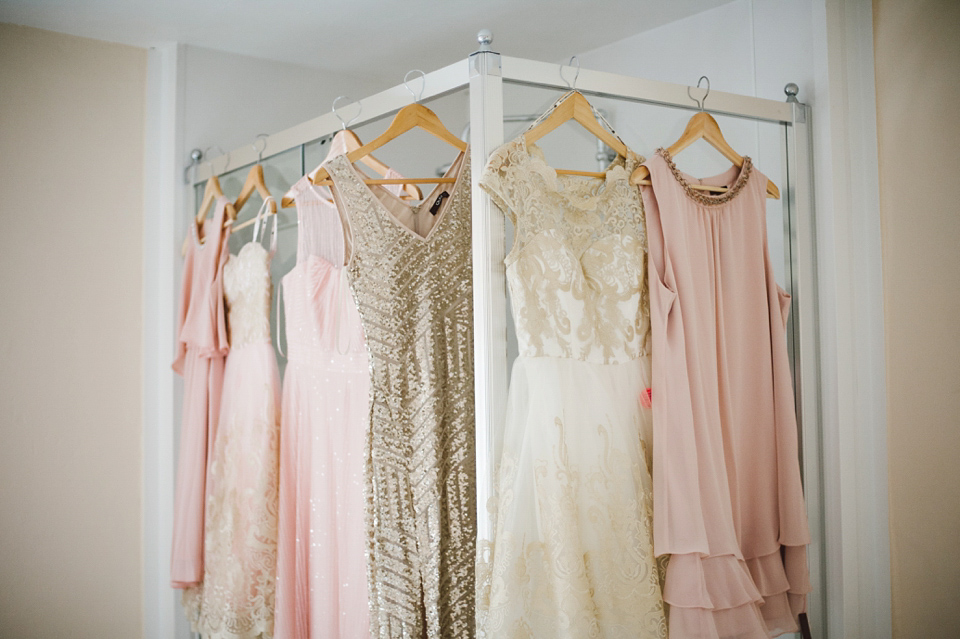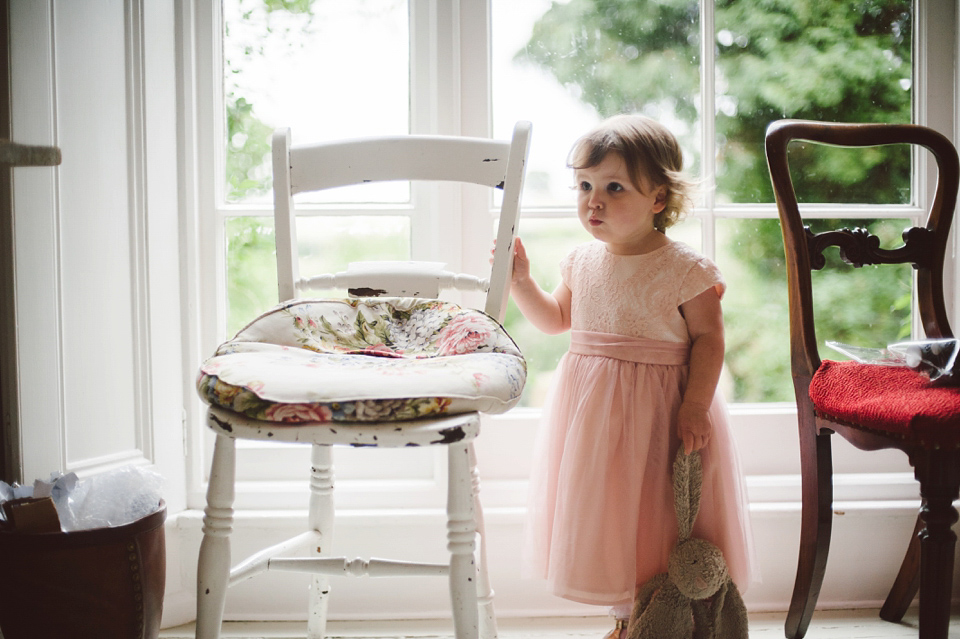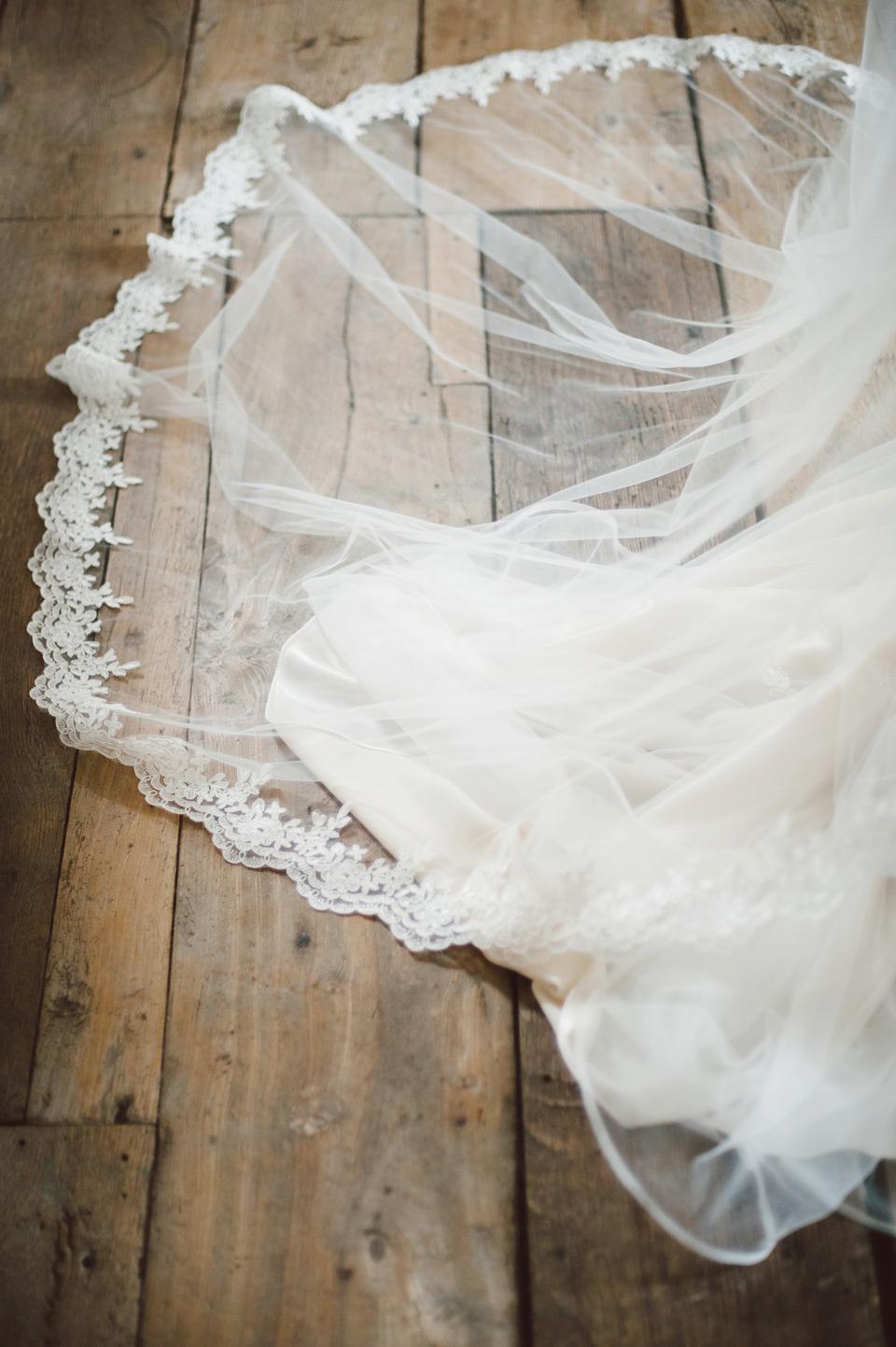 Our bride paired her gown with a vintage inspired, wreath tiara from Glitzy Secrets and a scalloped edged, chapel length veil from Perfections Bridal Studio.
The couple's beautiful blooms were lovingly arranged by Debs at The Hibiscus Room in Hereford…
"I wanted our flowers to be relaxed and laidback and the the main element that tied the entire day together. I met Debs through The Vintage Wedding Fayre and knew instantly I wanted her to do our flowers. Not only is she an incredibly warm and bubbly person, she really knows her stuff and understood my vision instantly. I've since learned that Debs also got stuck in on the morning with dressing the venue and really went above and beyond her call of duty to make sure it looked exactly how she knew I wanted it."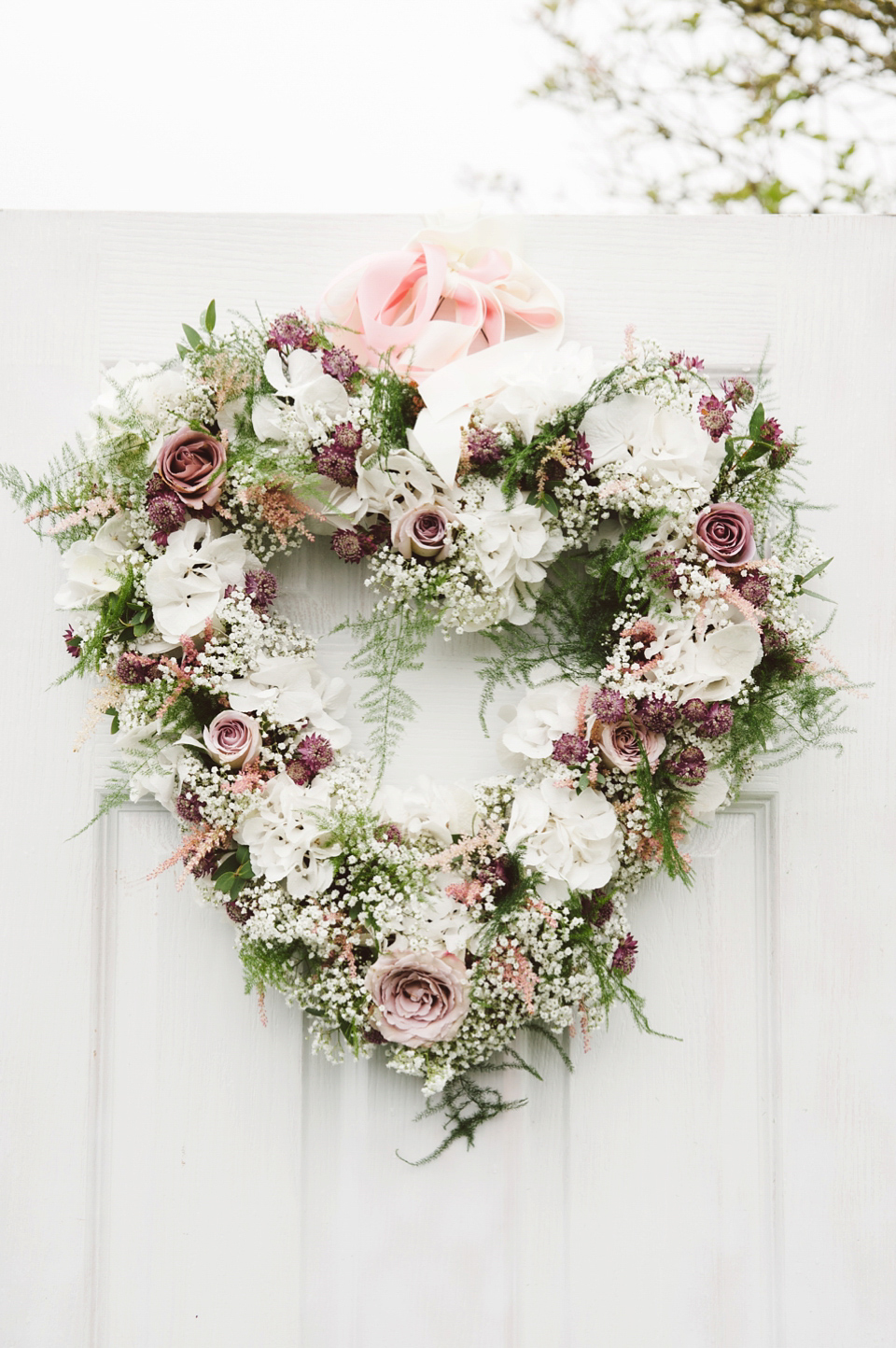 Our handsome groom wore a three-piece, tweed suit from Walker Slater and a pale pink, woven tie from ASOS.
"Dan and I met at Nottingham Trent University back in 2001. We were actually each other's 'first kiss' at university but love didn't blossom for us then! Instead, we became great friends and it was almost nine years before we became a couple. I was living and working in Australia when my mum was diagnosed with cancer in 2009. I moved back to the UK to care for her and Dan was an amazing support both to me and my family. Things progressed rather quickly between us and Winnie was born in September 2012."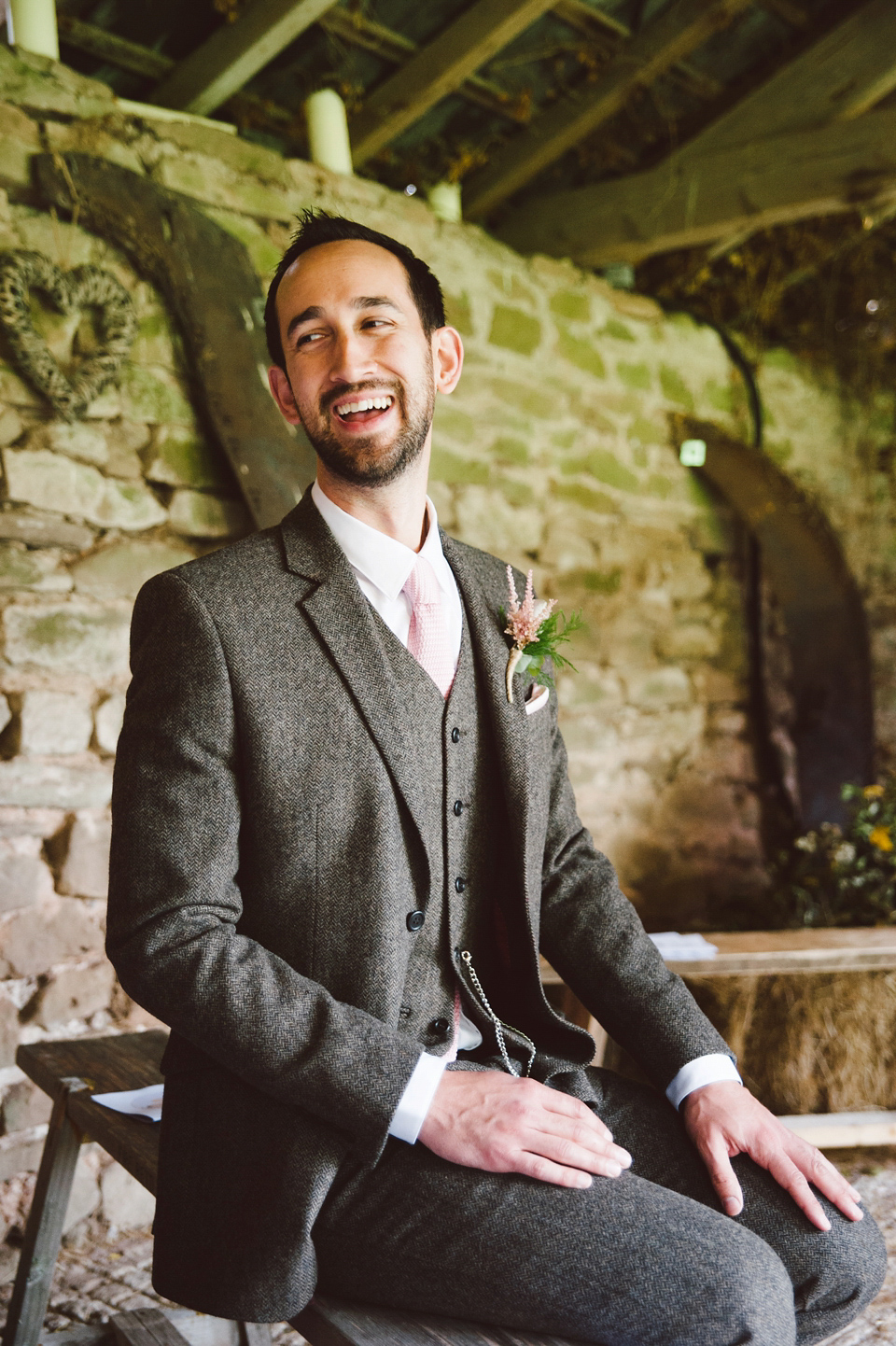 "When Winnie was eleven months old, we took a family holiday (with my mum, who was by now in remission) to Puglia, Italy where my family are originally from. We left Winnie with my mum for two nights and drove to the Amalfi Coast. Dan booked us in to the sensational Relais Blu in Terrini and, overlooking Capri at sunset, he proposed during a seven course dinner! We decided to try for another baby before getting married and so, rather optimistically, we set a date for two years later. Quite amazingly, Betsy was born one year before the wedding. It was very special for us to be able to include our two little miracles in the day."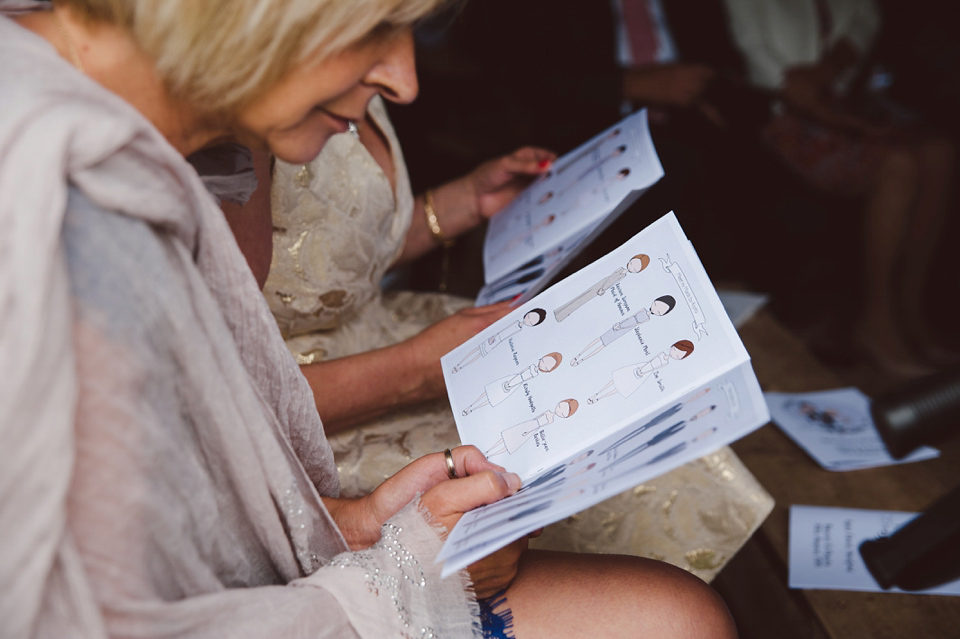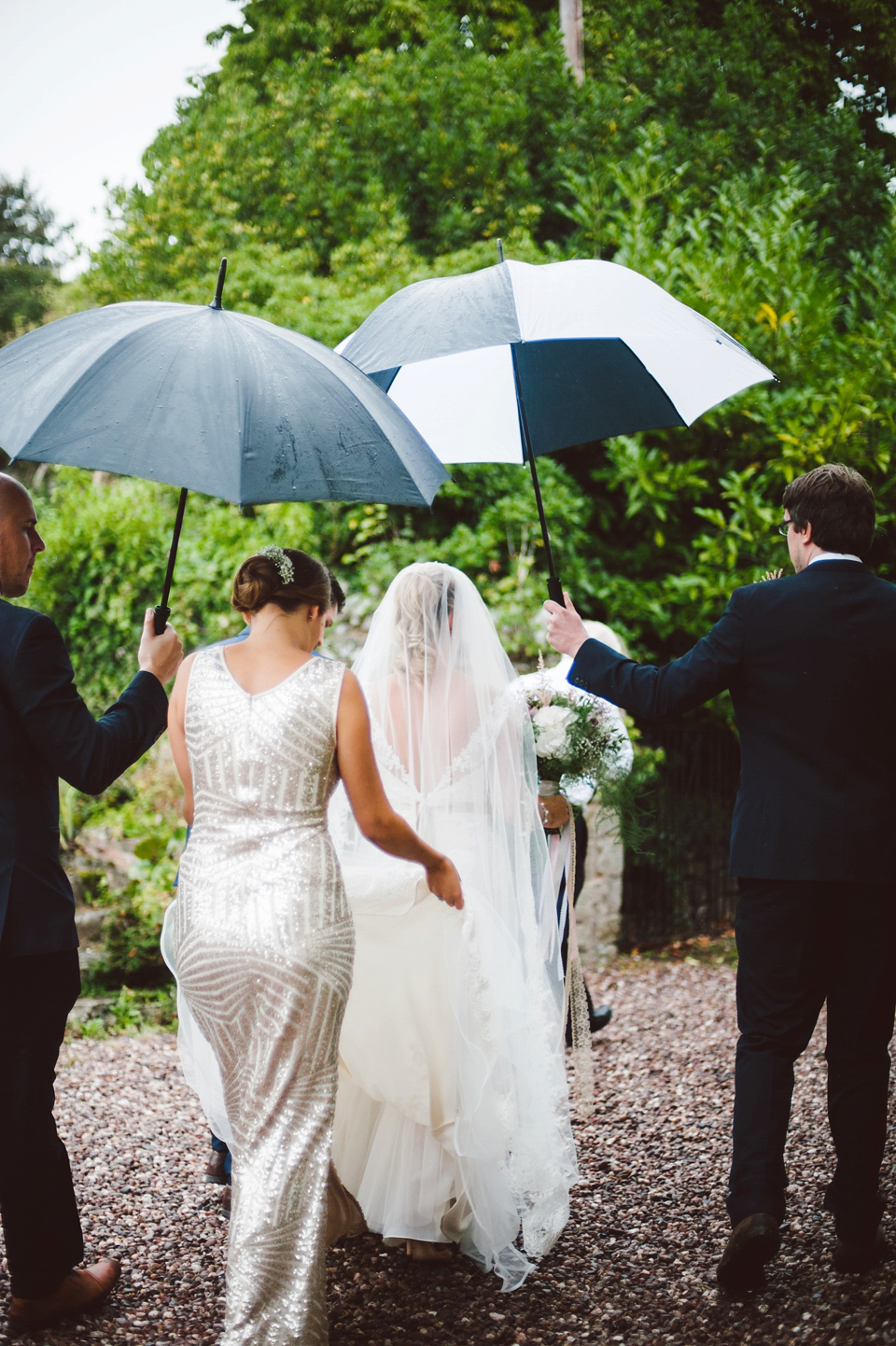 Dan and Krysta called upon independent priest, Mark Townsend, to officiate a ceremony which also reflected their faith.
"Dan and I were both raised as Christians, so it was important to us both to have a Christian ceremony but we also loved the idea of getting married outside on the lawn. We found an amazing celebrant, Mark Townsend, who worked very closely with us to create the perfect ceremony."
"The structure and wording of the ceremony was similar to that of a church, but with detailed reference to Dan and I as individuals, as a couple, plus a blessing for our little family. We wanted the freedom to celebrate not only our union with one another in front of the Lord, but also our relationship with our family and friends who surround us and support us every day."
"I have two daughters, two nieces, two god daughters and two very special friends of our family, so I had eight flowergirls in total! All eight dresses were the same shade of blush pink and from ASDA, BHS and Monsoon. The three oldest girls held smaller versions of the bridesmaids' bouquets and the five youngest held ivory heart shaped helium balloons, which kept them entertained!"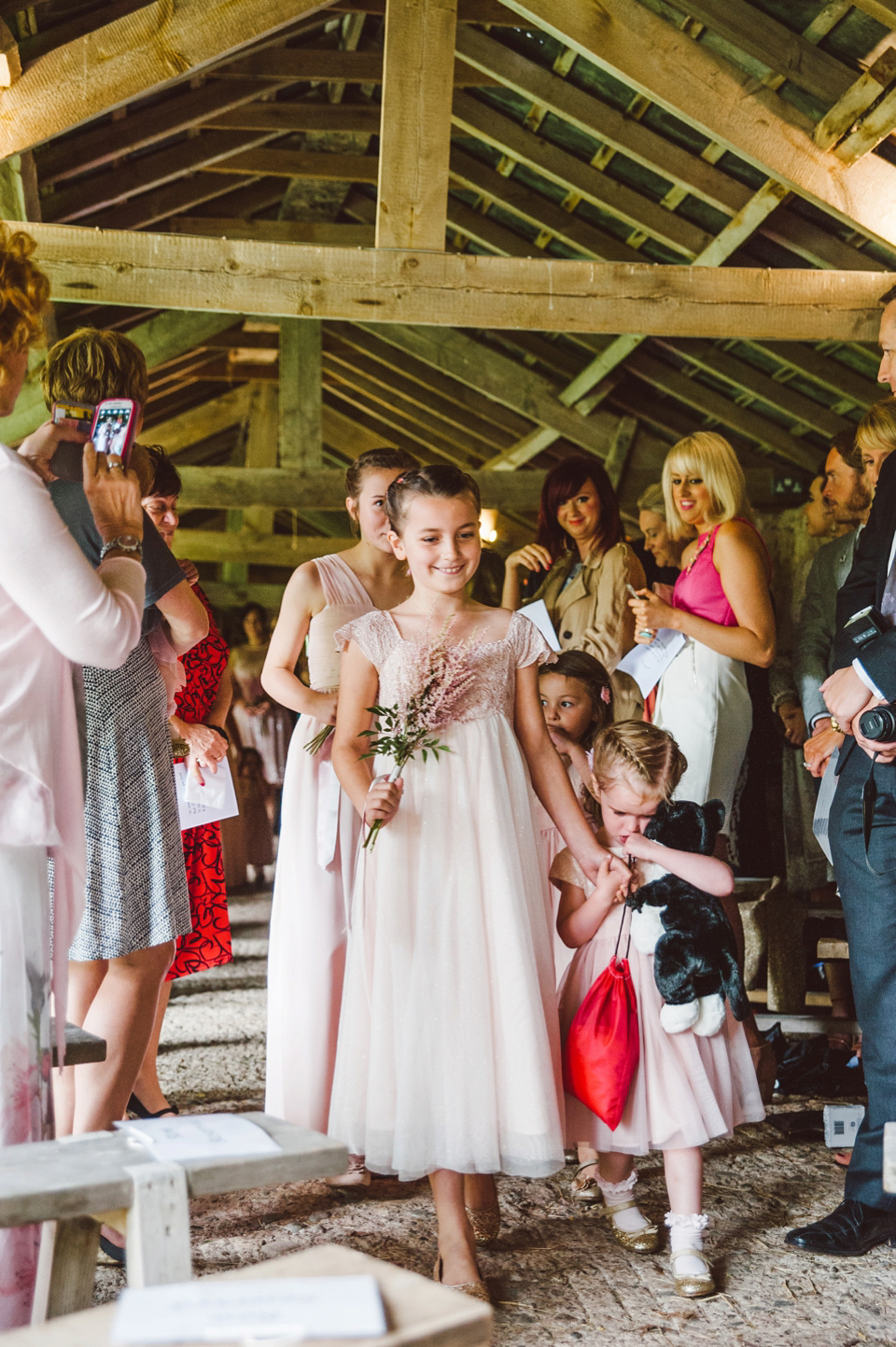 "I bought my six bridesmaids the same ivory maxi dresses, but some of the girls were happier about the choice than others. I really wanted them all to feel happy and comfortable so I just asked them to pick a dress which fitted with the colour palette for the wedding. They all looked fabulous and their bunches of pink Astilbe with trailing ribbon tied it all together perfectly."
Krysta walked down the aisle accompanied by her brother, Alex, to 'How long will I love you' by Ellie Goulding (Winnie's favourite song).
"Walking down the aisle was such a blur and it was a lot to take in with all of the familiar, friendly, faces smiling back at me, but as soon as I reached Dan I just felt so content and excited to make it official. My brother, Alex, gave me away. He took his role so seriously and was such a calming influence on me – he even had hankies at the ready!"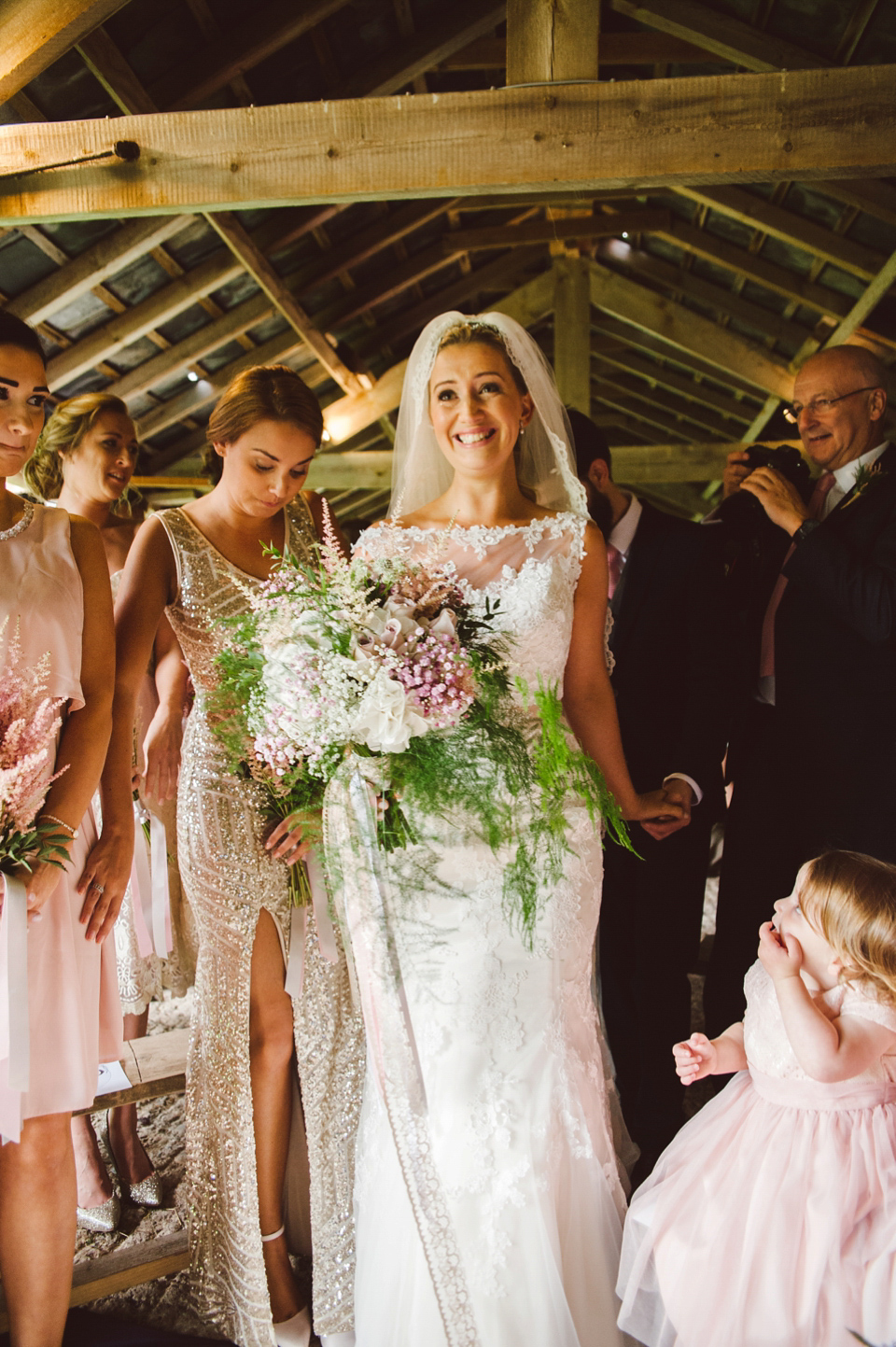 Dan and Krysta were forced to move the location of their ceremony under cover, after a downpour thwarted their plans to say 'I do' on the lawns of Lyde Court. Thankfully, the last minute change in location only served to create a greater sense of intimacy and camaraderie.
"It began to rain half an hour before the ceremony was due to begin on the lawn and so our wonderful ushers hurried around at the last minute to move everything beneath a little stable in the rose garden. All 150 of our guests clambered beneath the wooden beams – It was all so intimate, especially with the sound of the rain in the background."
Dan and Krysta chose 'These I can promise' by Mark Twain and Ruth 1:16-17 as their readings, with a special surprise from their friend Fay, who adapted Edward Monkton's 'A lovely love story' especially for the day.
"Most readings we looked at were very soppy and that's just not our style – 'These I can promise' felt so right. The poem felt like a little nod to the friendship Dan and I had built before becoming a couple. Also, after the birth of our first daughter I struggled with post-natal depression and at times I felt like I was such hard work I was convinced Dan would leave. But, he took my pain on as his own and held my hand throughout it all, and when I came out of the other side he proposed shortly after. This reading reminds me that we got through what was a dark time and are stronger for it."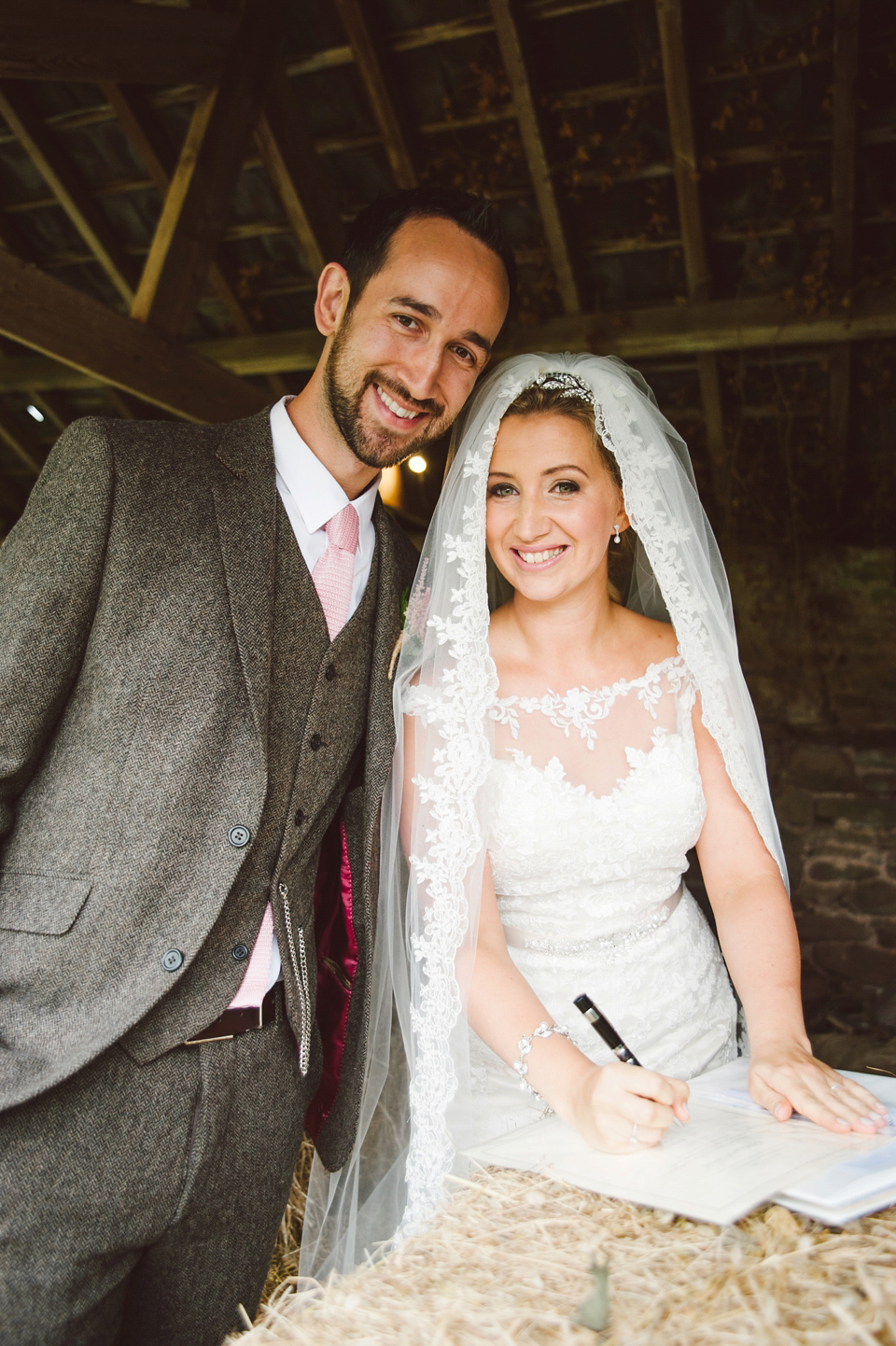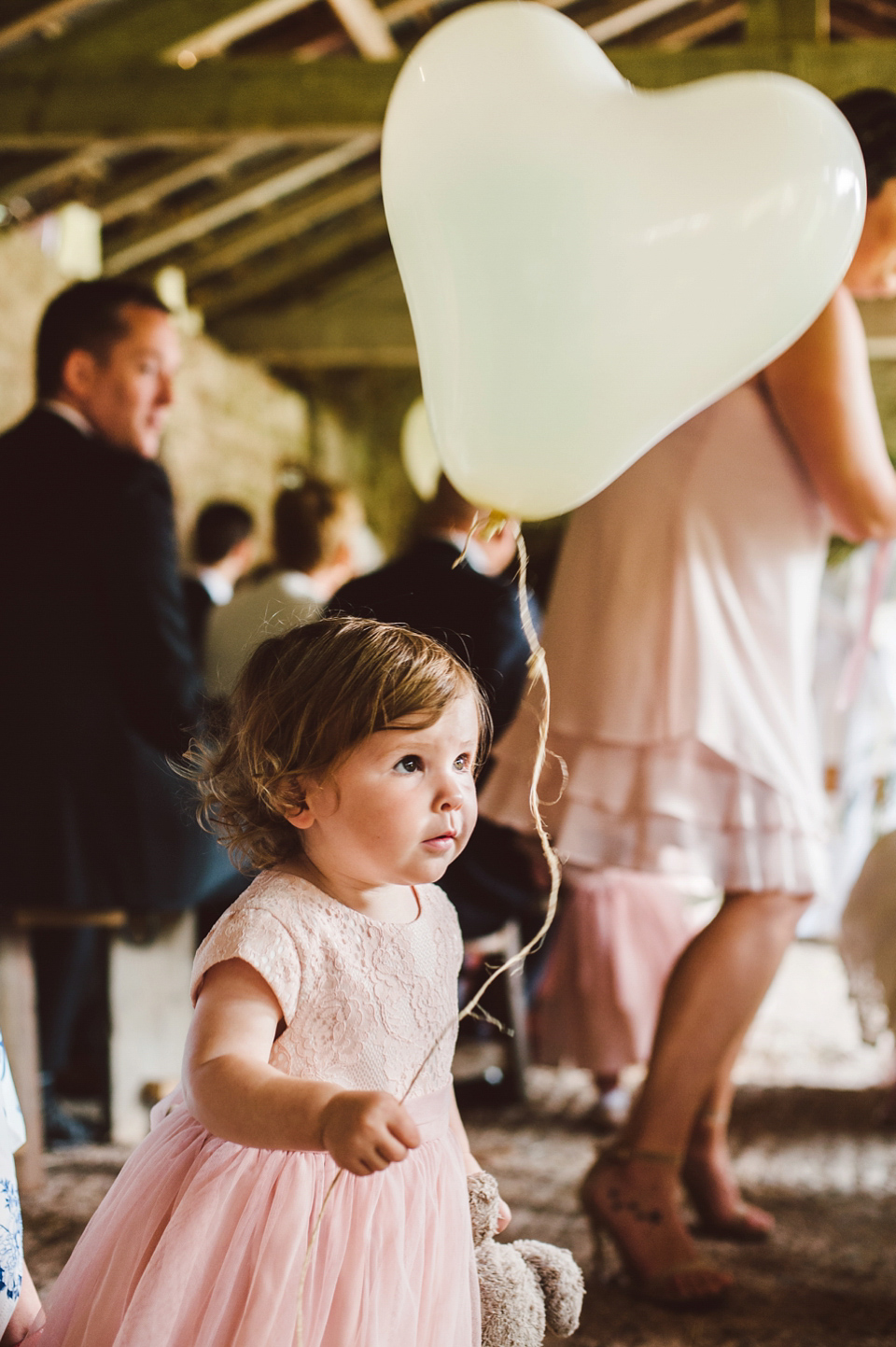 These lovely images were captured by Naomi and Malcolm of Mustard Yellow Photography, who did a wonderful job of putting our camera shy couple at ease.
"Naomi and Malcolm have incredible attention to detail plus impeccable timing for those precious action shots you will treasure for years to come. Dan and I are quite shy and not great at public displays of affection, but we wanted our wedding day to be the exception. Nom and Malc have this amazing way of making you feel like old friends whilst also remaining assertive enough to get the group shots done efficiently. We love working with them and absolutely cannot recommend them highly enough!"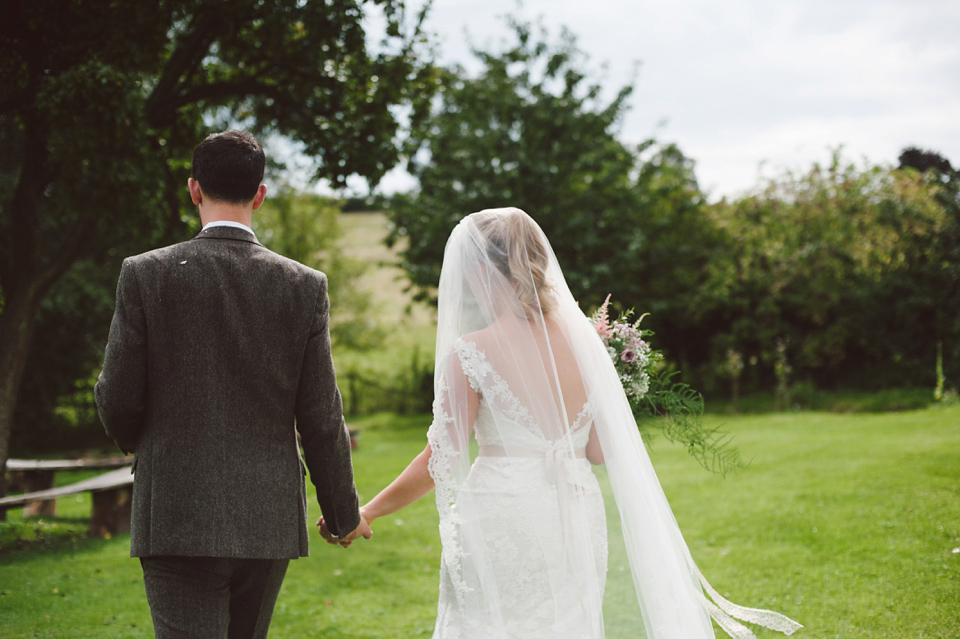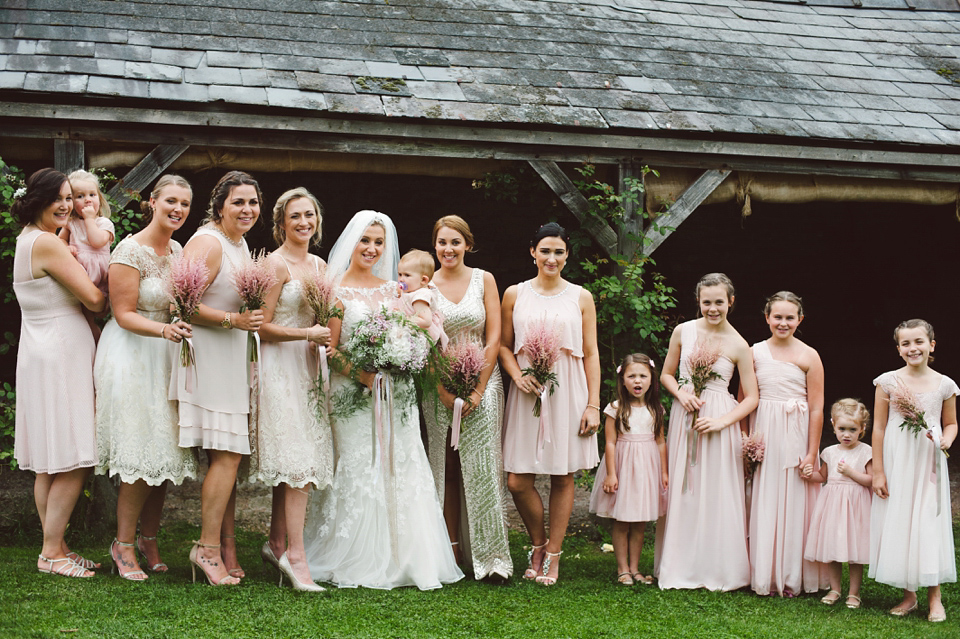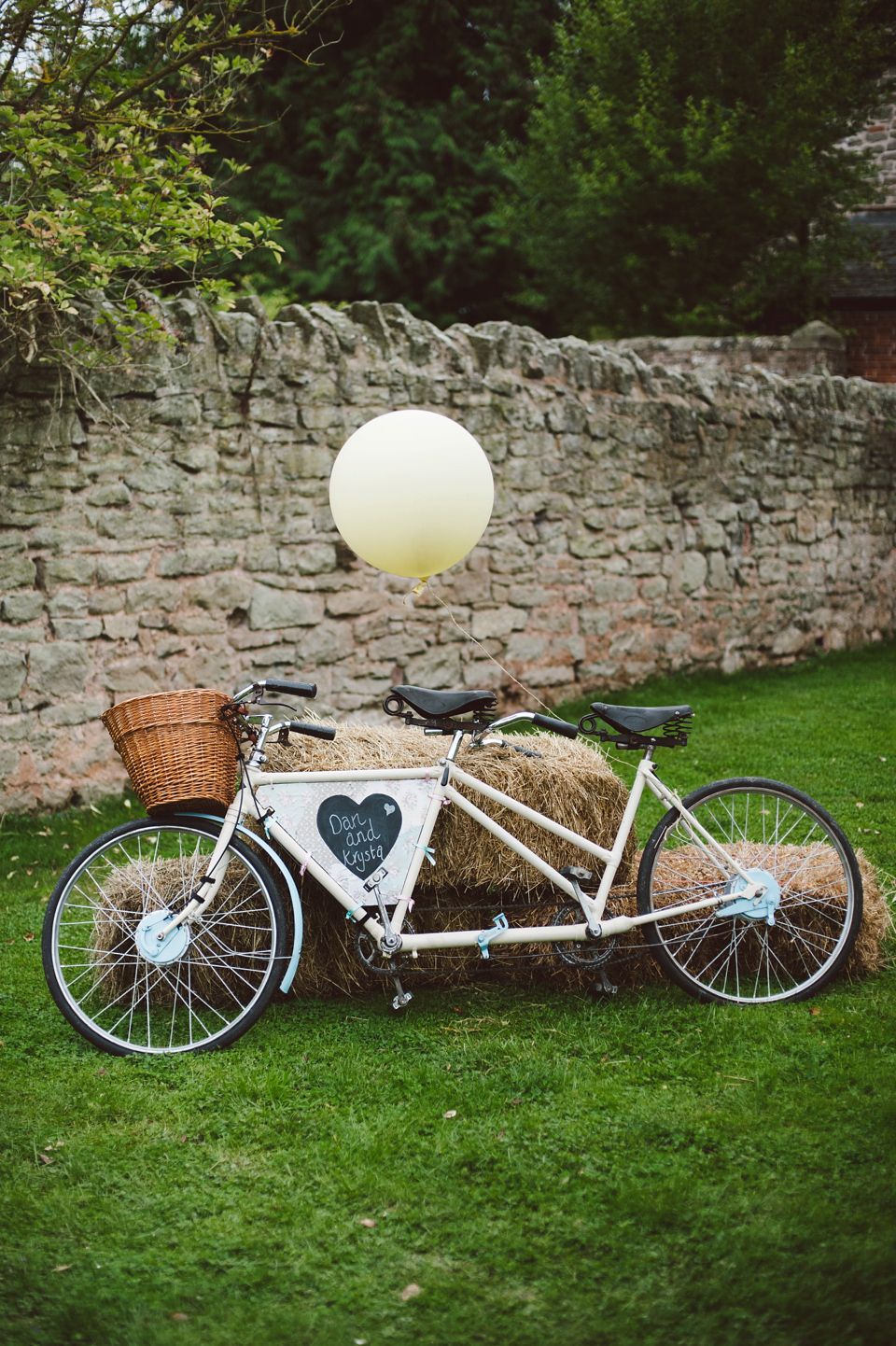 "As I have my own wedding coordination and venue styling business; For The Love of Weddings, I didn't need a planner, but I did hire a venue stylist to implement my design plans for the day. The wonderfully talented Lauradana, of Wedding Creations, brought my vision to life using an amazing selection of props from both of our businesses as well as The Vintage Hire Company and Penny Lane Vintage Hire Ltd."
"In keeping with the overall theme, I designed the tables to remain quite neutral, with just the flowers adding a pop of colour. We laid my ivory lace table cloths and Lauradana's hessian runners onto bare wooden tables and our centrepieces were birdcages and shabby chic candle holders from my styling and hiring business. To set the top table apart, I used white and gold chevron sequin table cloths from my sequin collection and my florist created some gold spray-painted gypsophila to sit in front of Dan and I."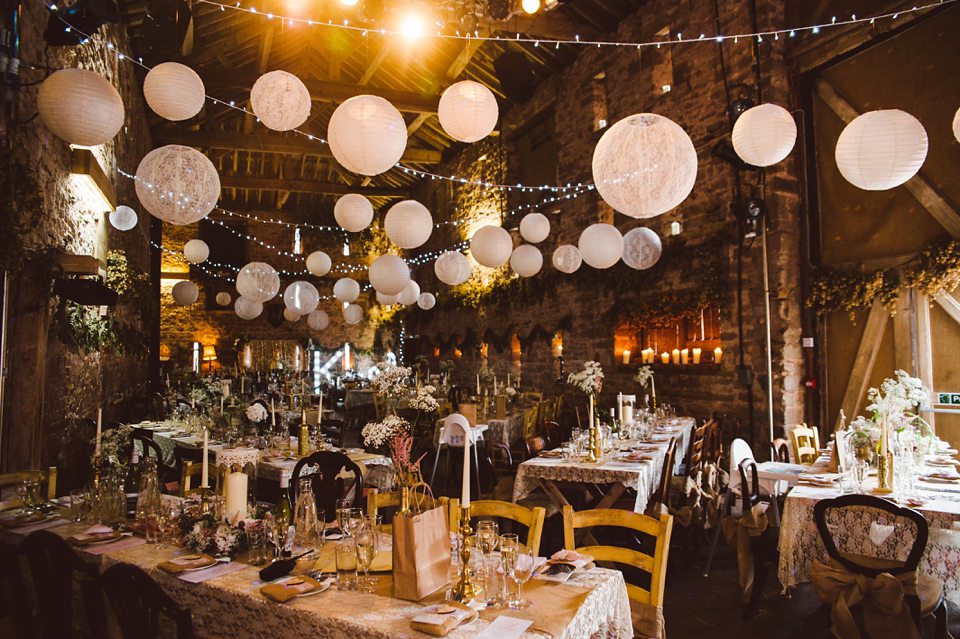 "Lauradana added fifty or so of my ivory paper and lace lanterns to around 80 meters of fairy lights and we also hired giant light up K and D letters to illuminate a dark corner of the room. Finally, Lauradana created a wooden door frame to place at the entrance of the aisle, which I have to say was my favourite aspect of all of the decor!"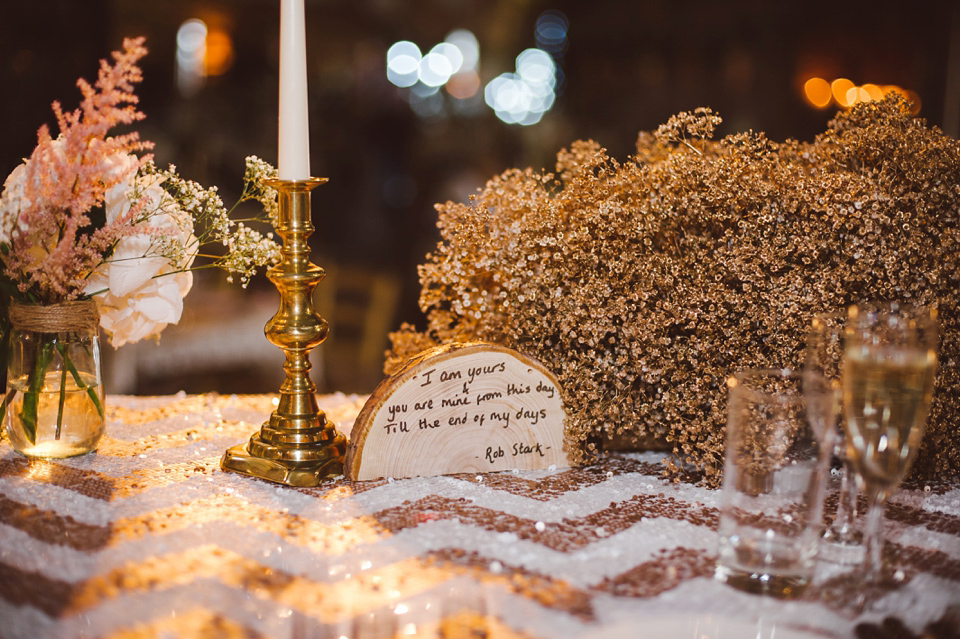 Dan and Krysta's wedding breakfast was catered by Taste and their cake was created by the award winning Ilona Deakin of Tiers of Happiness…
"Ilona is a very dear friend of mine and has always provided our cakes for celebrations. Ilona is so talented at what she does that I was more than happy to let her design the cake and surprise us on the day. It was amazing the way she tied the design to our theme and I really think it is the most wonderful cake I have ever seen (and eaten!). Our guests still rave about it.
We wanted to kick the reception off with a relaxed and light hearted vibe, so once all of the guests had been ushered to their seats and were expecting Dan and I to walk in together, Dan danced in to '99 problems' and I very nervously shuffled in to 'Gold Digger'. Everyone cheered and I think it set the tone for the rest of the day."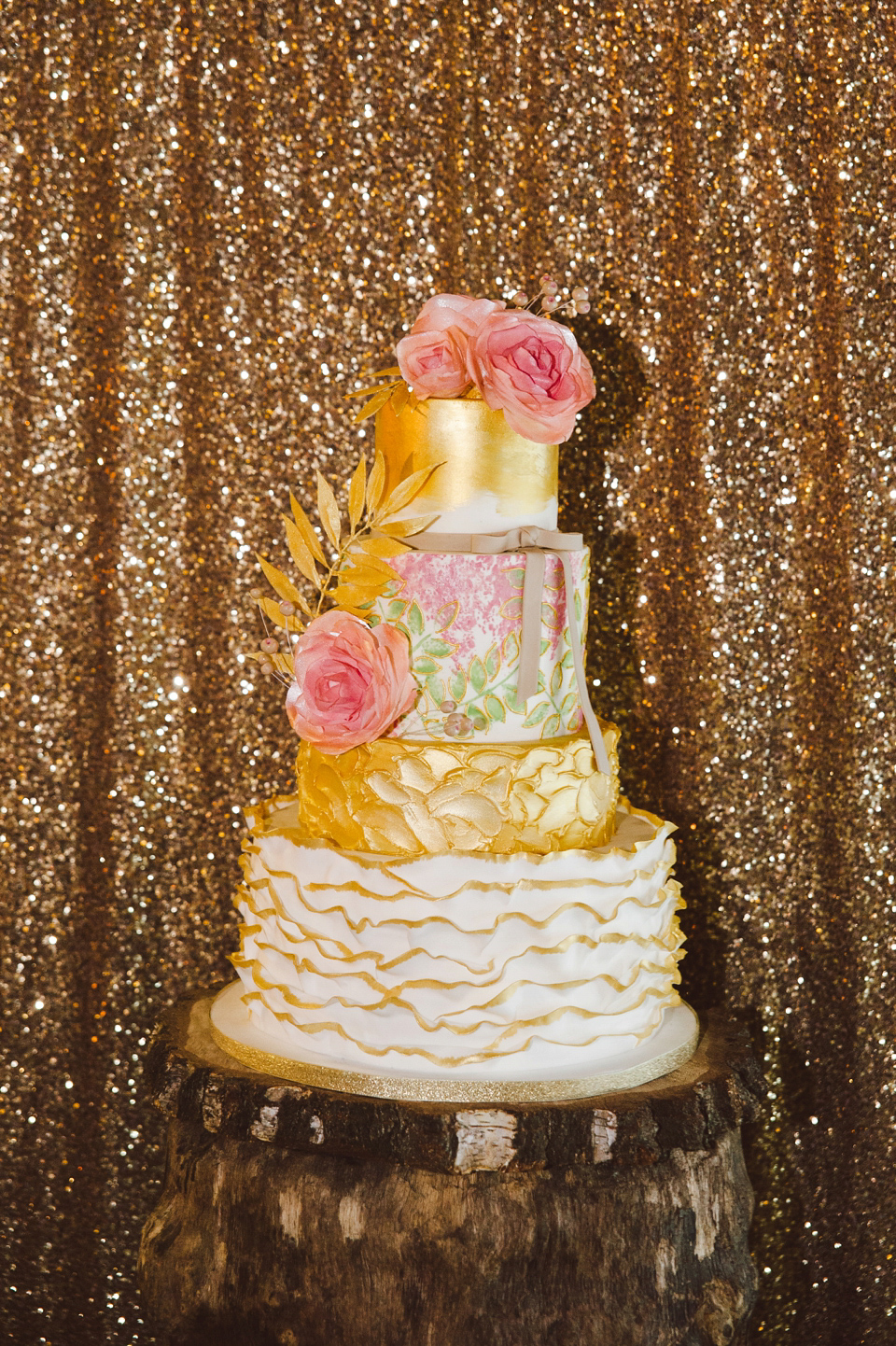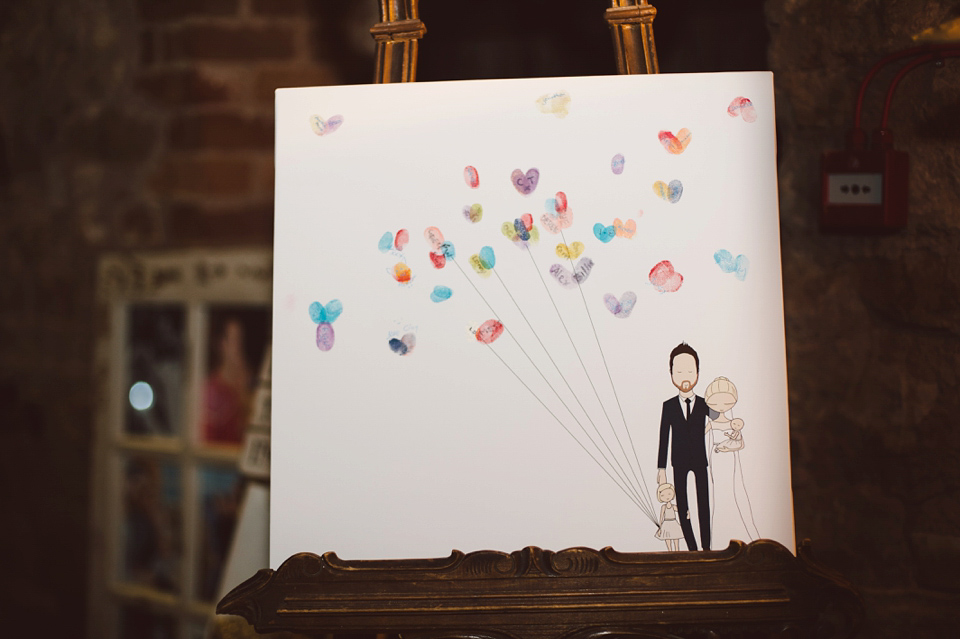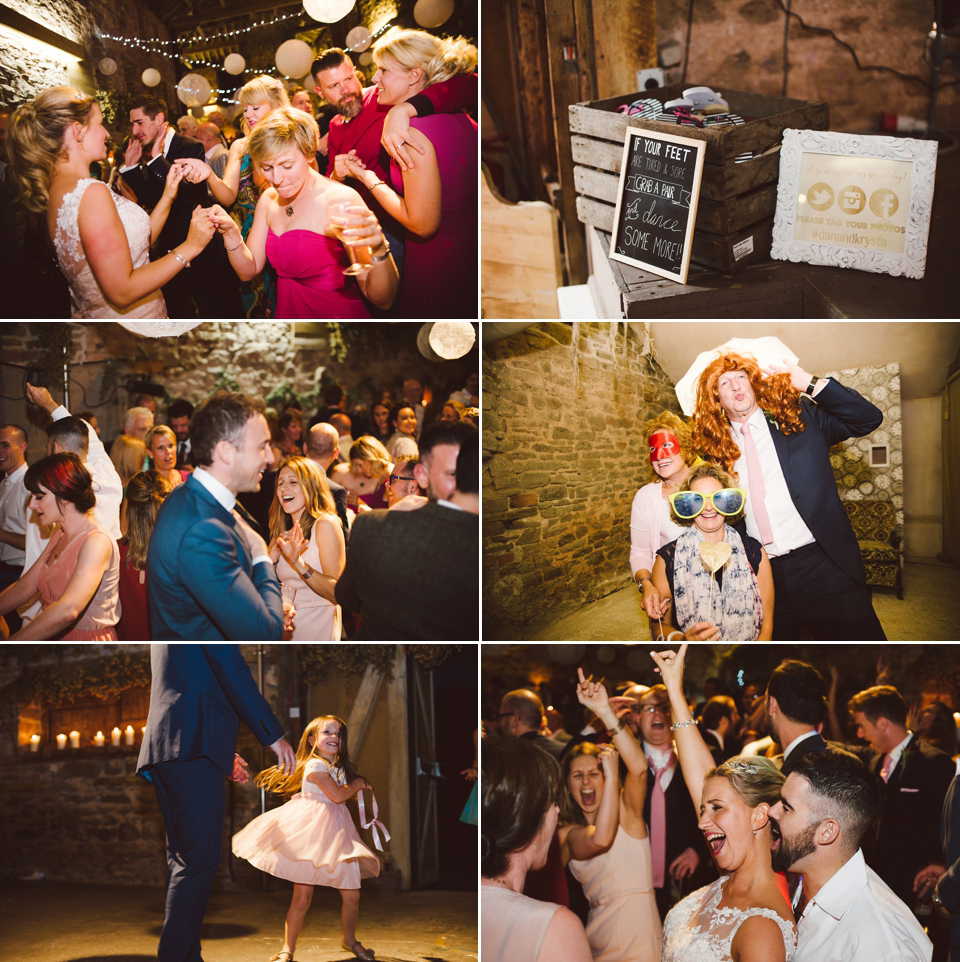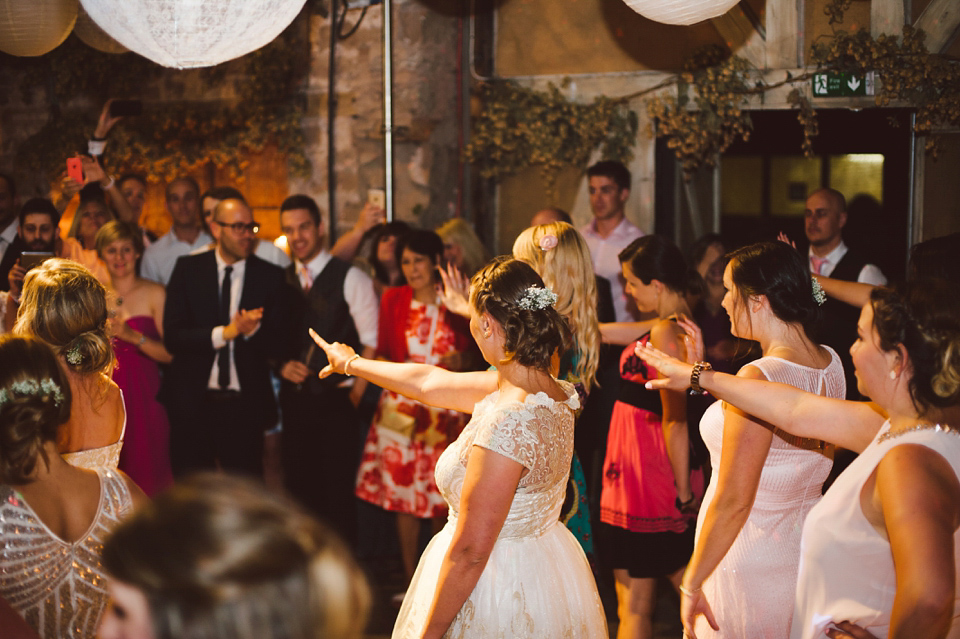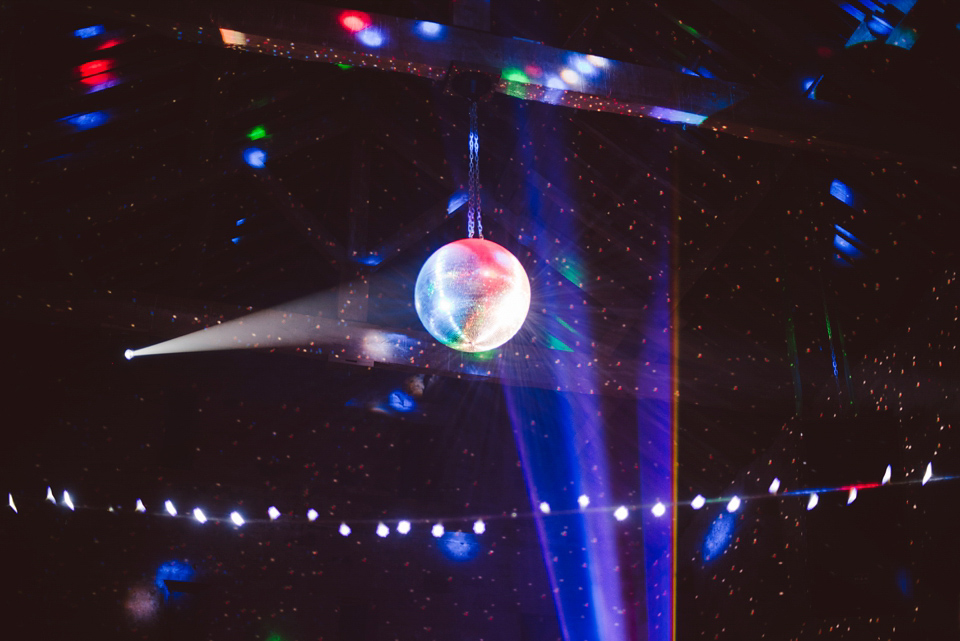 "In the evening, DJ Ed Steelefox delivered the party we had dreamt of, and then some! Every song that came on was getting more and more people, of all ages, up to dance and I think it's really clear in the photos just how much our guests were enjoying themselves! The dancefloor was packed all night."
Words of Wedded Wisdom:
"Dan and I read somewhere that it is important to take moments throughout the day to stop what you're doing and soak everything up. I had forgotten to do this until the end of our ceremony, when Dan yanked my hand and whispered 'five seconds' in my ear. We both stopped and looked at all the faces staring back at us clapping and smiling; it really was one of my happiest memories from the day.
Don't worry about the weather! I had sleepless nights obsessively looking at the long range forecast but on the day it really, really didn't matter. Our ceremony under the stables was better than I could have ever imagined and the rain contributed to keeping the dance floor busy all night long!"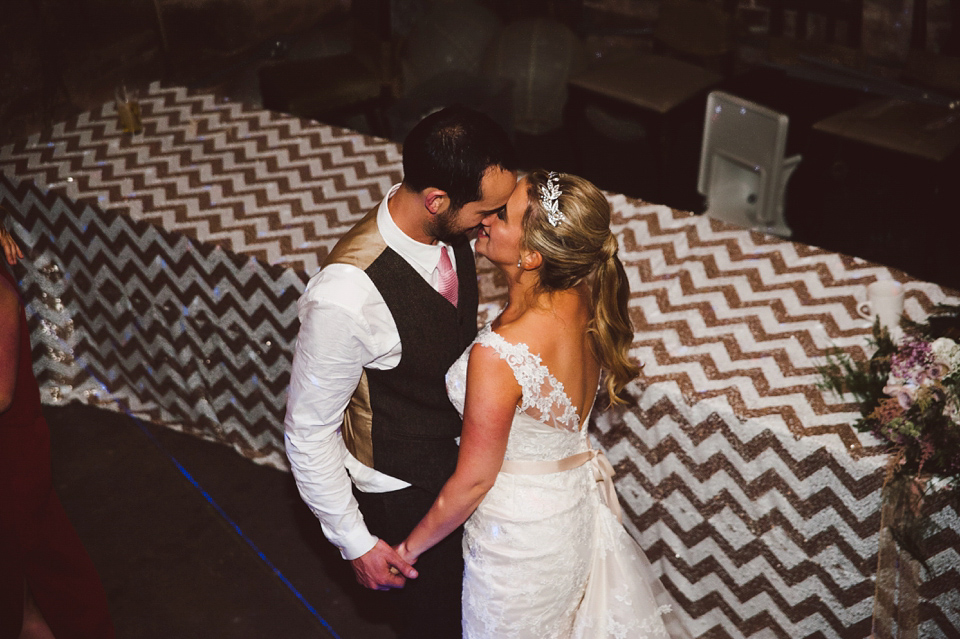 Thank you so much Krysta and Dan, it has been such a pleasure writing about your wonderful wedding! A huge thank you to Mustard Yellow Photography too, for sharing these lovely images. If you'd like to take a peek at other inspiring, barn weddings on the blog, you can find them here.
Wishing you all a fabulous Thursday!
Annora x
Photographer – Mustard Yellow Photography
Planner/Stylist –  For The Love of Weddings (who is the bride!) + on the day styling by Wedding Creations
Venue – Lyde Court
Wedding Dress – Stella York dress purchased from Perfections Bridal Studio in Worcester
Veil – Perfections Bridal Studio
Headpiece – Glitzy Secrets
Shoes – Rachel Simpson
Bride's Scent –  Le Parfum by Elie Saab.
Groom – Walker Slater suit + ASOS tie
Bridesmaids – ASOS, Debenhams + BHS dresses + bracelets from Accessorize
Flowergirls – ASDA, BHS + Monsoon dresses
Florist – Debs at The Hibiscus Room in Hereford
Cake –  Ilona Deakin at Tiers of Happiness
Celebrant – Mark Townsend
Entertainment – DJ Ed Steelefox
Catering – Taste
Décor Hire – For The Love of Weddings + Wedding Creations + The Vintage Hire Company + Penny Lane Vintage Hire Ltd
Stationery – Blanka Biernat
Hair & Makeup Artist – Aleksandra Guz