Happy mid-week folks! I trust you had a relaxing weekend and, amidst Valentine's Day celebrations, you caught the second instalment in our new weekly Sunday series From the Heart? I have a stunner of a wedding for you this fine Wednesday afternoon and I'm sure it will inspire those with green thumbs and partial to a spot of gardening, with incredible images captured by one of our favourites, Mirrorbox Photography.
Marketing manager Jenny married her beau Mike, a tennis development manager, on the 12th of July 2015 at Pollok House in Glasgow, Scotland. This picturesque venue, gifted to the city of Glasgow in the 1960s, is just around the corner from Jenny and Mike's home. The couple previously enjoyed summer picnics in the stunning grounds and film nights in the drawing room, so the location was just right for their summer wedding.
"The gardens and grounds of Pollok House were the main inspiration for the style of our wedding. The wide expanse of lawn, the flowerbeds, ferns and hedges all leant themselves to a very green and botanical wedding. We wanted a relaxed midsummer garden party (complete with sack race!) and a big old knees-up in the evening. The house is just around the corner from where we live in Glasgow. As an Australian who grew up on a diet of BBC costume dramas, I've always gotten a kick out of having a beautiful stately home on our doorstep. I think Mike and I both secretly pictured getting married there before we were even engaged."
Photography by Mirrorbox Photography
Find Mirrorbox Photography in Little Book For Brides
Follow Mirrorbox Photography on Instagram
"We chose Mirrorbox Photography because we loved their combination of funny, candid reportage-style photography and incredibly beautiful fine art shots. Sam and Sequoia are great people to have at a wedding – calm, funny and reassuring."
"Going for a stroll with them after the ceremony was one of my favourite parts of the day. I loved having that half hour where Mike and I could just relax and have a chat, while Sam and Sequoia quietly snapped away."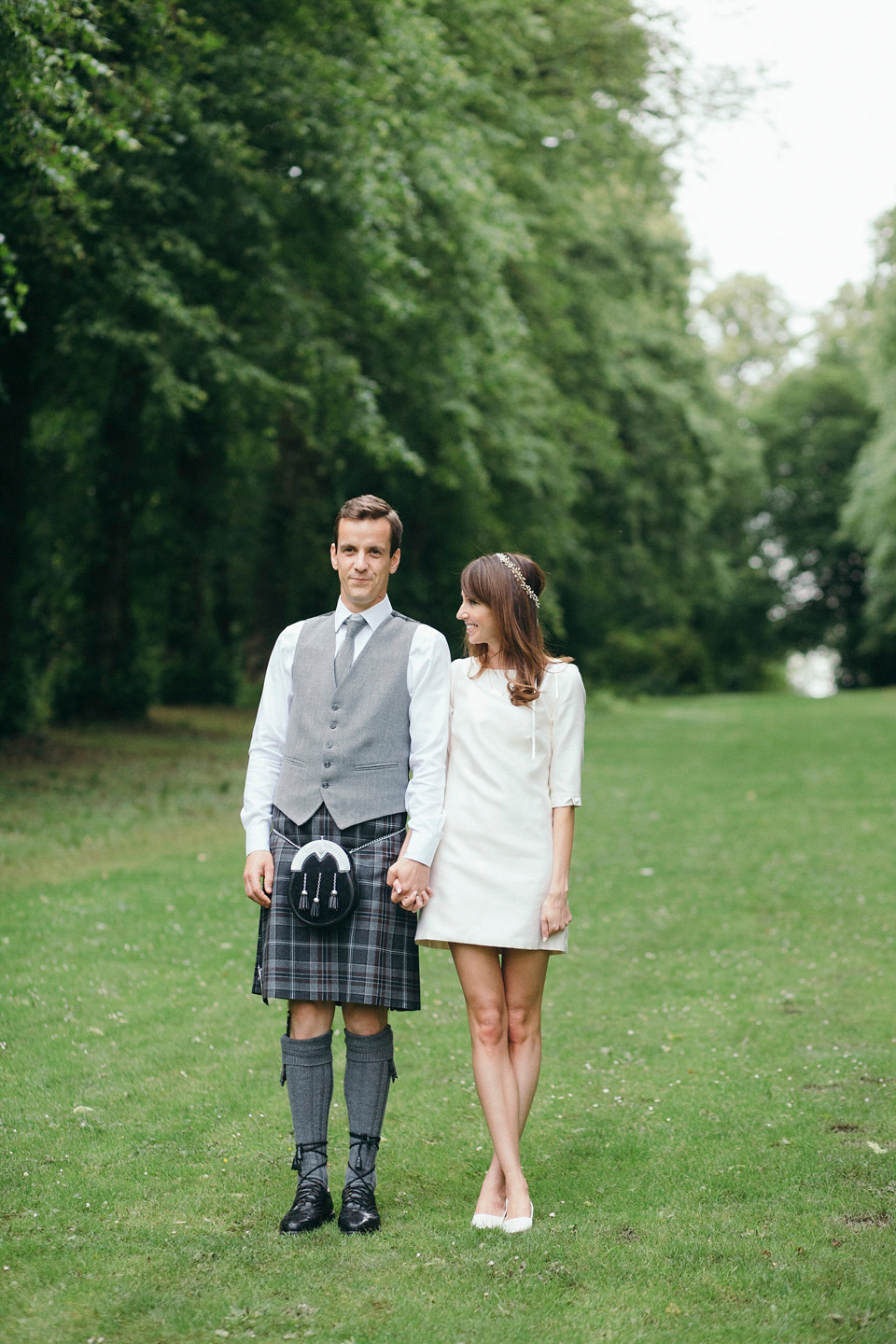 Hair was by Gillian of Pinup Hair in Glasgow, with makeup by the talented Alexis Miller. The bridesmaids all wore different gold shoes of their own choosing and floaty pale green dresses from Etsy. The dresses came in different necklines and bodices so the girls were able to pick a style that suited them. And Jenny gifted her maids with a sweet necklace that tied in perfectly with the theme.
"I bought all my bridesmaids gold necklaces with a tiny leaf charm on each of them that I found on Etsy."
The bride added the 'Wood Sage and Sea Salt' scent by Jo Malone, a wedding gift from Mike, gold sandals inscribed with a heartfelt quote, a pretty hair vine and special jewellery pieces.
"My gold-heeled sandals were from an Australian company called Shoes of Prey that let you design your own shoes. I had the inside of the soles inscribed with 'What Smokey said…'; a reference to our first dance song. They deliver to the UK and their customer service is fantastic.
Our lovely friend Rachael, who is a florist with Bloem, made all the buttonholes for the gents."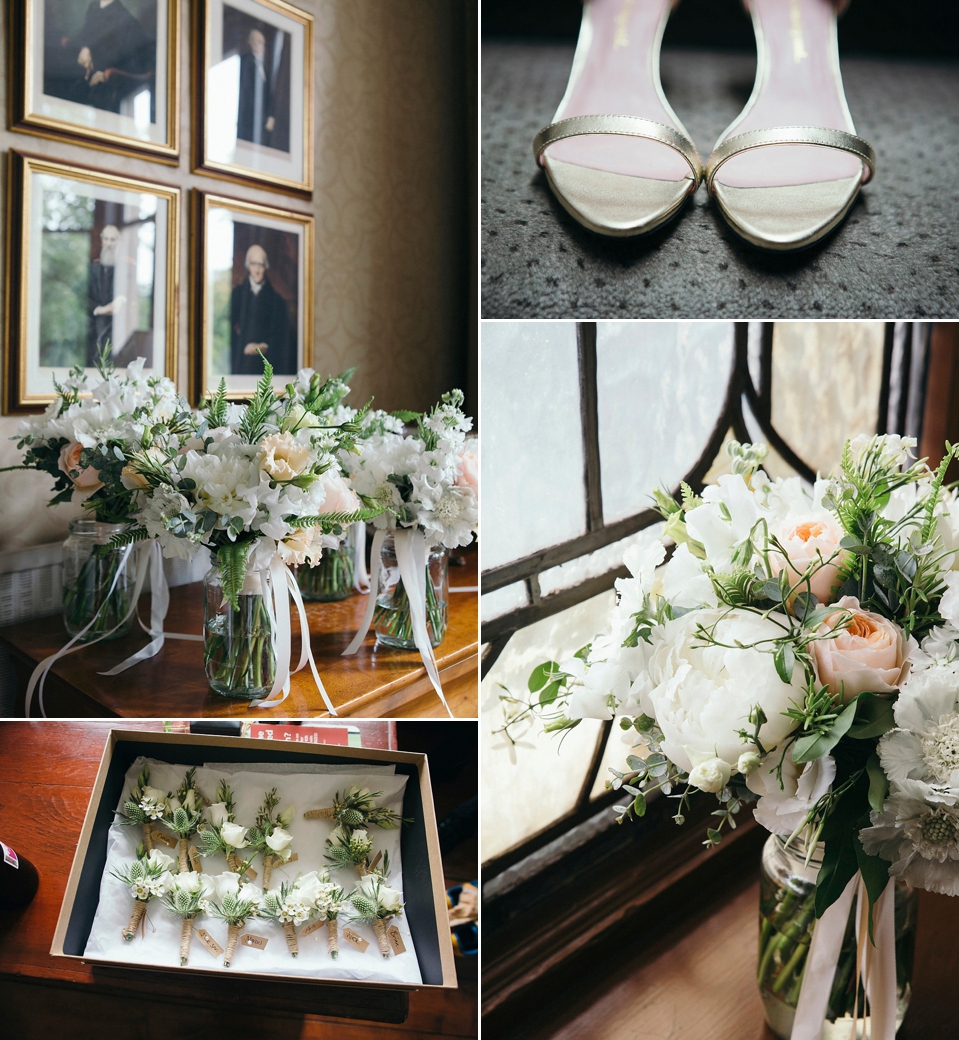 " A veil felt a bit too formal. Instead, I chose a delicate pearl hair vine from Britten that worked with the relaxed midsummer feel of the wedding.
 I added a pair of pearl earrings that were a gift from my sister and a gold necklace that has my name in Arabic on it that I bought in Syria six years ago. It was made by a jeweller in the old city of Damascus and I often wonder where that jeweller and his family are now."
You'll also find the wonderful Britten listed in our Little Book For Brides.
Jenny took the plunge by trying on and ordering her divine 'Ubeda' Rosa Clará dress without anyone else seeing her in it. But she need not have worried – the elegant style with intricate lace and beading suited her to a tee.
"I knew a princess dress with a big skirt wasn't for me. Other than that, I was open to lots of different styles. I visited numerous bridal shops, but didn't feel blown away by anything. Everything looked lovely on the rack, but on me felt heavy and surprisingly matronly! I saw a picture of 'Ubeda' by Rosa Clará online and thought it looked very pretty and delicate. I took a train down London to try on the only sample in the whole of the UK. I put it on and felt great in it. But I was by myself.
I'd planned to FaceTime my bridesmaid Emma in the shop but there wasn't any reception. When I got home, I took a gamble and ordered it from Ivory Pinks near Glasgow. Part of me worried that I had done the wrong thing choosing a dress no one had seen me in, but when it arrived from Spain just two weeks before our wedding it was just as pretty as I remembered it."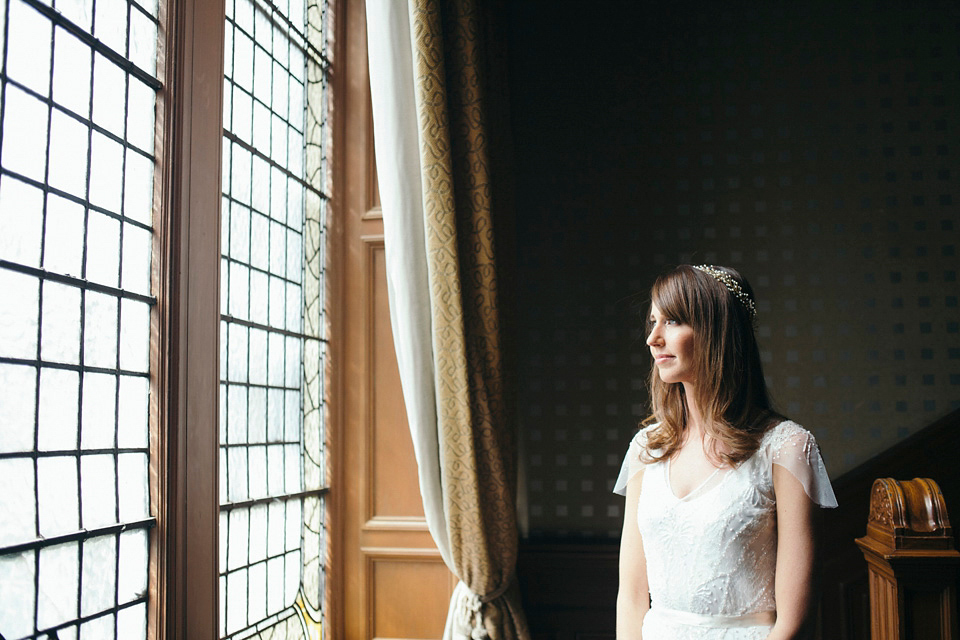 "Mike and I met four years ago through our friends Emma (one of my bridesmaids) and Craig (one of Mike's ushers). We knew pretty soon after getting together that it was something special.
Mike surprised me with a trip to Arran the weekend of my 30th birthday. He had planned an elaborate beach picnic proposal, but the Scottish weather was very much against him, so he put off the proposal until the following day. The next day was sunny, but we were due to catch a ferry back at midday so Mike had to hastily find a less remote spot for the proposal. He was very quiet as we drove around the island and I began to suspect something was up."
"He finally found a beach he liked the look of and we walked down to the water through long grass. Mike was walking behind me and I made a joke about it being the perfect spot for him to shoot me in the back of the head mafia style, which I'm not convinced helped his nerves!
When we got down to the water, he finally plucked up the courage and proposed with a beautiful vintage diamond cluster ring. Mike had arranged a surprise birthday party for me back in Glasgow, so we got to announce the good news straight away. All in all, a killer 30th!"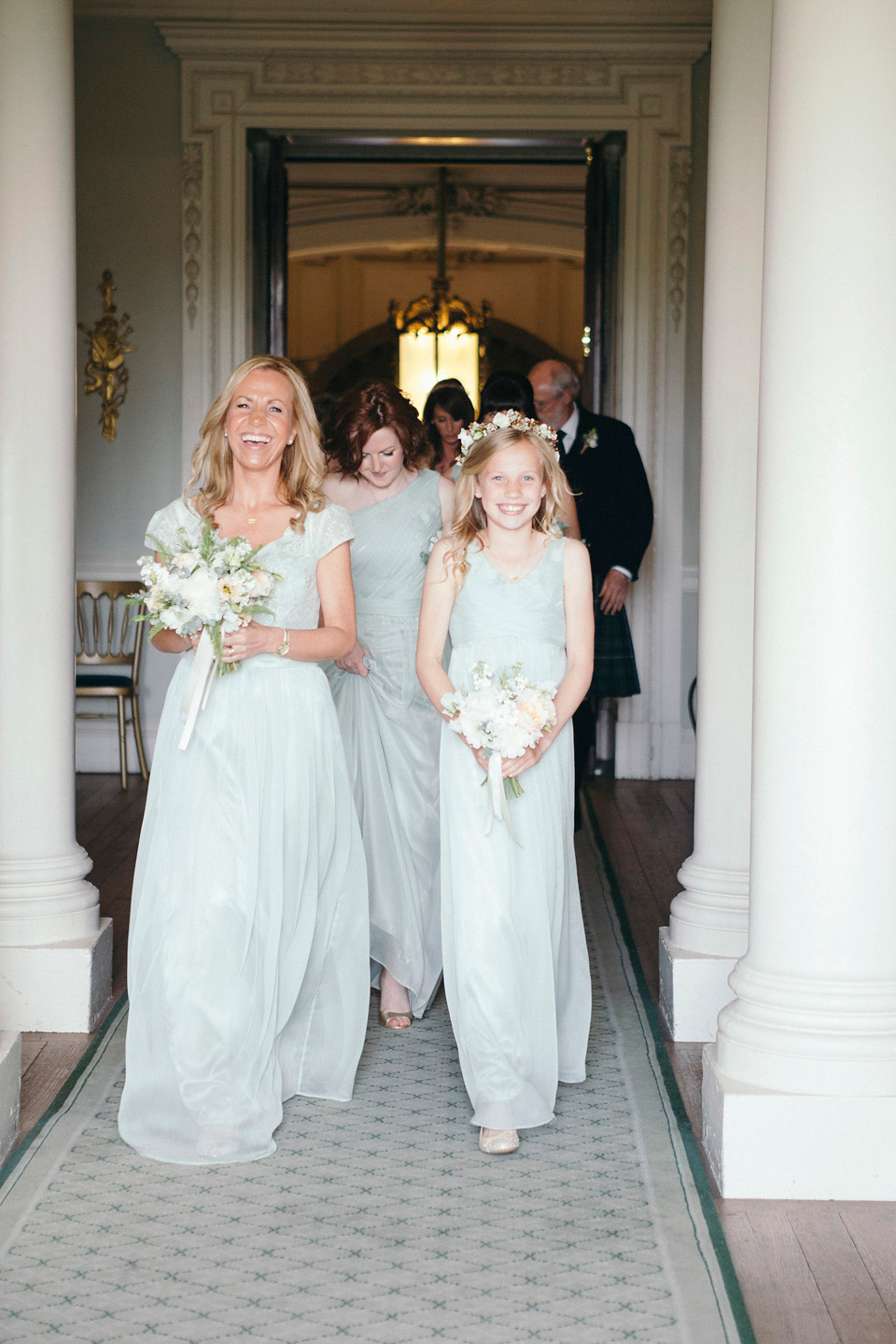 "I'm very proud of both my parents and so I walked down the aisle with my mum and dad on either side of me. It was a tight squeeze, though. Advice for other feminists – check the width of your aisle. I walked down the aisle to 'Handmade' by Alt-J. Mike introduced me not long after we got together. The song has an echo-ey choral feeling that makes me think of the inside of a cathedral."
"We had a humanist ceremony, which was lovely, and allowed us to mention our shared love of food, wine and Game of Thrones."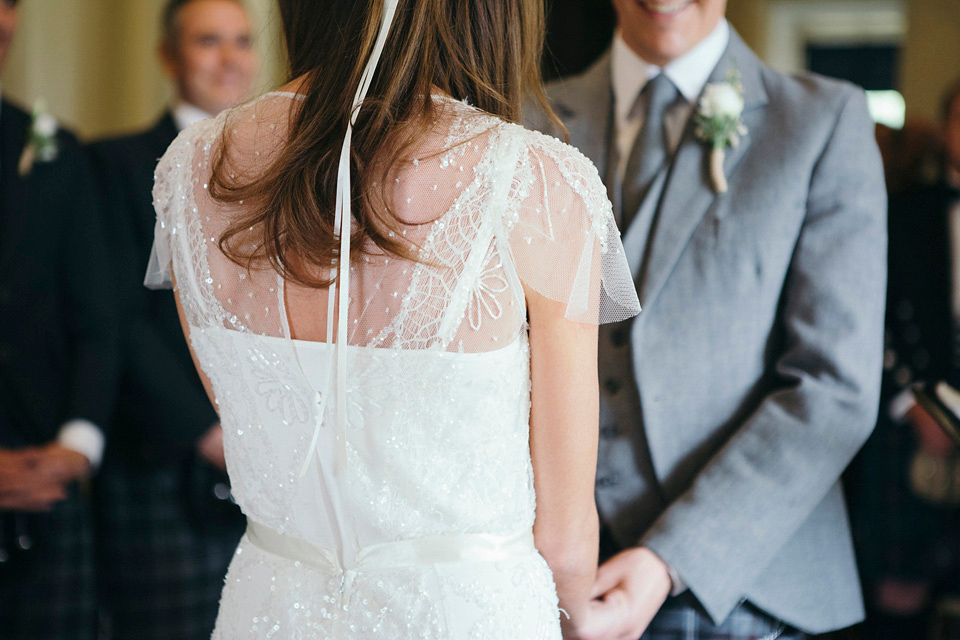 "My friend Kirsty read an excerpt from a letter John Steinbeck wrote to his son. The first time I heard it was actually at Kirsty's wedding the year before. The line about love releasing in you a strength and wisdom you didn't know you had really resonated with me. I think Mike's made me a wiser and braver person!…"
If you are in love – that's a good thing – that's about the best thing that can happen to anyone.
Don't let anyone make it small or light to you.
Love can be an outpouring of everything good in you – of kindness and consideration and respect – not only the social respect of manners but the greater respect which is recognition of another person as unique and valuable.
It can release in you strength, and courage and goodness and even wisdom you didn't know you had.
Glory in it for one thing and be very glad and grateful for it.
And don't worry about losing. If it is right, it happens. Nothing good gets away.
Mike purchased Jenny's engagement ring from antique auctioneers McTears. Their wedding rings were from Bernstones in the beautiful Victorian Argyll Arcade and the inside of both rings were engraved with 'What Smokey said…' in reference to their first dance song; such a heartfelt touch.
The little helpers adorned the sweetest wee outfits!
"Our nephews wore kilts from Macgregor and Macduff that matched the groomsmen's kilts.
 My junior bridesmaid, Mike's niece Naomi, wore a crown of fresh flowers made by Lisa of Sparrow & Rose.
 And Wendy of Flossy & Dossy made my one-year-old niece an ivory silk baby-doll dress with a peter-pan collar."
"Like many of our suppliers, I found Lisa of Sparrow & Rose via The Wedding Collective (see here for more information about this collection of the very best creative and independent wedding professionals from Scotland). Her floristry has a very botanical feel to it with lots of ferns and green foliage, which was exactly what I was looking for. She also has a fantastic supply of vintage props!
Lisa was really our stylist on the day. She made sure everything was set up and looked perfect. She created beautiful bouquets of ivory and pale peach flowers with lots of ferns and green foliage in there and provided two large ferns that sat on plinths in the library where we were married. Pollok House's library was built during the Victorian era – a time when people went a bit mad for ferns – so aesthetically it really worked. Outside the marquee, Lisa set up a display of apple crates and wine boxes filled with herbs, hydrangea and ferns."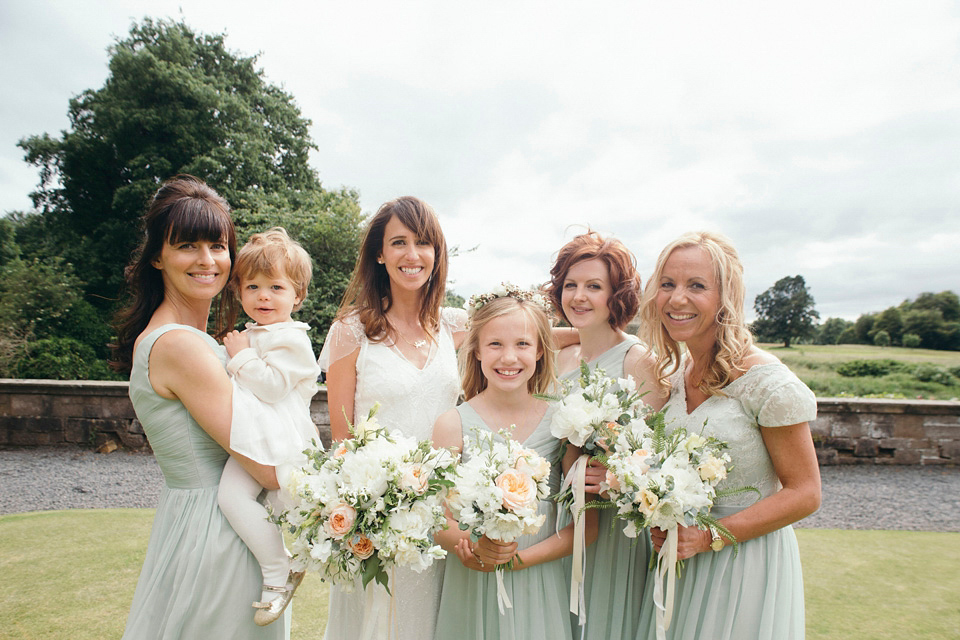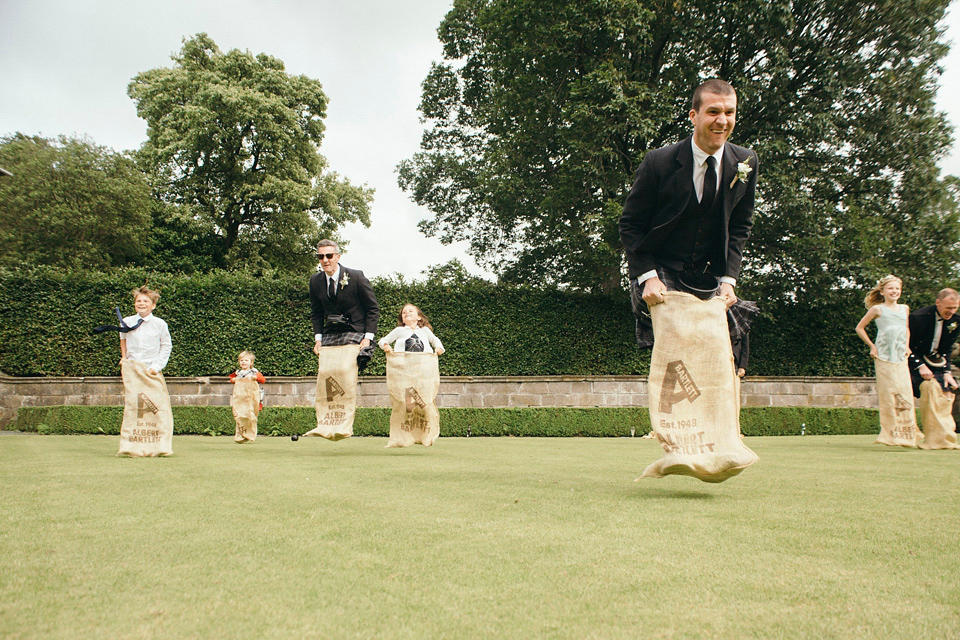 Jenny and Mike chose to go with a beautiful botanical vibe for their wedding, which flowed throughout many of the elements of their day, such as the invitations by Skinny Malink with a fern pattern, the floral displays incorporating ferns and green foliage, the table decorations, names and table plan, and for their favours to guests. As a Dundee United supporter, the groom was keen to get a bit of orange in there (!), so Jenny and Mike ended up with a loose colour scheme of pale green and pale peach. I adore hearing about Jenny's memories of her childhood that inspired their styling and décor. Get set for amazing botanical inspo!
"Growing up, my sister and I had a favourite board game called 'The Garden Game'. The aim was to collect different plant cards like rosemary, delphinium and foxglove. When you had a whole set of cards, you could lay them out to create a beautiful watercolour picture of a garden with a grand country house in the background. My mum also owns an old set of encyclopaedias that include botanical sketches of different plants. I think I had these pictures at the back of my mind when were thinking about decorations, stationery, and favours."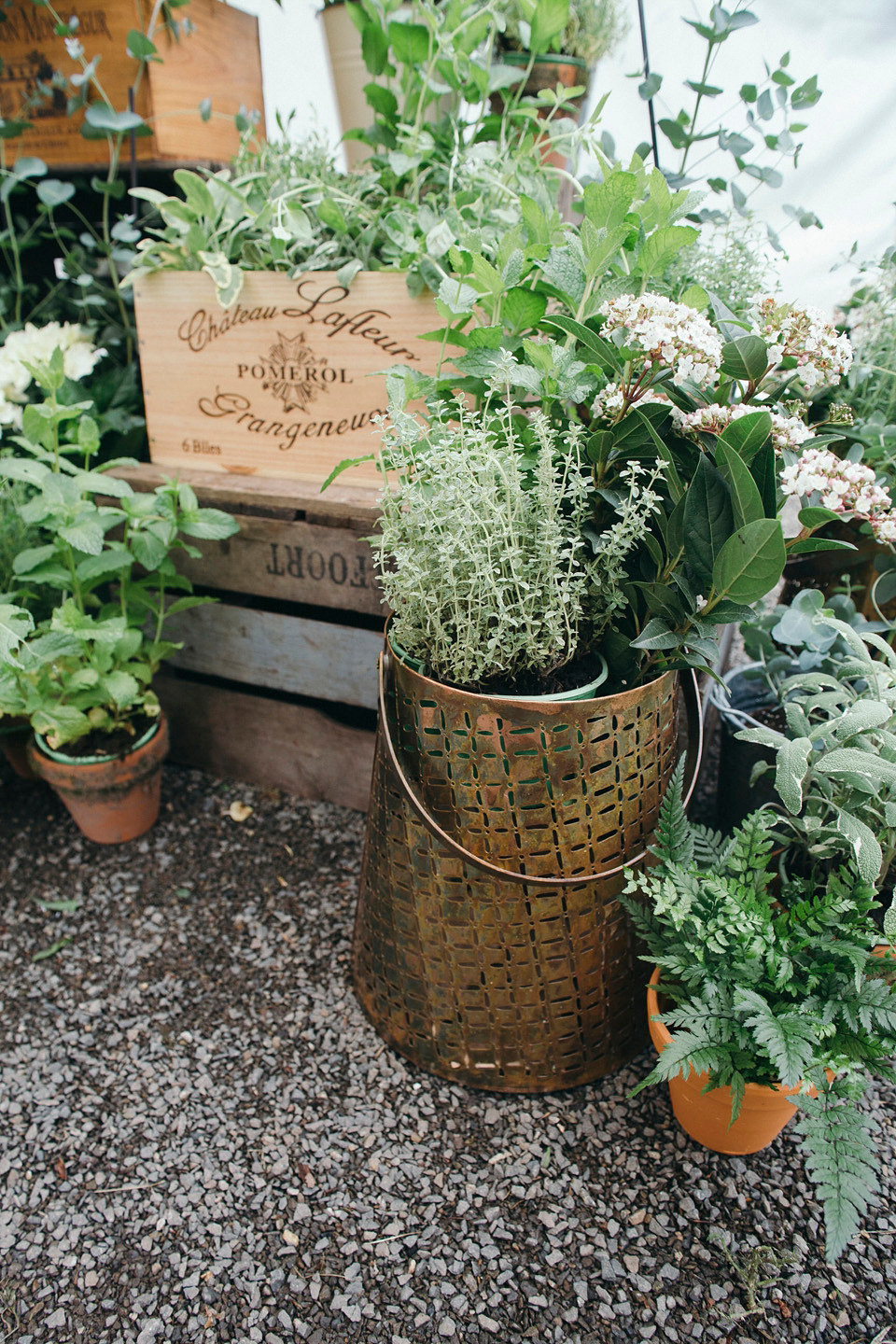 "Mike loves to cook and we always have a good supply of herbs sitting by the window in our kitchen, so I asked Lisa our florist to provide mini pots of basil, rosemary, coriander and thyme that could serve as both table decorations and guest favours. The herbs looked and smelt amazing! Our tables were named after the same herbs."
Now, as a fellow bookworm, I do love the idea of using books as décor. The lucky couple were loaned a big bunch of hardbound classics by a second-hand bookstore, which were added to the tables as a finishing touch.
"Reading has always been a big part of my life, so I liked the idea of incorporating books into the decorations. There's an amazing second-hand bookshop in Glasgow called Voltaire and Rousseau and the owner kindly offered to lend me fifty of their hardbound classics. I added some of my own books to the pile and on the day, Lisa, our florist, laid them out on the tables in the marquee. She even made sure there was some Dickens near my mum!"
"We had a cheese wedding cake from George Mewes Cheese. George and his team were absolute gems and picking our cheeses was one of Mike's favourite bits of the planning process. On the very top of our cake we had a brebis fougere – a very pungent sheep's cheese from Corsica that has a fern imprinted on the rind."
"Our first dance song was 'I Second That Emotion' by Smokey Robinson and the Miracles. About six weeks after Mike and I started dating, I posted the song on Facebook. Mike commented underneath 'What Smokey said…' and that's when we both knew it was love."
Jenny also had a second shorter dress made for the evening and explains how glad she was that she persisted, as it allowed for ease of dancing and gave her 'freedom'.
"I'm uncoordinated at the best of times, so I was keen to have a short dress to change into for the dancing. I love the 60's and pretty much live in short mod dresses, so the lovely Wendy of Flossy & Dossy made me a beautiful 60's-style 'going away' dress. Practically everyone I spoke to tried to dissuade me from having a second dress made, arguing that on the day I wouldn't want to change into it and that in some vague way it would detract from the sentimental value of my long dress."
"But I'm rather glad I didn't listen to them! As beautiful as my Rosa Clará dress was, I kept catching the delicate netting of the train on the heel of my shoe and I was very aware of the dress the whole day. As soon as I put on my second dress, I felt free. It was perfect for the Motown numbers our band was playing and perfect for the '64 Daimler that picked us up at the end of the night."
Words of Wedded Wisdom
"One of my favourite 'Great British Bake Off' contestants, Ruby Tandoh, said that weddings are an exercise in narcissism and of course, in many ways, she's right. But they are so much more than that!
Our wedding brought us closer to our family and friends than we've ever been. It also brought us closer as a couple. I think if you can handle the financial anxiety and logistical stress of planning a wedding while still laughing and having a great time together, then you're probably cut out for spending the rest of your lives together!
If your budget doesn't stretch to a videographer, ask a few friends to film bits of your wedding on their phones. You'll treasure these moments of hilarious gritty realism.
Accept that some things you've thought a lot about and visualised in your mind – like an outdoor ceremony – won't go to plan. But other things that you would never dream about – like your dad starting an incredibly successful conga to Call Me Al – will truly make it the best day of your lives.
Finally, if you're planning on having sparklers at the end of the night, DO NOT let anyone light a handful of sparklers at once. We didn't see the fireball, but it seems my bridesmaid Emma is lucky to still have her eyebrows!"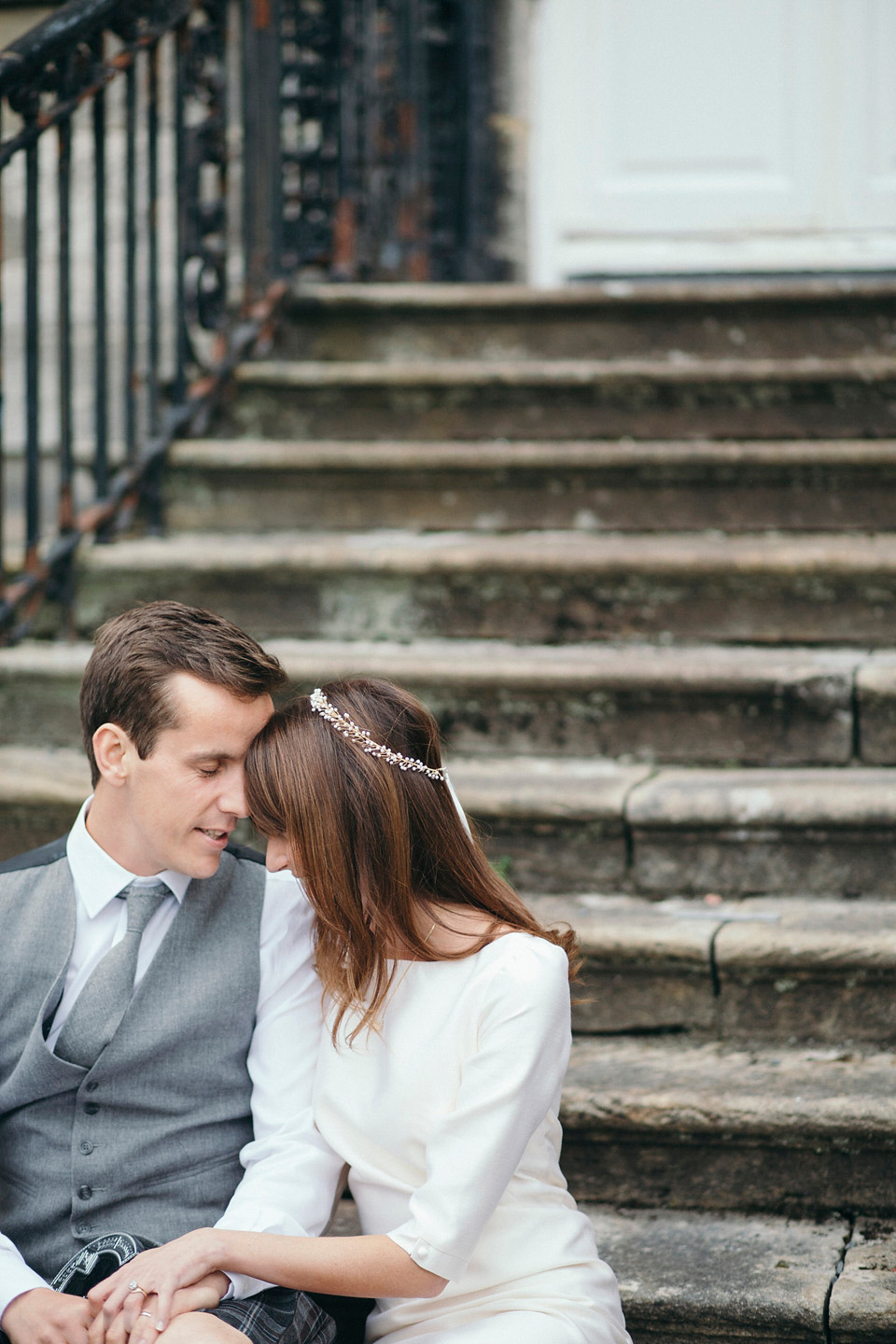 These are such helpful words of advice for our readers currently in the throes of planning – thank you so very much to the gorgeous Jenny and Mike for allowing us to share your big day. I'm so inspired by your beautiful botanical theme and I may just have to borrow a few ideas for my next party!
And very big thanks too to Sam and Sequoia for sharing these fabulous photos – you can view more of Mirrorbox Photography's brilliant work we've highlighted right here.
Here's to a wonderful week ahead lovelies!
Love Jo -x-
Photographer – Mirrorbox Photography
Venue – Pollok House, Glasgow
Wedding Dress – Rosa Clará via Ivory Pinks + 'going away' dress by Flossy & Dossy
Shoes – Shoes of Prey
Hair Accessory – Pearl hair vine from Britten
Perfume – 'Wood Sage and Sea Salt' by Jo Malone
Jewellery – Pearl earrings + gold necklace
Bridesmaid Dresses – Etsy
Bridesmaid Shoes – Own shoes
Bridesmaid Accessories – Gold necklaces via Etsy
Groom + Groomsmen + Pageboys – Kilts via Macgregor and Macduff
Flower girls – Dress from Flossy & Dossy + fresh flower crown by Sparrow & Rose
Florist – Sparrow & Rose + Bloem
Rings – McTears + Bernstones
Stationery – Skinny Malink
Decor – Books lent by Voltaire-Rousseau bookshop
Cheese Cake – George Mewes Cheese
Entertainment – Corra
Transport – Ecosse Classic Cars
Hair – Pinup Hair
Makeup – Alexis Miller
Marquee Hire – Baillies Marquees