Good Morning lovelies, I promise that I have a fabulous treat to perk up your morning and it comes all the way from beautiful Western Australia. Whilst most of the weddings we share on Love My Dress are British, we do love to adventure out every once in a while and explore celebration in another beautiful part of the world.
Bronwyn, a hairdresser met Stephen, an electrician after he relocated to Australia a few years ago. They were married on the 16th of October 2015, after a short engagement, in a sun soaked outdoor ceremony at The Roundhouse in Fremantle, Perth. The newlyweds held their wedding reception at the gorgeous Moore and Moore Cafe, a venue with tons of character and an awesome al fresco courtyard. The couple chose husband and wife duo Through The Woods We Ran to capture their fabulous day.
Bronwyn's idea for her dress came from Love My Dress when she was searching for 1920's and 30's styling. She used a dress she saw as a base, with her fabulous mum making the majority from scratch including hand stitching each individual row of fringing with the help of Bron's sister. Her dad also got in on the act making the templates for the scallops and making sure the fringing was cut to the right length down the skirt. I imagine it was this 1920's jazz age wedding that stole Bronwyn's attention!
"My dress looked fun to dance in and it sure was! It was also really comfortable. My veil was made by my mum originally for my sister so it was my something borrowed."
Photography by Through The Woods We Ran
Find Through The Woods We Ran in Little Book For Brides
Follow Through The Woods We Ran on Instagram
"We wanted quite a few vintage touches to the day as we like things, places and people with character and a story."
The couple chose the wonderful Glenn and Lauren, the husband and wife photographic dynamic duo behind Through The Woods We Ran. I love how there is a great sense of fun in the images and the way that the different surroundings around Fremantle are used to give a real feel of the city.
"We wanted to show off our favourite parts of our home town. Fremantle was the perfect setting, the buildings are beautiful, it's near the ocean and it oozes character."
"When Steve moved to Perth from Ireland he moved into a house with my friends so that's how we first met. We got engaged on the 25th of January 2015 and married in October the same year. We didn't want a long engagement .. I guess we just couldn't wait to be married."
Groom Steve looked rather suave in his suit from Aussie brand Jack London. His watch and cuff links were both gifts from family members.
The stunning flowers were all arranged by the very talented bridesman. The couple were keen to use rich colours with an Australian native theme and I'm particularly blown away by the bride's fabulous yellow bouquet. The beautiful arch flowers were provided by Little Love Story who also provided the ceremony furniture.
"I made the flower girls dresses myself. My aim was to make the poofiest dress I could!"
"My beautiful Dad walked me down the aisle to the song 'I Found You' by The Alabama Shakes."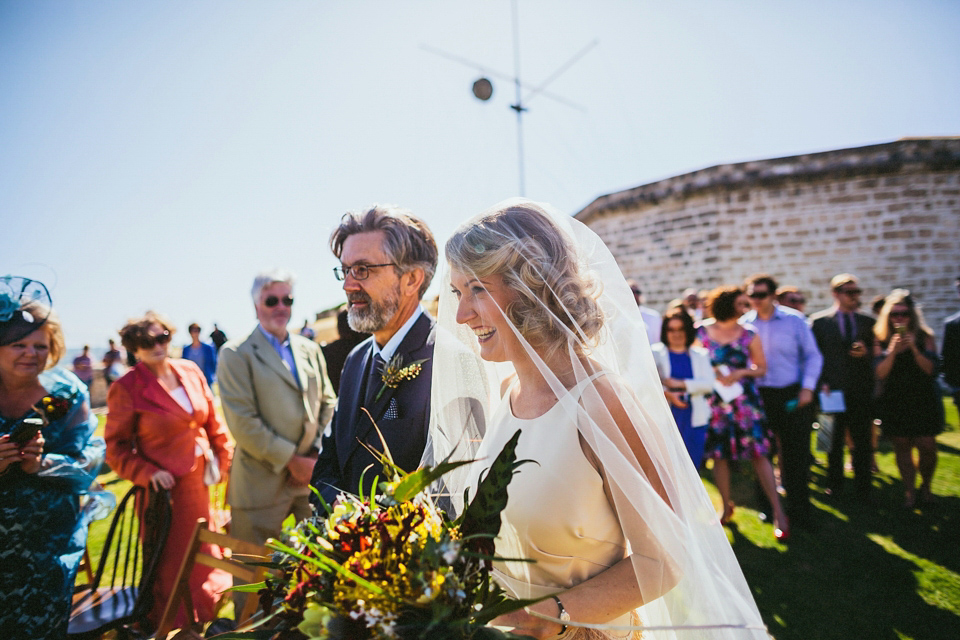 I love Bron and Steve's idea to read out song lyrics as readings, and what great choices they made with 'Toothpaste Kisses' by The Maccabees and 'All I Want Is You' by Barry Louise Polisar.
The bride's antique 1930's engagement ring was chosen by the groom from Steven Sher Antiques. The couple went back there for Steve's wedding ring, a gold signet ring engraved with the Murray family crest. Bron's plain thin band was ordered from Blue Nile.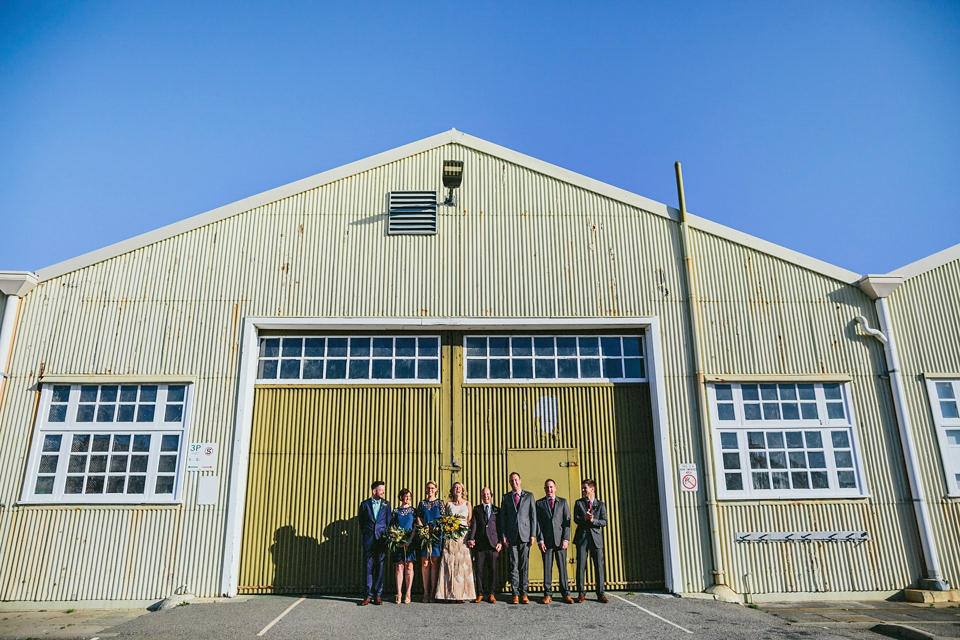 Bron wore shoes from Myer, earrings which were a gift from a friend and a vintage watch given to her by an uncle. She chose Chance by Chanel as her scent for the day.
"The bridesmaids' navy Warehouse dresses compliment the bride beautifully. The ladies all wore Wittner shoes with accessories from Colette and Not One Sparrow."
"Steve's favourite moment was having the pictures taken and getting to have a little alone time together while walking around Fremantle. For me, it was the ceremony. The moment I saw Steve standing there I wanted to pretty much run towards him, we then proceeded to make googley eyes at each other and grin like a pair of loons."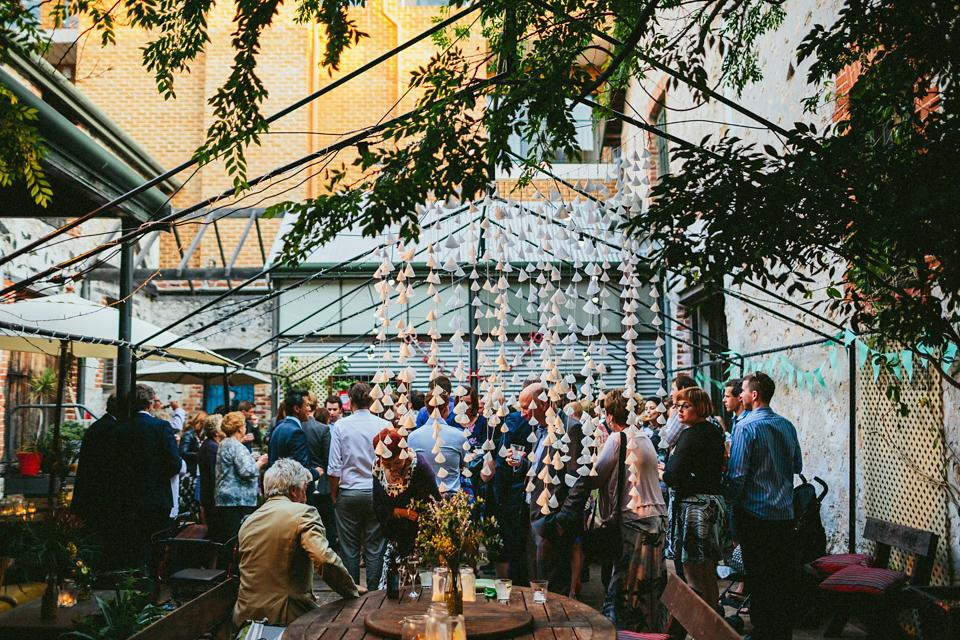 The couple's friends Kelly and Melissa did a great joint effort on the gorgeous mint and gold cake with delicious lemon and red velvet tiers. Kelly baked it while Melissa made the cross stitch decoration for the top.
"On the tables we had gold glitter covered vases with native flowers, tea light candles and we spent months making wax paper cones which were threaded onto string to hang around the venue. We also had a couple of Polaroid cameras on the loose and there were hundreds of hilarious happy snaps smuggled out in handbags and jacket pockets."
"We made our own playlists on Spotify and it worked out great… The other entertainment came from the best man's speech! It was hilarious, full of lots of funny stories about Steve growing up in Dublin.
We chose Van Morrison's 'Into The Mystic' as our first dance song. It has been a special song for the both of us since we first started dating."
Words of Wedded Wisdom
"If anything goes wrong don't tell anyone as they won't have a clue anyway. Try not to plan too many details on the actual day, be present and remember that you are marrying the best person in the world. Also try and steal just 5 minutes away somewhere just the two of you it's pretty magical."
Thank you so very much to Bron and Steve for allowing us to share your gorgeous wedding day. Thanks also to Glenn and Lauren of Through The Woods We Ran for the wonderful images. Here's hoping the sunny vibes find their way over here.
Love Caoimhe xx
Photographer – Through The Woods We Ran
Venue – The Roundhouse + Moore and Moore Cafe, Fremantle, Perth, Western Australia
Wedding Dress – Made by the Bride's Mother
Veil – Made by the Bride's Mother
Shoes – Myer
Bride's Scent/perfume – Chance by Chanel
Groom – Jack London
Bridesmaids – Warehouse Dress + Wittner Shoes
Bridesmaids Accessories – Colette + Not One Sparrow
Flowergirls – Made by the Bride
Florist – Flowers by the Bridesman + Little Love Story
Cake – Made by a Friend
Rings – Steven Sher Antiques + Blue Nile
Stationery – Beau Ginby (no website)
Hair Stylist – Tania Englebrecht
Makeup Artist – Kate Dobson