Happy Tuesday ladies, Emily B here – I'm newly appointed to Team Love My Dress (you'll be hearing more from and about me soon when Annabel announces her three lovely new team members/writers) and I'm honoured to be introducing myself on this most hallowed place of wedding worship. I'll be sharing screen-shot worthy nuptials from the depths of Cornwall (yes, we have the internet) alongside planning my own Big Day (think dodgems, candy floss and an 'Up' inspired level of balloons). Six short months left of glitter in my tea and a spare room full of picnic blankets. Is anyone else losing sleep over which bowtie their dog should wear?
What better way to pop my Love My Dress cherry than with an American sized portion of glorious light filled loveliness. It did cross my mind that Annabel had might have made a mistake and sent me a styled shoot when I first opened these images – so beautiful were the couple and the surroundings. James, Director of a PR Company and Ella, owner of an online boutique met at work and got engaged in Santa Barbara, California. Their wedding took place on 26th September 2015 at the dreamy Almonry Barn in Somerset.
"We took inspiration from the US – the tables were named after different beaches in California for example. We got engaged during a road trip from San Francisco to Los Angeles so it felt very fitting and personal."
Photography by Bowtie and Belle Photography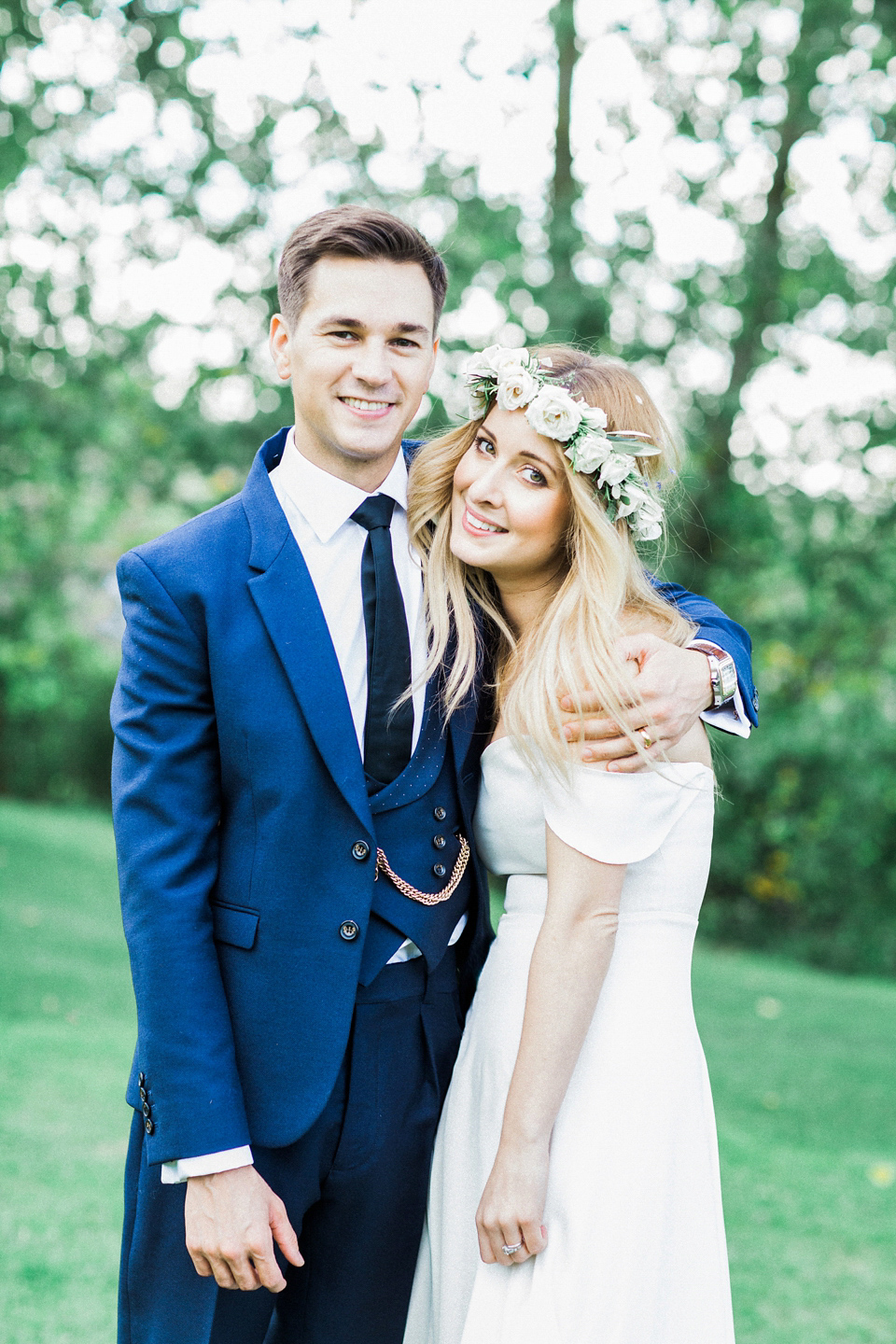 Check out this supermodel squad – matching delicate floral crowns complemented the assortment of flowing, vintage-inspired white dresses worn by the Bride's girl gang; "My bridesmaid's dresses were from a few different places. A couple were Abercrombie and Fitch and then a few were ASOS and Topshop."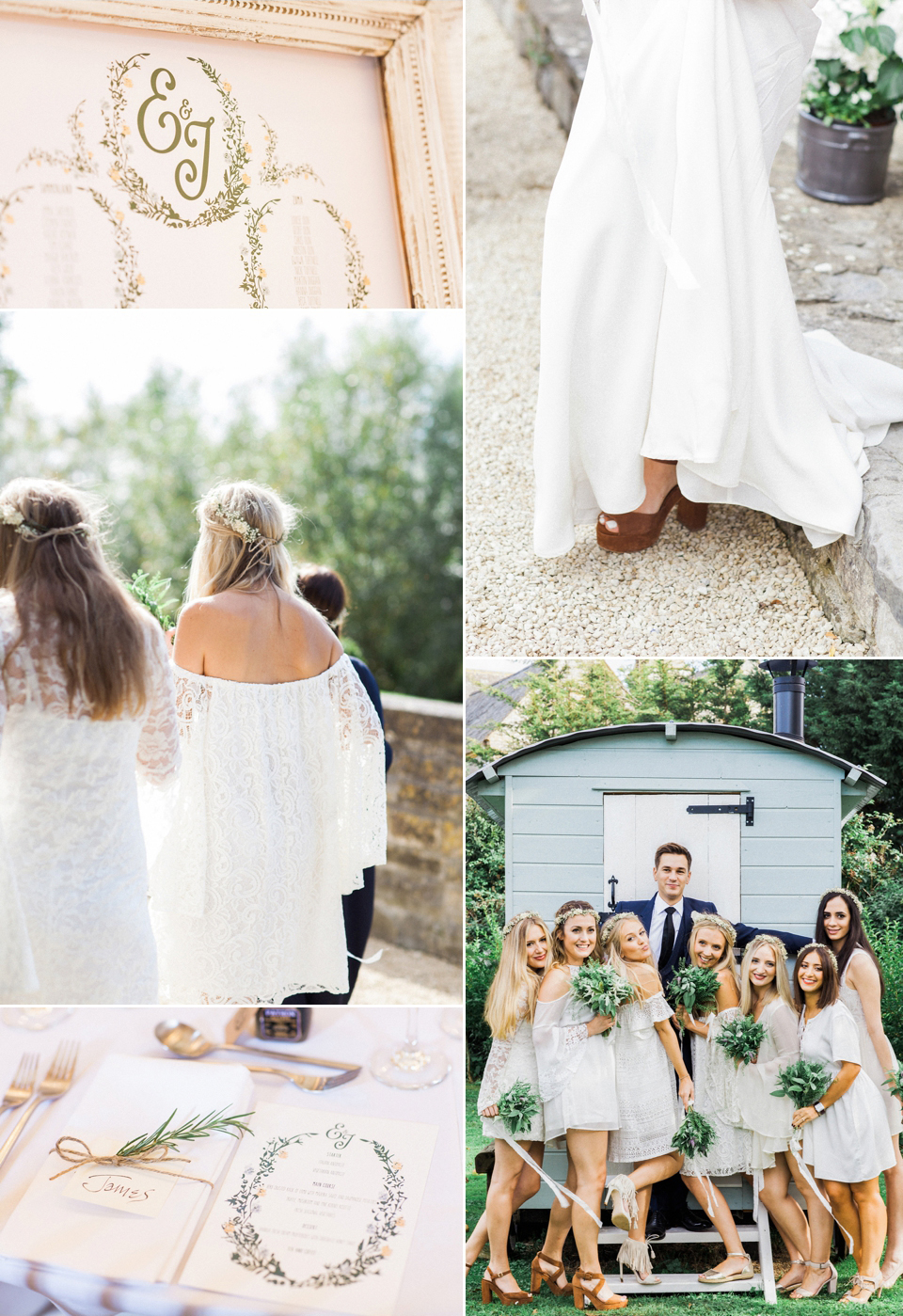 Eager for more stateside influence, Ella chose her relaxed and elegant off the shoulder dress from Reformation – an eco-friendly regular haunt in LA; "My dress was actually from my favourite shop 'Reformation' in LA. I thought I was clever by avoiding going to a single bridal shop but did have a couple of 'situations' before I found this one."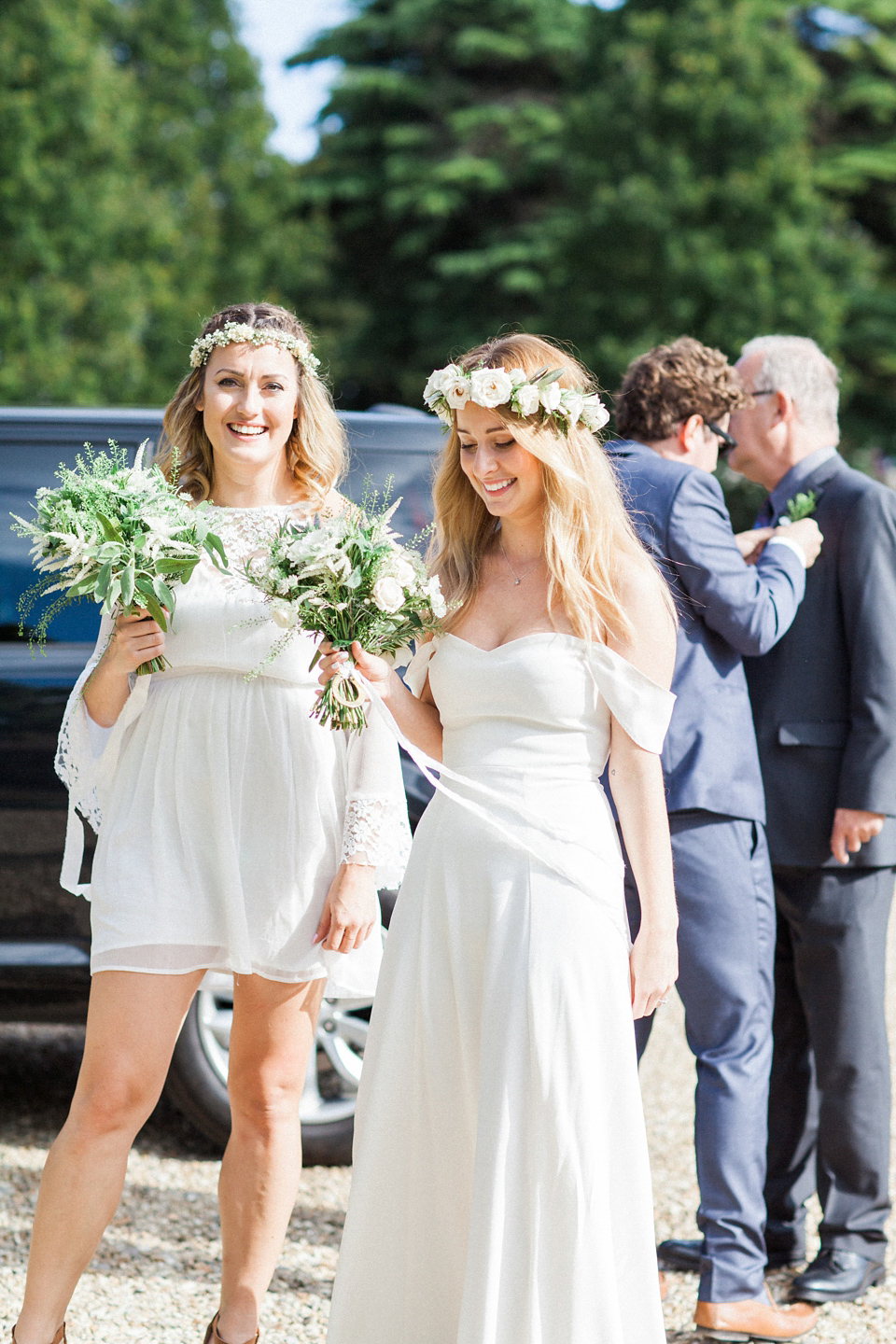 Almonry Barn was bathed in some Californian rays especially for James and Ella. The oldest wedding barn in the UK (hello fact fans), this provincial delight is chock-full of whitewashed textures and polished prettiness that added some Somerset chic to the couples American Dream. How incredible is the lighting throughout the whole day?
"All of my bridesmaids are so beautiful and I wanted them to wear something simple that they would feel comfortable in and would wear again. None of them wear pastels in their everyday lives so it didn't make sense for them to wear pastels for my wedding."
You can't beat a bit of childhood nostalgia, especially if it hails from the swinging sixties! "My dad walked me down the aisle to a song called 'Daydream' by 60s band The Lovin' Spoonful. My parents have played it since my sister and I were tiny and it always makes me smile."
One of my favourite parts of the real wedding features here on Love My Dress is the readings. I always make a point to Google them, not only for my own Big Day inspiration but also because they give me a little love jolt. Guest list spreadsheets and the altogether befuddling calculation of how many bottles you need to buy for those very thirsty guests can take away from the actual reason you're doing this in the first place; love.
James and Ella's readings are two real gems – treat yourself and look them up; love jolts all round.
"We had two readings. One was my oldest best friend Lola reading 'I Carry Your Heart' by EE Cummings. It's always been a favourite of mine and just seemed perfect for the day. The second reading was a little less orthodox and was read by one of my bridesmaids, Janet, who is from New York. It's called 'I Was Trying to Describe You to Someone' by Richard Brautigan and it very beautiful and evocative in a totally different way."
Bowtie and Belle Photography captured a timeless collection of moments. Fleeting, intimate and oh so stylish flashes of not only the very dapper couple themselves, but also their loved ones: this is perfectly timed wedding photography at its best.
"Our photographers were amazing-  we got in touch with them because we loved their editorial work and it comes through in the final photos. We hadn't wanted to do any of the posed shots but they convinced us to do a few and I'm so happy they did, as these ended up being some of my favourites."
Amplifying the hazy bohemian vibe, Ella adorned her beach waves with a crown of white blooms from Amber Persia and some disco-ready 70s platforms. ''Our flowers were by Amber Persia and we opted for a classic and relaxed boho look'. I wore a scent called Santal 33 by Le Labbo. It's addictive – very woody and androgynous. James and I actually both wear it now."
Unleash your inner hippy with more good vibrations here, lovely readers.
Candles, fairy lights, lamps, mirrors – it's a master class in romance and gives me all the warm fuzzies. There's also a lesson to be learned here fellow blushing brides to be: get your glow on and don't forget to have a little think about how your venue will be lit.
Choosing colours can be a much agonised over part of bridal duty, but by keeping the overall tone neutral, all elements of the day have an extra special pop and room to take centre stage.  Potted plants and herbs adorned tables and chair legs –these gloriously green touches sing against the crumbling pale brick and painted wooden backdrop. This tied in beautifully with the elegant creations of graphic designer James Passmore, aka the Grooms brother!
Fellow sweet tooth owners rejoice: dessert tables don't come much prettier than this…
"The dessert table was all homemade by family and friends. I LOVED the little cakes that my mum and sister made with our dog Rocky's face on them. It was such a cute surprise!"
Words of Wedded Wisdom
"My favourite part of the day was when James and I finally found each other after getting separated after the ceremony! I loved the ceremony but was definitely conscious of everyone looking at us so it was just a really lovely moment – especially as there were so many people to speak to and thank; the rest of the day was a blur!
I actually think it was the perfect day/week/six months. There is nothing I would have changed. It honestly was the most amazing day ever and I really don't think you can go wrong with all of your best friends and family around you."
These are some super important words of wisdom from Ella. Your family and friends will not be over thinking the day in the same way that you are; you can't go wrong by getting all of your favourite people together and doing something as deliriously happy as tying the knot.  If your knickers are in a twist and you need some perspective, grab a cup of tea/bottle of wine and read Katie's take on when things don't go to plan (spoiler: it's still all good).
That only leaves me to say a huge THANK YOU to James, Ella and the wonderful Bowtie and Belle Photography for letting me be privy to such radiant, joyous snapshots of your day. For any other jet setting couples who want to incorporate a favourite destination into their celebration, I've got oodles of inspiration for you right here.
Enjoy your Easter weekend bridal bunnies; don't waste any opportunity to have chocolate for breakfast.
Love Emily x
Photographer – Bowtie and Belle Photography
Venue – Almonry Barn, Somerset
Wedding Dress – Reformation, LA
Headpiece – Flower crown by Amber Persia
Shoes – Retro Boutique in LA
Perfume – Santal 33 by Le Labo
Groom – Joshua Kane Bespoke
Bridesmaids – Abercrombie and Fitch, ASOS, Topshop
Florist- Amber Persia
Rings –  Gray's Antiques + Midas Touch
Stationery – Tom Passmore
Hair & Make up – Hannah, Bridesmaid