For sometime now, I've been looking forward to sharing some of the things that didn't go quite as planned on our wedding day, because I'm keen to remind our wonderful community of readers (and especially those stressing over every last detail) that despite meticulous planning, things may well go wrong when the day arrives, but that it's really OK if that happens, and in the big scheme of things, it doesn't matter at all. Our wonderful new 'from the heart' series seemed a great way of sharing some of my wedding day mishaps with you and reminding you to keep it all in perspective.
As a member of the Love My Dress team I'm used to being surrounded by wonderful, glamorous affairs, often where the photographs depict that there wasn't a hair or a smile out of place. When my own wedding day was shared on this wedding blog, I received so many comments about it looking 'perfect' – and it was, but certainly not in every way.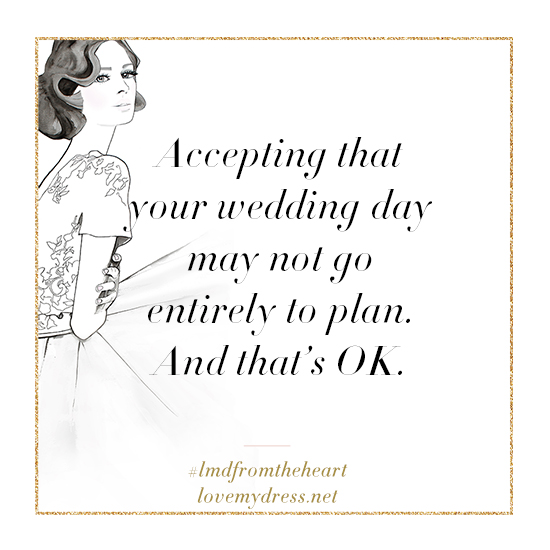 I would hazard a guess that at some point throughout any wedding day – something, whether it be big or small, some little aspect of the planning goes awry. I have learned however and truly believe that it is your attitude and how you respond that could make the difference between turning fayour big day into a potentially stressful, tear-filled mess – or a mad, funny, quirky laughable, fun-filled wonderful memory.
Film by Simon Clarke 
Now, I suppose that I was a pretty chilled out bride throughout the whole thing. Yes I wobbled about a month before the wedding with everything I had to do and yes I cried non-stop for 24 hours, three days prior to the wedding, with the overwhelming emotion of what I was about to do (again)! But apart from that, I'm pretty proud of single-handedly pulling everything and everyone together.
But it didn't quite all go to plan….

Photography by Chris Barber
Getting Little Sleep
I went to bed on the eve of the wedding around midnight, but woke at 4.15am. This is nothing unusual of course – brides often wake early due to excitement, nerves, or a spot of anxiety, but as a sleep junkie that gets proper grumpy and hyper emotional when deprived of her slumber, this was not a great start to my day. I tried to go back to sleep but it just wasn't happening so I messaged my friend Dan, who was up early in Paris ready to crew a flight back to London, and then stuffed extra stems of lavender through my name badges until my bride's team woke.
It as also raining very heavily by this time.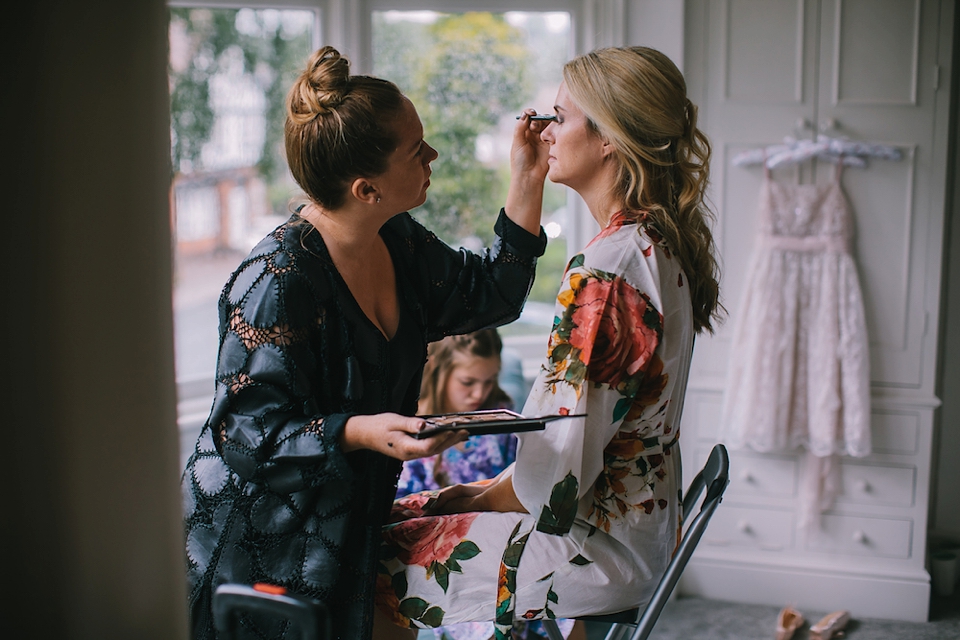 Underwear Malfunction
Ah, my knickers. At 8am with my new, pretty wedding day knickers half way up my leg I decided that it was too early in the day to put them on so opted for an old black pair to put under my jeans to run about the venue in. Once home I was in a whirlwind of make-up, dressing little girls and being spoon-fed scrambled egg and before I knew it madness ensued as us big girls needed our frocks on and fast!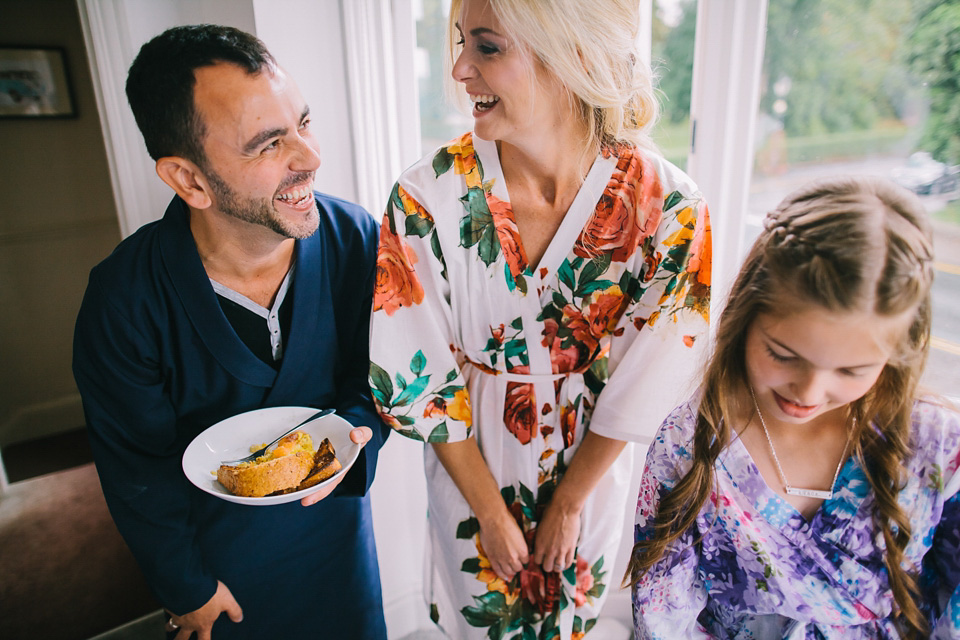 Cut to my pre-ceremony meeting with the registrar and my mind flipped to the forgotten black knickers under my delicate, blush pink chiffon dress!
Just before I whipped them off and stuffed them behind a plant pot (ahem…) I ran around the room catching different light and sticking my bum out asking her if she could see them. On being reassured several times that they could not be seen – from any angle – I went to rejoin my bride's team and played out the whole scenario again for their opinion too. This was all just metres away from where our guests were sitting, blissfully unaware of the knickergate ensuing through the curtain. Still makes me laugh now!
How times flies
My biggest piece of advice to brides-to-be would be to make sure that you have loads of preparation time in the morning as that time really does fly. I think we allowed five hours until we were due to leave the house.
I had pictured a leisurely breakfast and fun as we prepped ourselves. Ha! My bridesman Chris was feeding me salmon and scrambled eggs as I moved around the bedroom and when videographer Simon announced that we had 20 minutes to departure, none of us were dressed!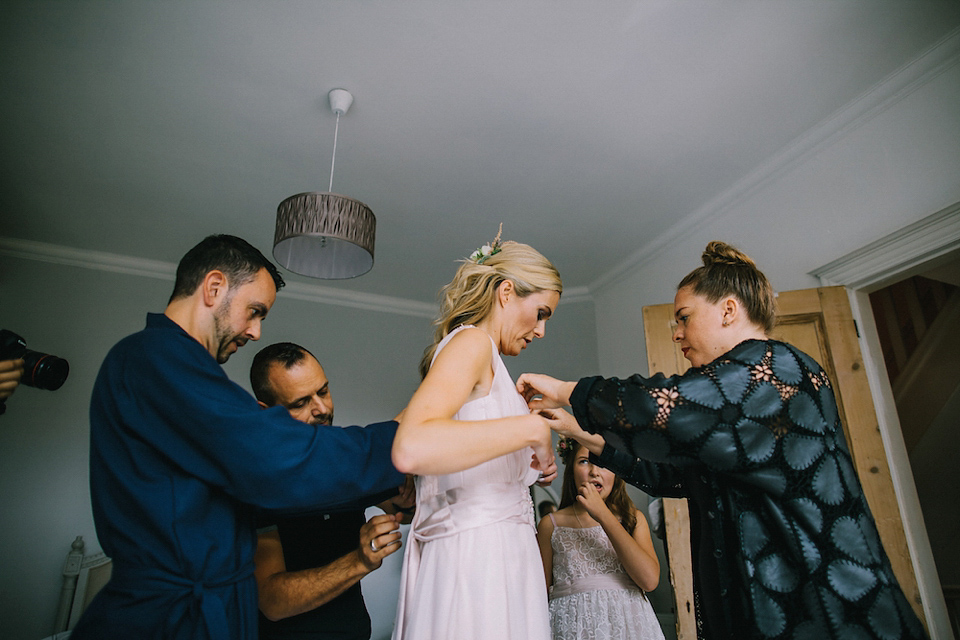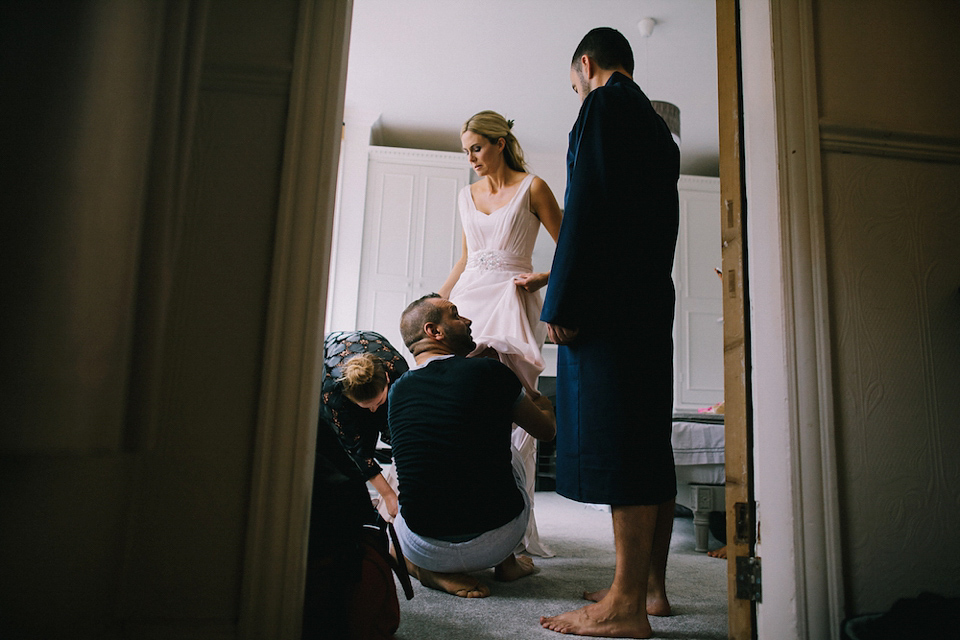 So the plan of my big girls sorting out my dress was ditched as they struggled to lace each other up. Instead it was all hands on deck as Chris, his partner Dan and make up artist Jodie all learned how to secure my dress on the hop.
I'm sure Dan must have worked in a bridal shop in a previous life as he just knew what to do. Even down to getting right under my skirt and pulling all the layers down for a smooth finish! It may have caused a surge of last minute adrenaline but also made me giggle as I watched this group of people working their magic around me. Thank you guys!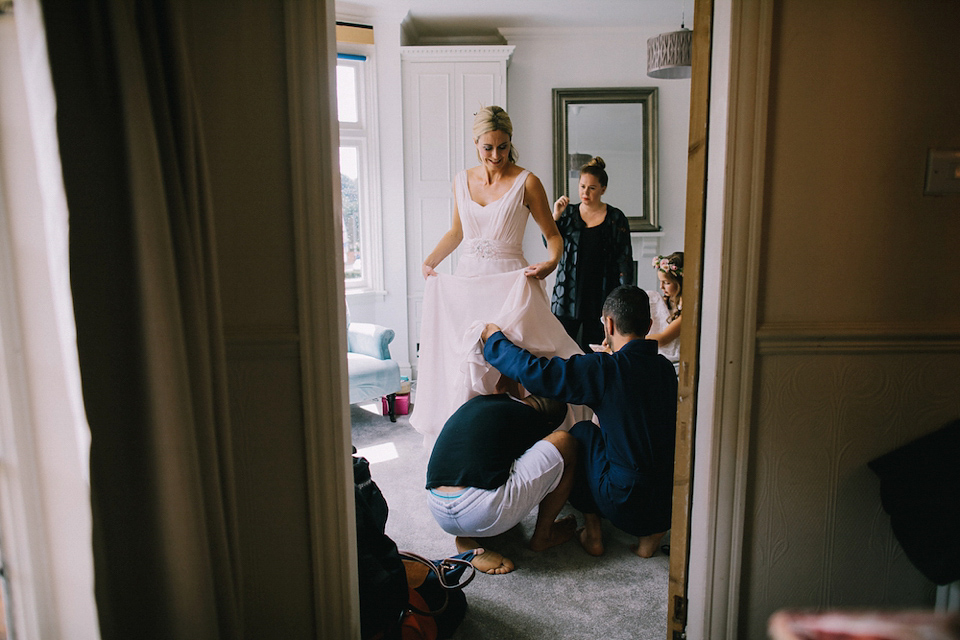 A bit disappointing
I didn't want a fancy car to take me to the venue, it just wasn't important to me. What I did want was a black cab – spacious for five and simple. These were booked a couple of months ahead so I was rather surprised when two boring mini buses turned up instead. I recall analysing my reaction there and then, and deciding within 30 seconds that they were going to do just the same job and get us all there on time so thought 'Stuff it! I'm not going to let it upset me!'
The wrong date!
Darren had his suit tailored so we were able to choose the fabric, lining, buttons and little touches. Under his collar he added "I'm Katie's" and on the inside lining he asked for the date of the wedding to be embroidered. It wasn't until we were having our photos taken later in the day that he displayed the date for all to see…only to find that they'd sewed the wrong month! So rather than 02.08.14 it reads 02.09.14. It caused us, Chris the photographer and Simon, to have a giggle anyway.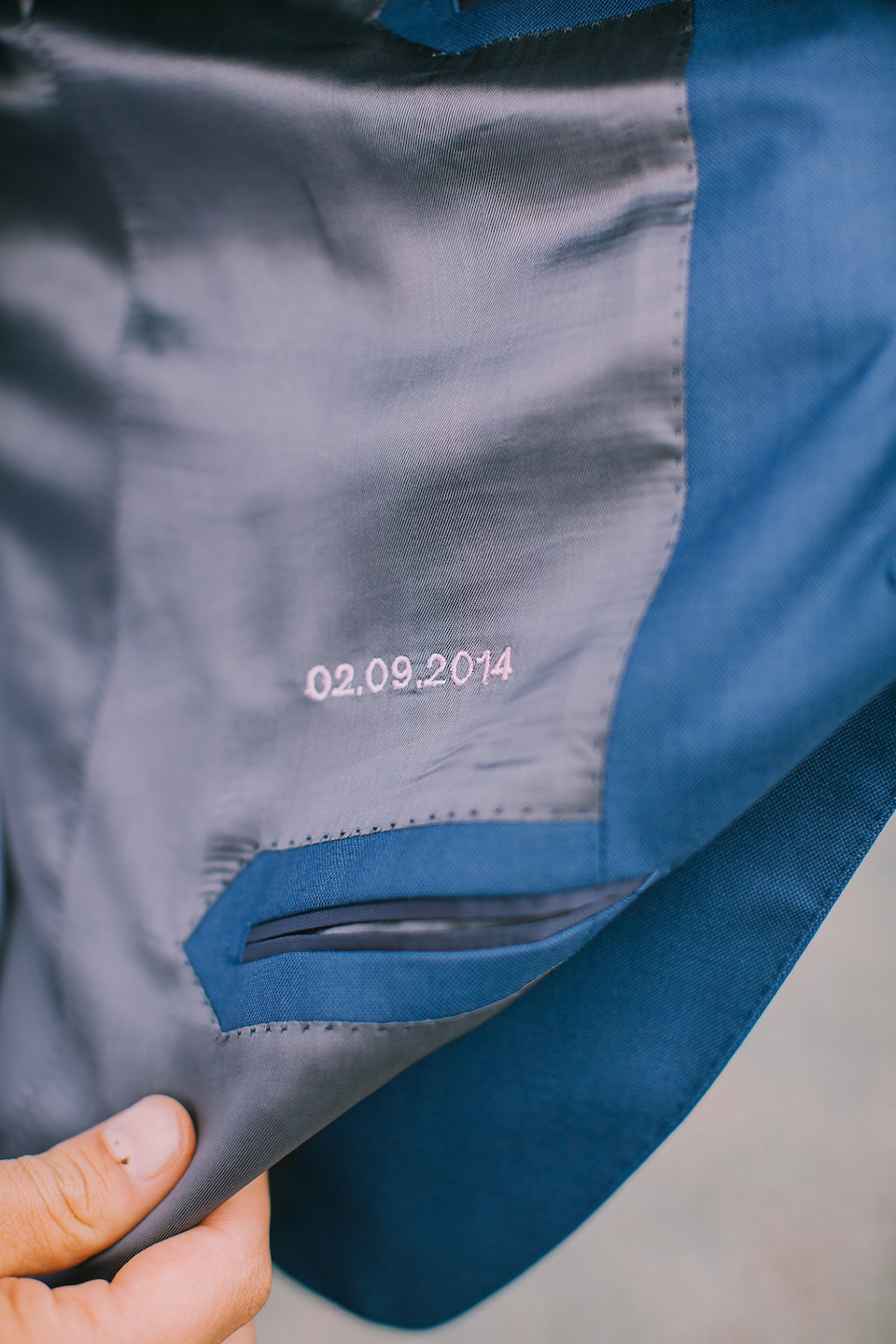 (Oops! Our wedding was on 'o2.08.14'….!)
Accessory Fail
I was really chuffed when I finally stumbled upon my Ted Baker earrings and bracelet; they were pale pink, pretty and a little bit different. So, after trying them on, I packed them away safely ready for our wedding. Unfortunately I discovered a little too late that the back of one of my earrings wasn't tight enough to hold the weight of the earring so kept falling out. There are a few photos where I can see it peaking out of the top of my dress. Luckily I managed to keep it in for most of the day and only gave up when the lure of the dancefloor became too strong!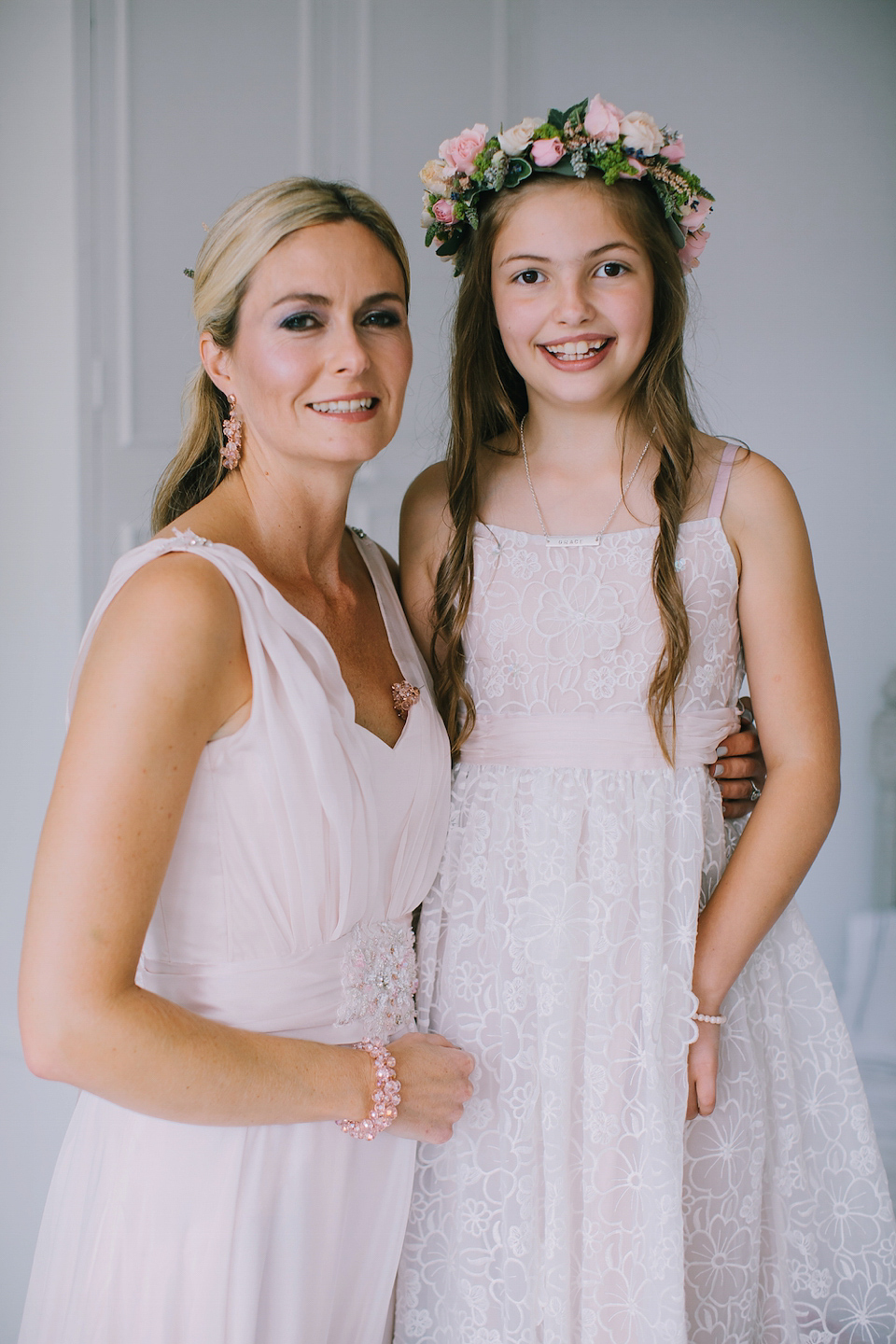 (Spot the earring peeking out from my dress!)
In spite of all these, our wedding day was beyond amazing, and I'm so glad that we didn't let anything get in the way of enjoying it. I know some couples freak out over less while others have had much, much worse to deal with (the most memorable for me were Katy and Richard whose tipi wedding was a complete wash out! Incidentally, images by the wonderful S6 Photography will be gracing our blog pages in the morning).
There are also people who have had to face the most heartbreaking of challenges in the run up to their wedding day, against which all my own little wedding day mishaps pale into complete insignificance.  Yet in my experience of being married and and having worked within weddings for several years now, despite everything, most of us come out smiling, giggling and with some funny stories to tell and photographs to share too. It's often the little things that go wrong that create some of the fondest memories for us.
So don't let the arrival of a mini bus or a pair of black knickers spoil your magical day. Embrace the dodgy bits with a smile and accept them for what they are.
If you have any stories of how you positively dealt with the not so good stuff and how you overcame more difficult challenges and obstacles in the run up to your wedding day – please do share, we'd absolutely love to hear from you and, if we can, help to reassure you too.
May you be blessed with love, great organisation skills and the very best of good luck.
Love Katie xx
______________
All photography by the wonderful Chris Barber. You can see Katie's full wedding here on Love My Dress.
Katie is a member of the Love My Dress team who has contributed to our 'From The Heart' feature – a new weekly Sunday spot on the blog where we hand the blog back over to our readers to write about all matters of love and life. If you would like to contribute a From The Heart piece, we would dearly love to hear from you. It doesn't matter what it's about and it doesn't have to be related to weddings at all – we're looking for honest, authentic, personal, sad, happy, family, relationship, marriage, health, light-hearted, serious, baby, trying for baby, children, career, simple, complicated – real life issues.  We just need you to write from your heart. Keep it upbeat and witty, or share your thoughts anonymously on a more challenging or emotional subject. Please drop me a line at [email protected]. Love Annabel x