Hello readers.  Are you back to work today after the long weekend?  If so, worry not, as we have a really lovely London wedding to share with you today, with a glasses wearing beautiful bride, a fabulous dress and venue and guests feasting on street food, as well as a rather marvellous prosecco van!
Meet Natalie and Shaun, who married in a wonderful deconsecrated church in South London on the 26th of September 2015, followed by a reception at local gastropub, The Rosendale.  Our couple were keen for a fun and relaxed day centred around their family and friends and located in their beloved home city. The couple also chose to have their day filmed, an option which is becoming a more and more popular option and is such a wonderful way to remember your big day.  Natalie and Shaun used Gerry Lewis Productions and if you would like a peek, their video can be found here.
"Rob is a friend of Shaun's and it was a pleasure to have him around on the day. He even turned up early as he was so excited. His passion is clear to see and we love our film. I'm so glad we made the decision to have a videographer and would recommend it to anyone getting married-to re-live the day and see things we missed."
"We wanted a relaxed wedding that was a little bit different and that represented us, in the city that we have made our home and the loose theme was 'An Art Deco Autumn in London' to compliment my 1930s engagement ring and the season that we love.  I chose a colour scheme of deep purples and reds, corals, grey, ivory with a dash of gold for a bit of sparkle. We didn't want our day to be too 'weddingy' so we got married late in the afternoon in a deconsecrated chapel in Peckham, we had a 'Pimp your Prosecco' and a London street food pizza van instead of canapes and the reception was at an old Victorian coaching inn where we had a dessert buffet and a sweetie table."
Photography by Hearts on Fire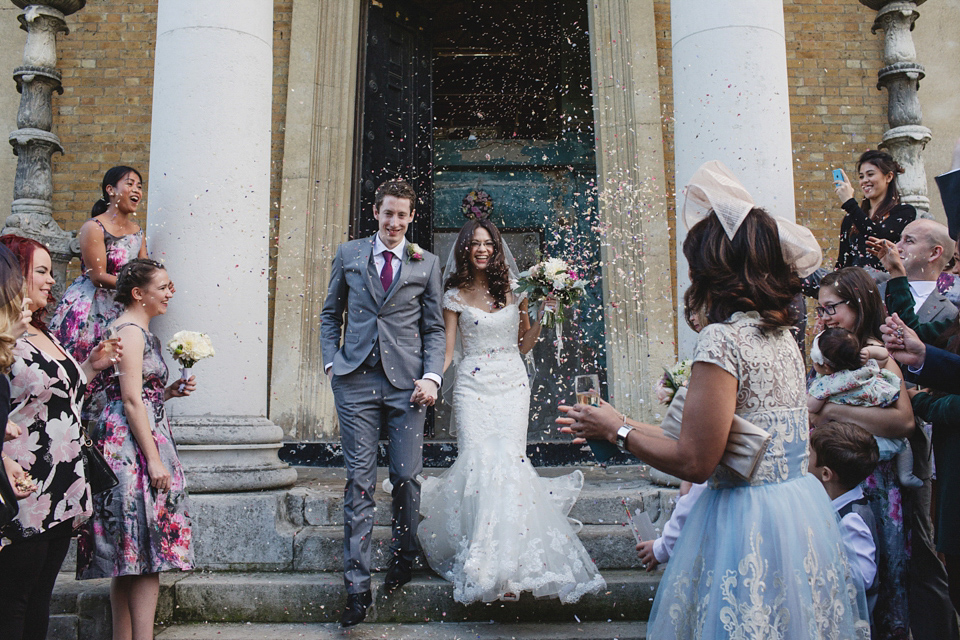 London based photographer Karolina of Hearts on Fire captured the day on film.  Natalie and Shaun were delighted with the outcome and we're delighted that Karolina is a member of our Little Book for Brides.
"We met Karolina at the National Wedding Show in London and her work stood out for me above the other photographers we saw. Her work is very arty and her use of light is beautiful- I knew her unique style would work with our London wedding. I love our photos, especially those she took in the chapel."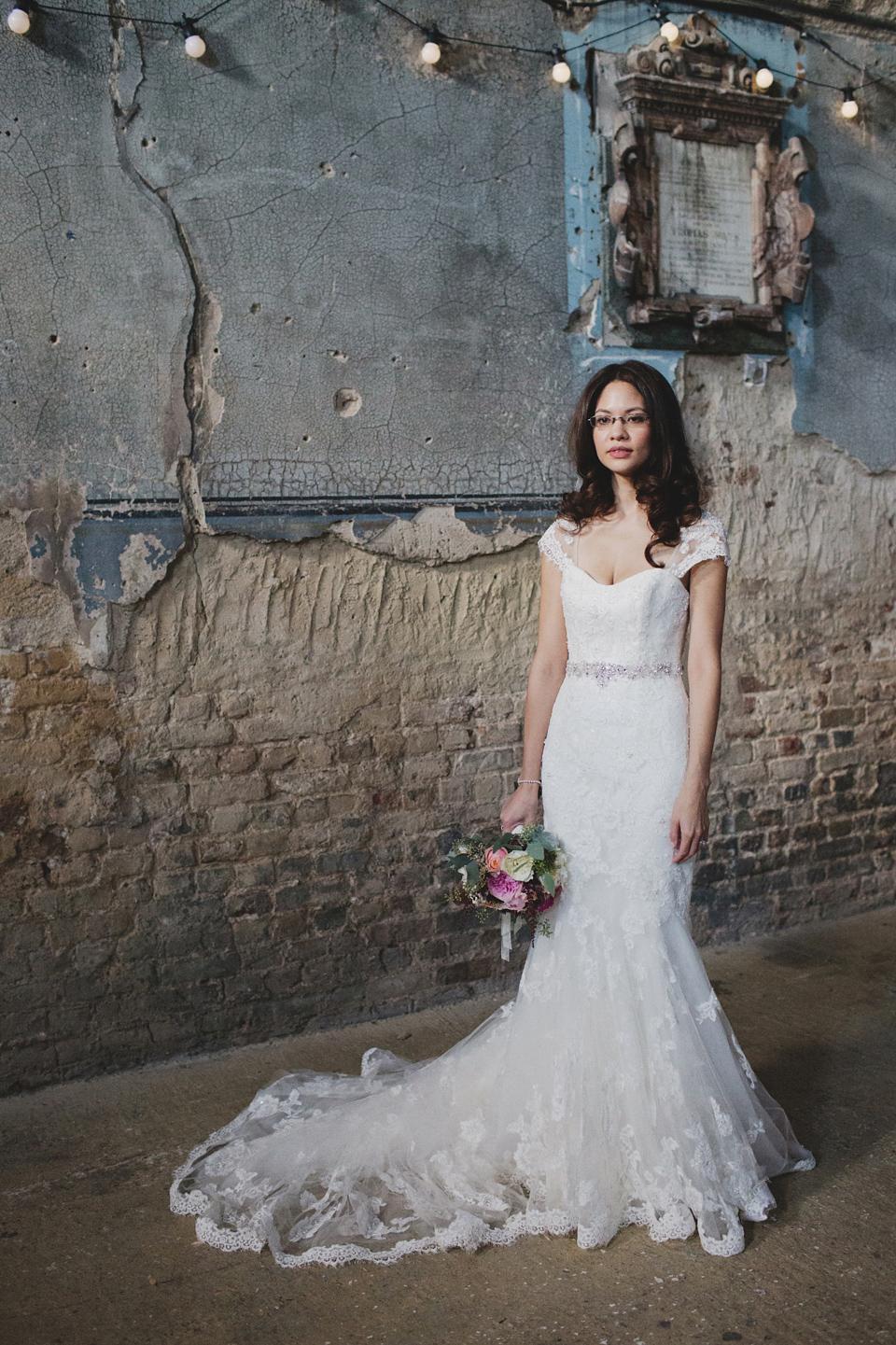 "We met in December 2008; I was in my last year of university at York while Shaun had finished at the same university but was back to visit friends for Christmas. We did the whole long distance thing for about three years before moving to London together in May 2011. London has become our home and is the city we love which is why we had our wedding here. After five and a half years together Shaun and I often had a nosy at engagement rings as we wandered around London at the weekends. We weren't planning on getting engaged but when we found my ring it was a game changer.
I came home after work one day to find my usually empty flat filled with candles and Shaun there with flowers, champagne and on one knee with the ring I had fallen in love with. Shaun told me I had half an hour to get ready before whisking me off to the theatre, cue lots of high pitched phone calls to family and friends to share the news. I obviously spent the whole theatre show staring at my ring which even sparkled in the dark. After the show we went for champagne and dessert at a lovely Art Deco French restaurant which was the perfect end to a very unexpected Wednesday evening.
We were engaged for fifteen months before we got married which gave us enough time to save and plan the wedding and to really enjoy it."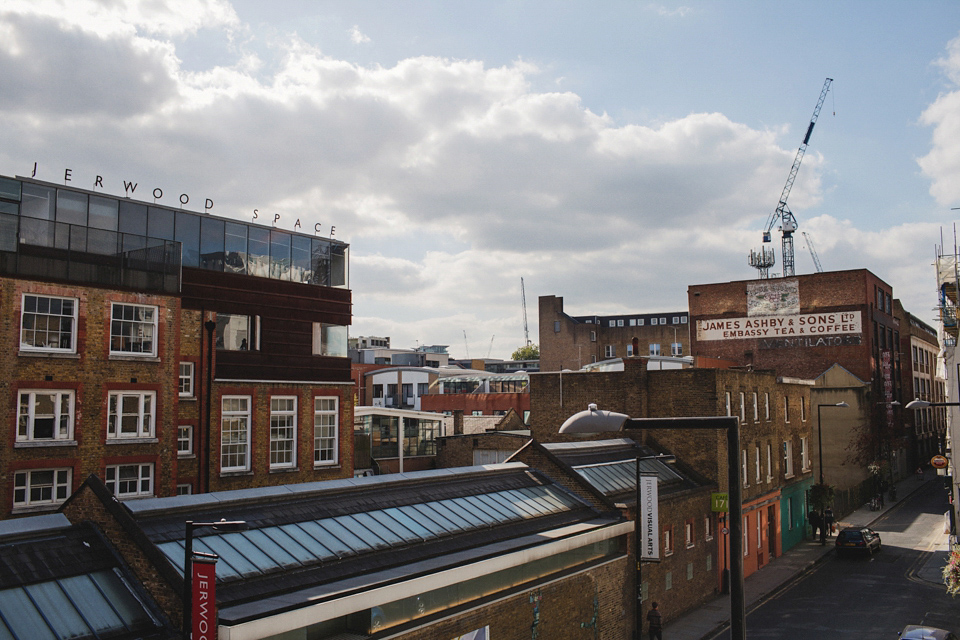 To accessorize, Natalie chose shoes from the lovely Rachel Simpson, earrings from Hyde Park Design and a beautiful lace applique single tier veil by Richard Designs, which really set off her look.  She finished with a spritz of her new perfume and also wore her glasses, joining the ranks of many fabulous glasses-wearing Love My Dress brides (see these weddings for inspiration if you're considering wearing your glasses on your own wedding day- I did and I don't regret it for a moment).
"I wanted to look like me on my wedding day- the very best version of me I could be, but me nonetheless- and that included wearing my glasses. They are a part of me and I wanted to feel comfortable so it was never really a question of not wearing them.  I even wore the same pair I wear everyday."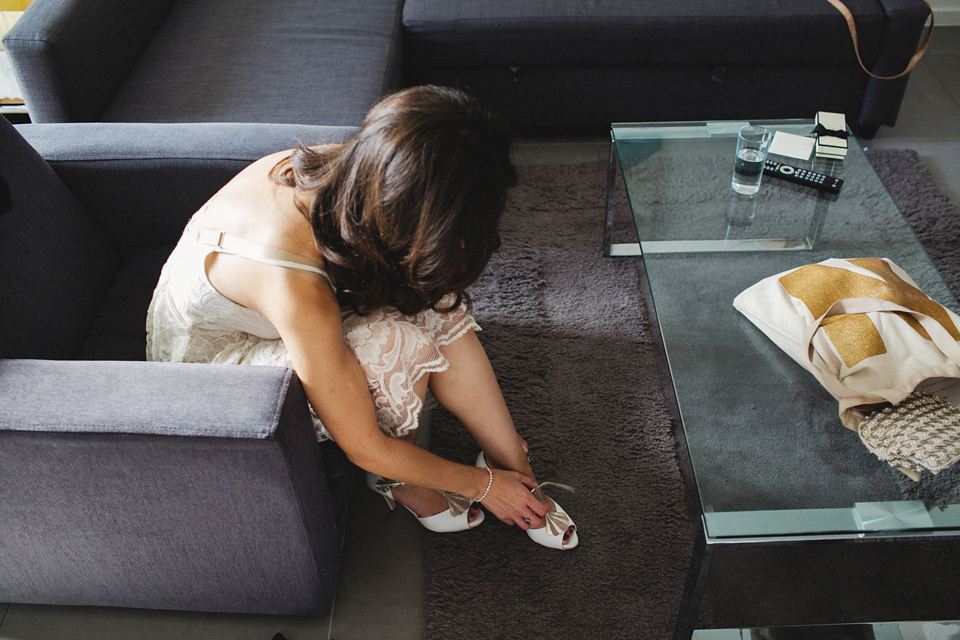 "My perfume was Nectarine Blossom & Honey by Jo Malone. I love Jo Malone and already had many of their perfumes but wanted a new scent for the wedding.  On the morning of the wedding Shaun gave me an engraved bottle which he'd hidden in my wedding apartment the day before."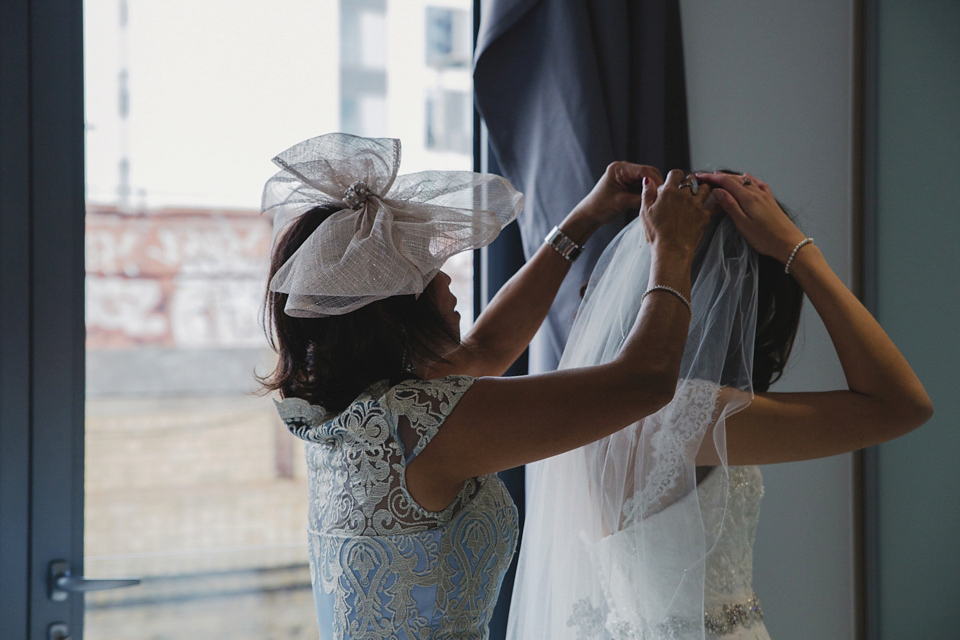 "Love My Dress was my go to wedding blog during the whole wedding process and I still enjoy reading it now and recommend it to all my engaged friends. I loved seeing how other brides had styled their weddings; I got so many great ideas from wedding dress designers to ceremony readings and the photos are always beautiful. I really enjoyed the 'Lovettes' articles too."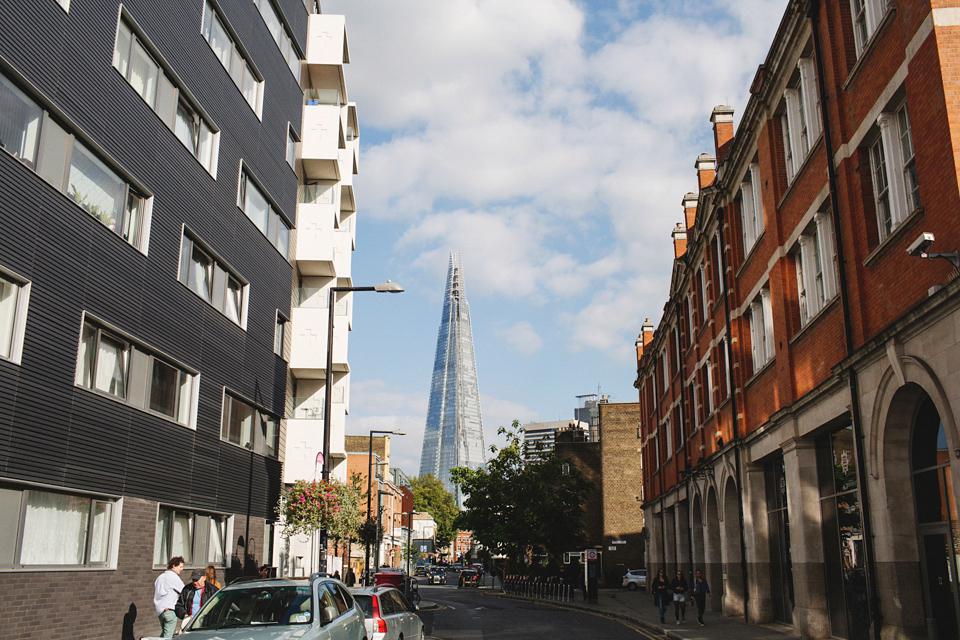 "I kept the décor quite low key and let the fairy lights and the flowers at the reception do the talking. We had a welcome table which had family wedding photos on as well as the Welsh Love spoon my grandparents got us as an early wedding present from Wales. We had a few honeycomb pom poms and a tassel garland too.
 I also made some signs out of vintage chalkboards and we put photos of us when we were little on the toilet doors.  We also displayed our tea towel invitation."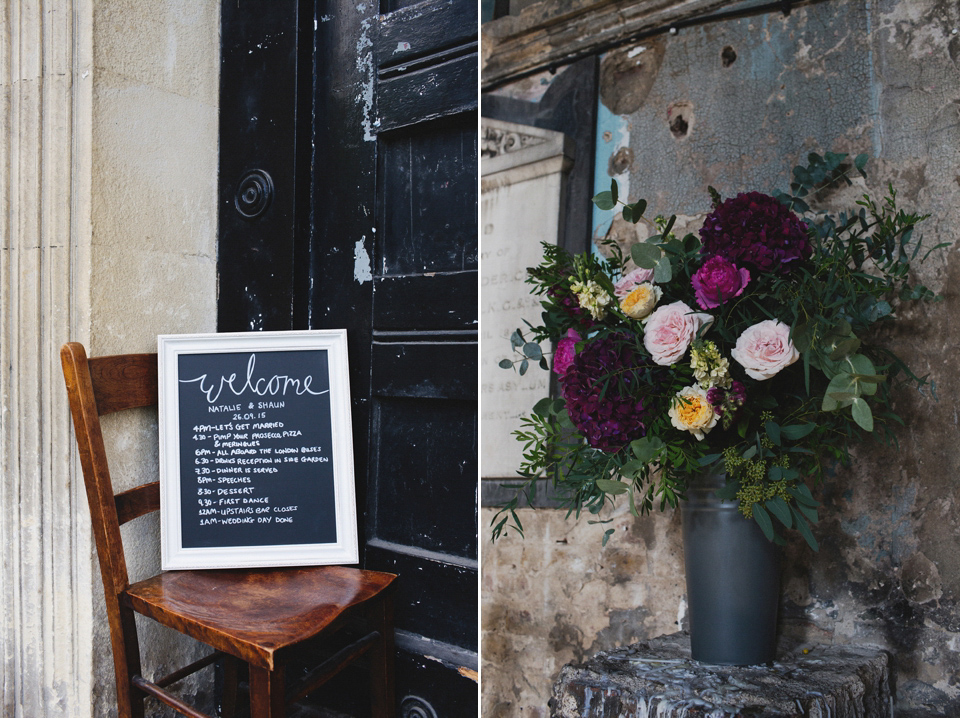 "I had five bridesmaids, three pageboys and one flower girl in my bridal party so I chose to hire a gold single decker bus from Alpha Bus  so we all could go to the ceremony altogether along with my parents and brother-in-laws. It was a real family occasion and lovely to have everyone around me to share the moment. It also didn't give me a chance to get nervous.
We also hired a traditional red London double decker bus from The London Bus Company to take guests to the ceremony and in between the venues. It was my little nephews' favourite part of the day and even my grandparents had been looking forward to it."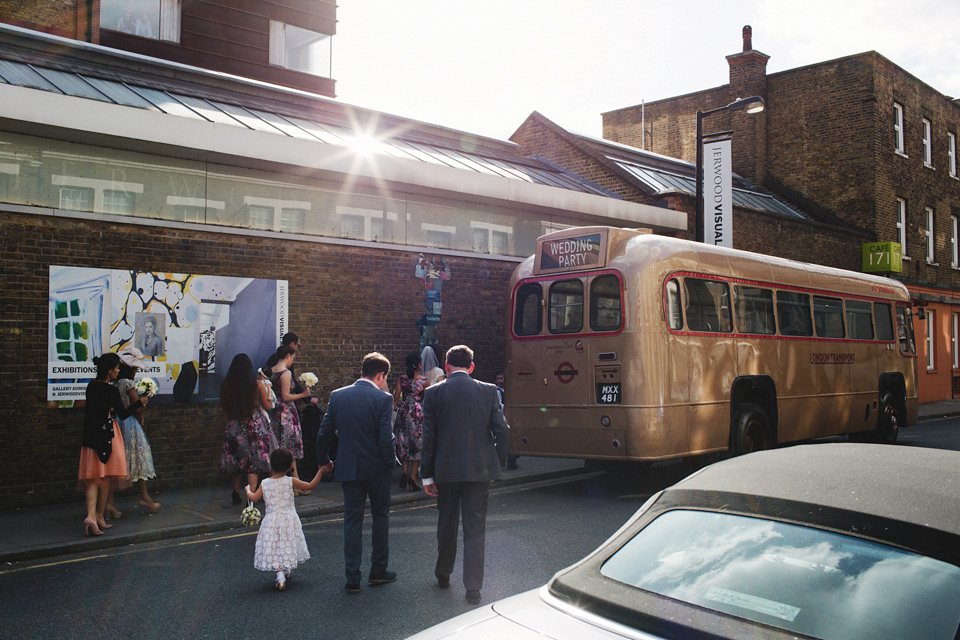 "I would have liked to get married in a church but Shaun didn't so I looked into deconsecrated churches as a compromise. As soon as I found Caroline Garden's Chapel (The Asylum) I knew that I had found the place I wanted to get married in.  We had already viewed several potential venues across London but nothing compared- I am still in awe of its beauty and I loved that it was a little bit different.
We felt that a grand stately home or posh hotel for the reception just wasn't us so we chose to hold our reception at The Rosendale instead. It still had the high ceilings and chandeliers and great food but was a lot more relaxed and the service was impeccable too. We had so much freedom to style the venue as we wanted and to play with the menu."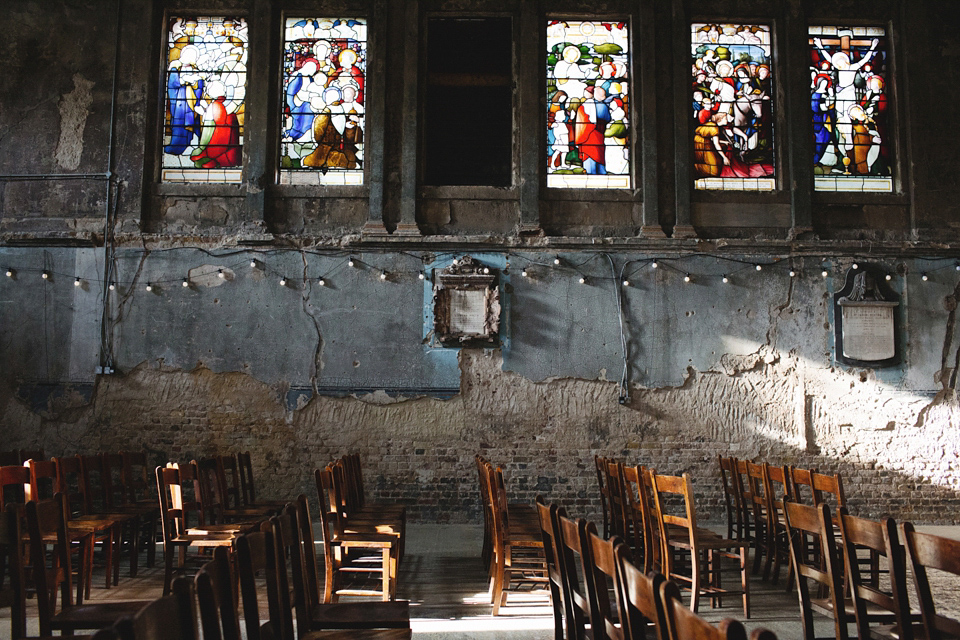 "Shaun didn't want to wear tails as they just wouldn't have gone with our less formal wedding. He wears a suit every day for work so he decided to wear a three-piece suit from Next. He's never worn a waistcoat before either and it looked so good on him. Grey is his colour so that was always what he would go for.
As a wedding gift I gave Shaun cufflinks bought from Not on The High Street which were made from sixpence coins from 1955- the year my grandparents got married. They were celebrating their Diamond wedding anniversary a month after our wedding so Shaun made sure to give them a shout out in the speeches."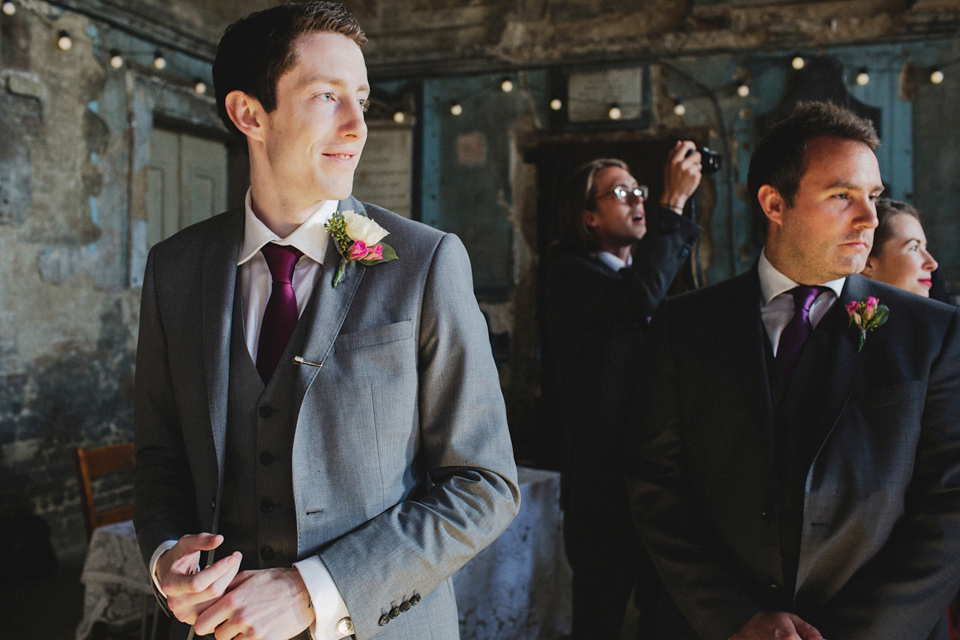 Natalie was walked down the aisle by her proud Dad, to 'You and Me' by Penny and the Quarters, from the film 'Blue Valentine'.  Like many brides Natalie was very nervous about walking into the ceremony with so many people watching and saying her vows in front of a large group of friends and family, but on the day all the fear disappeared as soon as she entered the room and saw Shaun.
"I am never one to be the centre of attention and I'm not good at public speaking at all- I will even stumble over my words when talking to a large group of friends so walking down the aisle with all eyes on me and saying my vows in front of everyone terrified me. When those chapel doors opened and I saw all those faces on me it was like 'wow' but then I saw my husband and I was happy. After that all I saw was him; there could have just been the two of us in there as far as I was aware"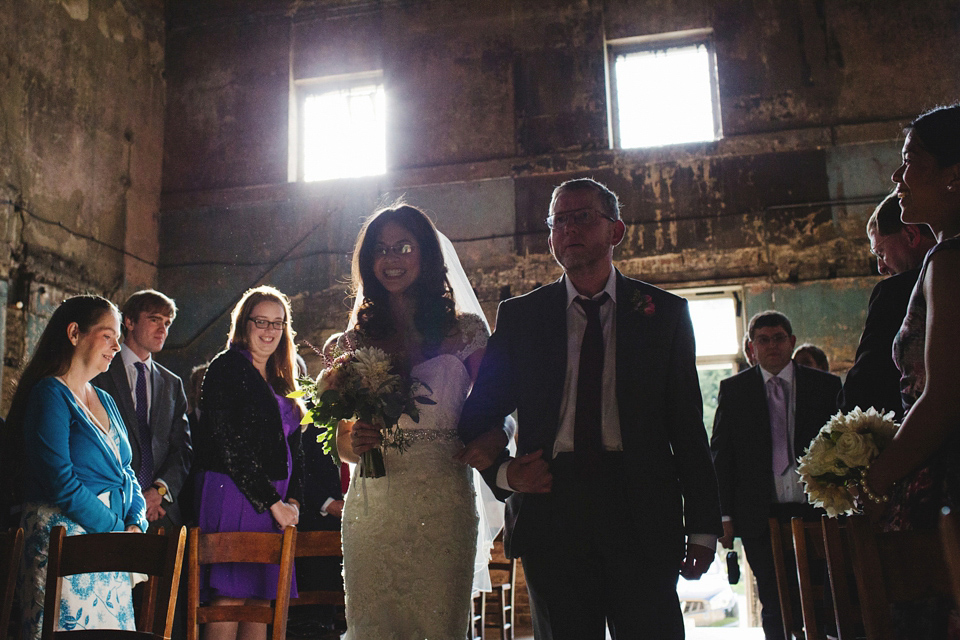 We wrote our own vows which made it all really personal. I am so glad I did them, as I thought I'd be a bawling mess the whole way through but I managed to not cry once. I was really proud of myself for that. My favourite line from Shaun's vows were 'I promise to make the good times great and the bad times a little better'. He also vowed to always carry my bags when shopping so I have both hands free and to let me have the TV remote – something I like to remind him of.
We had trouble choosing our readings as we've not fond of anything overly sentimental. However, I chose 'The Lovely Dinosaur' by Edward Monkton straight away as it was so fitting for us. It was read by my bridesmaid and elder sister who I knew would do it justice.  My nine-year-old nephew did a short and sweet little reading which he memorised and had practised so hard beforehand including the big smile at the end, he was so excited about it. The final reading was by Shaun's brother Huw. We asked him to pick a reading and not tell us so it would be a surprise for us on the day. He chose the perfect one, called 'What We Would Wish For You'."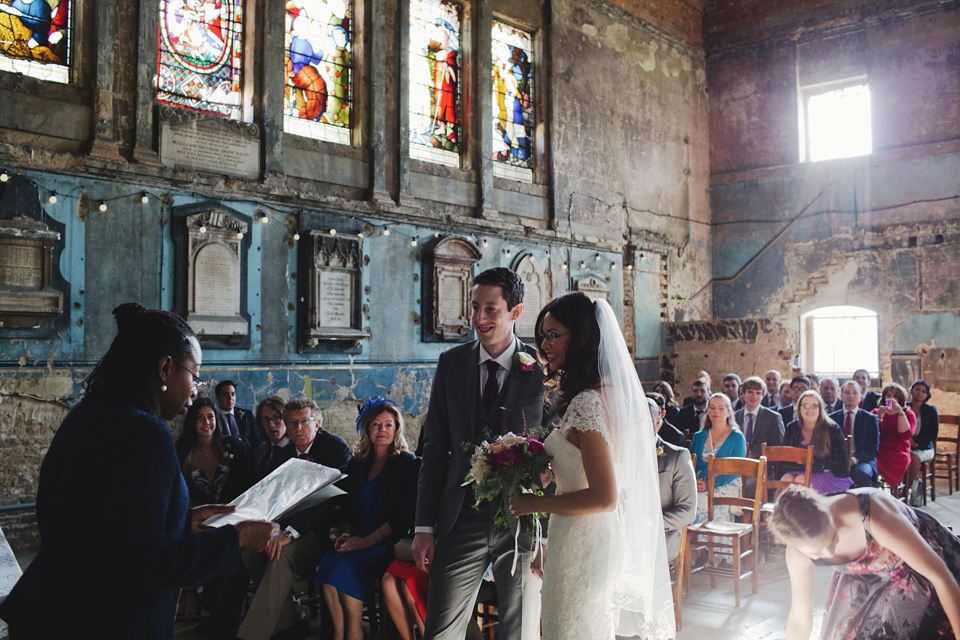 "Without a doubt one of the best decisions we made throughout the wedding process was to use Hyde Park Design for our rings- we cannot recommend Paul and Sean highly enough; we rave about them all the time and have recommended them to everyone.
They were genuinely interested in our wedding and always spent ages speaking with us every time when we were there, designed my wedding band to my exact specifications right on the computer in front of me and there was also no problem when I wanted to change the design. My husband's ring also was made exactly as he wanted, he has never worn any jewellery and loves his new ring."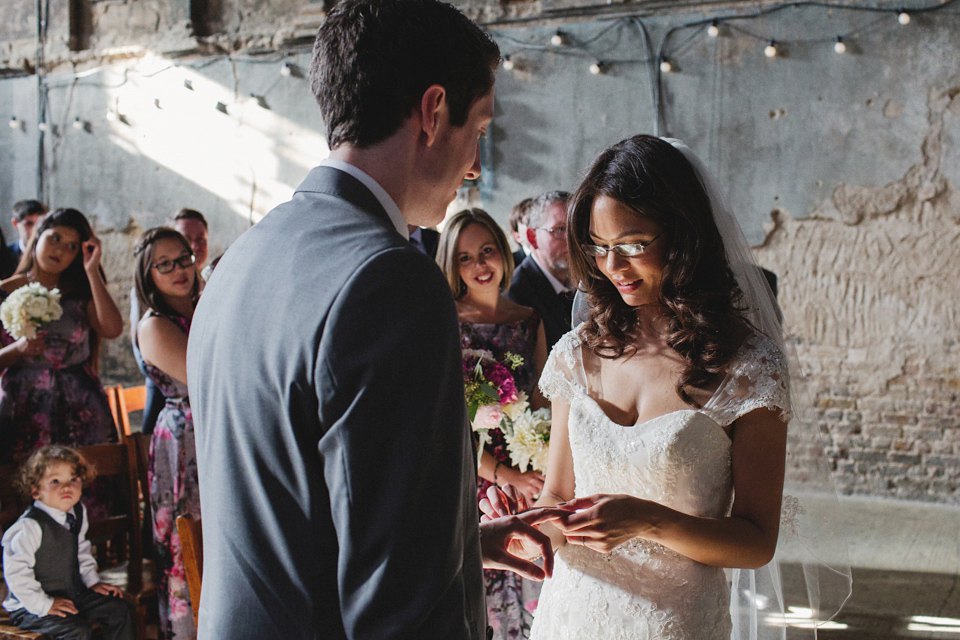 Natalie wore the most gorgeous fishtail lace gown by Benjamin Roberts, which she purchased from London Bride UK.  She spent quite some time hunting for her ideal dress, but the search was worth it I think- doesn't she look fabulous?
"My dress was the forty-fourth dress in the tenth shop! I really loved the whole wedding dress search- as this was the only time in my life that I was ever going to get to try on wedding dresses I was going to enjoy the experience and try on as many as possible.  However, in all those dresses I never got that feeling that everyone talks about.  I thought I wasn't going to get that feeling and was just about to choose a dress when I went to a bridal shop by myself and found 'it'.
It was everything I envisioned at the beginning of my search- it was lace which I'm obsessed with, had a bit of sparkle and was so light to wear compared to other dresses."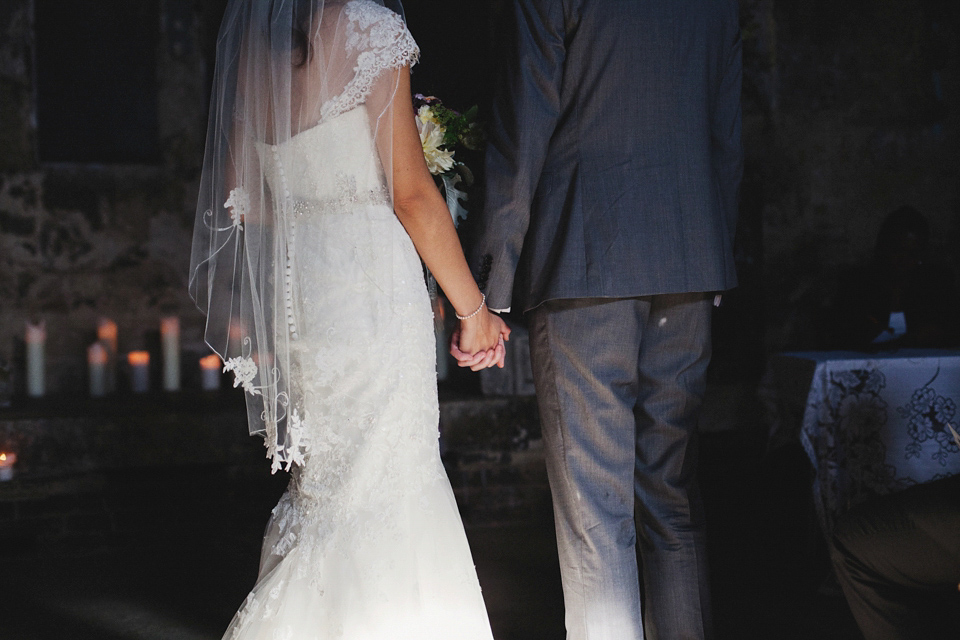 I probably ended up going to London Bride probably more times than most, but every time all the ladies there were really lovely, friendly and honest. There was no pressure and they even ended up picking out the dress which was 'the one' for me."
"I wanted something a little different for my five ladies and I loved this dress from ASOS as soon as I saw it.  Luckily they all did too. It worked really well with the autumn floral theme and I thought it would go beautifully in the chapel."
The lovely bridesmaids all chose their own shoes and jewellery and wore their hair how they chose as it was important to Natalie that they felt comfortable and like themselves on the day.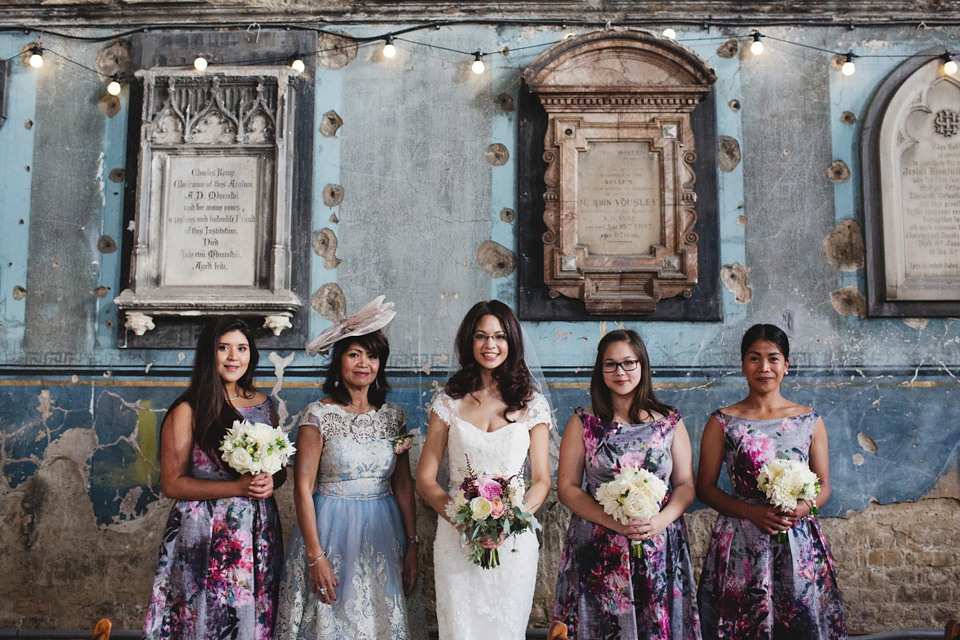 The wonderful floral designs were the work of Lola Flower Boutique.
"The things I was most looking forward to seeing on the day were the cake and the flowers. As the day went on and I saw more of Marlena's work I was so pleased- she had got exactly what I was hoping for which were bright, colourful and natural flowers in our autumn shades of plum and coral tones. My bouquet was too beautiful to toss so I dried it by hanging it upside down before we went on honeymoon. The dried flowers have pride of place in our home and they make me so happy.
The chapel was beautiful already so we opted just for two large displays either side of the alter and at the reception we had lots of different vases filled with flowers on each table."  
"I found Cake of Dreams on Instagram and instantly fell in love with Francesca's work. The bottom layer was vanilla sponge with vanilla panna cotta and cherry compote filling while the top layer was vanilla sponge with white chocolate cream and strawberry compote filling, all covered with a vanilla Swiss meringue icing and then topped with fresh flowers, disco berries (glittered fruit) and a salted caramel drizzle. It was immense!"  
"Shaun and I love the street food markets around London so I've always wanted to have a street food van at the wedding. I didn't think it would be a possibility as most venues don't allow it but when we found the chapel they did. We're big Prosecco drinkers so had a 'Pimp your Prosecco' reception following the ceremony with a big tray of meringue kisses from The Meringue Girls as well as pizza instead of canapes. Both the vans were vintage Citroen HY vans so they looked really good parked together in front of the chapel. A lot of our guests have told me that was their favourite part of the day, in the sun with Prosecco, pizza and meringues. We drunk the Prosecco van dry!"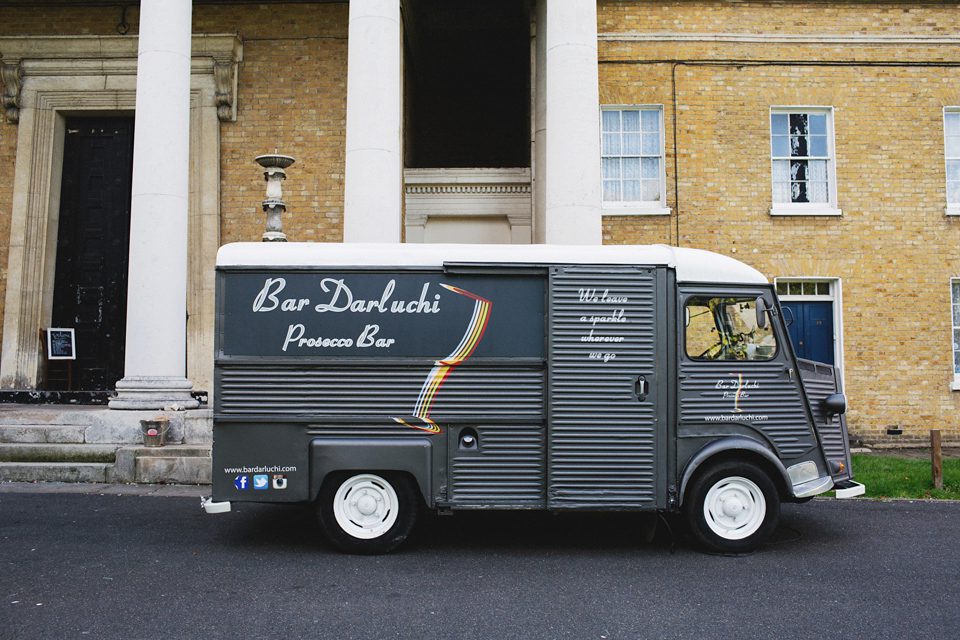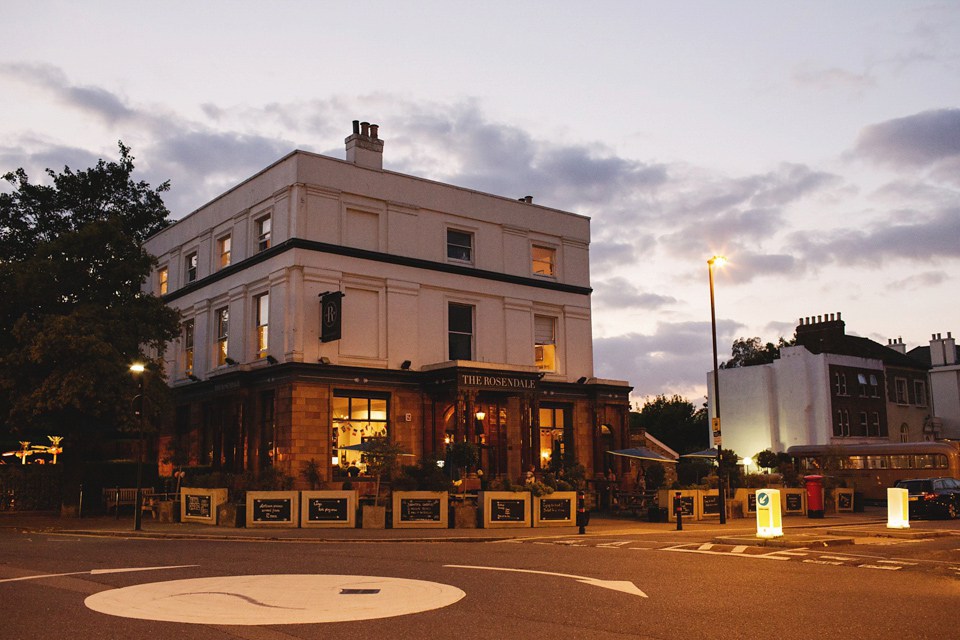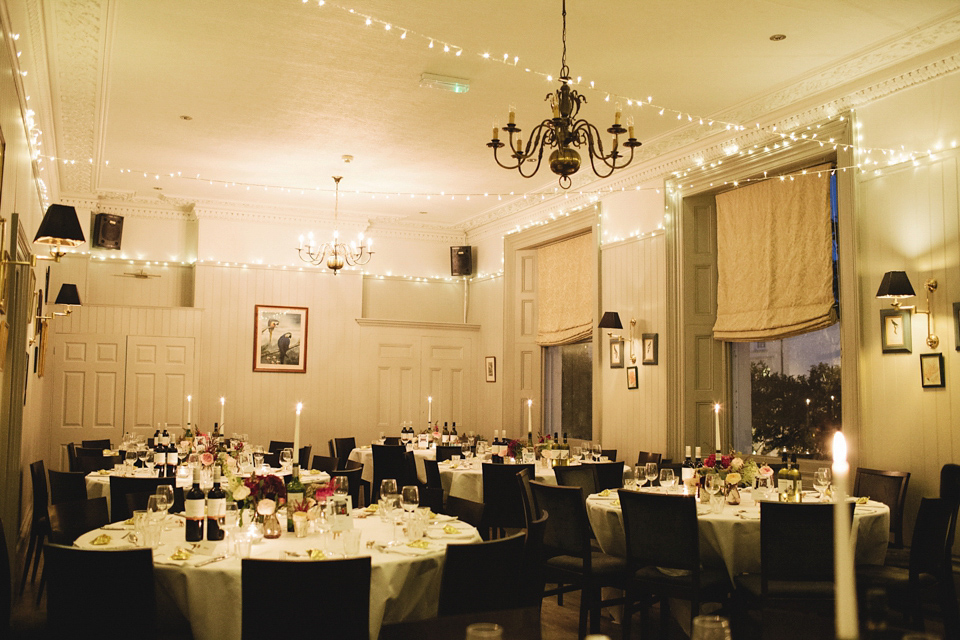 "One of my favourite parts of the day was right at the end of the night when most of the guests had gone home and it was just about 20 of our closest friends just dancing the night away together.  The wedding ended at 1.30am and everyone wanted to carry on but I was happy to end the day on a high. 
We had such a beautiful day that I wouldn't want to do it again or in any other way. The things that went wrong are the things we laugh about now."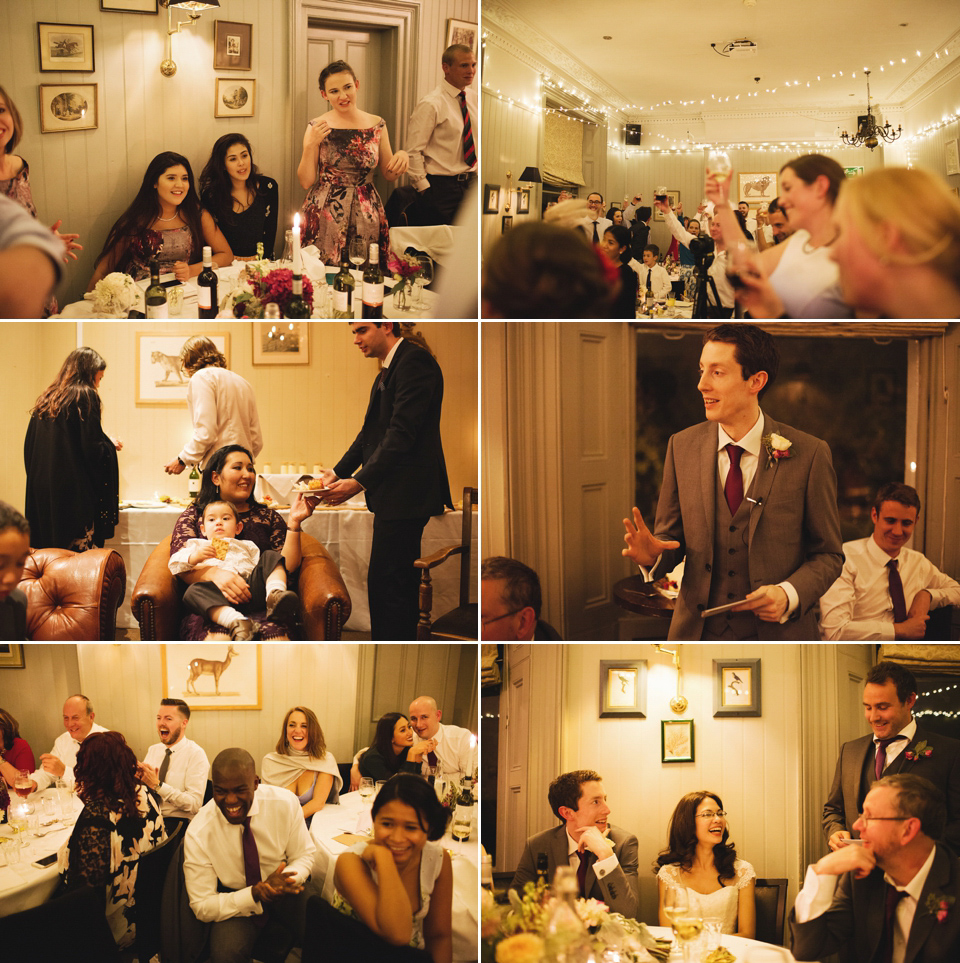 Words of Wedded Wisdom
 "Stay true to what you want.  Everyone will have an opinion about your wedding whether you want it or not and it's hard to not let negative opinions affect you. As we didn't have your traditional wedding, we had a lot of 'but you have to have this' and 'it's tradition to do this', but it's your wedding so take what traditions you want to and make them work for you. We stuck to our guns and everyone really enjoyed themselves. When we first got engaged our dentist gave us this piece of advice- each choose three things which are the most important to you so that when you can't decide if you really need that vodka luge (turns out you don't…) then you can come back to those three points and it will help you focus on what the wedding is all about. The one point my husband and I chose was people. It mattered to us who was there to celebrate the day with us.  
My mantra was 'it will all be alright on the day'. No matter how well you plan, things are bound to go wrong but this won't matter to anyone and if anything, they will be the things you laugh about afterwards. If, at the end of the day, you and your husband are married then the day will have been a success.
Weddings can be very stressful and sometimes all the planning can get overwhelming but try not to get bogged down in that and enjoy the whole process. This is the only time you'll ever plan a wedding and it's over so quickly. Just focus on the big picture.
Lastly, believe in the power of spreadsheets. I couldn't have planned our wedding without all of my many spreadsheets, they were a lifesaver and really helped me focus in terms of what still needed to be done and to keep a track of the budget. (Natalie is a woman after my own heart!)"
Huge thanks to Natalie and Shaun for sharing their beautiful day with us all, and to Karolina of Hearts on Fire for sharing her wonderful work with us once again.  For more weddings photographed by Hearts on Fire, take a peek here.
We must have lots of other London-based readers visiting the blog- tell us your plans!
Much love,
Shona x
Photographer – Hearts on Fire
Videographer – Gerry Lewis Productions
Venue – Ceremony: Caroline Garden's Chapel (The Asylum); Reception: The Rosendale
Wedding dress – Benjamin Roberts (style 2392) via London Bride
Veil – Richard Designs
Accessories – Earrings from Hyde Park Design and a bracelet which was a gift from a bridesmaid
Shoes – Rachel Simpson, Carmen
Perfume – Jo Malone, Nectarine Blossom and Honey
Bridesmaid dresses – ASOS
Groom – Suit from Next, cufflinks from Not on The High Street
Pageboys – Marks and Spencer
Flowergirl – Next
Florist – Lola Flower Boutique
Cake – Cake of Dreams
Catering – Van Dough, Pizza van; Bar Darluchi, Prosecco van; The Meringue Girls
Rings –Hyde Park Design
Hair and Makeup – Friends and family
Entertainment – Hybrd Entertainment
Transport – The London Bus Company and Alpha Bus
Invitations – Wedding Tea Towels