Good morning, I hope you all had a wonderful Easter. I am slowly coming out of a self inflicted chocolate coma but it's wonderful to be back to show you this fabulous wedding. Imogen, a Production Editor in the fashion industry and Gavin, a Carpenter met as teenagers. They have grown up together so it was important for their wedding day to be as much a celebration of their time together so far, as well as their future. The couple tied the knot in an intimate ceremony at the stunning Le Manoir Aux Quat'Saisons in Oxfordshire, Raymond Blanc's Michelin-starred restaurant on the 24th October 2015. The bride even got a call from the chef himself to wish her luck. Photographer Jordanna Marston was on hand to capture the day with beautifully atmospheric images, making the most of the changing Autumn weather.
"We had no theme for the day, although there were plenty vintage influences. We had a lot of Ella Fitzgerald, Billie Holiday and Nat King Cole before and during the ceremony, but took a turn for 60's afterwards as we walked down the aisle to 'I Feel Fine' by The Beatles and played The Kinks, The High Numbers, The Beach Boys and a whole lot of Motown throughout our champagne reception. My look also had a definite 60's vibe as I love the style from that era."
Photography by Jordanna Marston
Imogen was set on having a dress she would feel completely comfortable wearing, ruling out full length. REDValentino had the perfect 60's style dress which she teamed with a gorgeous pair of nude Christian Dior shoes and a short veil by Sarah Morgan with a small velvet bow.
"I searched for a normal dress that was special enough for the occasion, and found my REDValentino number on Net-A-Porter. I loved how fun it was – the black velvet ribbon and faint polka dot pattern was right up my street! I also loved the leaf pattern around the skirt of the dress, which nodded to the Autumn leaves. I emphasised the 60's shape of the dress by adding a short petticoat."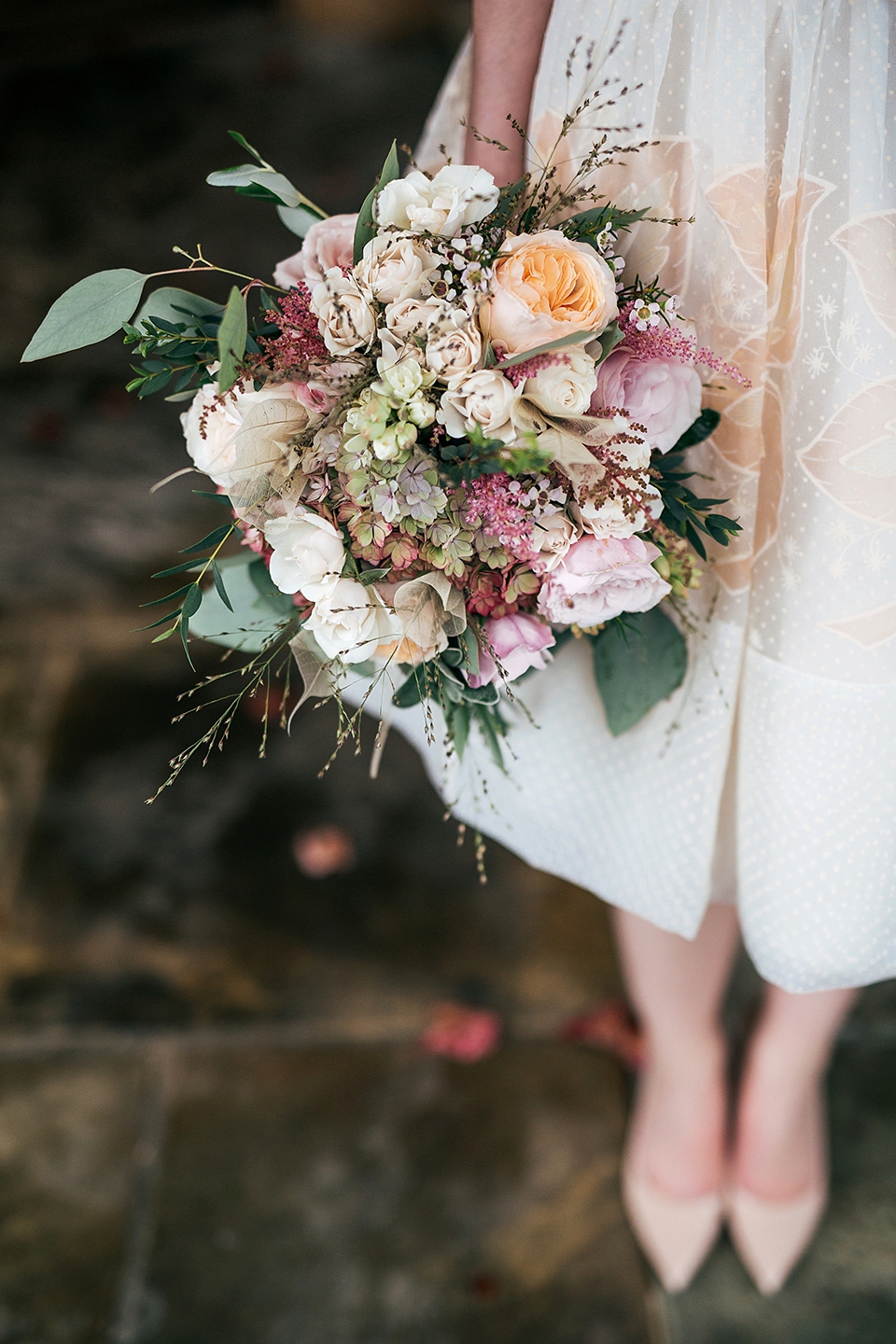 "We'd visited Le Manoir before for a couple of special occasions and had fallen completely in love with place, so it seemed the perfect venue for our wedding. It goes without saying that the food there is incredible, but the building itself is stunning too and the grounds and kitchen gardens that surround it are also a feast for the eyes. The service there is always second to none and those that helped us plan the wedding always made it clear that nothing was too much trouble and were incredibly helpful.
The ceremony room felt inviting and warm, with a fire and candles. We wanted the whole wedding to feel more like a wonderful dinner party. Our main priorities were good company, good food and good wine!"
"I think the flowers were my favourite part of wedding planning. Vic from Scarlet & Violet creates the most BEAUTIFUL displays and visiting her shop in North London was always a treat. It was important to pick suppliers we trusted so that we could step back and let them do their job properly – they are the experts after all, and I trusted Vic completely. I wanted flowers and colours of Autumn, so we went for a softer palette for my bouquet and the ceremony, with darker, richer tones as the evening progressed carrying into the dining room. The flowers made me so happy and I didn't feel we could ever have too many.
Most guests took a bunch of flowers home with them."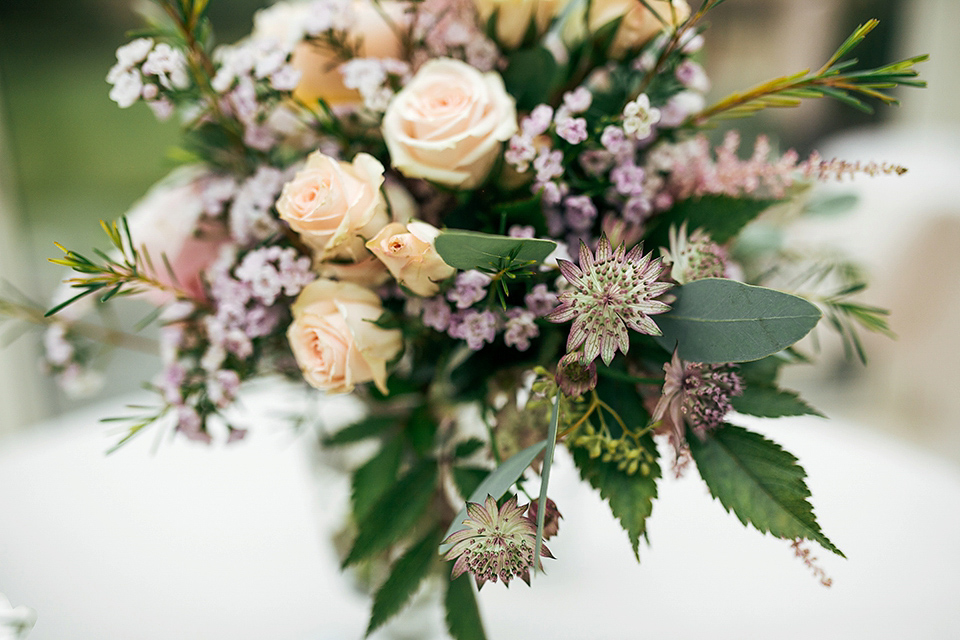 "I tried several different perfumes from Chanel's Exclusif range and finally settled on Jersey because of the hints of lavender. It's such a calming scent so seemed appropriate for the day."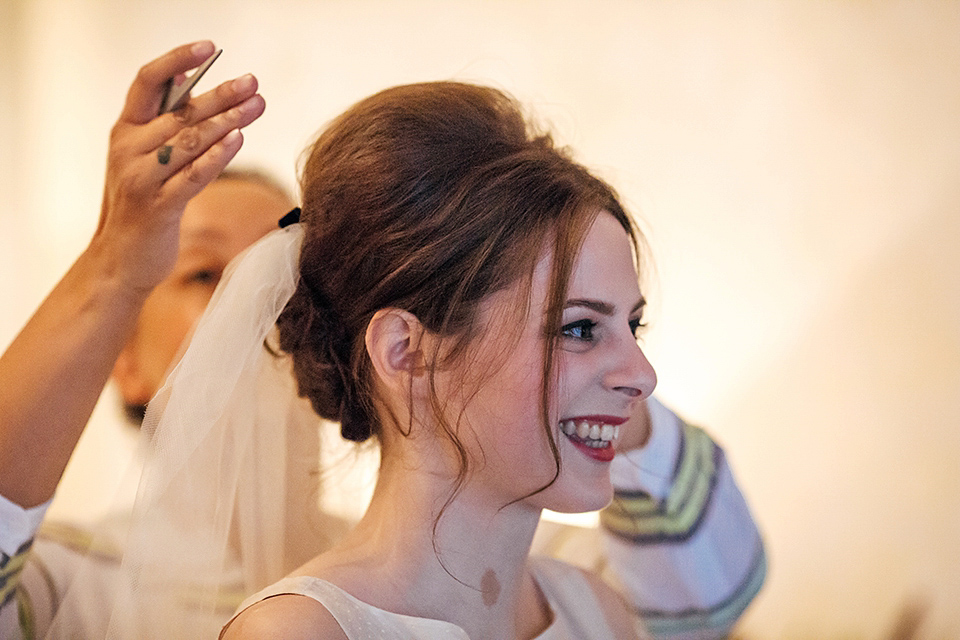 "Gavin's Burberry suit was bought from Mr Porter. I have to give a shout out to Eugene Rocha who not only finished the hems on Gavin's trousers and altered my friend's dress, but also made my father's bespoke suit! He's an absolute genius!"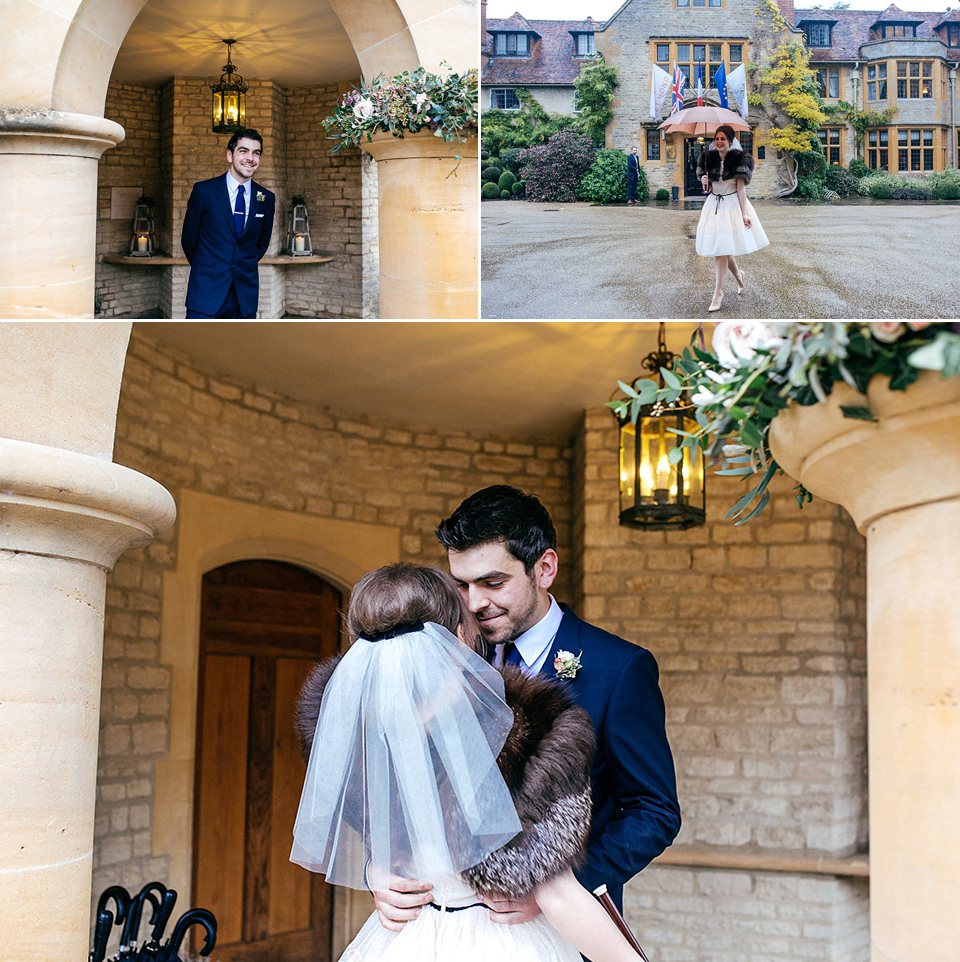 Imogen and Gavin chose the wonderful Jordanna Marston to capture their beautiful wedding day. With a 5pm ceremony, it made sense for the couple to have a 'first look' so that they could spend more time together on the day. I absolutely love the shots of the couple taking a walk with their umbrellas in the rain.
"Jordanna was a really brilliant fit for the day. Right from the word go, she totally understood what we wanted and has given us photos we will treasure forever. She is fantastic at capturing natural moments. It was raining throughout our first look but I actually love our umbrella shots and I'm pleased we braved the drizzle for them! After the ceremony, the rain cleared and we were treated to a wonderful vibrant pink sunset so we skipped the first part of the champagne reception and ran back outside to make the most of it. As much as you can plan the wedding day, it's important to let go and grasp those moments – it was an added bonus to see the sunshine after hours of cloud and we were feeling pretty elated after the ceremony!"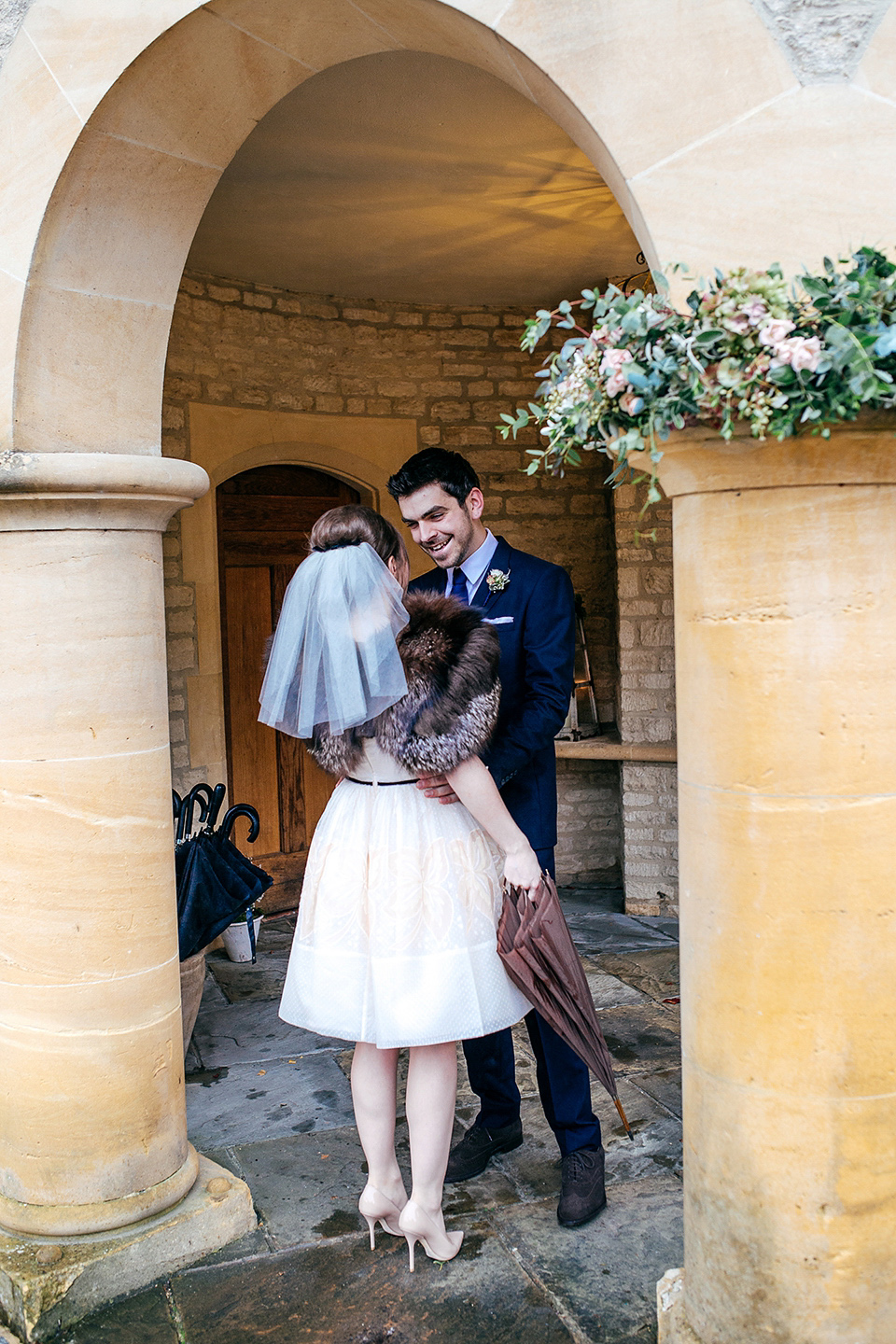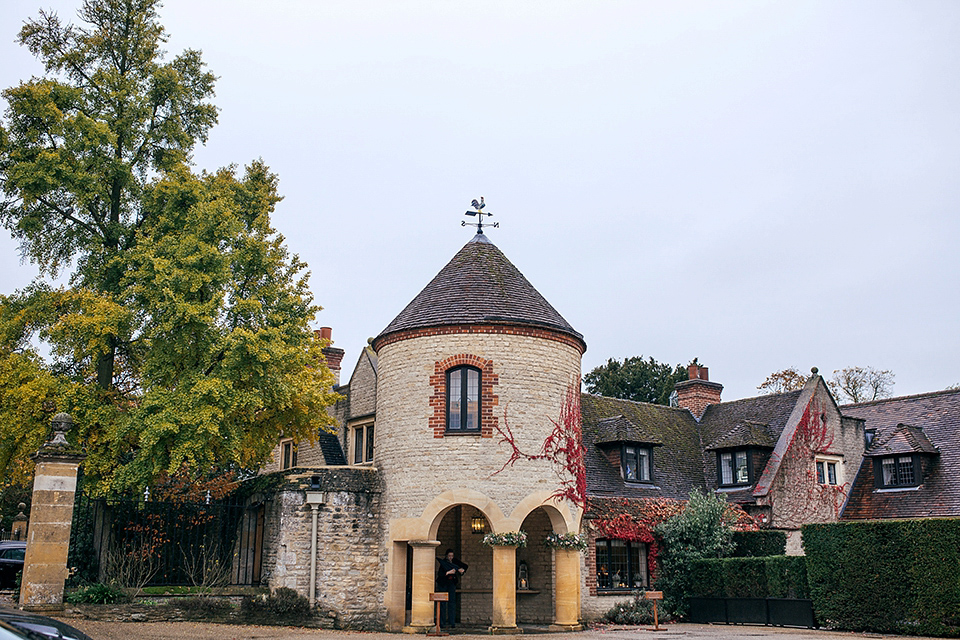 The couple decided not to have any attendants but Imogen's best friend who was a great support to her on the day wore flowers to match the bouquet in her hair.
"I really enjoyed all the silly superstitions of the wedding day and thoroughly threw myself into the concept of something old, something new, something borrowed and something blue… I even had a lucky penny in my shoe. My parents kept my something blue a surprise until just before the wedding, a beautiful Anya Hindmarch bespoke pouch with our wedding date on it! The 'Something Blue' written on the pouch is in my mum's handwriting."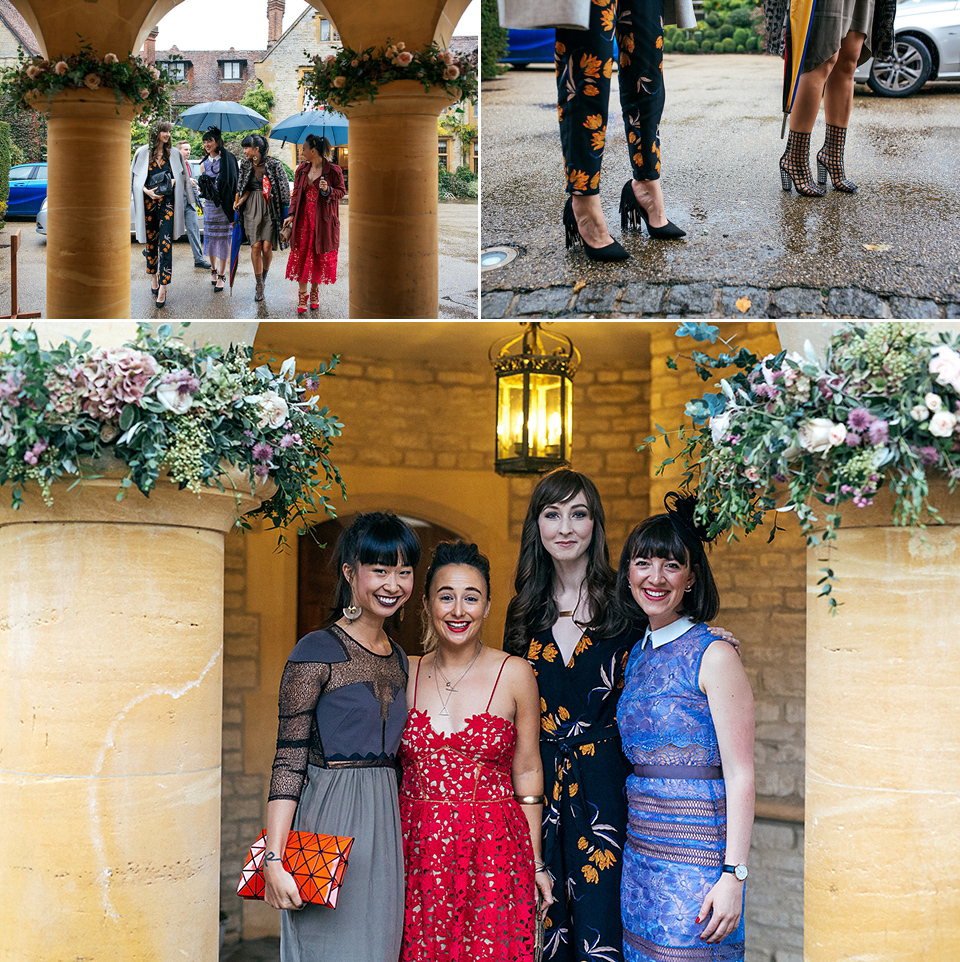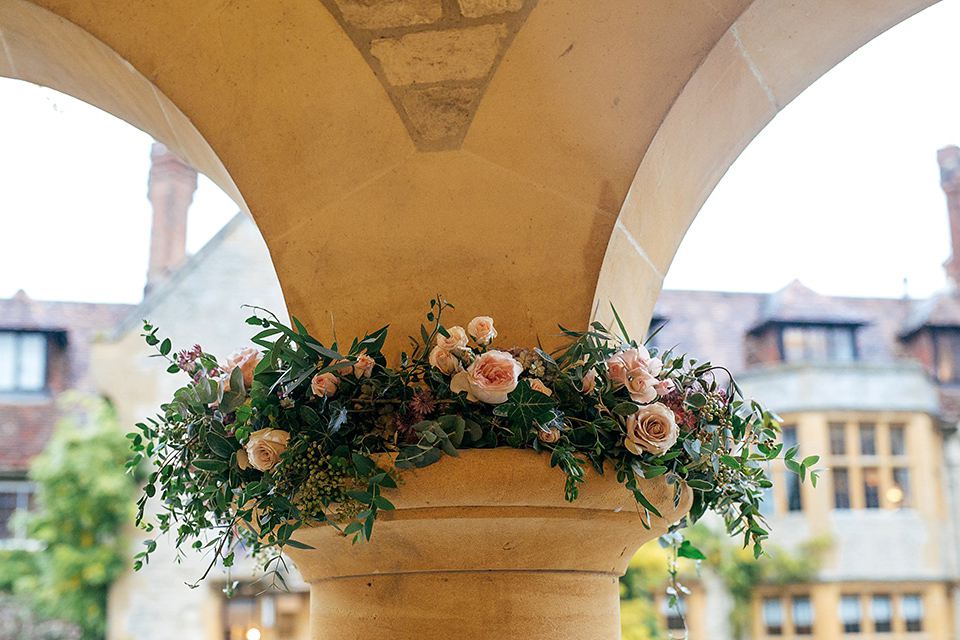 "My dad walked me down the aisle to an orchestral version of 'O Mio Babbino Caro' (Oh My Beloved Father). We asked the registrar to open the ceremony with a George Eliot quote which really sums up what marriage means to us…
What greater thing is there for two human souls, than to feel that they are joined for life – to strengthen each other in all labor, to rest on each other in all sorrow, to minister to each other in all pain, to be one with each other in silent unspeakable memories at the moment of the last parting?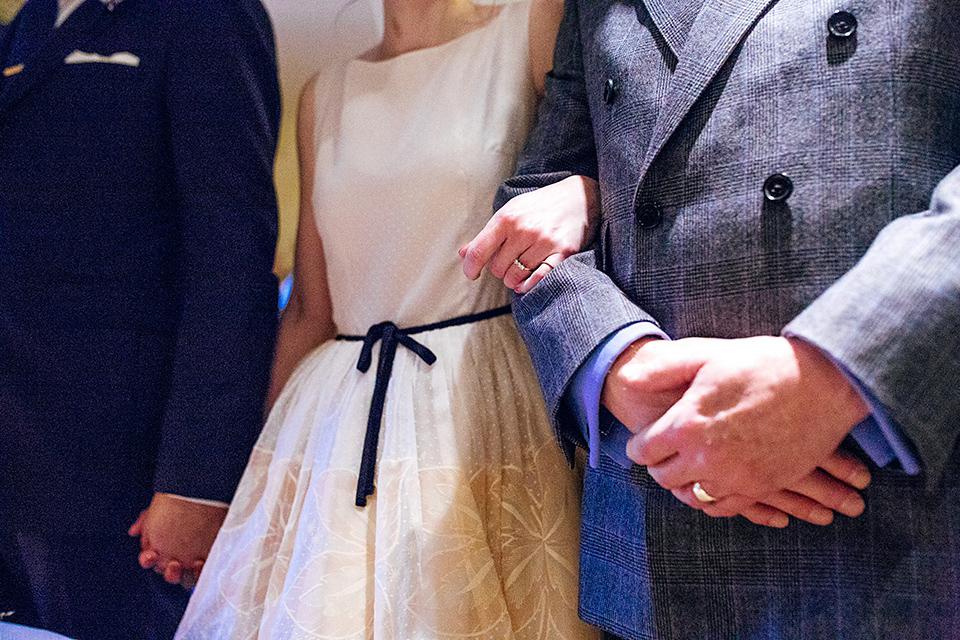 "We wrote our own with the intention of being able to say them off by heart on the day. Gavin had a complete mind blank after the second line, which really made everyone giggle as he tried to subtly read the rest from the cue cards the registrars had kindly made for us. I managed to remember all the words – but burst into tears halfway through so the latter part was said rather squeakily!  I wouldn't change one moment of it though – it was perfect just the way it was.
My aunt read William Shakespeare's 'Sonnet 116', it's a classic. No one really puts it better than Shakespeare. For something a little more modern, my best friend read 'Wedding' by Alice Oswald."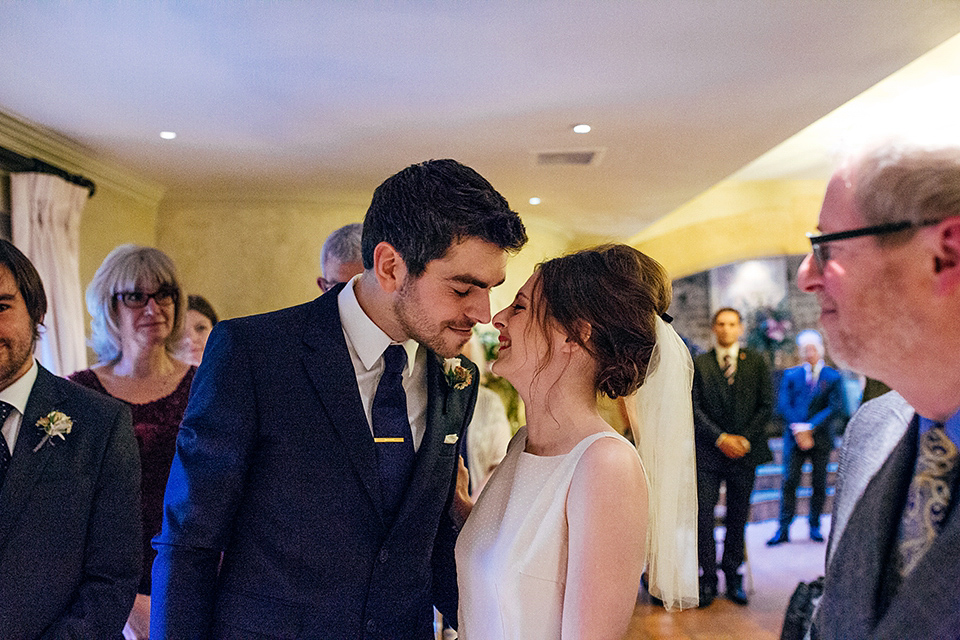 "Our favourite part of the day was the ceremony. The room was at full capacity so the ceremony was far more intimate than we imagined it would be. Our family and friends were sitting so close to us so there was a wonderful energy and we laughed a lot!"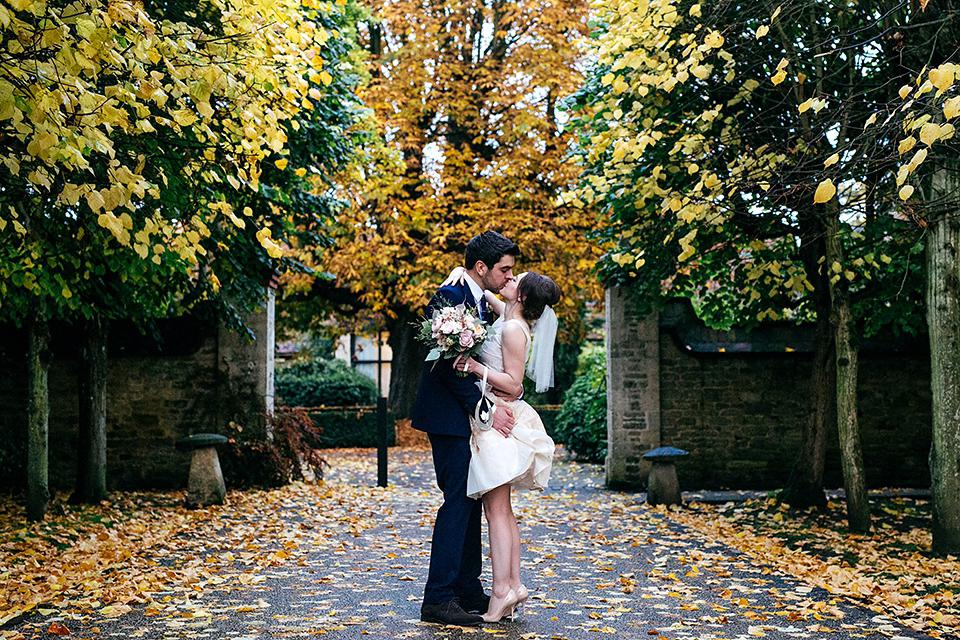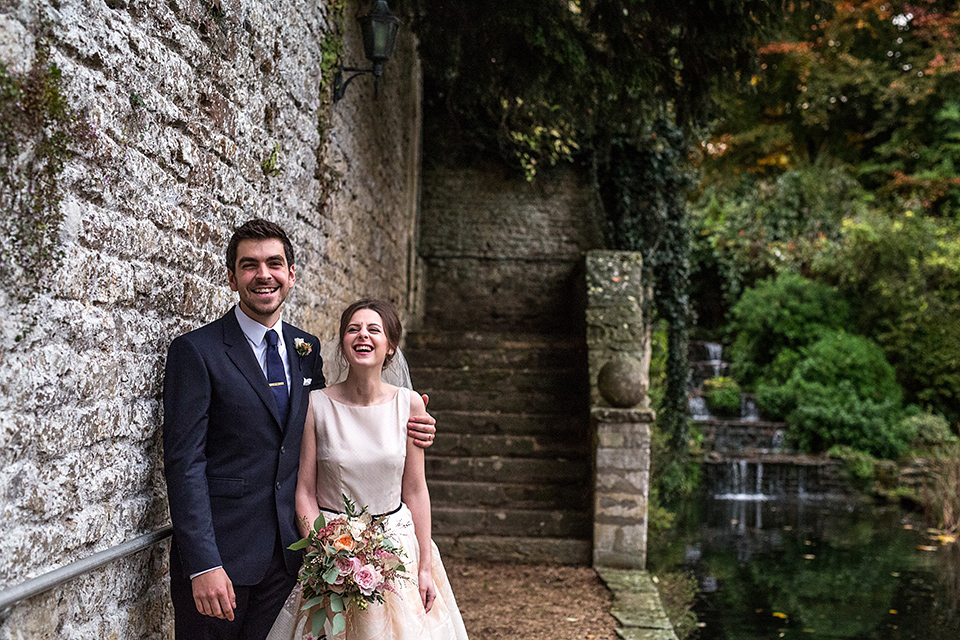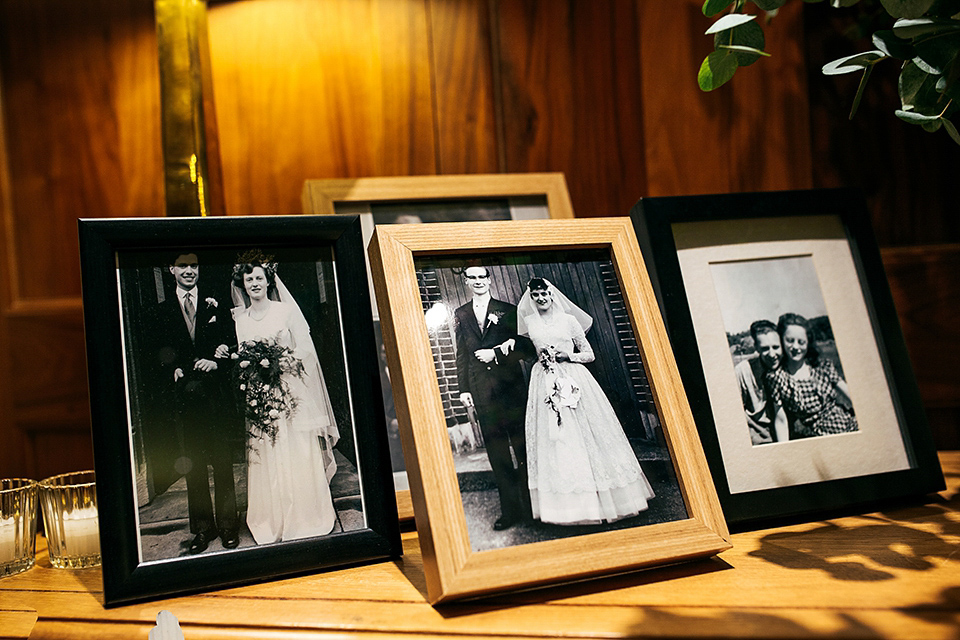 "The food at Le Manoir was a real highlight of the day. The flavours were incredible and the presentation of each dish was beautiful. We didn't have a wedding cake as the food was going to be a real highlight of the day, it seemed silly to end the meal with a bit of fruit cake and wasn't important to us."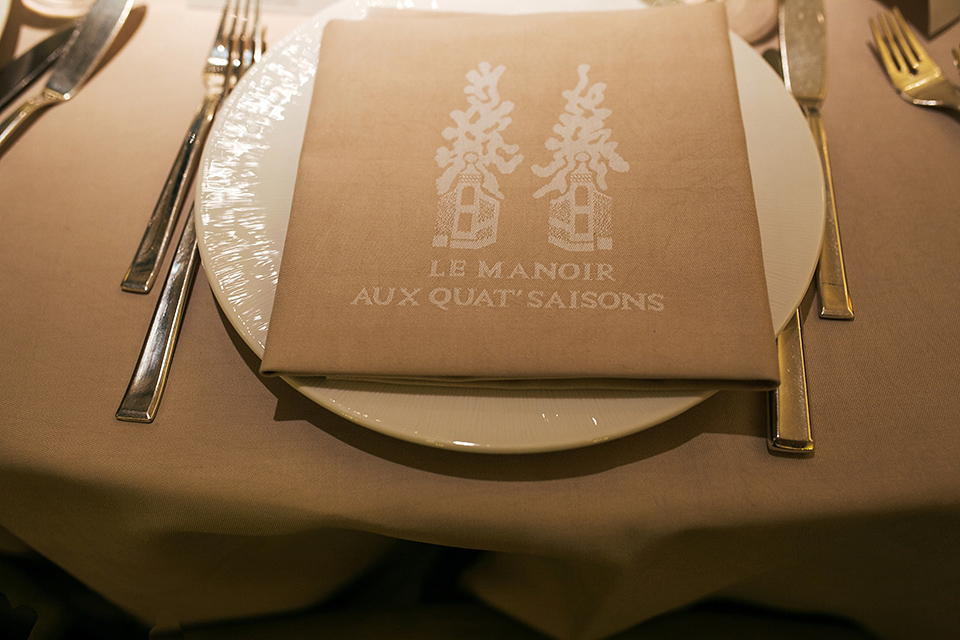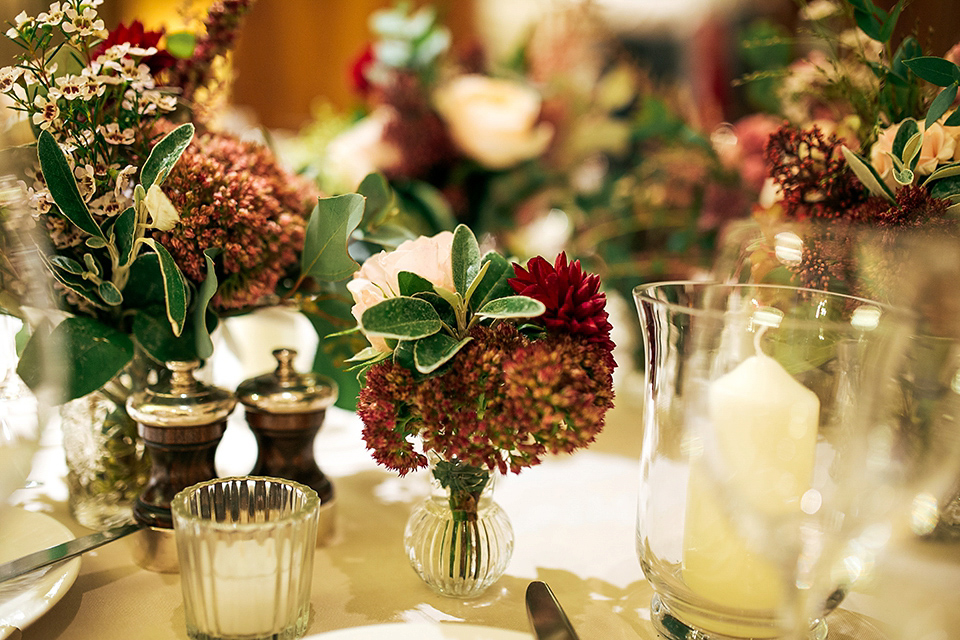 "We didn't have a disco at the wedding but I was inspired by a bride on Love My Dress who had a last dance and thought this was a cracking idea that we could introduce to the wedding without upsetting the natural rhythm of the day. We ended the night with 'Buona Sera' by Louis Prima. It was the last song of the evening and signalled the end of a wonderful day.
It sounds cheesy but there's nothing I would have changed about the day. We decided what was important to us very early on in the planning and stuck to that."
Words of Wedded Wisdom
"Apart from the legal bit, there are no shoulds with a wedding, so don't feel you have to do anything that doesn't fit into your vision of how you want your day. You're planning a very special day for the two of you, and it might not be to everyone's taste and maybe some people won't get it but luckily it's not about them. The most important thing is the commitment you're about to make to each other – keep that the focus and don't sweat the small stuff.
Also, prepare for your emotions to surprise you. I seemed only capable of laughing or crying on the day, and could move incredibly swiftly between the two! I spontaneously burst into tears as soon as I saw the flowers in the venue, and sobbed so much through the speeches that I had to be brought a box of tissues. But I also laughed a huge amount, there's one photo where we're both laughing so much that Gavin is holding onto a wall to support himself!"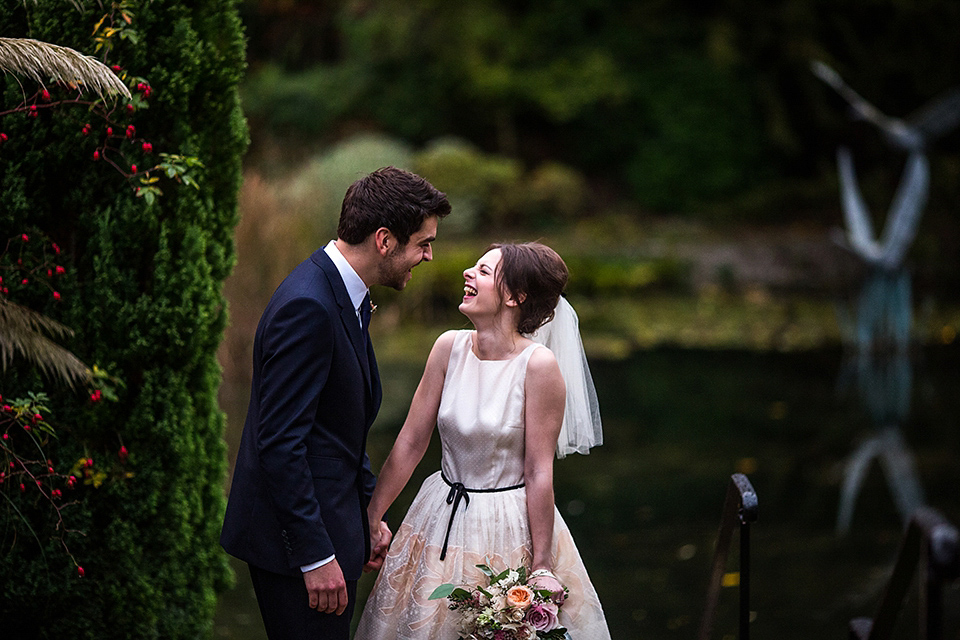 Thank you so very much to Imogen and Gavin for allowing us to share your beautiful wedding day with our readers. Thanks also to the wonderful Jordanna Marston for the beautiful images.
Love Caoimhe xx
Photographer – Jordanna Marston
Venue – Le Manoir Aux Quat'Saisons, Oxfordshire
Wedding Dress – REDValentino from Net-A-Porter
Veil – Sarah Morgan
Shoes – Christian Dior
Accessories – Anya Hindmarch
Bride's Scent/perfume – Jersey by Chanel
Groom – Mr Porter + Thomas Pink
Florist – Scarlet & Violet
Rings – Picketts and Pursers
Hair Stylist – Joon Barratt (no website)
Makeup Artist – Gemma Court