Hello lovely people, we're almost at the end of this short week and I'm looking forward to the weekend. Today I have for you, the delightful wedding of Nelly a wine importer and Simon a carpenter specialised in the restoration of listed buildings. The couple wed back in the summer of 2014 in their local town hall, followed by a chic garden party full of the prettiest country blooms and pom poms. The couple were lucky enough to be able to hold their marquee reception in a field at Simon's Grandad's farm.
The couple opted for a chic garden party with the best of French and British traditions choosing soft peaches and grey for all of the pretty details for the day.
"We are very lucky to live surrounded by beautiful countryside and when thinking of a venue, it felt natural to try and use the beautiful space around us. We also wanted to welcome our friends and family 'at home'. It was a labour of love and took Simon a year to make it look impeccable."
Photography by Lydia Stamps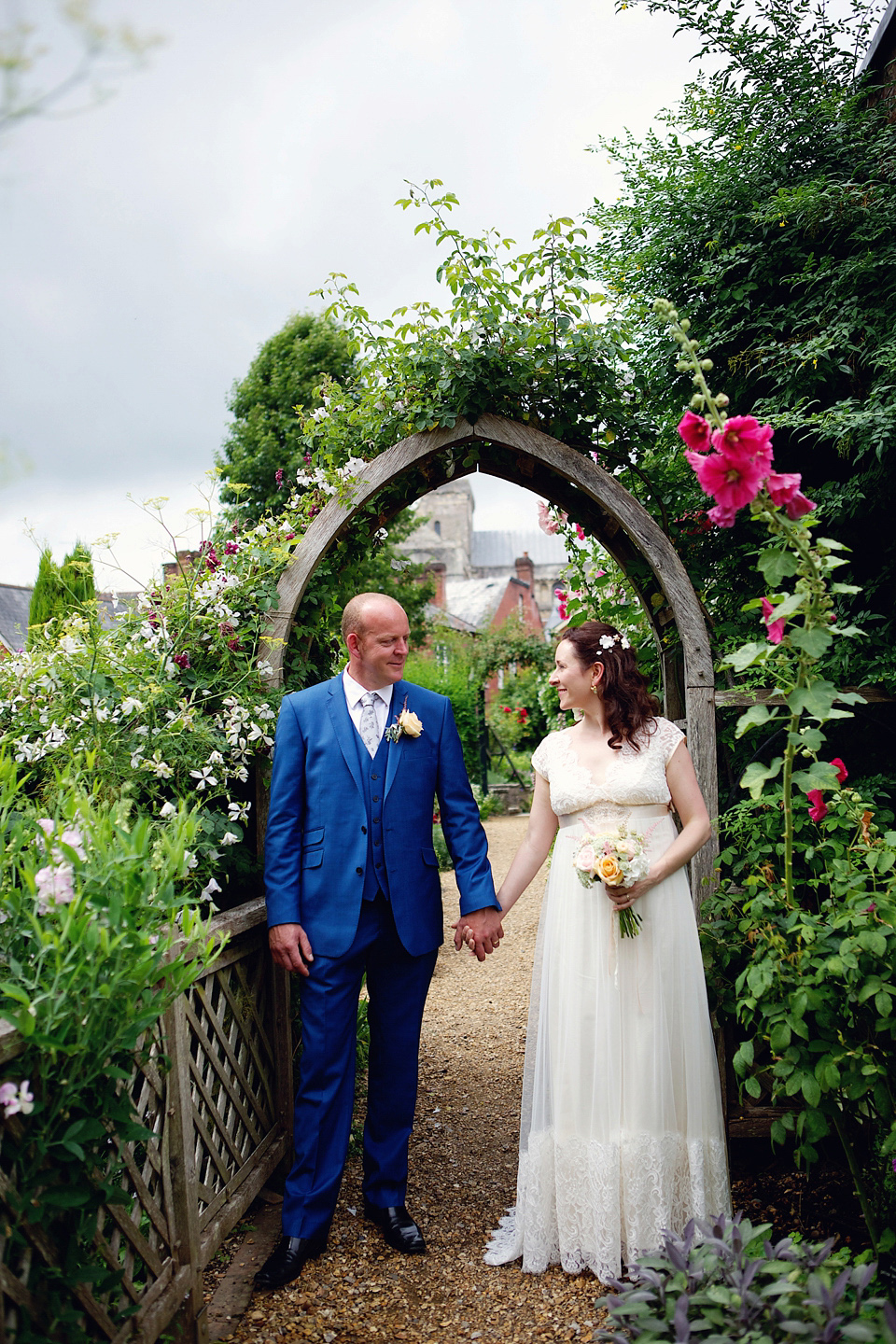 Bride Nelly wore Claire Pettibone a favourite designer of mine and one of our Little Book for Brides member's – which she purchased from Exquisite Bridal in Winchester. The lace dress is from the Romantique collection, these are truly romantic dresses with a bohemian twist, a must see for any bride to be.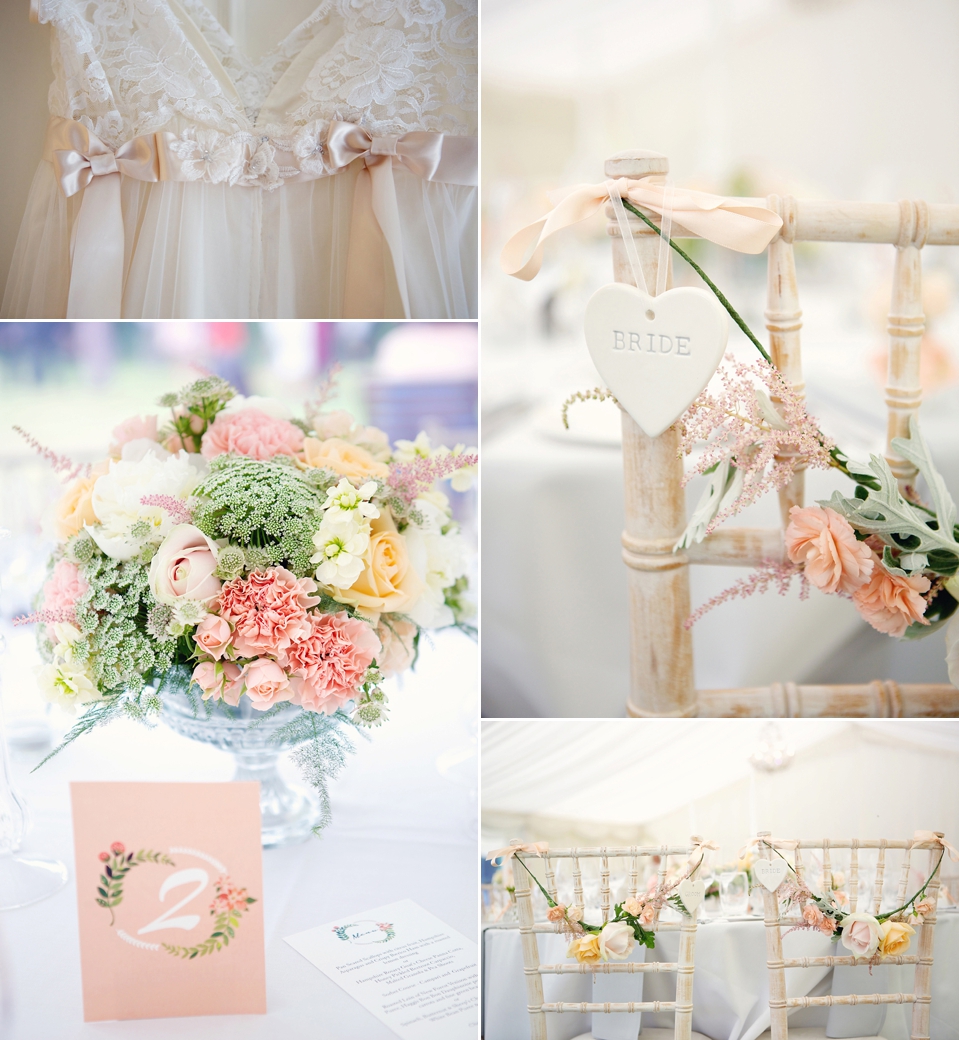 "I fell in love with this dress the minute I saw it on the hanger! I love Claire Pettibone's romantic style. The details of her dresses are so exquisite and dreamy. I loved the bows and ribbons and the instant feel of freedom that this dress gives you. I also loved the lace and veil fabric. It was love at first sight."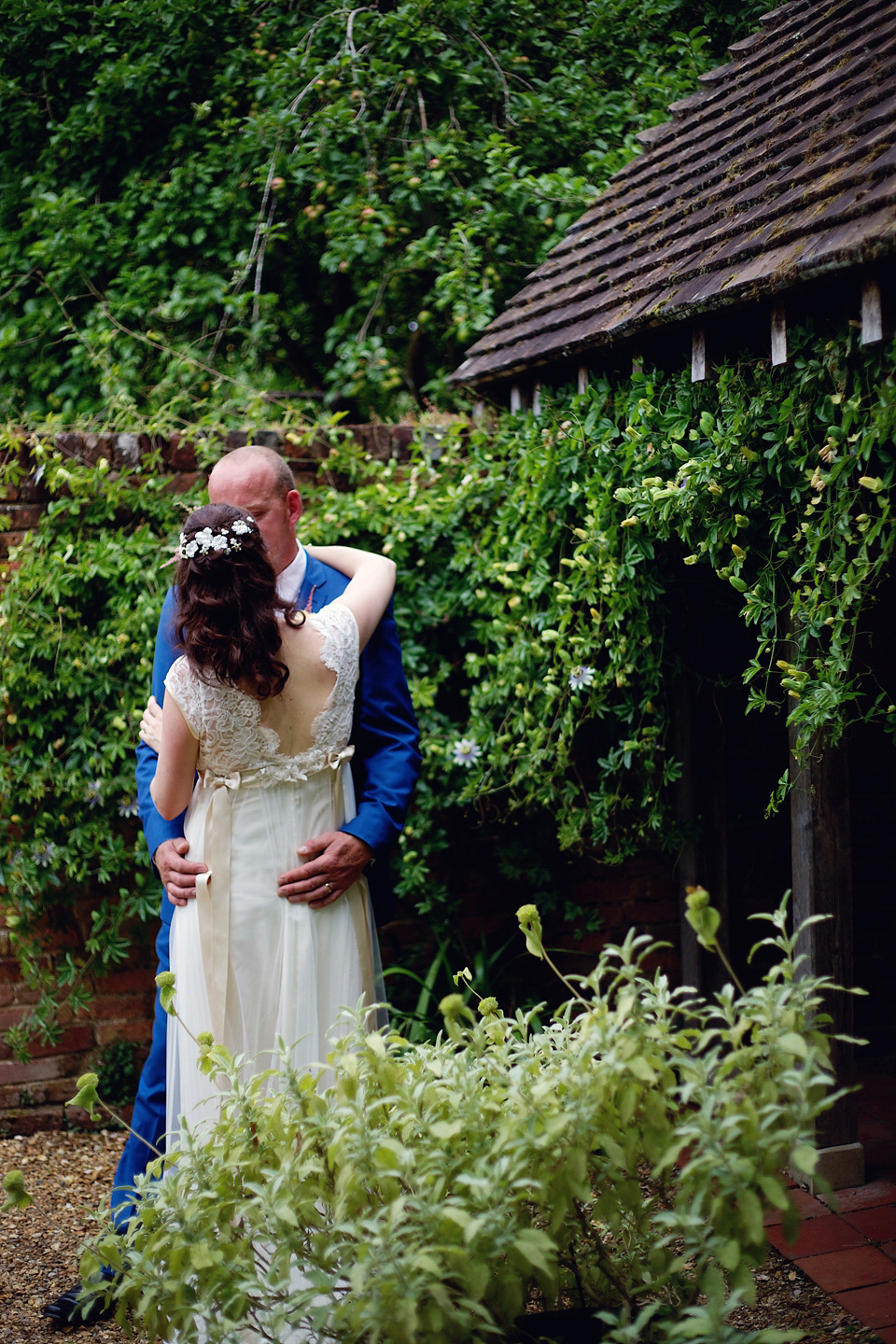 Influenced by her decision not to get married in a church, Nelly chose to wear silk and velvet flowers, from Exquisite Bridal, in her hair rather than a veil, beautiful jade earrings from Les Néréides, a pearl bracelet made by a family friend and Rachel Simpson's Minette shoes from Elegant Steps.
"I think this was one of my best purchases. Super comfortable and I loved the detail of the gold straps across, which looked very stylish but also reassured me that I was not going to lose a shoe half way down the aisle!"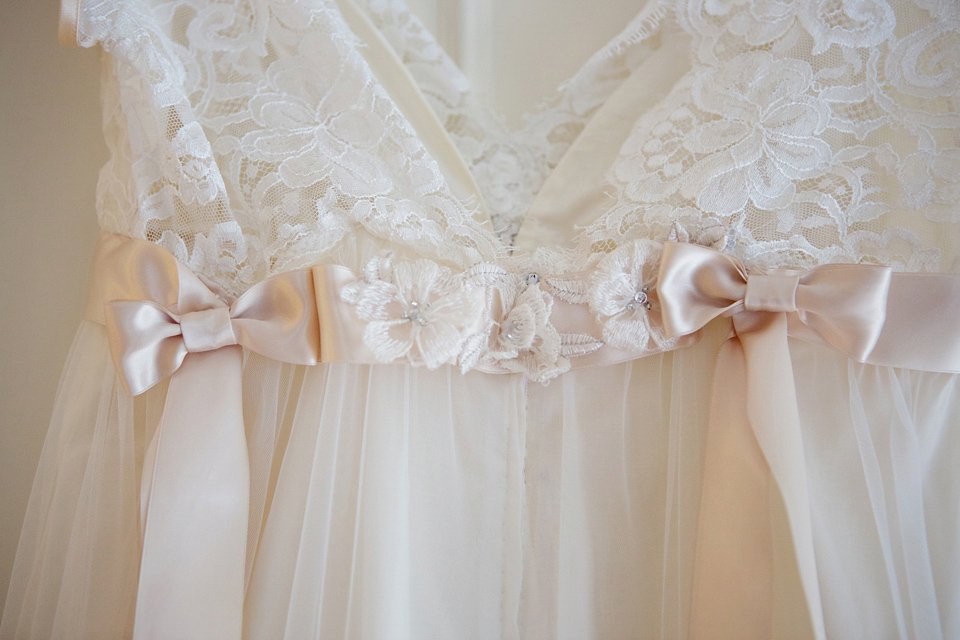 "I met Simon in a pub! We were introduced to each other by friends. At the time, I had only just arrived in the UK and although my English was good, I really struggle to understand him at first as he has the strongest Hampshire accent! His good looks must have made up for it and we soon became inseparable. He proposed on our 10 year anniversary.
In France, we rarely have adult bridesmaids, only flower girls and page boys but I love the English Bridesmaid tradition and really wanted Simon's nieces to be my bridesmaids!"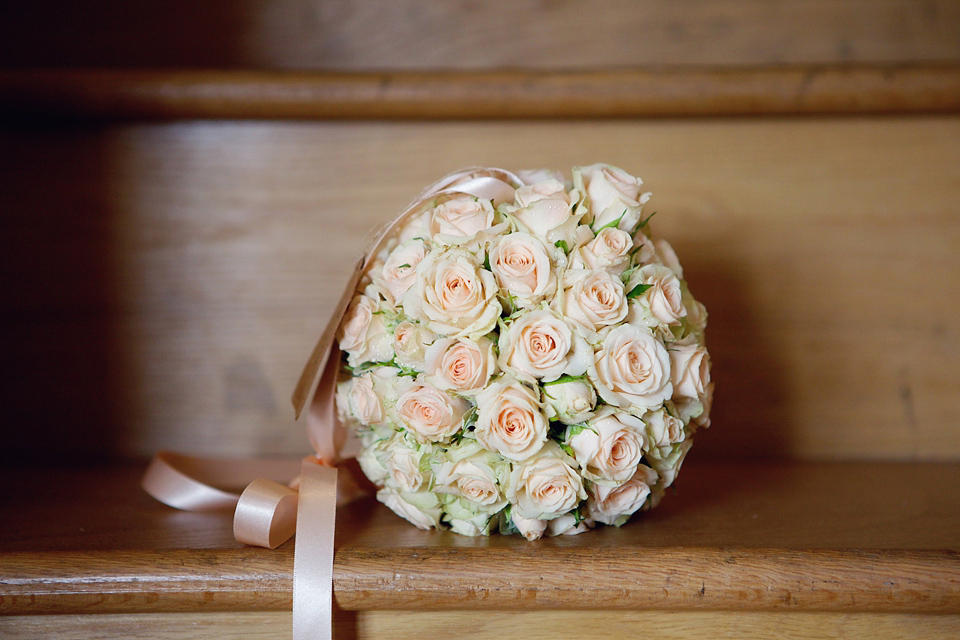 Nelly being French and Simon being British meant that the couple were able to create a truly unique day bringing together traditions from both sides of the Channel.
"Simon and I talked a lot about what was important to us individually before we made decisions. For me, having great food was extremely important. I am a keen cook and so is the rest of my family so I felt I had to deliver on that! Simon wanted to keep one of the most formal part of a British wedding reception, the speeches. In France, although we have a formal wedding reception, we do not have speeches. All our French guests loved it and although they were surprised by it, commented on how heartfelt and funny the speeches were."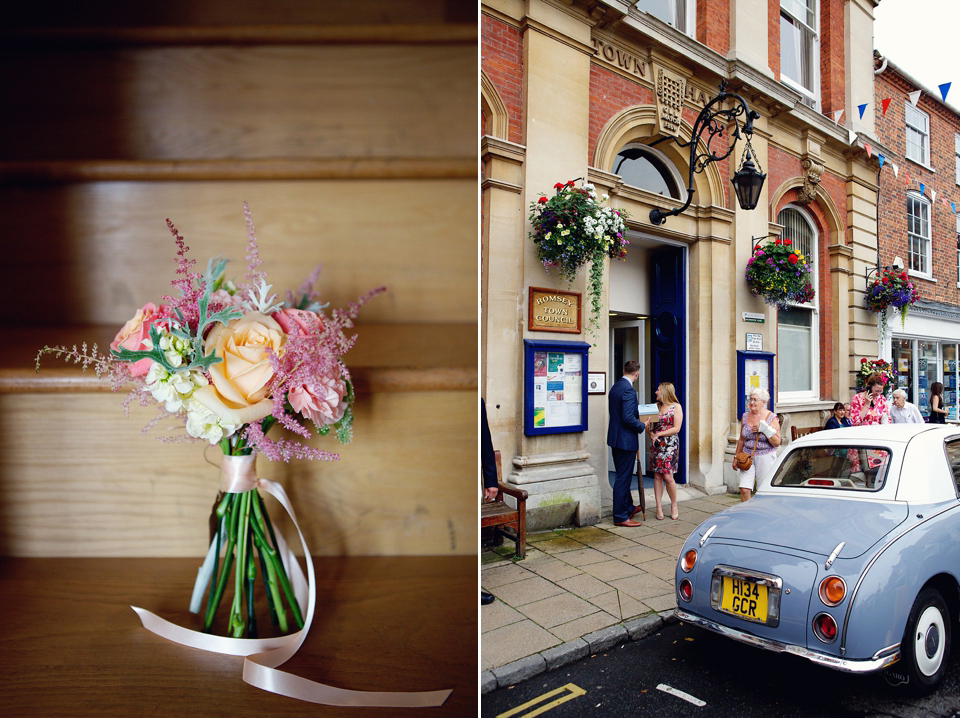 Nelly used her colours coral and grey as a starting point to find dresses suitable for the different ages. The flower girls wore silver sequin and lace dresses from BHS, bridesmaid Sophie wore a coral pleated dress from Monsoon and maid of honour Virginie chose her own dress a blue vintage Chloe style, all with silk flowers from Etsy in their hair.
The page boys looked so cute in their navy shorts from Monsoon, white short sleeved shirts and white Converse!
Groom Simon wore a Ben Sherman three piece suit in teal with little silver pig cufflinks, how cute?! While the groomsmen wore their own blue/navy suits and a silver grey pinstripe floral tie, to match Simon's.
"Simon was not keen on wearing black or navy because it was a Summer wedding but he looked a little bit washed out in lighter coloured suits so we opted for something a little bit different and teal ended up being the perfect colour for him. It was different yet elegant and suited his complexion beautifully."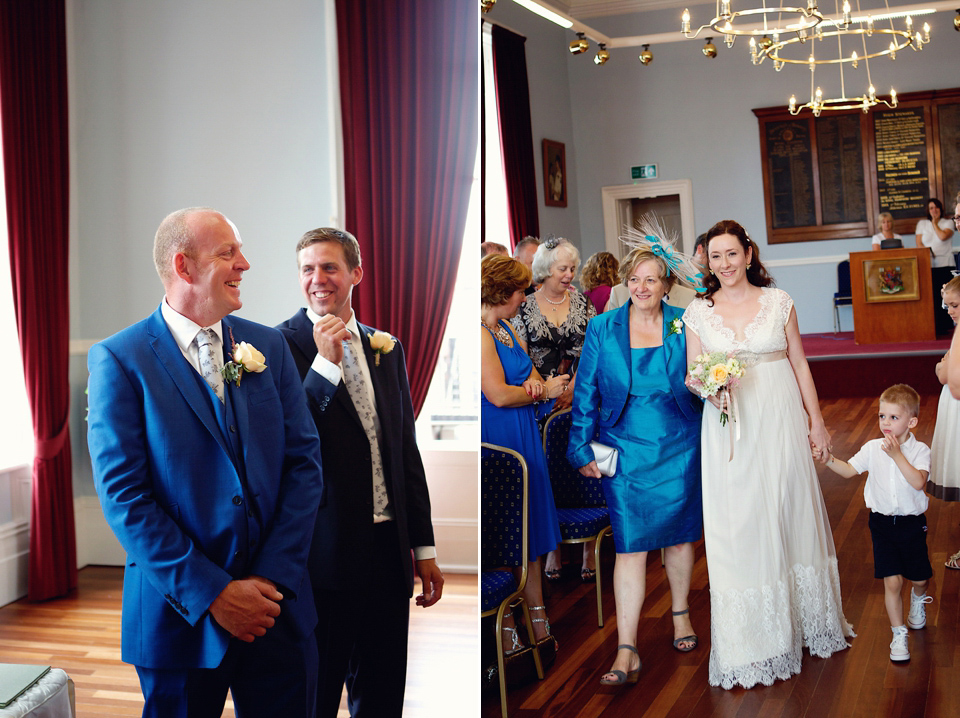 The nervous bride was given away by her Mum and was glad that she had chosen the shortest vows.
"Silly to say but I knew I would be absolutely petrified."
During the ceremony Nelly and Simon exchanged their 18 carat gold wedding bands, made for them by a family friend.
Nelly found photographer Lydia Stamps when searching for her beloved Claire Pettibone dress, she stumbled upon an image of Lydia's on Pinterest.
"One picture was enough to make me want to see more of her work and I had a really good feeling about her. I love her effortless, relaxed style. She always seemed to bring the best out of her couples."
Now I spotted the little Nissan Figaro in the photos immediately, I love these cars in their pastel hues and this blue grey colour is my absolute favourite, I desperately wanted to go to my wedding in one! How lucky Nelly is that she could use hers.
"I walked from my hotel to the town hall as it was only a few steps away and we then left the ceremony in my car, a little Nissan Figaro. I have had this car for ages and had always been hoping I could use it on my wedding day."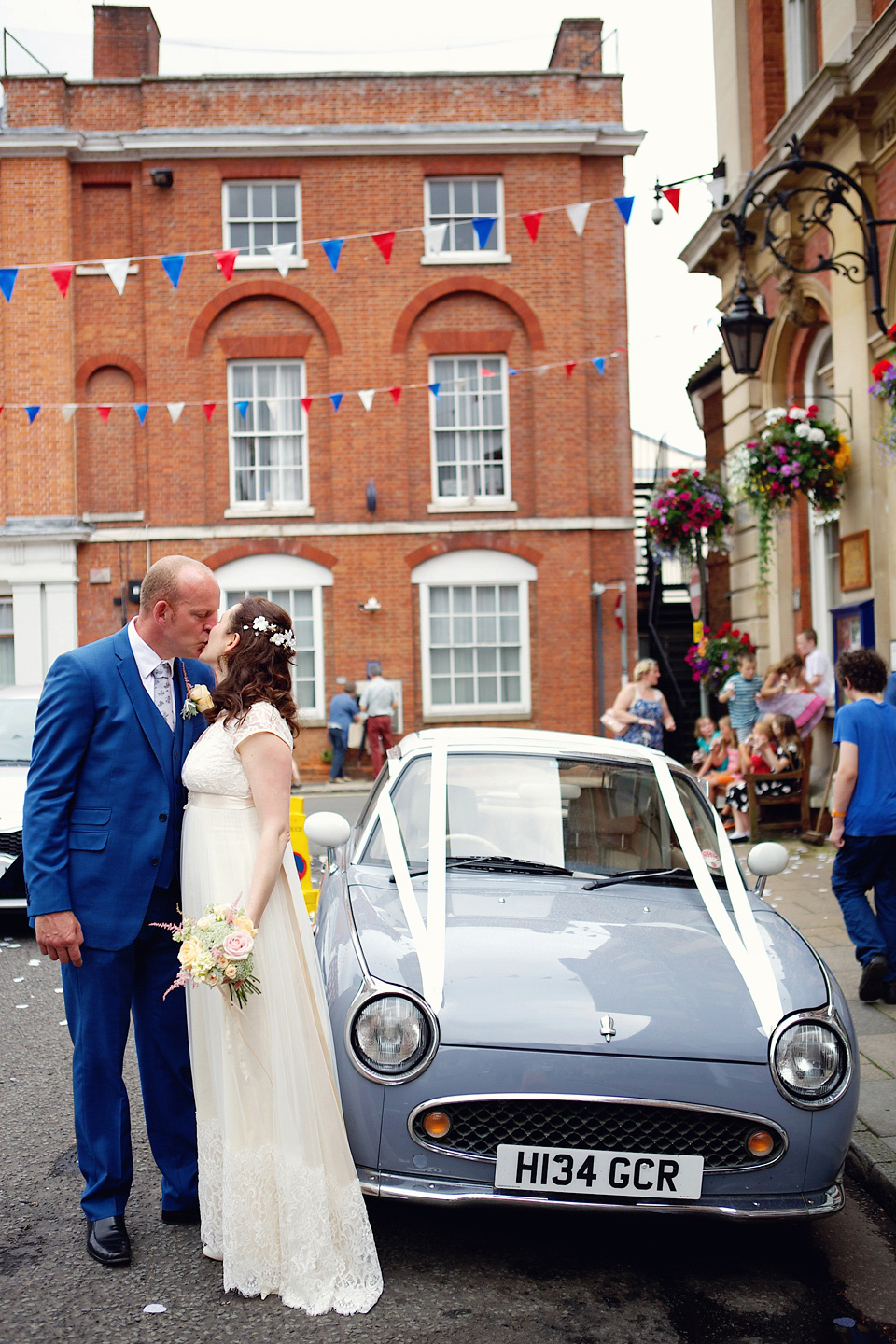 With the help of a local printer, Nelly designed the invitations herself taking inspiration from blogs and Pinterest, whilst Simon built the wooden table plan and bar. The artwork and calligraphy on the table plan are just lovely and impressive.
A girl after my own heart, Nelly loves florals and used Elizabeth Salters Events Styling and Floristry to create her floral fantasies with as little green as possible but plenty of hydrangea and those lovely peach/coral hues.
"This is one of the thing I had the most fun with and was for me without a doubt the best part of the wedding prep. Libby's style is natural, whimsical and stylish and she happens to be married to the best flower wholesaler in the land, so I was able to see each individual flower before the final decisions were made."
"I felt like I was able to put a lot of my personality and style in the arrangements and Libby was there every step of the way with great suggestions and advise."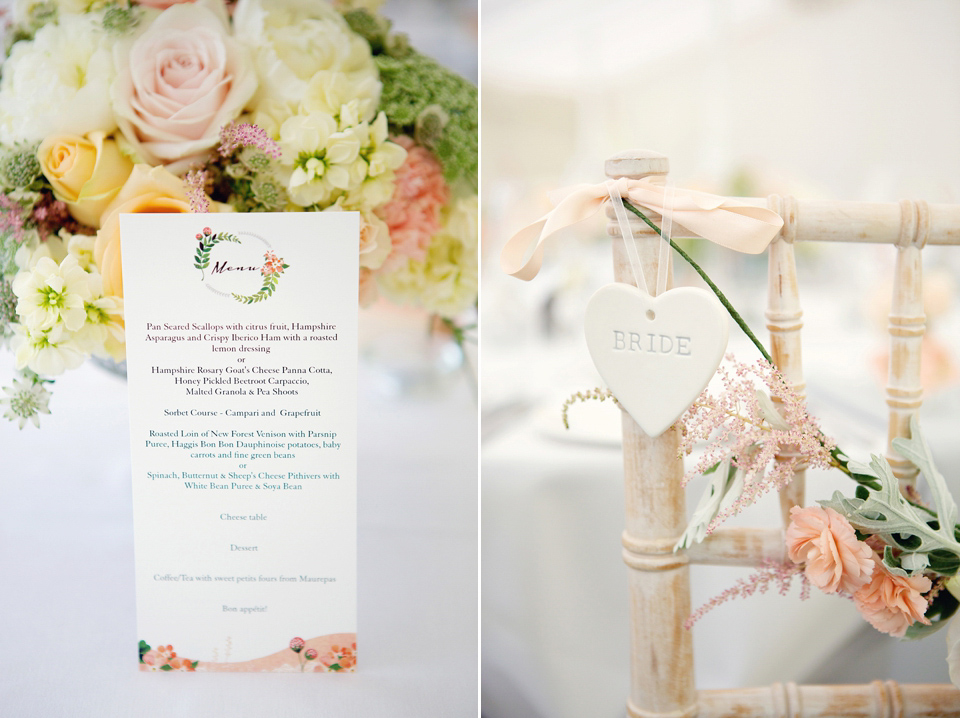 The newlyweds gifted their guests the most beautiful little favours fluted bud vase's with a peach rose for the ladies sourced from Etsy and Dragées boxes from France for the men. These look so pretty on the tables too.
The evening guests were not going to miss out either as for the evening buffet, Nelly's mum and brother brought even more food over from France.
Nelly and Simon carefully chose a selection of divine looking French and English cheeses followed by a Croquenbouche. Oh my goodness those little birds perched on the base, are just the cutest.
"There was enough food to feed our 100 guests for a week! Cheese, ham and pates, crunchy baguette, fresh salads and petits fours for desert."
"I could not imagine my wedding without a traditional French 'Pièce Montée' or Croquenbouche as it is called in England. This is what I dreamed of as a little girl and was top of my list of things to have at our wedding. I searched high and low until I found a true specialist, the Papillon Patisserie. And because I wanted to incorporate some English tradition as well, I also ordered a traditional iced cake to use as a base to the Piece Montee. Best of both worlds!
 The piece montee was served with English strawberries and cream for dessert. The plan was to cut the iced cake out and gave it to the guests but we completely forgot! Luckily, we had a lot of friends and family around the next day and shared it with them. We froze the rest of the cake and enjoyed it throughout our first year as Mr and Mrs!"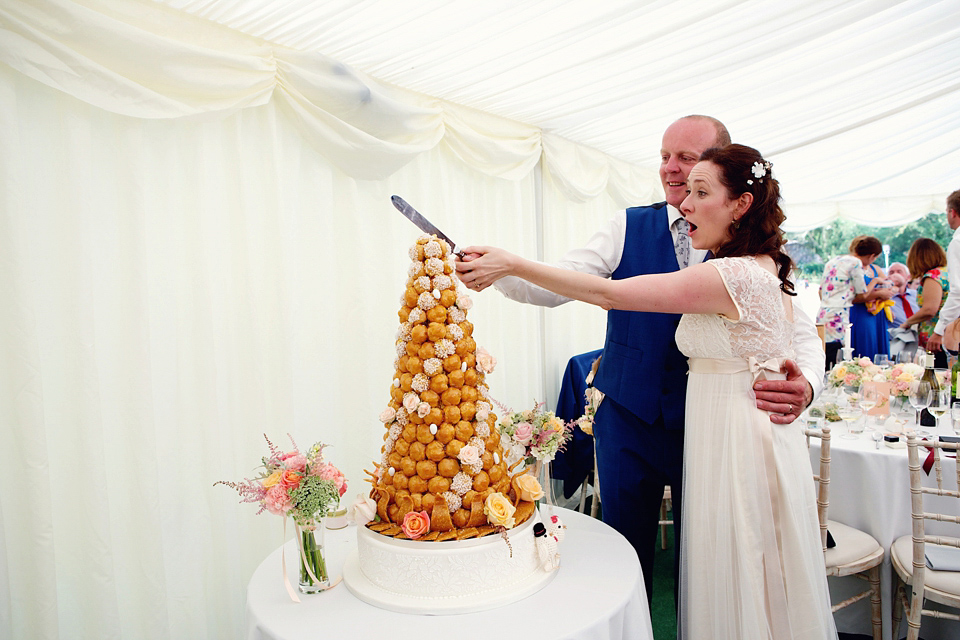 Words of Wedded Wisdom
For the newlyweds their favourite thing about the day was being able to see everybody enjoying themselves and to welcome them at their home.
Like so many couples on their big day, there is usually a hiccup along the way but the important thing is to not let this phase you, it will still be the best day of your life!
"We had a bit of a disaster the night before the wedding. We had a nice meal booked in at the hotel I was staying at and planned a relaxed evening with our closest family and friends but some of our guests broke down on the motorway on their way to us and although they had road assistance, their boot was full of the evening buffet food we needed for the next day so we had to go and rescue them! By the time we finished and drove the guests to their hotel, it was past midnight! I think I fell asleep at about 2am… The make up artist did have her work cut out to make me look half decent the next morning! If we had to do it all again, I would try and organise things differently so we could have a stress free evening before the wedding.
Remember what really matters to YOU and that you are not going to please everybody. Learn how to say 'no' without feeling a ton of guilt. Have fun and step away from the computer/Pinterest sometimes!
It can be difficult to find reliable/professional suppliers unless they have been recommended by friends and family. Check regional wedding supplier awards. If a hundred people think a supplier is brilliant, chances are, they will do a very good job for you. Continue to read wedding blogs to help you get over the post wedding blues!"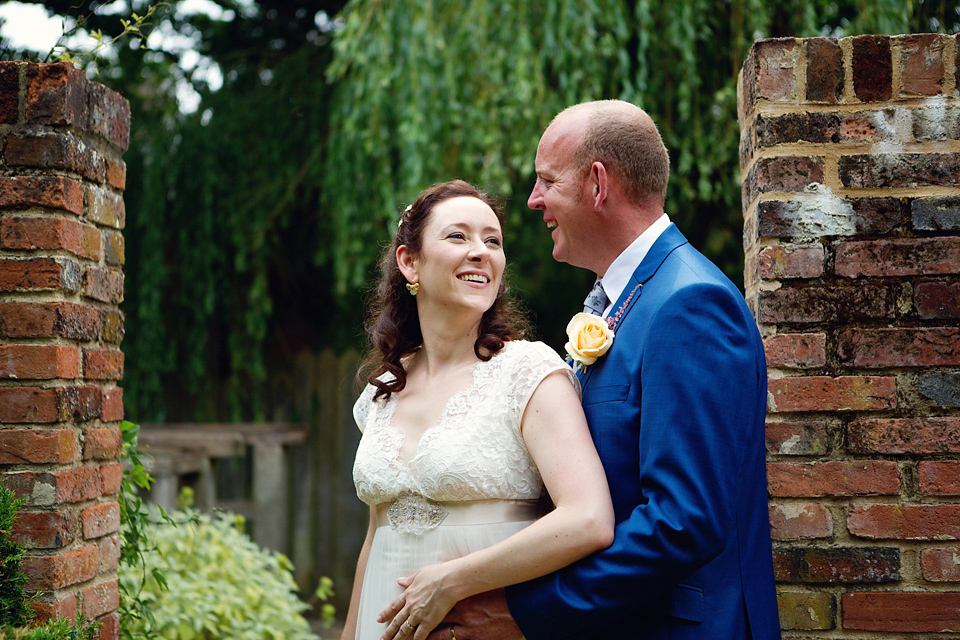 Well I certainly agree with Nelly, what better way to get over the post wedding blues than with Love My Dress! Thank you so much to Nelly and Simon for sharing the details of your day and Lydia for your delightful images.
If you are looking to inject some French style into your day, then take a look at these posts.
Bianca x
Photographer – Lydia Stamps
Ceremony Venue – Town Hall
Reception Venue – Groom's Granddad's Farm
Marquee – Quality Marquee Hire
Wedding Dress – Claire Pettibone from Exquisite Bridal
Shoes – Rachel Simpson from Elegant Steps
Groom – Ben Sherman
Bridesmaids – Monsoon dress and silk flowers from Etsy
Flowergirls – BHS
Pageboys – Shorts from Monsoon
Florist – Elizabeth Salters Events Styling and Floristry [email protected]
Cake – Papillon Patisserie
Entertainment – The Groove
Catering – Vanilla
Stationery – Bride
Makeup Artist – Katie Reid