Hello, here we are in the middle of the week already! Isn't it lovely that the evenings are finally feeling longer again, despite that persistent cold weather. Today's couple, Zoe and Sam got married on the 27th of June last year, with the bride wearing a gorgeous David Fielden gown, in a barn facing the stunning gardens of their venue, Dewsall Court in Herefordshire. Their wedding is joyful and full of laughter, all of which is captured beautifully by photographer David Jenkins.
"Dewsall Court was an absolute find. I grew up in Cardiff so it was close enough to my Welsh roots, and not inaccessible for guests from London. It really is such a beautiful English country garden venue. We went for greens and whites, keeping the colours and flowers simple. The really impressive piece of flower arranging was the arch through which we got married."
Photography by David Jenkins Photography
"With guests travelling a long way for the wedding, it was really important for us to have a base for the whole weekend. Somewhere that welcomed us from Friday lunchtime and didn't rush us out until Monday lunchtime. Dewsall was perfect for this and accommodated us magnificently."
Zoe looked around various places in London before she landed on this beautiful David Fielden gown at Angelica Bridal which fit her brief exactly. She accessorised with vintage gold jewellery from family and wore her hair swept to one side.

The couple chose David Jenkins to capture the beauty of their day. The images capture so much emotion between both the bride and groom and their guests and his reportage style perfectly fit with a bride determined not to have a lens in her face throughout.
"David Jenkins was wonderful. He was a recommendation from a colleague and an absolute delight. A hugely likeable character, we got on with him from the start. The results are also a fantastic representation of his style with so many captured moments beyond the traditional wedding shots you might expect.
We both work in the creative industries with one of Sam's roles being to recommend photographers to clients so we must've been tough clients. David was an absolute pleasure to work with and we are really happy with the results. We have and will continue to recommend him to friends and family."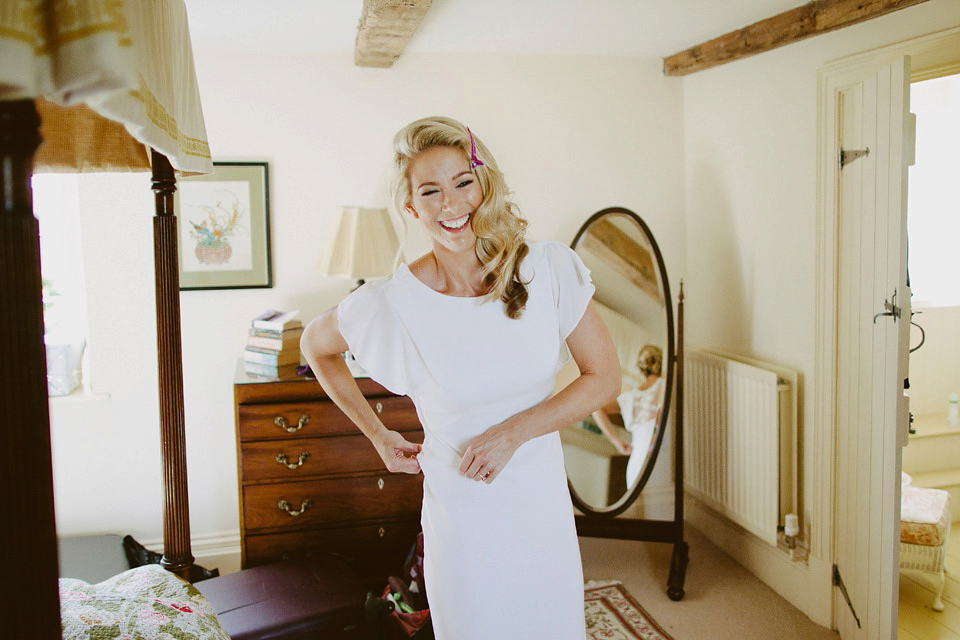 "Caroline Ede did a wonderful job with the flowers. Gypsophila and green leaves hang from the ceiling and the bouquets of fresh white flowers with greenery and gypsophila are divine, as is that amazing floral arch."
"We had an informal civil service that was incredibly personal and heartfelt. A friend read a poem she had written, the groom's sister a piece from Dr. Seuss, and the groom's cousin sang a Shirley Bassey number. During the service we also had harpist Jemima Philipps playing modern songs."
"Reflecting the British summer theme Sam went with a bright, petrol blue suit, made to measure from Timothy Everest. It's 100% wool but wasn't too hot for the time of year and the texture of the fabric shone in the sunlight. We also got the groom and best men's ties at Timothy Everest and the usher's ties were a TM Lewin job."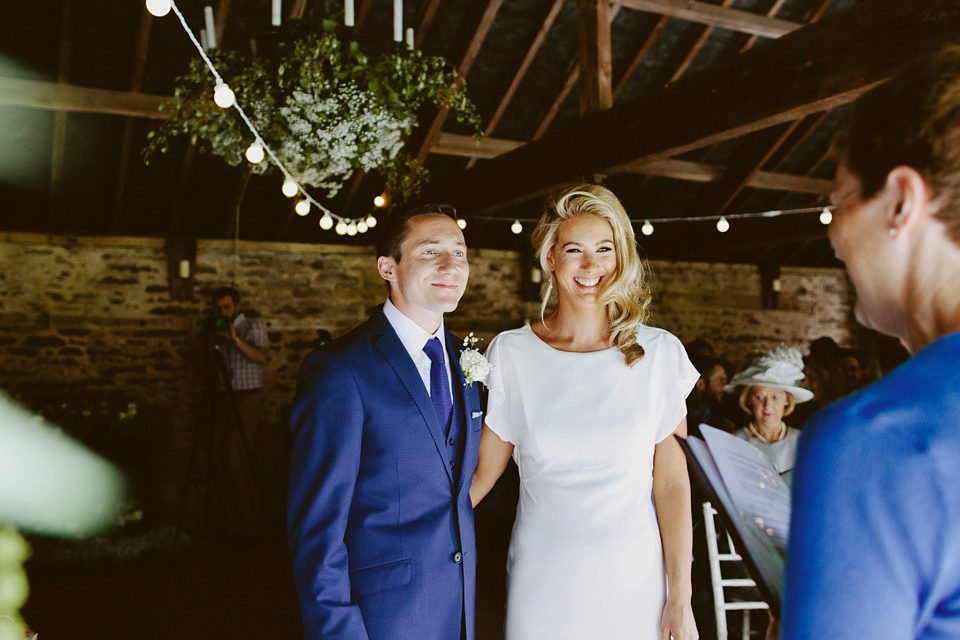 "My dress is simple and elegant, with a beautiful embroidered back, more akin to a modern evening gown. From the outset I knew that a puffy, more formal or traditional gown would be my nightmare and the finished product is an indication of this."
"In fact informality was a theme that influenced the whole weekend – I also got two great trouser suits for the days before and after the wedding. My Dune party shoes were deliberately bought to use again."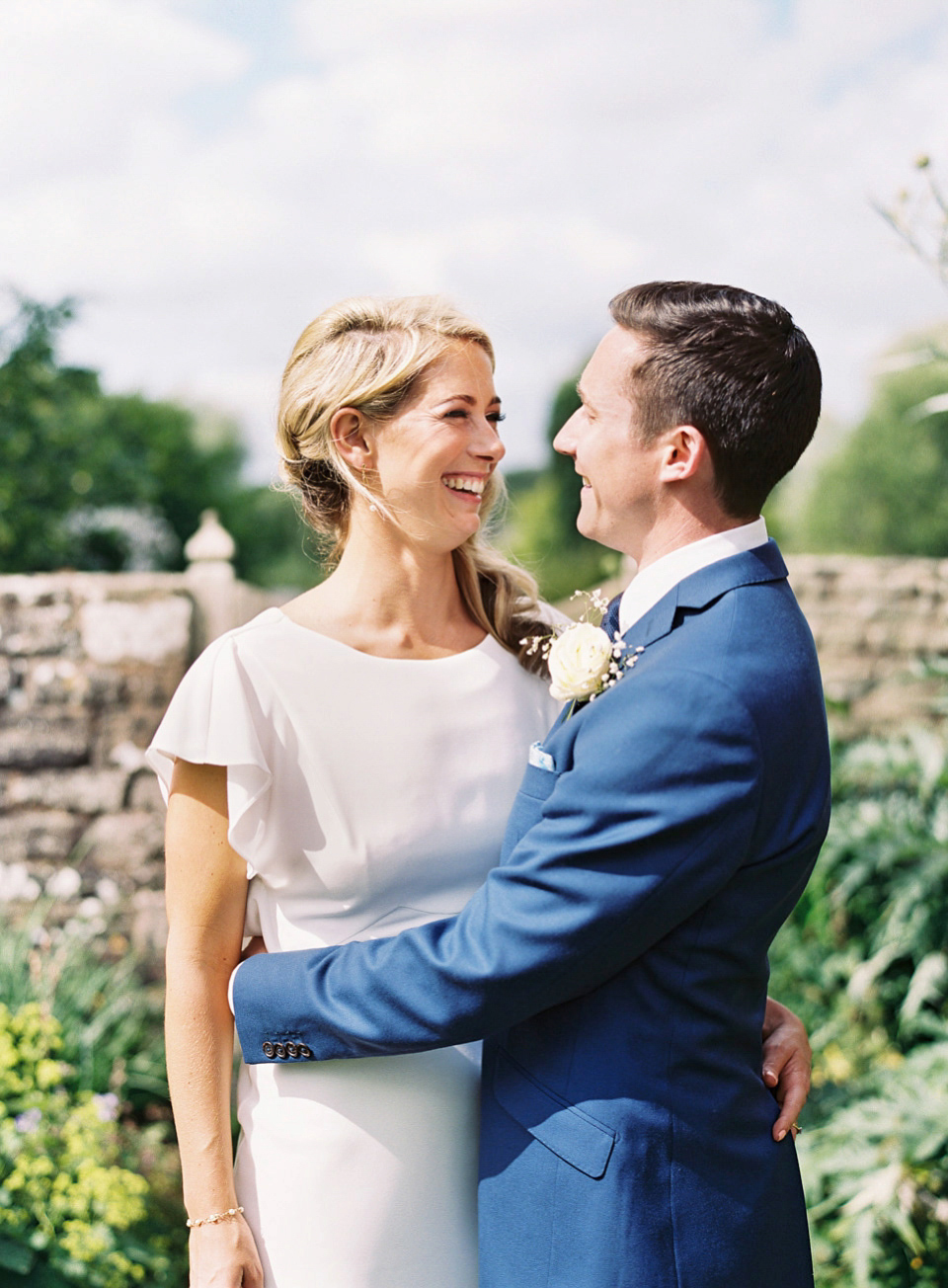 Zoe's bridesmaid wore an elegant maxi dress with lace detailing and her short hair secured with a band of gypsophila.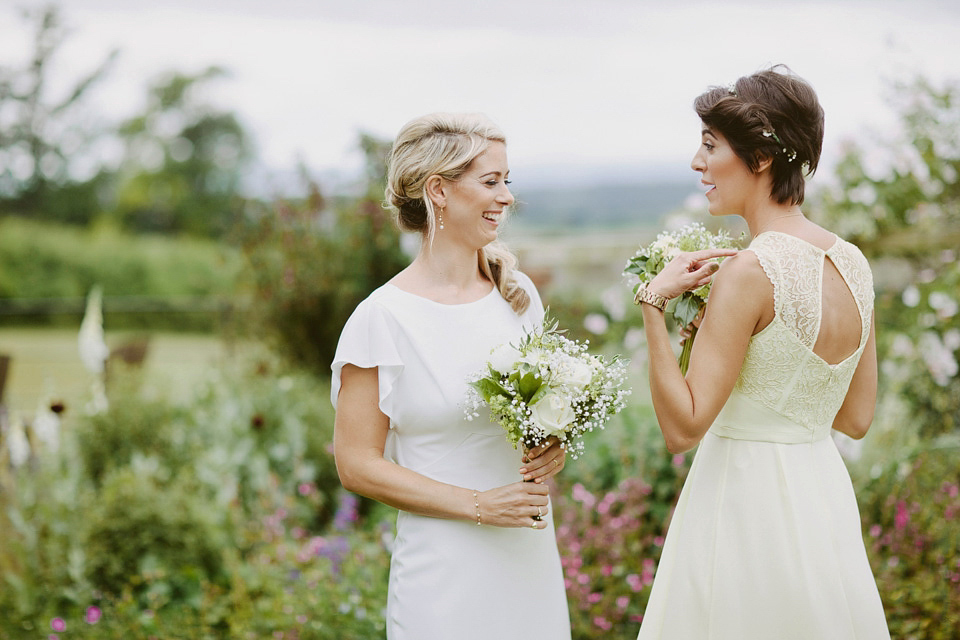 The London Brass All Stars played during the drinks reception, then led the guests down to the barn for dinner. Such a lovely touch for the guests and makes for some great photos too.
"Tokyo Band were excellent to get the party started and James Hunt's jazz ensemble on the Sunday was also incredible."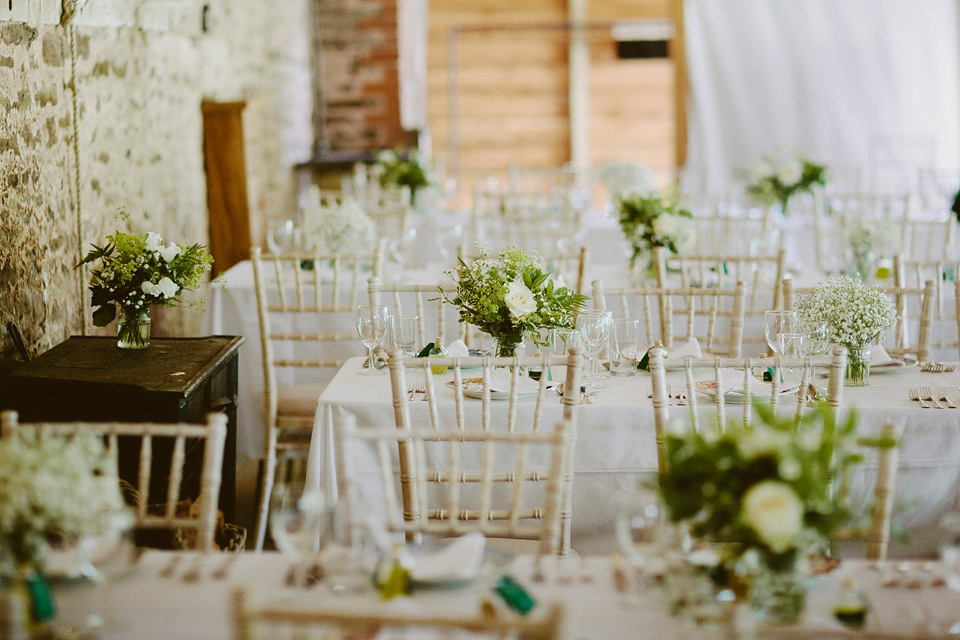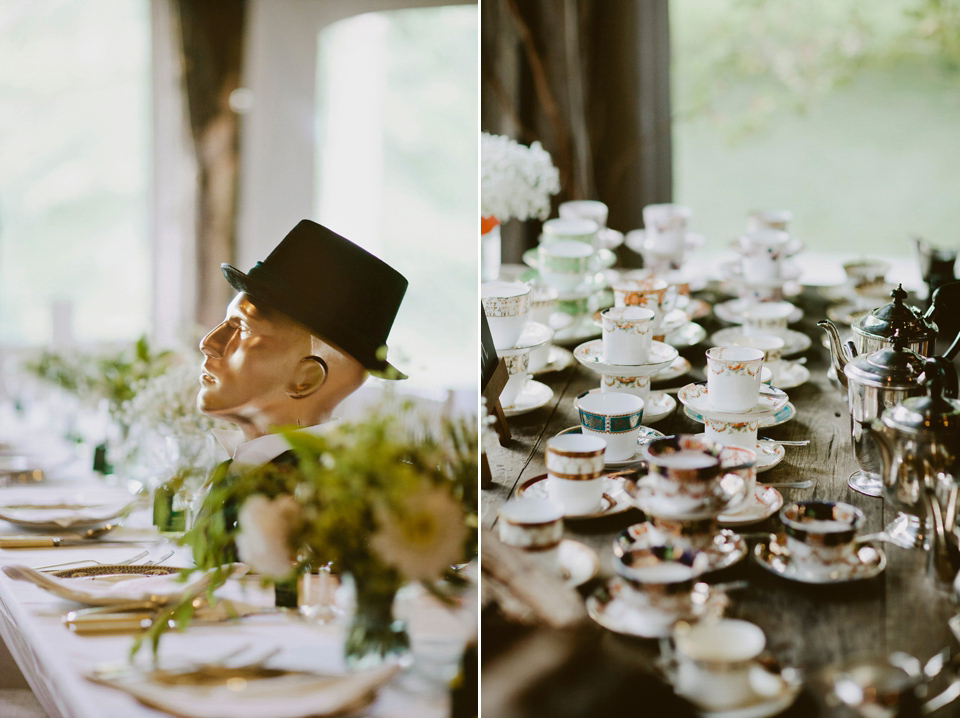 The centrepieces of fabulous vintage props such as an old telephone and gold mannequin heads add intrigue to each long table. The rest of the table decorations were kept simple with small arrangements of flowers mirroring the bouquets and sprigs of gypsophila in jam jars.
"The kitchen was on hand to cater as we wished, or more than happy to take a back seat when we wanted to call the shots ourselves. When we turned up with an armada of booze, Sadie sorted us out from start to finish and was the perfect support. Creative with her suggestions, totally professional through all of our planning meetings and absolutely stoic throughout a bit of a marathon weekend. The catering was also seriously impressive, closer to fine dining. Every meal was a chance to once again be impressed right up to the last, a full English on Monday to send the wedding party on their way."
Thank very much to newlyweds Zoe and Sam for sharing your beautiful wedding day with us. Huge thanks also to the wonderful David Jenkins Photography for the stunning images. If you haven't quite had enough, we have featured more of David's work on these very pages.
Love Caoimhe xx
Photographer – David Jenkins Photography
Venue – Dewsall Court, Herefordshire
Wedding Dress – David Fielden from Angelica Bridal
Shoes – Dune
Groom – Timothy Everest Suit + Grenson Brogues
Florist – Caroline Ede
Entertainment – Jemima Philipps + London Brass All Stars + Tokyo Band
Stationery – The Letter Press of Cirencester