Good morning troops! I am a little excited as I can feel Autumn in the air over here in Australia and changes of season always make me feel reborn. It's been a very hot and humid Summer here, so I'm quite looking forward to layering up on crisp days, watching the trees change colour, and being able to sleep again at night without having mini-meltdowns and declaring at 3am to hubby "can we please move to Iceland?!" But I'll let you in on a little secret – I actually really do love the summertime, with its beautiful balmy evenings and the outdoor lifestyle it promotes and that I am so lucky to have. Let's turn back the clocks now to last year as we hear all about our lovely couple's Summer nuptials in the country.
Our bride and groom, Donna and Sam, tied the knot on 27th June 2015 in Donna's childhood village of Holme in Cambridgeshire, as the couple was keen for a countryside setting.
"We really wanted an informal wedding with no restrictions on numbers, but still wanted a reasonably traditional church wedding. Having both grown up in the country, we knew we wanted a rural setting. My childhood village ticked both the traditional and rural box perfectly!"
Photography by Natalie J Weddings Photography
Donna's spectacular House of Mooshki dress suits her perfectly, with its exquisite lace and lovely bow at the back, and the addition of a Daphne Rosa birdcage veil and earrings gifted by her parents result in a beautiful beaming bride.
"We met at work and soon realised we both lived in Cambridge, so got to know each other outside of work as well. We were engaged on the August Bank Holiday in 2014 on a weekend away in a yurt. Sam got down on one knee – the whole works! We didn't want a long engagement, so we wed 10 months later."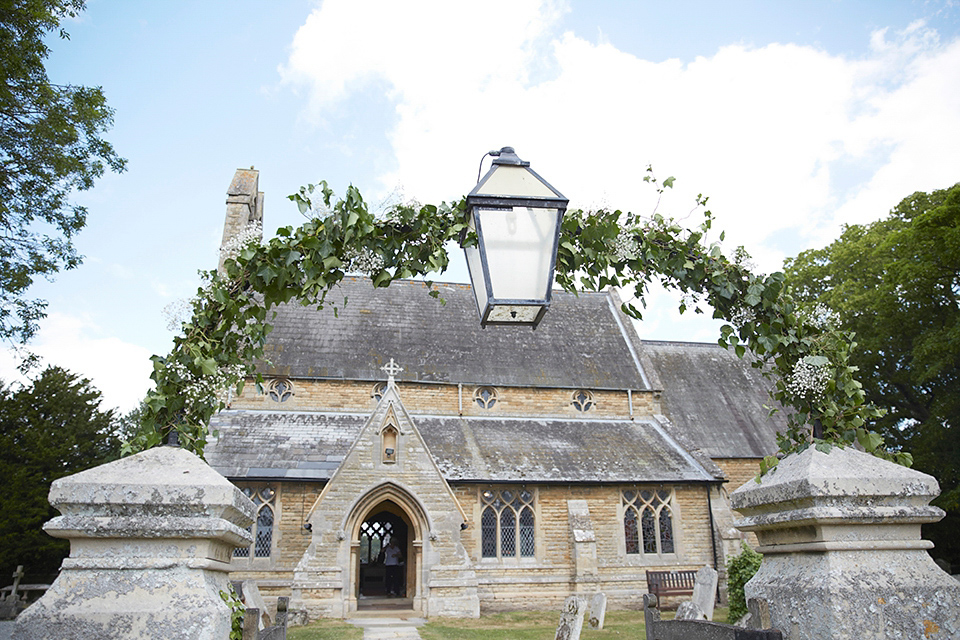 "I really wanted a shorter, less traditional dress and had seen that Rock the Frock Bridal Boutique had a lot of these style of dresses. The dress I tried on first was my favourite one from the website and I absolutely loved it. I then tried on about 5 different ones after that, just to make sure. I loved how good it was to spin in when dancing, which I did a lot of at the wedding!"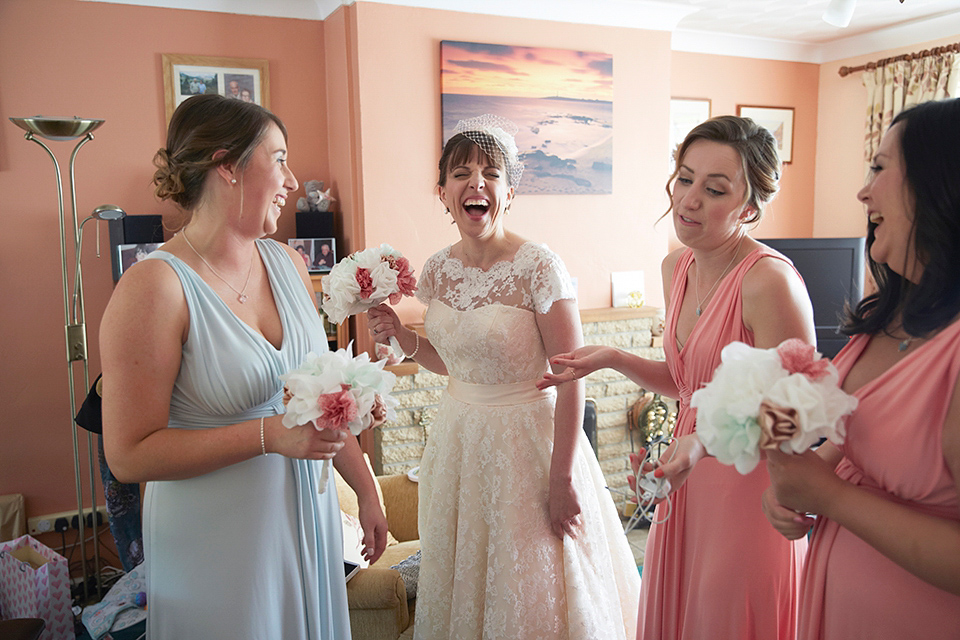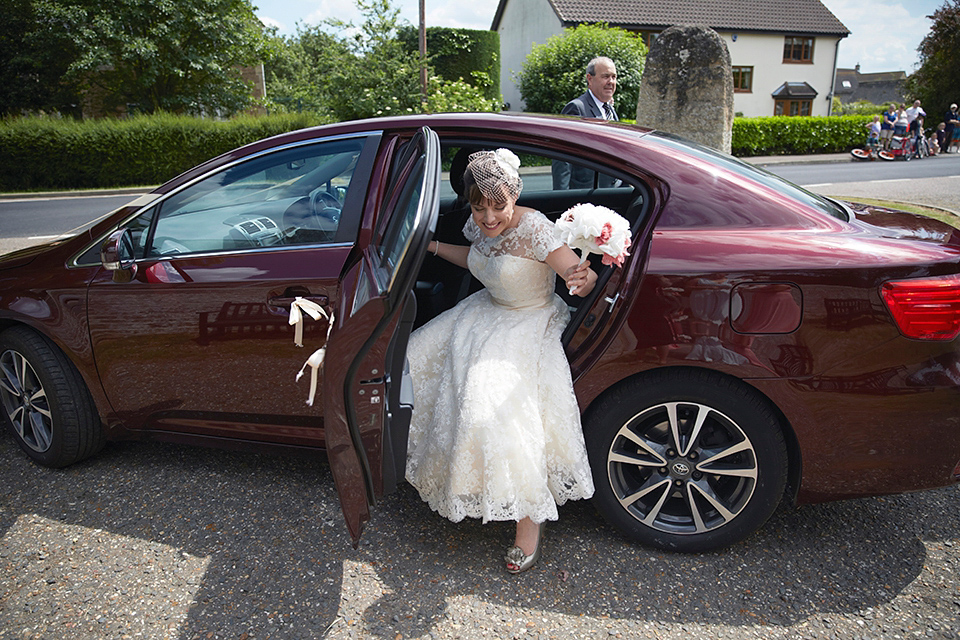 The couple decided upon using a mix of real flowers (in the church and marquee) and fabric flowers from Daphne Rosa (for the bouquets and buttonholes). 
"For the real flowers – Sam's Mum arranged all the real flowers. We chose coral roses with eucalyptus (which smelled amazing) and then gypsophila in the lanterns. We didn't want a big mix of flowers, so kept it simple and they looked fantastic.
One of my bridesmaids makes fabric flowers and we really liked the thought of having bouquets that would last forever. We spent an afternoon in Kate's studio picking the fabrics we wanted. It turned out Sam was the fussy one, even though before going he said he didn't mind what we went with! The fabric flowers all looked amazing on the day."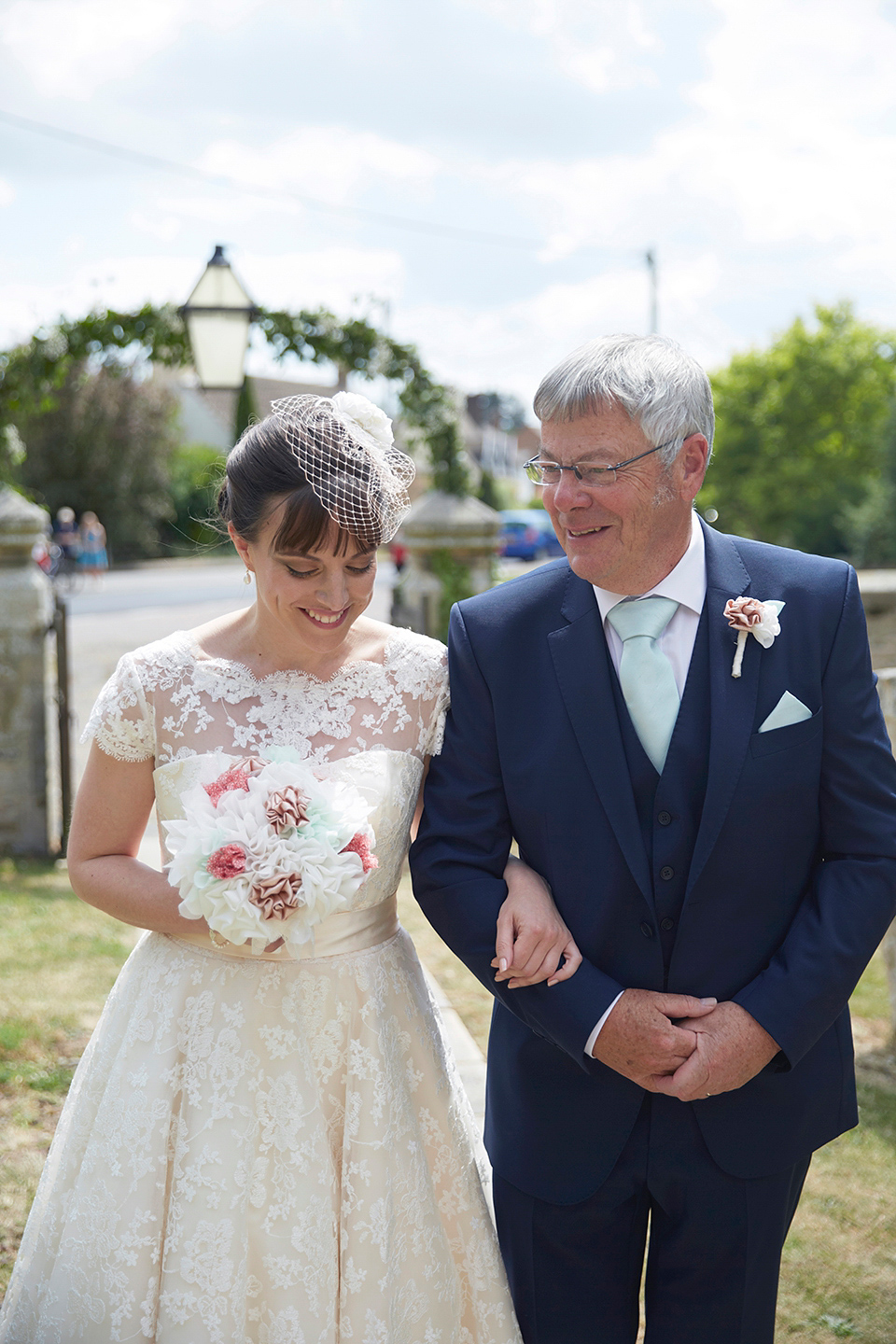 The couple married in the local church, then walked from the church to the reception through a meadow – how utterly wonderful!
"My dad walked me down the aisle at the church to 'The Prince of Denmark's March' by Jeremiah Clarke. We had traditional wedding vows and Sam's aunt read Corinthians 13. Then two of my friends read a poem they had written, which we didn't hear until the day. "Sam – what a man..!" was a line that made us and the congregation laugh!
"We both chose plain gold bands from Hatton Garden. My engagement ring belonged to Sam's grandmother, so I was keen for a plain gold band to go with it."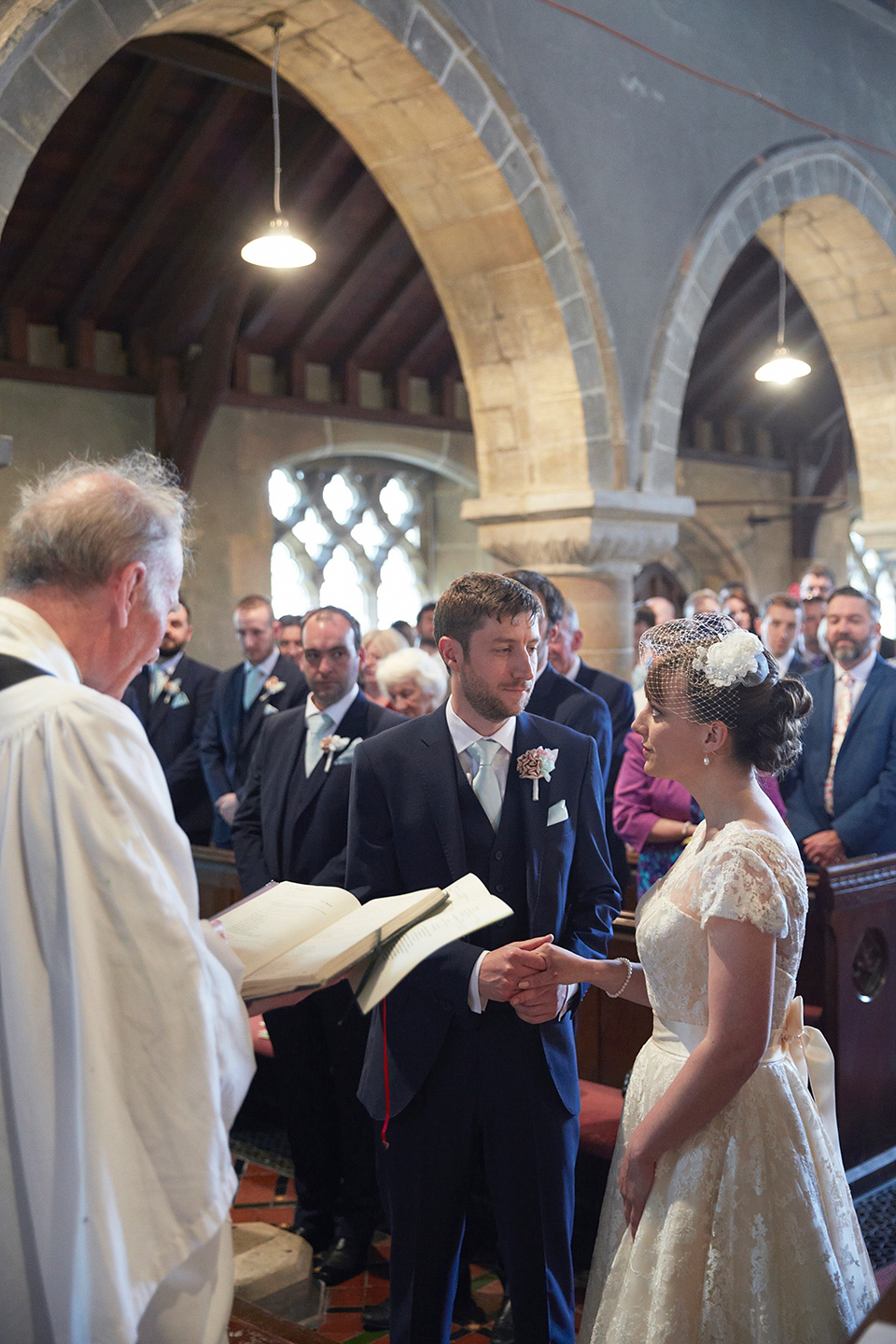 "Our favourite part of our day was seeing all of our family and friends in one place celebrating with us out in the sunshine. The walk from the church to the reception across the grass meadow was amazing."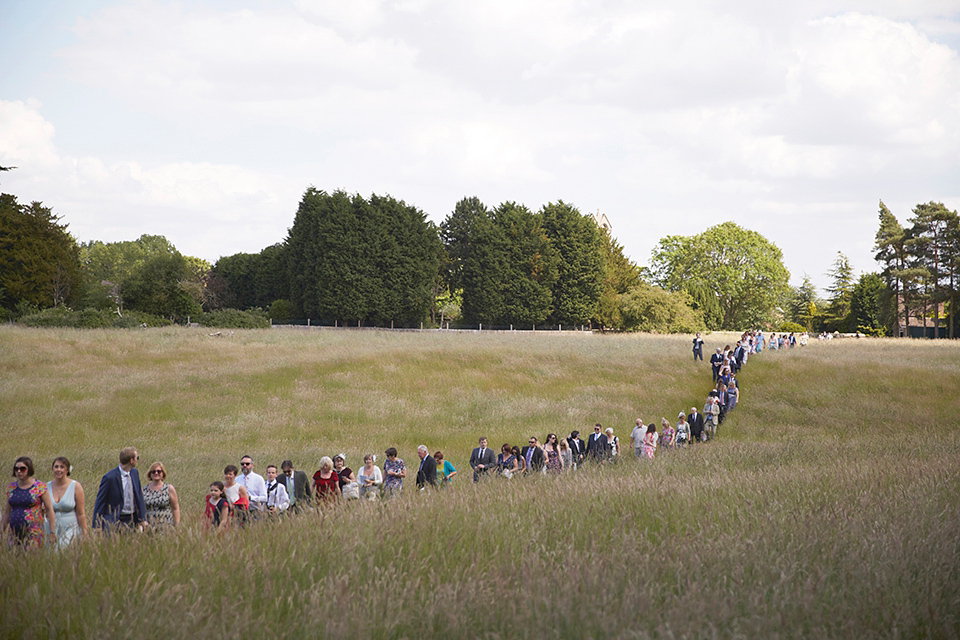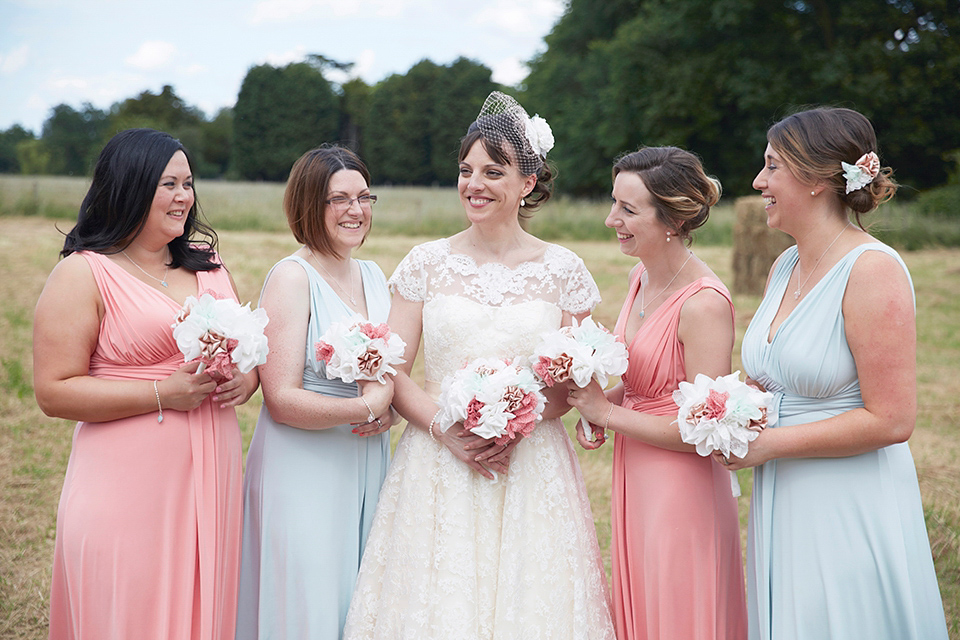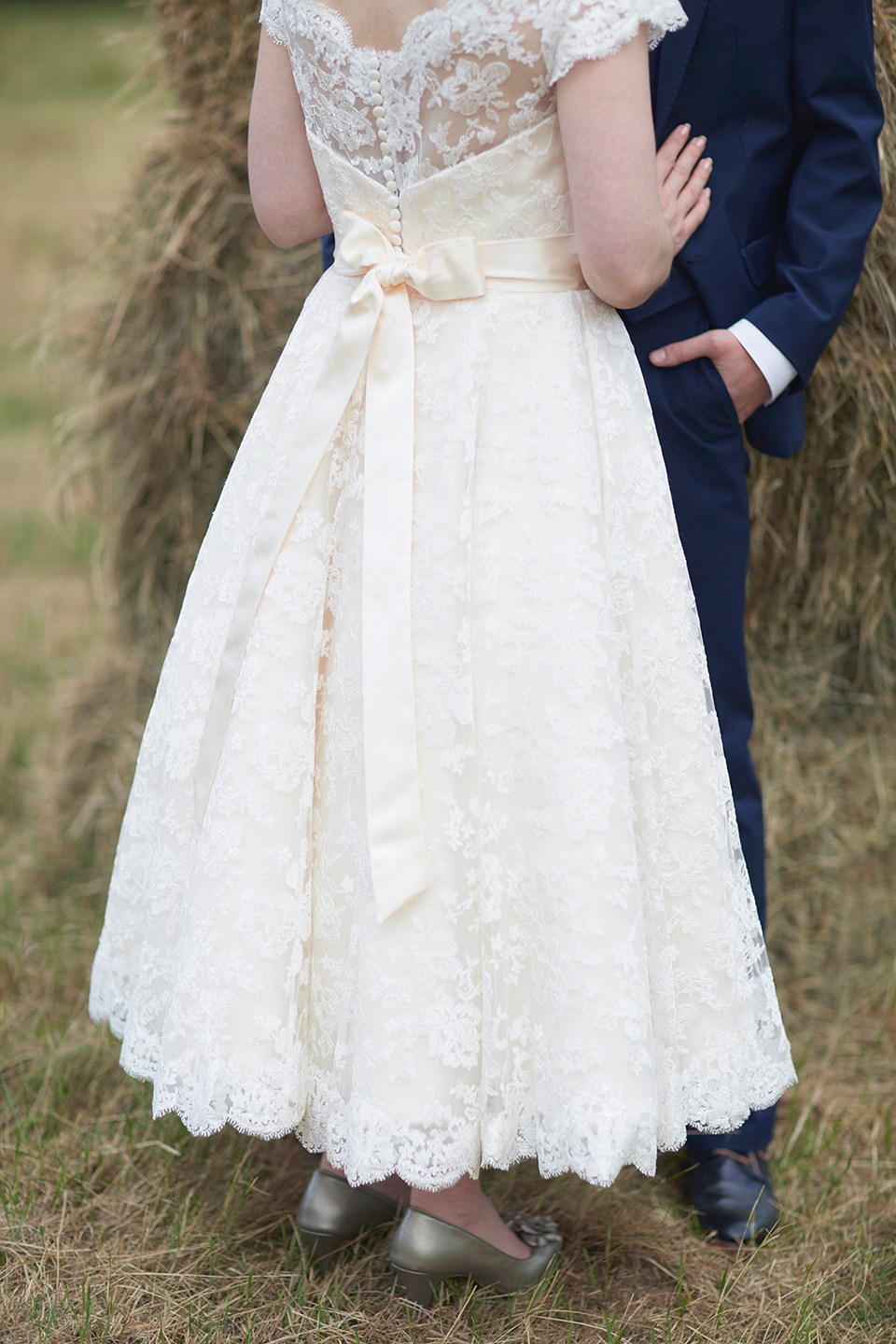 "Natalie at Natalie J Weddings Photography was fantastic from start to finish. We knew as soon as we met her that we wanted her for our wedding. We love the amazing photos she took and the story they told of the day. We would recommend her to anyone wanting a professional and personable photographer."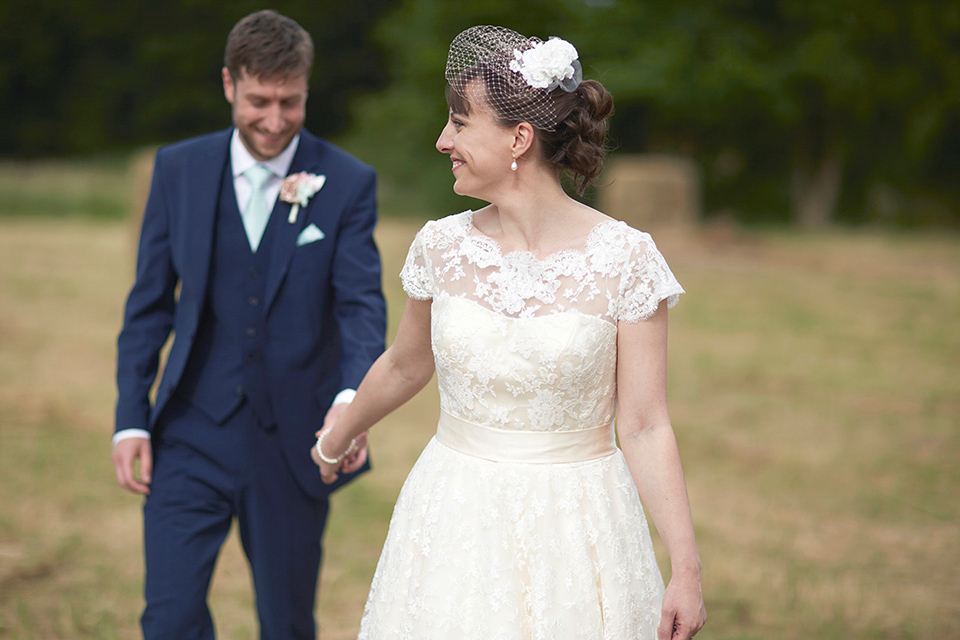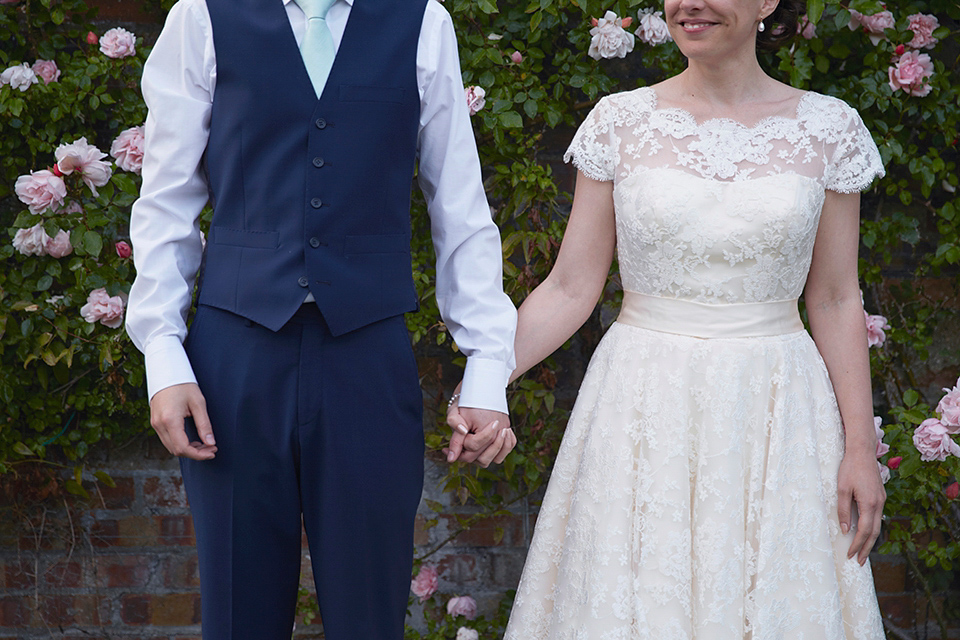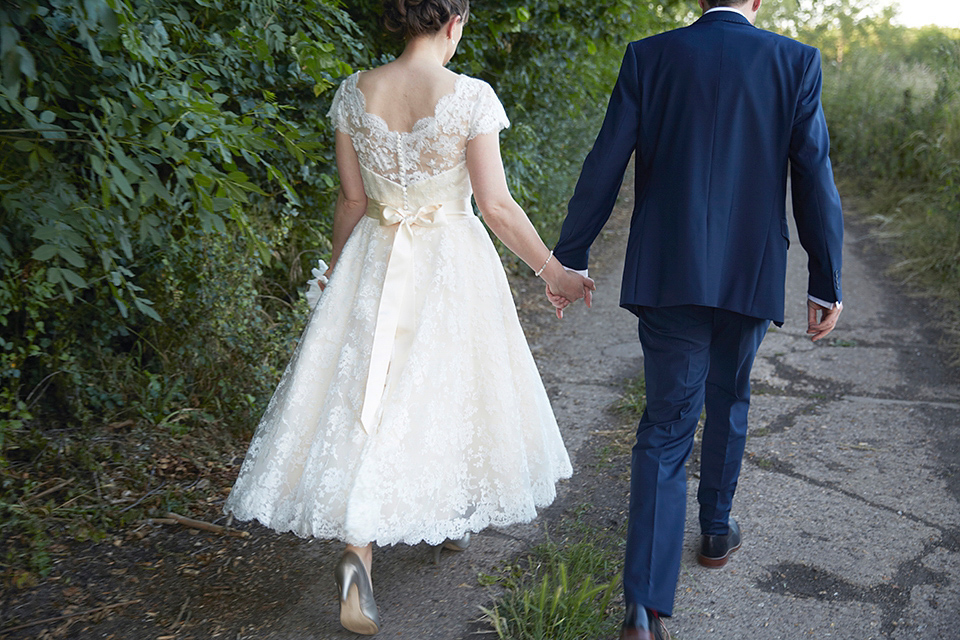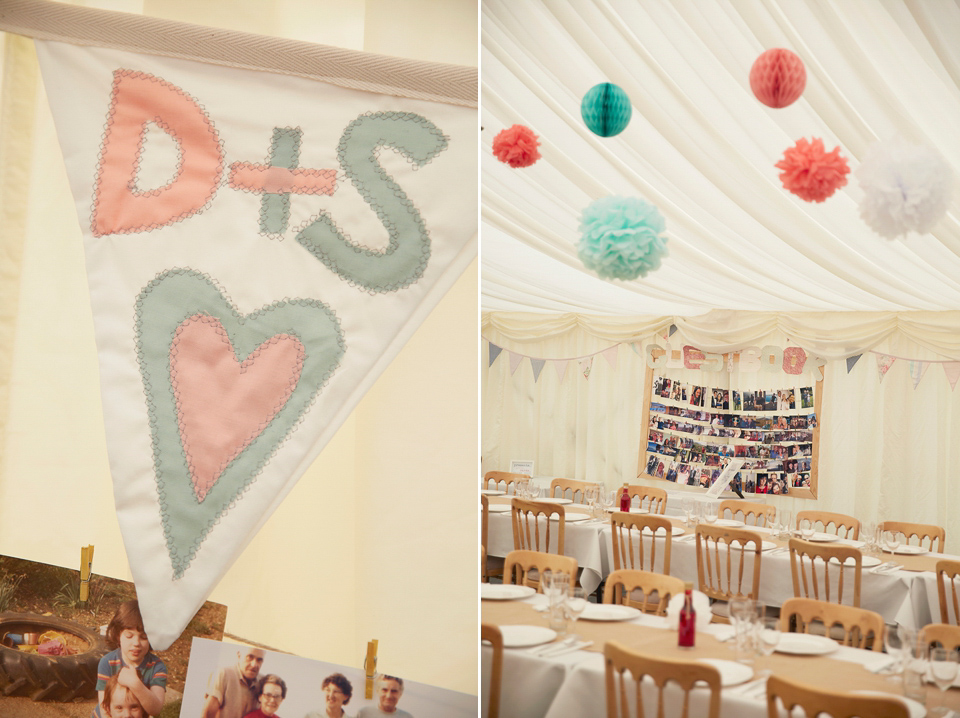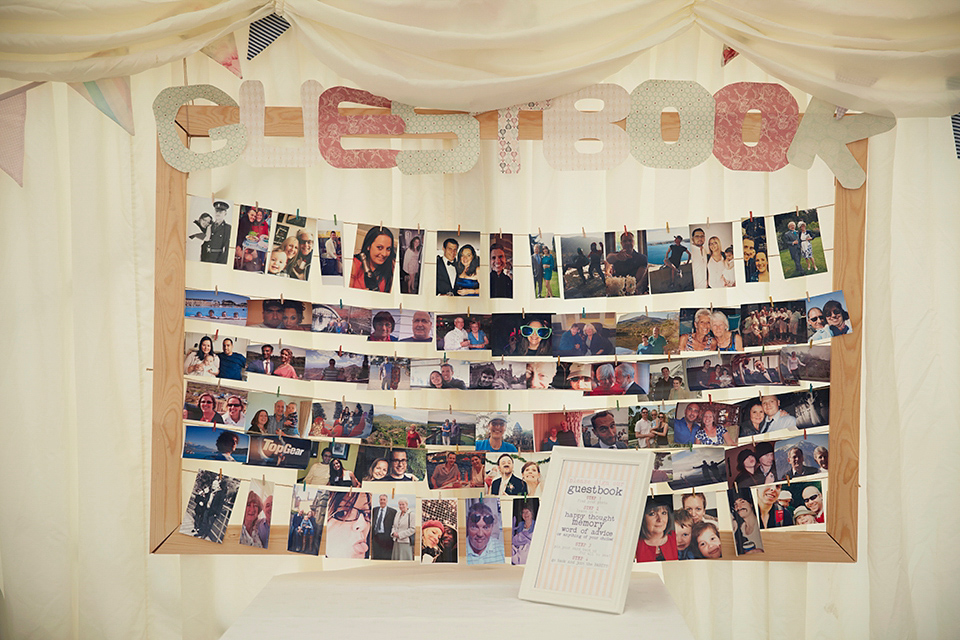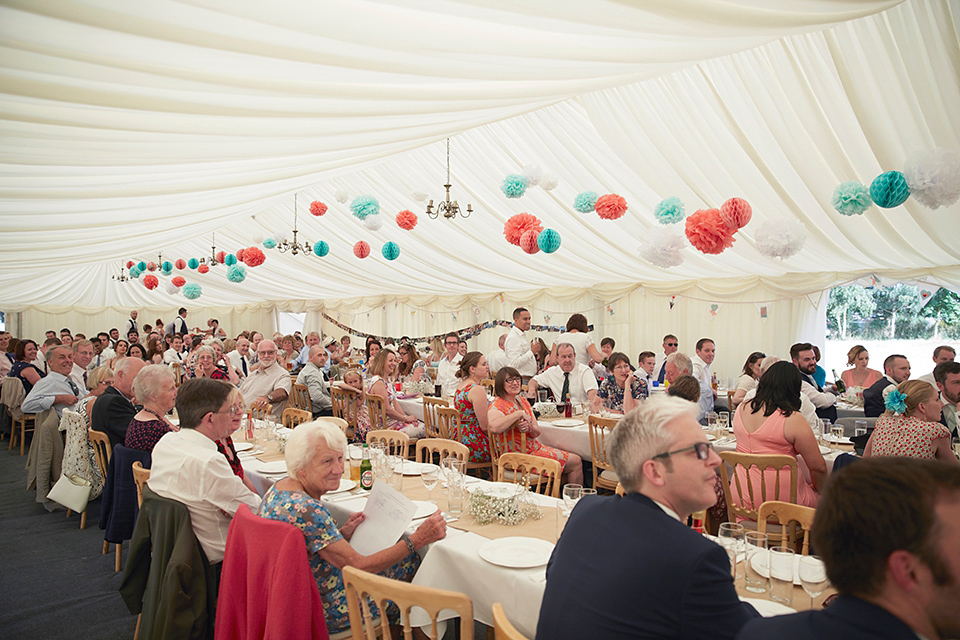 The tasty cuisine comprised a hog roast and a range of salads from Moody Pig, yummy flavours of icecream from The Icecream Bike Company, a cake of cheese and a range of tempting sweet cakes baked by the guests.
"Stamford Cheese Cellar supplied us with our cheese cake. We both love cheese and this was some of the best that money can buy! We had a fantastic time sampling the cheese and deciding which ones to go with. We did still have some sweet cakes as well though – baked by our wonderful family and friends."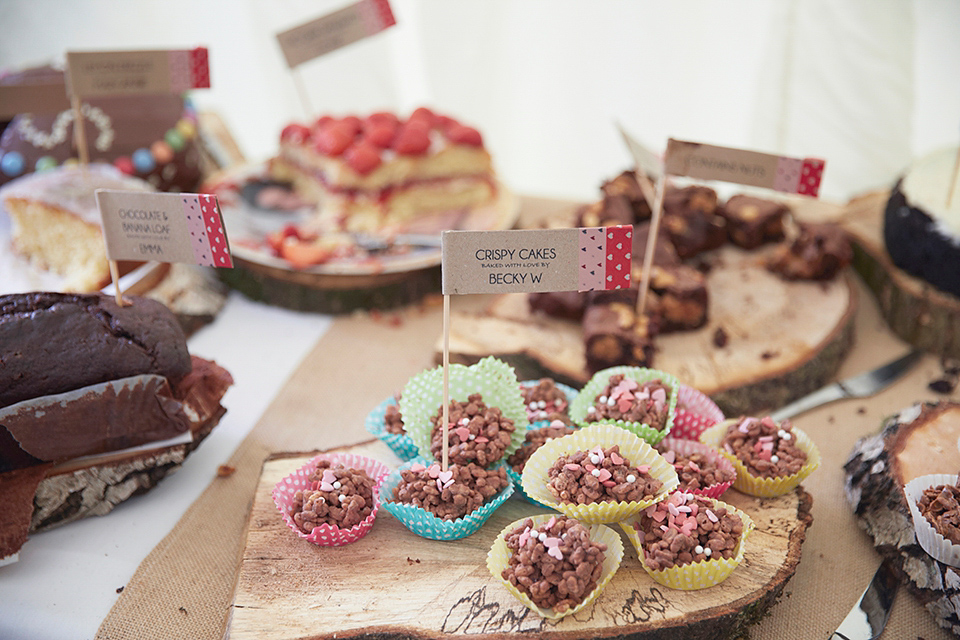 The Dukes of Havoc band entertained the guests into the night – and the beat of the couple's first dance song let Donna dance and twirl to her heart's content in her beautiful dress.
"Our first dance was George Ezra's 'Listen to the Man.' It's a very upbeat song that I could spin around in my dress to!"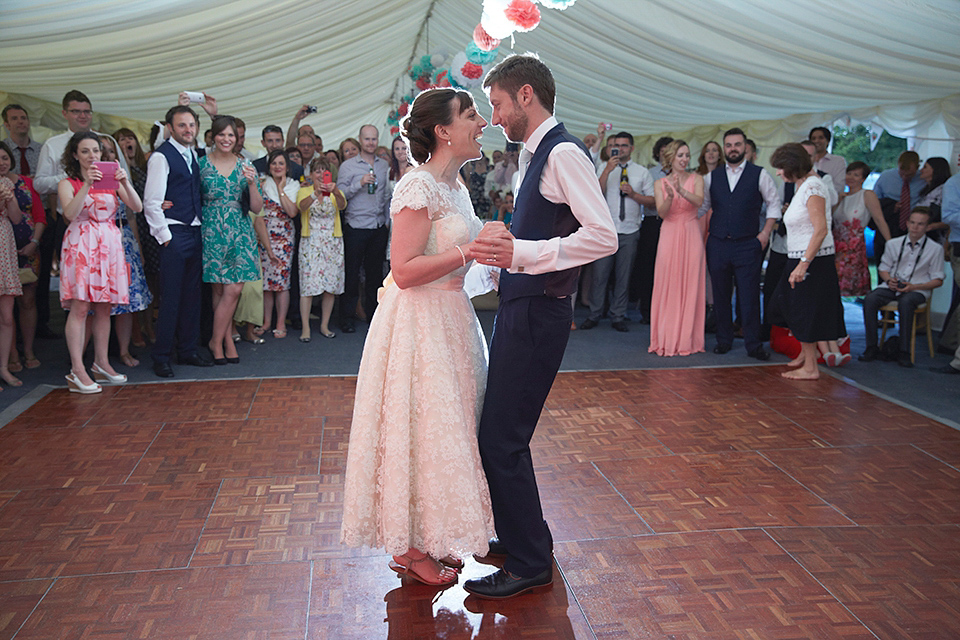 Words of Wedded Wisdom
"Don't worry about the little things – no one will notice. People are just there to see you get married and have a good time. Oh, and definitely have a coconut shy!"
I do love the idea of playing fun lawn games on a sunny afternoon with my nearest and dearest and it looks like that's just what Donna and Sam's big day entailed! Wishing you both all the very best and thank you for allowing us a backstage pass to your big day. Thank you also to Natalie J Weddings Photography for sharing such lovely images of all the little details.
See here for more divine dress inspo from the fabulous House of Mooshki that we've previously highlighted on this beautiful blog.
We're over the hump now little lovelies – enjoy the rest of your week!
Love Jo -x-
Photographer – Natalie J Weddings Photography
Venue – Holme, Cambridgeshire
Wedding Dress – House of Mooshki dress via Rock the Frock Bridal Boutique
Veil – Daphne Rosa
Accessories – Earrings (gift from the bride's parents)
Bridesmaid Dresses – Debenhams
Bridesmaid Accessories – Necklaces and bracelets from Bloom Boutique via notonthehighstreet.com
Groom + Groomsmen + Pageboy – Debenhams
Flower girl – Alfred Angelo
Florist – Daphne Rosa
Rings – Hatton Garden
Catering – Moody Pig + Icecream Bike
Cake – Cheese cake from Stamford Cheese Cellar + homemade sweet cakes made by family and friends
Entertainment – The Dukes of Havoc
Hair + Makeup – Aria at Tori Harris Makeup