We have another gorgeous wedding celebration today – a super cool London wedding with a Thursday ceremony followed by a weekend blessing and reception in a deconsecrated church filled with lights and greenery- there was an incredibly trendy and a stunning backdrop to these nuptials.
Meet Jessica, a trend consultant and creative director of fashion line IANDME, and Thomas, a musician and model, who married at Stoke Newington Town Hall on Thursday 20th of August, and held their wedding blessing on Saturday 22nd August, followed by a reception and party at a very unusual but completely fabulous venue. We are super, super pleased that this wedding was styled to perfect by our Little Book For Brides member, Liz Linkleter.
"We wanted something unique and dramatic, with lots of atmosphere and 'wow' touches – but pared back, allowing the stunning venue to shine. We didn't want anything that felt too themed."
Wedding styled by Liz Linkleter
Find Liz Linkleter in Little Book For Brides
Follow Liz Linkleter on Instagram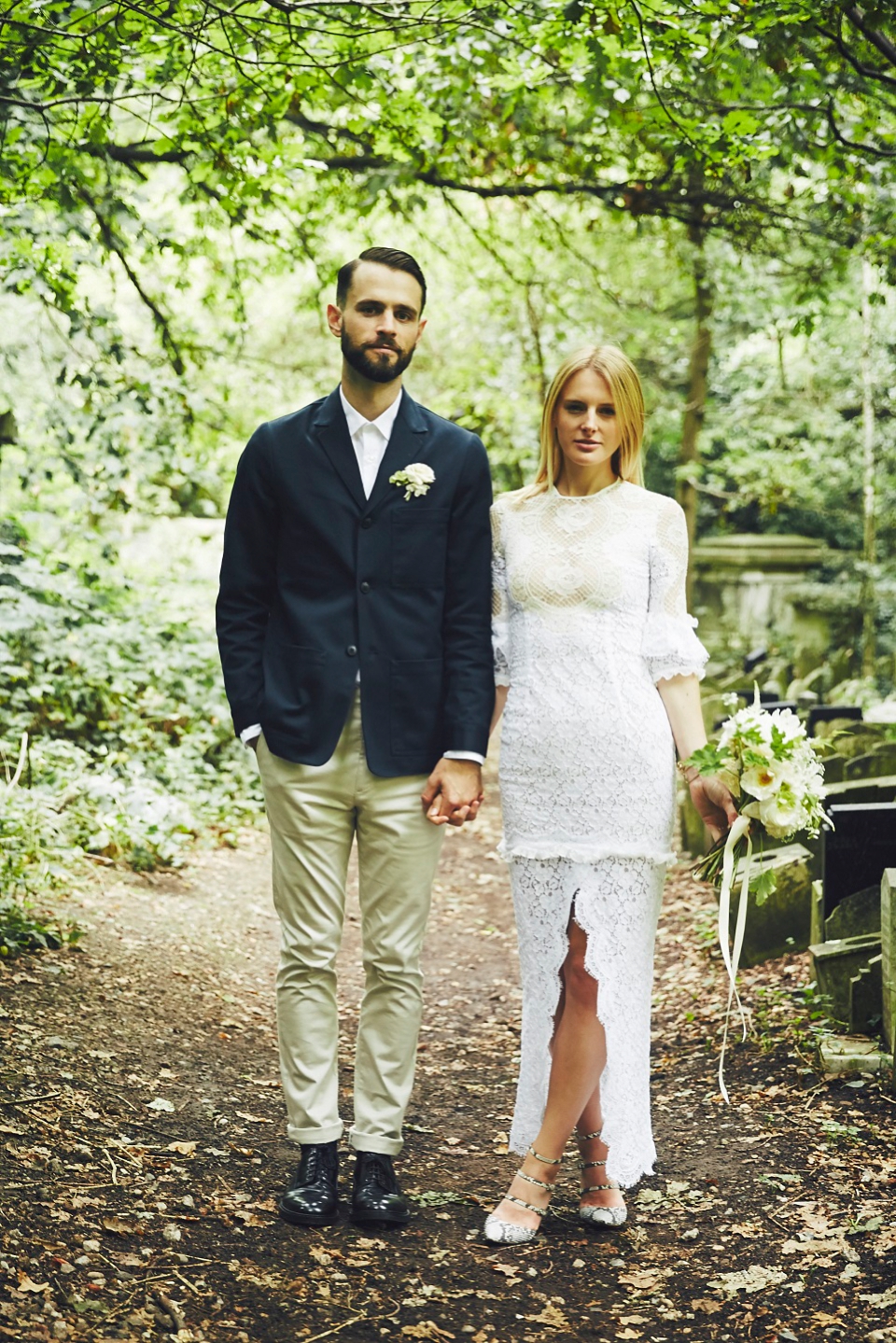 "We really wanted the drama of the venue to shine through, with a few really impactful visual moments to draw the eye. Liz and her team at Liz Linkleter Event Planning & Design decorated the whole back wall and sides of the room with strings of hanging festoon lights, pooling on the floor, which perfectly lit up the dance floor and were a great ceremony backdrop, alongside hundreds of candles and two large milk churns of flowers."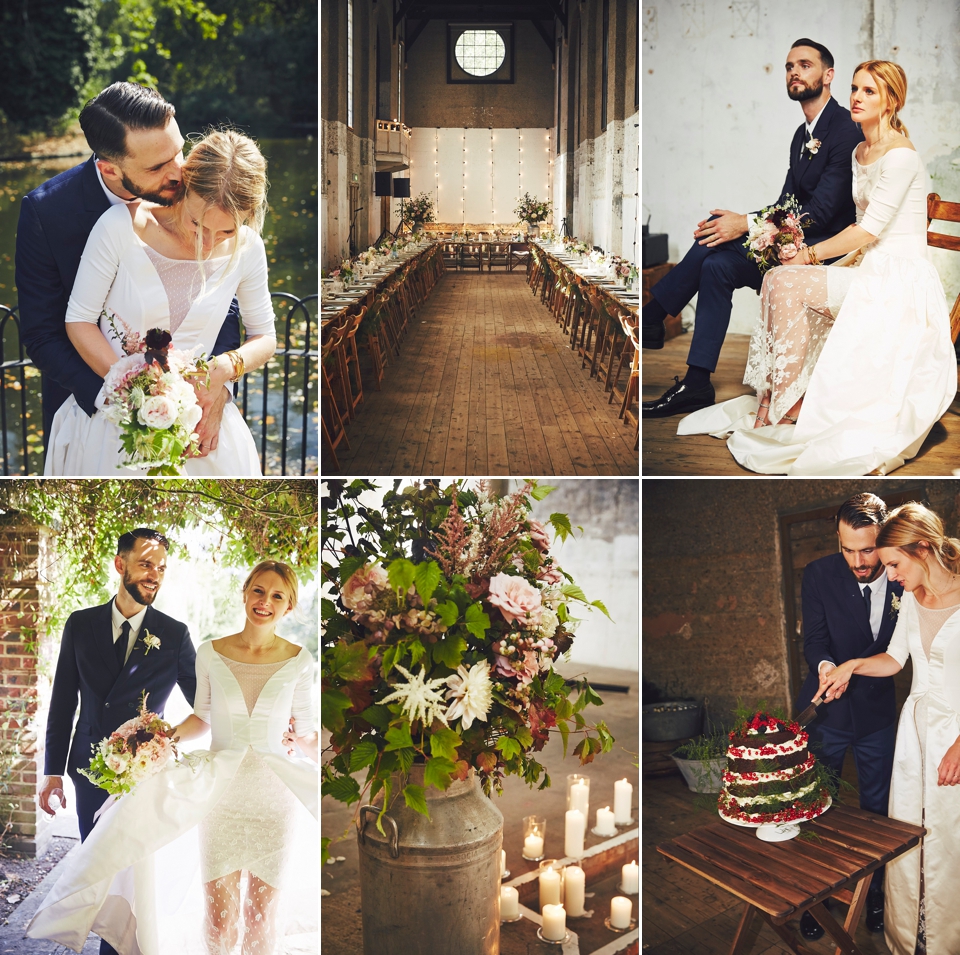 "We used rustic wooden chairs and tables, dressed with mismatched cut crystal glassware, modern gold foiled stationery and rustic stone napkins alongside classic white crockery.  The flowers were a hugely important part of the décor and added a lot of the drama."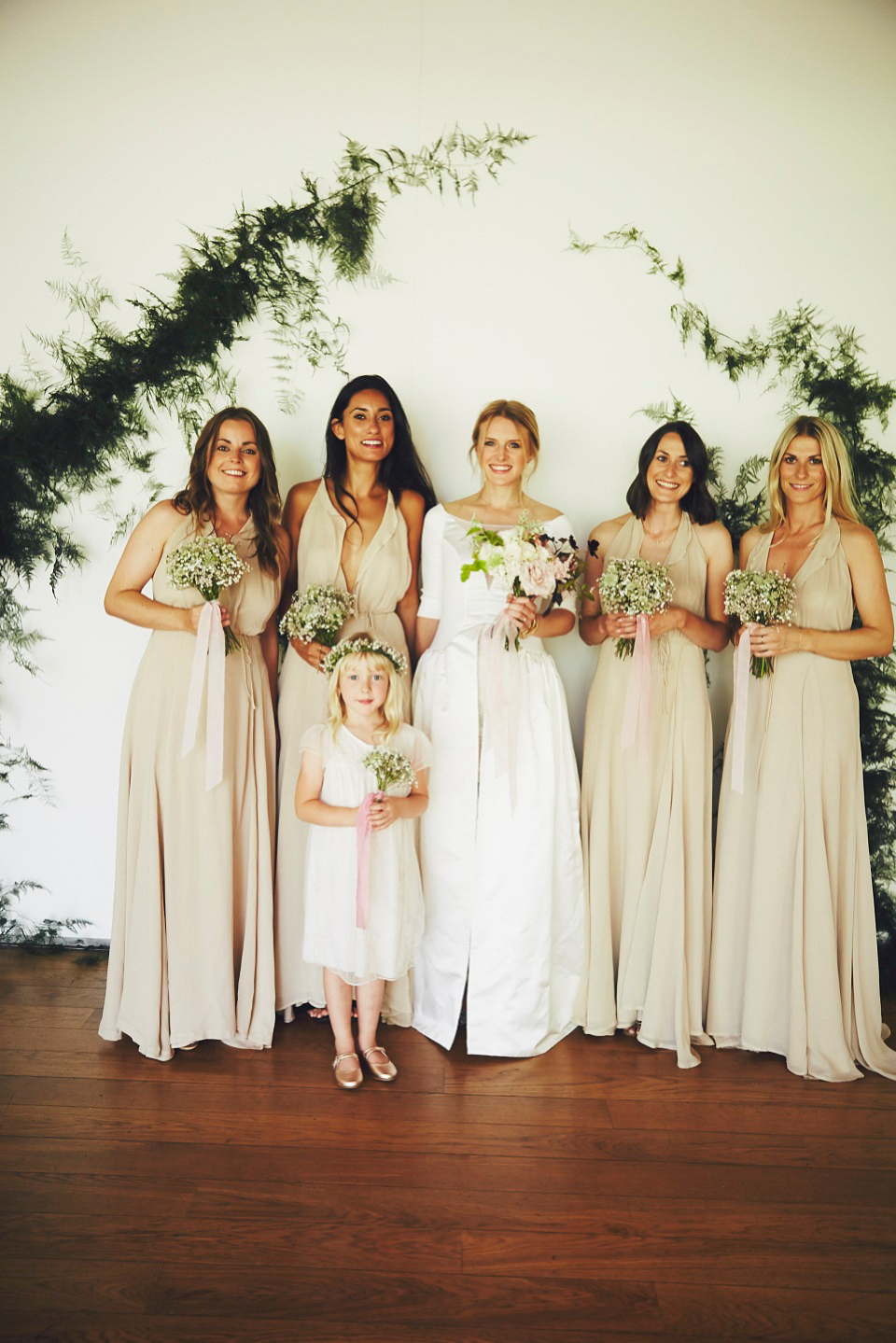 Floral design by Cressida Jamieson 
"Jess and I met at a music festival in Docklands, East London when a friend of mine asked Jess' friend if they had a lighter he could borrow. We got to talking about table tennis (weirdly) and exchanged numbers in order to meet up and see who was the better ping pong player. The rest is history…"
To accessorise, Jess wore some very special jewellery, all linked to important people in her life; 
"My Mum and Dad bought me the dreamy trinity ring Cartier friendship bracelet as my 'Something New' and Thomas bought me a beautiful gold Celine bracelet as my wedding gift.  I also gave all of my bridesmaid's rose gold Monica Vinader chain necklaces on the day so I wore my one too.  I haven't taken any of these off since."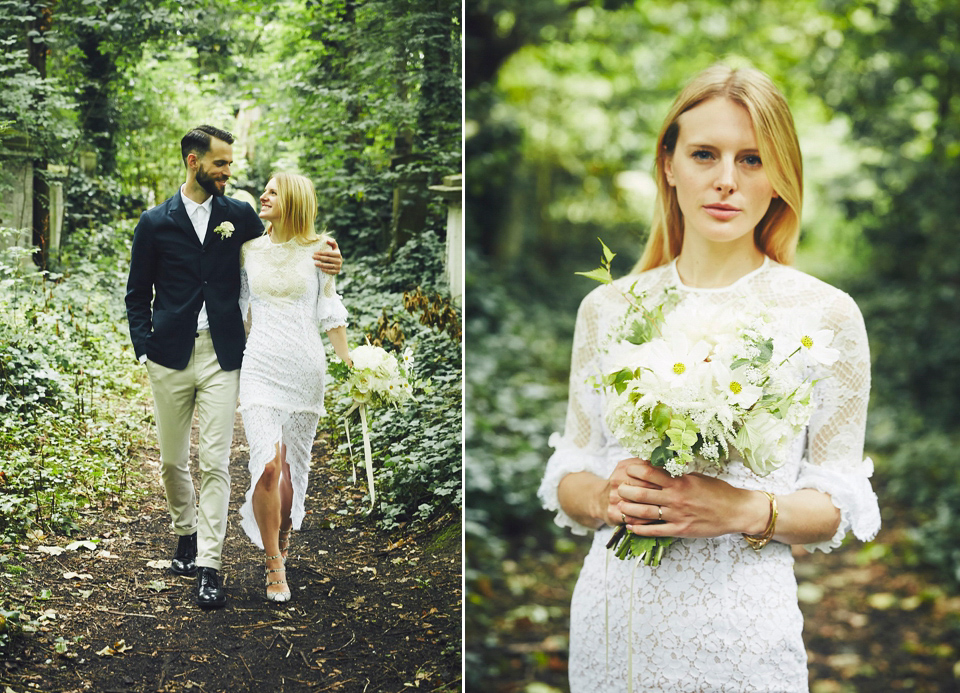 As a model, I'm sure Thomas is used to rocking some very lovely clothes, and of course he wanted to do no different on his wedding day/s, choosing a suit from Sunspel for the Thursday ceremony, and an Acne suit for the Saturday celebrations.  Both, I'm sure you'll agree, look very smart indeed.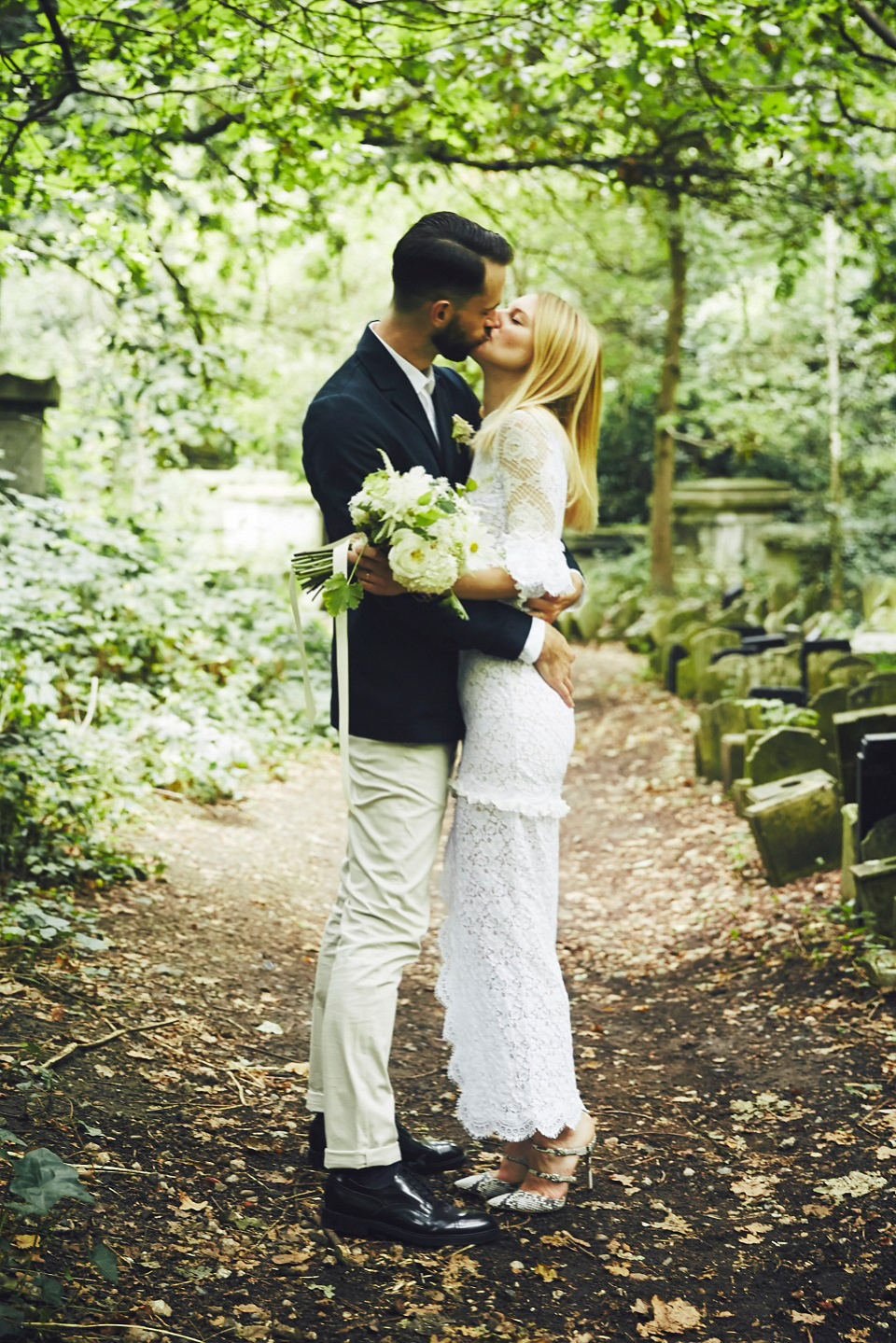 Jess' gorgeous girls wore pale blush dresses with a deep v front from The Reformation, worn with their own shoes.  I love the contrast of the pale and floaty delicate dresses against the almost industrial interior of the venue, don't you?  The little flower girl wore a white dress from Zara kids, finishing her outfit with a flower crown- very cute indeed.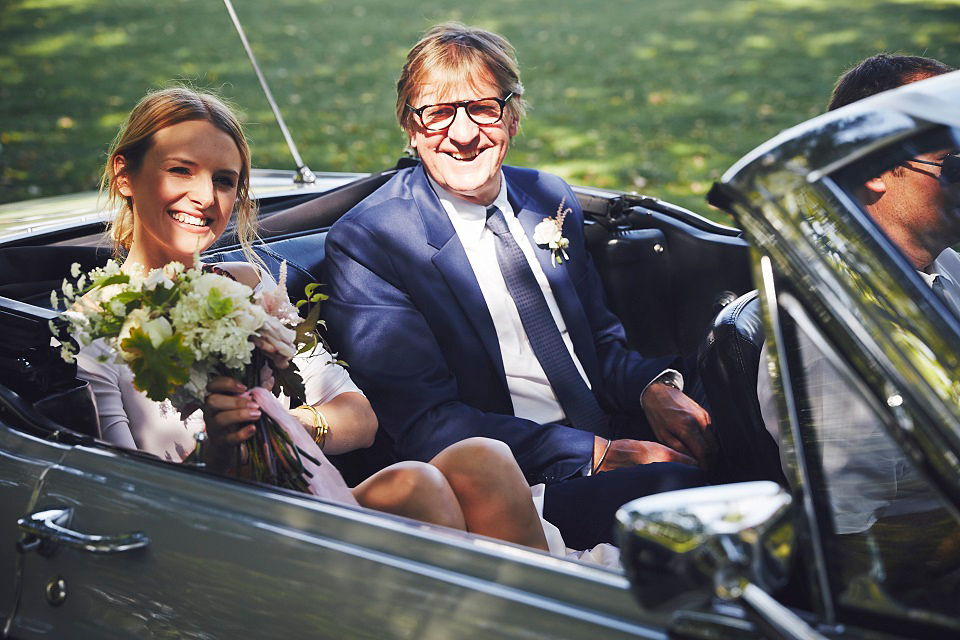 As well as having two ceremonies, lucky bride Jess also wore two dresses, both by Alessandra Rich and both wonderfully unique and very beautiful.  I love the 60's vibe of the first dress but I absolutely adore the layered look of the second dress too- I wouldn't have been able to choose!
"Alessandra's niece is a dear friend of mine and helped me persuade her to design me a bespoke dress for the Saturday blessing.  We used a dress from a previous collection as the inspiration and sourced a beautiful selection of white fabrics for my version. The scalloped hem lace dress that I wore to the registry office was also from a previous Alessandra Rich collection.  I couldn't have wished for anything better to wear. They honestly made me feel so special and I really am so thankful to Alessandra and her team. They are the sweetest ladies ever."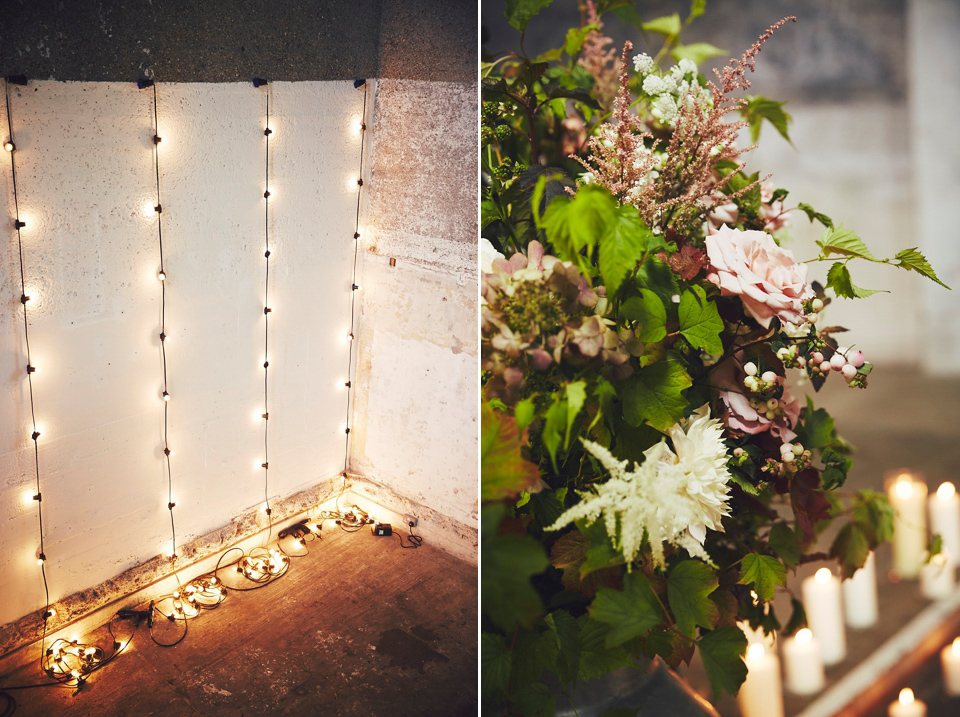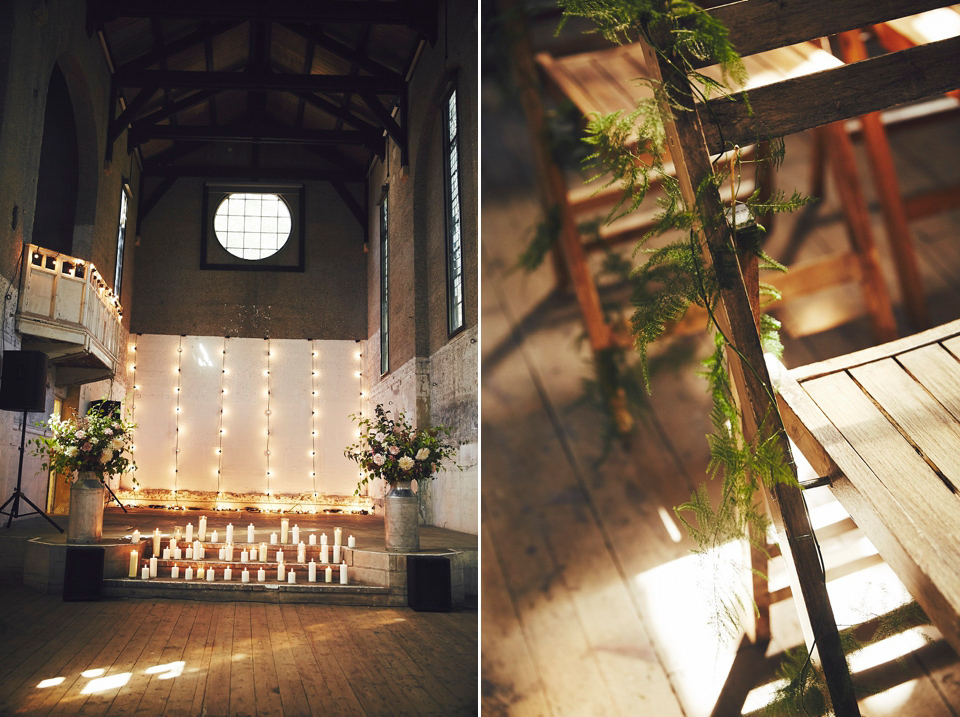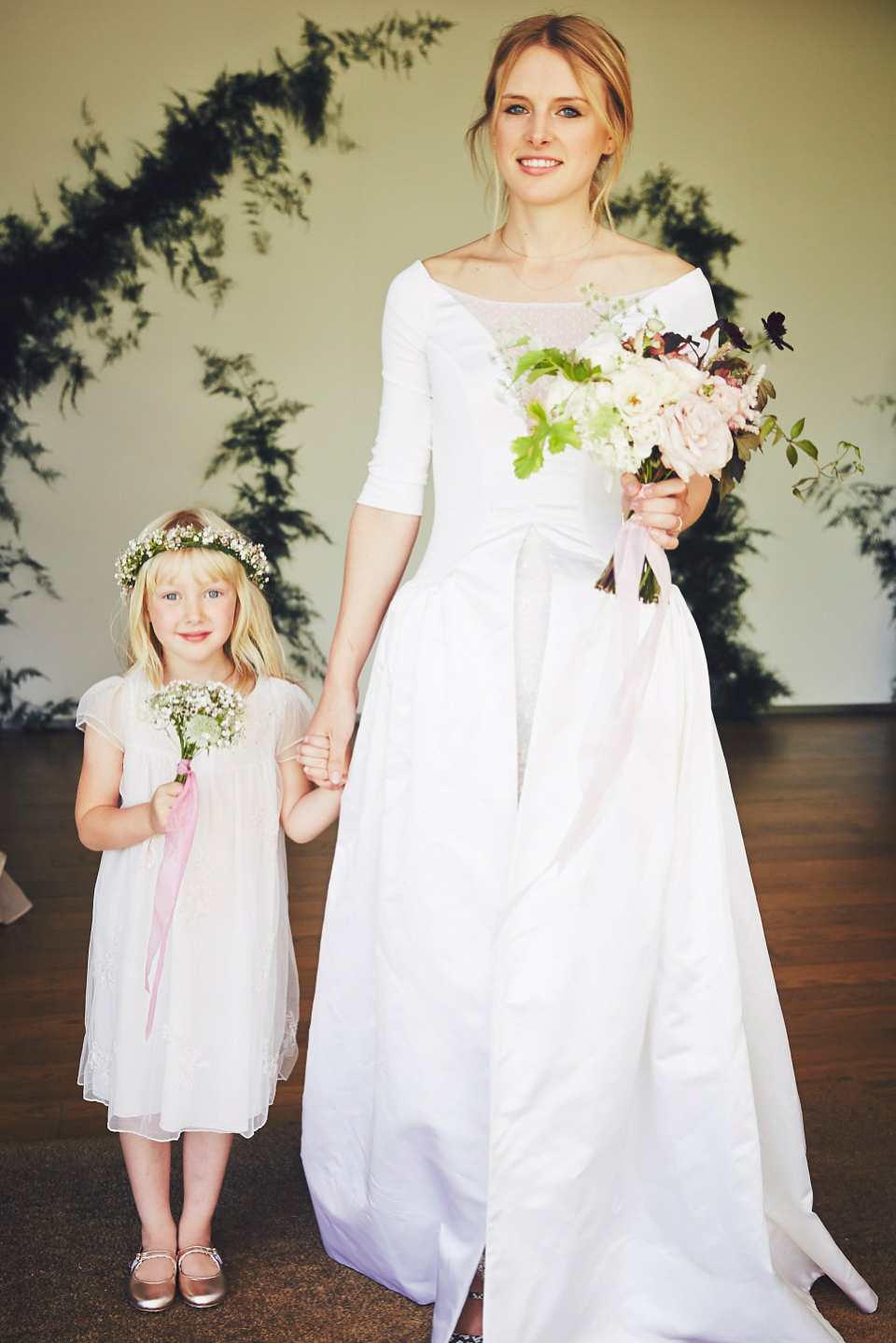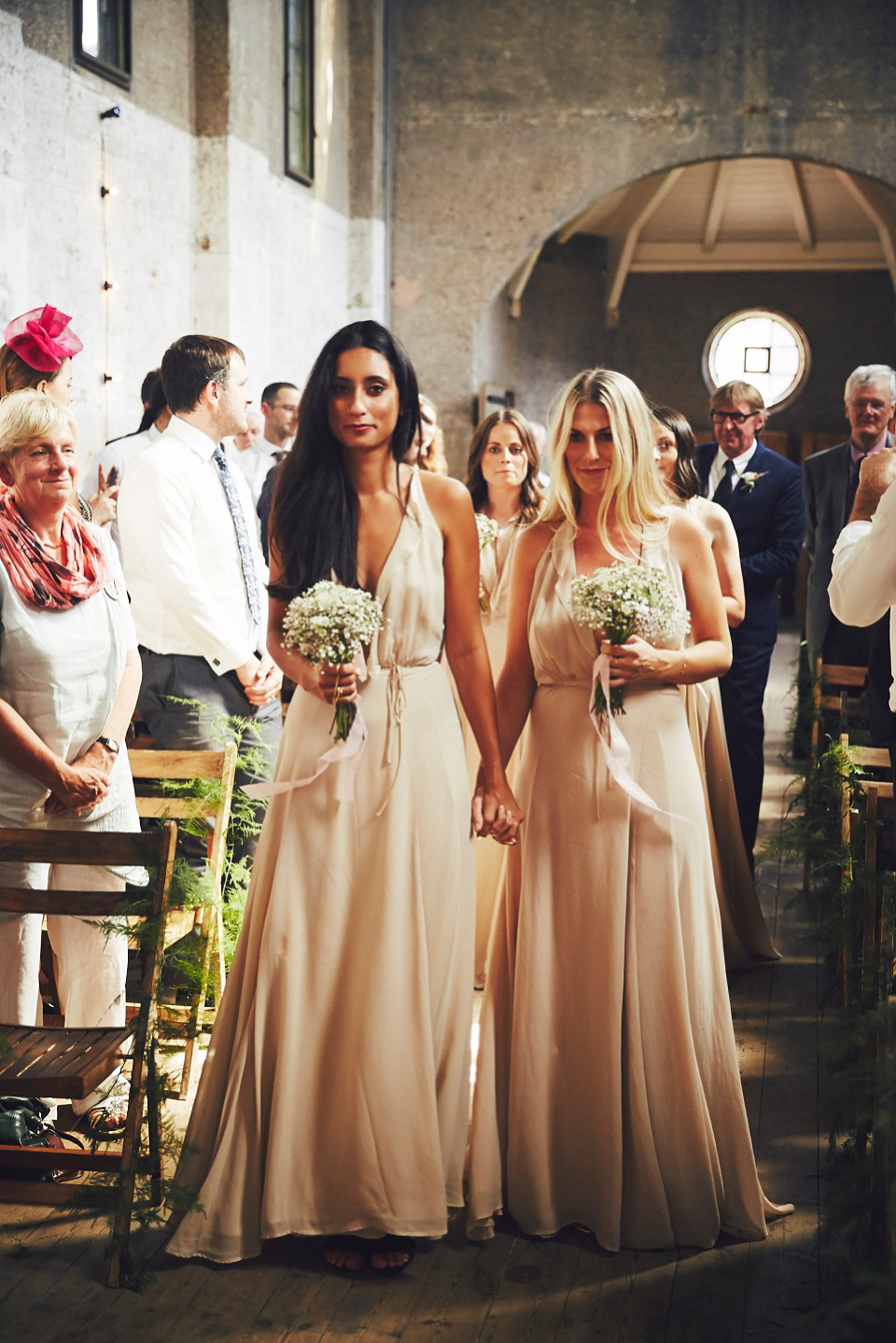 Jessica walked down the aisle on the arm of her father Andrew, to Nick Cave's 'Into My Arms'– a gorgeously romantic track.  The couple spoke the traditional vows.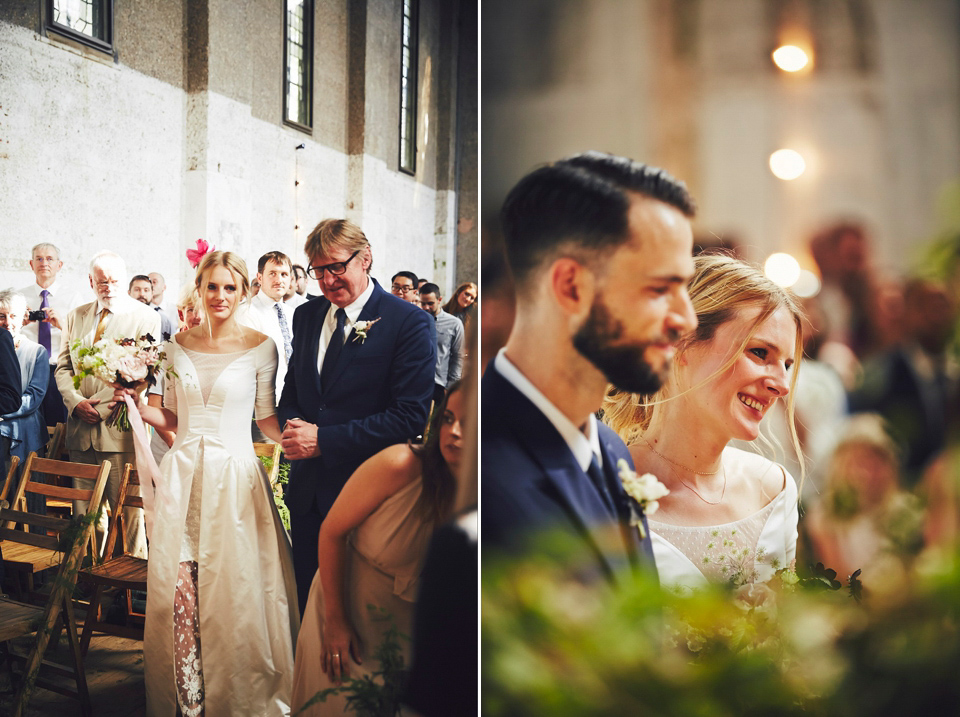 For readings, they chose 'The Life That I Have' by Leo Marks, read by Thomas' Mum, while Jess's brother delivered a Shakespearian Sonnet – both lovely choices.
The life that I have
Is all that I have
And the life that I have
Is yours.
The love that I have
Of the life that I have
Is yours and yours and yours.
A sleep I shall have
A rest I shall have
Yet death will be but a pause.
For the peace of my years
In the long green grass
Will be yours and yours and yours.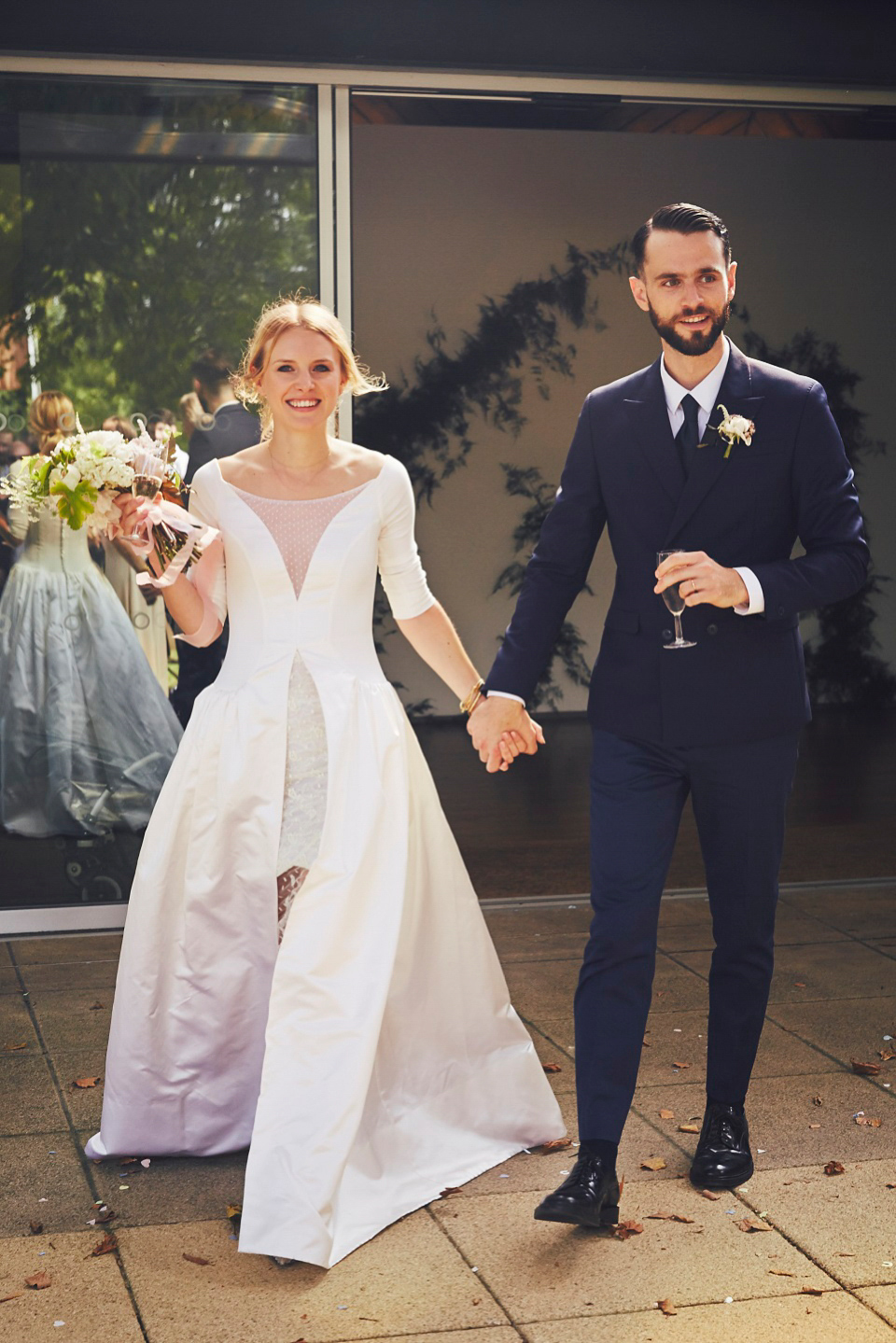 "We hired a silver convertible Mustang from Ford Mustang Wedding which was chosen as Thomas proposed to me in a Mustang in Sequoia National Park, California."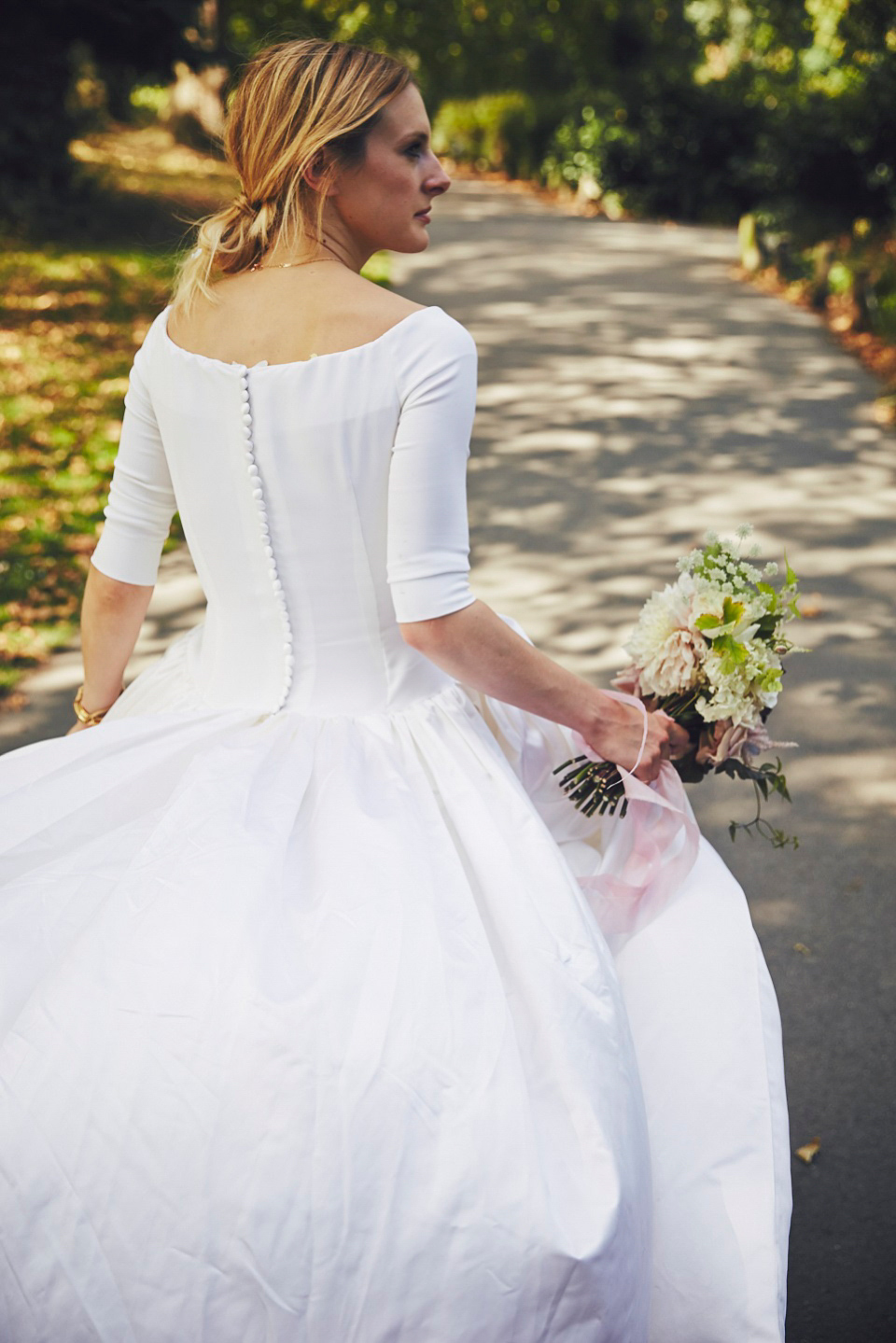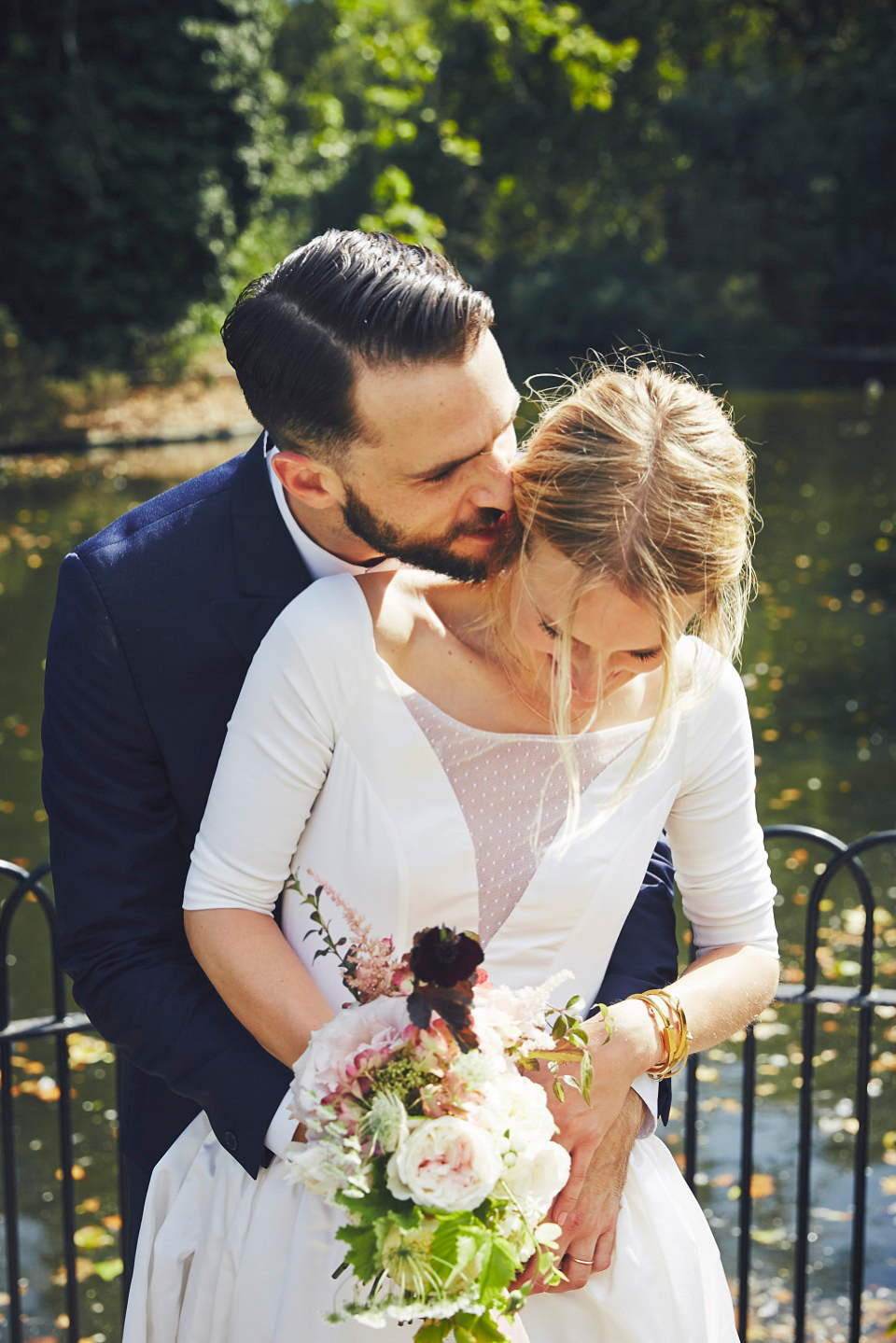 As our couple chose to have two separate wedding event, they hosted the second part of their celebrations at Dilston Grove, Southwark Park– an amazing atmospheric deconsecrated church right in the centre of Southwark Park which is now used as an event venue and art gallery. What a wonderful space.
Florist Cressida Jamieson was the talent behind the amazing floral displays, bouquets and accessories.  I really love her use of unusual plants and flora- you don't see many ferns in wedding flowers but she created something really special here.  Like the delicate bridesmaid dresses, the softness of the greenery looks fantastic against the almost industrial interior.
"We opted for shades of nude, putty, light pink, cream and accents of chocolate for the flowers, going for something loose, romantic and a little wild.  My bouquet included English roses, dahlias, cosmos, astrantia, astilbe, snowberry, hydrangea and ammi.  The table arrangements and large milk churns included more English roses, astilbe, ammi, cotinus, astrantia, autumnal eucalyptus and geranium leaves, and each plate was decorated with a fern leaf."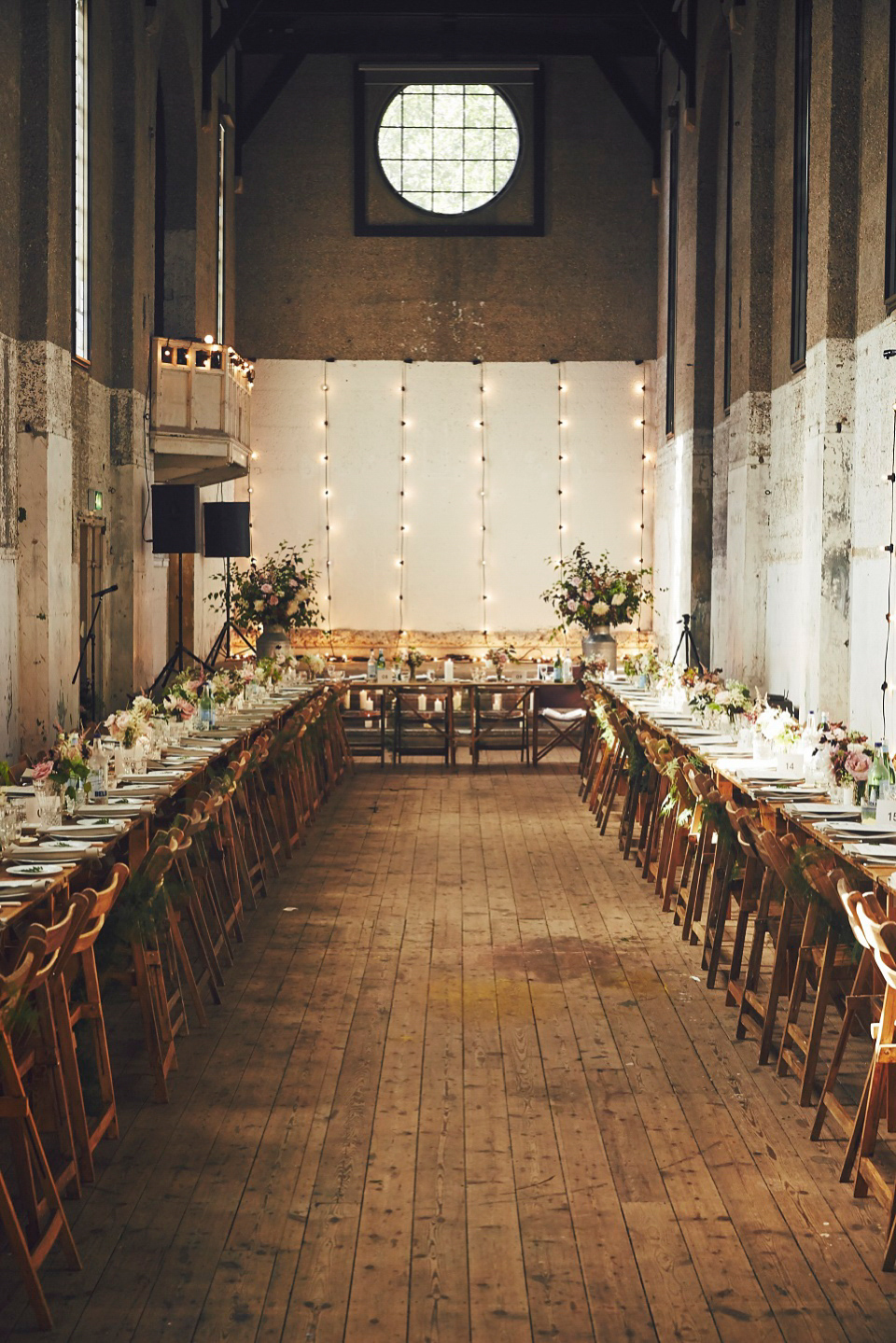 "Cressida also created an installation of asparagus fern at the entrance, where it appeared to be naturally climbing across the wall, and wound asparagus fern round the edges of all the aisle chairs for the ceremony.  There were a couple of simple asparagus fern arrangements dotted around the space."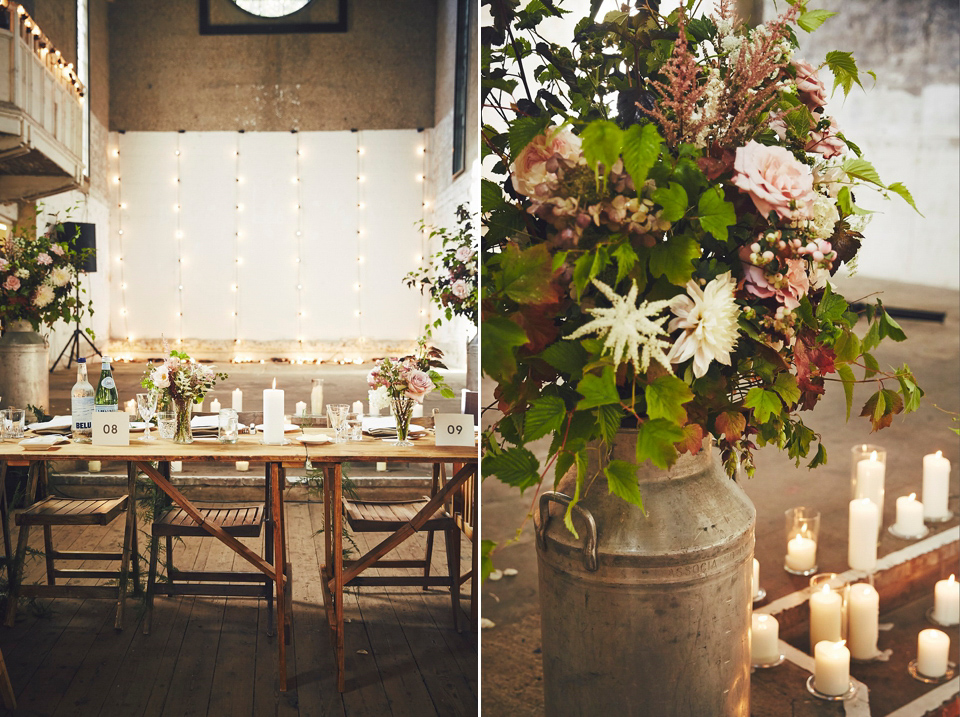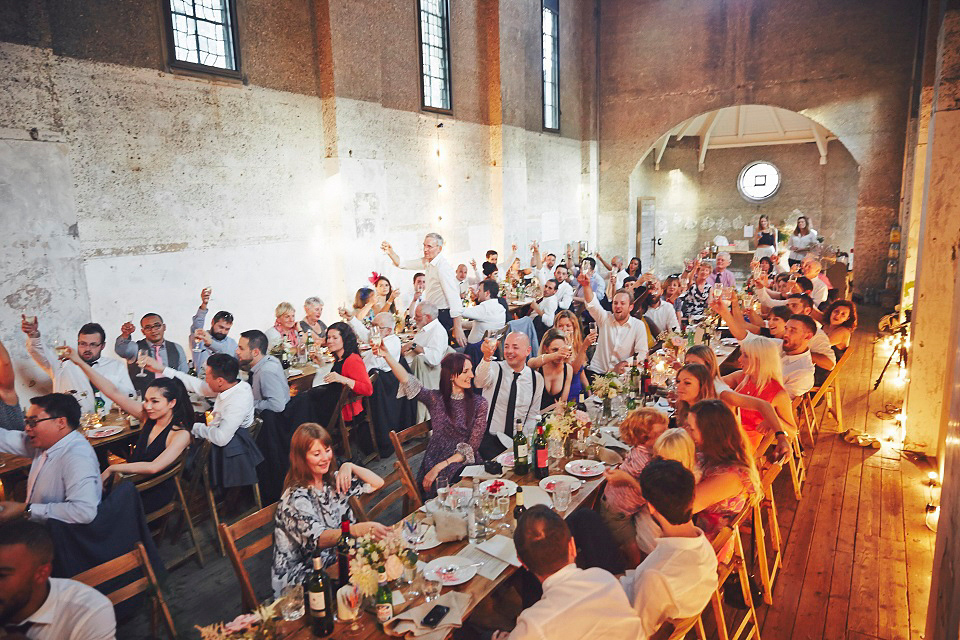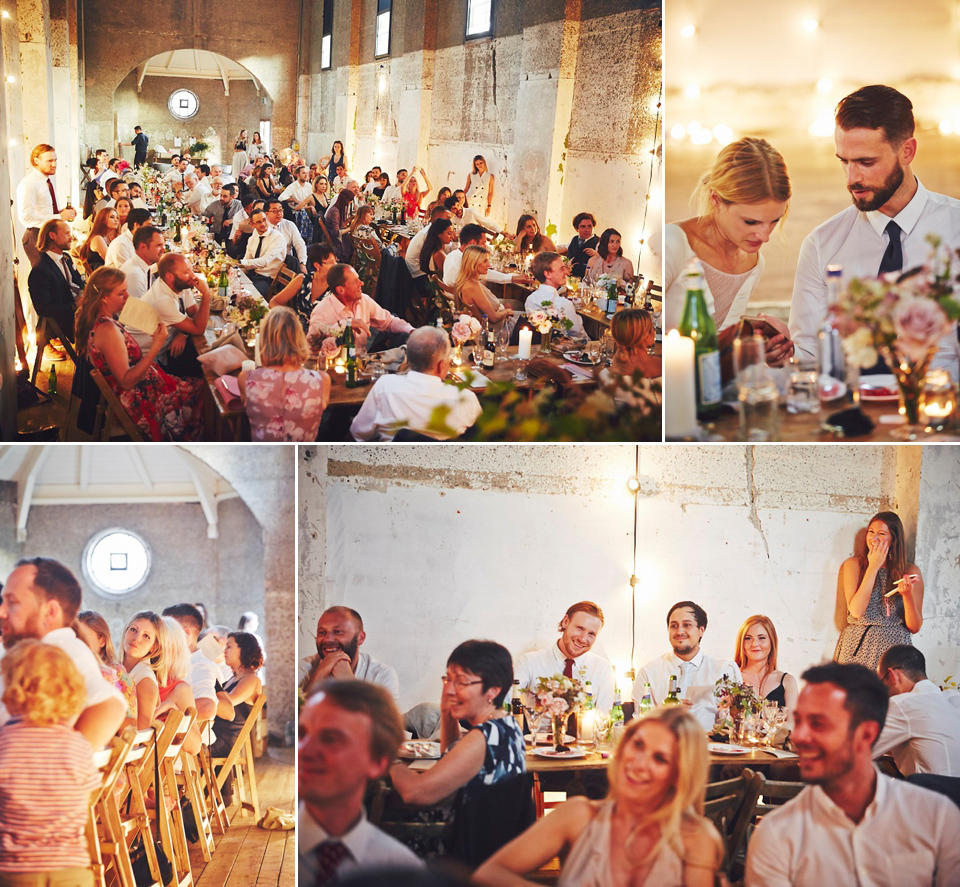 "We asked our good friends at Forrest Food to do both the food and the cake. They did the best job; the food was perfect for the hot summer's day.
We served a fresh, light summer menu of sharing plates, including peppered beef carpaccio with truffle parmesan cream, raw courgette ribbons with lemon, chilli and basil, and chargrilled tenderstem broccoli and sugar snap peas on zatar spiced yoghurt."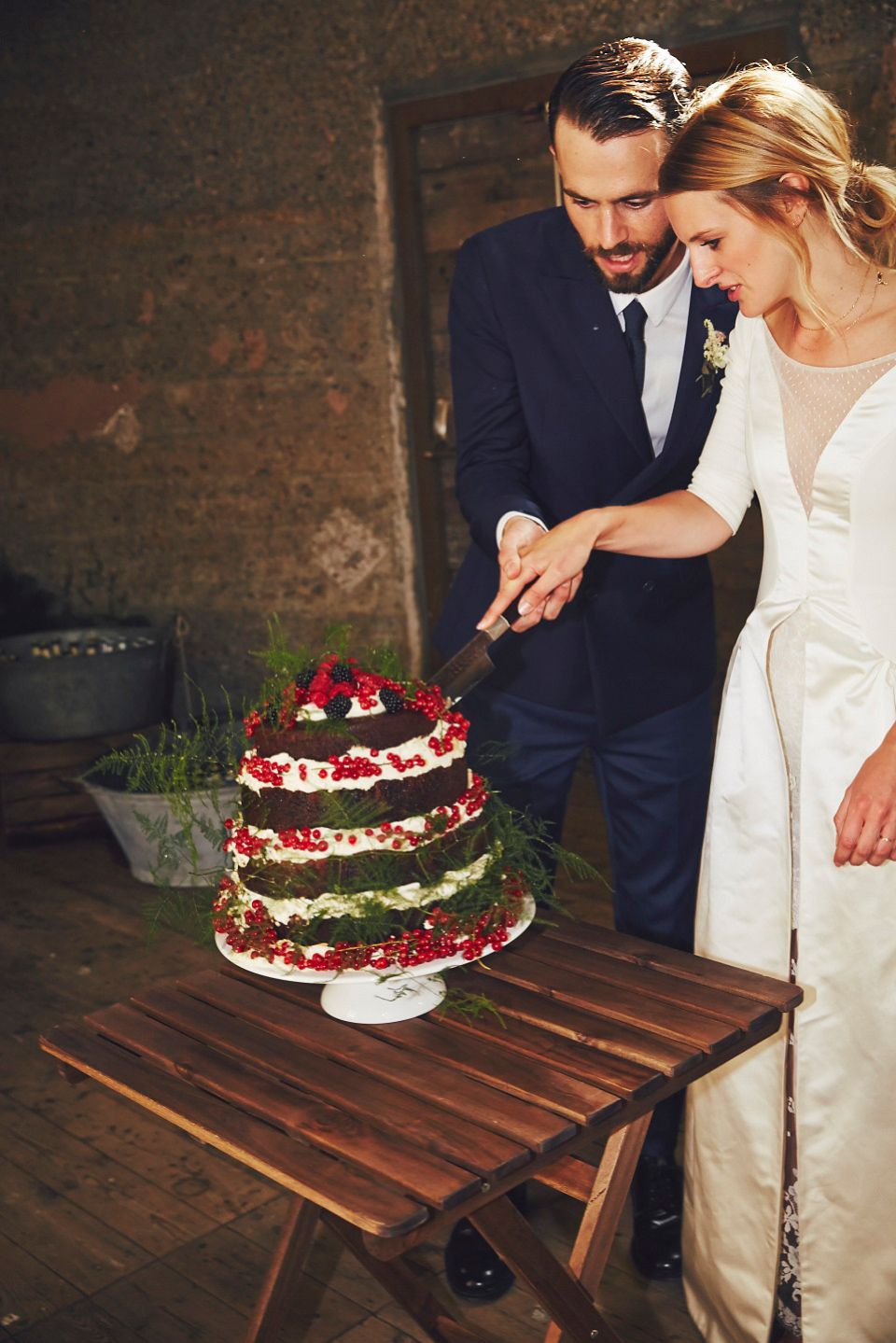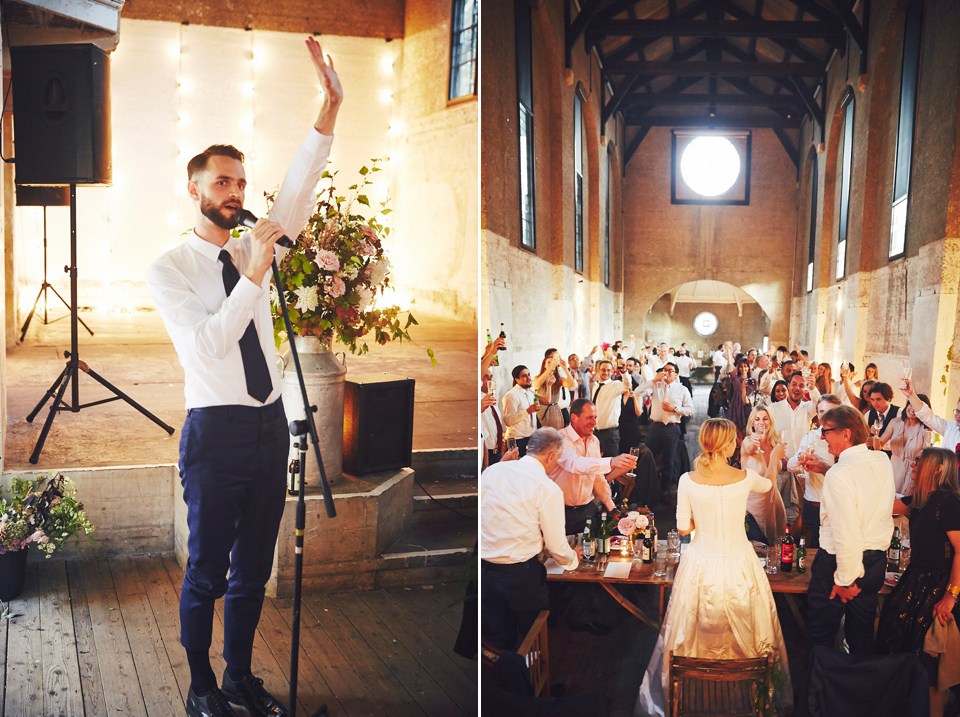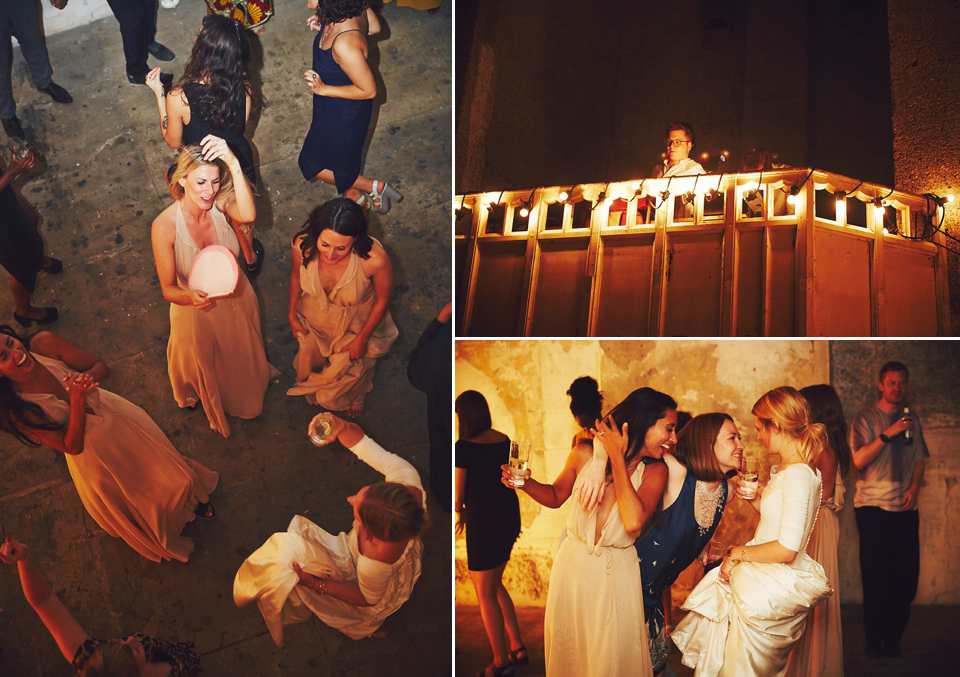 Words of Wedded Wisdom
"Planning a wedding is not an easy job and there will be moments of sheer hatred towards the whole experience at times. I would say, take your time with it and get a planner to help!  Our very dear friend Liz was a godsend and really helped it all come to life.  We were very involved in the whole thing but it is a full time job, even if you have a million hands to help.
It is true what they say; your wedding really is the best day of your life.  We luckily had two days of celebrations with all of the most special people in our lives. All of the stress, financially and emotionally is so worth it. We have the most incredible priceless memories. I would suggest it to anyone!"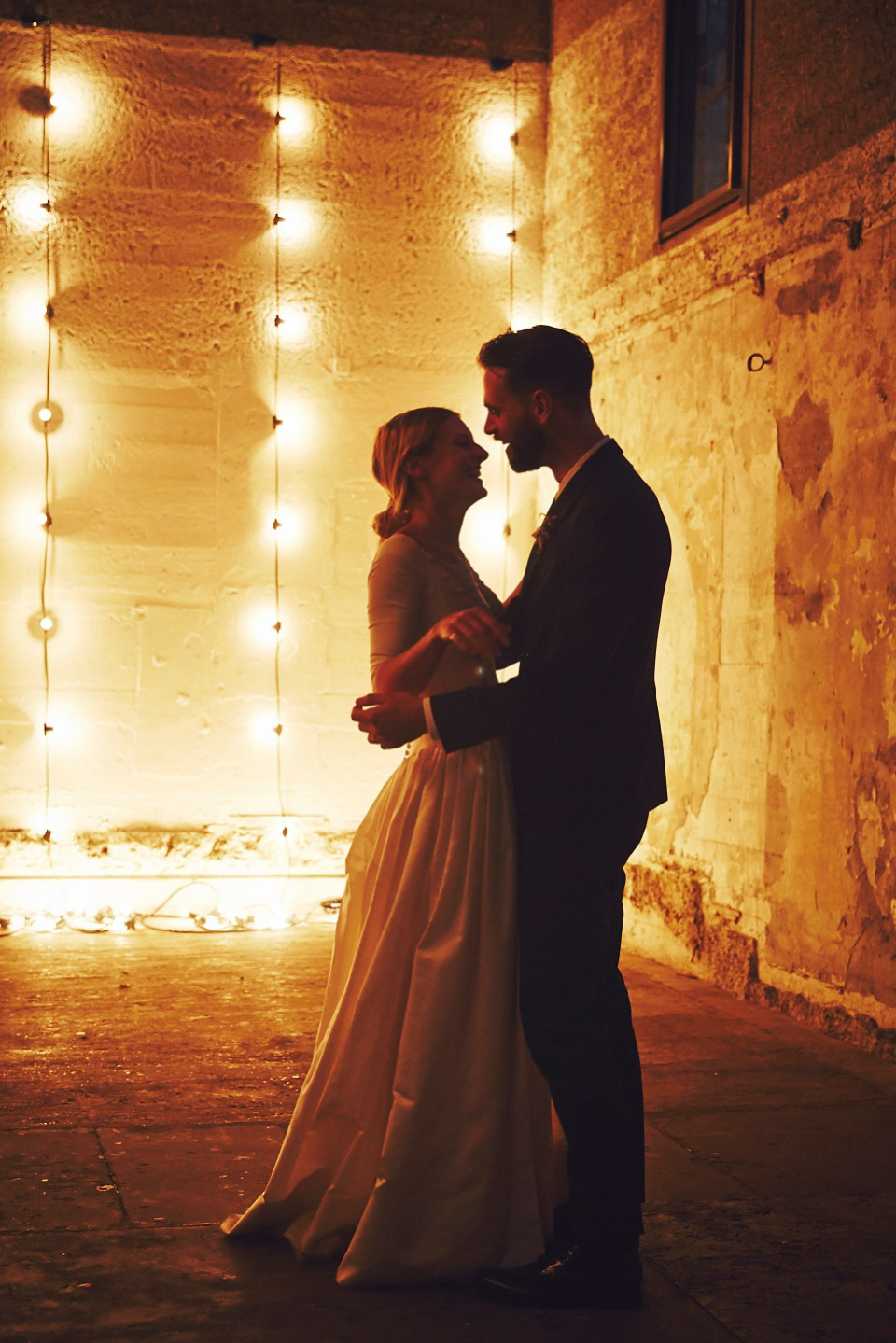 So many thanks to Jessica and Thomas for sharing their weddings days with us, and to John P Heyes for sharing his work.  Its always very exciting to feature a wedding in a venue we haven't seen before too- I love how weddings and the celebration of marriage can now be made so personal and to fit exactly what you want, whether that is town hall, pub, barn, tent or deconsecrated church- its all out there waiting for you.
See you all in a week!
Shona x
Photographer – John P Heyes (website currently offline whilst under construction)
Videographer – Robert Cobbina, friend
Venue One – Stoke Newington Town Hall, followed by lunch at Foxlow
Venue Two – Dilston Grove, Southwark Park
Wedding planner – Liz Linkleter Event Planning & Design
Wedding dress – Alessandra Rich
Shoes – Gianvito Rossi
Accessories – Monica Vinader chain necklace (also worn by bridesmaids), Cartier friendship bracelet
Bridesmaid Dresses – The Reformation
Flowergirls – Zara kids
Groom – Suit; Sunspel (Thursday), Acne (Saturday); Accessories, Acne
Flowers – Cressida Jamieson
Hair Stylist –Meghan Cox
Makeup – Alice Laird, friend
Cake – Forrest Food
Catering- Forrest Food
Rings – Bespoke by Jessica's Mum's friend, Rebecca Skeeles
Entertainment – Friends
Transport – Ford Mustang Wedding
Stationery – Joni Kirton