Please meet our fabulous bride, Ronke, director of vintage inspired brand Love ur Look and lecturer at the London College of Fashion and the dapper groom, Len, a media software analyst, who married on 2nd October 2015.
The couple hired London wedding photographer, Miki Studios, to capture their day.
'Finding Mick from Miki Studios was a true blessing. We had a pre shoot to get to know him which was so important. What an amazing guy. Everyone was super impressed with how professional he was all day.'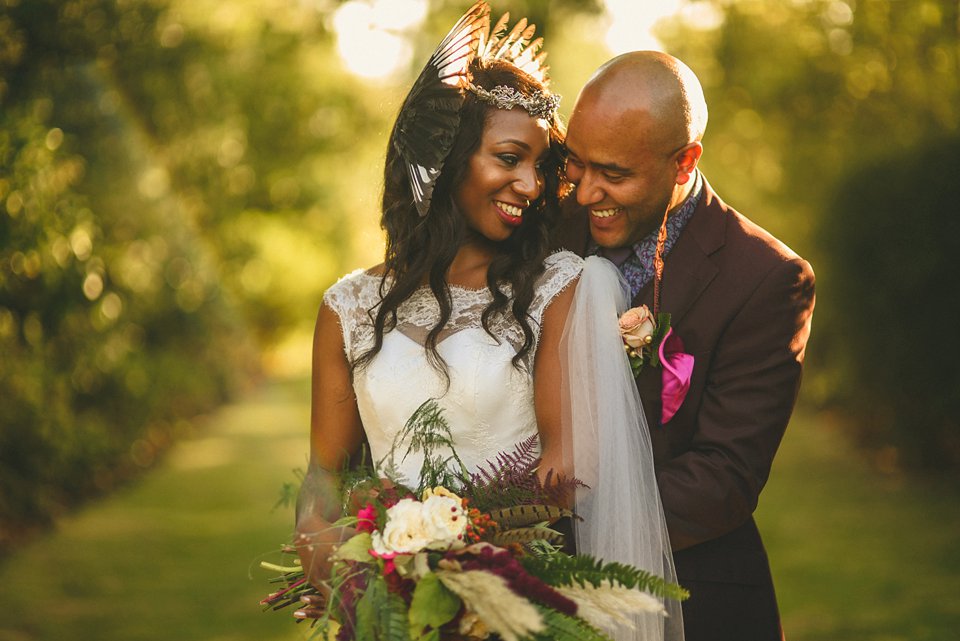 'I love colour and a traditional white wedding was never in my vision. As the wedding was in October using flowers which were in season for Autumn pretty much dictated the colour palette, but that was a blessing as plums, golds, reds etc worked perfectly with my theme. The theme organically evolved into a 'vintage drama meets whimsical elegance' wedding.'
Ronke met with Georgia of Westwood Design to create her dream theatrical floral arrangements.
"Really there are not enough words. I wanted drama, the colours to match my theme, bridesmaids and groom's suits. After meeting and discussing several ideas and many Pinterest boards later she came up with what something so stunning."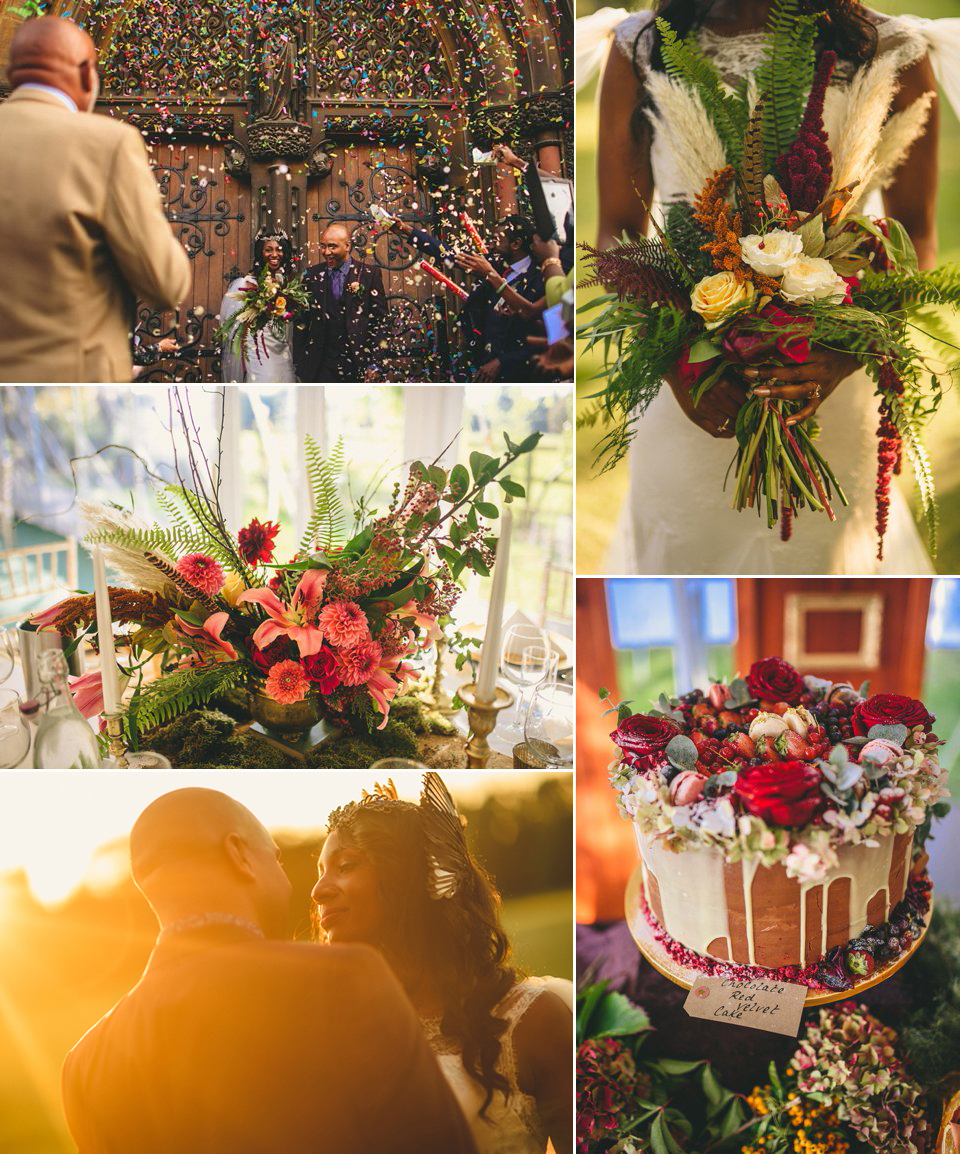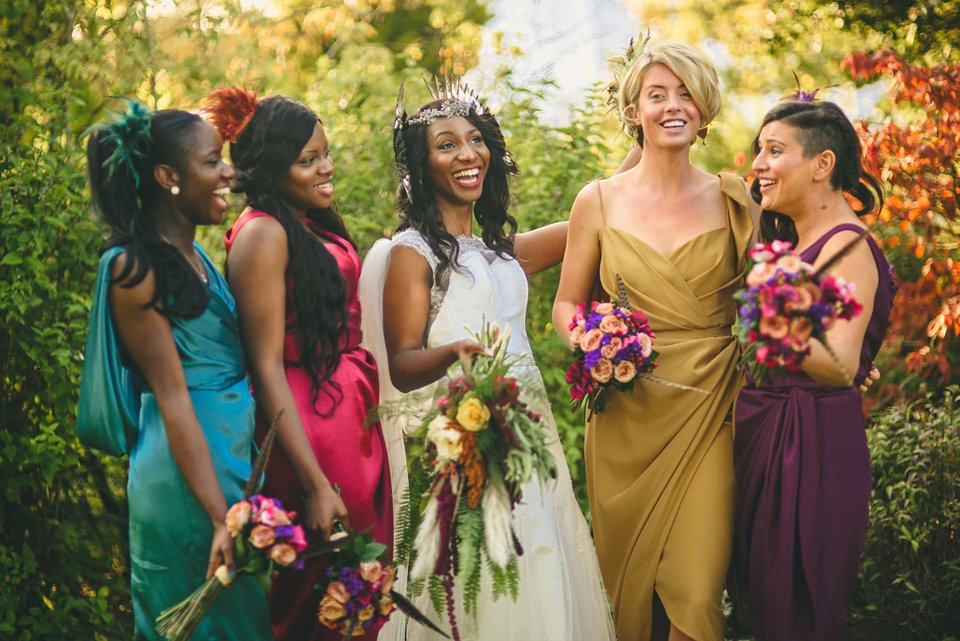 I'm sure like me, the first thing you noticed on these pictures was Ronke's head piece, it is truly spectacular. To finish the look, Ronke wore her mum's vintage blue shoes and her mum's vintage Christian Dior sapphire and diamond earrings, with a spritz of Jo Malone english pear and freesia cologne.
"I knew a long time ago I didn't want a veil, but what I wanted was unclear. After researching for several weeks I found TrifleRabbit that makes tiara's from vintage jewellery. I loved it, but knew it needed to be a more dramatic. So I contacted milliner House of Eliska to talk about what could be added and wings were the answer.
The four Magpie wings were purchased from eBay from an ethical supplier and added onto the tiara by Eliska in her studio. The total cost of the head piece came to £390. It's so important that as a bride you let your personality shine and don't conform to what is expected if that isn't you."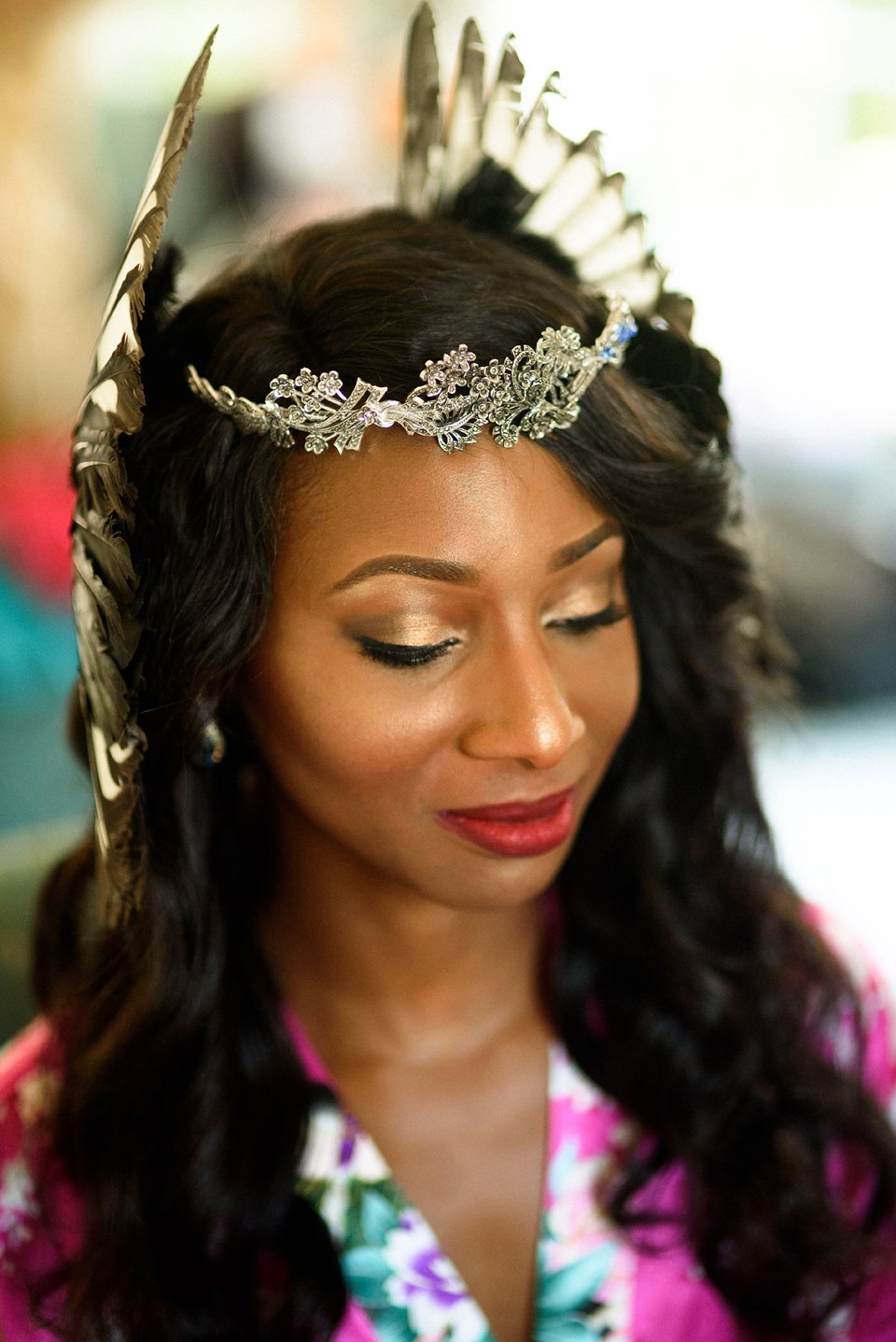 Ronke designed her fabulous wedding dress and had it made for her by Nilgun, she really does look like an angel! Ronke also has some sound advice for you brides to be.
"After visiting many wedding shops I realised I was never going to find what I truly wanted. My budget was £1,900 and I had my own dress designed and made for me with sheer Italian lace (giving it an authentic vintage finish) for £1,800.  The amazingly talented bridal designer Nilgun, who is based in North London made the whole process a joy. I would recommend anyone designing their own dress to try on dresses in shops and understand the different fits and fabrics. Take photos and do lots of research. It's an amazing process seeing your vision come to life and well worth the money.
'The dress was fitted and flared towards the bottom with tulle panels inserted on the lower half for a soft floating effect. What I loved about the dress was the feature of tulle wings. It felt truly magical to walk down the aisle in it."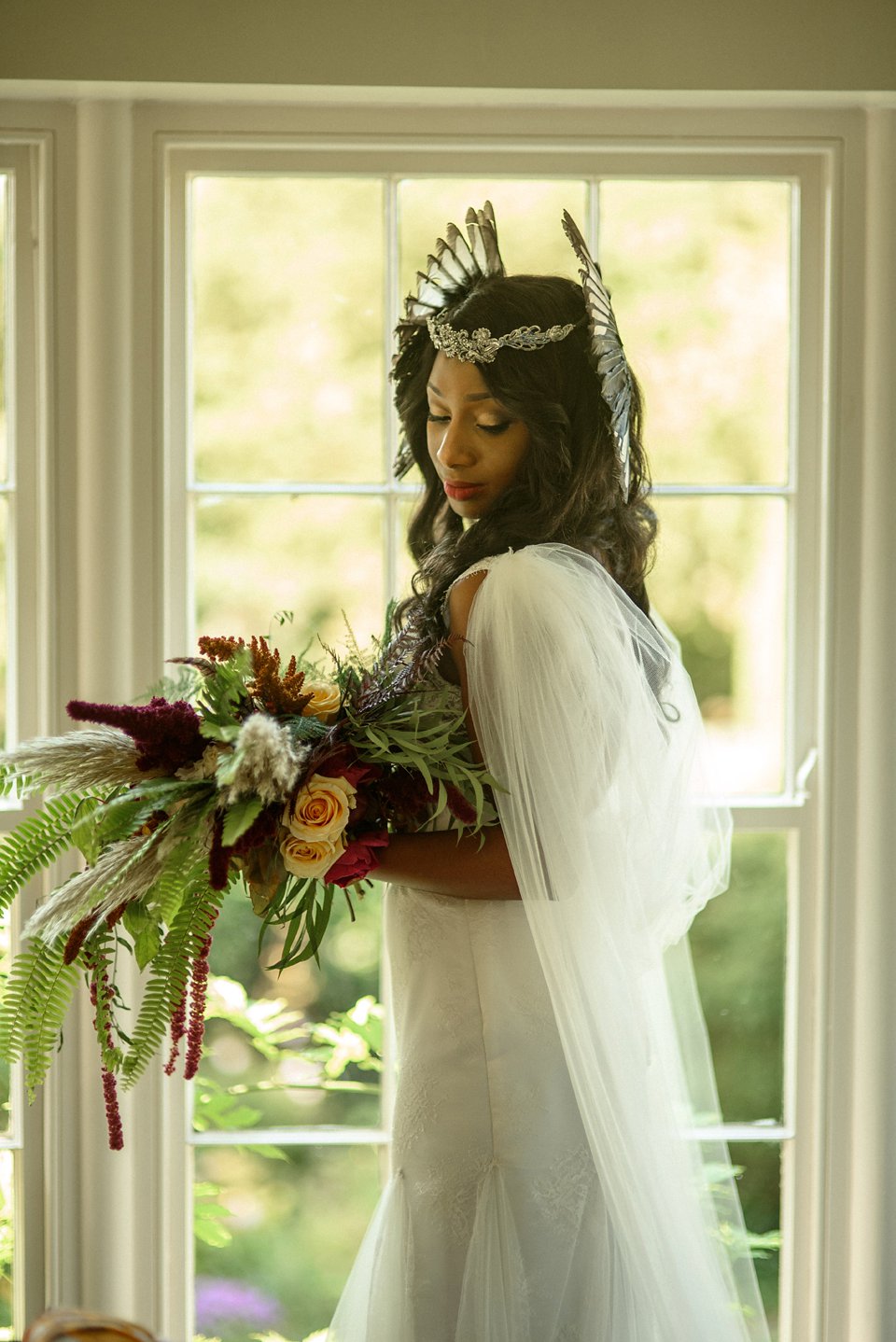 Ronke used Cambridge Makeup Artist and make up artist Malkia for the big day.
"I love this lady so much after I met her I seriously wanted to be her new BFF. She made me look so amazing that even I didn't recognise myself. The wedding consultation was so professional and again came with a mini photoshoot. She caters for all ethnic groups and does both hair and makeup. An amazing lady who is booked nearly a year in advance so be fast ladies. I was very lucky to get her."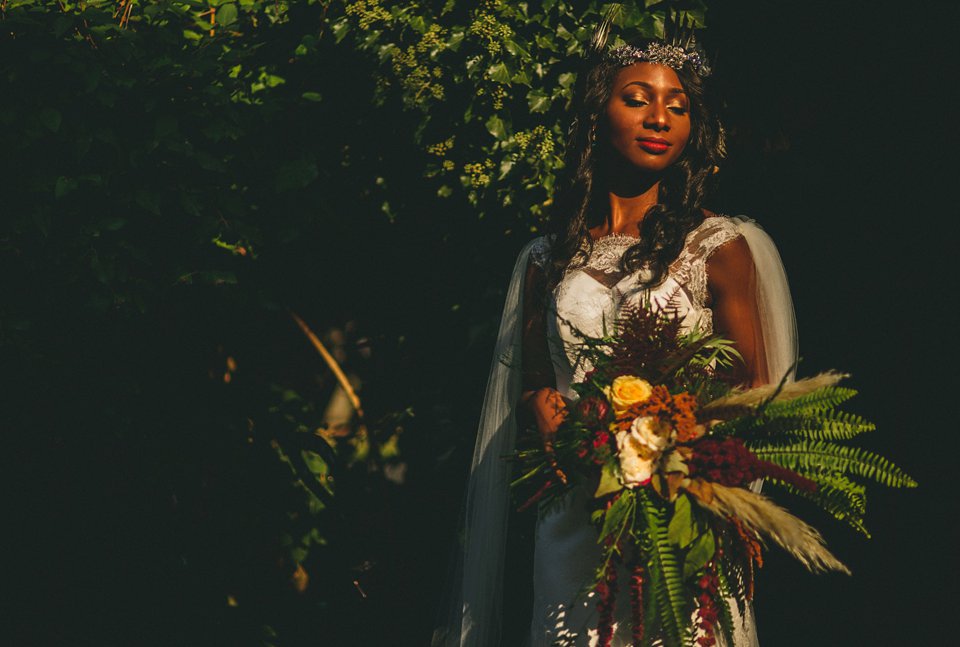 The couple married at Rectory Farm, a venue that's not only beautiful but ticks all of the boxes for Ronke and Len.
"We both wanted a venue which felt like a home, somewhere relaxing with beautiful grounds. This venue was also very convenient for guests coming from London without a car and also offered rooms for guests, all within a reasonable price range."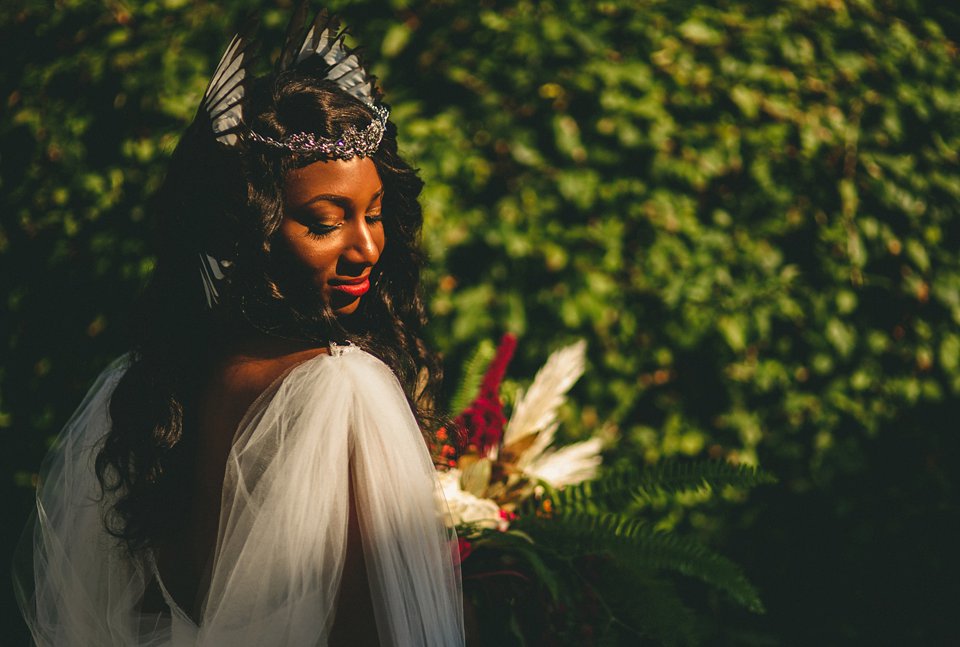 Groom, Len wore an aubergine three piece suit and patterned shirt by New and Lingwood at House of Fraser with a jewel purple silk tie from Kenneth Cole and shoes from Clarks. The Groomsmen also wore House of Fraser suits with shirt and ties from Debenhams, the couple found purchasing the suits more cost effective than hiring.
"Len and I met in a nightclub in South London. A cold October evening in 2004, yes that's right ..2004. Len proposed to me in 2012 during an evening stroll on a beach in Goa. So we were engaged for 4 years before we were married."
Deborah Panesar is responsible for the truly beautiful stationery provided for the couple.
'She created a website for us which had all the information on it for our guests , links to the present page etc. The stationary and website looked beautiful.'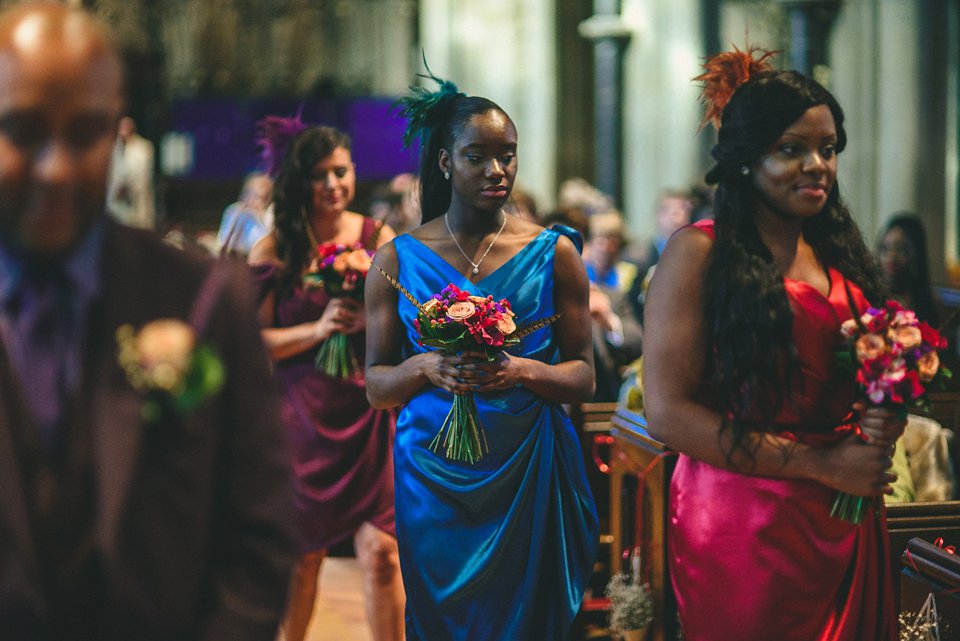 "I was honoured to be walked down the aisle by my step father Keith gave me away and I had an image of my father in a photo frame within my flowers as well.'"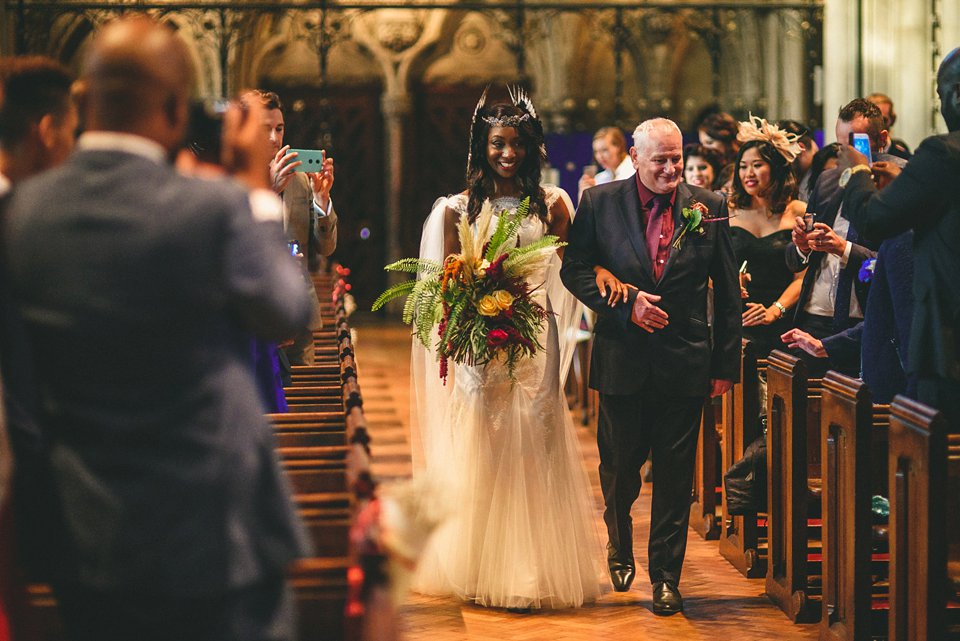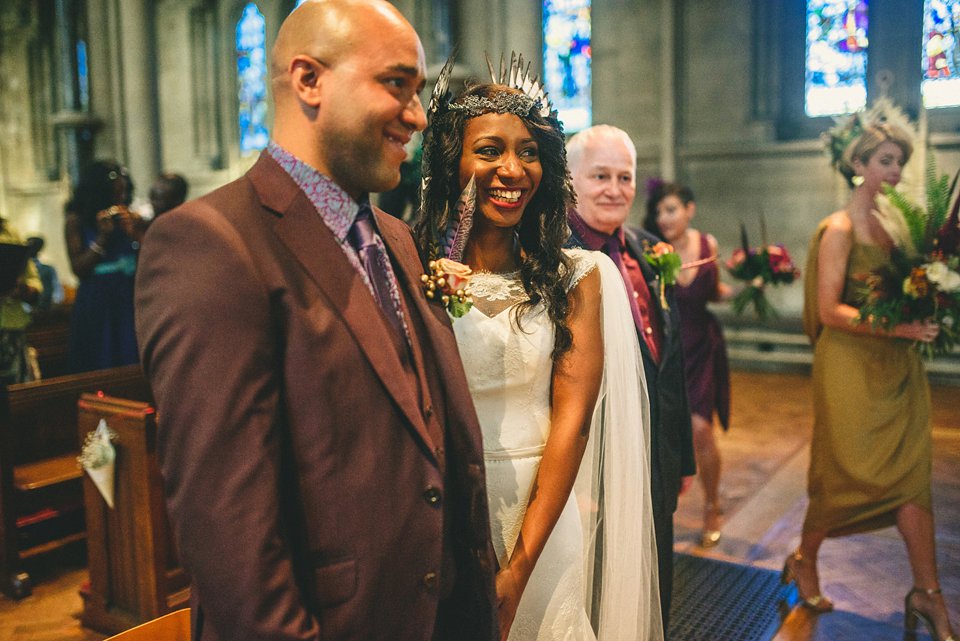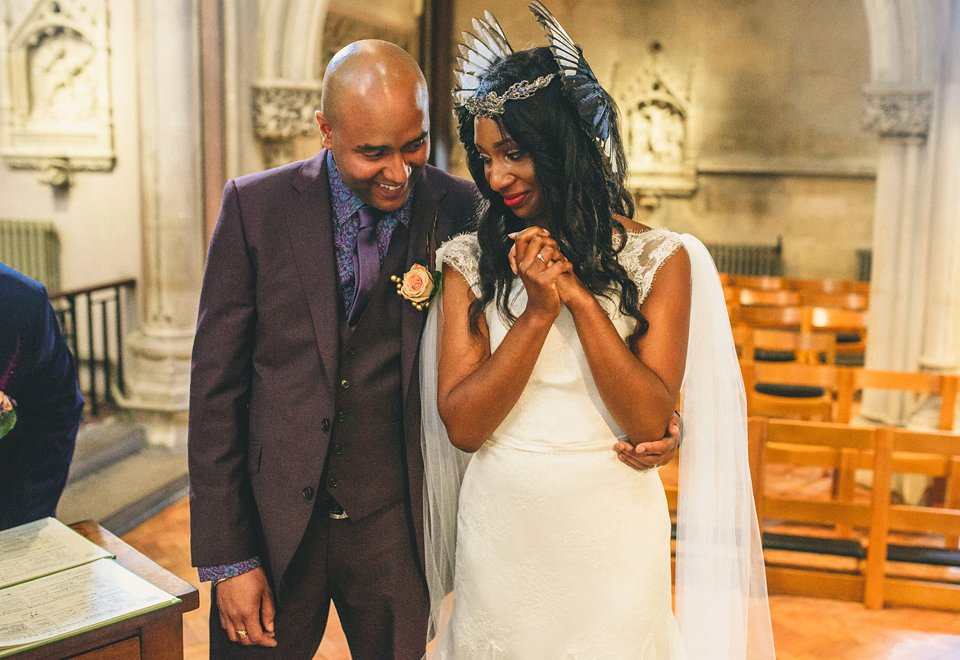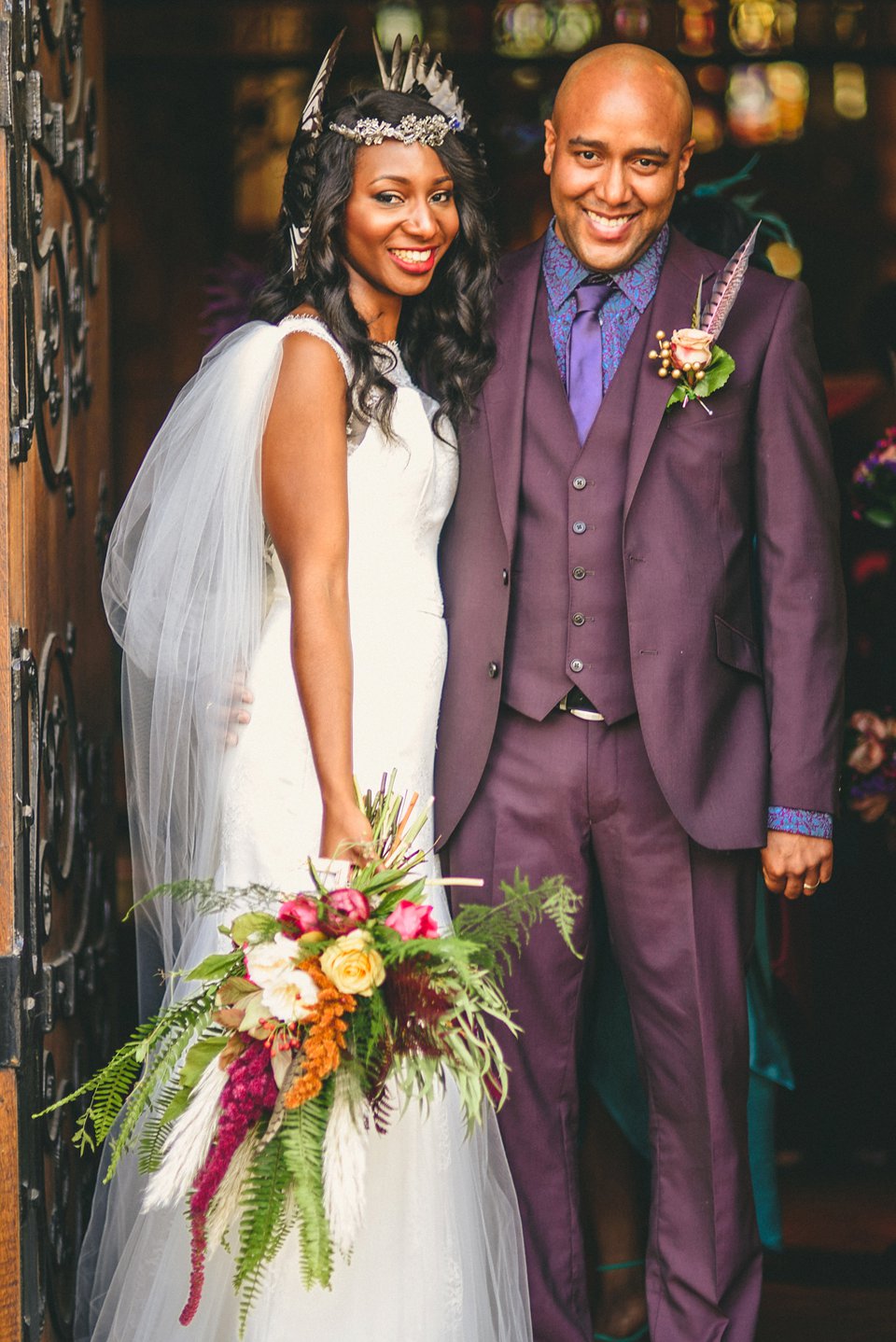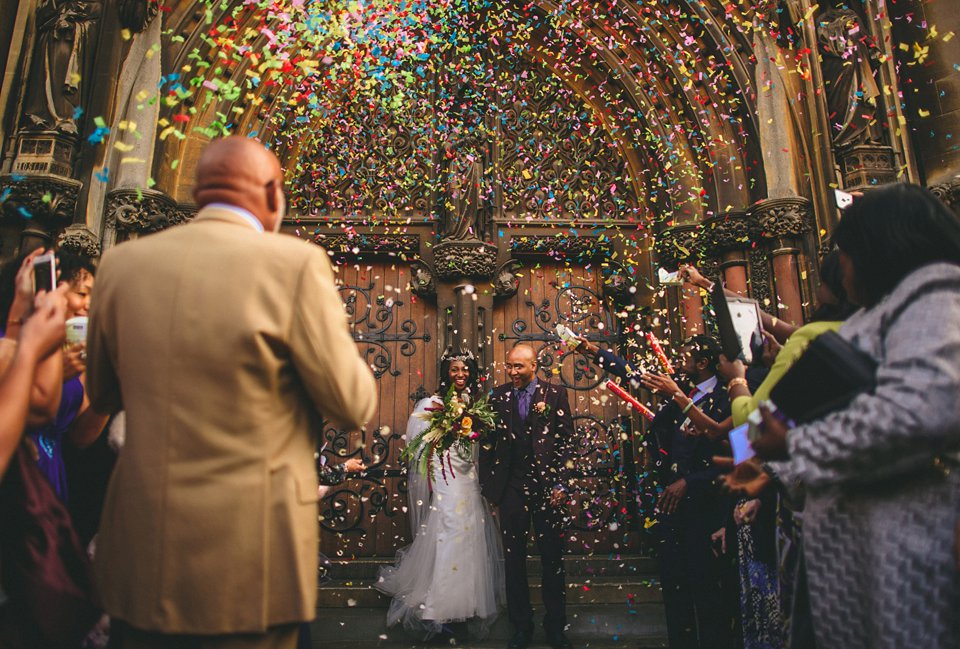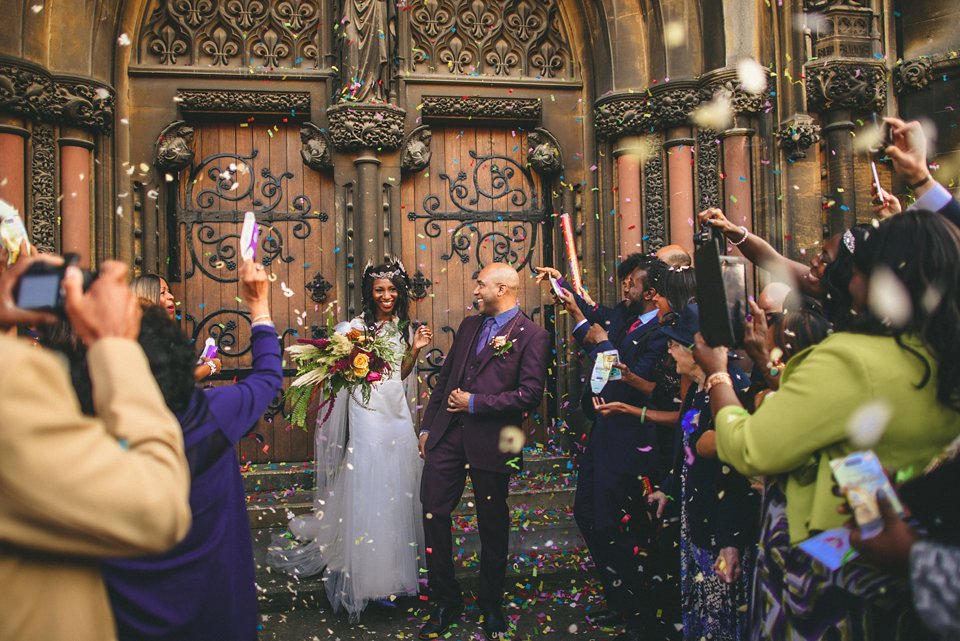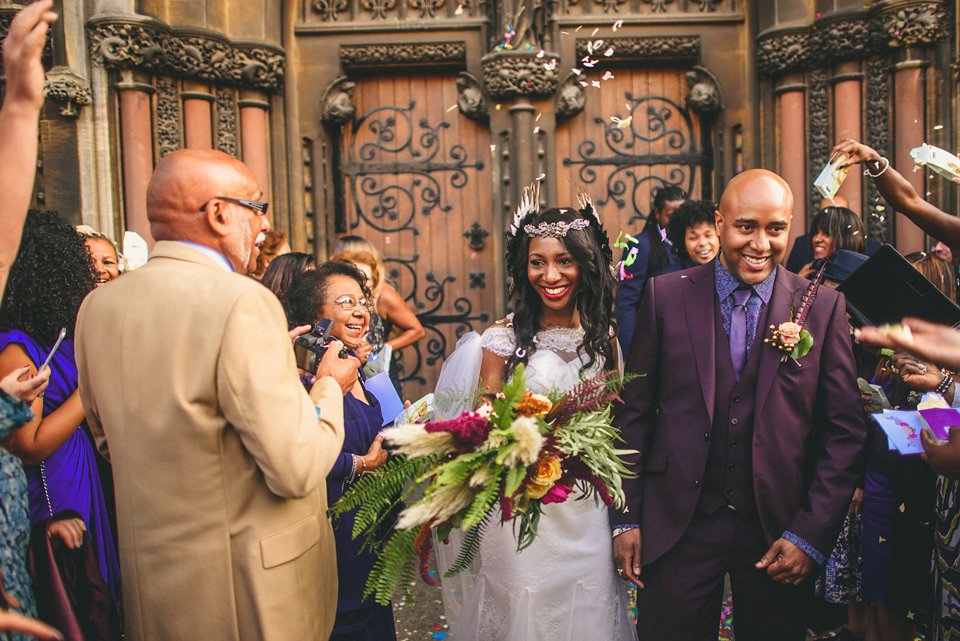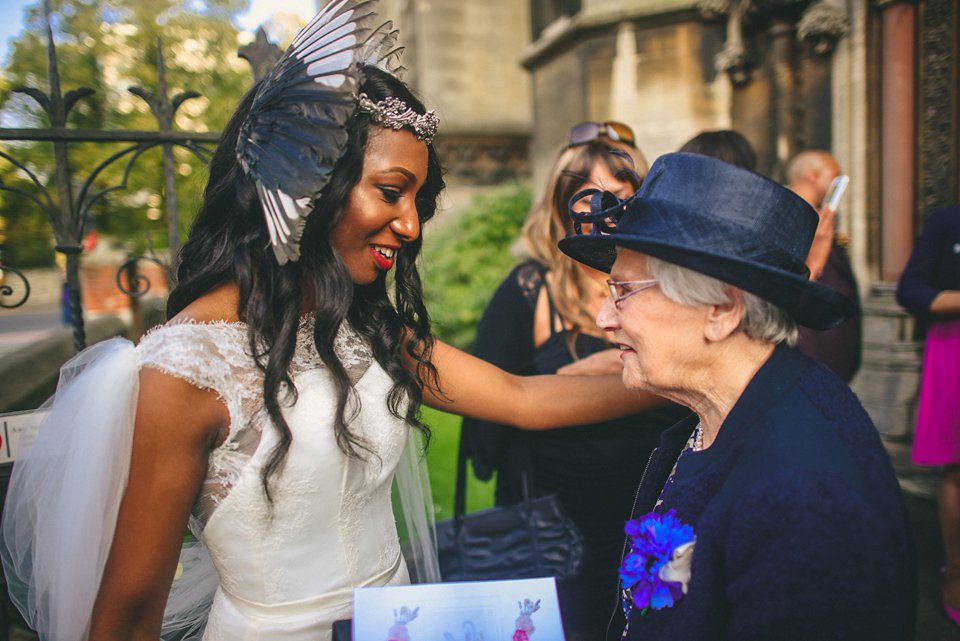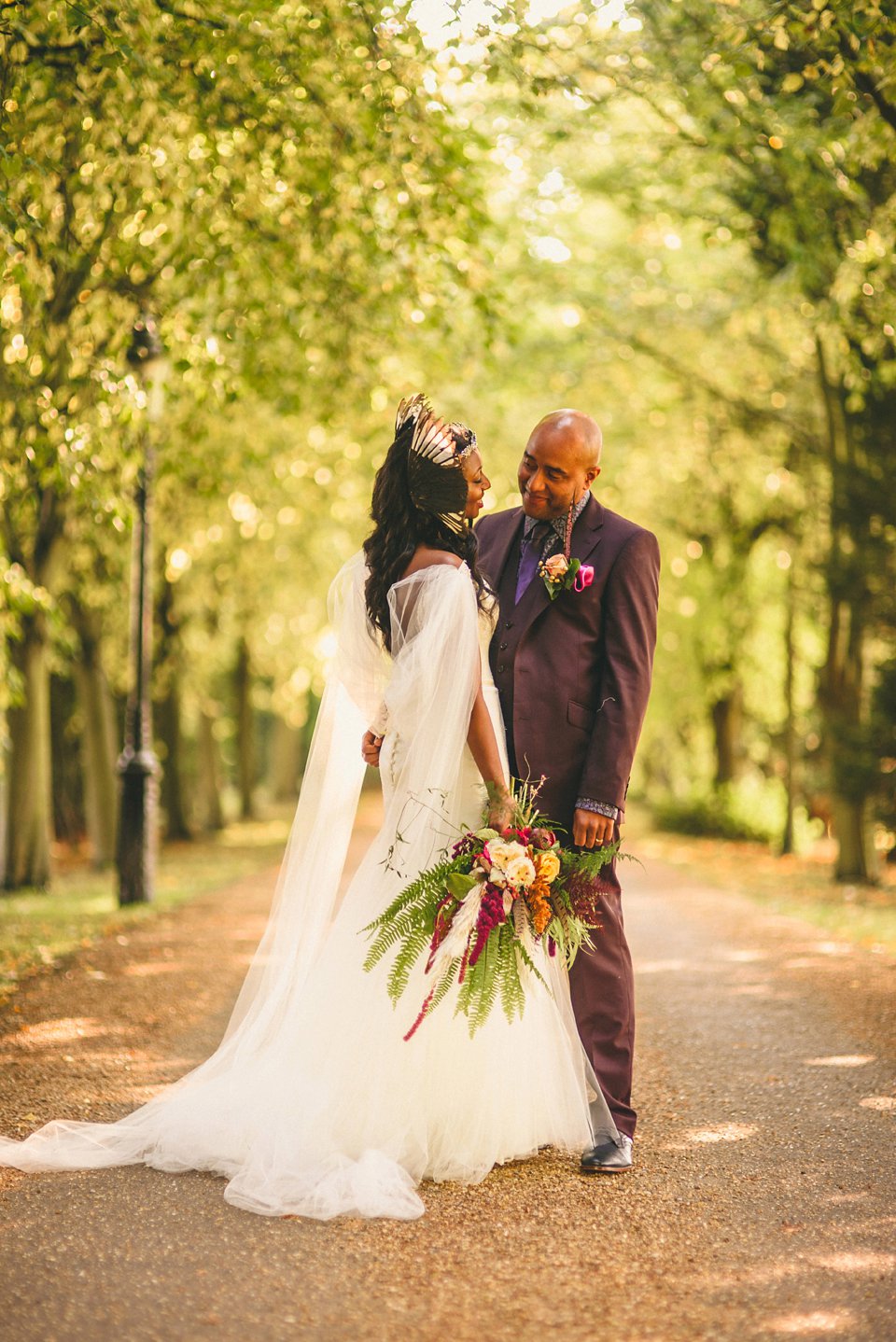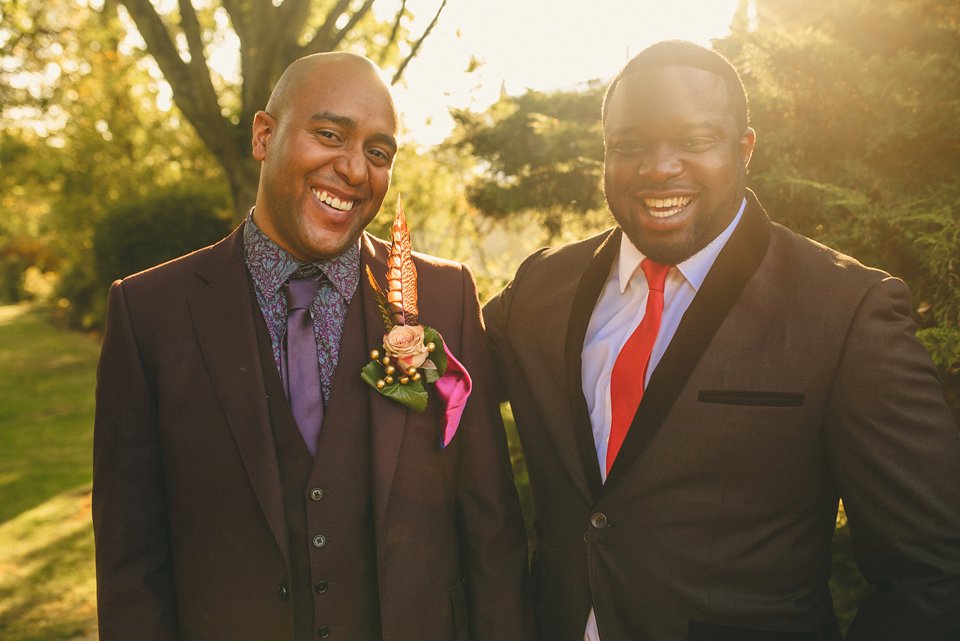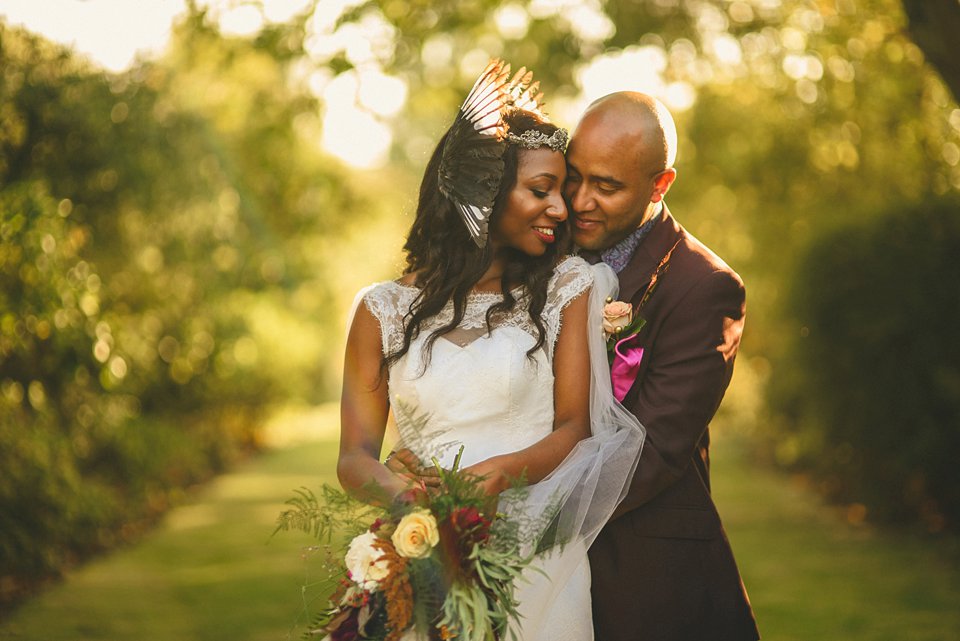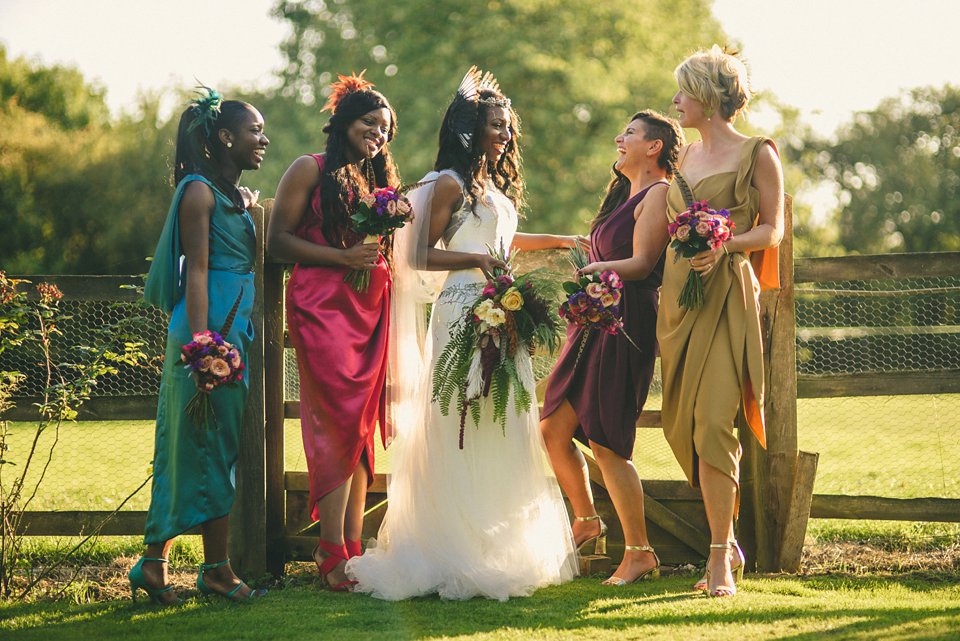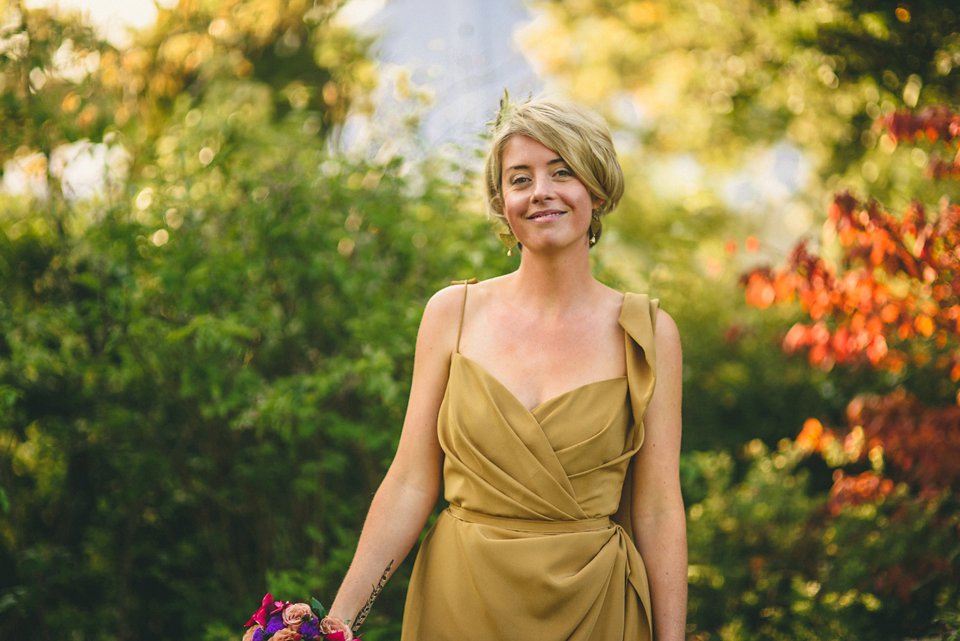 The bridesmaids each wore a different style dress in their own jewel hue designed by Elizabeth Nsubuga with feather hair accessories made by Ronke and ASOS earrings.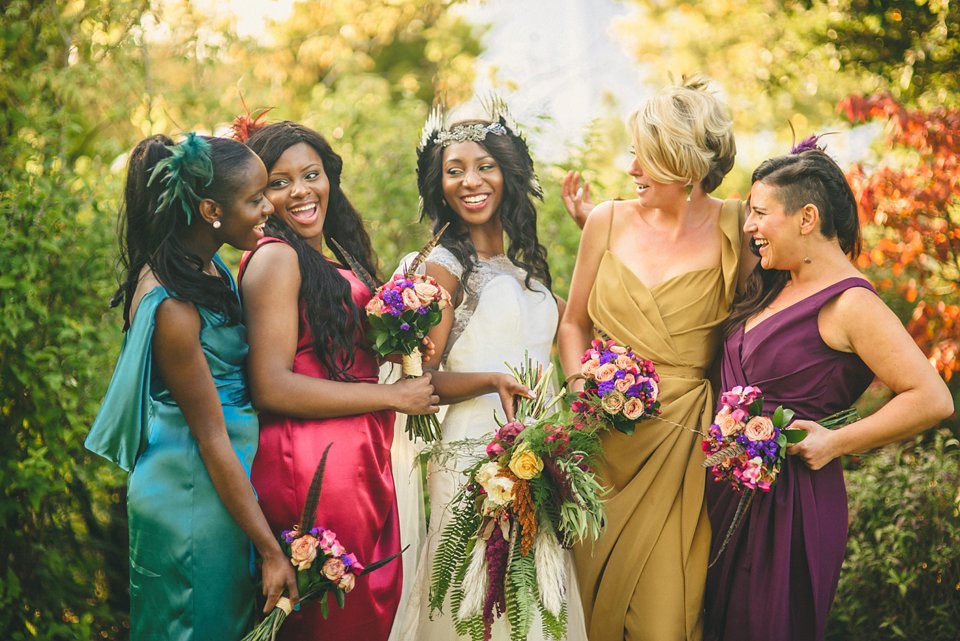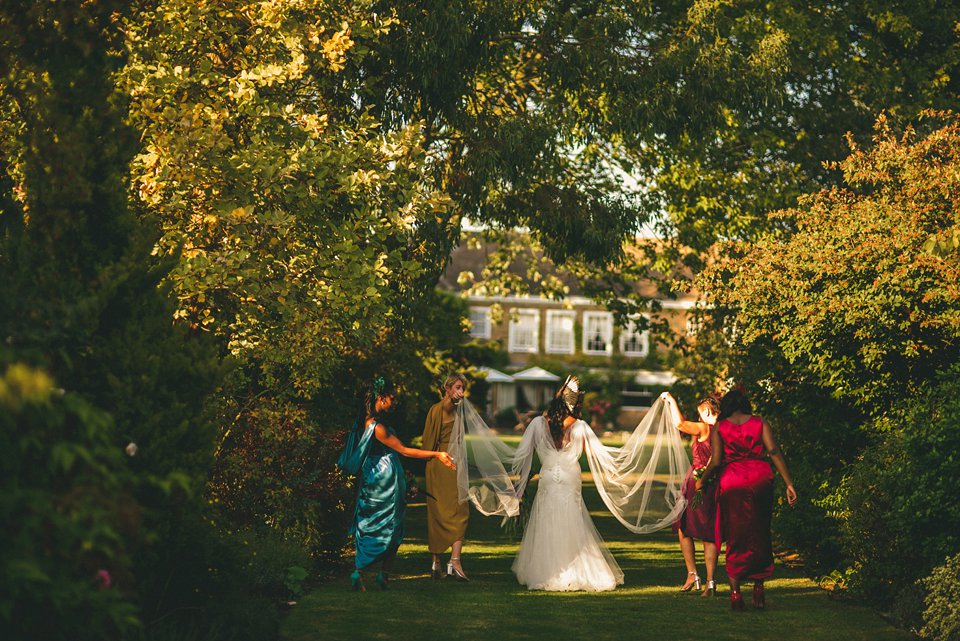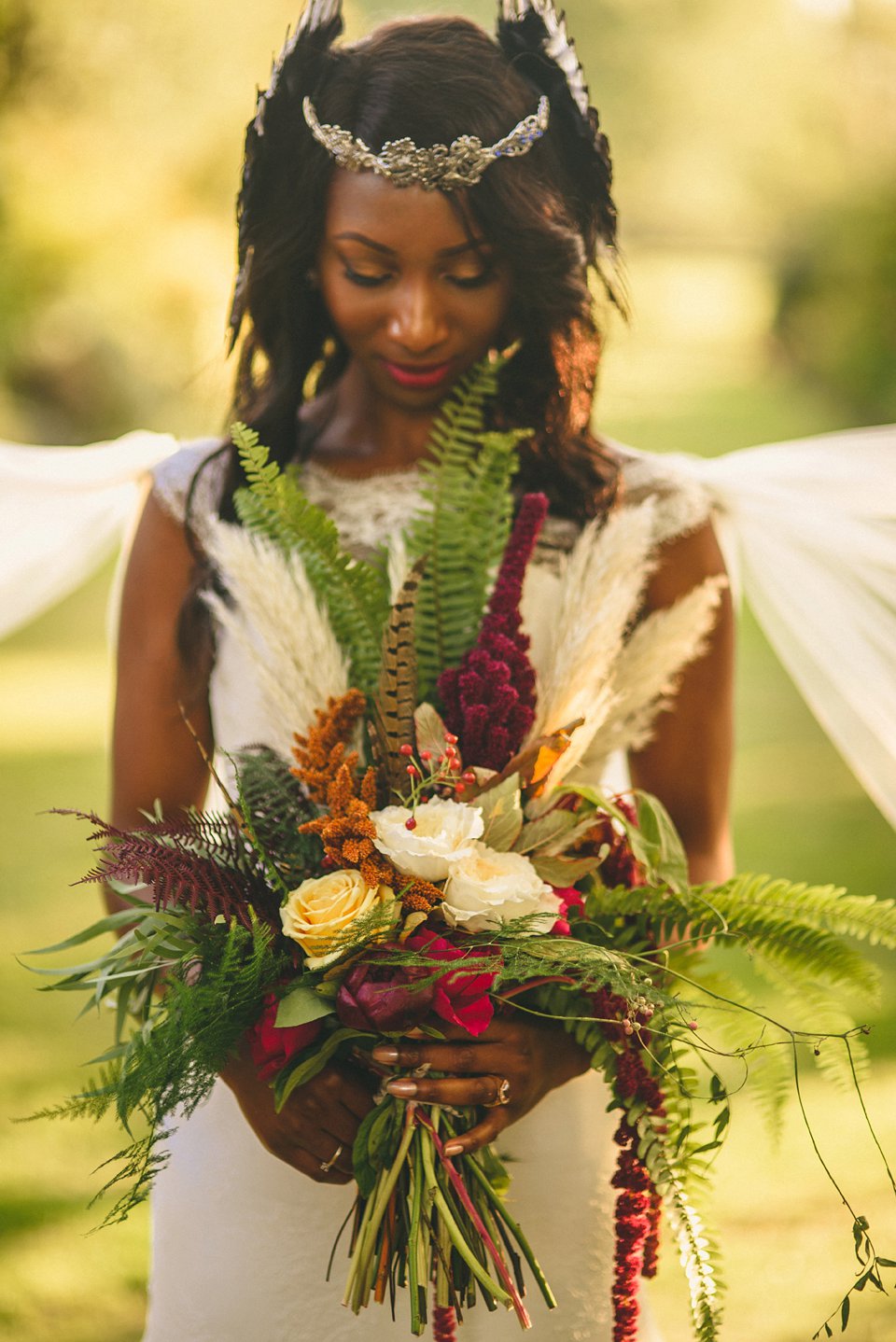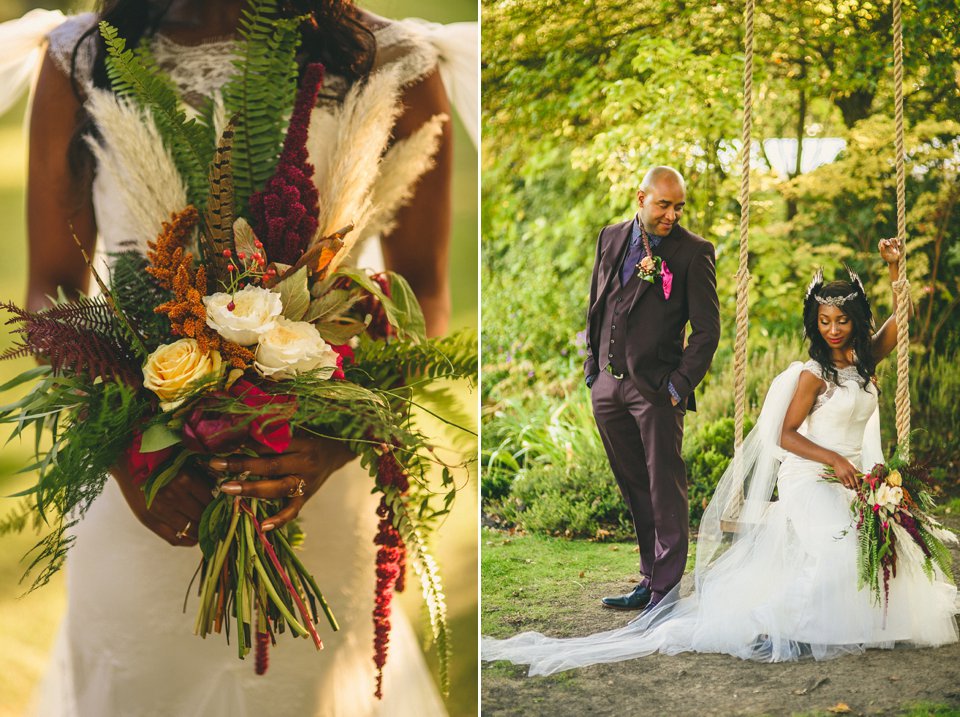 Ronke reflects on her favourite parts of the day…
'The confetti throwing, walking down the aisle saying our vows to each other. We have been together for 15 years and having all of our family and friends together was such a blessing at those two points in the day.  Get confetti cannons, they are amazing!'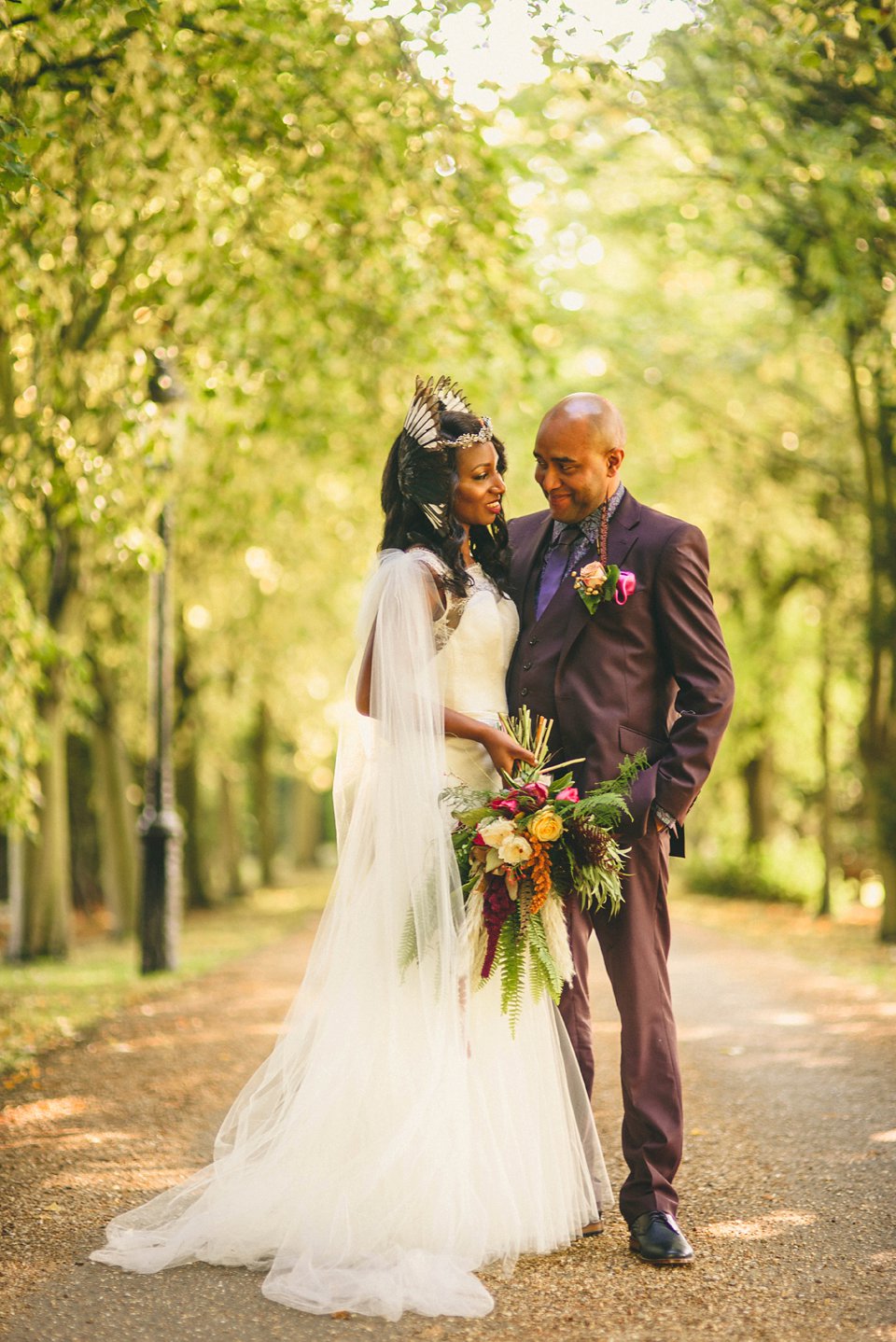 Words of Wedded Wisdom
"Be true to what you want and don't feel pressured into anything. If you love a dress in lace and it's what you want don't worry about what anyone else thinks. 
Deciding who to invite is so hard. Only invite people who have made a difference in your life, who make you feel special and smile. Weddings are great test of friendships and you'll realise who your true friends are throughout the process."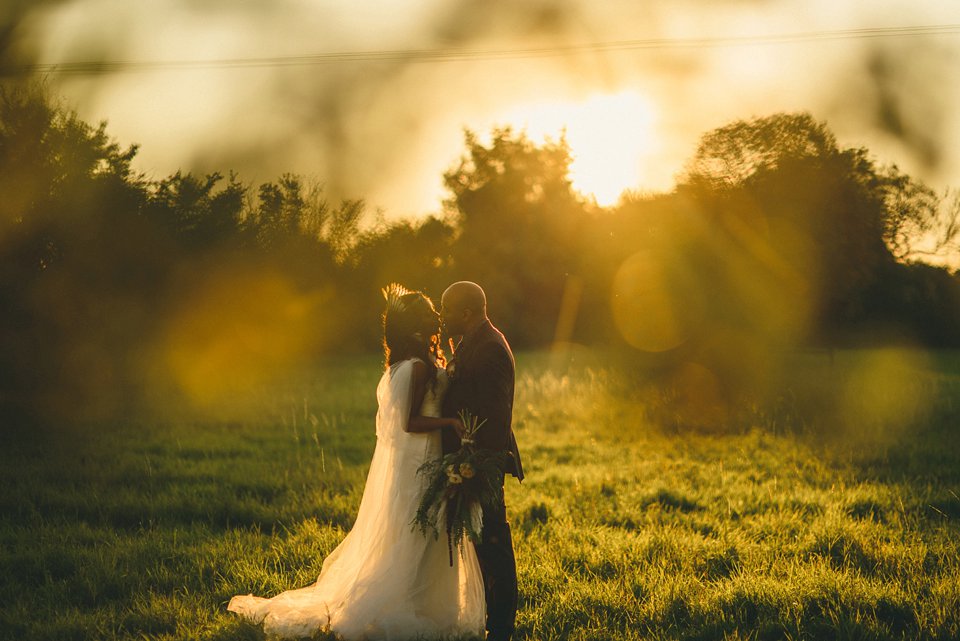 "You should also decide as a couple if you will tell your guests who want to bring partners they have only newly met or plus 1 you do not know if they are happy to contribute to the food. We did this and our guests were more than fine.
Some might think it strange but if they have only been dating for a few months or you do not know them then this shouldn't be a problem. This rule should also apply to late rsvp guests."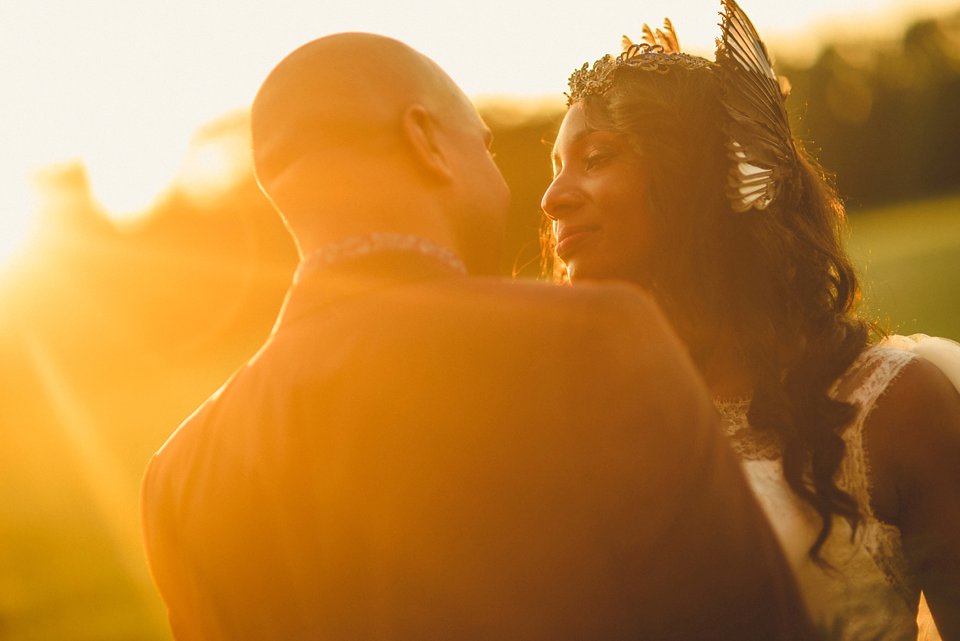 Ronke and Len opted for a cake table by The Tartelettes rather than a traditional tiered cake, but this is no standard cake table, the cakes look absolutely incredible and even the set up with the flowers is breathtaking. If I could just have a slice of that red velvet please…
'Where is the rule book that says your wedding cake needs layered? I found these ladies 4 years ago at the Crystal Palace festival and kept their card in my wallet as I knew they were the only ones I wanted to make my cakes. They went in seconds.'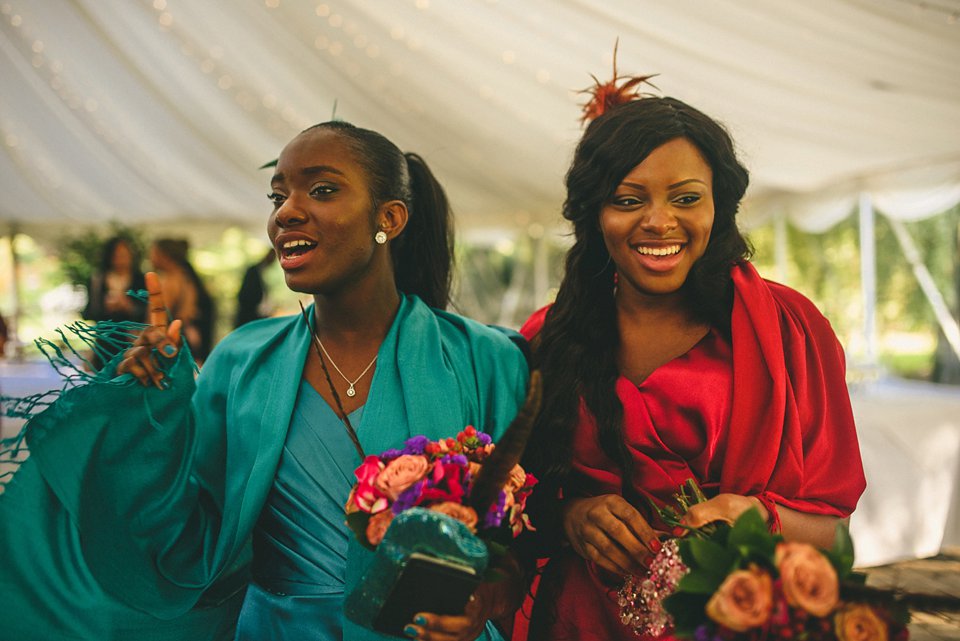 Ronke and Len sourced several suppliers to create exactly the day they wanted right down to the details, including one of my favourites, gold cutlery! The cutlery and candle sticks came from Helene Millot, check her out for some truly beautiful vintage props. Ronke also purchased lot's of props from Ebay.
'Lots of vintage books, moss, name cards, table numbers, cake stands, glass water bottles, non-drip candles, pheasant feathers were purchased from eBay. If you order early enough, you can have things sent over from China for LESS than half the cost of what you pay for in the UK. If you are having moss on the tables however – don't overdo it, especially with candles. We also had a mini fire, which was luckily put out very fast."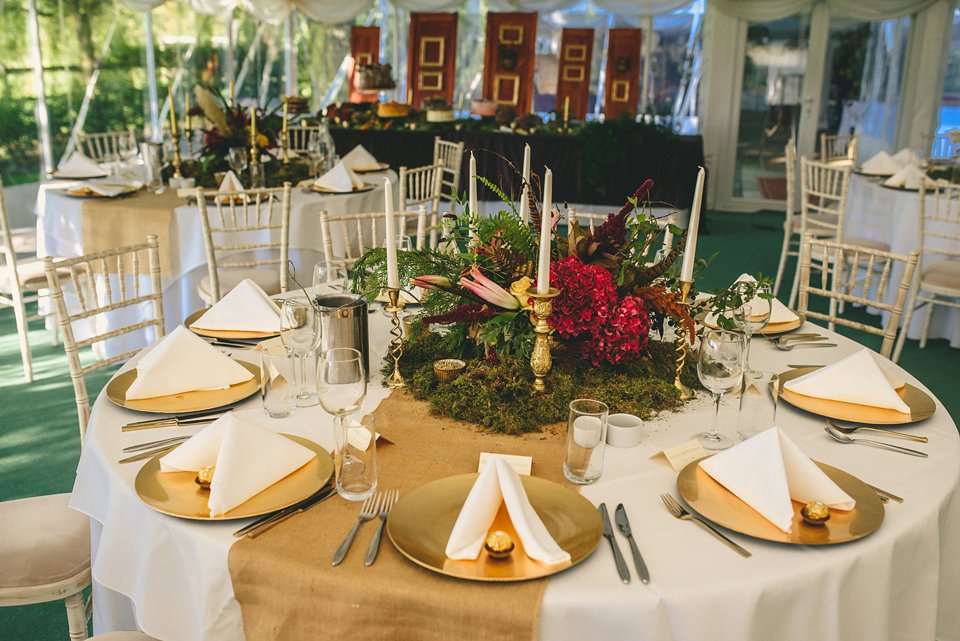 "The most professional wedding supplier we hired from was Wedding Day Hire – they have so much choice and are extremely patient."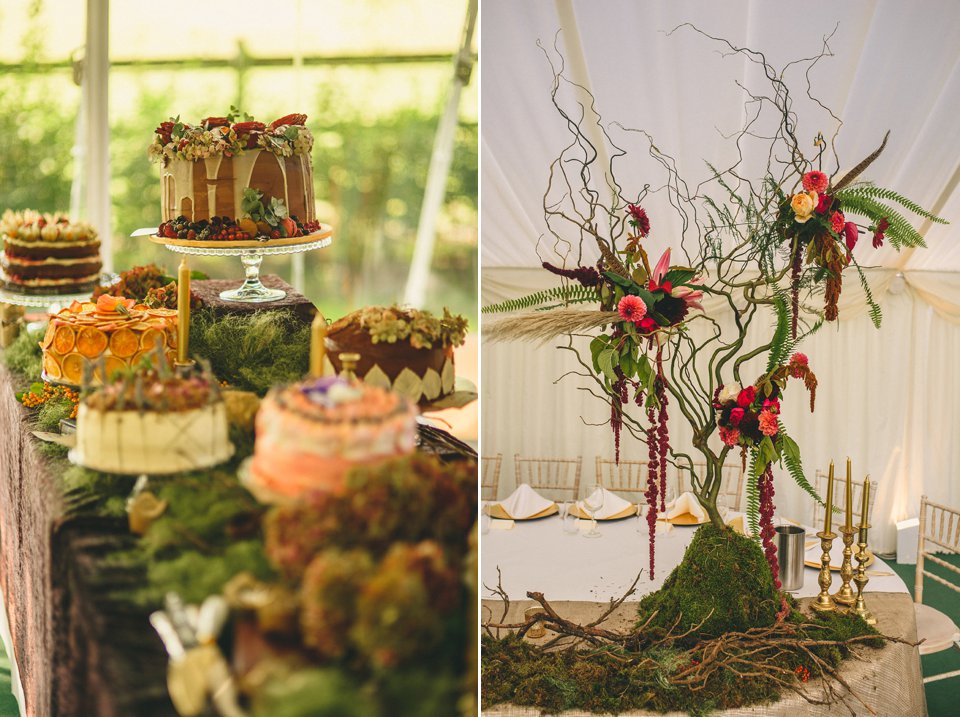 In the evening Ronke changed into a blush pink sequin jumpsuit from ASOS and another fabulous headdress by Isla Campbell, which was made from lace and silk roses stiffened to fit like a crown, gifted by some very special friends.
The newlyweds and their guests danced all night to R&B, Latin and 70's/ 80's, provided by DJ Skinz who also works at Ministry of Sound.
"Len and I wanted to song which wasn't too slow. We danced to Tina Turner and David Bowie. 'Tonight'. The lyrics were very important. The words 'I will love you till I reach the end ..I will love you till I die' meant a lot to us both."
"Stay calm and relaxed if things don't go as planned don't worry. I fell on my ass after my speech. Painful? Yes, but so memorable and funny!
Stick to your budget and don't take out any loans. You could go crazy with lots of things but remember your guests are coming to be with you. Photo booths, sweet machines are added extras, so only go with them if you can afford it. Remember you want to have a life after the wedding and not worry about paying it back for years after. You don't need to get married the year after you are engaged! Save up before your wedding."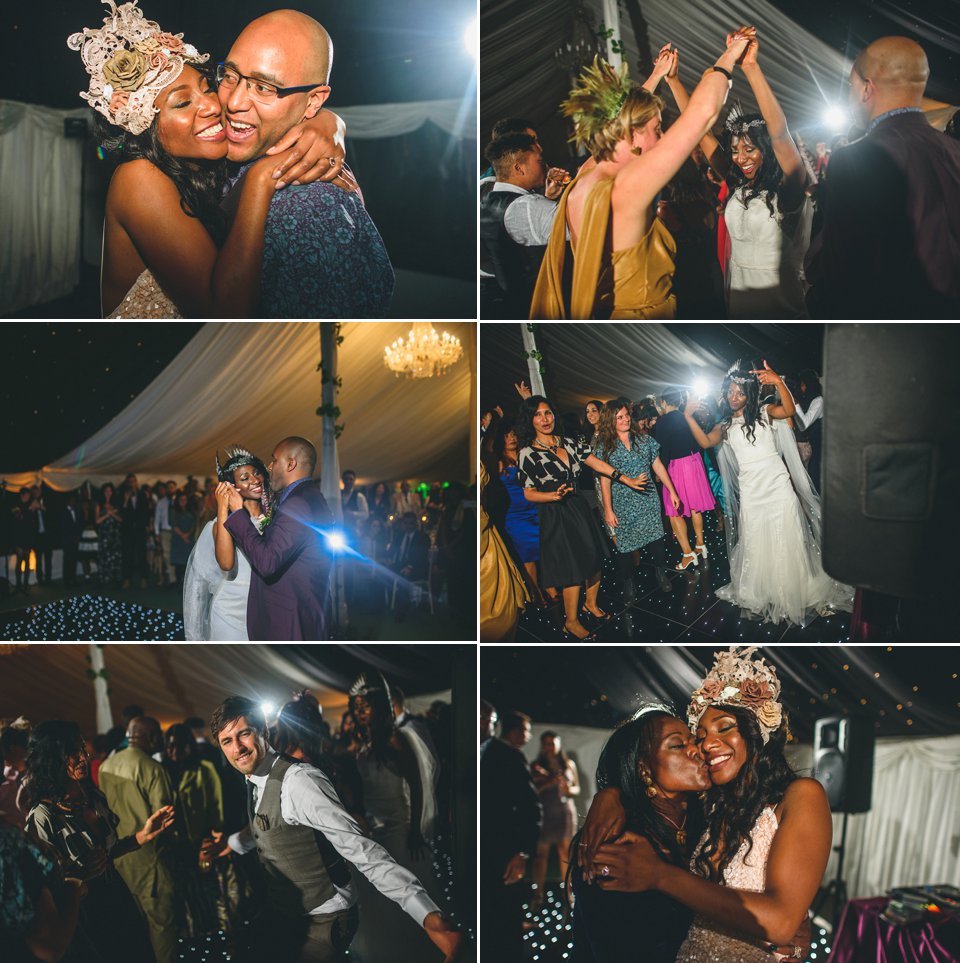 "Don't be afraid to show people what your vision is using moodboards and videos. I sent Mick my photographer the Taylor Swift video link for 'Wildest Dreams' and the film 'Notebook' and said I want my images to reflect this mood. If you don't ask you don't get. 
Use Pinterest for ideas. Mine started off very vintage with lots of bright colours and bunting and changed greatly through my planning process, seeing things visually on a daily basis helps. You don't have to spend lots of money on books and wedding magazines.
Stay healthy and fit. Exercise regularly and detox  a few weeks before the wedding. I had 2 facials 2 weeks before the wedding. A deep cleansing facial and an extraction facial. My skin was glowing on the wedding day.  Scrub your body religiously so you have silky smooth skin on the wedding day.
 Remember music for your dressing room and drinks/ nibbles. We had a very large room and it made the morning so much more relaxing. And finally – eat breakfast and a light soup before you leave for the big ceremony."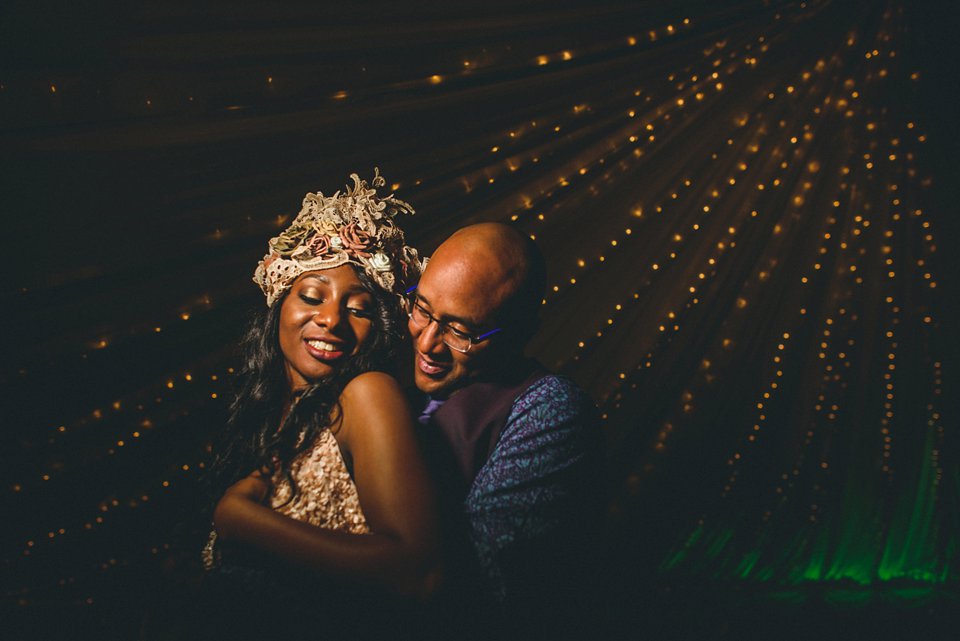 There are so many great pointers Ronke has given us here, I particularly love the idea of showing your photographer a music video to demonstrate the mood you want to evoke!
Thank you so much to Ronke and Len for sharing the details of your wonderful day with our readers and congratulations on your marriage. Thank you also to Mick for capturing the day in all of its colourful glory and sharing these images with us.
Bianca x