Good morning Early Birds! Is anyone else finding it *slightly* terrifying that May is hot on our heels? With the last of the mini eggs rescued from under the sofa and varying amounts of sunshine peeking through the clouds, the onset of May feels very firmly in 'Spring' territory. We seem to be hurtling towards my September nuptials at an alarming pace but I'm making every effort to stay calm and enjoy each and every wedding planning experience to the full. Fellow 2016 brides, we got this!
So, after happily waving goodbye to Monday, I'm here to give you a Tuesday treat. Laura, a Barrister married Graeme, an Engineer on 21st November 2015. These childhood sweethearts wanted a thoroughly modern celebration that felt true to themselves, and boy did they do it in style. The couple chose a place they visit often, the Baltic Centre for Contemporary Arts for its versatility and location; the clean lines and unique spaces provided the perfect backdrop to their 'I do's'. These gorgeous images were taken by the very talented Katy Melling.
"We wanted something modern and contemporary but timeless, and which wouldn't date when we were looking back over photographs in years to come. To achieve this I wanted to use a very classic and simple colour scheme knowing that I would be making a big statement with my outfit, by not going for a more traditional wedding dress."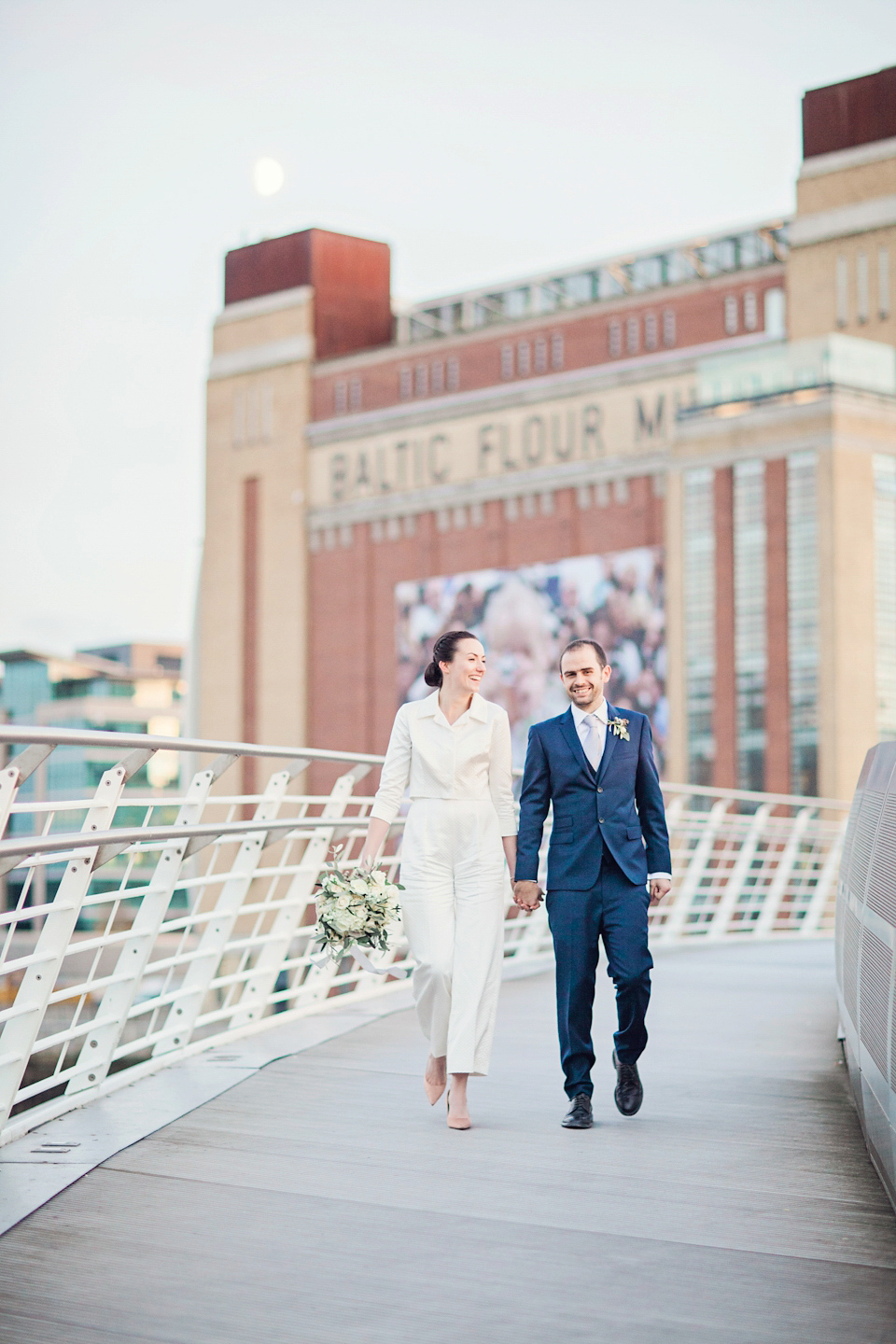 "I was originally inspired by my mum, who was married in a tweed suit, something I have always loved when looking back at her wedding photographs. I came across a red version of the jumpsuit I ended up wearing online. Loving the original design, I contacted the Emilia Wickstead boutique who agreed they would be able to make this a bespoke design in an ivory colour for me."
Inspired by her mother denouncing tradition for her own wedding, our Bride was adamant she wanted to do the same and so set about finding the perfect statement outfit. Thankfully, the wonderful Emilia Wickstead boutique was able to custom make the perfect piece.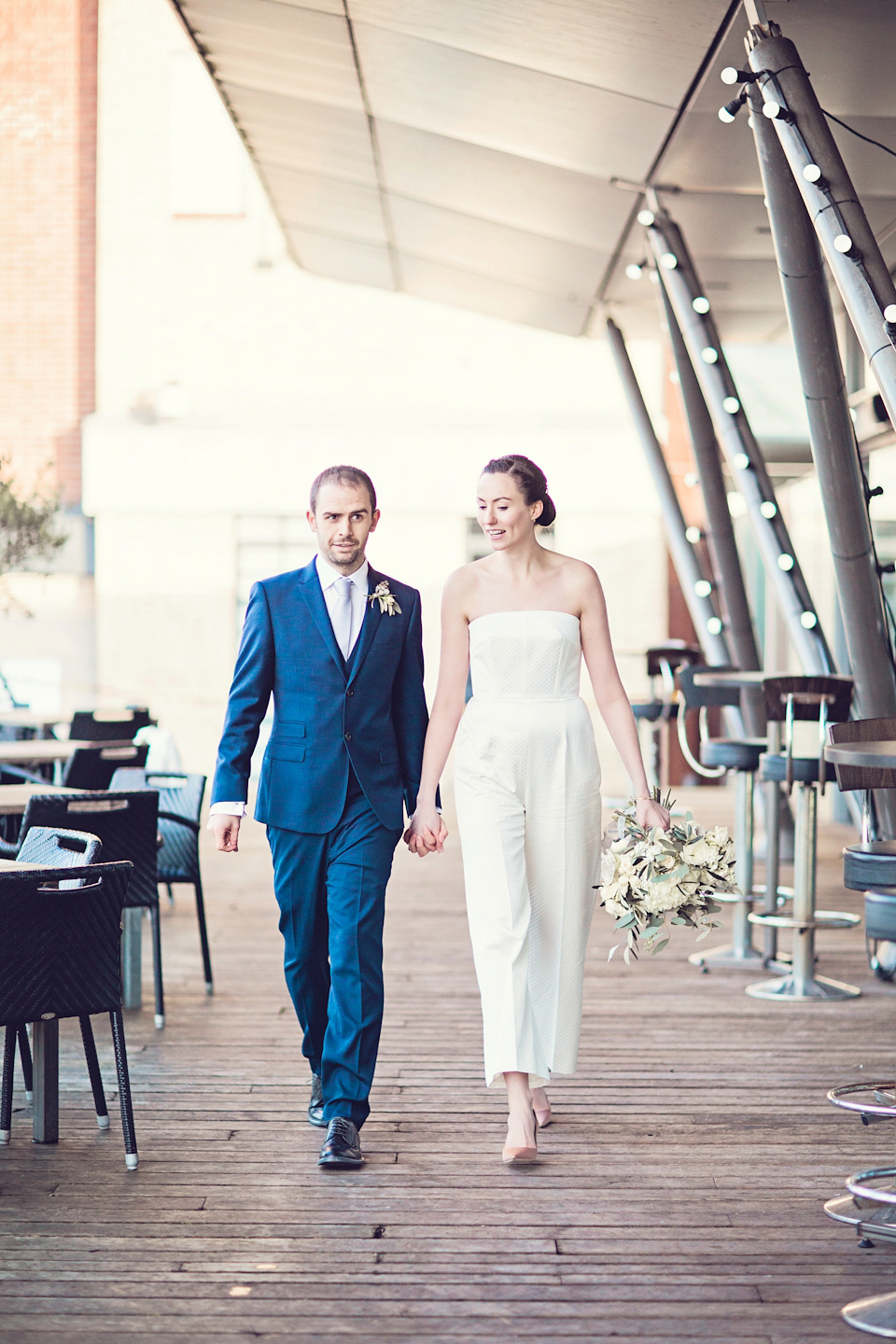 The Baltic Centre for Contemporary Arts has evolved from 1950's industrialism to host evocative and progressive art exhibitions. Overlooking many local landmarks, our happy couple were spoilt for choice over which vast space to use for each part of their day.
"We were married in one of the gallery spaces on Level 1 and had our wedding breakfast in the restaurant Six, which has great views over the Newcastle Quayside. Fresh Element provided the catering as they are based in the restaurant, with dishes including seared scallops, duck confit and white chocolate cheesecake. Our reception was held in the River Terrace space which looks out onto the River Tyne."
"Over the course of four fittings with Emilia Wickstead in London I was able to choose the material (a textured ivory satin), the length and shape of the jumpsuit and add a jacket to the look (it being a late November wedding!). Being a 6ft tall bride it was brilliant to have an outfit that was made to measure! I love that I will be able to wear the jacket again in the future and felt the outfit I ended up choosing went well with the contemporary city venue we married in."
Knowing that her footwear would be very much on show due to the length of the jumpsuit, Laura decided to design her own perfect pair via the Jimmy Choo Made to Order Service. Choosing elegant blush satin and a lower heel, our blushing bride also had her new initials detailed in gold on the sole of her shoes.
I just adore little details like this! I recently shared another bride who took shoe matters into her own hands with stunning results; designing your own shoes may be just what the perfectionist in you is looking for!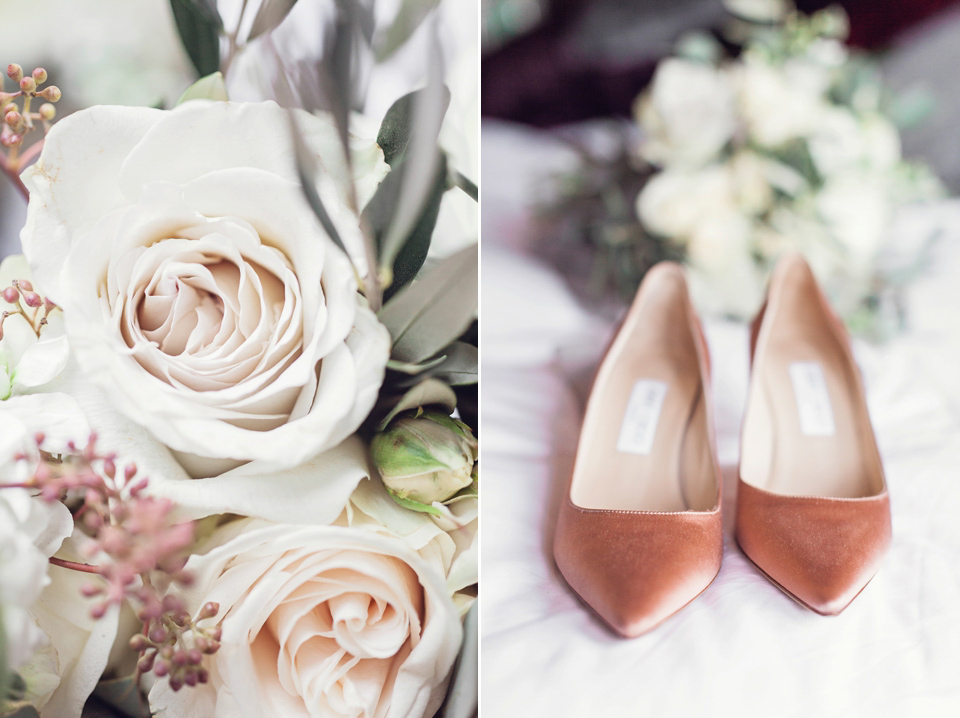 Again, tying in her parents Big Day, Laura was able to spritz herself with pure nostalgia. How sweet that her Mum has kept this scented memory for her daughters to share.
"I wore the perfume Bleu de France, which was the scent that my mum wore on her wedding day and that she saved for both myself and my sister to wear when we got married. Unfortunately, it is no longer available to buy and so I was given a small decanted bottle of perfume by my mum to keep after the wedding. It was lovely to wear a perfume that had so many memories for my mum and which has such special meaning.
Stunningly understated and classic blooms were provided by Helen Mawson at Bels Flowers.
"We ended up opting for a natural, effortless style of flower with lots of mixed leaf foliage, whites, ivories and subtle hints of pale blue and grey. The wonderful arch which myself and Graeme were married under was decorated by Graeme's mum and family, Helen very kindly assisted them in doing this; I couldn't recommended her highly enough!"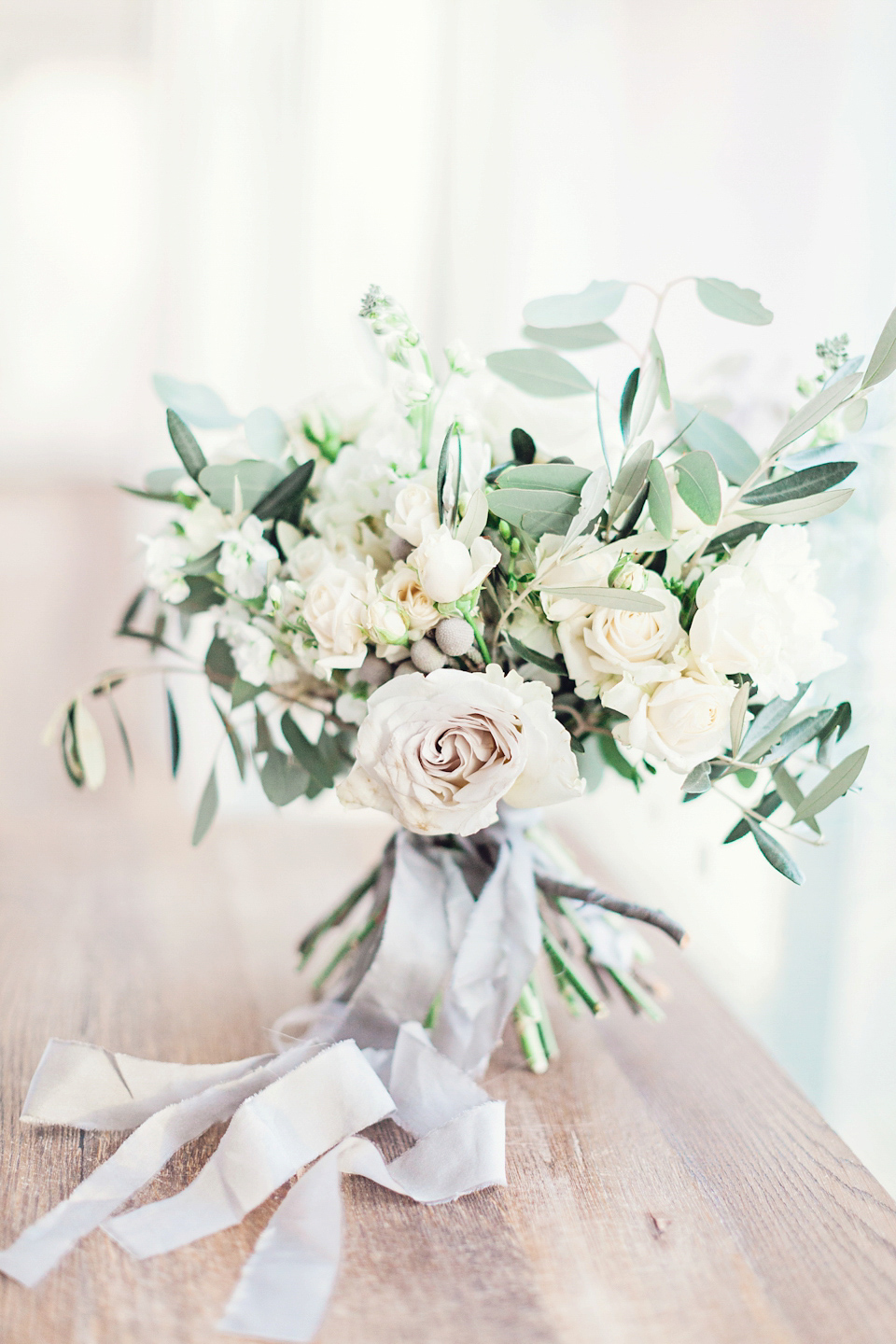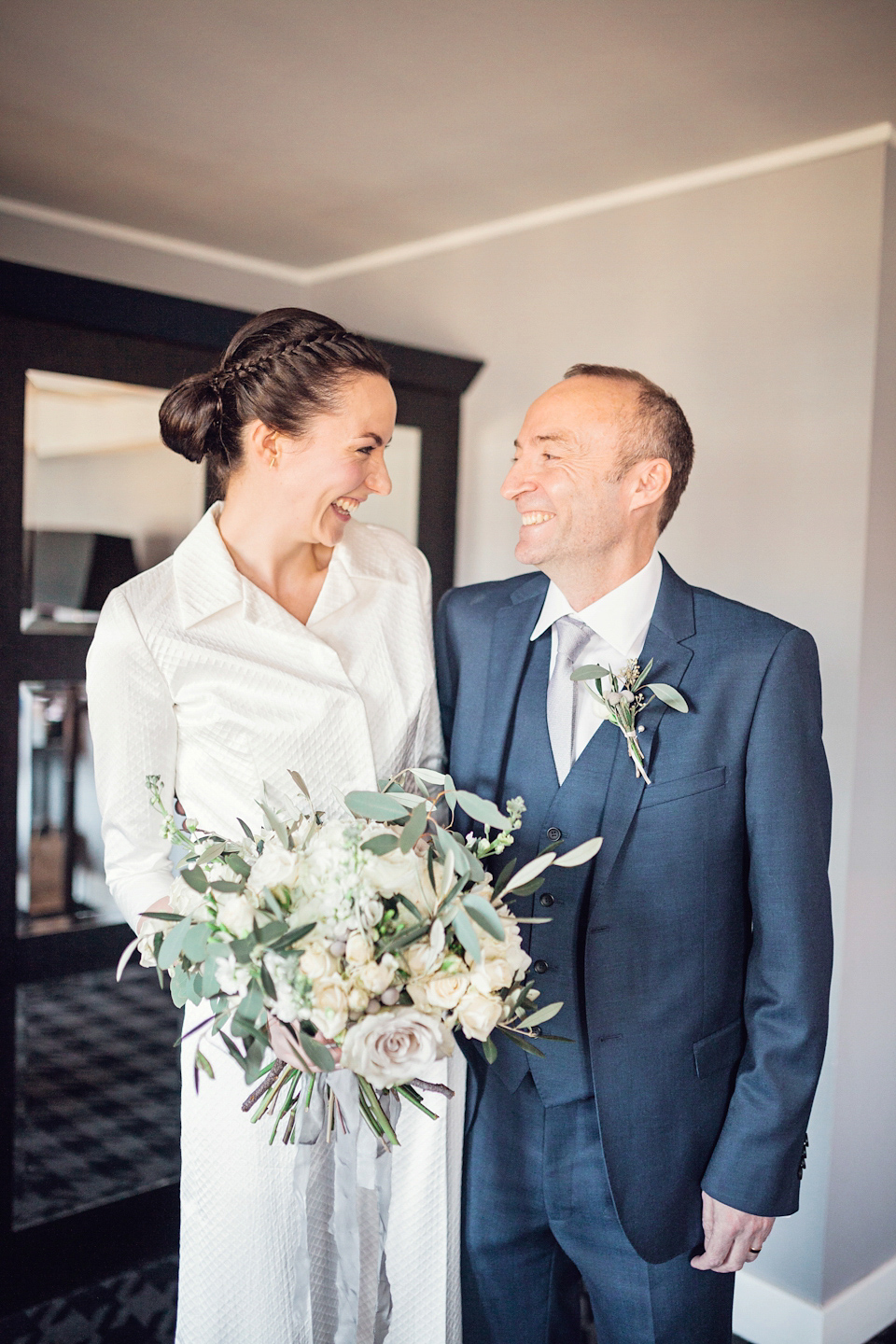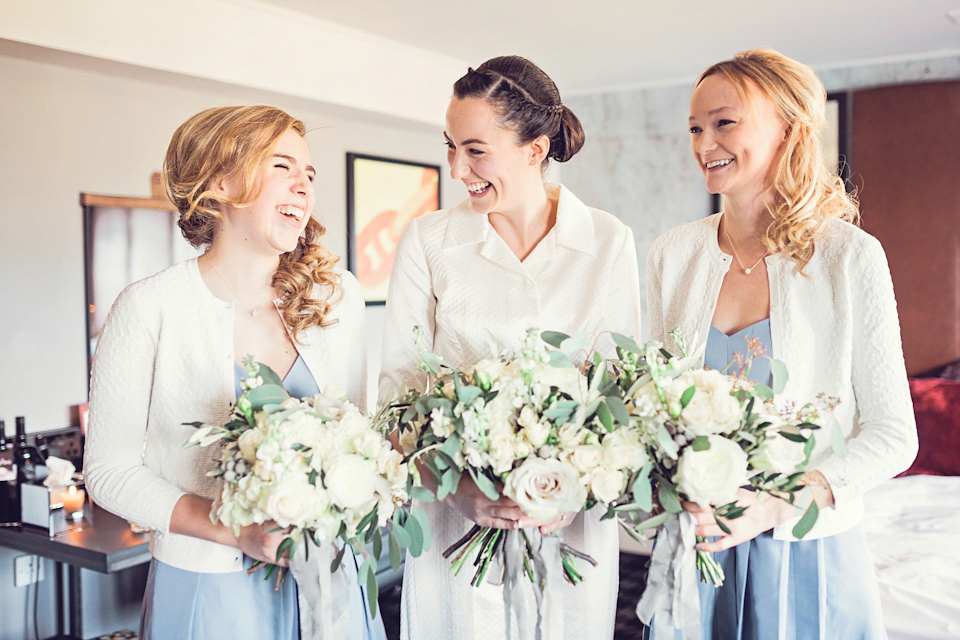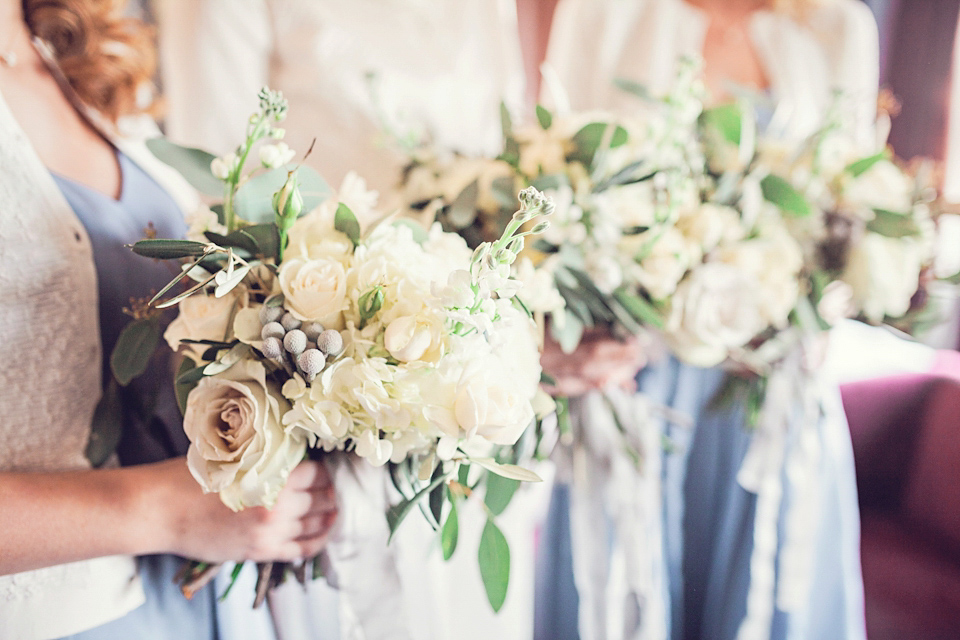 Deciding to rock an intricate up do instead of any hair adornments, Laura's hair was plaited to perfection by Hayley at Hooker and Young Salon. Our bride wanted to feel like herself and so chose to do her own make up after a tutorial at the Bobbi Brown make up counter.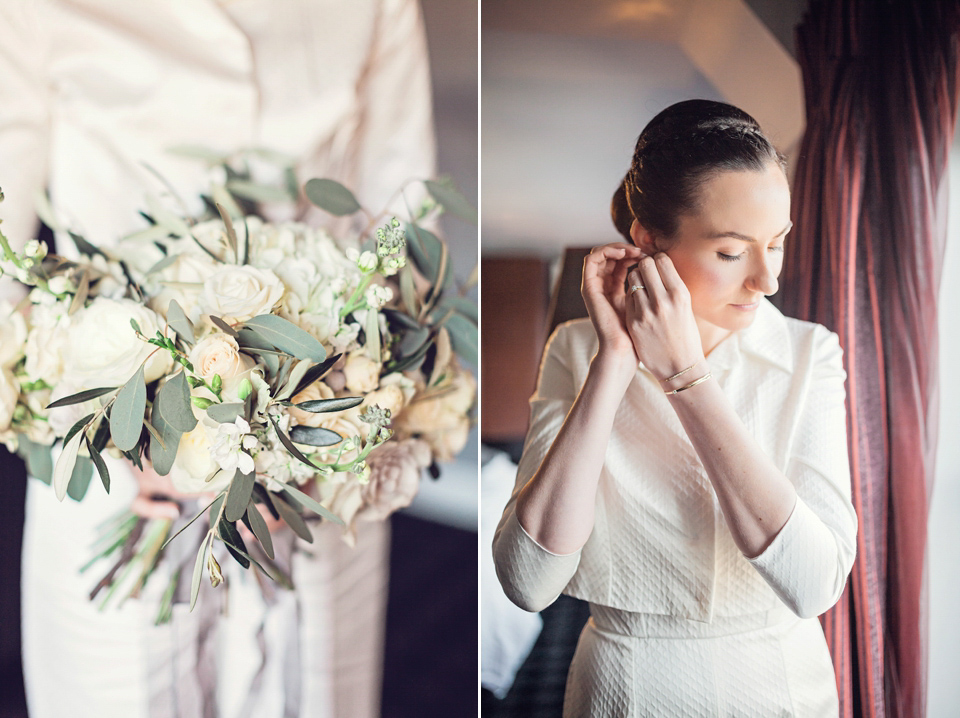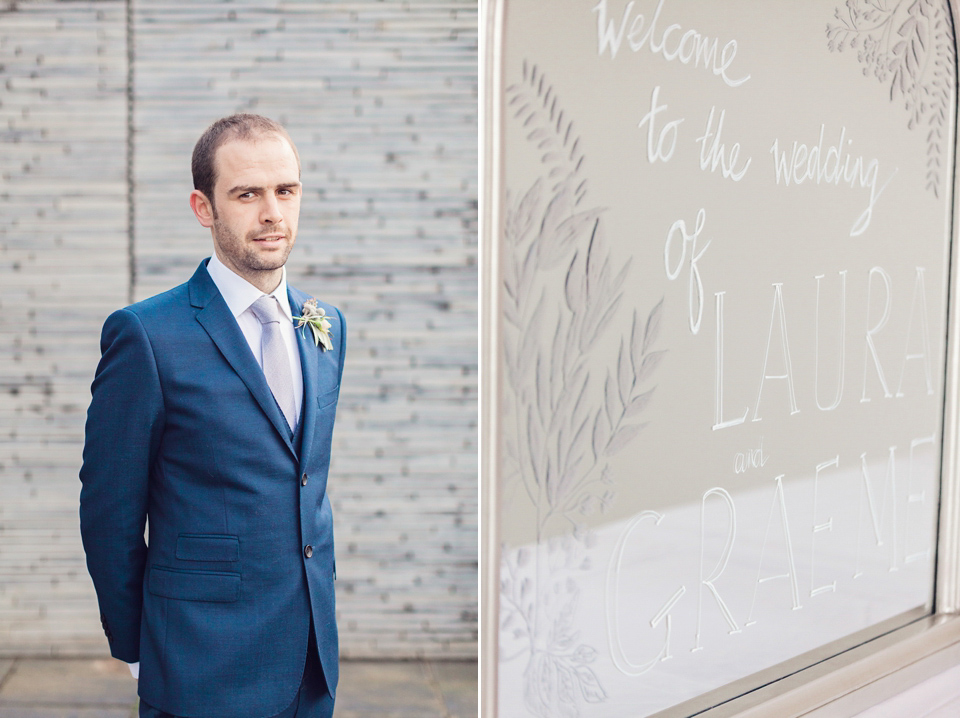 Graeme was assisted by his Dad as Best Man who both wore matching French Connection suits. His very contemporary silver tie was from Reiss, shirt by Next and 'Bicycle' Paul Smith cufflinks were gifted from the Bride on the morning of the wedding (keen cyclist alert!).
Our super chic Bride sashayed down her runway/aisle with her Dad to 'Canon in D' played live on acoustic guitar. The couple's friends were on hand to  play some significant songs during the ceremony.
"My friend Lauren and guitarist Mike Gatto sang the Beach Boys 'And then I kissed her' which had played on the radio prior to Graeme's proposal. They also performed a duet of 'Anyone Else but You' by the Mouldy Peaches."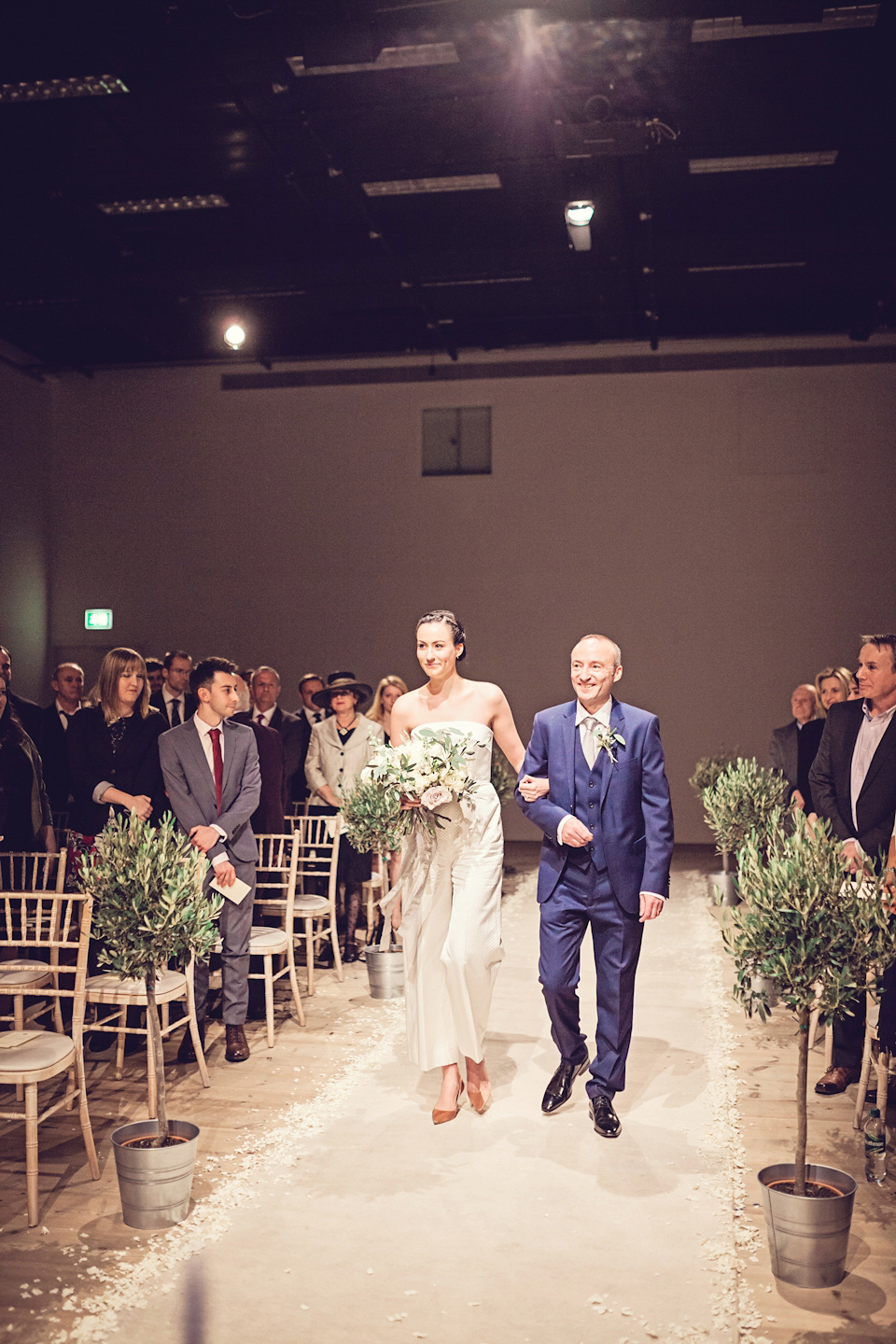 Our couple went for traditional vows but personalised the ceremony by having three readings, one of which was adapted by Laura's mum from the poem 'In Your Future' and read by their friend Nicola. I'd like to share her words for a collective 'Love Jolt 'and a reminder to picture a marriage, not just a wedding.
In Your Future
'In your future what do I see?
A house and a garden with a horse chestnut tree
I see dinner parties surrounded by friends,
And a vegetable patch you both love to tend.
A dog called Gus curled up by the fire,
Long walks in the evening before you retire.
I see the kitchen – the heart of your home
I see bikes and a map of the places you'll roam
A row of muddy wellies lined up by the door,
And kids eating cookies and asking for more.
I hear all your voices singing louder and louder
I see sports days and grazed knees and magic powder
I see family picnics outside in the sun
Swimming in lakes, going for a run
I see you both by the window watching the snow,
And reading papers and learning to grow.
I see pictures of family in mismatched frames,
And letters on the kids doors spelling out their names
I see you at Christmas choosing your tree,
Walking on the beach, jumping waves in the sea
I see laughter, pain, kisses and tears,
And helping each other confront your fears
I see a wonderful future as you grow old together
And it's cloaked in your love forever and ever.'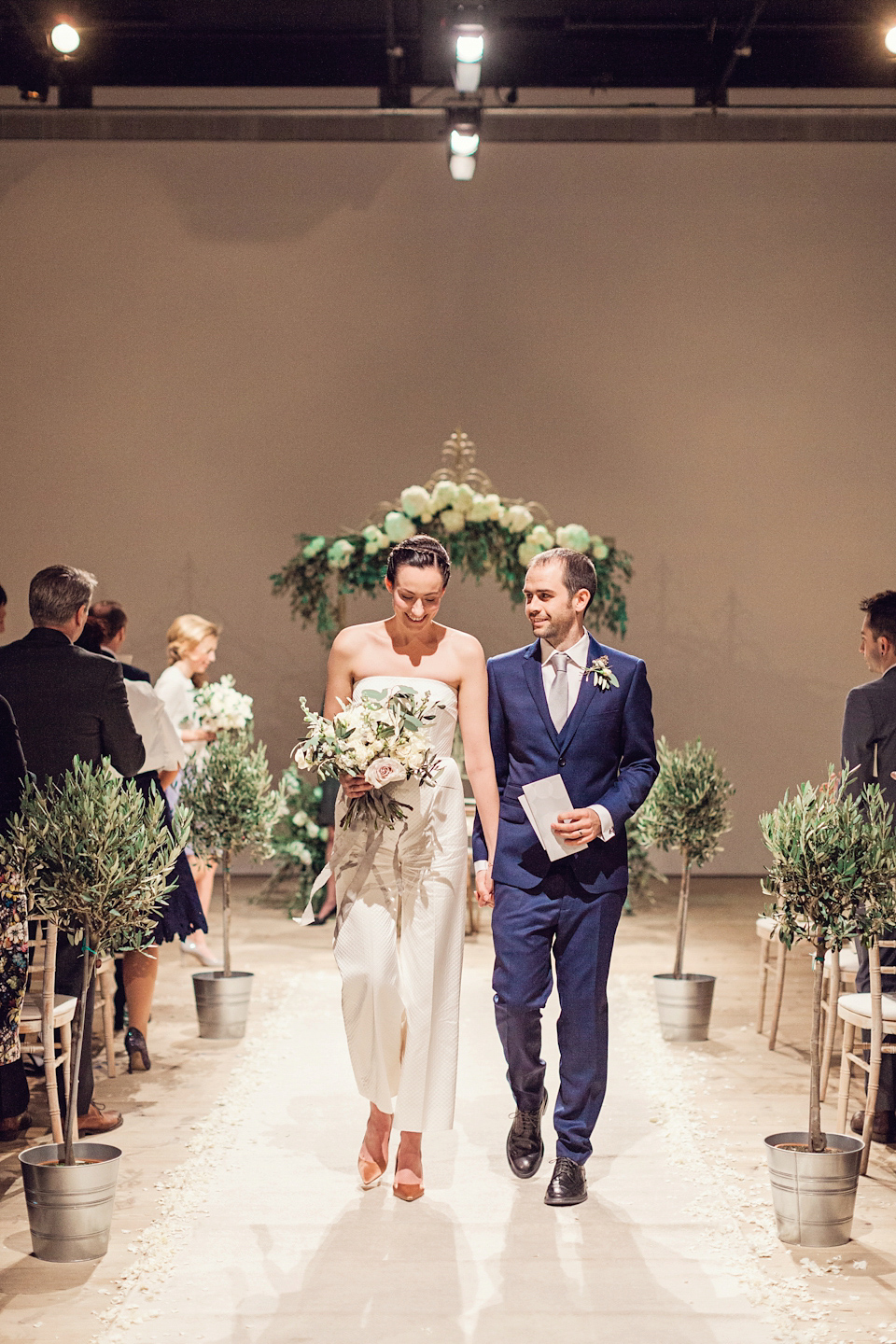 Laura's bridesmaids wore J.Crew dresses in a 'Harbour Cove' colour paired with LK Bennett grey patent pumps. They had a gorgeously textured LK Bennett cardigan on hand to keep cosy in the chilly November air.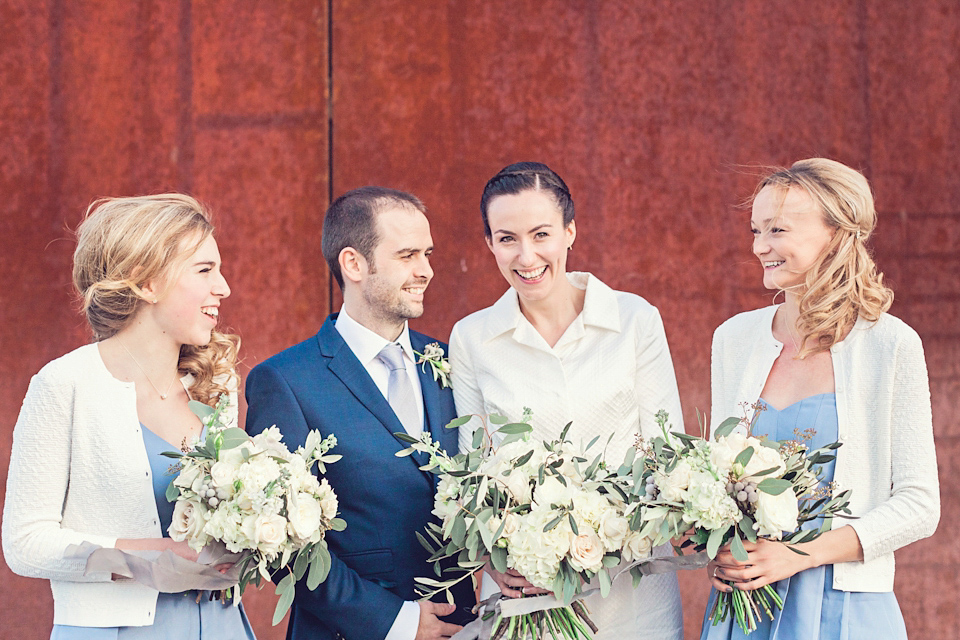 Katy Melling captured a whole heap of happy smiles and precious moments at the couple's statement venue. I especially adore the backdrop of industrial rust as the perfect juxtaposition to a clean, modern wedding jumpsuit.
"We loved what Katy did so much that we even chose own wedding date to fit her availability! We had an amazing pre-wedding shoot with her at Alnmouth Beach and she made us feel so comfortable and at ease. The photography was such an important thing for us both as it really is one of the few parts of the wedding you are able to keep! Katy was fantastic and I would absolutely recommend her to any bride in the future."
We totally agree Laura! If you're looking for someone who's a dab hand with a camera to immortalise the pretty special occasion of your wedding day, I highly recommended taking a browse through our Little Book for Brides wedding directory – it's choc full of talented lovelies who we've handpicked to help you achieve wedding greatness.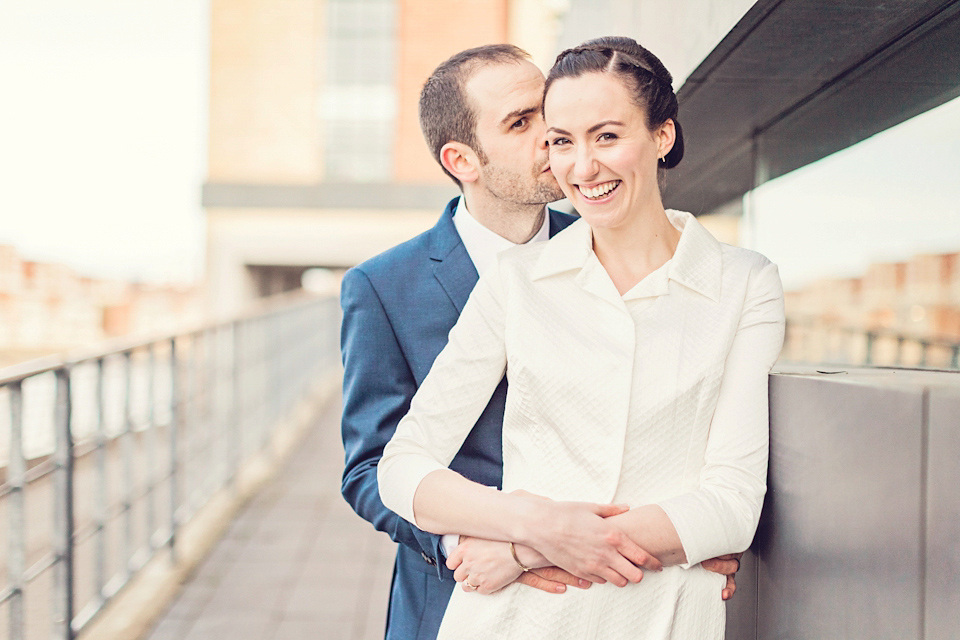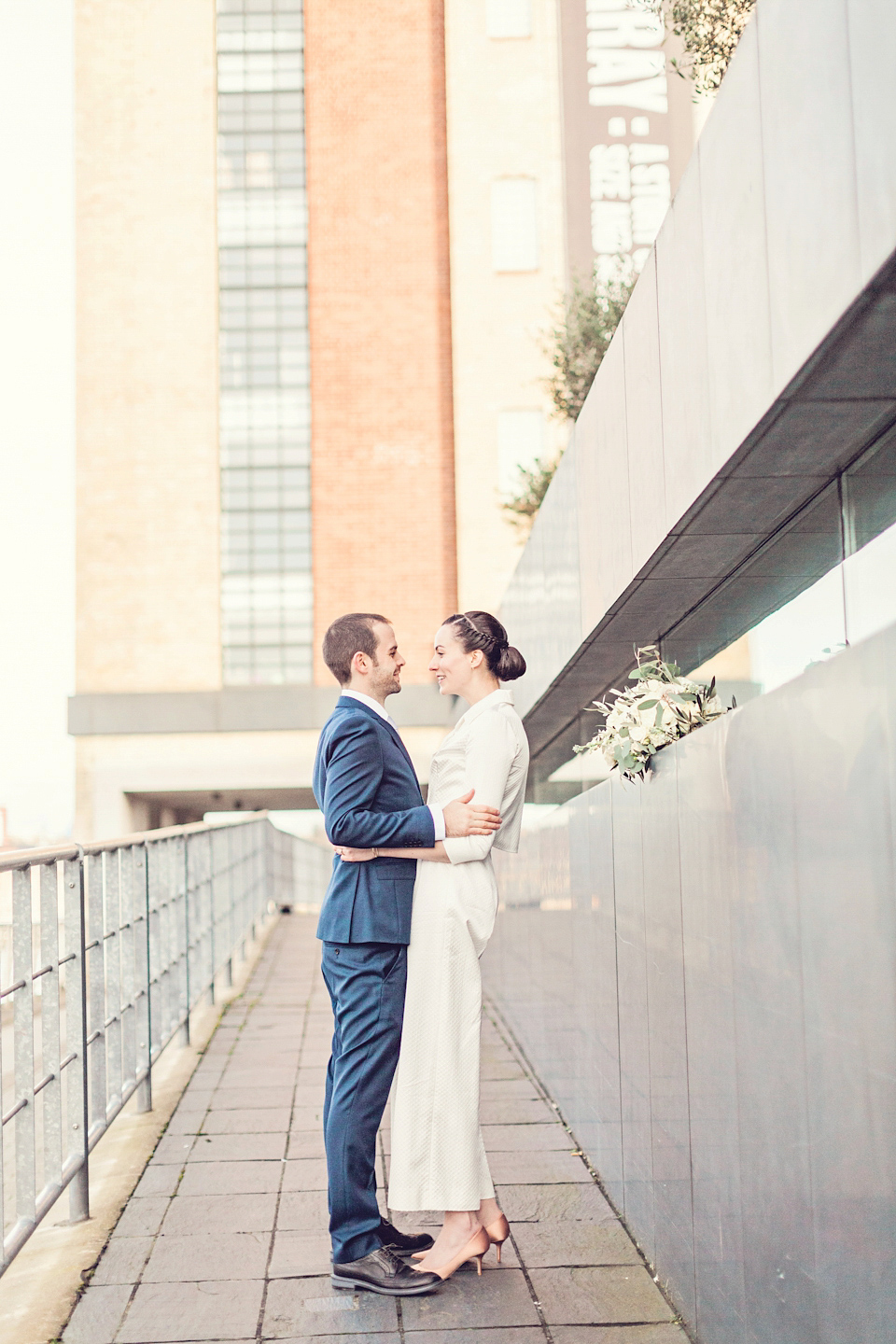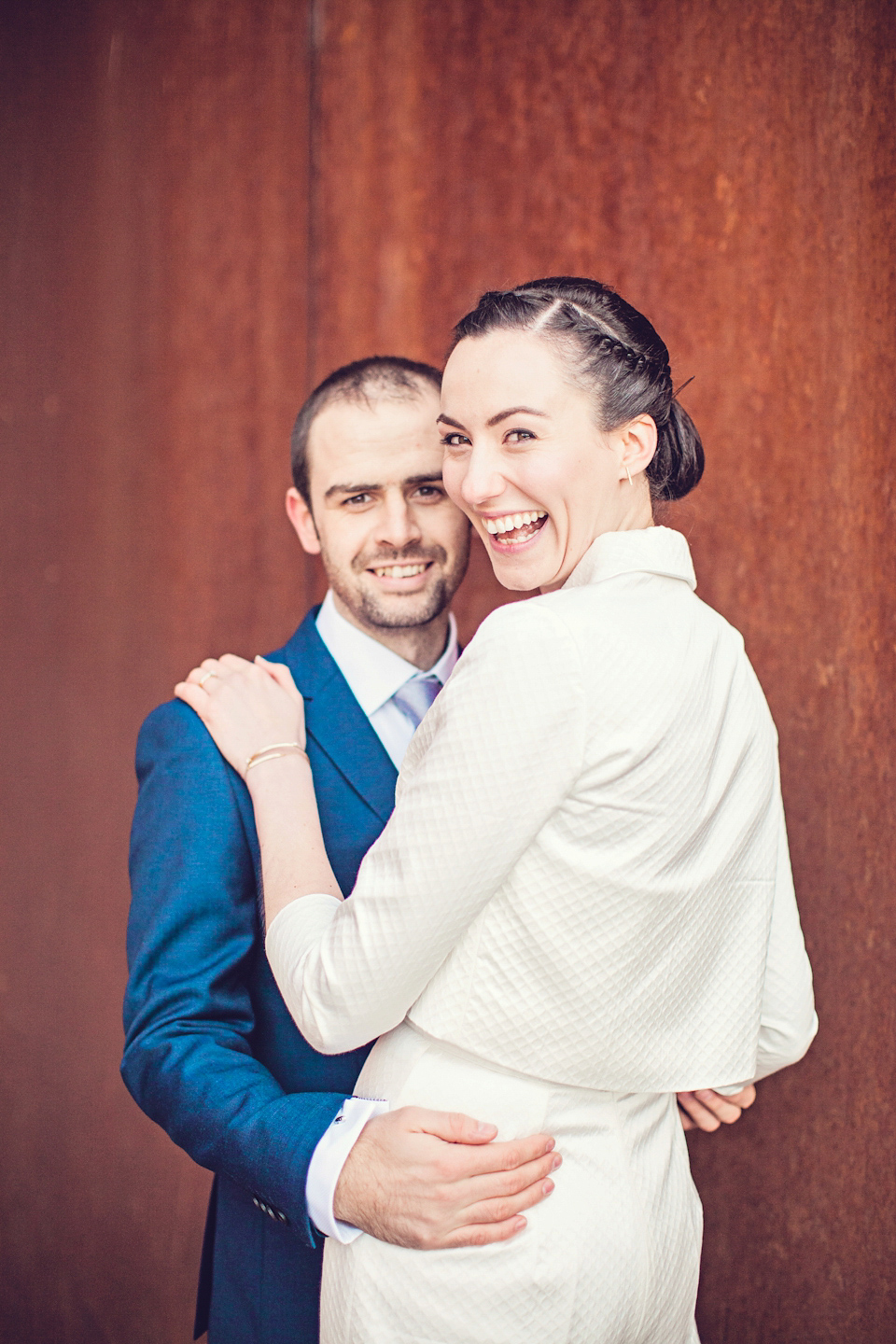 Jack at EYI Love designed all of the stationery, tying in the Baltic and its nearby landmarks in simple but effective way. You'll find this wonderful company on Little Book for Brides (told you its good); I'm a sucker for gold foil.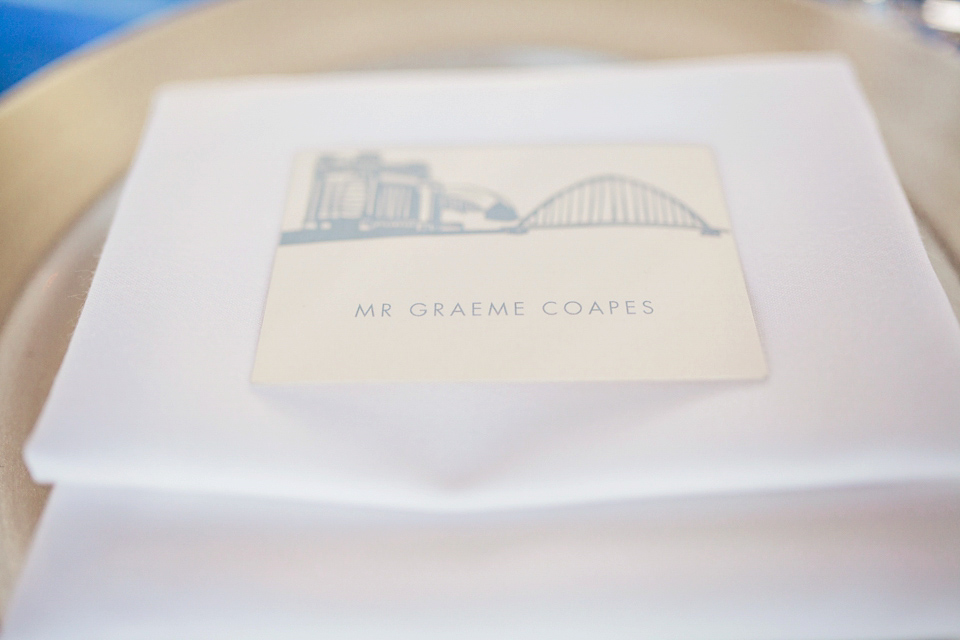 "We spent a lot of time gathering together items to dress the gallery space where we had our ceremony. I think everyone thought I was a bit mad when I purchased a large garden arch from TK Maxx on a bit of a whim the year before the wedding but it provided a real focal point in an otherwise empty space. The staff at the Baltic did a great job of lighting the ceremony space for us and were really helpful when it came to setting everything up.
We painted an old desk found in Graeme's gran's garage to use as the Registrars table and I lined the aisle with dried Hydrangea petals from Shropshire Petals. We hired 'LOVE' letters from Coco Luminarie and used ivory paper lanterns to dress the evening space. Our guestbook was a collection of vintage post office pigeon holes which we supplied postcards of the Baltic for, so guests could 'post' us a message throughout the reception."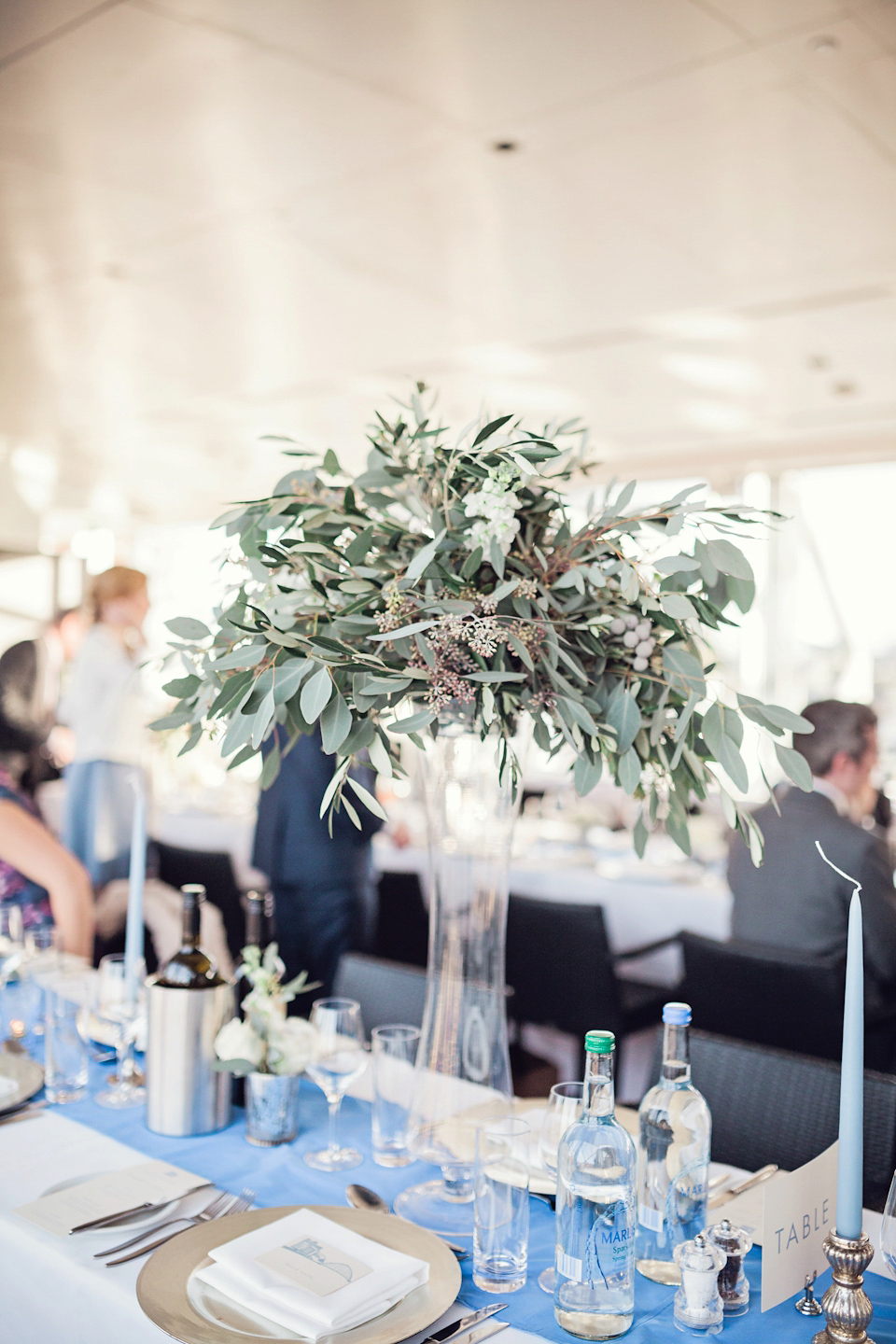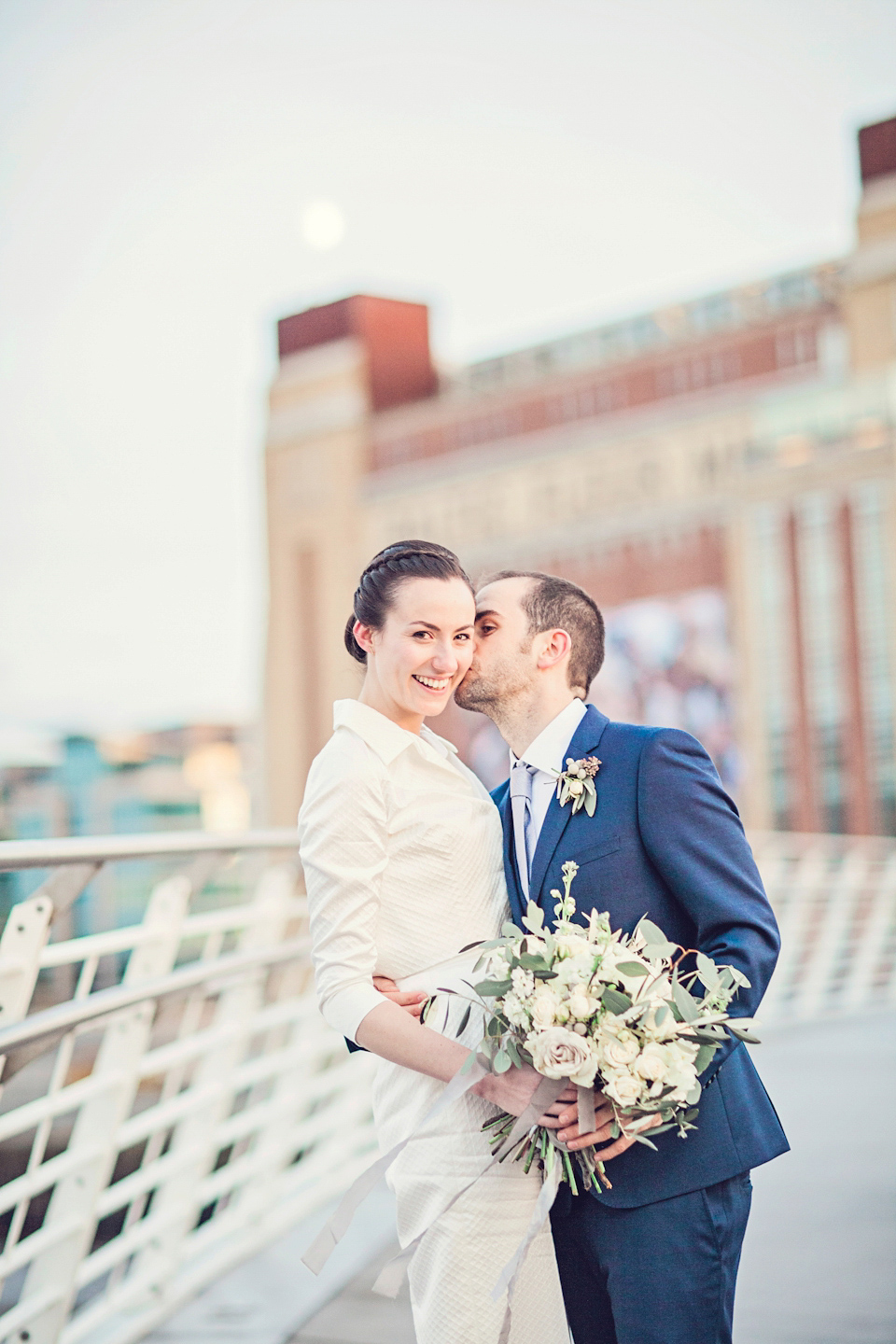 Deciding to treat guests to a whole TABLE of cake instead of just the one, the bride and groom asked family and close friends to bake up a storm! I do like to see a Bride celebrate peanut butter as well as lifelong commitment.
"We ended up having so many fantastic options, from Rainbow to Red Velvet cake! Additionally we ordered a selection of peanut butter and salted caramel brownies (the brides favourite!) from the Pet Lamb Patisserie in the Grainger Market."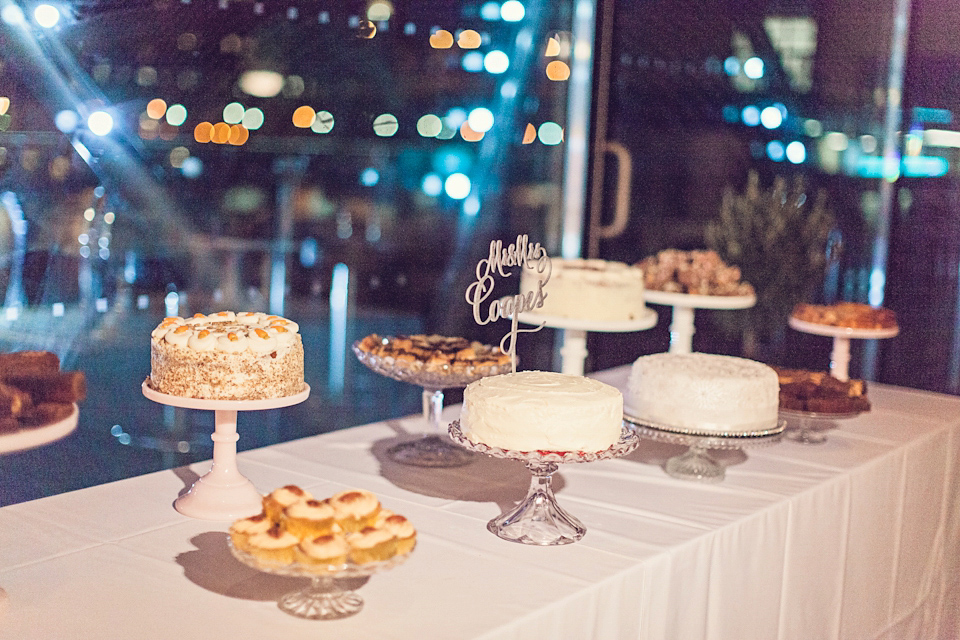 "The Monster Ceilidh Band provided the evening entertainment and were great at getting everyone dancing, including those who might otherwise have been shy to head to the dance floor. For the rest of the evening we used a Spotify playlist we had put together from songs suggested by friends and family, but in reality a number of guests took over as DJ for the evening!"
The giant light up letter was hired from Coco Luminarie.
Words of Wedded Wisdom
"Enjoy the planning time and working on projects together. At times, planning a wedding can feel really overwhelming but really on the day everything comes together; you don't notice things that may not be 'perfect' and you are surrounded by so many people you love. Someone said to me before the wedding that the most important thing was to take a few minutes to look around and take everything in on your own with your new husband, and to realise that everyone was there because they wanted to celebrate with you.
Taking five minutes out to do this, and to appreciate the fact that we had just got married was one of the moments I will remember most about the day."
I do love how much we celebrate couples having such unique and befitting celebrations here at Love My Dress; especially in such an unusual venue! If you'd like to see other couples interpretations of the space at the Baltic Centre for Contemporary Arts then have a little click here.
So, a huge thank you to Laura and Graeme for letting us share in your wedding joy, so many congratulations. Laura, I truly hope you have inspired a spate of jumpsuit clad brides! And, of course, thank you to Katy Melling for a glorious collection of images for us to swoon over. If you'd like to see more of Katy's work you can do so here.
I hope I've helped to brighten your Tuesday fellow wedding nuts! Wishing you a week full of smiles and spring sunshine.
Emily xxxx
Photographer – Katy Melling
Venue – Baltic Centre for Contemporary Arts
Jumpsuit – Emilia Wickstead
Shoes –  Jimmy Choo Made to Order
Hair – Hooker and Young Salon
Catering – Fresh Element
Florist – Bels Flowers
Groom – Suit French Connection , Shirt Next, Tie Reiss , Cufflinks Paul Smith
Bridesmaids – Dress J.Crew , shoes and cardigan LK Bennett
Guitarist – Mike Gatto
Prop Hire C
Brownies – Pet Lamb Patisserie
Stationery – EYI Love
Real Ale Kegs – Wylam Brewery
Band – Monster Ceilidh Band