Hello lovely readers, I hope your week is going well so far. I am just getting ready for a lovely little mid-week getaway with my mum to Bath, currently rifling through my drawers in a slight frenzy looking for a bikini; after all time in the spa is what it's all about right?! Please meet the gorgeous Clare, a recruiter for Arcadia Head office, specialising in Buying and Merchandising and the equally dashing Ant, who works in Mechanical Engineering. They said I do on 12th December 2015, 7 years to the month after meeting at a mutual friend's house party.
We love a great proposal story here at Love My Dress and I'm so impressed with Ant…
"Ant popped the question one Friday evening in Summer 2014, it was a complete shock and so cute… He had printed photos from every year/big moment we have had together over the years and placed one on each step leading up the stairs of our home. There was also a message next to each picture which all lead up to the big question. WILL YOU MARRY ME! He was waiting at the top with the ring. It was perfect."
Photography by Dale Weeks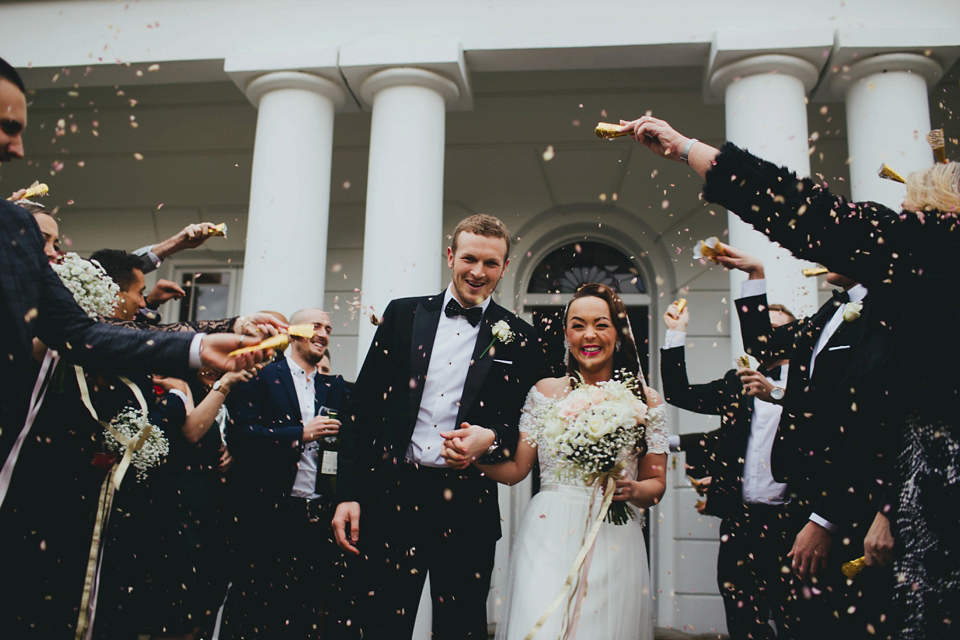 I love the trend for black bridesmaid dresses, they look so effortlessly stylish and Clare's bridesmaids wore black lace from ASOS with block heel shoes complete with a 50's style small bow on the front from New Look.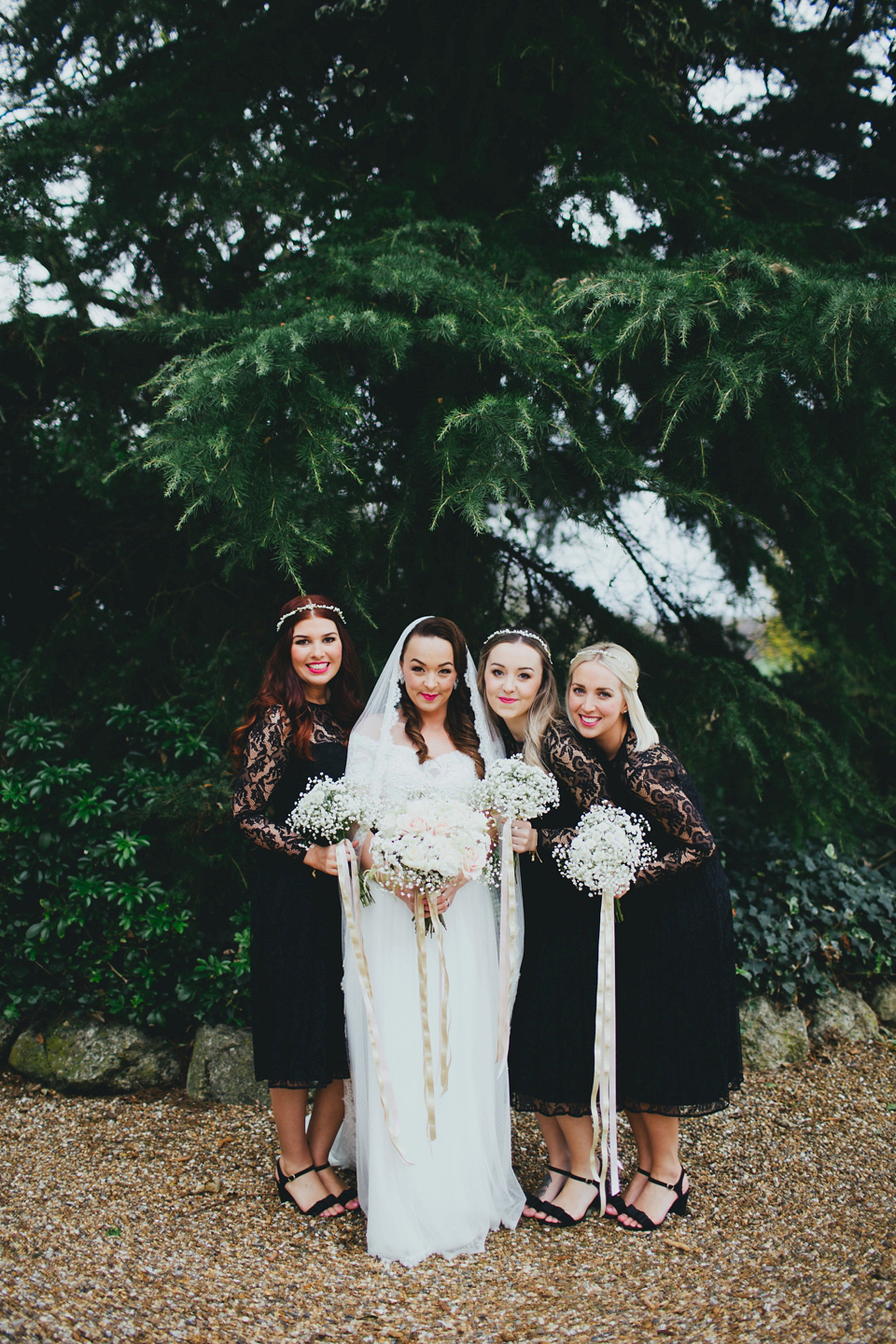 Clare and Ant wanted a very chic yet relaxed day and allowed their personal style to set the theme for the day.
'My personal style is influenced by all things Parisian, particularly my love of Chanel. I do also love a vintage find. My mum has always said I am like a magpie, drawn to anything gold and shiny. We wanted the wedding to have a vintage feel with the simplicity of sticking to our colour theme – black & white stripes and touches of gold. But of course with my girly side I needed to bring in a bit of pale pink.'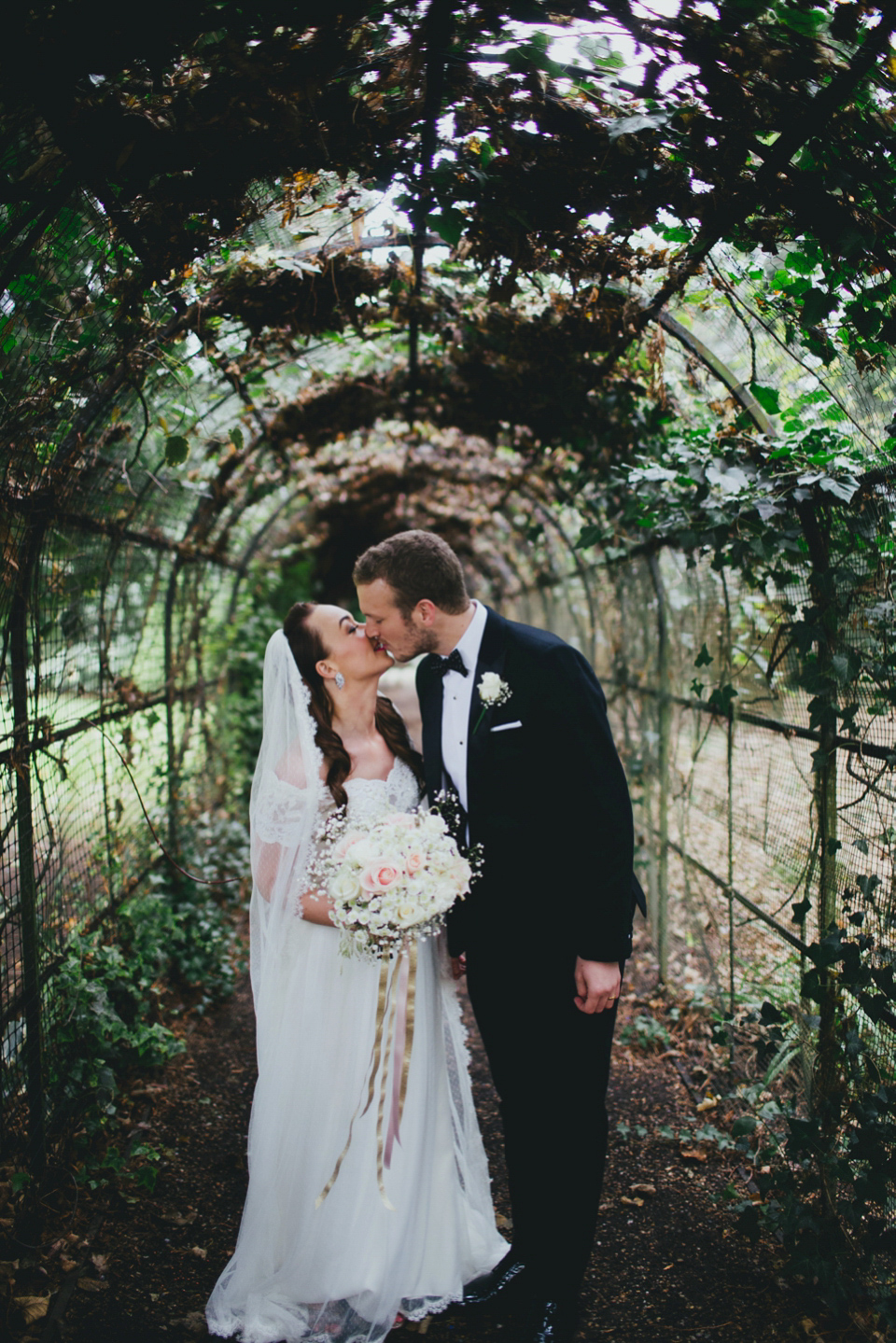 "We got married at The Little Hermitage in Higham, Kent. It was such a hidden gem and had the cosy intimate feeling we wanted for the day. We also liked how personal it felt and Jeana that works there was amazing the whole way through the experience. We wanted a venue that really cared about us and wasn't simply interested in getting the next couple in; we really felt looked after.
Each room had a completely different feel which worked with our theme and it also has an unexpected dance floor downstairs which feels like your very own nightclub. Everyone loved it."
"Collette Rainbow did all of our stationery. Right from the Save the Dates, everything was incredible and the level of perfection was amazing. Because we started at the beginning everything matched and had the same feel that we wanted. She sat down with us to discuss ideas and we would design everything from scratch.
Collette used laser cutting on our wedding invites and table plan which looked amazing and really added to the level of detail. If you are looking for something you can't find or want to add personal touches, get in touch with Coco Invites You; you won't be disappointed."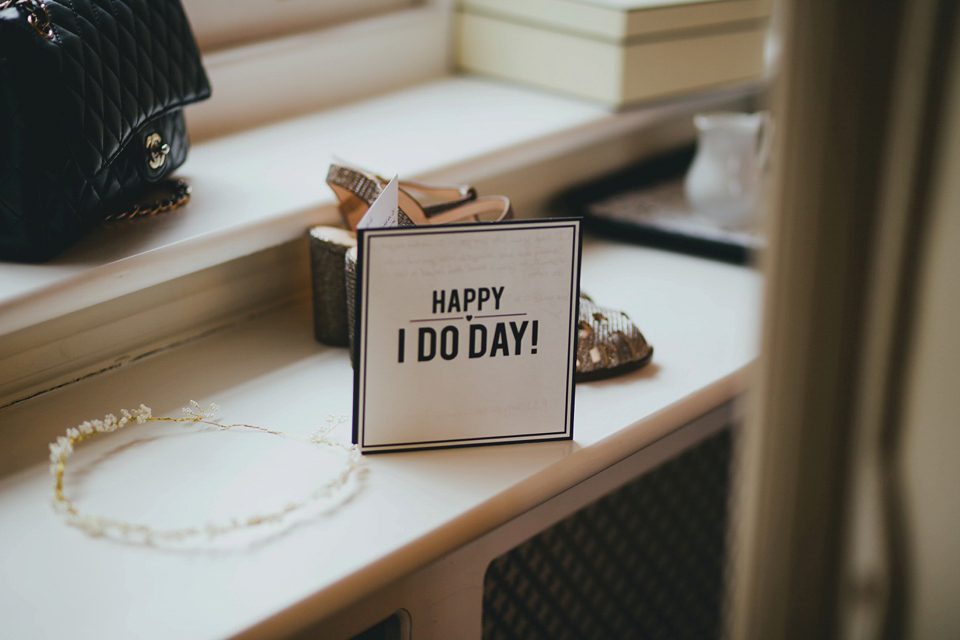 Finishing with a spritz of her favourite Jo Malone perfume, Peony & Blush Suede, a gift from her Maid of Honour Harriet.
"I found my hairdresser at a close friend's Hen Party. We had a vintage night out and Holly was the vintage hairdresser who came to do all of our hair. I was so impressed with how everyone's hair looked, I messaged her as soon as she left and arranged a trial.  I wanted a vintage hairstyle so was keen to make sure I found someone that specialised in these styles. Holly was amazing and got the style I wanted perfectly. It lasted all day too."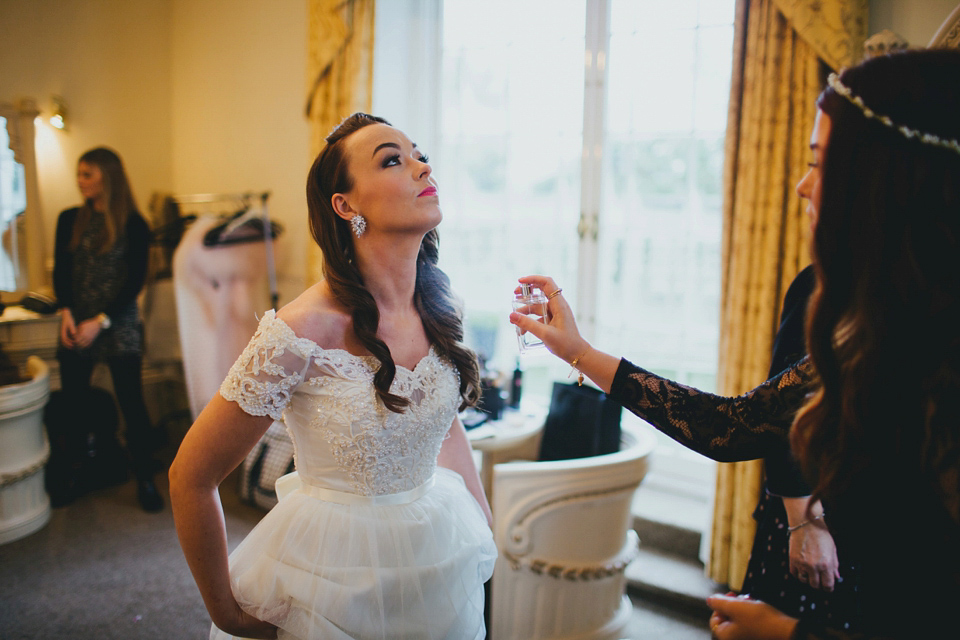 Clare tells us that her best friend Harriet is responsible for that amazing pink lip.
"Harriet Rainbow is an amazing makeup artist. I am extremely lucky that Harriet also happens to be my best friend and was my Maid of Honour, so having my makeup done on my wedding day was even more special. Harriet has the incredible talent of making you look your absolute best and the makeup lasted all day without budging an inch. I can honestly say I have never in my life felt better. Harriet has a very relaxed approach and will make even the most nervous bride feel at ease."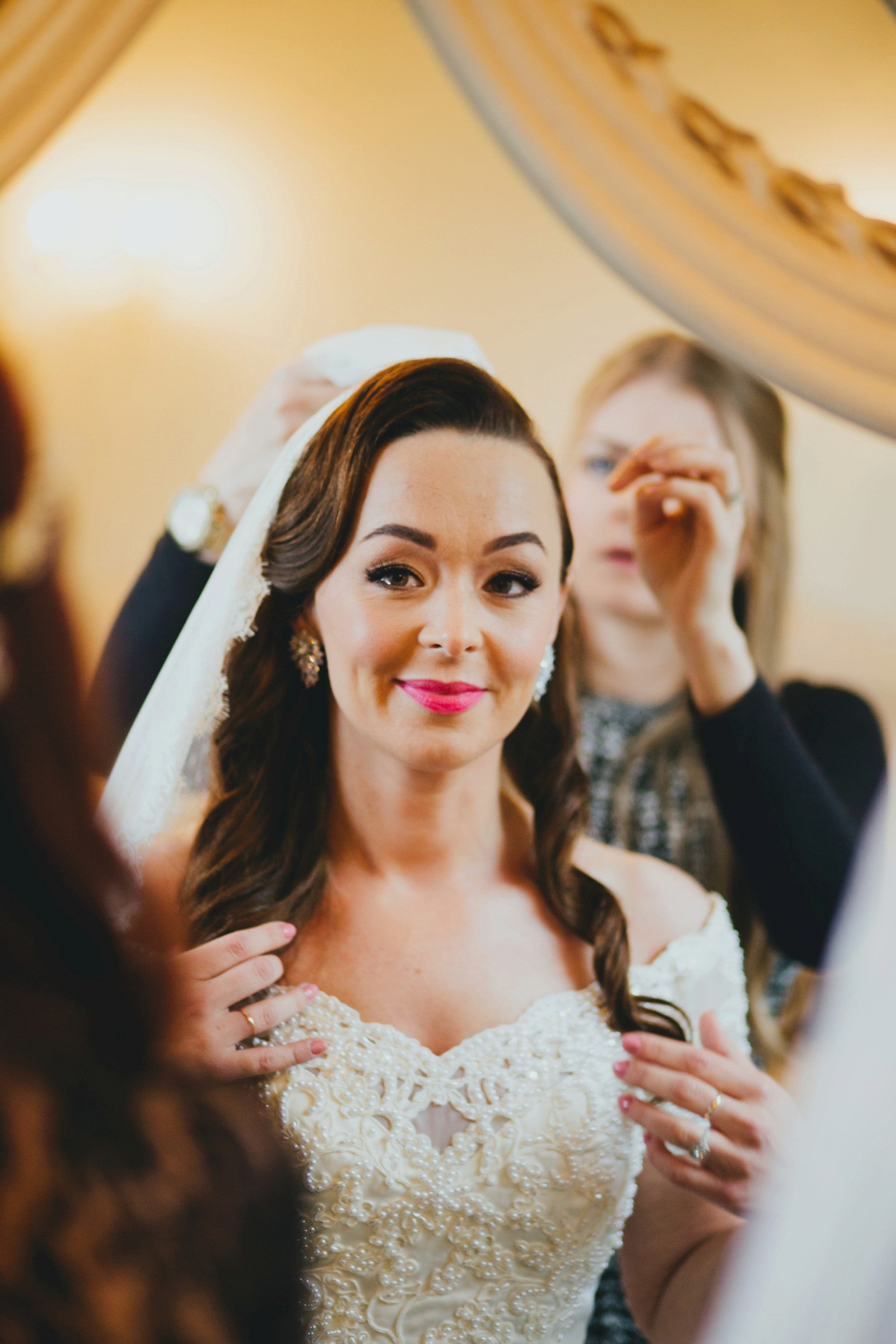 Clare made such a great effort to ensure that her bridesmaids felt loved and gifted them very special personal gifts.
"I made the Bridesmaids' hairpieces, I wanted a pretty piece that would give the feel of Gypsophila. I love being creative so I really enjoyed making them. I gave the Bridesmaids all a box of goodies the night before the wedding which included a personalised Bracelet from Orelia, earrings from Topshop and a black Faux Fur stole in case they were cold outside (they were from Miss Selfridge). I also made them all a gold clutch bag."
Ant looked very dapper in his custom-made tuxedo from Dress to Kill in Waterloo, polka dot bow tie from Zara and black braces from H&M.
'They were really helpful and made lots of alterations afterwards that Ant wanted, and we were both really happy with the suit. I saved up and bought Ant a Breitling for his Wedding gift so he was very happy with that wedding accessory."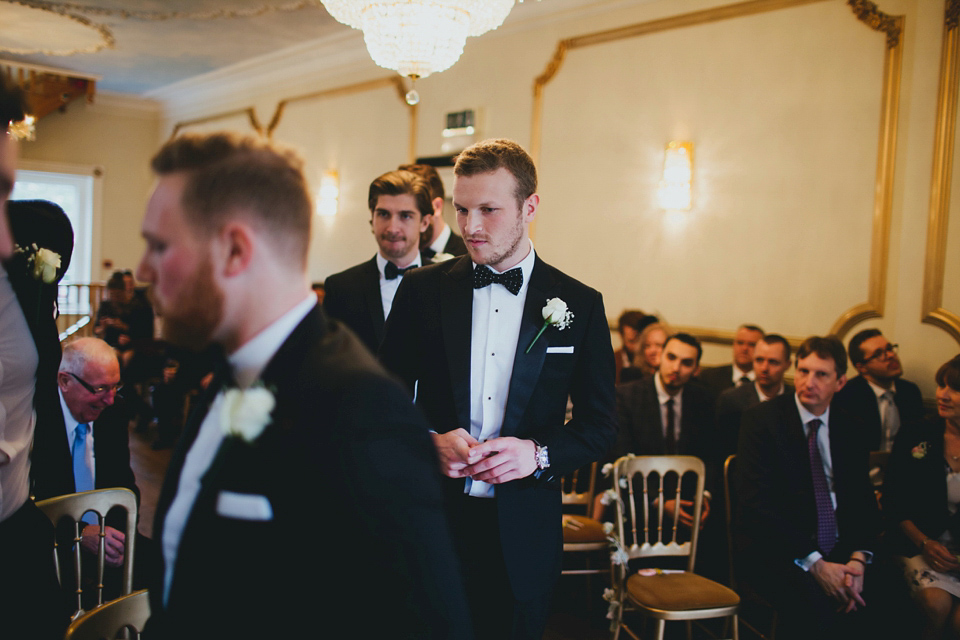 Our lovely Clare had her embellished vintage-style dress bespoke made for her by Judy Mott. That Bardot style with the little sleeves looks so very beautiful on her.
"Although I did visit a few lovely bridal boutiques something just didn't feel quite right, I think it's because 1- I'm not really a glamorous dress girl and 2- I think I was imagining something unique because of my love of vintage. My Mum came across a second-hand/vintage dress and suggested I try it on; the dress fitted perfectly and had the most beautiful pearl embellishment.
Although I loved the bodice the rest of the dress needed some TLC. I found the amazing Judy Mott who specialises in bespoke wedding dresses. Judy completely understood my vision, taking apart the dress and making a new skirt and stunning veil to match. My dress still felt vintage but was completely original and better than I could have ever imagined. I really enjoyed the process of choosing all the small and big details that made my dress perfect for me. Going down this route actually meant I had a bespoke dress and spent a lot less than I had first budgeted."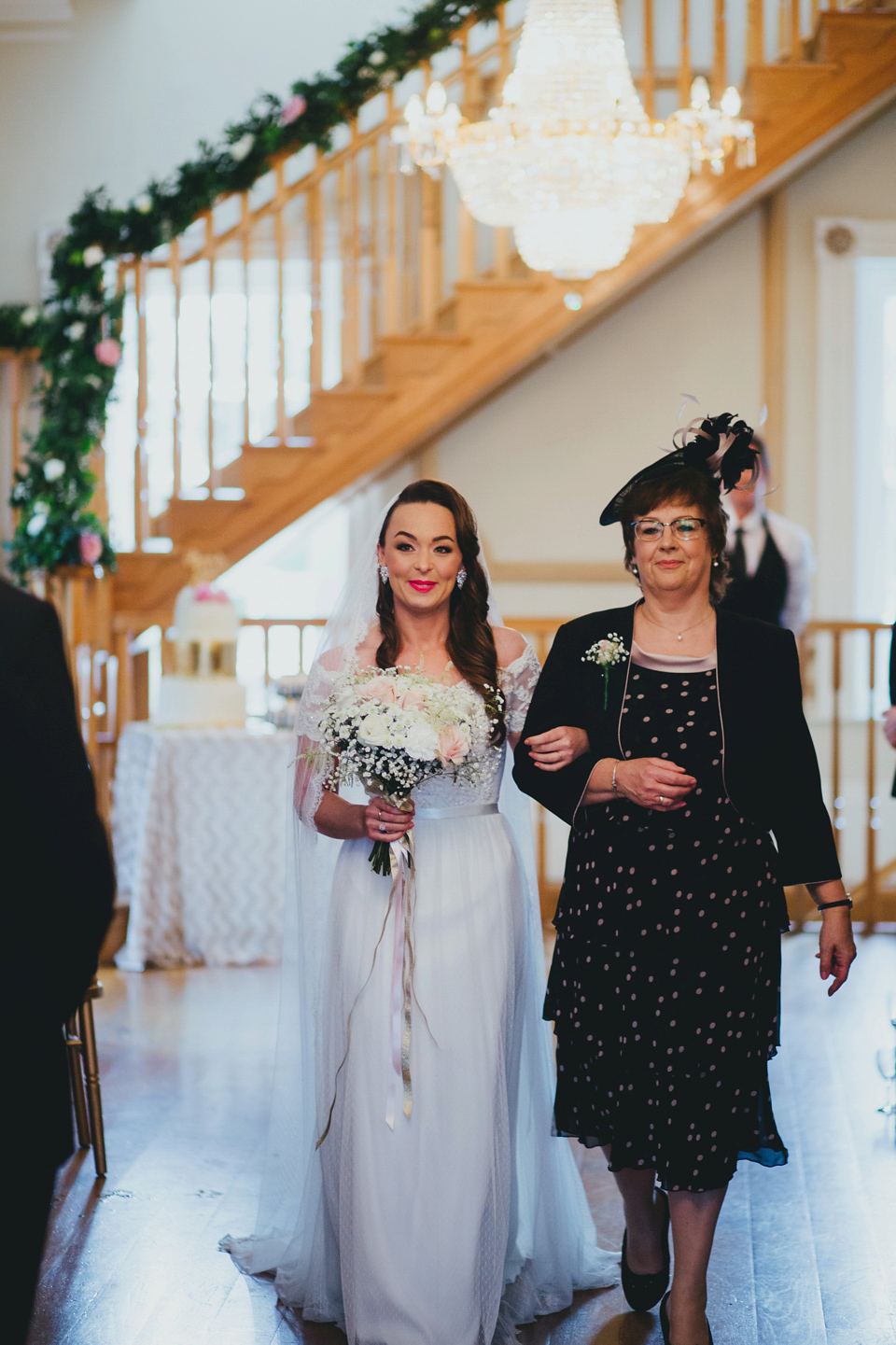 Clare was walked down the aisle by her Mum to Pachelbel's Cannon in D Major.
"It was one of my Dad's favourite songs and I've always loved it from my childhood film obsession 'Father of the Bride'; it felt right."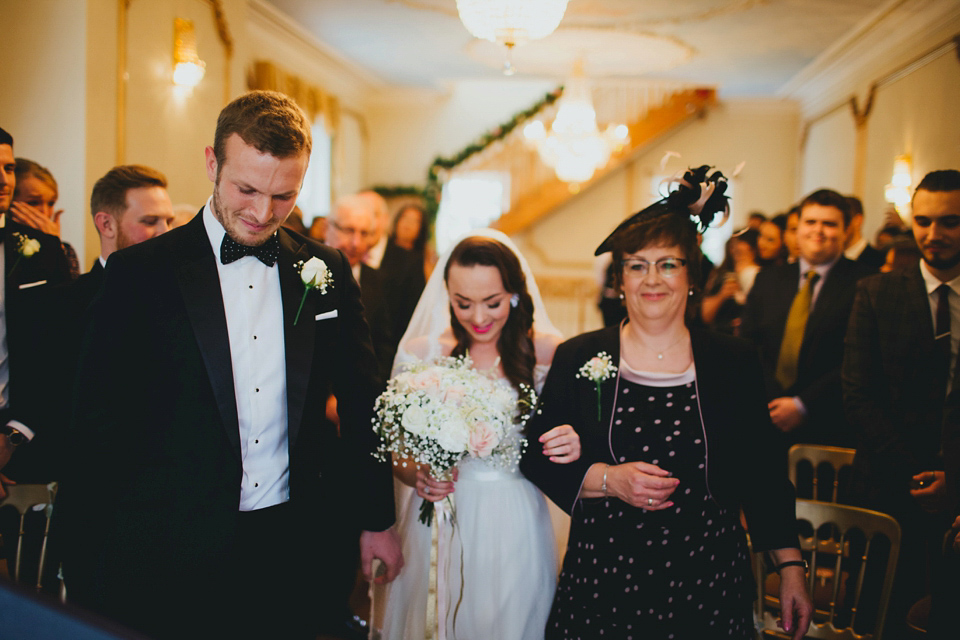 "I loved walking down the aisle and seeing Ant for the first time. It is such a special moment saying your vows. It gets overlooked when your planning the day but this was for the sure the most special moment for us both."
The couple chose a lovely reading written by Johnny Cash to June Carter Cash – I Love You Because.
'We both love Johnny Cash and we wanted to have something personal to us both within the vows. Ant's usher Chris read it out and the words were perfect….'
'I love you because you understand dear
Every little thing I try to do
You're always there to lend a helping hand dear
But most of all I love you cause you're you
No matter what may be the style or season
I know your love will always see me through
I love you for a hundred- thousand reasons
But most of all I love you cause you're you
I love you because my heart is lighter
Every time I'm walking by your side
I love you because the future's brighter
The glow to happiness you've opened wide
No matter what the world may say about me
I know your heart will always be true
I love you for the way you never doubt me
But most of all I love you cause you're you'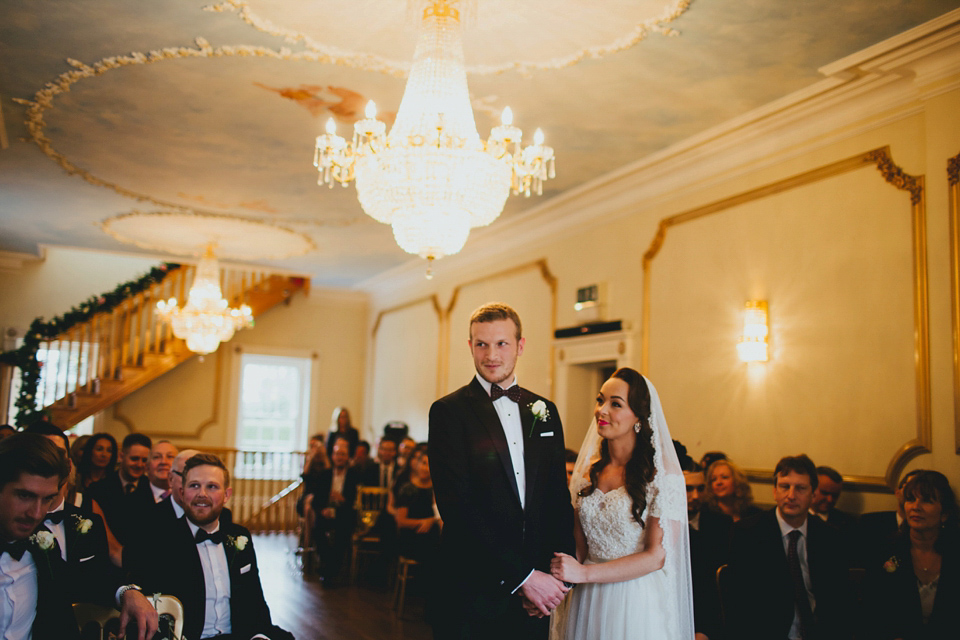 '"We had our rings made at Alba Rose. Ant had my engagement ring made with them so we knew we would like to choose and design our wedding bands also. It was great service and we customised our rings just as Ant did with my engagement ring."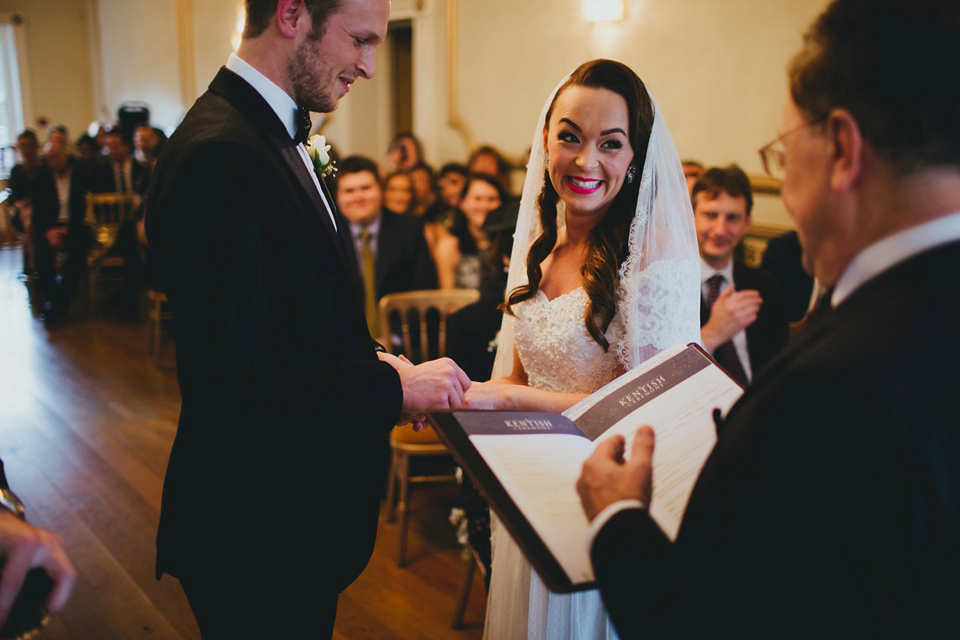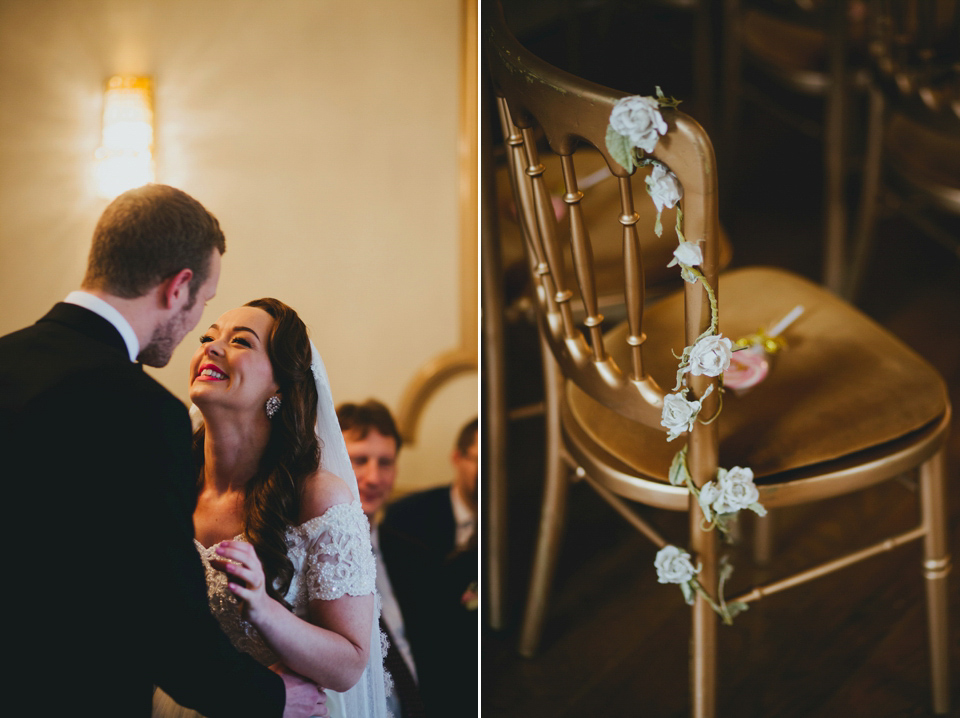 Clare finished the dress off with a Chanel brooch, a special gift from Ant, a handmade polka dot tulle veil edged with lace matching her dress, also by Judy Mott, earrings by Kenneth Jay Lane at Net-a-Porter and shoes from Topshop, which would you believe are named 'NewlyWeds'?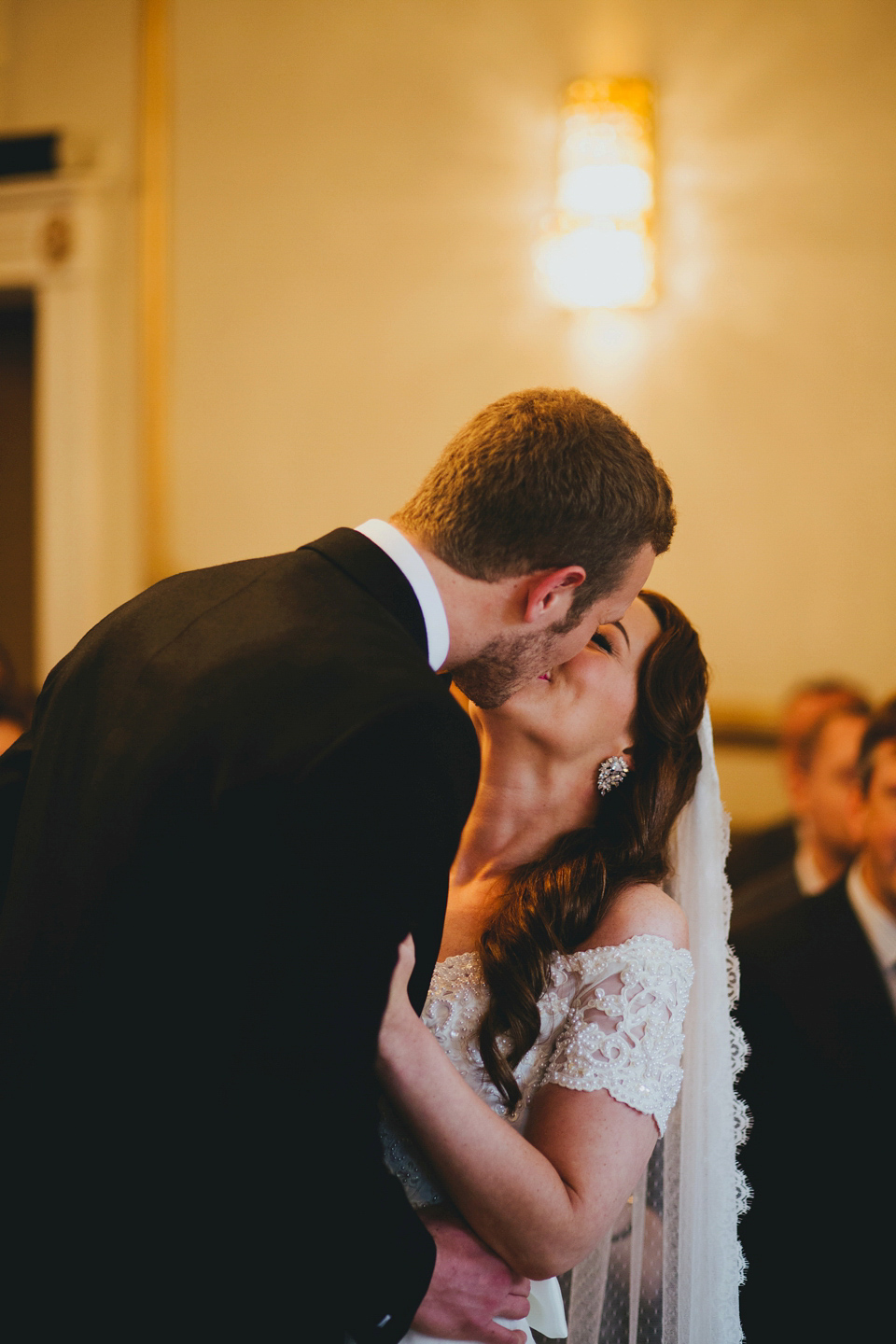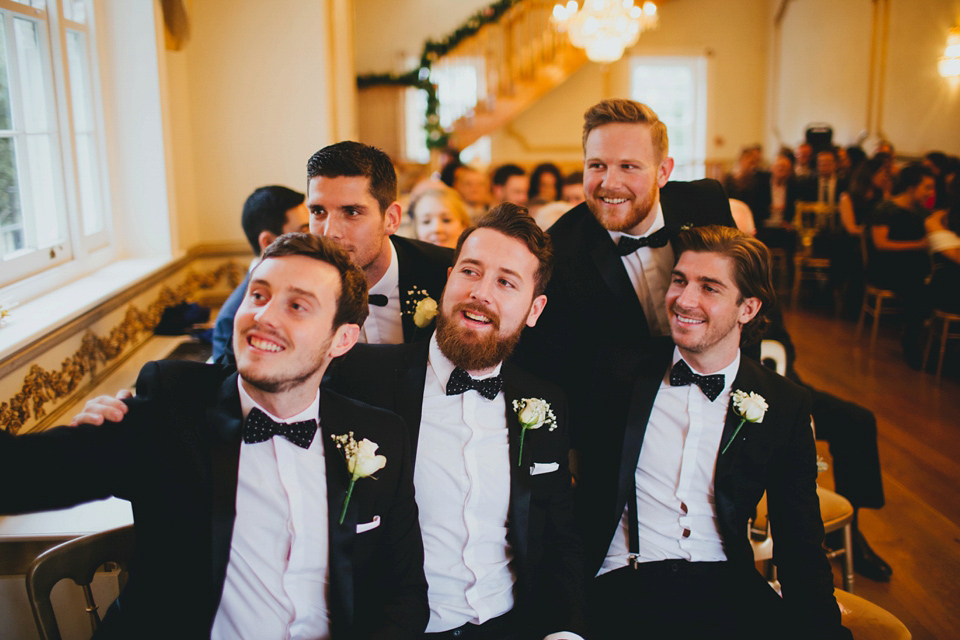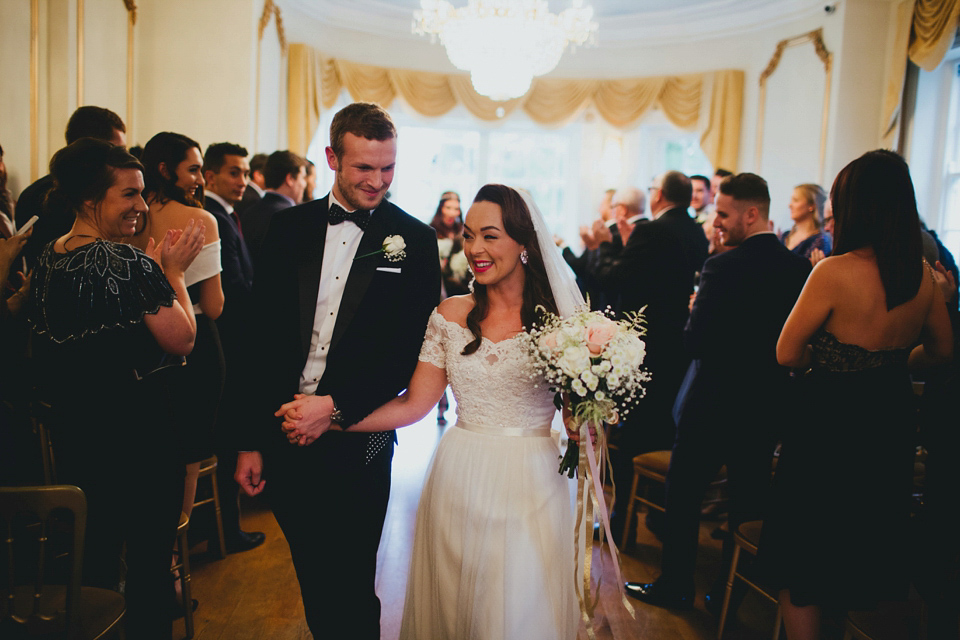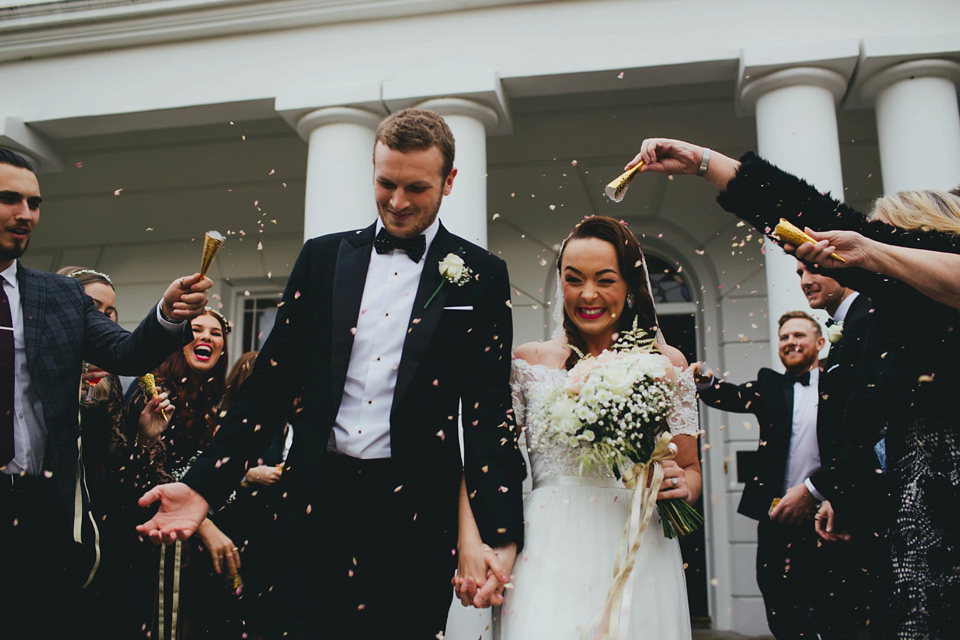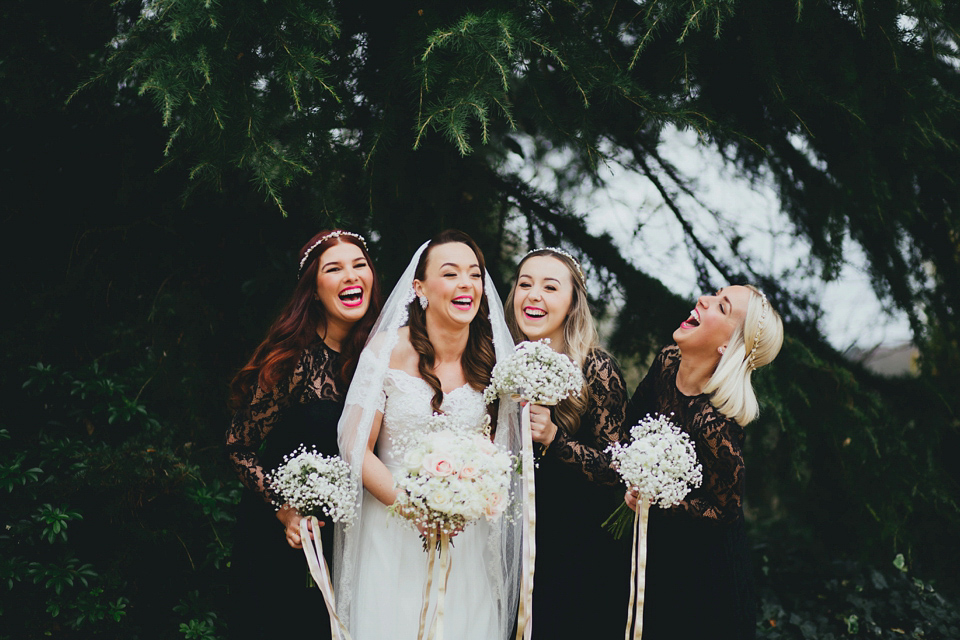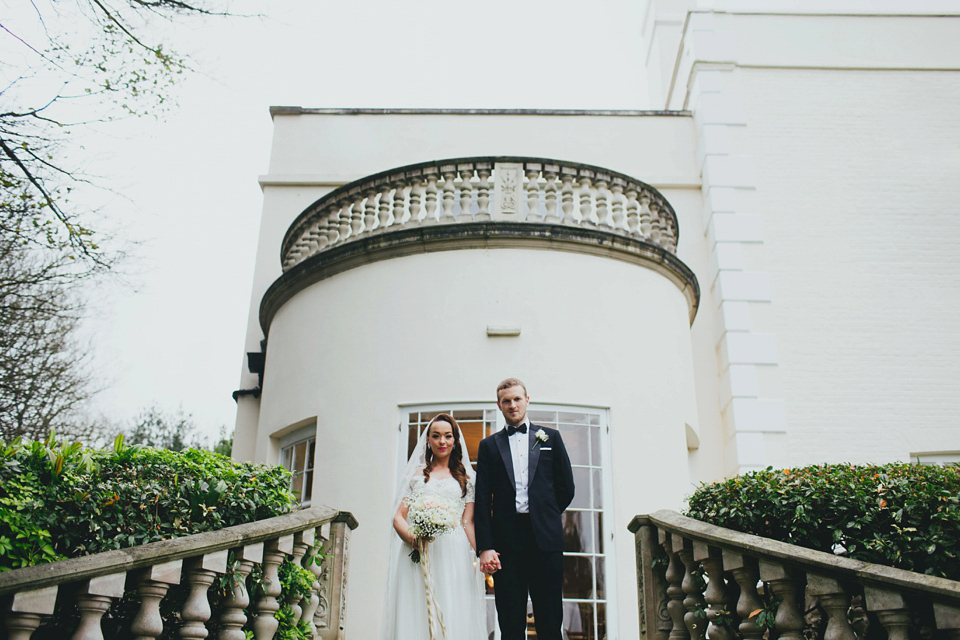 Being able to find a photographer that makes you feel relaxed is key to ensuring that you get the best possible photos of your day and our couple found Dale Weeks, who did just that.
"Dale Weeks was our wedding photographer and he was amazing. He is so chilled out and made me and Ant feel so relaxed (this is not easy as Ant HATES having his picture taken). There are no cheesy shots and we were away from everyone for a few minutes getting our couple pics which meant we had so much time with our guests. We wanted a natural photographer so we wouldn't have to overly pose or feel uncomfortable. Dale was perfect for this and we can't speak highly enough of him."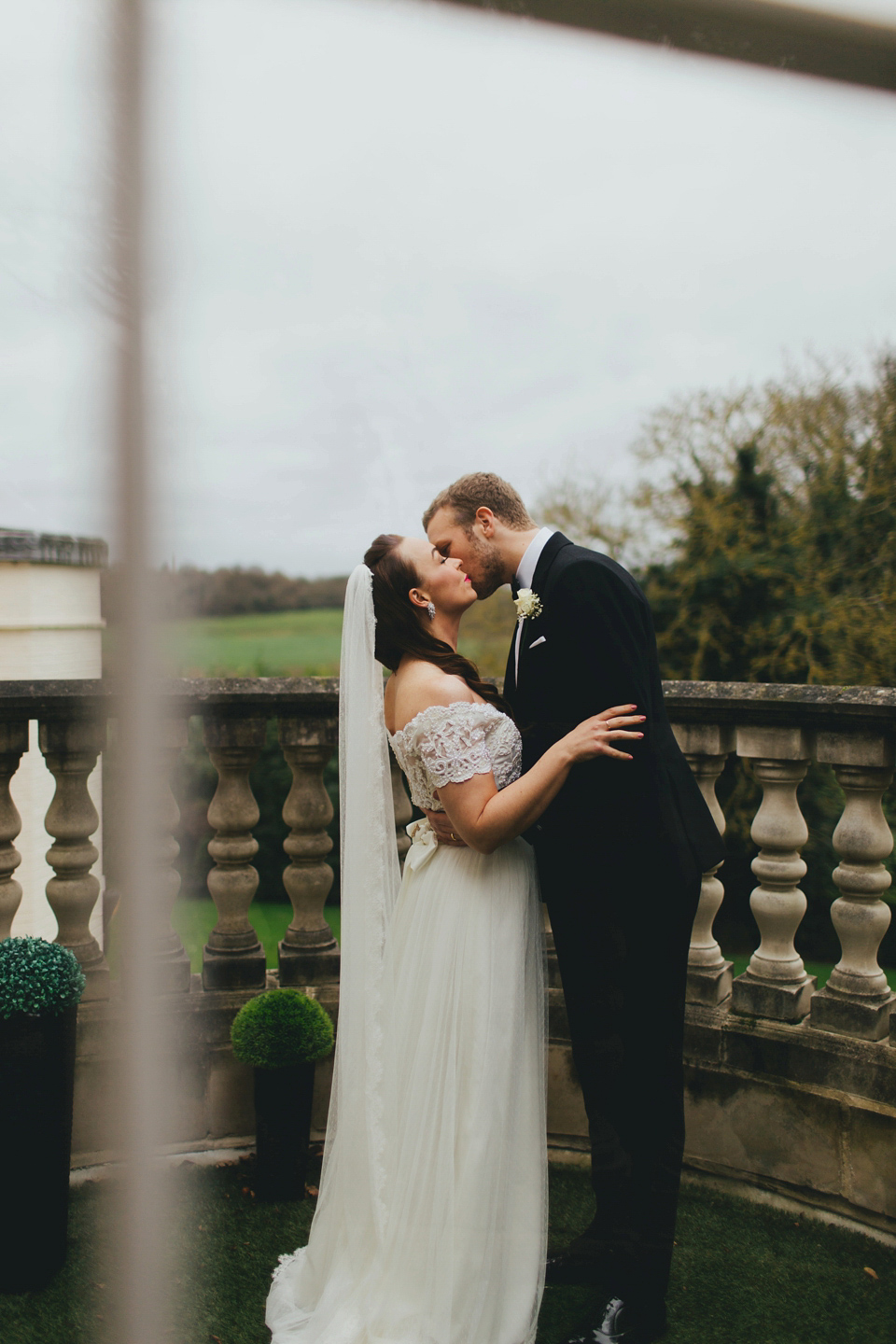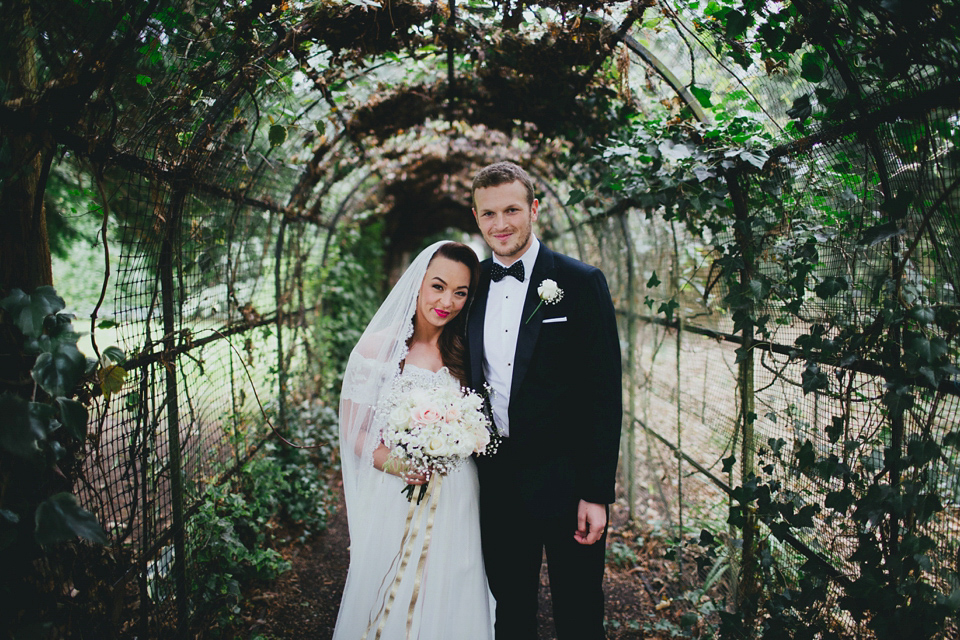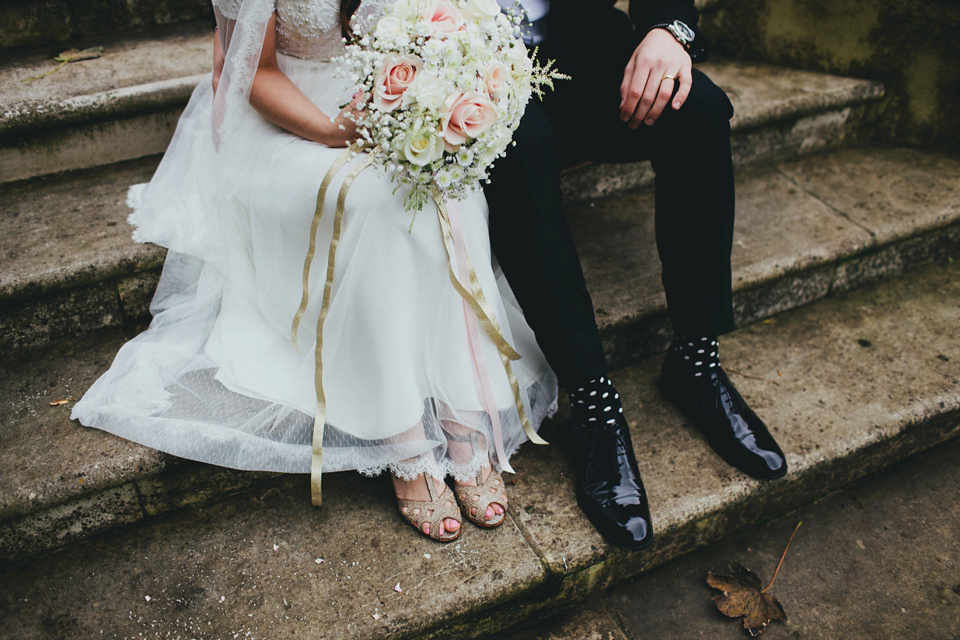 "We wanted a really personal wedding favour so we found an old photograph of every guest with one of us in it and printed a vintage Polaroid photo of it and made it into a magnet. There was a personal message on each one and everyone loved opening them and passing them around. It was nice to have such a personal thing for everyone to take away."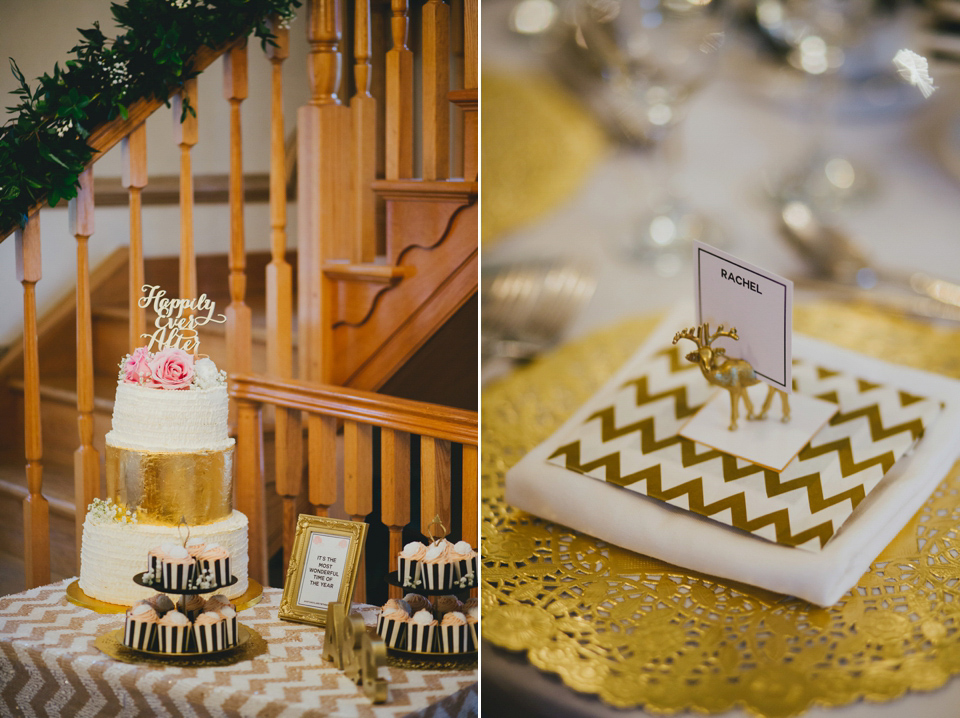 The couple found their cake maker Emma Page at a vintage wedding fair. Make sure you visit wedding fairs if you are getting married locally; not only is it a fun day out but you'll also find so many suppliers.
"Our cake was three tiers – two white ruffle tiers and had a gold foil tier in the middle. We used fresh flowers on the day to decorate the top and I had a cake topper shipped in with the words 'happily ever after'. It all came together so well and looked really impressive. We chose chocolate ganache for the middle tier and a Victoria sponge for the bottom and top (Ant's favourite needed to be the biggest)."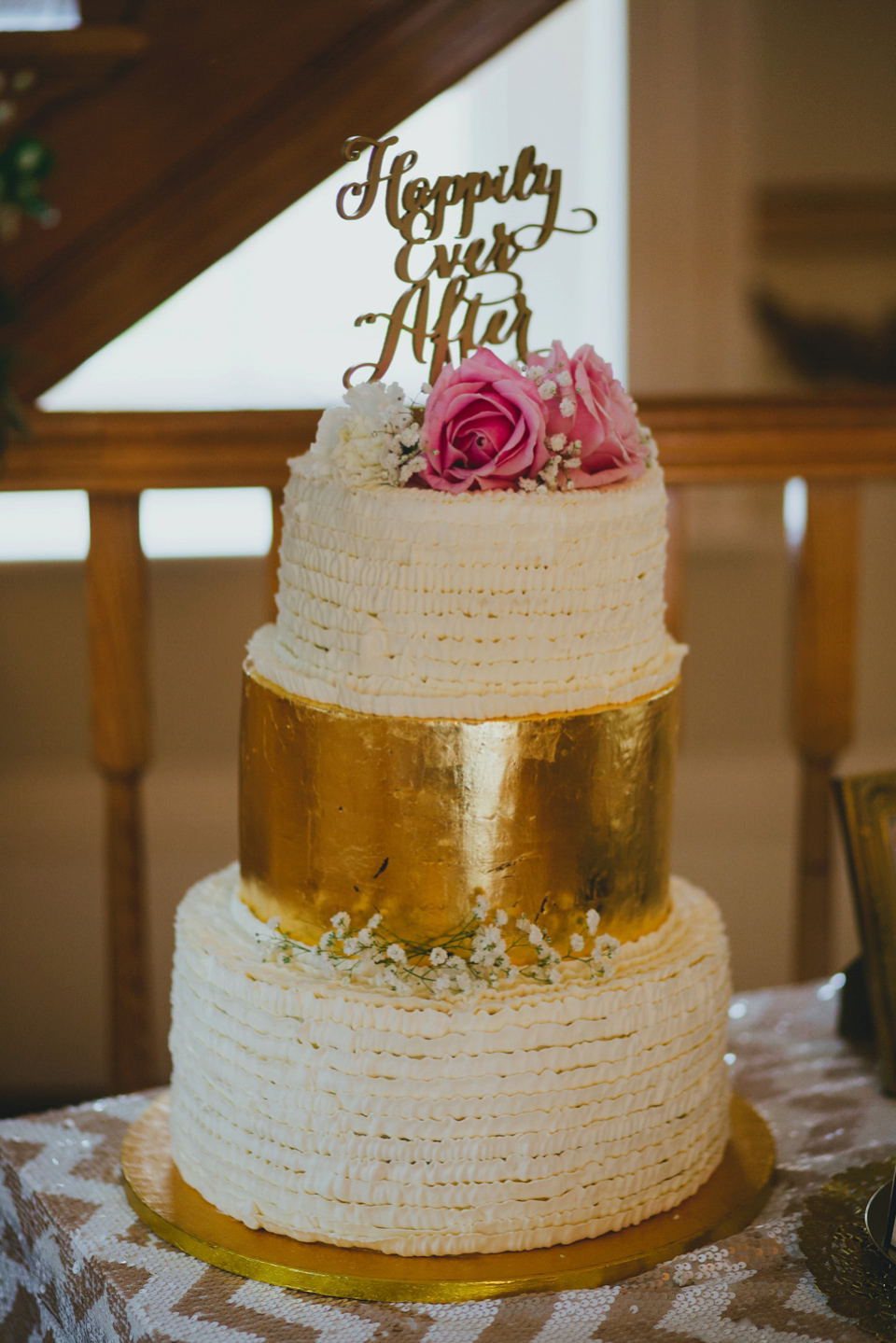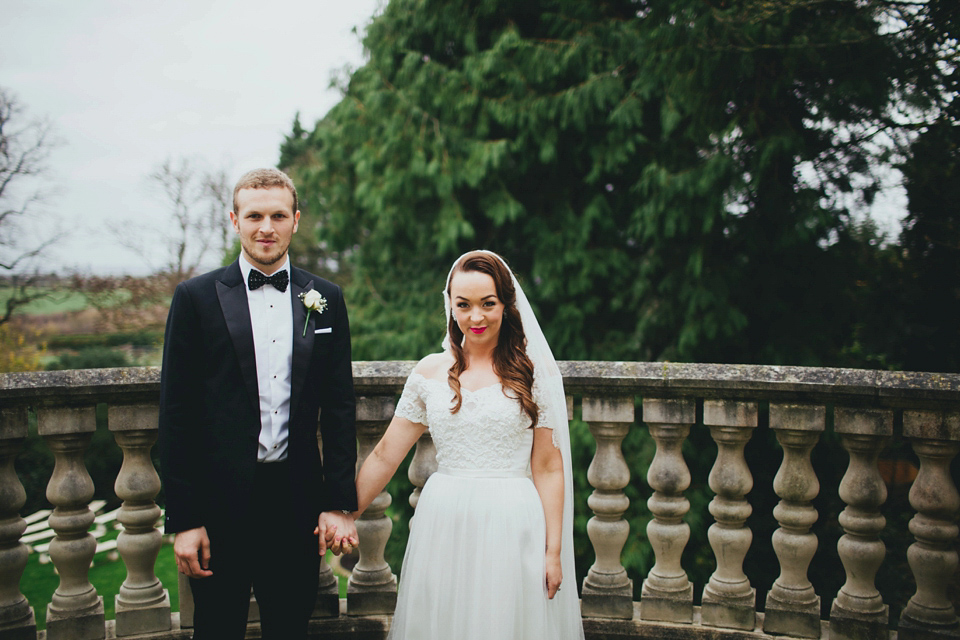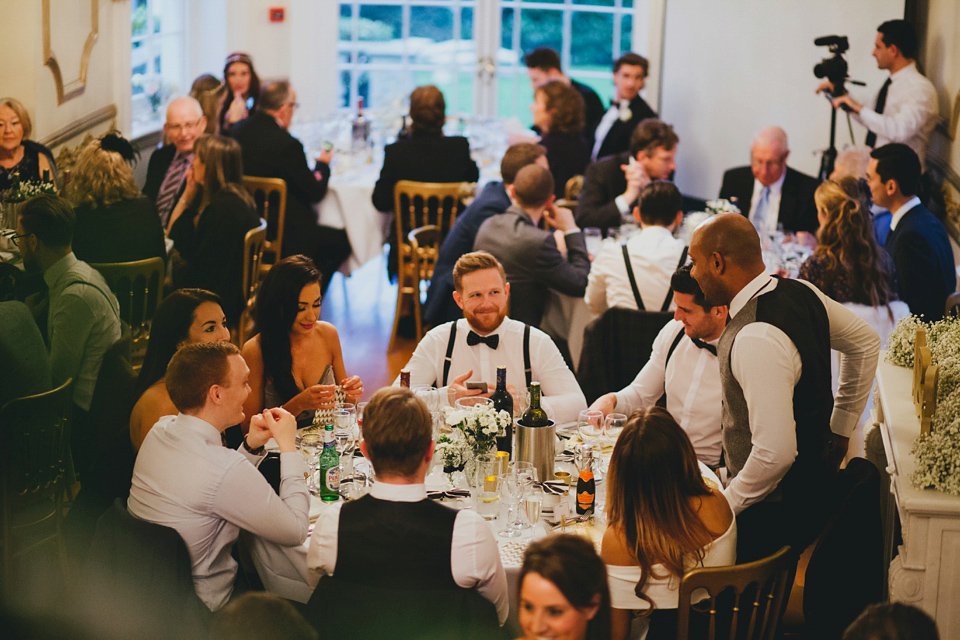 During the day Clare wore her veil and then later changed to her Crown and Glory head piece ready for the first dance.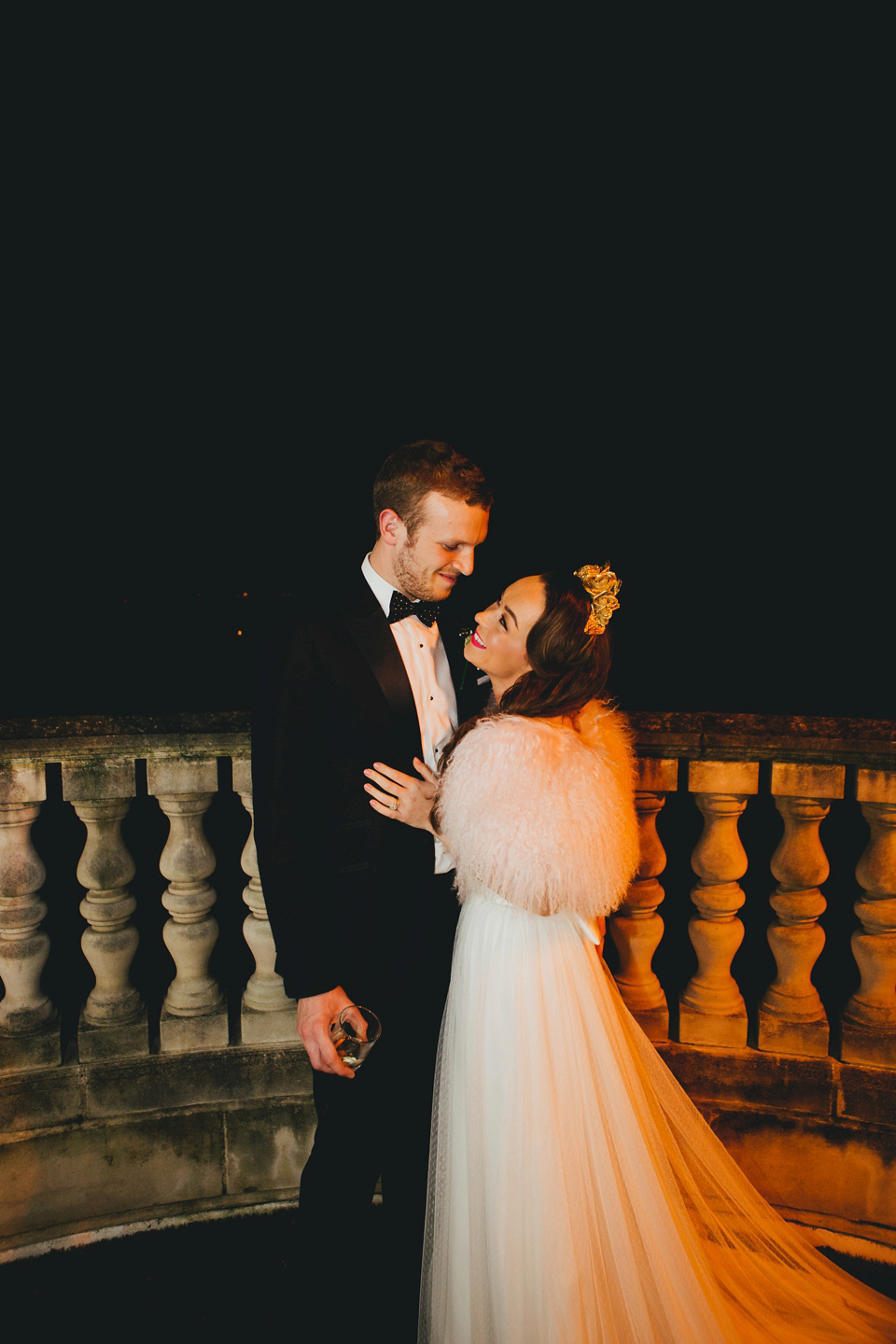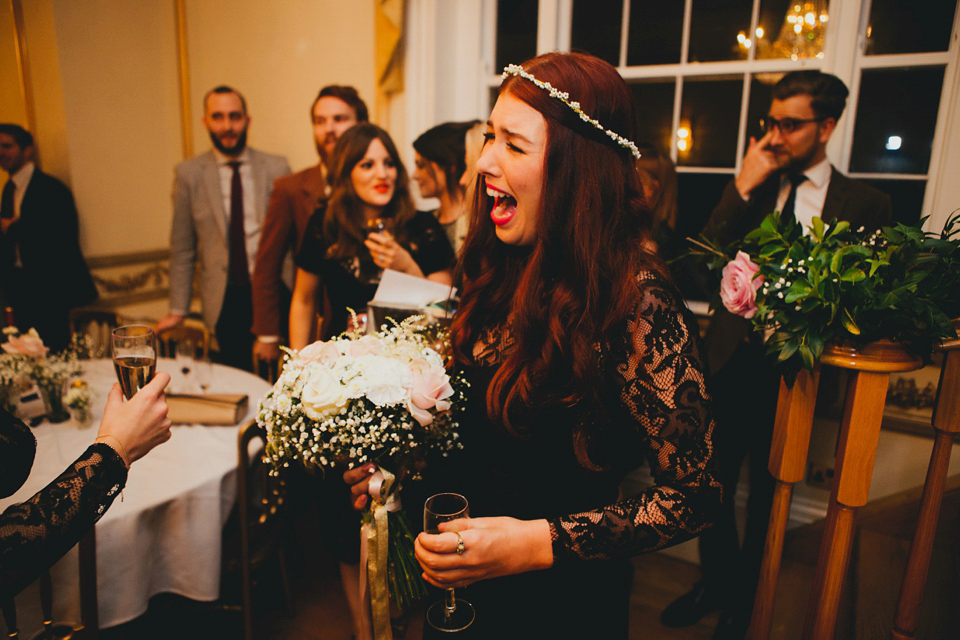 The newlyweds had their first dance to My Girl by The Temptations.
"We opted for a DJ for the evening; we looked into a band but Ant and I have very different music taste and felt it would be a better option to have more variety in the evening."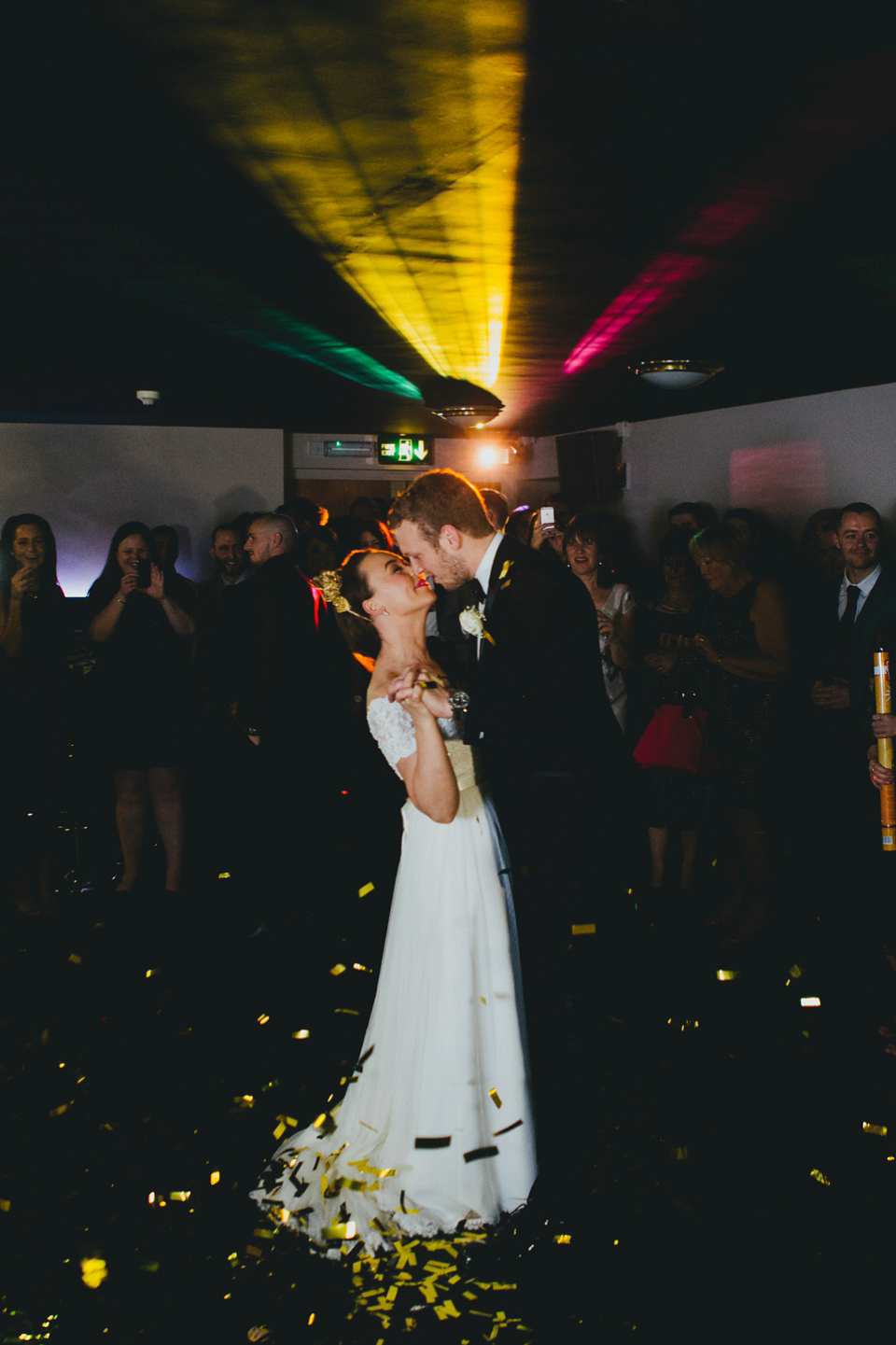 Words of Wedded Wisdom
"Never forget the reason you are getting married because you will have those days when there seems like so much to do and you're feeling stressed with all 'the details' but all that really matters is that you are both there with the closest people in your life to share the day with you.  It really will be the best day of your life; enjoy every moment.
I can honestly say there is nothing I would have changed about the day apart from maybe paying the extra to get the cake delivered… that was one scary car journey."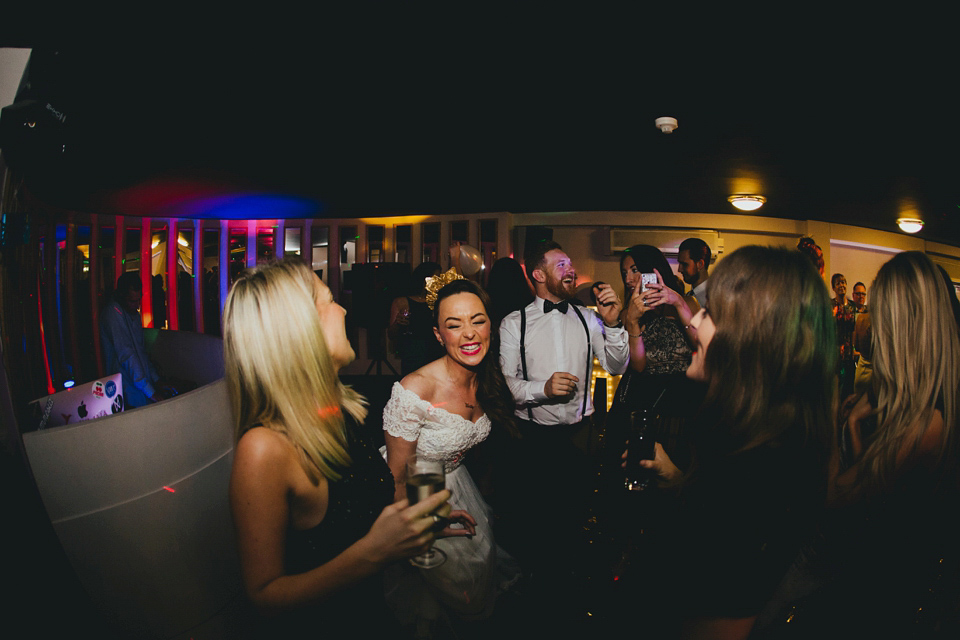 Thank you so much to Clare and Ant for sharing your special day – you both look so very happy. Also thank you to Dale for allowing us a sneak peak of your pictures.
For more Parisian-style weddings, take a look at these.
Bianca x
Photographer – Dale Weeks
Film – Karl Joseph Wedding Films
Venue – The Little Hermitage
Wedding Dress + Veil – Judy Mott
Shoes – Topshop
Accessories – Kenneth Jay Lane at Net-a-Porter earrings and Crown and Glory head piece
Perfume – Jo Malone
Groom – Tux from Dress to Kill, bow tie from Zara and braces from H&M. Groomsmen Next
Bridesmaids – ASOS dresses and New Look shoes
Florist – Bride's Auntie
Cake – Emma Page
Rings – Alba Rose
Stationery – Coco Invites You
Hair Stylist – Holly Andersen
Makeup Artist – Harriet Rainbow