Hello readers, I hope you are all enjoying your Friday evening. I have a pretty epic wedding to share with you, I just love this wedding so much. I am very excited to introduce you to Chris, a Project Manager for an Electrical Contractor and Liz an Account Director for a Marketing Agency. The pair married on the 10th October 2015 at the exclusive Osea Island, Essex which was exclusive to them for the whole weekend and even had a secret after party rolling into the early hours, with some serious moves being busted by all. Just wait until you see Liz's party headdress!
"We were looking for a venue that we could exclusively take over for a whole weekend and create a festival style vibe and that would allow our guests to relax and really get into the wedding festivities! We loved Osea Island the moment we set foot on the shore. We loved that it was private and quite unknown and that you could only access it at certain times of the day when the tide was low, so felt like our little secret waiting for our guests to discover. The island is a truly beautiful place with sumptuous yet rustic accommodation for all 110 guests plus event spaces with a cool industrial feel. What was also important to us was that the management were relaxed and let us dress and plan out the weekend completely how we pictured it – which they did!"
Photography by Caitlin Mogridge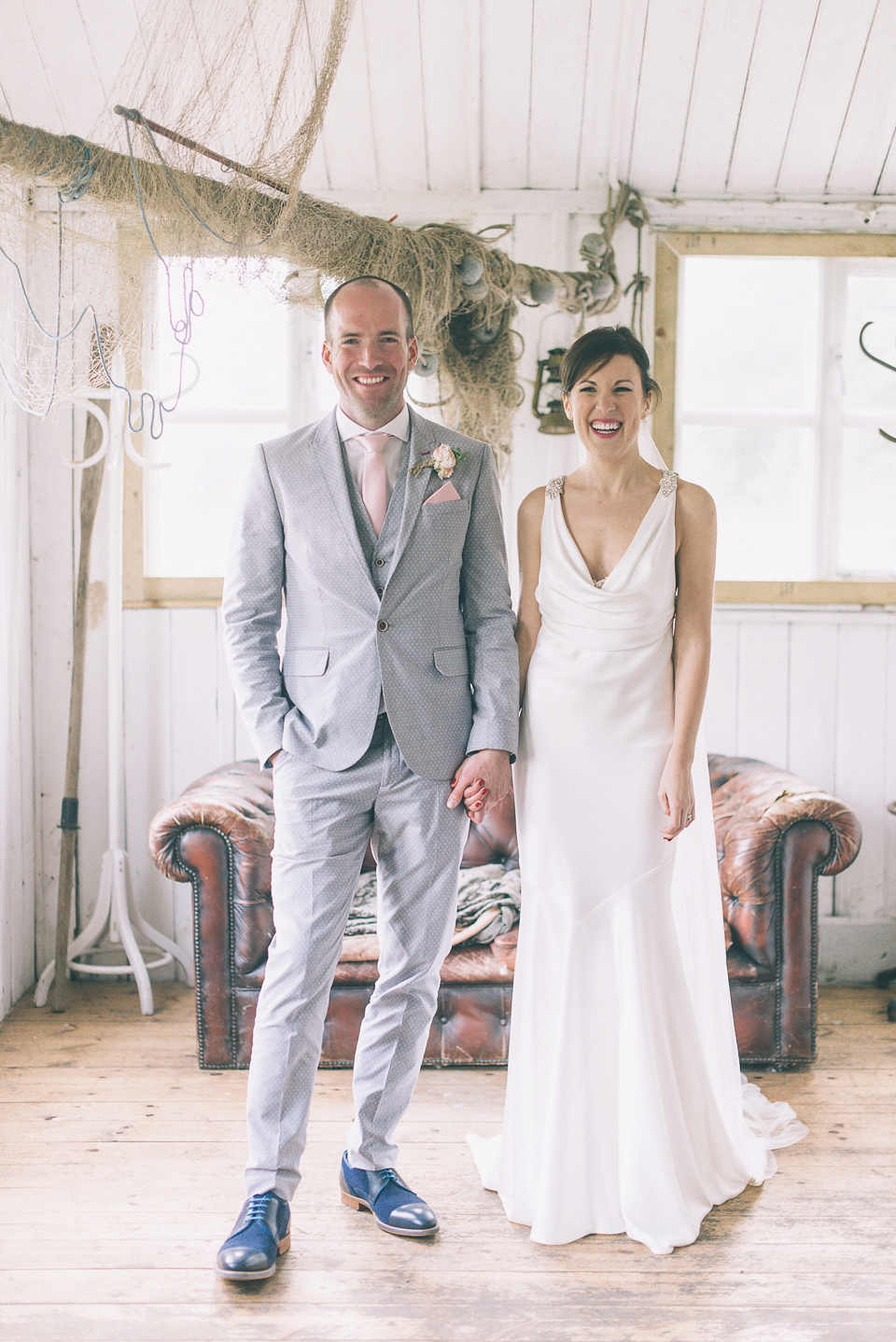 The couple used florists Lily and May to create the beautiful foliage and hanging flower trend, that Liz loves and felt suited the venue.
"Our florist wrapped our ceremony gazebo with foliage and dusty pink bombastic roses and followed this look through to our tables at dinner with candles in short and tall glasses with sand in them (nod to our nautical theme). But my favourite flowers by far were the beautiful hanging flower and ribbon display on the walkway through to our wedding breakfast which became the backdrop to the head table.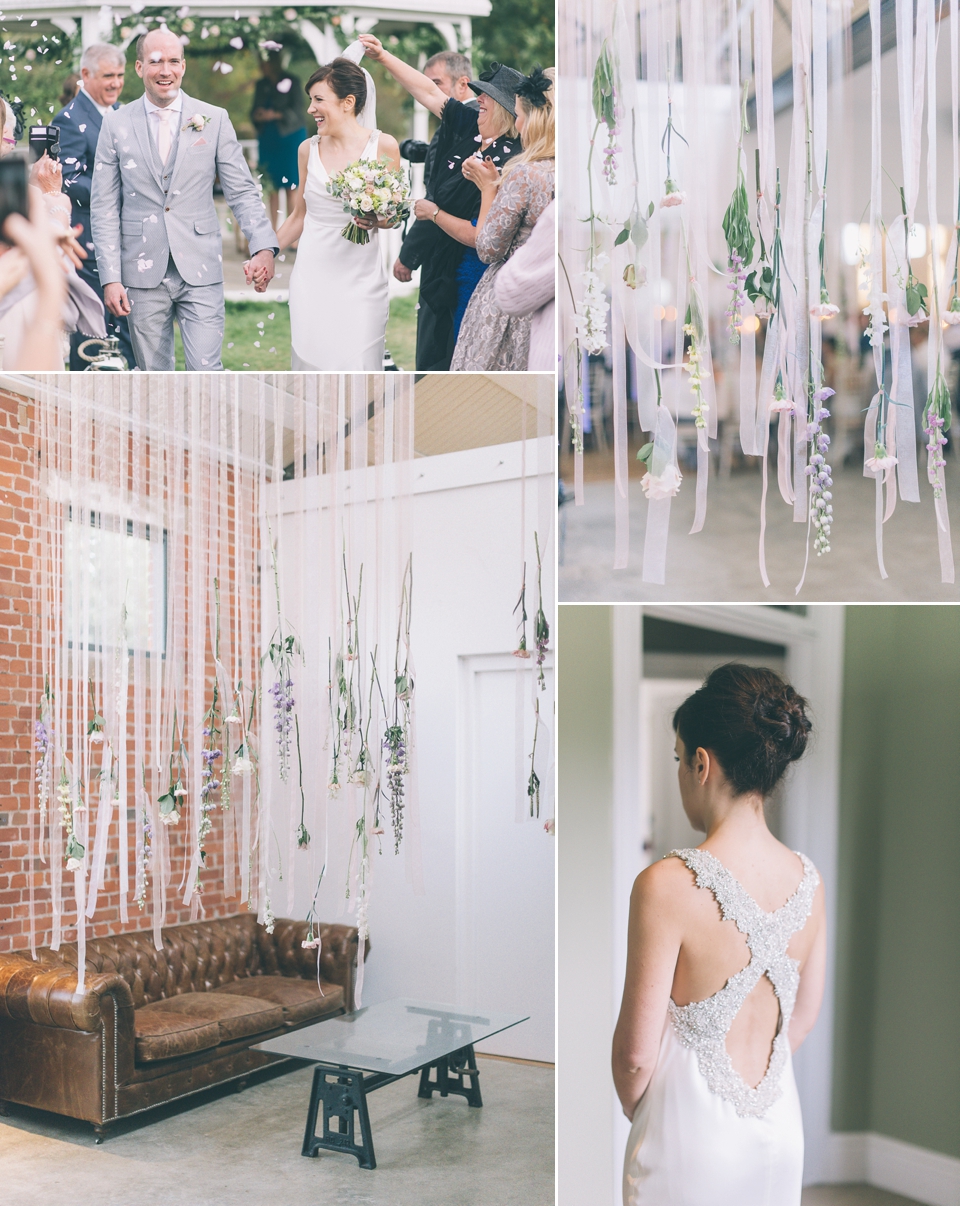 Liz got her stunning, slinky Gemy Maalouf Bridal dress  and veil from our Little Book for Brides member, Mirror Mirror, just look at that back detail!
"I always wanted a slinky dress with a train and back detail and so I instantly fell in love with the Gemy dress as soon as I tried it on. The fabric felt so luxurious against my skin and I loved that you could see a bit of the embellishment detail from the front but got the full impact of the beautiful beading work from behind."
"We met at the UK music festival Secret Garden Party in June 2011 in a cramped beer tent, Chris was dressed as a 1950s pilot and Liz a leopard! Chris popped the question on a beach September 2014 on our favourite Balearic island Formentera to a backdrop of a stunning sunset. As you can see we have a thing for islands which is another reason for picking Osea!"
Liz had her hair and makeup done by Dickie and Dove and wore Portrait of a Lady by Frederic Malle.
"I picked it especially for our wedding as I wanted a scent that would remind us of our day and this smell is absolutely stunning. All my guests kept saying how great I smelt and have said since that when I wear it they are reminded of our wedding!"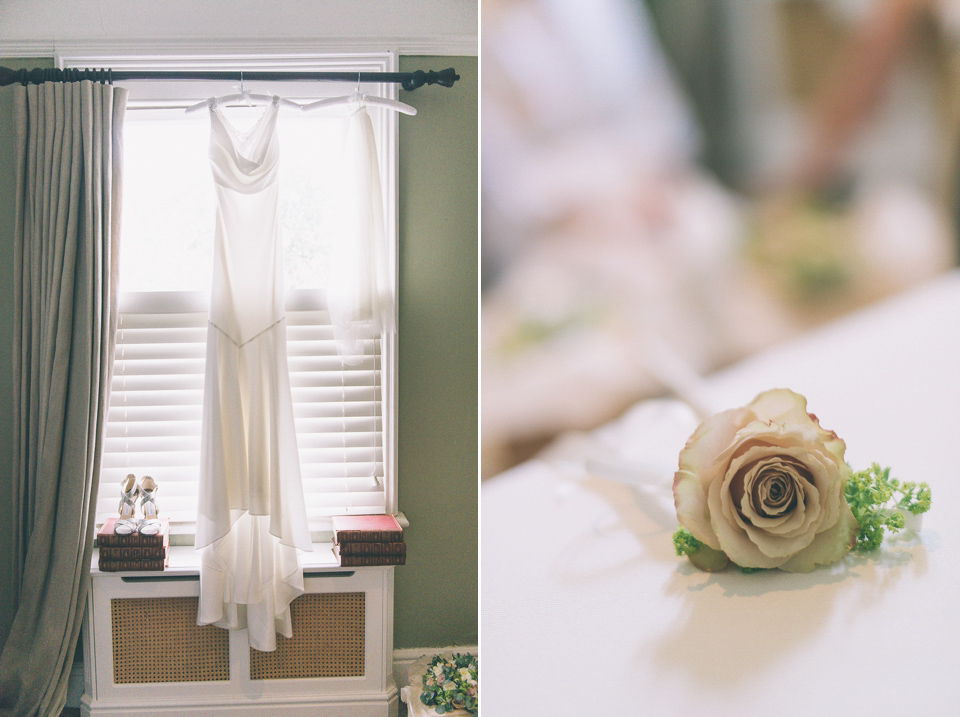 For the bride's something old Liz had an antique horseshoe pin for her bouquet, something borrowed was an embroidered handkerchief with the letter 'R' from her Dad, Ross.
During  the day Liz wore a diamante leaf comb in her hair from Aye Do Weddings and changed in the evening to a fabulous bespoke wild feather and diamante headdress made by Curious Fair for their secret after party. I think every bride needs to consider a feather headdress!
The bride accessorised with a pair of diamond stud earrings, a wedding gift from her husband to be, a Lulu Guinness Lips clutch bag and Louise by Jimmy Choo shoes.
"I chose these as wanted some silver sparkle on my feet to compliment my dress. They were so comfortable and I actually managed to wear them from 1.30pm Sat right through to 4am Sunday morning!"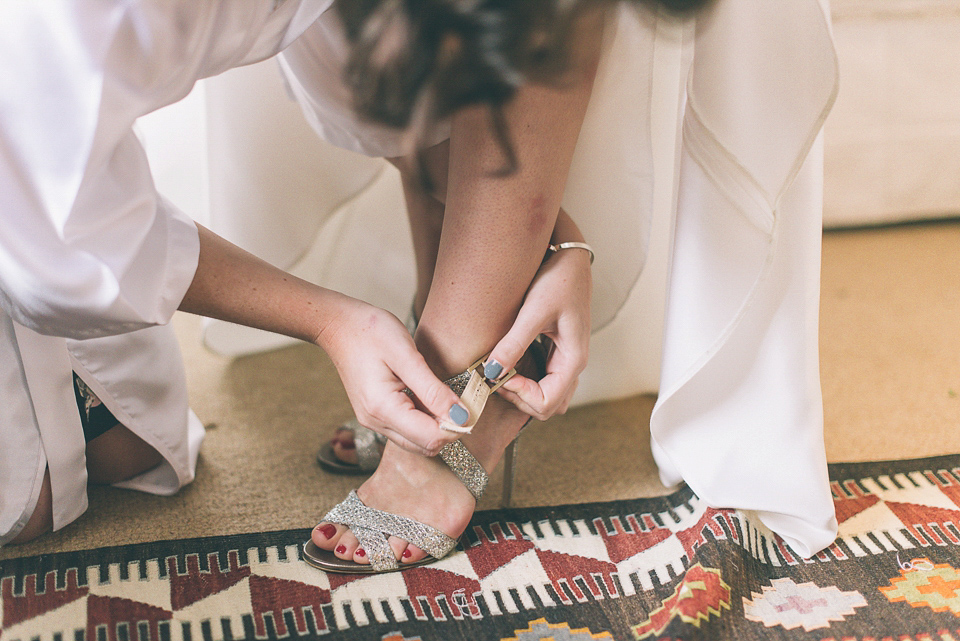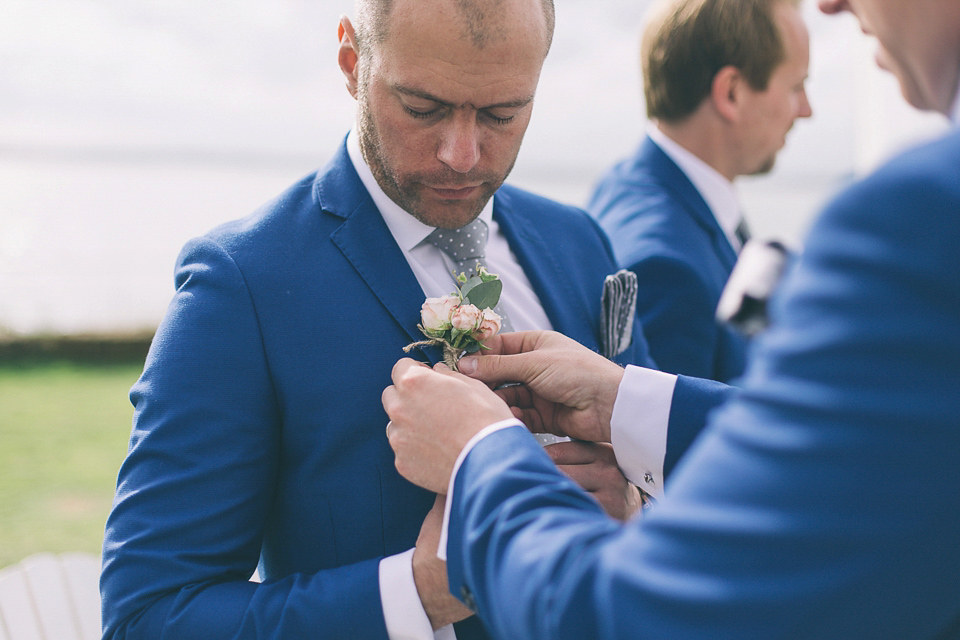 It is only fair that the groom gets to share as much of the limelight as the bride and Chris was definitely one impeccably stylish groom, who did not want to be left behind. He wore a pale grey polka dot suit from Ted Baker with an amazing pair of blue suede derby shoes from Barker.
The ushers wore blue suits from Moss Bros and ties from the Tie Bar. The ties were grey with white polka dot to match the Grooms suit. The Fathers, Best Man and Groom all had dusty pink ties to ensure they stood out from the ushers.
The bridesmaids looked beautiful in one shoulder, silver grey dresses by Dessy from Fairytale London paired with silver peep toe shoes by Rachel Simpson, crystal hair pins from Liberty In Love and Liz gifted the pair a personalised Monica Vinader bracelet each.
Liz was given away by her Dad to the beautiful soundtrack of Ellie Goulding's 'How Long Will I Love You'.
"Our ceremony was so relaxed but emotional at the same time. We had standard vows but instead of having two readings we provided song words to Wet Wet Wet 'Love is All Around' so we could have a sing along to an acoustic guitar! We chose the song because my husband loves Wet Wet Wet (something to do with his parents when growing up!) plus my Granddad before we lost him used to sing this song."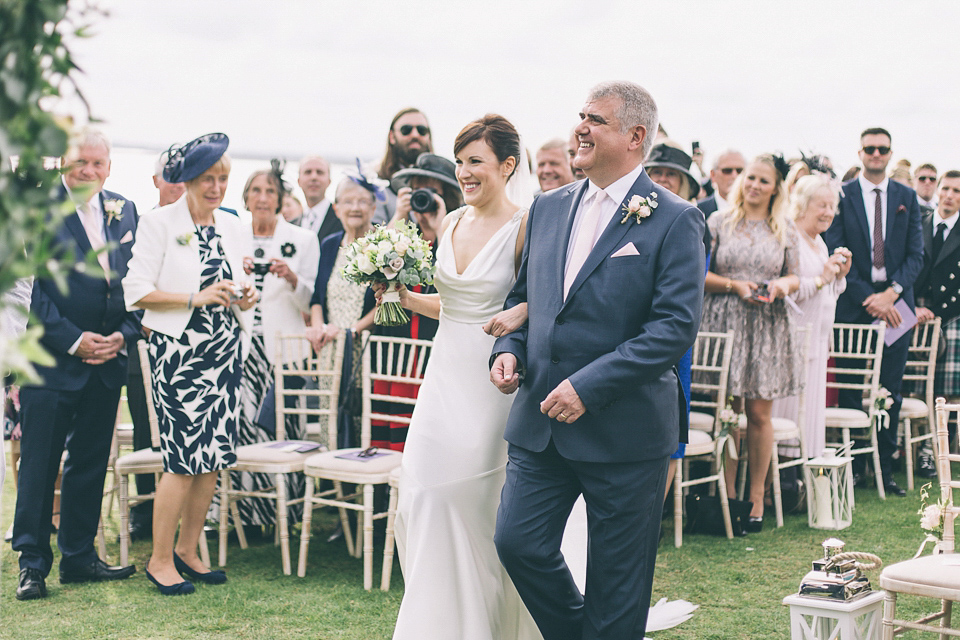 The style of the venue and location inspired how Liz and Chris styled their big day. With lot's of nautical influences they wanted to compliment this but also add some glamour, so incorporated  stylish dove grey, dusty pink and mauve with some silver glitz.
"I went for a super long but simple veil to compliment the detailing on the back of my dress. The veil made me feel extra glamorous and very bridal!"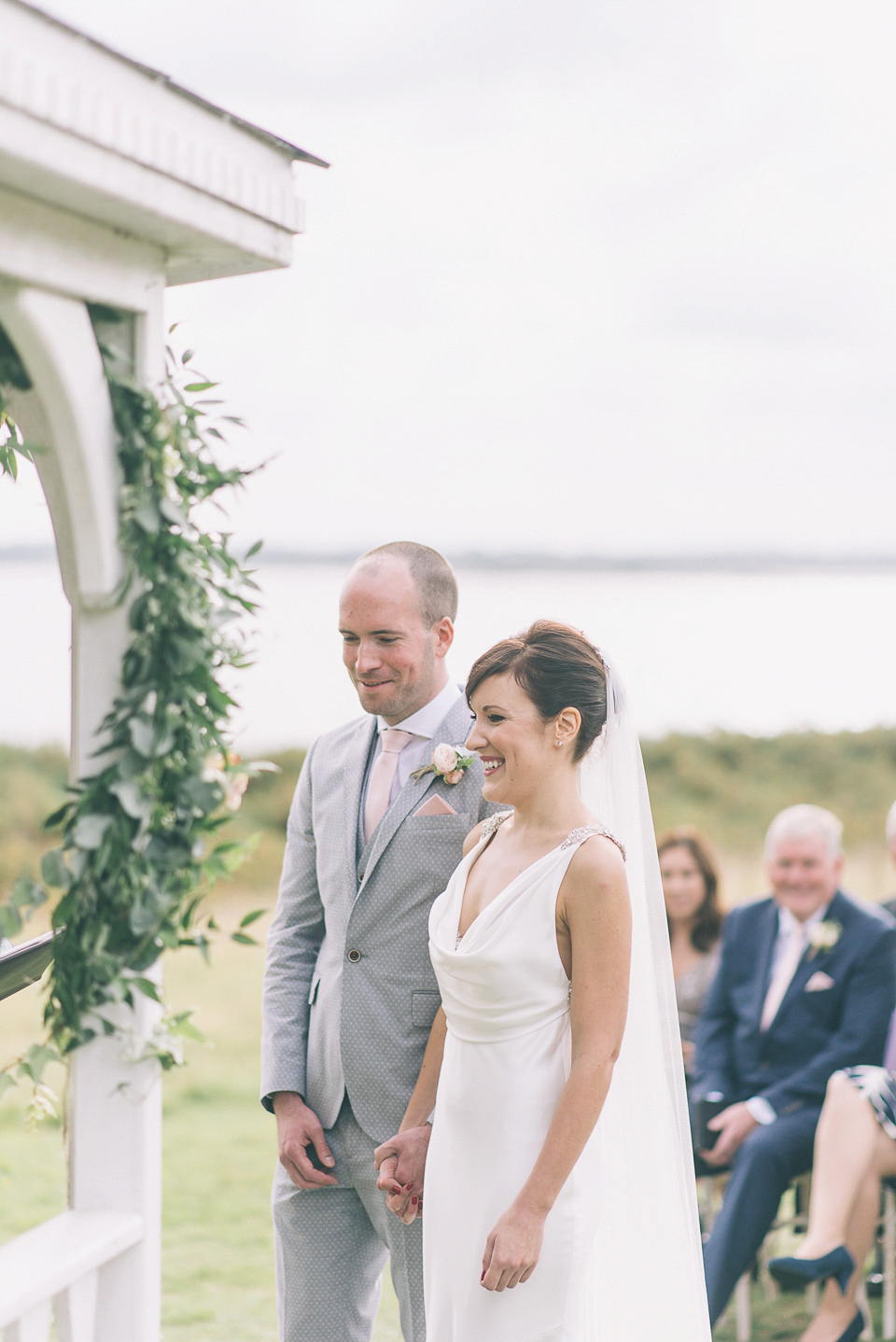 Liz's best friend from Uni read Johnny Cash 'I Love You Because'…
I love you because you understand, dear
Every little thing I try to do
Your always there to lend a helping hand dear
But most of all I love you 'cause you're you
No matter what may be the style or season
I know your love will always see me through
I love you for a hundred, thousand reasons
But most of all I love you 'cause you're you
I love you because my heart is lighter
Every time I'm walking by your side
I love you because the future's brighter
The glow to happiness you've opened wide
No matter what the world may say about me
I know your heart will always be true
I love you for the way you never doubt me
But most of all I love you 'cause you're you.
The couple selected photographer Caitlin Mogridge to capture their special day.
"We chose Caitlin as she was genuinely excited about our big day and our plans so knew she would capture the story of our day beautifully. We loved Caitlin's style of photography because she captured every feeling and emotion of the day in a style that is completely non intrusive by integrating so well with our guests. We would highly recommend her and her team."
Catering was provided by Osea Islands onsite caterer but Liz and Chris also hired an Oyster Shucker during the reception drinks, a lovely idea. The newlyweds also supplied drinks including Mash Beer, a microbrewery owned by Chris's uncle and they created bride and groom cocktails too.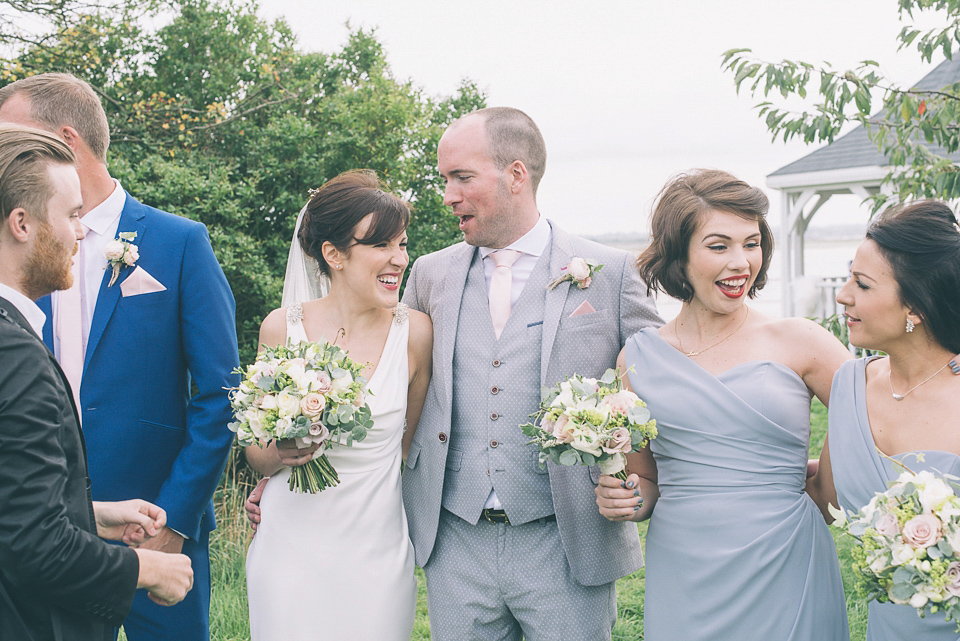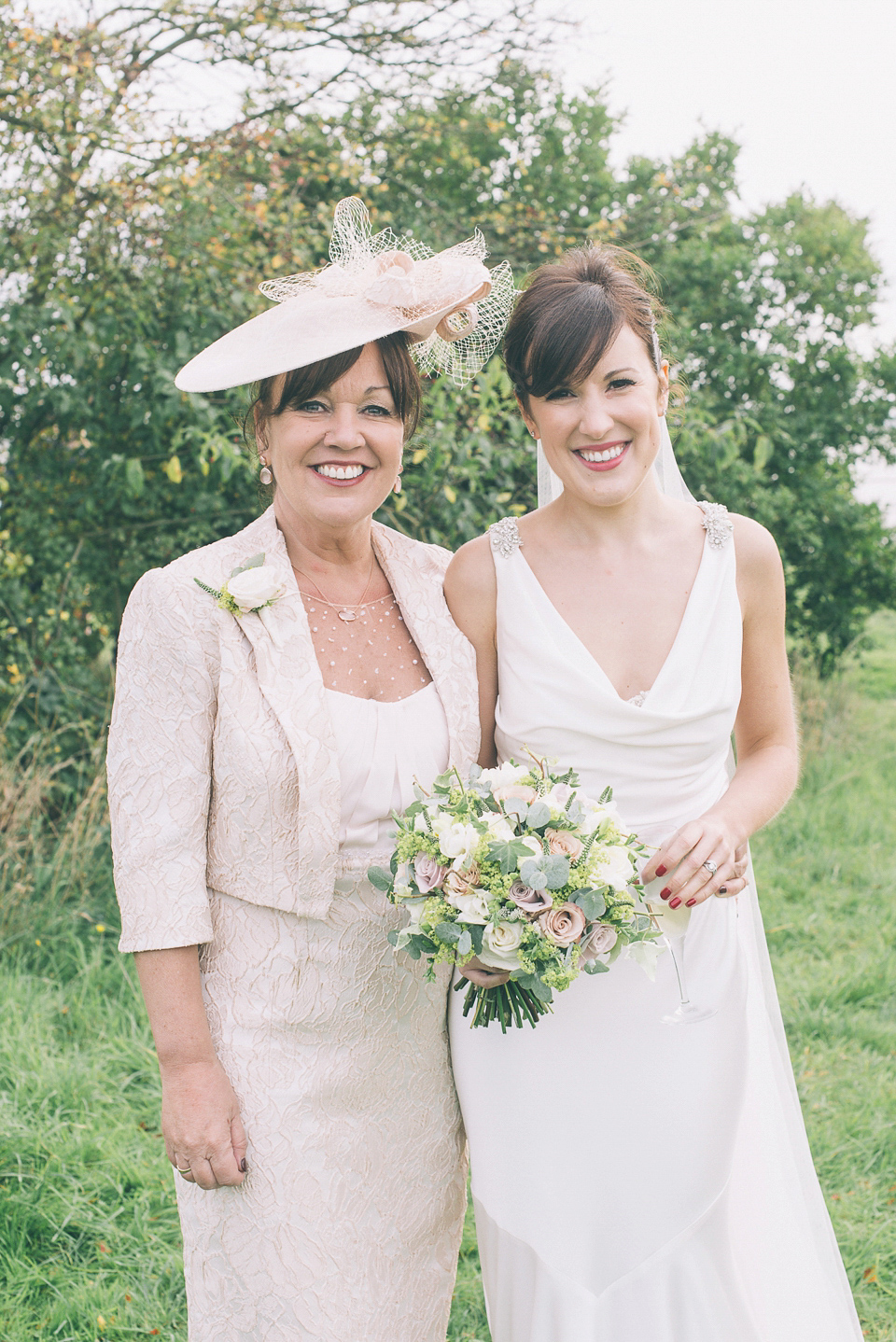 I love the fact that Liz and Chris hired a Tuk Tuk from South East Tuk Tuks, to transport them and also take guests on Tuk Tuk rides during the reception drinks, how fun and original?!
The venue was decorated with lanterns, ribbons and chandeliers hanging from trees, an old boat filled with drinks and beautiful wooden signs, which they placed all over the island.
"Including 'You've made it, Not Far Now!' when they drove onto the island, 'Ceremony this way and Tipples and Tunes' to direct on the day and 'Ssssh secret after party' which was only revealed late at night on the Saturday."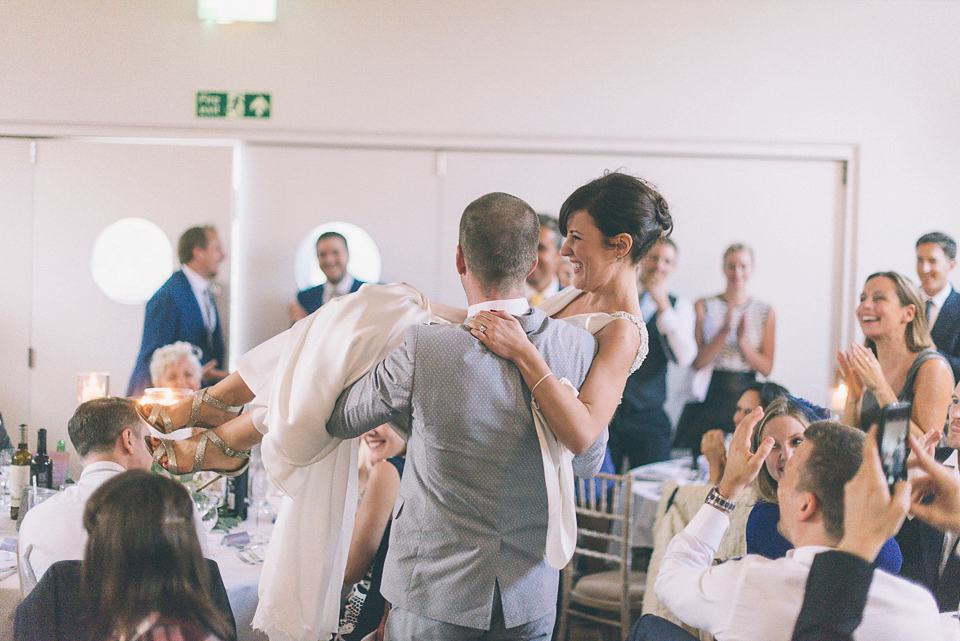 "Osea is very dark at night with no lighting on pathways so we gave everyone small torches which were inserted into their name place cards with had a message on the back saying 'use me to get home safely (and to find the secret after party!)'"
The couple opted for a 4 tier naked Victoria sponge cake from Yum Nums to keep with the rustic feel and added some flowers to glam it up!
"It's tradition in the bride's family to cut the cake with my Great Granddad's dress sword from during his time as a Major in World War 2 and to make this tradition even more formal we asked our friend who plays the bugle to sound everyone to watch the cutting of the cake! My Mum bought a grand silver cake stand and a sequined table cloth from Gilded Linens to make the cake a real focal point underneath the hanging flowers."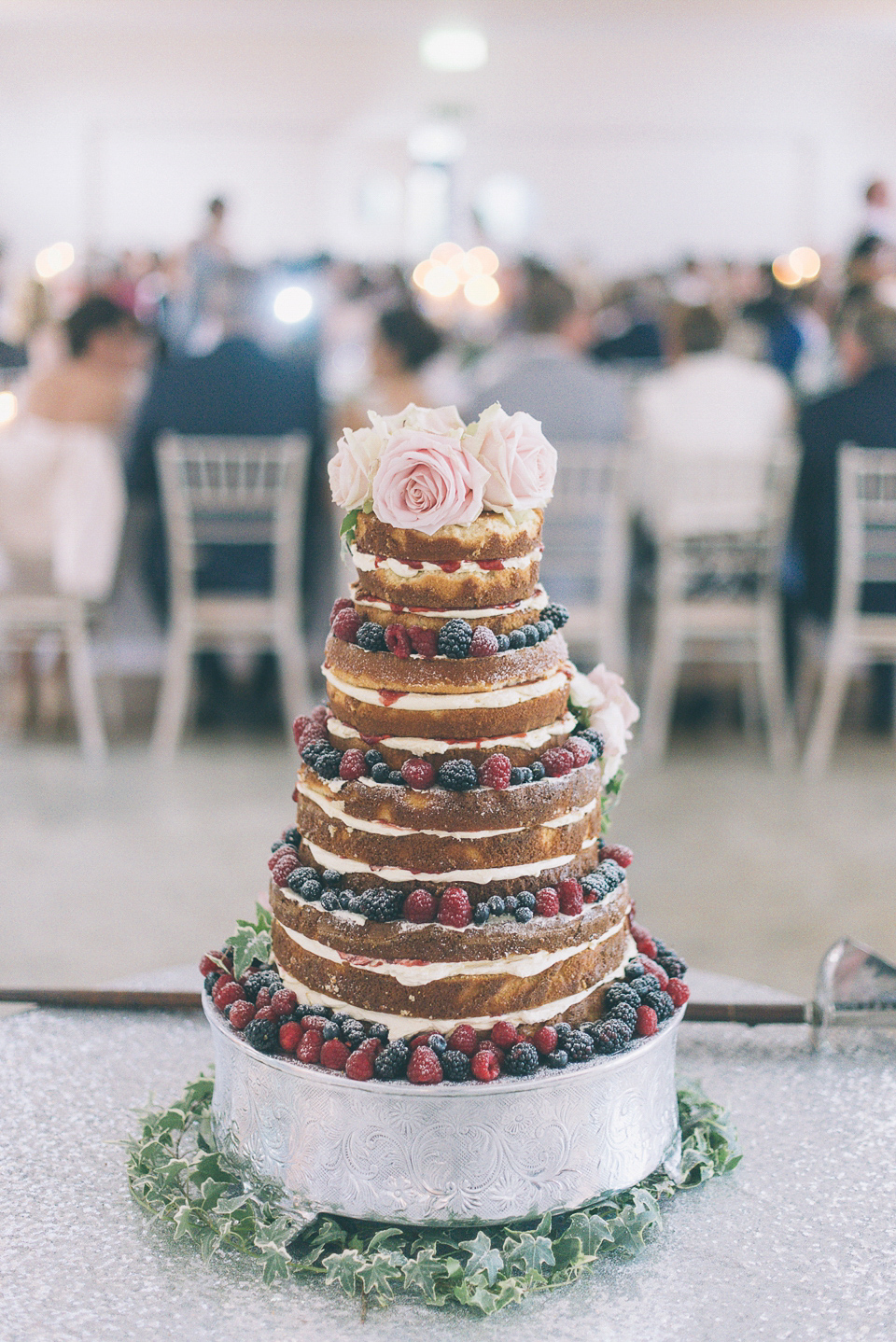 Wanting to ensure their guests had the best time, they also had a dress up box in 'The Shack' for the secret after party which included sunglasses and Captains hats. Liz also tells us that she had a very original guest book idea of a wooden anchor made from a supplier on Etsy but unfortunately there is no picture of this, although I would love to see it!
The newlyweds had their first dance to Ed Sheeran's 'Thinking Out Loud', choosing it for their love of the words.
"We had dance lessons and tried to incorporate some of the moves from the video into our dance but on the day it went a bit wrong so we laughed a lot through it!"
"As I made my husband do dance lessons, he made me do DJ'ing lessons! We did a surprise back to back DJ set at our secret after party with me in my feather headdress and Chris in a captain's hat! The secret after party was in 'The Shack' which looks like a disused shed from the outside but inside is a very cool rustic space ready for partying into the early morning!"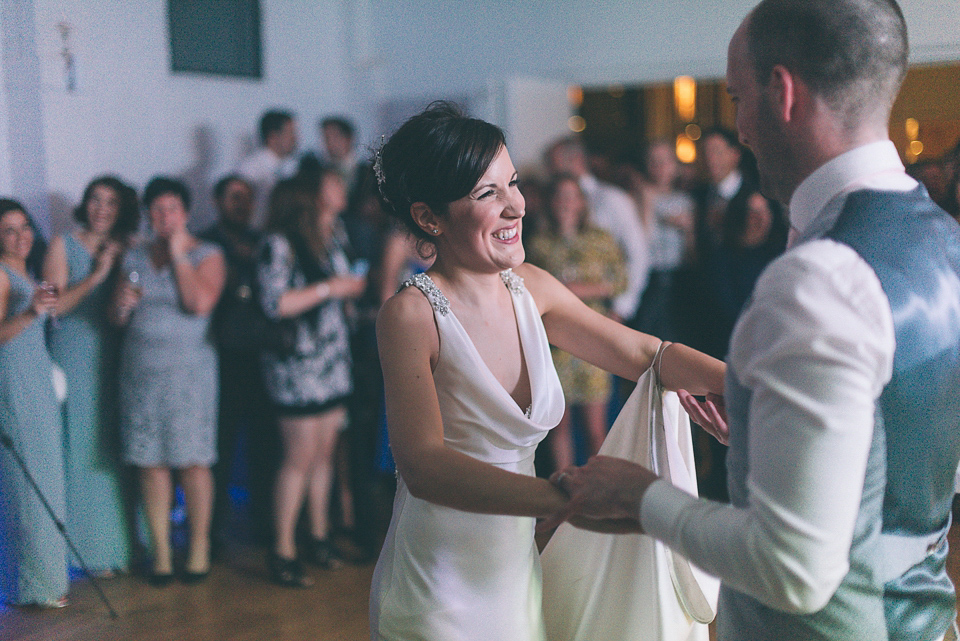 Liz and Chris enjoyed every minute of their day and spoke of their favourite moments.
"Standing up in front of all our favourite people in the world and committing to each other is by far the best moment of our lives…and then surprising our guests with the tuktuk spinning round and collecting us after is a memory we will never forget!"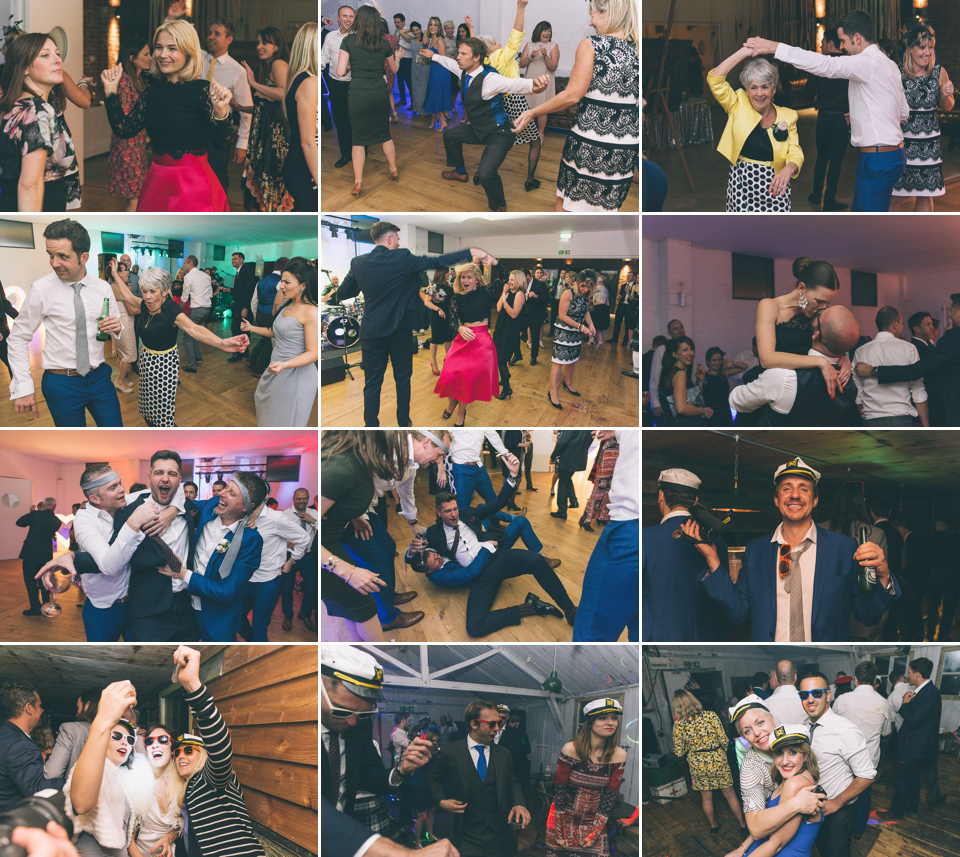 Words of Wedded Wisdom
"This isn't a new one but as a bride you really do need to relax and not worry about a thing on the actual day otherwise you won't enjoy it and what's the point in that! Delegating is the key! I had spreadsheet after spreadsheet and briefed everyone with meticulous detail about what they needed to do, I even filmed a funny vid for the ushers to be played at they're pre wedding run through! But even with all the planning some small things may not go 100% to plan but no one will care, and neither should you as it won't be what you remember the morning after –I promise!"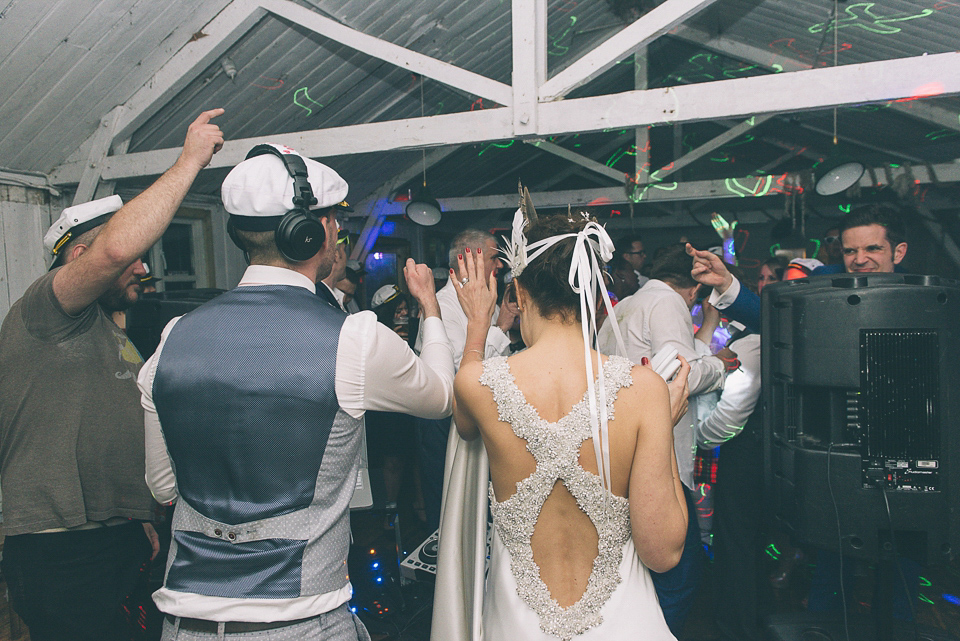 I only wish I was invited to this wedding and their secret after party, it definitely looks as though it was a day to remember. Thank you so much Liz and Chris for sharing your amazing day, it looks nothing short of fun and full of love. Thank you Caitlin for sharing your fantastic photos and capturing those wild moments! By the way – the couple chose to video the whole weekend and wanted to make the guests feel involved as videographers, by using Shoot It Yourself. I've not yet seen a video shot by the guests but I can only imagine how much fun and personal it is, and may well reveal some naughty guest antics!
If you are thinking of getting married on an island, take a look at these other weddings too.
Have a lovely Easter everyone!
Bianca x
Photographer – Caitlin Mogridge
Videographer – Shoot It Yourself
Venue – Osea Island
Wedding Dress – Gemy Maalouf Bridal at Mirror Mirror
Shoes – Jimmy Choo
Perfume – Portrait of a Lady by Frederic Malle
Groom –Ted Baker suit and Barker shoes
Bridesmaids – Dessy via Fairytale London
Florist –  Lily and May
Cake – Yum Nums
Transport – South East Tuk Tuks
Entertainment – Back In The Day
Catering – Osea Island and Oyster Meister
Stationery – Liz's Work Friends
Hair Stylist & Makeup Artist – Dickie and Dove