When I was living in the UK, I had grand plans of trekking across the channel every weekend to discover a new city in Europe. Cue reality and the high costs associated with this intention and my travels were limited to weekends every now and then. But when I did head over the seas, I truly made the most of my short time in each location; soaking up the vibrant culture, tasting local delicacies, and falling in love (with the scenery, not the fellas. OK, maybe one or two Danish chaps in my pre-husband days!). One place on my list I desperately wanted to visit was Croatia, so you can imagine my delight when I saw these utterly beautiful pictures by Lifestories Wedding Photography.
Nataly and Stuart, who are both management consultants, tied the knot on 11th July 2015 for their destination wedding in Dubrovnik, Croatia – a place Nataly used to frequent on holidays with her family. The couple's ceremony was held in The Sponza Palace, a spectacularly grand Gothic-Renaissance design, then all hopped aboard a traditional Karaka boat for the drinks reception, before arriving at Konavoski Dvori for their reception, set against the picturesque backdrop of a bubbling brook.
"We were inspired by a Midsummer Night's Dream, mostly due to the reception setting which was in a forest by a river. We are both bookworms too and Stuart likes Shakespeare. Other than that, we just embraced the elegance and beauty of our surroundings so went with simple, pale colours and décor."
Photography by Lifestories Wedding Photography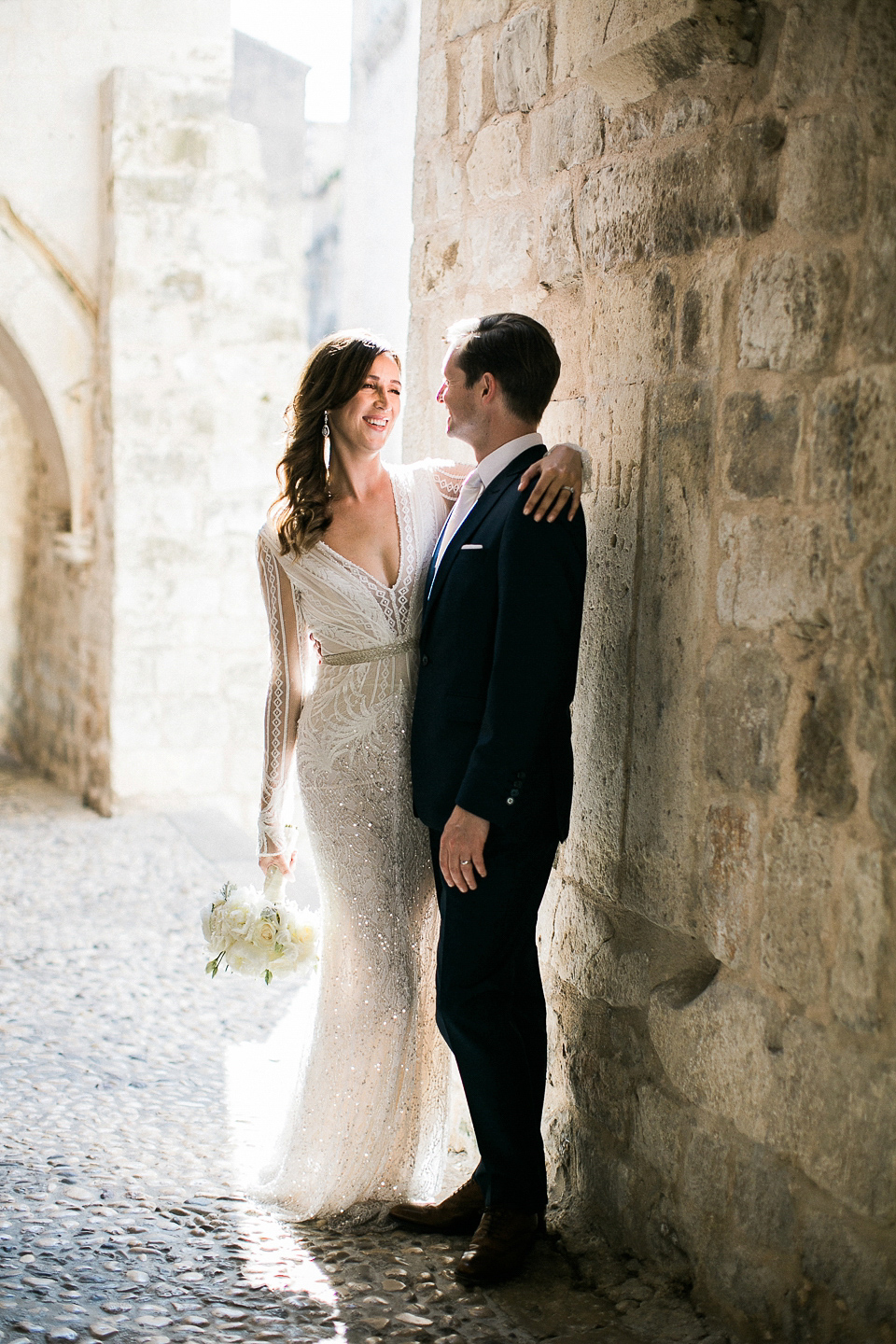 Nataly's Inbal Dror gown, with its fitted silhouette, sheer panels on long-sleeves, low back, and intricate beading is utterly exquisite and rendered me totally speechless. The dress was made to measure from the Tel Aviv showroom.
"The four maids wore gowns by Adrianna Papell from House of Fraser. They looked absolutely beautiful – the perfect dresses for my perfect stunning bridesmaids."
"The first thing I noticed was how light and comfortable my Inbal Dror dress was. I definitely didn't have 'the one' moment at the time, but as soon as I tried my made to measure one on, and on the wedding day, I knew it was the perfect dress for me. I honestly don't know how I didn't see it was 'the one', but you are surrounded with so many beautiful options, it does become quite hard!"
"Ines and Marin Nanic who run Dubrovnik Event were our wedding planners – we honestly could not have done it without them and cannot thank them enough for making the day so wonderful. We had been pretty broad with all our decisions and descriptions and they did an amazing job at making them real.
If you're getting married abroad, I would say it's essential to use planners. They sorted everything for us so we only had to deal with them versus multiple suppliers. And they are well connected so the chances of everything going right are significantly higher."
Nataly donned Steve Madden flats purchased from Selfridges, and a spray of 'Coco Mademoiselle' by Chanel, Olivier Laudus drop earrings.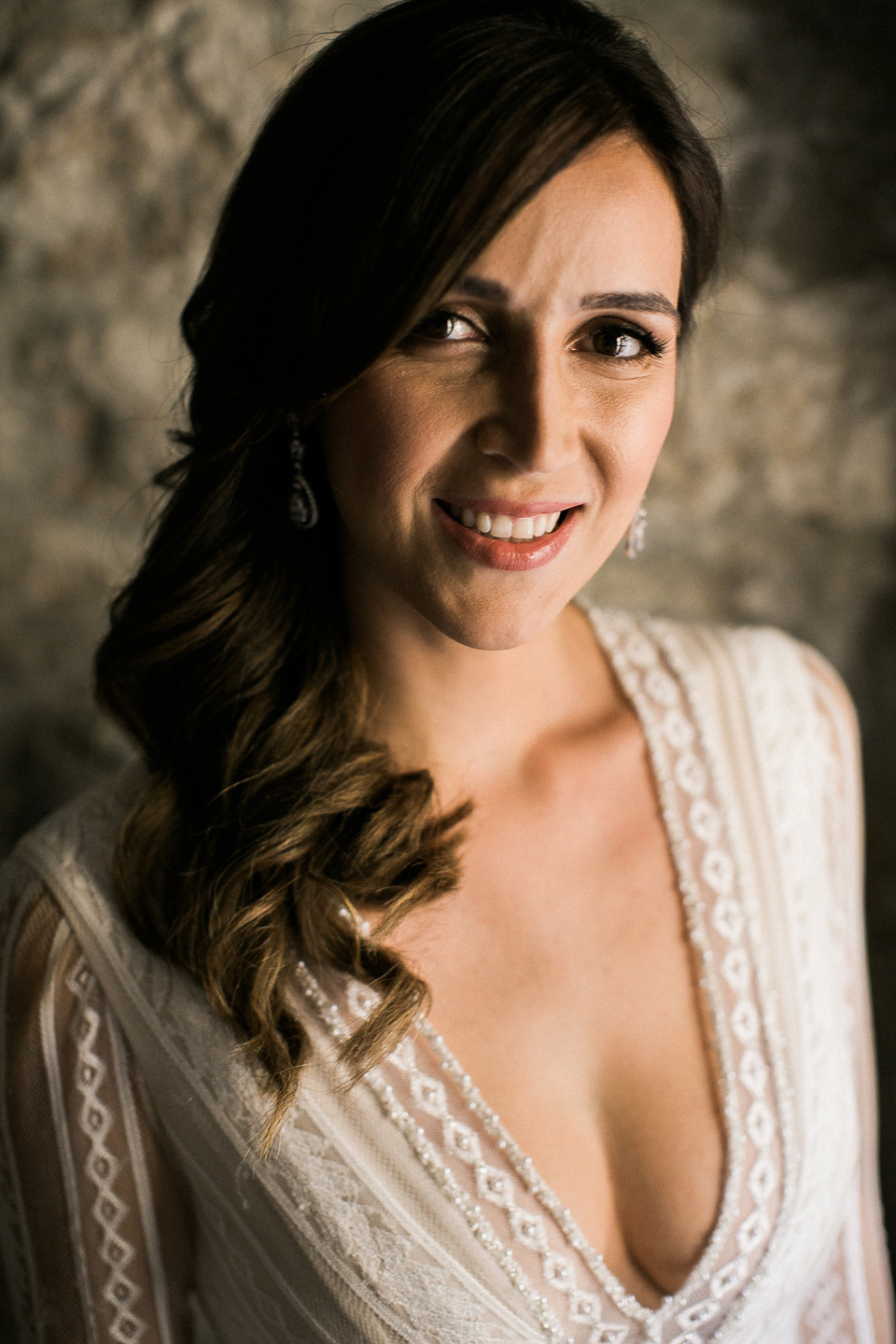 "We met at work, such a cliché! Stuart proposed in Hvar Town in Croatia, sat on a terrace during breakfast overlooking the harbour. He'd been waiting for other people to leave the terrace so I'd become grumpy after a one-hour breakfast that was eating into my beach time. He interrupted my Kindle reading by getting down on one knee and we were engaged for a year."
The groomsmen wore various suits, with matching ties and pocket squares from Reiss, whilst Stuart's fine attire came from Whitfield and Ward in Wilmslow, with the addition of a pair of groovy shoes from Church's.
"His shoes were the most extravagant purchase Stuart made for the wedding, but he loves them!"
All the little helpers dressed up for their part in Nataly and Stuart's big day, looking very dapper in outfits by John Lewis. How cute are the little blue bowties for the boys?
"My brother chose my niece's dress – with Converse to match. And finding the pageboys attire was one of Stuart's key jobs and he did well. They all looked gorgeous and were so wonderful at escorting the lovely bridesmaids down the aisle!"
Stoneberry Press prepared the couple's stationery and the couple organised sweet gifts for their guests.
"For the ladies, we gave them pashminas purchased from Ebay, with tags on them saying 'a little something to keep you warm' sourced from Etsy from LittleGemsSC. I was impressed with their service, as I left this until a week before the wedding! The bottles of local liquor for the men were sourced through Ines and Marin."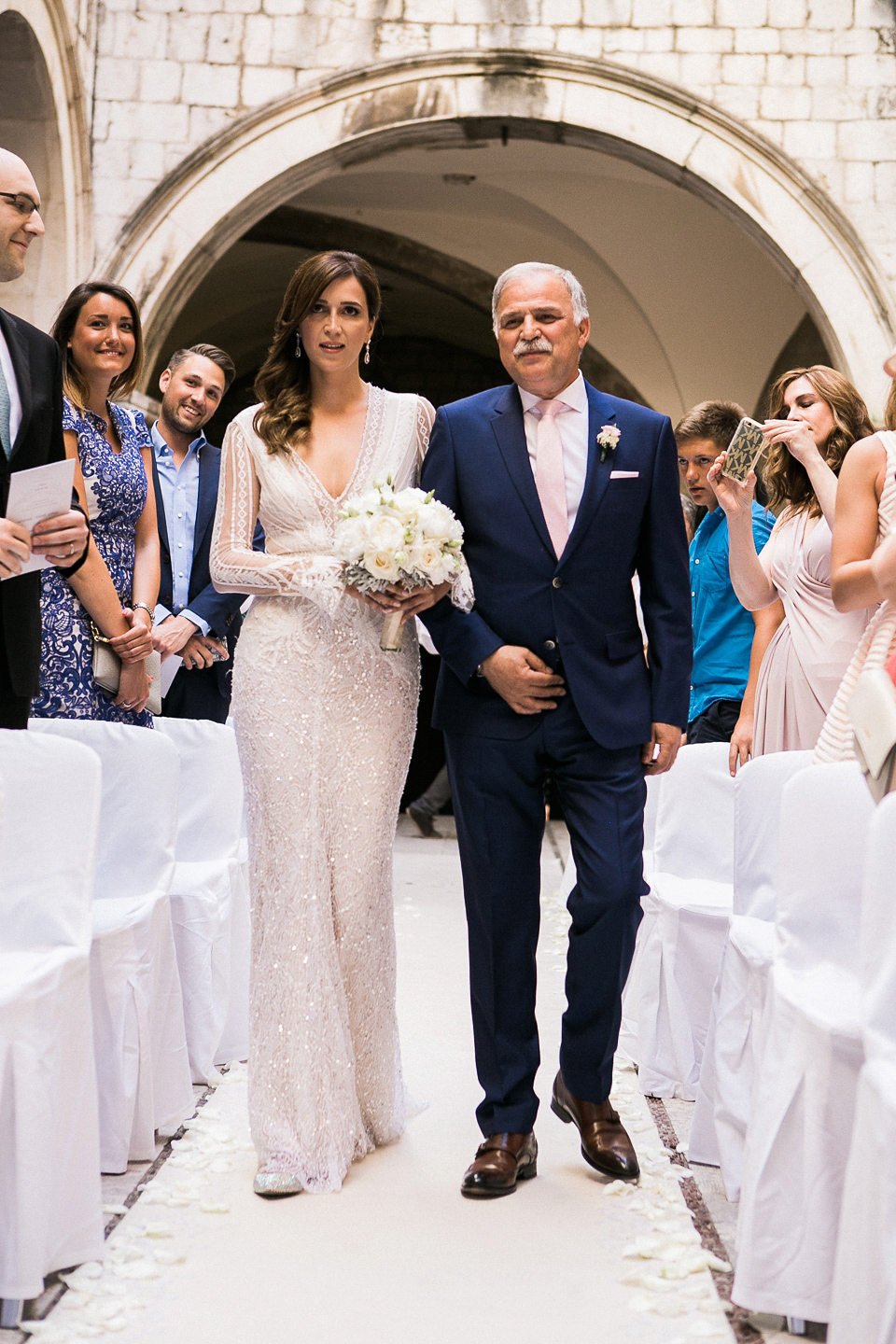 Nataly's dad walked his daughter down the aisle for the couple's ceremony at The Sponza Palace, a magnificent setting, to a beautiful and heartfelt tune. They chose three readings (after five hours of googling!) and Stuart wrote their romantic vows.
"I walked the aisle to 'La vie en Rose' by Edith Piaf. I speak French, and have lived and studied there. My mum is a Piaf fan and I really like that song. More than anything however, the words of the song finally made sense when I met Stuart.
We had three readings – an extract from 'The Bridge Across Forever' by Richard Bach, 'The Art of Marriage' by Wilferd Peterson and an extract from 'Jane Eyre' by Charlotte Bronte. We wanted something that resonated with us and also wasn't too complicated to follow. In the end, we found the three most perfect readings.
"I am lucky enough to have a friend who works for De Beers. She recommended we come in to take a look at a few options (Stuart had borrowed a ring from his mum to propose as he didn't have a clue what I'd like and neither did I!). We went to take a look together and selected a cushion cut aura for the engagement ring with a matching diamond band. We liked the retro design and the craftsmanship was excellent. Stuart chose a bevelled ring from there too."
"Stuart wrote our vows and they were amazing…"
Nataly, I choose you; I choose you to be my best friend, my lover and my partner in all things.
I promise you this: I will laugh with you, cry with you and be the very best person I can be with you.
Today, I offer myself to be your husband, knowing the joy it would bring if you were to be my wife.
Let us commit to be together absolutely, support our family and friends together, build our lives, homes and dreams together.
I love you.
I adore these stunning sequined Adrianna Papell gowns…
The newlyweds and their guests travelled aboard a traditional Karaka from the ceremony to the reception, soaking up the scenic boat ride with drinks and nibbles and entertained by Trio Laus, a traditional Croatian band.  Along with the ceremony, the boat trip was Nataly's favourite moment of her day.
"Standing next to Stuart once I'd walked down the aisle was amazing – I was so nervous before that but felt so much calmer once I was stood next to him. Then getting on the boat after the ceremony – this is where I finally felt completely relaxed; hanging out with my mum, dad, brother and his family on the boat where I could see how happy they all were."
"Yann Audic from Lifestories Wedding Photography was simply amazing. I'd seen his work whilst researching Croatian wedding venues, as he'd covered an amazing wedding on the island of Vis. I thought his work was stunning and what we liked most was that he captured natural moments rather than everything looking too staged and cheesy. I liaised with Yann over Skype and email and met him the day before the wedding.
He was fantastic to have around on the day and dealt with some challenging situations (and people!) incredibly well. And the photos themselves were wonderful."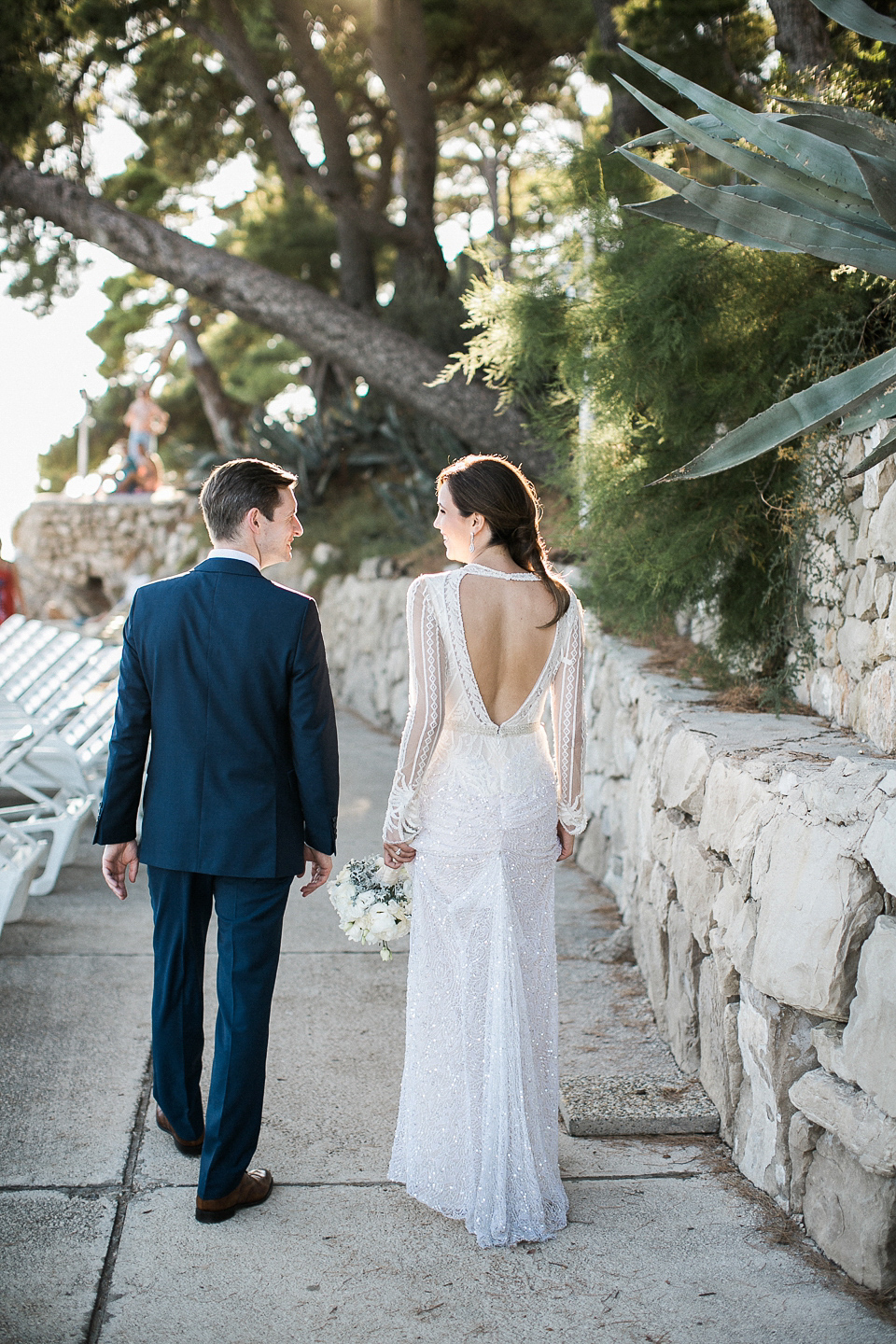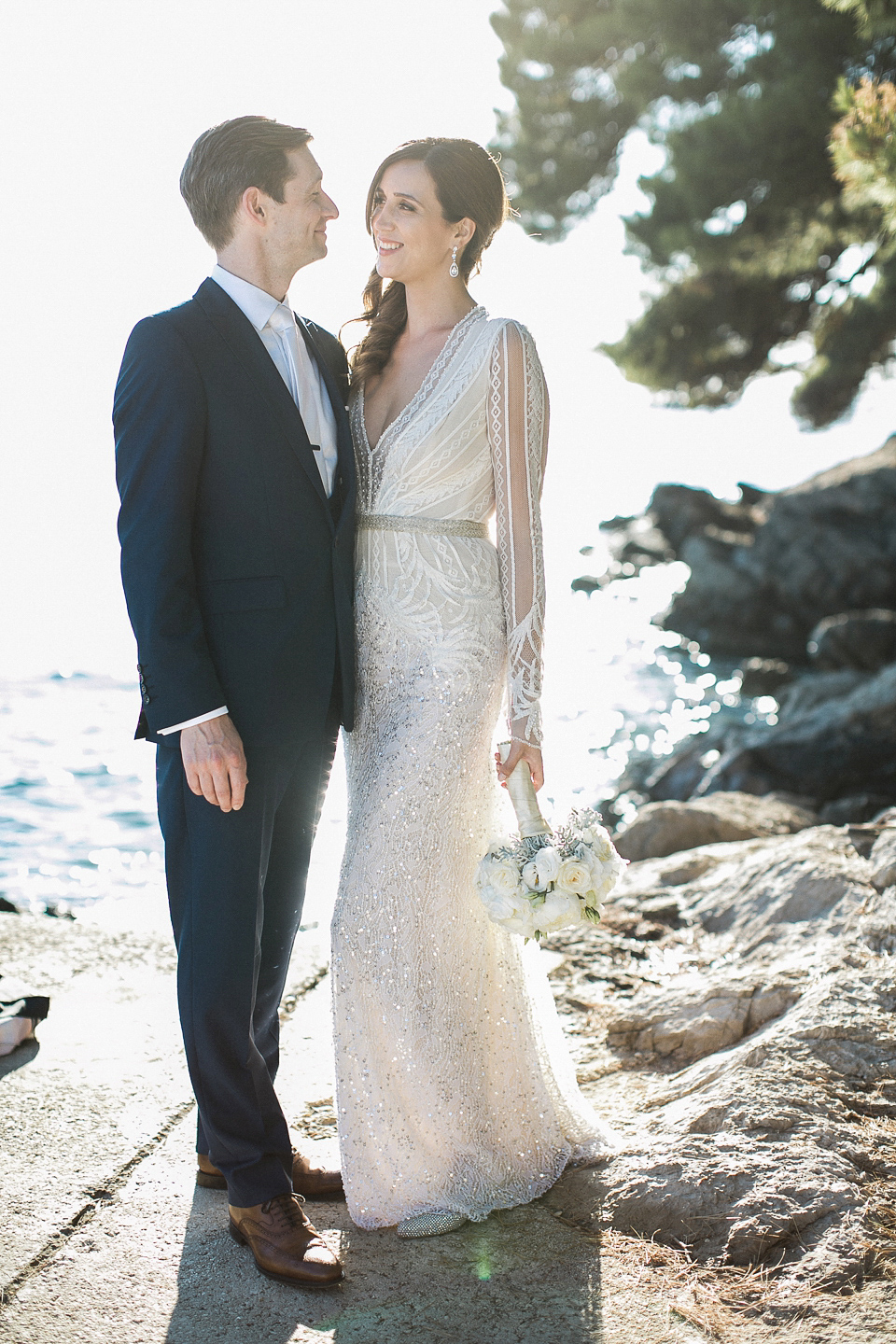 At the restaurant venue, the table plan was crafted in wooden hoops, with the characters from A Midsummer Night's Dream as the table names. I adore the soft, pale colour palette for the flowers and décor and the lovely riverside setting.
"Ines and Marin sourced our florist. We wanted pale colours and local flowers that were in season. I sent the florist a couple of photos I'd found and also requested that we include lavender, one of my favourites. We also mentioned the theme we were going for. The florist was amazing and came back with so many great suggestions, like the hanging lanterns, the candelabra, and particular flowers; all of which really enhanced the theme."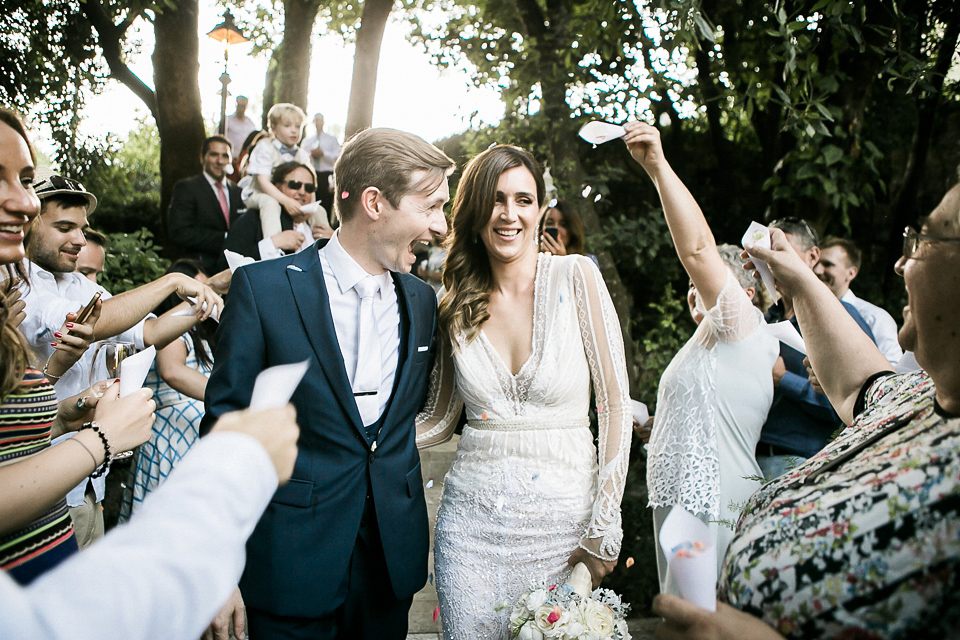 Natly's gorgeous headpiece that she wore in the evening was by Copenhagen based designer Jannie Baltzer...
"I emailed Jannie directly about three weeks before the wedding and she was amazing in helping me pick the right piece."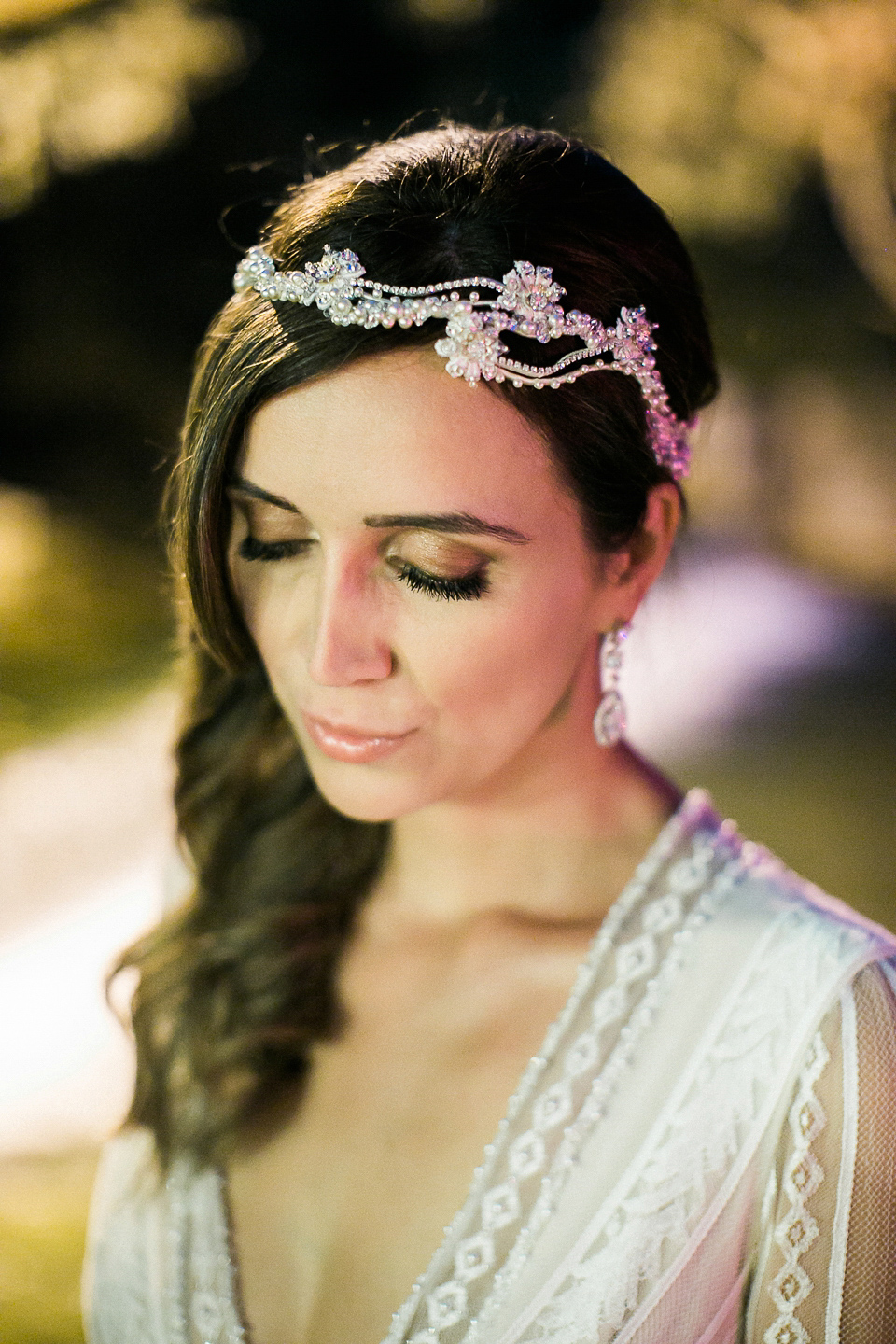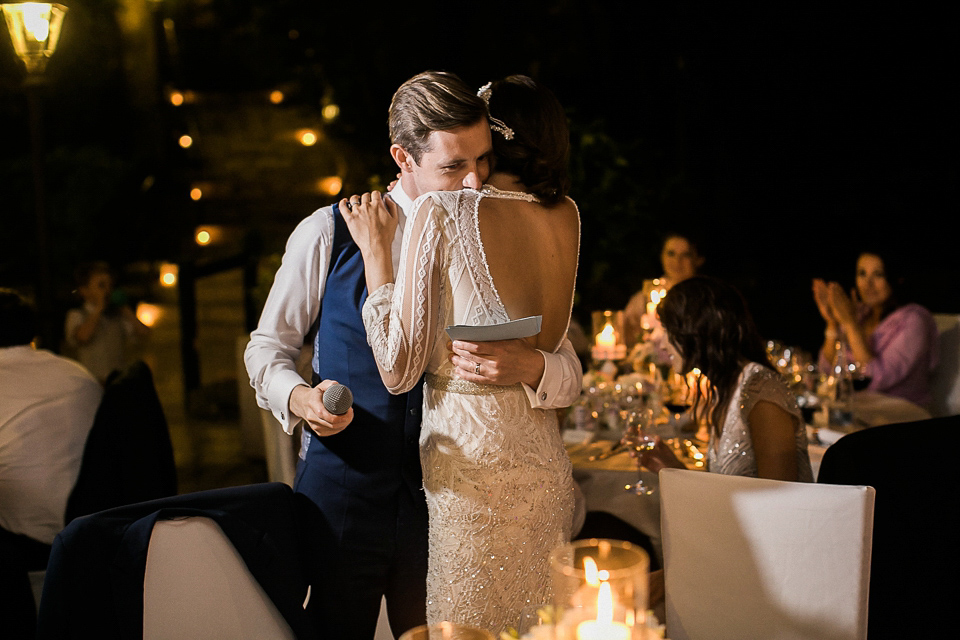 A DJ kept everyone dancing into the night – and the couple took to the floor for their first dance to 'I Want to Hold Your Hand', the Al Green version.
Words of Wedded Wisdom
"Take the time to look after yourself in the week or two before the wedding. You can do beauty treatments, but also find the time to just relax, do very little and get some much needed sleep and relaxation.
Do a little bit of planning every week you have available to you. It's amazing how quickly the big day creeps up on you and it's beyond stressful when you are trying to do everything the month before.
Figure out early on what matters to you about the day, what you think will make it enjoyable for everyone, and stick to it. Advice is really useful but you will get so much of it which will be so diverse – you cannot please everyone, and nobody knows all your guests as well as you, so have conviction in your own judgements."
I completely agree – a spa day in the lead-up to your wedding day, combined with oodles of sleep and rest, is highly recommended! Many thanks to Yann from Lifestories Wedding Photography for sharing such delightful pictures of the beautiful couple and I wish Nataly and Stuart a lifetime full of more travel adventures.
And I urge you to bookmark this link to more divine Adrianna Papell gowns – if you're thinking of a little bit of glamour for your maids.
Have a relaxing weekend lovelies.
Love Jo -x-
Photographer – Lifestories Wedding Photography
Venue – The Sponza Palace (ceremony) + Karaka (boat for drinks reception) + Konavoski Dvori (reception) in Dubrovnik, Croatia
Wedding Planner – Dubrovnik Event
Wedding Dress – Inbal Dror
Shoes – Steve Madden via Selfridges
Headpiece – Jannie Baltzer
Perfume – 'Coco Mademoiselle' by Chanel
Accessories – Earrings via Olivier Laudus
Bridesmaid Dresses – Adrianna Papell via House of Fraser
Groom – Suit from Whitfield and Ward + shoes via Church's
Groomsmen – Various suits + matching ties and pocket squares from Reiss
Flower girl and pageboys – John Lewis
Rings – De Beers
Stationery –
Favours – Pashminas via Ebay + tags sourced via Etsy
Transport – Via Karaka
Entertainment – Trio Laus band + DJ in the evening