Oh hello blessed Fri-yay! I hope you've all had a wonderfully short and sweet week and are starting to recover from the Easter chocolate-fest. My favourite jeans are uncomfortably snug and I still have several Lindt bunnies jingling away in the kitchen that I haven't been able to bring myself to eat just yet (I know they aren't real but they're just so cute) I give myself about another hour until I cave…
I'm sure you've noticed the beautiful blooms starting to cautiously peek through the seemingly everlasting winter frost. I swear we had hail in London a few nights ago and I feel like I'm living in Winterfell (so maybe I'm slightly obsessed with Game of Thrones). Finally signs of spring are flourishing around us and the flower-laden display in front of Liberty is becoming brighter and more purse-threateningly stunning than ever.
The very lovely Sophie and Callum, both London-based medical students, were determined to inject bright and beautiful colour into their city centre wedding held on 26th September 2015 at St Helen's church on Bishopsgate.
Photography by Lily Sawyer Photography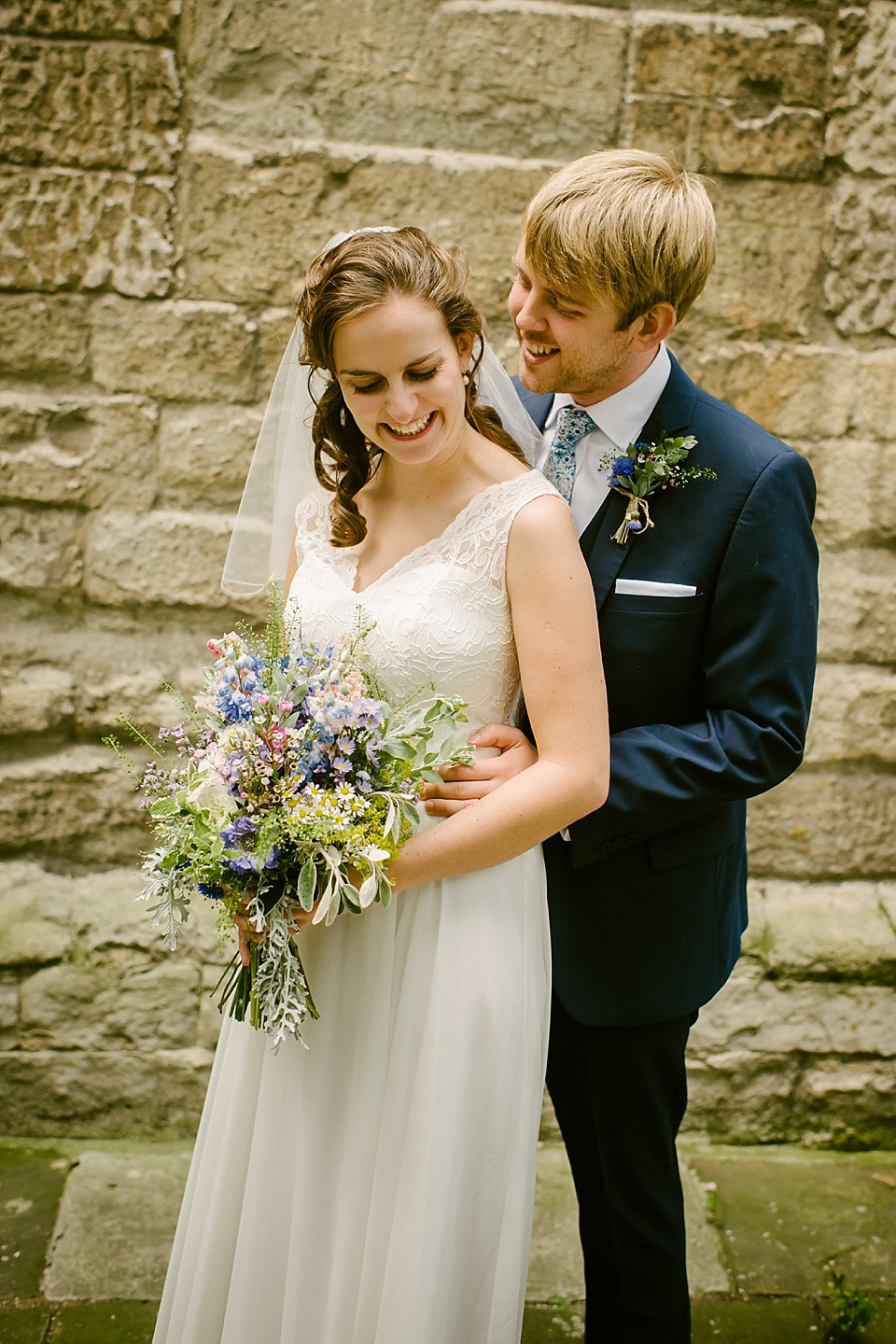 "Because it was a central London wedding we wanted to make sure the decoration included lots of beautiful things. Sophie was adamant it was a 'summer wedding' and wanted the flowers and décor to reflect that."
"We both wanted bright colours, and opted for the beautiful blues and purples to brighten everything. We adored the flowers."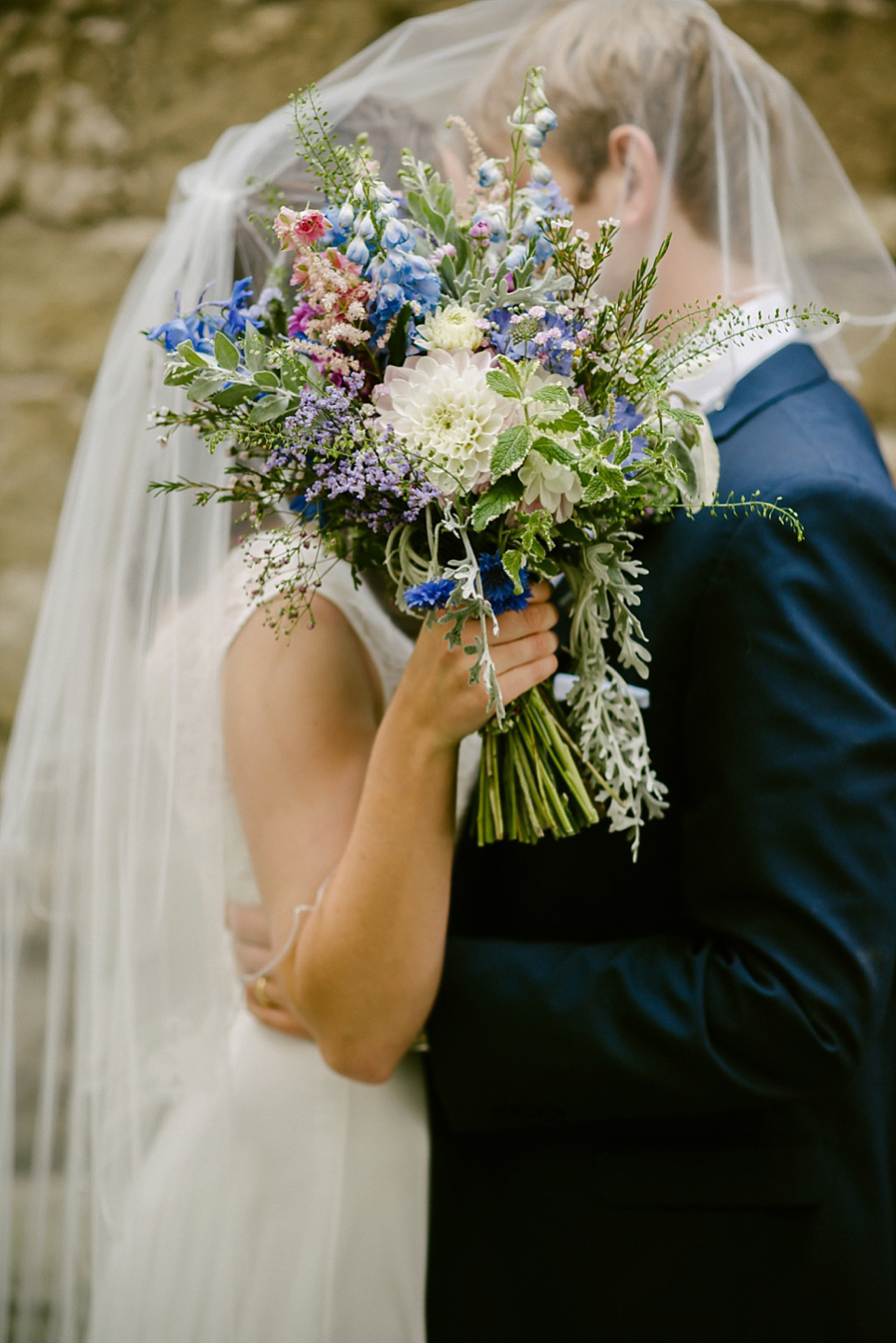 Sophie and Callum's love story started when they met at University, on their very first day in fact.
"We met on our first day in halls where we lived across the hall from each other. We became engaged at the top of Monument in London on 6th December 2014, so we were engaged for about 10 months."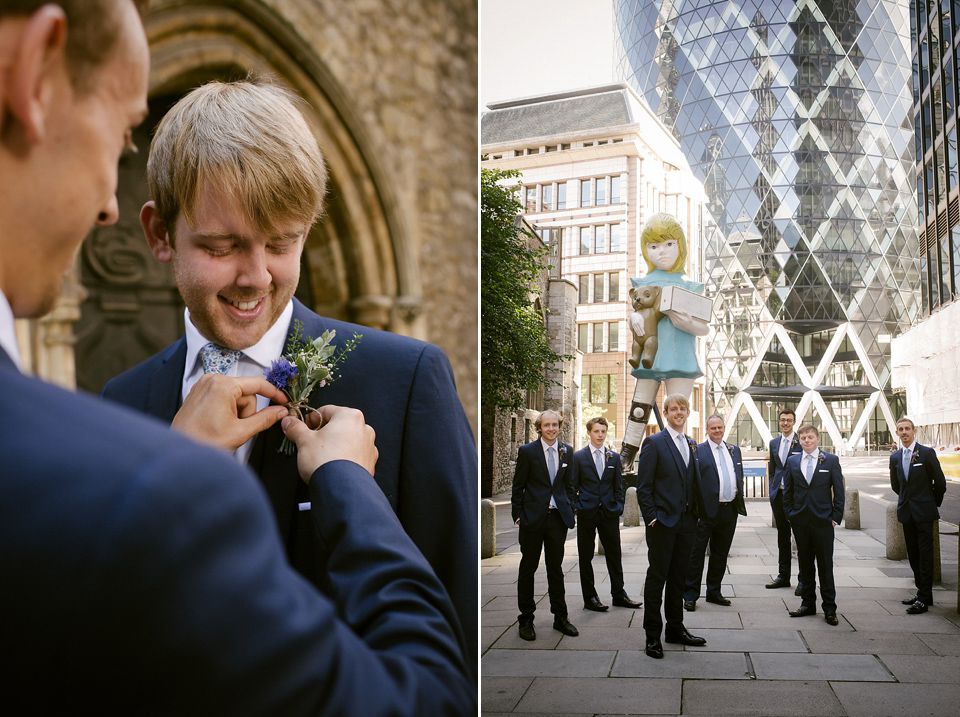 The very dashing Callum sported a suit from Moss Bros., Barker shoes and in a little London nod, a blue and purple floral print Liberty tie. I love how the wedding parties on both sides are subtly unified by little splashes of colour and details in their attire and flowers.
Alongside the Gherkin, Damien Hirst's 22-foot painted bronze sculpture 'Charity,' (it'll be there as part of Sculpture in the City until the end of May art fans) provides a striking metropolitan backdrop to the fun pre-ceremony images of Callum and his groomsmen captured in such a lovely light hearted fashion by Lily Sawyer Photography.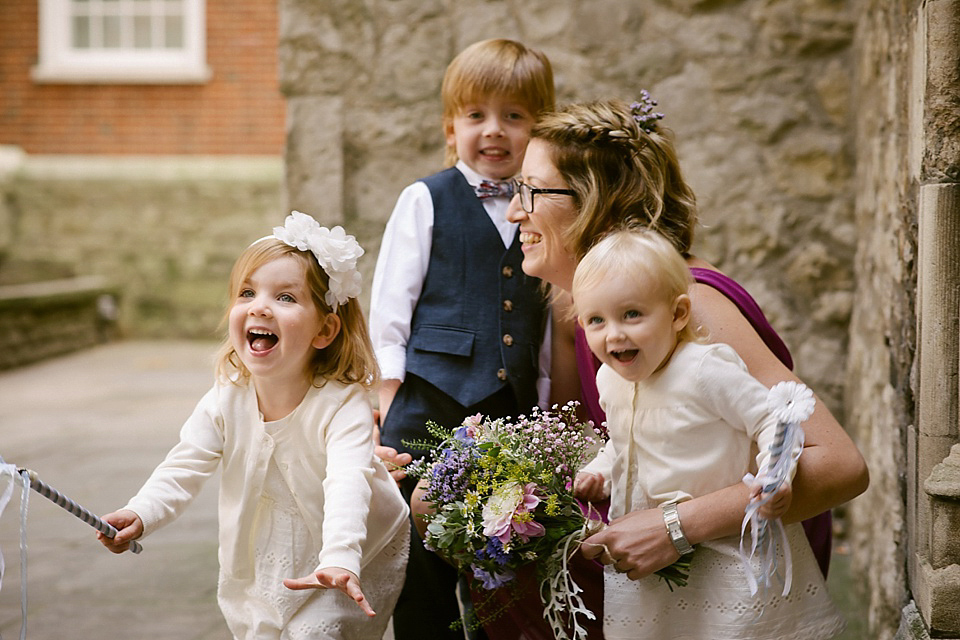 St Helen's is a Grade I listed building, which dates back to the 12th century – it holds a huge amount of history within its walls and for Sophie and Callum it was important to be married there; a church that they are both a part of. For you Trivial Pursuit addicts out there, including fellow features writer Emily, St Helen's was the parish church of William Shakespeare in the 1590s. There's something terribly romantic about imagining the poet sat in a pew, perhaps dreaming up some of the greatest love stories ever written.
How I love a bride who can't stop smiling! And the look on Callum's face as his soon to be wife approaches him at the altar on the arm of her proud father is just adorable. Sophie walked down the aisle with dad Richard, to the traditional sounds of Pachabel's Canon in D and as she and Callum are both Christians, they chose to read a passage from the Bible during their ceremony.
"We read a passage from the Bible that spoke about marriage and how we view marriage as a reflection of God's love for us."
The happy pair exchanged rings from Purely Diamonds, all the while surrounded by magnificent flowers in shades of purple and blue, which they chose together and were brought to life by Eileen Ting. Congratulations Eileen, you have some very happy customers and I'm sure a whole host of new fans.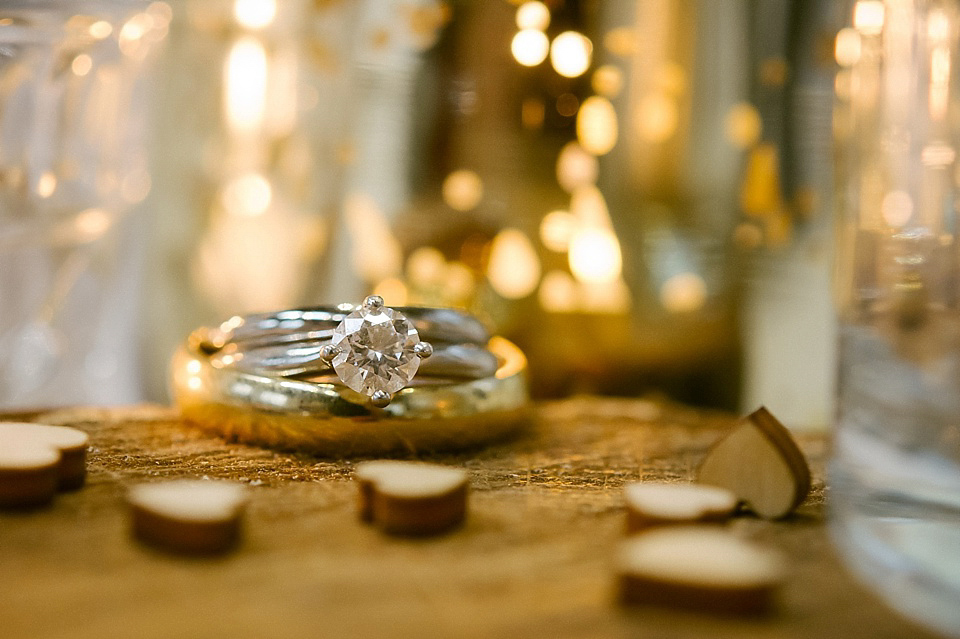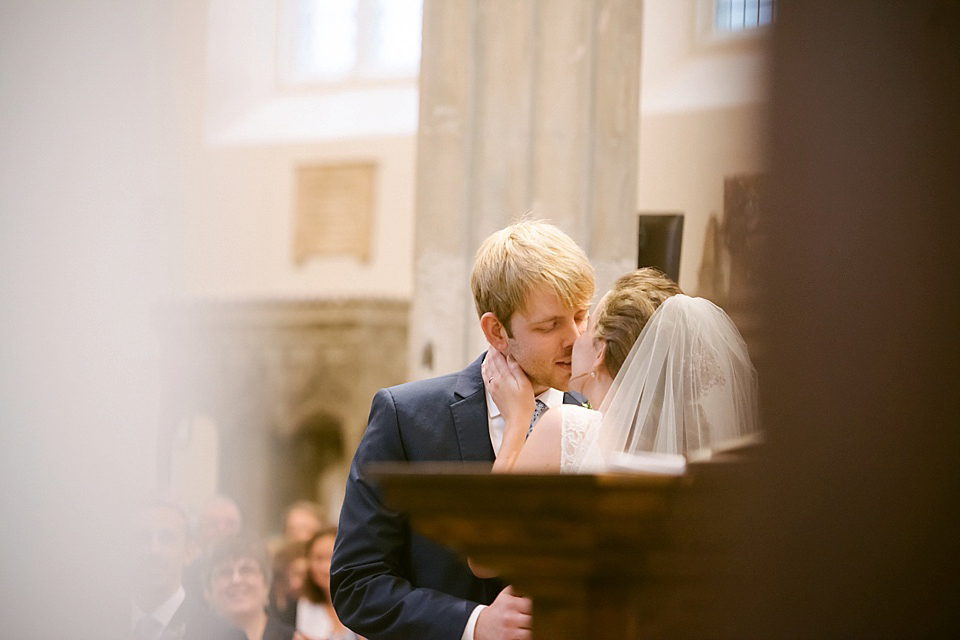 Sophie rounded off her bridal ensemble with a floral hairpiece, pearl drop earrings belonging to her mum and shoes from the ever fantastic Monsoon. Monsoon are a member of our Little Book for Brides, our carefully curated directory to satiate all of your wedding needs (including all those gorgeous bits and pieces you haven't even thought of yet). The bride's hair was styled by The Salon and creative Sophie also turned her own hand to beautifying her bridesmaid's dos with plaits and flowers.
Sophie's girls all wore dresses in the most vibrant and lovely shade of purple from David's Bridal. How gorgeous do they all look? And the flowergirls, Sophie's nieces, in their adorable GAP frocks just melt my heart. I swear my mum is more excited about the dresses for my own beautiful little nieces than my wedding dress. Oh well, if you're going to have attendants THAT cute, you've got to be ready for them to steal the show!
Our bride and groom chose Lily Sawyer Photography to document their day and what a wonderful job she did of capturing the absolute joy written all over their faces.
"Lily Sawyer did a fantastic job and got all the shots we asked for, as well as lots and lots more great ones to cherish!"
The reception was held at nearby St Andrew Undershaft, another Grade I listed church linked to St Helen's, which was miraculously untouched by both the Great Fire of London and the Blitz. The light pouring in through those windows is divine.
And the beautiful cake, adorned with yet more voluptuous blooms, was baked by The Candlestick Bakery.
"We had a four tier cake with butter cream icing for a relaxed finish. Underneath were chocolate, lemon and Victoria sponge!"
Eschewing traditional favours, the couple provided a sweet table to rival Willy Wonka's factory to which guests could help themselves.
"We had an epic sweet table – loved by the kids and grown-ups alike!"
"Sophie's dad cut the log centrepieces himself and Sophie's mum cut the hessian runners. Sophie spent a lot of time on Pinterest and wanted the guests to have lots to do – there was the sweet table, a photo booth with props, photo boards of us throughout our lives, lots of kids games and a polaroid guest book."
Sophie and Callum chose a hog roast catered by The Gourmet Hog Roast Company for their lucky guests.
"We loved the idea of a hog roast with lots of delicious trimmings, and when we went for a taster, we couldn't say no."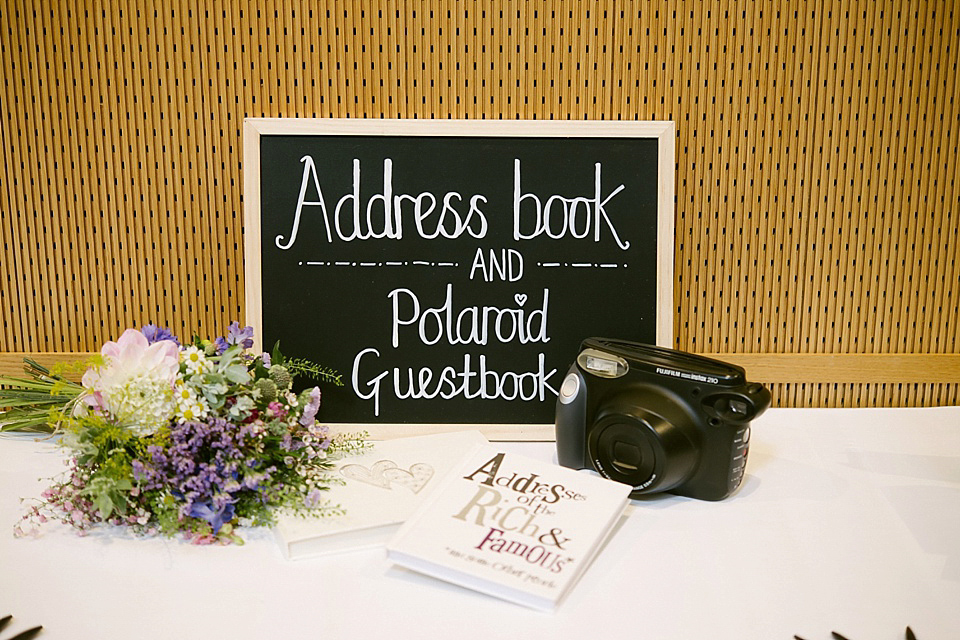 The delightful groom was super impressed with his bride's organisational skills; "Sophie had it all planned to a T – it ran perfectly smoothly." I just love how proud Callum is of his new wife and it really is no surprise that they couldn't pick just one favourite moment from the day; "We loved the whole day, it was wonderful having all our friends and families from different places all together in one place."
Our lovely bride chose a Dessy dress and Richard Designs veil, both bought at Confetti & Lace in Farnham. Like so many brides Sophie felt swamped when trying gowns with traditional full skirts so her sweet Dessy number was an instant winner.
"I felt very uncomfortable in the bigger dresses and didn't feel like myself. This dress was smaller and floaty, and I knew it was perfect the second it was zipped up!"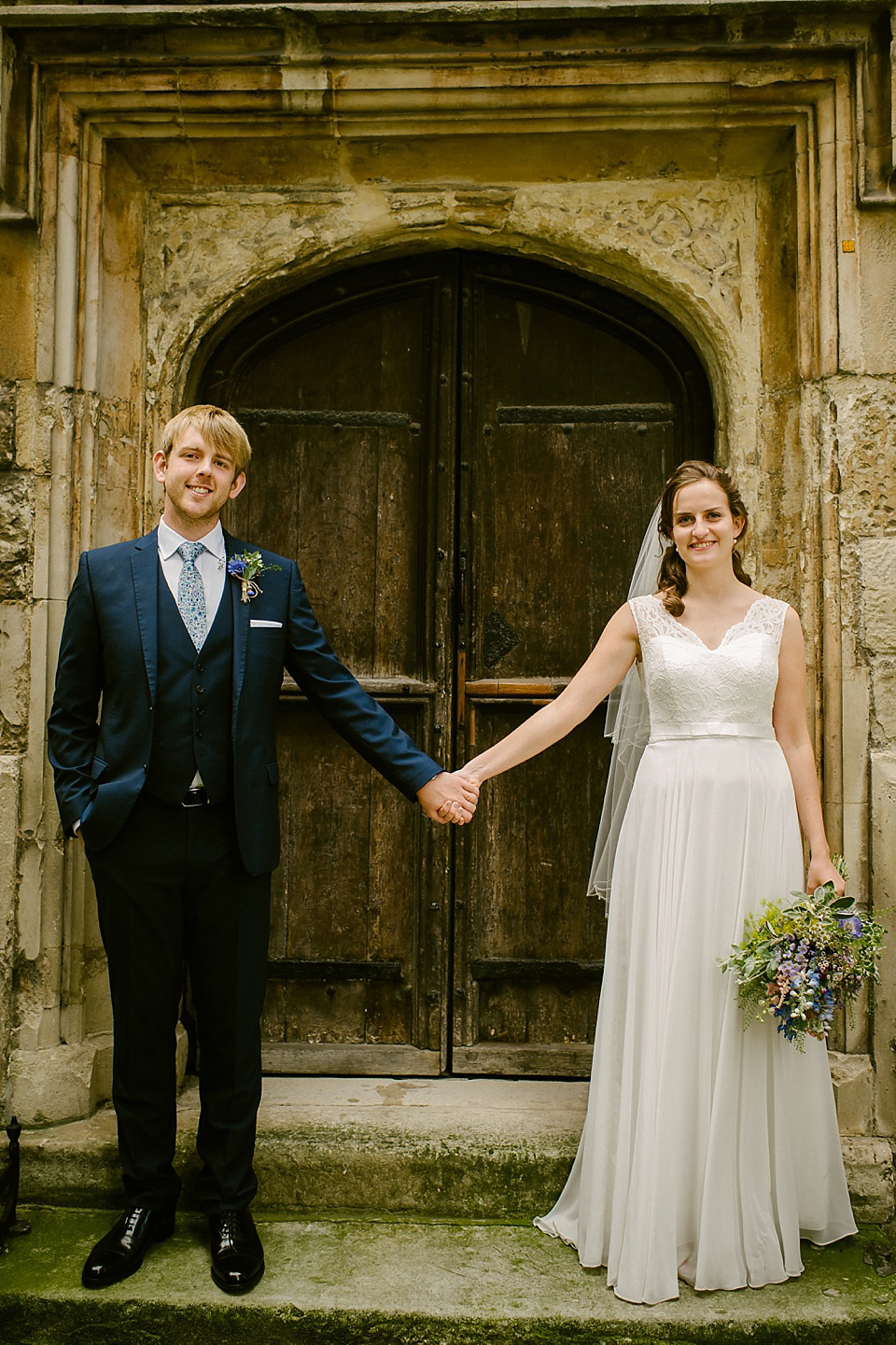 Words of Wedded Wisdom
"Remember it's just a day! Remember to focus on you and your husband-to-be and make sure you get a small time out on the day to just be alone. Also, my husband had a lot of opinions on pretty much everything, so make sure you ask – and listen! Make a good day of schedule for your wedding party and delegate all the jobs for the day so you don't have to do a thing."
A bride after my own heart – I love a good schedule and I've also been pleasantly surprised by my fiancé's eager involvement in so many aspects of our day – I'm talking designing stationary, researching Italian jazz bands and single handedly compiling the menu."
Thank you, thank you, thank you, Sophie and Callum for sharing your gorgeous day with us and also our very grateful good wishes to Lily Sawyer Photography for allowing us to bask in the loveliness of these images.
For more gorgeous London-based city chic weddings click here. And be sure to check out the stunner of London wedding shared earlier this week by the lovely Shona.
Have a lovely weekend all, I hope none of you are subject to any horrible April Fools' tricks – I'm off to check under my pillows for toy spiders. Though if there is one there, I might have to devour a Lindt bunny to get over the shock. Terrible I know.
Em x
Photographer – Lily Sawyer Photography
Venue – St Helen's Bishopsgate + St Andrew Undershaft
Wedding Dress – Dessy via Confetti & Lace
Veil – Richard Designs via Confetti & Lace
Shoes – Monsoon
Groom – Moss Bros. + Liberty tie + Barker shoes
Bridesmaids – David's Bridal
Flowergirls – GAP
Florist – Eileen Ting
Cake – The Candlestick Bakery
Rings – Purely Diamonds
Catering – The Gourmet Hog Roast Company
Stationery – Confetti
Hair Stylist – The Salon