If there's one thing I've learned in the past month or so as a newly initiated Love My Dress writer it's this: support your fellow woman. Love My Dress is more than just a 'wedding blog;' it's a community of some of the greatest, kindest, funniest women I've ever had the pleasure to meet.
My total wedding twin love affair with fellow new writer Emily B sprung from our constant chatting in the Love My Dress forum on Facebook (brides and newlyweds: if you haven't yet requested to join, do so now – these girls are like free wedding planners and will listen, empathise and help you with just about anything, seriously, I mean a-n-y-t-h-i-n-g from advice on Bridget Jones style knickers to full-scale emotional therapy).
Photography by Dominique Bader Photography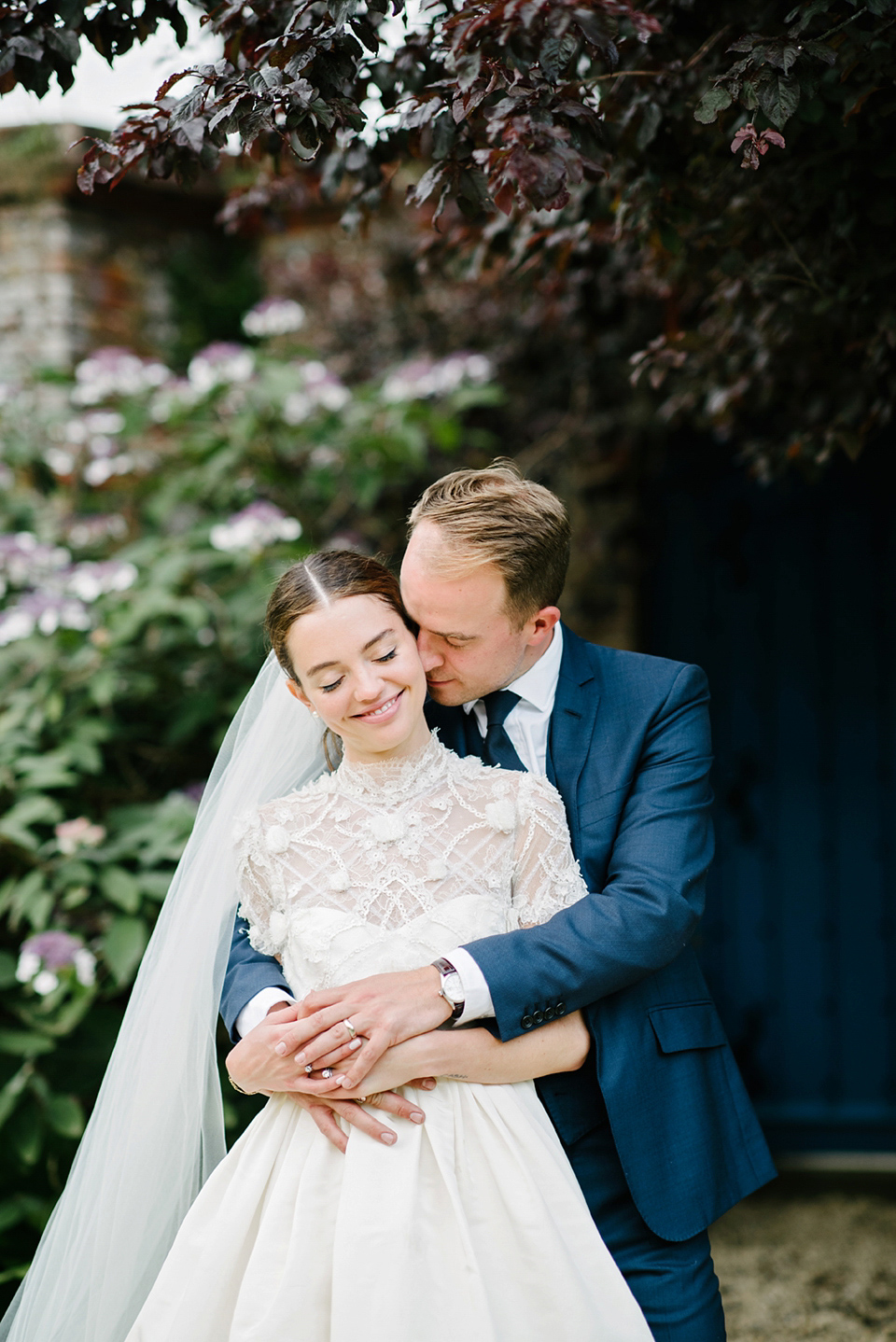 So if you see someone looking totally fabulous – tell them! Speaking of fabulous, did you catch Annabel's Shoreditch-based antics over on her personal Instagram account recently? Check it out for floaty turquoise chiffon and effortless East London cool…I'm sure you've all had a moment when you see a woman walk by you in the street and stop you in your tracks – 'wow, great hair,' 'could her outfit be any cooler?' 'do her legs ever end?!' Today's beautiful bride, the new Mrs Maia Meaker (even her name is awesome), is one of these women. Maia, you look sensational.
Maia, who works in fashion styling and Dominic, the owner of a Print Design Studio celebrated their timeless, sun-drenched summer wedding on 17th August 2015 in the beautiful English countryside. The couple had the wonderfully talented Dominique Bader Photography on hand to capture every single gorgeous moment.
[JP-VIDEO]
"We knew from the beginning that we wanted to get married in Dom's hometown of Farnham in the English countryside. That set the tone for the day and we wanted the rest to be timeless to match. I did have a million references to Kate Moss' wedding to Jamie Hince. Because the locations were so similar, it felt like a good reference point, and we did want to include that organic and natural sense of the country in our day."
I'm sorry ladies, I have to go straight to that incredible gown. Maia chose a stunningly detailed, high-necked, full-skirted couture Marchesa dress to pair with the most delectably pink Prada heels.
"My wedding dress was a couture Spring 2015 design by Marchesa. It was made for me over several months of fittings. It was the last dress I tried on after several days of fittings and I just really loved it! I designed my shoes myself through Prada."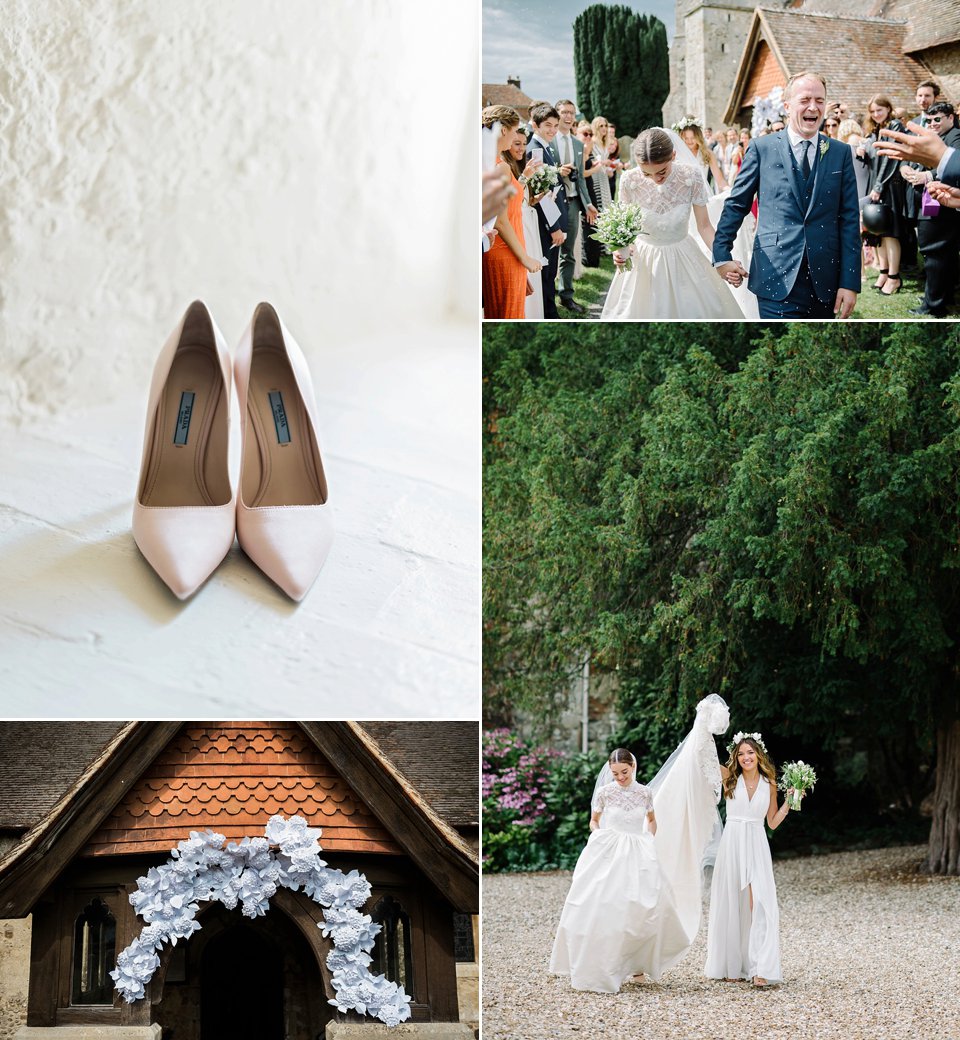 For a moment I actually thought the band Haim were personal friends of our Miami-born Mrs – the bridesmaids look so effortlessly cool and bohemian in their flowing white dresses from L'Agence and fresh flower crowns.
"I chose all the flower combinations to go in the crowns. We wanted the flowers to look like they had all been picked in the garden!"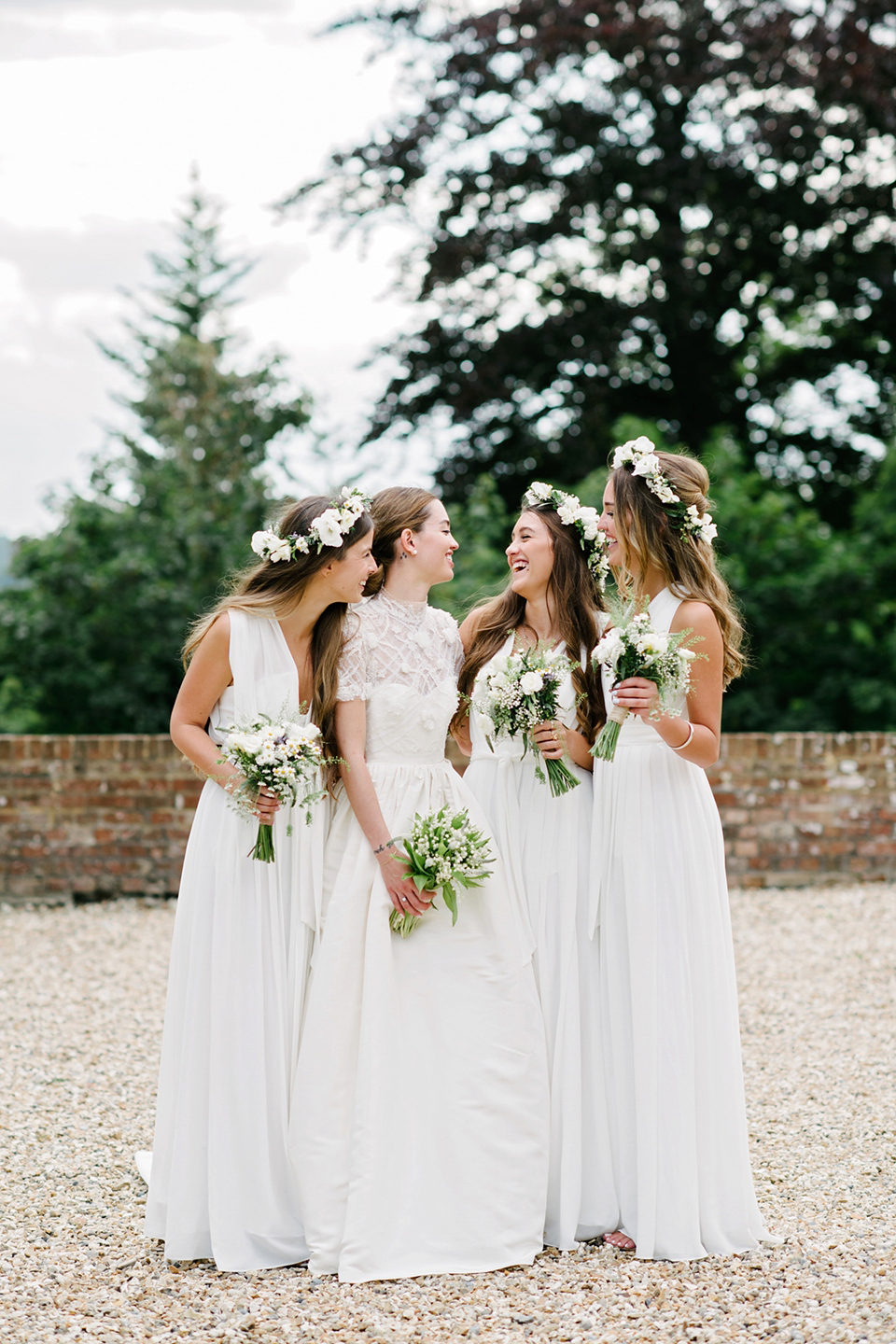 "Prada have an incredible service in which you literally choose the height of the heel, the fabric, the colour, the kind of toe you want – everything. I designed the entire shoe and had the soles monogramed with my new married initials. It took several months but it was well worth the wait – they came out so beautifully."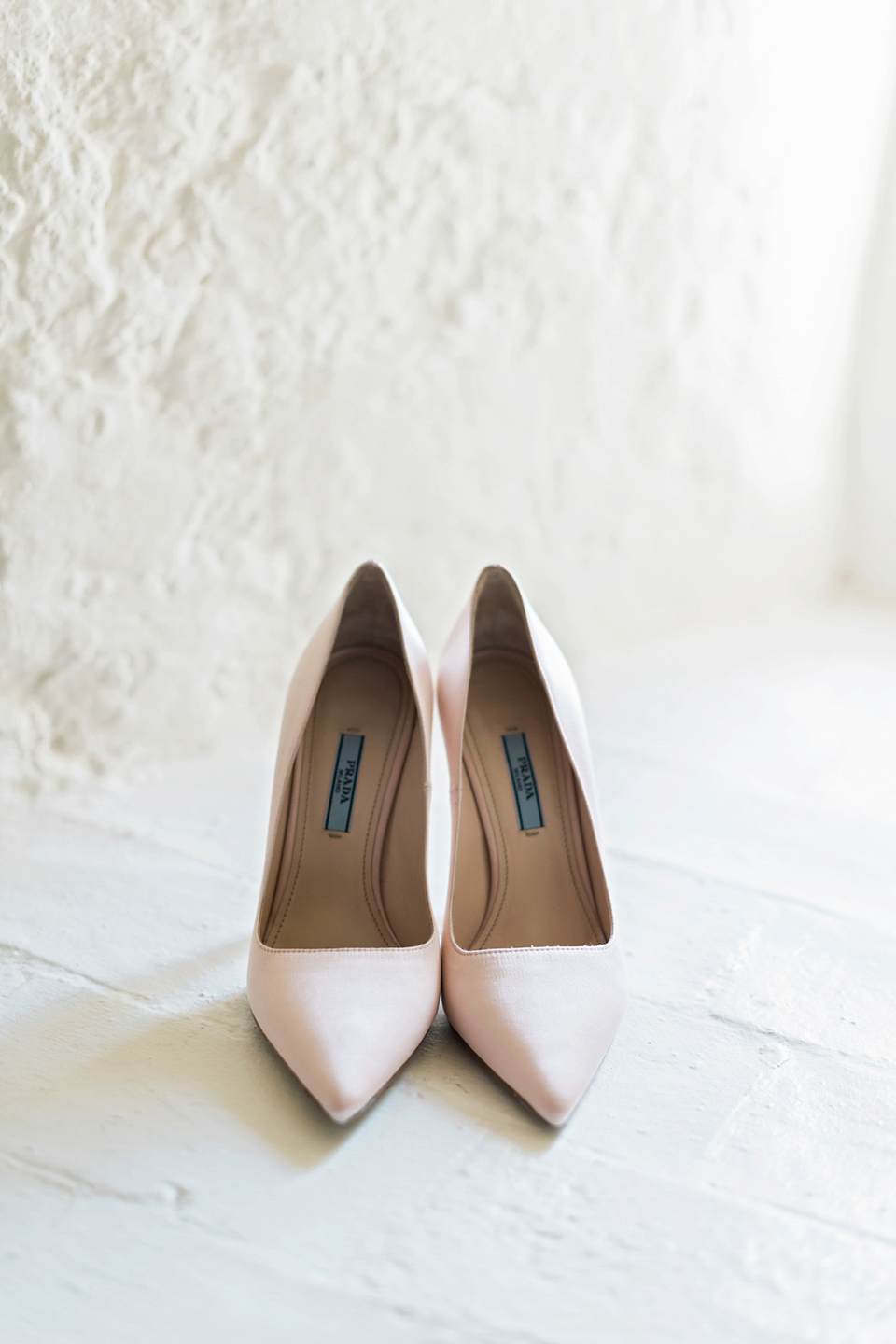 How many of you are wondering if there's any wiggle room in your budget for a pair of these beauties? I know I am. Maia chose the same perfume she's been wearing since she was a little girl, a veil gifted to her by her mother and a handful of meaningful, everyday accessories.
"I wore my perfume I've been wearing since I was a little girl on the day: La Chasse Aux Papillons by L'Artisan Parfumeur. I wore the same jewellery I wear every day, I wear very little: pearl studs my mother gave me, my engagement ring and a diamond ring that belonged to my grandmother."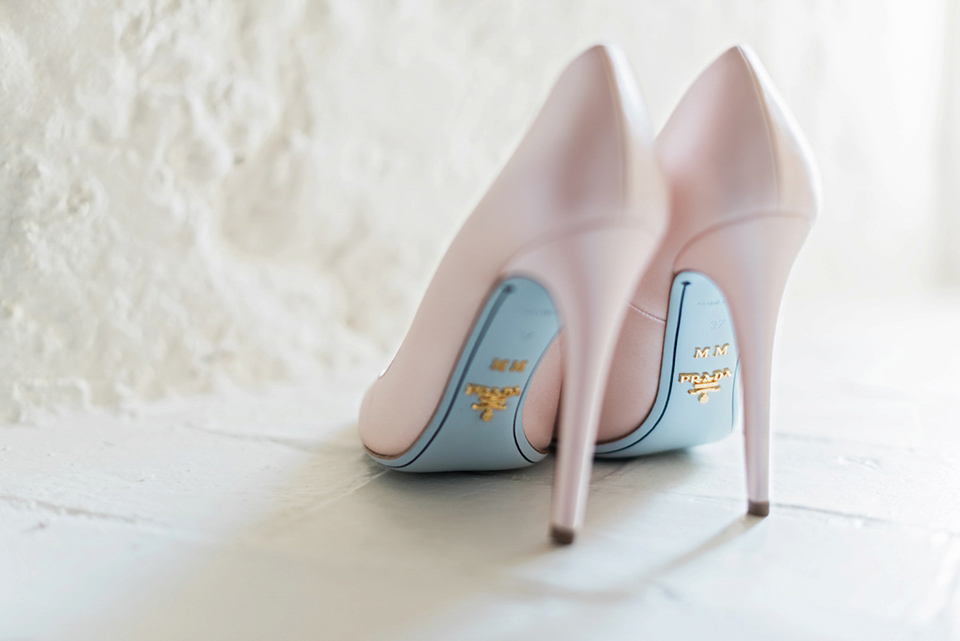 The bride and her gorgeous girl gang are giving me serious ink envy, I've been itching for a second tattoo since my brother and I got our matching sibling ink…
I was delighted to discover that Maia had her locks expertly coiffed by Kasia Fortuna into that sleek, elegant low bun and her dewy make-up was flawlessly applied by Jo Adams of The Hair & Make up Atelier. I've been lucky enough to have my hair styled by the amazing Kasia quite recently at a bridal event: in a swift fifteen minutes she gave me the same feeling I had when I first found my wedding dress – complete and utter jubilation. Take a look at this colourful bridal shoot from a few weeks ago, featuring Kasia's gorgeous work.
Now we don't know the name of Maia and Dom's wonderful florist, and the bouquets really do look fresh-picked from an English country garden, but we DO know that the incredible Wanda Barcelona decorated both venues with unbelievably intricate 3D paper flower installations.
"We hired Wanda Barcelona to do paper flower installations both in St. Mary the Virgin Church and Farnham Castle. We wanted to combine natural flowers with paper ones to create a really special and unique effect. If you look up Wanda's work, they do installations for the most magical companies."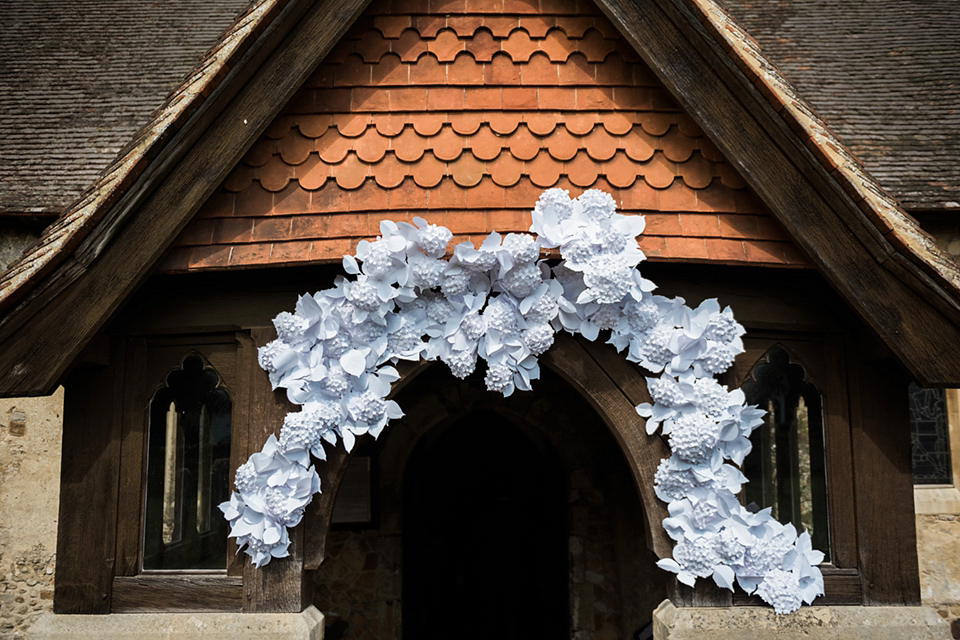 What an elegant, modern twist and such beautiful works of art! I can just imagine the look of awe on the guest's faces as they stepped from their iconic red London bus, courtesy of The London Bus Company, out into the sunshine at the flower-strewn church.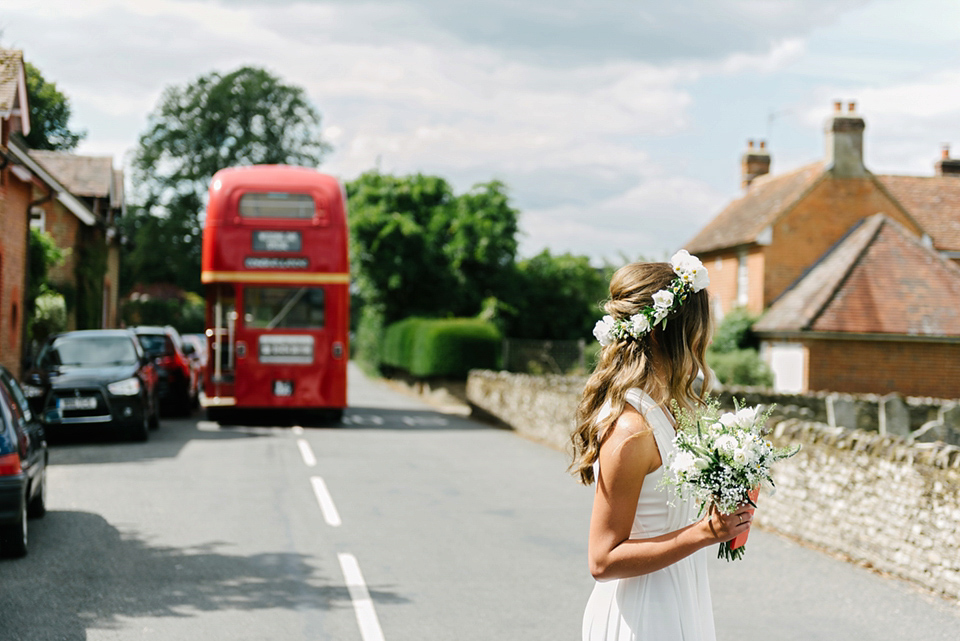 "The wedding service was held at St. Mary the Virgin Church in Farnham and the reception was held at Farnham Castle. We chose the church because Dom and his family have been going there since he was born and he has memories of attending mass there as a small child. Members of his family were baptised there and it holds a lot of sentimental value to them. Farnham Castle was the obvious venue for the reception because it's so old and beautiful."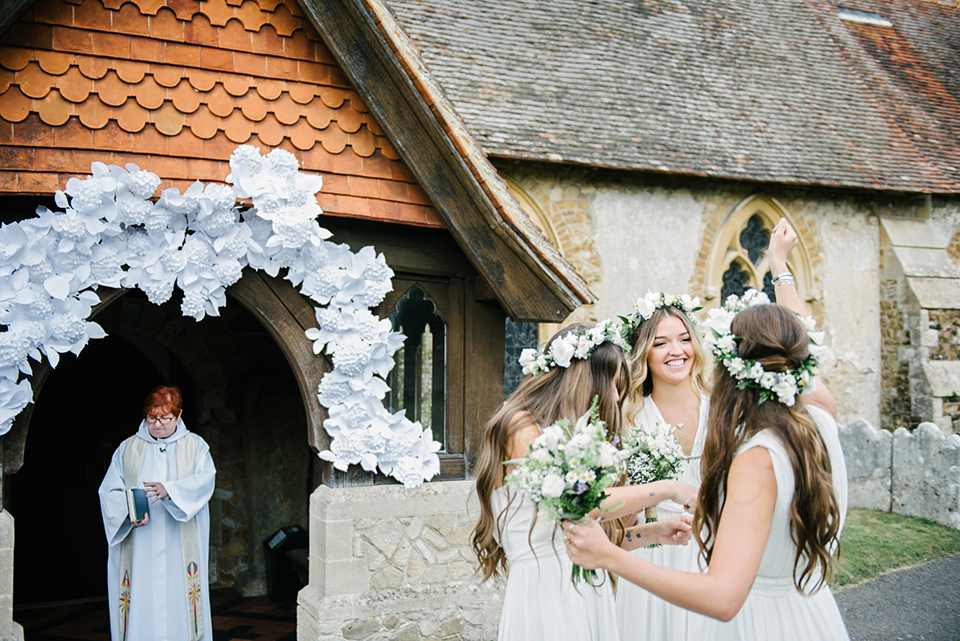 "My mother walked me down the aisle to 'Girl from North Country Road' originally by Bob Dylan and Johnny Cash, who have a special meaning to both Dom and me. Our good friend Bob Pipe played the song acoustically on the guitar near the altar while I walked down the isle to meet the love of my life."
Special mention has to go to the mother of the bride – the epitome of refined modern elegance in her own black scalloped-edged veil. That is one beautiful gene pool.
"Dom and I met by chance at a bar called The Jane Hotel in the West Village in Manhattan on November 13th 2013, while each of us were out with friends. We fell in love and had to work with some long distance at first because he and his company were based in London while I was finishing my degree at Parsons in New York City. We got engaged in September of 2014; it was a really special time."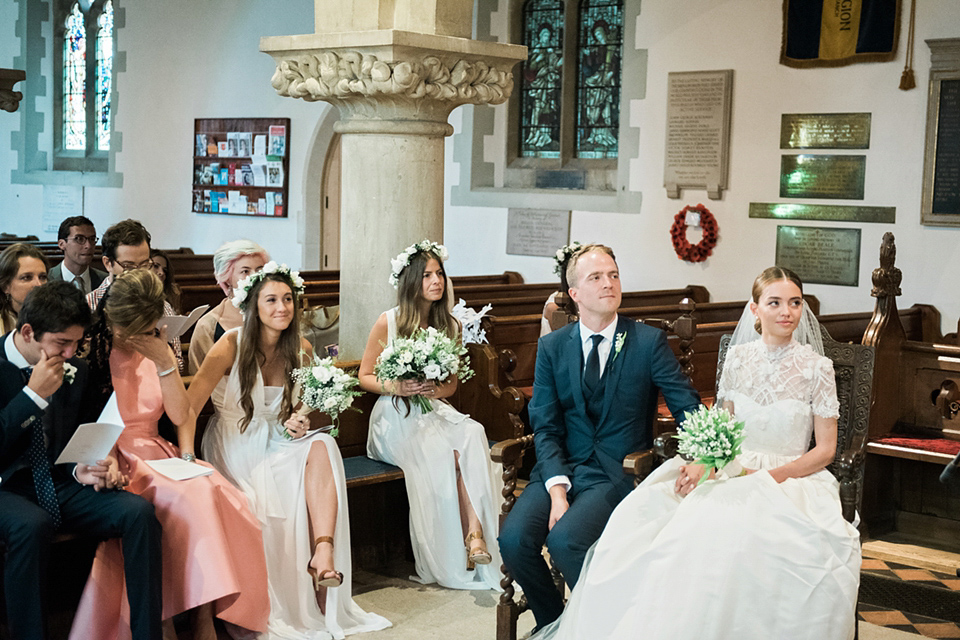 "Our wedding rings (engagement and bands) were all designed by Dom and made through our amazing jeweller and friend, Michael Scully of Amore Jewelers, based in my hometown of Miami. Stationery design was split between the two of us. Dom designed the wedding invitations and had them made and I hand wrote each name and address on the wedding invitation envelopes.
I designed service booklets for the mass that were handed out when our guests arrived at the church, as well as the menus that were placed on each dining seat. It's easy because Dom and I really like the same things."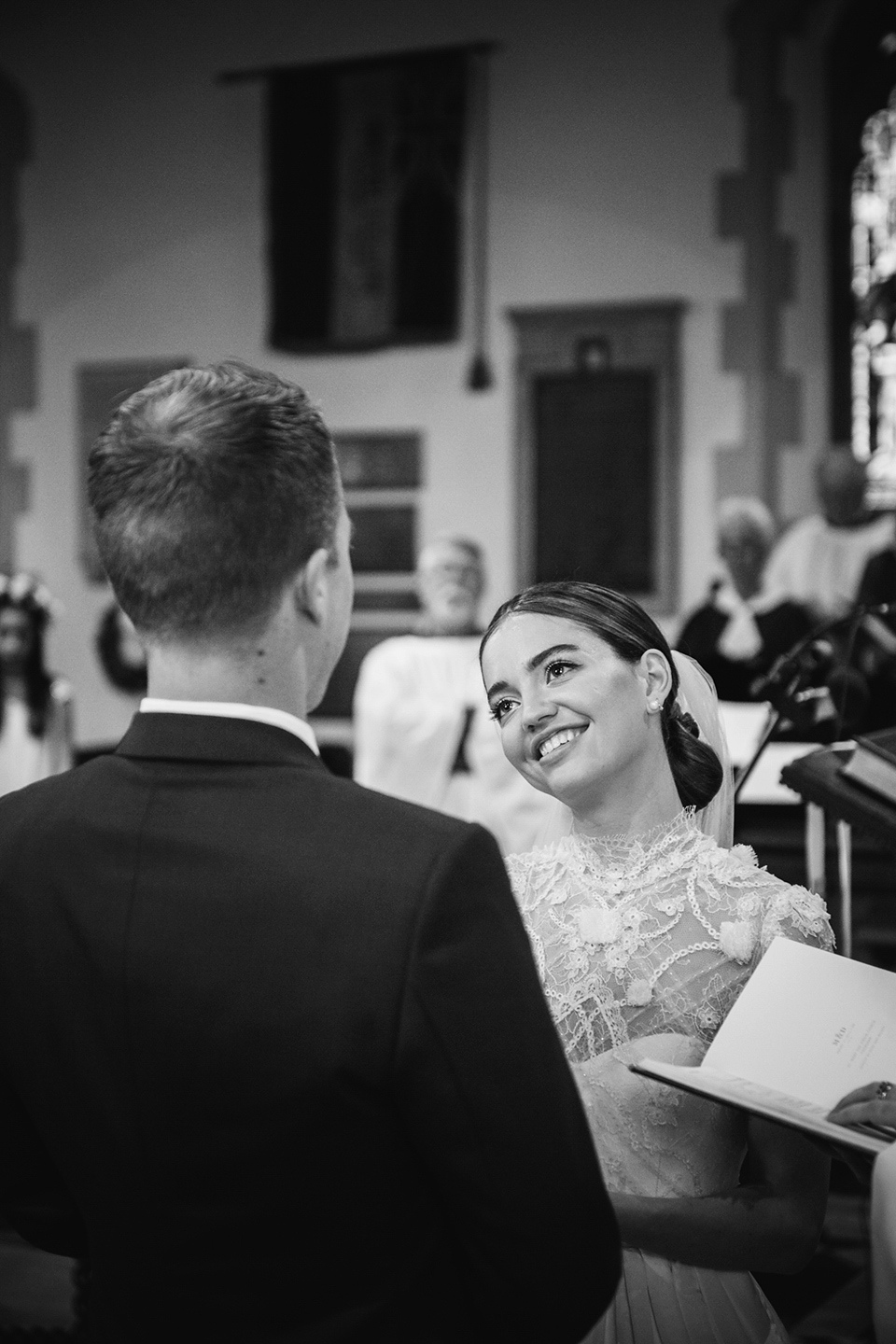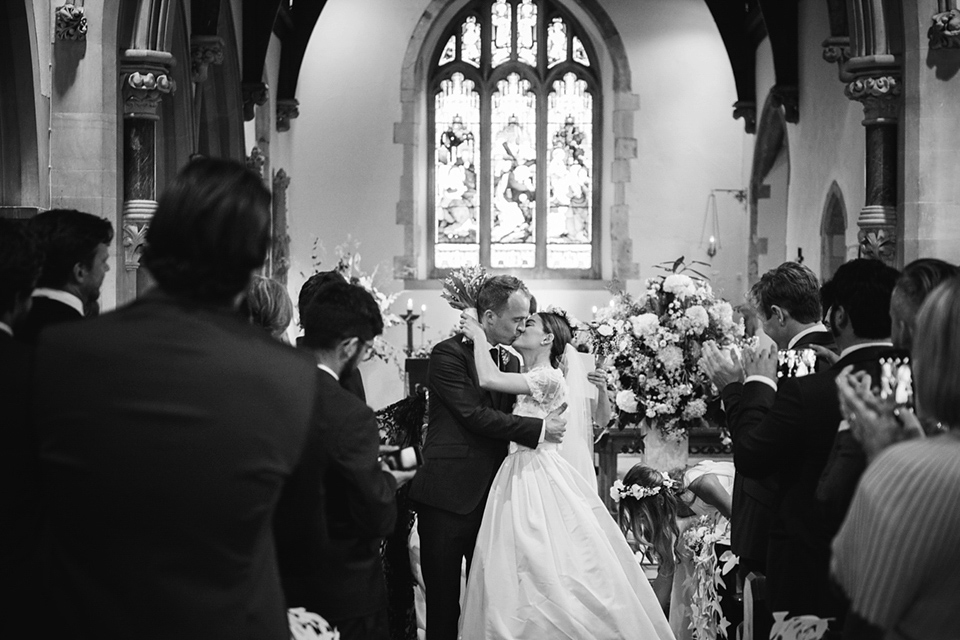 Such a creative couple, with backgrounds in both design and fashion, had to have placed a huge emphasis on choosing the right wedding photographer. Just as Forrest Gump says, Maia and Dom and Dominique Bader go together like peas and carrots.
"Our wedding photographer, and possibly the best decision we made regarding the planning of the day, was Dominique Bader. We chose Dominique to be our photographer after looking over a long list of different photographer's work given to us by Rachael, our planner. When we saw Dominique's work we liked it instantly and knew we only wanted to use her."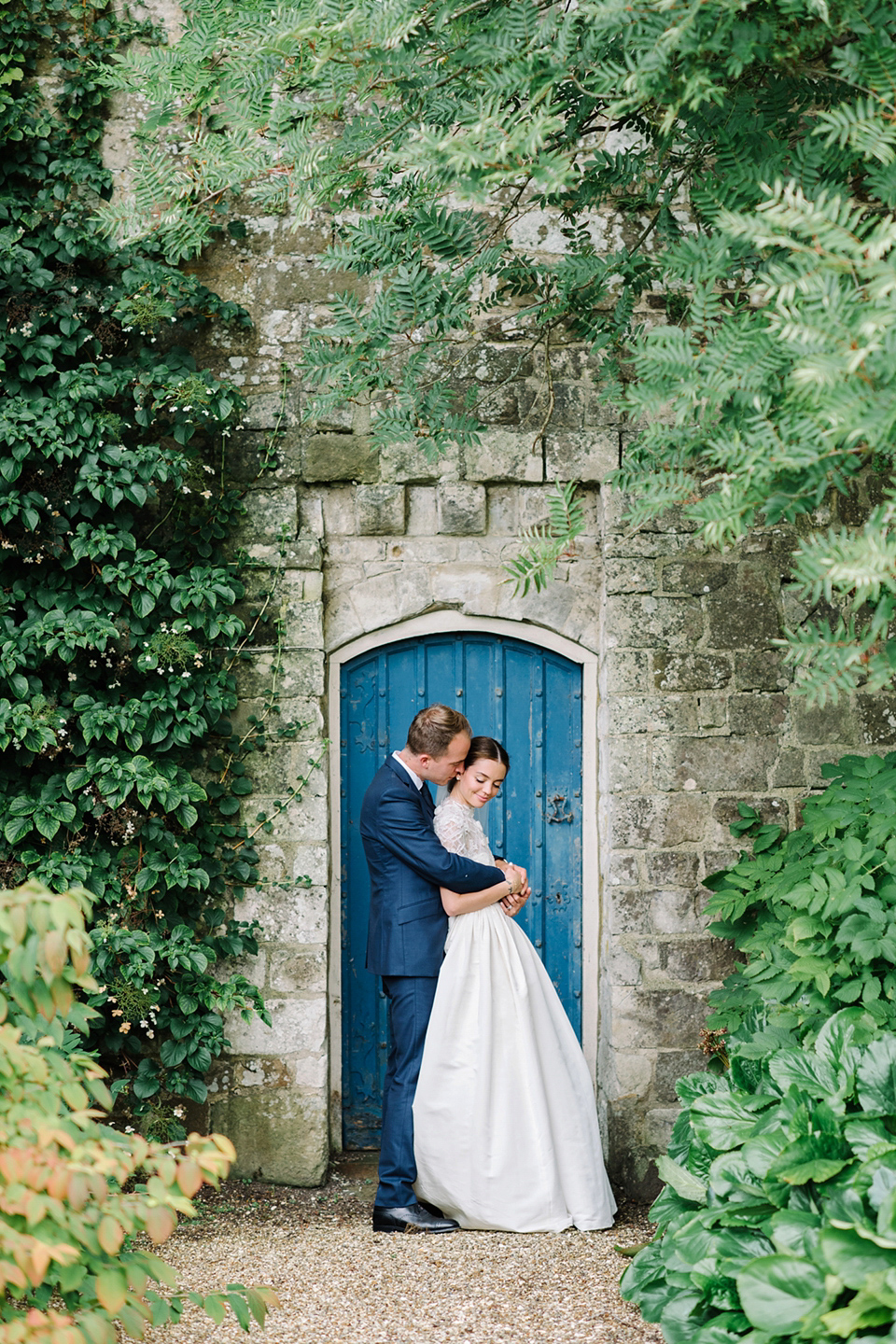 "She is so talented and her work speaks for itself. Her images are timeless and it was important for us from the beginning to have a photographer that had a journalistic and organic approach – we really didn't want to be bothered by the photos on the day and wanted it all to be documented in the most natural way and that's exactly what she did. She captured the mood of the day perfectly and the photos are incredibly intimate.
We had no idea that when we met her she would also be an incredibly focussed, kind, caring, wise and supportive person."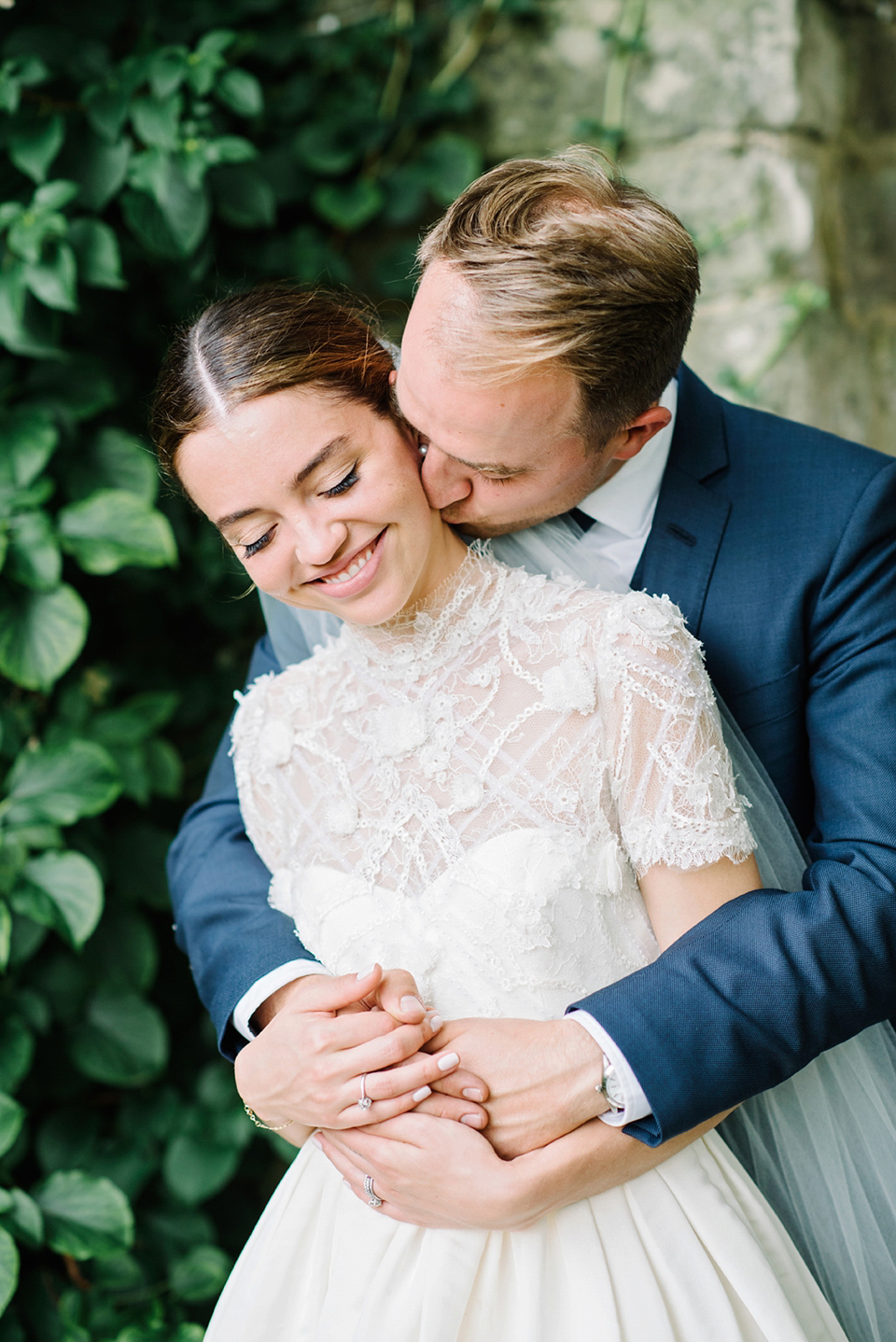 "Choosing to work with Dominique was the smartest decision we made regarding the planning of our wedding, we couldn't be happier. We will pass these on to our kids so they always stay in our family."
Dominique is an absolute photography chameleon; some of the shots are journalistic and candid, others striking and editorial. Maia is currently gracing the homepage of Dominique's website and I can totally see why – Maia makes the most beautiful model. I'm not forgetting the handsome groom – resplendent in his dark blue tailor-made Anthony Leslie suit with a fresh green and white buttonhole, a little nod to tie in with in the bridal party's blooms.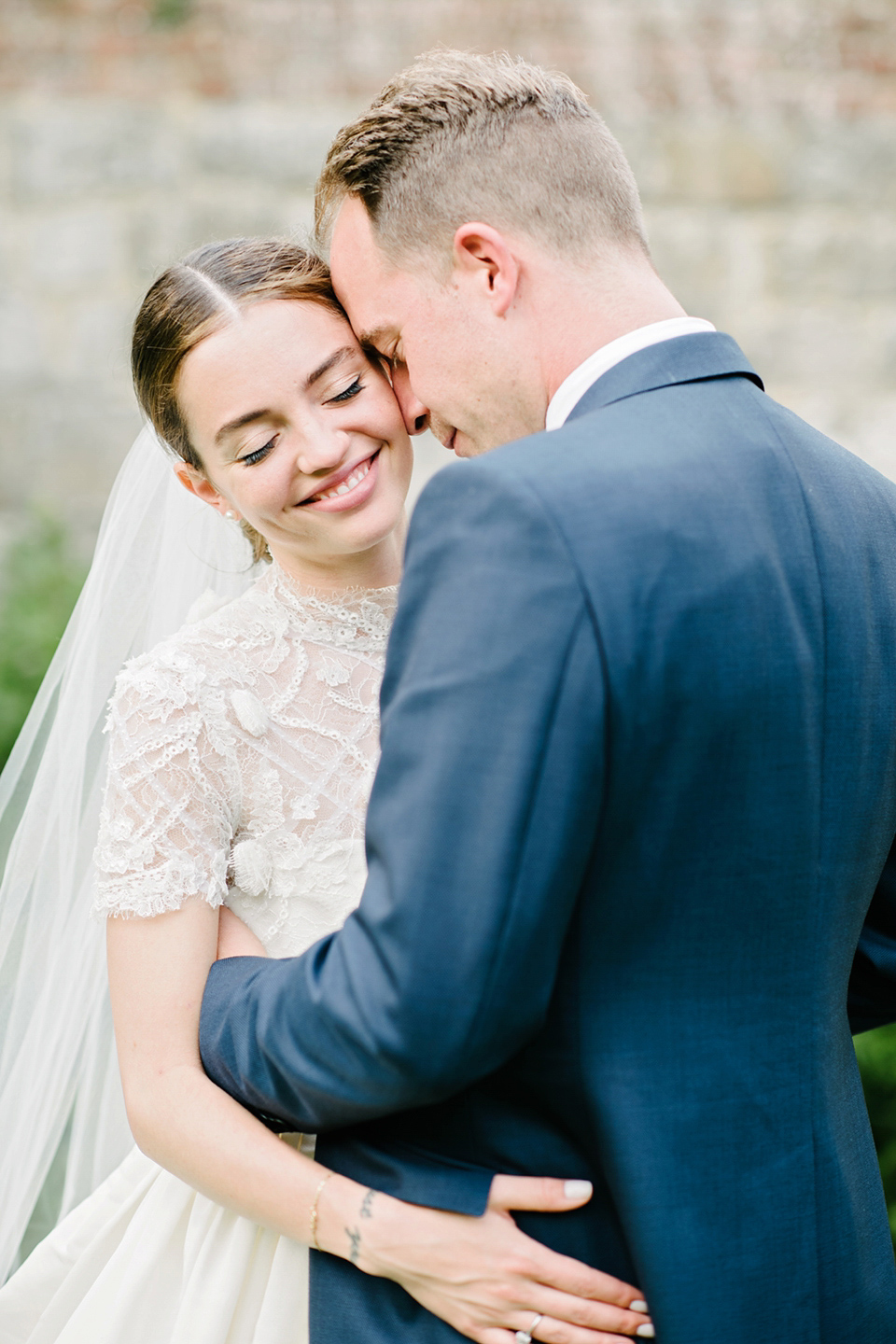 The couple also chose to have their day documented by Gorgeous Films – a hotly discussed topic in our Love My Dress Facebook group: to video or not to video (in summary – every single bride who chose to hire a videographer said it was one of her best wedding planning decisions). It does seem to be an increasingly popular way to reflect your personal love story, for Maia and Dom, a star-crossed romance with transatlantic beginnings.
You can see the full film here.
Our gorgeous pair had the help of Rachael Corigliano of Serendipity to coordinate their stunning reception at Farnham Castle. I spy more of those stunning Wanda Barcelona paper installations, an elegant quartet, giant balloons and an abundance of smiling, laughing, well-fed guests. Maia and Dom even designed a scrumptious looking white chocolate cake with wild strawberries.
"We were lucky enough to be able to work with our incredible planner Rachael Corigliano. Her logistical help made the day possible but above all it was her support that we were the most thankful for. We can't recommend her enough. Farnham Castle provided all the catering on our day and our beautiful meal was provided by the Castle chef and his team." 
Lovely Maia even managed to cry prettily during the speeches (please, please tell me how to do this!?) and then slipped away from her guests with her new husband for a gorgeous portrait shoot in the grounds of the castle. (Note to self to practice non-ugly kissing with the fiancé so as to replicate these two gorgeous things.)
To round off proceedings, the couple booked a ten-piece soul band and danced the night away to 'Beast of Burden' by The Rolling Stones; one of their favourite tracks and something they could really move to!
Words of Wedded Wisdom
"I was really stressed planning the wedding and looking back it was a waste of time. Try to enjoy every minute of it and don't spend time stressing – it is meant to be an incredible experience. On the day, definitely just let go and let the day live itself out however it may."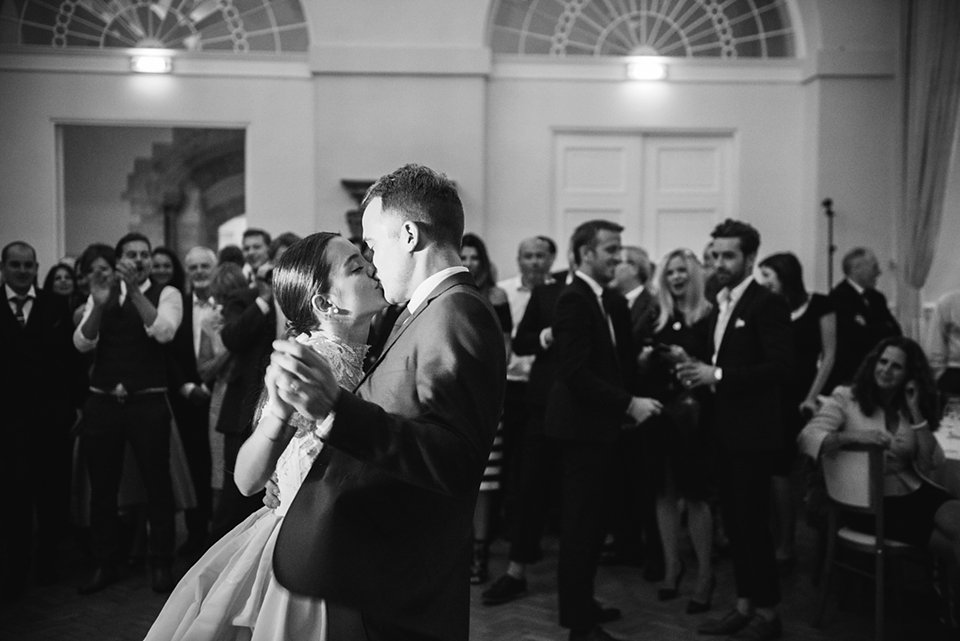 Thank you for those very wise words of advice Maia, and hugest thanks to you and Dom for allowing us to share your beautiful wedding. A further massive thank you to Dominique Bader Photography for these breath-taking, timeless images.
Please do explore more beautiful English country weddings and fellow Marchesa brides featured on our lovely blog if Maia and Dom have you brimming with inspiration.
Love, Em x
P.S. I promised I'd let you know how I got on at playing Make-up Artist for my lovely friend Rachael on her wedding day…well she looked absolutely radiant in Maggie Sottero and I didn't give her wonky eyeliner – winner! My fee is very reasonable by the way: one cup of strong Yorkshire tea is my current rate.
Photographer – Dominique Bader Photography
Videographer – Gorgeous Films
Planner – Rachael Corigliano via Serendipity
Venue – St. Mary the Virgin Church in Farnham + Farnham Castle
Wedding Dress – Marchesa
Shoes – Prada
Perfume – L'Artisan Parfumeur
Groom – Anthony Leslie
Bridesmaids – L'Agence
Transport – The London Bus Company
Catering – Farnham Castle
Hair Stylist – Kasia Fortuna
Make-up Artist – Jo Adams via The Hair & Make up Atelier
Decor – Wanda Barcelona