Good morning all – Thursday has certainly come around jolly quickly this week hasn't it? Hoping each and every one of you are having a good, positive week so far though. This morning's wedding completely and utterly stole my heart from the moment I set my eyes on all it's colourful hues and homemade goodness.
Tom, a Doctor and Kat, a Visual Merchandiser and freelance stylist, tied the knot on 23rd August at St Mary the Virgin church in Horsell, Surrey, followed by a reception in the back garden of Kat's parents house. And the reception is the loveliest thing – a rainbow of hanging lanterns and paper poms, bunting, buckets full of beer, a garden full of plastic tables and chairs and photographs that capture laughter, joy and love. This wedding is a lesson in how to keep costs down and make sure you're focussed on the important reasons for getting married and I absolutely love what bride Kat has to say about that.
"There wasn't any particular source of inspiration for the day, but as it took place in our back garden the whole day was very relaxed and informal. I suppose it almost had an unintentional 'English country garden' theme! Which ended in everyone drinking Champagne from red plastic cups – hoorah! We decided to have our reception at home to make the day really relaxed and personal."
Photography by India Hobson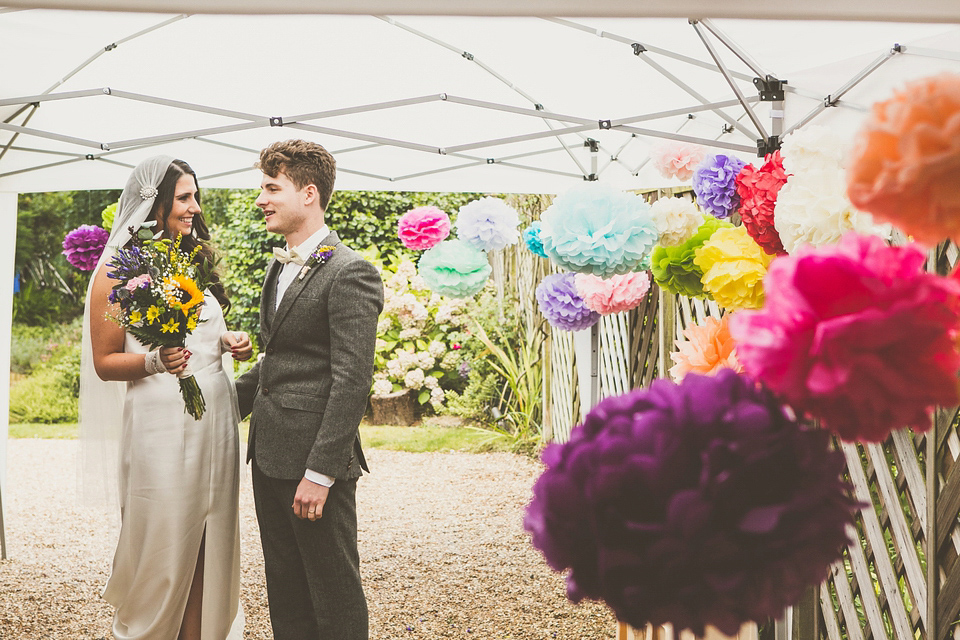 Not every bride wants to buy a brand new wedding dress – for some brides, other aspects of their wedding are of greater priority. Kat bought her wedding dress from Oxfam.
"The dress wasn't in the best state when I bought it, but I knew that it had so much potential to become the dress I could see in my head, (after some alterations). It only cost me £100, which was just another reason I fell in love with it."
"We met through some mutual friends in 2012. Tom asked me what biscuit I would eat for the rest of my life, which was weird, but really cute watching him make small talk. We all went to the pub, where we sat together and ended up talking for hours until we were literally kicked out, and that was that."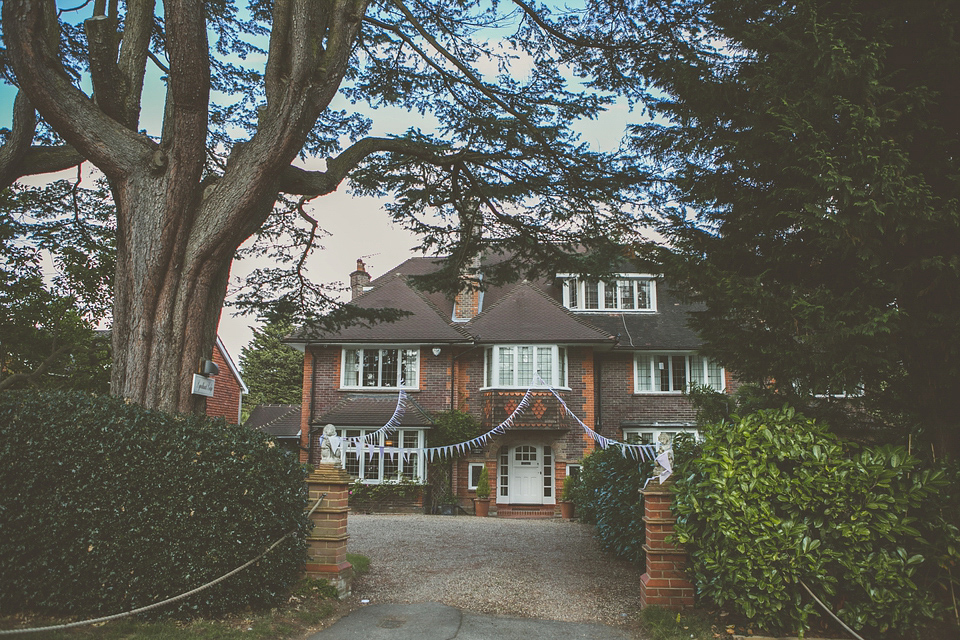 "Two years later he proposed whilst on a weekend away in Budapest. I was taking a panoramic photo of the city as he knelt behind me with the ring. We got married 9 months later, our wedding was small and easy to plan so we didn't need lots of time."
"I got our flowers from a flower market in Sheffield and picked up the lavender from Mayfield Lavender Farm in Surrey and then put together the bouquets, button holes and flower crowns the night before the wedding, with help from my bridesmaids! The main reason for doing this was to save money (and it did save hundreds of pounds!) I wanted flowers that just looked wild, there was no particular colour theme, I just picked out the flowers I liked best from what they had available at the market."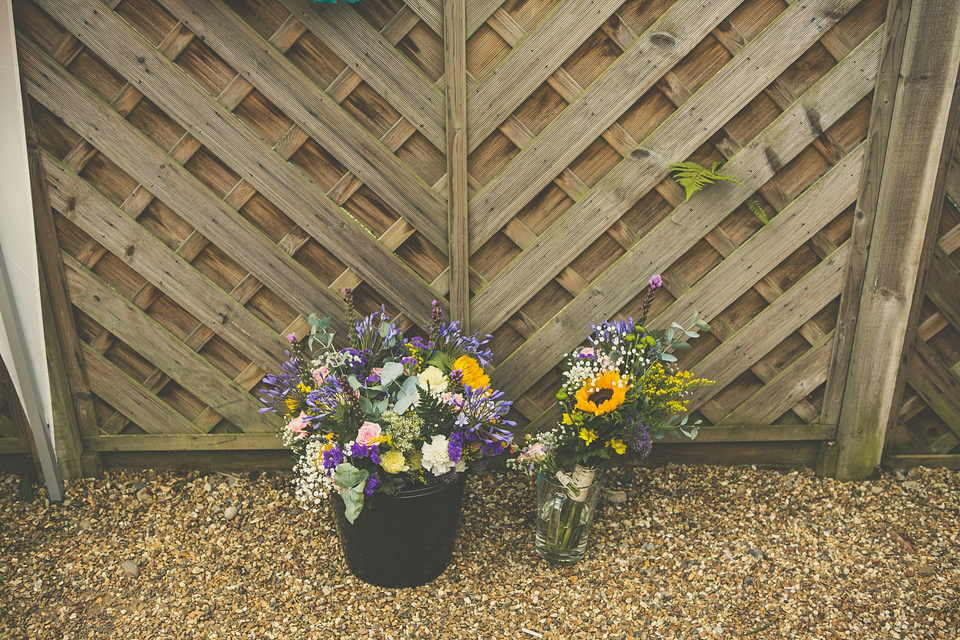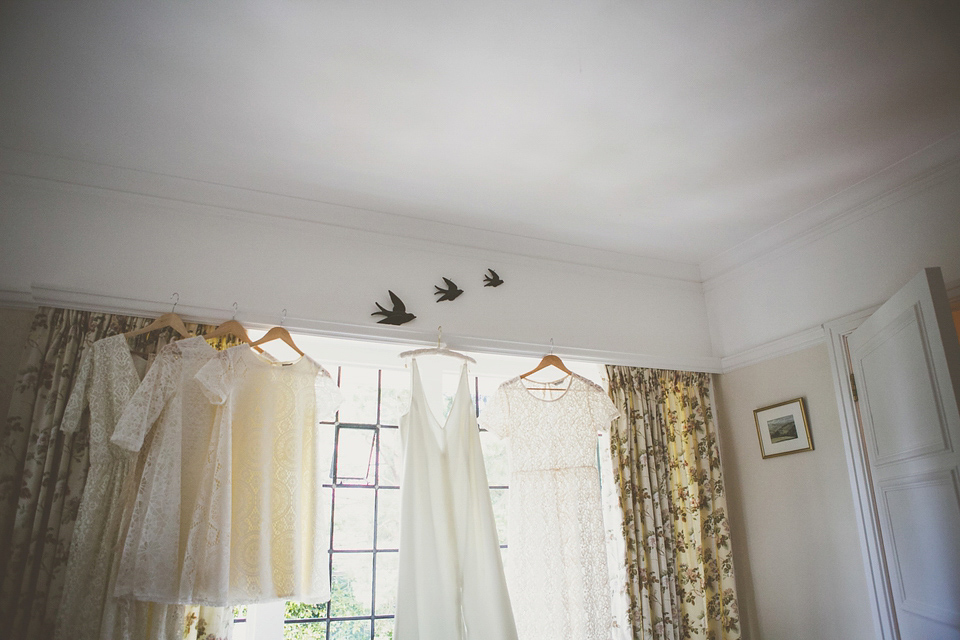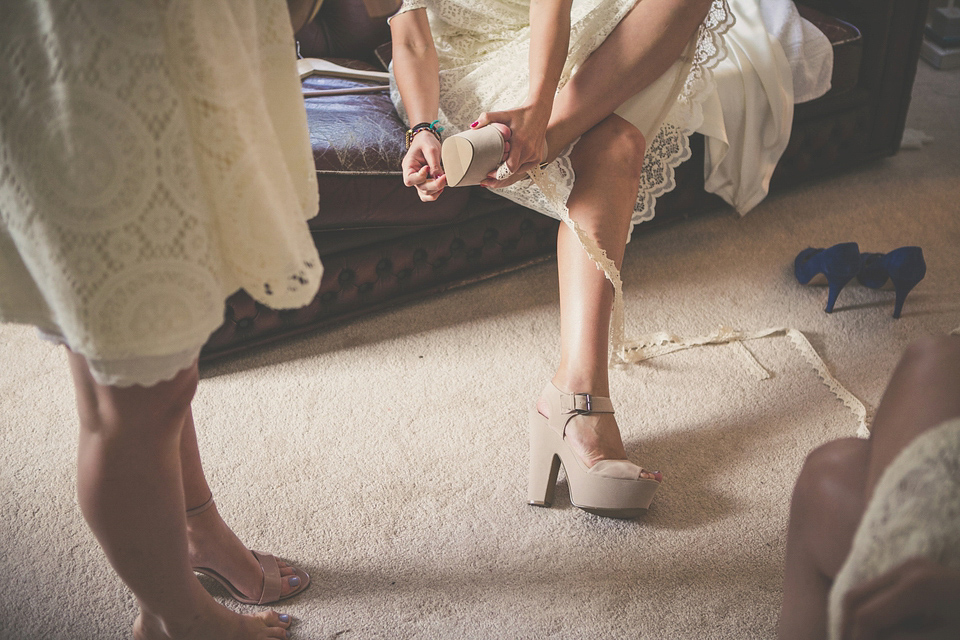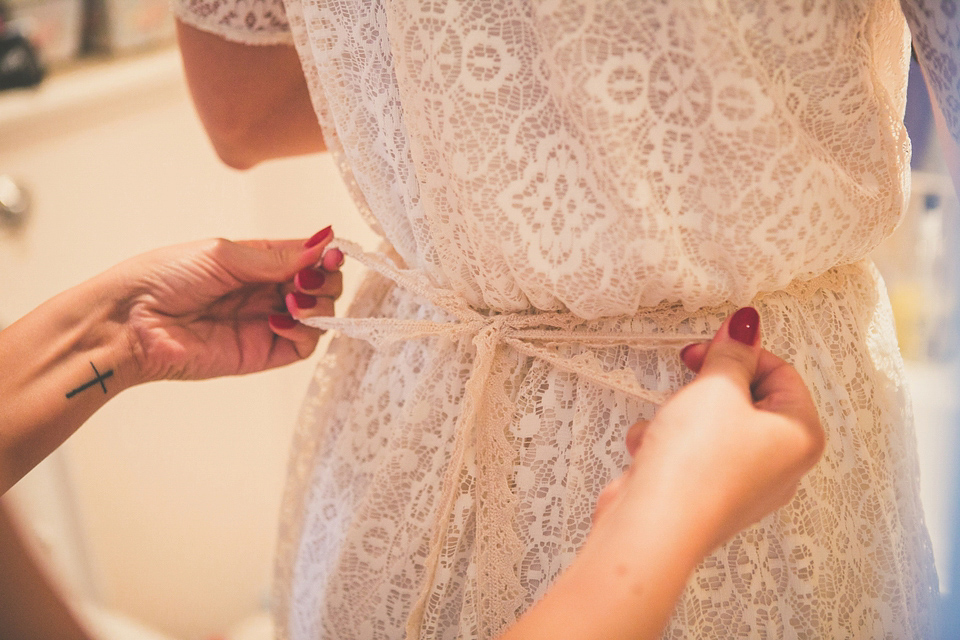 "I wore Chanel Chance perfume – I fell in love with it whilst out shopping with Tom, he then surprised me with it the day before the wedding."
"I also wore a Vivienne Westwood bracelet – It was a 21st birthday present from my step dad which means a lot to me and I love to wear it for special occasions."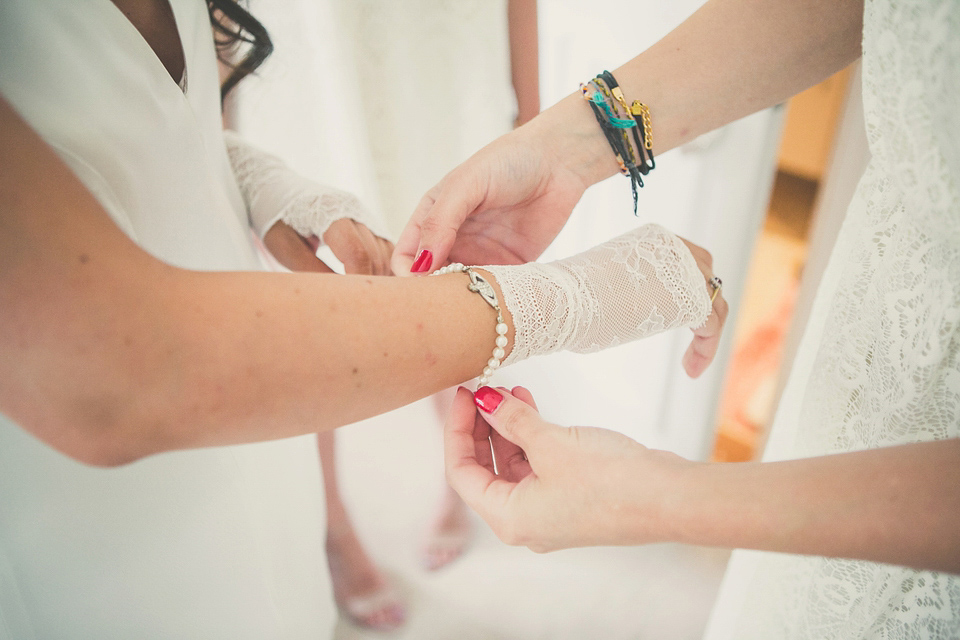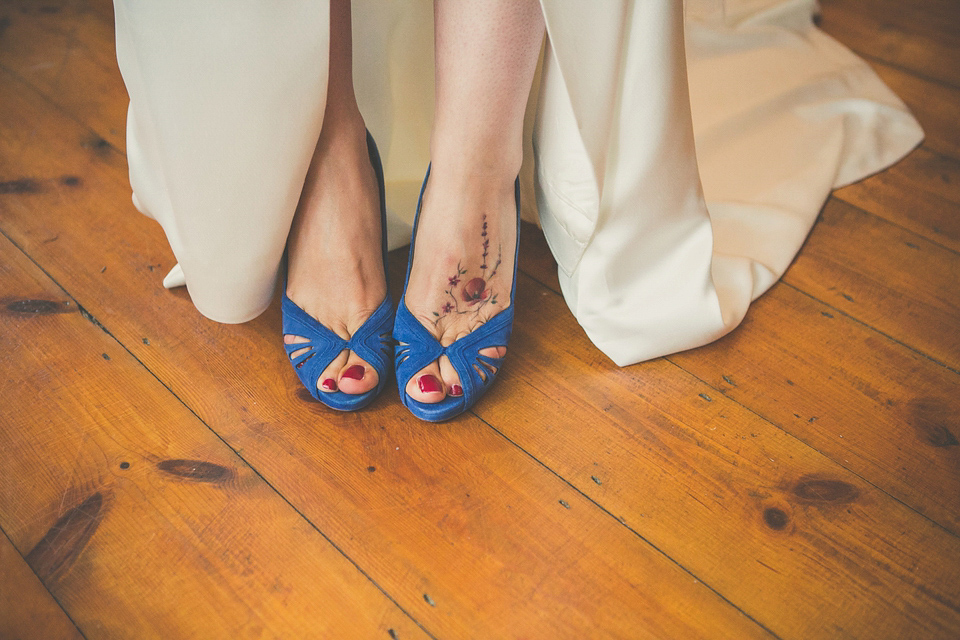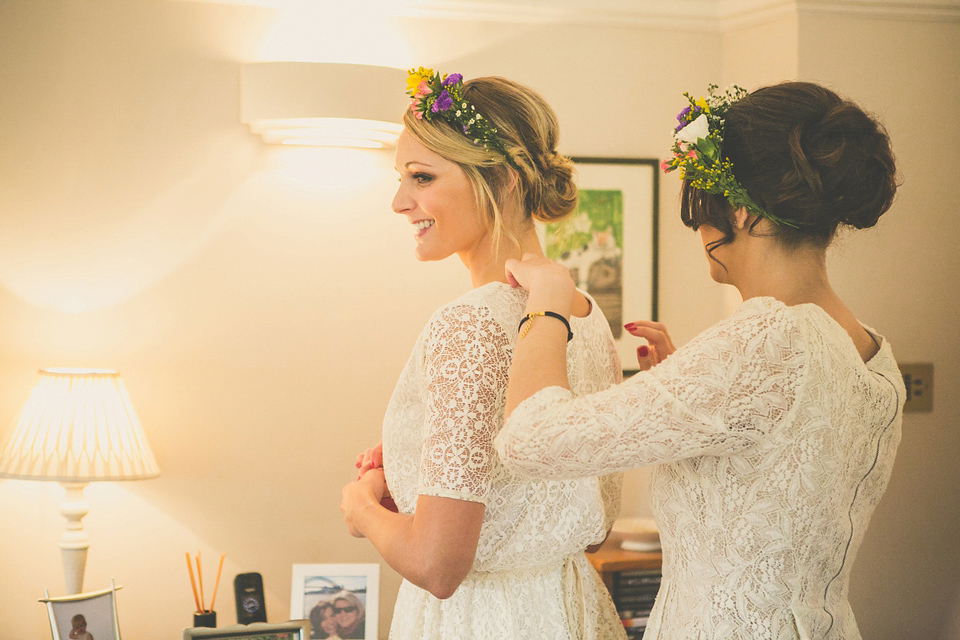 "My favourite part of our wedding was the preparation the day before and on the morning of. Our house was full of all my absolute favourite people in the world, we had so much fun together decorating the house, eating and drinking. No one was stressed it was all just so fun. In fact we were having so much fun in the wedding preparations, we forgot to collect my dress from the cleaners! On the morning of the wedding the photographer turned up and wanted to take photos of my dress, then I was like 'THE DRESS!'.
My mum and mother in law had to run out to pick it up, which was pretty funny! Tom and I didn't really care too much about the details of the day itself, as long as all the people we loved were there and had fun celebrating the love we have for each other."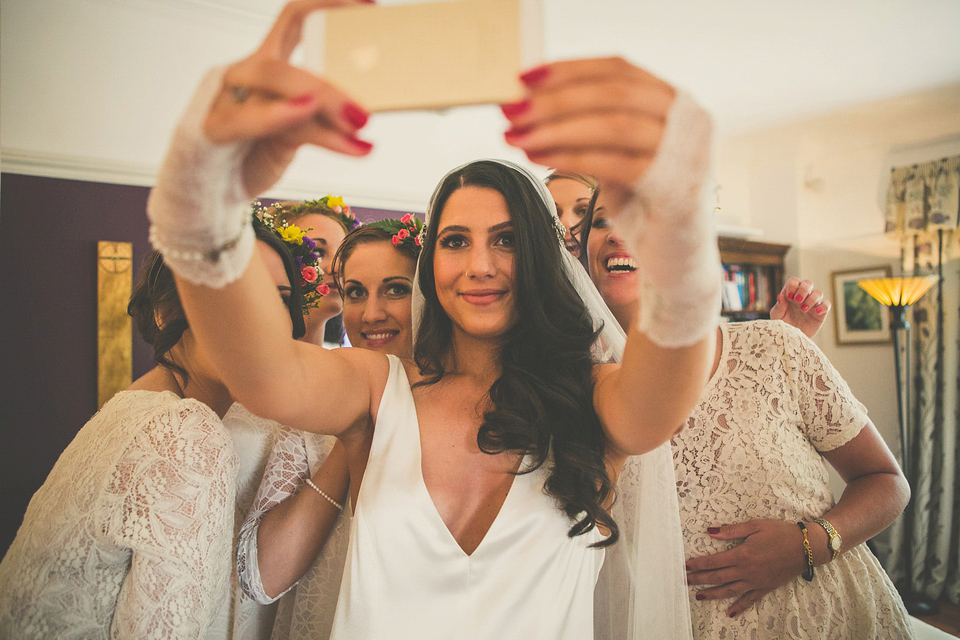 "One of my best friend's dad owns a vintage Volvo, and he kindly agreed to chauffeur us all day. He is one of the most extraordinary people I know, and kept us all entertained. He covered the car in so many flowers he could barely see the road! It was perfect, and we loved having him there with us so much."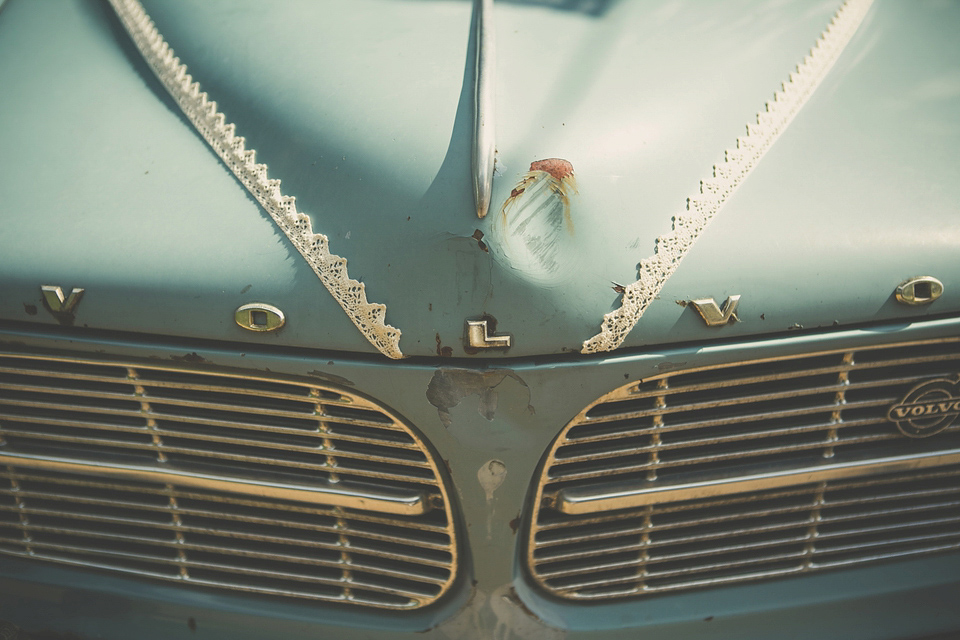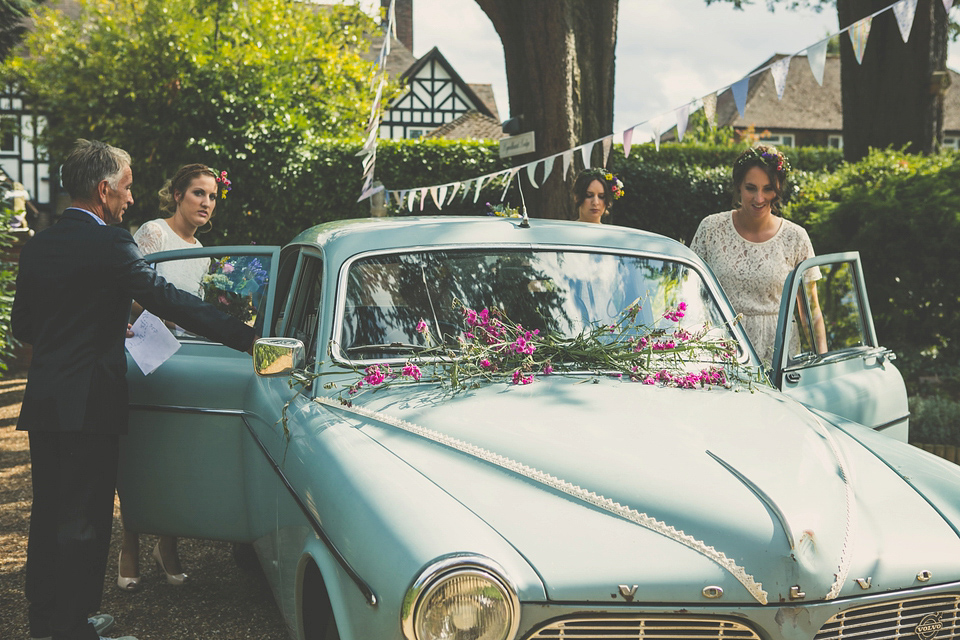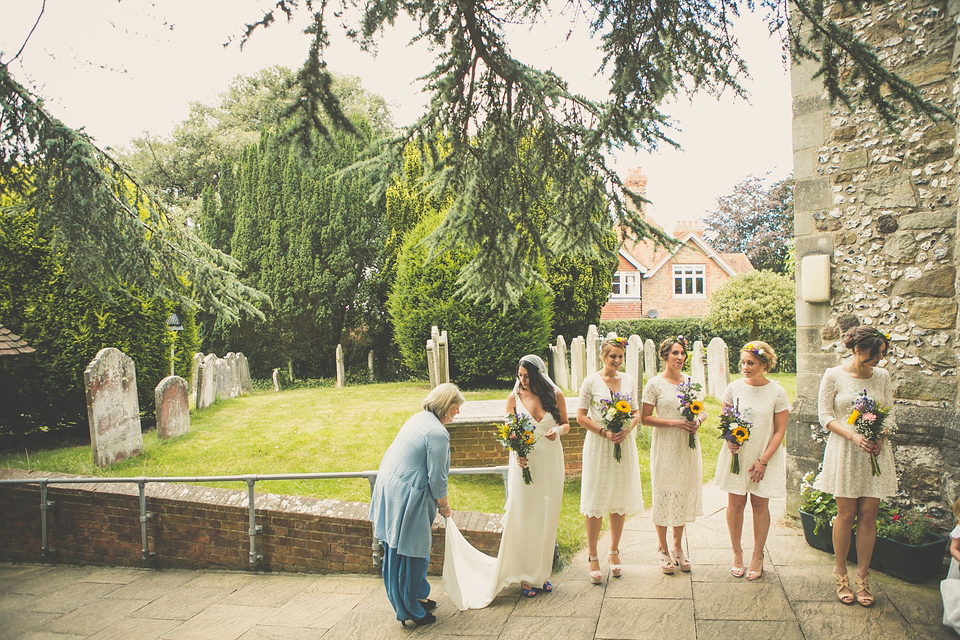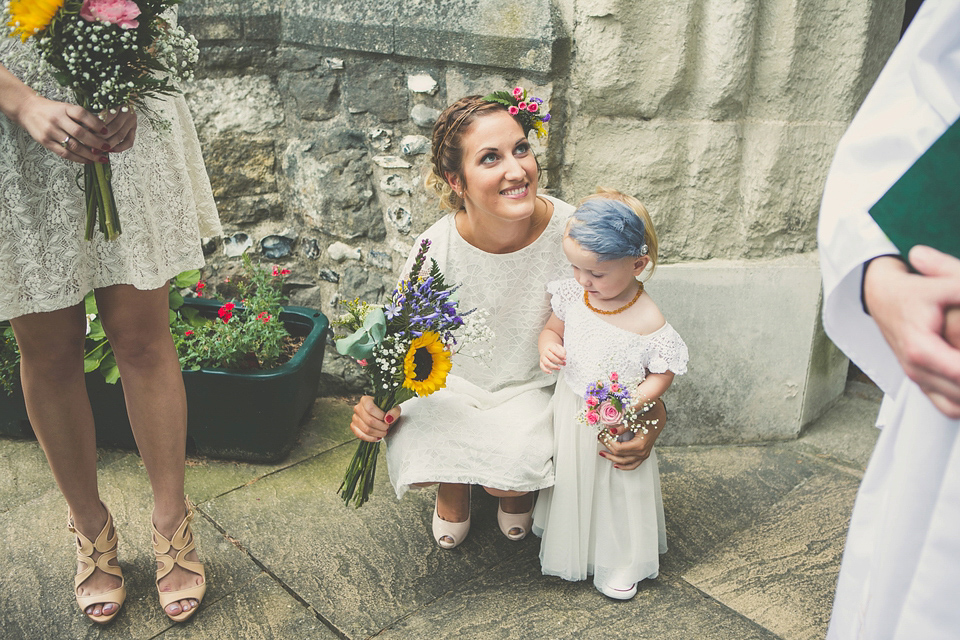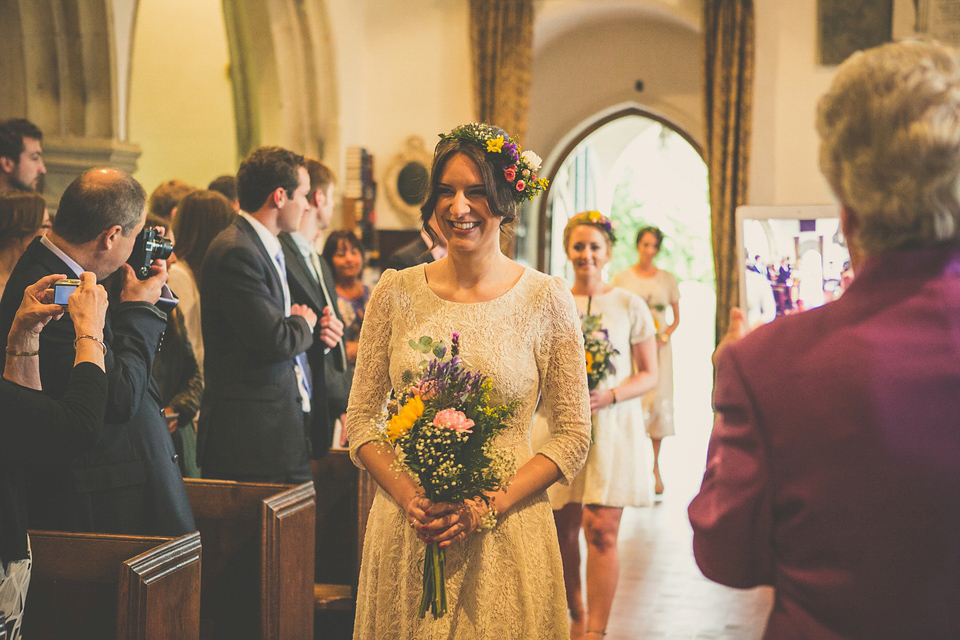 "My mum raised me so it just made sense that she walked me down the aisle. It was very emotional as we have been through a lot together. A few years ago we came close to losing her to cancer. She is by far the strongest person I know and came out on top! The whole thing made me even more thankful for her, being lucky enough to have her by my side was so perfect. We were accompanied down the aisle to Canon in D Major by Johann Pachelbel.
I love classical music and this is one of my favourite pieces."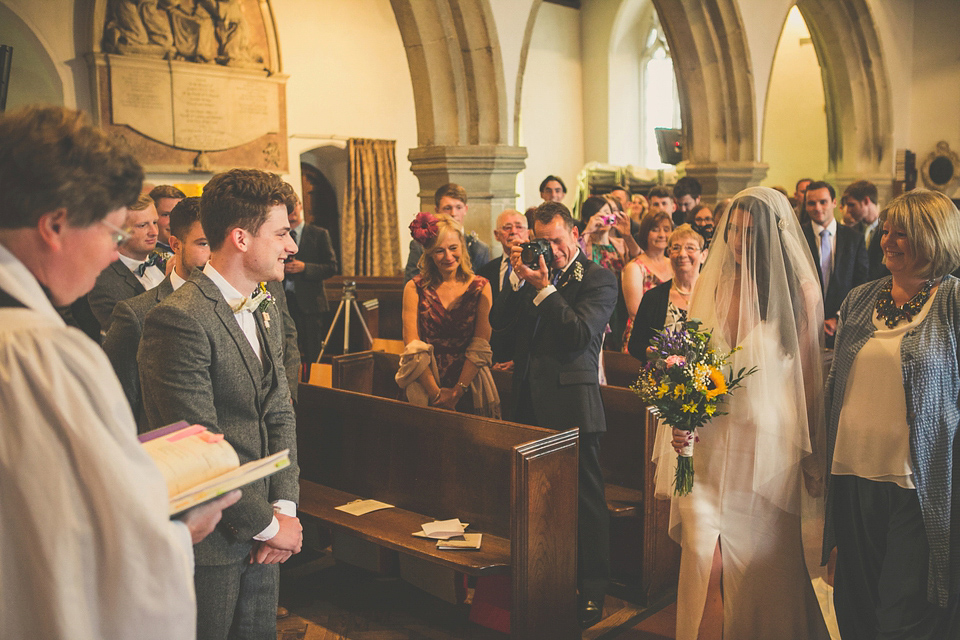 "We found my wedding band in a cute independent jewellers in Sheffield. It was the same shop that Tom's dad bought his mum a watch from when they were 13, so it has some sentimental value. Tom's ring came from Argos as it was cheaper and he was scared to spend too much money in case he lost it, not being used to wearing a ring. We later found that it is engraved inside with 'I love you' in italics – so funny."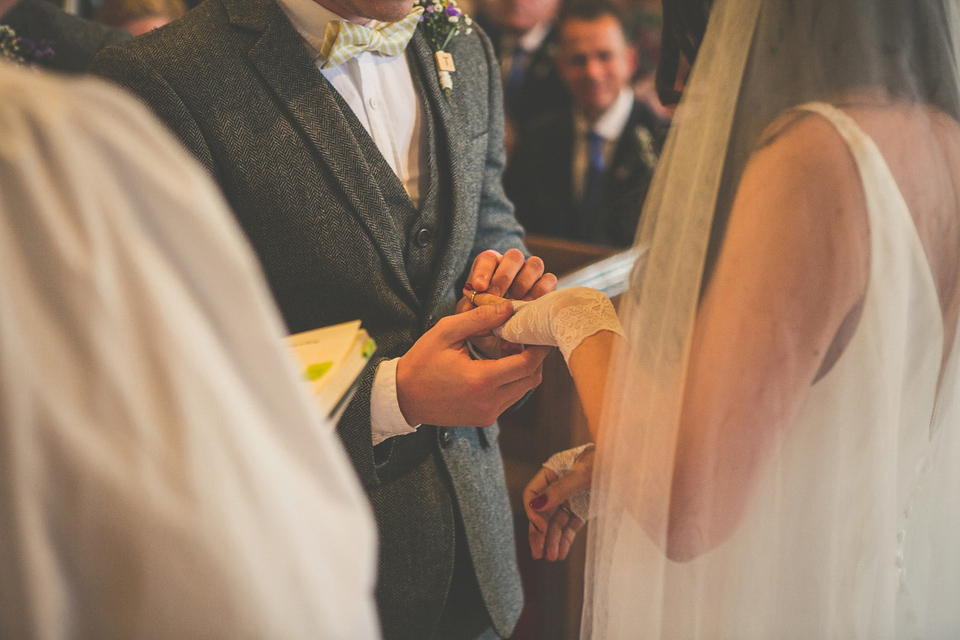 "We had two ceremony readings, the first was 'Love Is A Temporary Madness' by Louis De Bernieres. It's quite commonly used in wedding ceremonies, but as soon as we read it together, we knew it was perfect for us."
"The second was a Bible verse 1 John 4: 16-19. It was important to us to have a Bible verse read during our ceremony, but we didn't want to go with the classic 'love is patient, love is kind' as lovely as it is – so instead we chose this."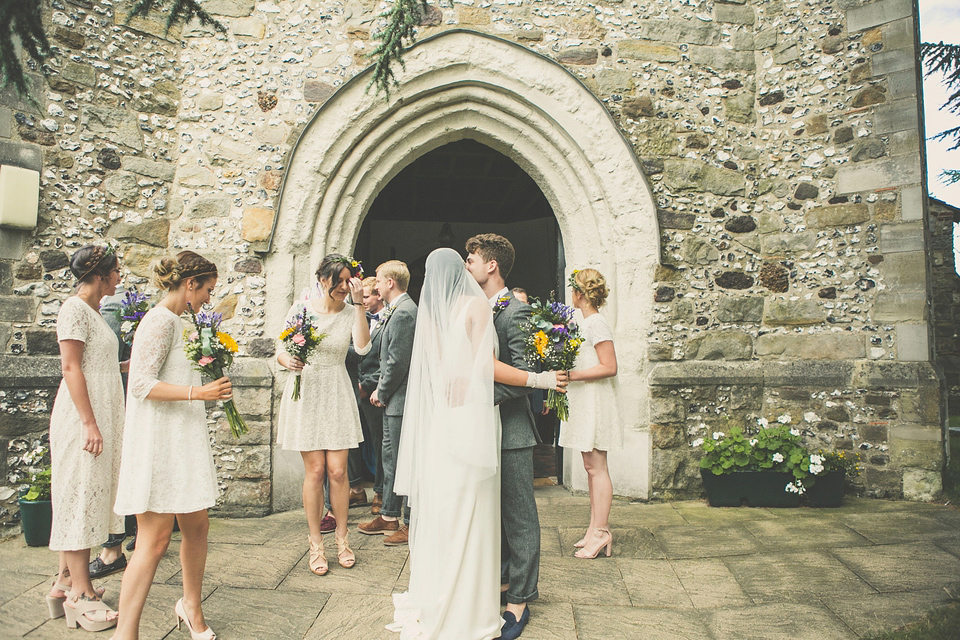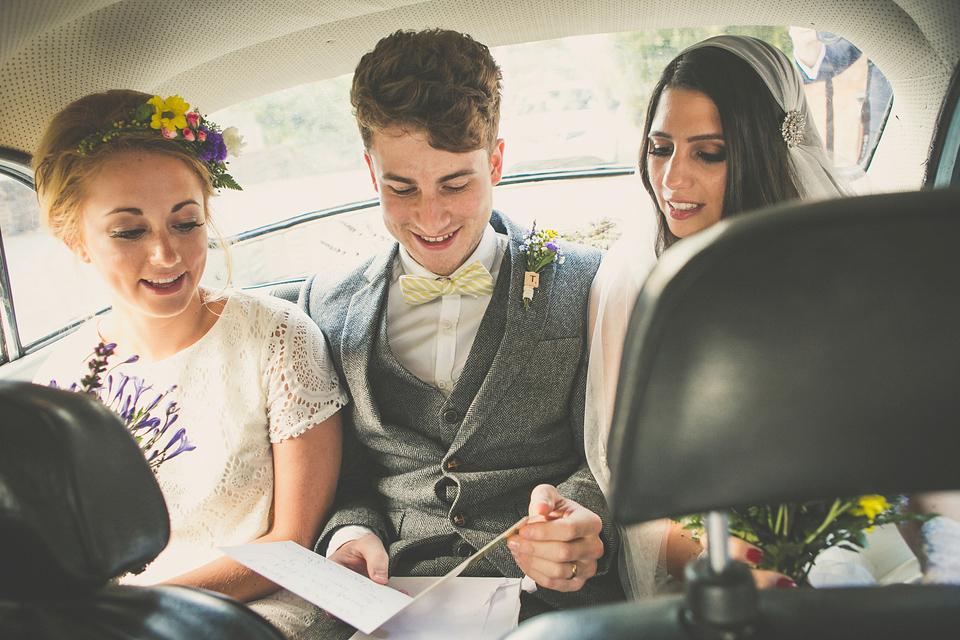 "Words could never do our photographer India Hobson justice. I fell in love with her photography a long time ago, so when we got engaged I didn't have to think twice about who I wanted to take the forever memories of our day."
"Inida has a talent for capturing beauty in anything and everything, I am still blown away with how she caught so many beautiful moments. On top of all that she is an exceptional human being and it was a pleasure to have her involved in our day. She made me laugh, calmed my nerves and gave me some sound advice too. I can't recommend her highly enough."
"I hadn't been planning on any favours, but on the day of the wedding my mum pulled out a load of tiny pots of hand made jams, which were produced round the corner from our house! They had our names and wedding date printed on the labels, and tasted unreal."
"A friend of mine made meters and meters of bunting which we strung up all around the house and garden. A bridesmaid and I ripped up loads of material to hang around the decking. There were lanterns and tissue pom poms which about 10 of us put together the day before the wedding, it was so fun.
"We didn't have a colour theme, or care too much about the decor, as this way all our family and friends just chipped in and there were no rules! It was so amazing to have everyone involved."
"We hired Excelsior Vintage Jazz Band, who welcomed our guests as they arrived and then played as everyone ate. They were AMAZING! So talented and lovely guys. In the evening we used Spotify to make a playlist."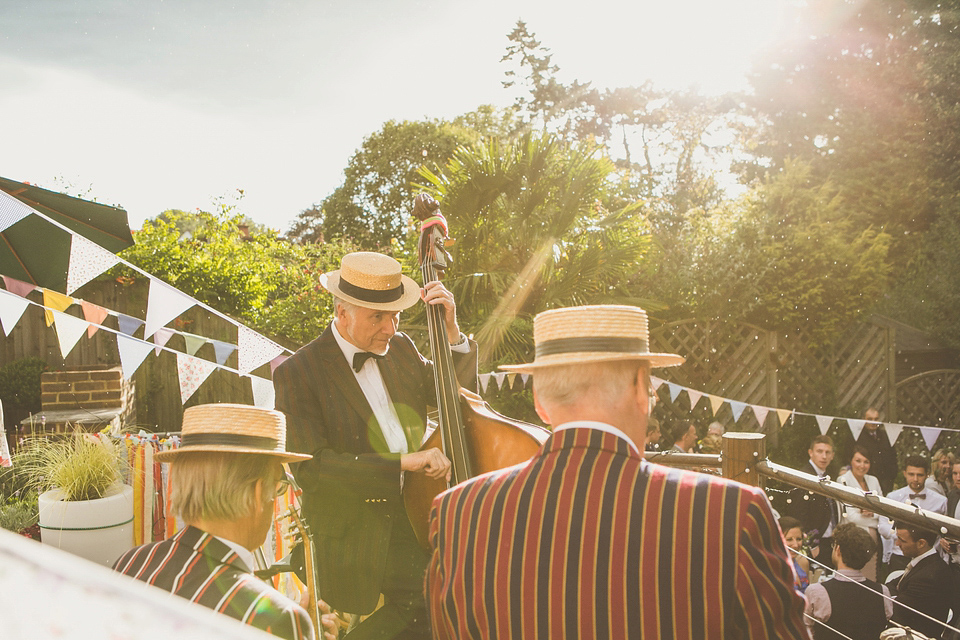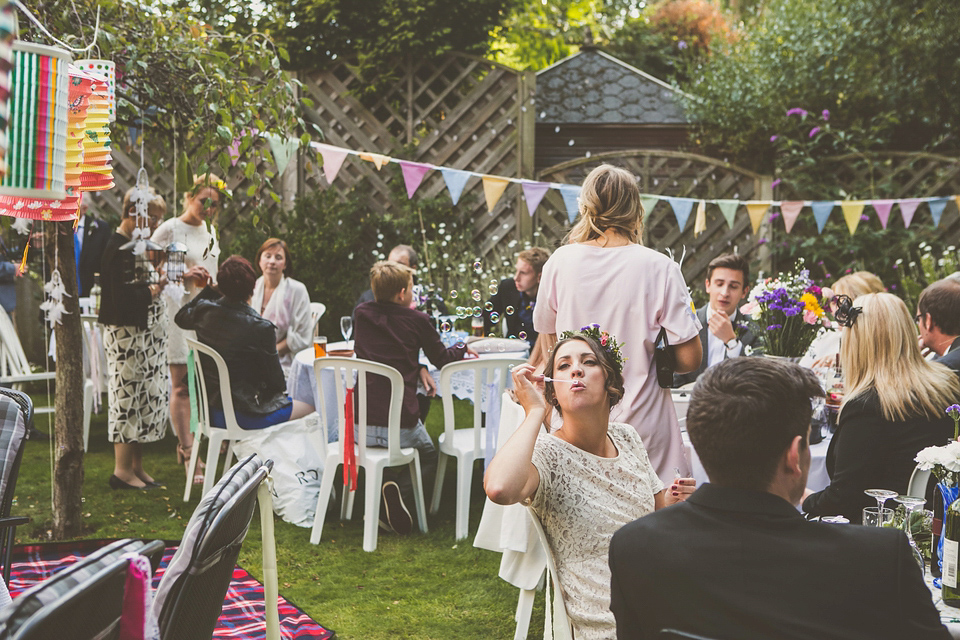 "We had a hog roast laid on by The Spitting Pig Company – the rest of the side dishes/salads etc were made by our families.
We weren't too fussed about having a cake, but then a family friend offered to make us one! Kept it very basic and then I added some flowers to it, and also some little Disney figures too (big Disney fan here)."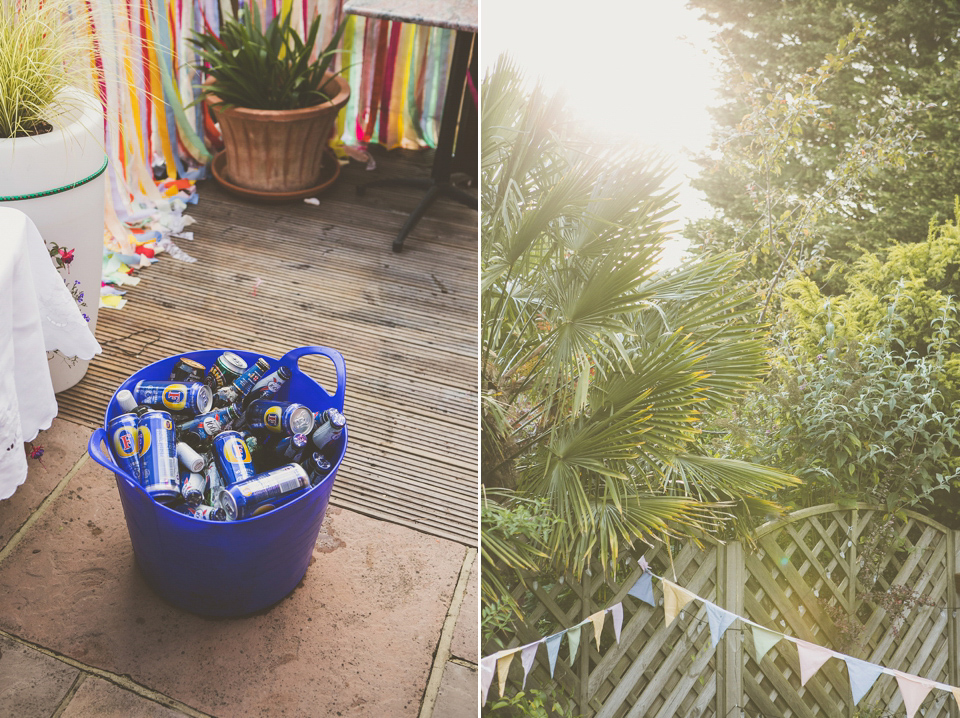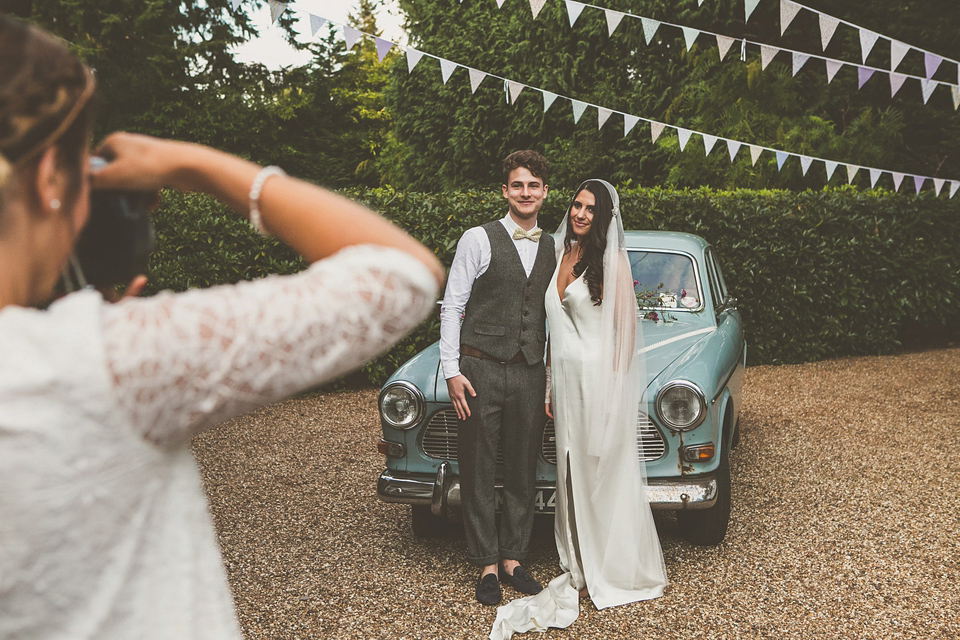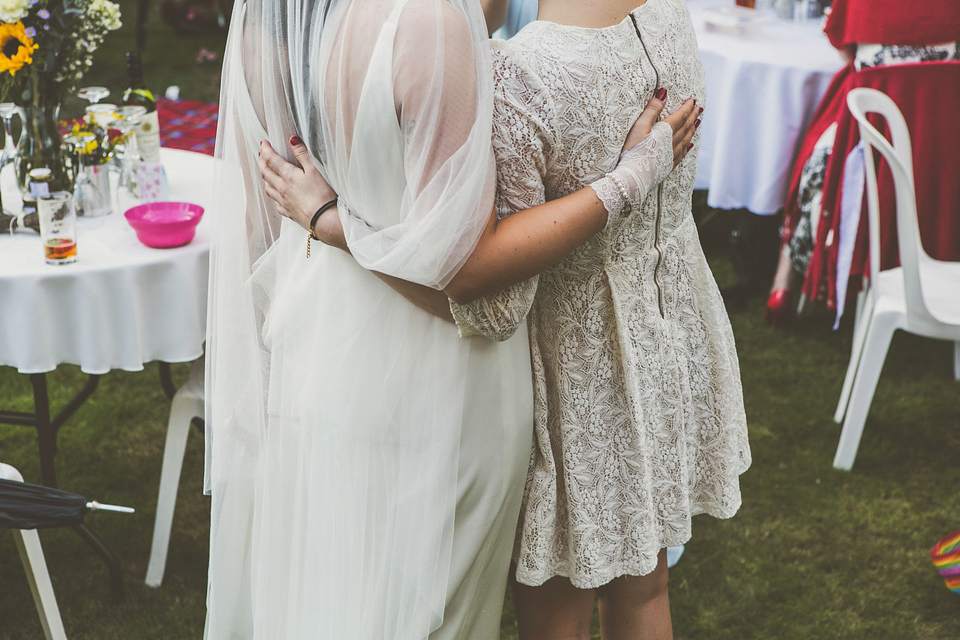 "We had a photobooth from The Mighty Booth for our guests to take home a memory, and so they could fill our guestbook with their photos and messages."
"We had some friends sing the beginning to 'Call Me Maybe' by Carly Rae Jepson with an acoustic guitar (this was/is our song- when we first met we used to listen to it on repeat whilst getting ready to go out). After they played the first verse and chorus it merged into the actual track, and then everyone joined in, was really funny and not too serious, which was exactly what we wanted."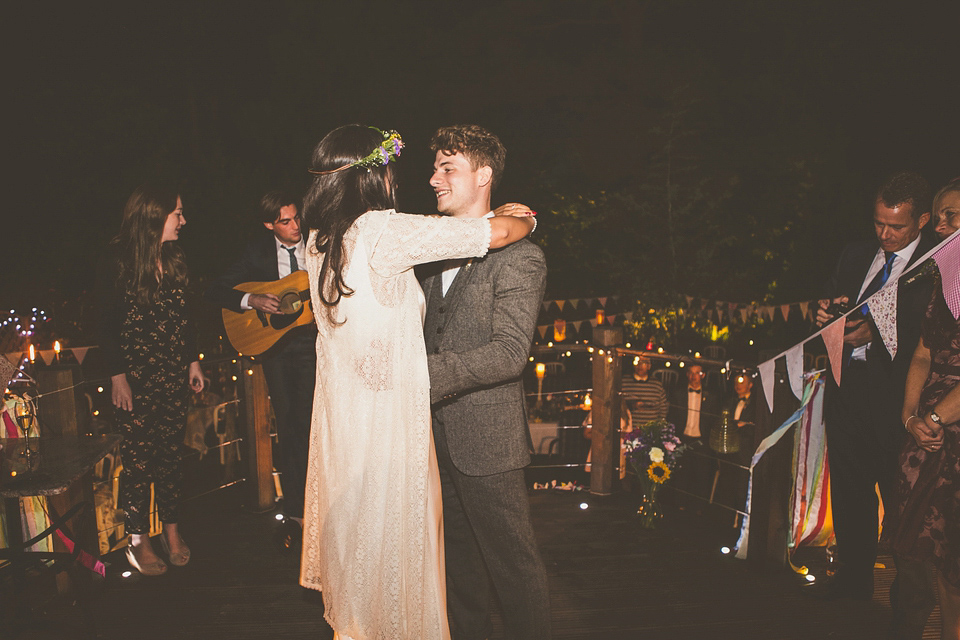 Words of Wedded Wisdom
"When it comes to weddings I've heard so many people say 'remember it's your day, no one else's, do what you want and have it how you want it' or something similar. For us I have to disagree. Our wedding wasn't just about us, it was about getting everyone we love involved in every aspect. My mum loved being involved so much, she would just go out and pick up decorations etc without telling me (that's why our decor was a bit of a mix match!) I didn't particularly like some of the things she chose, but it didn't matter.
We all worked on it together, it made our families closer and brought so much joy to Tom and I seeing everyone involved and just as excited as we were! From picking flowers, making the cake and food, order of services, to the car, it was a collaboration, not a show for our guests.
The whole thing cost less than £6,000 pounds and I can honestly say it was perfect – our family had the best day too. So don't get caught up in the little details –  enjoy planning with your fiancé, family and friends. I promise that no one will notice or remember the things you're having sleepless nights over! Also don't let planning your wedding take over your relationship- investing into your marriage is way more important than the day itself (as fun and beautiful as it is!)."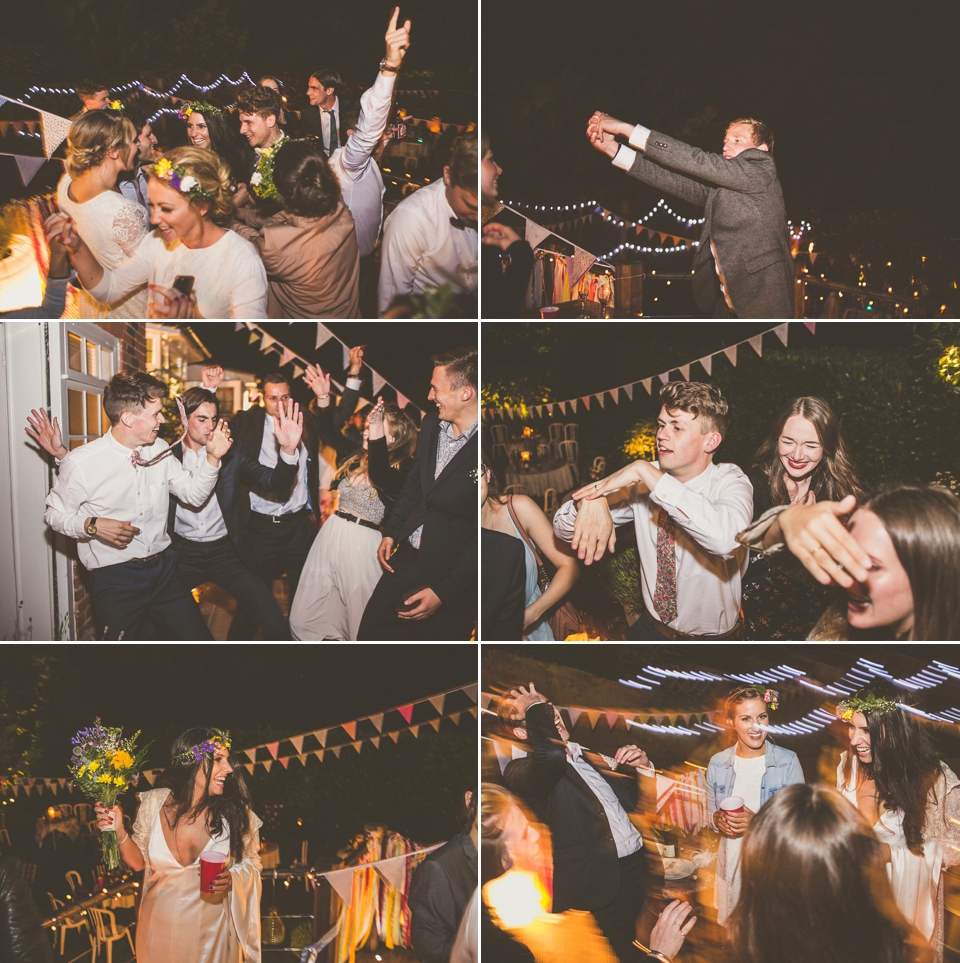 "On reflection there are probably thousands of things I would have changed, all little details which are really insignificant, just because my style changes and evolves all the time, you see another wedding on a blog or on Instagram and think 'oh I wish we had done that!', but I'm so glad the details weren't high on my priority list in the run up to the wedding. We were both adamant to not lose sight of what the day was actually about – us making a lifelong commitment and asking our family and friends to support and celebrate with us as we entered into our marriage.
These days weddings are such a creative masterpiece it can be so easy to get caught up in tiny things that in the end no one will even notice or remember, it's not worth getting worked up over, or getting yourself into debt for it! So if I was doing it again, I may have worn my hair slightly differently, or had different colours in the flowers, but I got to marry the love of my life, so who really cares.
Talking of blogs, Love My Dress and Hello May are my favourites. I looked at both of these for some inspiration and also to just admire. I love that the weddings featured are always so different and unique. I find a lot of the time there is so much focus on the real reasons for the wedding, the love and the emotions, this is so important to me and I love seeing other people's photos when you can see those amazing moments and raw emotions."
Wonderful, wonderful words of wedded wisdom – thank you darling Kat (who you can follow on Instagram by the way)
Such an incredibly charming wedding with so much visual inspiration and, I hope, some ideas about weddings that have given you something to think about.
Have a lovely morning all,
Love Annabel x
Photographer – India Hobson
Film – Tregoning Weddings
Venue  – The bride's parents back garden
Wedding Dress – Oxfam
Bride's Veil + headpiece – Agnes Hart (floral crown worn in the evening)
Bride's Shoes – Ebay (origianlly Zara)
Accessories – Vivienne Westwood bracelet
Perfume – Channel Chance
Grooms Suit – New Look + ASOS bow tie + Zara shoes
Bridesmaids Dresses – ASOS  + Miss Selfridge
Flower girl Dresses – Monsoon
Florist – flower market in Sheffield + Mayfield Lavender Farm in Surrey
Cake – a friend
Transport – a friend
Entertainment – Excelsior Vintage Jazz Band
Rings – Independent jewellers in Sheffield (her) + Argos (him)
Catering – The Spitting Pig Company
Stationery – the bride
Photobooth – The Mighty Booth