One of the things I love most about writing real wedding features for this very beautiful blog is discovering new cultures and I've been lucky enough to learn about the incredible Nigerian, St Lucian and Jamaican wedding traditions whilst preparing this feature of our lovely couple. Did you know that in Nigeria it's common for the bride and groom to pick material, then their friends and family design and make them outfits? I adore this gesture – and just wait until you see the pictures of their resulting ensembles.
Project manager Michael and his beautiful bride Alicia, who is a multimedia producer, chose their hometown of London to tie the knot on the 6th September 2014. The ceremony was held at the magnificent Southwark Cathedral, then the bridal party and wedding guests took a short stroll along the River Thames to the reception venue at the Hilton Hotel to celebrate the fusion of two cultures in style.
"We wanted our wedding to reflect our cultures. My family originates from St Lucia and Jamaica, and Michael's family is Nigerian. It was important we fused both cultures together – which means good food, great music and making it a fun and lively experience for our guests."
Photography by Nicholas Lau Photography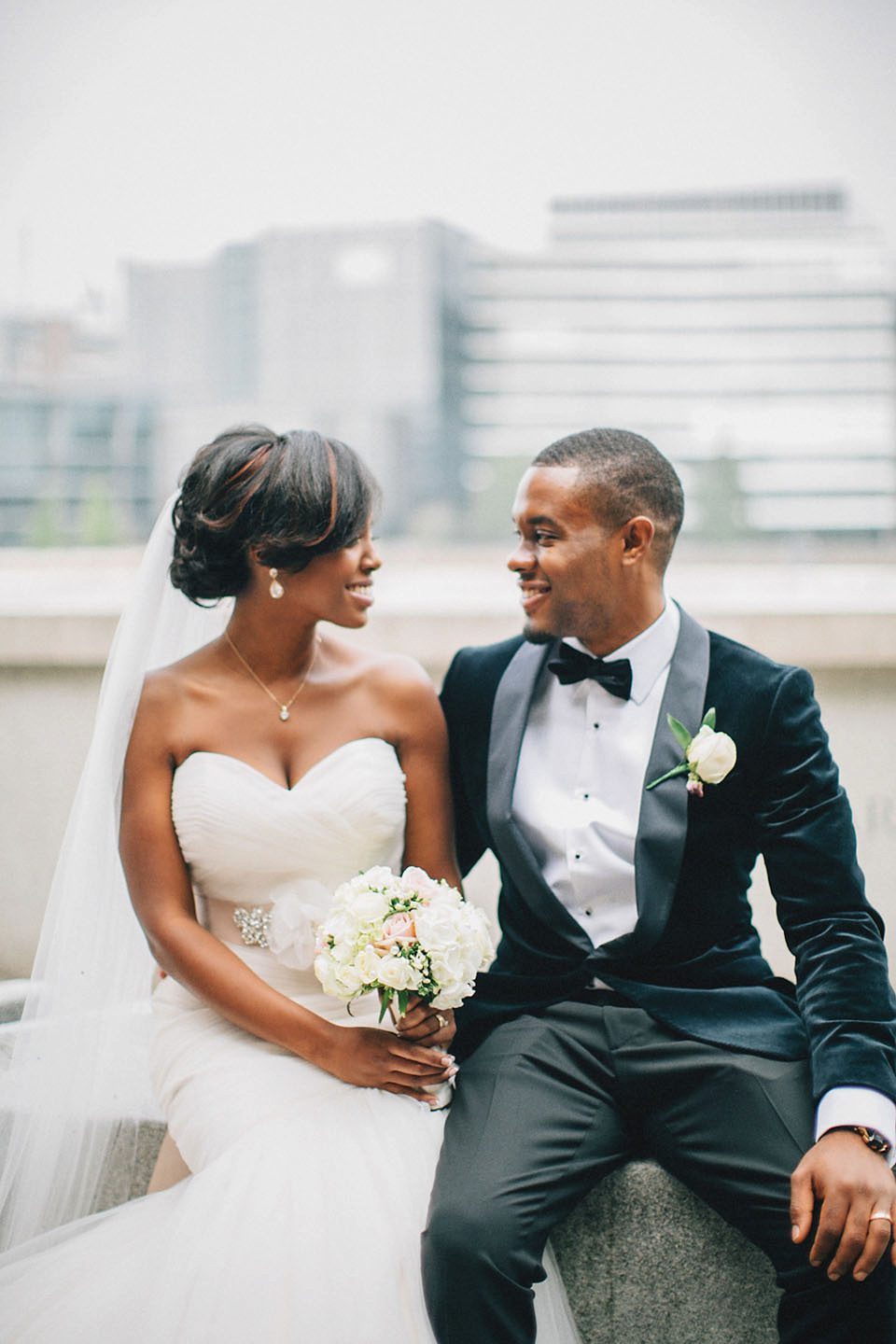 "We are both from London, so we wanted our wedding to incorporate some of the sites of city life in London. After our wedding ceremony at the cathedral, we had our entire guests take a short walk alongside the River Thames (Queen's Walk) to the reception venue."
"We both walked the river with our wedding party in tow (including stopping for a game of table tennis!). Tourists would stop us and ask for pictures, which was nice, and we even stopped by a Pret A Manger for a coffee."
Alicia's most elegant dress was from Essense of Australia, purchased from Kelly at The Secret Dress House; "I really wanted to move away from traditional lace for my dress, and immediately fell in love with the soft tulle texture of this dress. The style was simple but as soon as I tried it on I loved it. I felt the tulle and diamond belt gave it a modern twist, which suited our modern wedding."
"Michael and I met in college and have been dating ever since. He proposed on New Years Day in 2013 and both our families were present to commence the celebrations at home. I was in the kitchen helping my mum, and then all of a sudden I heard our favourite song playing in the background, at which point he took me to the middle of our living room and went down on one knee. He gave an amazing speech and I cried the whole time!"
To finish off her stylish look, Alicia added a tailor-made veil, a Debenhams hair accessory, 'Flora' by Gucci scent, fabulous Jimmy Choo heels and simple, yet stunning, jewellery pieces.
"My drop earrings are by Olivier Laudus. I wanted a simple diamond necklace to match my earrings and I found a gorgeous necklace on sale at Topshop. It was a bargain and was exactly the style I had in mind."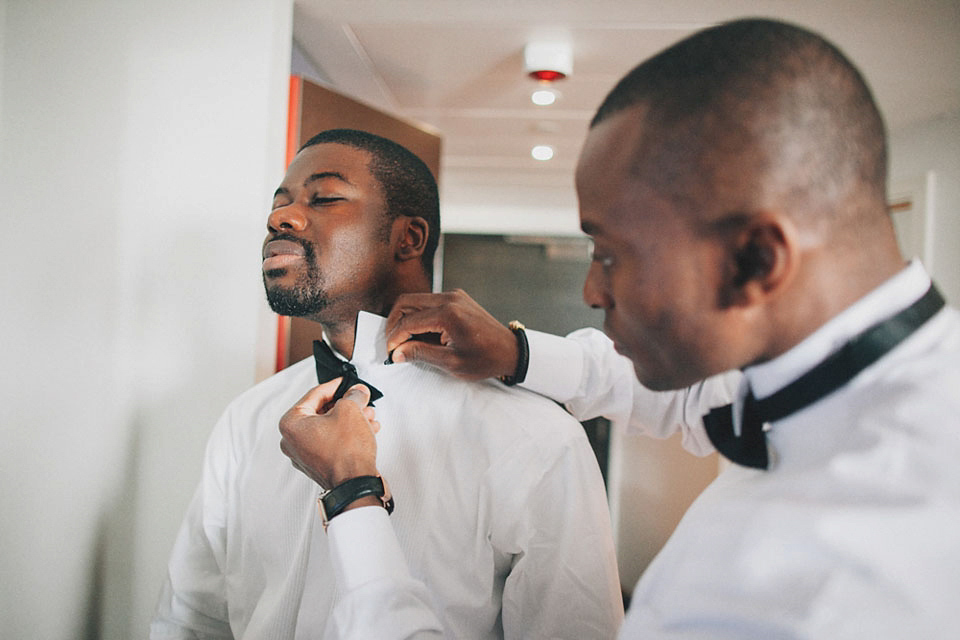 In a stylish Ermenegildo Zegna jacket purchased via Harrods and with shoes from Zara, Michael cut a very handsome figure, whilst his best men and groomsmen looked the part in their smart attire.
"We had two best men and their suits were from Marks and Spencer, whilst the groomsmen's tuxedoes were from Moss Bros."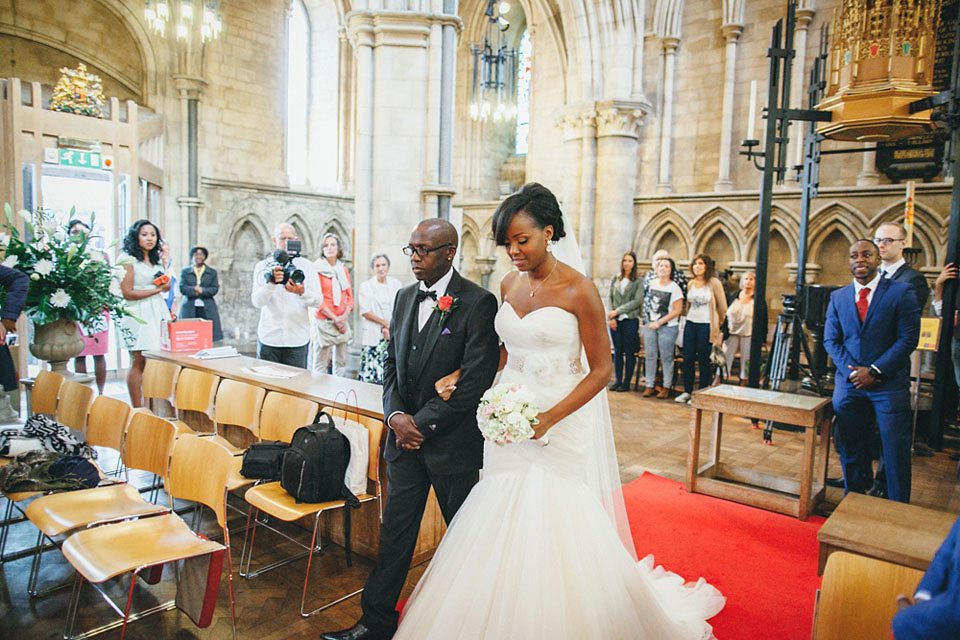 "My step-father walked me down the aisle to John Legend's 'All of Me', which was sung by award-winning Mobo artist and our good friend Rachel Kerr, who is represented by Elegance Management Artist Services."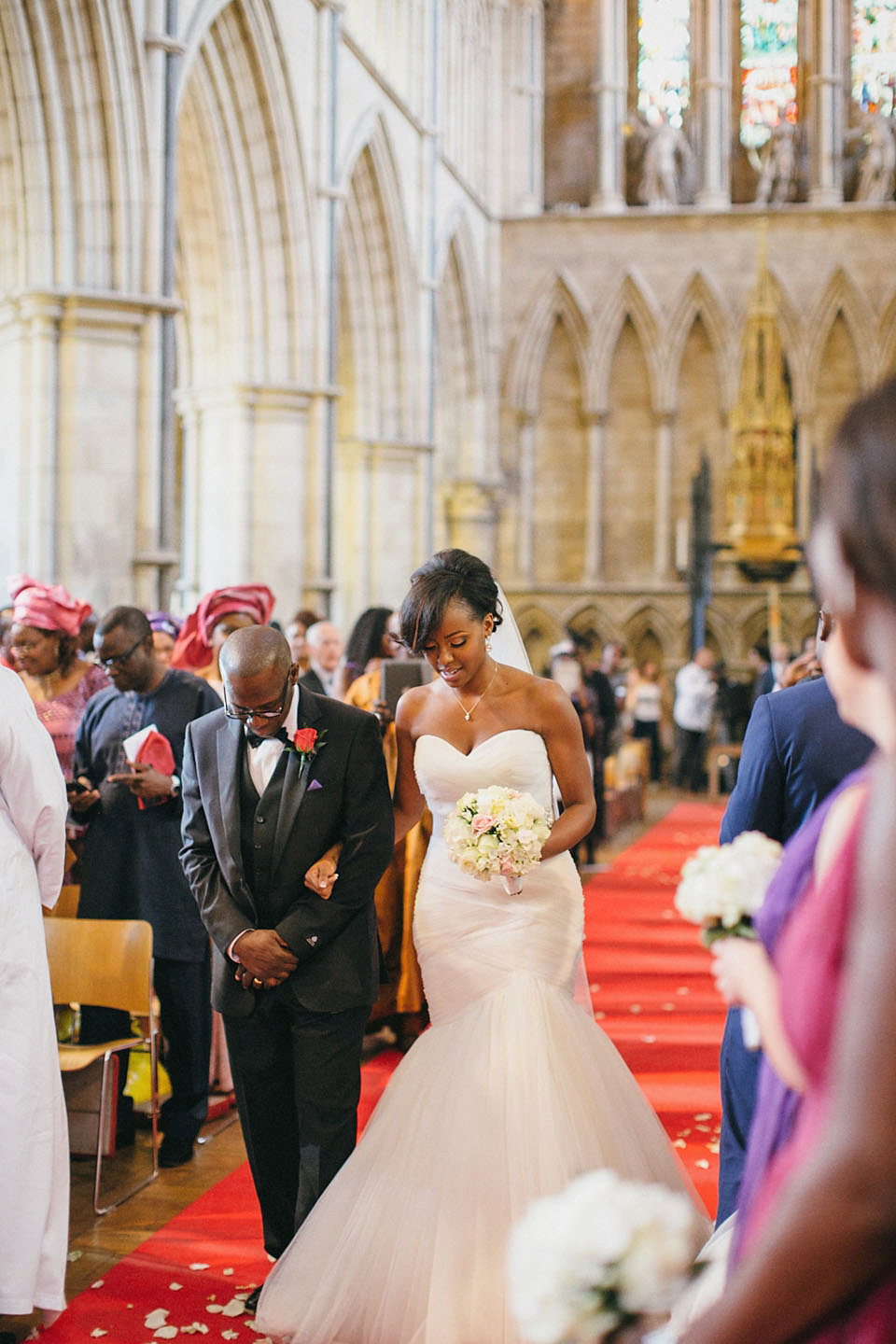 "It was important for us to have a traditional religious ceremony. Southwark Cathedral was a beautiful backdrop for our special day. We included some of our favourite Christian songs, along with more traditional hymns.  The wedding party walked down the aisle to 'Just the Way You Are' by Bruno Mars, sung by some members of Worship Tabernacle Church."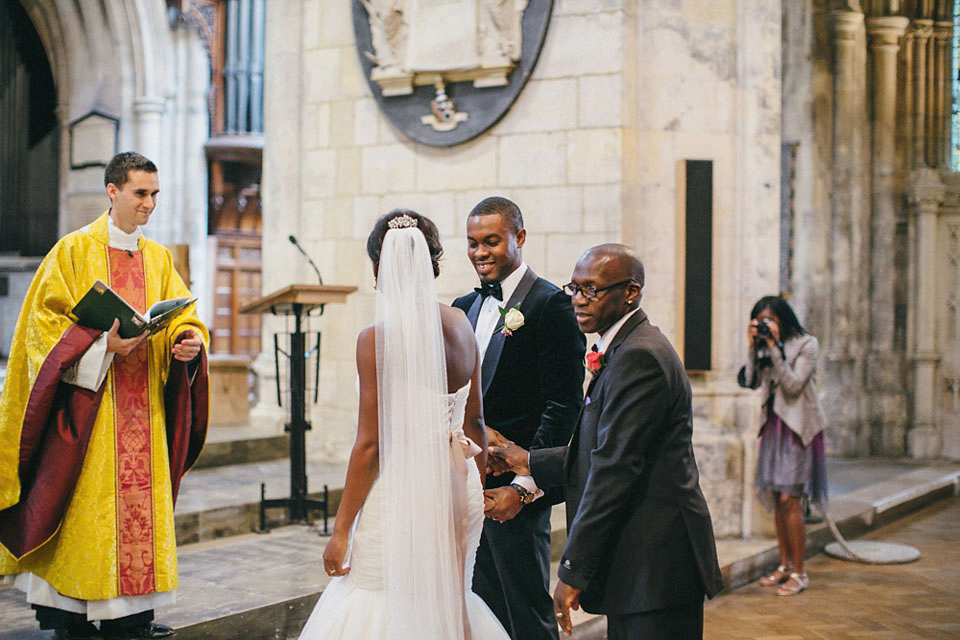 One of our readings was a poem from 'The Prophet' by Khalil Gibran…
Then Almitra spoke again and said … 'And what of Marriage, master?'And he answered saying: You were born together, and together you shall be forevermore. You shall be together when the white wings of death scatter your days. Aye, you shall be together even in the silent memory of God. But let there be spaces in your togetherness, And let the winds of the heavens dance between you. Sing and dance together and be joyous, but let each of you be alone, Even as the strings of a lute are alone though they quiver with the same music. And stand together, yet not too near together. For the pillars of the temple stand apart, And the oak tree and the cypress grow not in each other's shadow.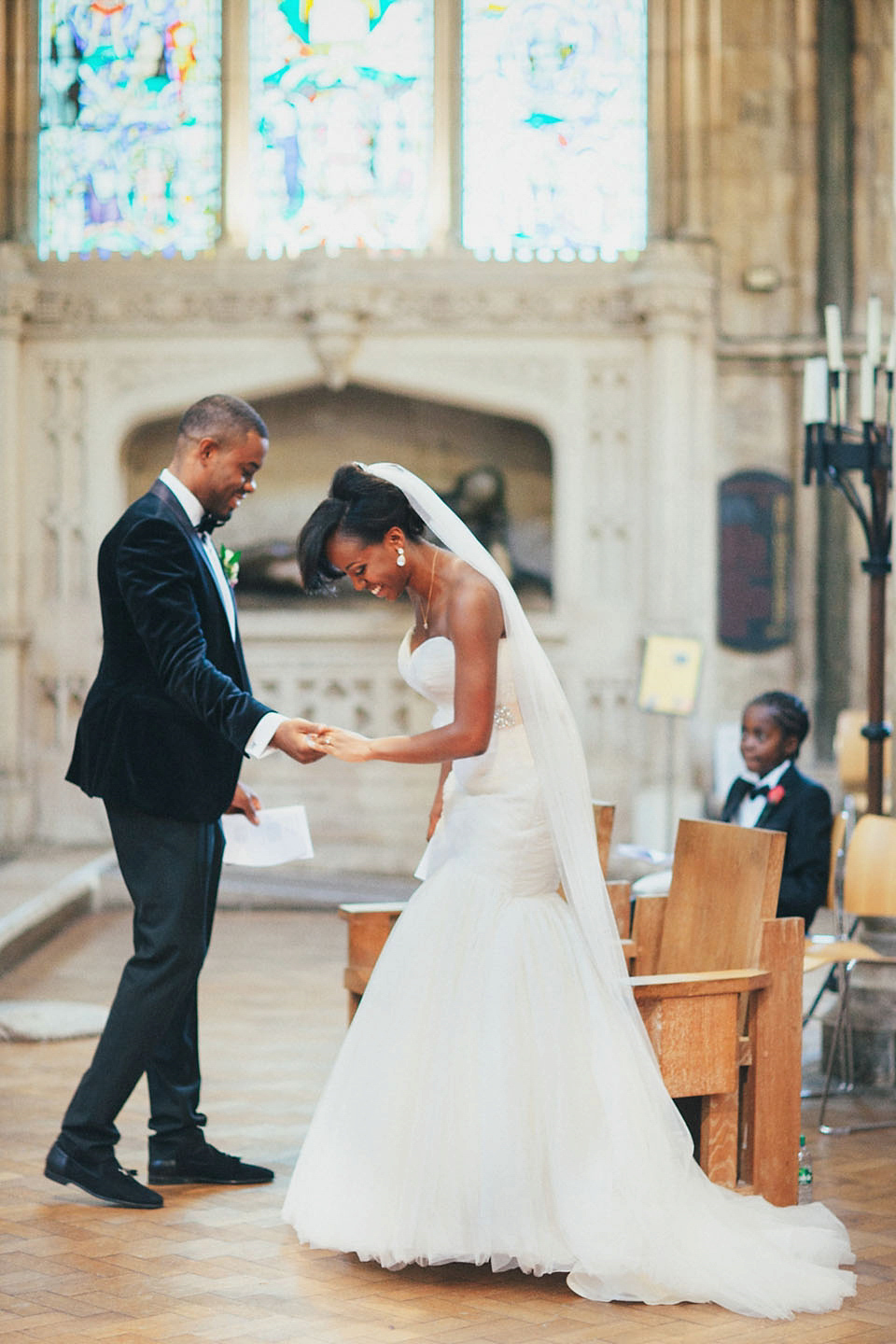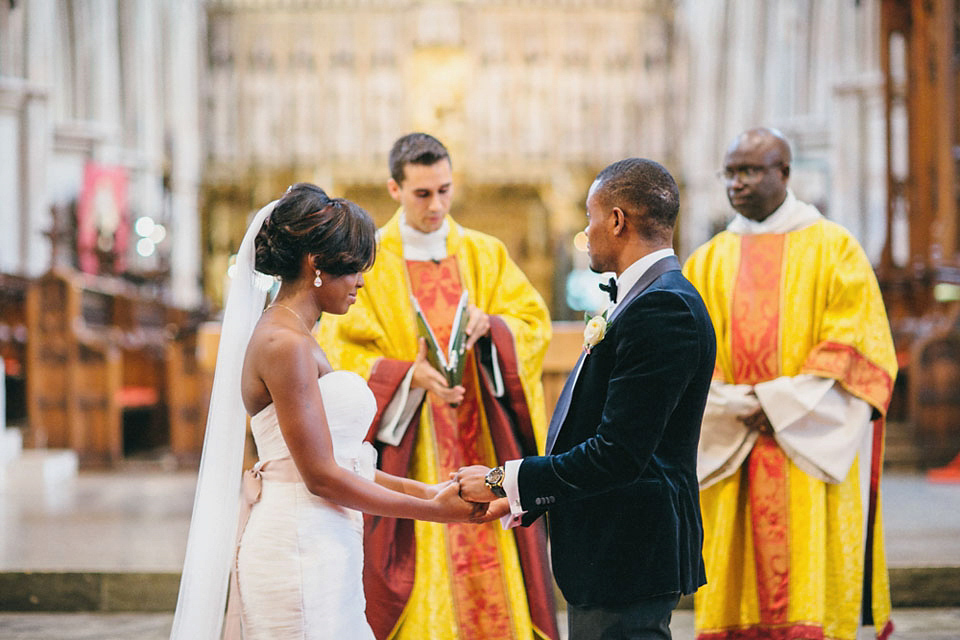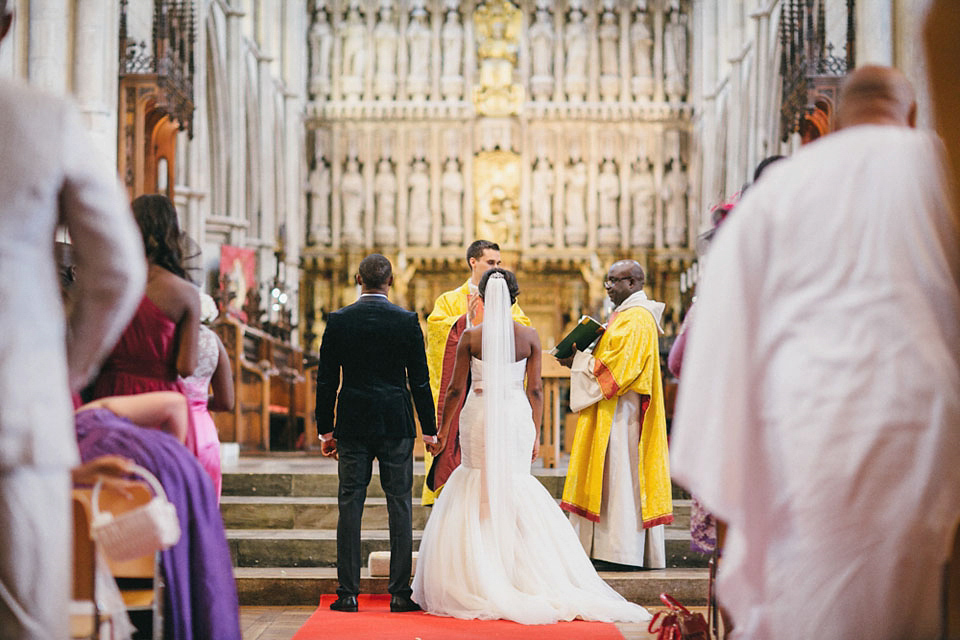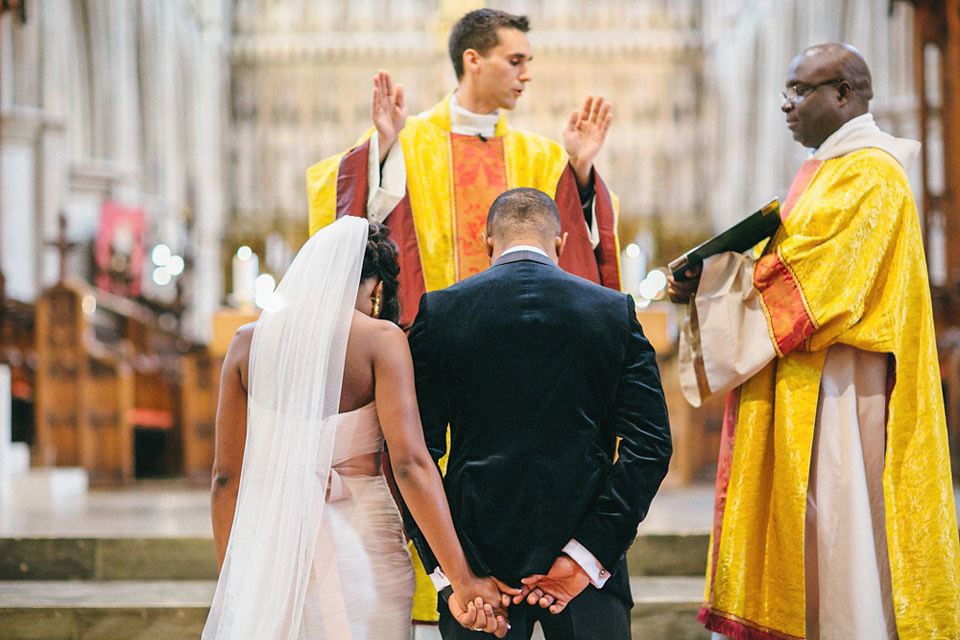 The bridemaids' stunning floor-lengths gowns were tailor-made in either vibrant purple or fuschia and they all wore their own shoes, with hair styled by Andree Marie.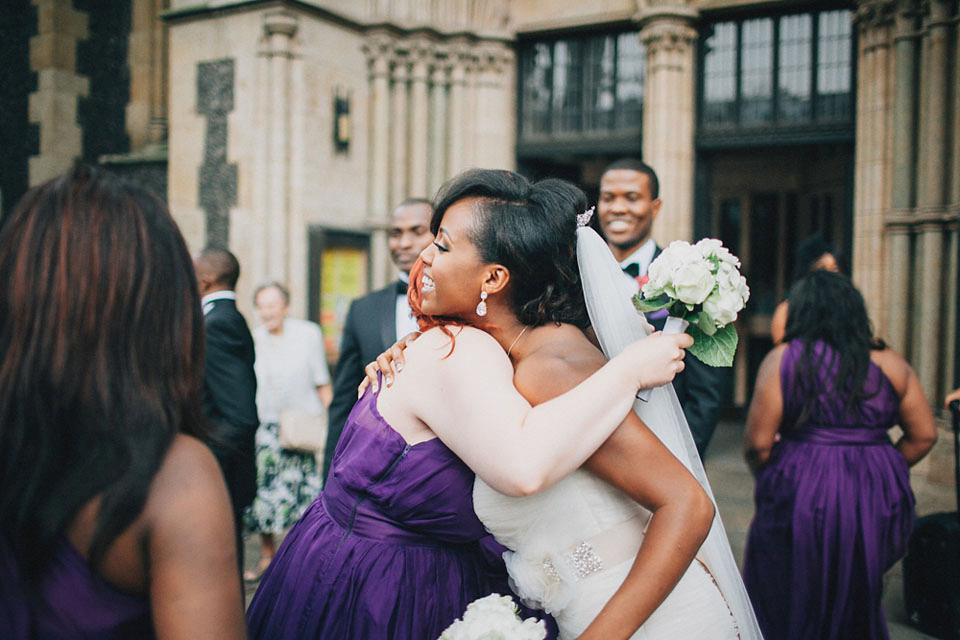 "Lin's Flowers created my pretty bouquet of ivory, white, soft pink avalanche and akito roses, spray roses and hydrangeas. I have always loved roses and I wanted a soft style bouquet to complement my dress."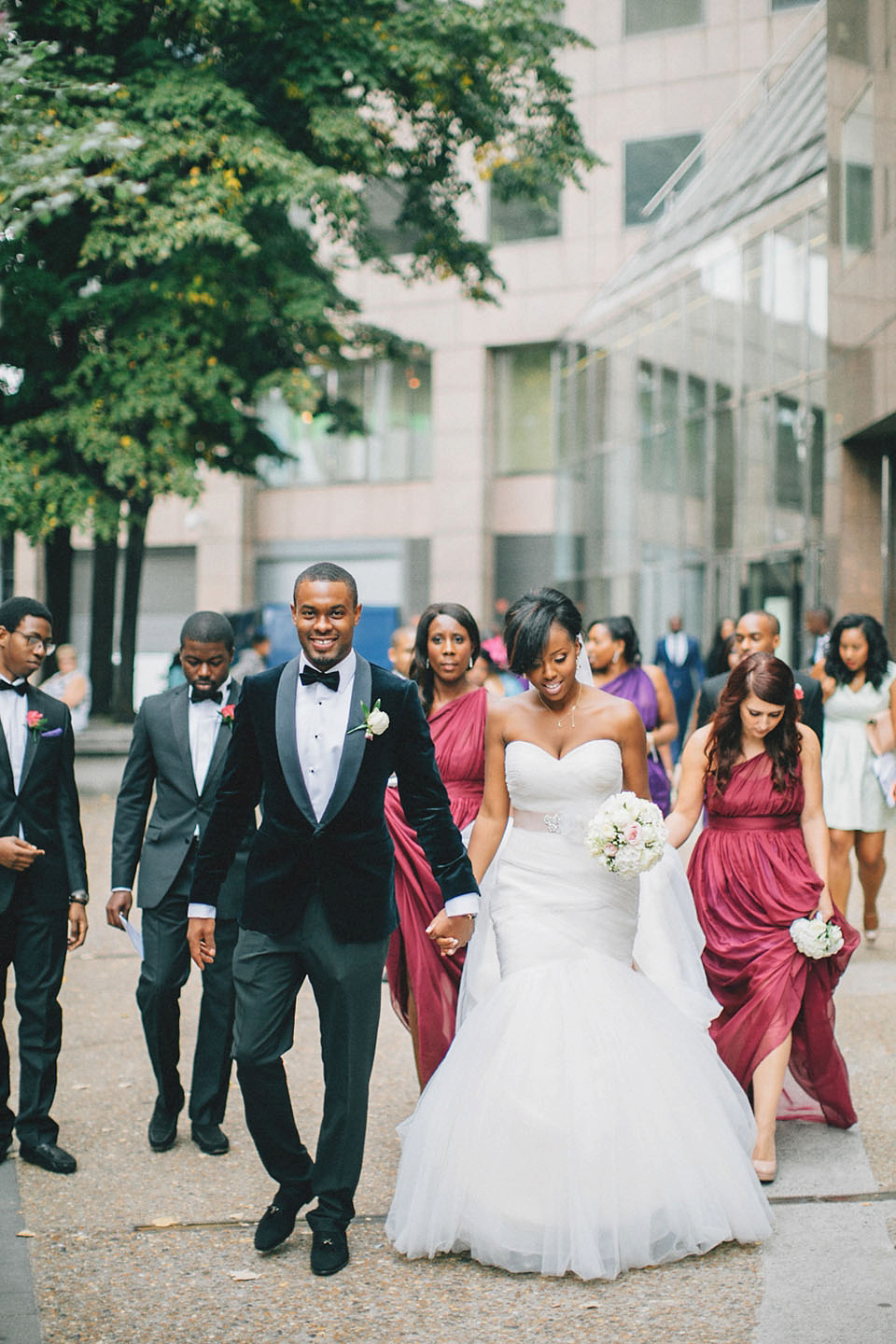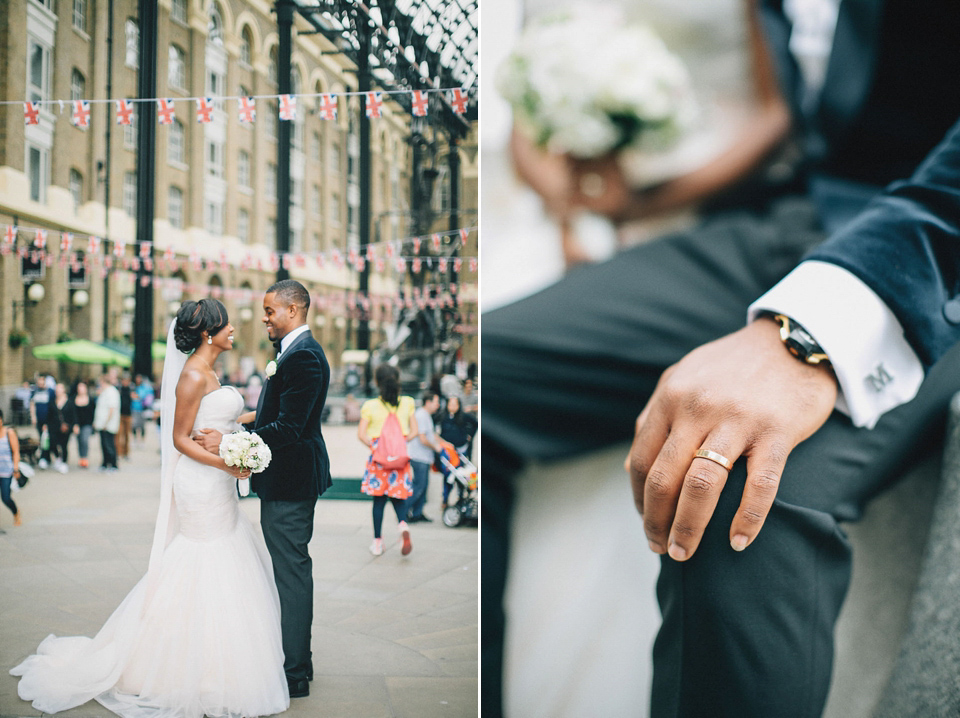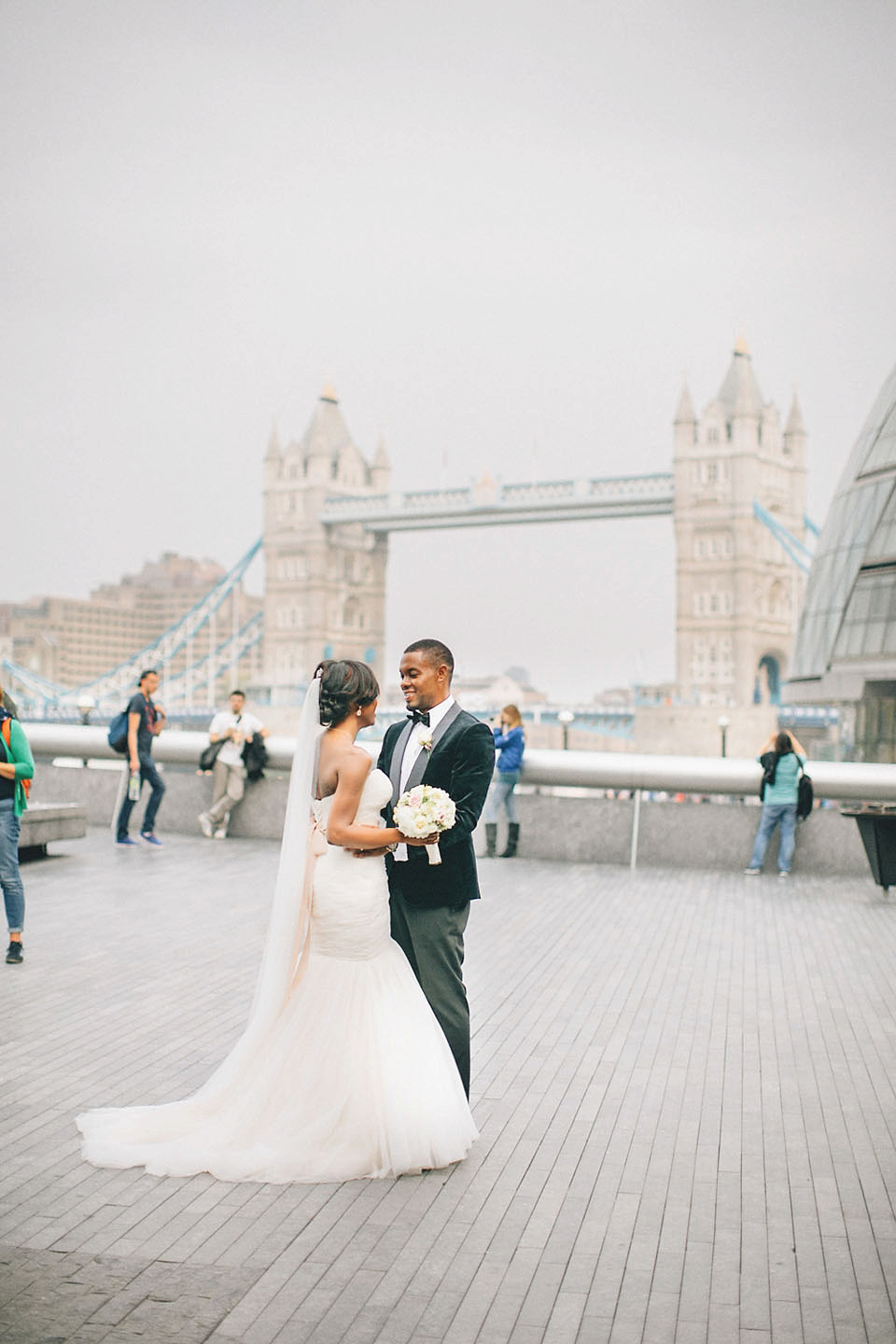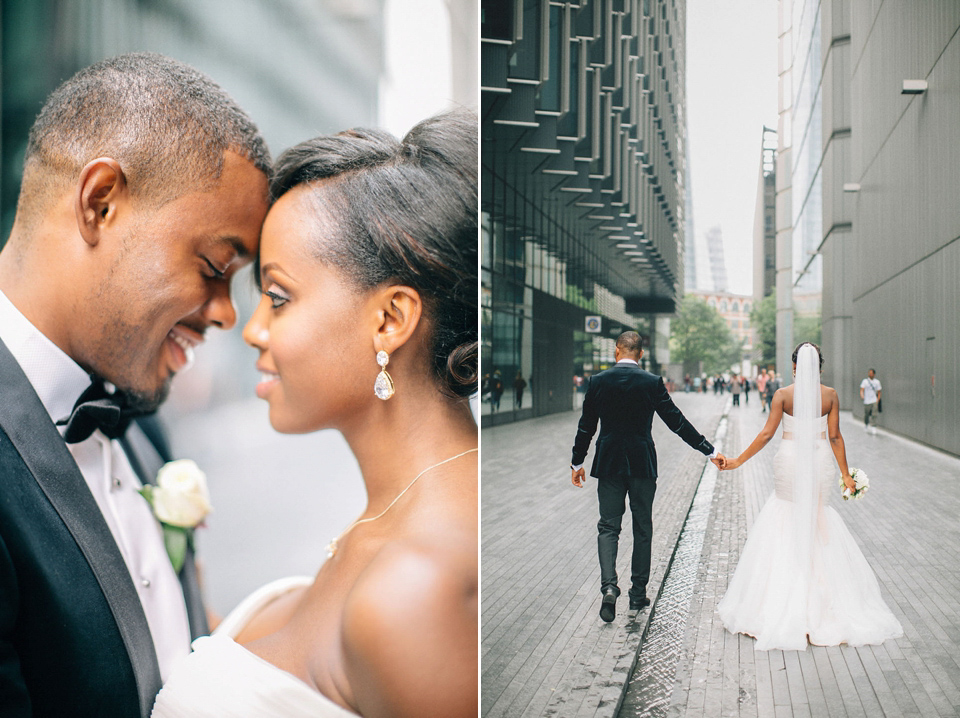 The couple had wedding coordinators on hand on the day to assist the movement of almost 300 people between venues; their friends Chantel and Shakirat from Dearest Day Events, whilst Mary from Made Events also supplied consultation advice and assistance on the day. I so love it when the wedding congregation walks from the church to the reception venue and in this case, the couple and their bridal party stopped at various spots along their River Thames route for iconic London shots.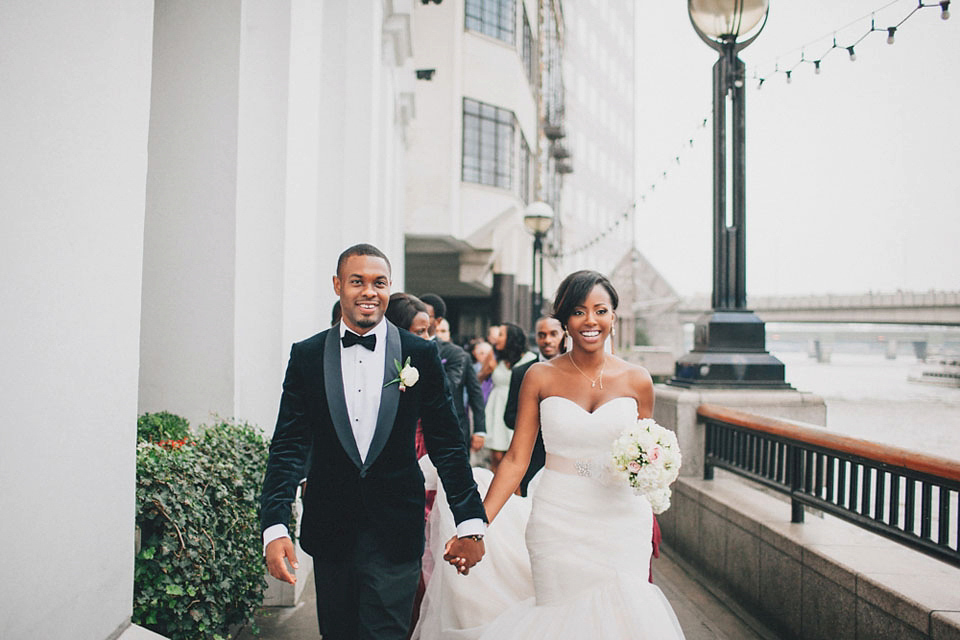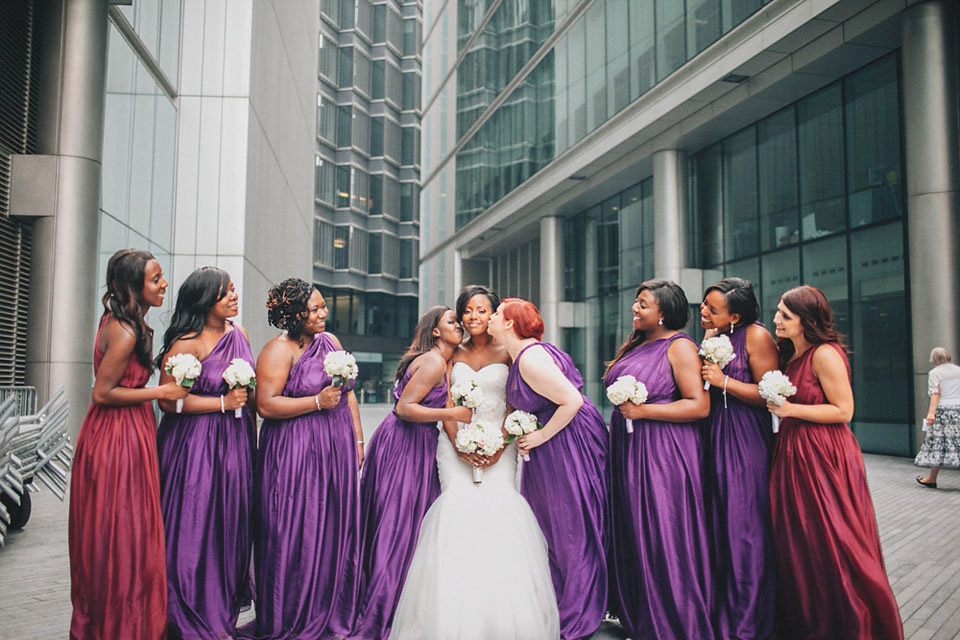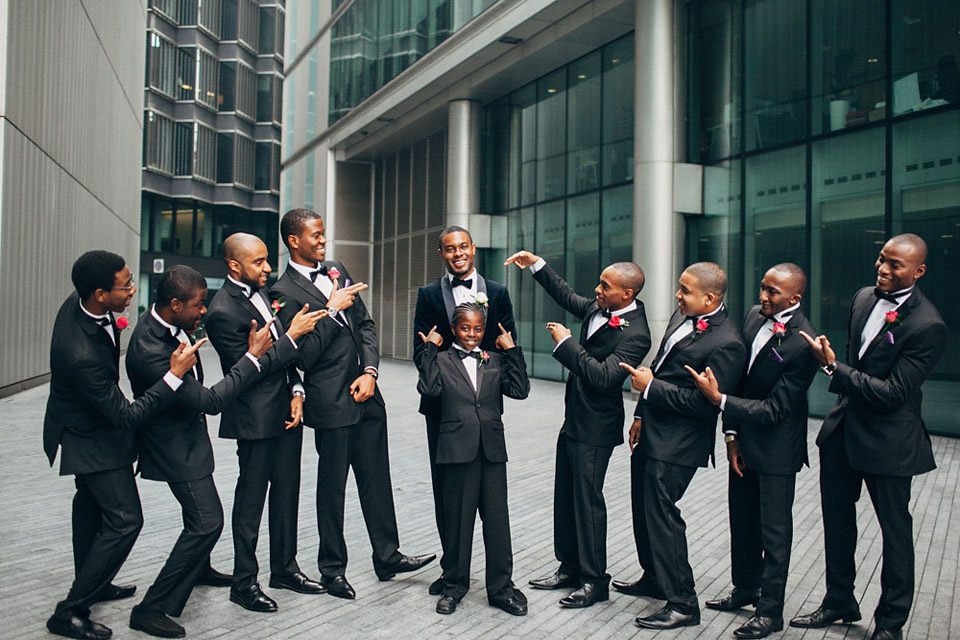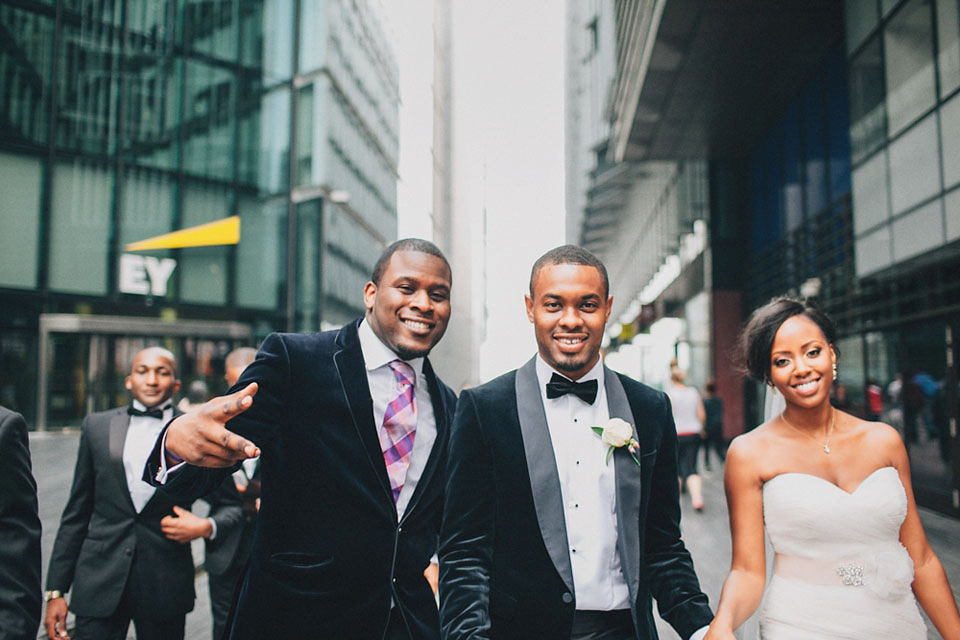 Alicia and Michael gave each guest a CD of their favourite songs, which included a caricature picture of their faces on the front cover. Good friend Gemma Galvin designed their stationery, and lots of flowers and lights were chosen for decorating the venue.
"We used large floral arrangements to style the venue and lots of purple up-lighters to bring out our colour theme of purple and fuchsia."
The tasty cuisine was a mix of traditional Caribbean and Nigerian food by Cuisine al la Leke. And the couple's cake, designed and made by Cynthia from Pretty Gorgeous Cake Company, was a deliciously divine (and necessarily tall) creation.
"We needed a cake large enough to feed all of our 270 guests! We wanted a cake with a simple design so chose all white, and used flowers to give it a pop of colour and extra height."
"My favourite of the day was listening to the speeches and seeing all of the happy faces around us – some laughing, some crying – and I thought we are very blessed to have these wonderful people in our lives. Some of our family travelled all the way from St Lucia, Nigeria, America and Austria just to celebrate with us. It meant so much that they were able to share in our special day and members of our close family and friends gave amazing speeches, including funny anecdotes about our childhood."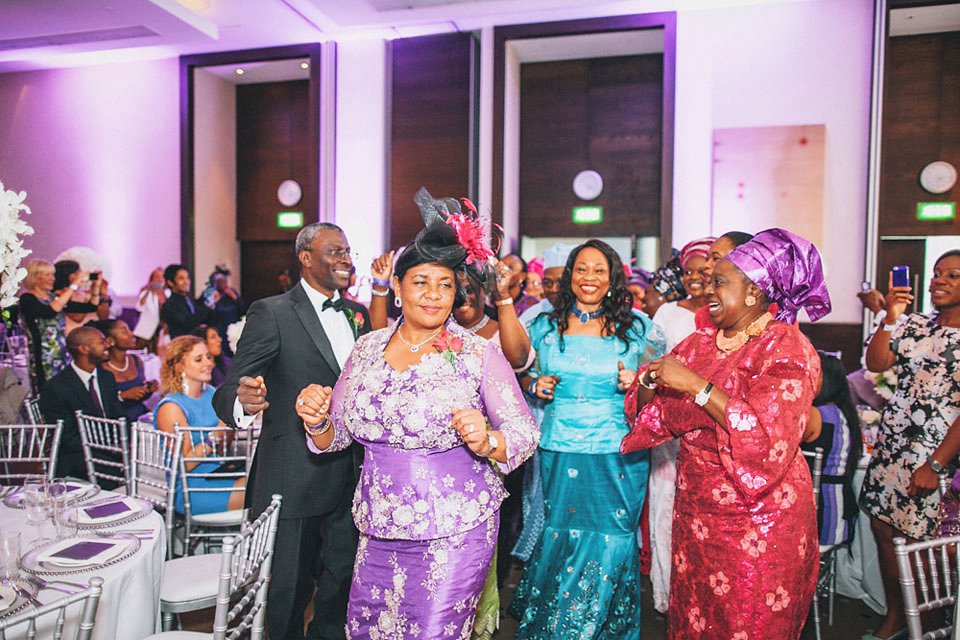 The entrance dance to the reception was exhilarating and energetic and this moment was caught perfectly by photographer Nicholas from Nicholas Lau Photography.
"In both our cultures, it is common for the bride and grooms family and friends to dance into the wedding reception, followed lastly by the bride and groom. We couldn't resist entering the hall to a synchronised dance routine that had all our guests dancing. Nicholas our photographer did a great job capturing the energy of the day."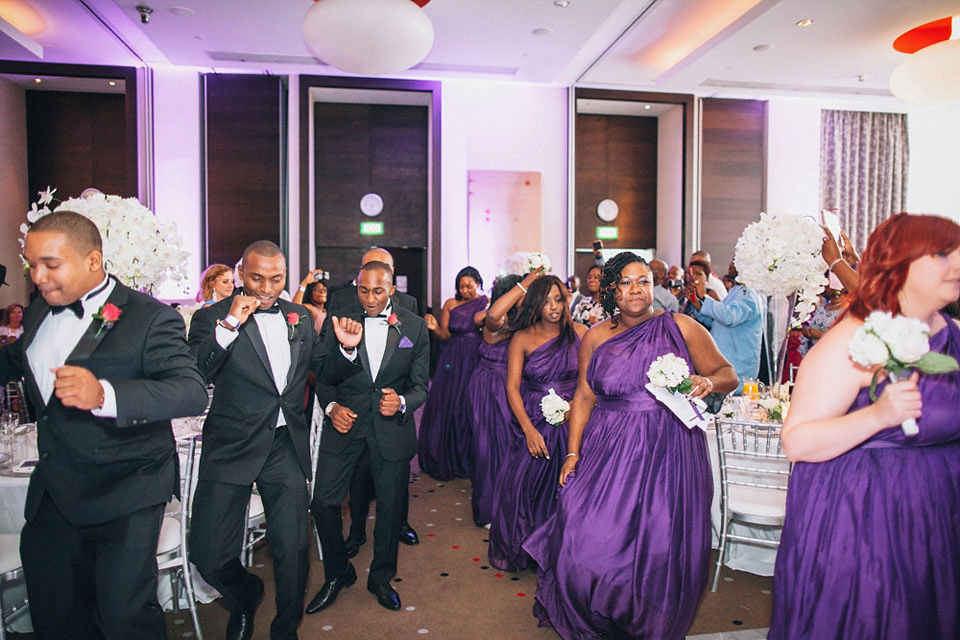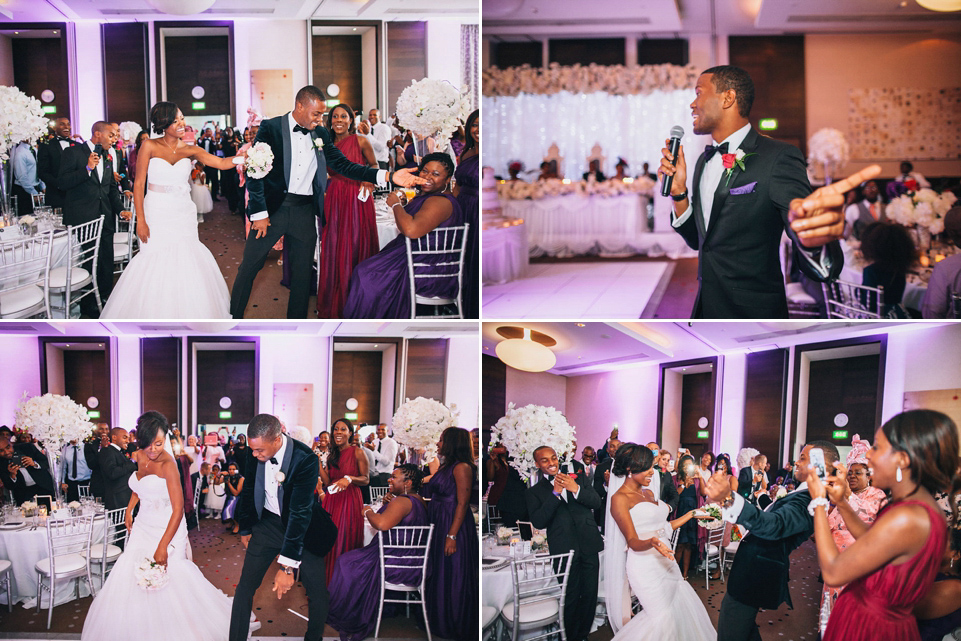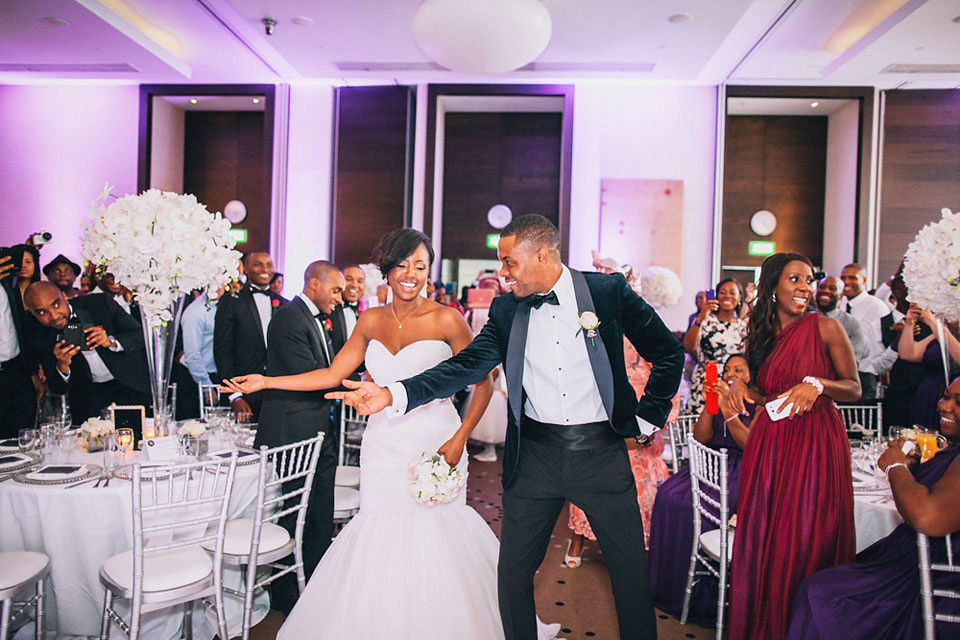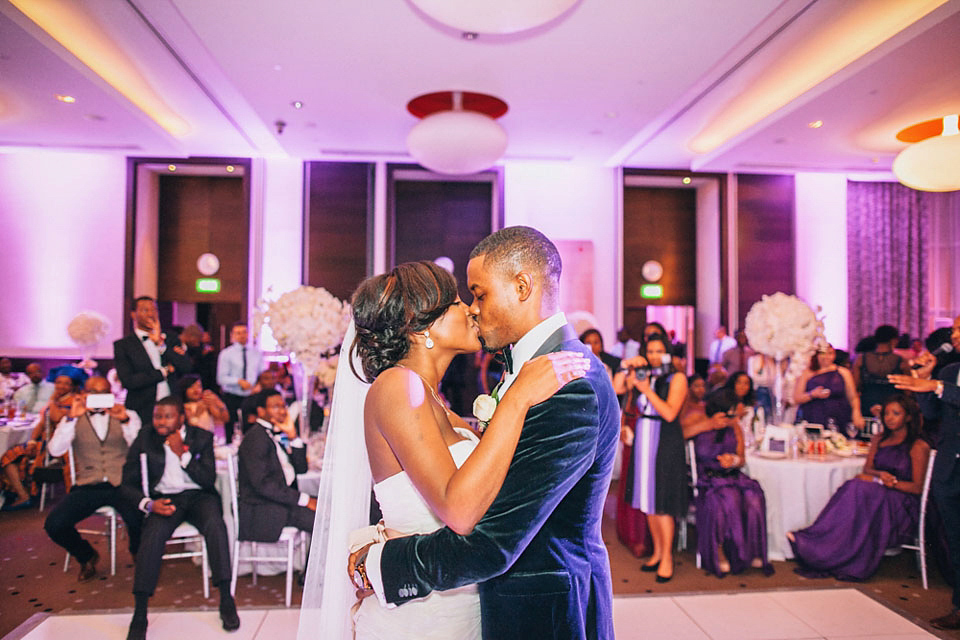 "For the evening party, some of our guests changed into traditional Nigerian attire (called aso-ebi). In Nigeria it is common practice for family and friends of the wedding couple to design and make an outfit using material picked out by the wedding couple. We chose a purple and pink pattern for our guests, bought from Finetex, and our outfits were made in Nigeria.
In the evening I wore a white skirt and blouse, with a fuchsia/gold gele (head tie) and ipele (shawl). Michael wore an ivory and gold buba (kaftan), sokoto (trousers) and fuschia/gold fila (cap)."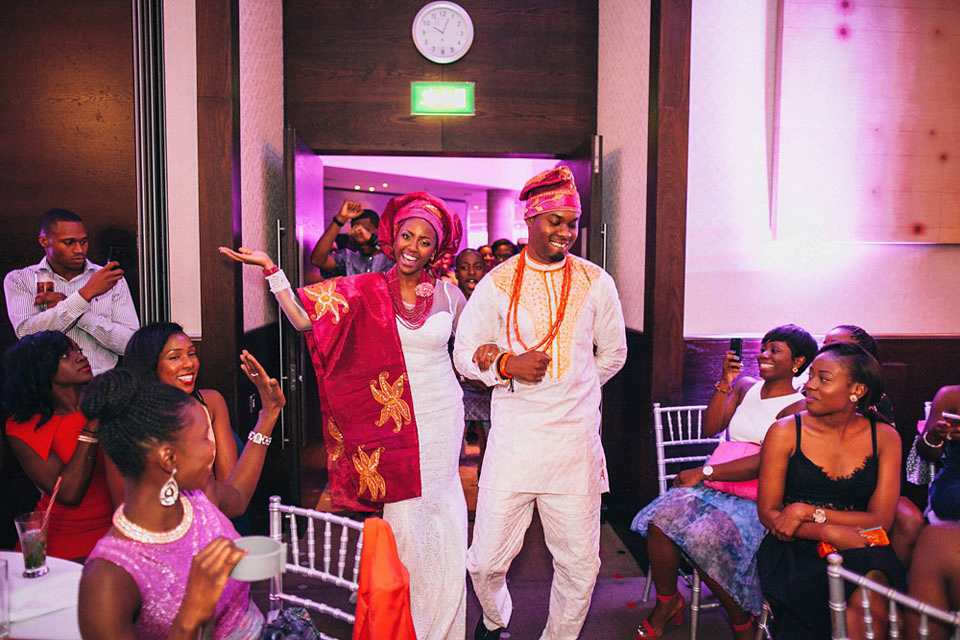 Family friends performed a collection of songs and entertainment was by Dean Carby from VNV Live.
"Dean and his team DJ'd, MC'd, provided AV and also planning, coordination and logistical advice in the run up to the wedding. His master-of-ceremony skills were second to none, and many of our guests said he was excellent."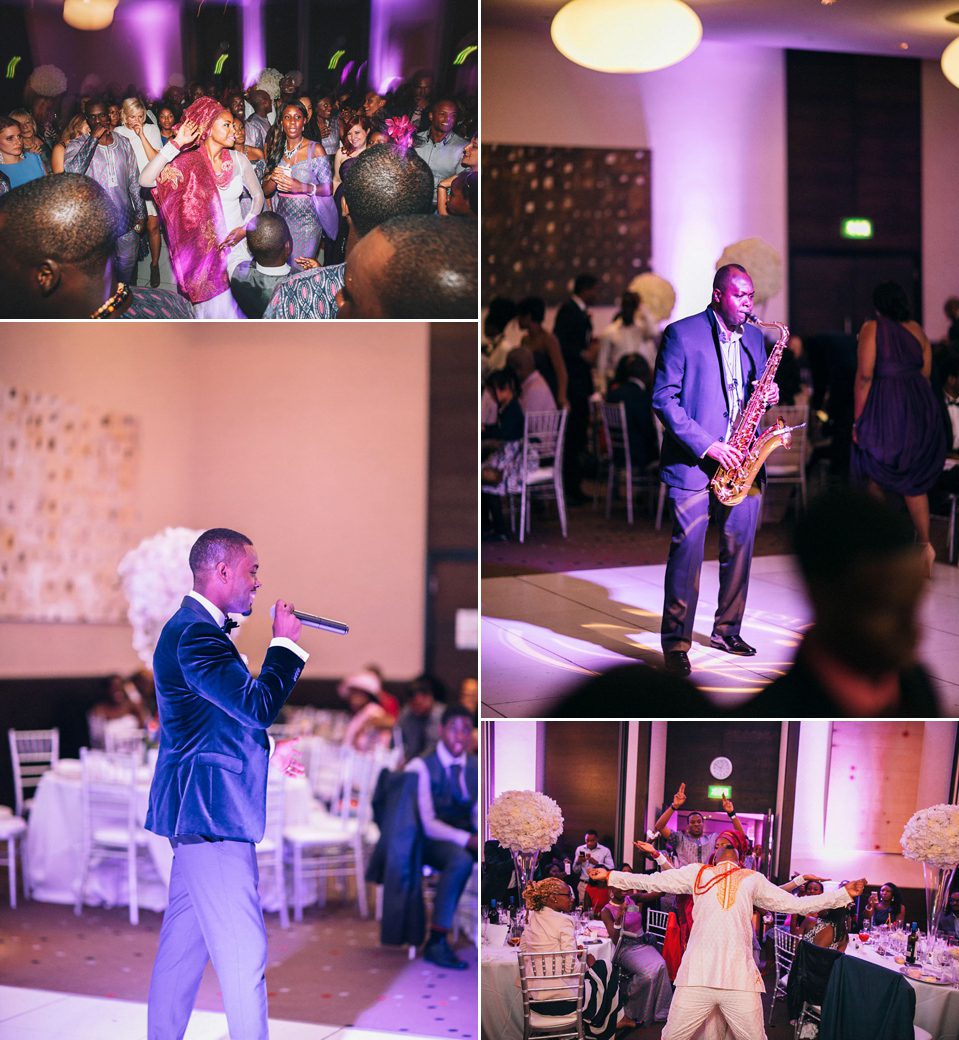 Words of Wedded Wisdom
"Weddings can be stressful, daunting, time consuming and confusing. It can take a while to find your momentum. But every late night, every stressful moment, every meeting, every excel sheet was worth it because my wedding was the best day of my life and a moment I will never forget. Here are my 5 top tips for planning your special day: 
Don't panic! As soon as that engagement ring relaxes on your finger, the quick fire round of questions will commence: Congratulations! Have you set a date? When are 'we' going dress shopping? Who is on your bridal train? How many bridesmaids are you having? And so on … don't panic when these questions or similar are asked. It's fine if you don't know the answer to any of them. You will soon, and it doesn't have to be right now. My suggestion would be start with agreeing on a date (or month) you want to get married and work back from there.
There is no harm in being organised – I used to get a lot of laughs and looks of astonishment when I pulled out my wedding production schedule spread sheet. My husband and I treated the wedding prep like it was our side job and we were the project managers. This level of organisation really helped us on the day and in the run up to the wedding. If you don't enjoy planning – delegate! If you like planning – delegate! Whichever way you look at it, you will need to get your planning head on in some shape or form.
Have a support network of family and friends around you – Having a good support network around you really helps on the day and the run up to it. Try to play to your friends' strengths. If one of your friends is very visual, get him or her to help you with decoration ideas, or if your Mum loves desserts maybe she can help you find a wedding cake? I was fortunate enough to have that and I couldn't have done it without them.
Remember this is a partnership! – Sometimes it's easy for brides to forget it's a team effort. Whether you feel like you're flying solo with all of the preparations, or ignoring your partner's requests, as they're too ridiculous, do remember it's a partnership! You need to reach a compromise as the day really is about both of you.
What's important to you? – I couldn't have planned the wedding without the help of my husband. Don't get me wrong, we had our fair share of minor disagreements but ultimately it was a great partnership that worked. We had our list of important things we weren't prepared to compromise on, and the rest fell into place."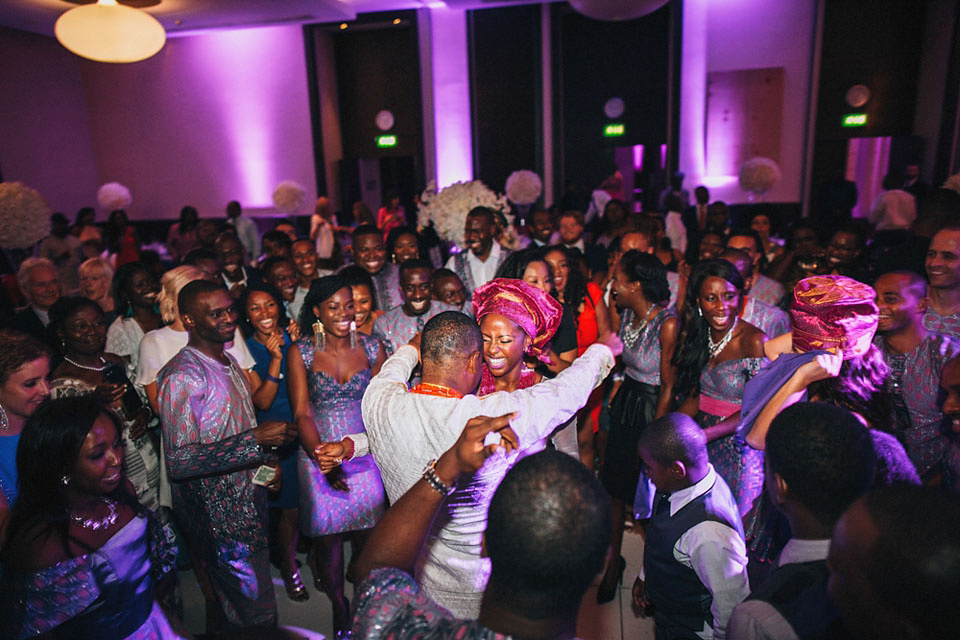 Absolutely brilliant tips from the beautiful bride – thank you so much Alicia for taking the time to help future brides and grooms with such pearls of wisdom! I've loved sharing your special day with our lovely readers and wish you and Michael a lifetime of adventures – and keep on dancing. Thank you also to Nicholas for capturing the excitement and magical moments in these wonderful images.
And if you've fallen for Alicia's gown, be sure to view these other lovely Essence dresses here.
Love Jo -x-