OK, so this is a feature that all of us at Love My Dress are pretty excited about. Not only are we looking at the beautiful wrap gowns from one of our favourite bridesmaids' labels, twobirds, but we're also putting lots of beautiful women into the spotlight. So, instead of showing you images of models in dresses, we're showing you just how confident and wonderful everybody and every body can look in a twobirds bridesmaid dress.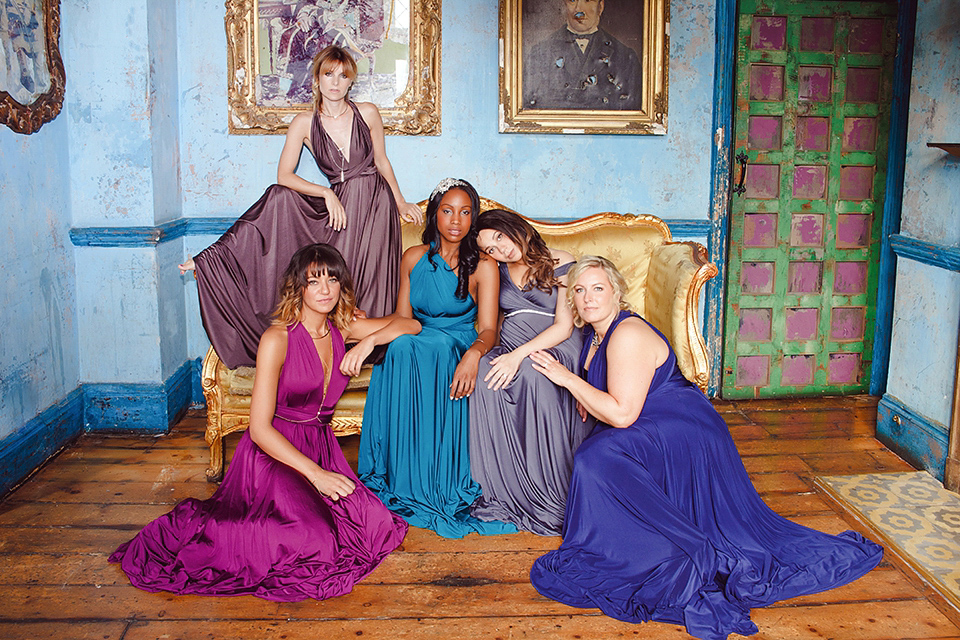 twobirds are absolutely passionate about body confidence and they want everyone who walks through the door of their London showroom to look and feel amazing. Say goodbye to any notion that a woman has to look a certain way to be gorgeous and embrace the twobirds mantra that real beauty comes in all different shapes and sizes.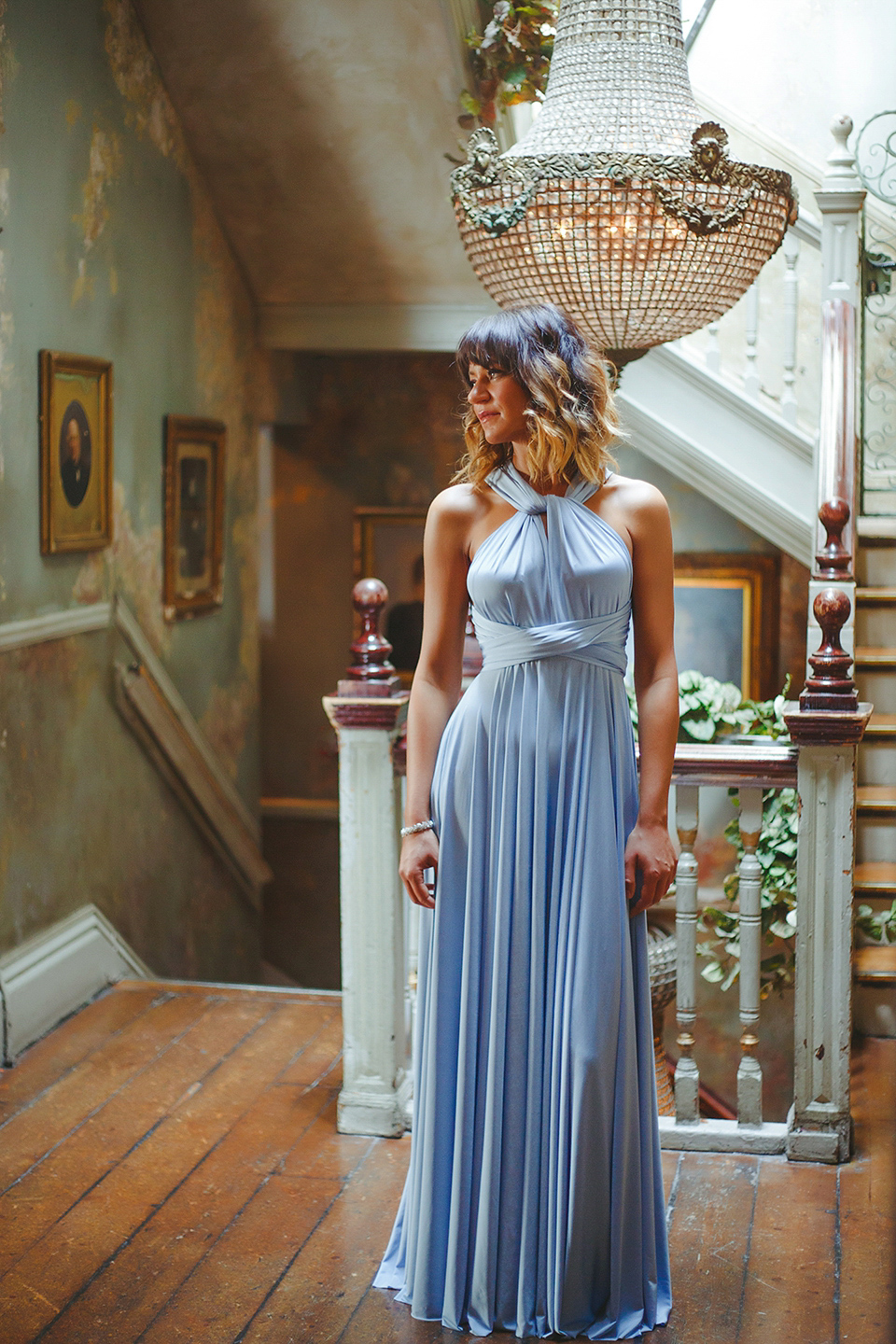 And those aren't just pretty words on a page – with twobirds, that desire to create fantastic gowns that suit everyone is an integral part of the company's success. With their unique wrap dress design, the two sizes on offer cover everyone from a size 4 up to a size 24 and it doesn't make the slightest difference if you lose or gain a few pounds or even fall pregnant. They truly understand that a woman's body changes and they want nothing more than for you to wear a dress that will always fit perfectly and always be comfortable and great to wear.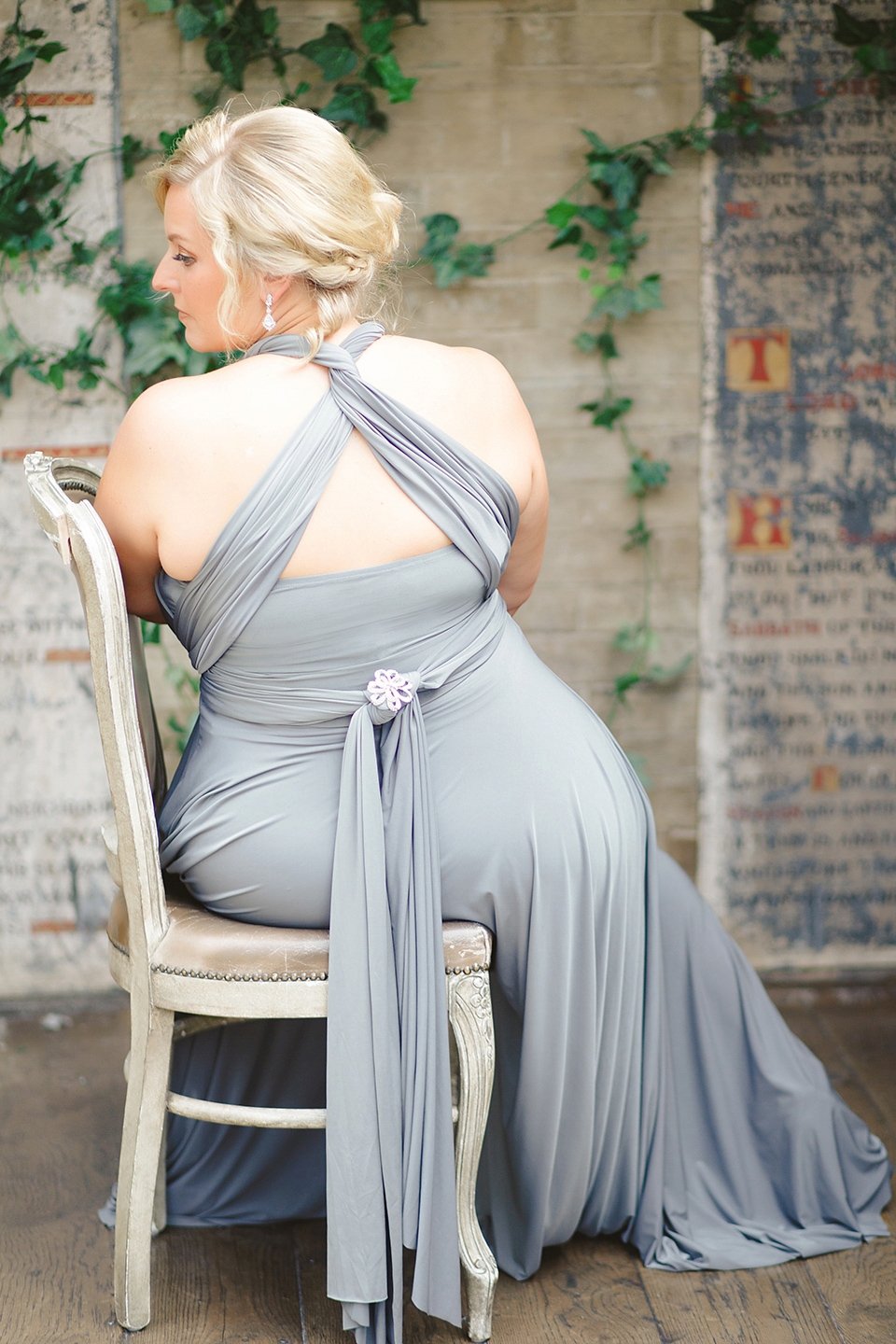 twobirds always create the most delightfully feminine and elegant silhouettes and they also give you so many options – wrap it and wear it how you will and put your own stamp on your look. The yards and yards of flowing fabric that goes into each Classic twobirds gown gives a superb movement and then there's the romantic feel of the Tulle collection that's just as versatile as the original Classic design.
To prove just how flattering the twobirds bridesmaids dresses are on women of all sizes and how marvellous they are to wear, the twobirds team organised a very special shoot in London. Five incredible women came together at a spectacular venue to be looked after by twobirds, a hair and make-up artist and, of course, a professional photographer. It was an experience that no one will forget.
As you can see from the awesome images that accompany this piece, everyone looked utterly sensational in their twobirds gowns but let's just hear a little from these super special models to find out just what they thought:
"I love twobirds dresses," says Rosie. "They're so elegant but at the same time, completely comfortable – they are like a second skin and I love the way the fabric hangs. The shoot day was a lot of fun and although it's always hard to enjoy pictures of myself, I really like these images."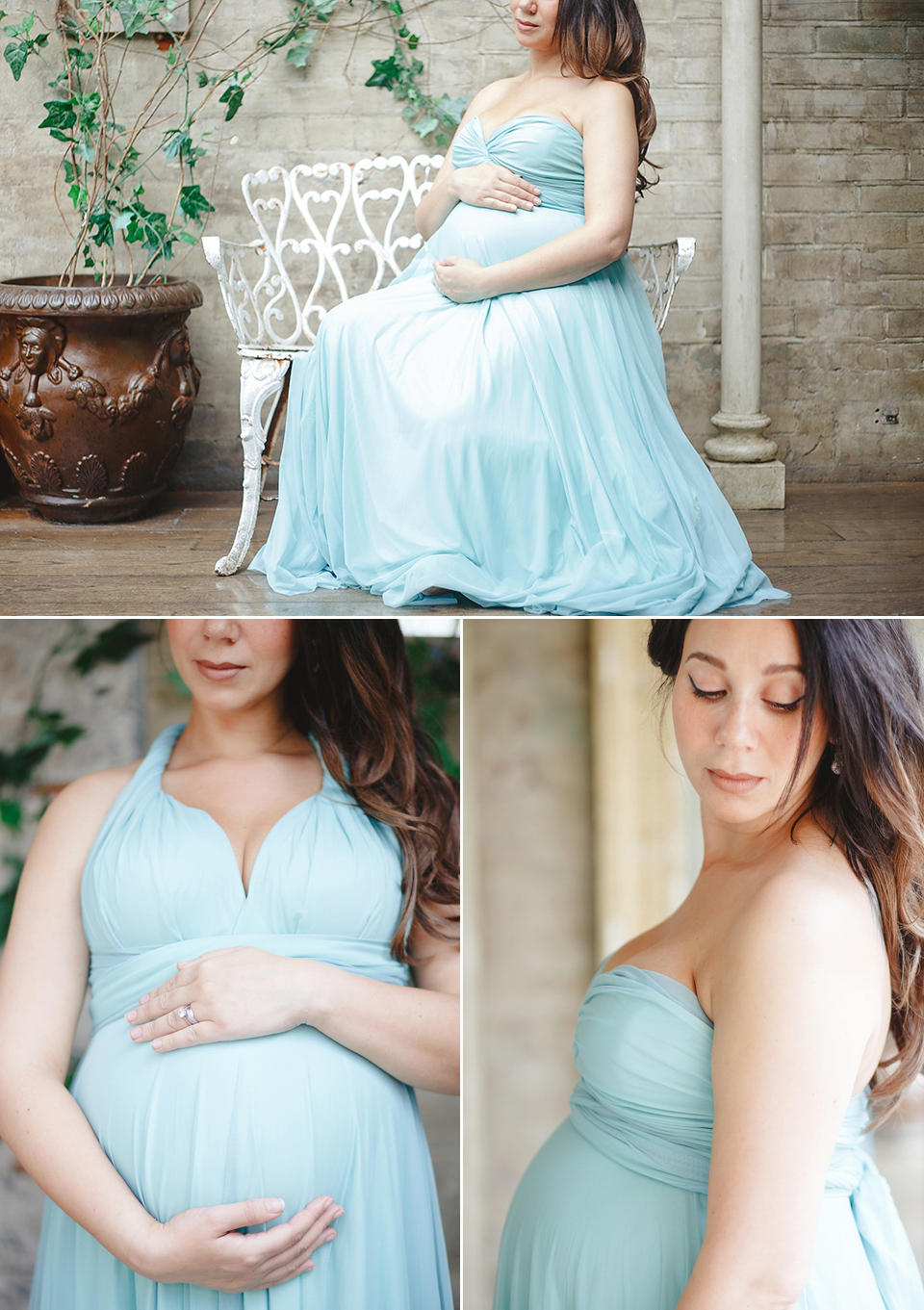 "I was attracted to the twobirds brand because of that fact that all 'maids can wear it," explains Anna. "At my sister's wedding, we ranged in size and height and we all felt comfortable at elegant. That's something that's really hard to find. twobirds dresses are beautiful and fit so well – as soon as you put one on, you feel elegant."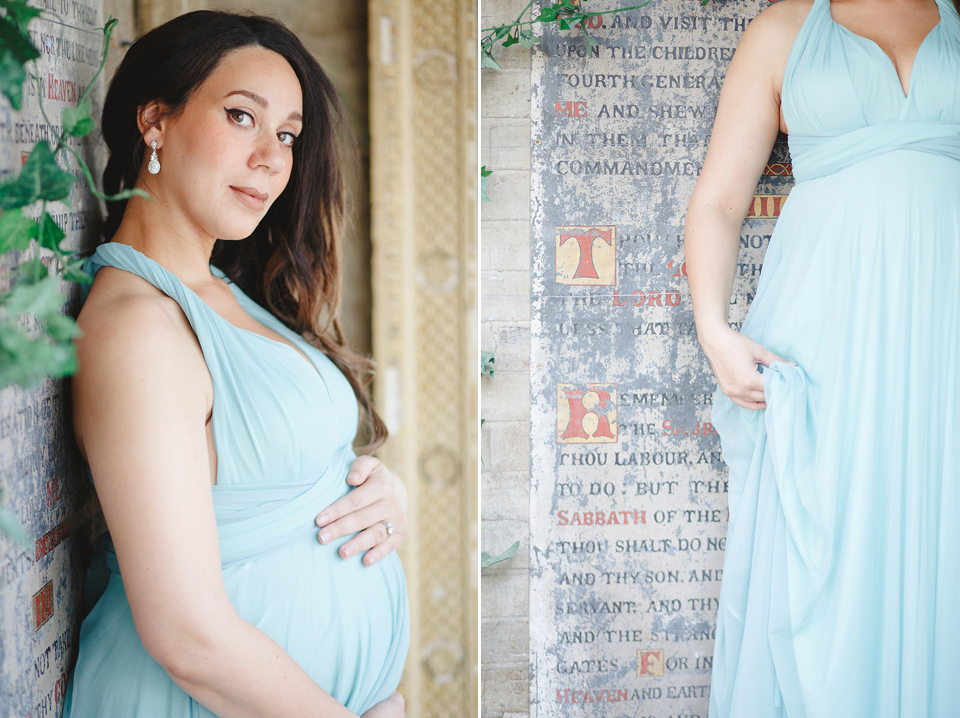 "I'd previously purchased an ivory dress from twobirds as my wedding gown which I loved," says Stacey. "I had no idea how I was going to look or feel on my big day and I didn't want to leave buying the dress to the last minute so I had to choose a dress that would grow with my bump and be light enough for a summer wedding in Las Vegas. The fact that the dress required little to no alteration on the length (I'm only 5ft1in!) was ideal. It was also very flattering on the bust and bump and I had the option to play them down or show them off!"
Another of the models, Louise, says: "I'd purchased a gorgeous twobirds dress for my 40th birthday party so when I was asked if I'd like to be a model for the day, I said yes! I was so flattered to be asked. twobirds dresses are absolutely gorgeous. I love the fact they are so versatile and they feel amazing on – so floaty. You feel like a princess."
The whole shoot experience was also one that all of the women enjoyed as the final model, Fontaine, explains:
"I was super nervous on the shoot say and wasn't sure what to expect. However, once I was introduced to everyone, it felt like a girly pamper day. When I first saw the pictures, I couldn't believe it! I've never been a bridesmaid so I was really overwhelmed – the hair, the make-up and the dress were perfect. The versatility of the dresses is what I love the most. The fabric is extremely flattering and there are such a huge variety of colours. Also, I'm quite tall and love the fact that the dresses come in a longer length."
We just adore this 'real women' shoot from twobirds and we'd love to thank the team and, most especially, these terrific women for allowing us to share these very special images with you all today. If it were possible, we're even bigger twobirds fans than ever before!
Adult dresses from twobirds start at £215. The twobirds London showroom operates by appointment only so do get in touch via [email protected] or on 020 7836 3222 to book a time for you and your maids to visit. You'll find the showroom at 79 Long Acre, London, WC2E 9NG and, if you can't make it to London, twobirds has over fifty stockists in the UK and Europe.
For more information on twobirds and their beautiful and versatile wrap dresses for bridesmaids, just take a look at their website. Here you'll find more information on the collections and accessories not to mention a great gallery and all the details you need on how to tie your twobirds gown.
You'll also find the twobirds team on Instagram, Facebook, Twitter and Pinterest for all the latest news and inspirations for bridesmaids you could wish for.
Love Tamryn x
Photographer: Claire Graham
Dresses: twobirds
Venue: Paradise by Way of Kensal Green with thanks to Coco Wedding Venues
Make up artist: Jolanda Coetzer
Shoes: Emmy London
Accessories: Melle Cloche