It might be a Monday but I promise you that there's absolutely no need to be blue today because I've got a little treat for you. Now we love showcasing our favourite brands here on Love My Dress and we also adore giving you something different to enjoy so today, it's our absolute pleasure to take you behind the scenes with the twobirds at their London showroom, home of gorgeous, versatile gowns for bridesmaids.
Now, Annabel and I have both visited twobirds (take a look at this feature introducing their Tulle Collection) so we can both assure you that the gowns are amazing, the setting is fantastic and the service you'll receive really is something special. In short, twobirds offers the most perfect experience for bridesmaids.
All photography by Naomi Kenton, for Love My Dress®
From the 'Tulle' collection – see more here
If you're not familiar with the twobirds brand, let me give you a little potted history. Frustrated with spending too much money on bridesmaid dresses she never wore again, twobirds founder Ariane Goldman (who Annabel interviewed back in 2011) set out to find a solution of that perennial problem – how to make sure your bridesmaids look and feel fantastic, timeless and elegant.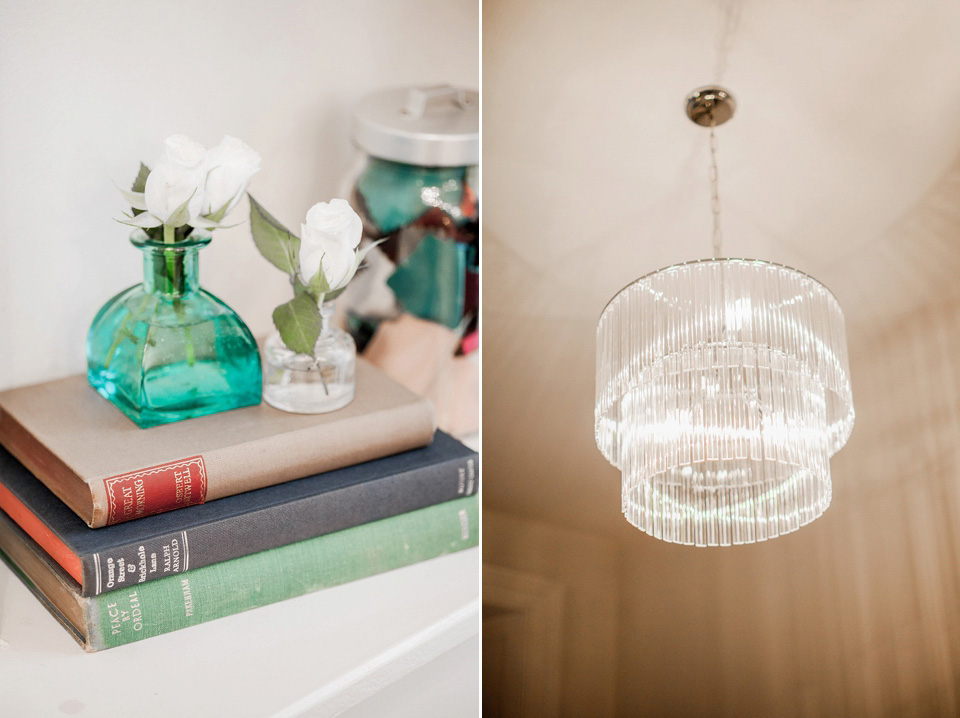 So, twobirds was founded on the premise that being a bridesmaid doesn't mean kissing goodbye to style, spending a fortune or wearing something you'll never see again.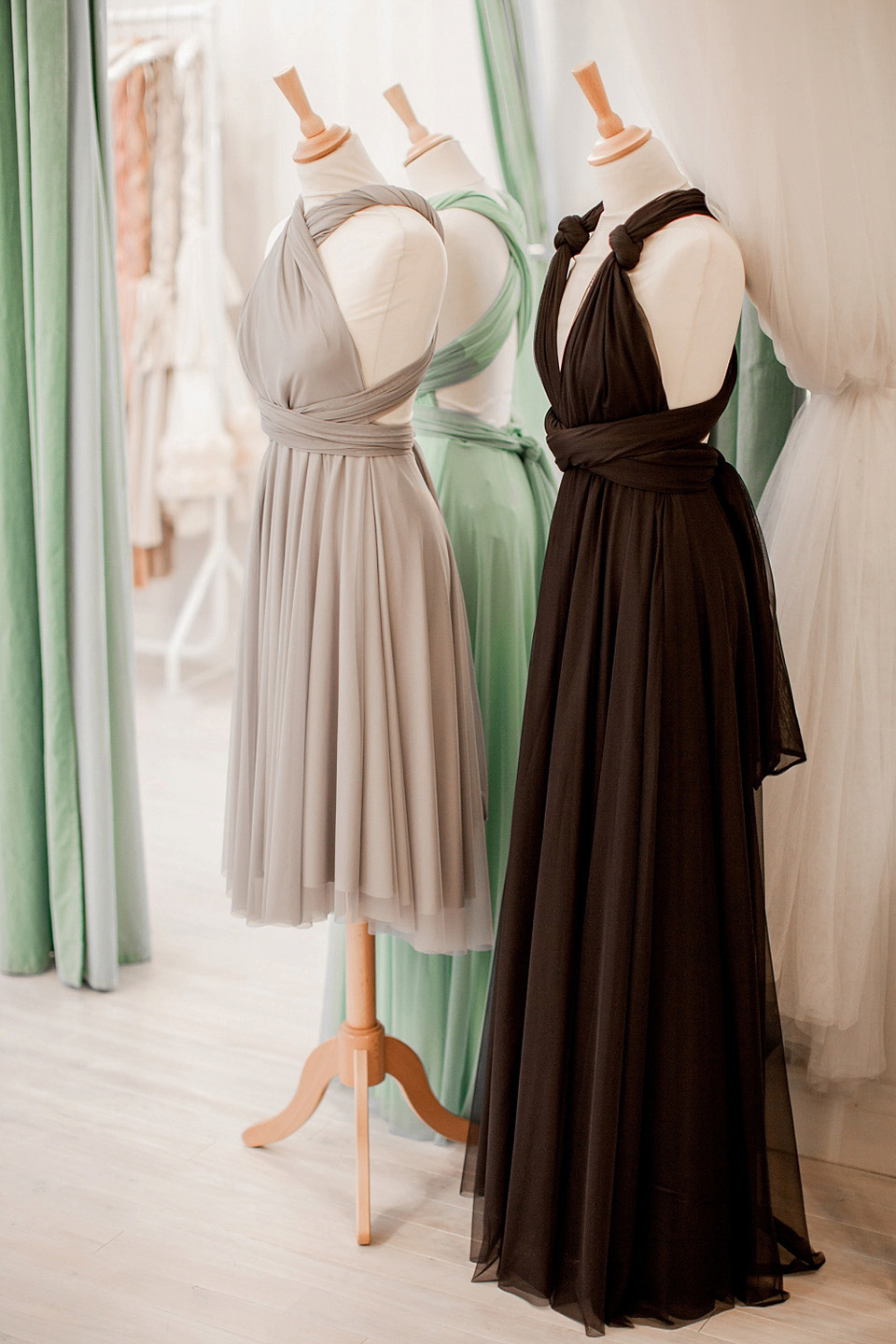 With their revolutionary design, everyone can choose one of the super flattering ways a twobirds gown can be worn and it's no surprise that a whole host of celebrities including Lady Gaga and Mollie King have worn twobirds gowns. The gowns are, in short, truly amazing – one of two sizes will fit everyone, the dresses won't need any alterations and most of all, they're sublime to wear.
Now, twobirds has flagship stores in New York, Sydney, Toronto and London and works with selected stockists around the world and, if you care about where you dress came from, twobirds can promise you that every dress purchased in Europe will have been made with pride in London.
Despite its incredible success, the company is still a small family and the London showroom, tucked away in Covent Garden is open by appointment only so the space is dedicated to one bride and her bridesmaids at a time.
"When brides come in for an appointment the team are on hand for personal styling sessions where we'd discuss their wedding style and colour scheme before getting their bridesmaids into the dresses and showing them a variety of wrap styles to suit their own body shapes," says Michelle Hailey, European Director of Operations. 
Michelle Hailey, European Director of Operations
"Most of the time the bride can't help but try on a dress for herself too! We talk through the options for ladies who'd prefer to wear a bra (there are loads!) and any preferences anyone has about which styles they'd like. It's a really fun experience and we're on hand all the time to make sure everyone leaves feeling amazing!"
The showroom itself is just brilliant – from the moment you walk through the doors and up the stairs, there's inspiration aplenty. Real wedding images line the walls (you might recognise some of the photos from the pages of Love My Dress!) and the rainbow of dresses are displayed on the rail, ready for you to browse. It's a light, open and airy space where you can relax, have fun and experiment with everything twobirds has to offer.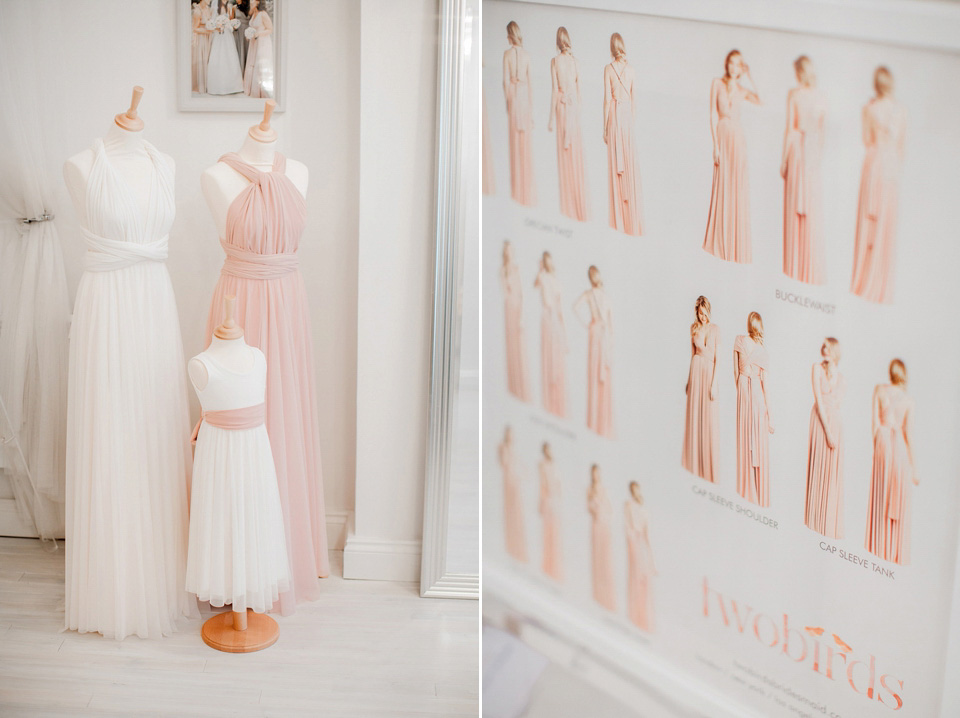 "We're all about individuality so go with your heart and wear whatever makes you feel amazing even if it's unconventional or quirky," explains Michelle. "For bridesmaids, it's often a struggle to find a dress to suit your wedding party if they are all different shapes and sizes – that's why we're here! twobirds dresses solve that dilemma and make everyone look and feel incredible which can be a huge relief for the bride during an often stressful time. We aim to make the whole process as fun and simple as possible."
From left to right, Melissa, Anna and Gill
of the twobirds UK team
"Our signature Rosewater is our most popular colour. It's the original shade Ariane had for her bridesmaids and it's so beautiful we can see why it's remained a favourite after all these years. Blush, heather and platinum are also incredibly popular. We find that the neutral palette is popular all year round and darker tones such as navy and aubergine are more popular for autumn and winter weddings."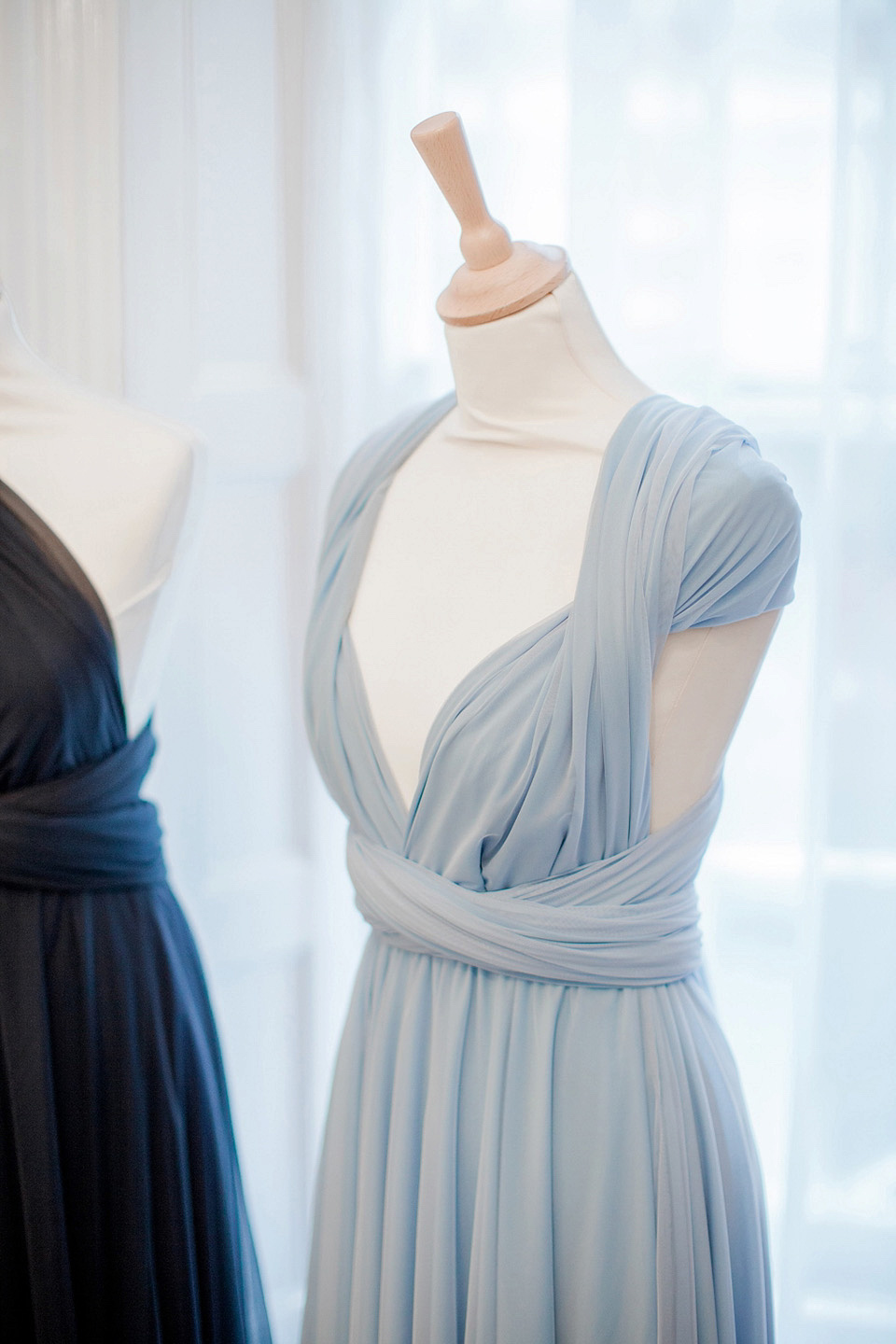 "Because we're a small company, we can make sure that brides and maids have lots of personal attention from us," says Michelle. "We love the relationships we build with our brides and we find that so many women come back to us when their friends get married or when they want a dress for themselves. Making women feel amazing is our priority and we love to work with our clients to help them find their own unique way of wearing their dress."
Beautiful bridesmaid gowns in a beautiful space topped off with beautiful service – what more could you possibly want?
twobirds London showroom operates by appointment only – please get in touch via [email protected] or on 020 7836 3222 to book. You'll find the showroom at 79 Long Acre, London, WC2E 9NG and, if you can't make it to London, twobirds has over fifty stockists in the UK and Europe.
For more information on twobirds and their versatile wrap dresses for bridesmaids, just take a look at their website. Here you'll find more information on the collections and accessories plus there's a fab gallery and details on how to tie your twobirds gown.
You'll also find the twobirds team on Facebook, Twitter and Pinterest so you'll never be short of inspiration for bridesmaids and much more.
Love Tamryn x