Happy Friday evening readers!  Here in Yorkshire I'm fairly sure we have now had sunshine for more than two consecutive days, which surely must make it almost summer, right? Today's lovely wedding is one that reminds us exactly what the British summer is all about – the smell of crushed grass under your feet, cider and the all important wellie throwing.  Meet Laurie and Will, both retailers for Will's family business, who married on the 11th of July 2015 near Wedmore in Somerset.  The couple said their vows at the local church and then hosted their reception at Laurie's parent's farm, surrounded by family, friends and their miniature sausage dog, Colin.
Laurie wore the gorgeously ethereal 'Bunty' Dress in ivory by Belle & Bunty, which she purchased from Perfect Day Bridal in Bradford on Avon. We adore the flirtatiously British appeal of the Belle & Bunty brand – you can find out more about this fabulous design duo (aka, Hannah, the blonde, and Alice) in our wedding directory, Little Book For Brides.
We are grateful to photographer Hayley Savage for sharing these images today. You can find more of Hayley's work on Love My Dress here.
"I loved the relaxed and simple style of the dress and the beautiful layers of silk.  I wanted to look natural but still feel special so the understated quality of the dress was exactly what I wanted."
Photographer Hayley Savage was the talent behind these wonderful images.  I love the freshness of her style and the reportage nature of the photos, with just a few posed shots added in for variation.
"Hayley was recommended to me by a friend who is a wedding planner and she was fantastic.  She really listened to what we wanted and what was important to us and was lovely to have around on the day. We didn't want to spend lots of time having posed photos taken and Hayley understood this and got lots of amazing natural photos. We were so pleased and I would highly recommend her to anyone looking for a photographer.
"Wedmore is where I grew up and so it was lovely to get married there.  The ceremony was in the village church and we had a marquee reception in my parent's field. We both love the countryside and wanted a relaxed and rustic wedding. The wedding style was inspired by the West Country and my parents farm.  Many parts were homemade and we tried to use local suppliers. Our Dads made games, my sister made the cake and our Mums decorated the marquee. We had a fire pit where people could sit and chat and my Dad's red tractor as a photo booth.  It was important that our dog Colin could be there and the sheep also made an appearance after they escaped from their field."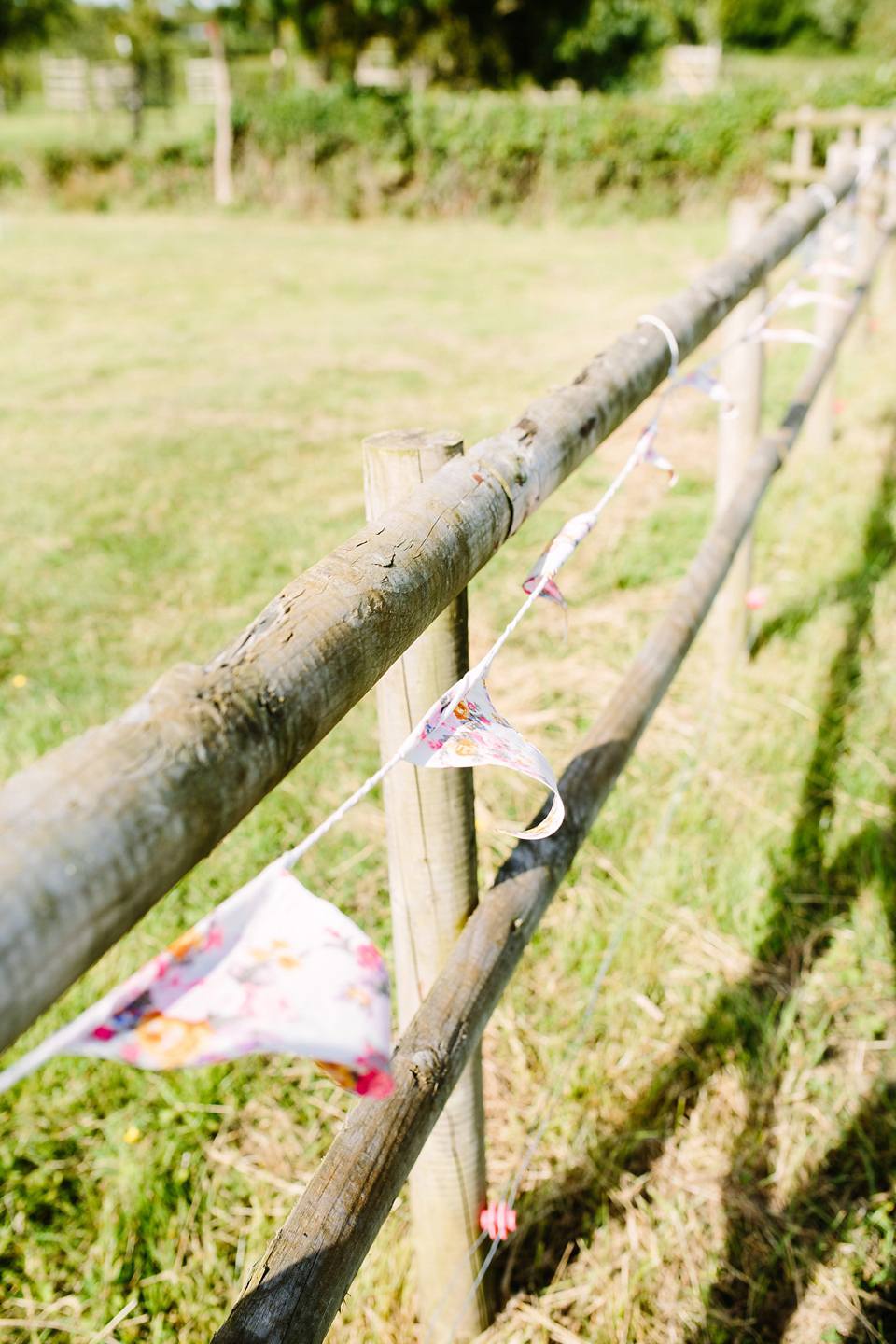 "Will and I both met when we were both studying languages at Bristol University.  We had been together for 6 years when Will proposed. We were on holiday in Florida; he took me out on the boat to watch the sunset and then champagne and a ring appeared out of nowhere!"
To set off her look, Laurie chose the Saria veil and Pearl Vine headband from Britten, a fabulous company we featured on the blog recently, and which just happens to be owned by one of Laurie's bridesmaids, Sarah.
On her feet she boasted a fabulous pair of bright blue heels from Reiss, while for jewellery she wore a pearl necklace from Orton Jewellery (a gift from Will).  She finished with a cheeky garter from the Wedding Garter Company (also featured on Love My Dress earlier this year) and a spray of Love Story by Chloe. Hair was the work of Megan at Classy Coiffure Hairdressing and make up by Rachel Walker Bridal.
The bridesmaids looked pretty and summery in pale pink dresses from Etsy, worn with hair accessories from Britten, while Will looked super smart in a grey suit and maroon tie, both from Reiss.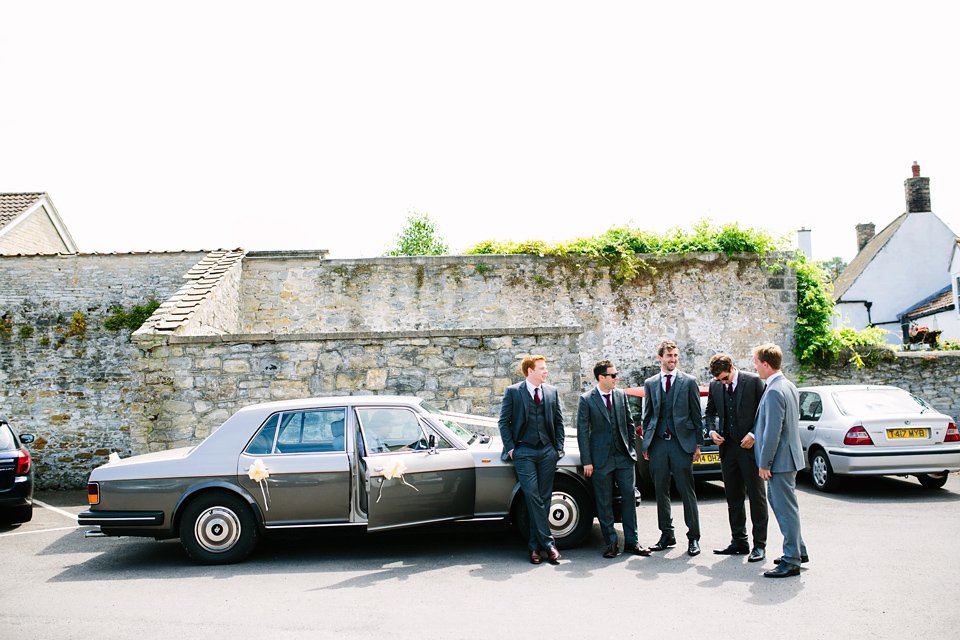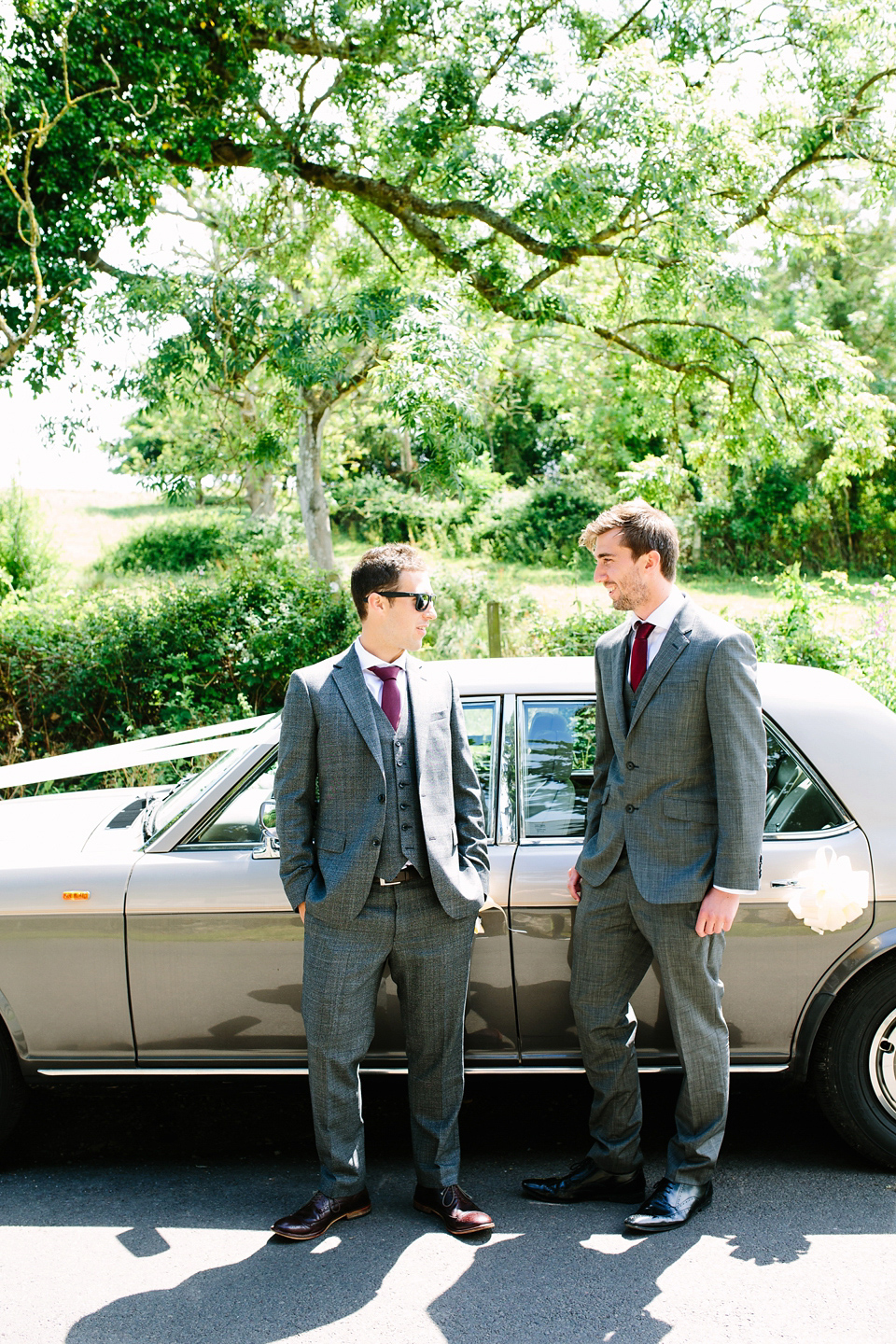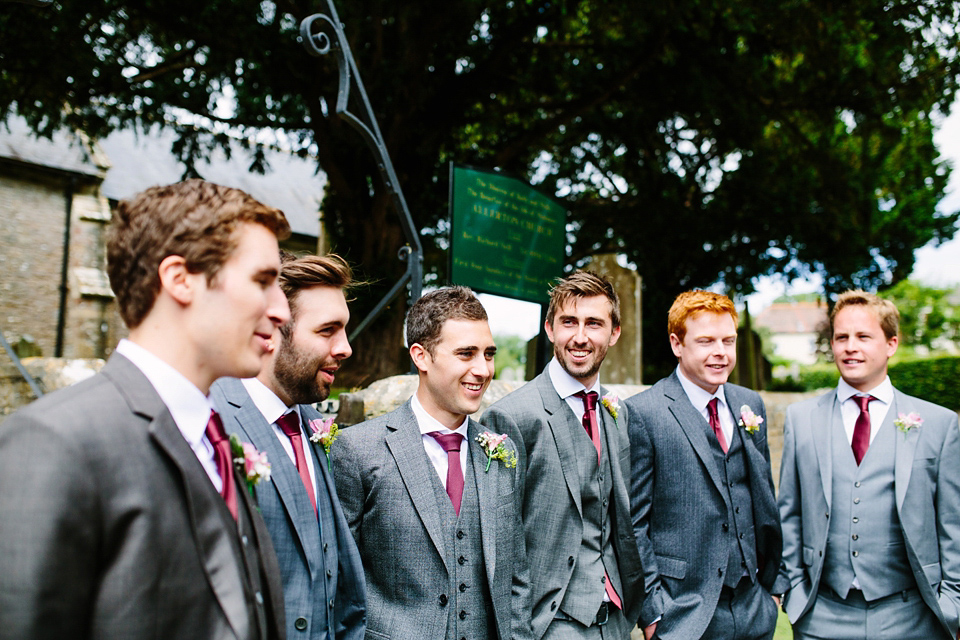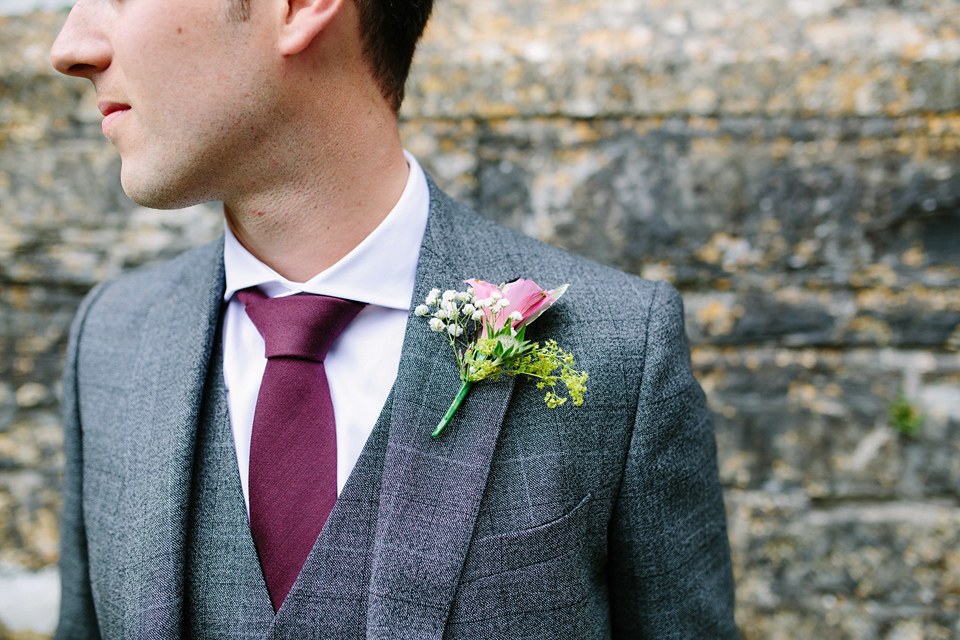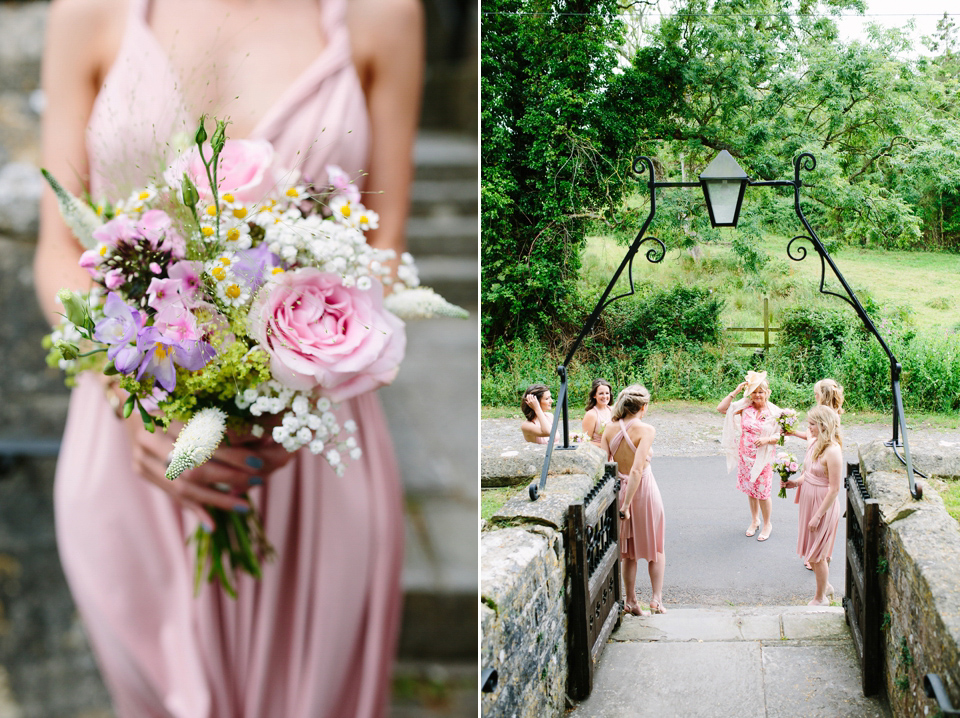 Laurie was walked down the aisle of the church by her Dad to the Prince of Denmark's March played on the organ.  The couple said the traditional church vows.
For rings, the couple went to Orton Jewellery.  Will chose a handmade band, while Laurie used her Grandmother's wedding ring, with the addition of a few extra diamonds for extra sparkle. I love the idea of giving an old ring a new life.
"My Dad read a poem by Kahlil Gibran about marriage as part of his speech, I had never heard it before and I really liked how he was saying that marriage should allow you both to still keep your separate identities but to enjoy life together. He is a very wise man."
Give your hearts, but not into each other's keeping.
For only the hand of Life can contain your hearts.
And stand together yet not too near together:
For the pillars of the temple stand apart,
And the oak tree and the cypress grow not in each other's shadow.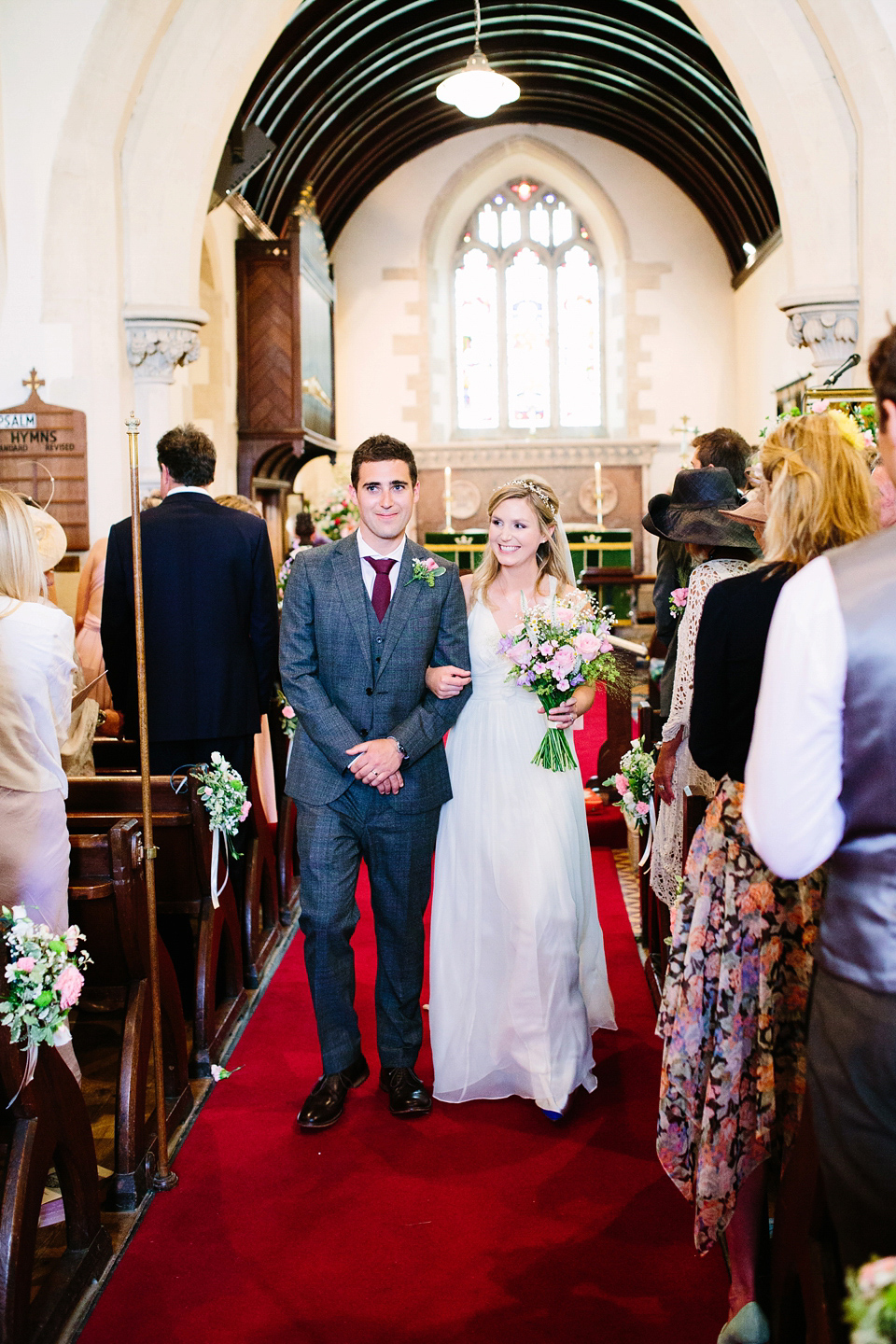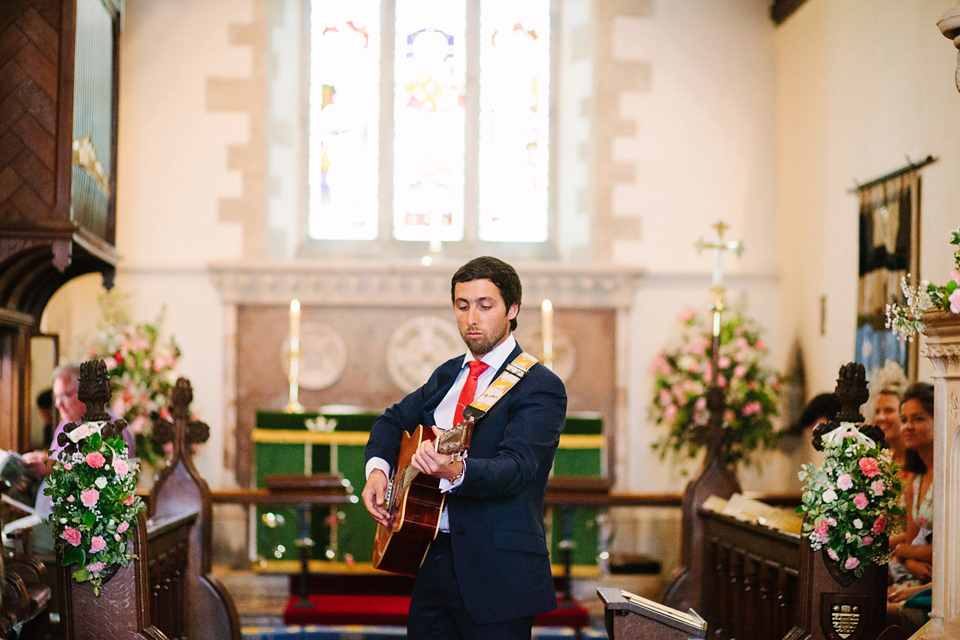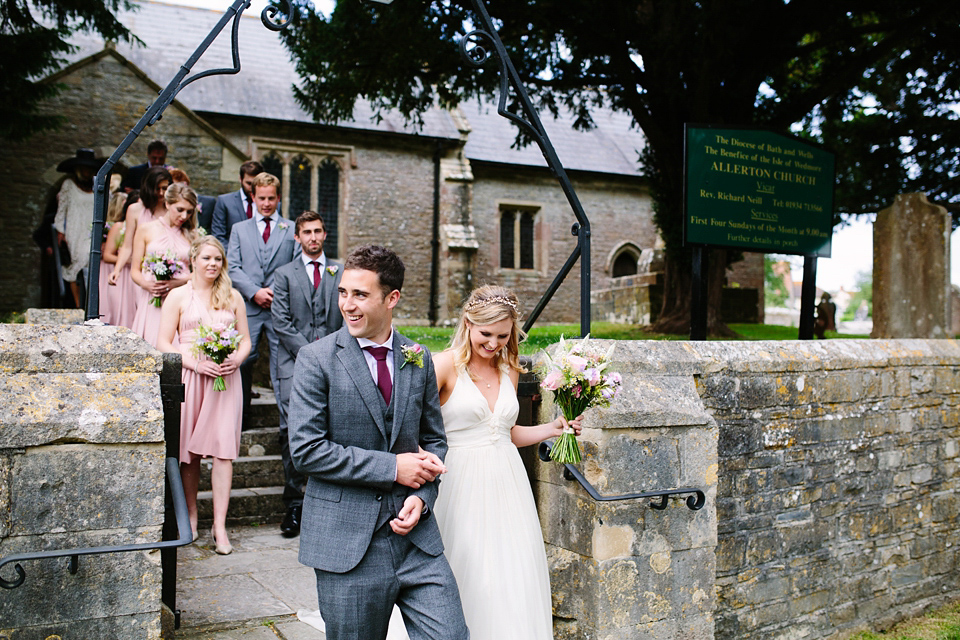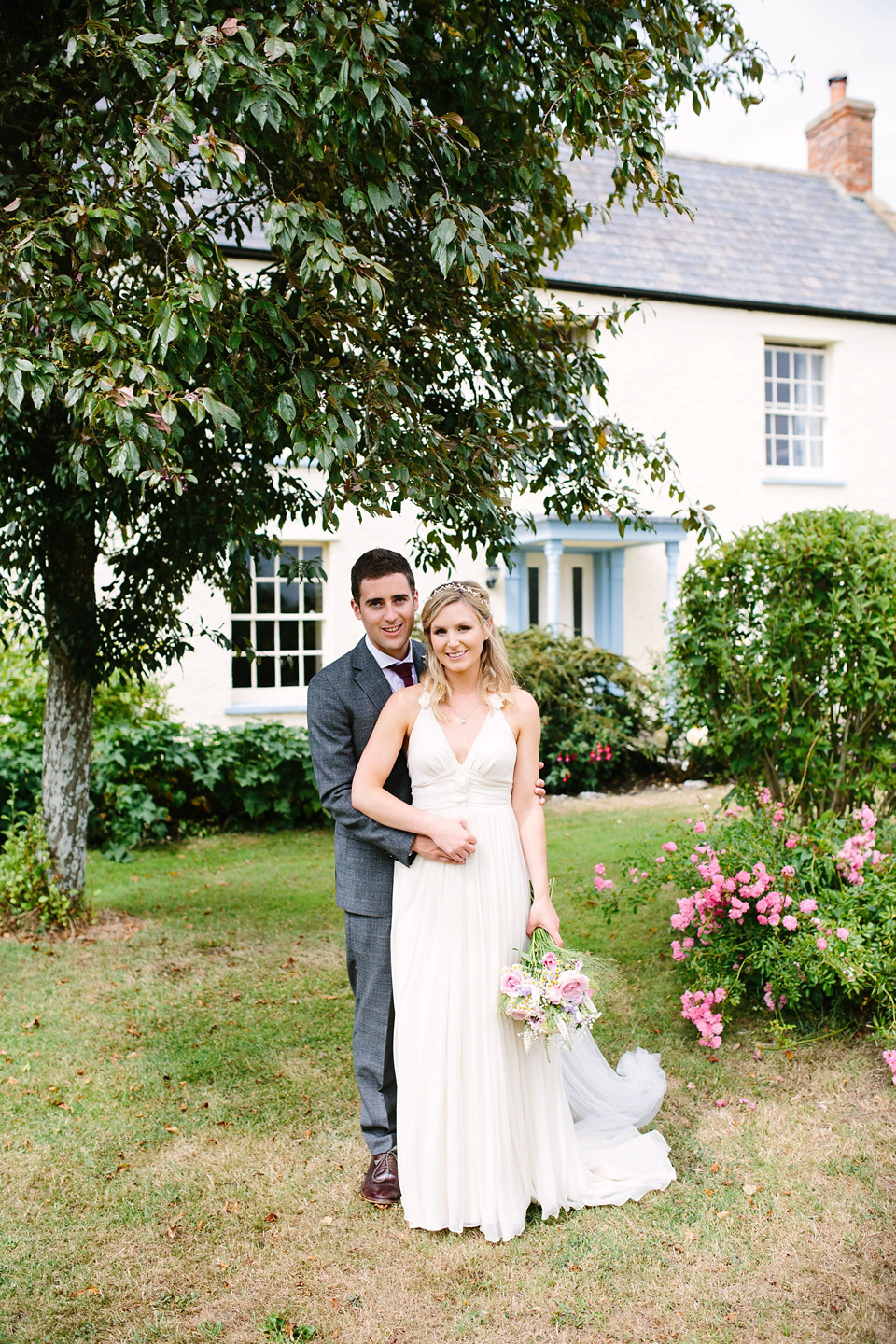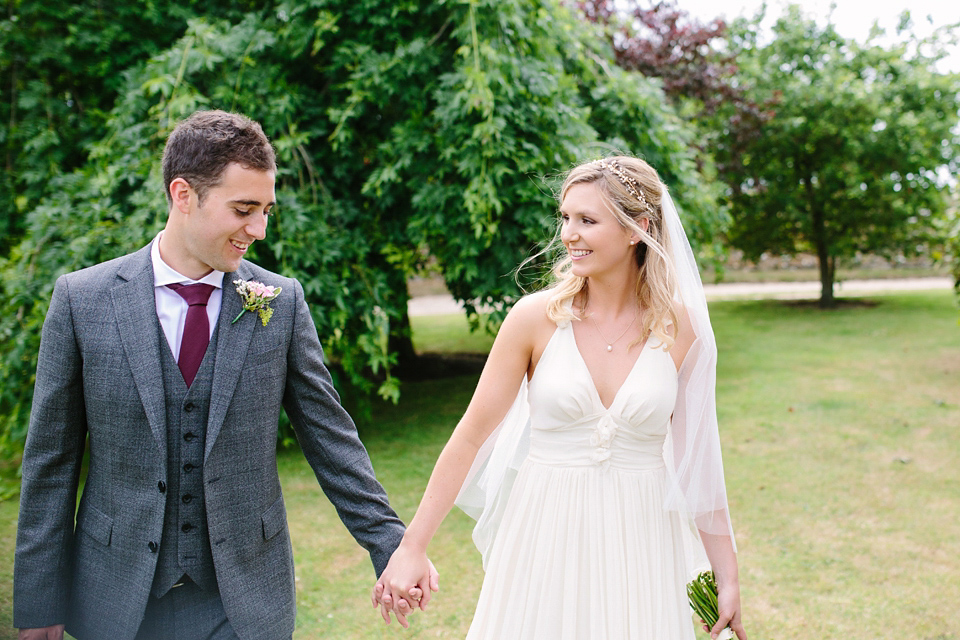 I do love an abundance of flowers at a summer wedding.  They must have filled the marquee with the most wonderful aroma.  The bouquets and buttonholes were the work of Bouquet Florist in Cheddar, the church flowers were done by the church parishioners and the table flowers were picked from her parent's garden, so it was a real coming together of talents.
"I wanted flowers that didn't look too structured or too much along one colour theme and I wanted them to look natural and wild, as though they had just been picked from the garden.  The flowers on the tables were picked the day before from my parent's garden.  We tied ribbons around jam jars and filled them with whatever we could find and we were very pleased with the effect as we didn't want it to look too structured or formal, but still beautiful and summery."
"The beautiful marquee was from L P Bohemia.  My Mum decorated it with some large eucalyptus branches with little bright coloured birds placed on the branches (I absolutely adore these) and Will's Mum sourced the big lanterns."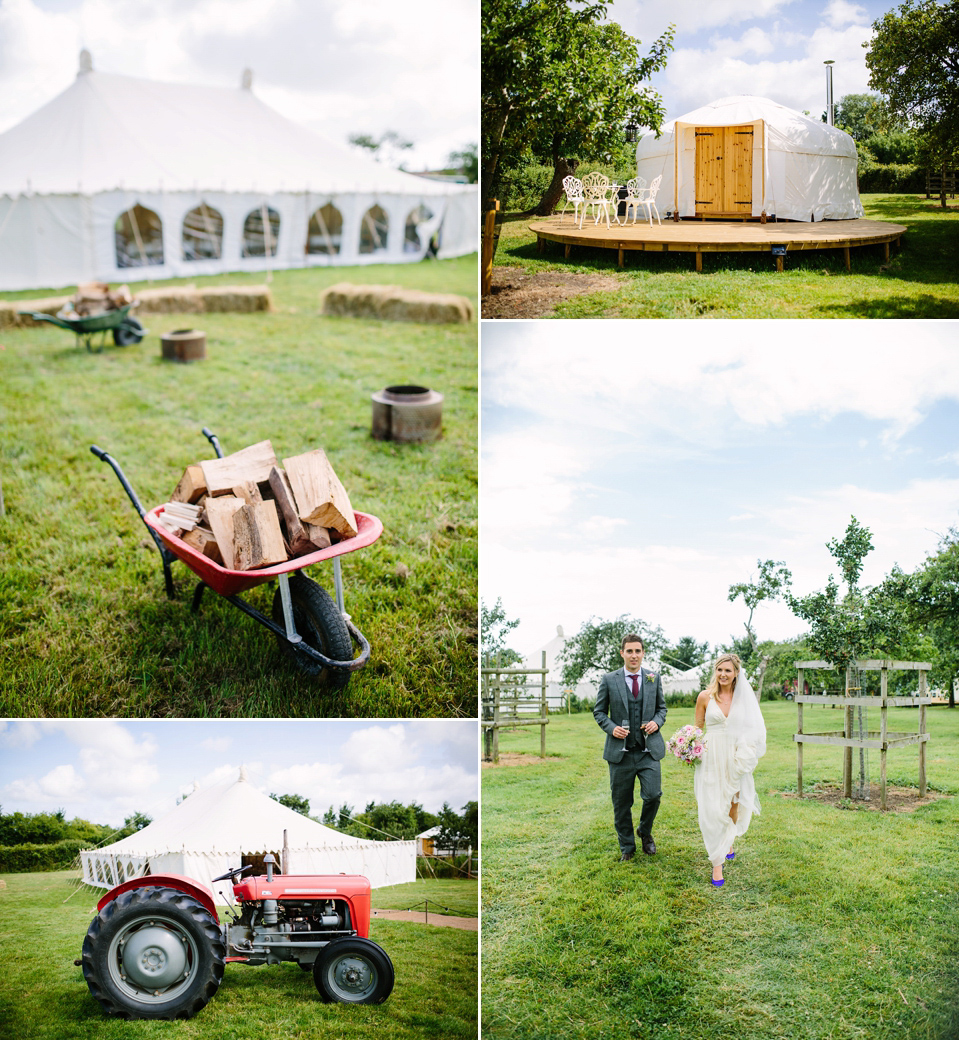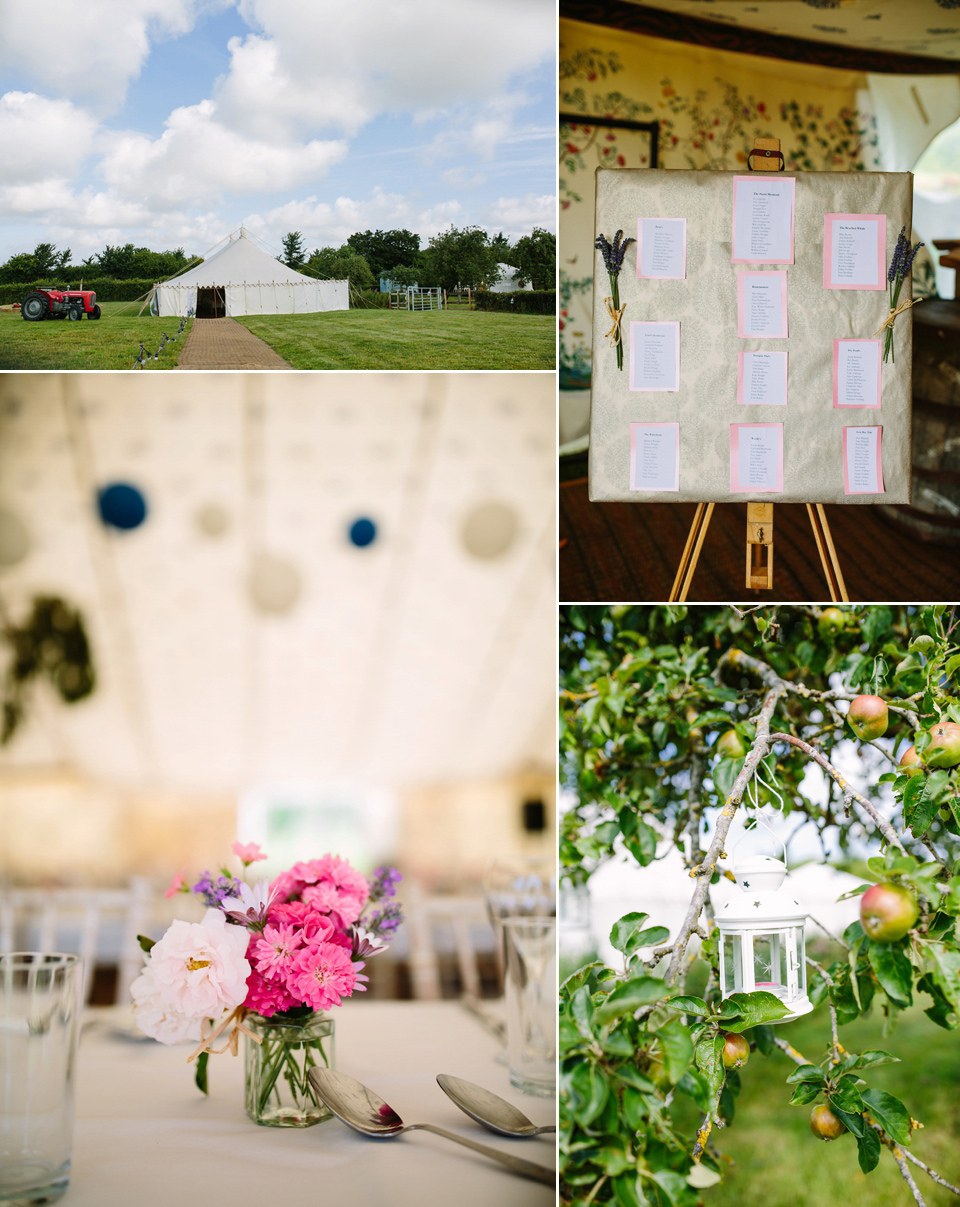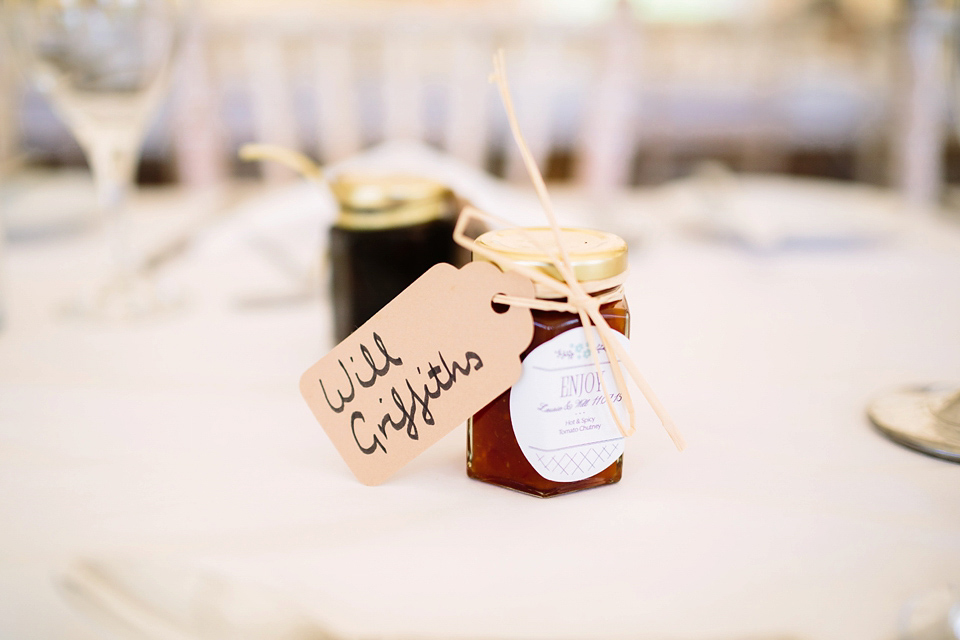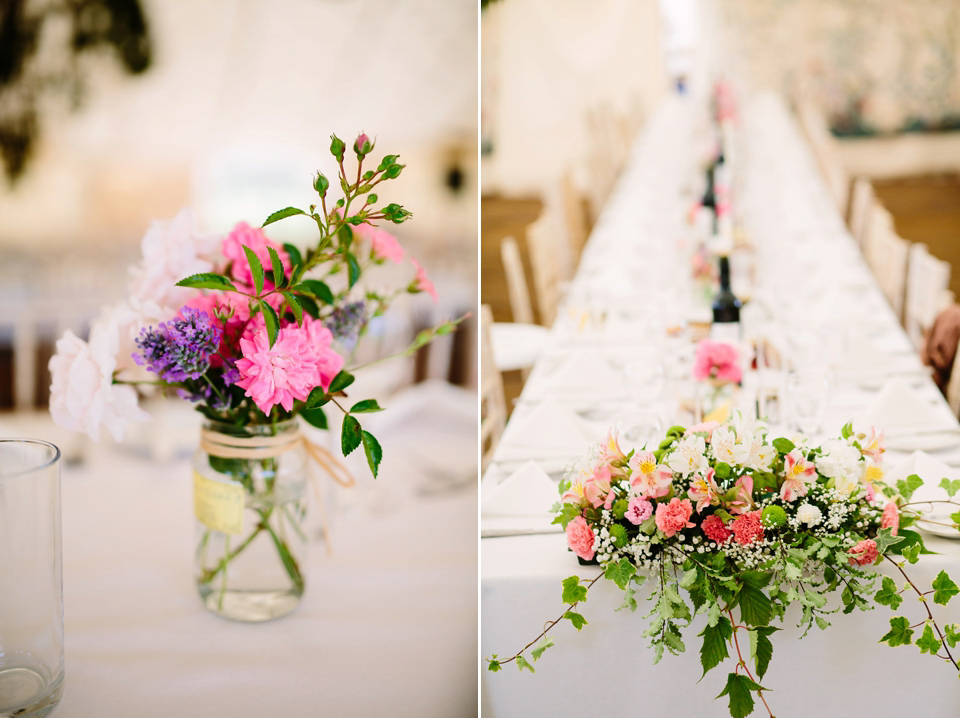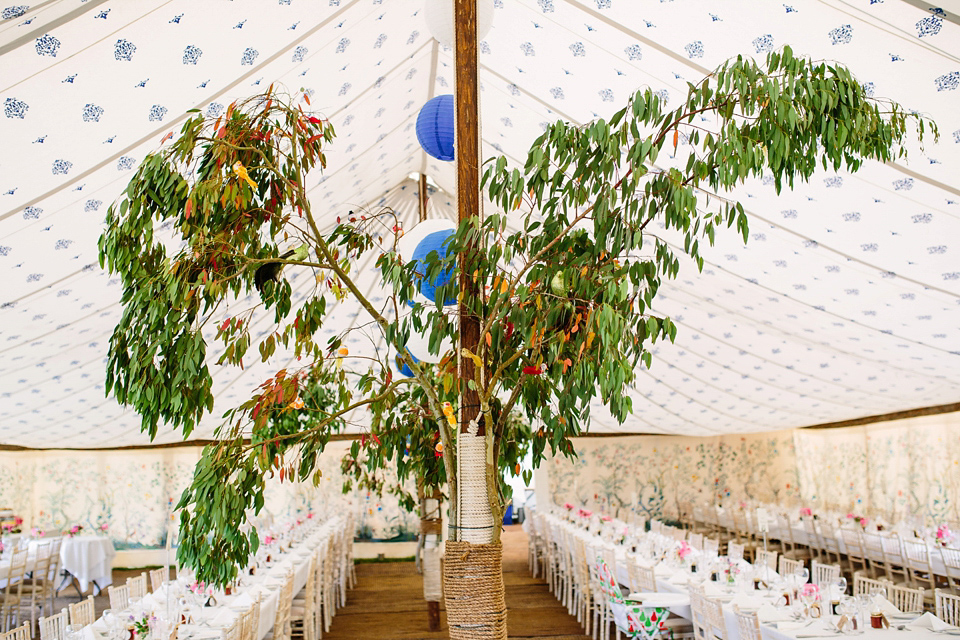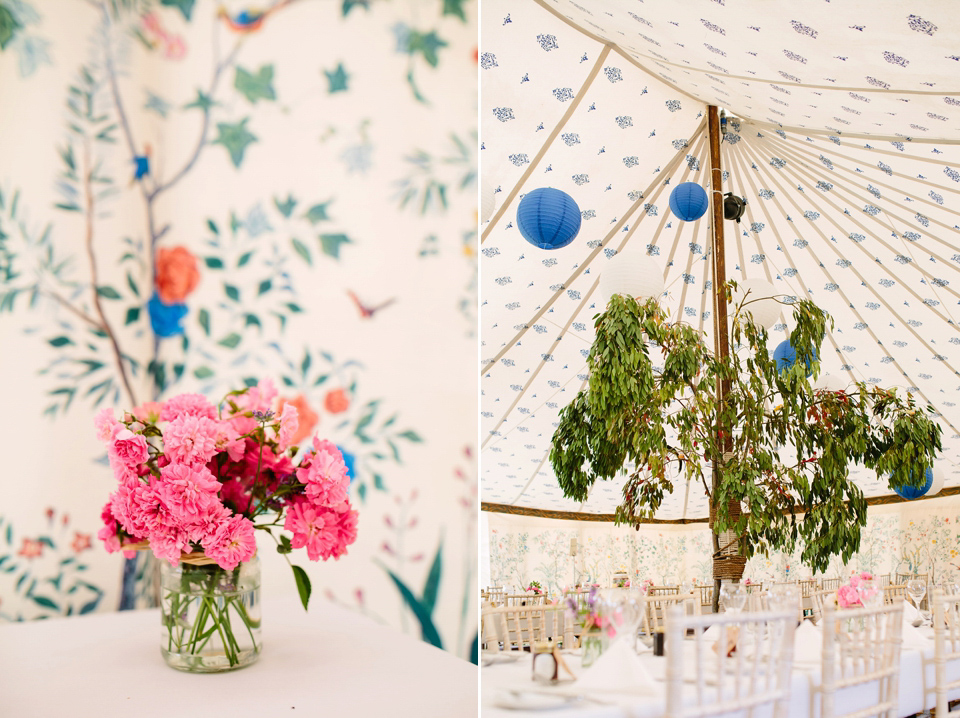 "The catering was the work of Julie from Cooking on Gas, a local caterer who use fresh local produce- the beef is reared on their own farm. We wanted good quality local and seasonal food that wasn't too fussy – lots of delicious salads with salmon or beef."
For the evening entertainment our couple hired Rockabilly band The Rocker Covers  to keep the dance floor full and the atmosphere jumping.
"Our first dance was to 'Be my Girl' by JET as we wanted a fun track that we could do our swing routine to.  We've both always loved the song and it set the mood for the evening."
Words of Wedded Wisdom
"A friend gave me the advice to get into my dress two hours before I wanted to leave for the church.  At first I thought it was too early but I'm glad I listened as I really enjoyed having a glass of champagne with my family and bridesmaids before we all had to leave. We weren't in a rush so we could take it all in and enjoy the morning.
I forgot to give the confetti to my bridesmaids, but other than that I wouldn't change anything about the day.  I don't think it ever runs as smoothly as you would hope but the important thing is that you enjoy celebrating with friends and family."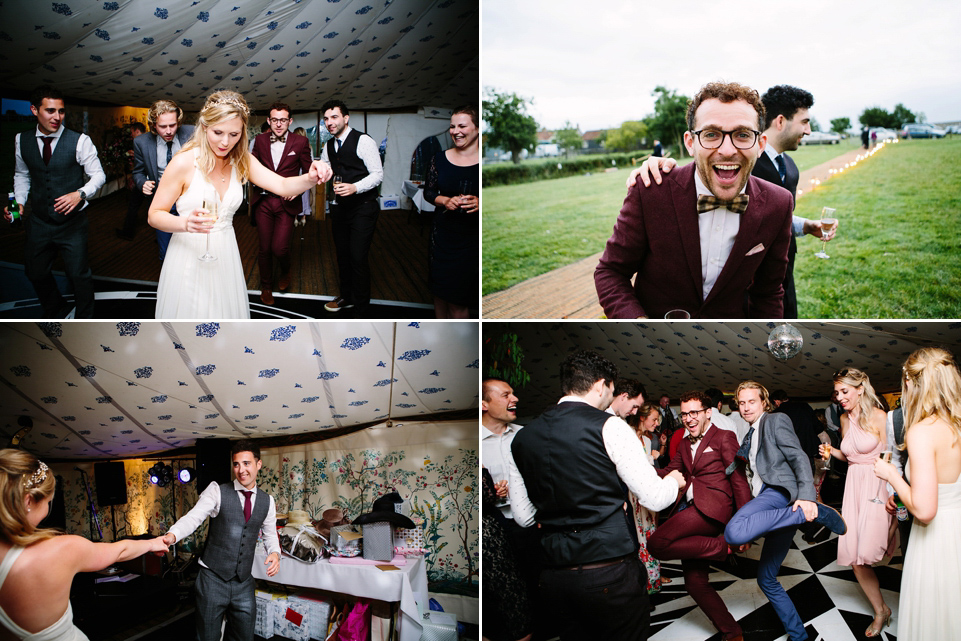 Thank you so much to Laurie and Will for sharing their special day with us, and of course also to Hayley Savage for the beautiful photographs. I really want to spend some time outside after reading through all this, don't you?  For more weddings full of rustic charm take a look here and for a few more farm weddings, follow me here.  If its marquee inspiration you need- you need look no further than this little lot.
Much love,
Shona x
Photographer – Hayley Savage
Venue – The bride's parent's farm
Bride's dress – 'Bunty' in Ivory by Belle & Bunty, purchased from Perfect Day Bridal in Bradford on Avon
Bride's Shoes – Reiss
Veil – Saria veil, Britten
Hair accessories – Pearl Vine headband, Britten
Jewellery – Orton Jewellery
Scent – Love Story by Chloe
Garter – The Wedding Garter Company
Bridesmaids –  Etsy + Britten hair accessories
Groom – Suit and tie, Reiss
Hair Stylist – Classy Coiffure Hairdressing
Makeup artist – Rachel Walker Bridal
Flowers – Bouquet Florist, Cheddar
Rings – Orton Jewellery
Catering – Cooking on Gas
Cake – Made by Laurie's sister
Marquee – L P Bohemia
Entertainment – The Rocker Covers