Hello readers, I have been more than a little distracted of late due to something that I consider equally as exciting as getting married, my husband and I have just brought home our first baby, Nelly the cocker spaniel! She is the cutest little thing and you can check out my puppy spam on Instagram @bee_scott_thackray.
Now to distract myself from her today, we have the beautiful autumnal wedding of Pamela, a research analyst and Bob, a financial accountant, married on 26th September 2015. Pamela didn't decide on a theme as such but chose to be influenced by the season.
We'd like to thank the wonderful Mirrorbox Photography for sharing these lovely images today.
"At the start people kept asking me what the colour scheme was or our overall theme but I really struggled to give an answer – it was something we hadn't even thought about. For us it became clearer when we really got into the planning of our day. We were getting married at the end of September, when the trees are starting to change colour so we decided we wanted our colours for bridesmaids/best men/flowers to be autumnal, especially as the venue would have the fires on."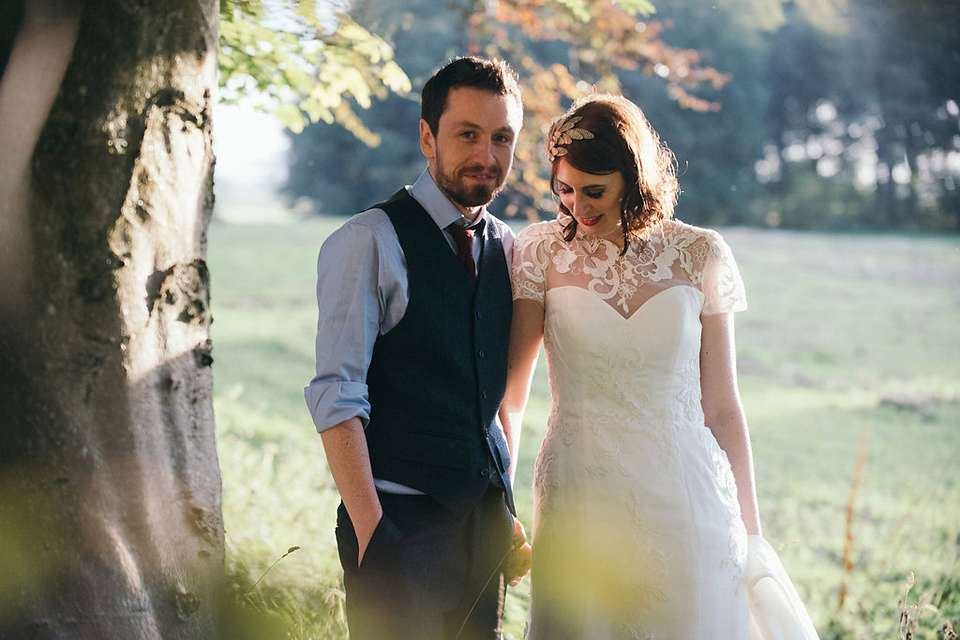 Pamela and Bob had their day captured by our fabulous Little Book for Brides member Mirrorbox.
"We came across Mirrorbox, again, on the Glasgow Wedding Collective site. We loved that site! We looked through their photographs and thought they captured moments beautifully. Their shots looked fun and relaxed, there wasn't a lot of posed photos which suited us.
"After making an enquiry we arranged to meet Sequoia in a Glasgow bar. We weren't sure what to expect from the meeting but we left knowing we were going to book them for our wedding."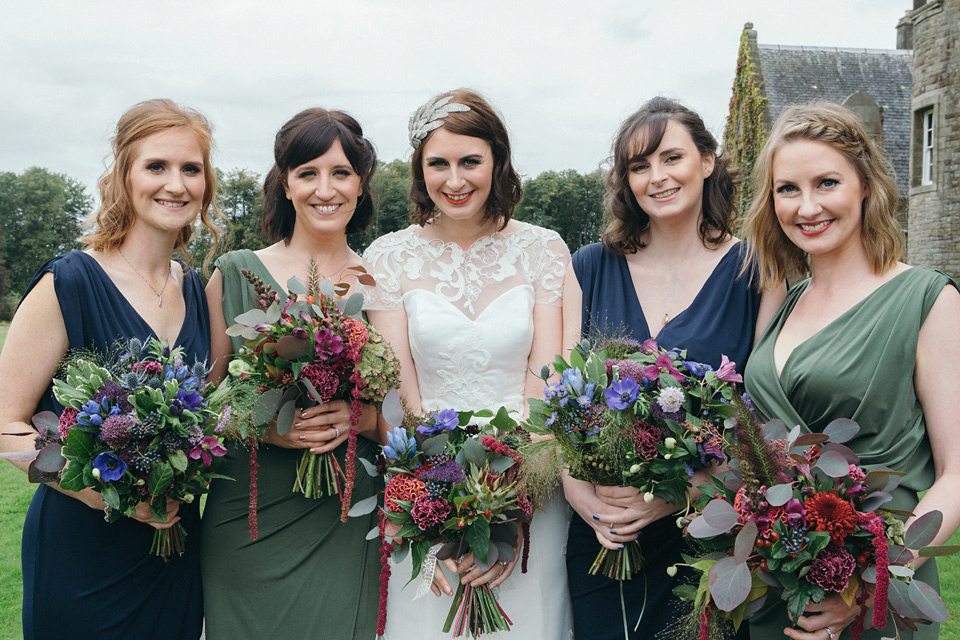 "Bob wasn't a fan of the photo section of a wedding but Sequoia made us both feel at ease and was lovely to talk to. We chatted about our wedding and our plans and she was excited about the idea of our day.
She spoke about their relaxed style and how the day would go and it was exactly what we were looking for. The fact we got on so well with her and were laughing away about travel, living in Glasgow and dogs made it even better."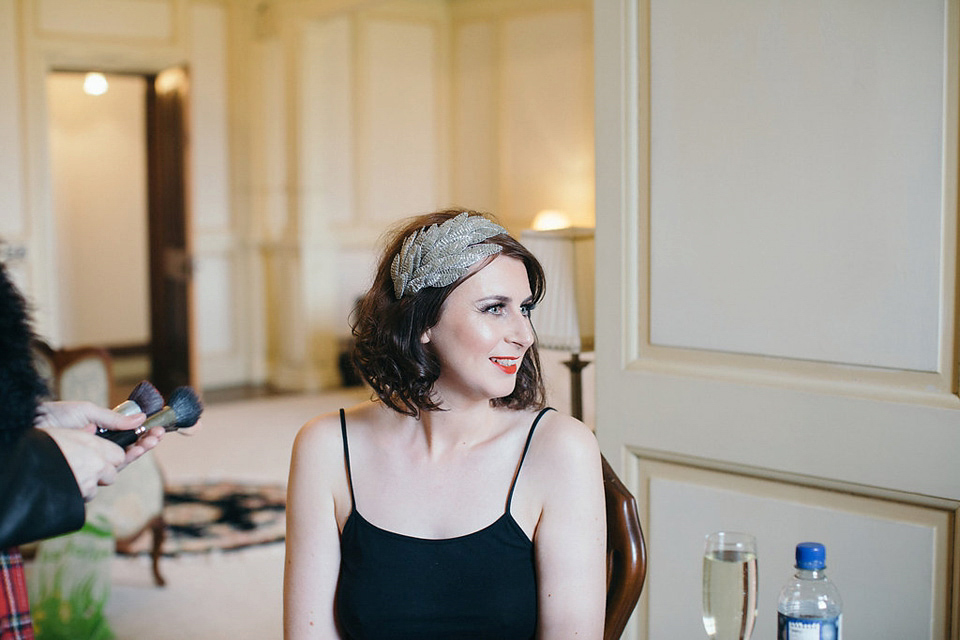 "I always knew I wanted my own hairdresser, Keith, to do my hair on the day. He knows me and what I like/suit and I trust him. He was amazing in the build up to the wedding. On the morning of the wedding he opened his salon earlier than usual to get me and my bridesmaids in. His team had put on a lovely breakfast spread of fruits, food and fizz for us as well. It was a great relaxing way to start my wedding morning, surrounded by friendly faces.
A make-up artist I tried to book recommended Lynsey as she was full, and I'm so grateful she did. Lynsey was great and so talented. I love wearing red lipstick and that's what I wanted on my wedding day and she got that. On the day she was amazing, chatting away to us as she worked on each bridesmaid."
Our bride wore the Clematis dress by Mia Mia from Anne Priscilla Bridal, a beautiful embroided dress with sheer back detail, so very modern and romantic.
"I had seen a photo of the back of that dress in the Scottish Wedding Directory when I first got engaged. I loved the detail, the buttons and the lace. Anne Priscilla was a stockist of the brand but the sample wasn't available, thankfully a shop in Edinburgh had one in stock to try on. When I came out wearing the Clematis dress you couldn't take the smile off my face. My mum looked at me and said that was the one. I loved it, the cap sleeves, lace neckline and a lovely fit. It just felt very me."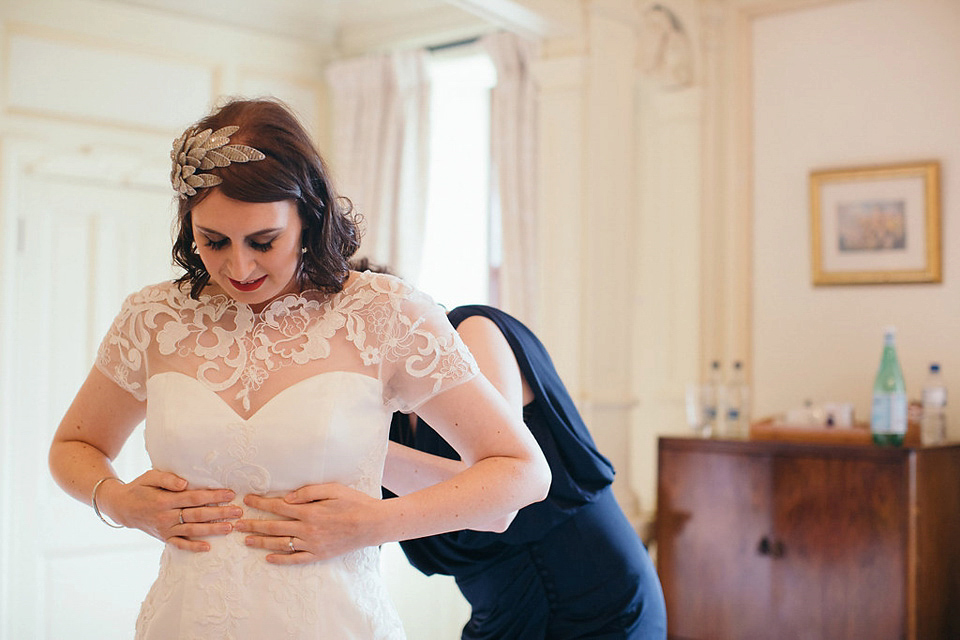 "I knew I wanted something in my hair so one of my bridesmaids, Jo-Anne, recommended William Chambers Milliner where she got her gorgeous birdcage veil for her wedding. His headwear pieces are gorgeous and so unique. I fell in love with a headpiece that had silver leaves going over one side of your head, the detail was amazing.
I wore Chanel Coco Mademoiselle. It's the perfume I wear and love."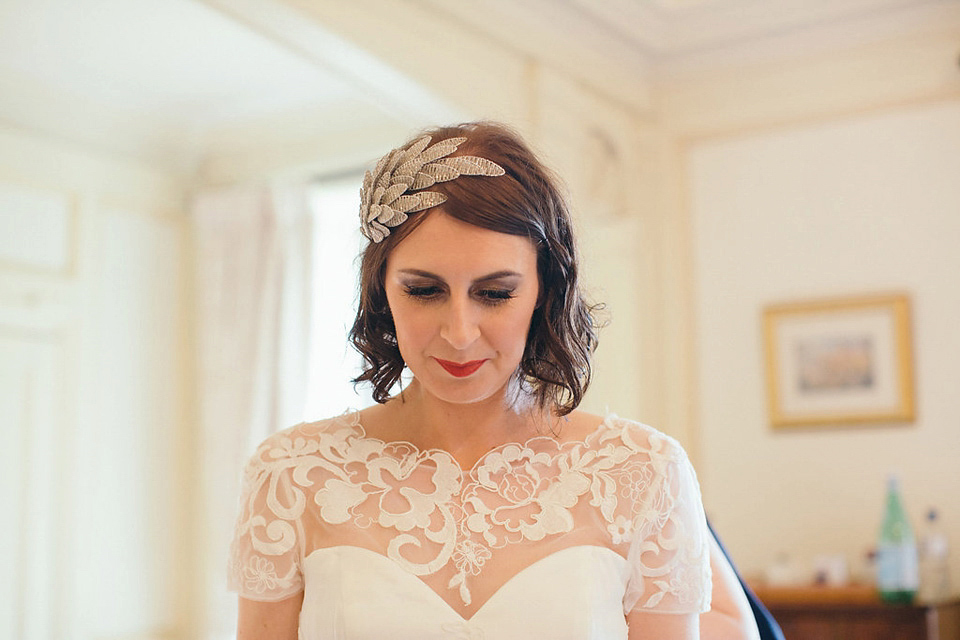 "I'm taller than Bob in heels so I didn't want high ones on the day. I wanted small heel and peep toe but I really struggled to get something. After hours of looking I finally found a pair of plain peep toes with a tiny heel on Amazon. They did the job and were extremely comfy on the day."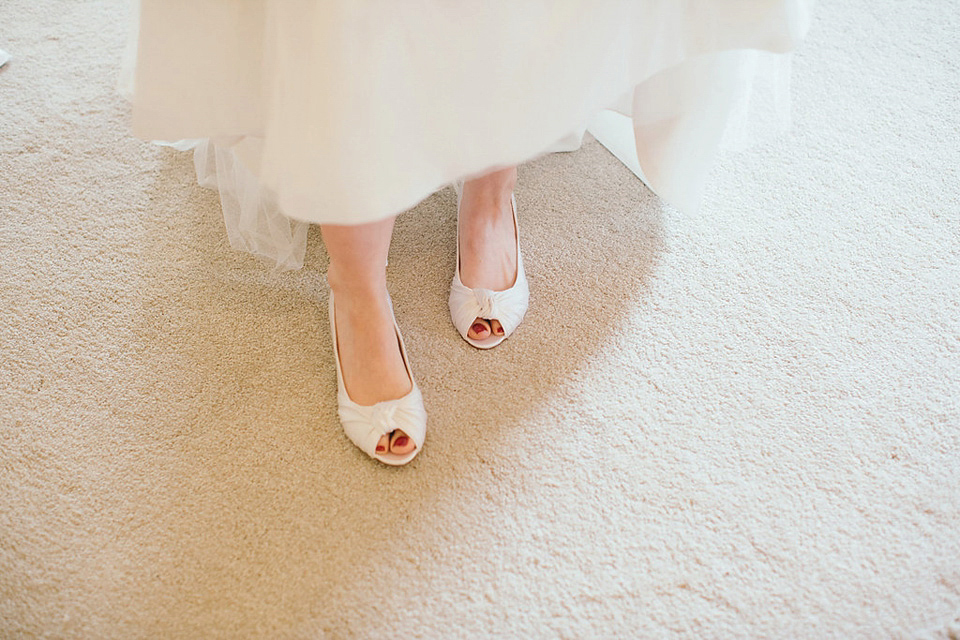 Little Botanica a florist come cafe provided the seasonal florals in an array of colours.
"We met with Hayley, one of the florists who was amazing. In terms of flowers we knew we didn't want pinks or roses, we wanted seasonal flowers and autumnal colours. We weren't sure about flower types so Hayley suggested a private Pinterest board were we could add pictures of bouquets and button holes we liked, the colour of the bridesmaid dresses etc."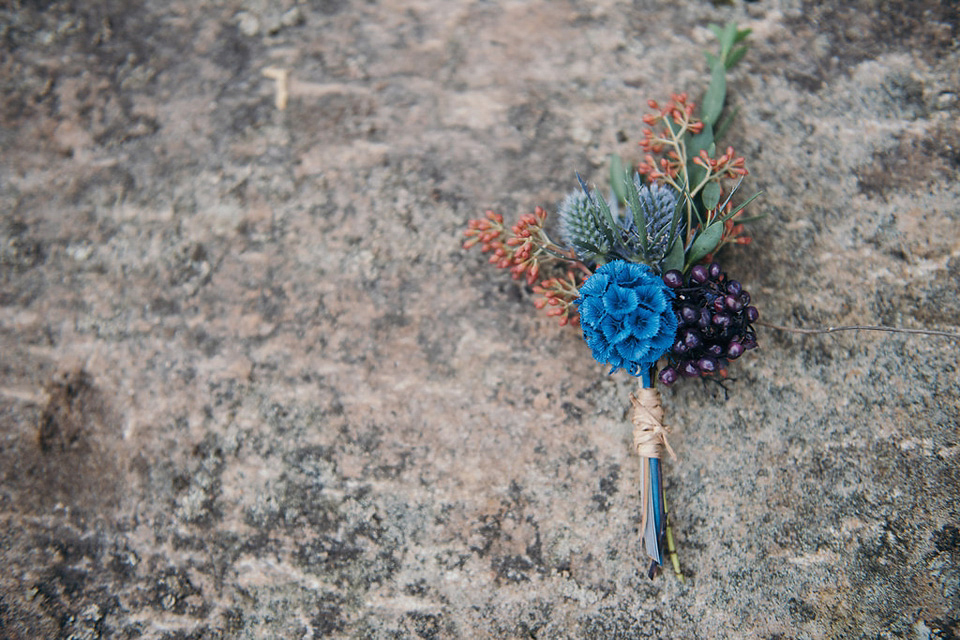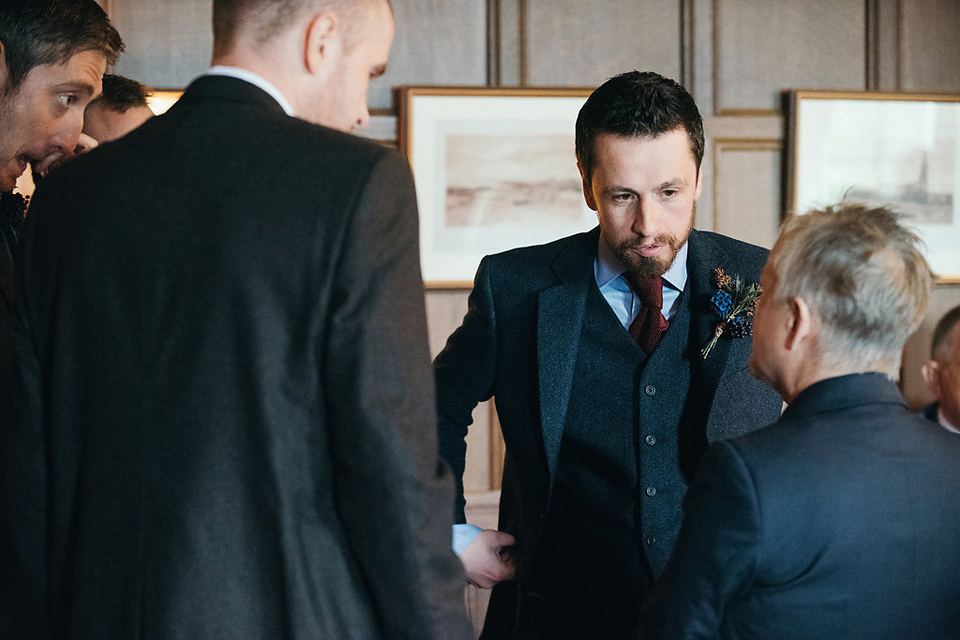 Bob looked dapper in a lovely blue three piece tweed suit from Walker Slater and the best men wore brown tweed suits from Next.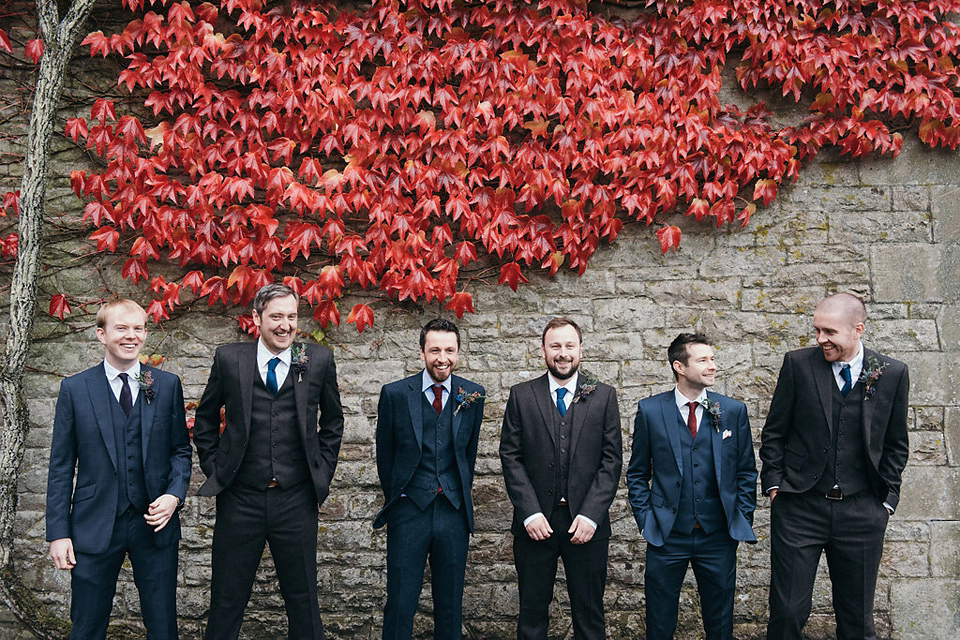 "My dad walked me doing the aisle. He was amazing on the day, I didn't think I would be emotional walking down but as soon as I heard the song and seen Bob I started to get a tad teary, my dad just kept squeezing my hand and gave me a big hug when we got to the bottom.
I walked down the aisle to one of my favourite songs, Two rights make one wrong, by the Scottish band Mogwai. It's a beautiful instrumental song which I have listened to many times and it felt like the perfect song to walk down to."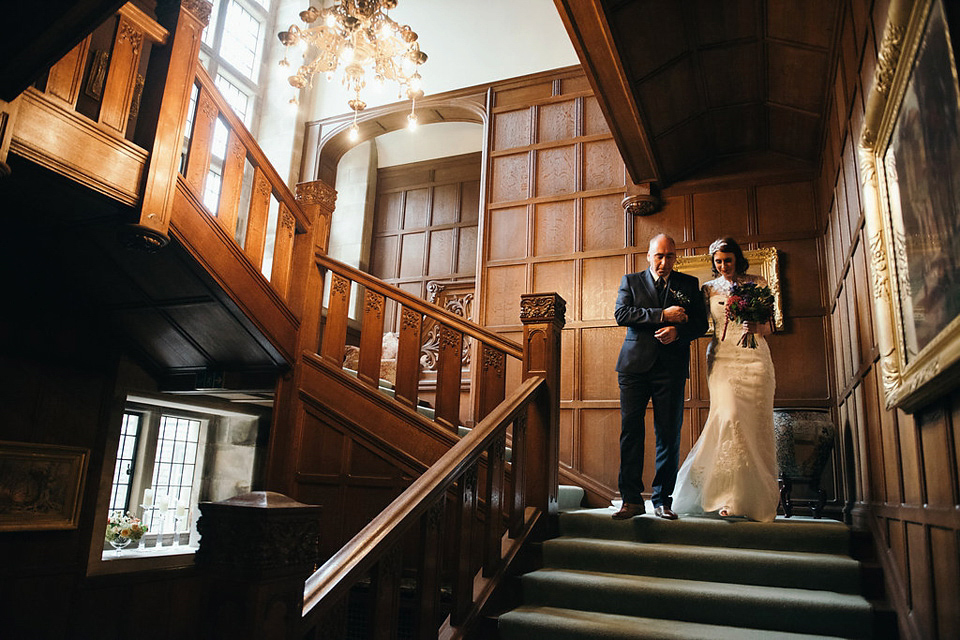 "I absolutely loved every minute of our wedding day, but one part that's really memorable for me was seeing Bob for the first time when I was walking down the aisle. He was smiling at me and looked so handsome, when I reached him at the bottom we hugged and whispered hellos to each other. It was so exciting knowing that all our planning had paid off and we were actually about to get married to each other!"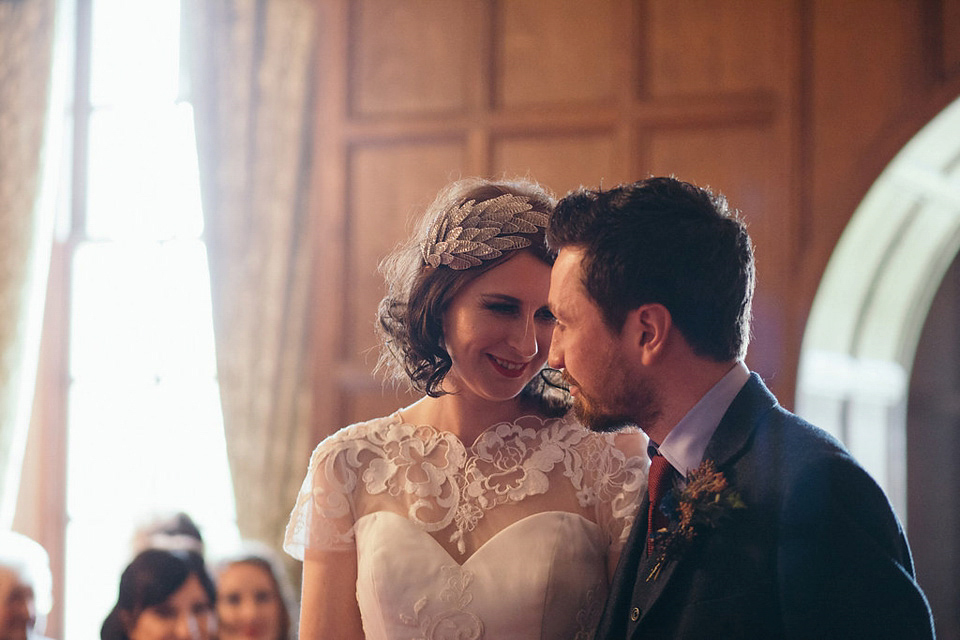 "We had a humanist ceremony which was taken by Gerrie Douglas Scott. She helped us to create a lovely and personal service. We had two readings, a few paragraphs from Nick Cave's song 'Rock of Gibraltar', read by Bob's brother's fiancée Danielle. Then 'I Like you' by Sandol Stoddard Warburg which Bob's uncle James read. We wanted readings that made us smile and sounded like us, the words in both of these done that."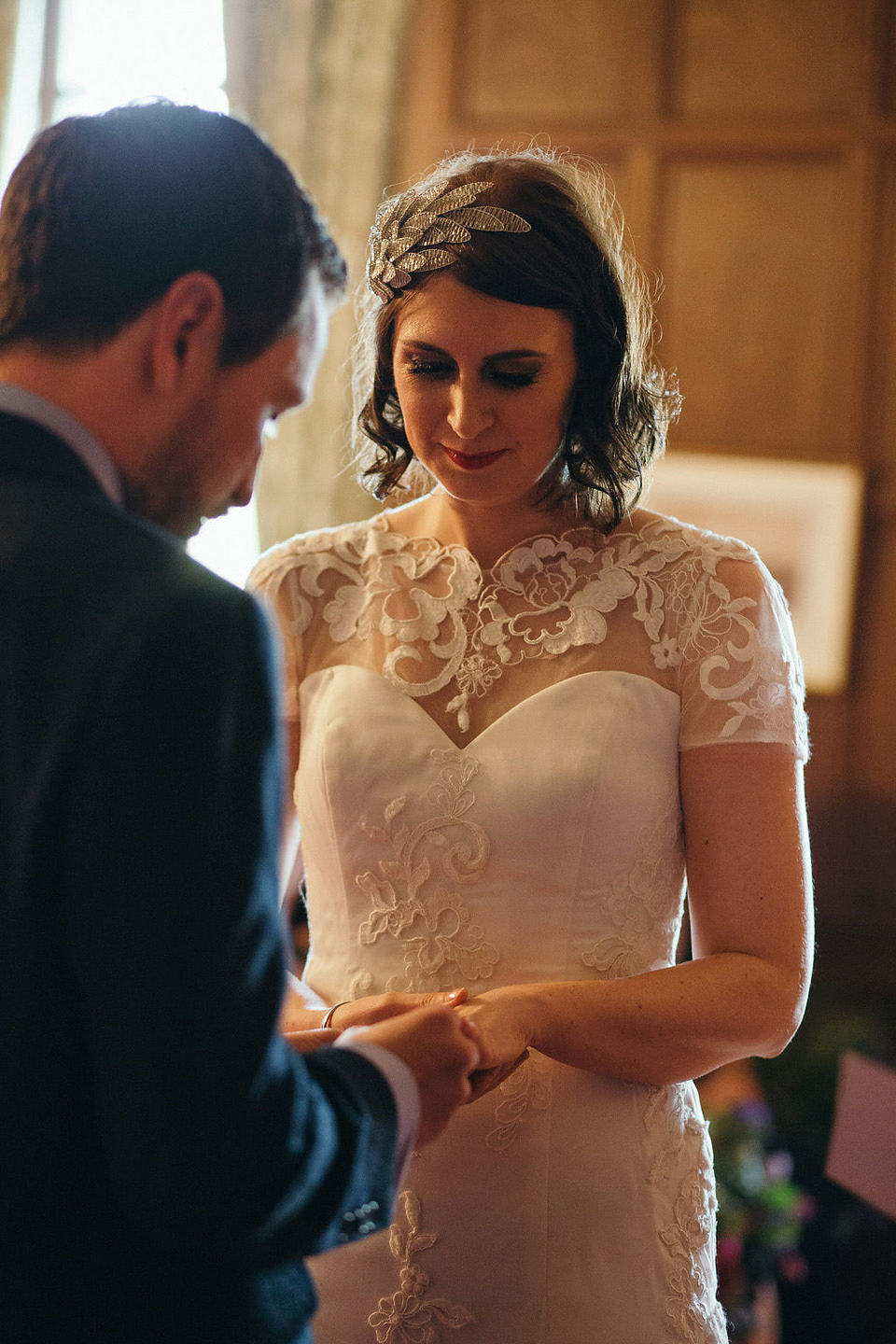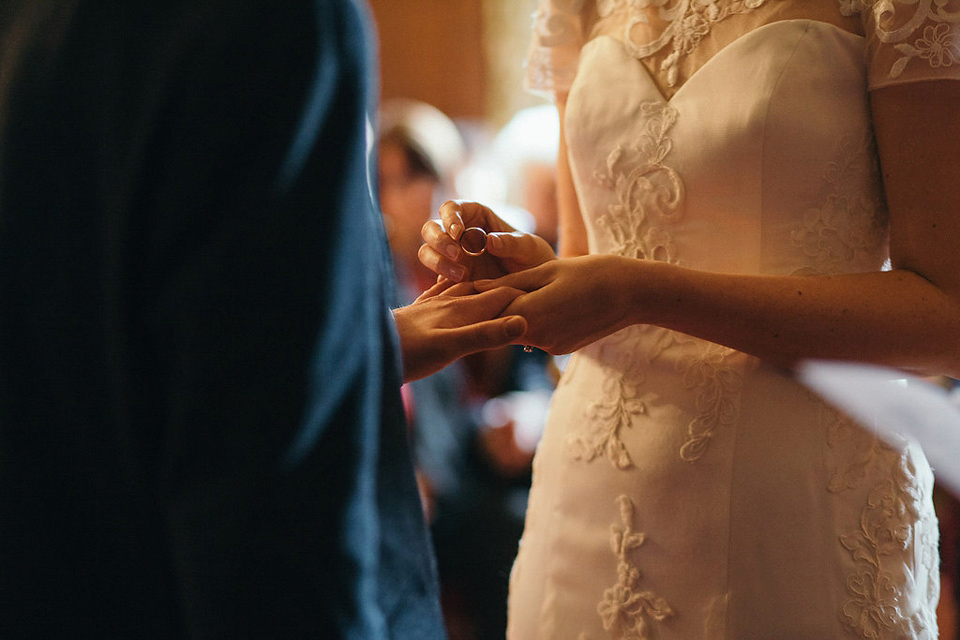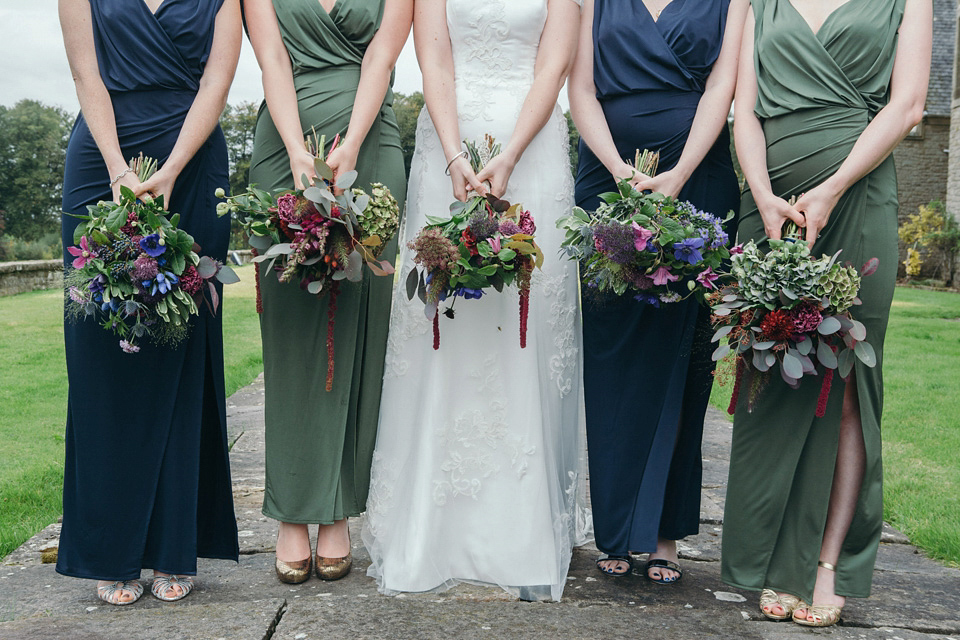 "I knew I wanted to go high street for the bridesmaid dresses and had seen a gorgeous dress by Biba in House of Fraser which came in dark blue, green and red. They all loved the style of the dress but the green and blue suited some but not the others. I asked the girls what colours they preferred and two preferred blue and two preferred green, the two colours mixed look great together so we decided to go with that."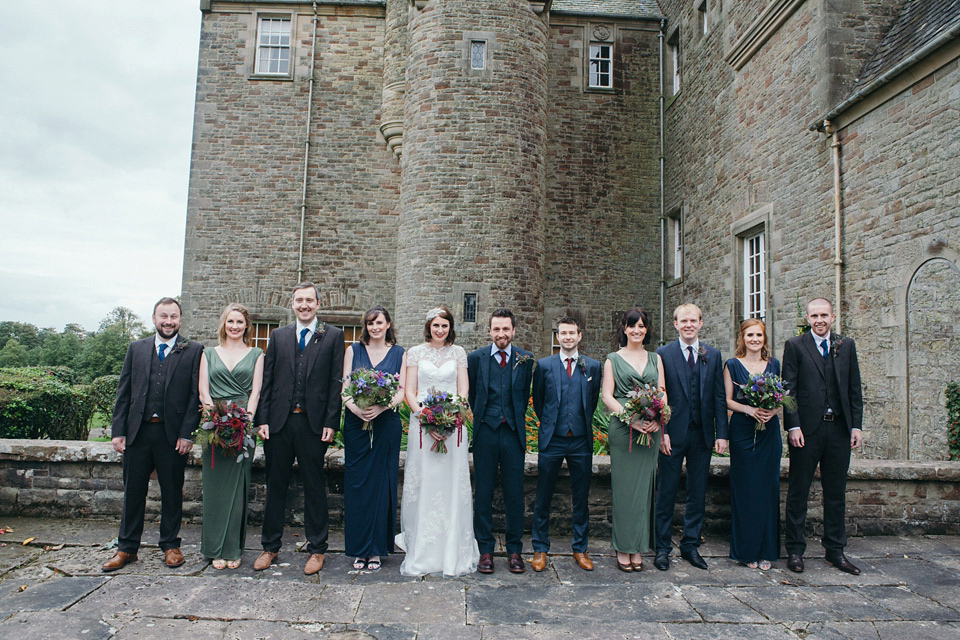 "We also wanted to get married in Glasgow, where we live, but at the same time we wanted outdoor space for photos on the off chance the weather was nice. Sadly the venues in the city didn't give us the outside space we wanted without having to organise something separate.
I came across Rowallan Castle on the Glasgow Wedding Collective website. Having never heard of it I googled it and was surprised to find it was only 20 mins from our flat. The photos of the venue looked beautiful. We both love high ceilings, fireplaces and the rustic charm of old buildings – Rowallan had all of that, and with the bonus of stunning grounds. After realising it was within our budget we arranged a viewing. Driving through the grounds on the way up to the main house we knew this could be the one and after wandering about the venue we knew we had found our wedding venue."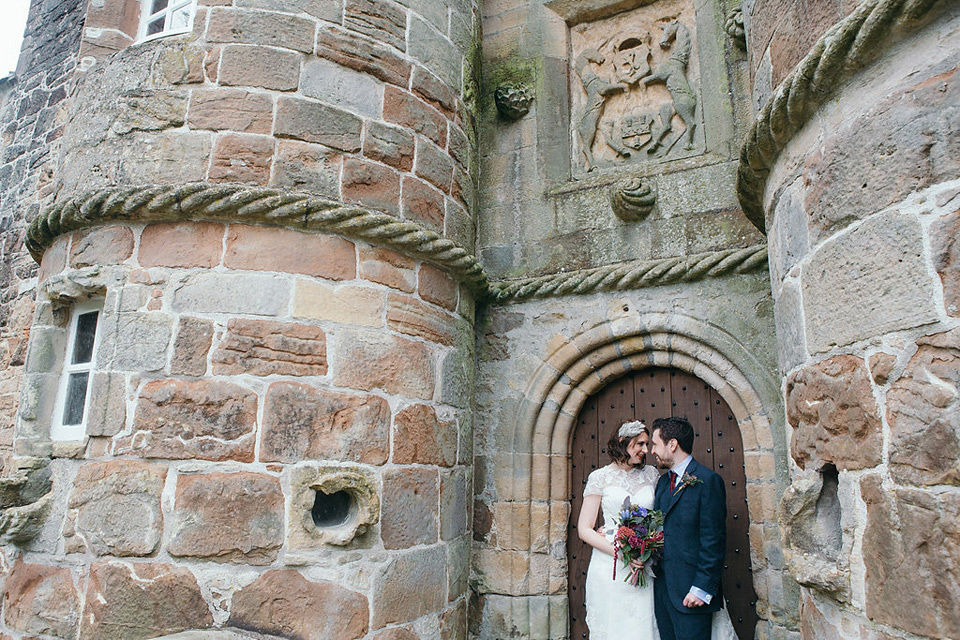 "Seven years ago our mutual friend and one of our best men, Craig, organised a BBQ and we met there. I was due to go travelling later that year but we really liked each other so decided to keep dating and see what happened. While travelling we kept in touch whenever we could, I returned after 4 months and once home moved to Glasgow to live with Bob. We have been together ever since.
Bob booked a holiday to Paris as a surprise for my 30th. On the last day of the holiday we took an after dinner walk along the Seine and Notre Dame Cathedral, while walking along he asked the question. It was a surprise; he always said he wouldn't propose on a holiday. We went to a café near our hotel and got a bottle of fizz and called our family, none of whom knew he was planning it. We had perfect views of Eiffel Tour lighting up at night while celebrating with bubbles."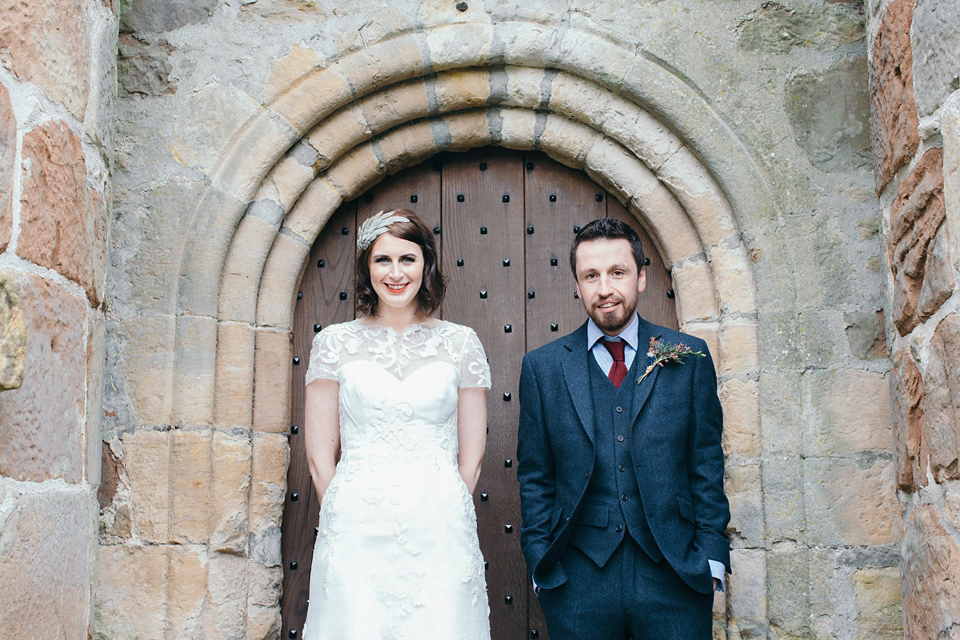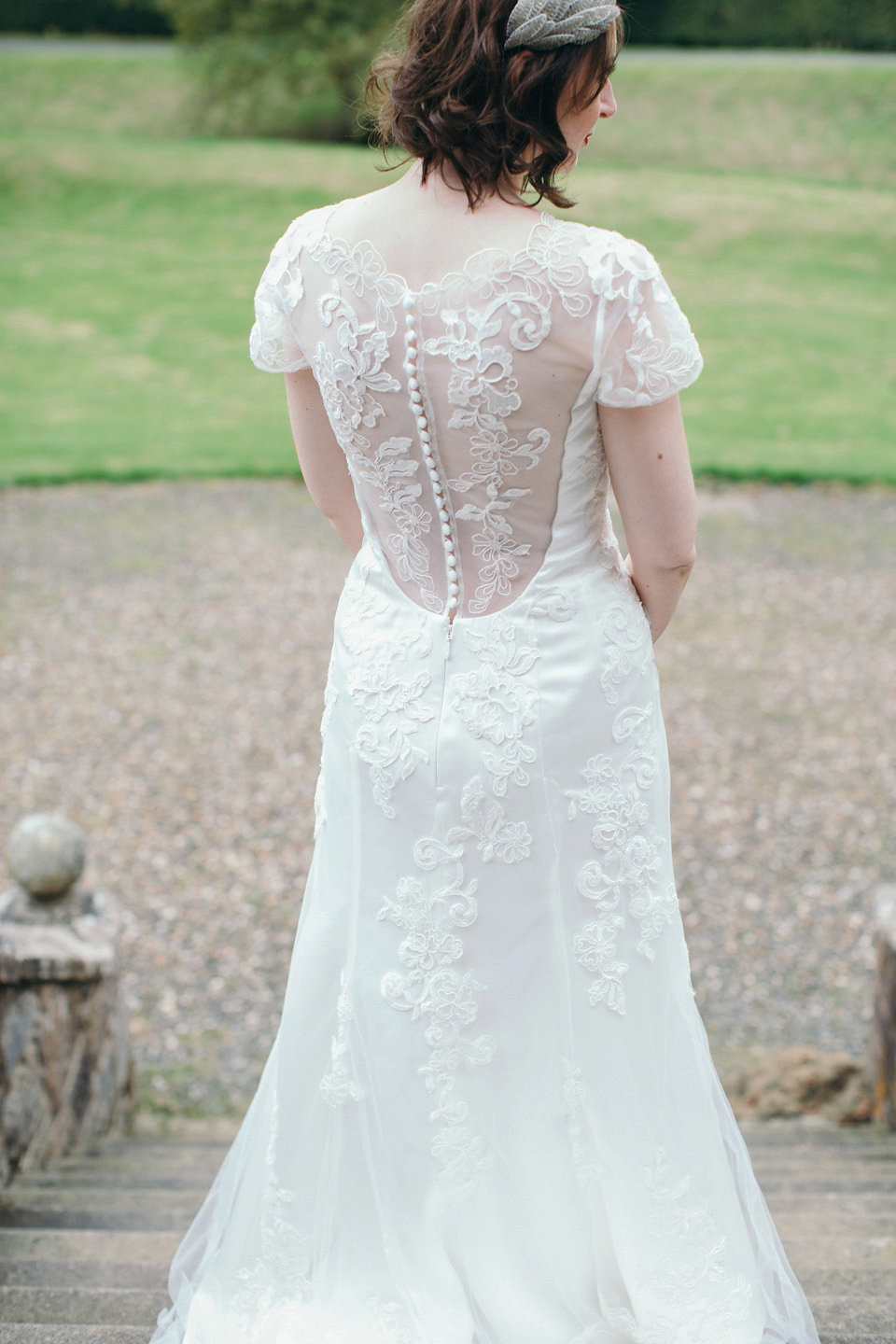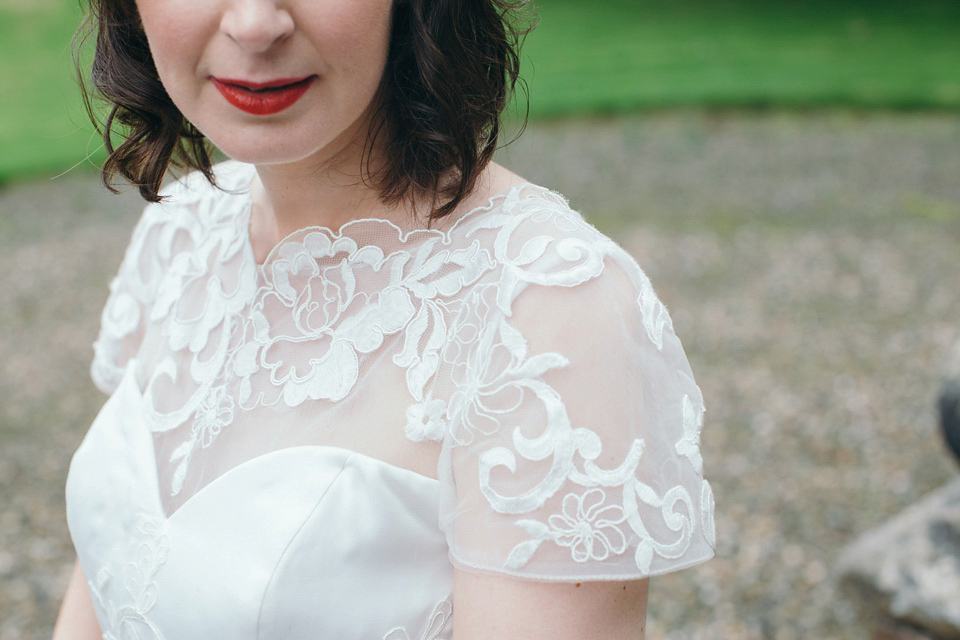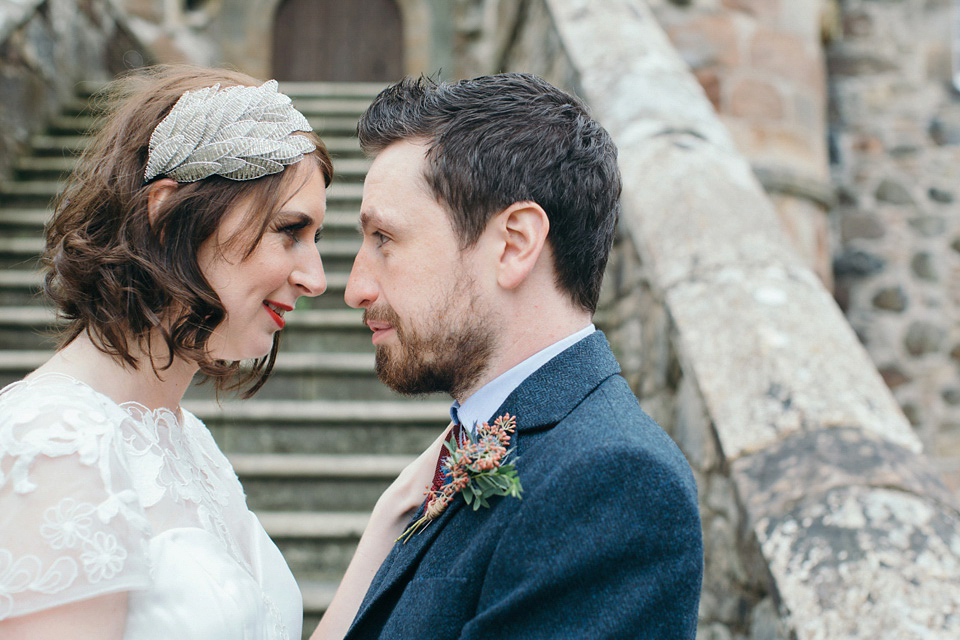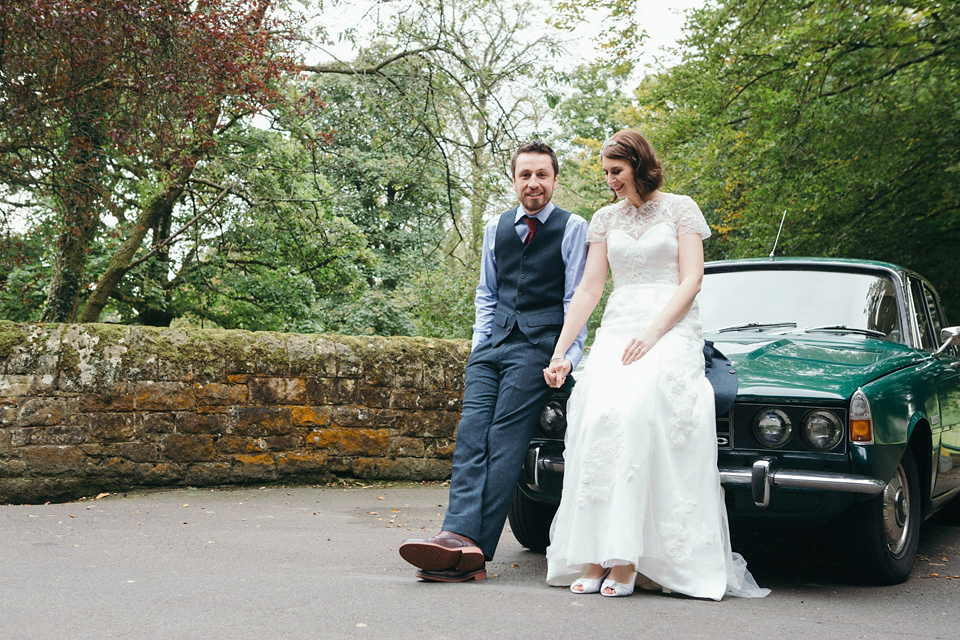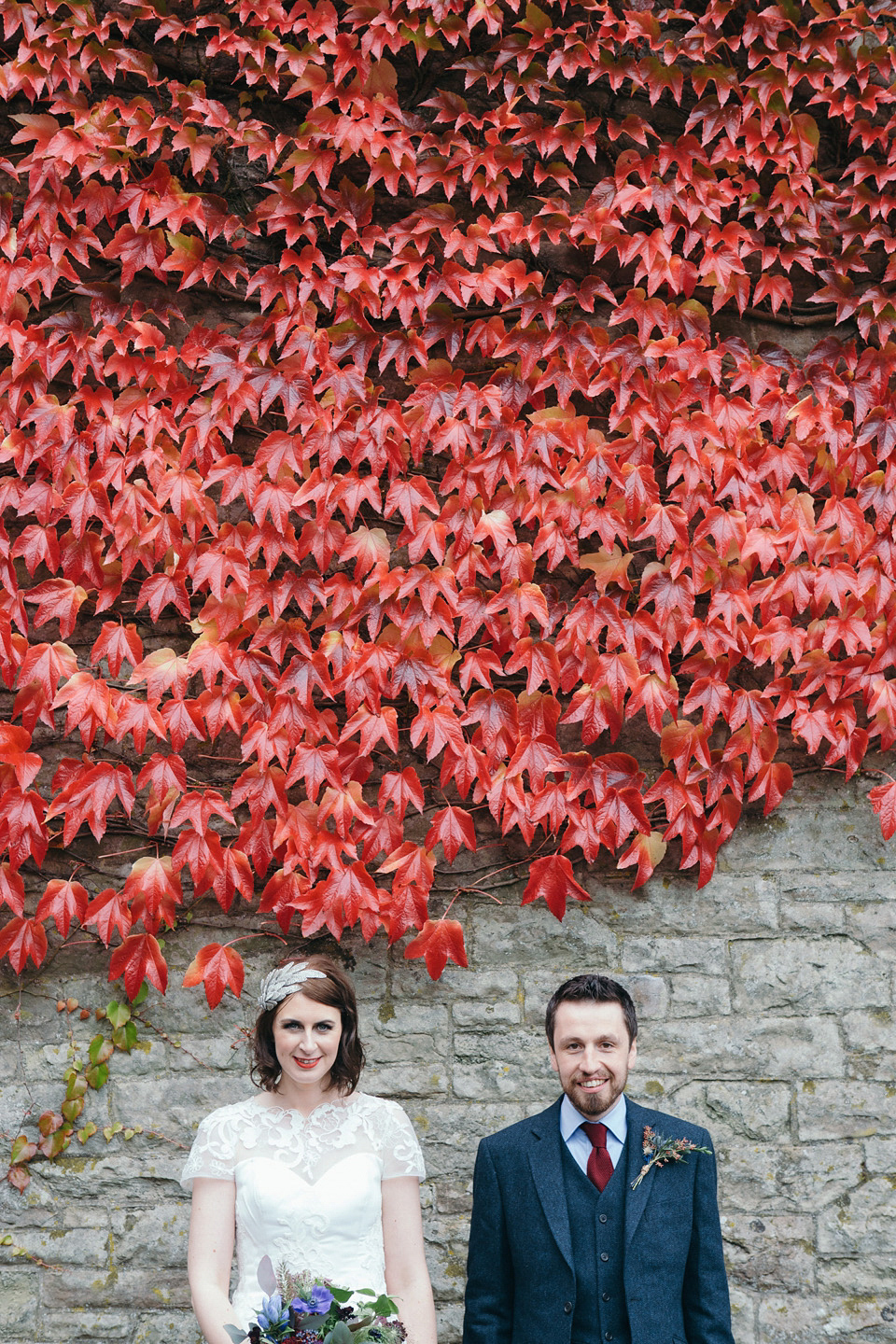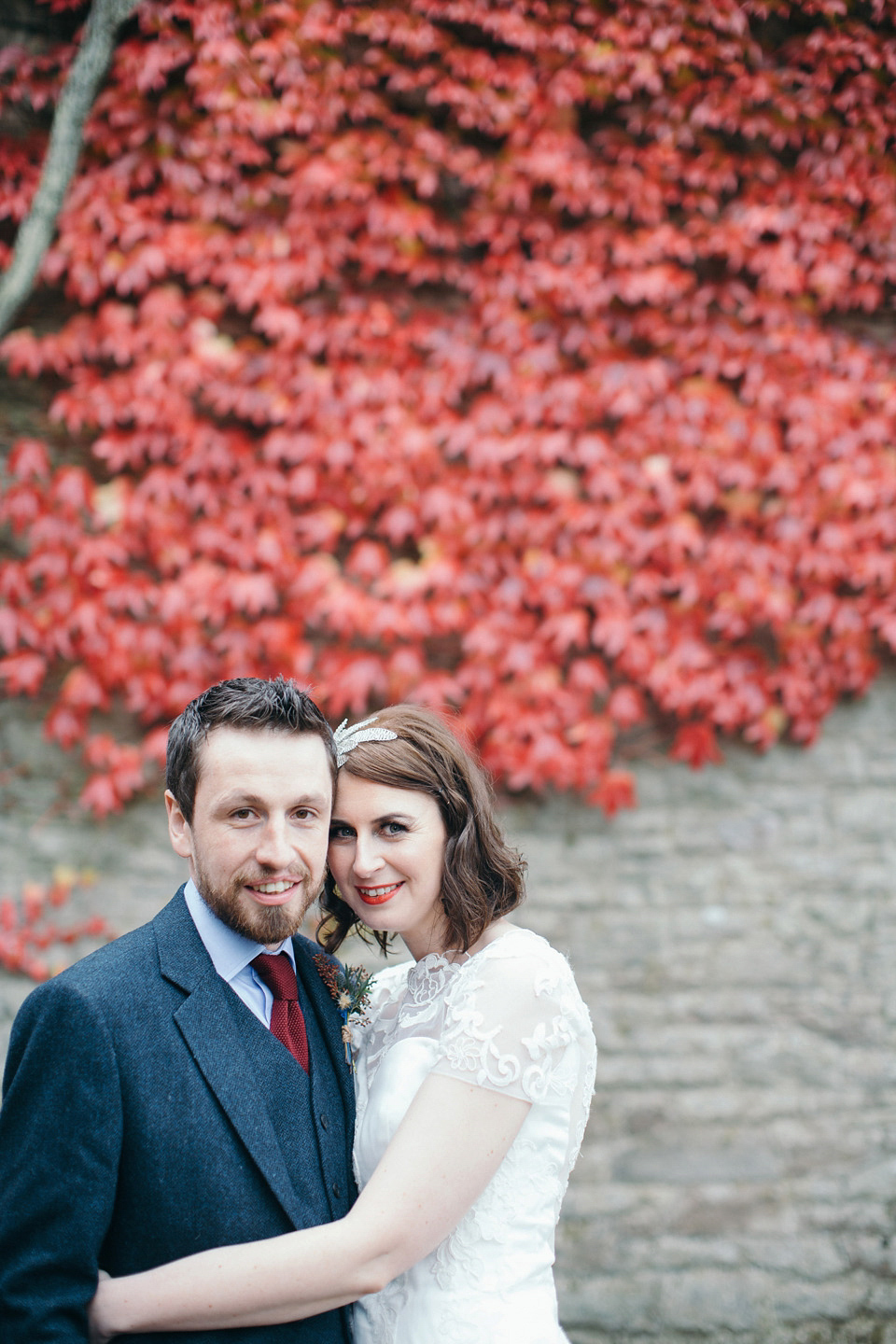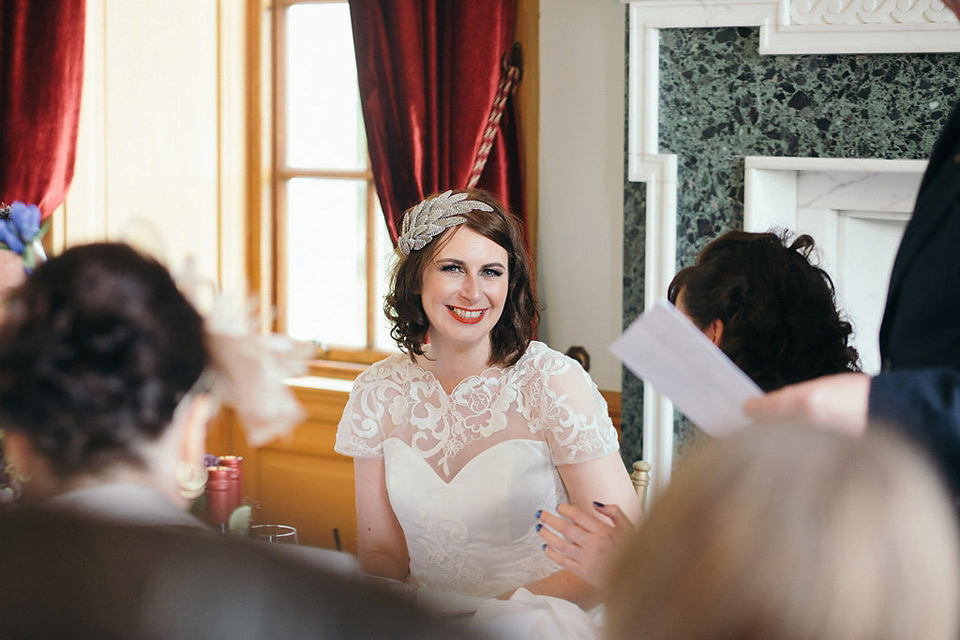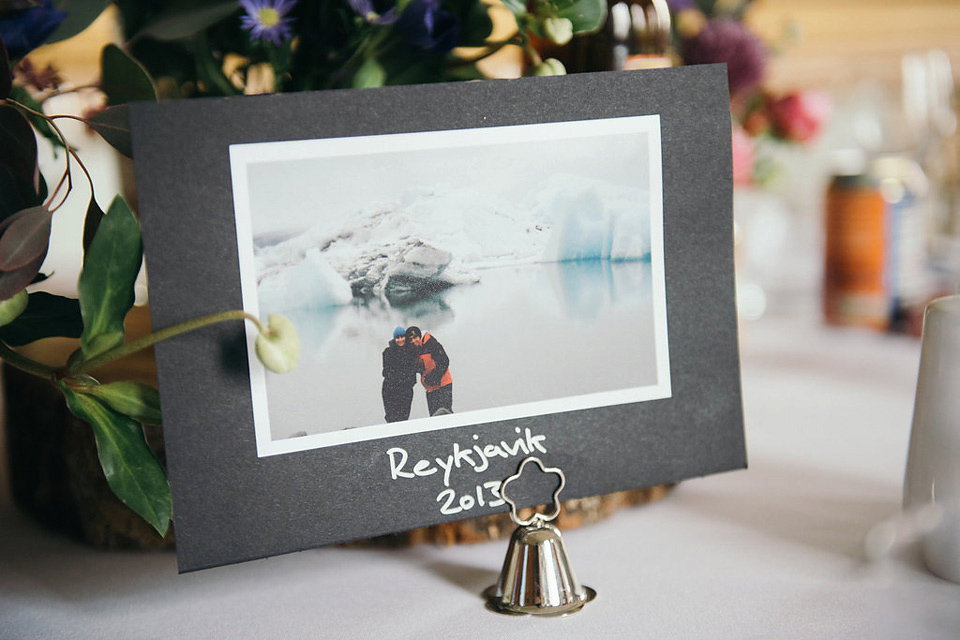 "For our favours we had cans of Irn Bru and Tunnocks tea cakes. Our guests loved them."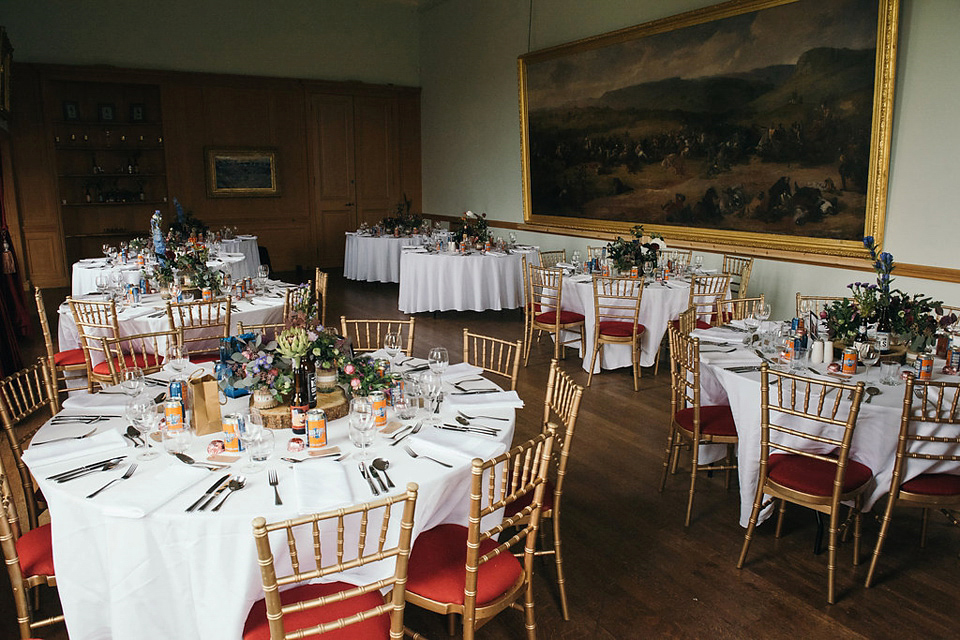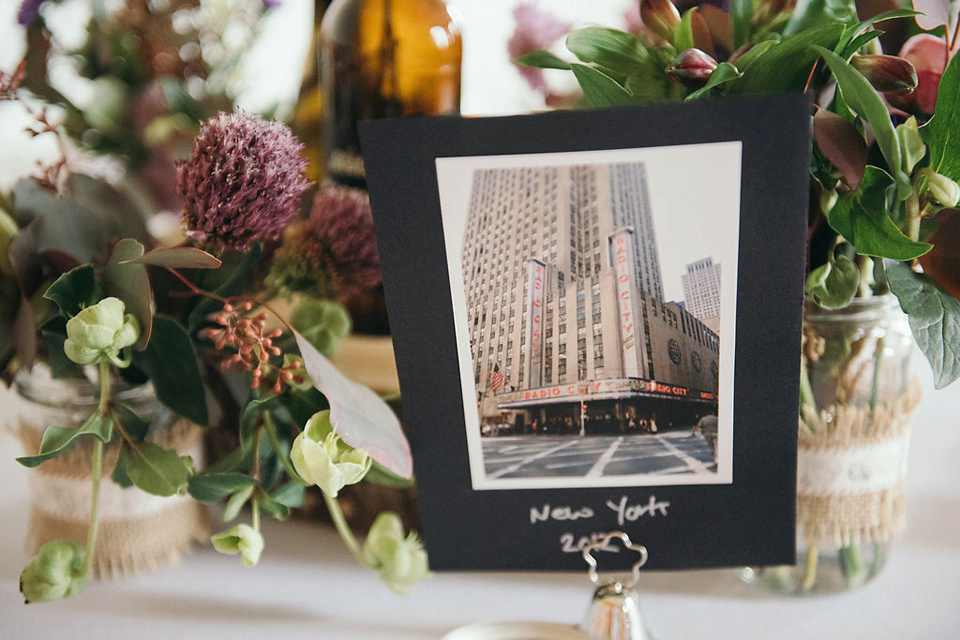 "Our florist Hayley of Little Botanica did an amazing job, the flowers were gorgeous and so different to anything I had seen before, and they looked amazing with the dresses and in the venue.
We wanted to add that autumnal colour through the venue by making It feel warmer so we worked with Hayley, to have jam jars and beer bottles around the venue – on top of the fireplaces, on the fireplaces, on the large windowsills and bookshelves. This is also what we had as table decorations. To save some costs where we could we provided decorated jam jars and craft beer bottles for the flowers. Bob drank a lot of beer in the run up to the wedding and we both ate a lot of jam!"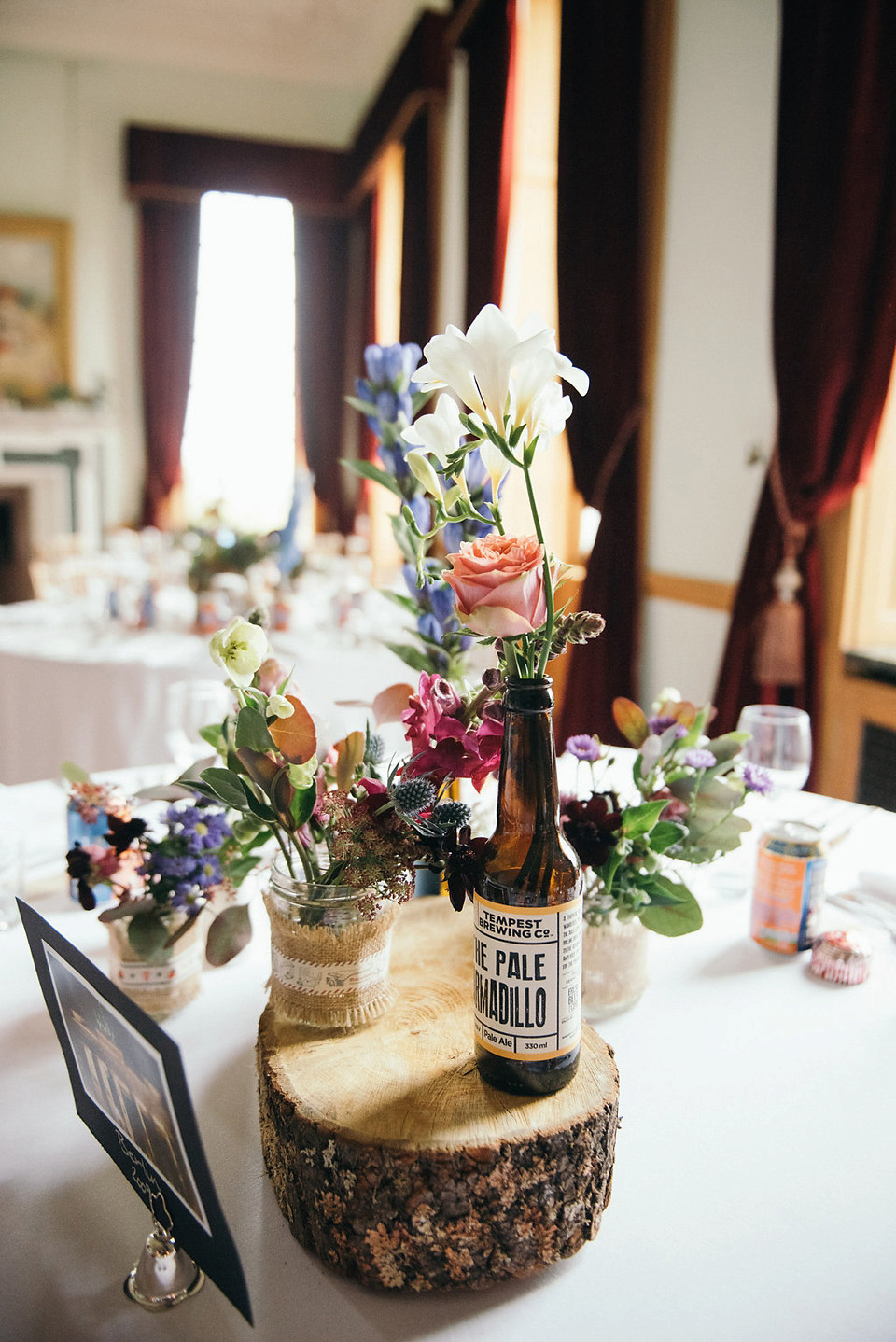 "I don't have that much of a sweet tooth but Bob does so he was excited about this part of the planning. We love a good Victoria sponge cake so decided on going with a naked cake. When we met with Three Sisters Bakery they asked if we had any interest in having extra cakes for a cake table, I said no but Bob's eyes lit up! Since it was one of the planning parts he got really excited about it would have been wrong not to go with it! The cake table went down a treat and there wasn't much left by the end of the night.
Bob was very crafty and made a sign for the cake table from glitter card. The sign read 'Treat Yo' Self' and was a phrase taken from the show he loves, Parks and Recreations."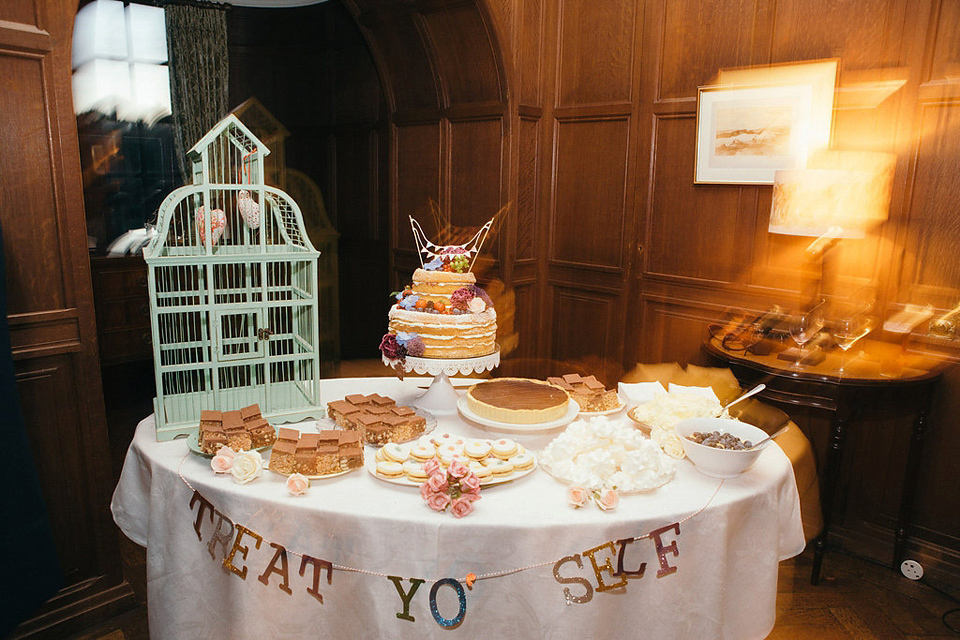 "Carol is a friend of my bridesmaid Jo-Anne and was the DJ at their wedding and we loved the music! She is happy to have input from the couple to make sure you are getting the music you want to dance to, this was great for us as we have quite varied music taste! It meant we could get a bit of Indie, pop, old school dance and rock half hour!
We knew we didn't want to dance to a slow song; we wanted a song to celebrate to. New Order is one of the bands we both love and listen to a lot, we knew they would be the perfect first dance for us and a great way to start the evening."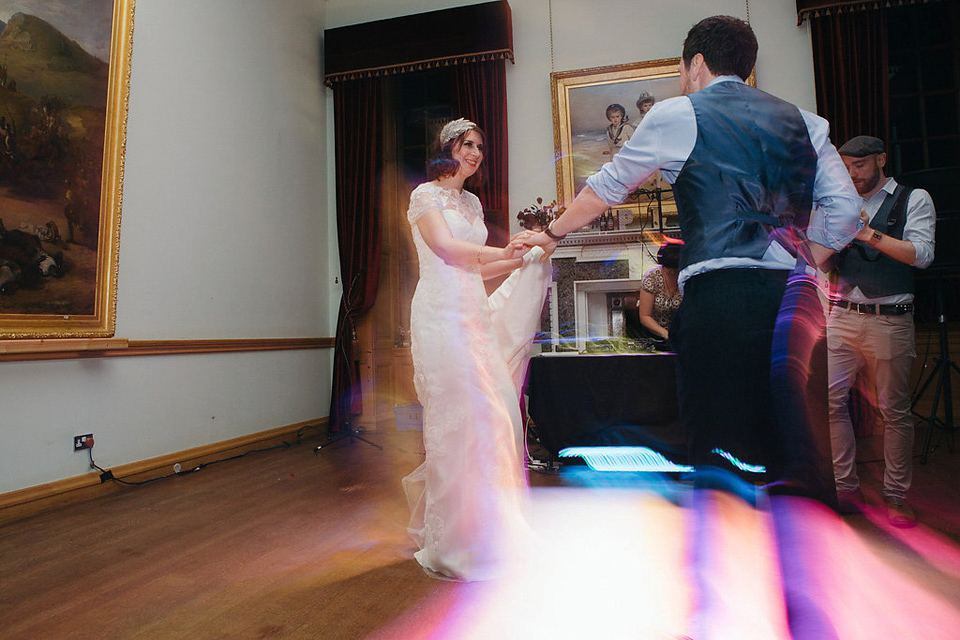 Words of Wedded Wisdom
"Don't leave creating your table plan display until two nights before the wedding. The actual seating plans were already done, but we were so busy with other things we didn't get time to write our tags for the map until two days before. The day before the wedding my bridesmaid Jo-Anne came round to help us take stuff to the venue and while looking at our seating plan asked what table she was at…she wasn't at any table, neither was her husband or Bob's mums friend…
It's your wedding day; it's about celebrating you and your husband-to-be's love and commitment to each other, try not to lose sight of that while planning! It's easily done when you're in the midst of planning, you always end up thinking about what other people would like or want but you just need to take a step back and remind yourselves it's your day. Your friends and family will love it no matter what.
One way we did this was by making a conscious effort to take our laptop to the pub when we were planning things. We would get a drink, chat it through and make sure we were happy with our decisions and that it was what we wanted for our day.
Also, everyone probably always says this but it's true! Don't stress about the small things, it's scary to say but you won't even notice on the day!
I have mentioned it throughout but living in Glasgow I used the 'Glasgow Wedding Collective' website to help find suppliers. They have a fantastic selection of suppliers and they do great wedding fares as well. Certainly helpful to Glasgow and or Scottish brides."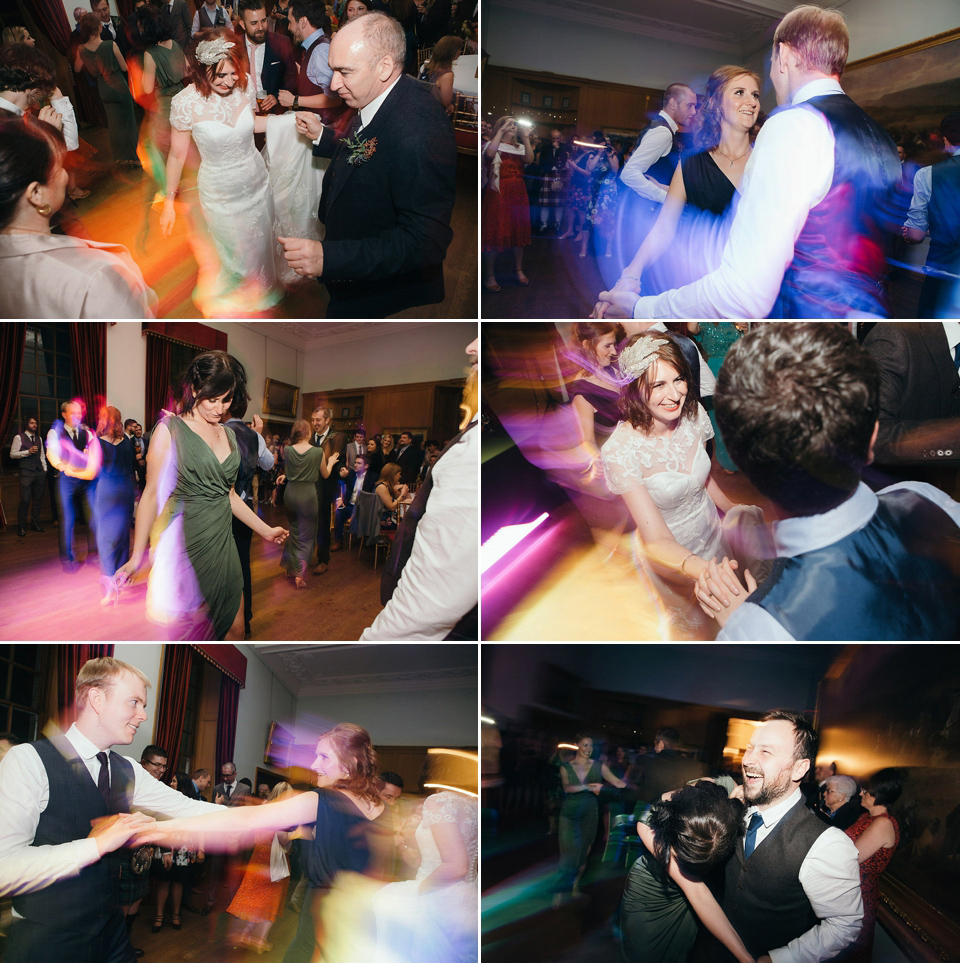 "Finally, while planning our wedding I came across Love My Dress and I started following it on Facebook and Instagram. I loved seeing a beautiful new wedding every day, each so different to the last. It was a great way to get ideas and see how other folk had done things too. I loved being able to use your websites search facility whether to search for a certain dress, photographer, or flowers then being able to see blog posts that they were involved in due to the tagging."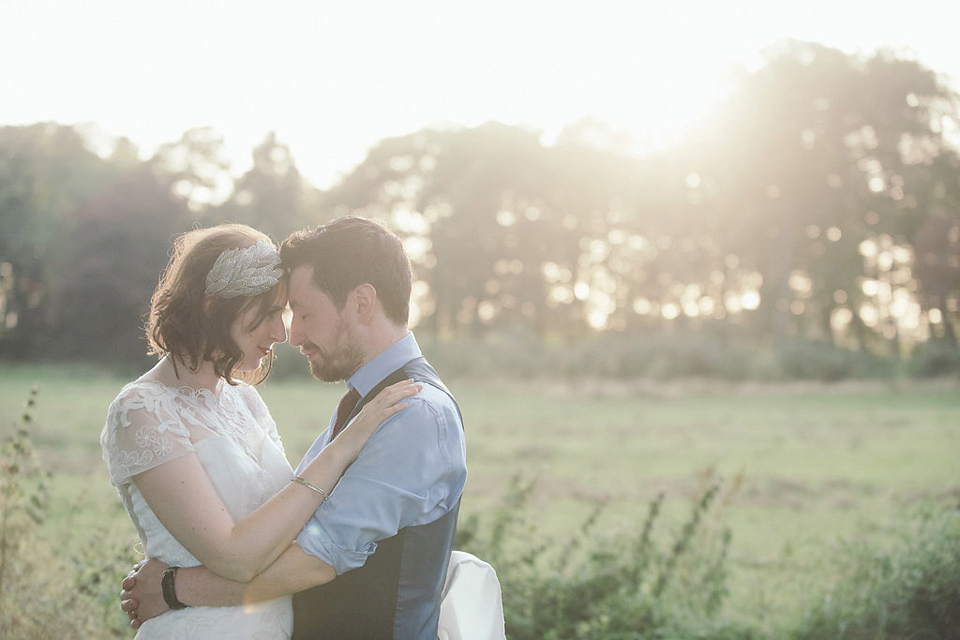 Great words of advice from Pamela, a bit of wedding planning at the pub should be tried by everyone! Thank you so much to Pamela and Bob for sharing their special day with us and to the fabulous Sequoia of Mirrorbox Photography for sharing these lovely images.
To see more weddings by Mirrorbox, take a look at this link.
Bianca x
Photographer – Sequoia of Mirrorbox
Venue – Rowallan Castle
Wedding Dress – Mia Mia from Anne Priscilla Bridal
Shoes – Jia Jia from Amazon
Accessories – William Chambers Milliner
Perfume – Chanel Coco Mademoiselle
Groom – Walker Slater
Bridesmaids – Biba at House of Fraser
Florist – Little Botanica
Cake – Three Sisters Bakery
Entertainment – DJ – Carol
Rings – Rox
Catering – Venue
Stationery – Heather More
Hair Stylist – Anderson's Hair
Makeup Artist – Lynsey C Reilly